I've just been adding the finishing touches to Chapter 29 of 'A Journey With Frodo' so that I can post it before I finish for tonight. This mainly covers the Japanese premiere of FOTR and in Frodo's story he and Sam are setting off on their journey. Hope you enjoy:)
For anyone unfamiliar with my pet project, 'A Journey With Frodo' (a work in progress) is the story of Elijah Wood's experience in becoming Frodo, from back in 1998 when the LOTR movies were just a whisper up to the triumphant Oscars of Feb 2004. In reliving Elijah's journey, and mine, I am using everything I can lay my hands on - behind-the-scenes material from the various dvd's, magazine articles, books, internet sites, tv coverage, word-of-mouth info, etc. Previous chapters can be found here
"A JOURNEY WITH FRODO"
You'll need to scroll back to get to Chapter 1:)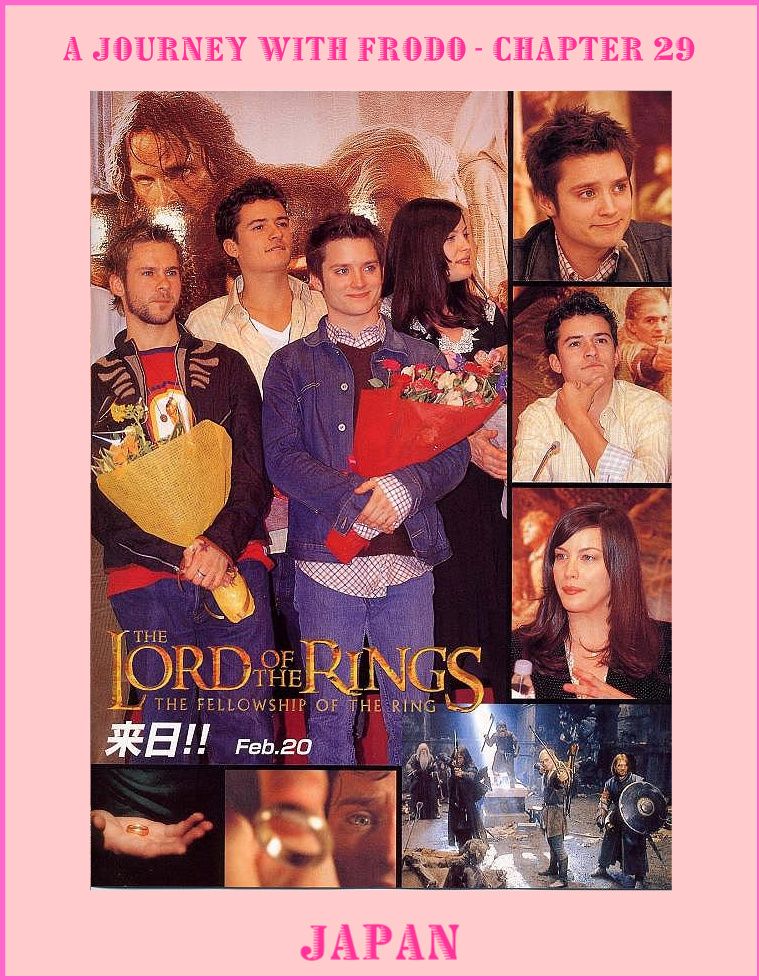 ---
19 February 2002:
Elijah, Dom, Liv and Orli arrive at Narita Airport, Tokyo for the Japanese FOTR premiere.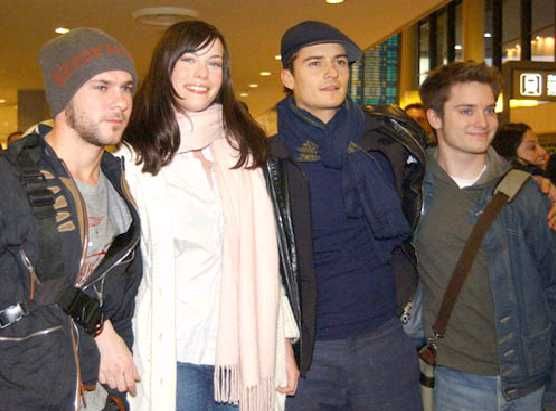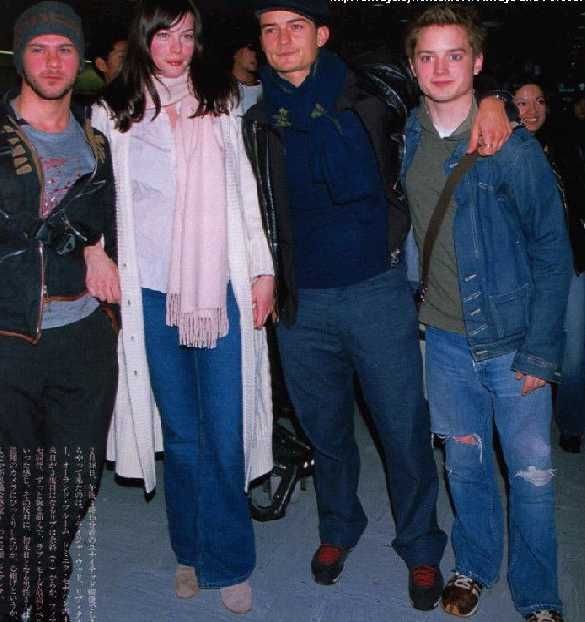 The following day they attend a huge press con with Barry Osborne and Sean Bean:
Each cast member is introduced and they all say a few words about coming to Japan.
"This is certainly frightening - lots of people! We're all very proud to be able to present our film to you. It's kind of a long journey that we've taken and to finally arrive in Japan is very exciting. Never been to Japan before so this is quite wonderful - hope you all enjoy the journey."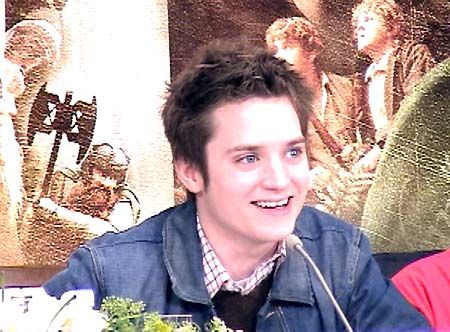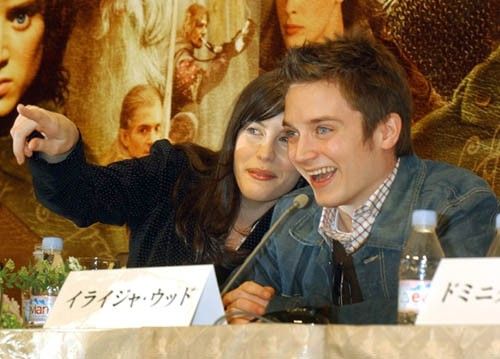 "One of the greatest guiding forces obviously for us was Peter Jackson and his passion which I think kind of fuelled our passion constantly. It was a lot of hard work and a difficult schedule and it was exhausting but I think the collective passion that everyone had as well as the relationships that we all formed together - we became very close and I think those things really inspired us to continue forward. When you've worked so hard on something you start to lose perspective as to what it is you're working on but there were always reminders, you know, we could be on top of a mountain and you'd realise - my God, look at what we're doing!"



Elijah is asked what he'd do if he really had the Ring and could become invisible - he repeated the Disneyland story he'd told at Harvard but Dom put him off the idea when he said all the rides would be closed at night!!


Asked which other LOTR character he would like to play, he said 'Gollum'!!



Time for a quick nibble!!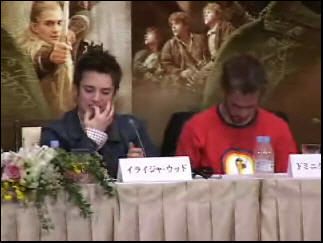 They are then lined up on stage - Elijah announces that they're all going to sing a song but it's actually for a photoshoot!!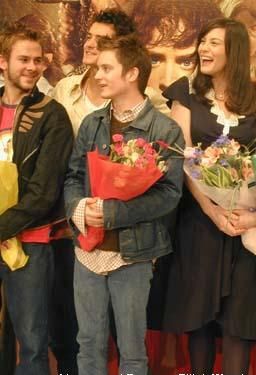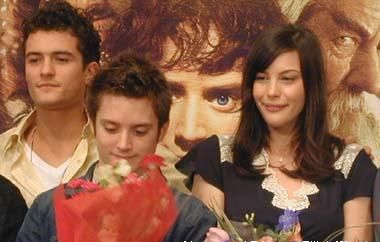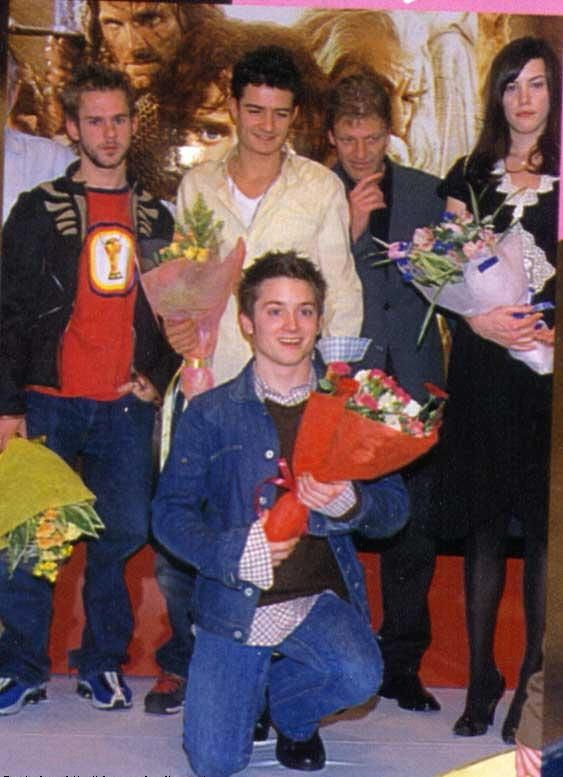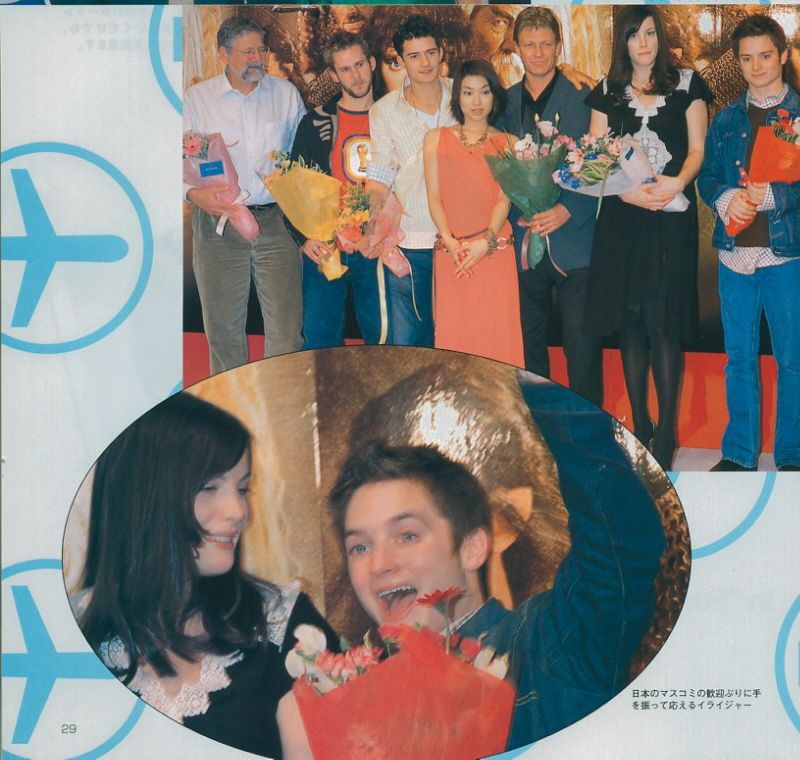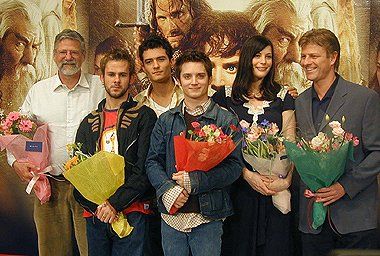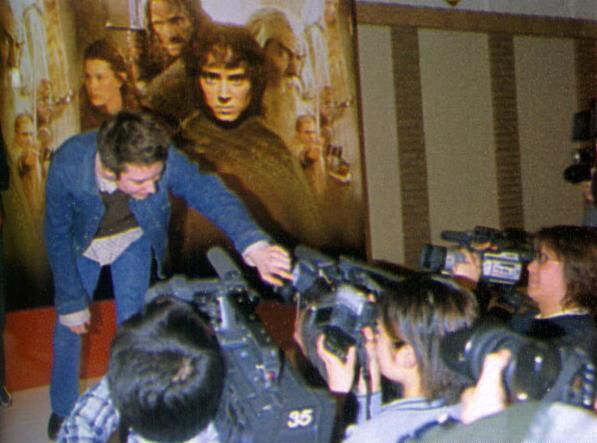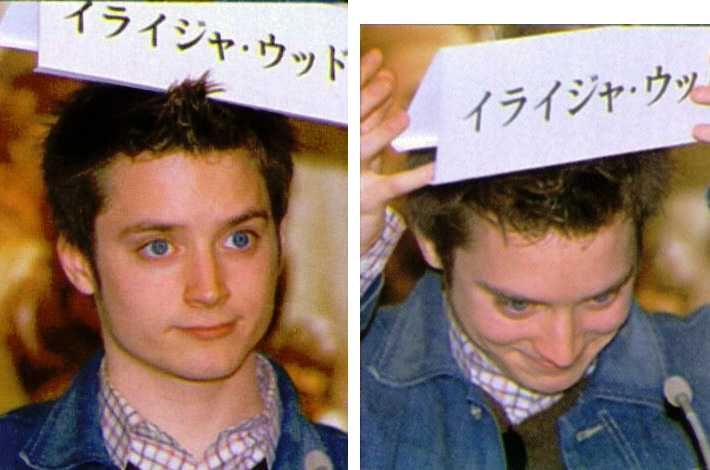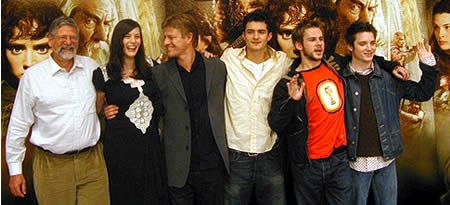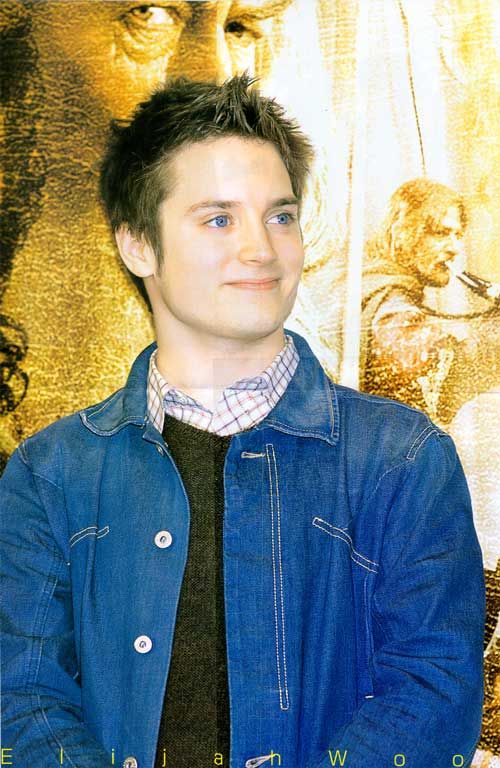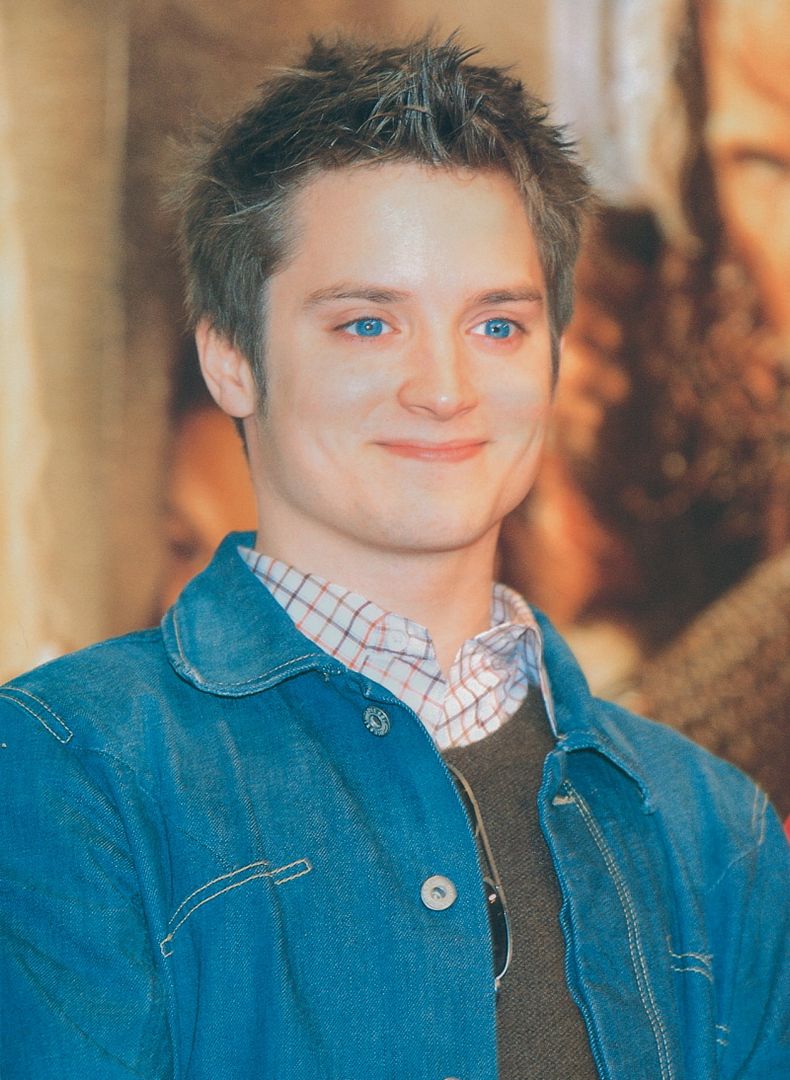 The Premiere: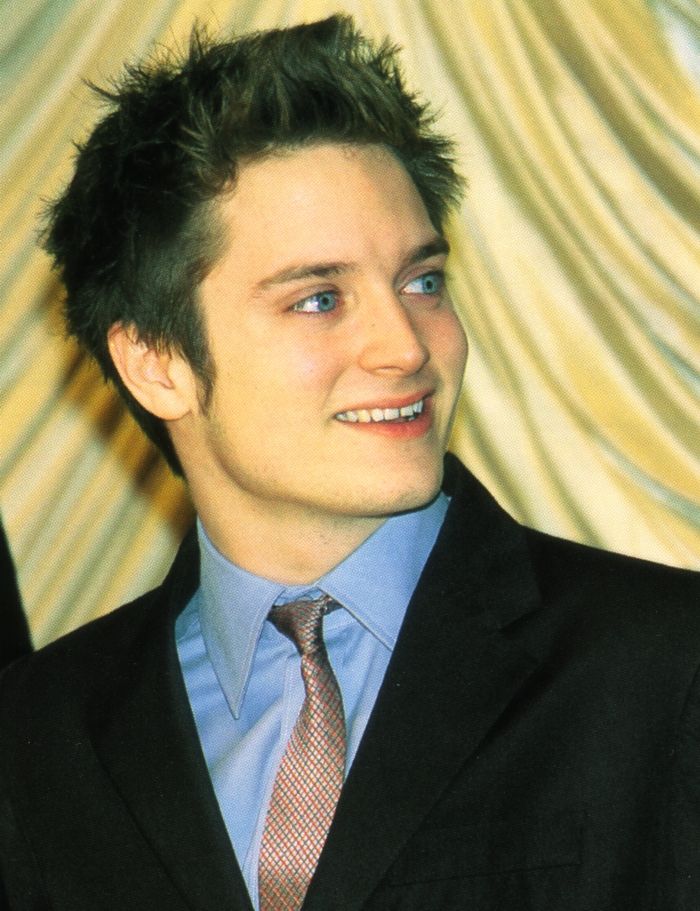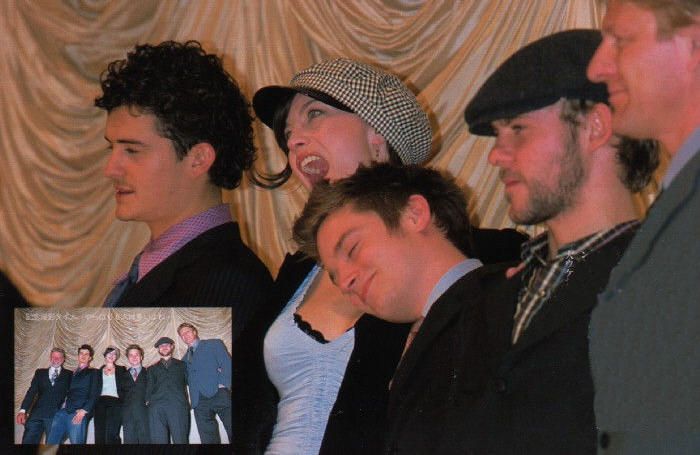 I have never seen any pics taken by fans at this premiere and I doubt that any exist. There is a reason for this. For some strange reason, the actors were steered well away from the fans during their arrival and departure, something I'm sure they were as mystified about as the fans. This is one fan's experience as posted on theonering.net:
"Hi, we just got back from the premiere in Tokyo. I'm an American and my hubby is in the military. I took my three kids and were all very excited with plans to see the actors. We all took our LOTR Trilogy hoping to get some autographs. Based on all the other wonderful reports from around the world we thought we would stand a good chance to see them up close and possibly get an autograph or two.
My 7 year old looked so cute in his LOTR T-shirt and he was wearing the one ring! He was ready for Elijah and Orli to come by! My two daughters were also very excited. My kids were the only children there. We didn't have tickets to get inside, but that was OK if we could just catch a glimpse of the guys and Liv. We did get some glimpses, and are thankful for that, but unfortunately the actors were kept completely away from the fans. They didn't even get to walk past us. We were lined up and in the front. They hurried the actors upstairs to meet with the press, after the premier started and then quickly hurried them away. We couldn't believe they wouldn't even get to walk past us!
We hurried downstairs (the premier was on the 9th floor of a big building) and ran after the crowd. We stood on the sidewalk and got to see them all leaving the parking garage. The windows were tinted very darkly and we could barely make out the actors inside, but they were all waving! From all I have read Elijah, Dom, Orli, Liv and the rest have always been very gracious and happy to communicate with their fans. It is too bad they were kept from being able to interact with us at all. I know they all read your website and I hope you'll share my report for them and others to read. We tried to get some photos although the quickness of them "out the elevator" and "8 feet away into the stairwell" didn't give lots of opportunities! Dom came out first and we were so shocked we didn't even get to yell his name before he was gone. I did yell Elijah's name and he looked over his shoulder, smiled and waved. It was just all so fast."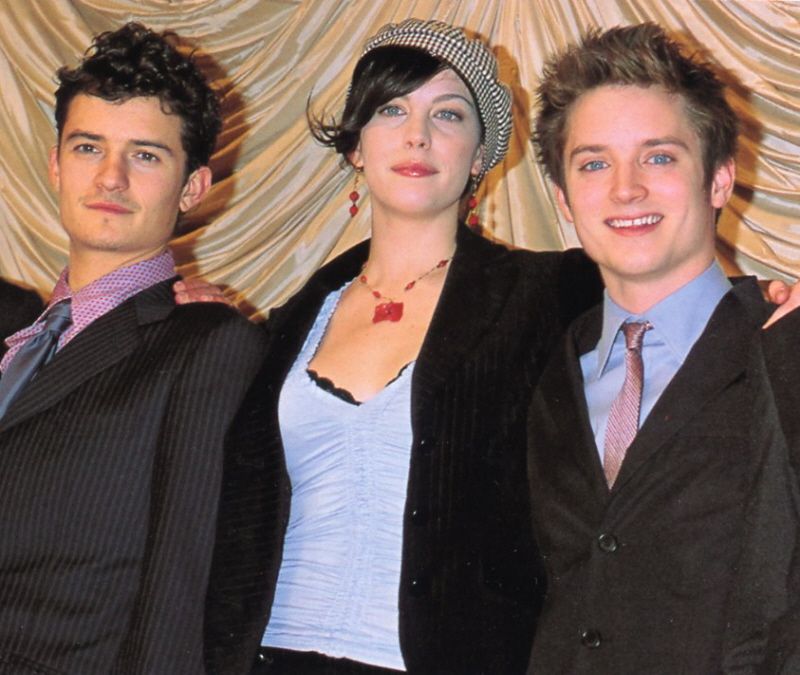 The Japanese press seemed to have a thing for pics of Elijah and Liv together: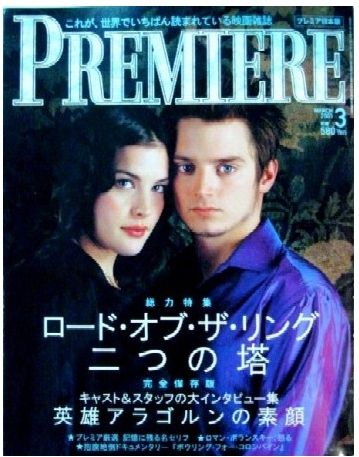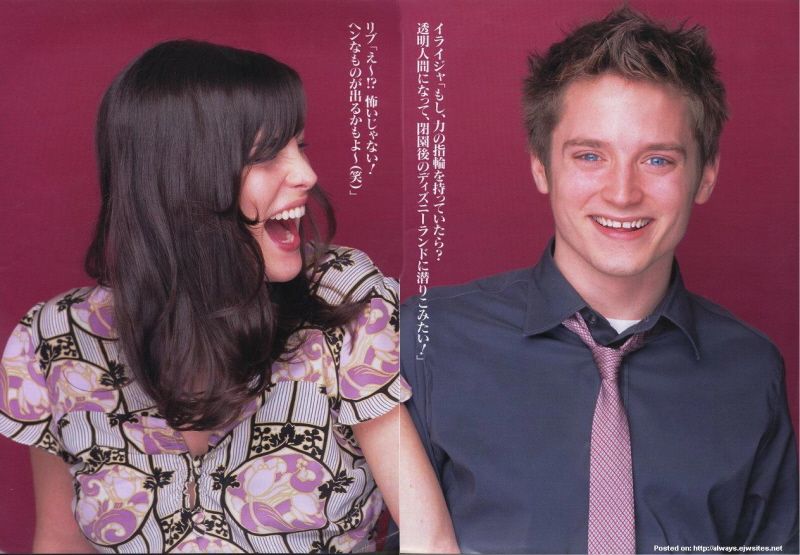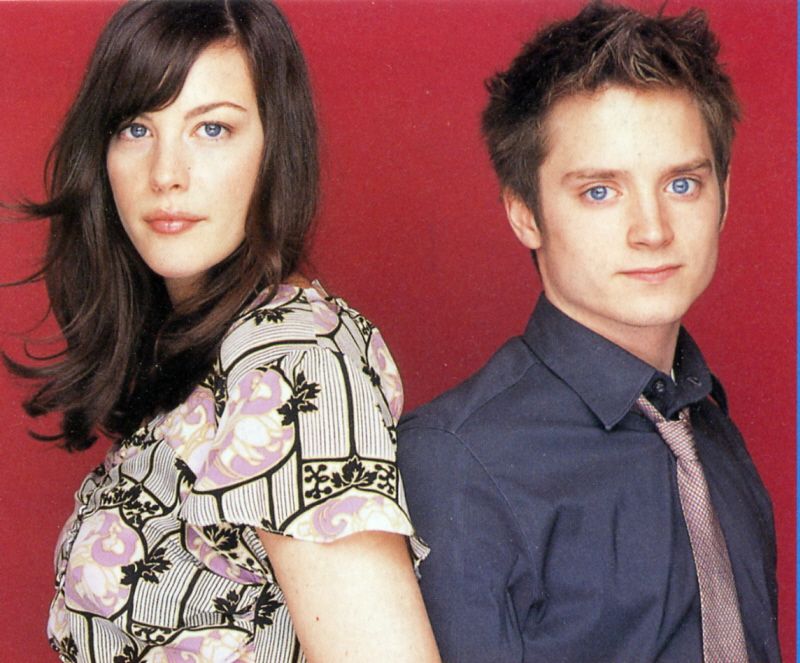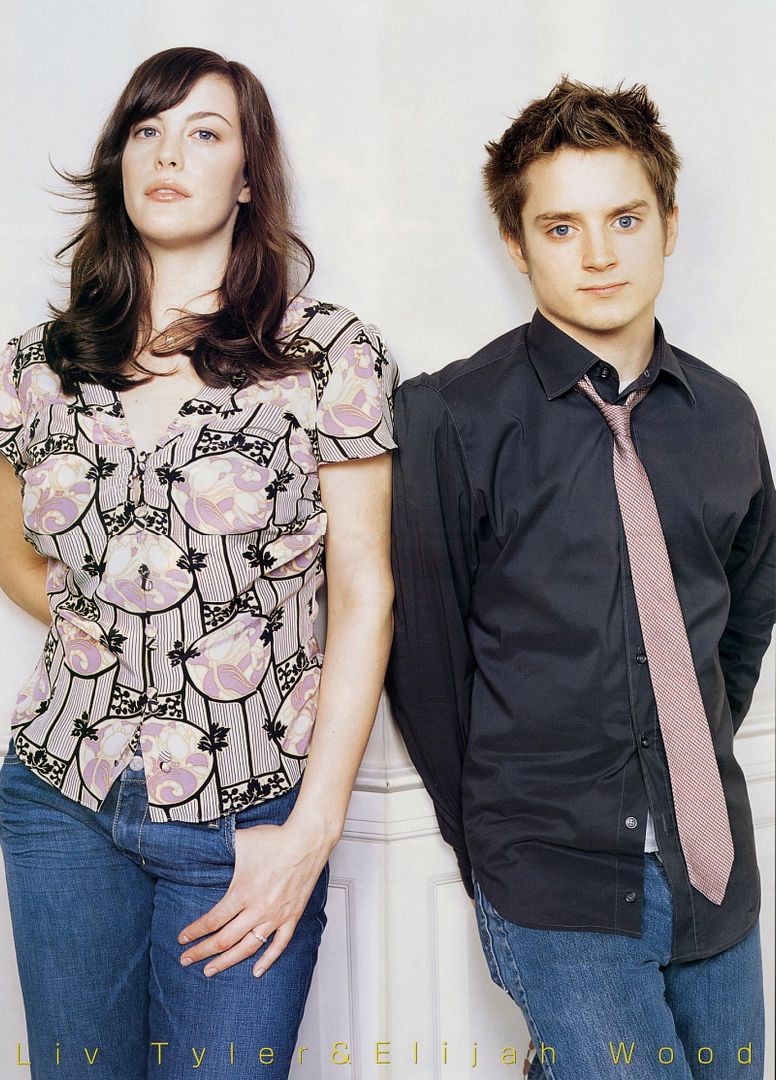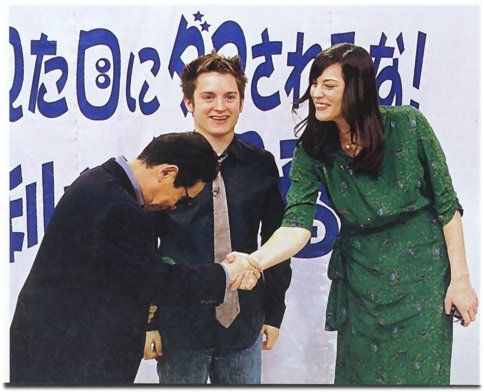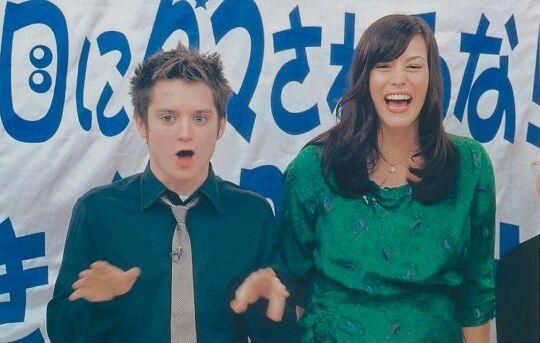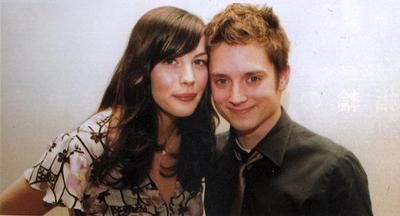 Elijah, Liv & Orli were all given rings during this interview - they had been sent by a Japanese celebrity named Irena (not sure about the spelling!).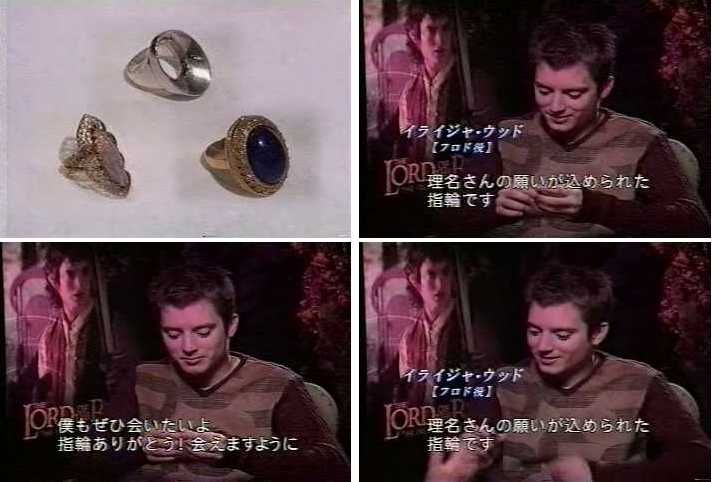 Elijah thanks Ireena and says that he hopes they will get to meet her.

And very soon they did get to meet her!! Elijah asks her if she feels nervous doing this sort of thing and he and Liv tell her how nervous they were at the press con.

"When the filming ended we were very sad - it ended very abruptly and we had to go home and it seemed like it was all over but in a sense we are still going, the journney continues,, it's just another phase and it's wonderful because it keeps us all together. We were such brilliant friends making the films - the fact that we get to stay together and work on these little bits is fantastic."





In another tv interview Elijah talked about one of his favourite quotes:
| | |
| --- | --- |
| | "There's a quote which I believe is from the book 'Siddhartha' which is - and I don't know if this is perfect, 'There is nothing noble in being superior to your fellow man. True nobility lies in being superior to your former self.', which is just a great thing to live by. It means you're constantly trying to build yourself and be better than the way you used to be and that's the most important thing." |
To me, the fact that he loves this quote says so much about Elijah.
---
Meanwhile, my own journey with Frodo was well under way. Within days of seeing FOTR I'd read the complete LOTR trilogy. How much easier and more enjoyable it was to have the faces of these characters in my mind - especially the very beautiful face of Frodo. When I reached the end of ROTK I felt like screaming and flinging the book across the room. How could Tolkien do this to my beloved Frodo? I wanted him to stay happy ever after in the Shire. How would I ever be able to watch this ending on screen?
Little by little, I was learning more about Elijah Wood. At this time I didn't own a computer but used one at work just for word processing. I ventured onto the internet and, not being at all sure what I was doing, I typed Elijah's name into 'Search'. Pages and pages of links popped up! The first one I entered produced pics of a very cute young boy - and I discovered that Elijah had been acting since he was a child. The second surprise came when I discovered that he was American. I had assumed, from his perfect English accent in the film, that he was a newly-discoverd UK actor that I hadn't yet heard about!! I found loads of pics - mainly from the various LOTR premieres and looking very different with his modern clothes and haircut!! Oh, and there were some very interesting photo shoot pics:
Frodo? Is that you?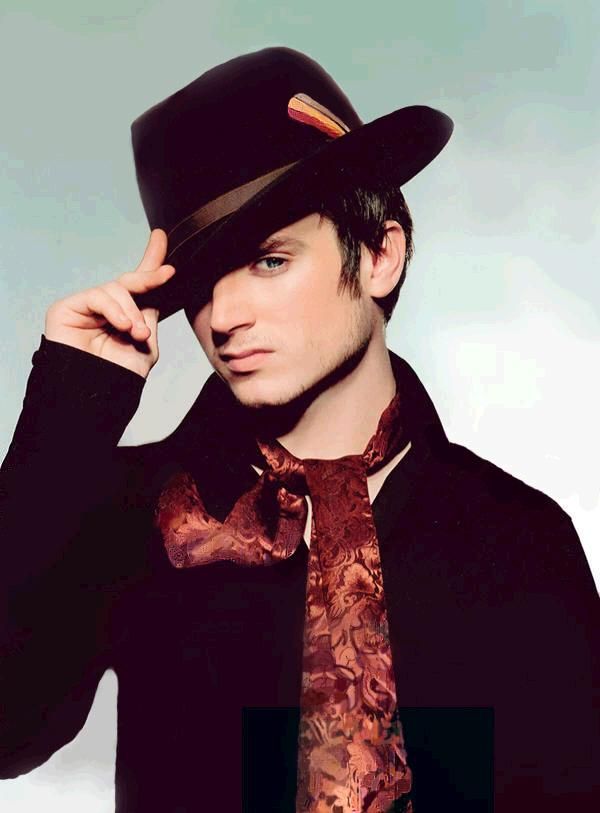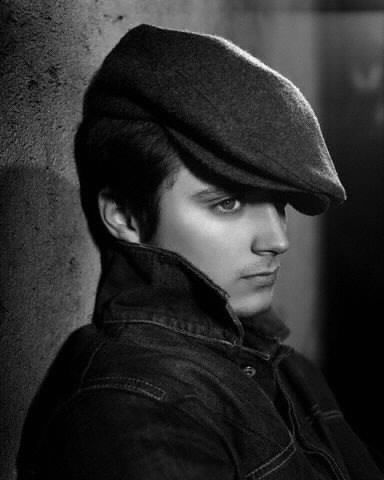 But I really wanted to see him on screen, talking, as himself. During my search I came across the official LOTR website. As any LOTR fan will know, when you enter the site the voice of one of the cast welcomes you. It's random - you can't choose - and I can remember sitting there waiting for Elijah's voice. When it finally came - "Hello! This is Elijah Wood. Welcome to lordoftherings.net" - my immediate impression was how very upbeat he sounded, and just from those very few words I felt he was pleasant, friendly and full of fun. How right I was!! It was some time before I discovered an online video I could actually play. I remember it so well. Fortunately, work was quiet and I was on my own the afternoon I came across the Hollywood.com video:
My impression that Elijah would be a fun-loving guy was immediately proved right as he launched into a rendering of a song which, for the purpose of this story, I shall call 'Ode to Hollywooddotcom'!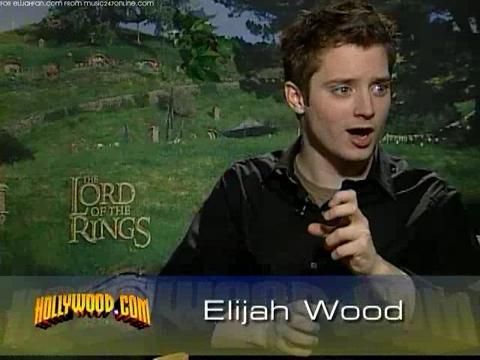 "It was amazing - I mean it's very difficult to encapsulate the experience into words and try to define it." The interviewer suggests he mimes it!!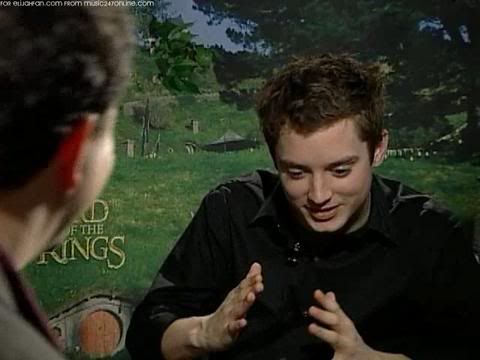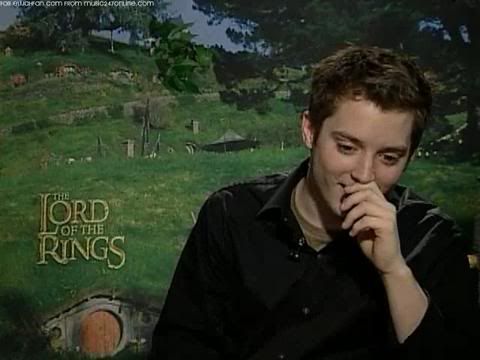 "What an opportunity to go to New Zealand, to go on an adventure with these people and in some ways live out the journey of the book in real time. It was amazing and I will take so many things away from it."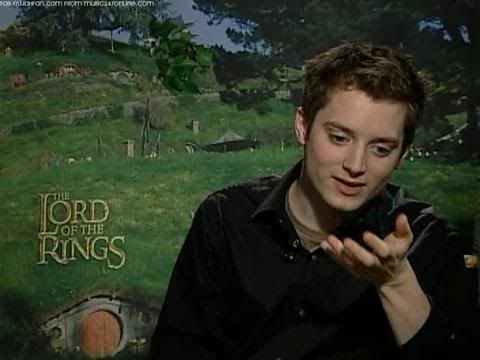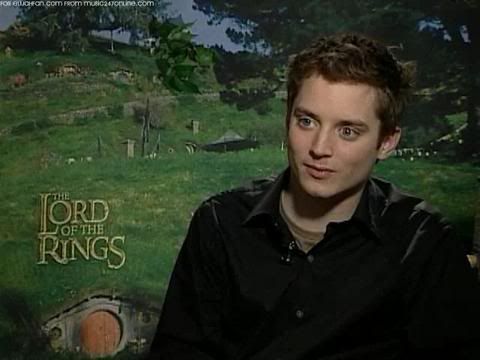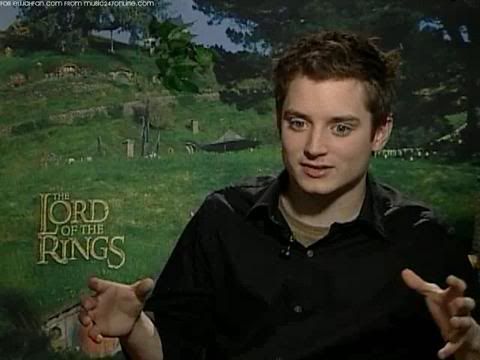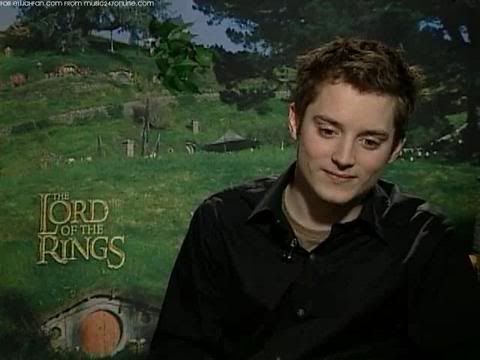 "These are some pretty brave hobbits - they're not wholly scared. I mean taking the Ring of Power and being able to endure that as Frodo does - you've got to hand it to him. He's pure of heart. Hobbits are pure of heart. They're unaffected by the outside world. Everything that they know and love is in the Shire and they live very simple lives. They live free of corruption, they live free of jealousy, of envy - you know, the things that make kingdoms fall. Hobbits don't deal with those issues. Hobbits are then able to take on evil and it takes a lot longer for the evil to corrupt them.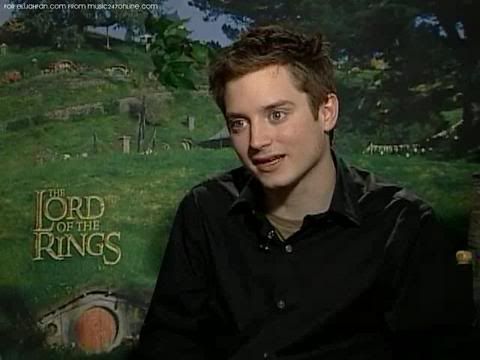 I loved/love the articulate way he spoke about hobbits here.
For the rest of that afternoon, I rewatched this video every chance I got. Elijah fascinated me - I loved his voice, his manner of speaking and his gorgeous face took my breath away - he seemed to somehow glow from within!! In the following days and weeks I saw many more pics and videos and read many interviews. I already knew that I was hooked on Mr. Baggins but I now had to admit to myself that I was also becoming hooked on Mr. Wood!!
---
And around the world people are flocking to cinemas to join Frodo on his journey!
Leaving Hobbiton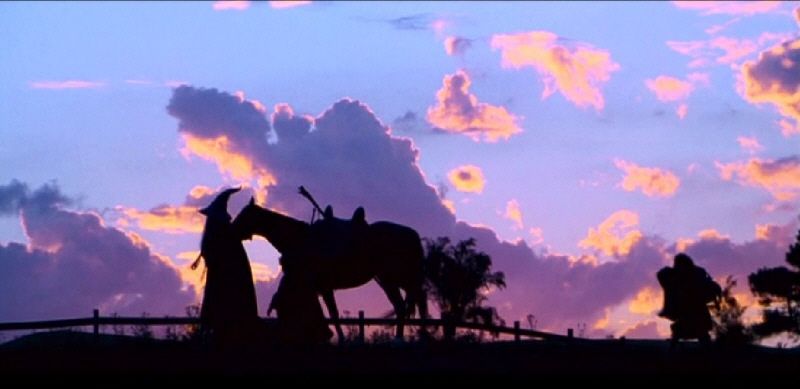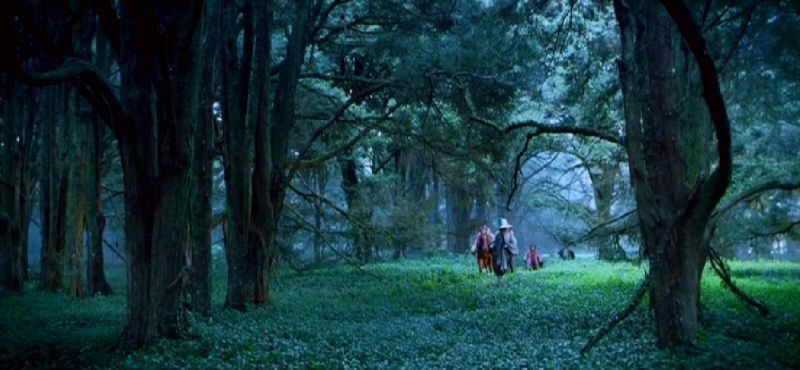 Is it safe?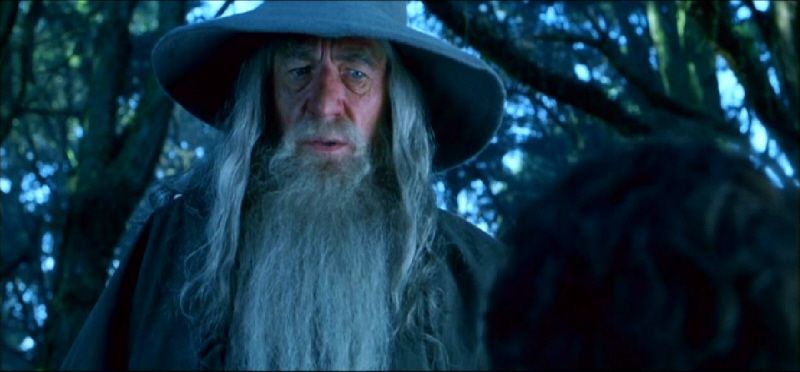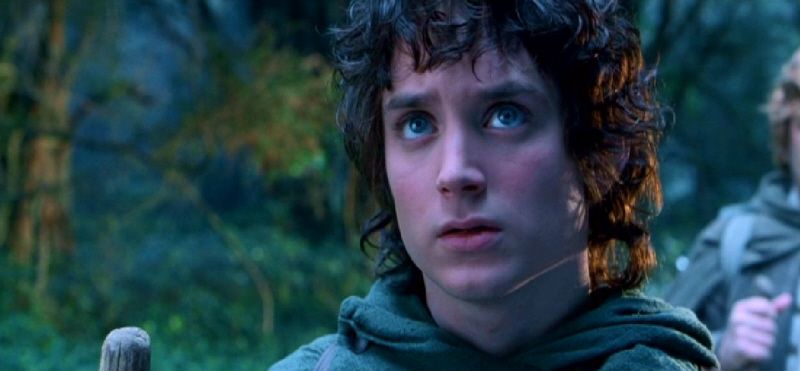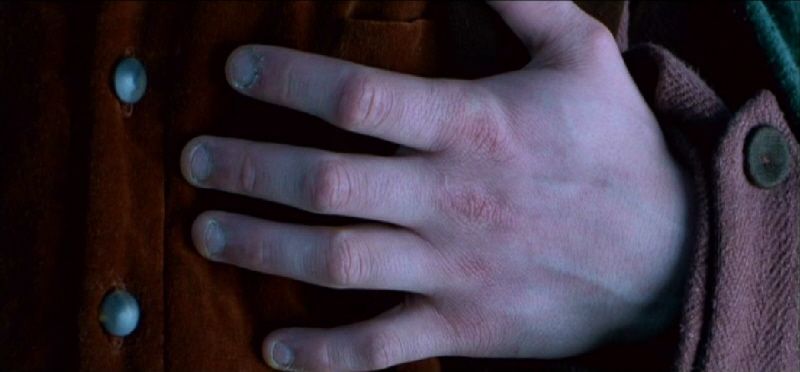 Never put it on ...
"I should like to save the Shire, if I could – though there have been times when I thought the inhabitants too stupid and dull for words and have felt that an earthquake or an invasion of dragons might be good for them. But I don't feel like that now. I feel that as long as the Shire lies behind , safe and comfortable, I shall find wandering more bearable: I shall know that somewhere there is a firm foothold, even if my feet cannot stand there again." (Fellowship of the Ring ~ The Shadow of the Past)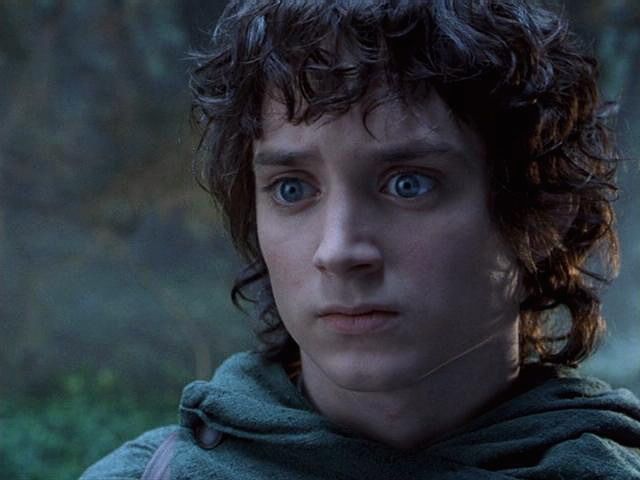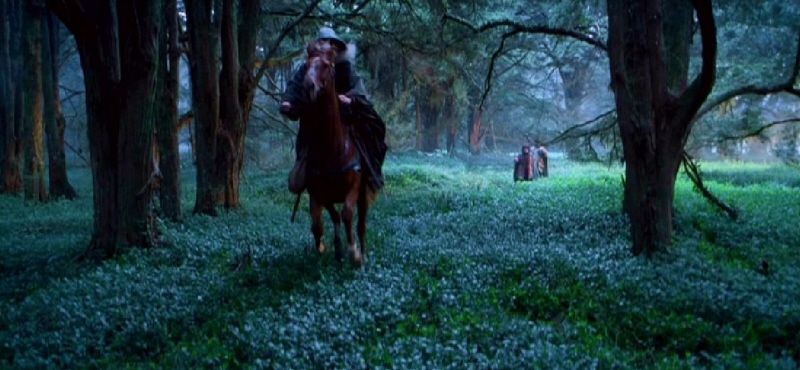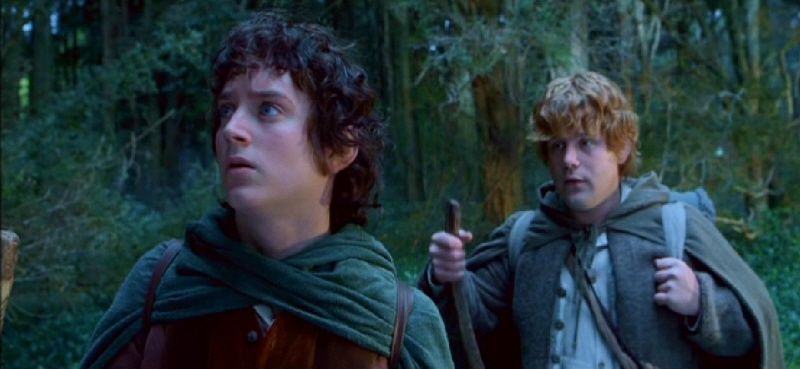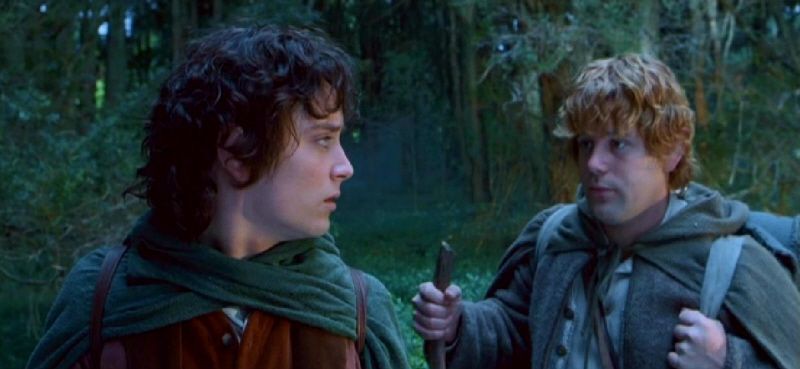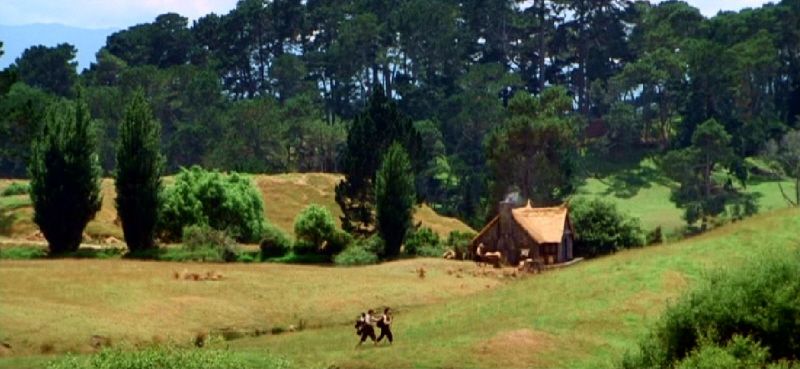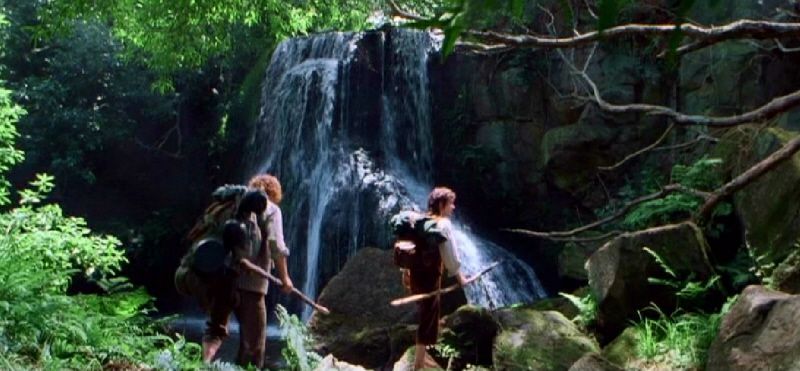 Sean : Oh, I remember this day, this was fun.
Dom : That looks really cool!!
Elijah : That was when we didn't have anything to shoot up on the mountain.
After some discussion it's decided it was Mt Owen.
Elijah : All those days of playing cup!! (DVD Commentary)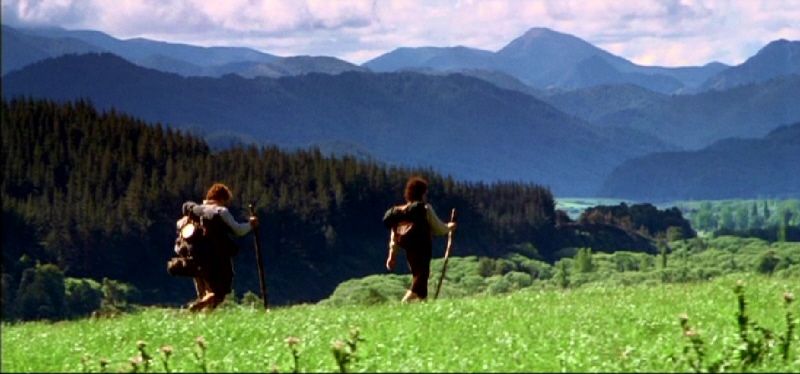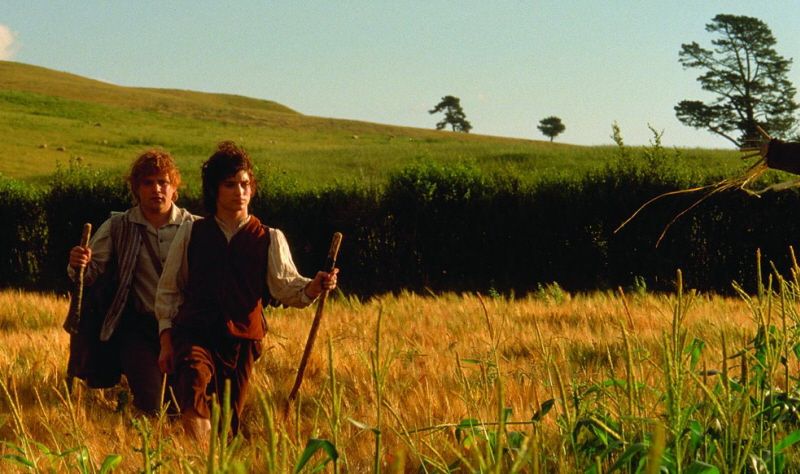 That's it!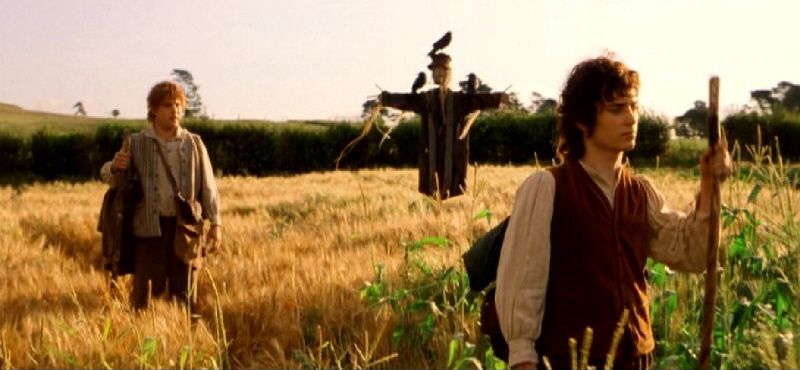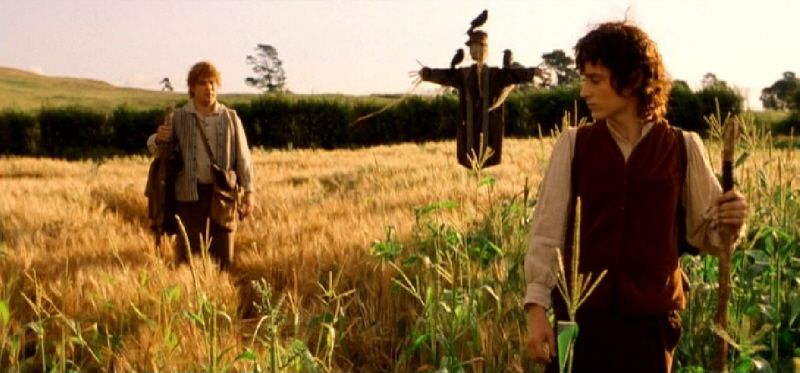 That's what?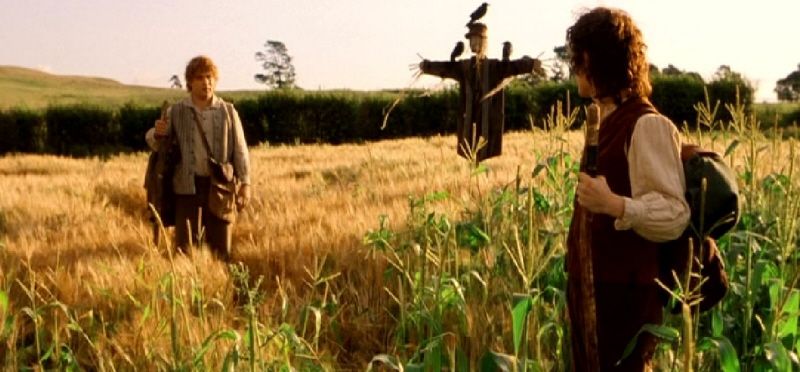 If I take one more step, it'll be the farthest away from home I've been …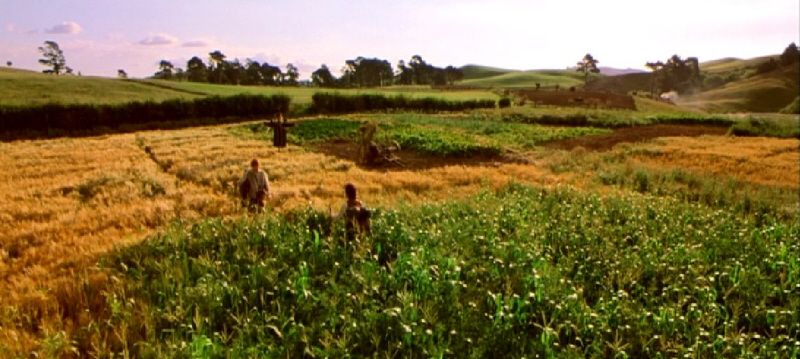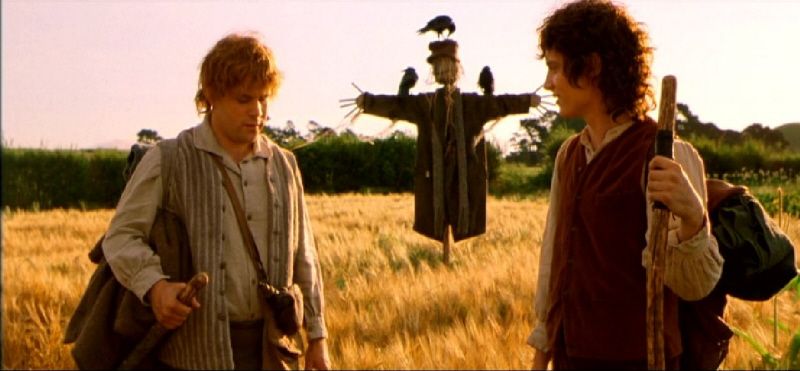 Come on Sam!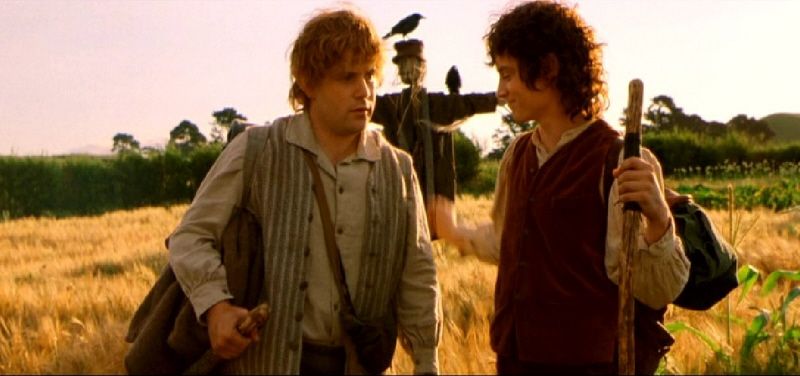 Remember what Bilbo used to say …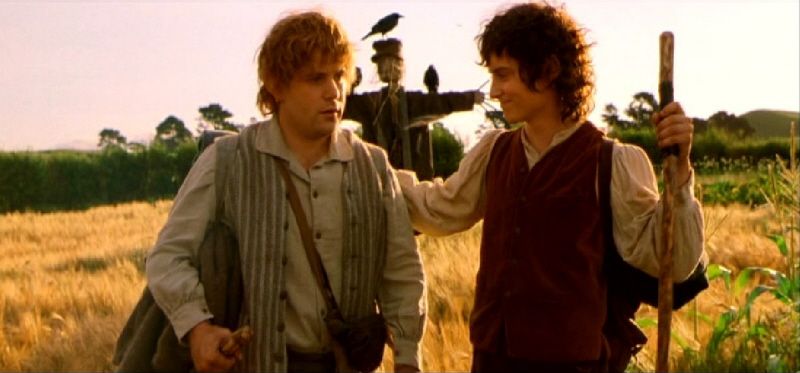 It's a dangerous business Frodo, going out of your door. You step into the Road and if you don't keep your feet there's no telling where you might be swept off to!"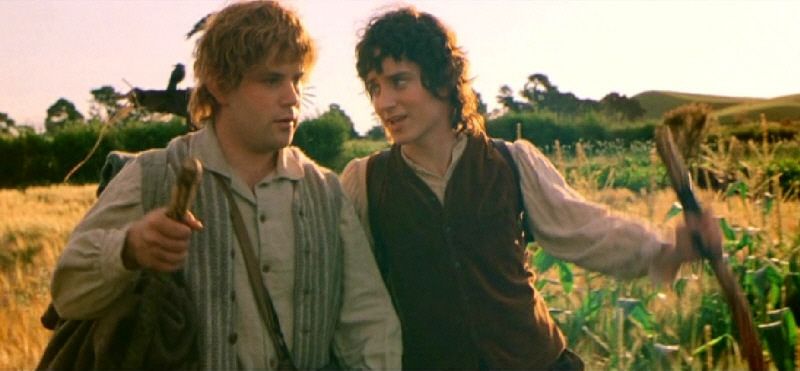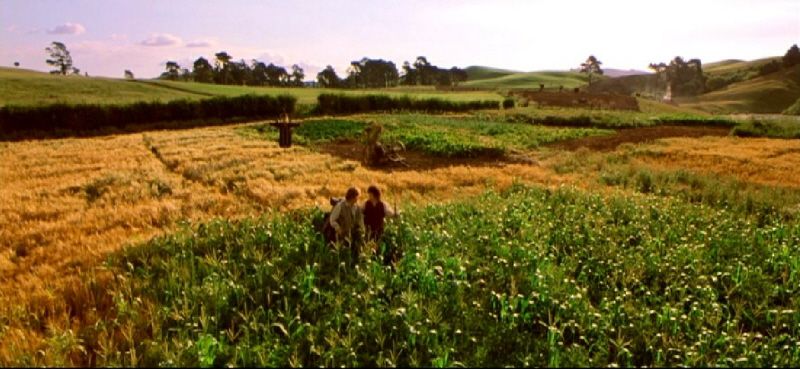 I wish this shot hadn't been dropped from the extended edition.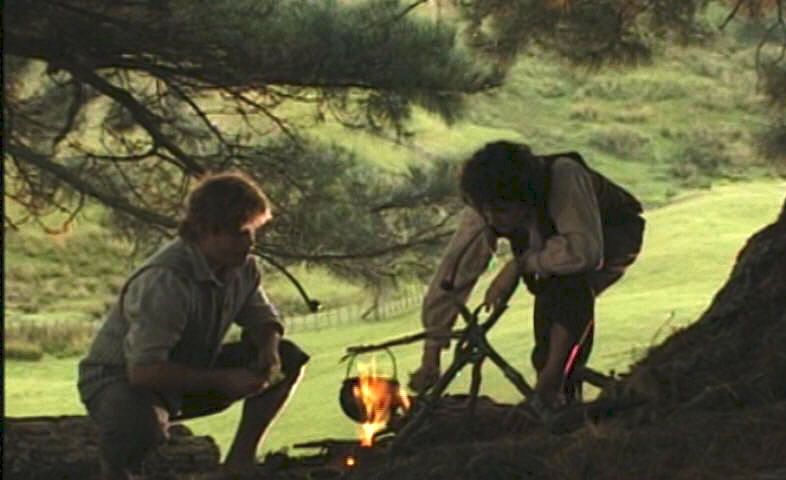 There were quite a few publicity shots of Frodo in the tree which didn't appear in the film.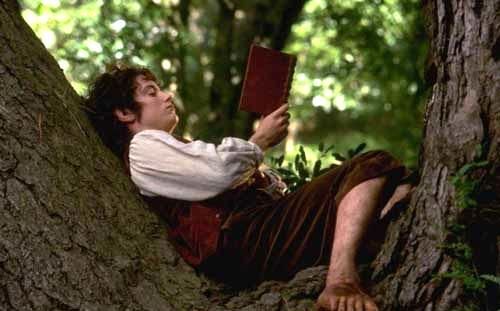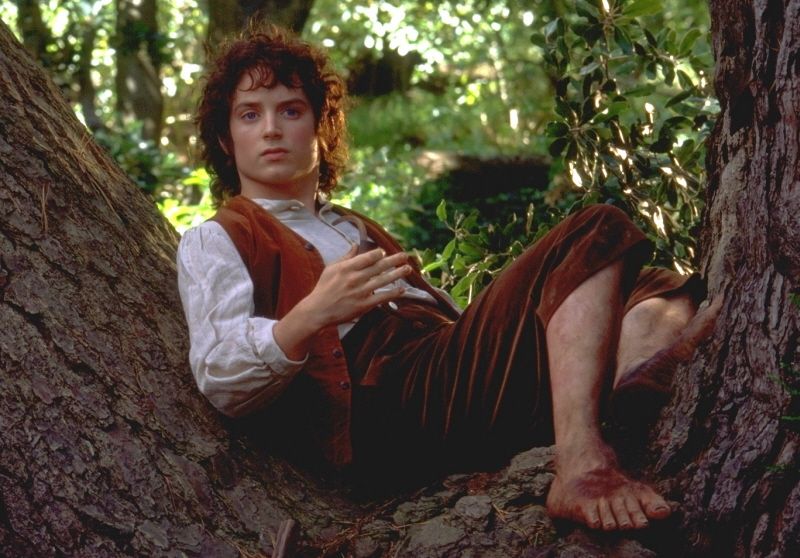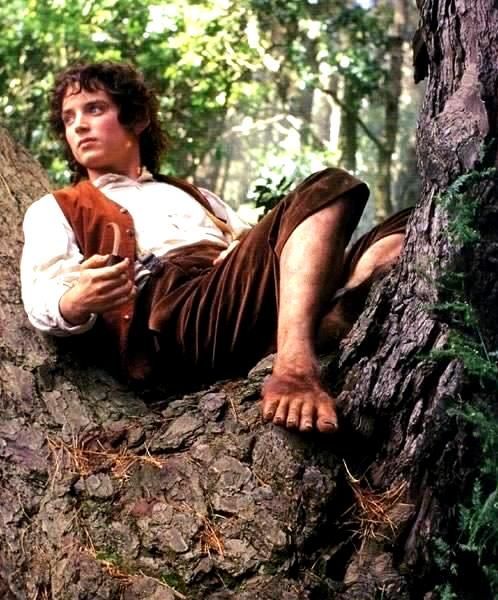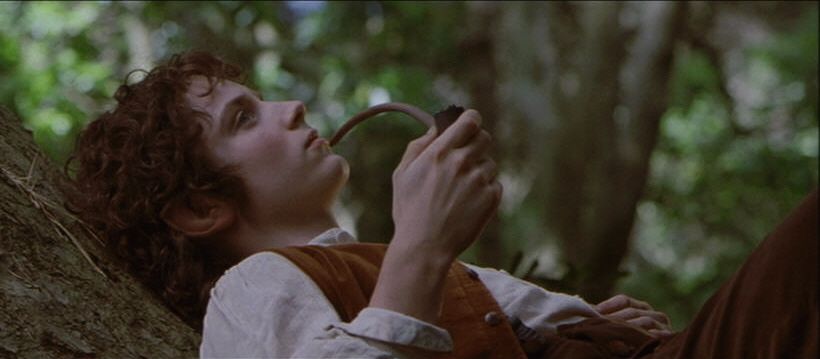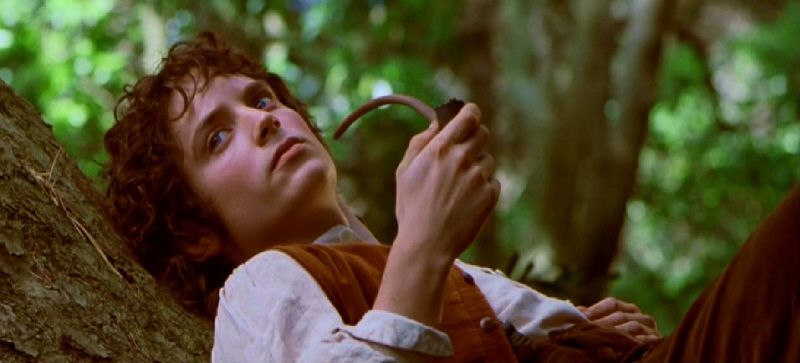 DVD Commentary:
Elijah : (following an explanation on the rules of Cup by Billy and Dom) Speaking of game-making, what was the name of the fake game that you all tried to get me into?
B&D : Oh Tig - Tag? Tig!! That was good!
E : Tig!! Oh My God!!
B : It was when we were filming Weathertop and myself and Dom just started tigging each other - like tig! Tig! - just like for no reason and then Sean came over and started doing it as well Then we'd say tig tig, tig tag –like for no reason!! Then Elijah came over and says,"What are you guys doing?" and we said,"Oh, we're playing a game called tig and he said, "How do you play?" and we spent like the next two hours making up rules!
E : And trying to teach me and of course I was getting everything wrong.
S : He couldn't follow the game and the three of us were forever frustrated that he wasn't following these new rules that we were continuing to make up.
D : So the three of us were constantly getting it right and everytime he tried a new way of tigging someone we'd say "No Elijah you can't tig on a tog, you can't tag on a tig, you have to do an elephant impression if you're going to tig Billy, if Billy's going to tig you back you have to get on your knees and take your trousers down!
B : How many times Elijah, you can't double tig a tag.
D : And for like three weeks he was saying how much he enjoyed playing tig.
B : But do you remember we forgot to say that it was a wind-up and it was like a year later and he said "Why do we never play tig"?
E : And then they finally let the cat out of the bag – my whole world came shattering down when they told me that was a lie – 'cos for a whole year I believed that that was a real game.
B & D : Sorry Elijah!
E: What else was not true, that's what I was asking!!
S : It undermines the integrity of the whole relationship.
E : That's what I think.
D : Its part of the whole bonding experience.
B : Although Dom and I are just liars!!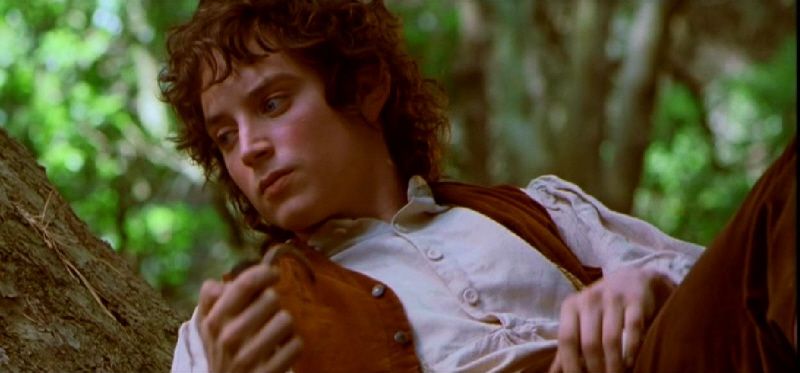 Sam - wood elves!!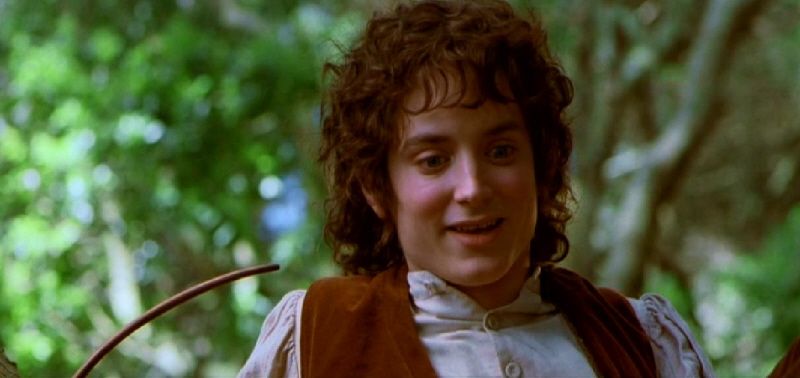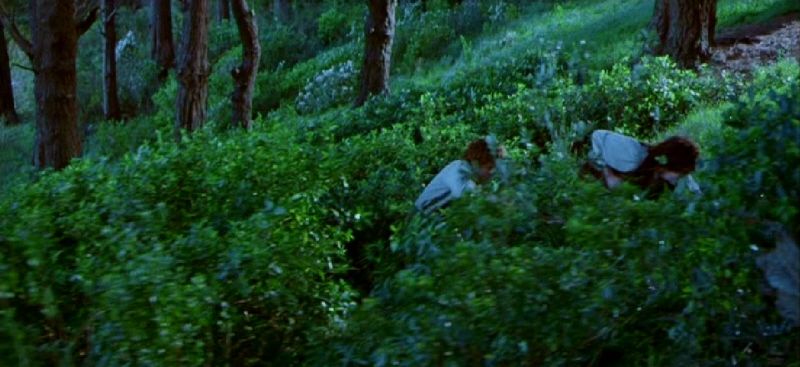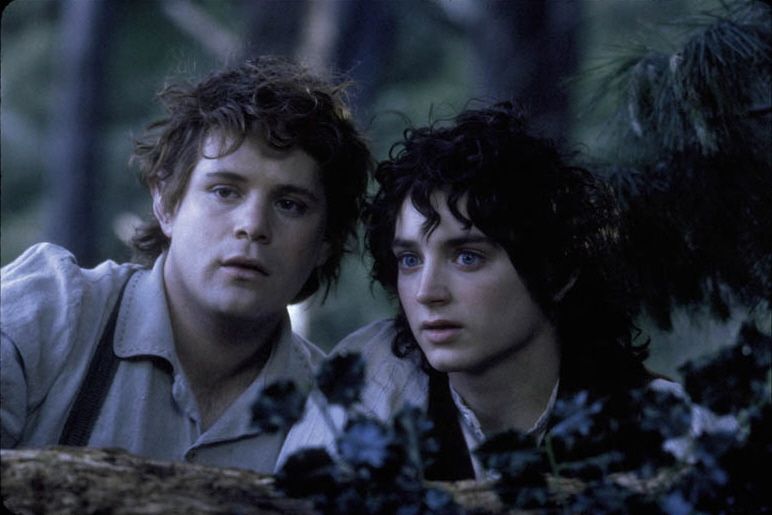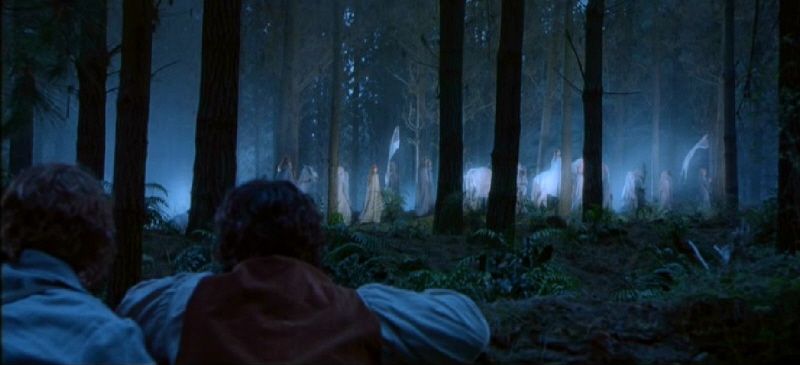 They're going to the harbour beyond the White Towers, to the Grey Havens ...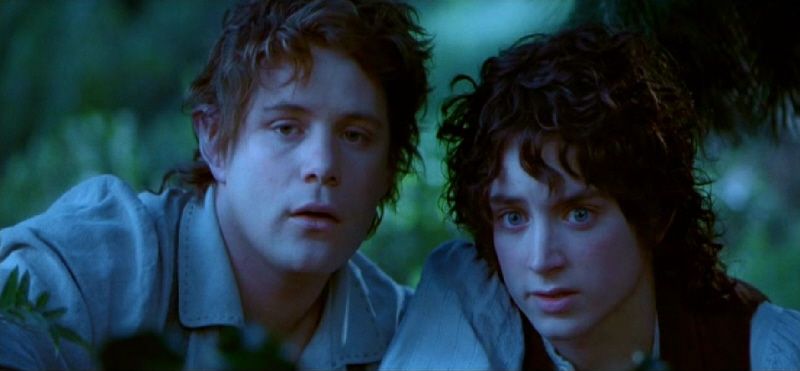 They're leaving Middle Earth - never to return ...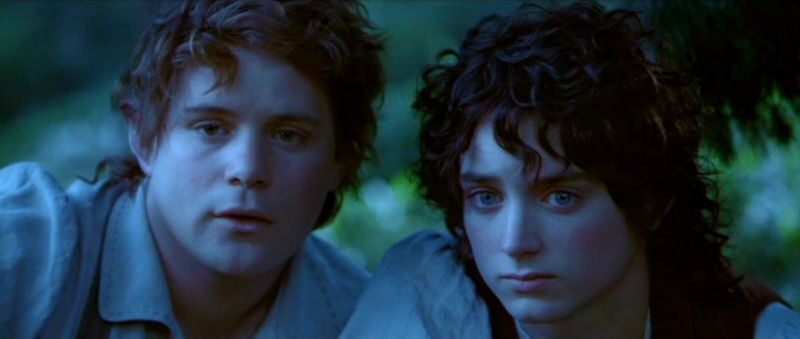 I don't know why, but it makes me sad ...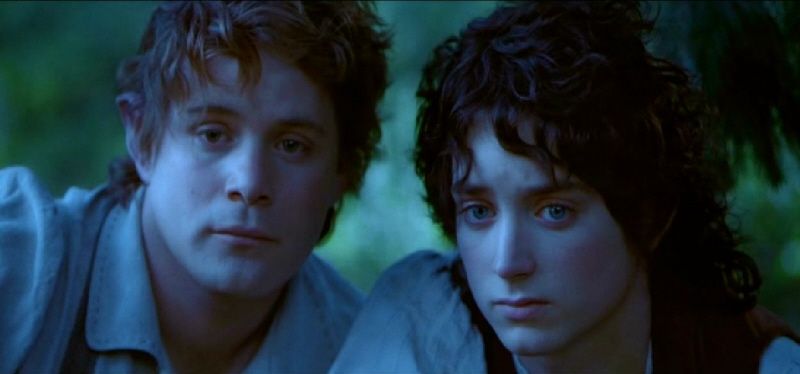 And it makes me sad that this exquisite scene was cut from the theatrical version – so beautiful, so very prophetic and so sad.
Just shut your eyes and imagine you're back in your own bed …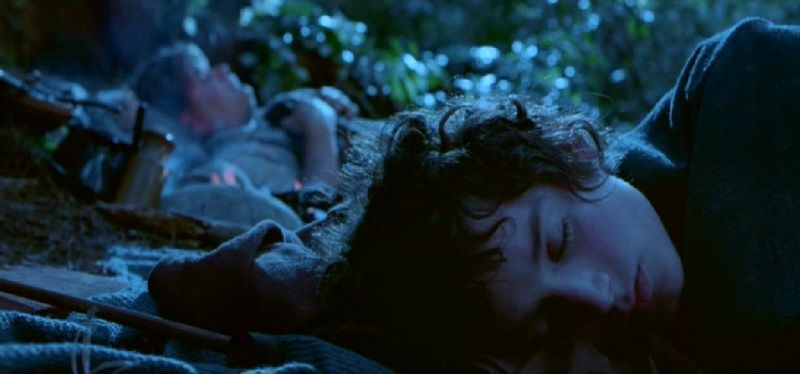 … with a soft mattress and a lovely feather pillow.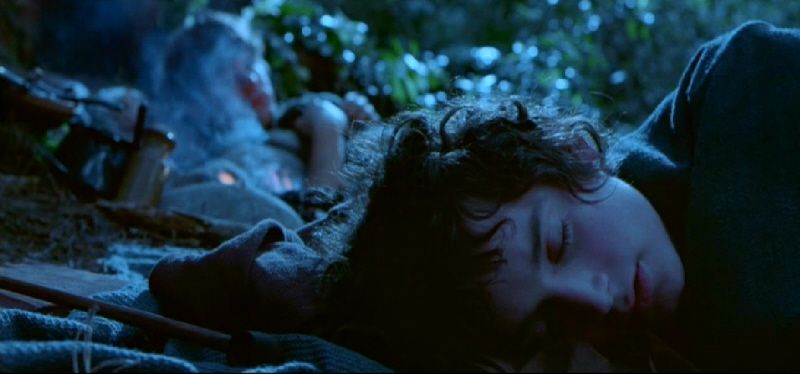 "I like this little moment - it's very slight but it just acknowledges the fact that hobbits, which are very comfort-loving creatures, are now having to sleep rough, they're not in their own beds, something that Frodo manages much better than Sam who really is not used to this sort of lifestyle in the slightest. These were amongst the very first shots that we ever did -I think this particular shot of the boys by the campfire was shot on our third day of shooting." (PJ - dvd commentary)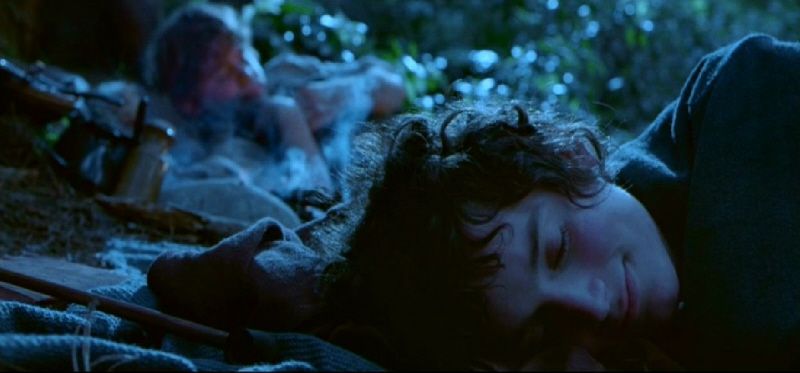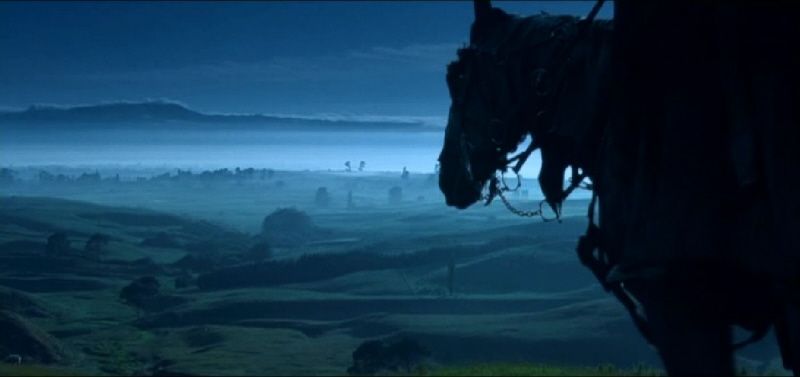 TO BE CONTINUED
---
"There's a quote which I believe is from the book 'Siddhartha' which is - and I don't know if this is perfect, 'There is nothing noble in being superior to your fellow man. True nobility lies in being superior to your former self.', which is just a great thing to live by."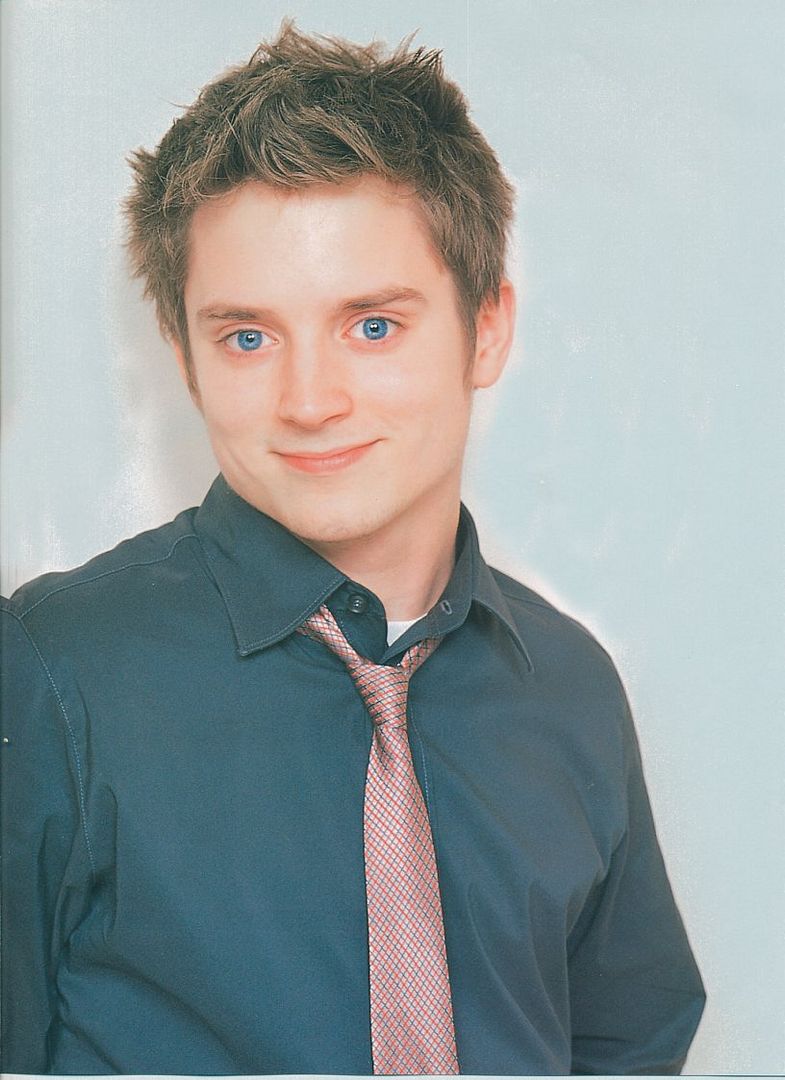 Link to all chapters:

"A JOURNEY WITH FRODO"
comments: Leave a comment