Just in time to post Chapter 30 for Froday!! This one covers the SAG Awards of March 2002 including the after party and after the after party:D Also includes filming of 'Try Seventeen' in Vancouver. And Frodo has reached The Road!! Hope you enjoy:)
For anyone unfamiliar with my pet project, 'A Journey With Frodo' (a work in progress) is the story of Elijah Wood's experience in becoming Frodo, from back in 1998 when the LOTR movies were just a whisper up to the triumphant Oscars of Feb 2004. In reliving Elijah's journey, and mine, I am using everything I can lay my hands on - behind-the-scenes material from the various dvd's, magazine articles, books, internet sites, tv coverage, word-of-mouth info, etc. Previous chapters can be found here
"A JOURNEY WITH FRODO"
You'll need to scroll back to get to Chapter 1:)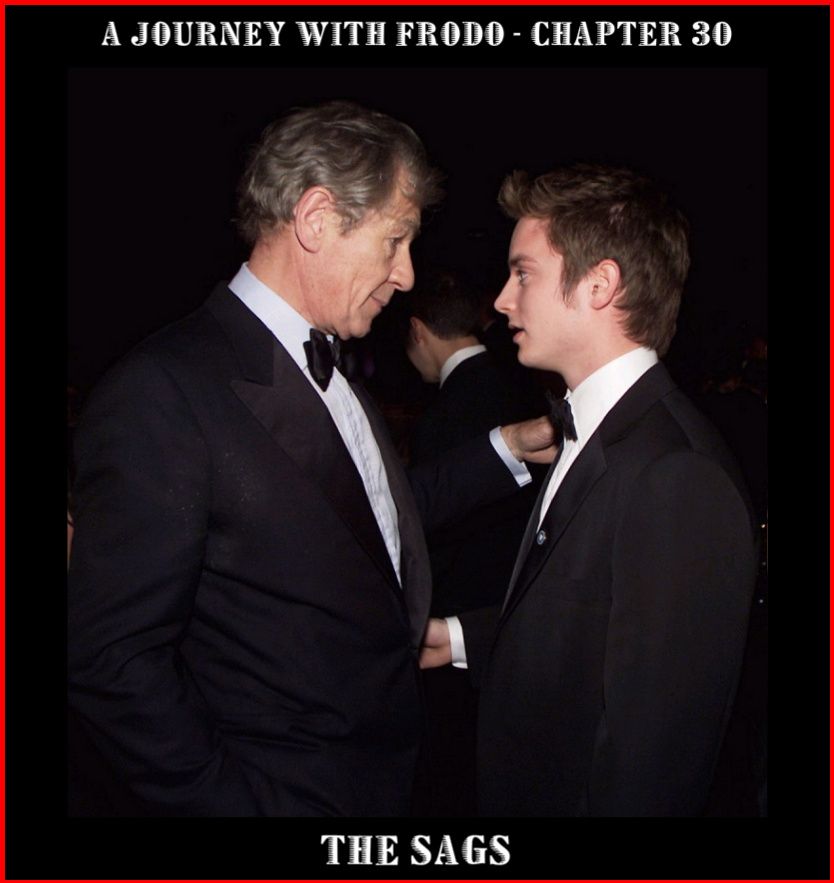 ---
10th March 2002 ~ Screen Actors Guild Awards
Los Angeles Shrine Exposition Center:
The last awards show before the big one!!
Ian McKellan wins Best Supporting Actor :
Elijah : "Its just amazing that he was awarded with that this evening – it's so deserved and we're so proud of him. You know, we worked so hard as a fellowship of people and of actors on this and to see one of the Fellowship take that is incredible!"
Billy & Dom: "Amen, Amen" (TV interview)
The Red Carpet: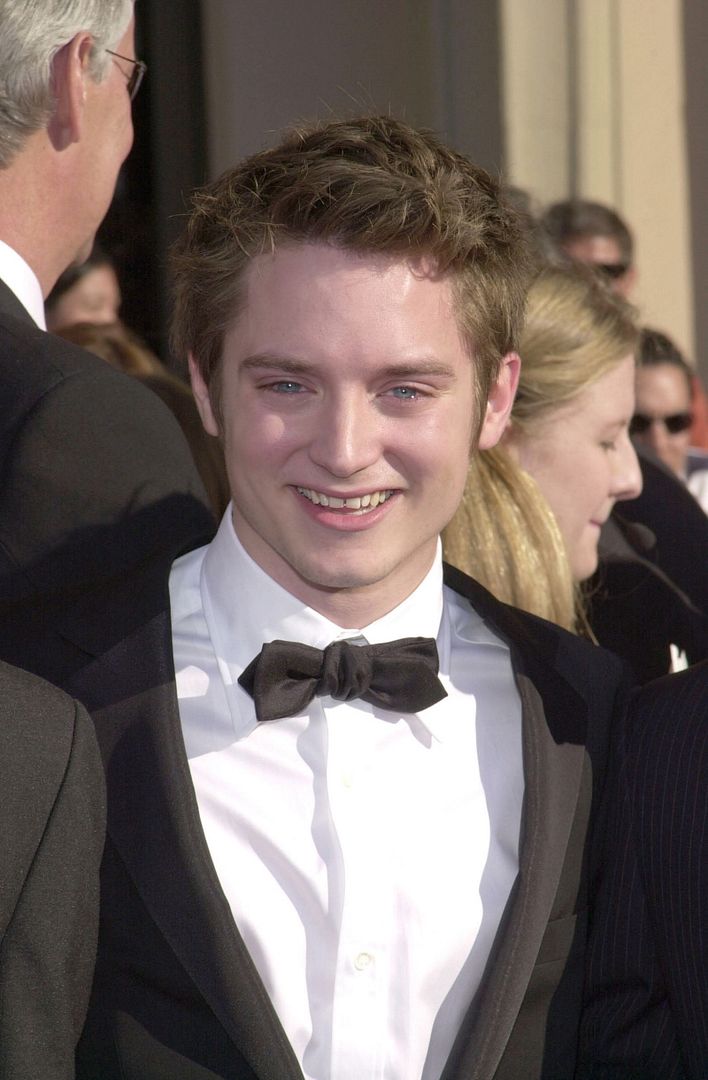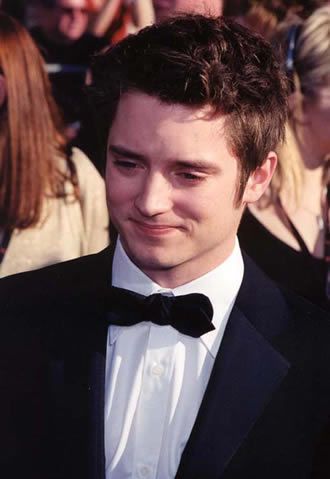 The dazzling sun was a real problem when it came to having pics taken: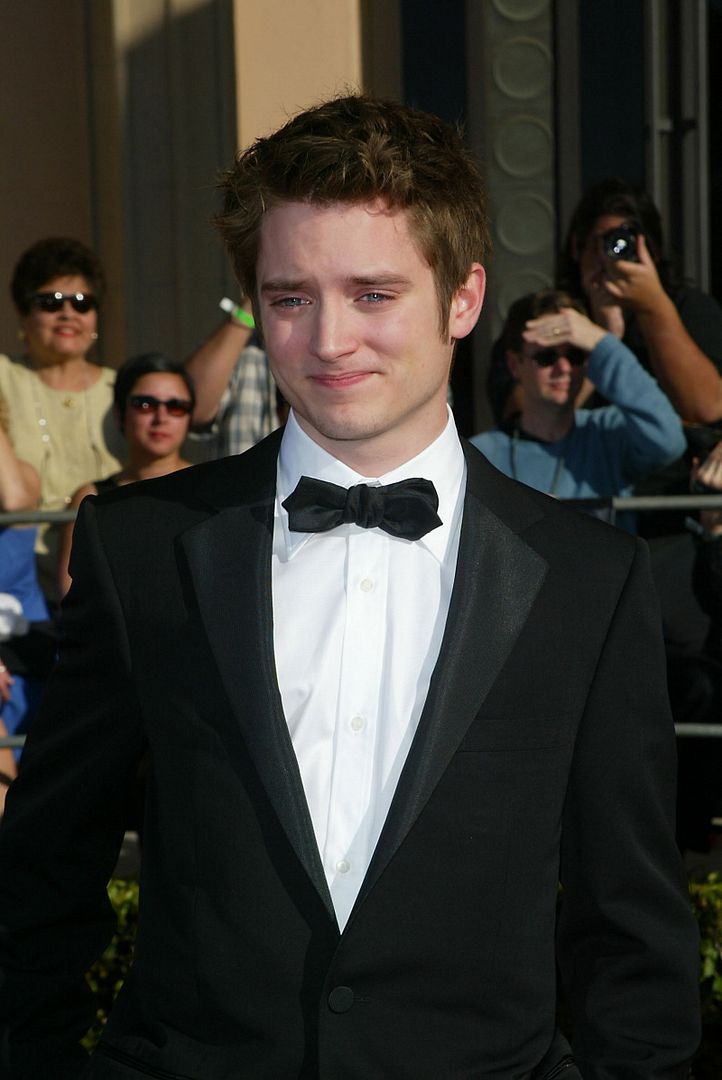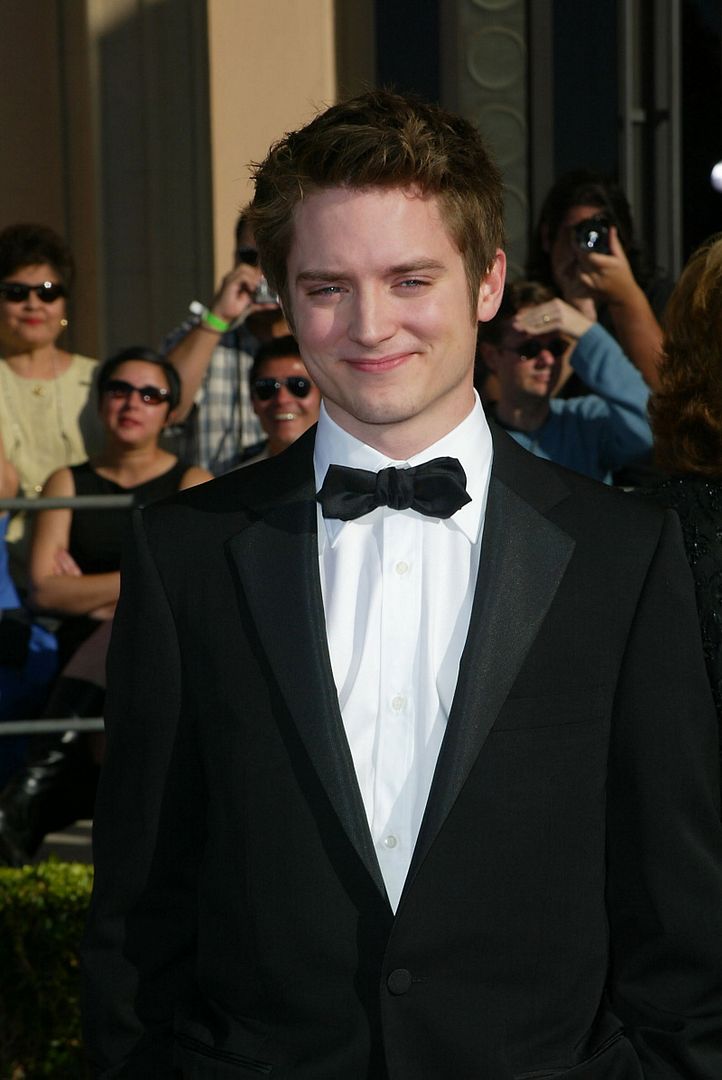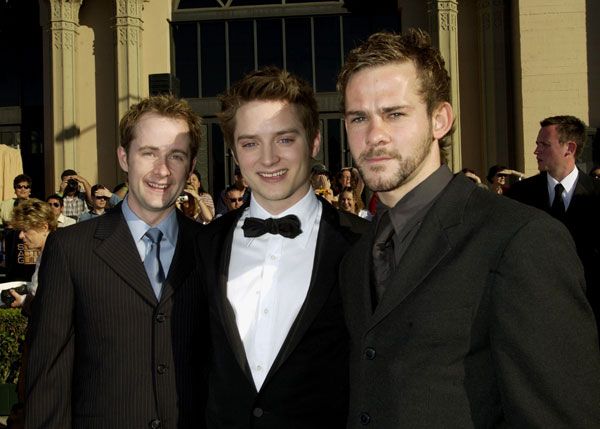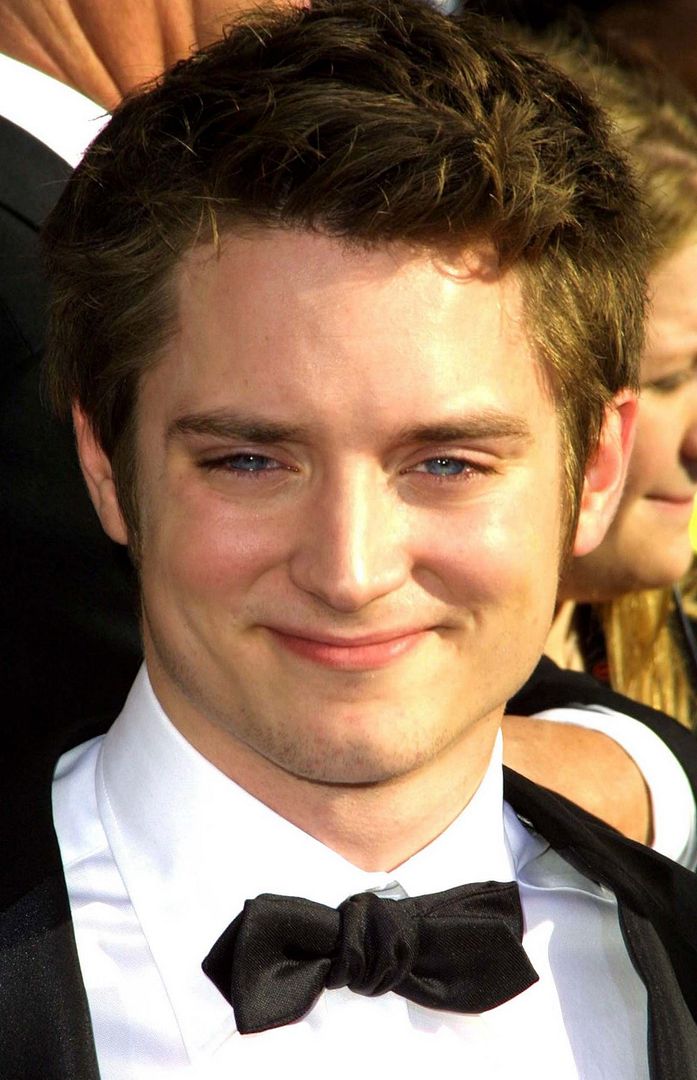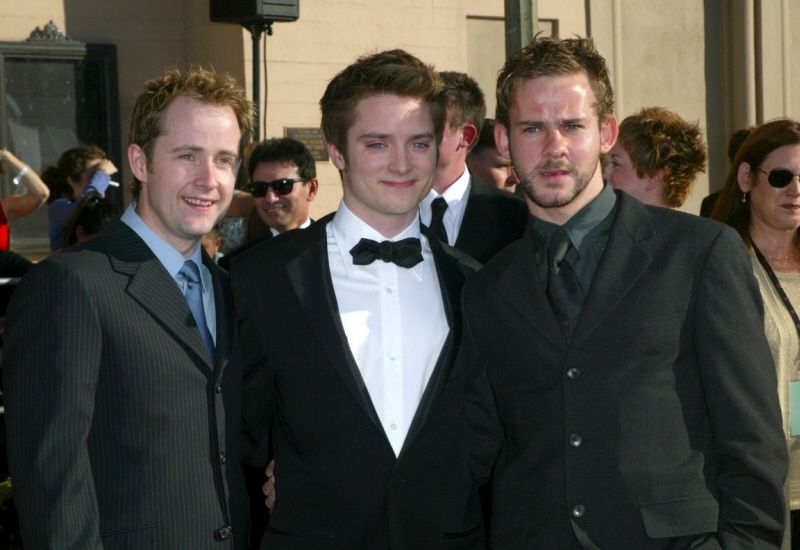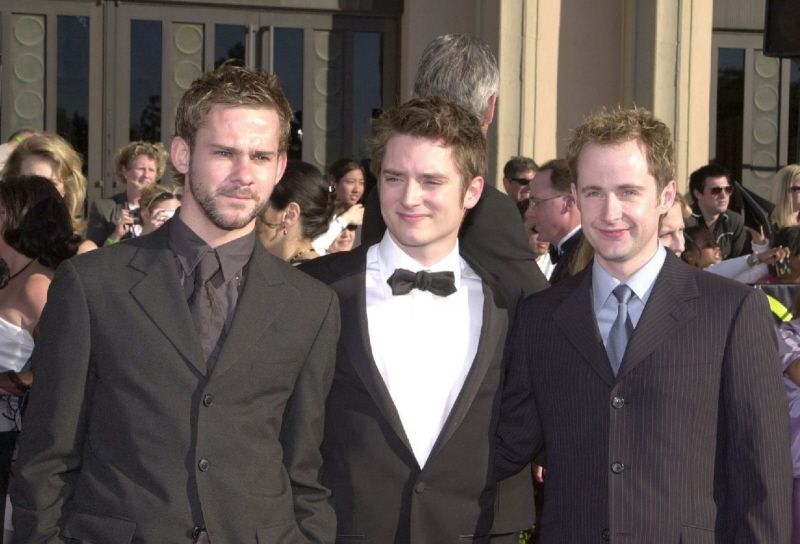 Shades - that must be a relief!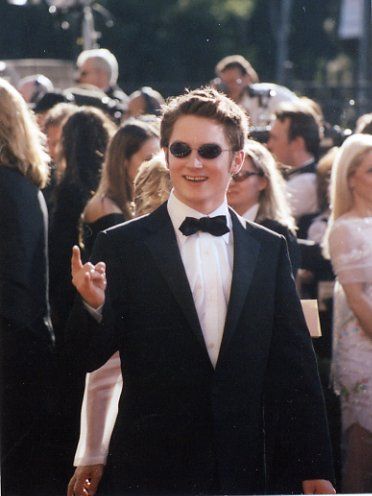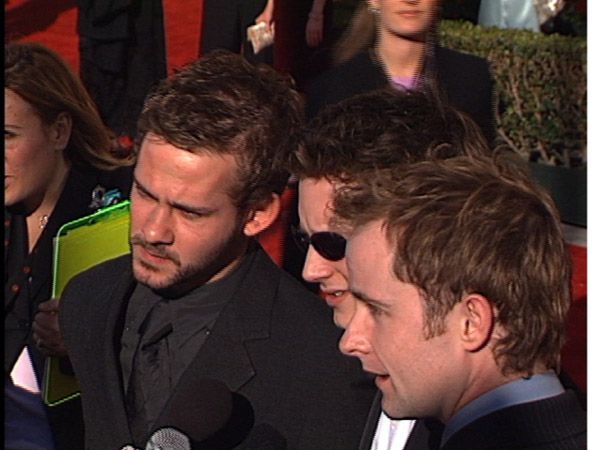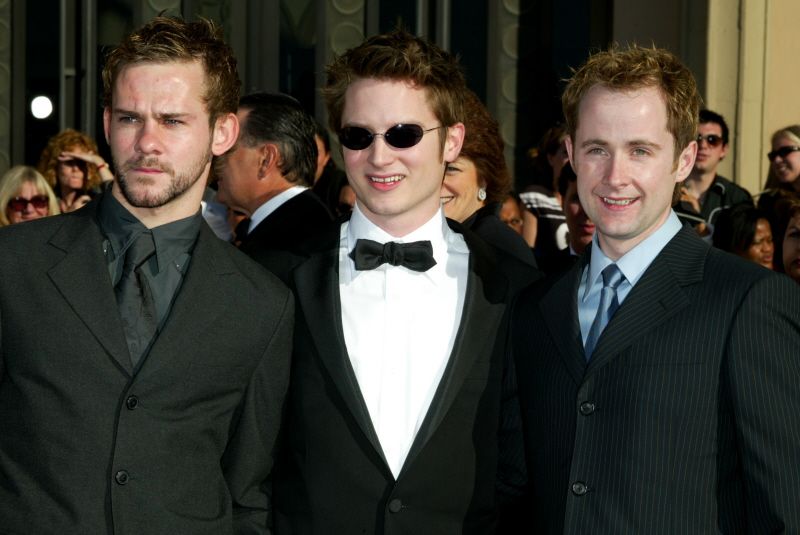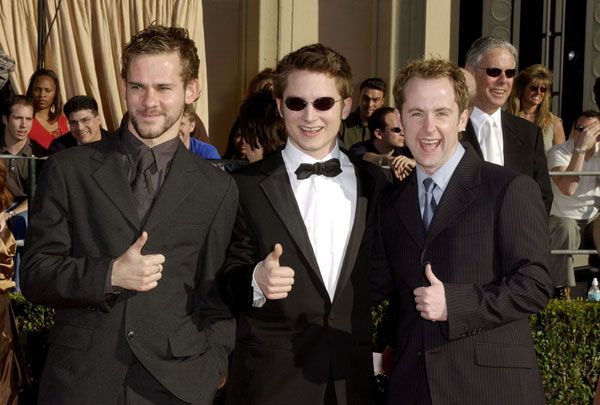 Elijah presented the FOTR clip:
"Tonight's second feature film nominated for ensemble acting is the adaptation of JRR Tolkien's classic 'The Lord of the Rings:The Fellowship of the Ring' portraying elves, hobbits, demons, wizards and mysterious humans. An international cast explores the realms of Middle Earth as they encounter the forces of good versus evil. A vast journey of the imagination where each character defines, or helps conquer, the heart of darkness."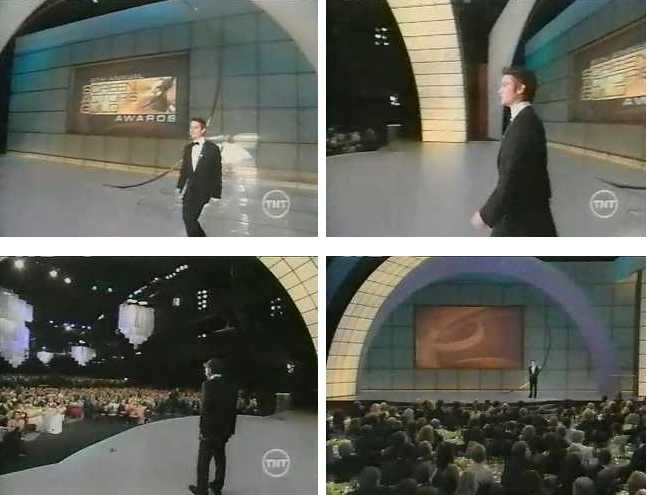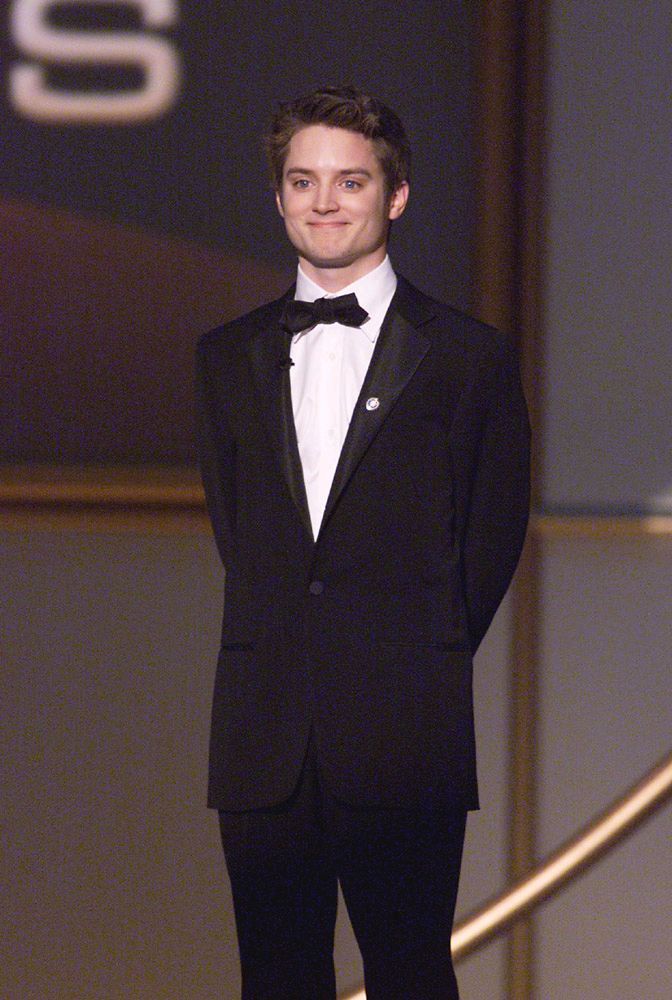 Photocall: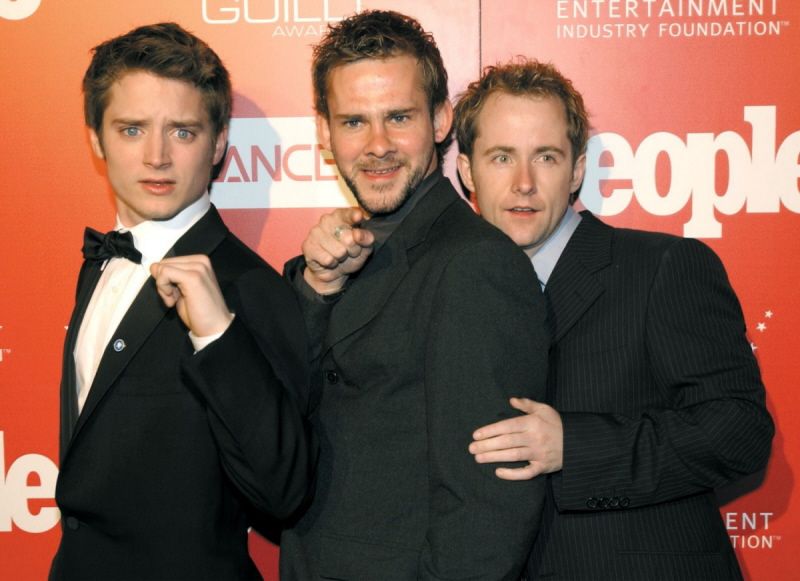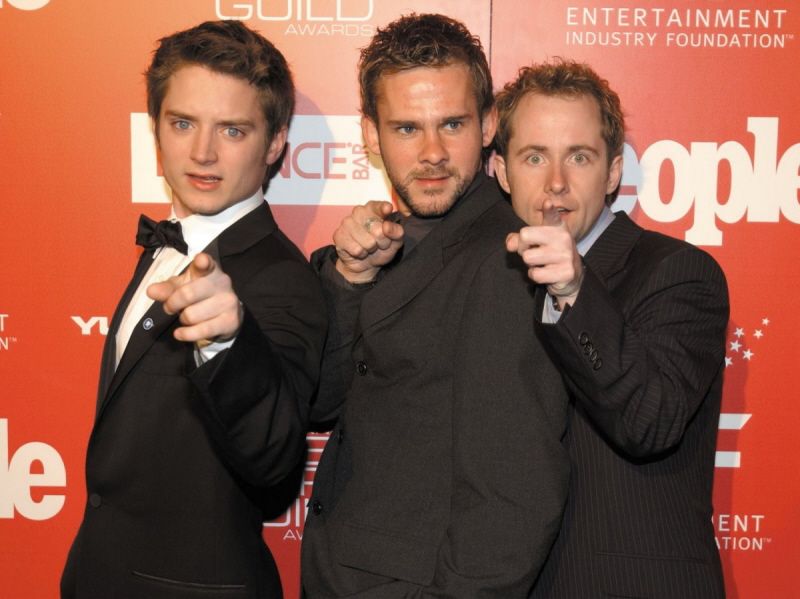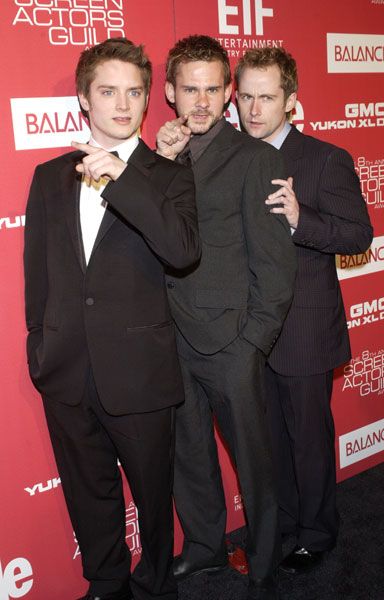 ?????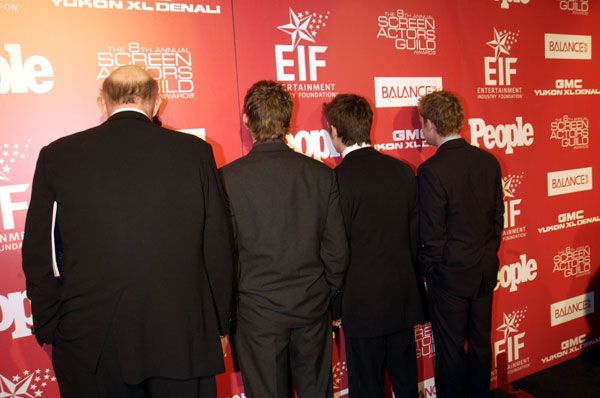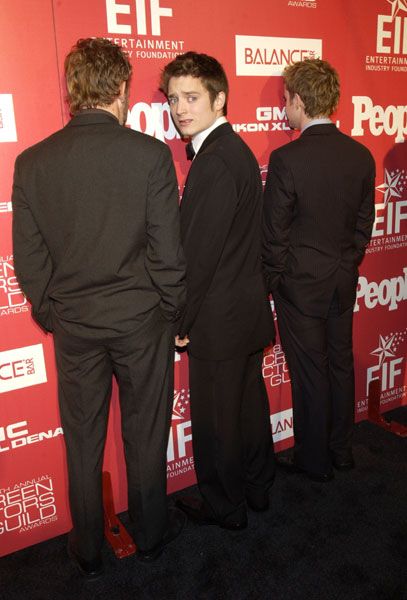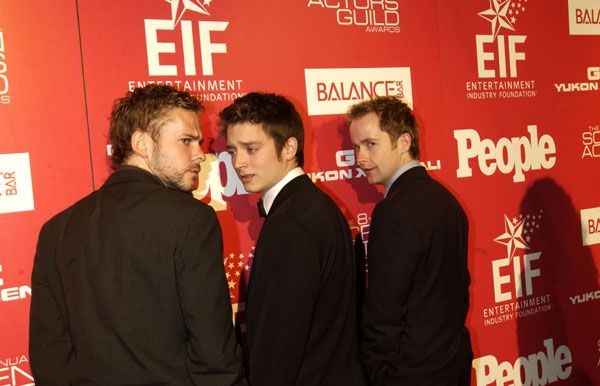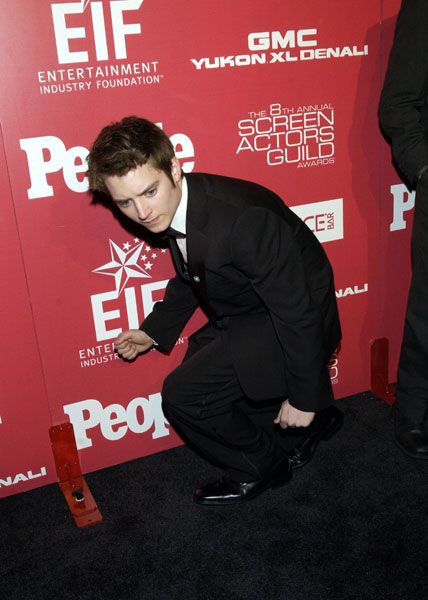 The After Party:

With David Spade: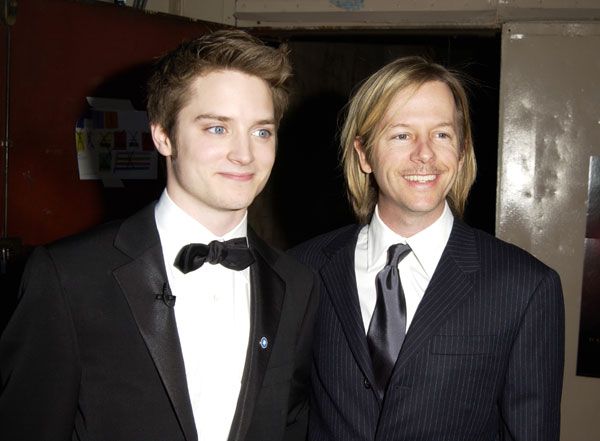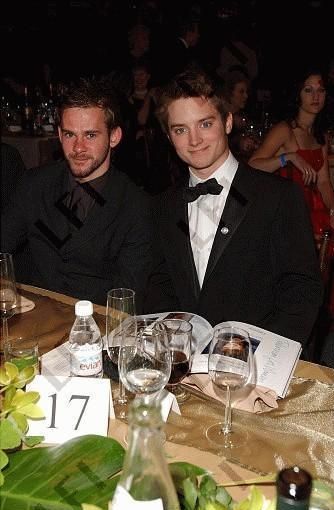 The Goodie Bag!!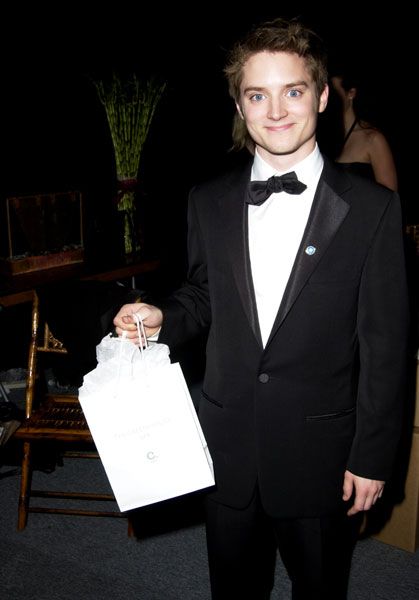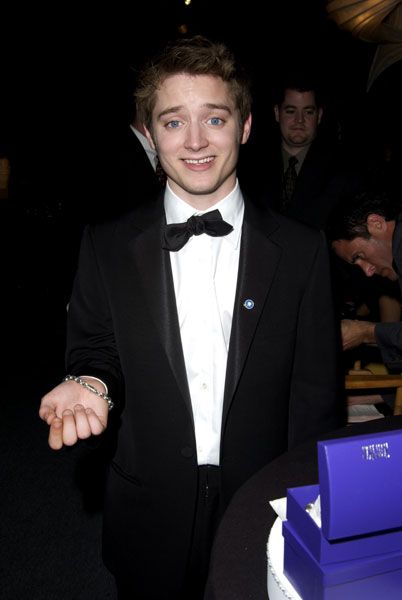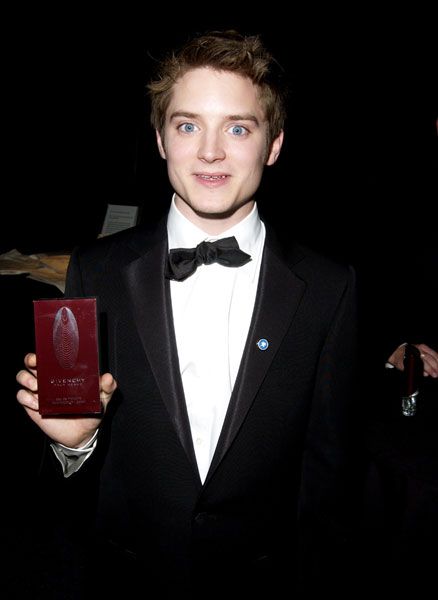 A Reunion with Ian: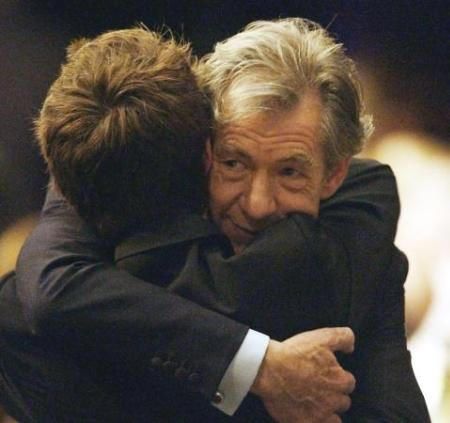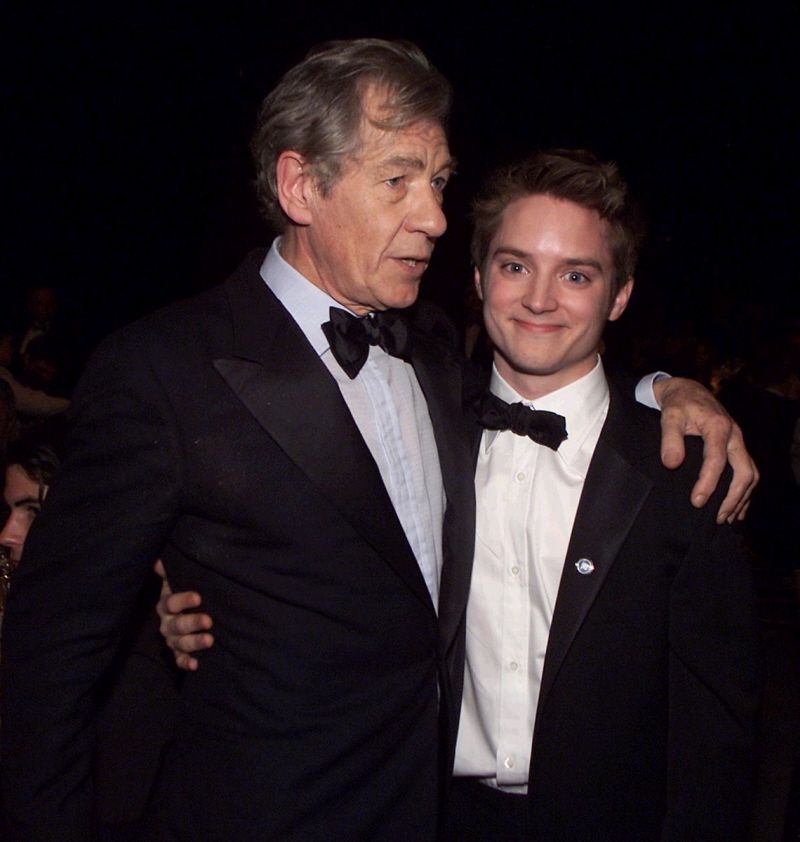 From Ian's E-Posts:
Q: I find now that as I continue to read, the pictures in my mind are becoming those of the movie. In some cases this is not a big stretch - in makeup and costume you look so exactly like I pictured Gandalf to be. Others vary more from my own imagination, but this is not always a bad thing. Frodo, certainly, has now become more beautiful than ever I gave him credit!
A: Elijah looks angelic but his beauty of spirit is what makes his Frodo leap out of the screen. Unalloyed goodness is one of the most difficult attributes to act."(Ian, The Grey Book)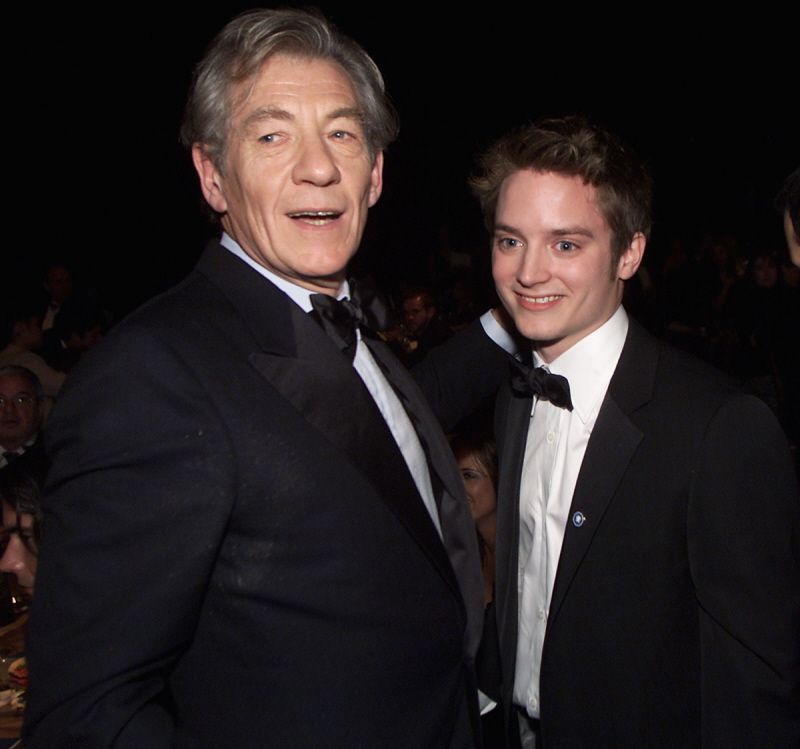 "So Billy left, and by this time we were certain that Dom and Elijah were still in there partying. We joked about how drunk they must be by then (it had been about 4 hours since the show ended) and how they were probably the only ones in there still dancing. Then we saw Dom. We yelled and he ran over, momentarily teasing us by running away, but finally came over to take pics and sign. He was very animated and friendly, and honestly it was quite clear that he had been drinking a lot. Someone asked if Elijah was still in the party, and he said he must be because they were supposed to be sharing a limo, and then he realized that he had forgotten to tell Elijah he was leaving.
Dom finished signing and promised to go get Lij and bring him out to us. Sure enough, he kept his word. He met Elijah at the gate, and they came over to us, holding hands. Elijah was a doll. He immediately gave us all hugs (keep in mind, he was clearly drunk as well), and couldn't believe that we had been waiting all night. In fact his exact words were "That sucks." Of course at this point I would clearly beg to differ. Lij signed things for us, and took a bunch of pictures with us. Then at a signal from Melanie, Dom insisted that we get a group picture of all of us. We took a number of pictures, and then Dom insisted on a group hug. They said their goodbyes, and climbed into their limo, and we left shortly after that. It was a fantastic night. I still have a huge smile on my face right now. All I have to say is I LOVE LA!!!" (Fan Report, theonering.net)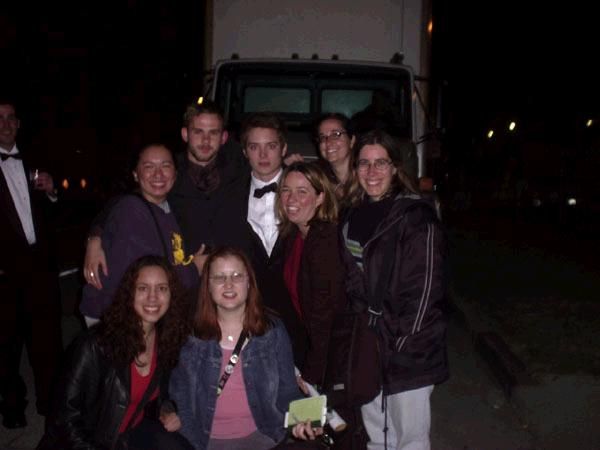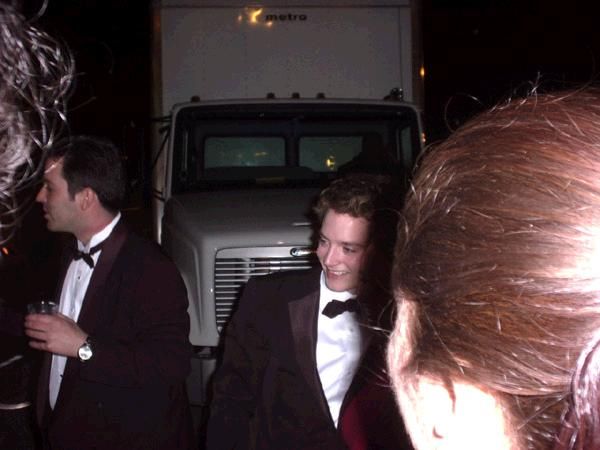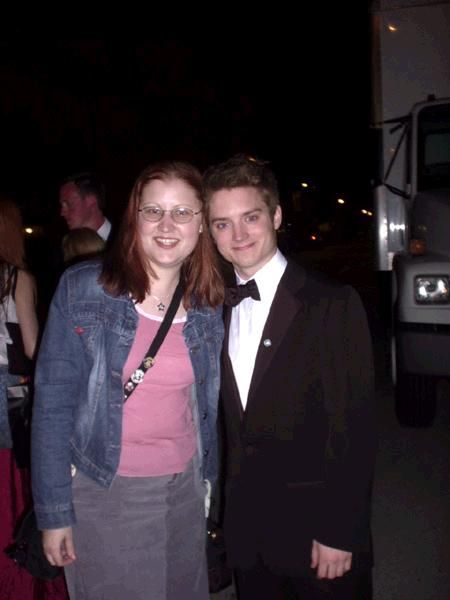 ---
Not long afterwards Elijah relocated to The Sutton Place Hotel, Vancouver to start work on his new film 'Try Seventeen' (later renamed 'All I Want'):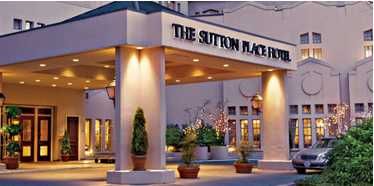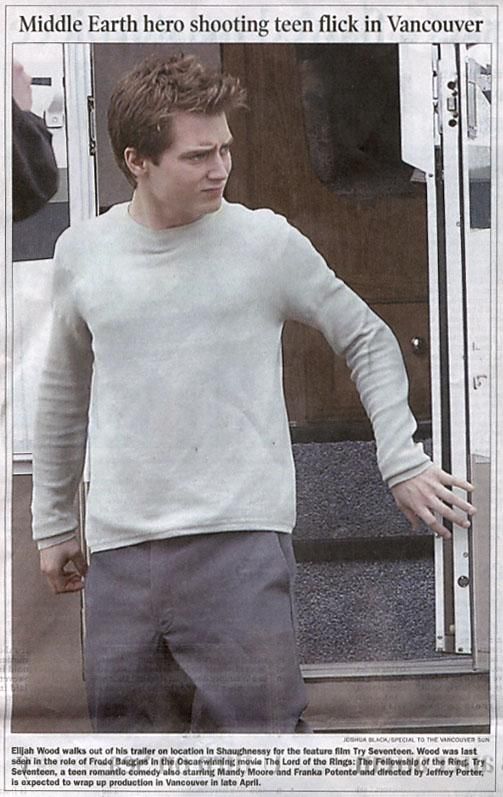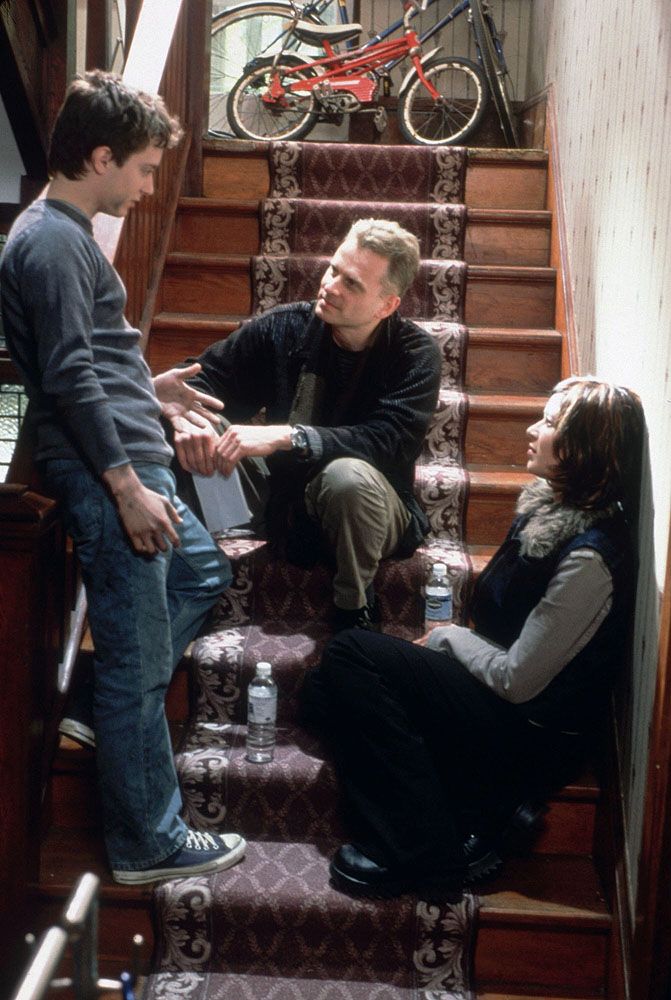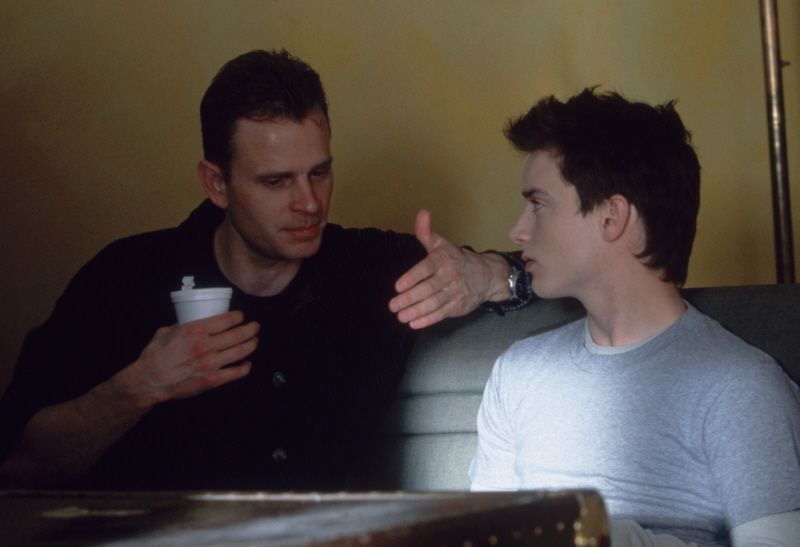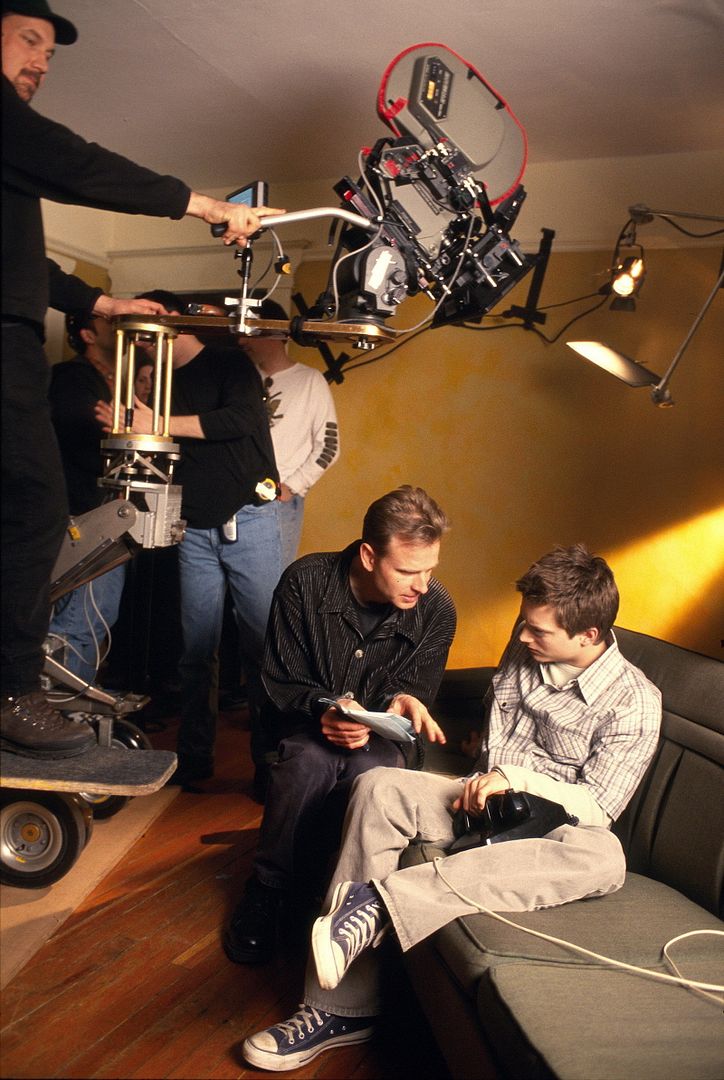 Hmmm - looks like fun:)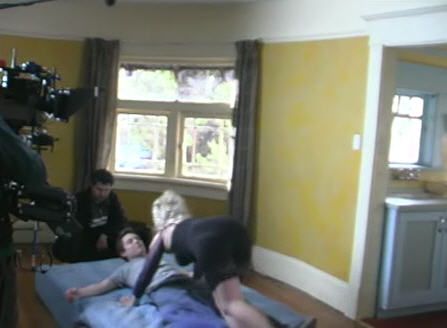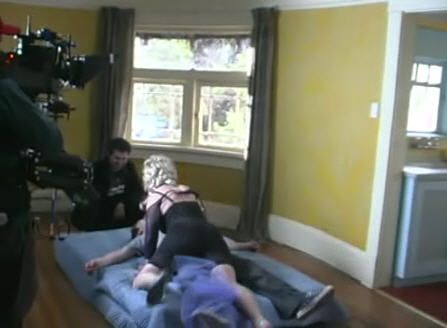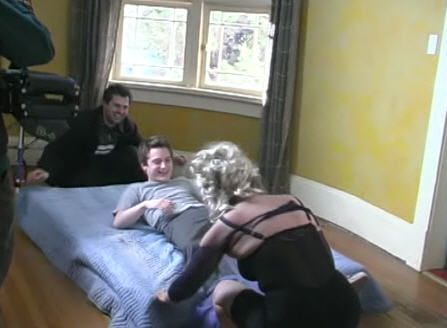 Meeting fans on set: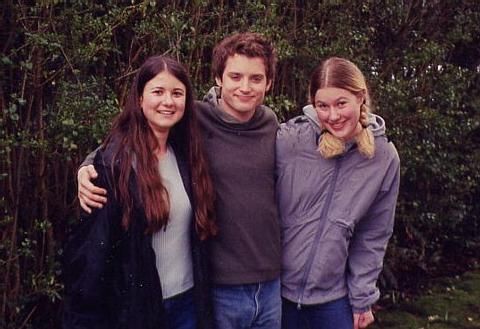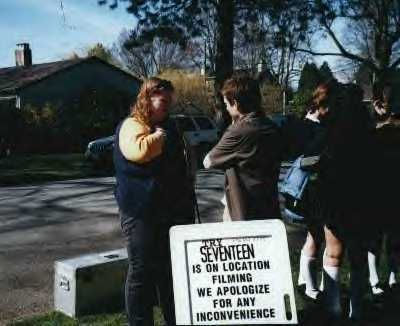 Always willing to pose for a pic: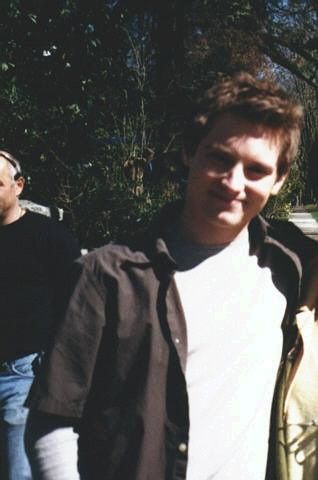 ---
My Journey Continues:
Surprisingly, I can't recall exactly the number of times I saw FOTR in the cinema, it was probably about six; not a huge number compared to some - but it was all I could manage with the constraints of time, work, etc. Also - and this seems so strange now - a couple of those times I went secretly - that is, on my own and not telling a soul!! I was still in unknown territory, you see - I had never experienced anything like this huge .... thing ... that had happened to me. In my world, before that time, you went to see a film and that was that. Oh, very rarely, if it was really exceptional, you might go a second time - but never more. I thought people, including my own family, might think I'd gone a bit peculiar!! When the film started to disappear from cinemas, I felt desolate. I knew it would eventually come out on dvd but I believed - mistakenly as it turned out - that I'd never see it on the big screen again.
Meanwhile, I was getting to know the internet - every day was a day of discovery as I came across message boards, online groups, more and more interviews, videos and pics of Elijah Wood. All this was taking place at work - I got away with murder!! Someone on one group sent me a video of almost all the chat shows Elijah had appeared on and all the LOTR documentaries I'd missed. I felt as though I'd won the lottery!! One evening my husband came home with a lovely surprise gift for me - a cd of the FOTR soundtrack! It hadn't even occurred to me that this would be available. I spent many hours listening to that beautiful music - I could picture the film playing in my head and it helped me through the interminable wait for the dvd. I believed, and still do, that Howard Shore is a genius - the score is perfection, it's impossible to imagine better.
This is what Ian McKellan had to say when he was able to witness the magic of Howard's music being created:
"But it's been greatly reassuring, before each ADR session, to be able to view the Gandalf scenes and to see how excitingly the story is being told and how movingly the characters relate to each other as their adventures proceed from Hobbiton to Mordor. At the end of this first film Frodo and Sam are separated from the rest and row across the river, destination Mount Doom -- on even a scratchy video, Elijah Wood and Sean Astin are heart-breaking and couldn't be better -- I thought. I reckoned without Howard Shore's music, some of which is being recorded by the New Zealand Symphony Orchestra and a male choir especially assembled for the movie. Last week I dropped in to watch them play and sing. It was the end of a long day for the musicians but their enthusiasm for Howard and the whole project was evident. I sat behind Peter Jackson huddled over a monitor showing the footage of Sam and Frodo in their rowboat. As the majestic Fellowship theme soared over the pictures and a plaintive flute and drums enchanted the ear, I heard and saw the first moment of completed film. Trust me: it is magnificent." (The Grey Book)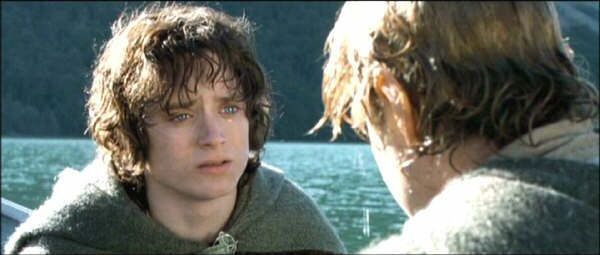 Some quotes from Howard:
"Frodo and Sam's relationship is very much about the Shire, and getting back there" he says. "When Frodo meets Bilbo at Rivendell, there are echoes of the Shire music. So, you'll hear this sequence that weaves its way very intricately through the film."
"Not surprisingly, Frodo's theme will be serious and often melancholy, in keeping with Frodo's quest. He's carrying a lot of weight on his shoulders and has deeper thoughts to contend with than the others."
"With an epic like LOTR, the quiet moments are as important as the big orchestral pieces. For Shore, the heart of LOTR - and his score - lies in one small character:"
"Frodo," he says. "You have to think it's about him. Which it is. There are a lot of things that happen, and many characters, but it's still ultimately Frodo's journey and his relationships with other characters, like Gandalf, Bilbo and Sam."
"I have said this so many times, but I really did feel like Frodo with the Ring in Hobbiton, near Bree, where you are just setting out on the journey and you've got this task to perform, and you can't imagine that this small Hobbit is really going to carry that Ring to Mordor. It just seems unscaleable and undoable."
I also bought myself the FOTR piano music. Despite my very rusty playing on an out-of-tune piano, it's a wonderful feeling to be able to produce something resembling that wonderful soundtrack myself.
---
Frodo's Journey Continues:

The Road

Frodo!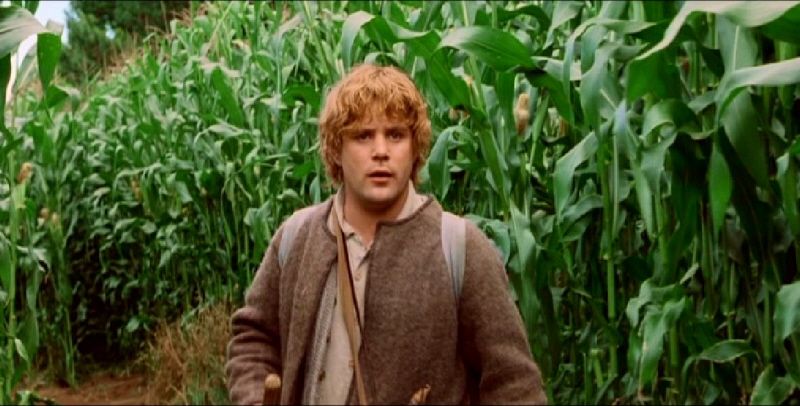 I thought I'd lost you!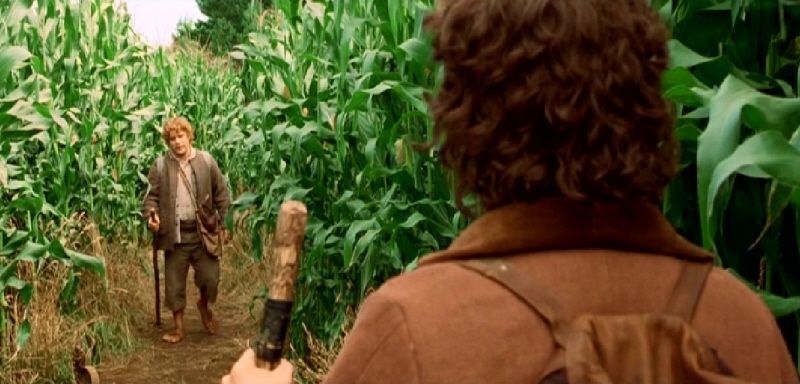 What are you talking about?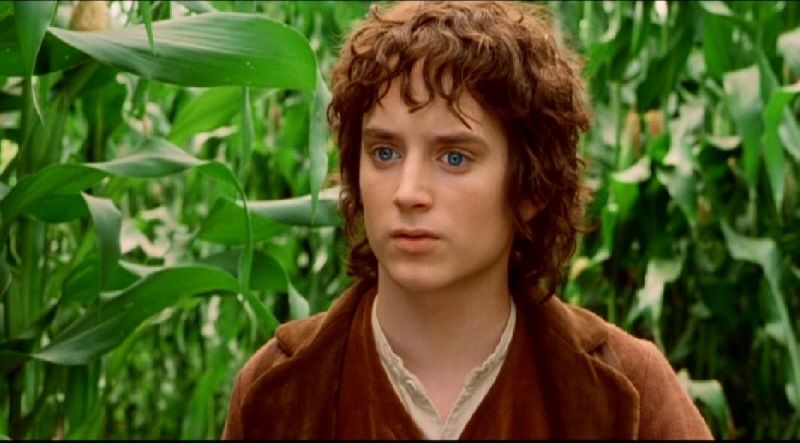 It's just something Gandalf said. 'Don't you lose him, Samwise Gamgee.' And I don't mean to.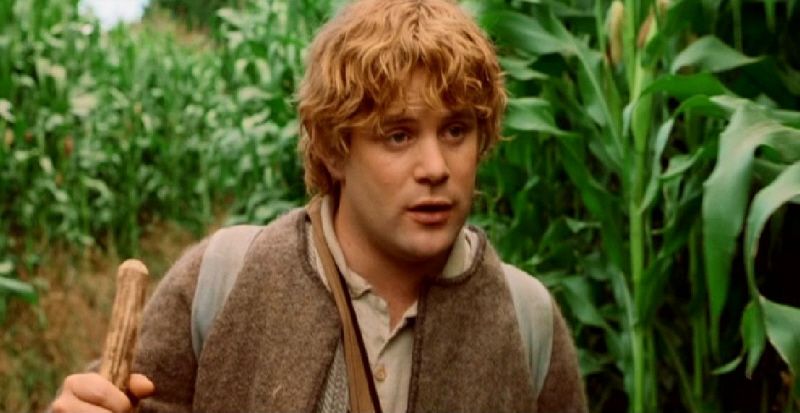 "Sam! We're still in the Shire, what could possibly happen?"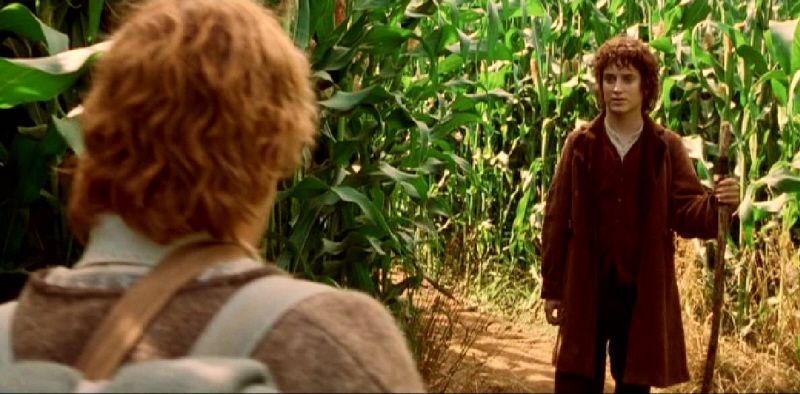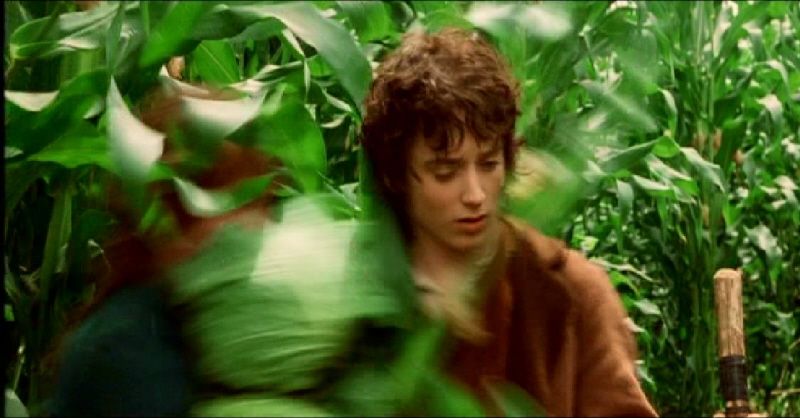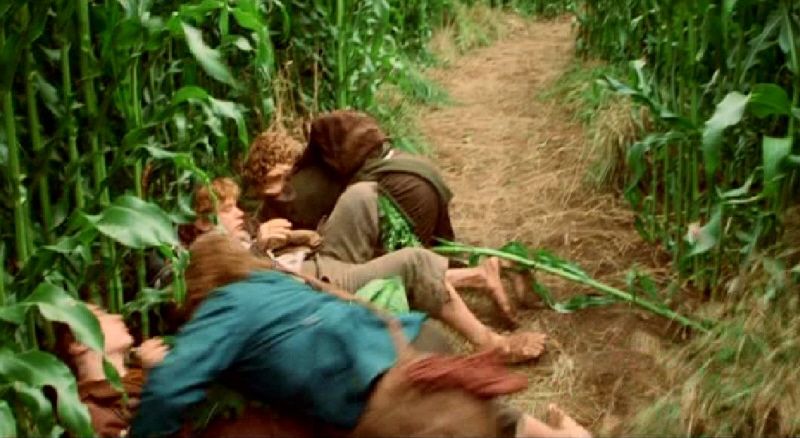 It's Frodo Baggins!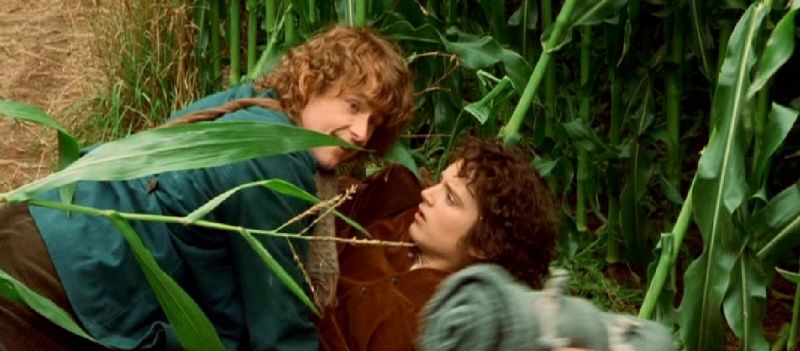 I love Frodo's expression of complete bewilderment during this scene!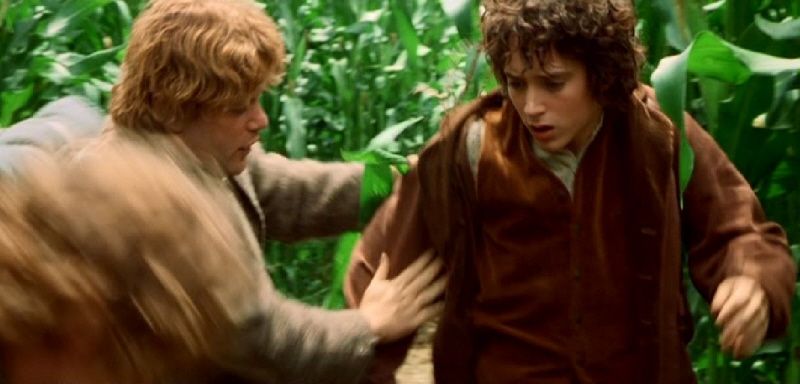 You've been into Farmer Maggot's crop!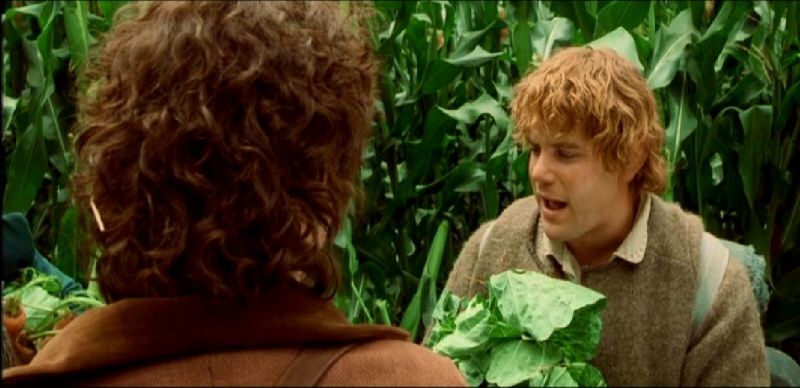 Elijah: Wasn't it my birthday this day?
Dom: It was close to it, I think. (From dvd commentary)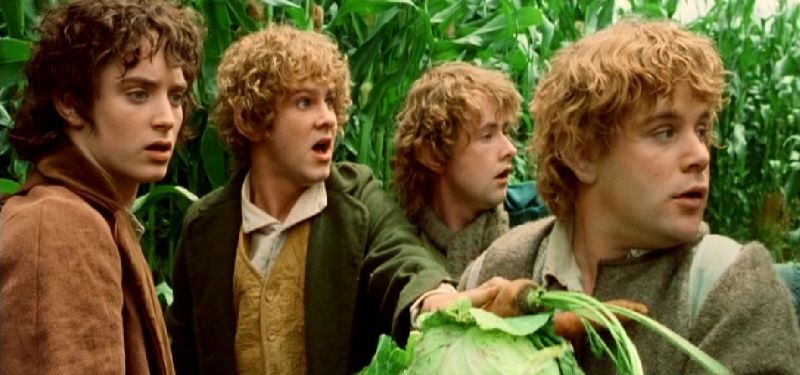 IanM: A simple way of reminding the audience that the hobbits are smaller than human beings, having them walking under those large plants. (From dvd commentary)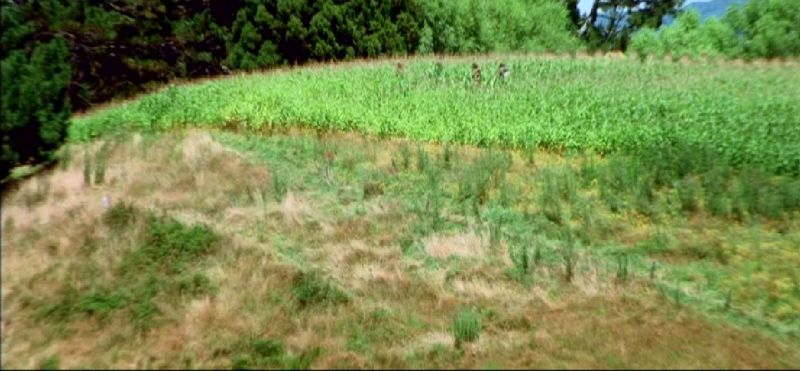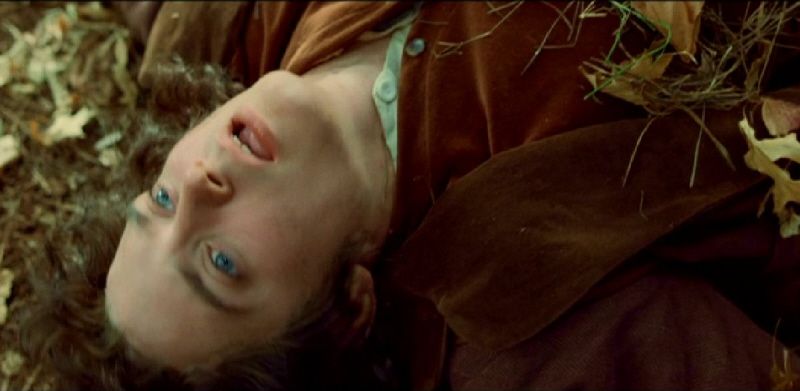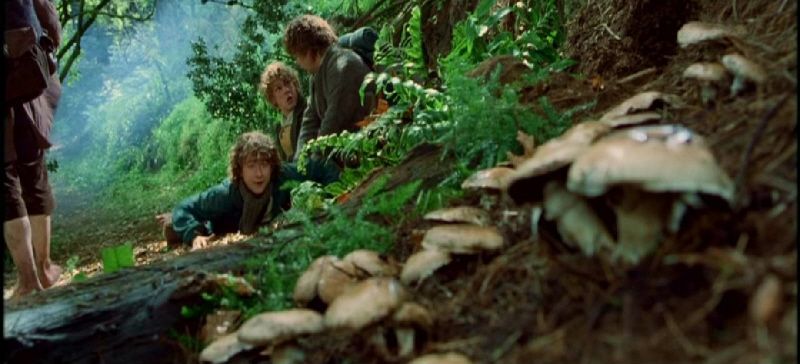 Someone (I suspect Elijah) is making raspberry noises!
D: Yes, Elijah let out a little tommy squeaker!!
S : And that is a true story – Elijah had gas …
E : No - it was pressure gas!!
S : Pressure gas? You mean it wouldn't have happened if Dom hadn't landed on you?
E : Yes. Exactly.
S : I didn't hear it, I was too busy concentrating on the scene.
B : I said it blew a parting in my hair
S : The translation there is it blew a part in his hair
B : Parting, parting!
B : Part isn't funny! (From dvd commentary)

Giggles from all! More on this little incident including pics of giggling hobbits can be seen here: "Ch.3:The Journey Begins"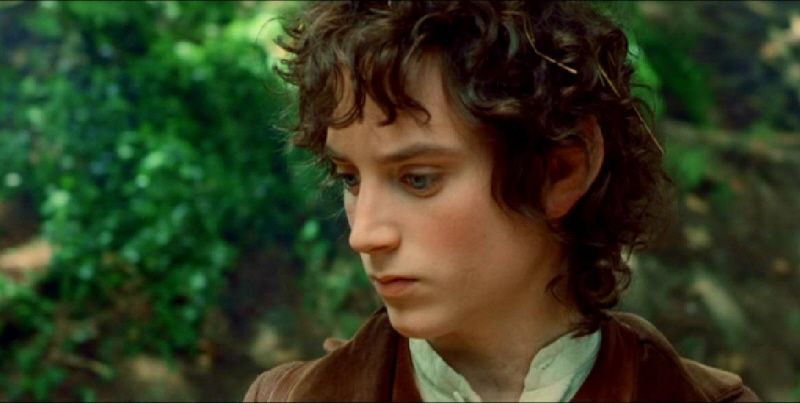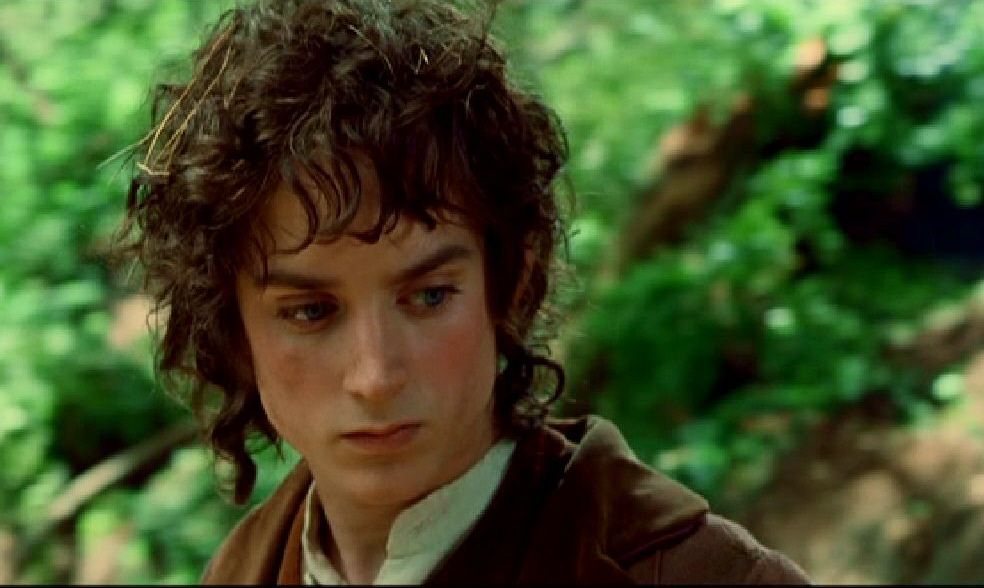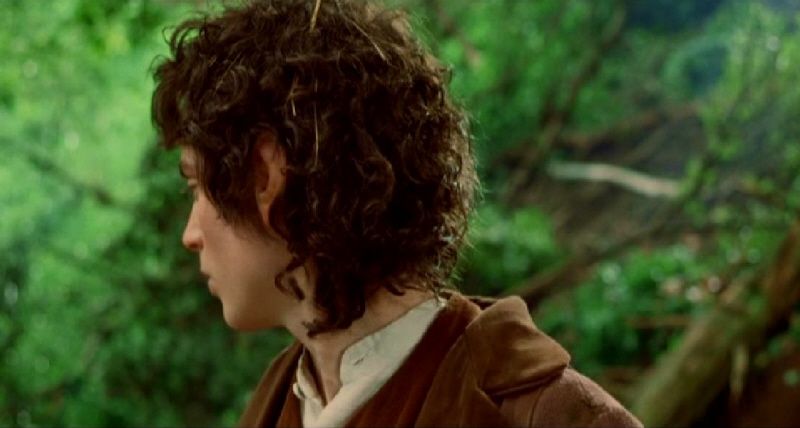 I think we should get off The Road …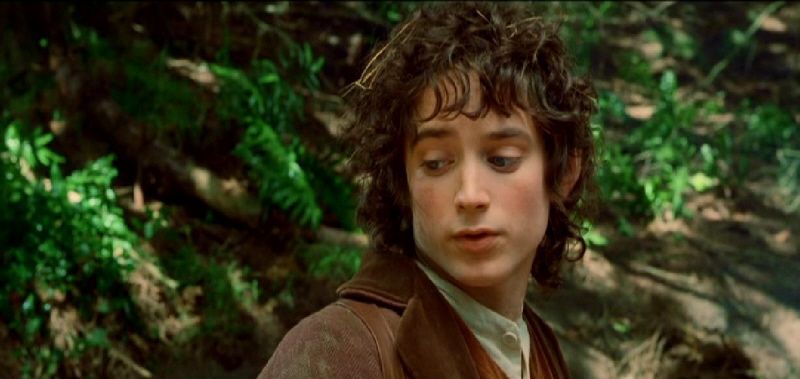 Get off The Road! Quick!!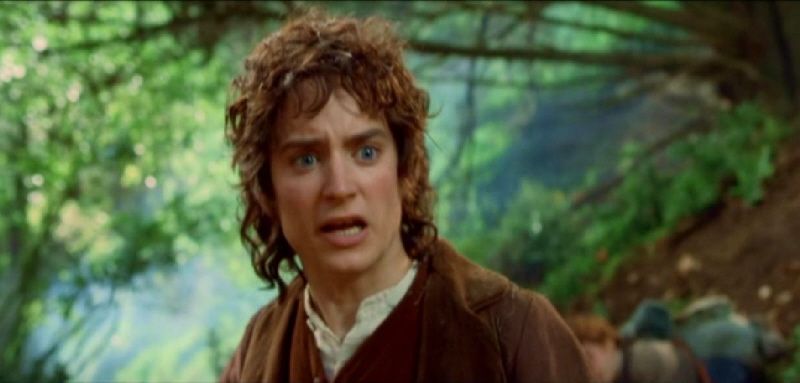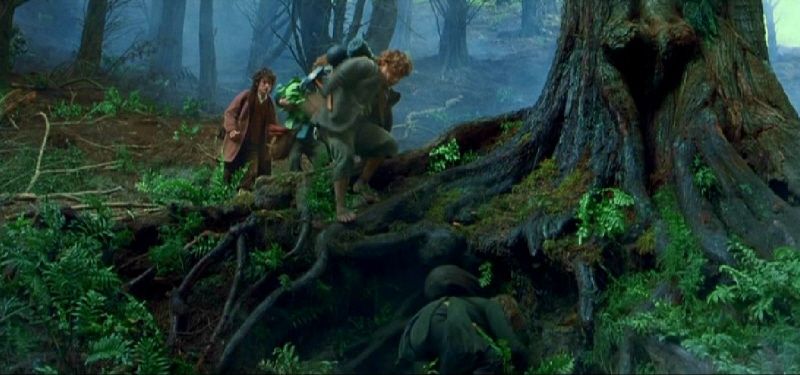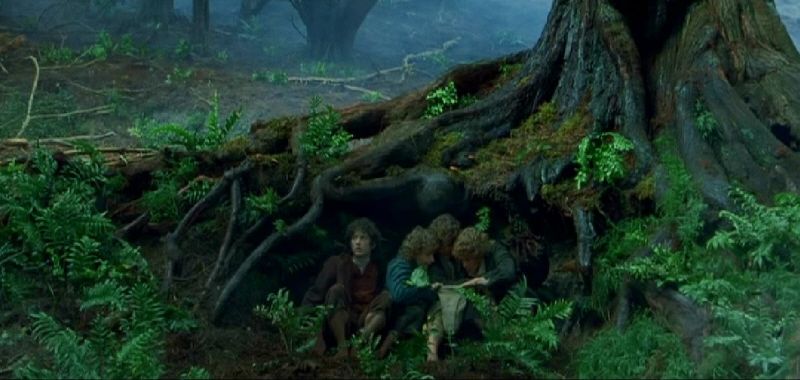 "Round the corner came a black horse, no hobbit-pony but a full-sized horse; and on it sat a large man, who seemed to crouch in the saddle, wrapped in a great black cloak and hood, so that only his boots in the high stirrups showed below; his face was shadowed and invisible." (Three is Company ~ The Fellowship of the Ring)

A sad footnote: In 2008, the Black Rider's horse, whose name was actually Frodo Baggins, had to be put down following a fall during a race. The rider was also seriously injured. ARTICLE HERE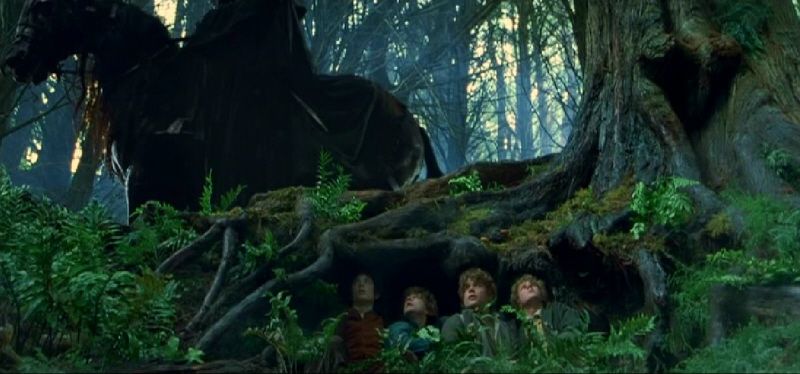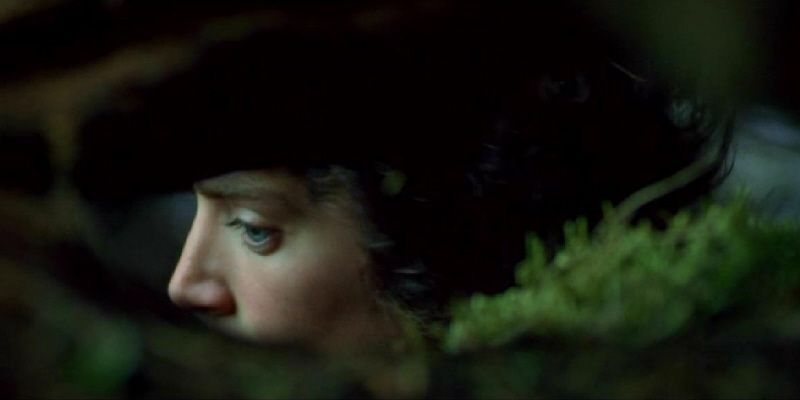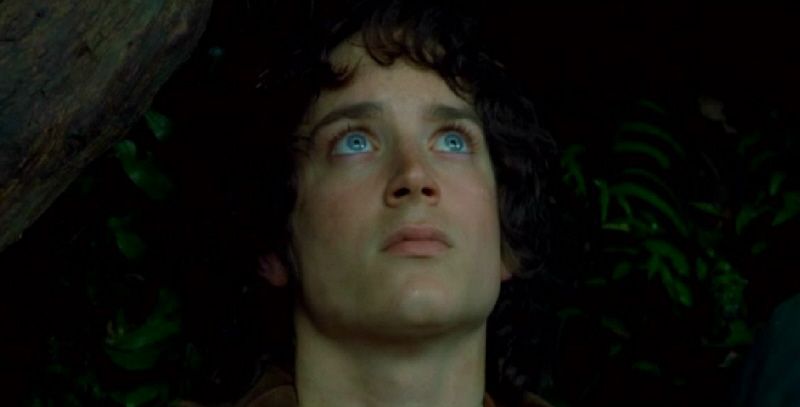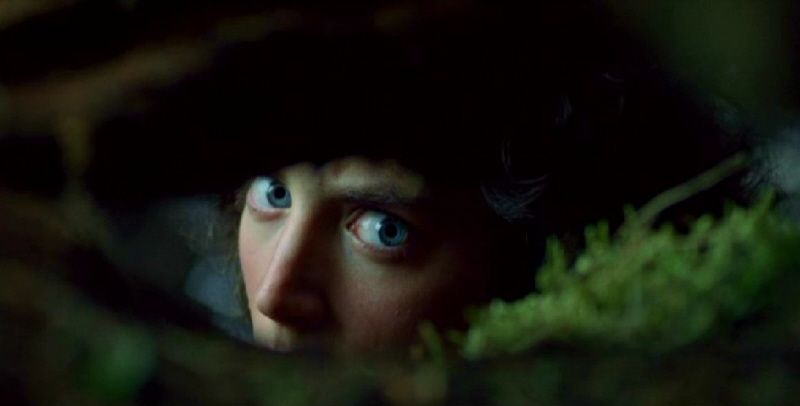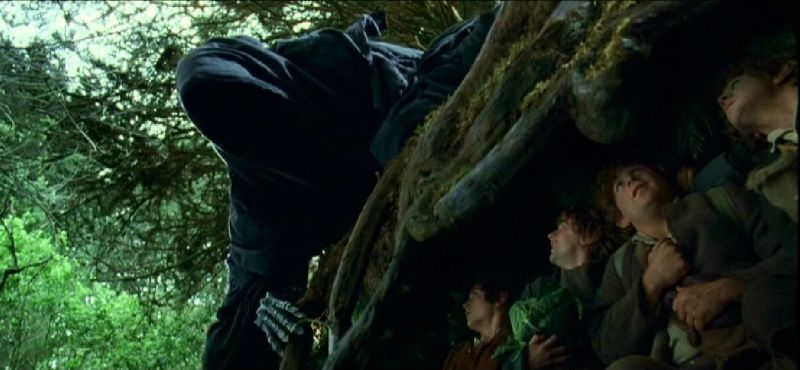 Sean : This was the first shot we did, wasn't it?
Dom : No, I thought falling down was the first.
Elijah: No falling down was the first thing we did.
Sean: Oh, I thought it was coming up over the …
Elijah : No we did that later in the day. It was still the first day of filming though.

E :Did you notice the boo boo with the horse? It kind of magically comes out from the tree.
S: You mean it didn't pass from the other side?
E: No. He comes out from the centre. (From dvd commentary)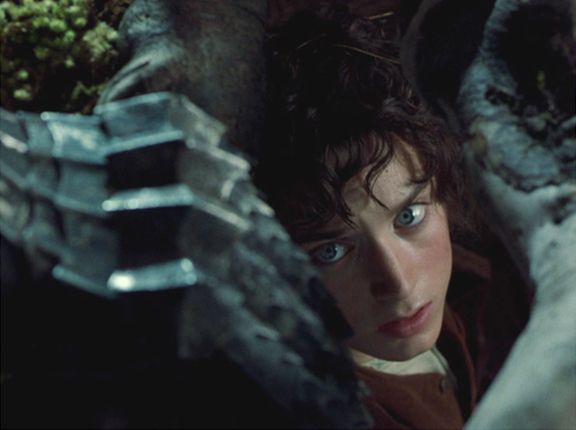 "A sudden unreasoning fear of discovery laid hold of Frodo, and he thought of his Ring. He hardly dared to breathe, and yet the desire to get it out of his pocket became so strong that he began to slowly move his hand. He felt that he had only to slip it on, and then he would be safe." (Three is Company ~ The Fellowship of the Ring)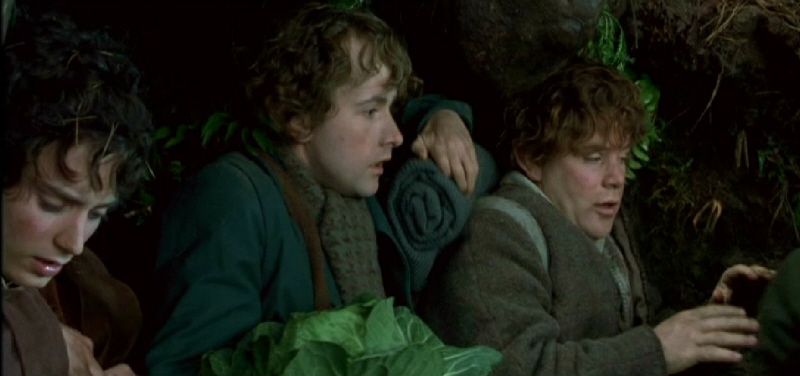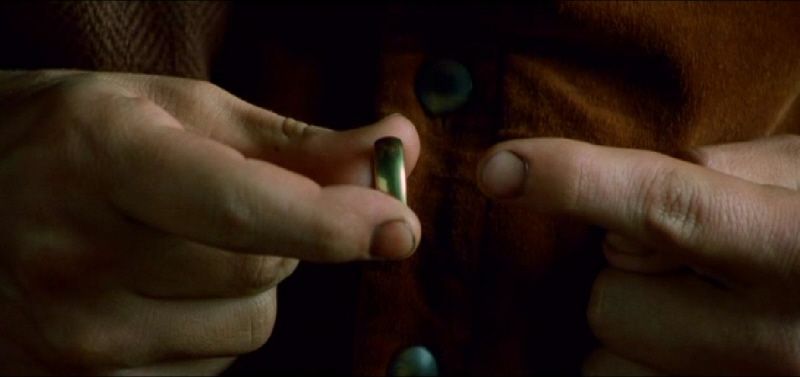 Frodo's first Ringasm!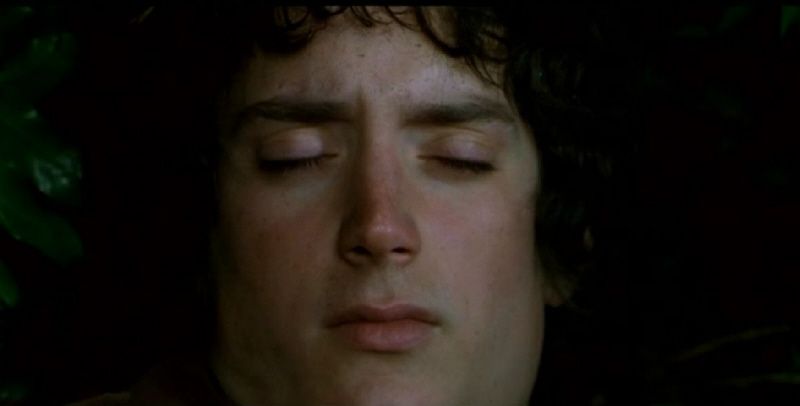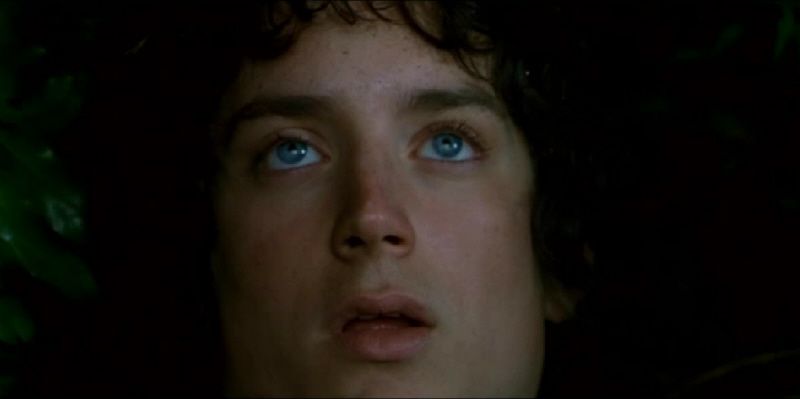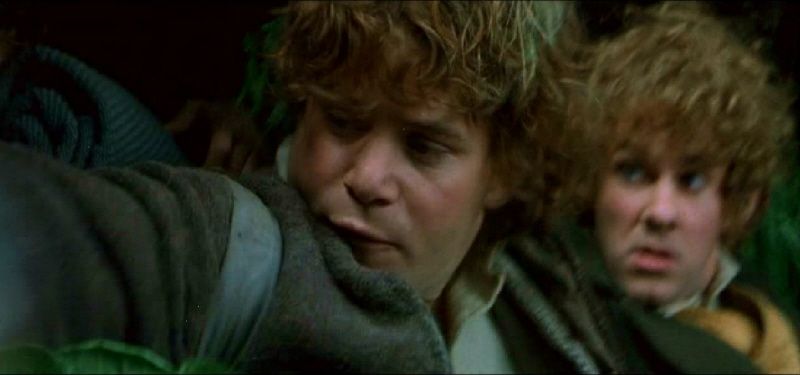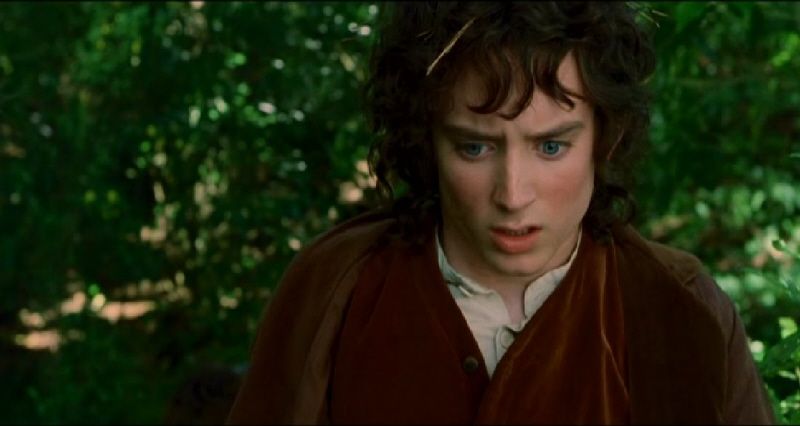 What was that?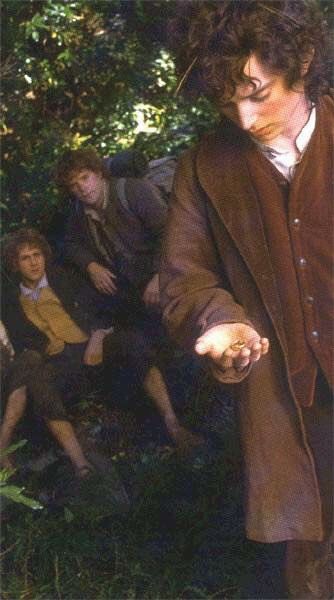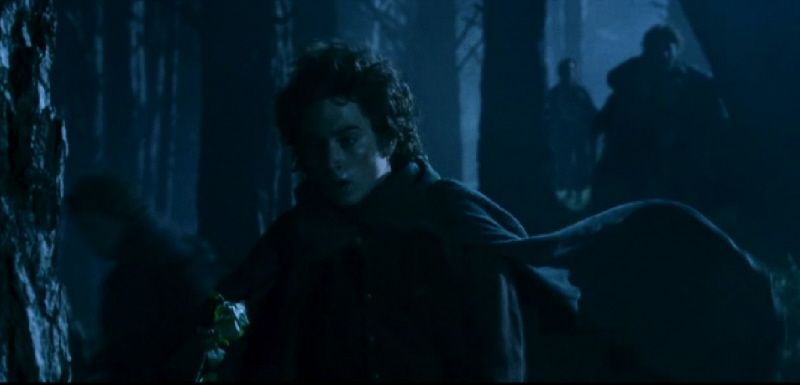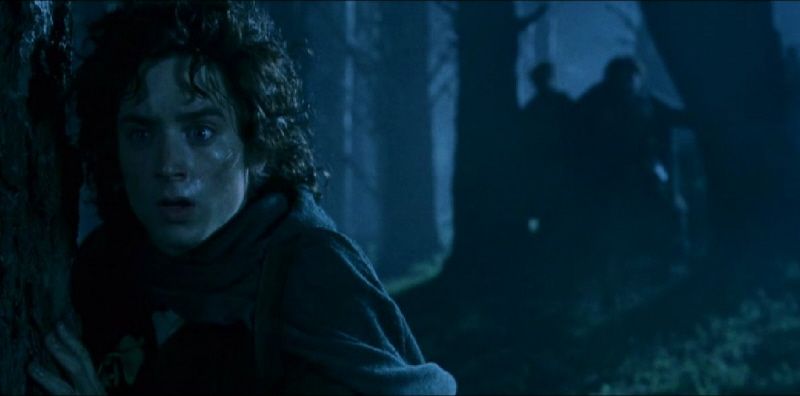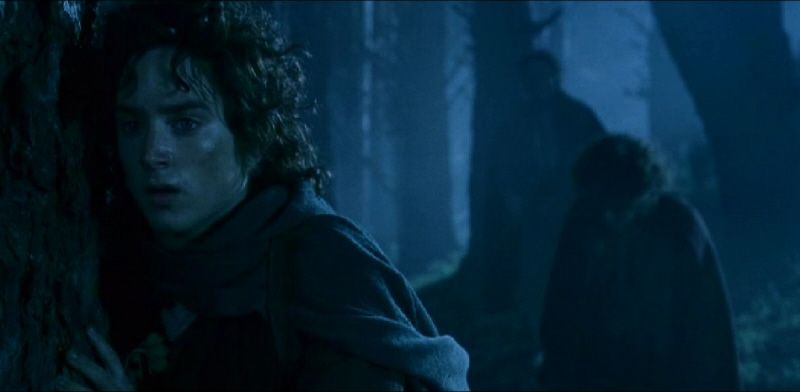 Dom: Do you remember this? The ground was so slippery that we were falling over. Sean, you fell on your face.
E: It was raining here, yeah?
D: It was raining, our shoes were flying off ... (From dvd commentary)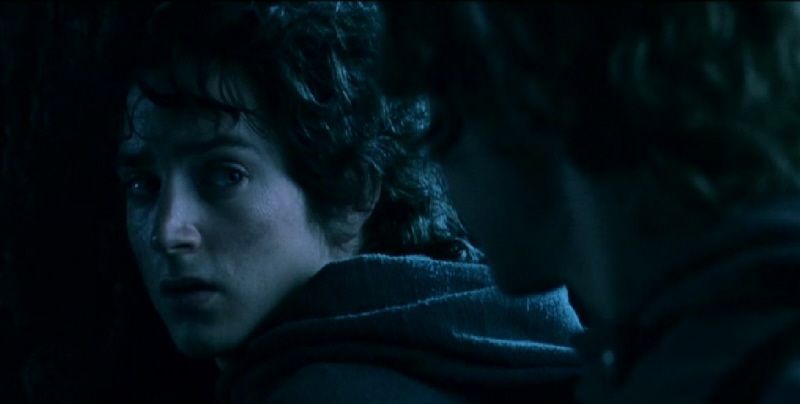 Billy : I remember once we got to the end of the run we couldn't get back up again – people had to carry us up!!
Elijah : That's right!! (From dvd commentary)

That Black Rider was after something … or someone. Frodo?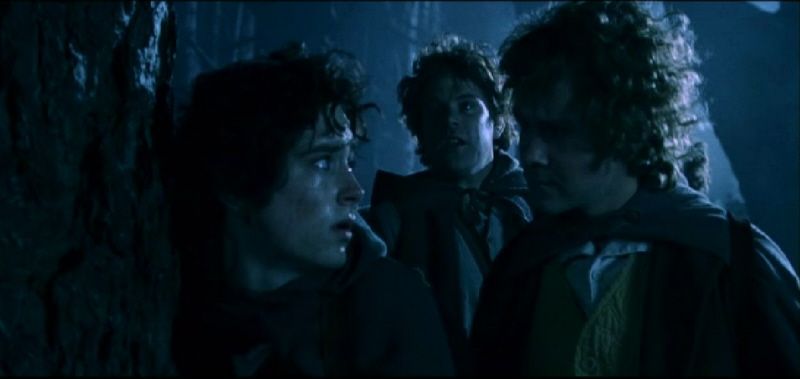 Dom : I love that little bit there, the first real interaction between Frodo and Merry. (From dvd commentary)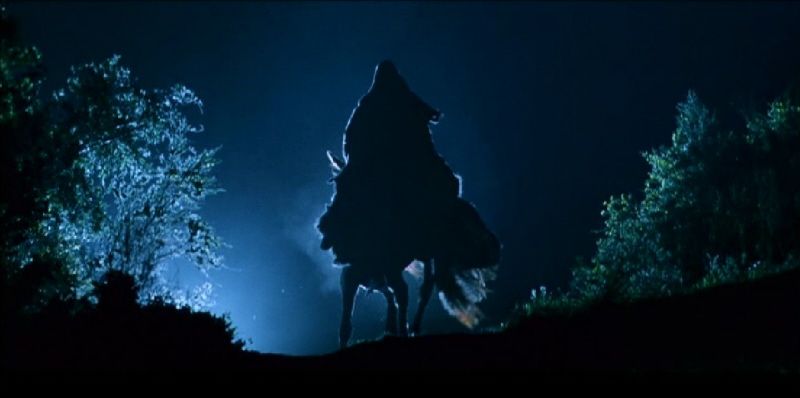 I have to leave the Shire … Sam and I must get to Bree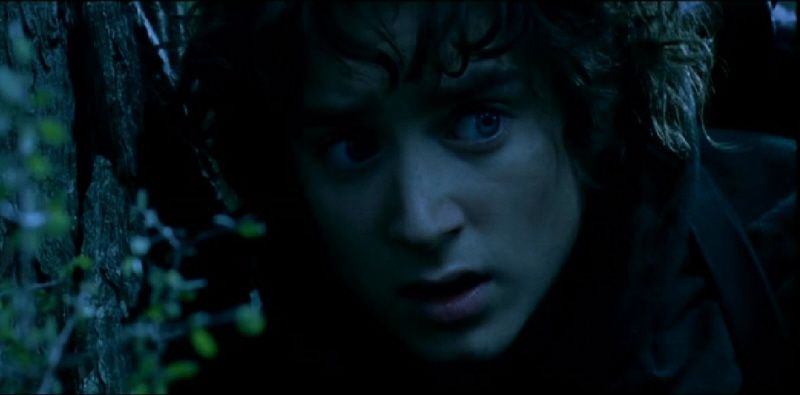 Buckleberry Ferry - follow me!!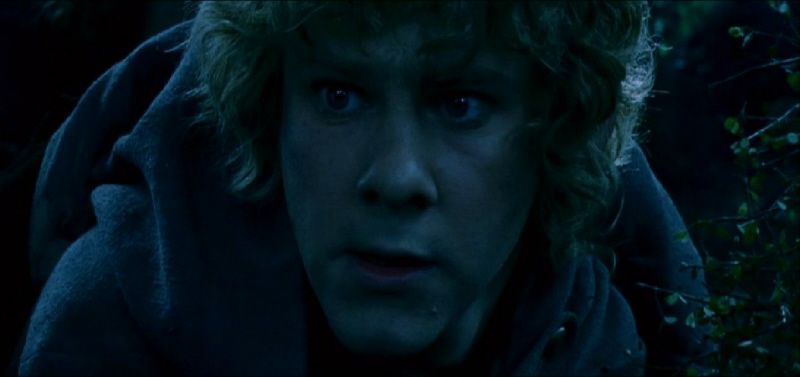 This was the cold, rainy night when the hobbits kept up everyone's spirits by singing pub songs and doing the cancan!! Short report by crew member inluded in Ch.5:Problems"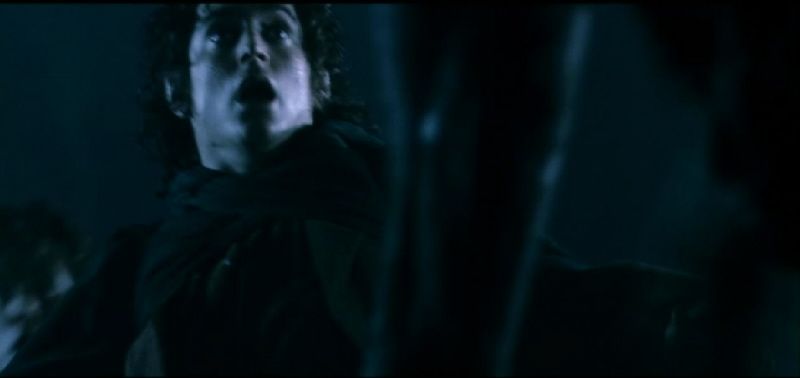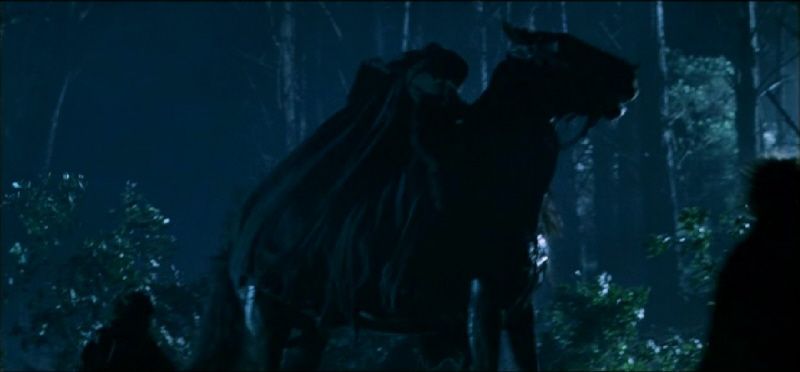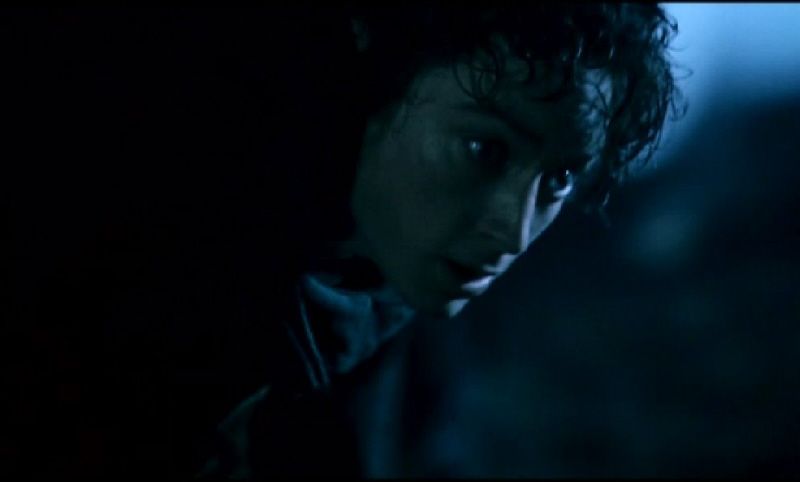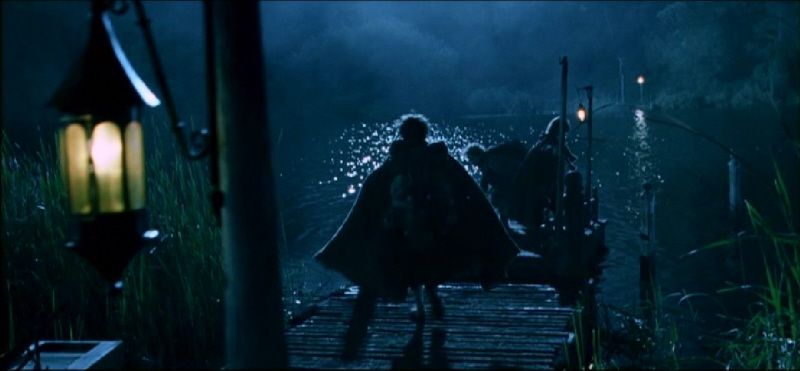 "My heart nearly stopped when I watched Elijah Wood (Frodo) run down to the river with the Wraith galloping behind him - that horse really is as close as it looks!" (Crew member - LOTR fan club mag)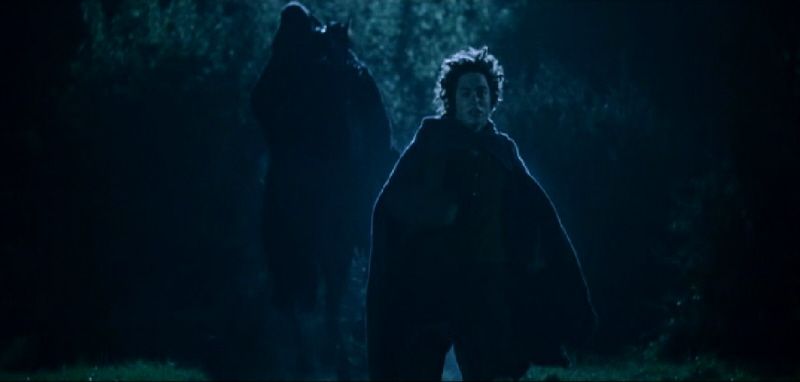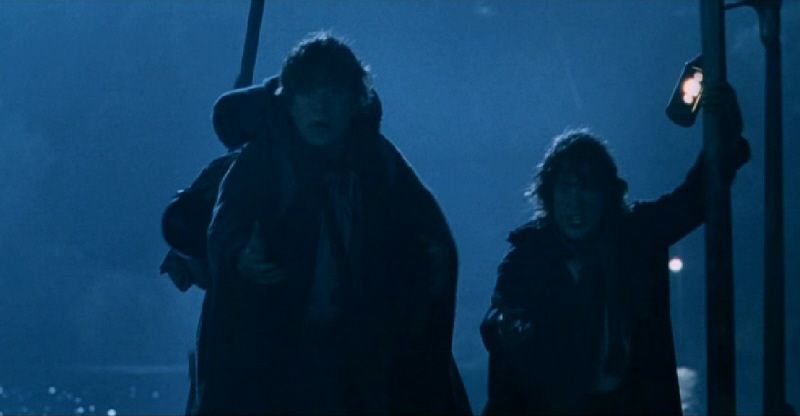 D : Good jump, good jump!! That was the second time because the first time he actually jumped right over the barge and fell in the water …
E : But I did a fantastic swan dive!!
D : Yes, it was great – 8.5!!
S : It was a belly flop!! (From dvd commentary)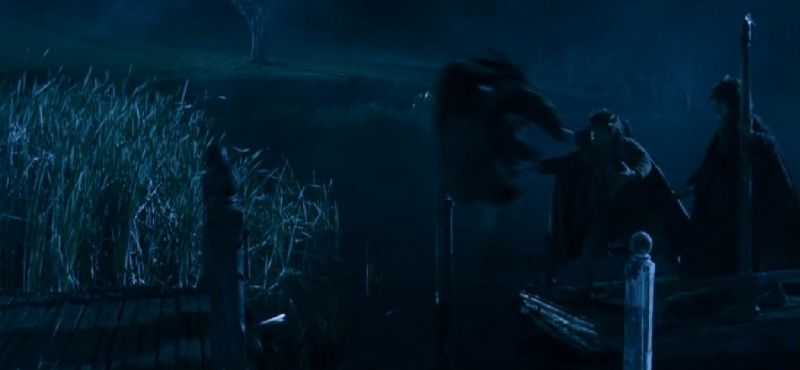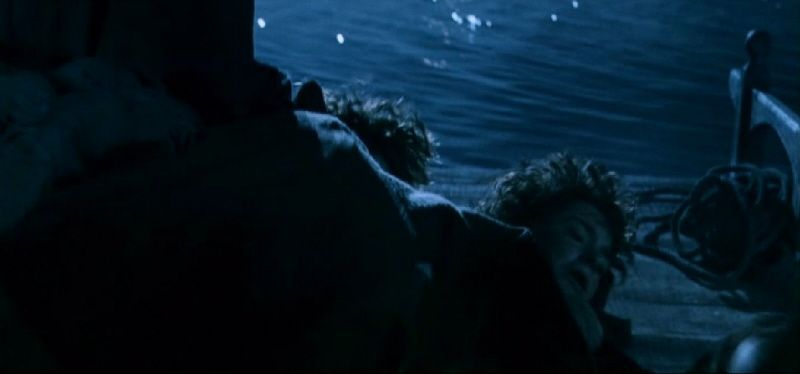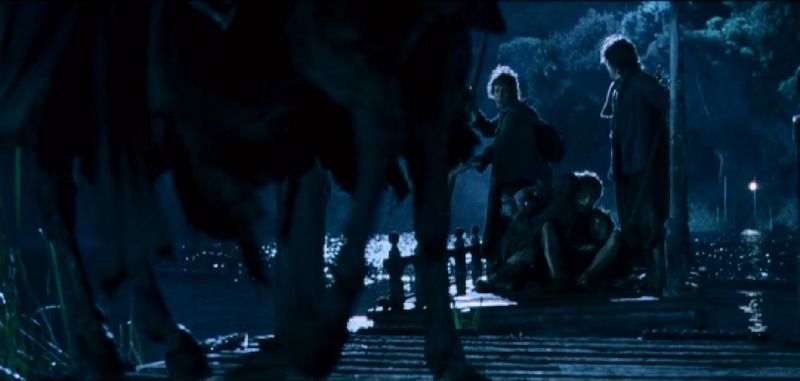 How far to the nearest crossing?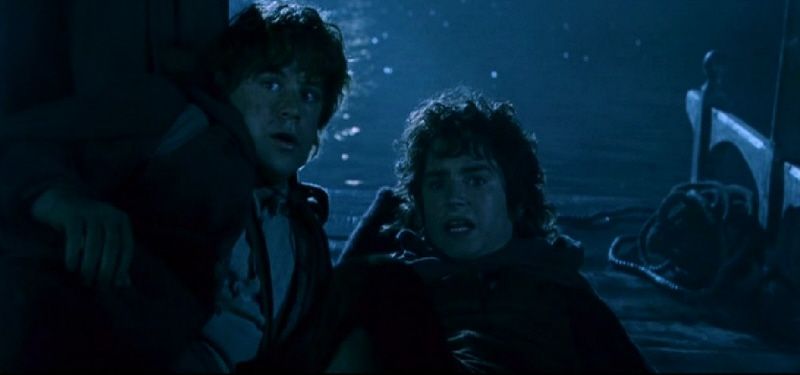 The Brandywine Bridge - twenty miles!!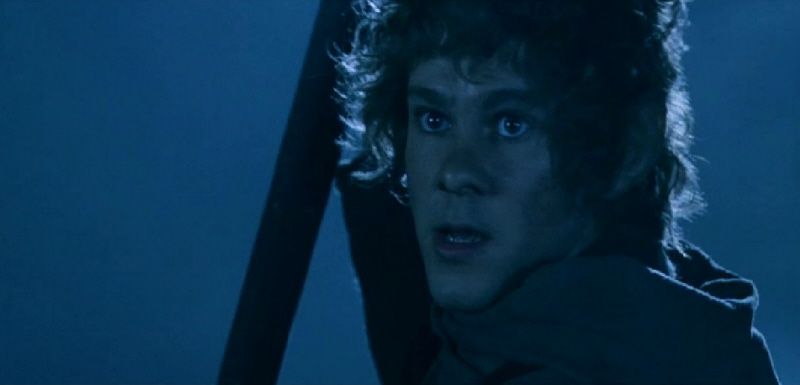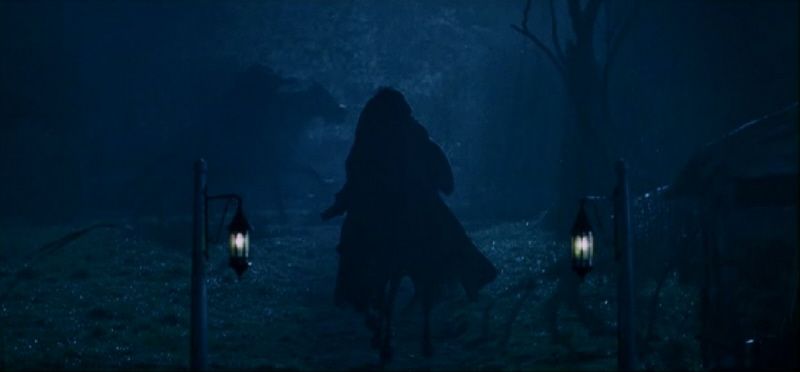 ---
"Elijah looks angelic but his beauty of spirit is what makes his Frodo leap out of the screen. Unalloyed goodness is one of the most difficult attributes to act."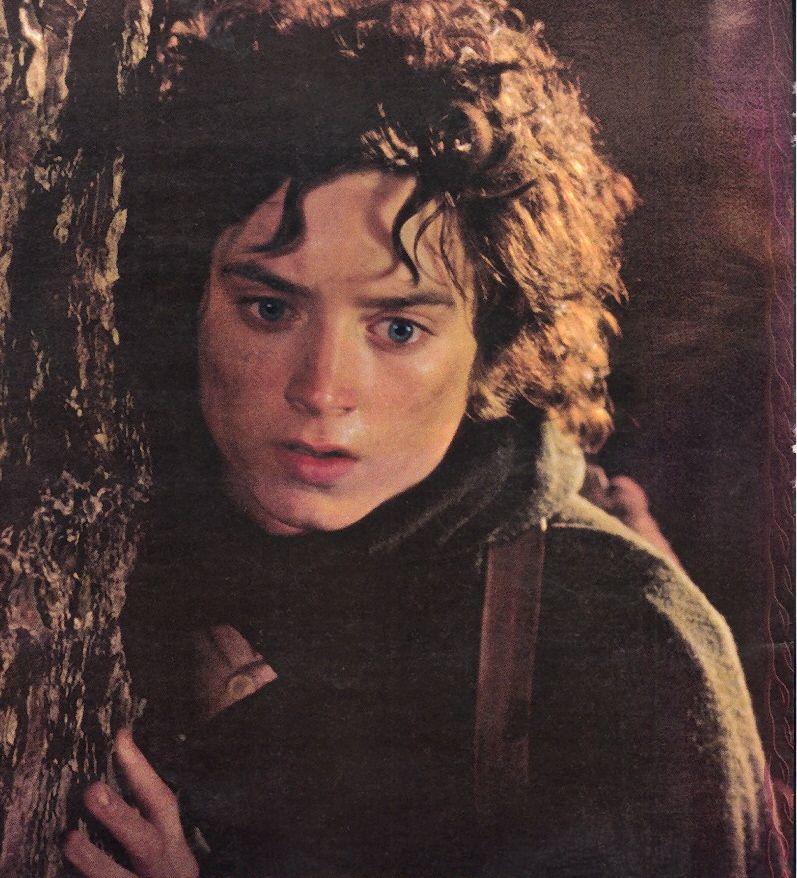 ---
TO BE CONTINUED
Link to all chapters:
"A JOURNEY WITH FRODO"
comments: Leave a comment