| | |
| --- | --- |
| Tags: | a journey with frodo |
| Security: | |
| Subject: | A Journey With Frodo Ch.32 - Return to Middle Earth |
| Time: | 09:50 pm |
This chapter of 'A Journey With Frodo' covers various events in LA after Elijah had returned from filming in Vancouver, pick-up filming in NZ for 'The Two Towers' and Frodo is led into The Wild by Aragorn. I must apologise for a bit of a fangirly moment involving a woolly hat:)
For anyone unfamiliar with my pet project, 'A Journey With Frodo' (a work in progress) is the story of Elijah Wood's experience in becoming Frodo, from back in 1998 when the LOTR movies were just a whisper up to the triumphant Oscars of Feb 2004. In reliving Elijah's journey, and mine, I am using everything I can lay my hands on - behind-the-scenes material from the various dvd's, magazine articles, books, internet sites, tv coverage, word-of-mouth info, etc. Previous chapters can be found here:
"A JOURNEY WITH FRODO"
Hope you enjoy this chapter:)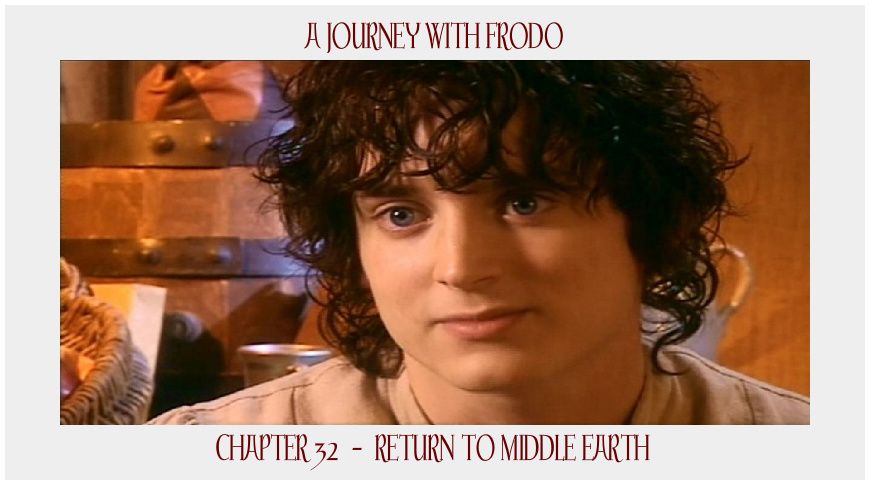 ---
By May 2002 filming on 'All I Want' had finished (guess who dj'd the wrap party!!) and Elijah was back in LA.

05 May 2002 - Movieline's Young Hollywood Awards:

Elijah picked up an award for 'Hottest, Coolest Young Veteran'!!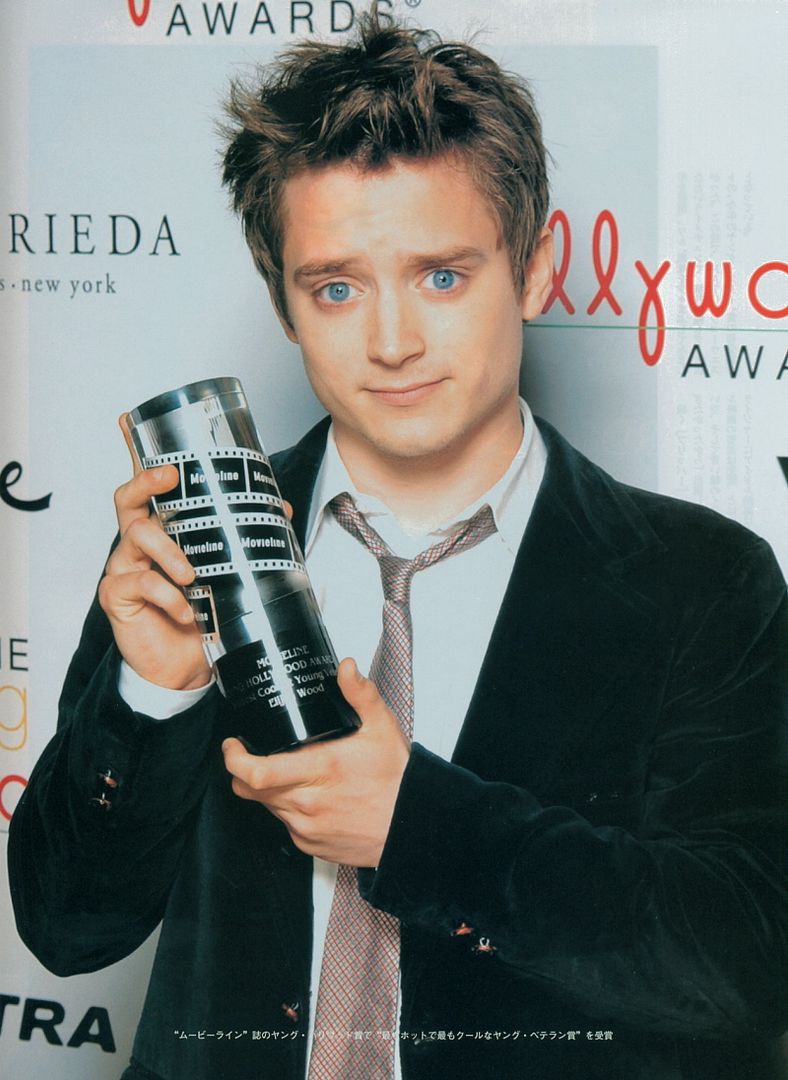 "Elijah Wood gets a perfect grade at Movieline's Young Hollywood Awards with his prepster look. We love the vintage velvet blue blazer and Armani shirt over classic Levi's. And that striped slate gray tie worn loose plays well against the slightly spiked 'do'. So perfectly schoolhouse rock." (ENewsFashionPolice)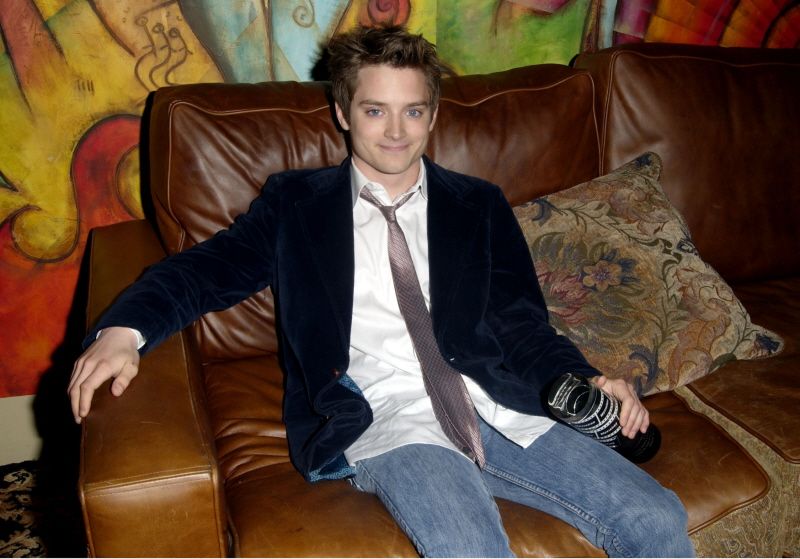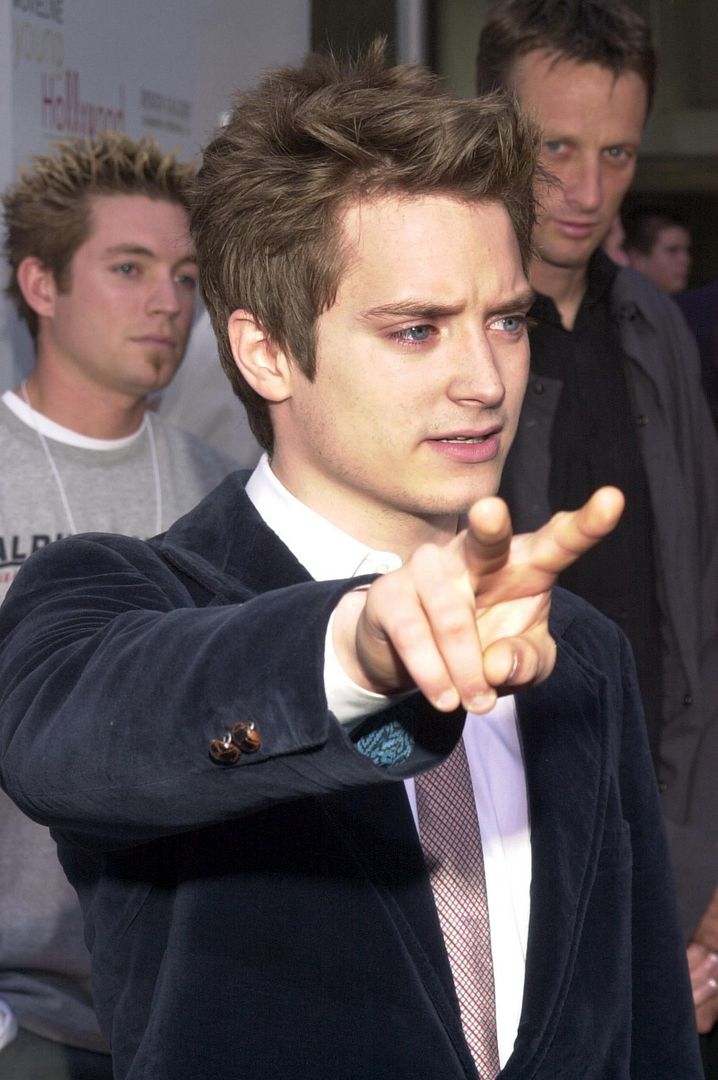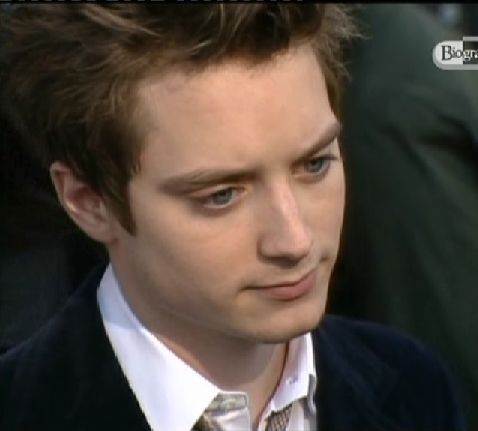 ---

Out and About in LA:

"Elijah Wood, catching the Buffalo Daughter and Big Sir show. The Troubadour. A sultry Saturday night. West Hollywood. Despite his Lord of the Rings reign, E.W. stood in line to get inside along with his gang of guy-buds. Clad in cool indie-rock attire, brown tee and antique faded jeans, the happening Hobbit chilled at the bar during the opening act and then headed outside to grab a smoke." (Eonline)

Those people must have been amazed to see Elijah waiting in line along with them, and the same goes for those who attended the opening day of 'Star Wars:Episode II - Attack of the Clones' at Graumans Chinese Theatre:

15 May 2002:

From theonering.net by Tehanu:

"Waiting in the Star Wars line with Frodo and Sam.

Imagine if you were a Star Wars Fan and a LOTR fan and by some incredible coincidence both your favourite things got combined in one experience. That's exactly what happened to Peter: 'I thought you might be interested in some of our photos from the opening day of Star Wars when Elijah and Sean came and sat behind us in line for the evening. On the middle of this page you'll see some of us and Elijah. He came over to our group to say hi to us.
I was the first to see Sean and say hi and introduce myself to him and show him the way to Elijah. They were both so cool to everyone. By the end of the night and in the theatre, I was sitting near them and Sean knew me by name already and I chatted with both of them for a bit. Here's another pic from someone else's camera of Elijah. This one has me smiling, on the right."

I'm not sure which one Peter is but I'm pretty sure he must appear in one of these pics: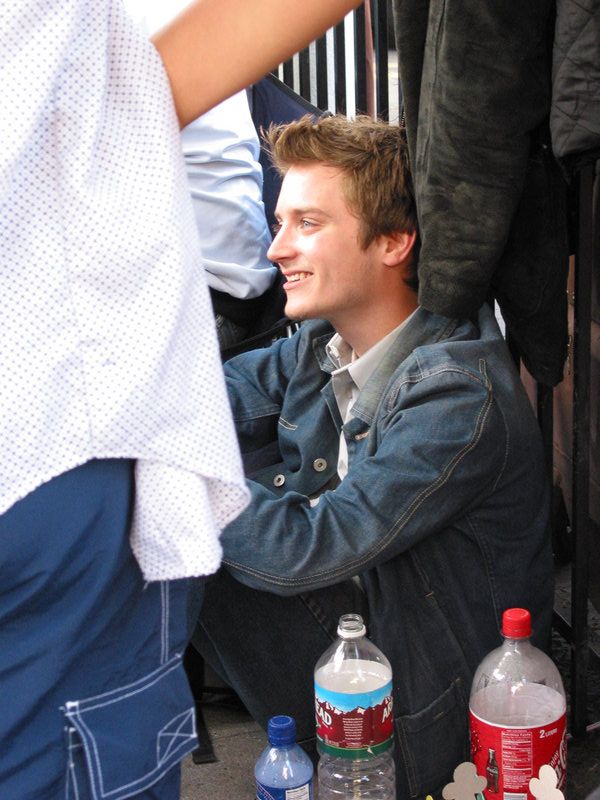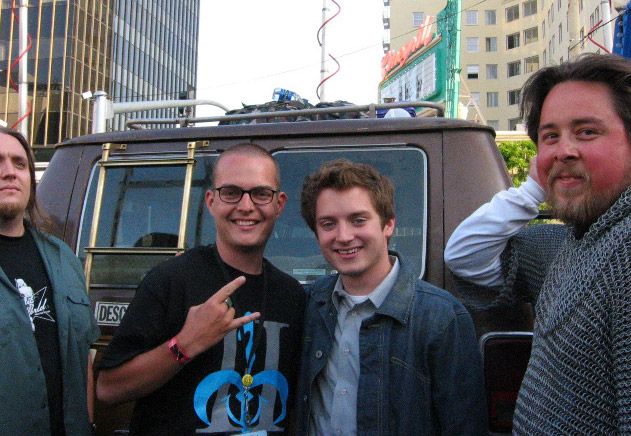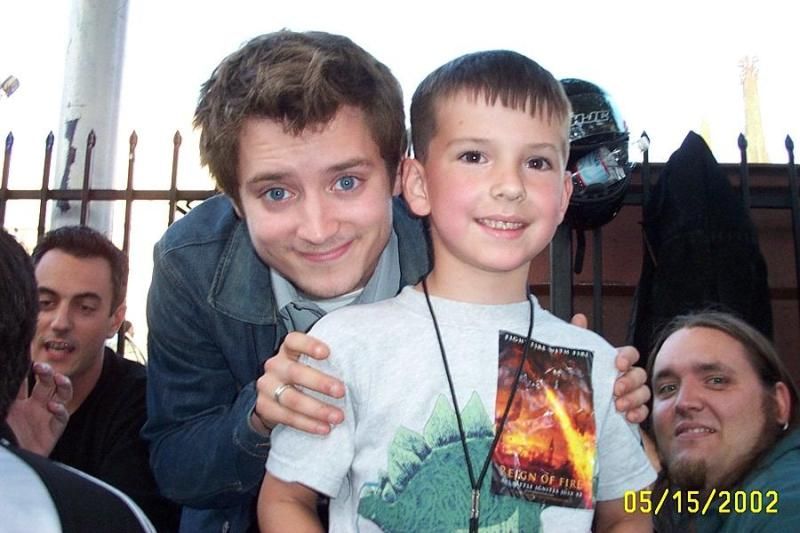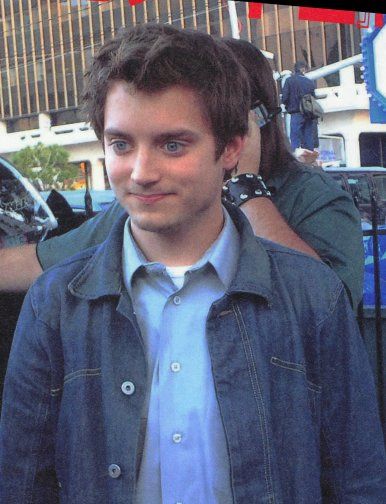 ---

This small pic was taken by one of the spys from theonering.net. Not a very thrilling pic, you might think. But look harder, beneath the signpost - another 'jamb' sign. They were back in Middle Earth, filming pickups for 'The Two Towers'!!!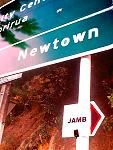 "The pick-up time is really about finessing what we've already done." (Elijah, Return to ME))

"Elsa writes: 'Whilst having dinner at the Tulsi Indian Restaurant in Wellington this evening, who should I see walk in the door but Elijah Wood and Sean Astin.'" (xoannon, theonering.net)

"It's a reunion. We get to see everyone again. It's a great feeling." (Elijah, Return to Middle Earth)

From Sir Ian's website 'The Grey Book':
"Home with friends from the cast - only Orlando Bloom, filming 'Ned Kelly' in Australia, was too busy to return, but the rest of us have made it back. Elijah Wood and Liv Tyler look ever so slightly older than 18 months ago and John Rhys-Davies has been losing weight, but make-up and padding will disguise these developments. Little else has changed as the local crews return to work, but there is a new shared confidence that with one success out in the world, another one can't be far behind. Peter Jackson may be exhausted but is still smiling, even relaxed. He tells me 'It feels like we are making a home movie rather than a blockbuster,' a point I made when we were filming 18 months ago."

From 'Return to Middle Earth':

No-one had an earlier start each day than Elijah Wood and Sean Astin. A big part of their Lord of the Rings experience took place before the sun even rose.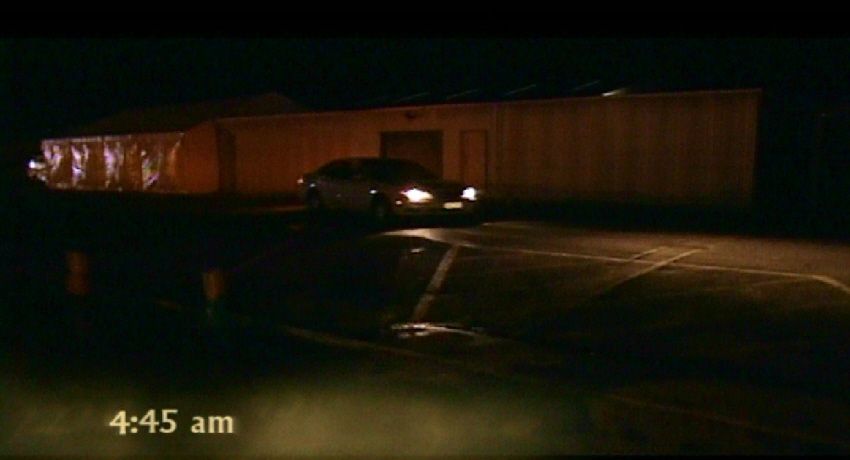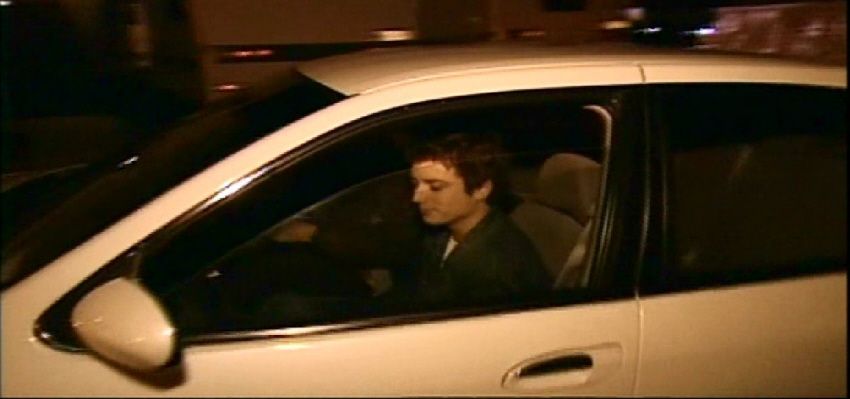 "The dark, yeah - most of my call times were in the 5 o'clock hour."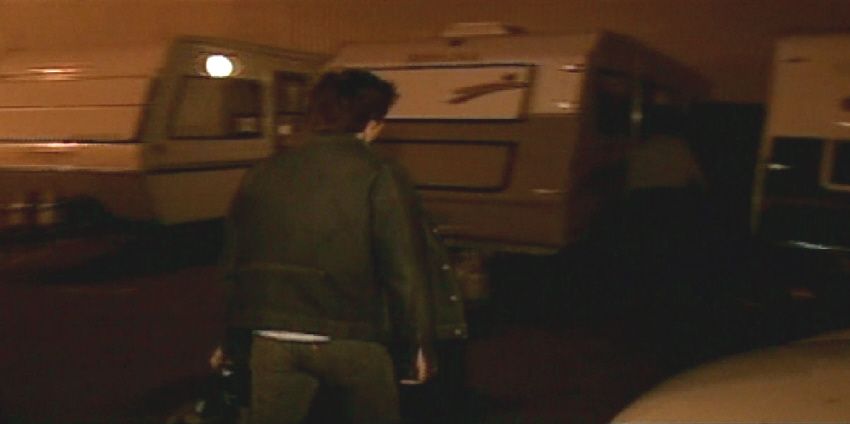 "You get to the set, it's dark, you don't really know where you are."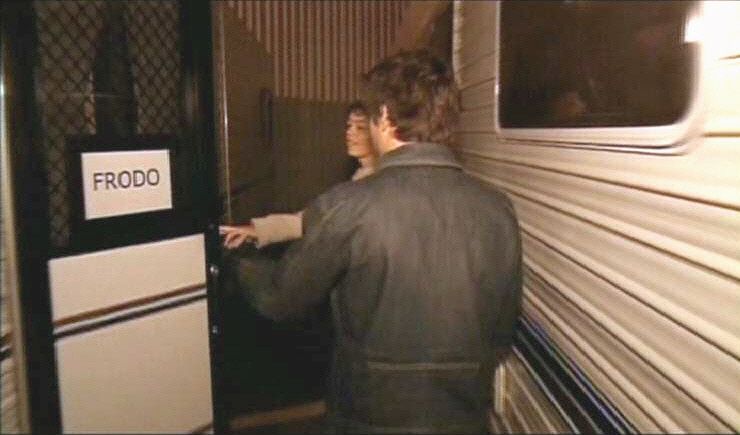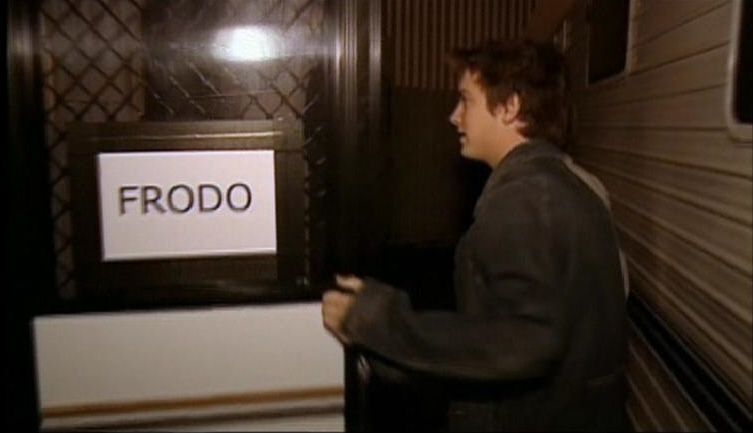 "And then you'd get out and see it for what it really was, once the sun came up."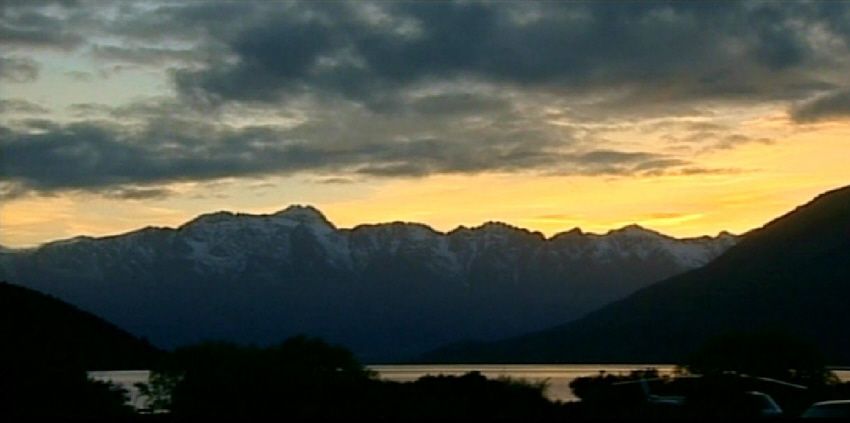 "I saw a lot of sunrises."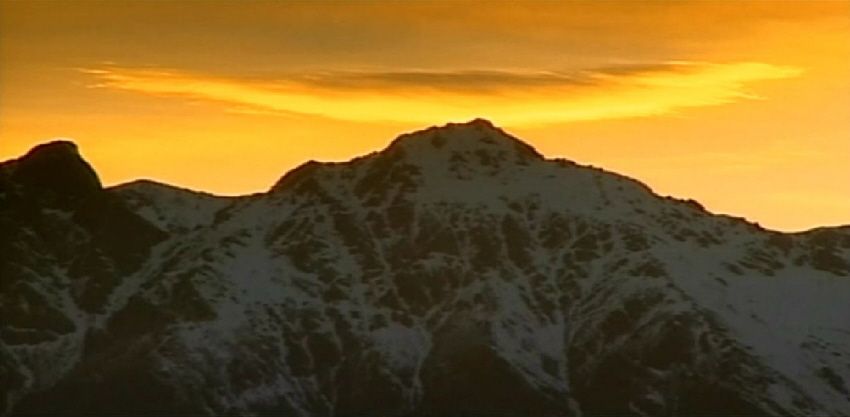 "Coffee Elijah?"
"Ohh - coffee would be fantastic!!"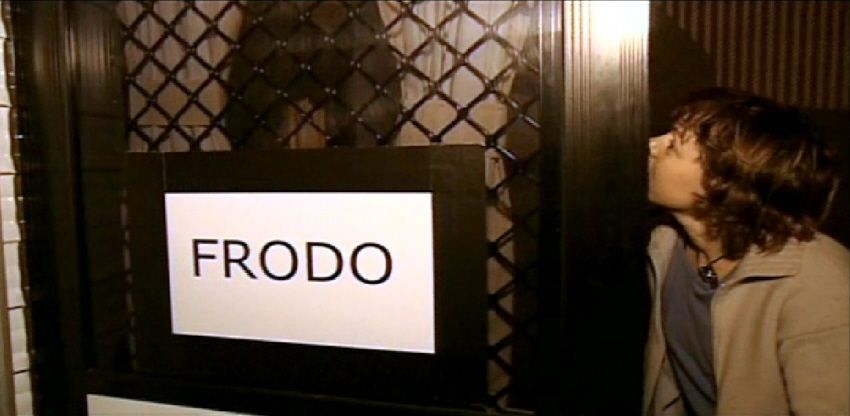 'The Long and Short of It':

One wet, cold and blustery Sunday morning, instead of enjoying a much-deserved lie-in, many of the cast and crew gathered to help Sean with the making of his short film.

From Sir Ian's website:
"Two Sundays ago, the crew regrouped for free under Sean Astin's direction to shoot a short film 'The Long and Short of It', playing on the Tolkien theme of disparate heights. Another home movie from the Jackson family."

"I went person to person and asked people if they'd show up on Sunday even though they'd worked 14 days straight without a day off and sure enough everybody showed up!!" (Sean Astin -'The Making of The Long and Short of It')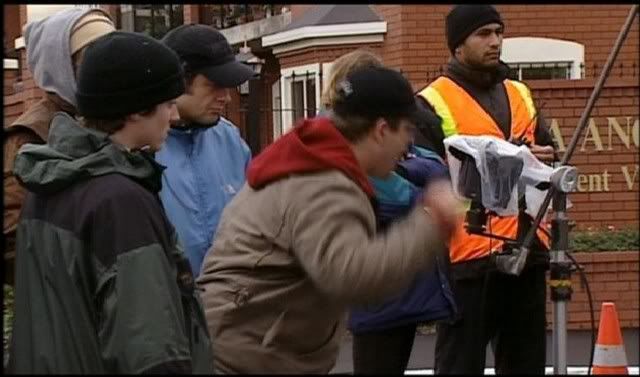 I'm the first AD!!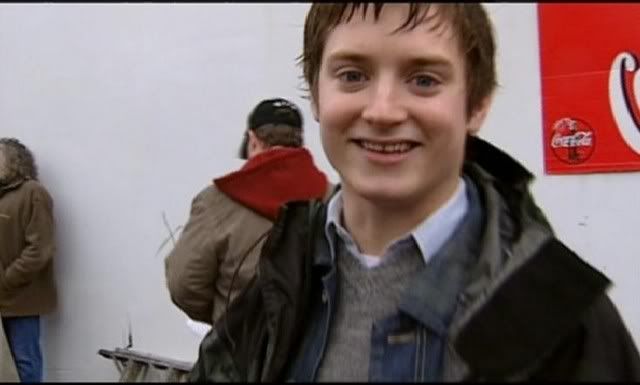 "I don't think my real talent as a first AD has really been put to the test yet."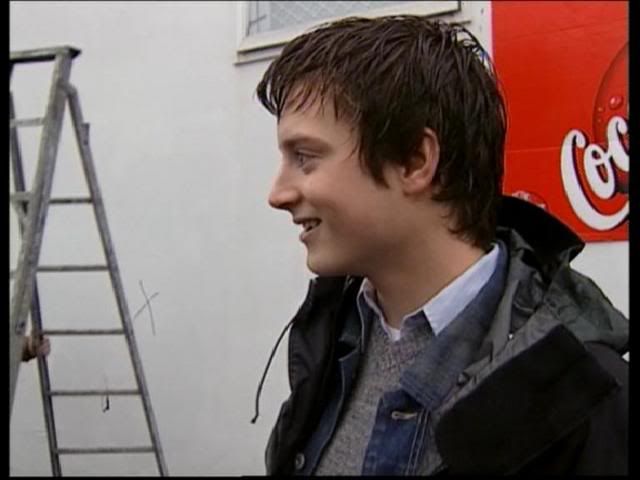 Mark Ordesky : "What does a First AD do exactly?"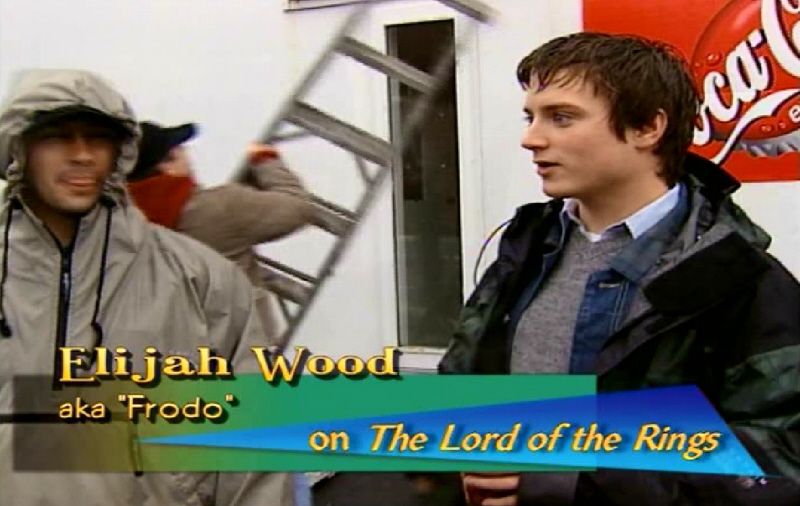 Oversees everything …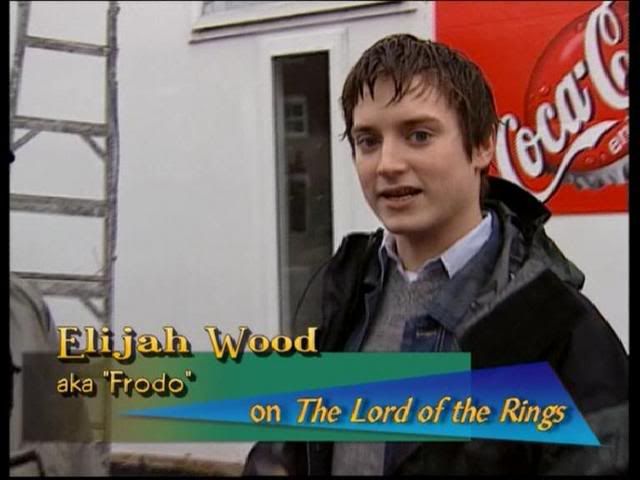 Makes sure its all running smoothly …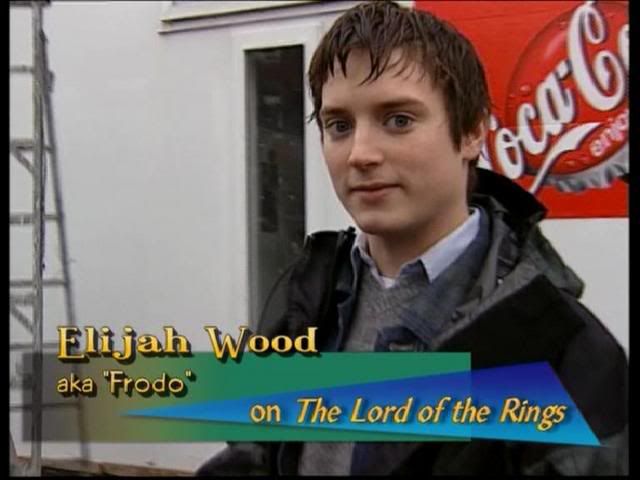 and so far it is!!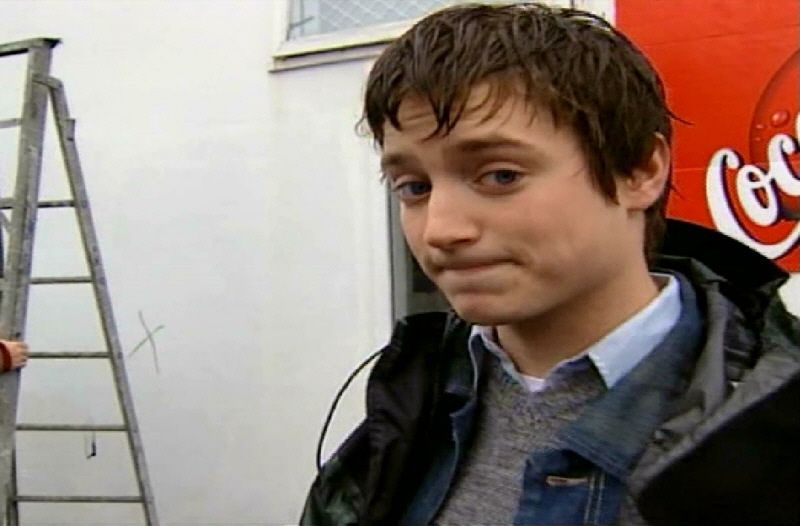 This person has First AD aspirations, but …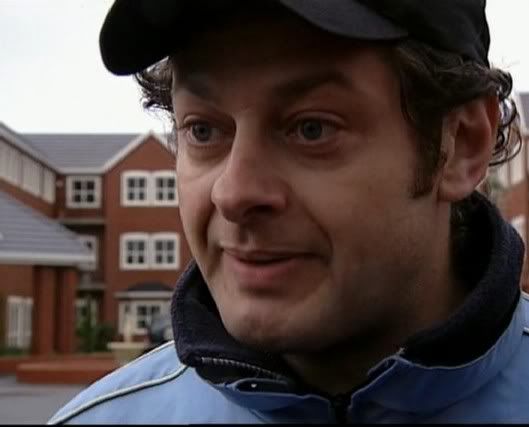 there is only one First AD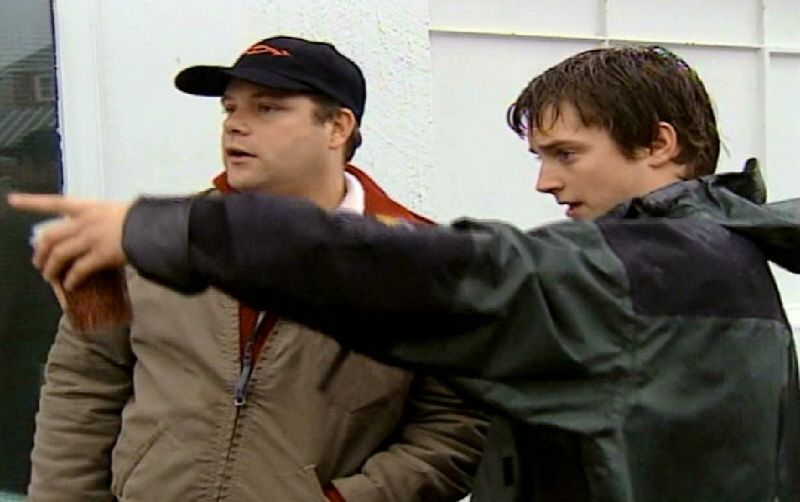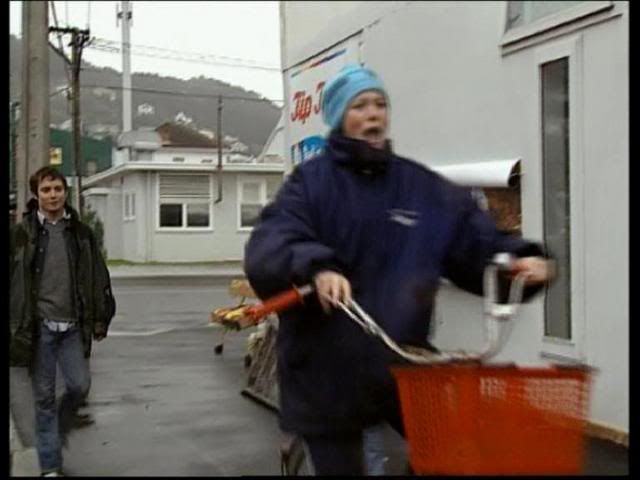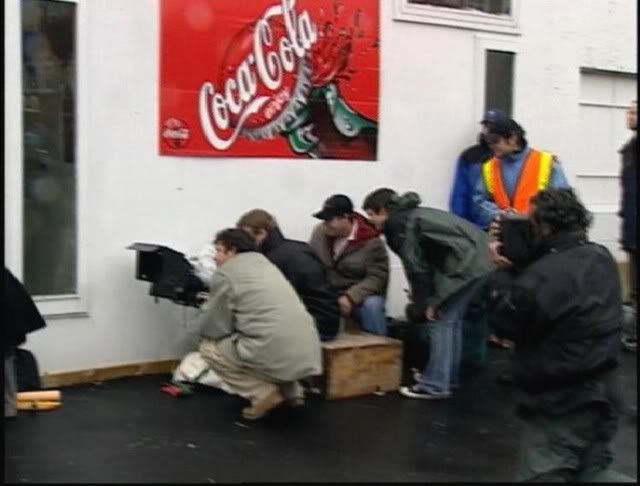 Another helper arrives – no, its not Santa Claus, it's …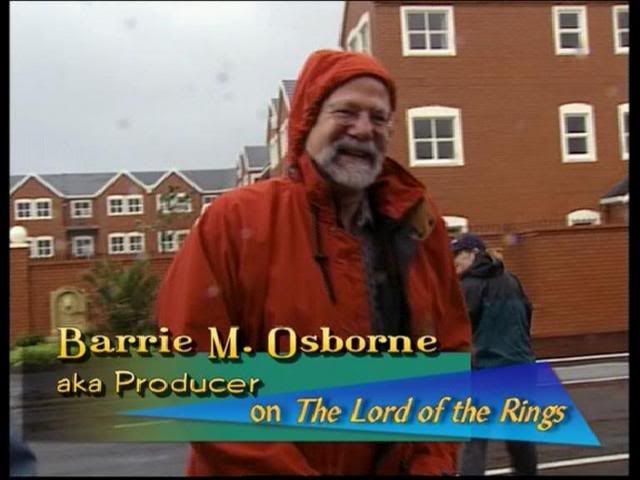 … and receives his instructions from the First AD.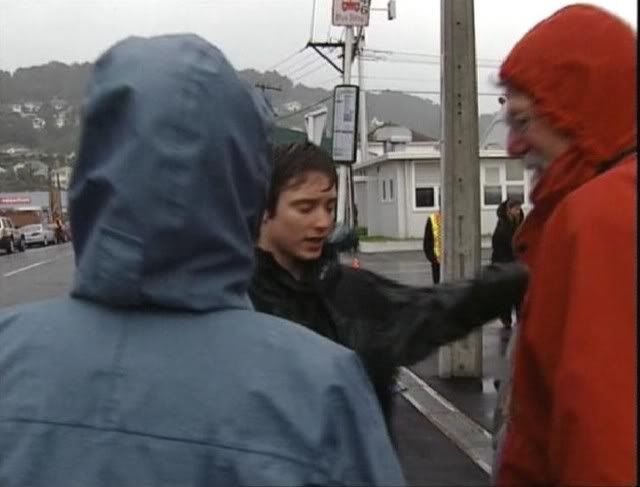 Some serious discussion seems to be taking place between the director and his assistant.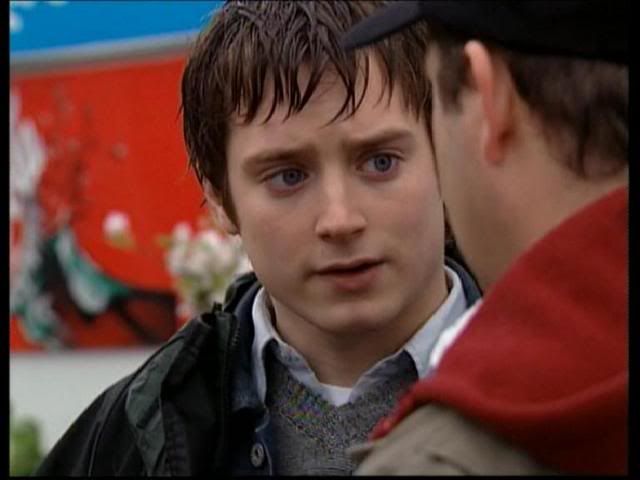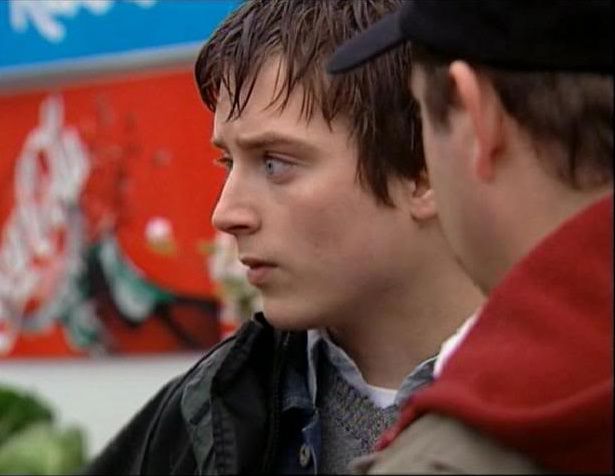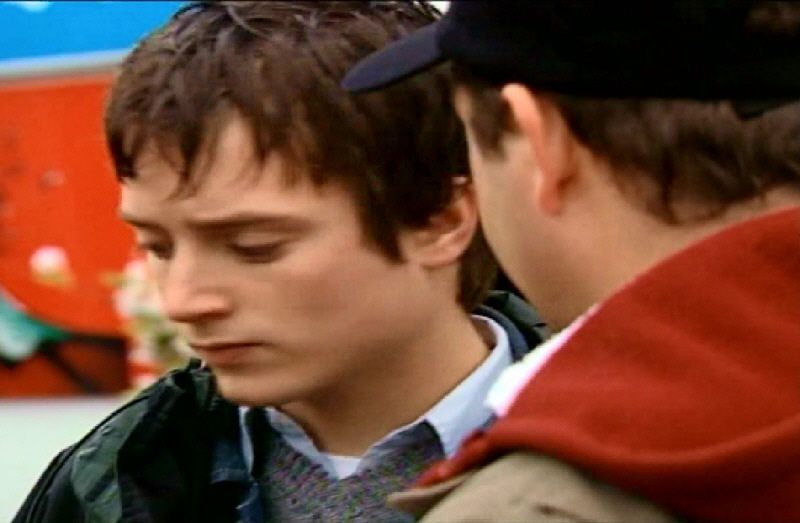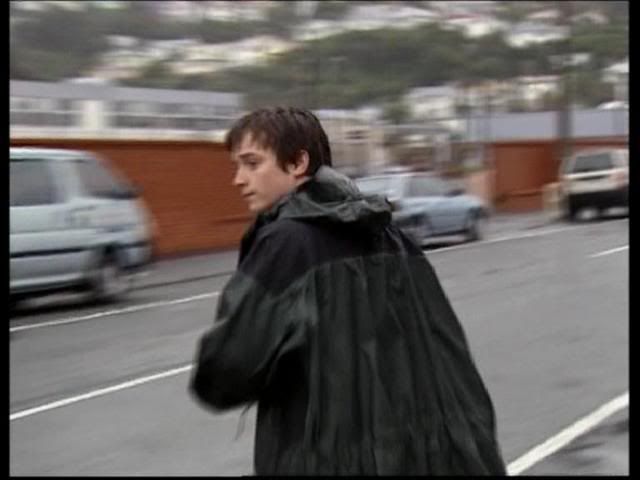 Elijah informs us that Peter Jackson has requested another take.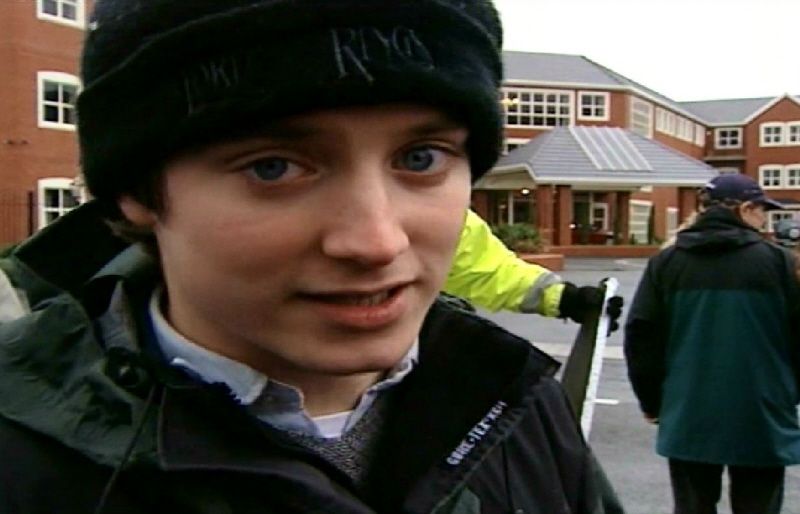 "He's taking his bus-driving duties very seriously"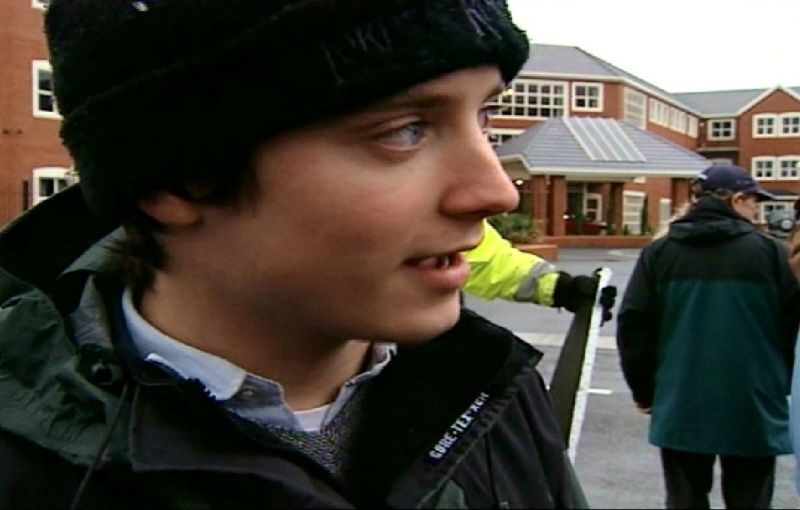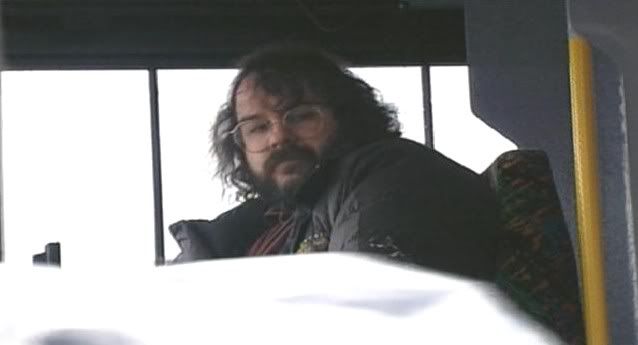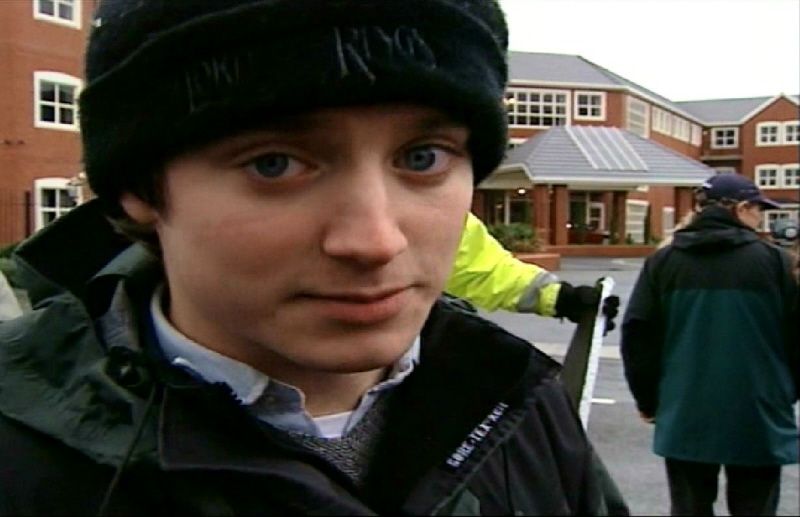 ♥ ♥♥ He has LOTR on his woolly hat!! ♥ ♥♥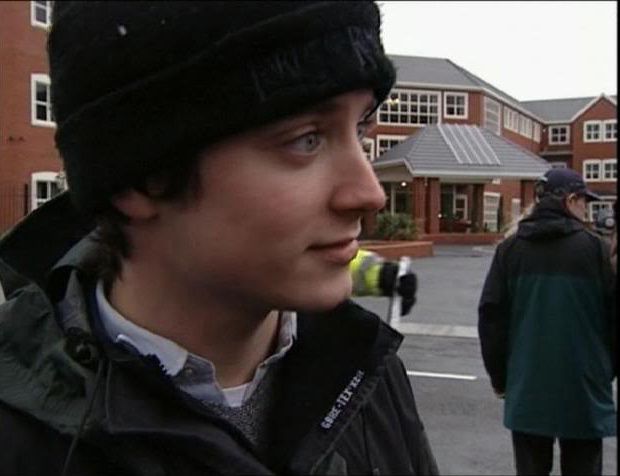 Oh-oh - I think someone's in trouble …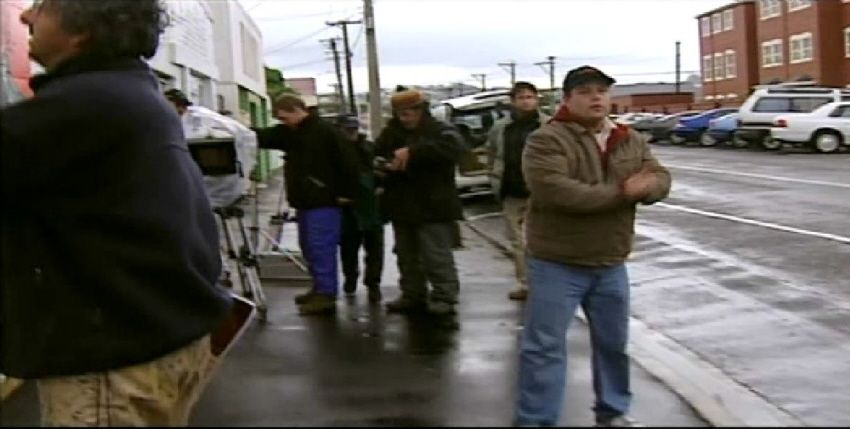 "I'm not fit for the job – that's what I've learnt."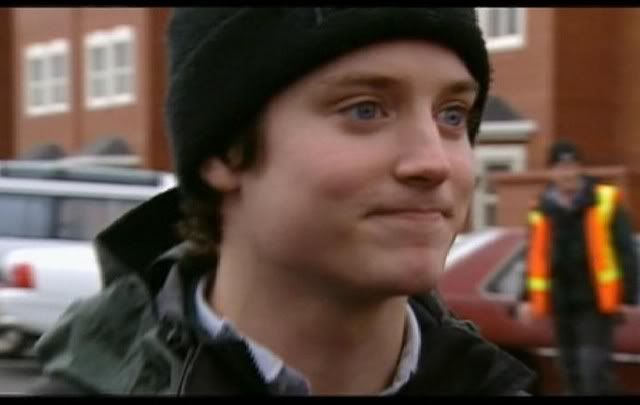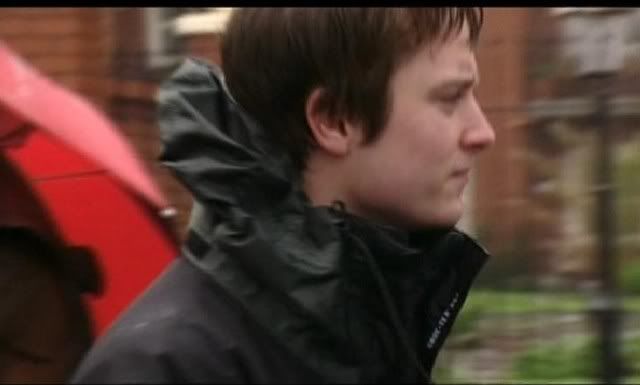 "Alright lets shoot – lets lock it down!!"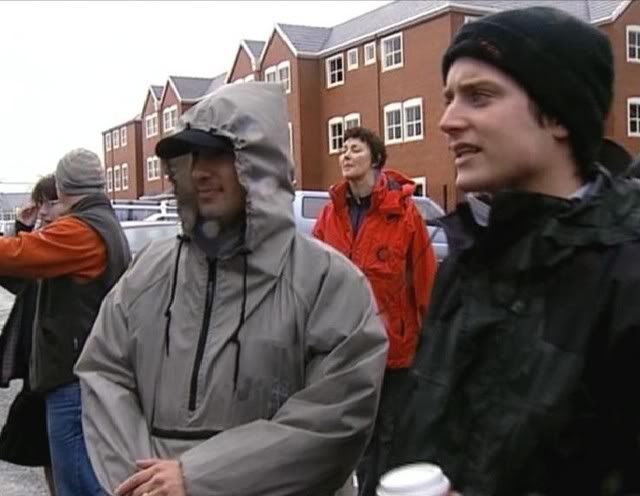 "Ok – roll camera!!"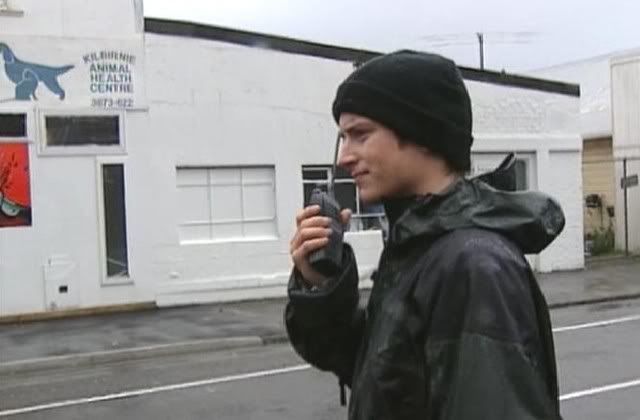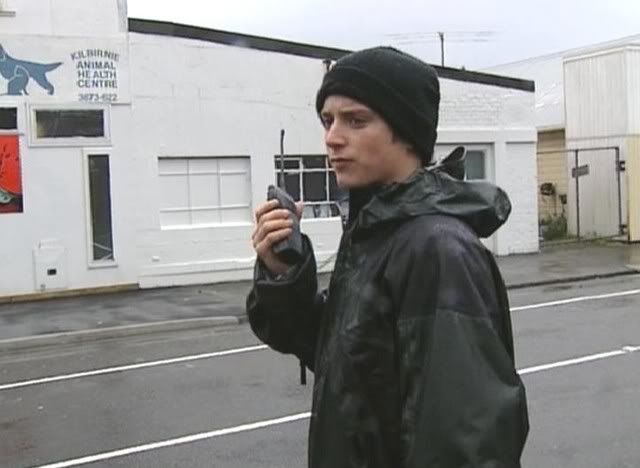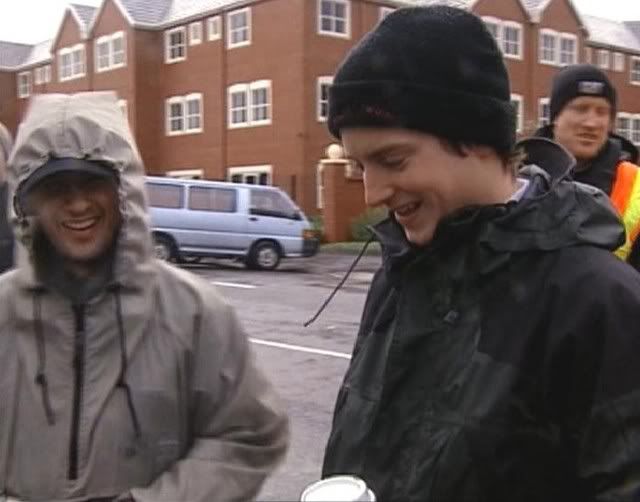 The bus is suitably adorned!!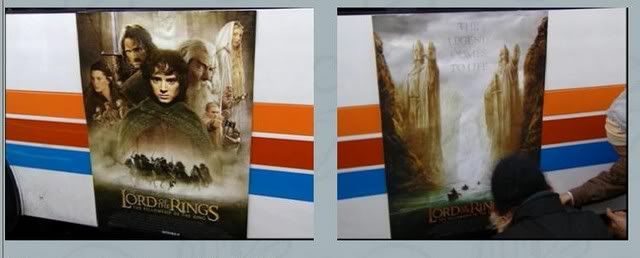 "No pressure – its coming round the block!!"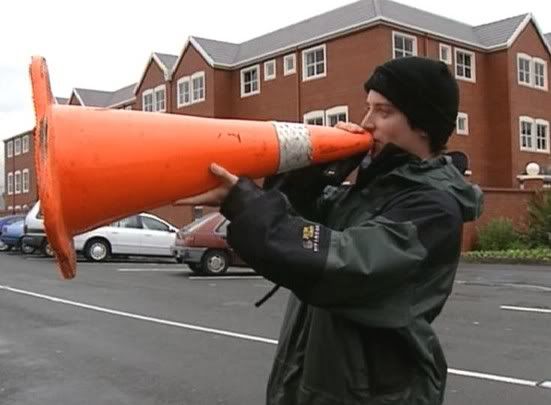 It is done!!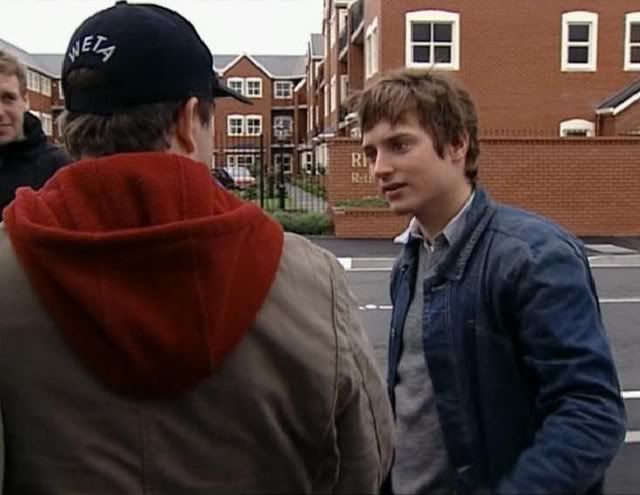 Sean is happy.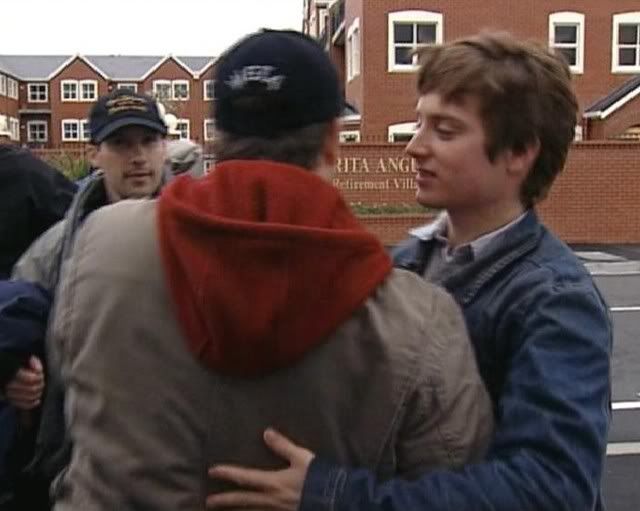 And he gets a big hug from his first AD!!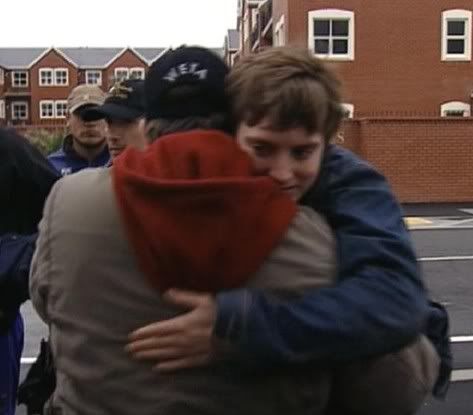 An interview during pick-ups from 'Return to Middle Earth'. It's obvious from watching this that Elijah is feeling very emotional:

"It's going to be very difficult when that day finally comes that we have to say goodbye.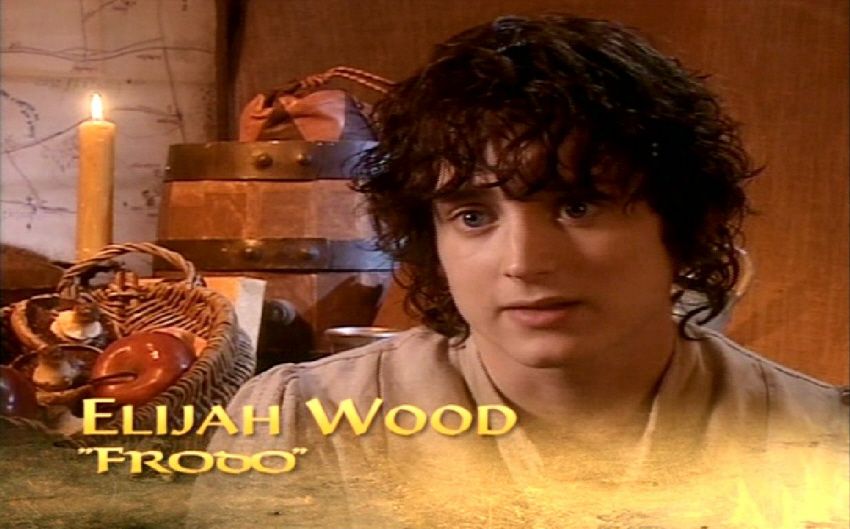 Because obviously it will. You know, once that third movie's in the can that'll be it.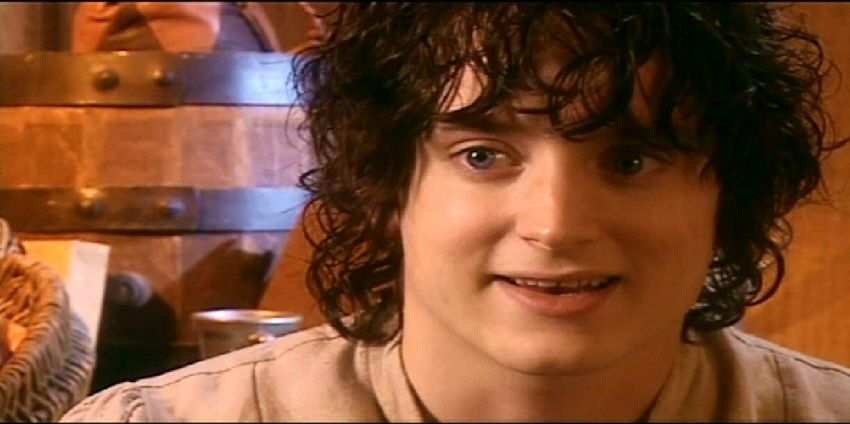 I think it's so far away in our minds right now that we aren't really thinking of that and not necessarily accepting that fact but eventually we'll have to ...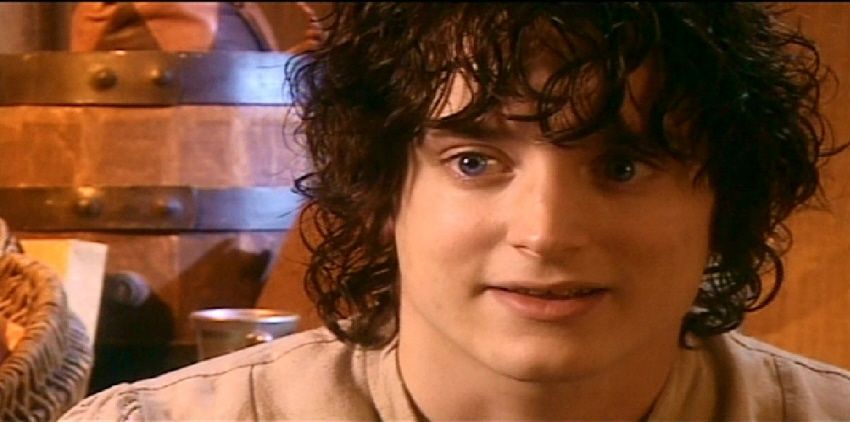 and that will be a very tragic day indeed.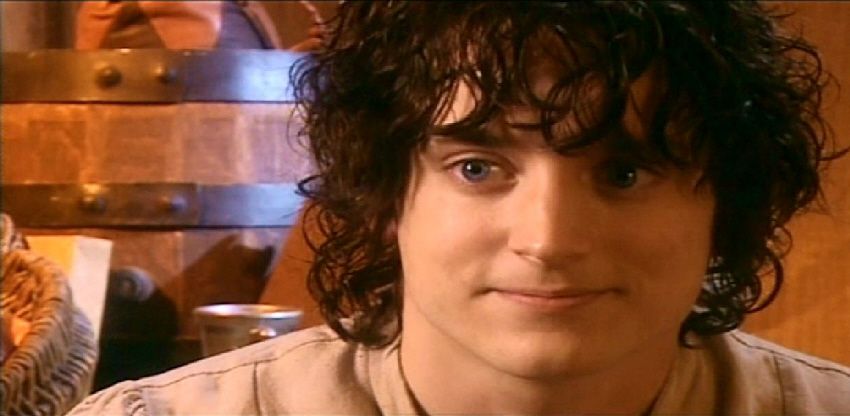 From an AOL Chat:
"Host Jessica: here is one from vegechicaA 86. She says I am Amanda. I heard you had to return to New Zealand to film more scenes for "Lord of the Rings." What was it like seeing everyone again, and Elijah, I think you are a very talented actor and very good-looking, too. Had to say it.
Elijah Wood: Thank you. It was awesome. It's always awesome going back. There is an intense feeling of going home because we have spent so much time there. Going back to Wellington, it literally feels like going home. We catch up with so many people and have breakfast at our favorite breakfast spots. Those little things mean everything to us. It's also just great to see all the cast again and all the old friends on the crew. So it was wonderful. And we are going back next year which is going to be both great and kind of sad in the sense that it will be the last time that we actually are called on to film new material for "Lord of the Rings." It will be a bittersweet experience.
Host Jessica: you still have a year, another year.
Elijah Wood: That's true."


---


My Journey Continues:

Meanwhile, my Elijah/LOTR passion was proving rather expensive. Before that time, I'd had absolutely no desire to own a home computer. I was on one of those things all day long at work, why the heck would I want to be doing the same thing at home?!! How things can change:) So, a computer was purchased, quickly followed by a broadband connection - couldn't wait that long to view my pics and vids!! Then, my thoughts turned towards a dvd player - much to my husband's delight. He'd wanted one for some time but I'd always argued that we didn't really need one - our video recorder was quite sufficient!! Also, I was still frantically tracking down all the books connected with the making of the film and, of course, all of Elijah's past films. I'd agonised over this for a long time. Having bought all I possibly could from UK shops, there were several I could only get by ordering them online. The idea of a large box containing Elijah Wood films arriving in the post was nerve-wracking to say the least. I'd never done anything like this before - how would my husband react? In the end, my desire to own these films got the better of me, as I knew it would, eventually. And my husband - well, he seemed more amused than anything else!!

By this time I'd joined the LOTR Fan Club! The mag only came every two months, but whenever it arrived my day was transformed!! When I got the first issue, I could never have imagined that one day it would be adorned by Elijah's own fair hand:)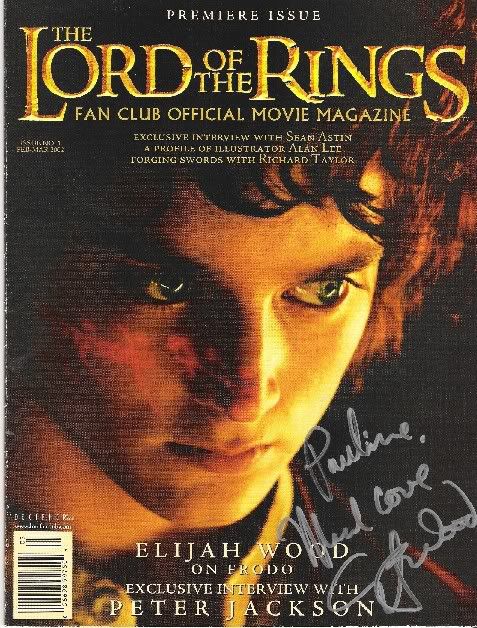 ---

Frodo's Journey Continues:

Into The Wild: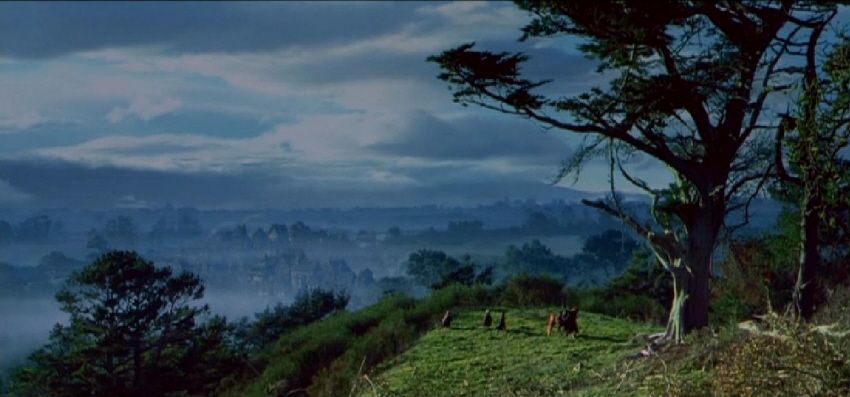 "At all times they feel the presence of The Ring, drawn to the power of The One ..."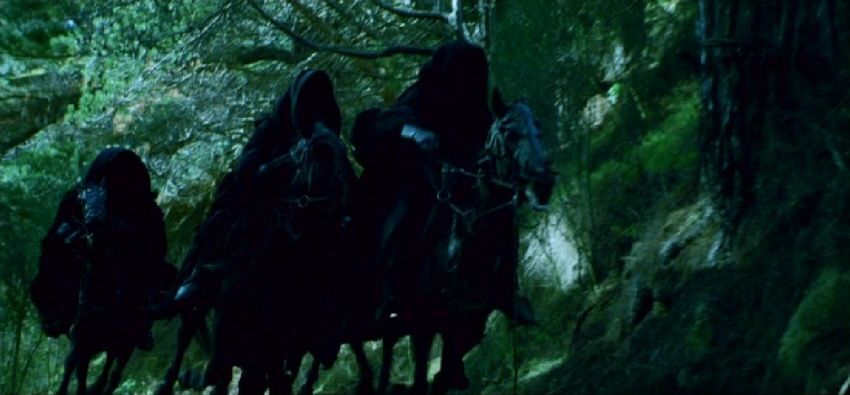 "Where are you taking us?"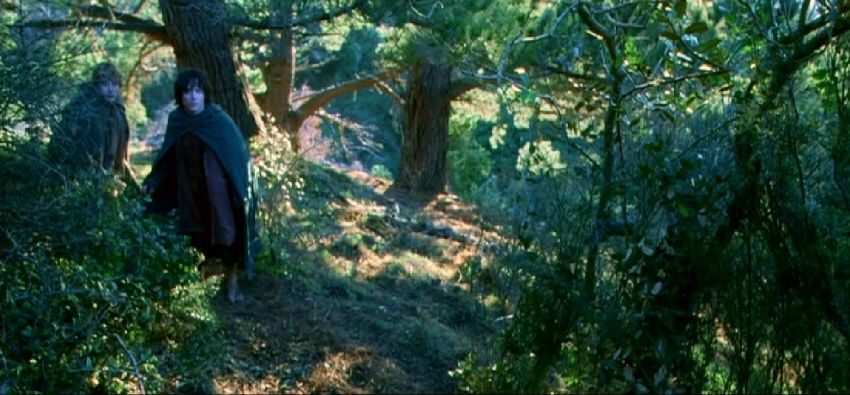 "Into The Wild"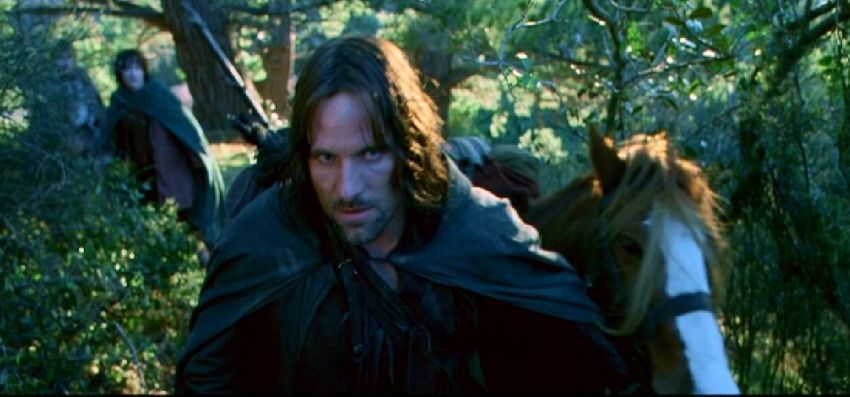 "How do we know this Strider is a friend of Gandalf?"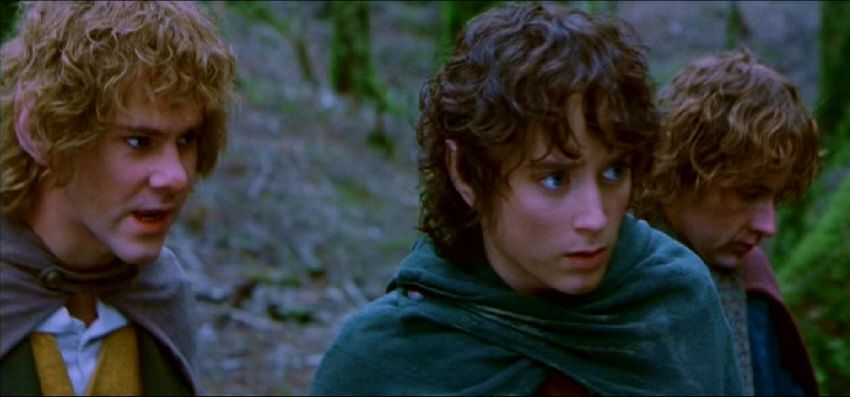 "I think a servant of the enemy would look fairer but feel fouler."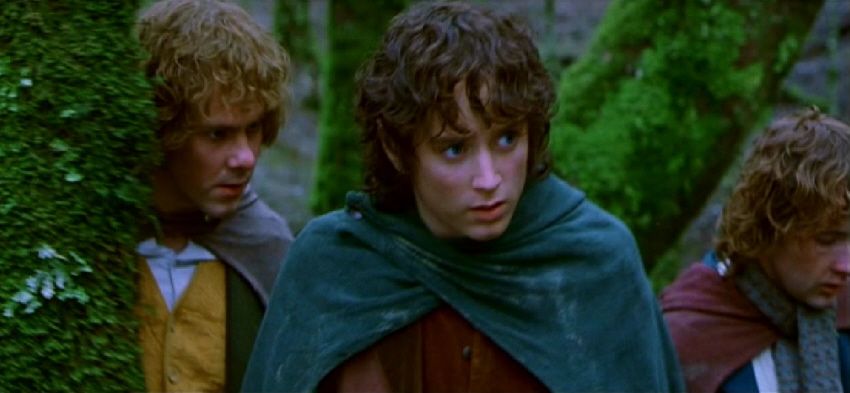 "He's foul enough!"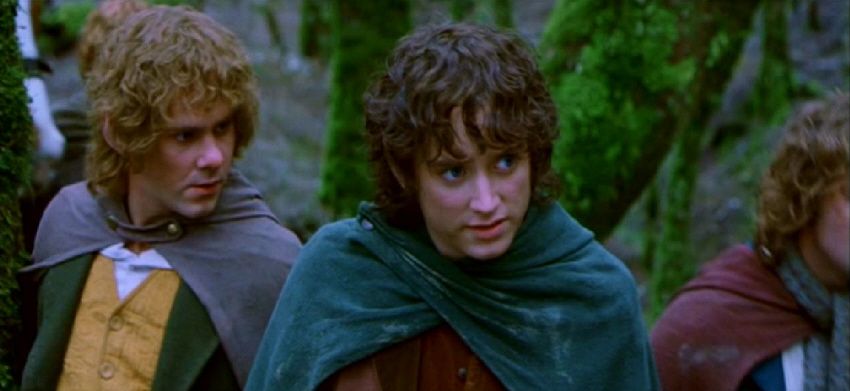 "We have no choice but to trust him."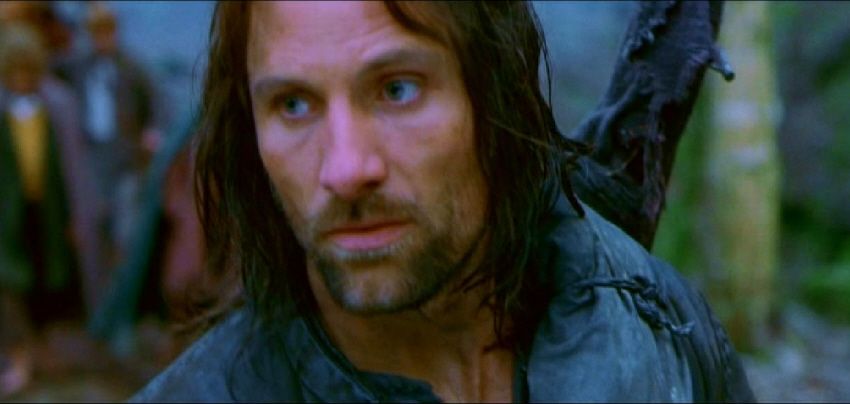 "But where's he leading us?"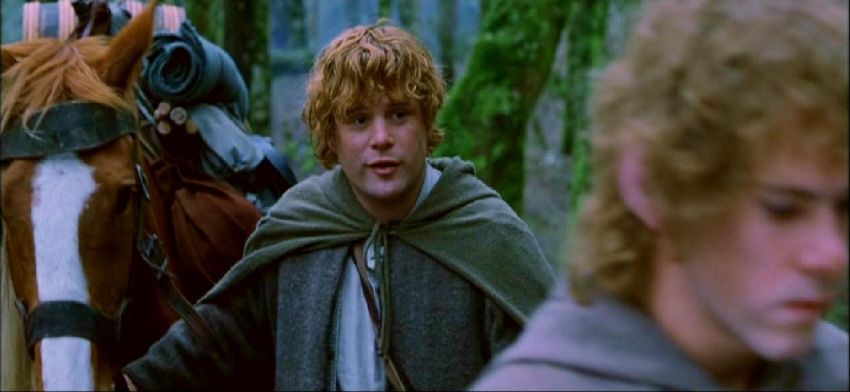 "To Rivendell, Master Gamgee. To the House of Elrond!"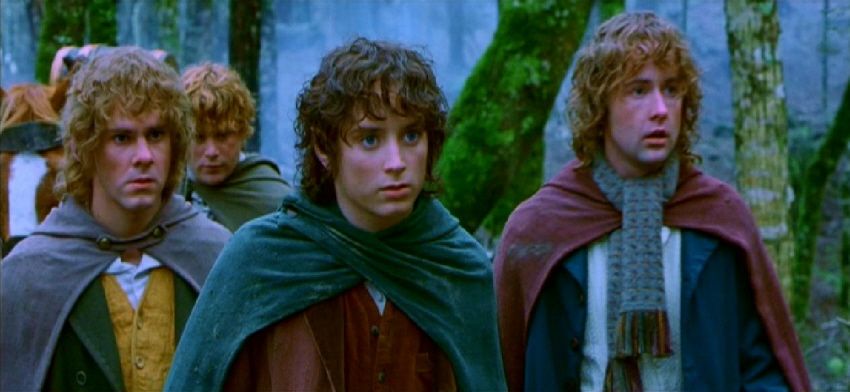 "Did you hear that? Rivendell!! We're going to see the Elves!"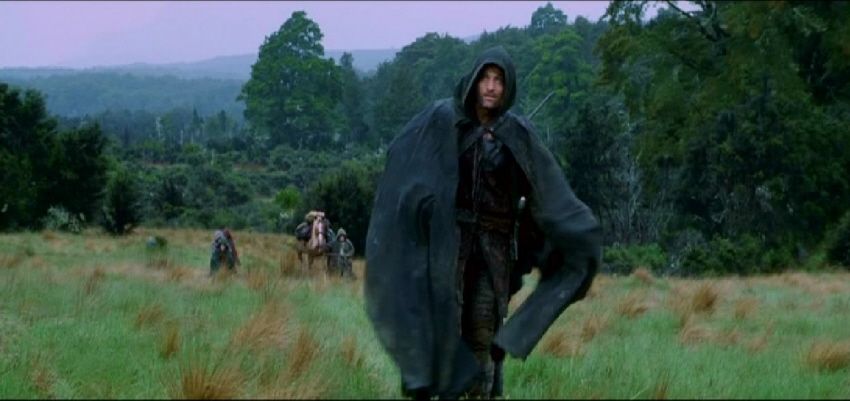 "Gentlemen, we do not stop til nightfall!"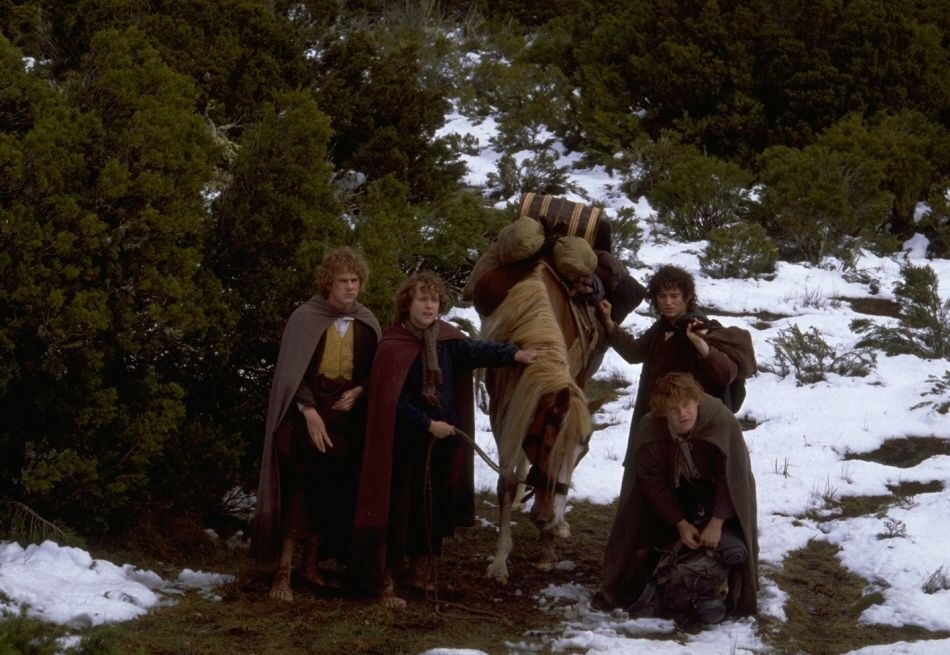 "What about breakfast?"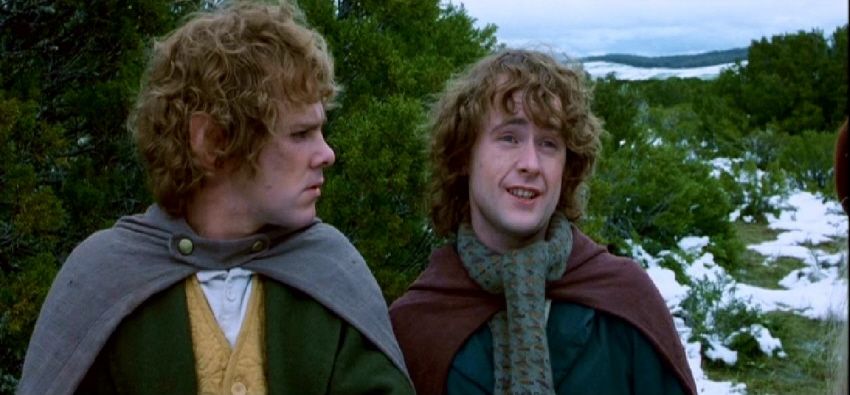 "Don't think he knows about second breakfast, Pip!"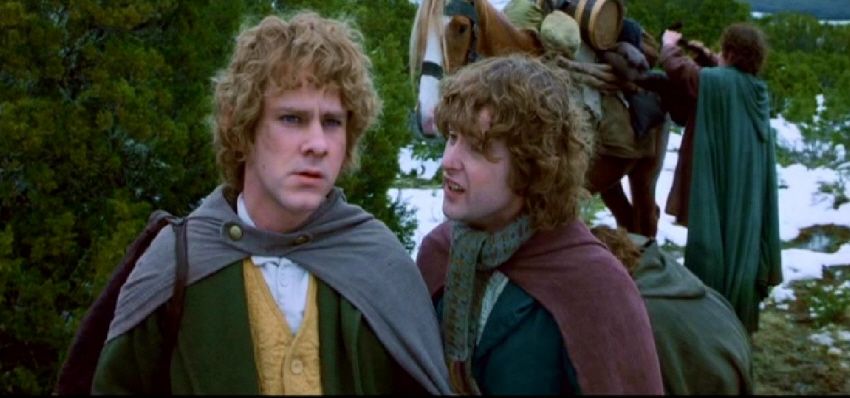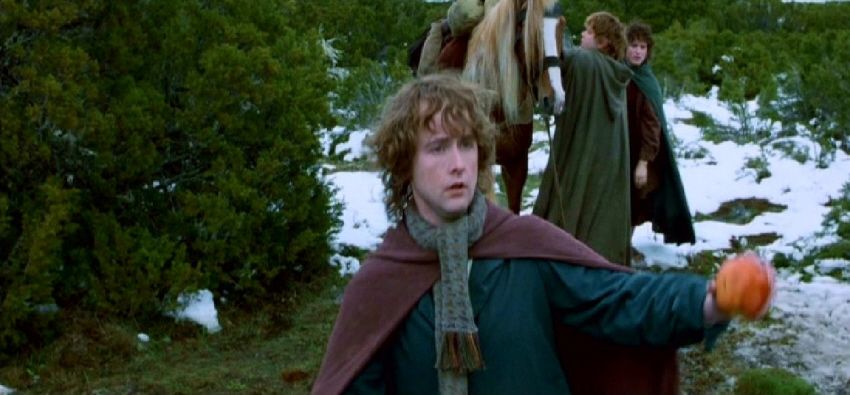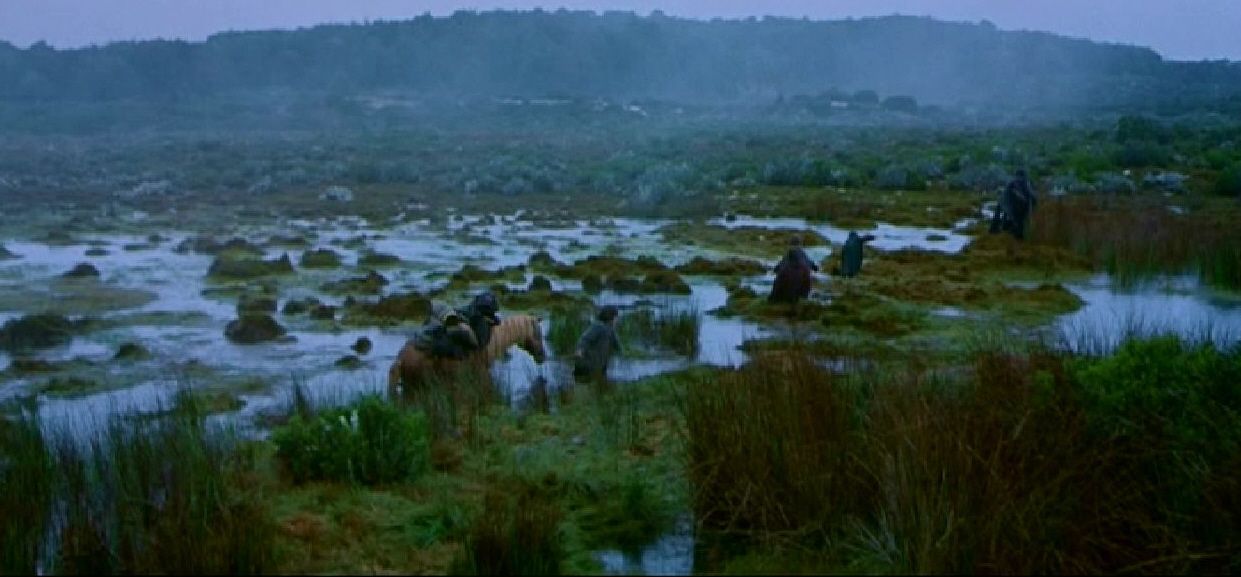 "The marshes were bewildering and treacherous, and there was no permanent trail even for Rangers to find through their shifting quagmires. The flies began to torment them and the air was full of clouds of tiny midges that crept up their sleeves and breeches and into their hair.
"I am being eaten alive!", cried Pippin. "There are more midges than water!".
"What do they live on when they can't get hobbit?", asked Sam, scratching his neck."
(The Fellowship of the Ring : A Knife in the Dark)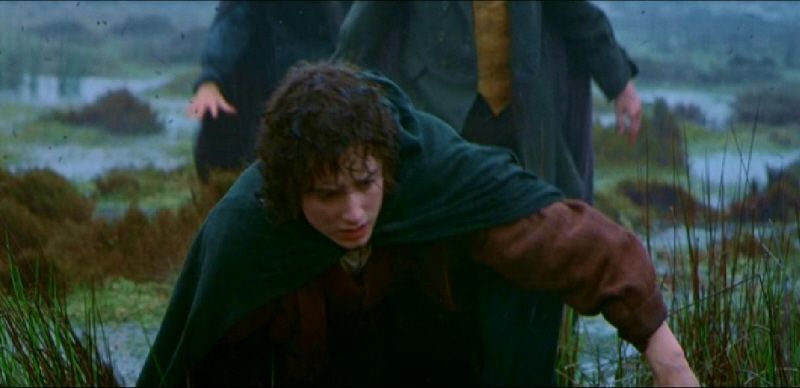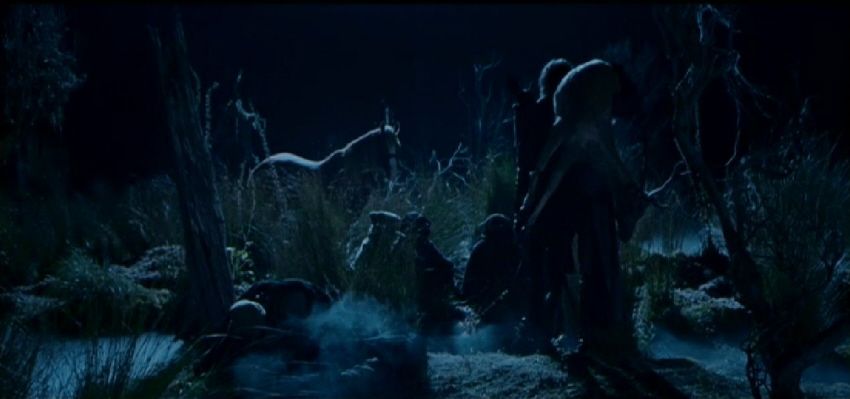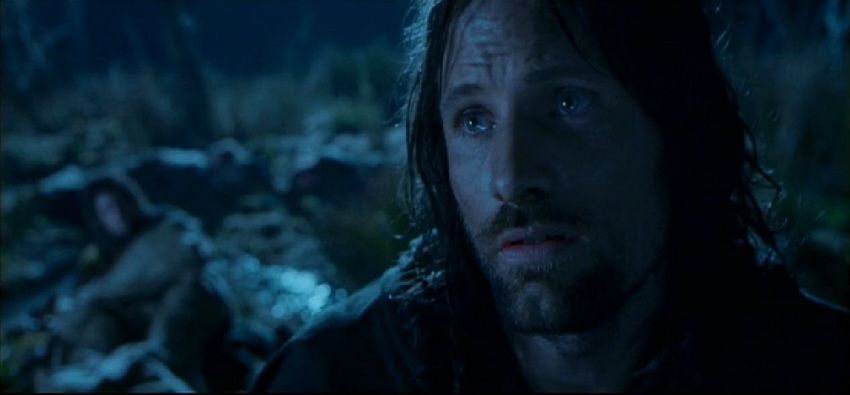 "Who is she? This woman you sing of.."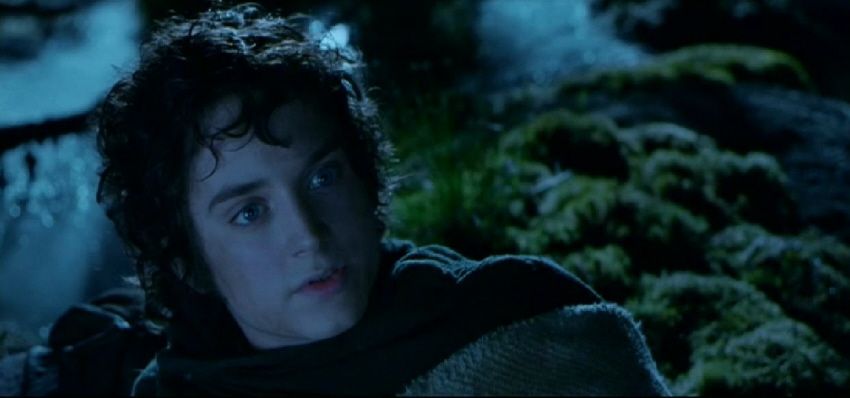 "She is the Lady of Luthien - the Elf maiden who gave her love to Beren, a mortal.

"What happened?"

"She died."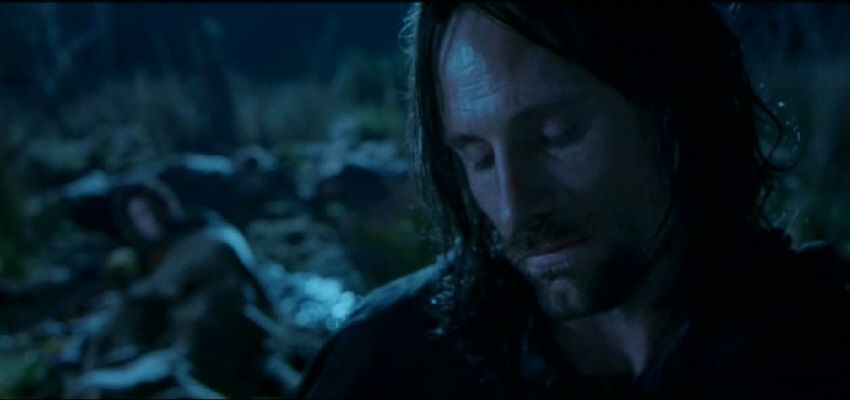 "Get some sleep, Frodo."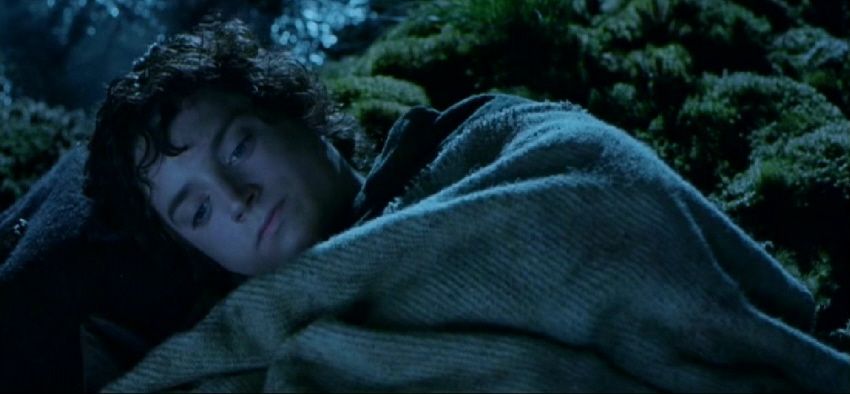 ---
"It's always awesome going back. There is an intense feeling of going home because we have spent so much time there. Going back to Wellington, it literally feels like going home. We catch up with so many people and have breakfast at our favorite breakfast spots. Those little things mean everything to us."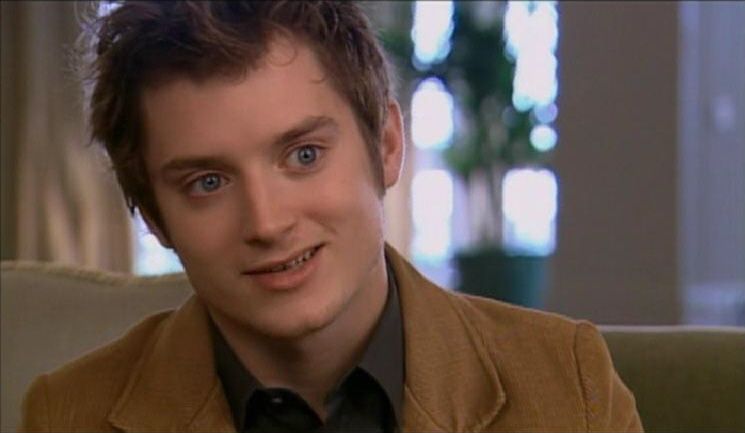 TO BE CONTINUED

LINK TO ALL CHAPTERS:

"A JOURNEY WITH FRODO"
comments: Leave a comment