| | |
| --- | --- |
| Tags: | woodsday |
| Security: | |
| Subject: | Pierre Vinet ~ Elijah's Tribute |
| Time: | 09:36 pm |
I'm sure most of you will have seen Elijah's moving tribute to Pierre Vinet as posted on 'Ain't It Cool News' but I was so impressed by it I decided to post it here. Elijah has always been an articulate young man and with the passage of time he is becoming even more so. I love his poetic description of Pierre, "The familiar mischievous glint in his eyes, with eyebrows dancing, and lip-pursed chuckle served to inspire anyone around him." I also love that he refers to him as a "family member" as he has often done before when referring to LOTR friends. Another reminder of how dear that experience and those people were to him:)
From Quint at 'Ain't It Cool News':
"And then here's Elijah Wood, who spent the better part of 4 years working with Pierre on the Lord of the Rings movies:
I'll never forget the first time that I met Pierre Vinet. So many of us had flown to New Zealand to embark on a journey unlike anything we'd ever experienced. I was introduced to Pierre as our on set stills photographer, and I greeted him with great excitement, telling him that he had the "best job on the film!" His job was that of observer and documentarian for the process of bringing Tolkien's world to life and that unique perspective thrilled me.
To be the one to capture this incredible adventure that we were all taking part in and the brilliant artistry and passion of everyone involved, was a privileged opportunity. His enthusiasm and energy was genuinely infectious. "This is ze poster!", he would frequently say, his excitement for the images he was capturing, overflowing. Pierre always made everyone around him smile, no matter how difficult the shoot became or how tired any of us were. The familiar mischievous glint in his eyes, with eyebrows dancing, and lip-pursed chuckle served to inspire anyone around him. I remember often imitating his french canadian accent and signature phrases and chuckles. A true original character. I loved being called into his photo studio set-up for portraits and ideas that he had. He'd grab you and run you over to a blacked out room with his equipment, on a break from filming. His simple portraits outside the context of the set environment, are still some of my favorite images from the films. It was there in his world where, through his lens, he brought the characters that we were playing to life.

I hadn't heard that he was sick until I recently visited Wellington and found out just before he passed away. It's still difficult to process. The world has certainly lost a beautiful photographer, but more importantly; a friend, character, family member, eccentric, mad man, husband, and a true light that shone on everyone who had the pleasure of knowing him."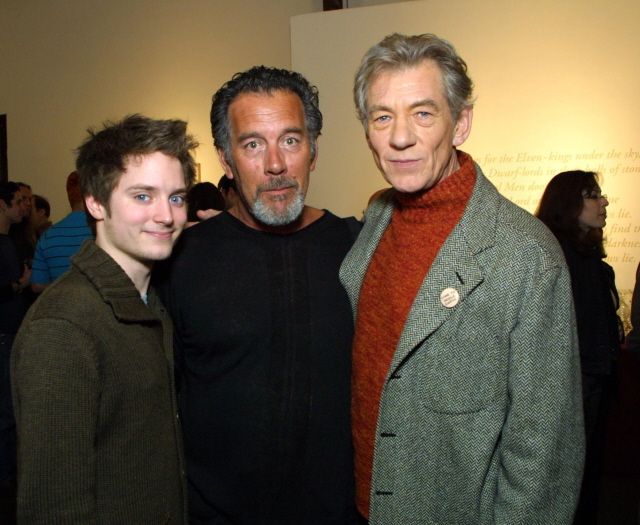 comments: Leave a comment