| | |
| --- | --- |
| Tags: | a journey with frodo |
| Security: | |
| Subject: | A Journey With Frodo : Ch35 : The Two Towers : World Premiere |
| Time: | 11:43 pm |
I can finally give you Chapter 35 of 'A Journey With Frodo'! This chapter has been a bit of a struggle due to computer troubles and some extremely disorganised files!! It covers the world prem of 'The Two Towers' in New York and Frodo is still in Rivendell. I'd intended to include the Council of Elrond in this part of 'Frodo's Journey' but I felt it would make this chapter just too enormous. I don't know if there is an actual limit on the size of an LJ entry - but if there is then I'm sure it would have exceeded it!
For anyone unfamiliar with my pet project, 'A Journey With Frodo' (a work in progress) is the story of Elijah Wood's experience in becoming Frodo, from back in 1998 when the LOTR movies were just a whisper up to the triumphant Oscars of Feb 2004. In reliving Elijah's journey, and mine, I am using everything I can lay my hands on - behind-the-scenes material from the various dvd's, magazine articles, books, internet sites, tv coverage, word-of-mouth info, etc. Previous chapters can be found here:
"A JOURNEY WITH FRODO"
Hope you enjoy Chapter 35 - and I'm still in time for Froday!!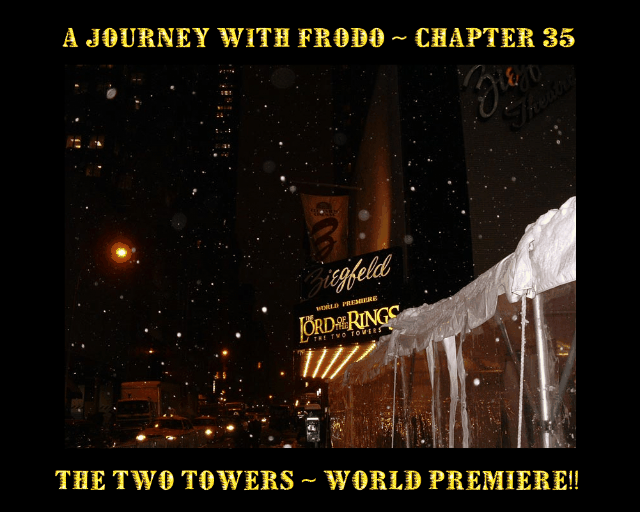 ---
2nd December 2002:

The first press con for 'The Two Towers' was held at the Regency Hotel in New York. This was just the start of a round of interviews and tv appearances over the next few days leading up to the premiere:

What are you hiding under that hat, Elijah?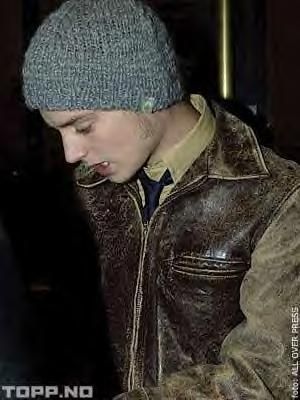 His hair. It is gone!!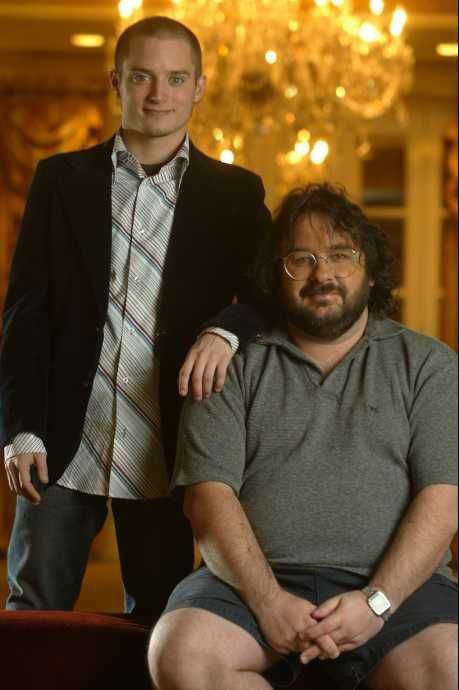 3rd December 2002:

Elijah, Peter Jackson and Viggo appear on 'Charlie Rose':

Before discussing TTT, CR starts by looking back to FOTR and asking them more or less the same questions they had last year - their auditions, that sort of thing.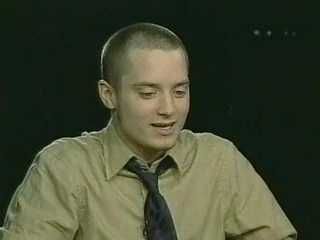 Elijah is asked to regale them again with the story of making his video tape!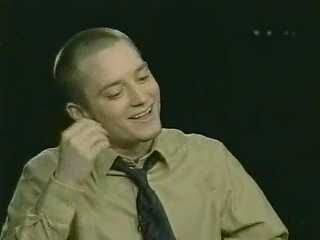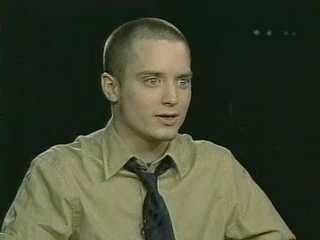 Charlie asks PJ what he saw when he looked at the video: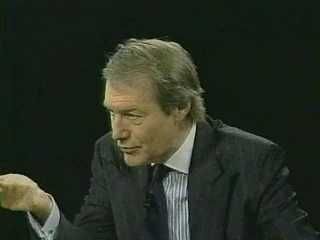 "I saw Frodo"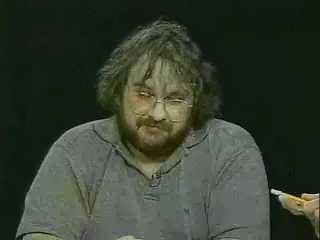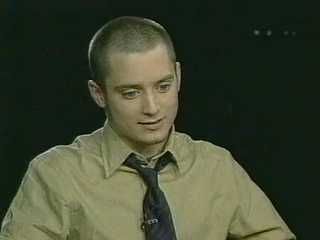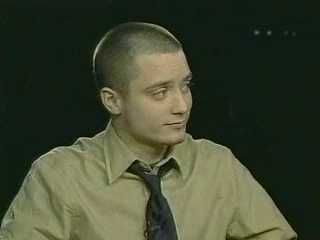 CR then asked about ROTK which PJ and Elijah both announced to be their favourite:

"I've seen bits of it and I can't help but cry every time. I saw one bit towards the end of the film and cried, saw it again five minutes later and cried again!! It's heartbreaking what happens to these characters who you've grown to love over the course of three years.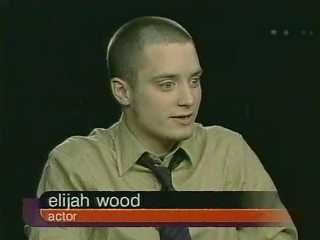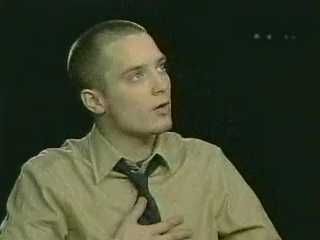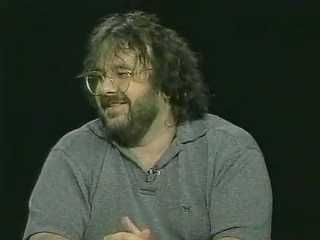 Viggo caused some controversy by appearing on the show wearing his 'No More Blood For Oil' t-shirt.




Elijah was asked for his opinion in an interview the following day:

"Wood, for his part, is not concerned that Mortensen's comments might affect the film's performance or create some kind of controversy.

"F**k it if it does," says the actor. "I don't think it is going to create a controversy... I am very proud of Viggo for saying what he said. I think not many people are saying that, not many people are raising questions. I always think it is important to question even your government, especially your government actually... I am not going to sit here and agree with every single word that Viggo said but I think it is important to question, and I think he used a very good venue. I always find it a little weird when celebrities take that opportunity and often I think it is the wrong place, like awards shows and things and people are like, 'I am going to make my political statement now'. I always find that to be inappropriate and it takes away from the evening that is sort of at hand, whereas Charlie Rose is often a political forum and so it was actually a cool kind of tie-in and an appropriate time to make those kinds of points." (Movie Profile)


4 December 2002

All four hobbits attended the NY KnicksvOrlando game: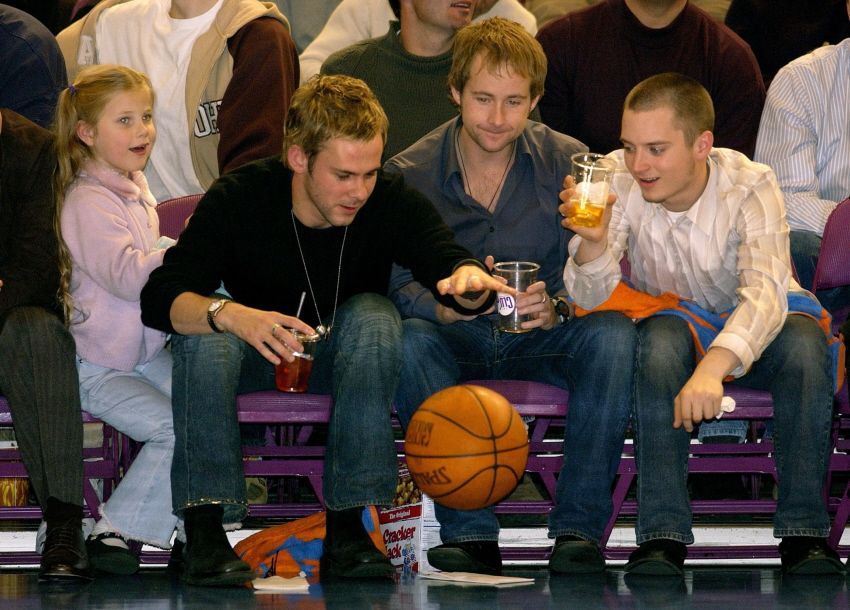 Elijah plays peek-a-boo with Miss Alexandra Astin:)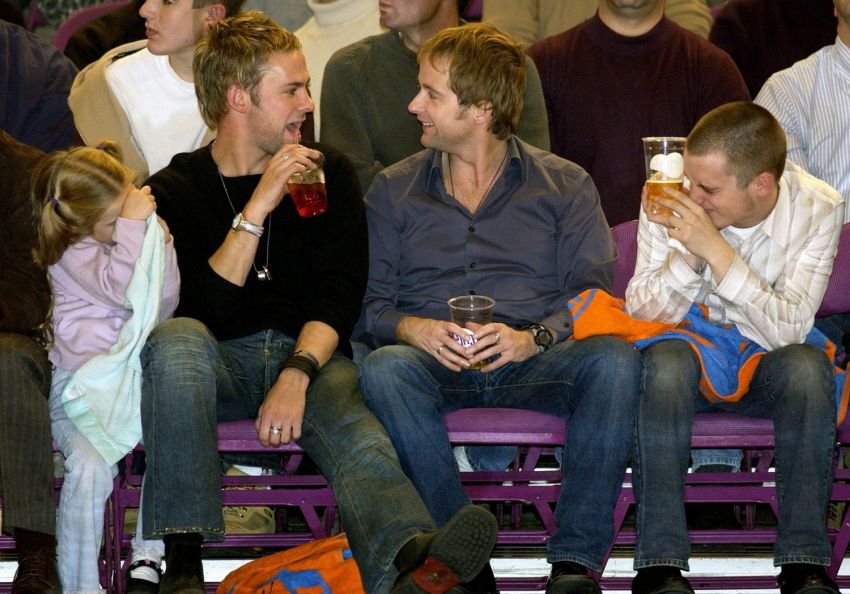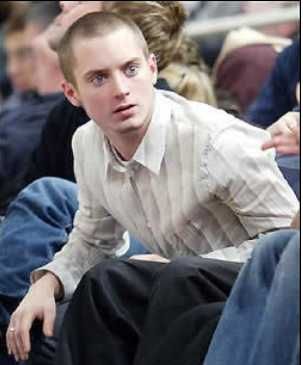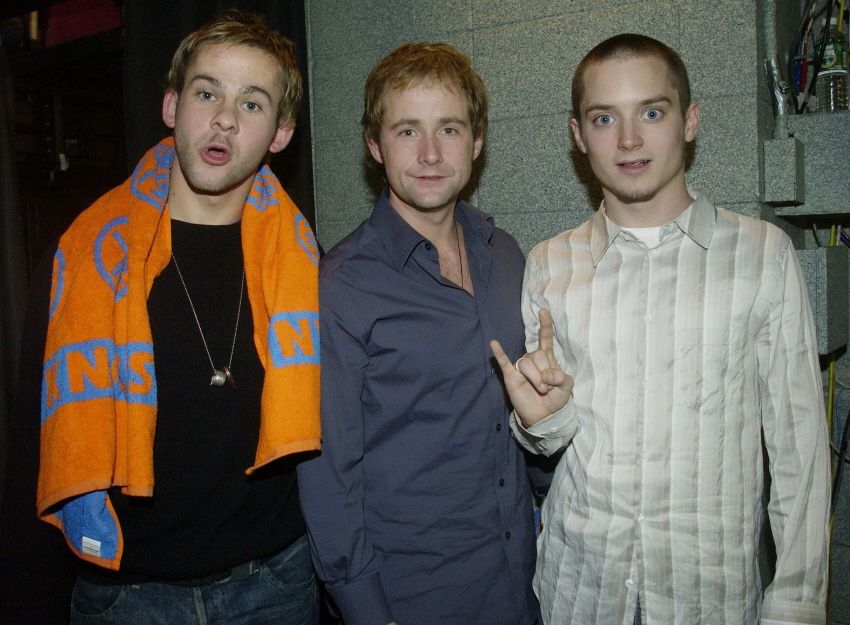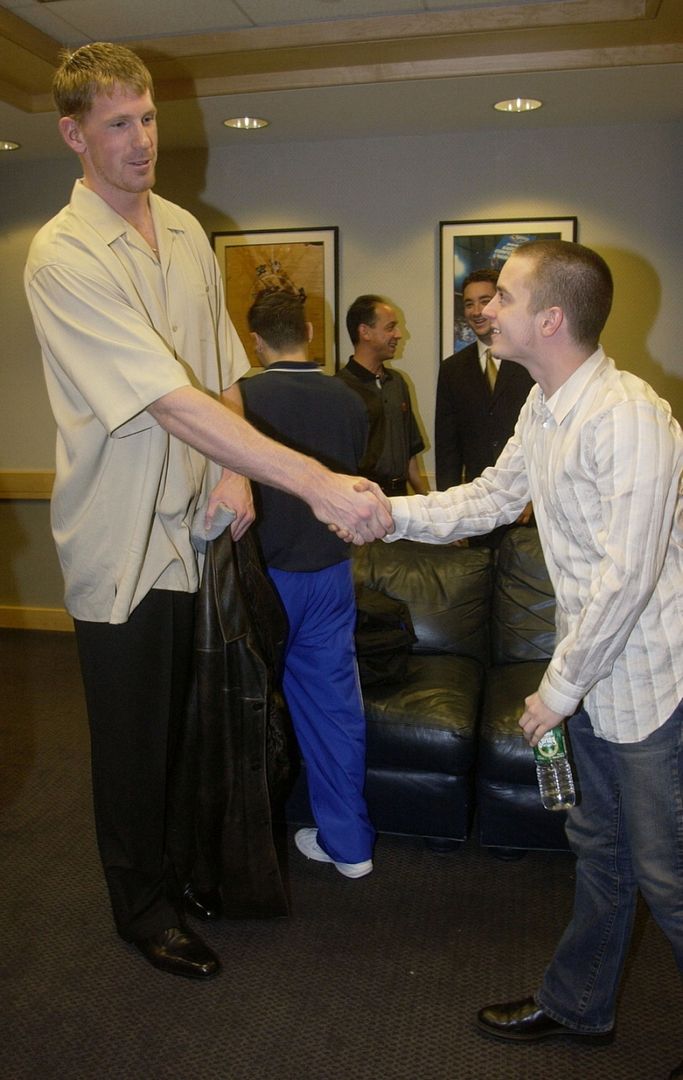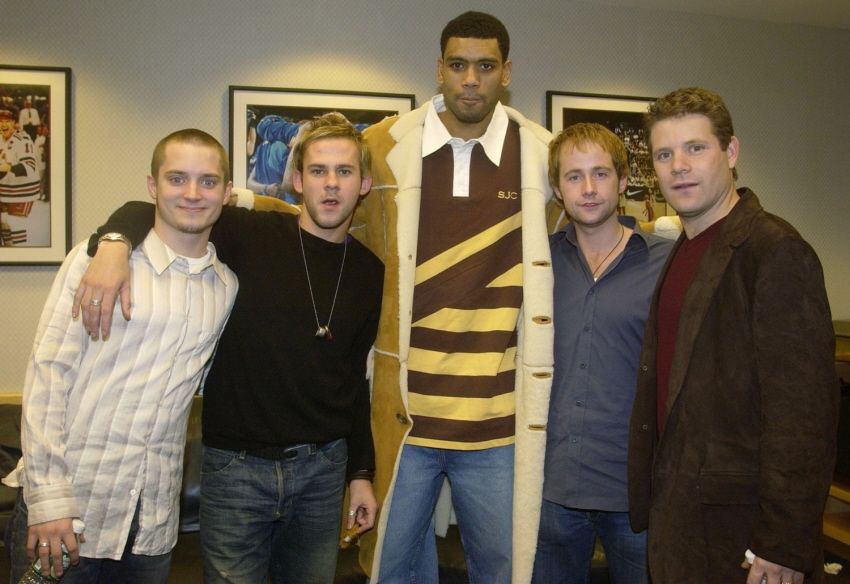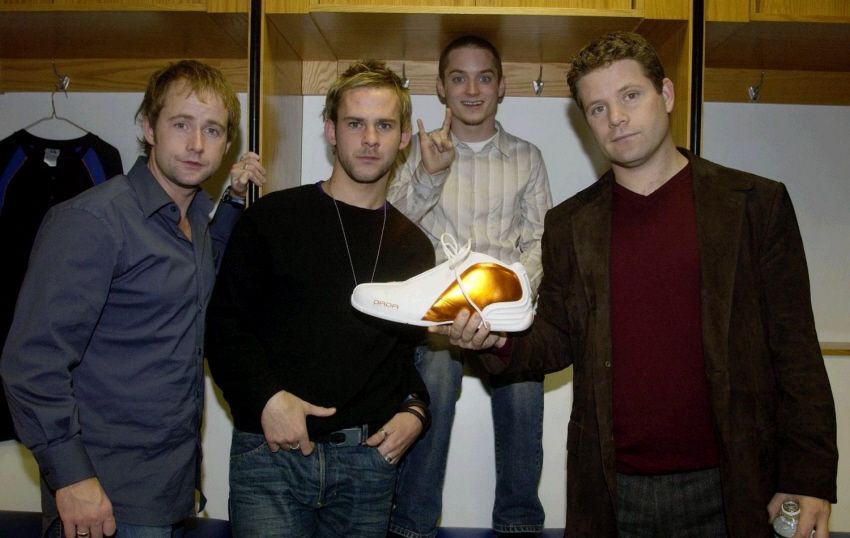 ---


05 December 2002

Another press con!! I seem to recall that Elijah was suffering from quite a nasty cold at that time but he still manages to look great. Some pics from this along with a few extracts from one of my favourite mag interviews at the time:

YOUNG BLUE EYES IS BACK! (SFX)

"He's 5'7"[??], is still only 21 and has the eyes that makes women worldwide go "Awww". He's Elijah Wood and he is,, for the second time, Frodo Baggins.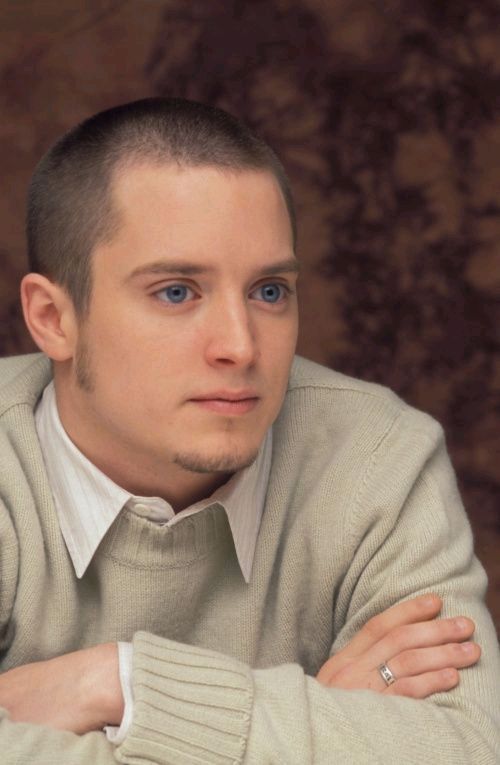 What could possibly be bad about sitting in a fancy Manhattan hotel room on Madison Avenue, sipping morning cawfee, munching bagels, gazing through a huge picture window at frantic New Yorkers hustling on the street below - especially when you're waiting to spend half an hour with one of Hollywood's hottest up and coming stars. Nothing bad about that unless the star is fashionably late and the three, now irritated journalists in the room are rapping their fingers on the sleek mahogany table in front of you and bitching about the pending horrors of en route traffic to JFK. Doesn't anyone know they have planes to catch? But one flash of Elijah Wood's baby blues as he comes breezing in with a thousand apologies and the biggest eyes I've ever seen in my life and all is forgiven!! He plonks himself down, all smiles and charisma. The nearly 22-year old star is pumped, raving about the clips he's just seen from his upcoming move 'The Two Towers'.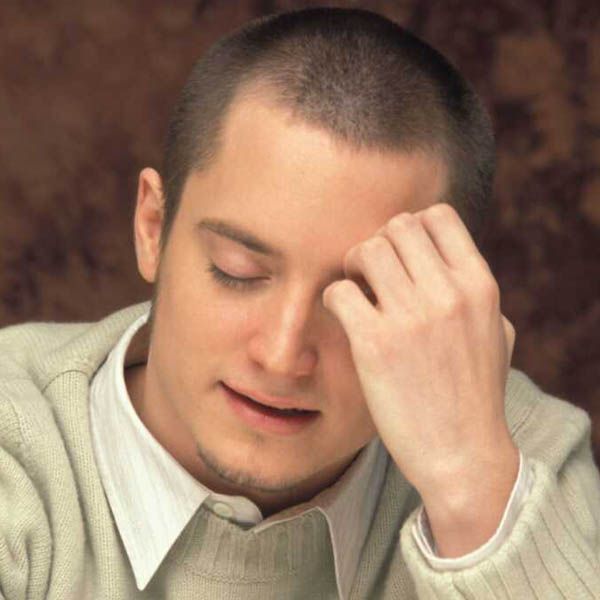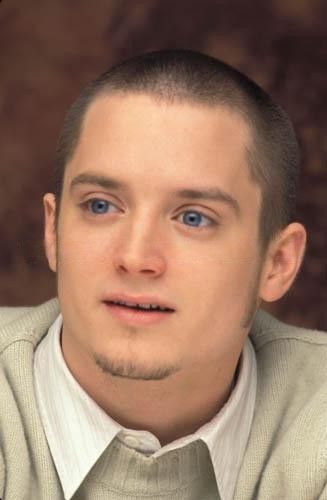 The reason we're late', he explains 'is that none of us have seen the movie and we wanted to watch the clips that you guys got to see'. He grins mischievously. 'Actually, we watched them twice...' He looks like an angel, a cherub almost, but this butter-wouldn't-melt- guise is betrayed by the scruff of whiskers defiantly sprouting from his chin. It takes at least a minute or two to compute that his eyes really are that huge and that bright blue, so he continues to gush with excitement before anyone snaps to and asks him a question.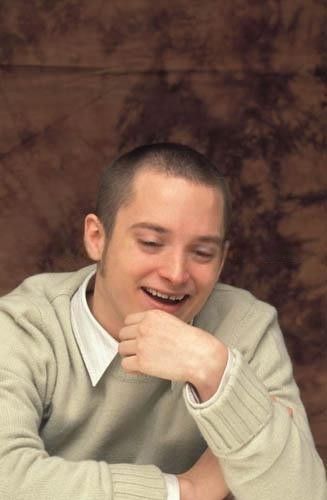 Mature beyond his years, this kid has been in the movie business forever. He's professional, smart as can be , has a strange penchant for horror movies and will hug any New Zealander he meets. But be warned - if you happen to bump into our friendly Frodo and try faking a Kiwi accent for one of those coveted hugs, never ever mention the word 'sequel'! He explains more than once why The Two Towers is not - repeat not - a sequel.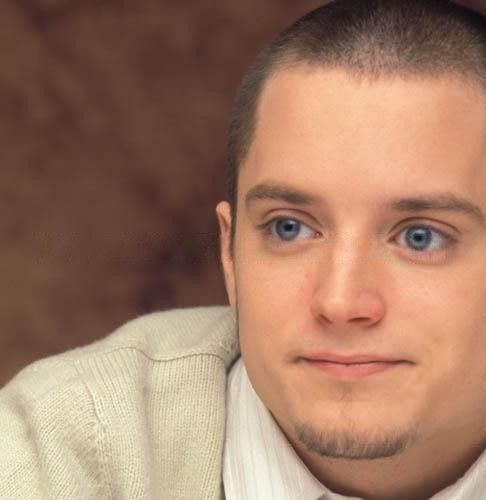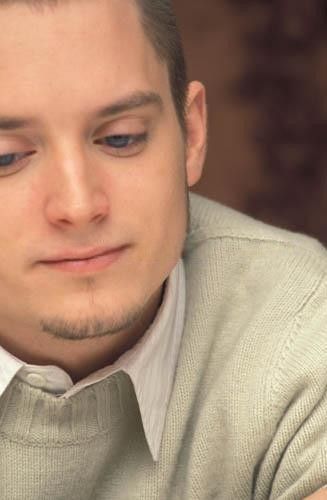 "It was very gruelling, very difficult. An incredible experience, but very difficult. Wood looks almost pained at the thought of it. He then pauses and closes his luminous eyes. A shadow almost seems to fall over the room. It's spooky. Perhaps he really is a Hobbit. Then he looks up and the room is bright and alive as he remembers New Zealand. 'It's home though. I spent so much time there and I continue to go back. It's beautiful, a beautiful place. ..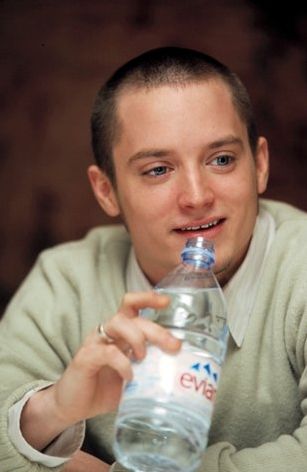 'I meet more New Zealanders now outside of New Zealand, so when I bump into one it's always a hug. You know, 'Good to see you! How's home?'.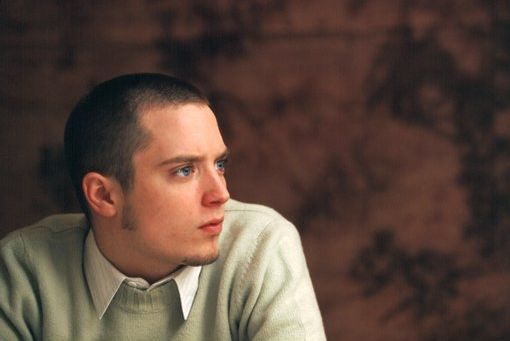 ---


5 December 2002

'The Lord of the Rings : The Two Towers' World Premiere, New York:

Stars and fans of the Lord of The Rings have braced freezing New York temperatures and a snowstorm to attend the world première of The Two Towers - the eagerly awaited second cinematic instalment of JRR Tolkien's epic trilogy.
Elijah Wood - known to millions as the Hobbit Frodo Baggins - and Liv Tyler, who plays an Elf called Arwen, mingled on the red carpet for Thursday's première at the Ziegfeld cinema.
Wood thinks The Two Towers delivers an action fantasy with a lot of deeper meaning.
At the première he declared: "There's an incredible message in this movie of how nature is being threatened and nature actually fights back. This movie is quite multi-layered so I think people will take various things from it." (Tom Brook in NY)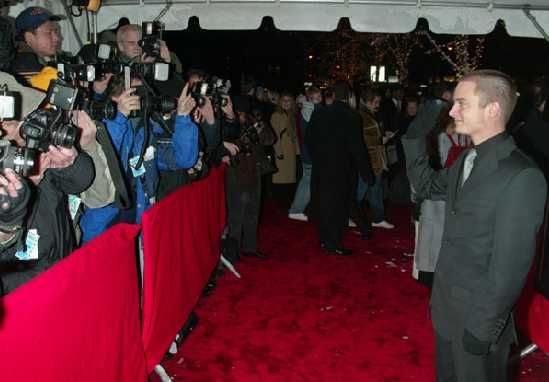 Elijah wasn't wearing a coat or scarf - just a pair of woolly gloves. (Well, not just the gloves but you know what I mean!! ENews asked him if he was cold and he said, "No, I'm warm - the gloves are sufficing.":)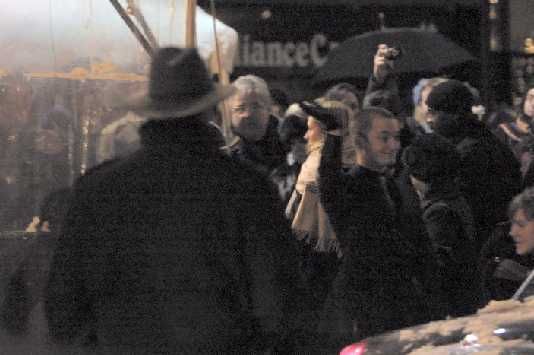 "Utterly astonishing, truly epic film that comfortably exceeds all possible expectations – with stunning action sequences, jaw-dropping special effects and thoroughly engaging characters, this is a directorial tour de force."  (View London)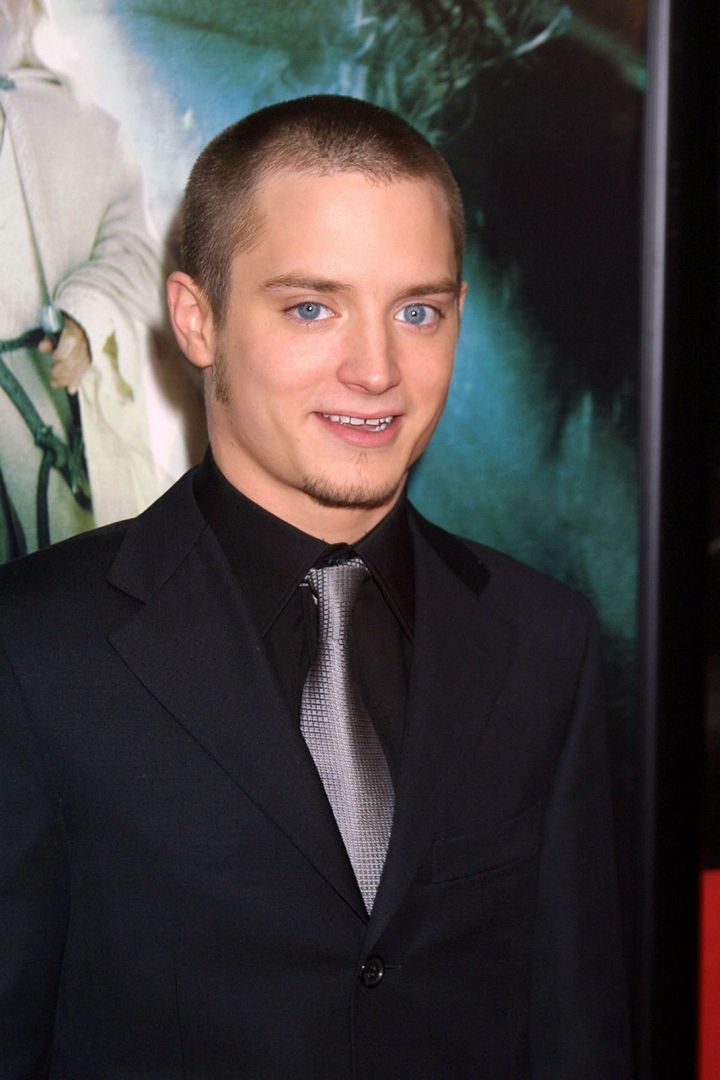 "Elijah Wood, in particular, perfectly conveys the continually growing weight in his mind as the Ring begins to do its work on hobbit Frodo." (Film Review HHHH)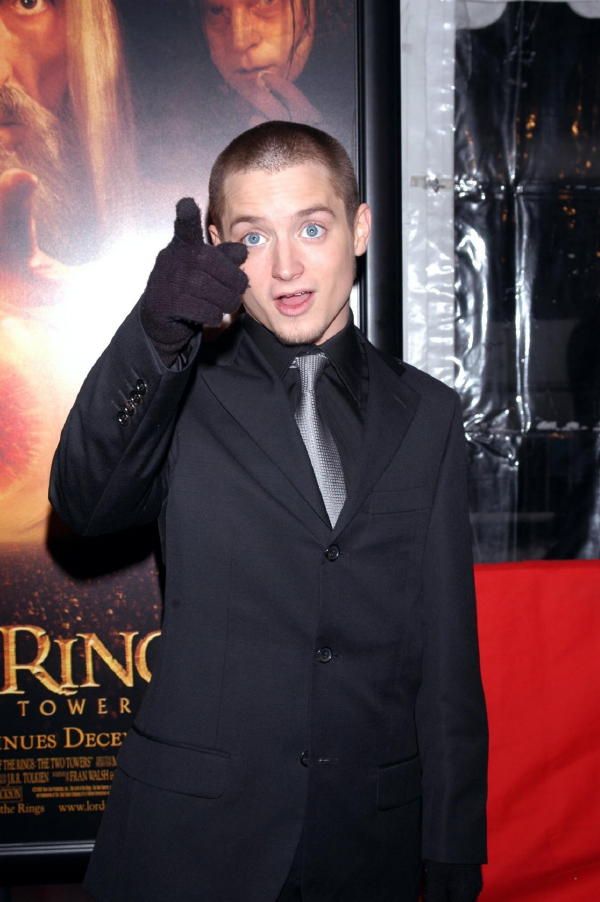 "The soul of The Two Towers isn't in the uneasy interweaving of blackwashed battle scenes, or even in Frodo's journey toward Mount Doom. The soul of The Two Towers is in Frodo's anguished face. The hobbit's struggle to master himself and withstand the Ring's "everything you want" allure overshadows the ink swarm of orcs over the battlements of Helm's Deep. When Frodo cajoles, "Good, Smeagol, good," as though encouraging a pet, he's also addressing the creature he sees himself becoming. Conversely, Gollum's idolizing of his "master" and simultaneous scheme to murder the "tricksy hobbit" shows a longing for who Gollum once was, and a vehement loathing of anyone possessing what he has lost." (LA Weekly)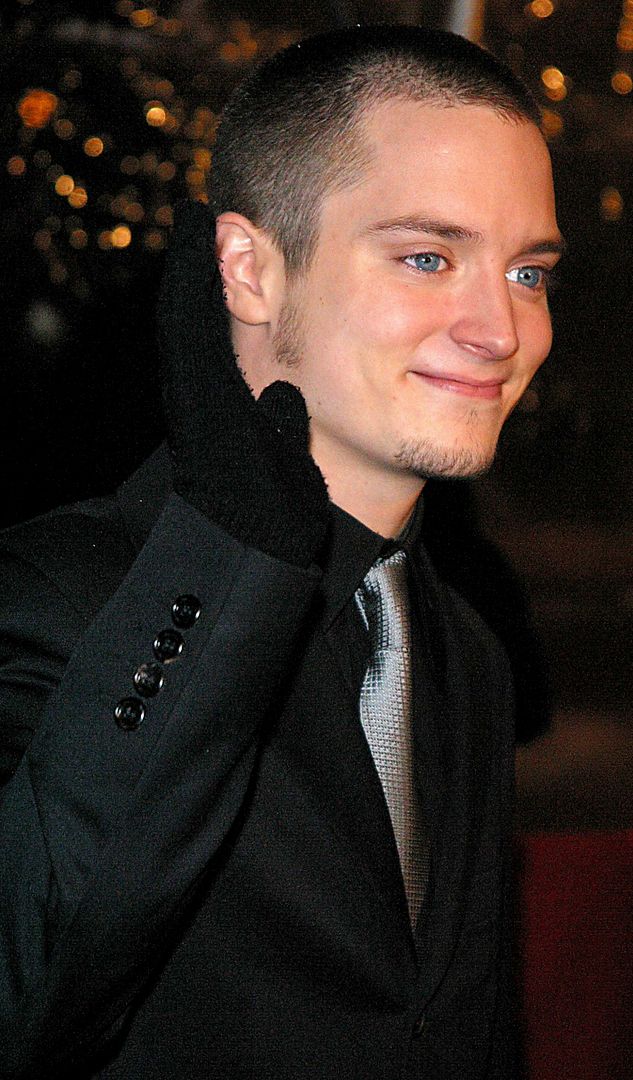 "There is so much that makes this film classic, but what really gives it heart are the leads Elijah Wood and Sean Astin. These two are so amusing together that one hopes their partnership won't end after the trilogy is completed. Hopefully, they'll work on more projects together. If not, then at least we'll always have this." (Killer Movies)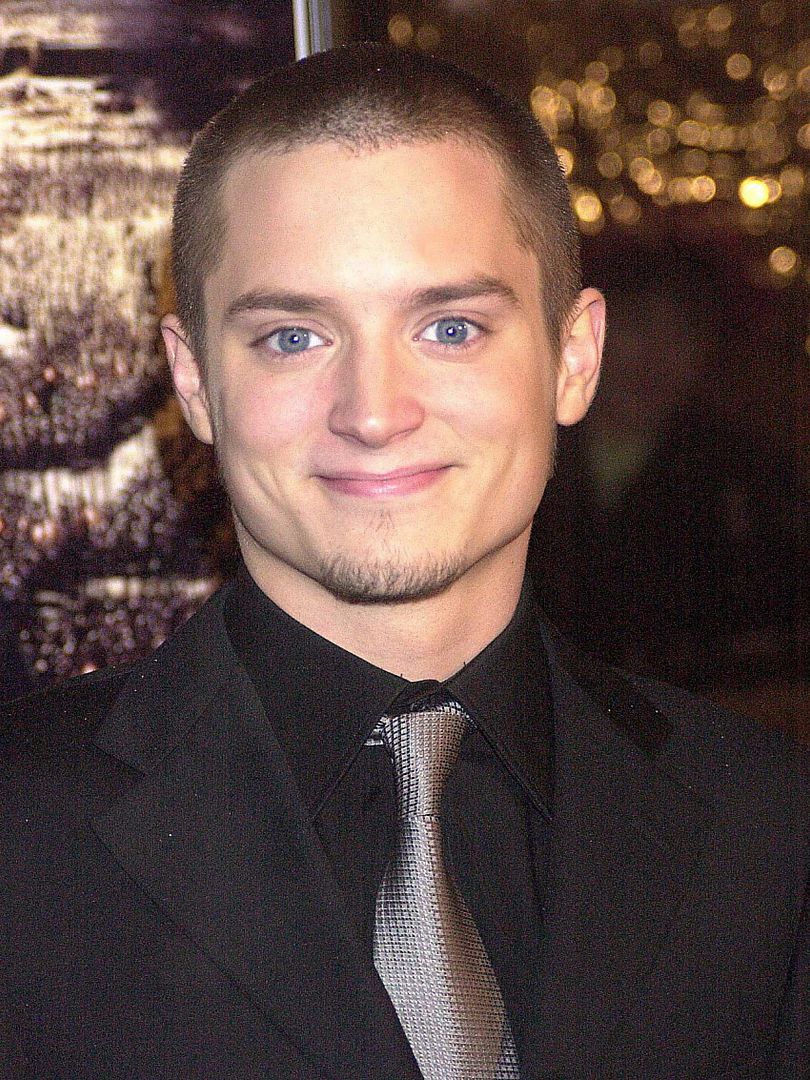 "FRODO AND SAM: It's really sad and touching how much these two are put through, mentally and physically, on their continuing quest to get the ring to Mordor. You can't help but think of how carefree and happy their lives were but a movie ago." (Film Threat)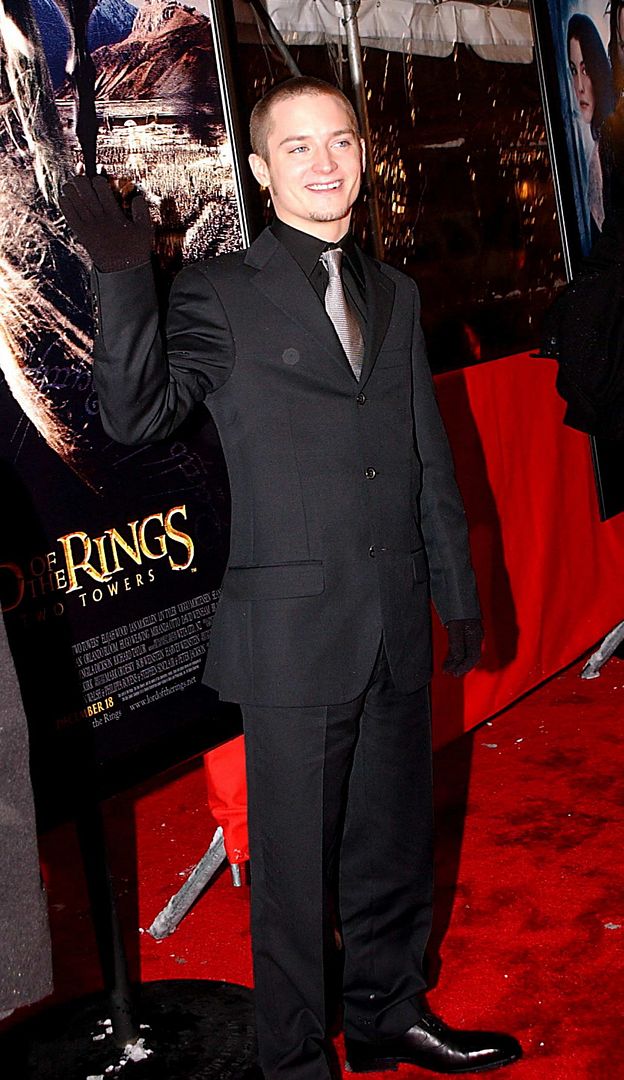 "True, this sequel [oh no! the 's' word!] really has no beginning and end but that does not matter, considering the strength of the movie. Once again, Elijah Wood demonstrates his range, proving he is not just another washed up child actor – as does Sean Astin. The two share such brotherly chemistry (both on and off the set), it is no wonder they can pull off the difficult task of keeping the viewer engaged while they tramp through rocks and marshes." (The Movie Insider)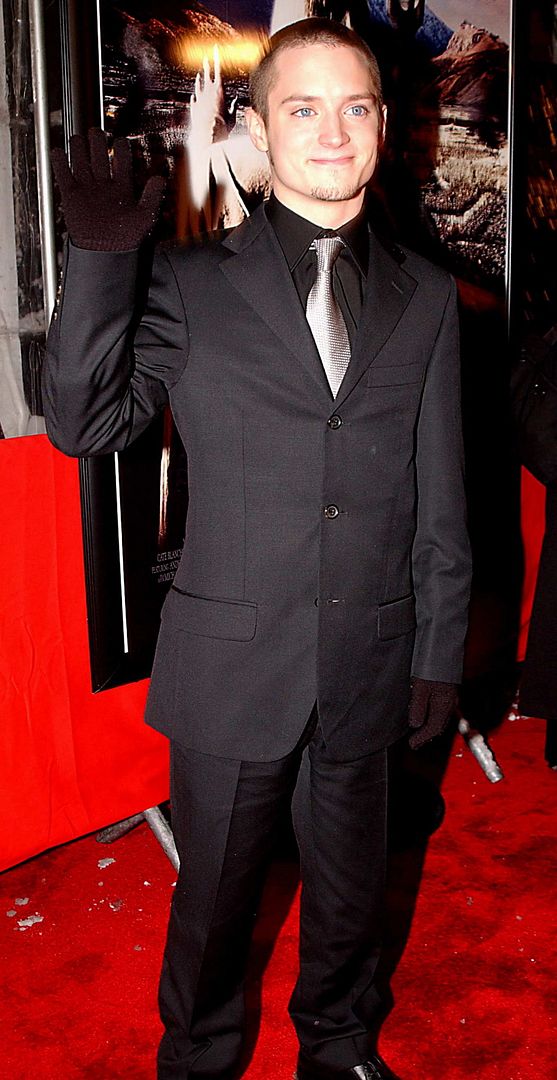 "Action and breathtaking visuals (like Viggo Mortensen) may be the film's general strong points, but long after I left The Two Towers, I remained most impressed with the portrayal of Frodo (Elijah Wood) being taken (or as someone else said perfectly, destroyed, by the Ring. Frodo in The Fellowship of the Ring was made to be almost too nice a guy. Other than using the Ring on occasion by accident or by means of saving himself, we never see Frodo corrupted much by the Ring. The signs are there, but Frodo desires more to rid himself of the Ring and return to the peace of the Shire than anything. Having that kind of Frodo in mind for a year makes his spiritual disintegration in The Two Towers all the more frightening. Jackson doesn't fail to draw parallels between Frodo and Gollum (voiced by Andy Serkis), a CGI character introduced in The Fellowship of the Ring who owned the One Ring before it was "stolen" from him. Their relationship in the film is far more intense than it is in the book, perhaps because we actually now can see Frodo's reaction to Gollum, see how and why he pities him, and see exactly how Frodo is growing closer in character to Gollum. One scene shows Frodo caressing the Ring, only to discover at that same time Gollum is doing the same thing to an invisible spot on his hand." (aboutfilm.com)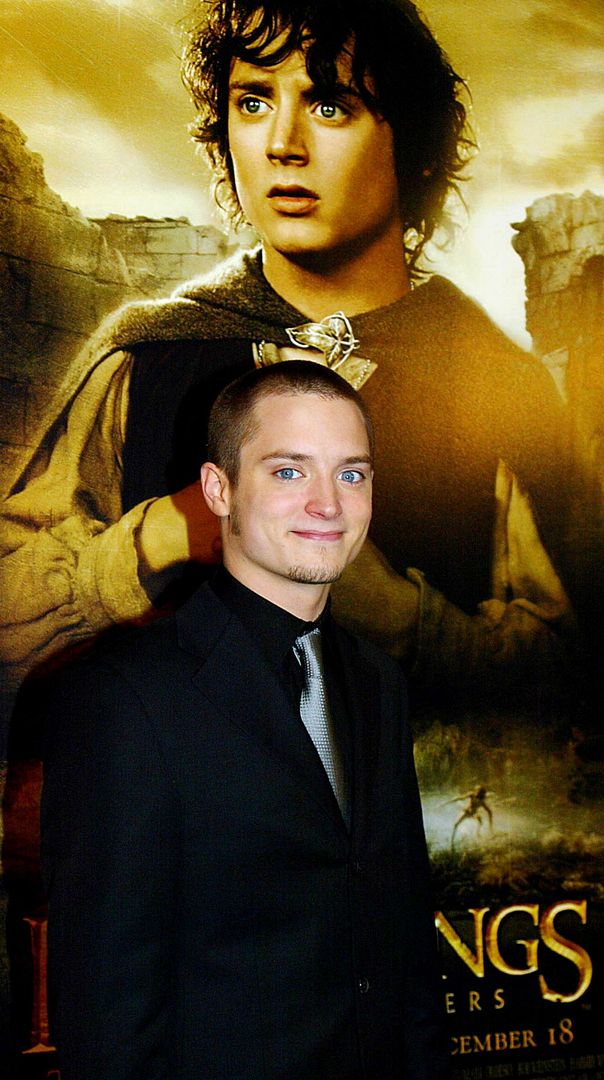 "A lot of the effectiveness of Frodo's characterization comes from Elijah Wood's performance. Who knew he could act? Jackson did; obviously he saw something in Wood I had missed. Frodo is the epitome of all the characters in Wood's filmography, the culmination of a career spent playing characters haunted by one hardship or another. Strip down the frivolous conflicts against space terrors, parental figures, and Macauley Culkin, and you've got basically the same vulnerable character fighting against an outside force. Jackson doesn't so much turn the perennial Elijah Wood role on its head but gives it new dimension and depth (much like Hitchcock did with the typical Jimmy Stewart role in Vertigo), and, in turn, Wood gives Frodo more emotion and soul than he did any of his other characters." (aboutfilm.com)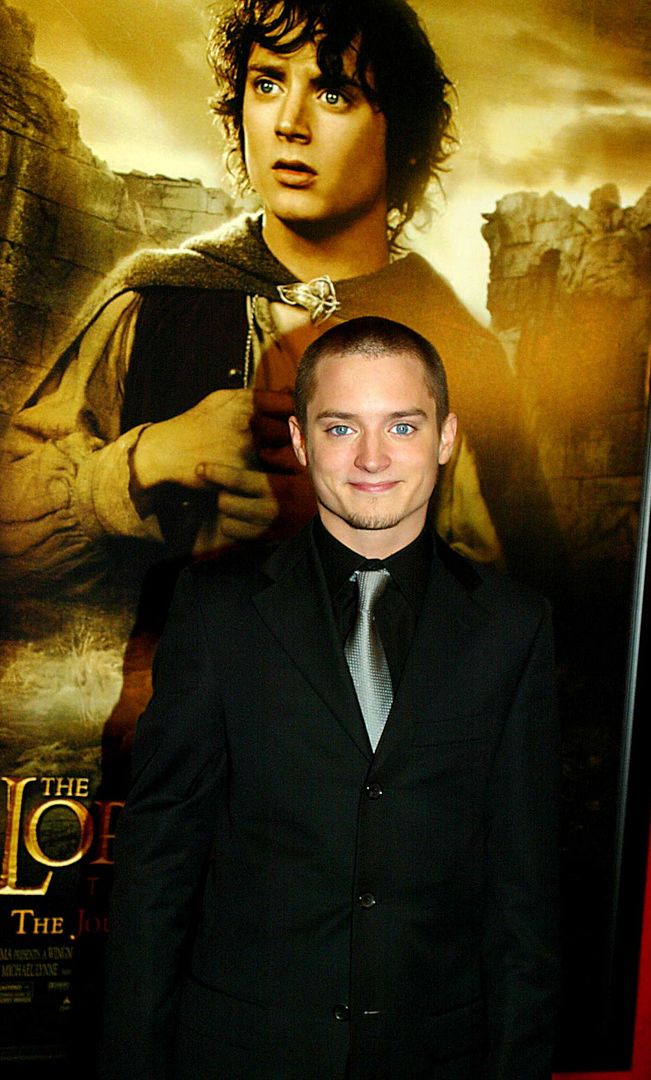 "The Lord of the Rings, The Two Towers may be the finest example of filmmaking that ever hit the big screen. It's a delightful gift to the world ! The story is fascinating (and at times will require Cliff Notes for some - yes me - to keep up!), the characters larger than life (as film stars should be) and the effects transport you, beguile you and mesmerize you like you're child again. This is entertainment in its purest most delightful form...
We follow the continuing tale of the young hero hobbit Mr. Frodo (adorable petite filet of man Elijah Wood) and his friend Samwise (Sean Astin) as they continue on to return the evil "ring" to its demise." (Blunt Reviews)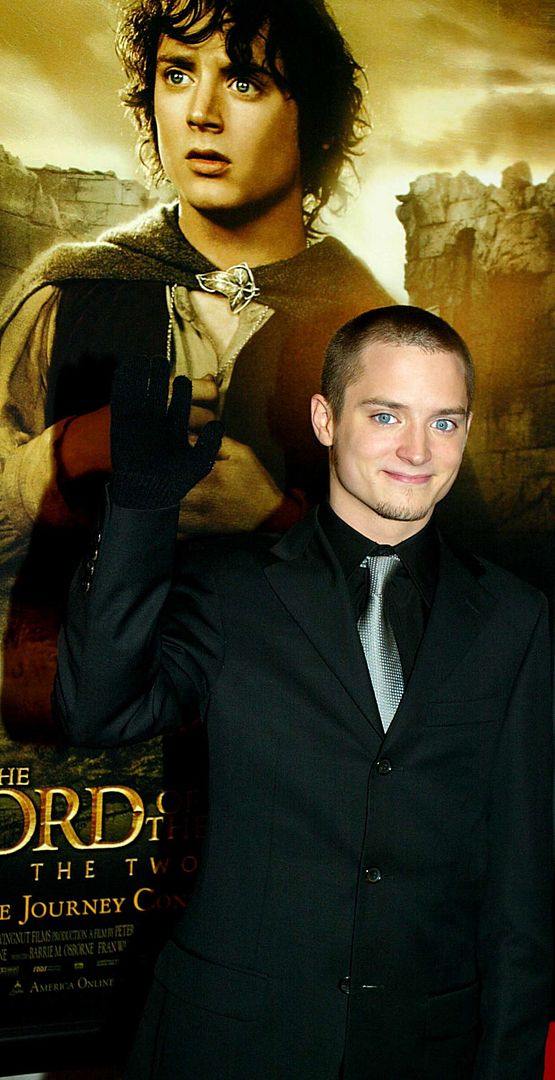 "The dynamic between Frodo and Sam is still homo-erotic but I find that to be a good thing: it goes to show how convincing their deep bond is."
(Montreal Journal)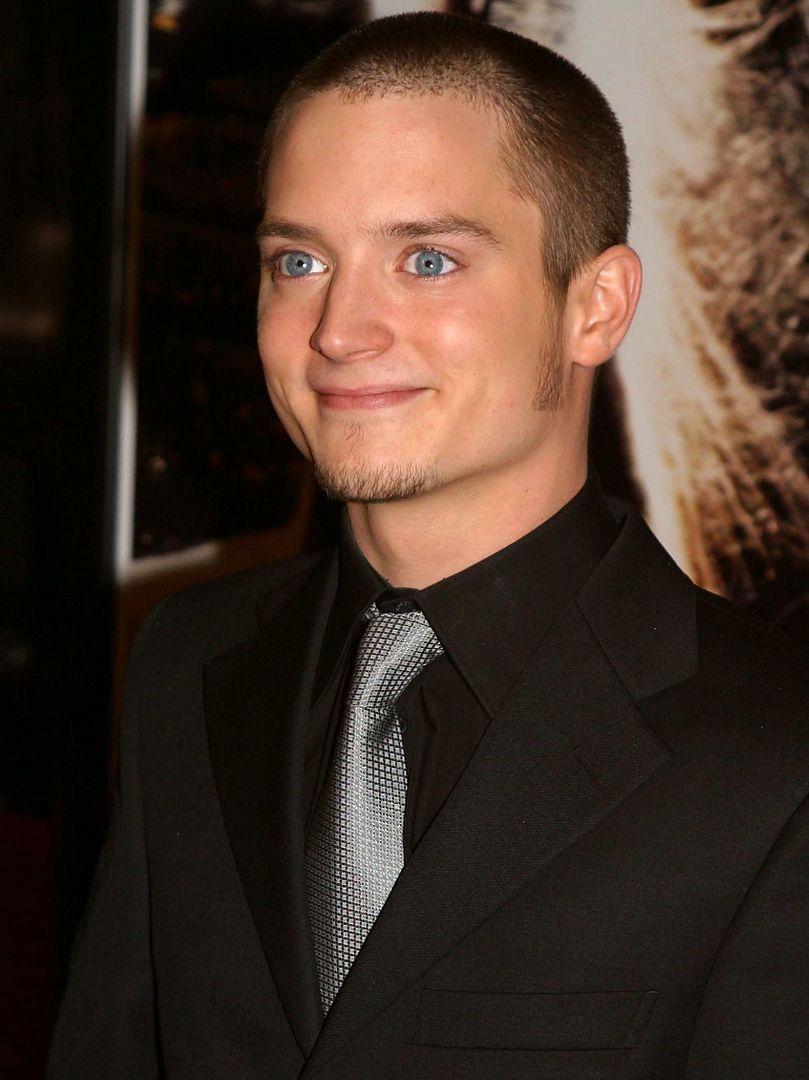 "Meanwhile, Frodo (Elijah Wood), Sam (Sean Astin) and Gollum trek on, finally being captured by Faramir (David Wenham), brother of the slain Boromir. Wood delivers the film's best performance, somehow finding new facial expressions for old feelings of inadequacy and fear."
(Lawrence Toppman – Charlotte Observer)
"The most attention is paid to Aragorn's crew, and those characters simply aren't as interesting or sympathetic as Frodo and his noble, unenviable task." (Eric Sneider, Daily Herald)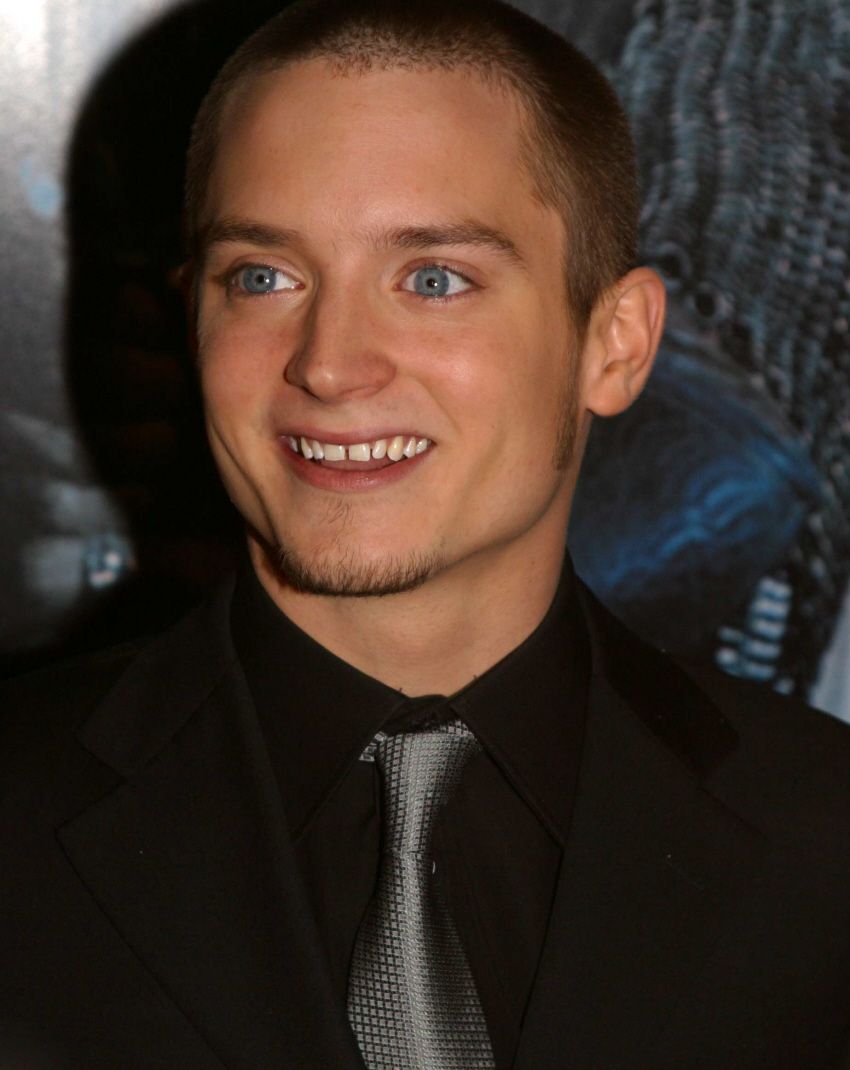 "Frodo (Elijah Wood, whose performance is both intensely physical and vibrating with a sense of spiritual terror) and his faithful companion Sam Gamgee (Sean Astin, whose doughy cheeks bring the movie a grounded touch of the ordinary and familiar) are making their way to Mordor to dispose of the Ring of Power, which will destroy the dark forces." (Salon.com)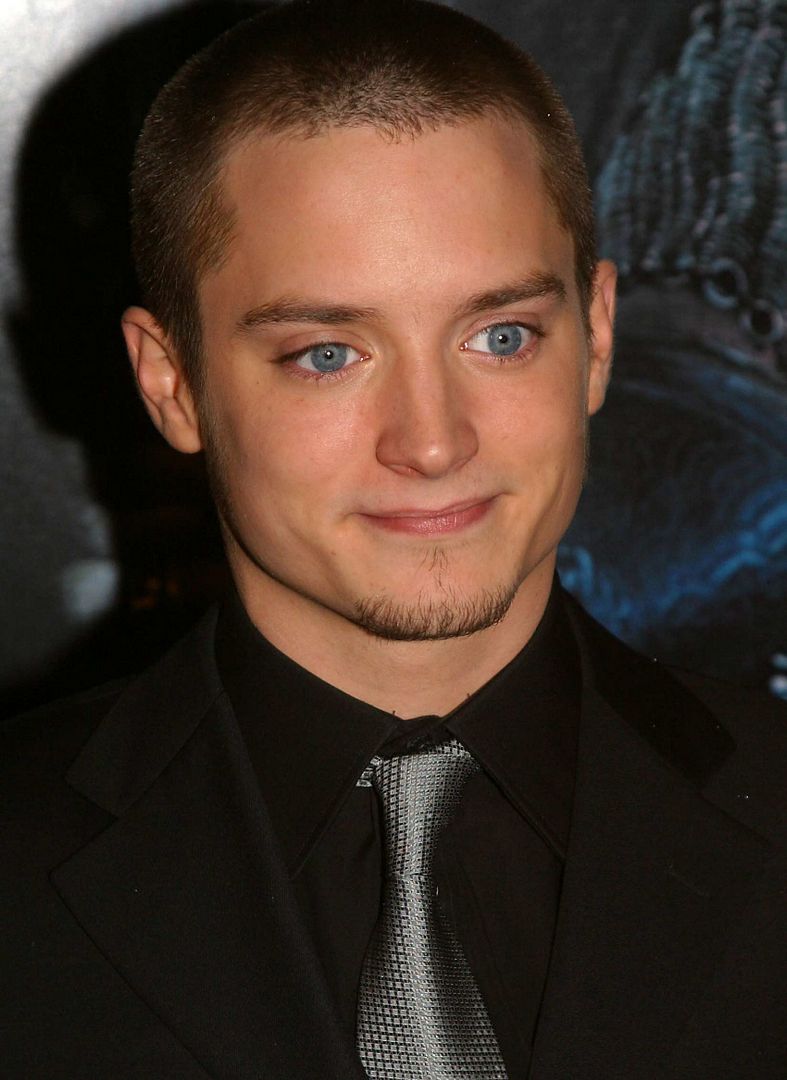 "The magic of Gandalf's eventual return is certainly diminished by the foretaste provided in The Two Towers' preamble, and it doesn't significantly expand our sense of Frodo's desperate grief at his mentor's death, since that mood is already so limpidly visible on Elijah Wood's face, in his second superlative performance as Frodo. The persuasive digital animation of Gollum aside, his kaleidoscopic emotions are the film's most successful reminder of the Ring's corroding power, and Elijah Wood does a beautiful job of empathizing with this creature even as his own psychic integrity is being worn away while he's in Gollum's company."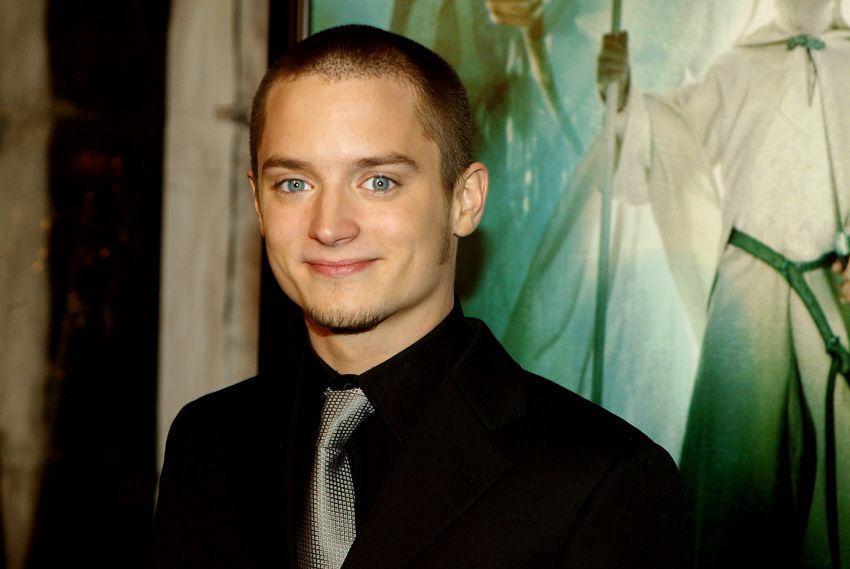 "The returning actors have grown nicely into their roles. There are changes, of course. Elijah Wood's Frodo is haunted and weary, relying more upon Sam. Wood's body language expresses the weight Frodo feels from bearing the Ring." ( James Berardinelli, Reel Review)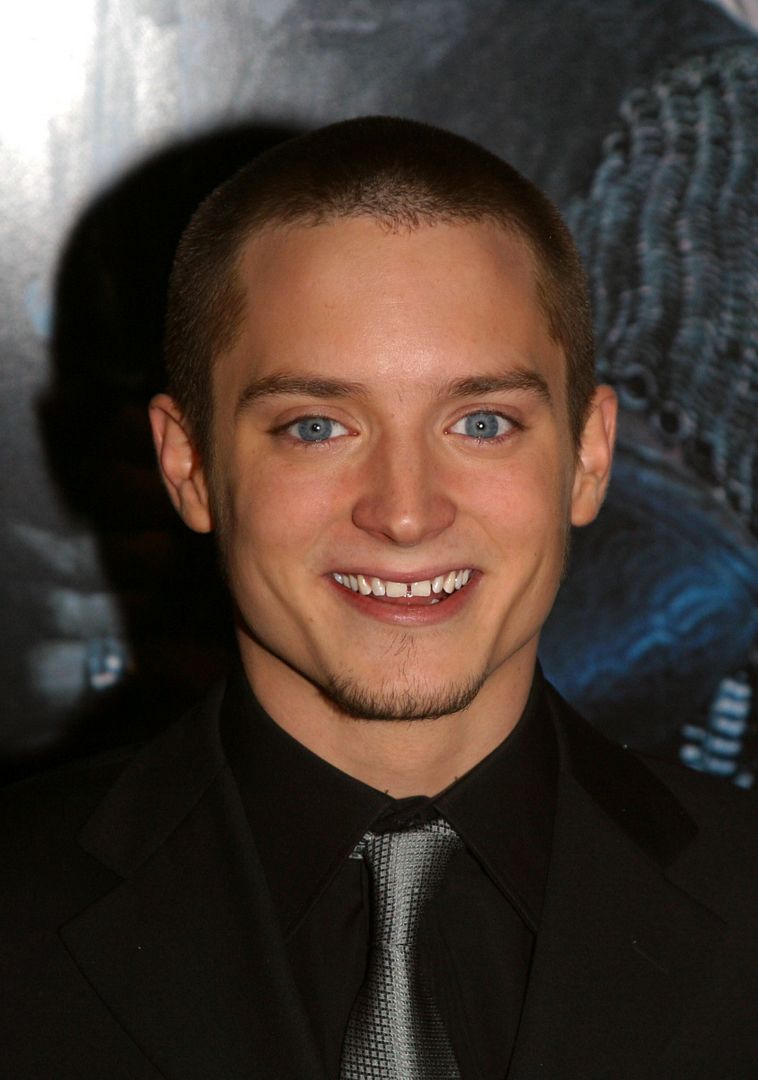 "Elijah Wood finds himself in a most difficult acting position - his character has begin to withdraw, the stress of carrying the One Ring making him dark, seducing him slowly. Wood pulls it off wonderfully. He plays the whole character through those huge eyes, a subtle performance that might easily be overlooked." (Chud)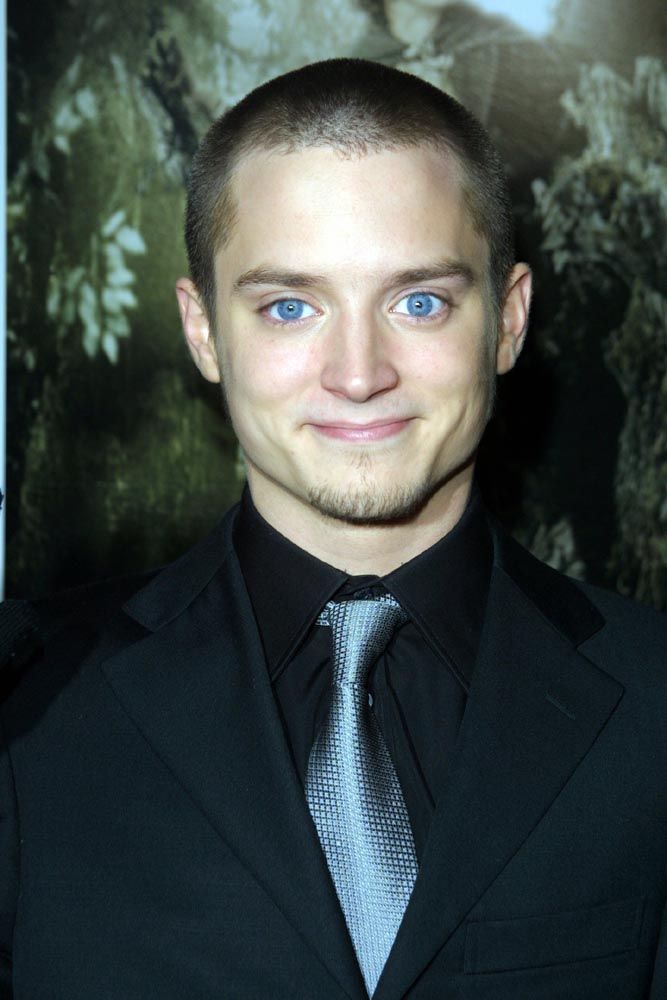 A hug from Dom: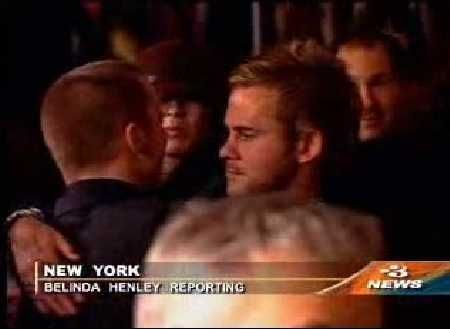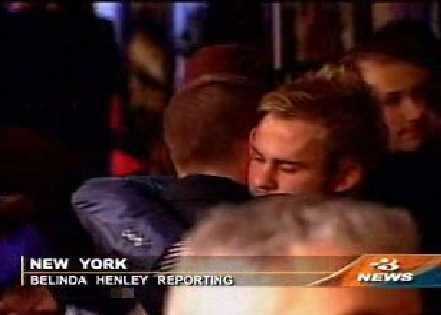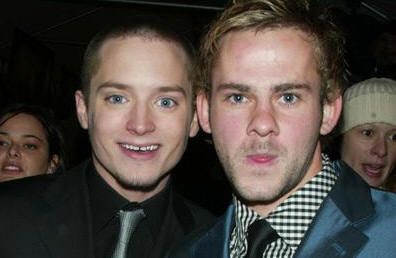 Elijah is interviewed by Jodi Ross for EnewsLive. She introduces him as the 'hero hobbit' but sans pointy ears and hairy feet – she asks if he misses them. He said that he does a little bit – not so much the feet but the ears although they do sweat a lot.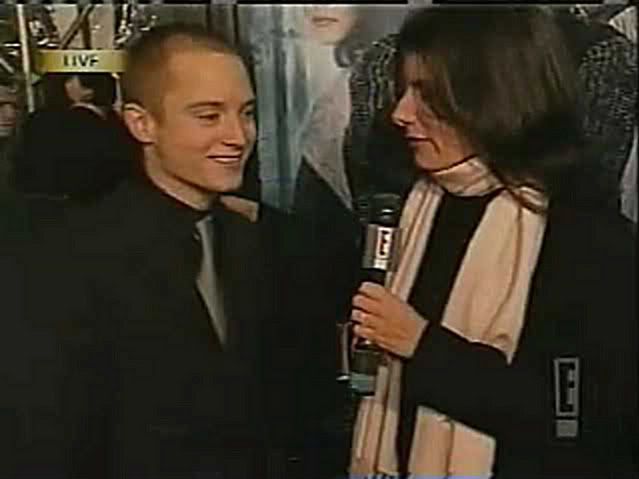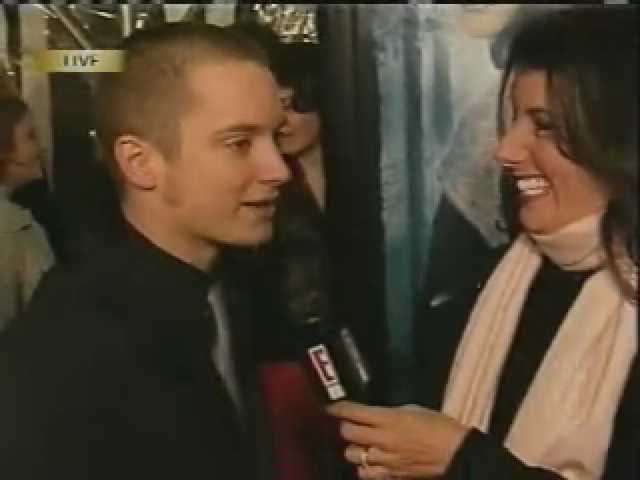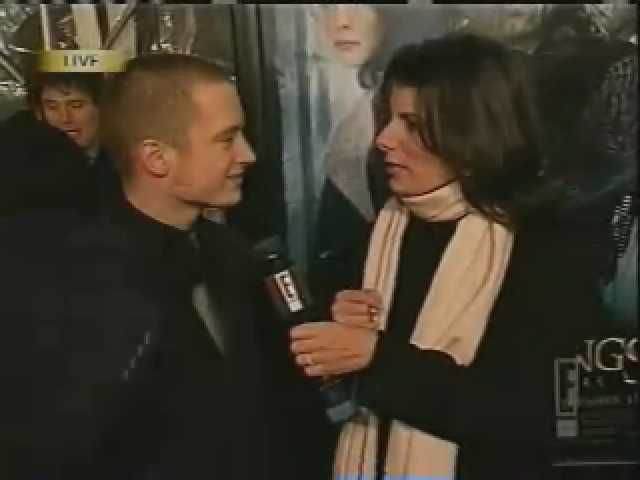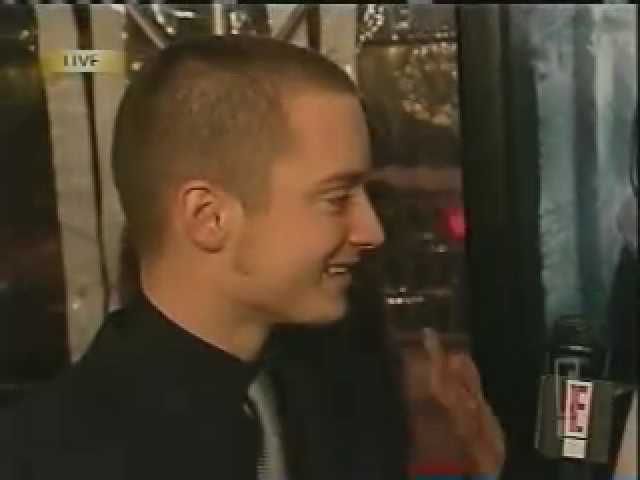 Elijah remarks that Jodi looks very warm. "Is that a pashmina?, he asks. "It's very lovely".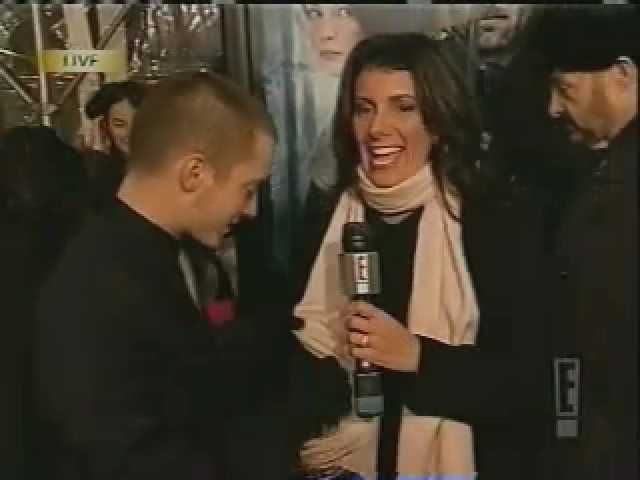 She says that TTT has been described as being darker and scarier than FOTR and as an action film and asks Elijah if he would describe it that way – "Yeah, that's kind of appropriate, I mean it is a lot darker, it is a lot more visceral and kind of intense, and in some ways it is an action film, but at the heart of it , being part of the LOTR story, there are incredible, wonderful themes, and profound moments in the movie, and ultimately its about people, its about these characters.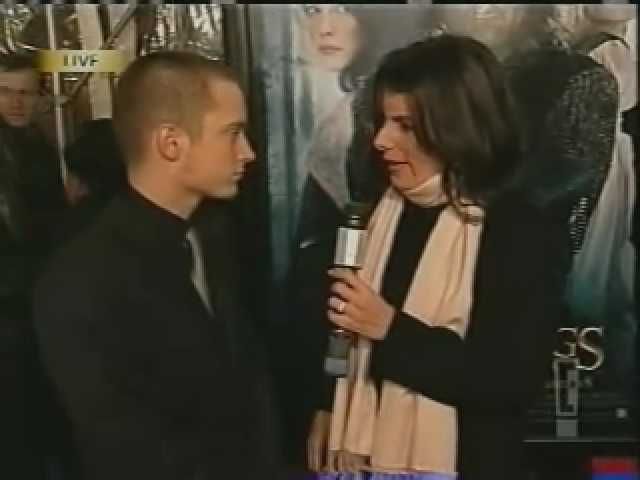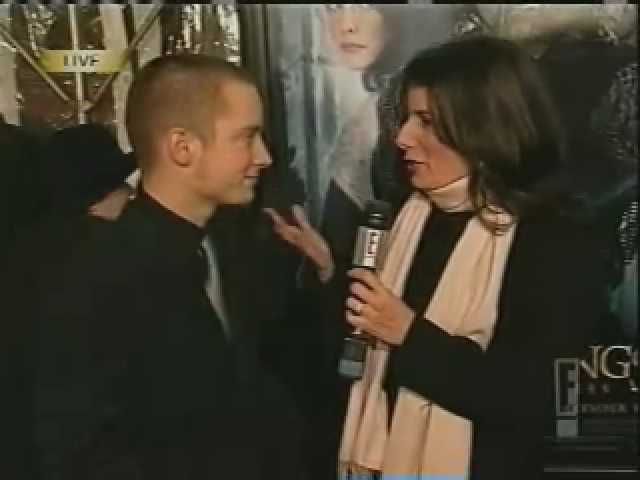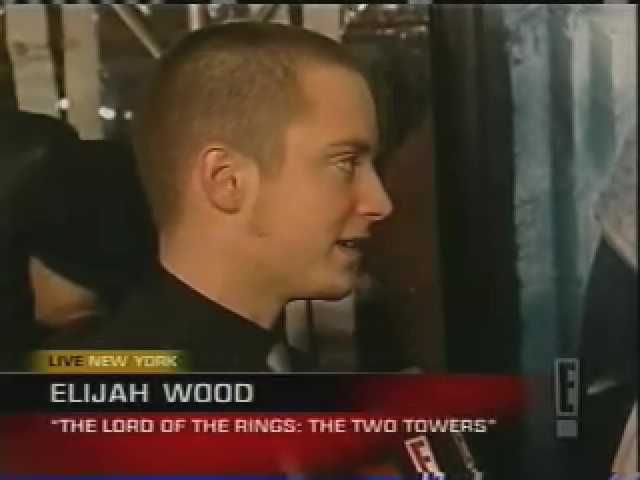 She asks about working with Andy as Gollum and Elijah describes the way he, Sean & Andy worked together. "It was an interesting process to get used to but ultimately it became very easy and mainly because he was so wonderful."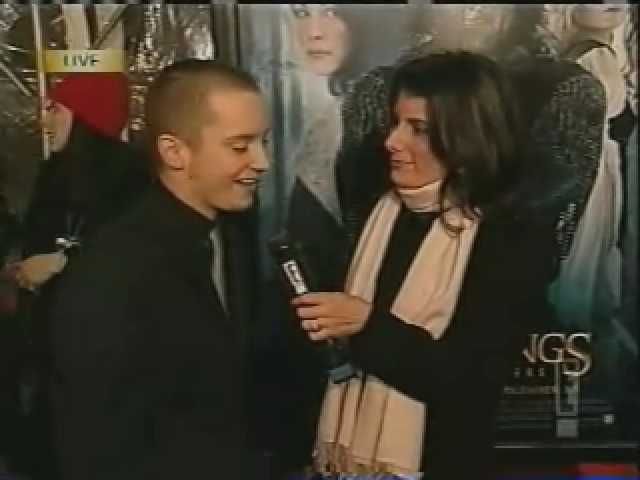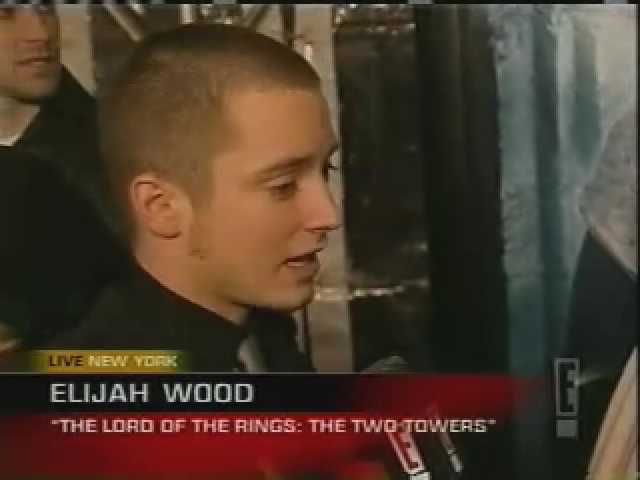 She indicates all the fans waiting "in this ridiculous weather". She asks what fans say when they see him on the street "Is it like "Frodo!!"? He says there are a lot of "Hey Frodos – which I love, I'm so proud of these movies, I'm so proud of all the work that everyone's done, so I love being associated with them in that way, its cool".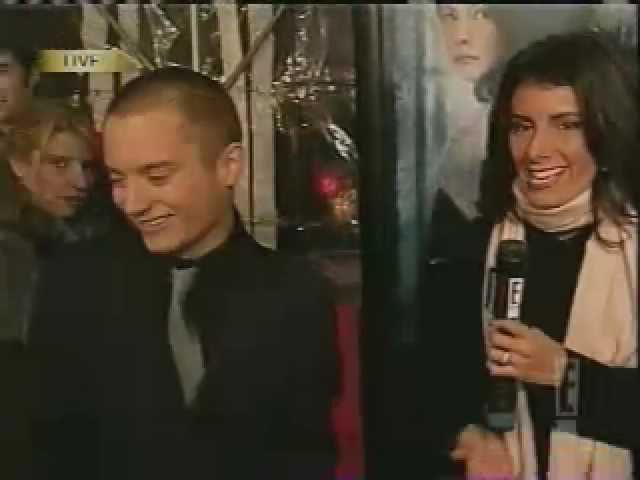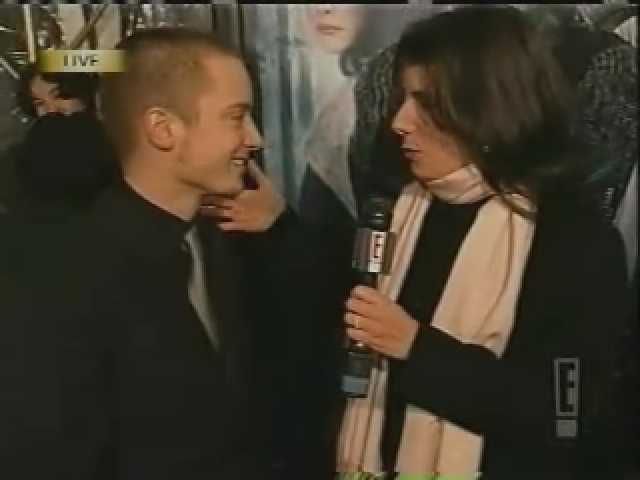 She then asks about his 21st birthday ~
"Are you finally 21?"
" I sure am – I'm gonna be 22. "
" What did you do to celebrate?" There's a bit of hesitation and a rather rueful laugh – "Would you rather not say?"
"No, no, its good – I went out to dinner, had a really great steak dinner with some friends, and then I went with some of my older friends to a bar and they proceeded to get me horribly drunk, as good friends should."
"That's what you're supposed to do on your 21st. "
" That's right – apparently I did quite well!! "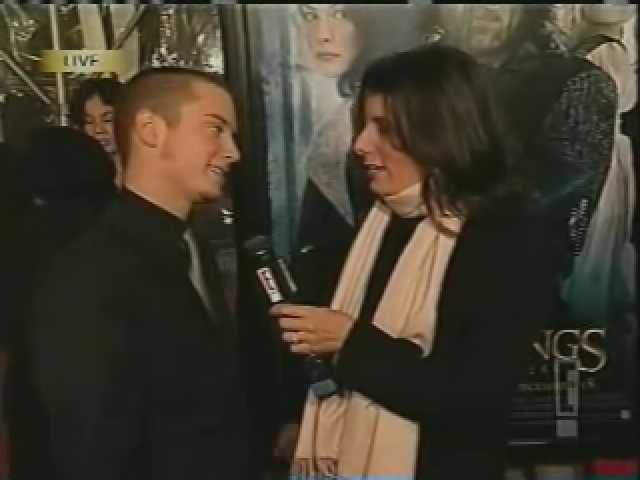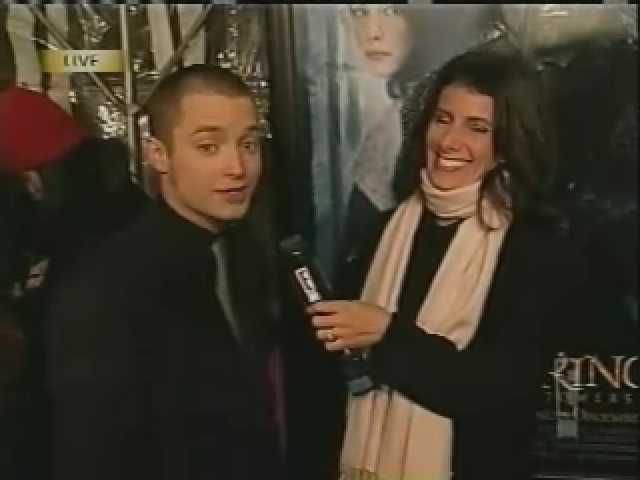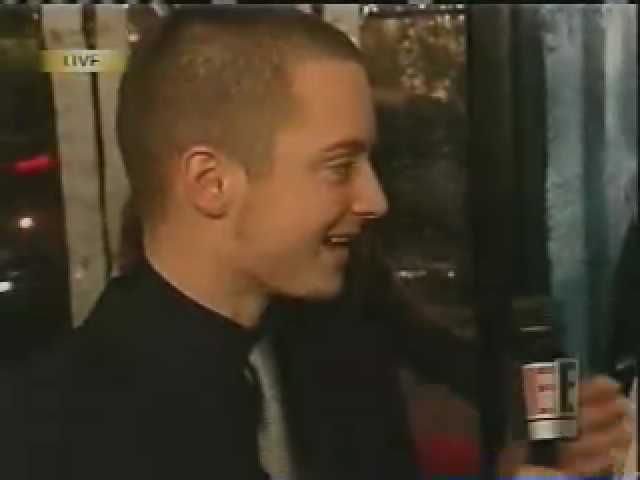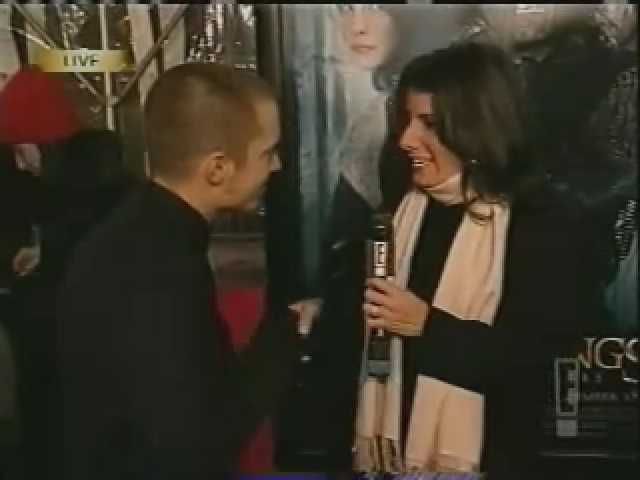 PJ introduces the film: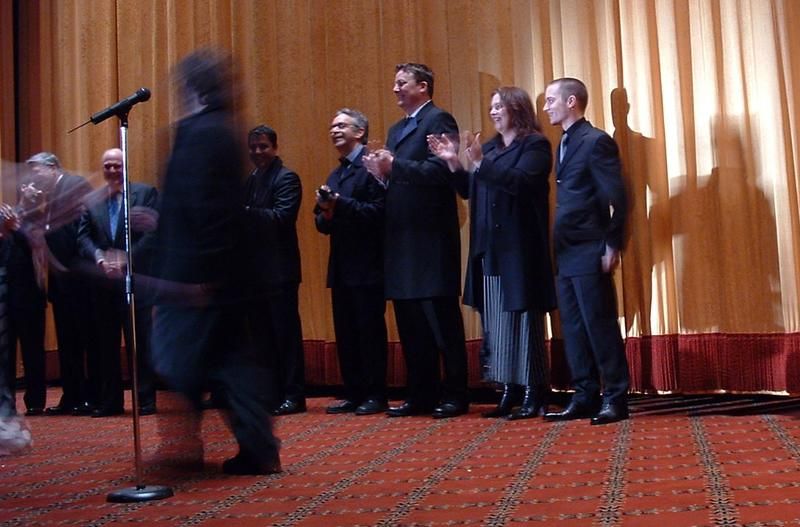 At the afterparty with ... someone.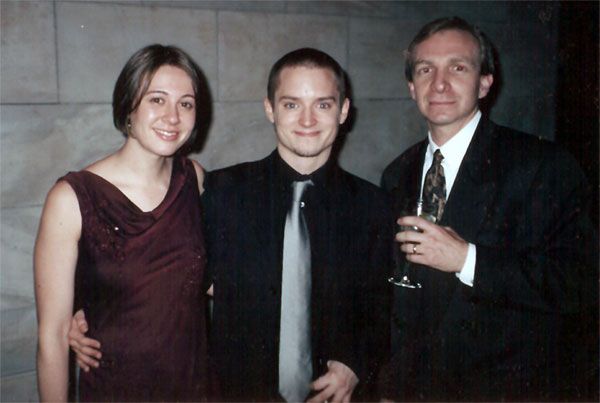 Quote by a UK tv newsreader after watching a clip of Elijah being interviewed at the prem:

"Those eyes just can't be real!!"


---


My Journey Continues:

"I am thinking of shaving all my hair off. It's bugging me too much." (Widescreen)

I remember reading that interview and thinking,, "Oh no! Elijah, please don't!! But he did. And after a couple of days I realised that my initial horror was out of proportion - he actually looked really cute (although I hoped it was just a passing phase!).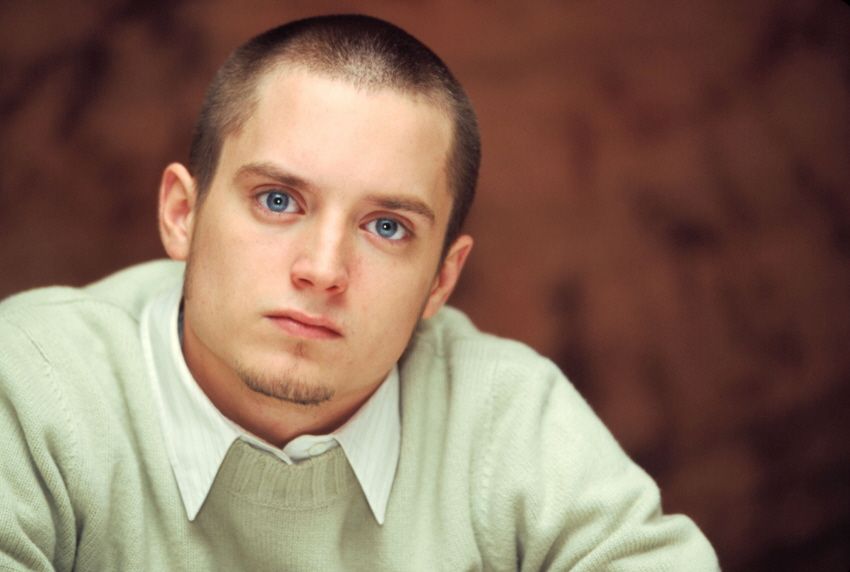 This was a wonderful time, with interviews and info coming thick and fast. Online videos didn't seem to be so prevalent back then but a couple of my US friends were kind enough to send me tapes of the tv interviews over there for which I was really grateful. The only problem was keeping up with everything! Consequently all pics, articles etc saved on my pc were in complete disarray, the true extent of which is only now coming to light while working on this project!! I'm having to sort through things very carefully as nothing I had was in any kind of chronological order! But it was so exciting, and such fun. And it seems like only yesterday.

---


Frodo's Journey Continues:

THE HOUSE OF ELROND:

"Frodo was now safe in the Last Homely House east of the Sea. The house was, as Bilbo had long ago reported 'a perfect house, whether you liked food or sleep or story-telling or singing, or just sitting and thinking best, or a pleasant mixture of them all'. Merely to be there was a cure for weariness, fear, and sadness" ~ (Fellowship of the Ring : Many Meetings)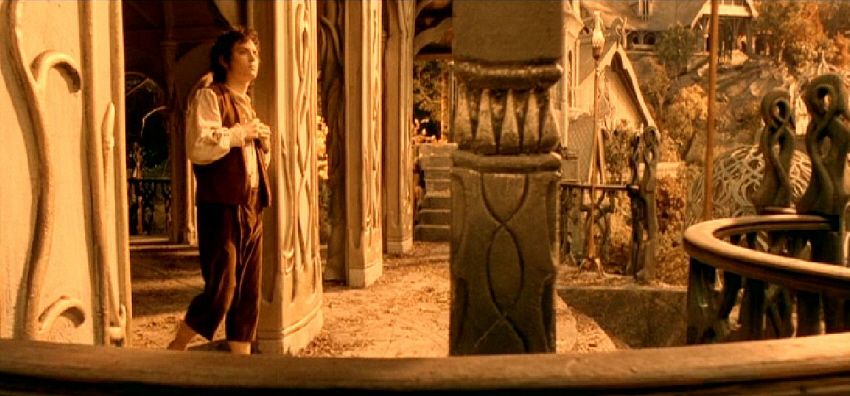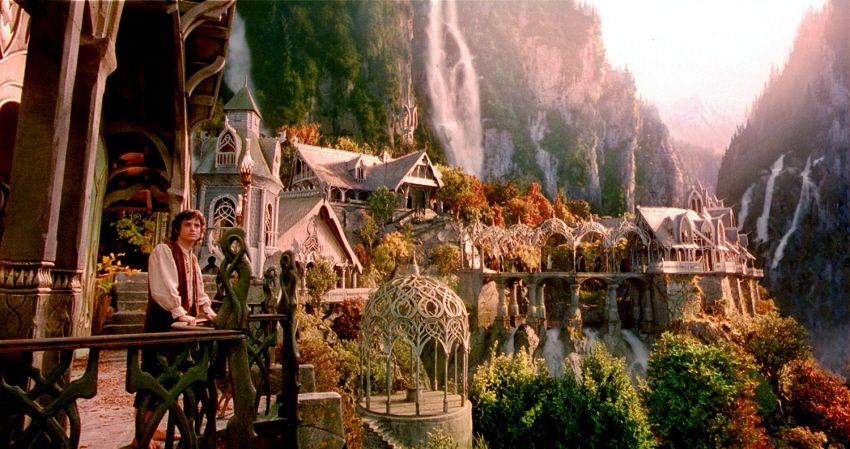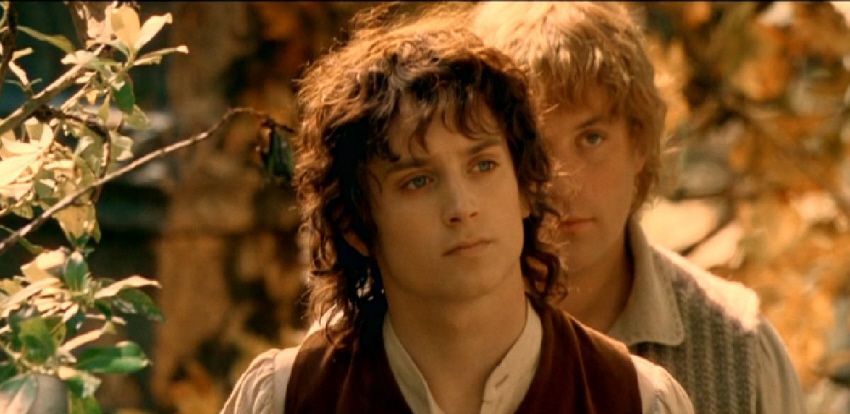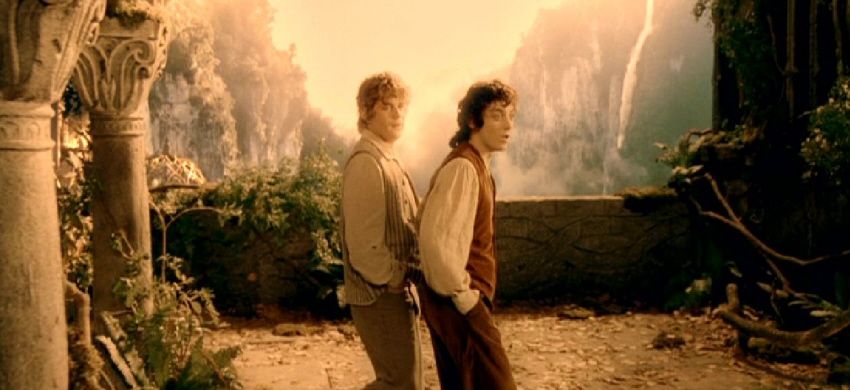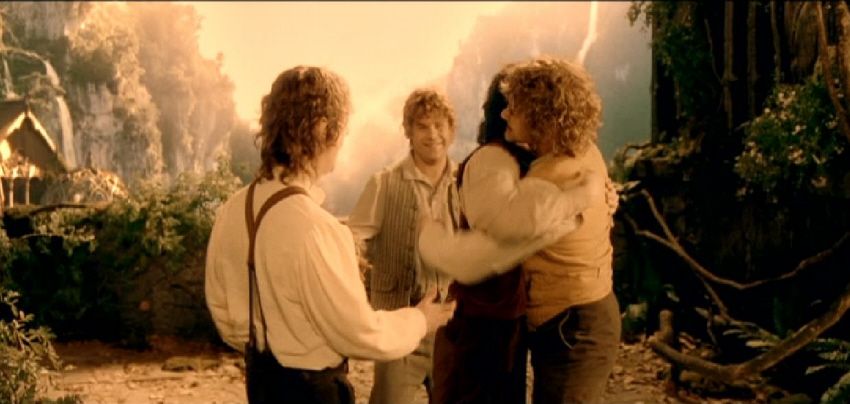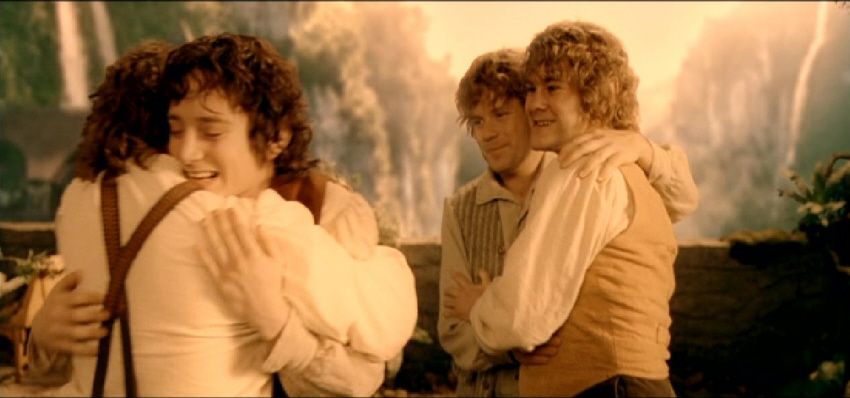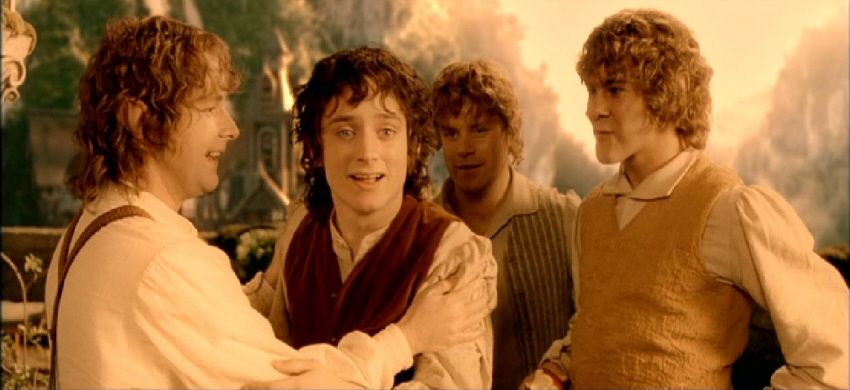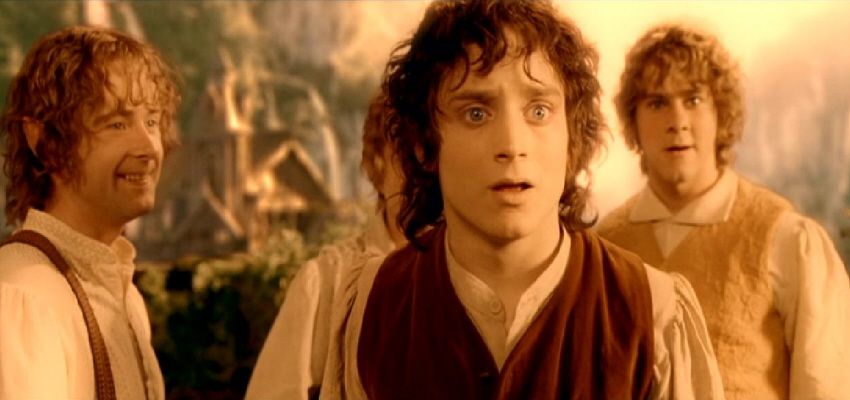 Bilbo!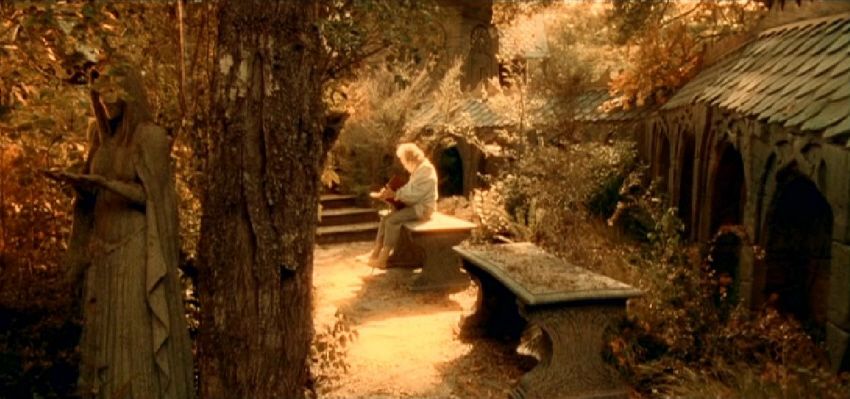 Hello Frodo my lad!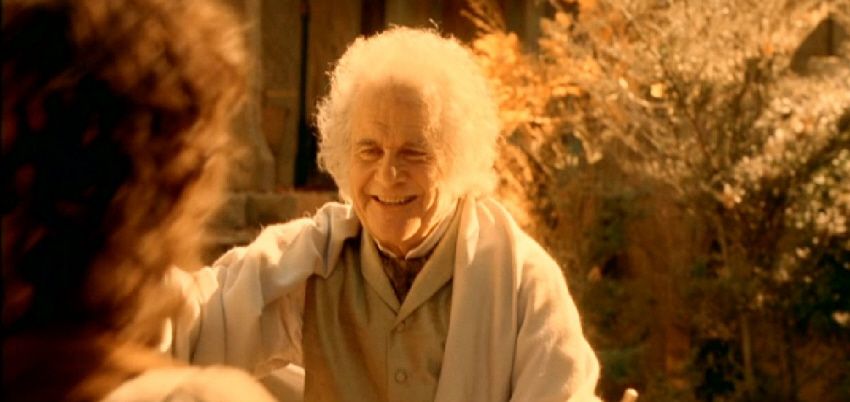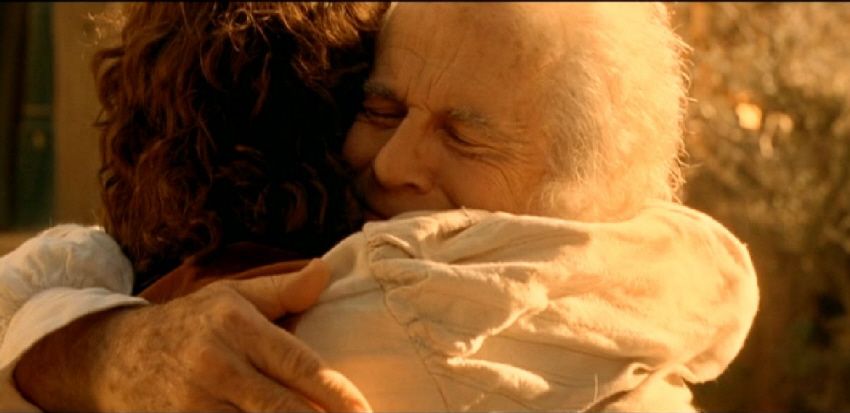 There and Back Again, A Hobbit's Tale by Bilbo Baggins! This is wonderful!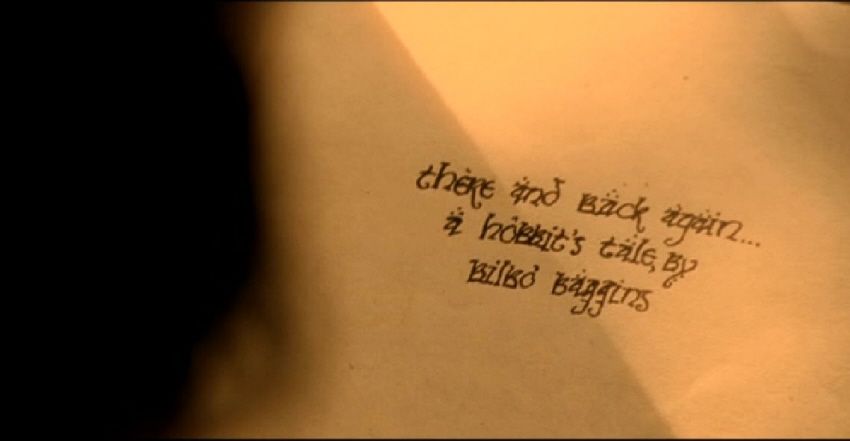 I meant to go back; wonder at the powers of Mirkwood, visit Lake-town, see The Lonely Mountain again. [I always thought he said, "Wander the paths of Mirkwood"!!]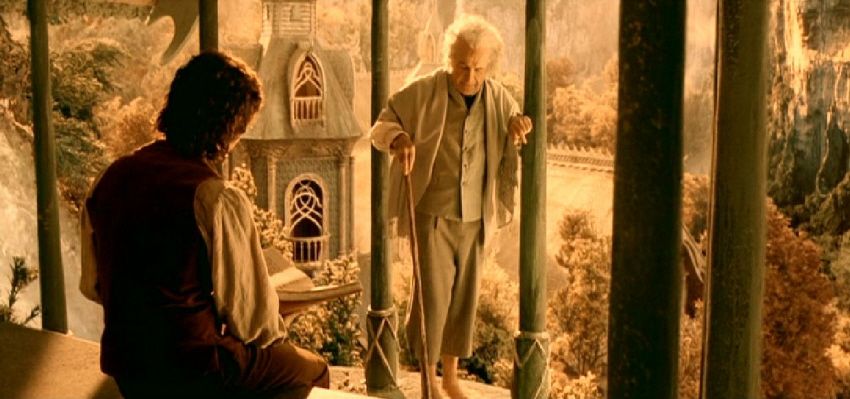 But age it seems has finally caught up with me.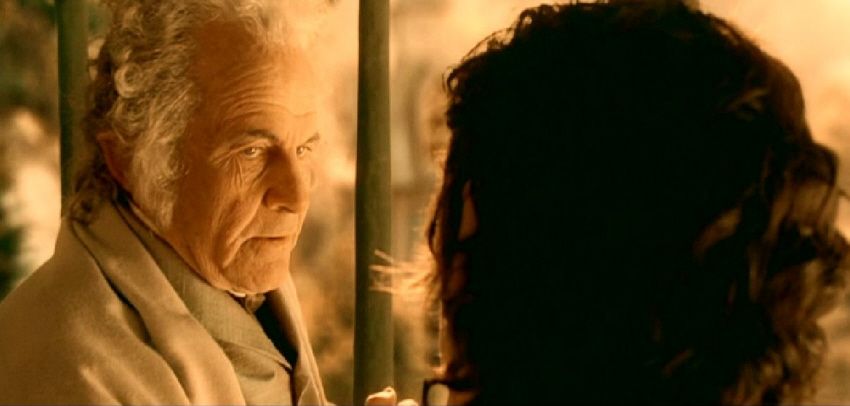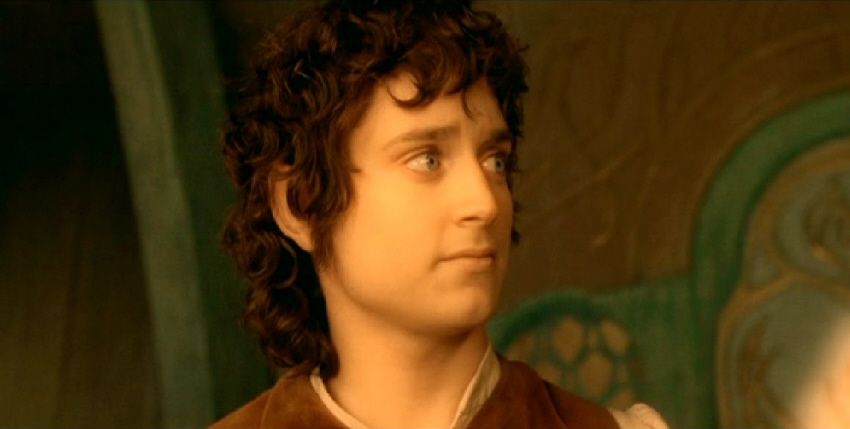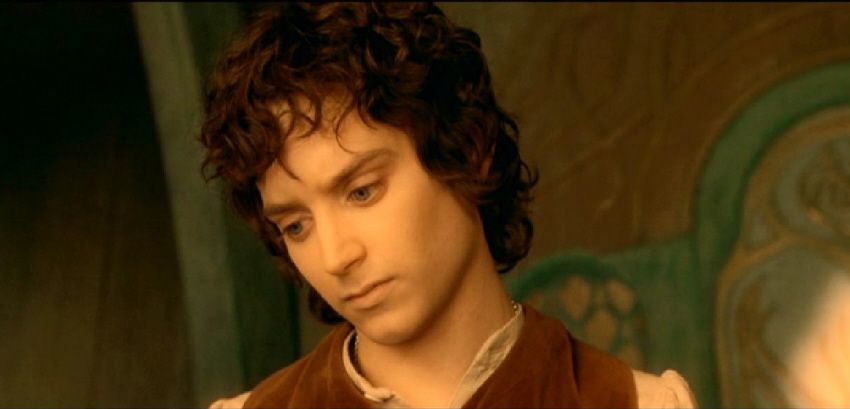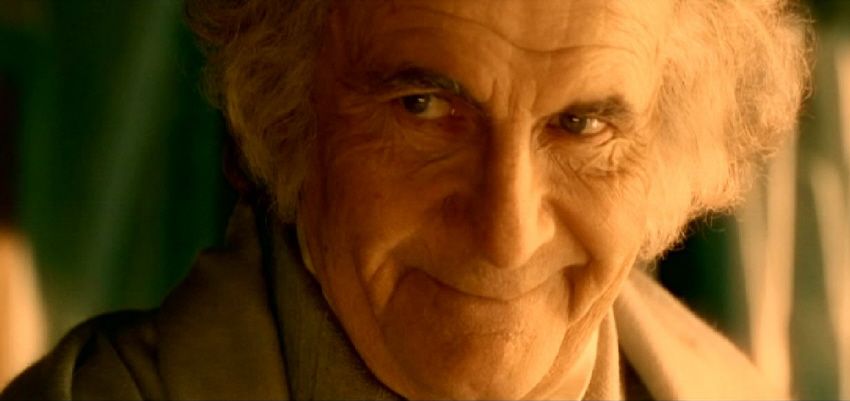 I miss the Shire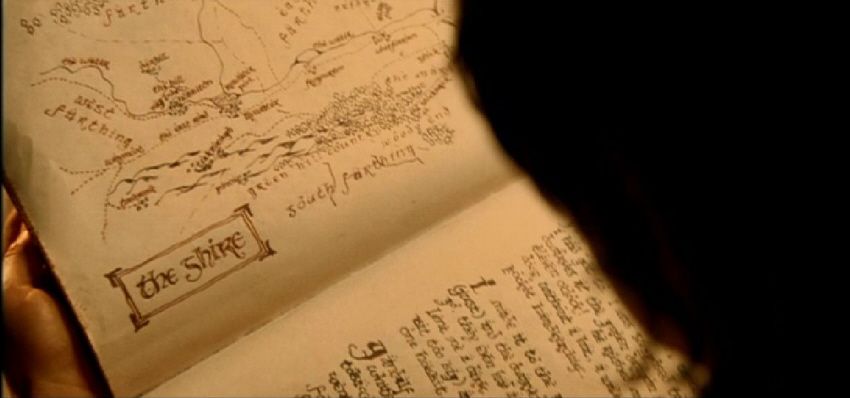 I spent all my childhood pretending I was off somewhere else.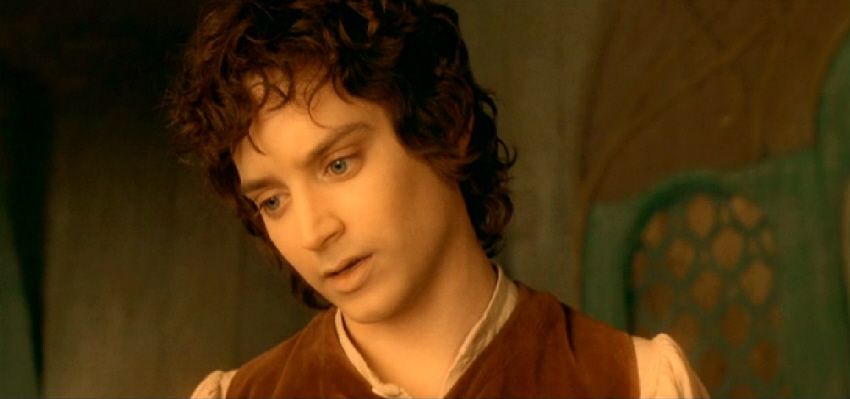 Off with you on one of your adventures.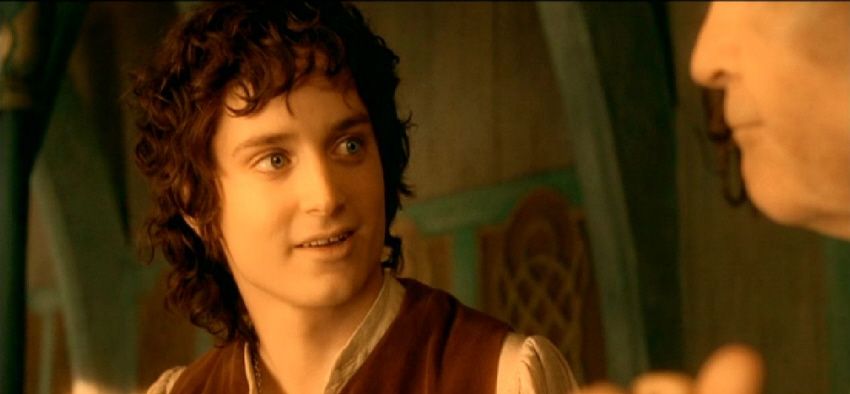 But my own adventure turned out to be quite different.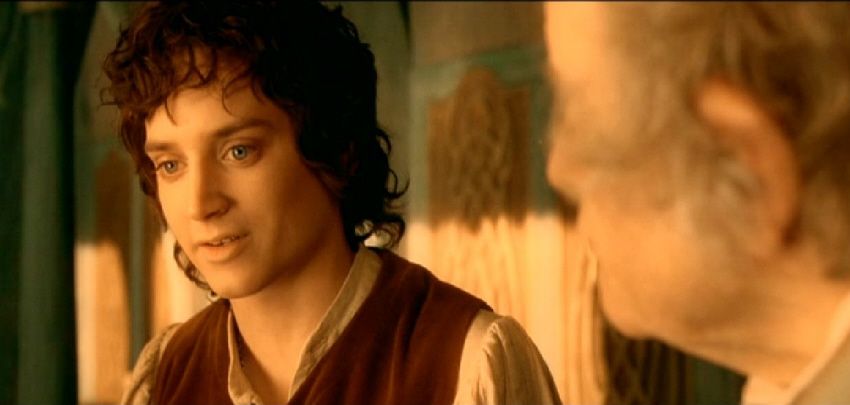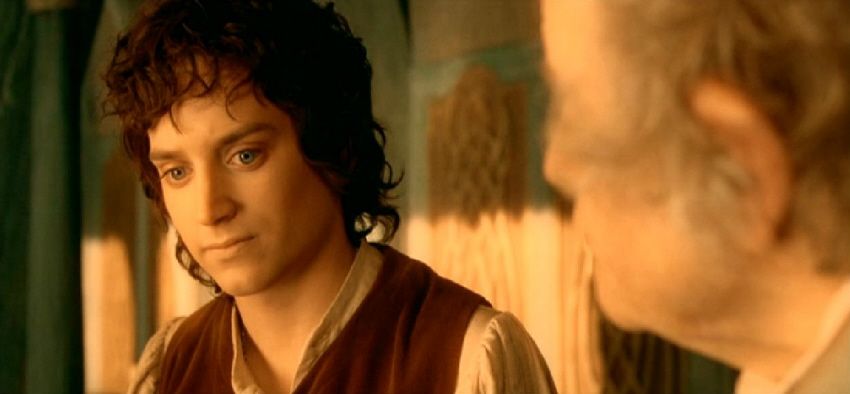 I'm not like you Bilbo.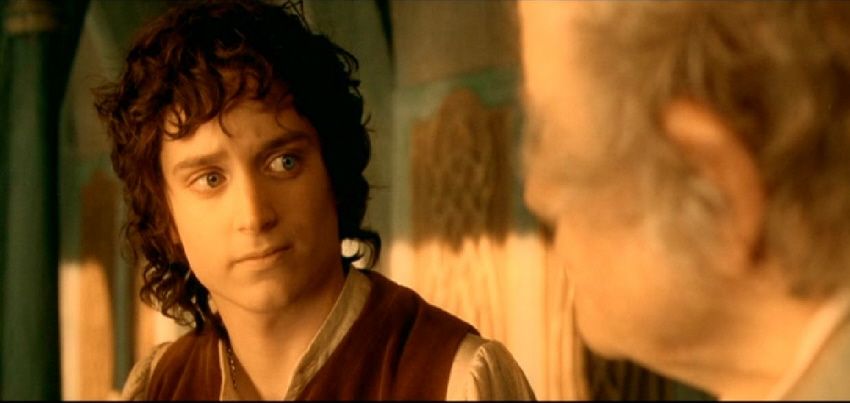 My dear boy.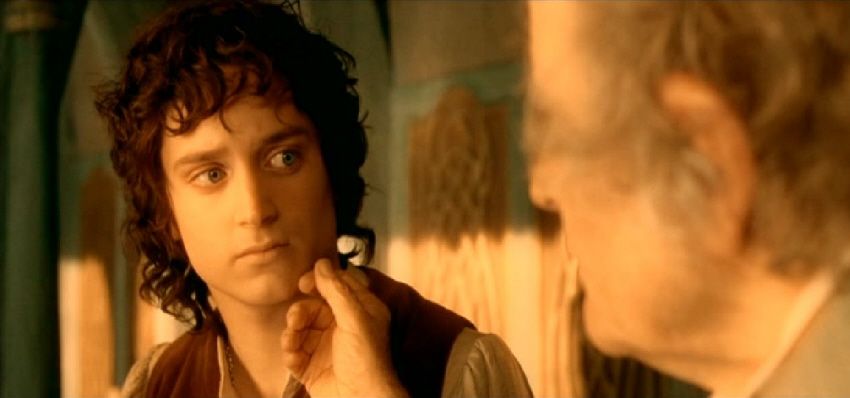 Peter Jackson, dvd: "Ian and Elijah just play that scene wonderfully well - it's beautiful."

Packed already?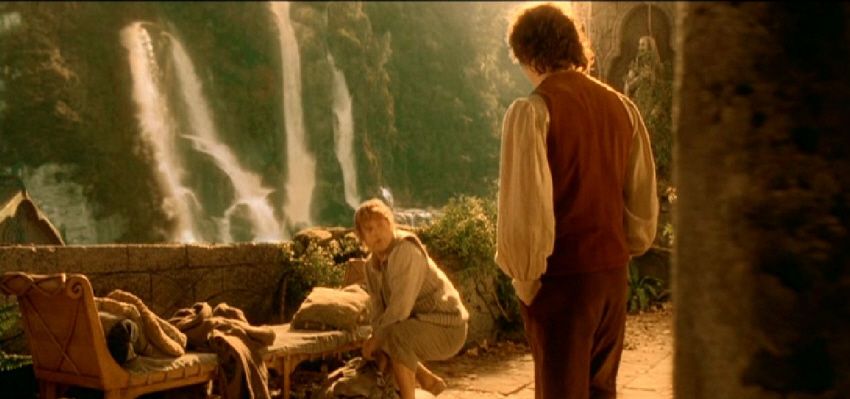 I thought you wanted to see the Elves Sam.
I do!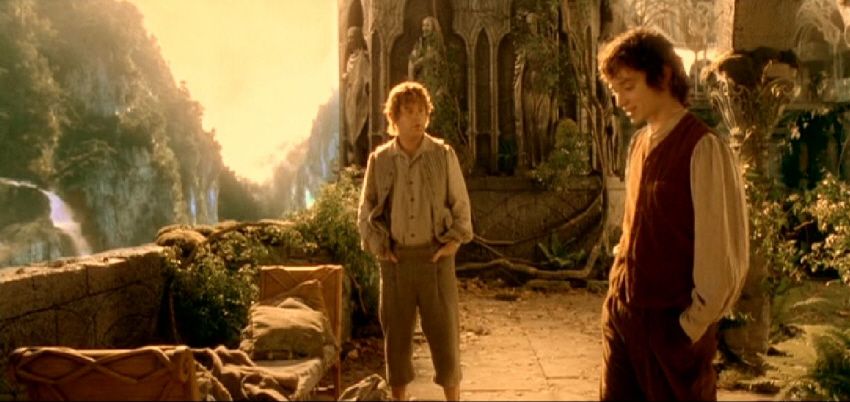 More than anything.
I did!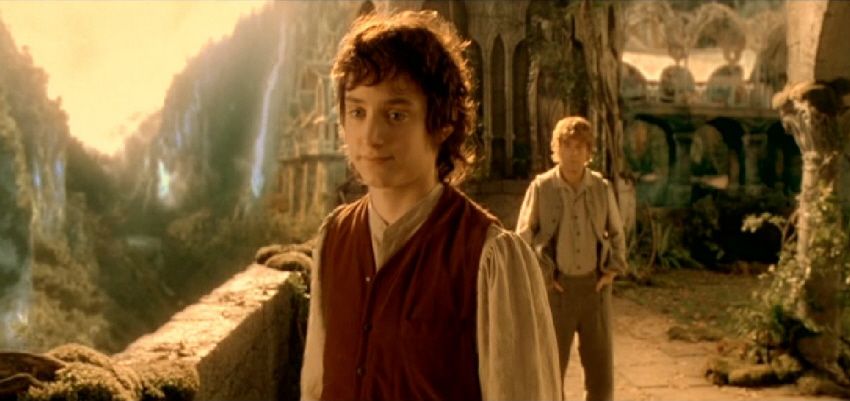 Liv Tyler from earlier in the commentary:
"There's an interesting moment in all of this later on where he's with Sam and he sort of looks off - out over Rivendell and you don't really see what he's looking at - we'd shot a sequence where he sees me and I look up at him and Aragorn comes to meet me and you see us have this kind of tender moment and then walk away. But that little moment didn't end up in the film."

It's just ..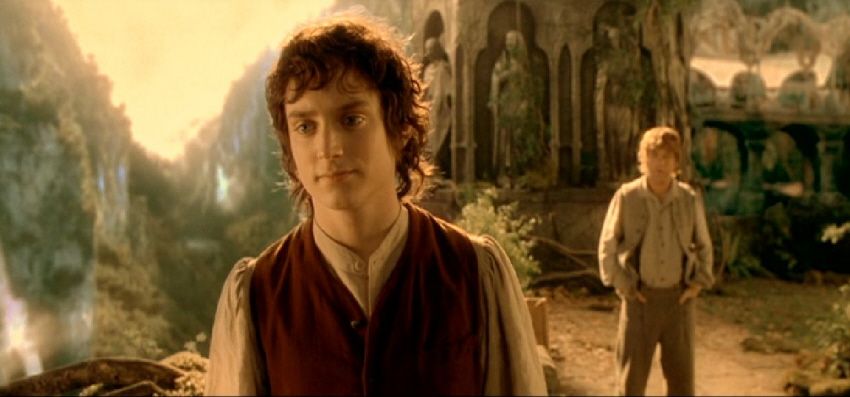 We did what Gandalf wanted, didn't we? We got the Ring this far to Rivendell, and I thought...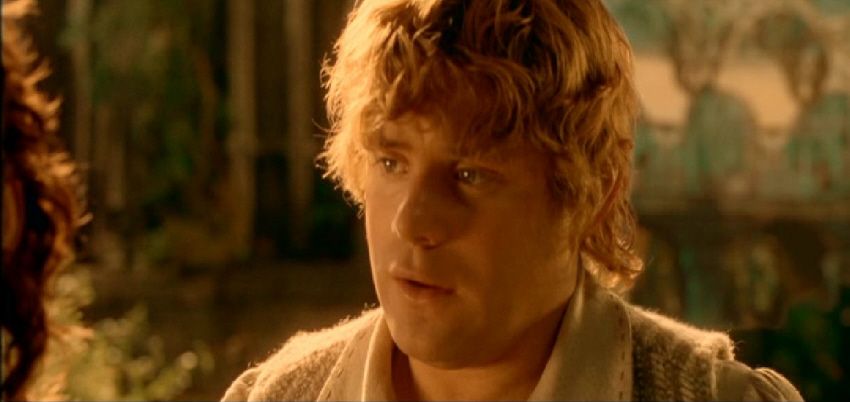 ...seeing as you're on the mend we'd be off soon. Off home.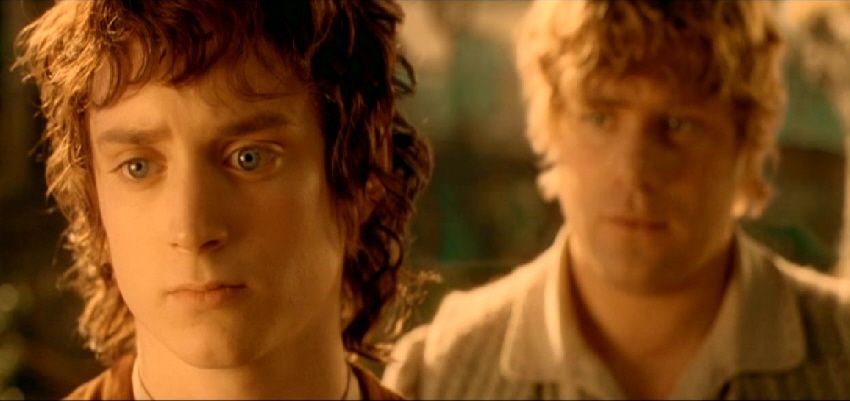 Elijah, dvd: "Frodo is deciding to let go of his responsibility of the Ring which I think is really important. It just kind of makes that moment where he takes it at the Council that much stronger. Frodo and Sam realise that they miss the Shire, they want to go home and Frodo realises that his time with the Ring could be over and that he wants to give it up and go back to the Shire."

You're right Sam. We did what we set out to do.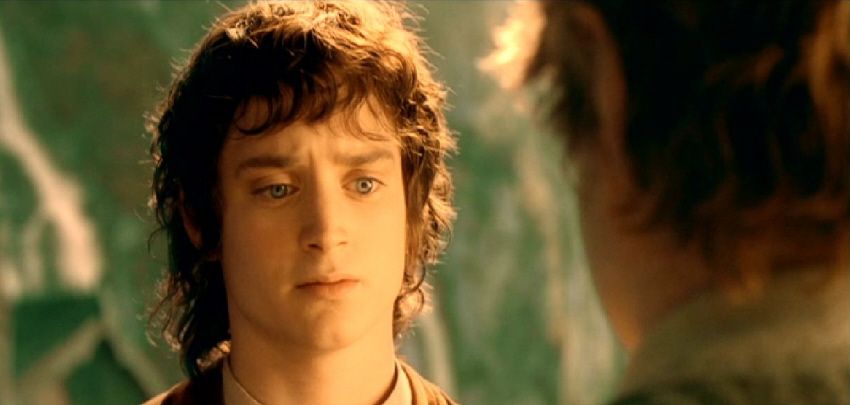 Sean, dvd: "It does a couple of things - for me it shows that Sam is so enamoured with the idea of the Elves when he first hears of them from Gandalf's stories and when Frodo expands on that and so the idea that he's actually in an Elves paradise is extraordinary for him especially when Frodo's healed and they can enjoy what it's like to be among the Elves, walking among them, talking to them and wearing their clothes but that's all well and good - it's really time to go home now, the journey's really started to take its toll. It also shows what a huge decision it is when you step in - when you intervene in the Council when they're all bickering among themselves."

Elijah: "It makes that a bit heavier and much more profound when he decides to take the responsibility and take the Ring again because you see clearly that it's something he doesn't want to let go of."

The Ring will be safe in Rivendell.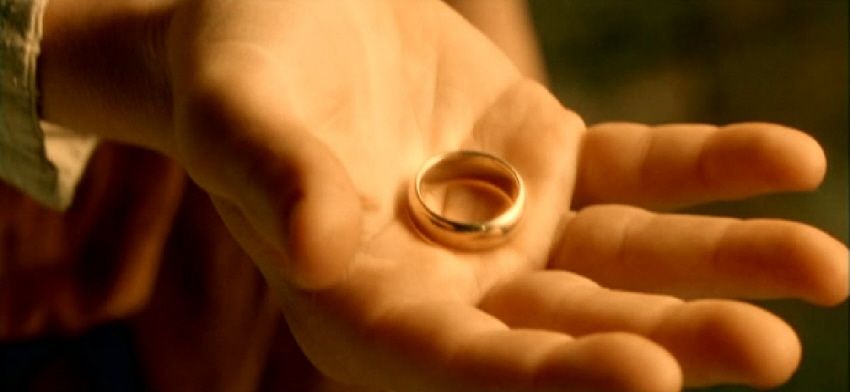 I am ready to go home.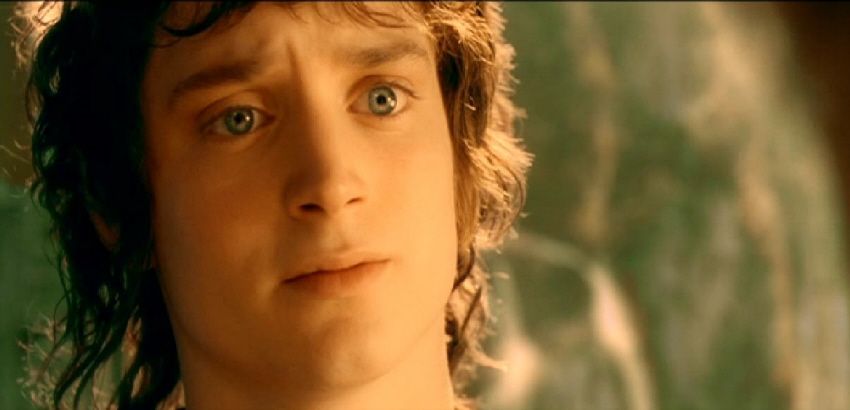 His strength returns.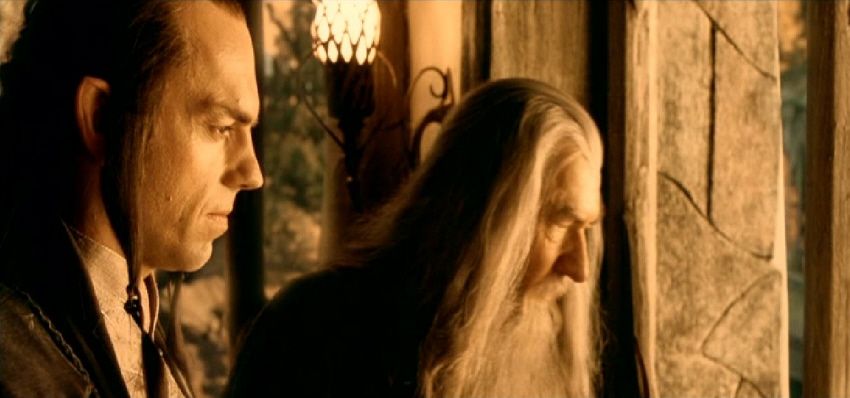 That wound will never fully heal. He will carry it the rest of his life.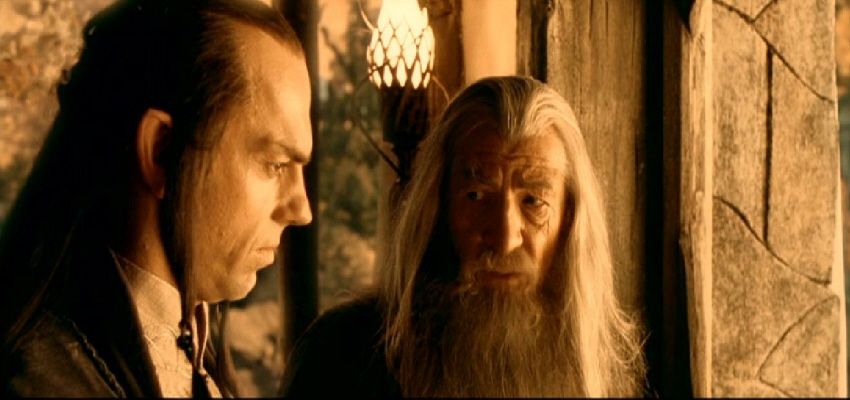 And yet to have come so far still bearing The Ring, the Hobbit has shown extraordinary resilience to its evil.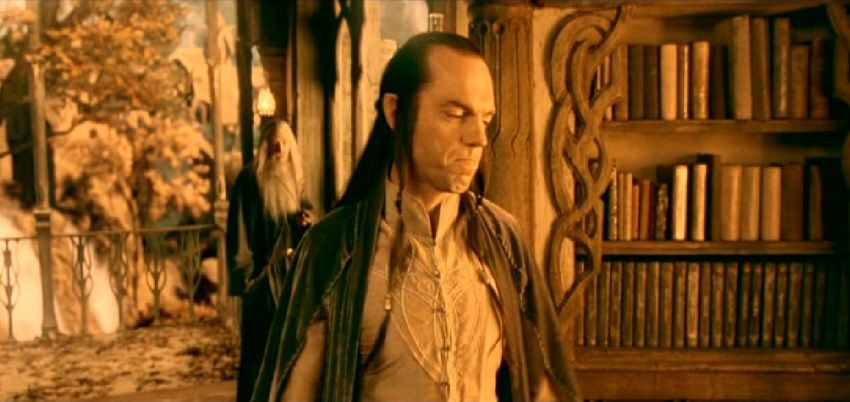 It is a burden he should never have had to bear. We can ask no more of Frodo.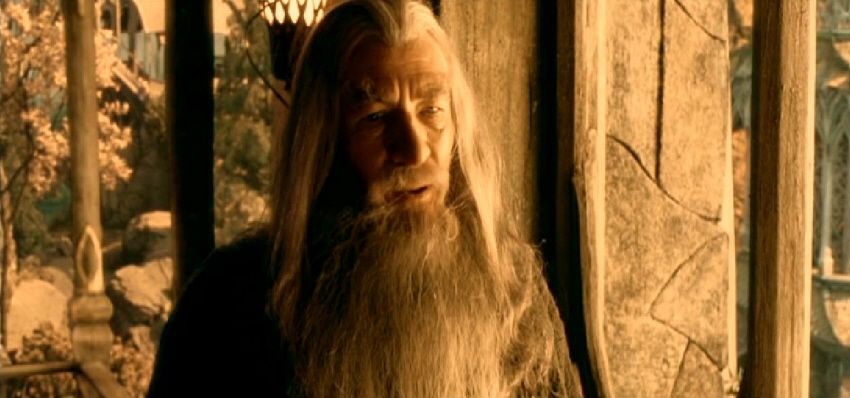 Elijah, dvd: "I love how Rivendell is in constant Autumn as well - sort of the golden age of the Elves, their time is coming to an end."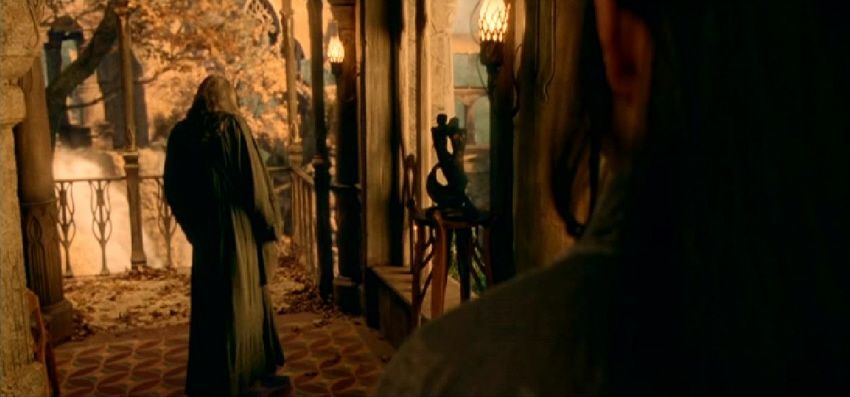 Gandalf - the Ring cannot stay here.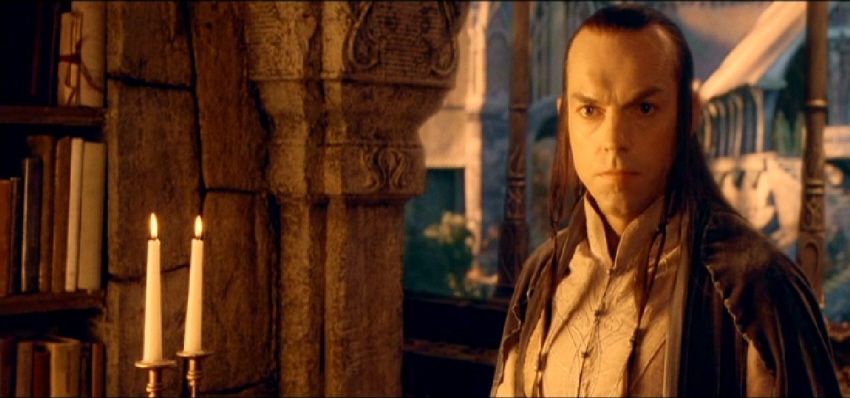 ---


TO BE CONTINUED


"Those eyes just cannot be real!"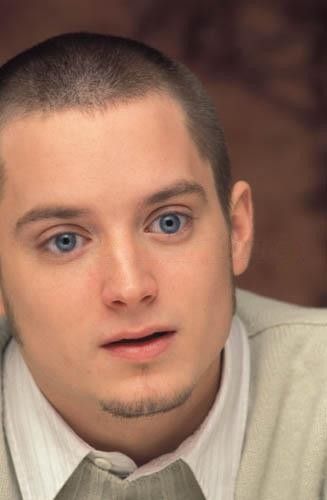 ---
LINK TO ALL CHAPTERS:
"A JOURNEY WITH FRODO"
comments: Leave a comment