| | |
| --- | --- |
| Tags: | a journey with frodo |
| Security: | |
| Subject: | A Journey With Frodo: Chapter 38: Frodo Takes Flight! |
| Time: | 04:42 pm |
Happy Froday everyone!! And for this special day I bring you Chapter 38 of A Journey With Frodo - Frodo Takes Flight! This chapter covers the launch of Air New Zealand's Frodo Plane, and Elijah's appearances on Jay Leno and Caroline Rhea. And in Frodo's journey the Fellowship have departed Rivendell and have reached Mt Caradhras.
For anyone unfamiliar with my pet project, 'A Journey With Frodo' (a work in progress) is the story of Elijah Wood's experience in becoming Frodo, from back in 1998 when the LOTR movies were just a whisper up to the triumphant Oscars of Feb 2004. In reliving Elijah's journey, and mine, I am using everything I can lay my hands on - behind-the-scenes material from the various dvd's, magazine articles, books, internet sites, tv coverage, word-of-mouth info, etc. Previous chapters can be found here:
"A JOURNEY WITH FRODO"
Hope you enjoy this latest chapter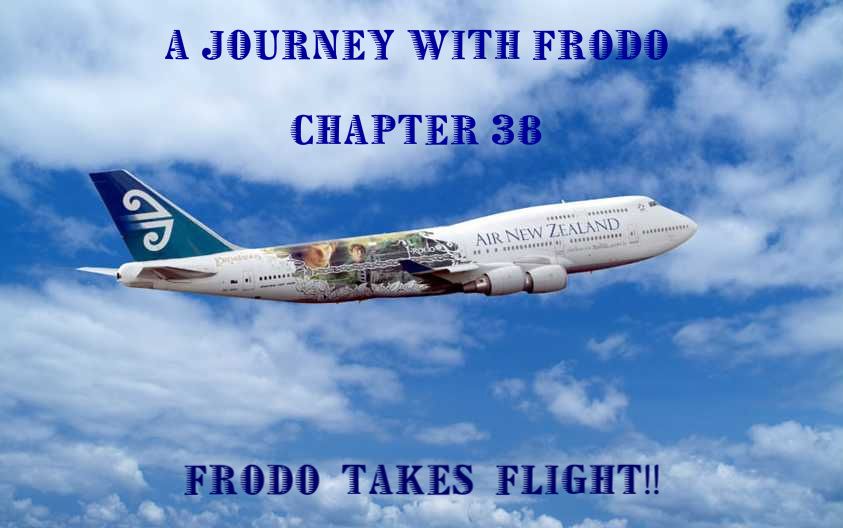 ---


16th December 2002:

"GIANT FRODO IMAGE TAKES FLIGHT (Scoop, NZ)
Air New Zealand's Lord of the Rings aircraft mural is one of the biggest ever promotional billboards for New Zealand on the global stage. Stretching 36 metres along the fuselage from the rear door to over the wing, it reaches almost 8 metres in height and runs down both sides of the aircraft.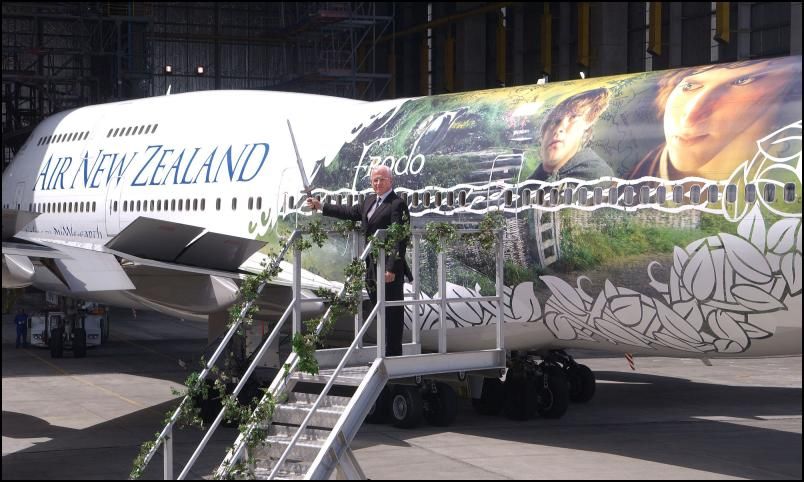 The image of Elijah Wood as Hobbit Frodo Baggins and Sean Astin as the Hobbit Samwise Gamgee, is made up of more than 300 separate pieces, forming one giant jigsaw stuck to the curved canvas of the Boeing 747 fuselage. Although the aircraft marking film used is barely thicker than cling film, the sheer size of the image means the decal actually weighs more than 60 kilograms.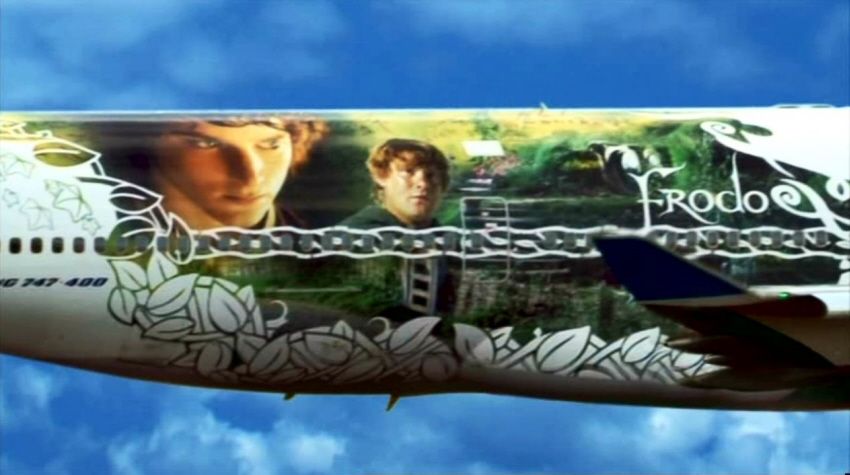 The specialist film is perforated to allow for pressurisation changes in the aircraft and designed to withstand speeds of up to 1,000 kilometres an hour. Tested by the US Airforce, the film is manufactured to cope with the enormous temperature fluctuation experienced by an aircraft fuselage surface, from -60 C while cruising at 35,000 feet to 60 C during prolonged spells on the tarmac mid-summer in destinations such as Los Angeles.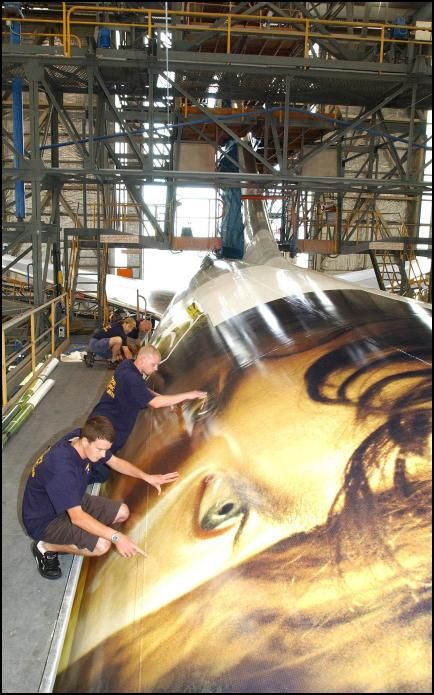 The Lord of the Rings image is 20% larger than the All Black front row mural used by the airline to mark the national team's campaign for the 1999 Rugby World Cup.
More than 450 man hours were involved in fixing the vast mural to the aircraft, which had to be painstakingly cleaned with alcohol first to ensure the self-adhesive film would attach firmly.
A team of 12 from outdoor graphic manufacturing and installation specialist, AdMark Visual Imaging, were joined by Air New Zealand engineers in a hangar at the airline's Auckland engineering base to apply the mural during a routine three-day maintenance check on the Boeing 747-400.
While the aircraft marking film itself has a three-year lifespan, Air New Zealand plans to replace it late next year with images from the final part of the Lord of the Rings trilogy, The Return of the King.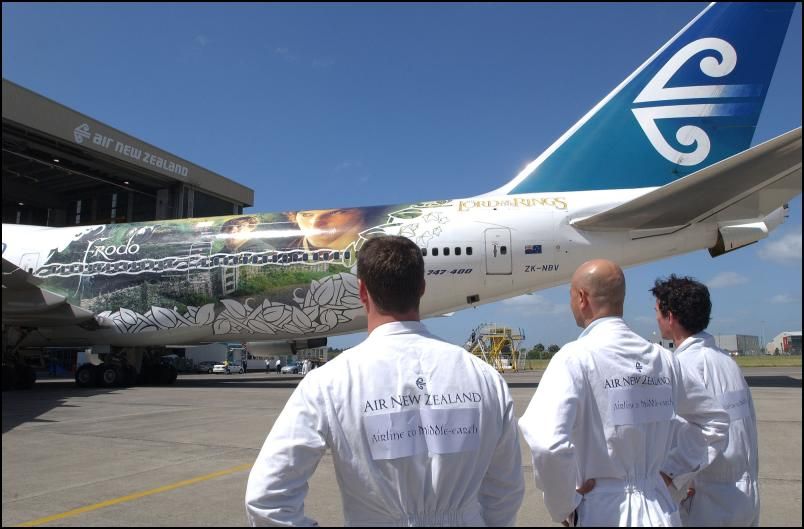 AIRLINE TO MIDDLE- EARTH UNVEILS FLYING BILLBOARD (Toymania)
Air New Zealand and New Line Cinema announce two-year marketing agreement, which begins with official The Lord of the Rings aircraft.
On Monday, December 16, 2002, Air New Zealand rolled out its biggest tourism promotion yet - a Boeing 747-400 emblazoned with The Lord of the Rings motion picture trilogy imagery that will take the Middle-earth message to the world. The aircraft debuted at Los Angeles International Airport with some of The Lord of the Rings cast members and producers in attendance.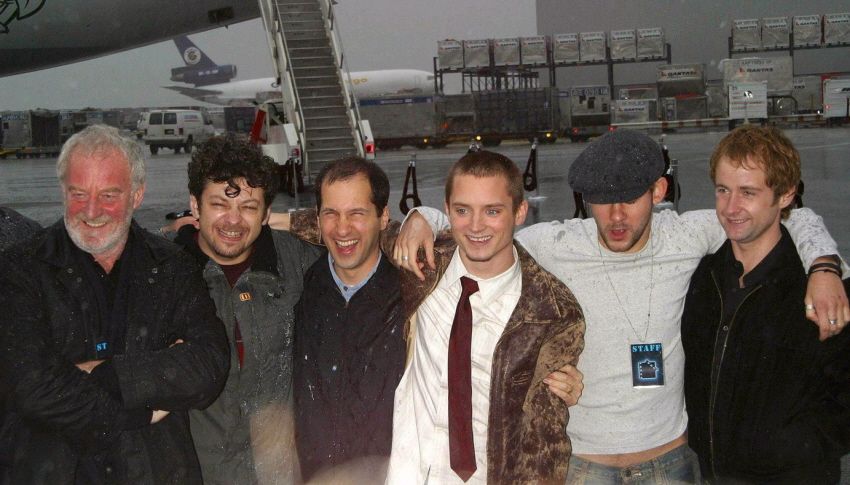 The aircraft features close up images of Elijah Wood as Frodo and Sean Astin as Sam. Wood, along with film stars Billy Boyd, Dominic Monaghan, Andy Serkis and Bernard Hill, posed before the massive 747. The Lord of the Rings producer, Barrie Osborne, and executive producer, Mark Ordesky, were also in attendance.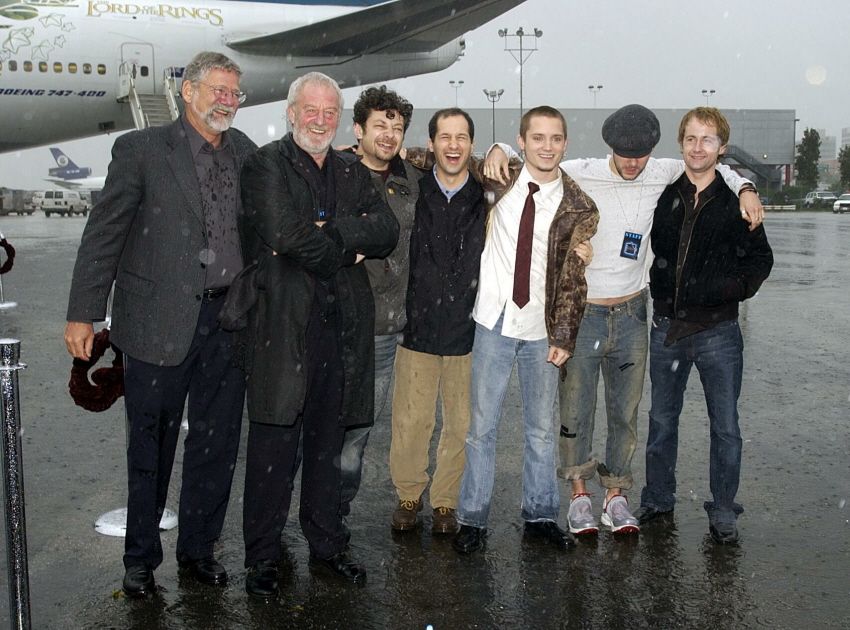 Spearheading the airline's new promotional identity as "Airline to Middle-earth," Air New Zealand's Vice President - The Americas, Peter Walsh described the promotion as "a visionary demonstration of Air New Zealand's commitment to drive the New Zealand tourism message in North America."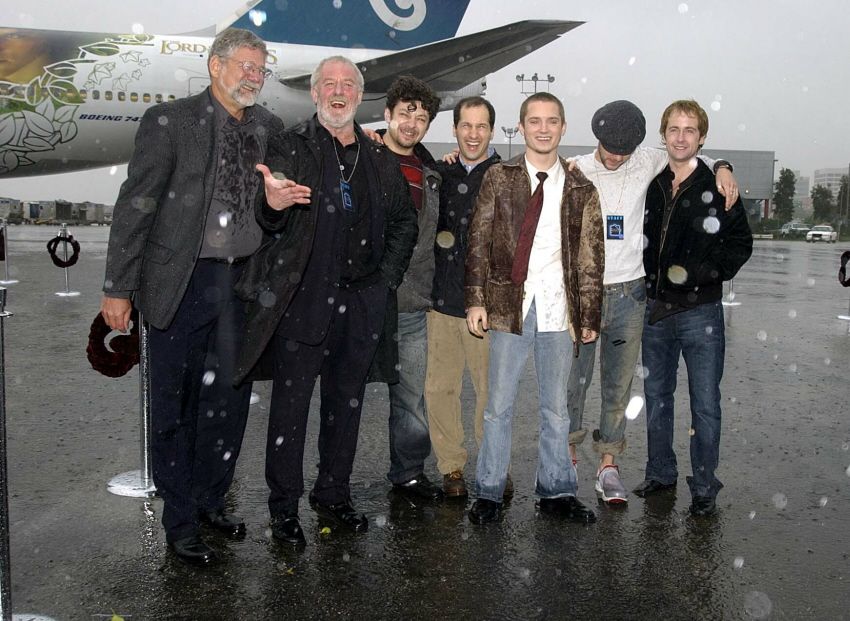 Air New Zealand has developed a two year joint venture with New Line Cinema to link The Lord of the Rings movie publicity to New Zealand tourism.
The aircraft image is the most visible expression of that partnership, but is underpinned by extensive marketing work in North America and around the world.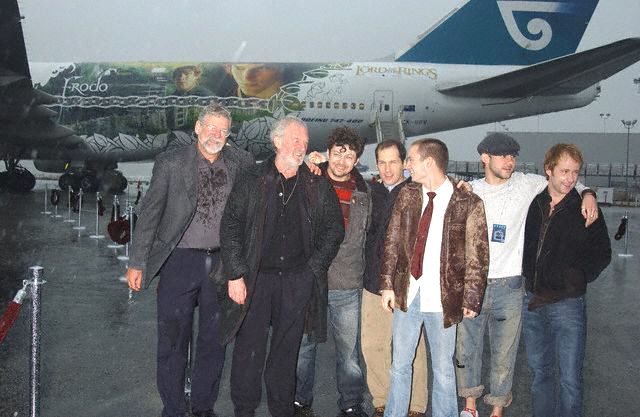 A second aircraft, a Boeing 767, will be launched with different Lord of the Rings imagery in January and will fly predominantly between Australia and New Zealand, and in the South Pacific.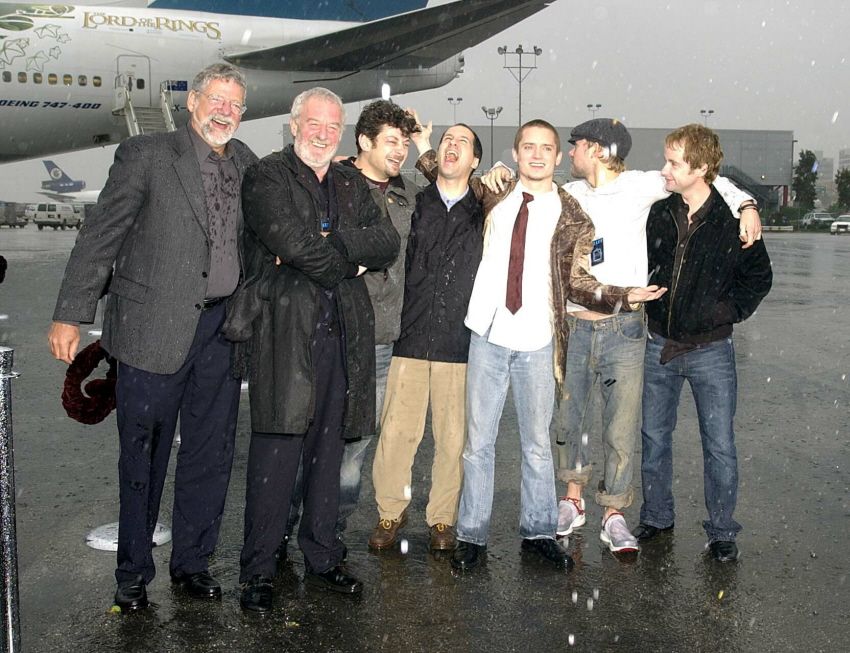 "Frodo," the massive Boeing 747 flying billboard unveiled Monday, will undertake its own epic journey of nearly 2.5 million miles during the 12 months it remains on the aircraft - that's the equivalent of 96 times around the globe. It will visit Los Angeles 165 times, London approximately 45 times, Sydney 50 times and Japan 56 times.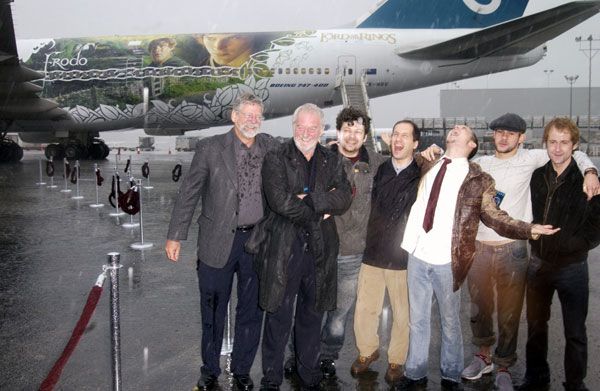 Weighing 132 pounds, the giant decal will be subjected to temperatures ranging from -76F to 140F between high-altitude cruising and sitting on hot airport tarmacs in mid-summer sun.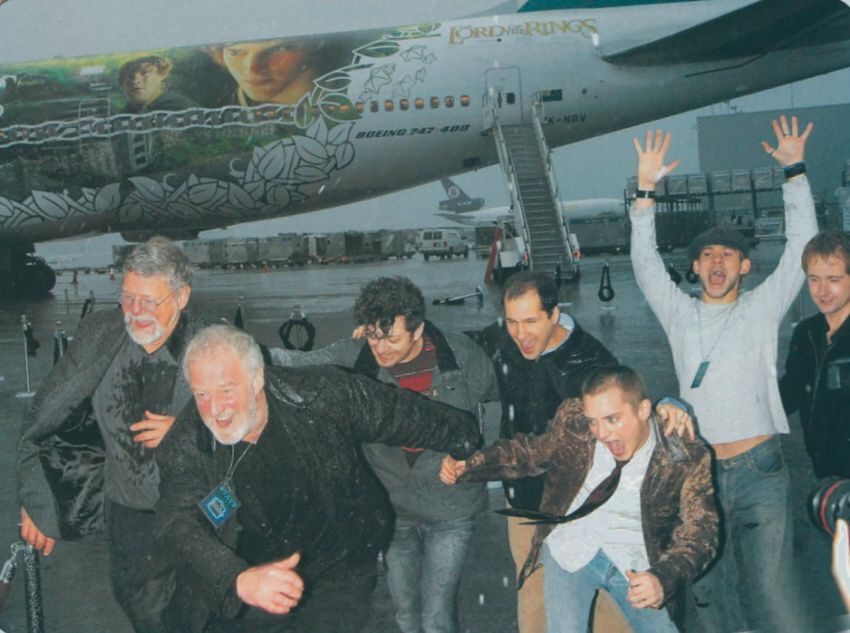 Over the next year, passengers flying onboard the Frodo plane will see a thirteen minute video highlighting New Zealand locations used in the movie followed by a trailer for The Lord of the Rings: The Two Towers and also receive a special souvenir postcard."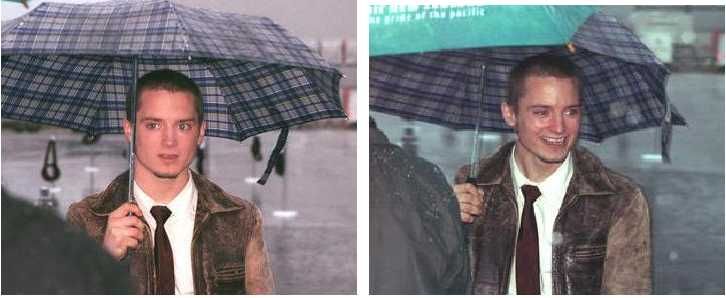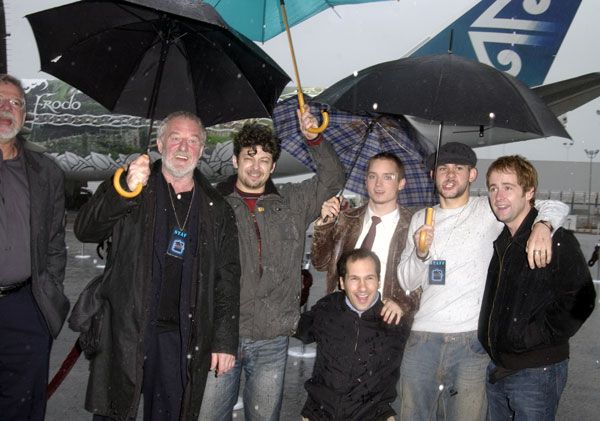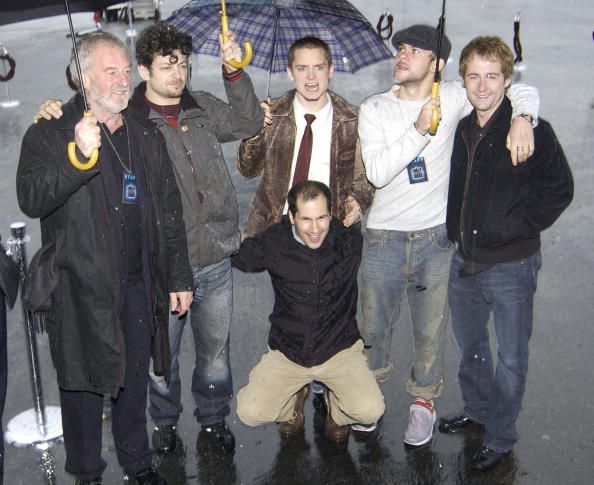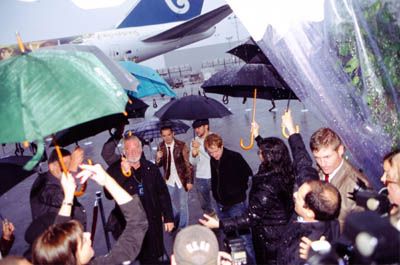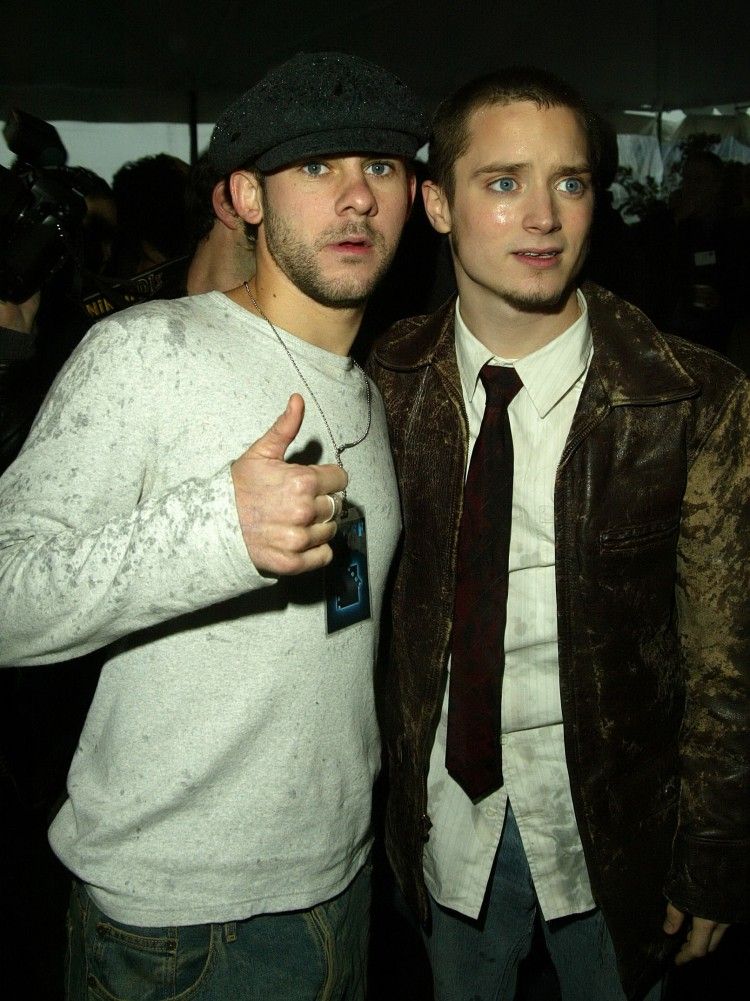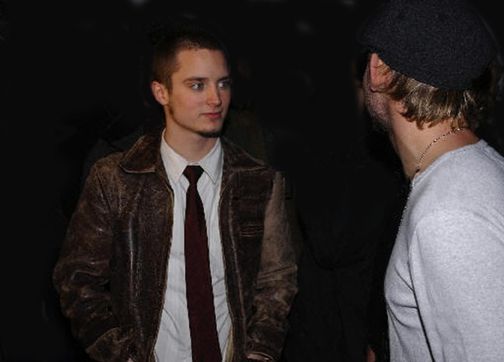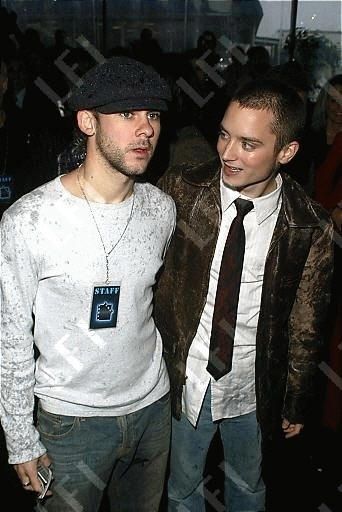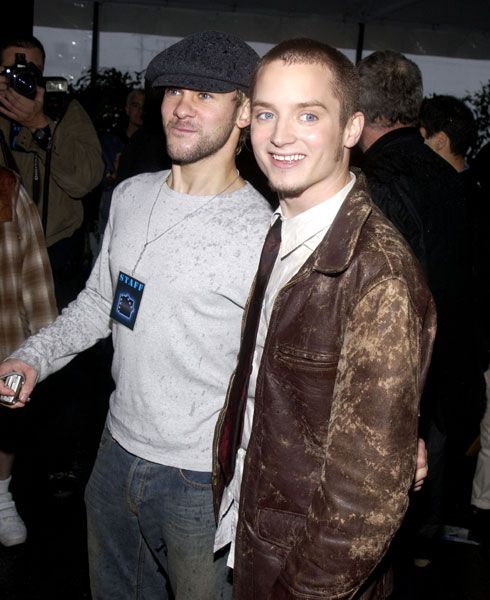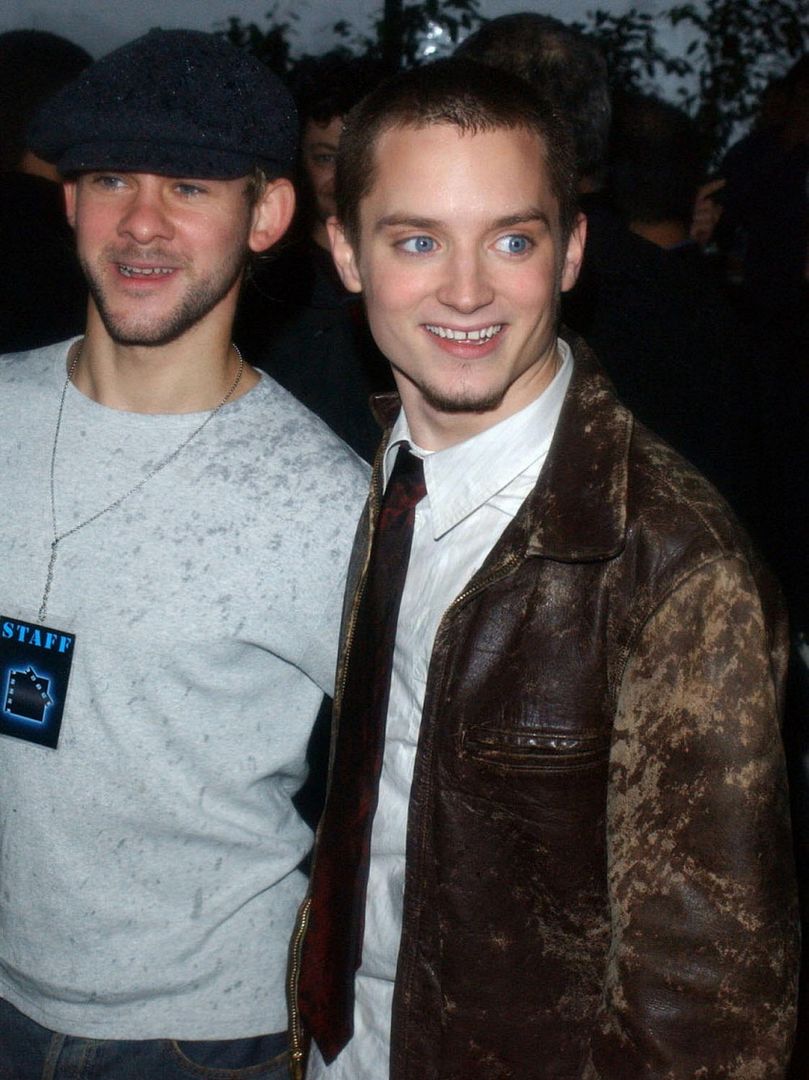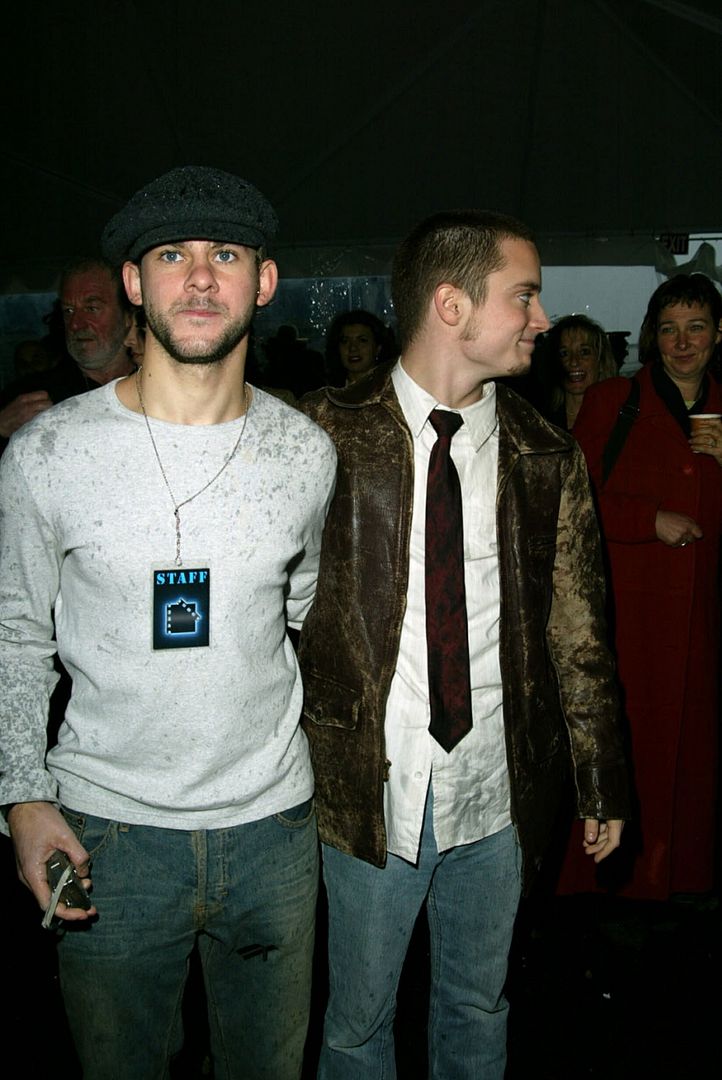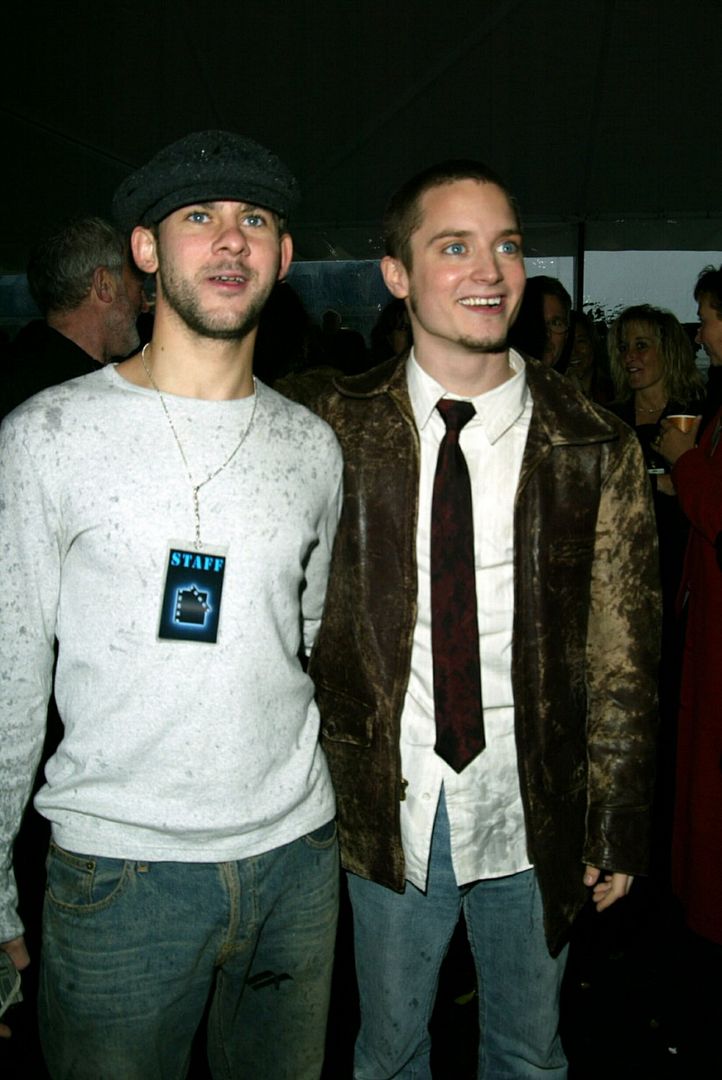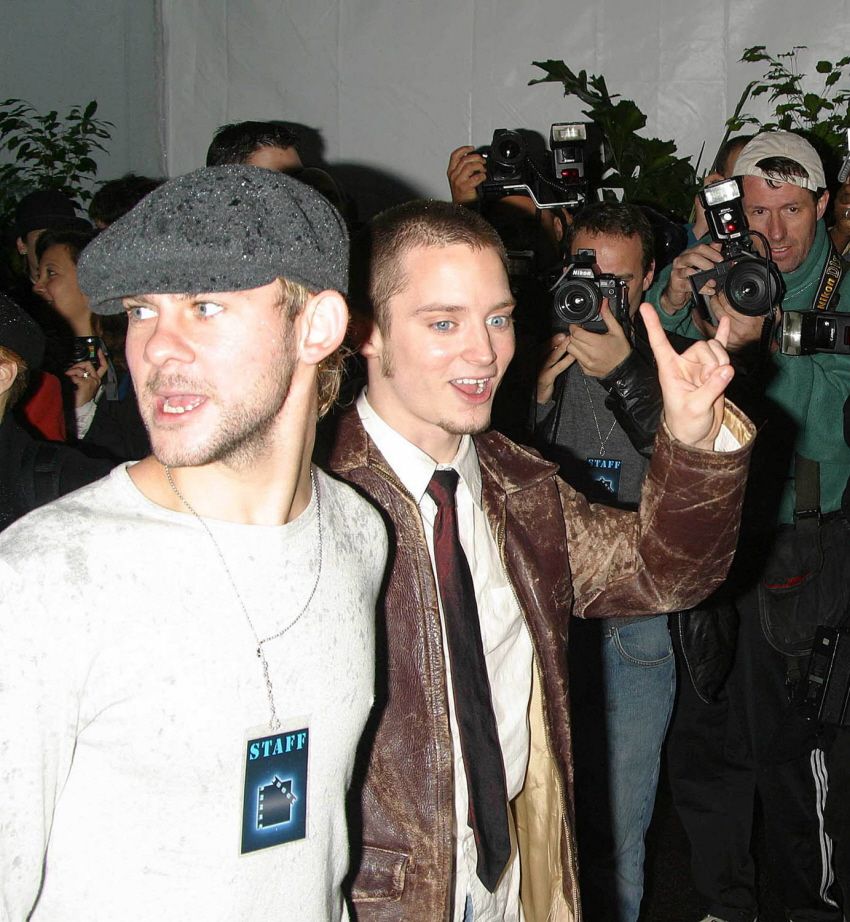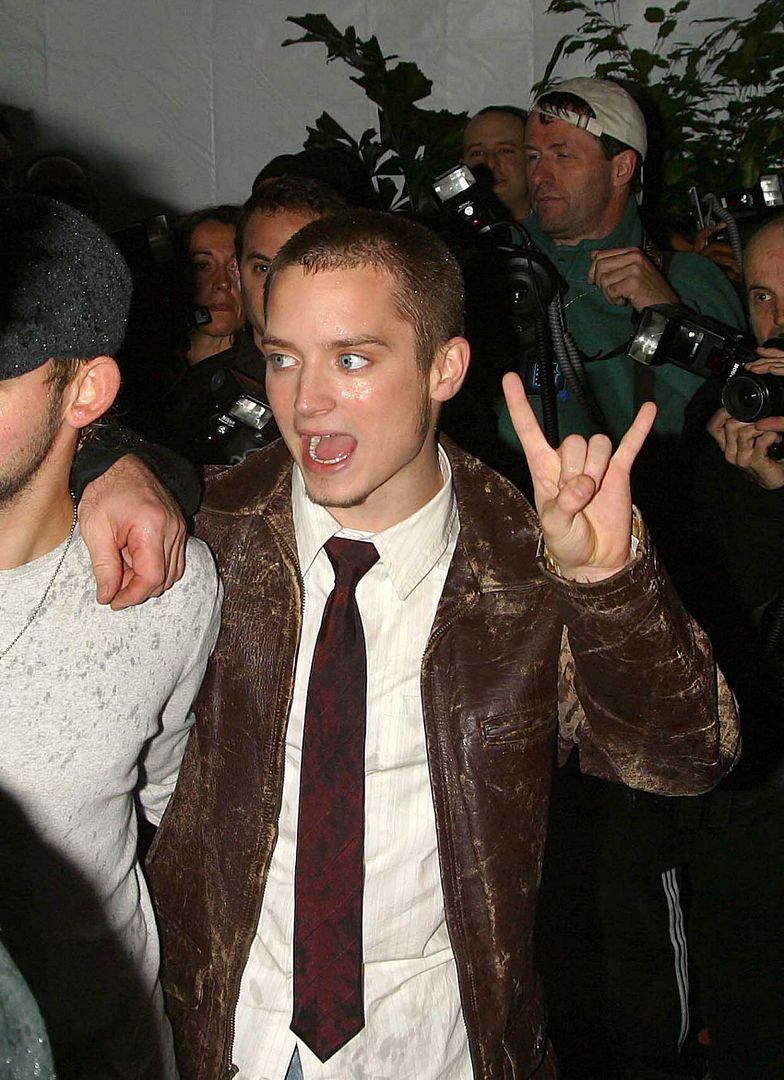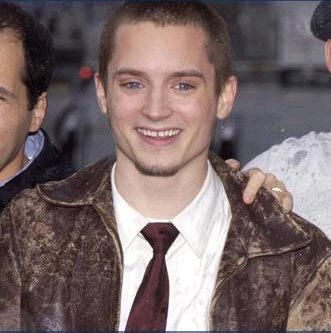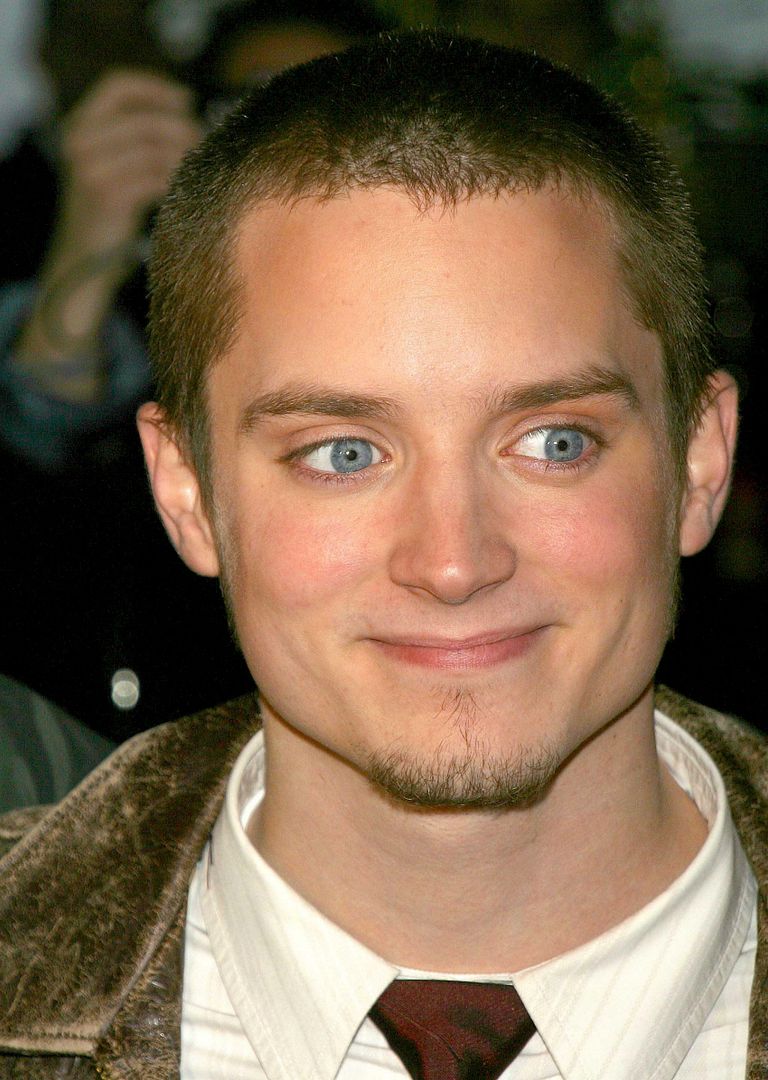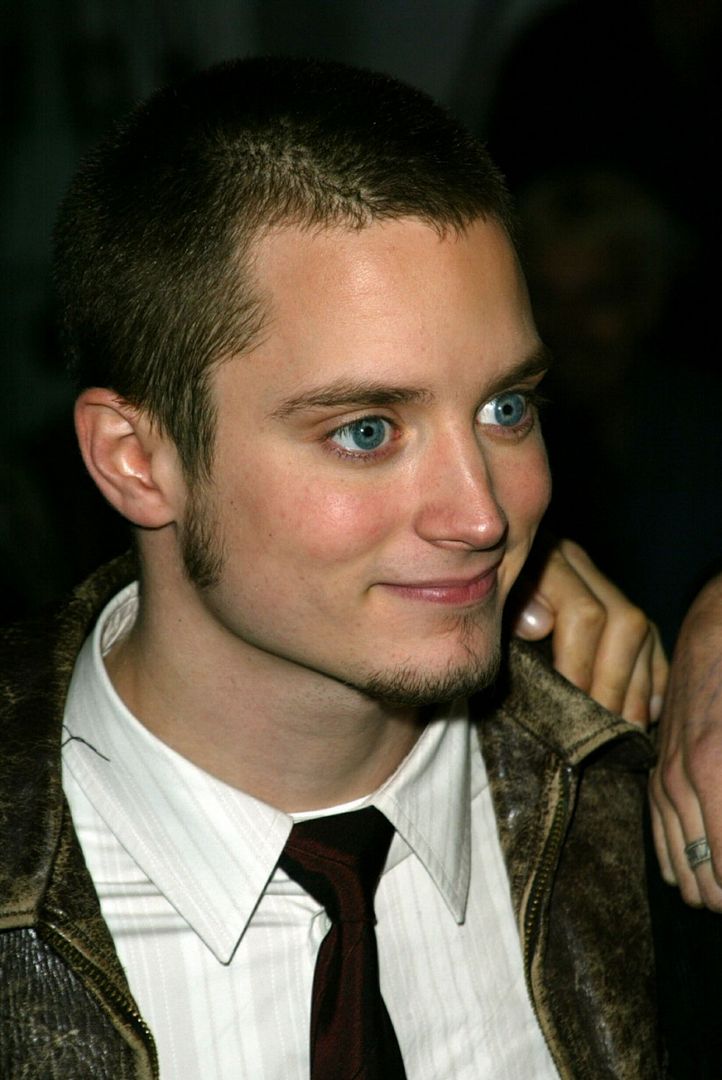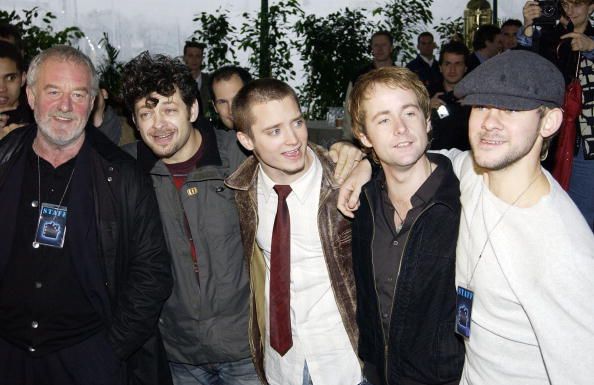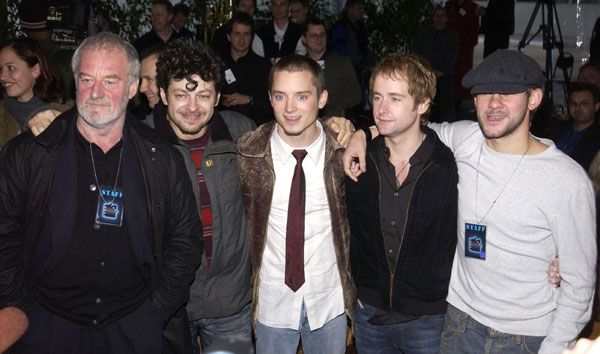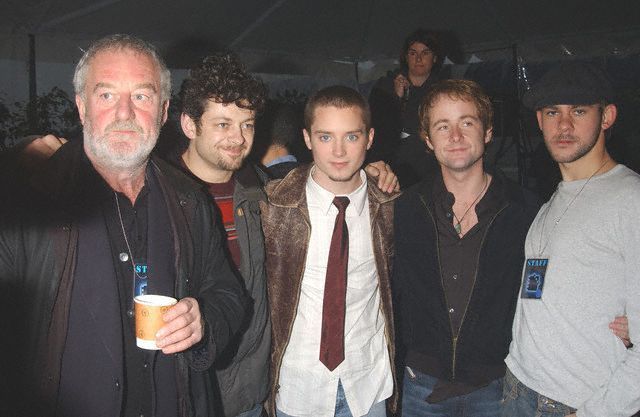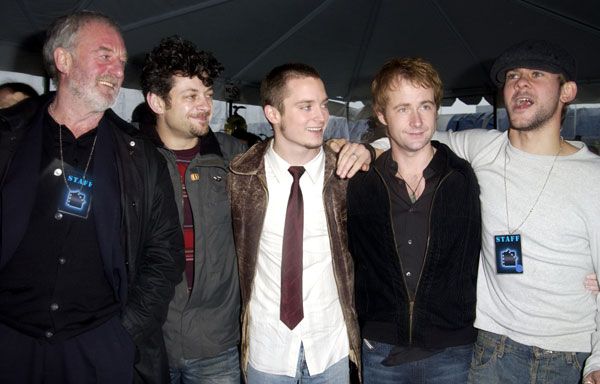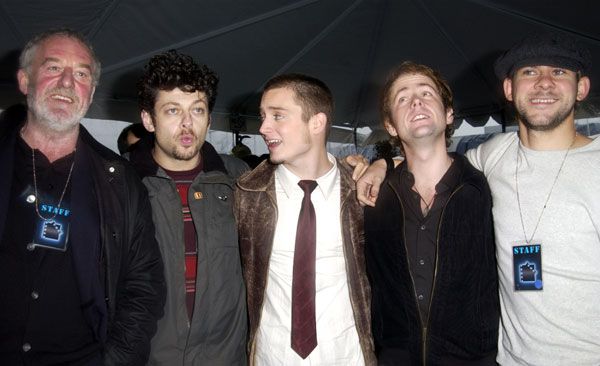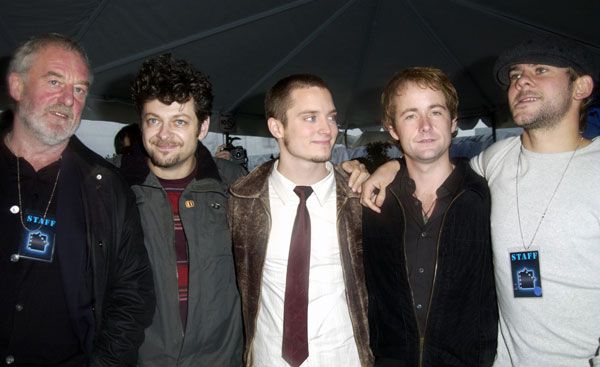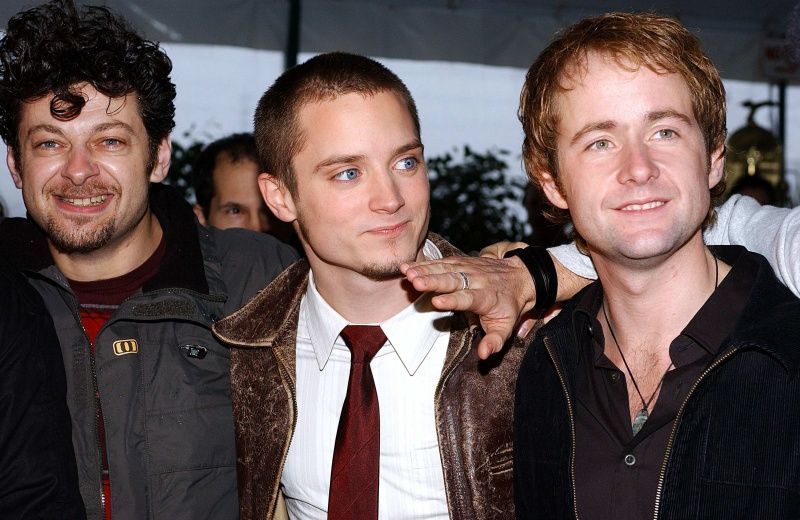 ENews: "A little rain couldn't dampen the Fellowship's spirits at the unveiling of Air New Zealand's Frodo Plane. So, how does it feel having your face painted on the side of a 747?"
Elijah: "I haven't honestly accepted it yet - it's a little strange - it's great, it's wild!!"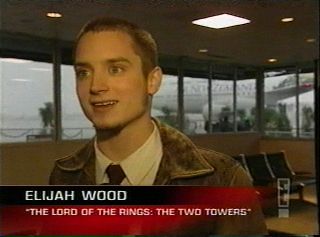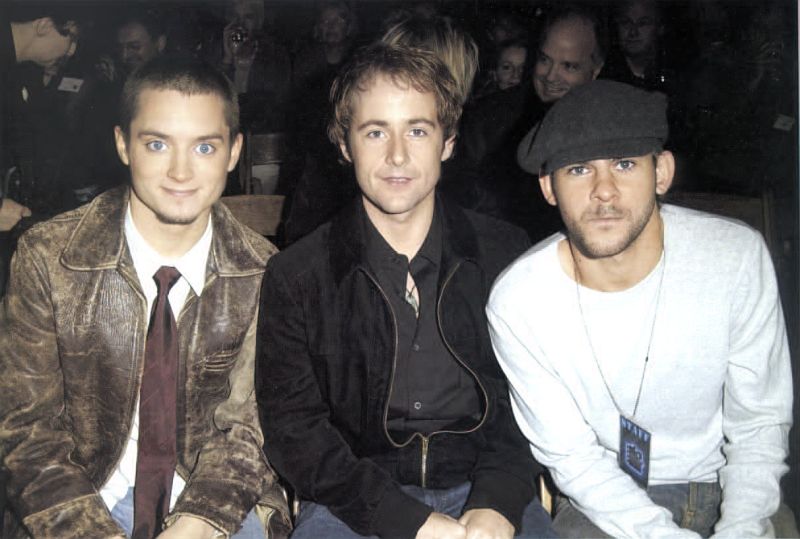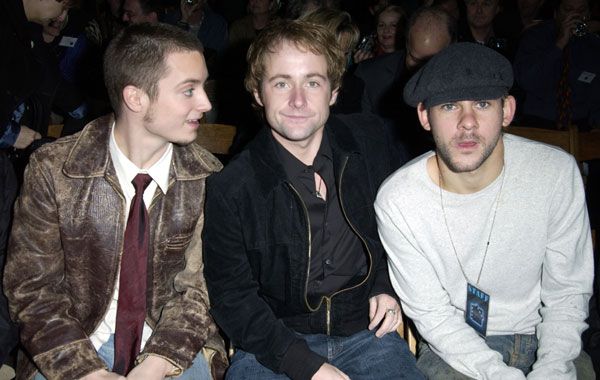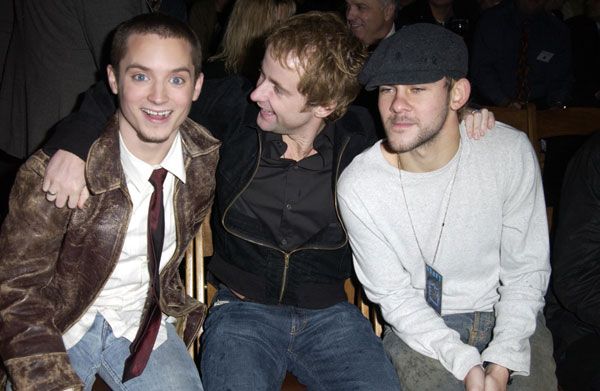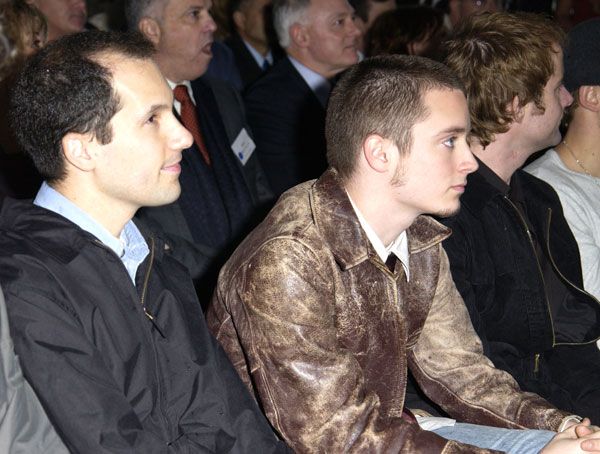 ---
Also on 16 December, Elijah appeared on The Tonight Show with Jay Leno.
Jay: Alright, my first guest is an extremely talented young actor, good heavens, the man is on the cover of Time Magazine!!
He's currently starring in the Lord of the Rings: The Two Towers, it opens this Wednesday, please welcome Elijah Wood!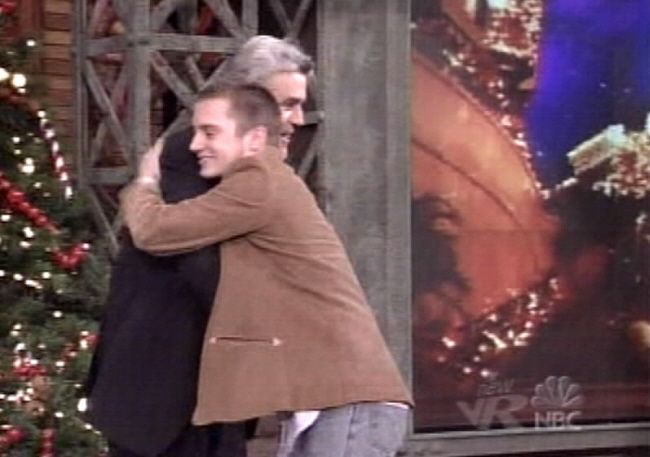 Jay asks about the new haircut and if it was for a new part. Elijah tells him he just wanted to do it for himself.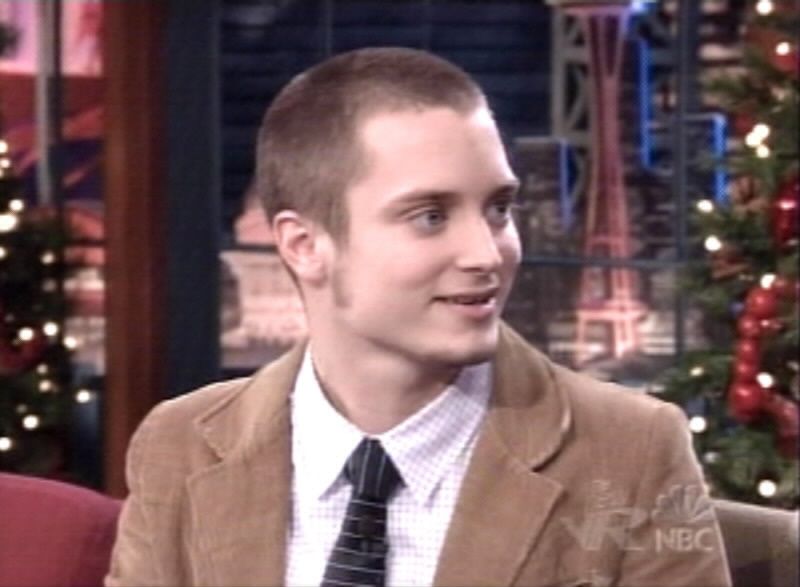 They then discuss Paris:
Jay: "The women…did you see any Parisian women?"
Elijah: "The women are unbelievable! And I think that's part of …the half of why I was excited to go and it's exactly as you're told…I wanted to marry everyone I saw."
Jay: "Did they recognize you? Did you go "Hi…you know…I'm a…Hobbit.. Is it like being Sean Connery or something…hi..I'm a hobbit…"
Elijah: "Well the great thing about being a hobbit is you have the big feet and then the.. you know the…(audience laughs and Lij leans over and grabs his cup) I mean it…maybe it works in Paris..I don't know."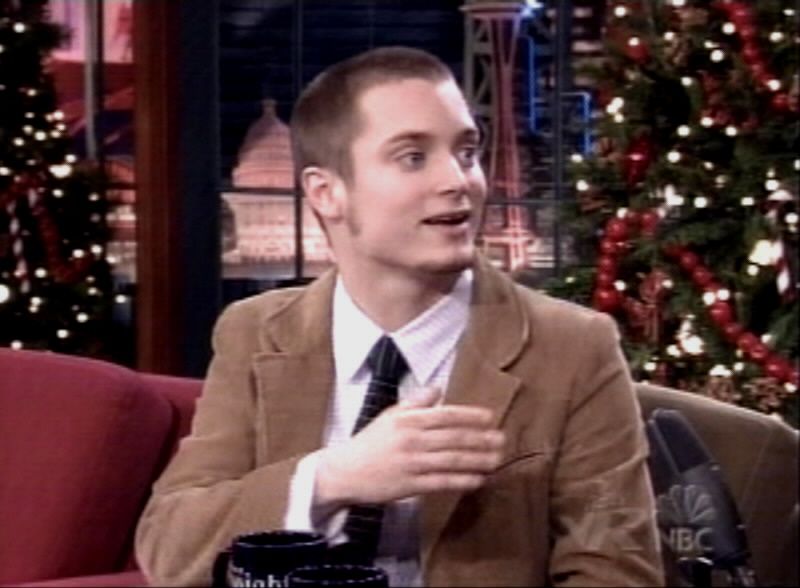 Jay: "But ultimately it's disappointing in the end…yeah I know what you mean…"
Elijah: (laughs) "But yeah…well because I'm not really a hobbit and yes…and look at how small the feet are!!"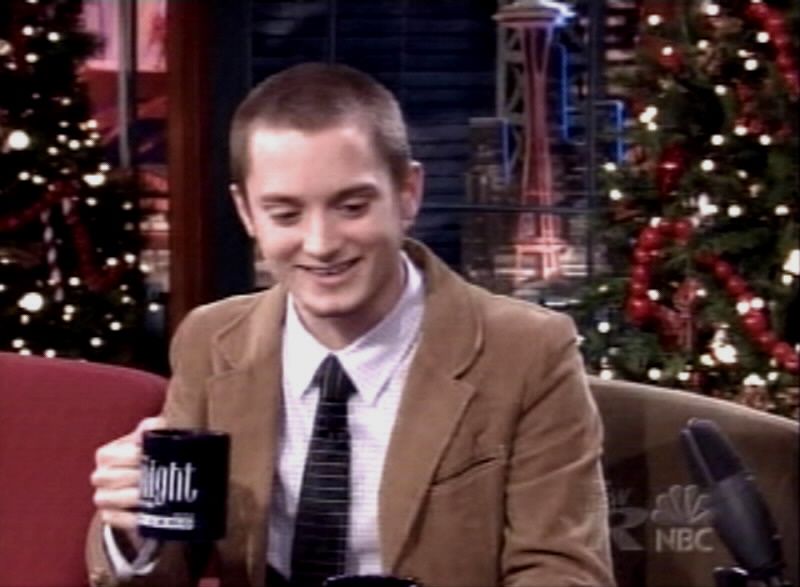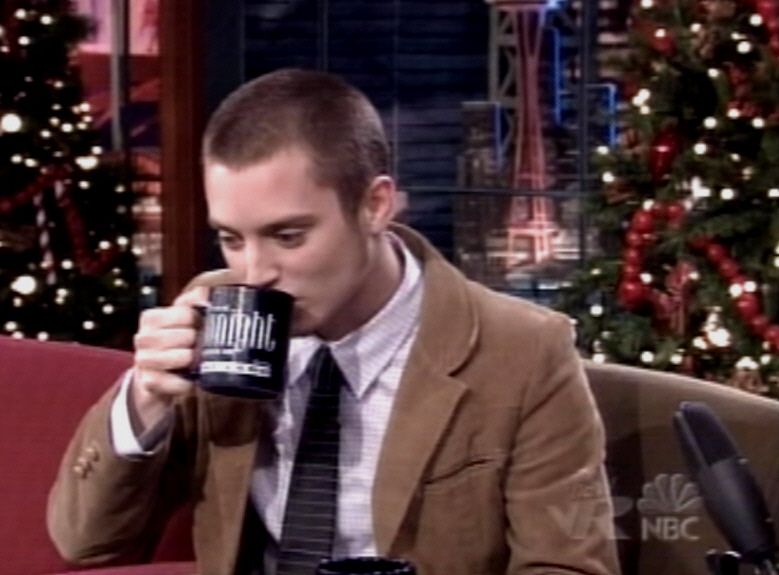 Jay: "So now you're home for the holidays…what do you do?"
Elijah: "What am I doing at home for the holidays? Uh..just...I'm gonna have Christmas and then I'm gonna head out to England, the north of England for New Year."
There is the inevitable ribbing about him still living at home and his mom doing his laundry!!
Elijah: "But I AM moving out soon, and I will be taking…just you know, for your comfort…I'll be doing my own laundry…and..food and all of that.."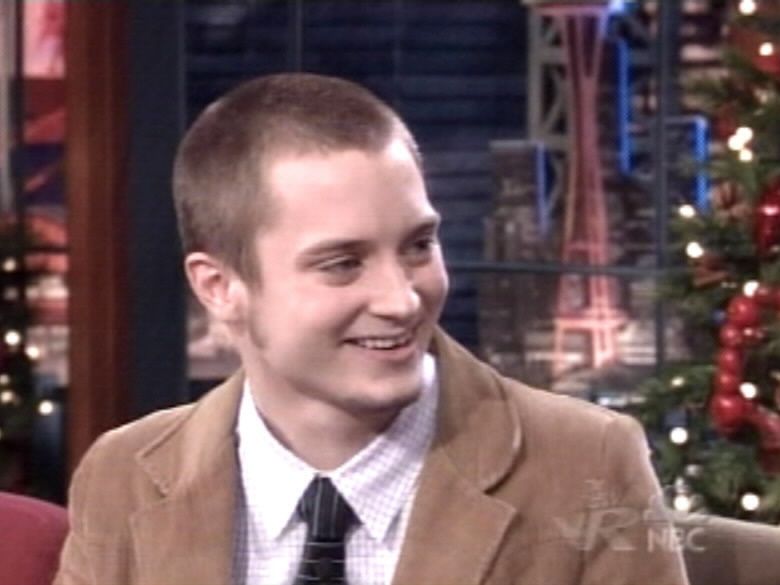 Jay then asks about the tattoo - were they all drunk when they decided to do it!!
Elijah: "We were told not to drink because it actually thins the blood and makes you bleed!".
Jay asks if he could show it. At first Elijah is reluctant but then Jay tells him that Ian McKellan has shown his tattoo on tv, also Sean. "Well, I guess I have no choice", says Elijah, much to the glee of the audience: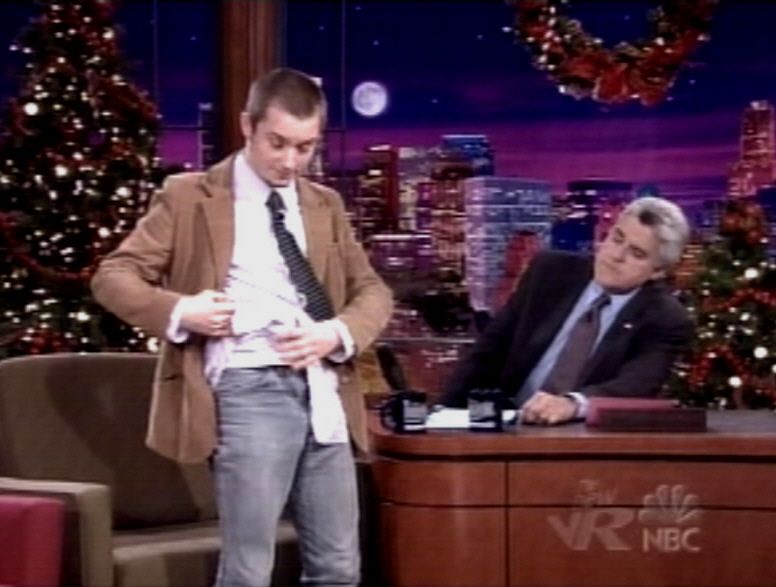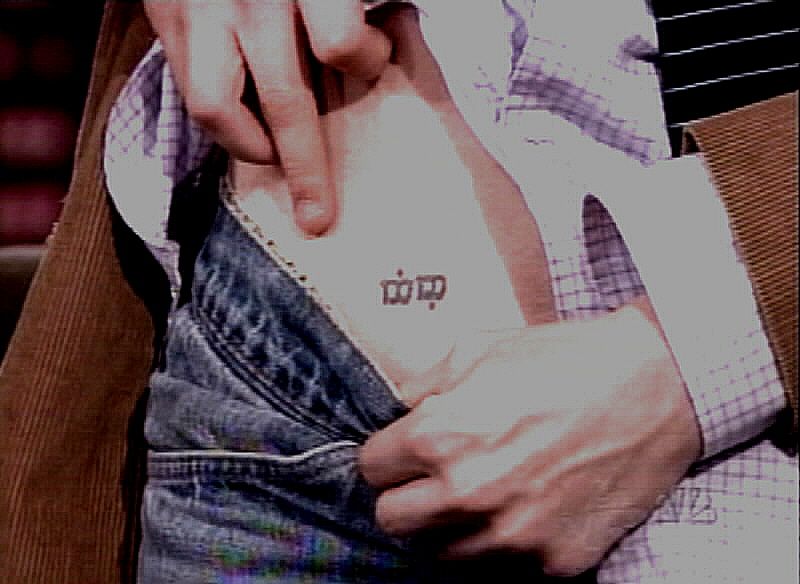 They discuss TTT and a clip from the Emmyn Muil scene is shown.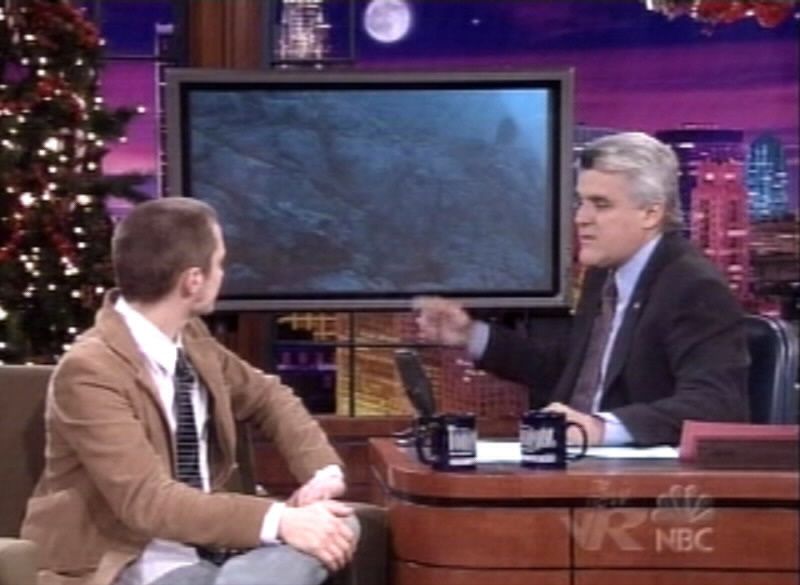 The second half of the show descends into chaos as 'the animal lady' (I forget her name) brings on an assortment of animals, starting with a Siberian lynx and a lion cub.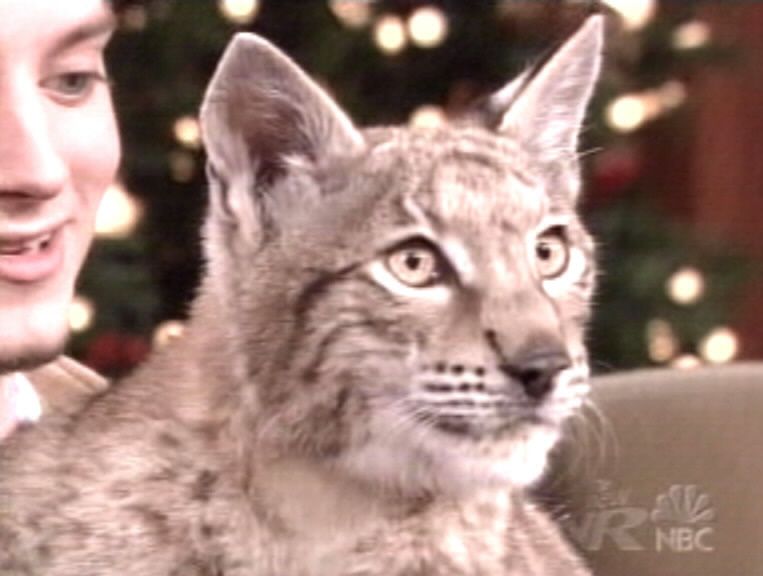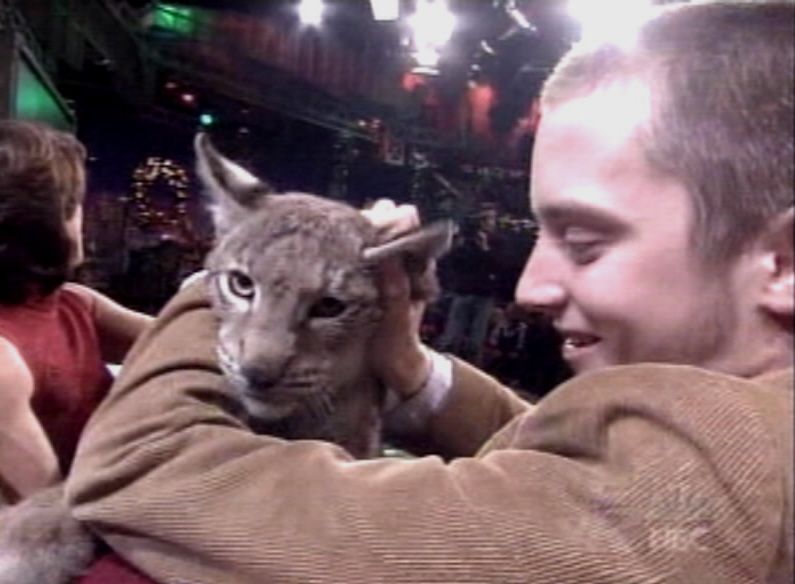 Then there were the baby baboons: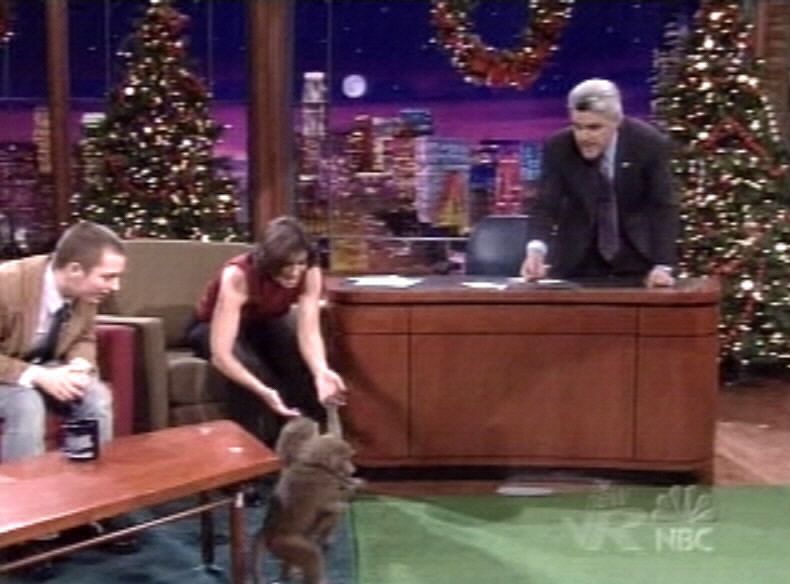 And finally a beaver. The poor thing had an attack of incontinence as it was brought on, but that didn't stop the lady from slinging it into Elijah's lap!!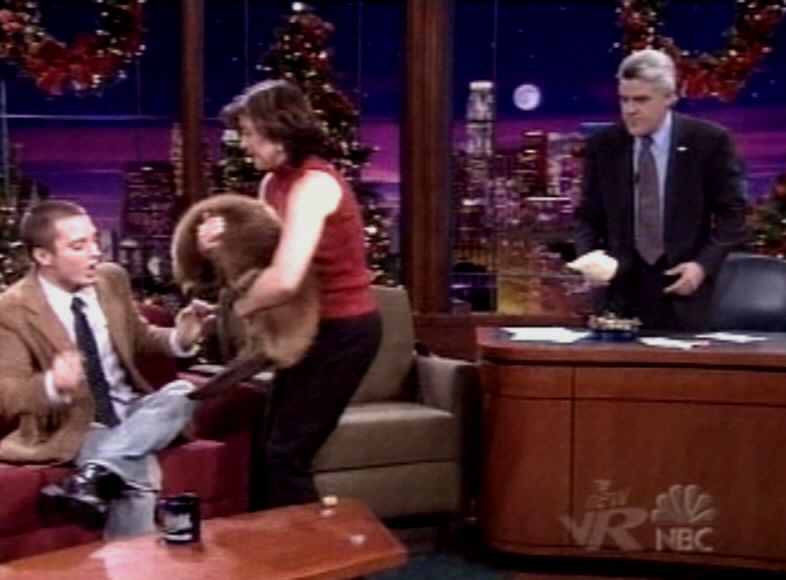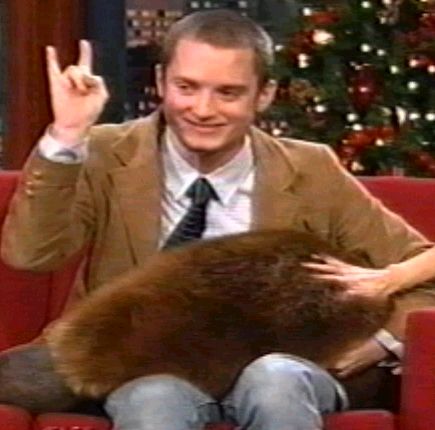 ---
17th December 2002:
Elijah is a guest on the Caroline Rhea Show.
"Please welcome my favourite hobbit from Middle Earth, the very charming Elijah Wood!"

First of all, there's the rubbing of the buzz cut!

"I haven't seen these beautiful blue eyes up close, they're absolutely stunning! You have to see - they're so beautiful!"

They then talk about Paris and discuss some of the films he appeared in when he was a child.


"You know what's weird, you seem English to me!"
"Oh-oh! Well, I've spent a lot of time with English people, especially being in NZ for that length of time, so I think it's sort of rubbed off on me a bit!"
Caroline has an assortment of mags with Elijah on the front cover. One is Entertainment Weekly. "And they made me taller than Liv which is so not true!! He reveals that he was standing on a box! "It's great because I look like the big guy, the sort of man, which I rarely look like!"

Then there was YM mag - they have a laugh about the statement on the front cover which claims, "Woo Hoo, he's single!!".

They talk about being an Aquarian. "This is what I know about Aquarians - forward-thinkers, they flirt with everyone men, women, children, whoever, and they marry late in life.
"That's the way I've been thinking, yes!".
Caroline asks what he likes in a woman. He says he's attracted to dark hair (Oops!! Caroline is a blonde), intelligence, knowledge, maturity, passion - people who are passionate about multiple things. and well-travelled people as well. Caroline asks if he likes a fancy accent. "That does everything to me! English, Italian, French, German!!

Much to the delight of the audience, Caroline informs them that Elijah has brought the extended FOTR dvd for all of them!! They go on to discuss TTT, the beauty of New Zealand and Caroline finishes up by saying the film opens world wide tomorrow, 18 December.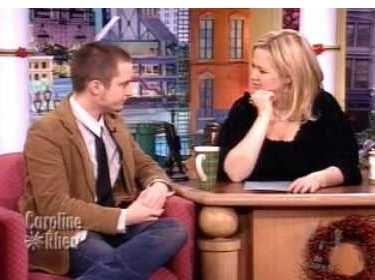 ---
My Journey Continues:
18 December 2002 - I see 'The Two Towers' for the very first time!! This time I was determined to see it on the opening night! One of the biggest differences compared to my first viewing of FOTR was that this time I had read all three books. I had prepared myself for the fact that it would be very different to FOTR and that Frodo would not feature so prominently. I loved it, despite the length of the Helms Deep scene which I felt could have been halved (giving more time to Frodo & Sam, of course!!), and couldn't wait to see it again!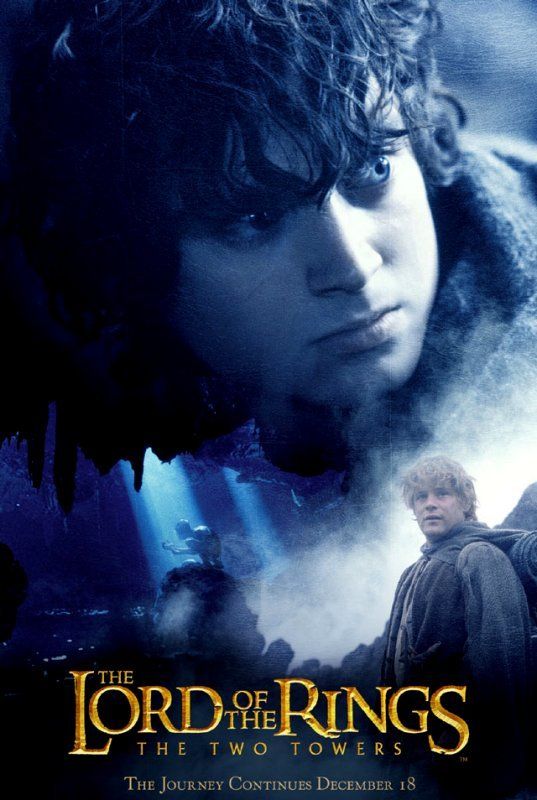 ---
Frodo's Journey Continues:
We must hold this course, west of the Misty Mountains, for forty days. If our luck holds the Gap of Rohan will still be open to us.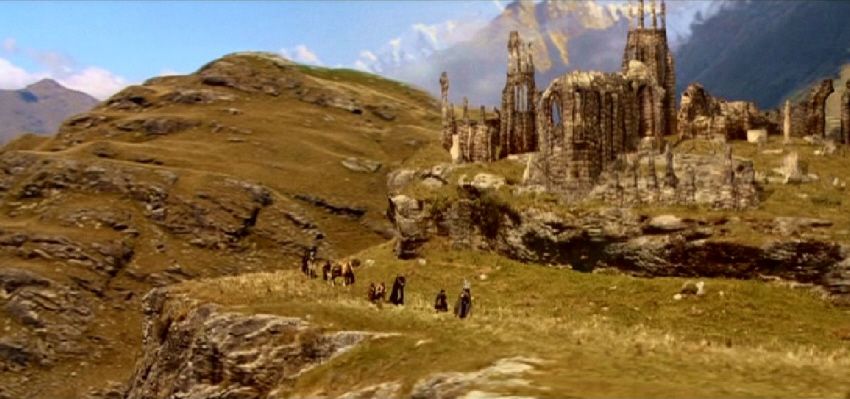 From there our road turns east to Mordor.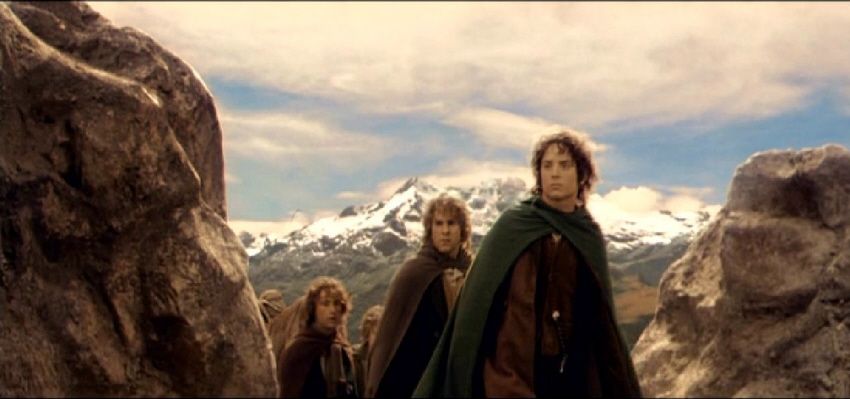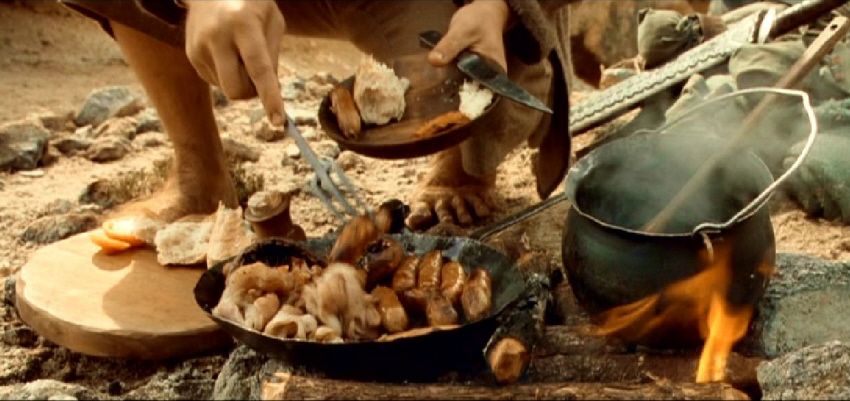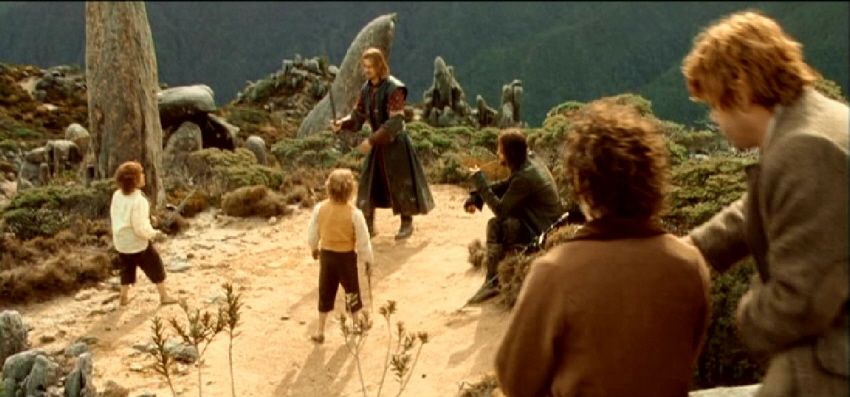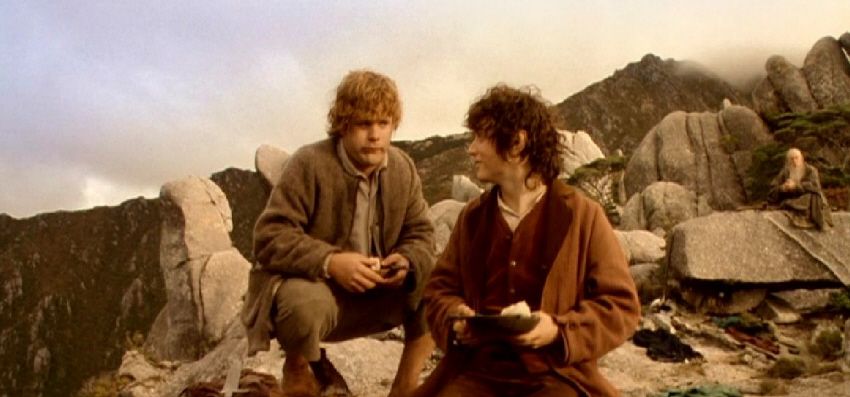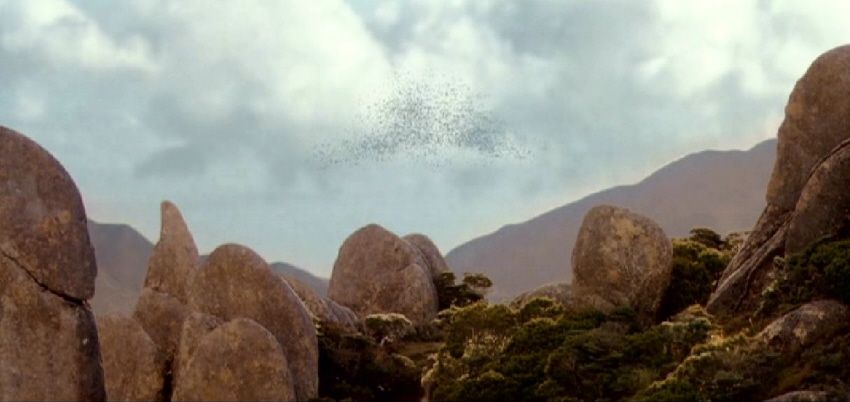 Crebain from Dunland!!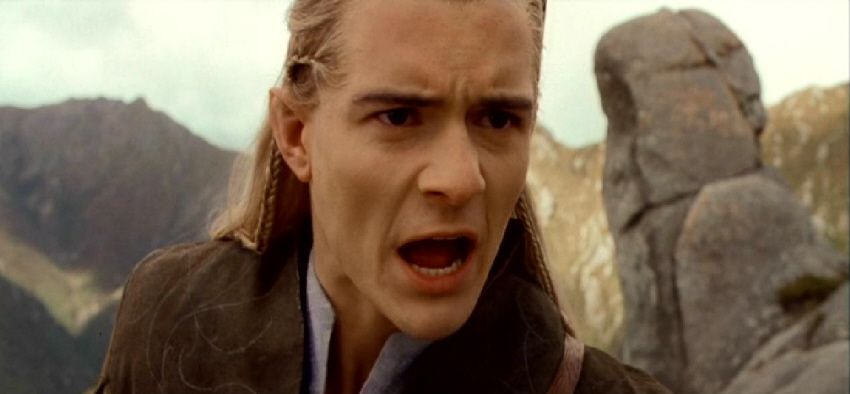 Hurry! Take cover!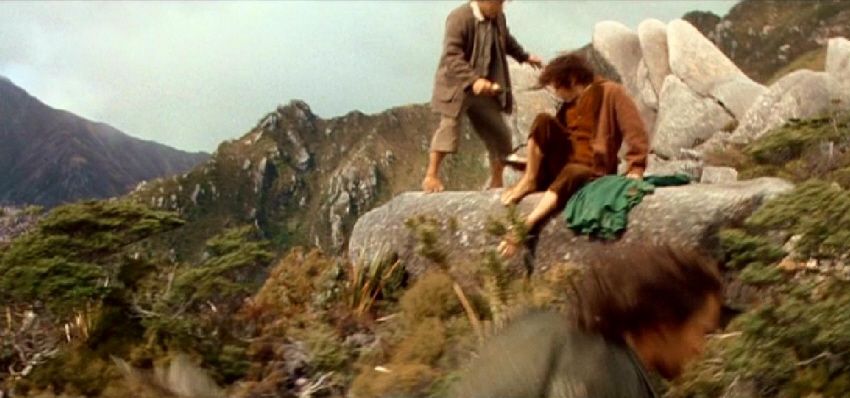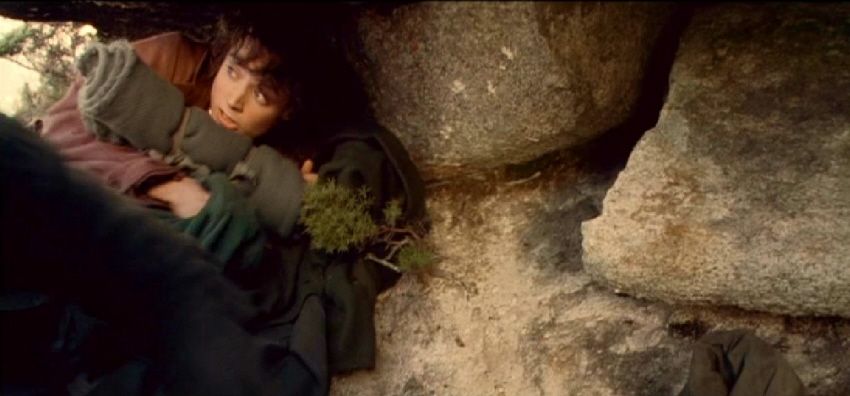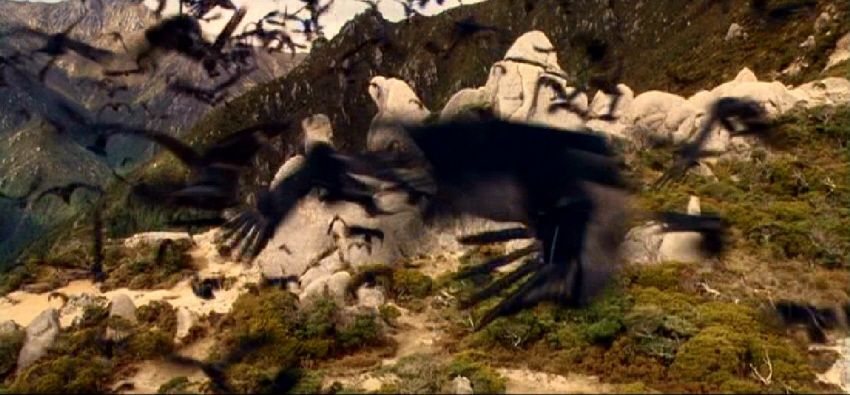 Spies of Saruman! The passage south is being watched. We must take the Pass of Caradhras!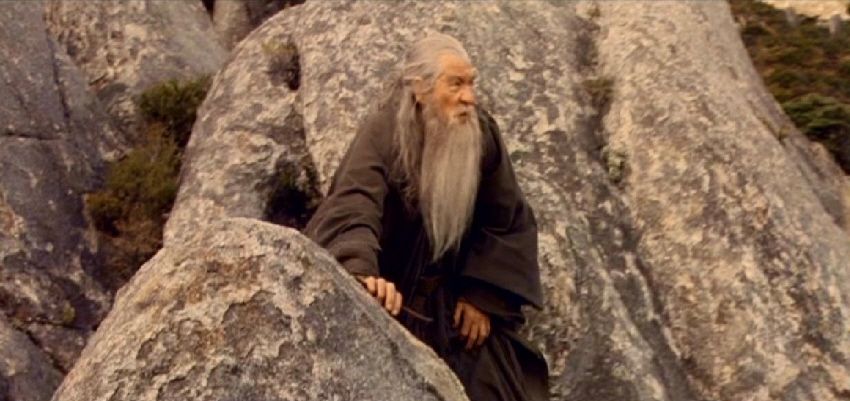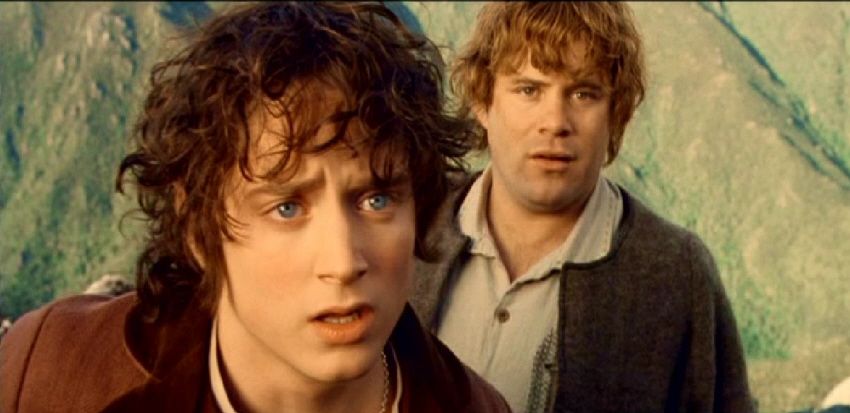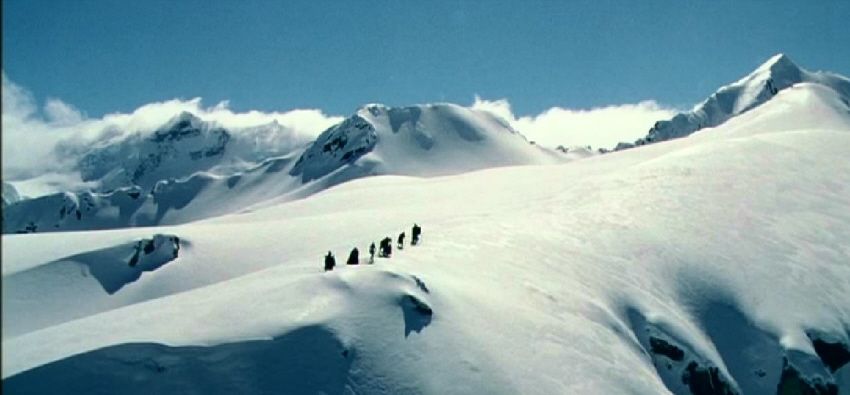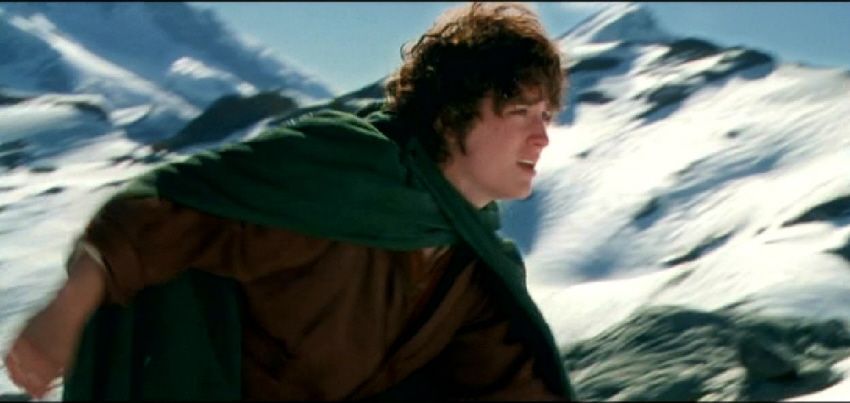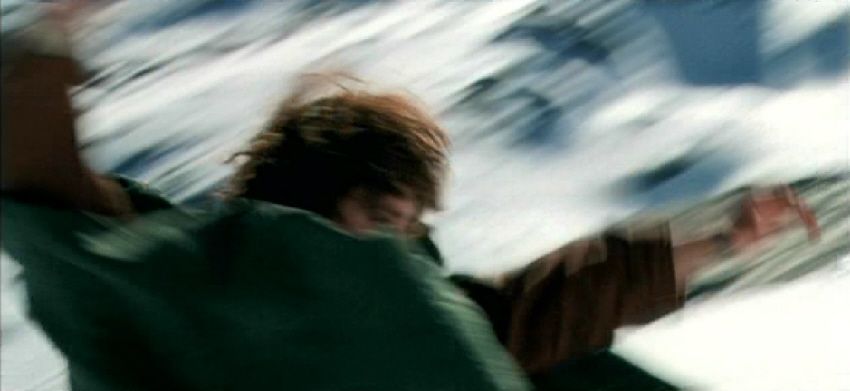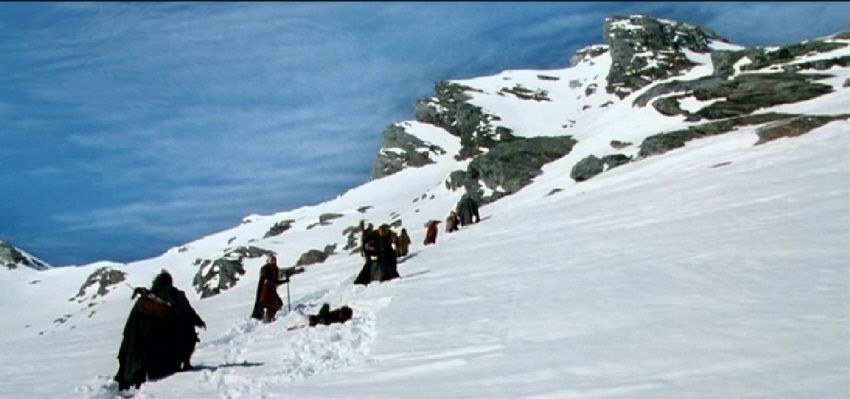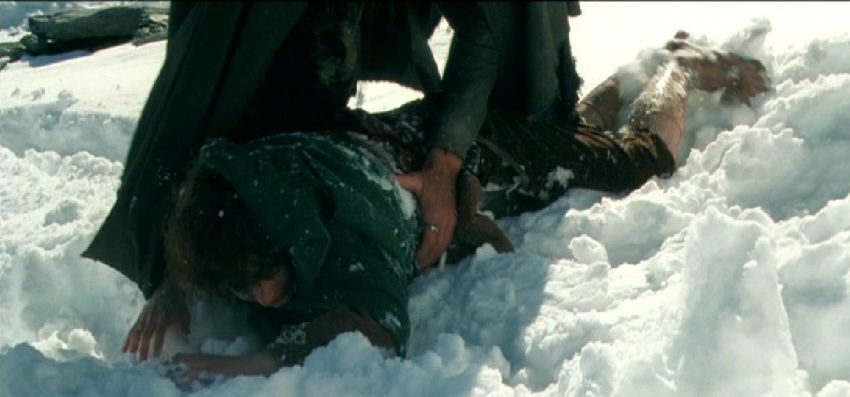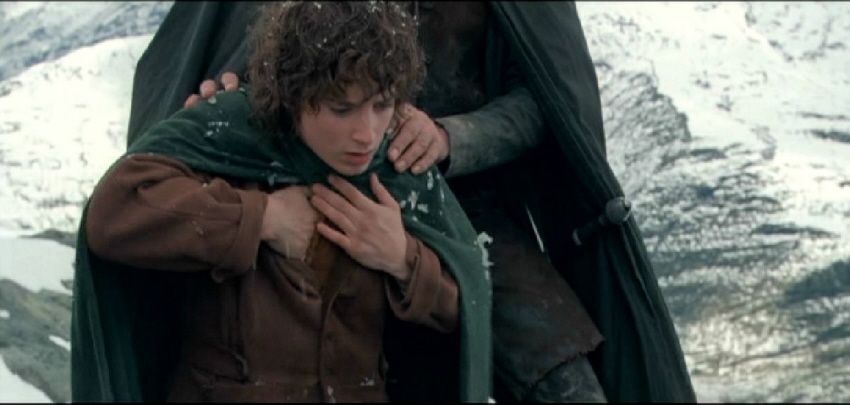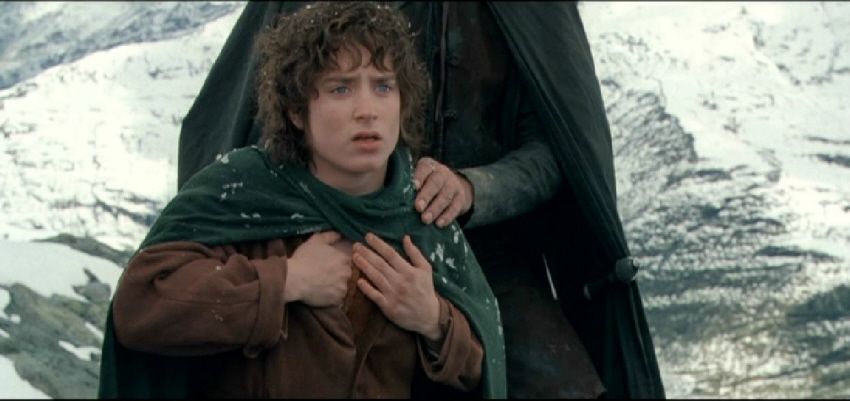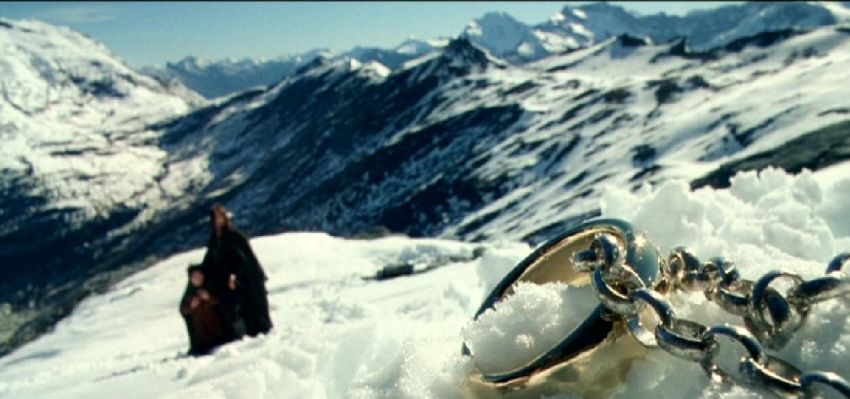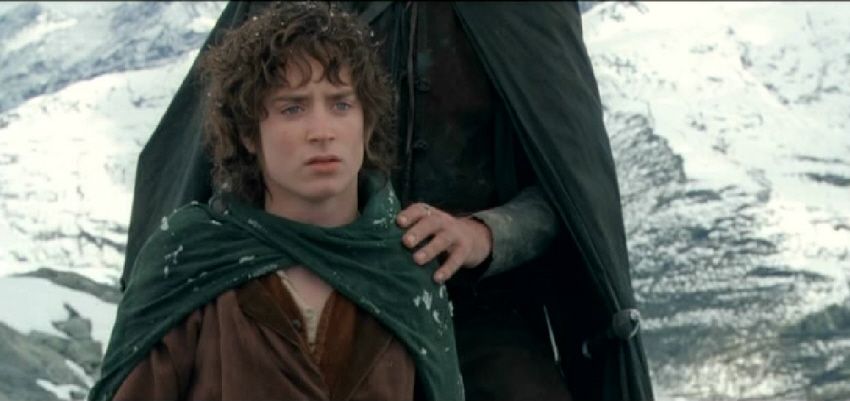 It is a strange fate that we should suffer so much fear and doubt over so small a thing. Such a little thing.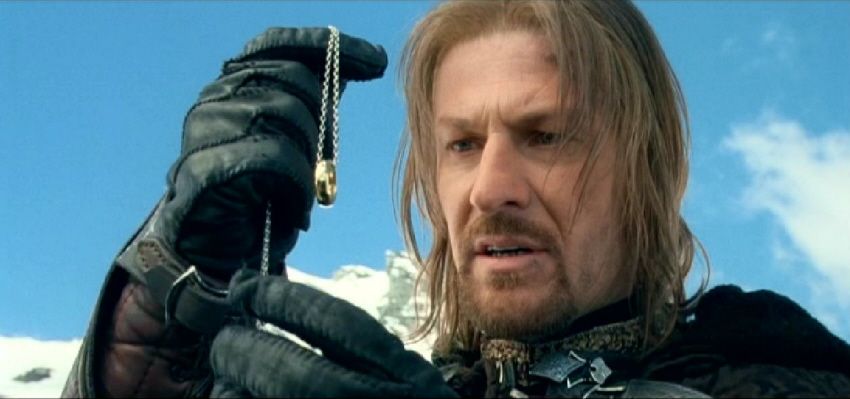 Boromir! Give the Ring to Frodo!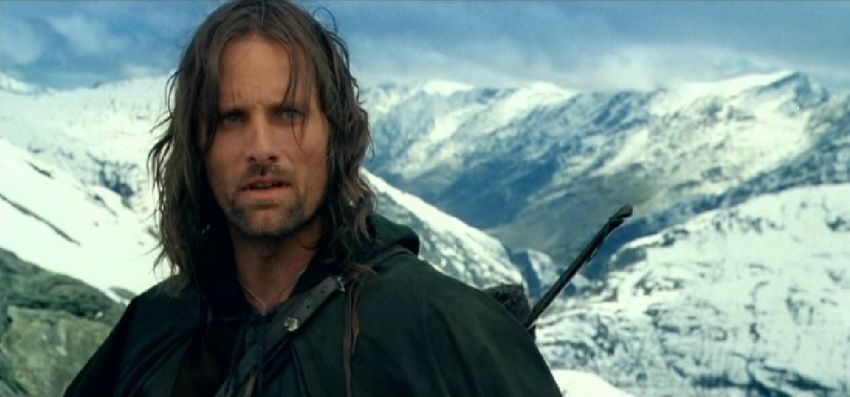 As you wish.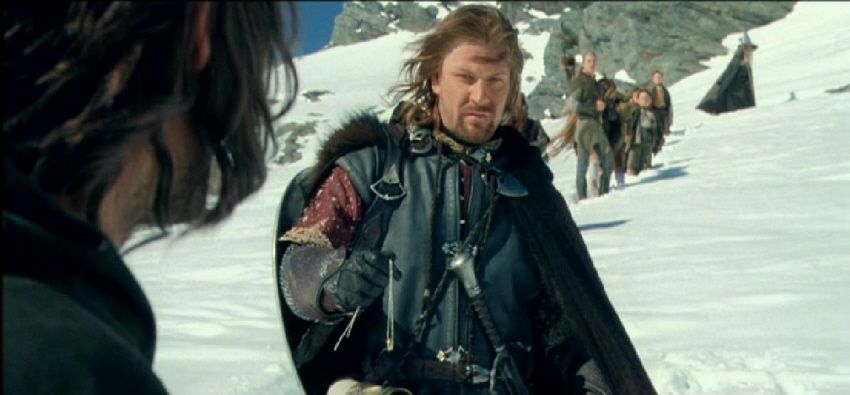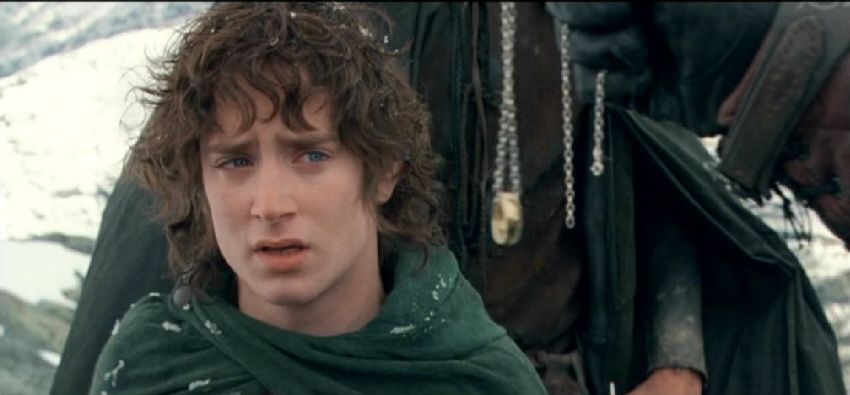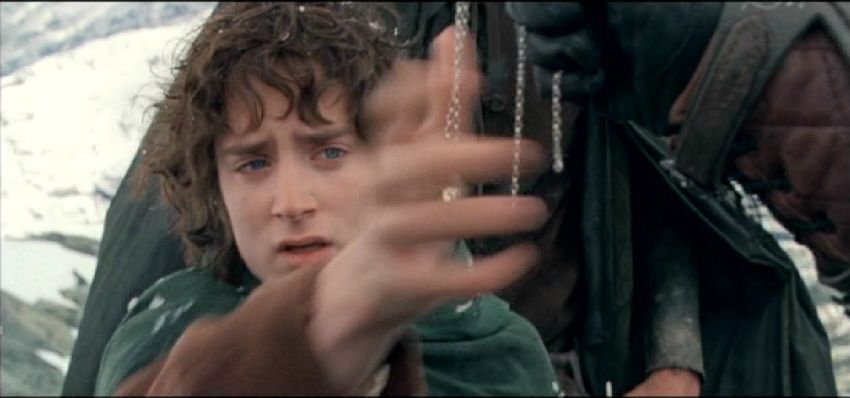 I care not.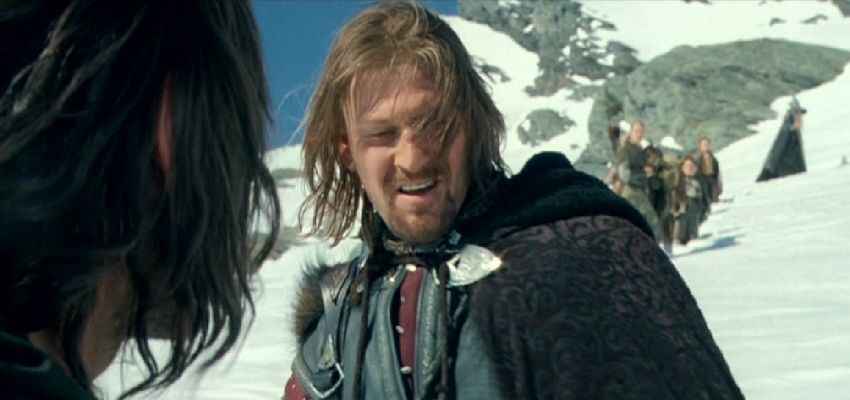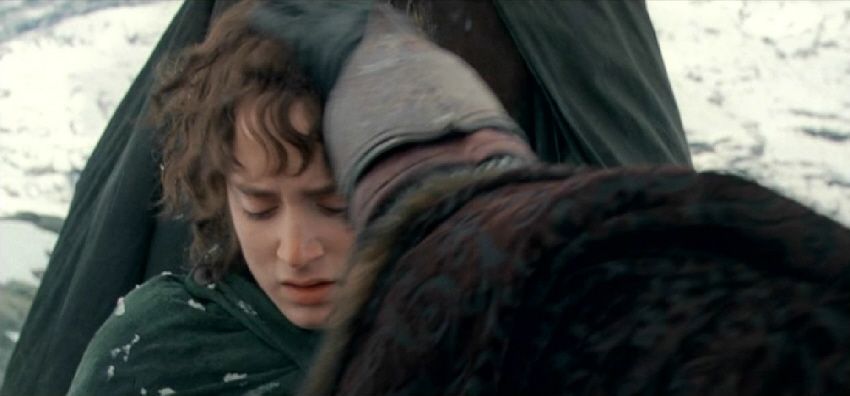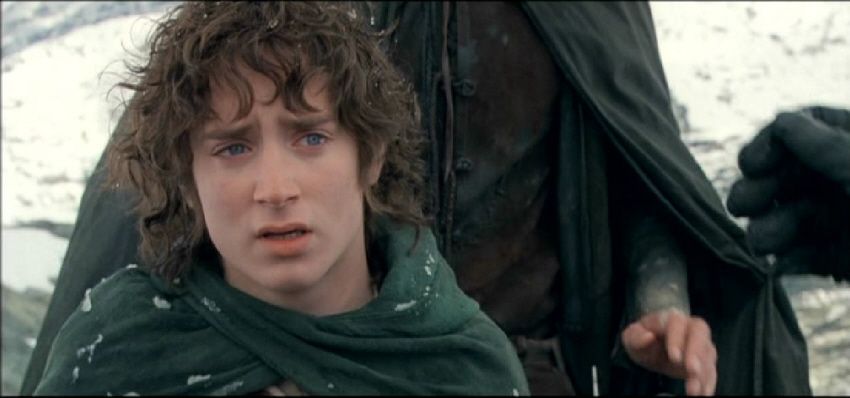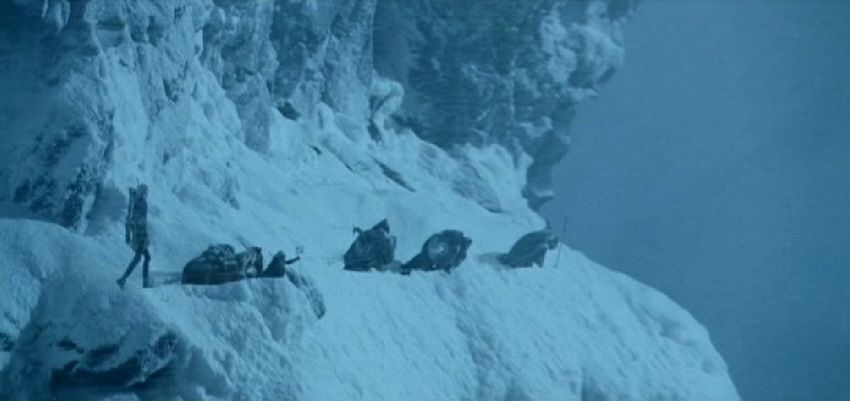 There is a fell voice on the air!
It's Saruman!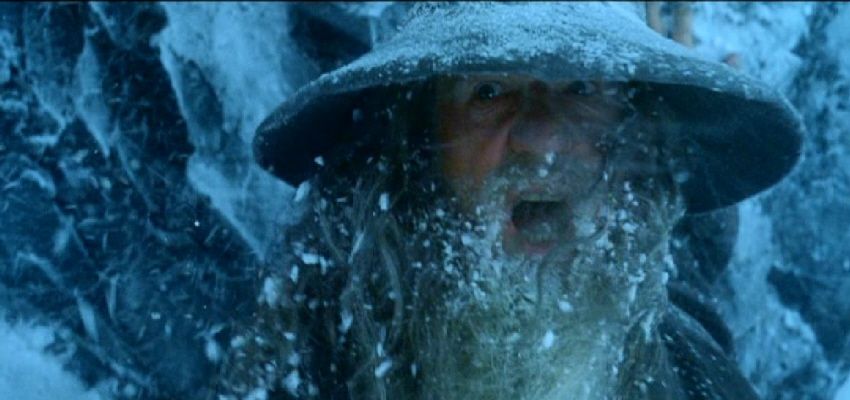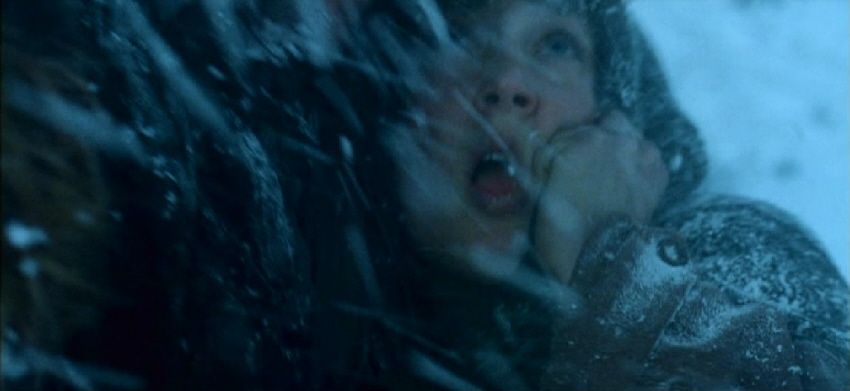 He's trying to bring down the mountain. Gandalf, we must turn back!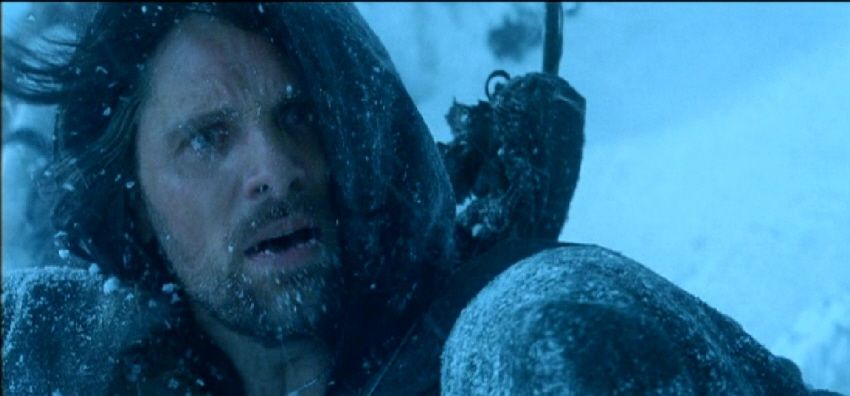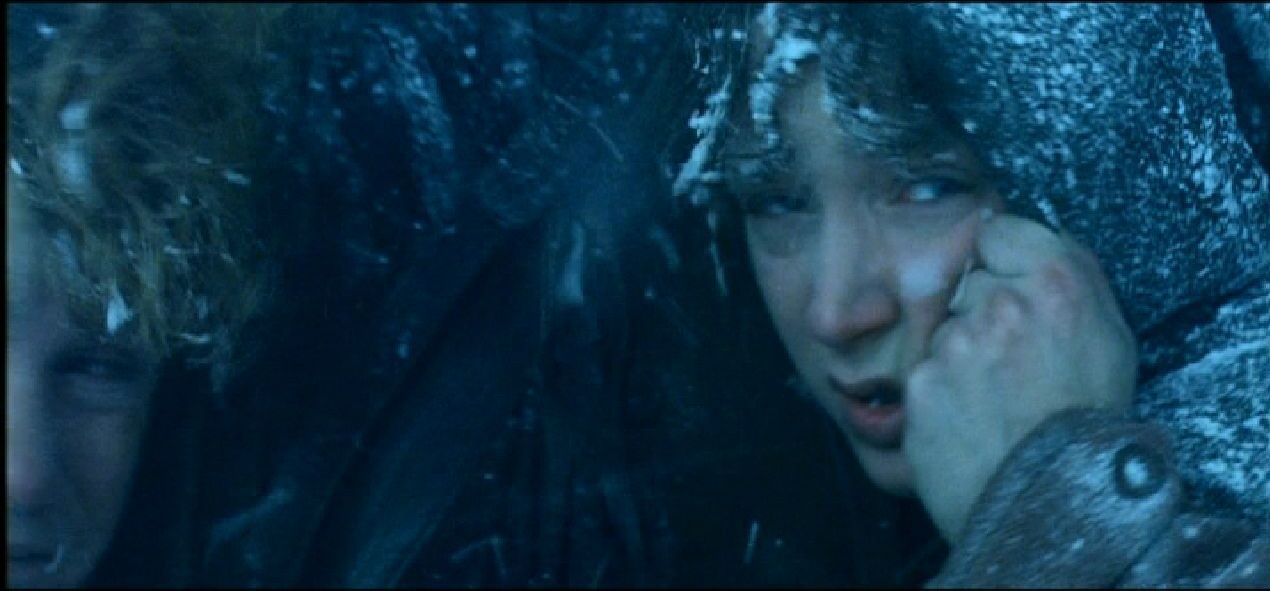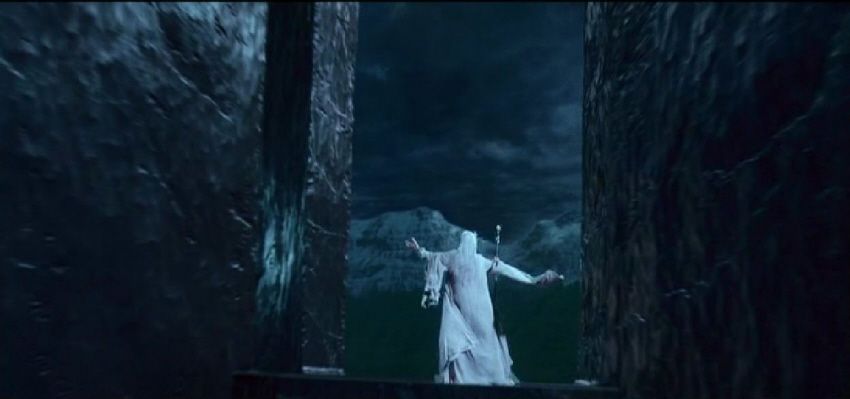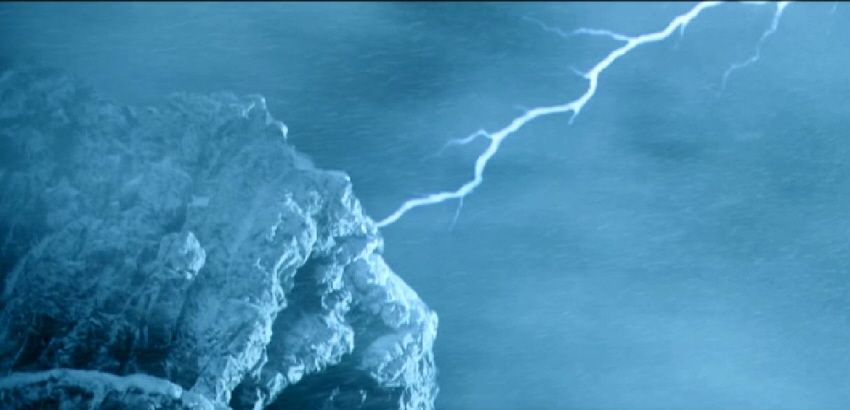 "A great sleepiness came over Frodo; he felt himself sinking fast into a warm and hazy dream. He thought a fire was heating his toes, and out of the shadows on the other side of the hearth he heard Bilbo's voice speaking. 'I don't think much of your diary' he said. 'Snowstorms on January the twelfth: there was no need to come back to report that!'. 'But I wanted rest and sleep, Bilbo' Frodo answered with an effort, when he felt himself shaken and he came back painfully to wakefulness. Boromir had lifted him off the ground out of a nest of snow. 'This will be the death of the halflings, Gandalf', said Boromir."
(Fellowship of the Ring ~ The Ring Goes South.)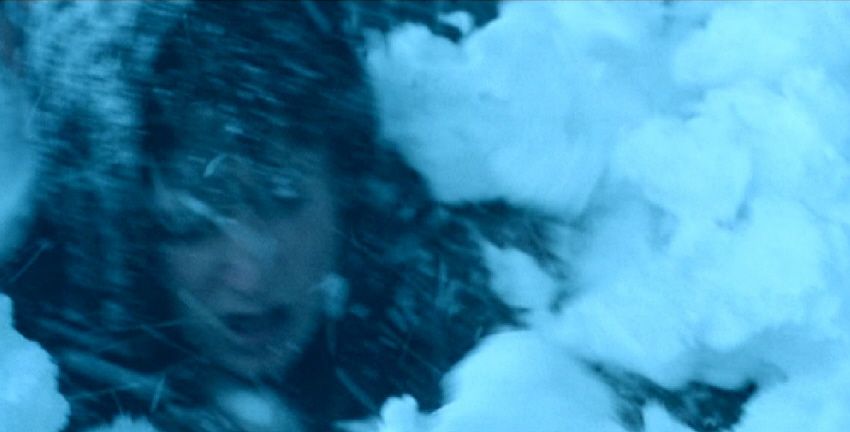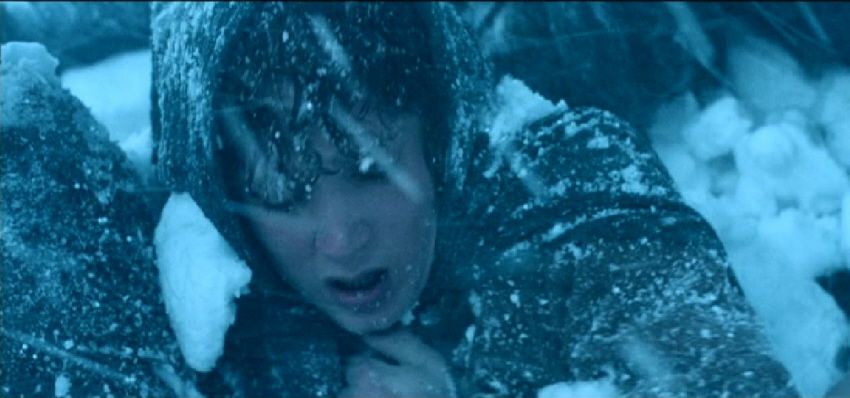 We must get off the mountain. Make for the Gap of Rohan and take the west road to my city.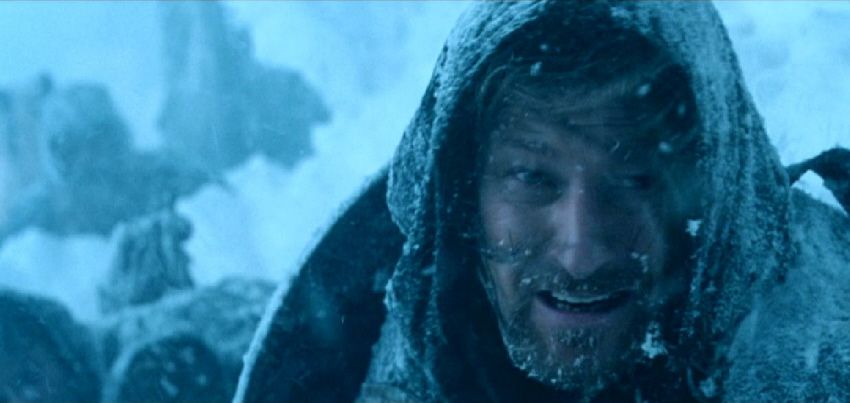 The Gap of Rohan takes us too close to Isengard.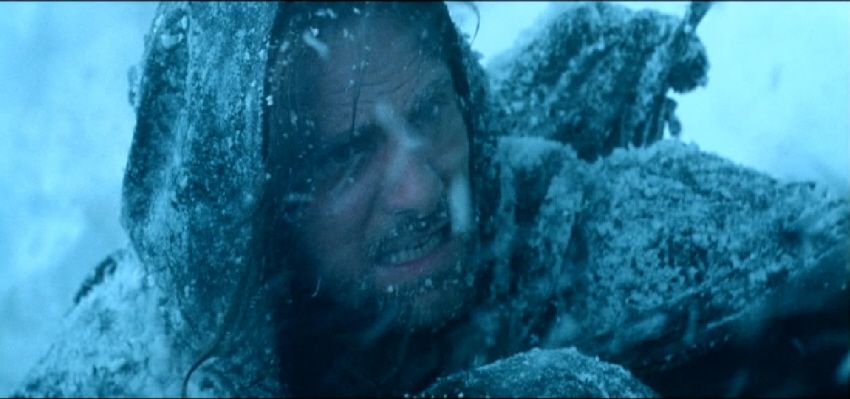 We cannot pass over the mountain. Let us go under it! Let us go through the Mines of Moria.
Let the Ringbearer decide.
<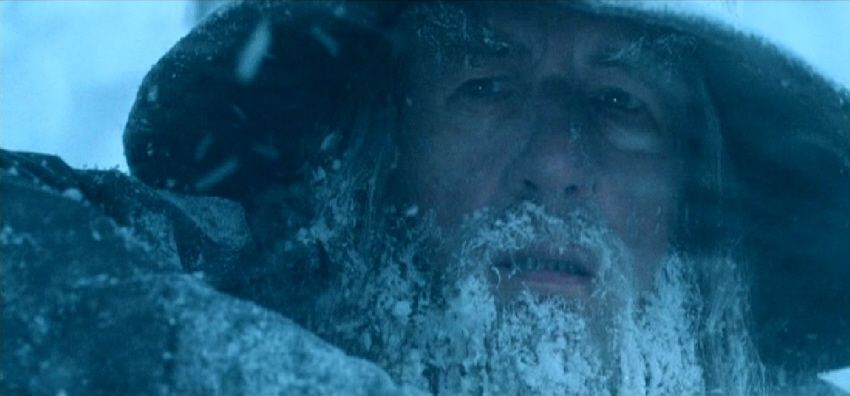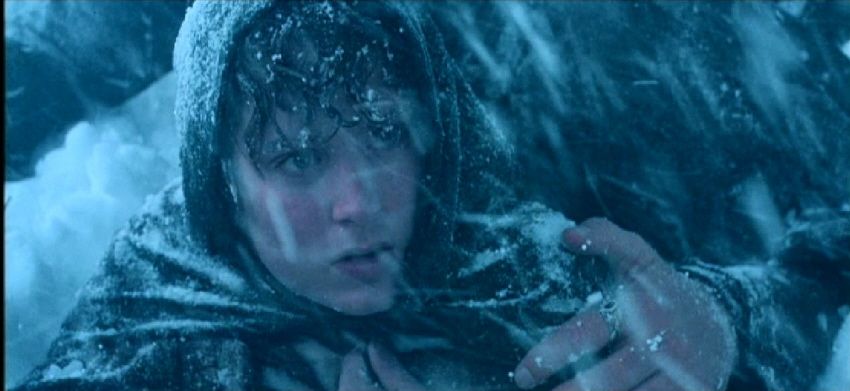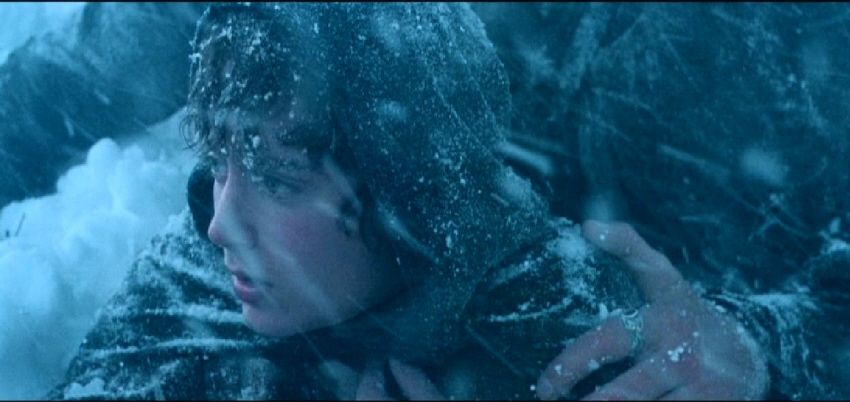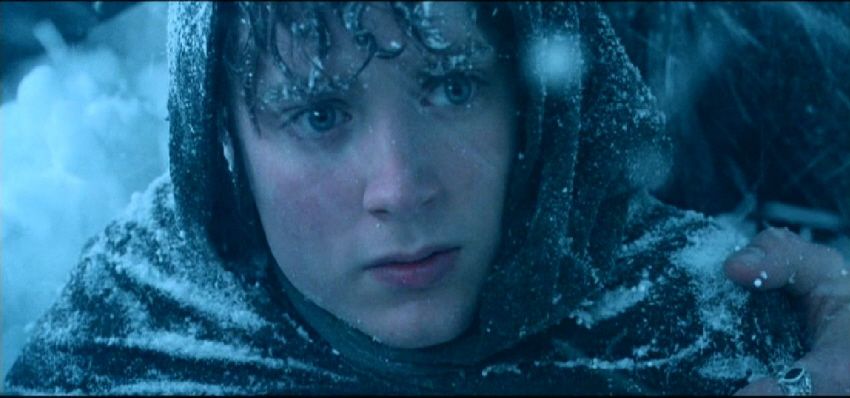 We will go through the mines!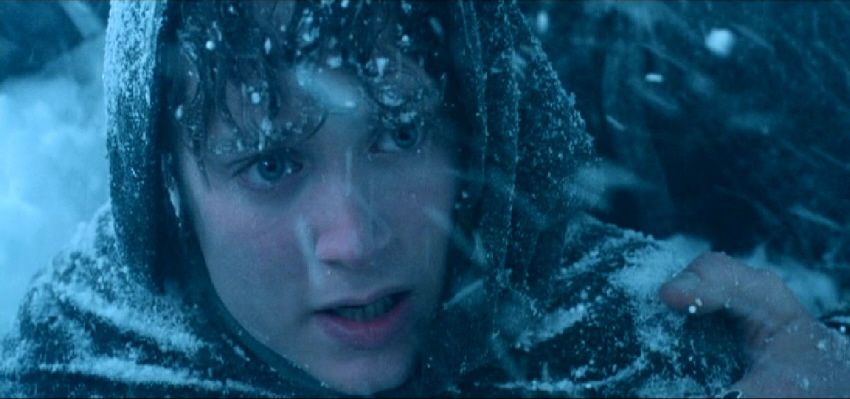 So be it!
PJ, DVD :
"Another scene, trimmed from the theatrical version for pacing reasons, is this nice little moment between Gandalf and Frodo. We wanted to really emphasise the fact that Gandalf is sensing his impending doom, that he doesn't want to go into Moria. However, because Frodo has now made a decision he's going to go along with it but he just wants to take an opportunity to warn Frodo that from herein on the journey is going to get more dangerous. It was actually the last shot we did with Ian for Fellowship of the Ring."
Frodo, come and help an old man.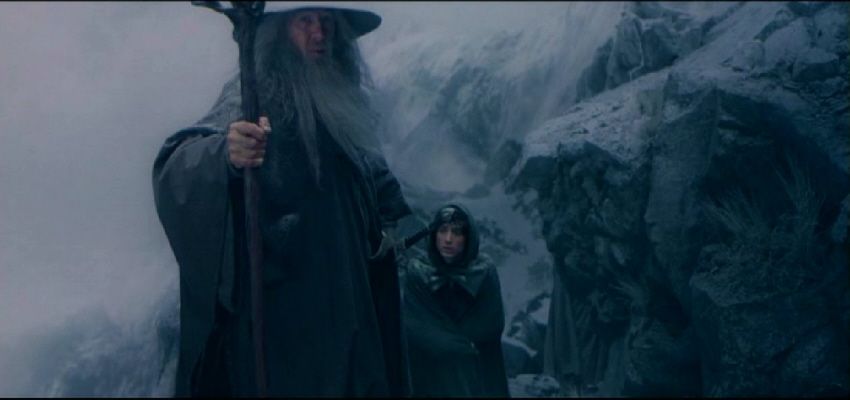 How is your shoulder?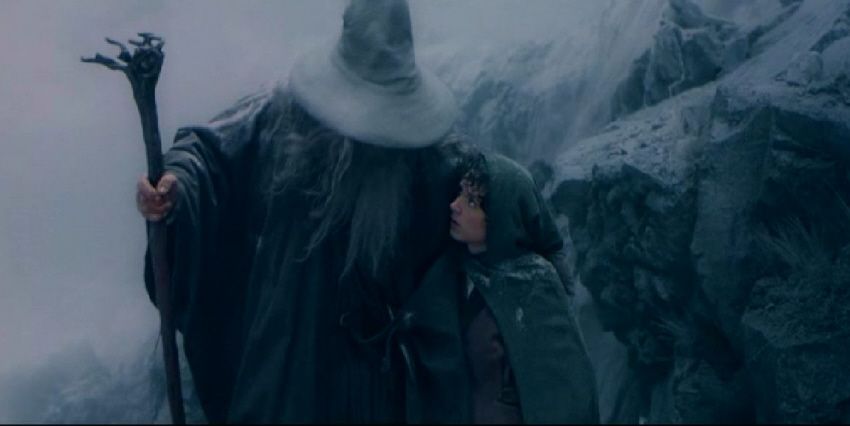 Better than it was.
And the Ring?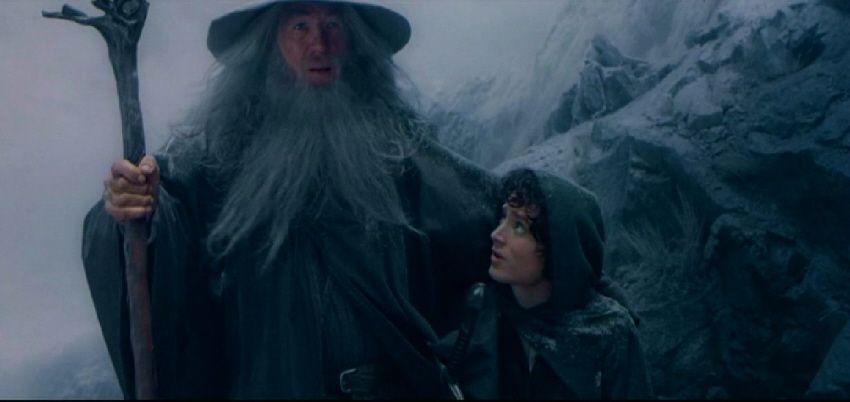 You feel its power growing, don't you?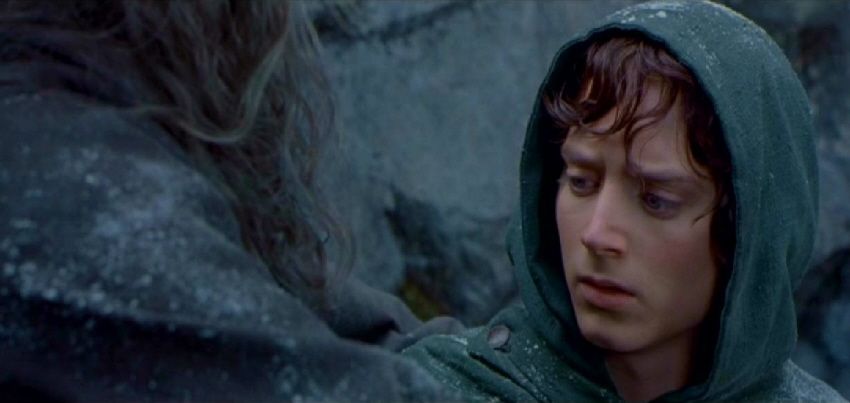 I've felt it too. You must be careful now. Evil will be drawn to you from outside the Fellowship. And I fear from within.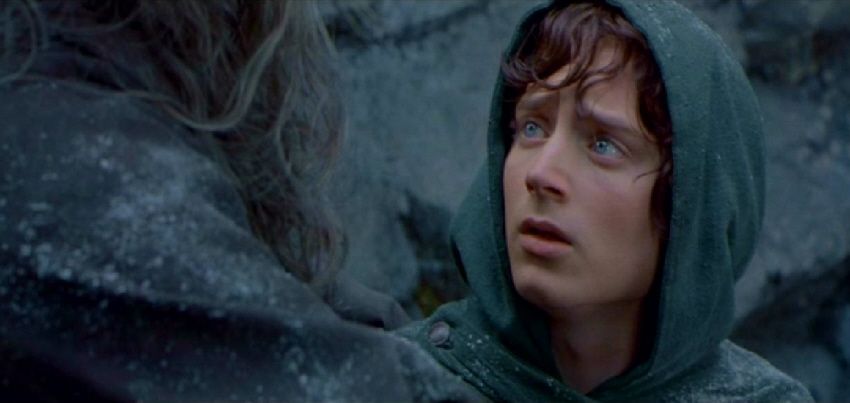 Who then do I trust?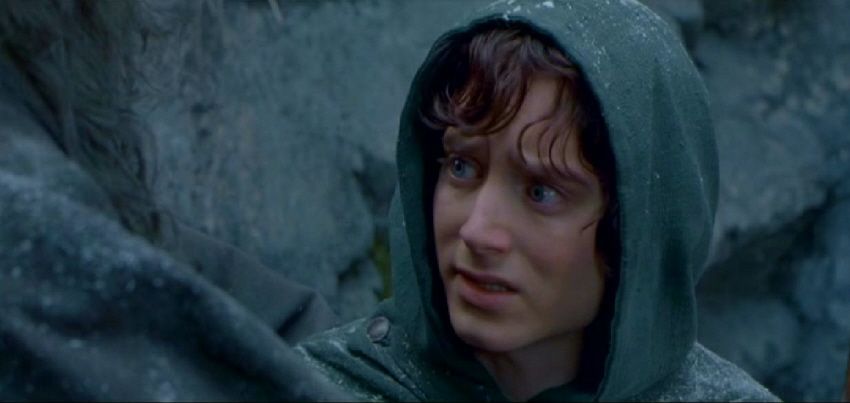 You must trust yourself. Trust your own strengths.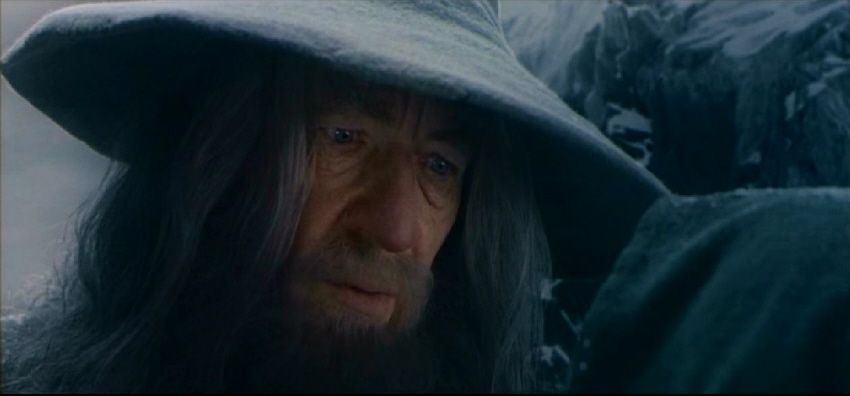 What do you mean?
There are many powers in this world for good or for evil. Some are greater than I am. And against some I have not yet been tested.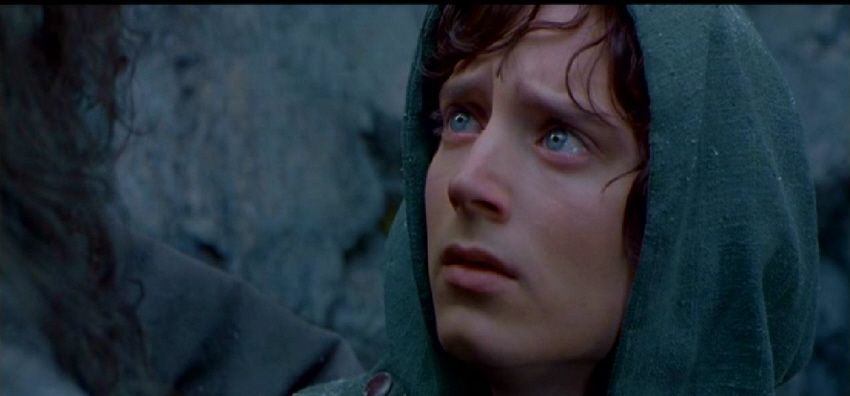 Phillipa Boyens, DVD :
"I often think about when the hobbits are walking about in the snow with their hobbit feet on because I remember the request that came from set one day - it was how could we keep the hobbit's feet warmer when they weren't actually acting and so we ended up designing some possum-lined furry boots - they were great big Ugg boots that they used to wear over thier hobbit feet.
Richard Taylor, DVD :
"I begged Peter on a couple of occasions to let us, in the story of the film, have the hobbits bind their feet in cloth so the actors could survive scenes like this where they were in the snow and in really dramatic, sharp, craggy rocks but rightfully so Peter refused. He thought that under no circumstances would the hobbits have to do that because their feet are so hardy. I'm obviously glad in the end that he held out with that concept but obviously the poor actors suffered dramatically from the various terrains that they walked in. We tried to do all sorts of things to try to build heat sources into their feet but to no avail."
The walls of Moria!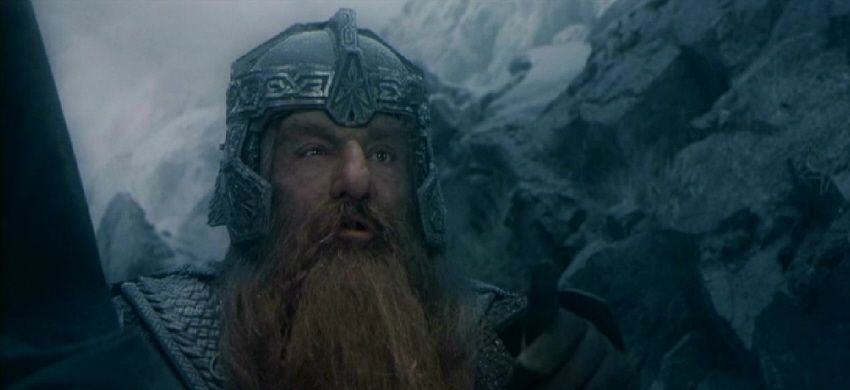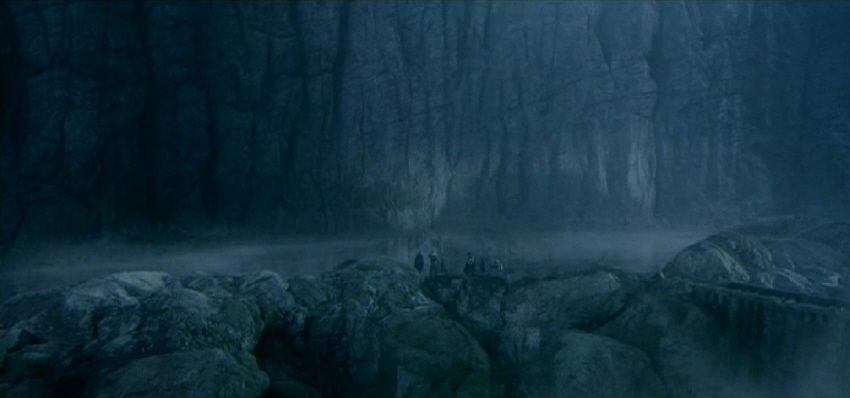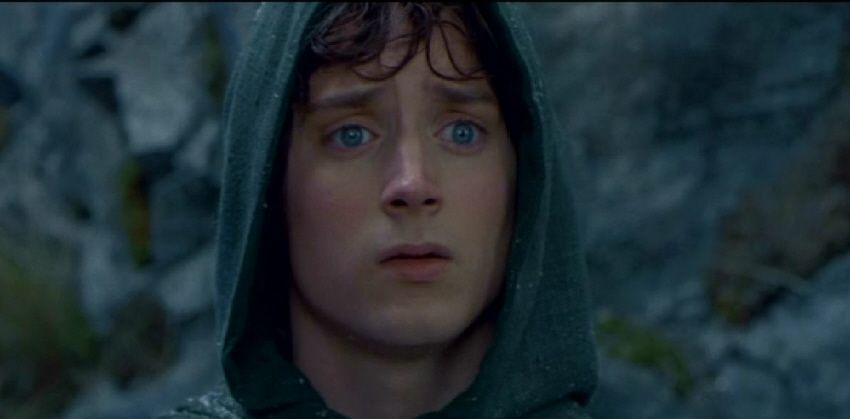 ---
"So, how does it feel having your face painted on the side of a 747?"
Elijah: "I haven't honestly accepted it yet - it's a little strange - it's great, it's wild!!"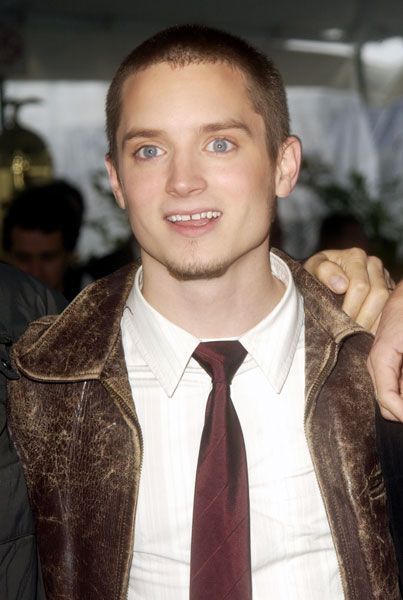 TO BE CONTINUED
---
LINK TO ALL CHAPTERS:
"A JOURNEY WITH FRODO"
comments: Leave a comment