| | |
| --- | --- |
| Tags: | a journey with frodo |
| Security: | |
| Subject: | A Journey With Frodo - Ch.40 - The Missing Hobbit |
| Time: | 06:08 pm |
I was really hoping to post this yesterday because 11 October is such a significant date in this story. It was, of course, the date on which principal filming began on LOTR - 11 years ago!! I can only echo what Elijah said in a recent interview at the 'Romantics' press con -
"I can't believe it's been 11 years"
. He was talking about 'The Hobbit' and how he'd have felt if the 'bridging' film between The Hobbit and LOTR had become reality:
"Obviously, I would love to work with Peter in any capacity again. I'd love to spend more time in New Zealand. It's relatively the same team so it'd like be a weird jump in time, a homecoming, which I would love to do. I can't believe it's been 11 years. Eleven years ago at the end of August is when I flew to New Zealand for the first time, 1999."
In this chapter Elijah works on a couple of new films and then - disappears! I start something called Live Journal! And in Frodo's story the Fellowship do battle with the Cave Troll!!
For anyone unfamiliar with my pet project, 'A Journey With Frodo' (a work in progress) is the story of Elijah Wood's experience in becoming Frodo, from back in 1998 when the LOTR movies were just a whisper up to the triumphant Oscars of Feb 2004. In reliving Elijah's journey, and mine, I am using everything I can lay my hands on - behind-the-scenes material from the various dvd's, magazine articles, books, internet sites, tv coverage, word-of-mouth info, etc. Previous chapters can be found here:
"A JOURNEY WITH FRODO"
Hope you enjoy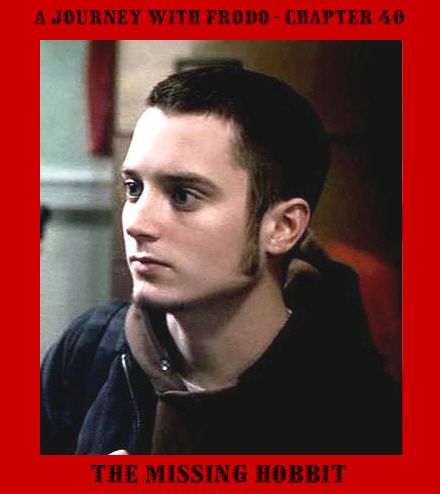 ---

The Hobbity New Year in England over, Elijah started work on a new film:

From Entertainment News Wire:

"ENW: You were still finishing up "LOTR: ROTK" last summer. When did you find time to work on "Eternal Sunshine of the Spotless Mind"?

Wood: It was literally after the press junket for "LOTR: The Two Towers." After we did that and released the film and I came back (to the United States). After New Year's (2003) I flew to New York and started working on it. We finished in April.

ENW: What was the appeal of doing this movie? Was it working with director Michel Gondry or Charlie Kaufman's script? (Gondry and Kaufman previously collaborated on "Being John Malkovich" and "Human Nature.")

Wood: Both. I'm a huge Charlie Kaufman fan. He's one of the few writers today that seems to come up with original ideas. Each film is incredibly unique and different from the next, and it's very difficult, especially these days, to find material that isn't a remake, a re-hash or a sequel. And Michel Gondry, I'm such a huge fan of his work and have been for a long time. So, to be a part of their collective vision was very exciting.

ENW: How was working with Jim Carrey?

Wood: He's insane.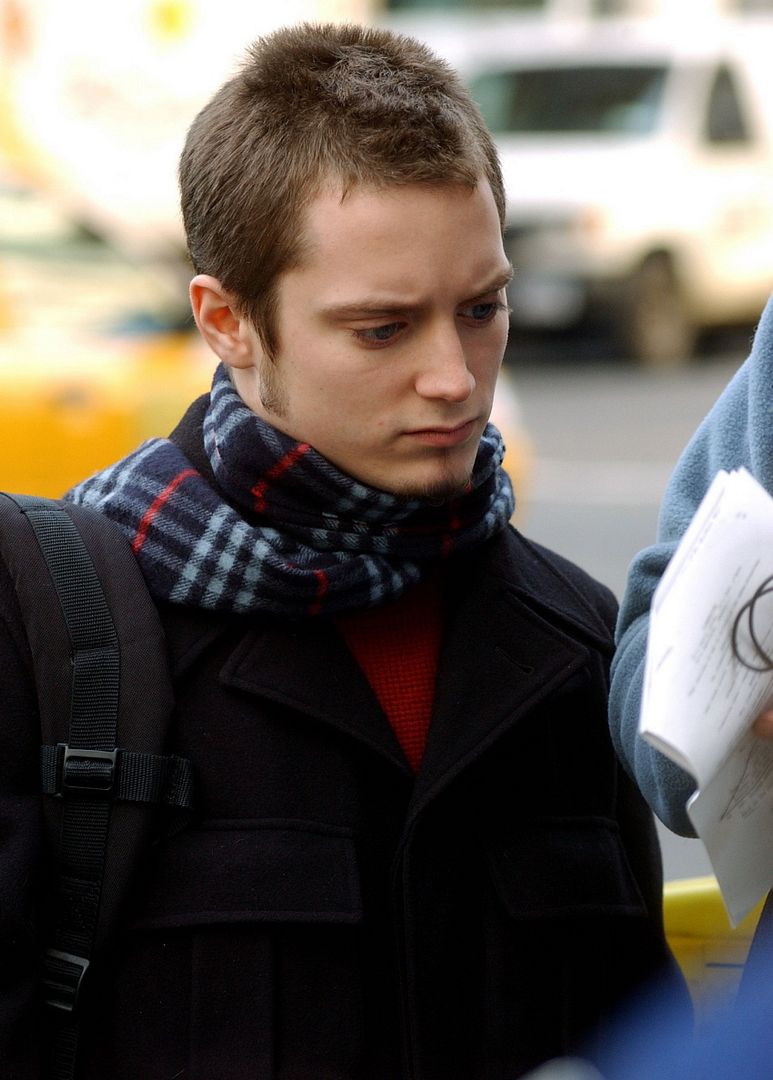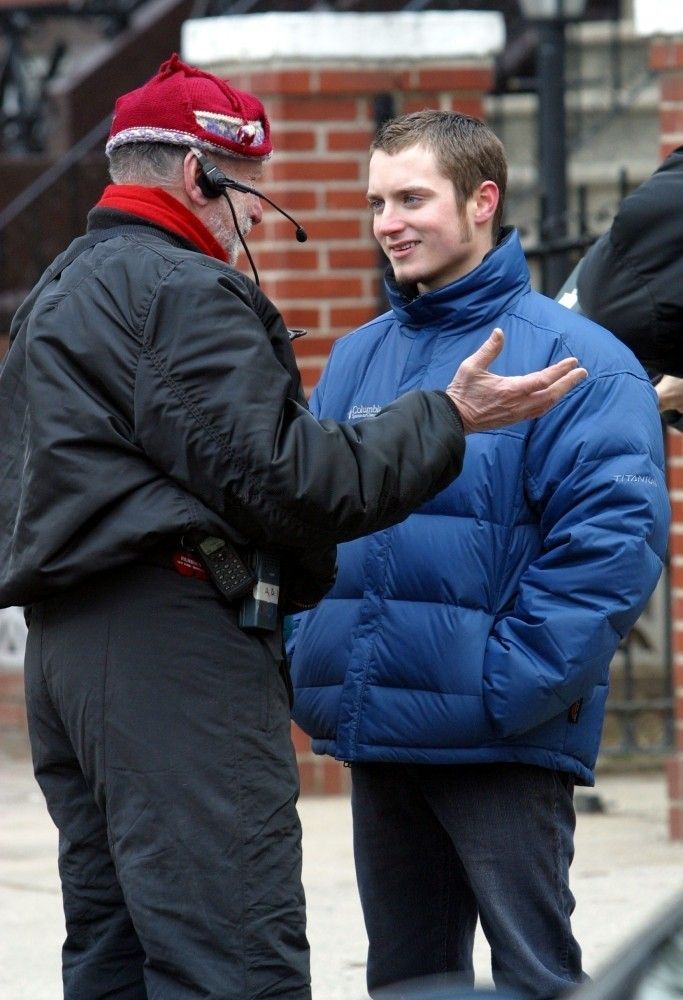 <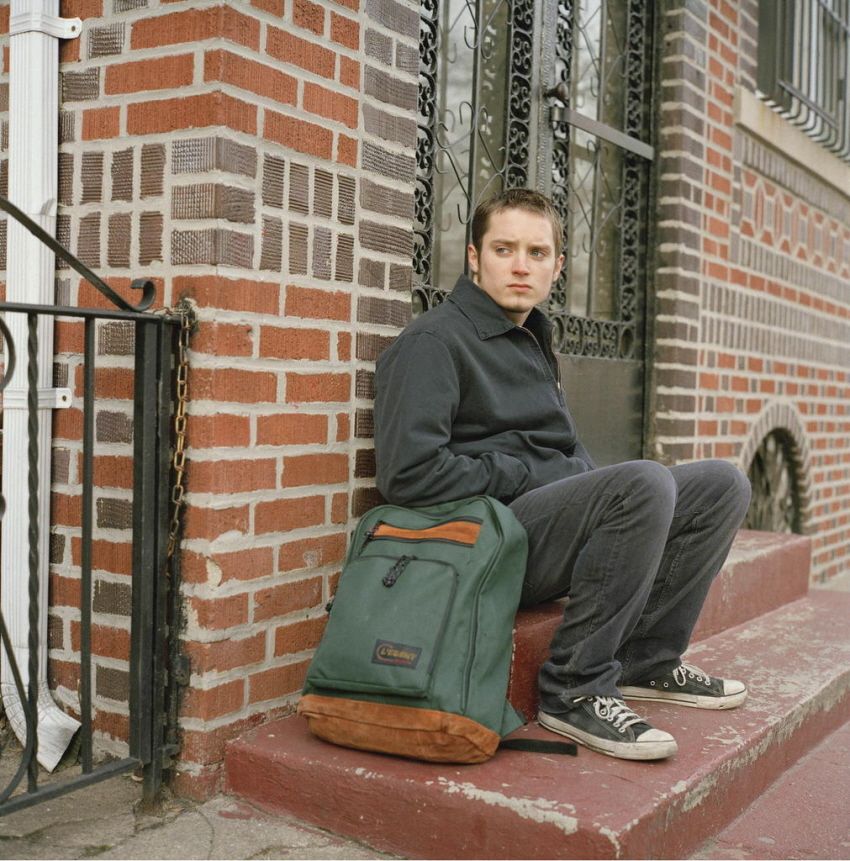 ENW: "You also had a small cameo in Robert Rodriguez's "Spy Kids 3-D: Game Over." How much fun was that? "
Wood: "I actually did "Spy Kids" right after I finished "Eternal Sunshine." I went (to Texas) for a couple of days. It was like two days in Austin, and we filmed it. It was a blast."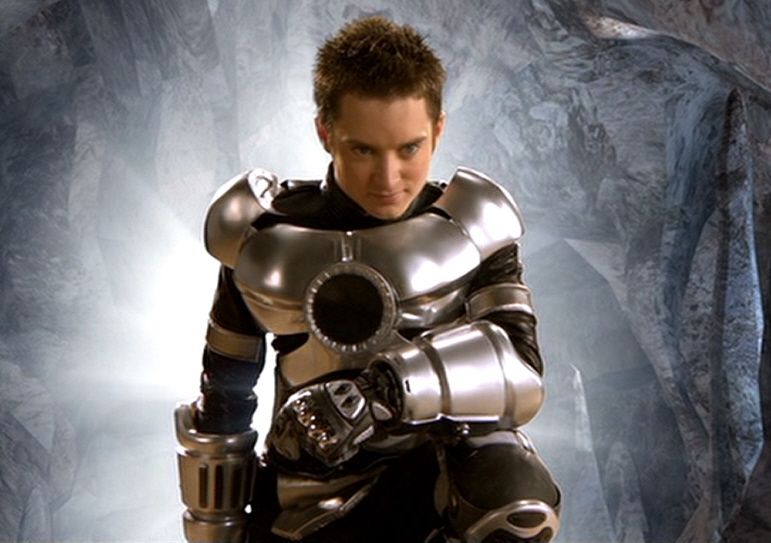 During this time Elijah still managed to get to one of his favourite haunts - SXSW in Austin!! These pics with fans were taken on 07 March: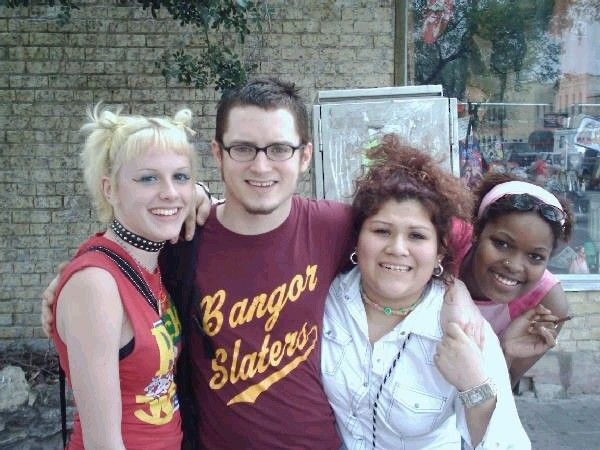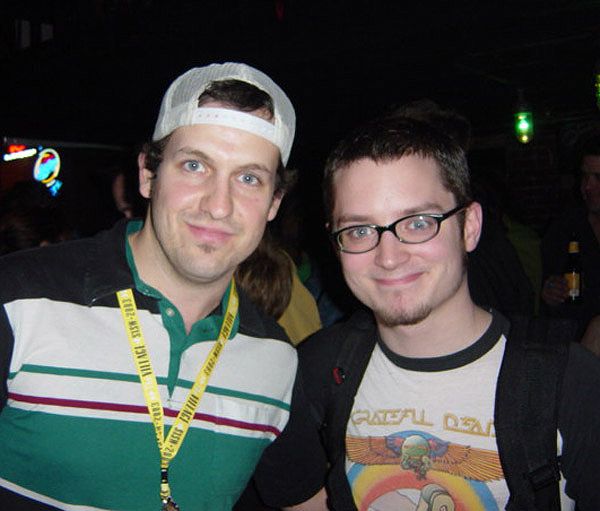 It was at this event that, for Elijah, a very significant meeting took place:
"March 29th – The Apples in Stereo perform at SXSW, and Robert Schneider meets actor Elijah Wood, who will invite The Apples to join his startup label Simian Records. Robert told the AV Club in 2007: "I met Elijah years ago at an Apples show at South By Southwest. He was rocking out in the front row, and he came around to meet us later. I was like, 'Holy s**t, Elijah Wood is an indie-rocker.' He's totally into music. He's a record collector. He probably buys 78s. For all I know, he buys Edison cylinders. [Laughs.] He's not in any way what you would consider celebrity-ish. We kept in touch a little bit by email over the years, and when we were starting to record this new album, he contacted us and said, 'I'm starting a new label, and I'd love to have The Apples be my first record.'"
24 March - The Oscars:
With the exception of the MTV Movie Awards later in the year, Elijah didn't attend any of the award shows for The Two Towers. Presumable this was mainly because of his filming commitments but there was also a general feeling that he was keeping a low profile at this time - the same thing applied to quite a lot of the cast members. It was almost as if they knew what awaited them the following year!!
It was a disappointing result for TTT at the Oscars - only two wins - sound editing & visual effects - from six nominations, including one for Best Picture although PJ didn't get a nom for Best Director - seems very odd!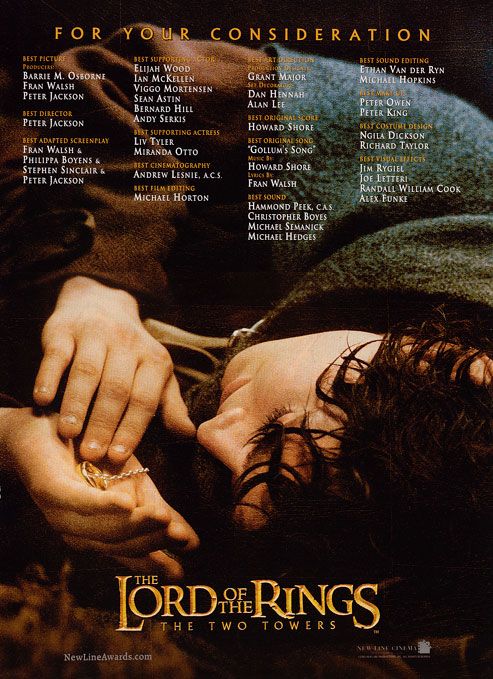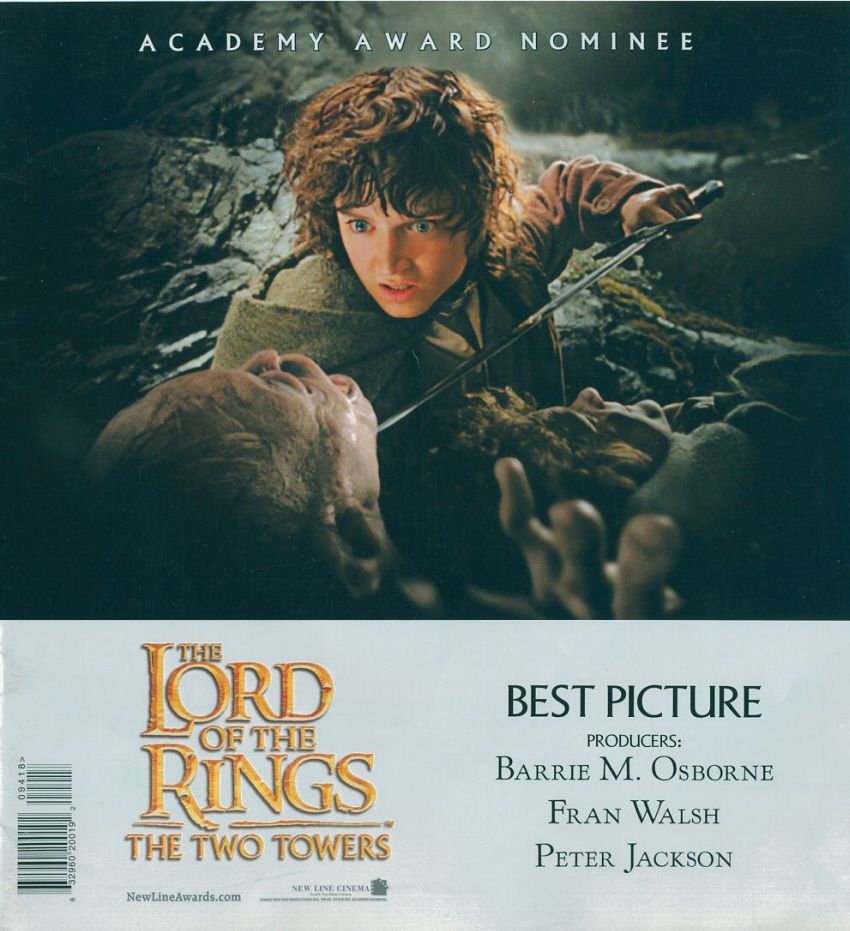 When Elijah was done with filming he seemed to disappear! Weeks went by without news or pics. He was listed as being due to appear at a couple of events, also on Conan, but he didn't materialise. Many rumours began to circulate. In fact, there was so much concern amongst fans that one popular website (now non-existent) decided to post this:
<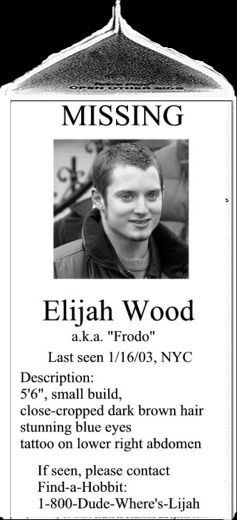 But back then we didn't have the Elijah-seeking talents we have since acquired - or we would have soon tracked down these pics, taken at Coachella, and been able to breathe easy again!!
26 April 2003: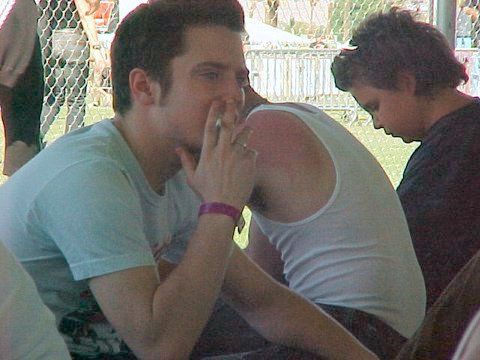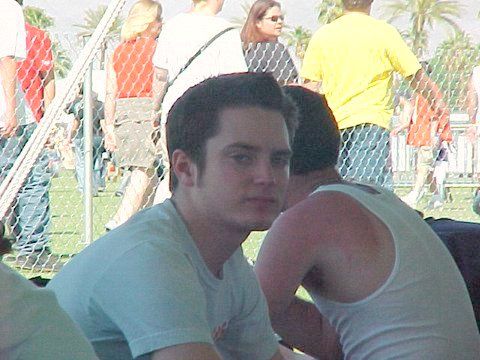 Also, it was around this time that Elijah was involved in what must have been a very time-consuming event in his personal life - he moved from his home in Santa Monica, Los Angeles and bought an apartment in the Flatiron district of New York which he shared with his sister.
"He switched coasts after making a movie in Manhattan last winter with Jim Carrey and Kate Winslet, "Eternal Sunshine of the Spotless Mind." The night a blizzard blanketed the streets he walked 40 blocks in "utter peace," then a few months ago bought an apartment in the Flatiron District — his first place that's truly his own. He does not have a car,preferring to join the crowds on the subway, a book bag over his shoulder."
(LA Times)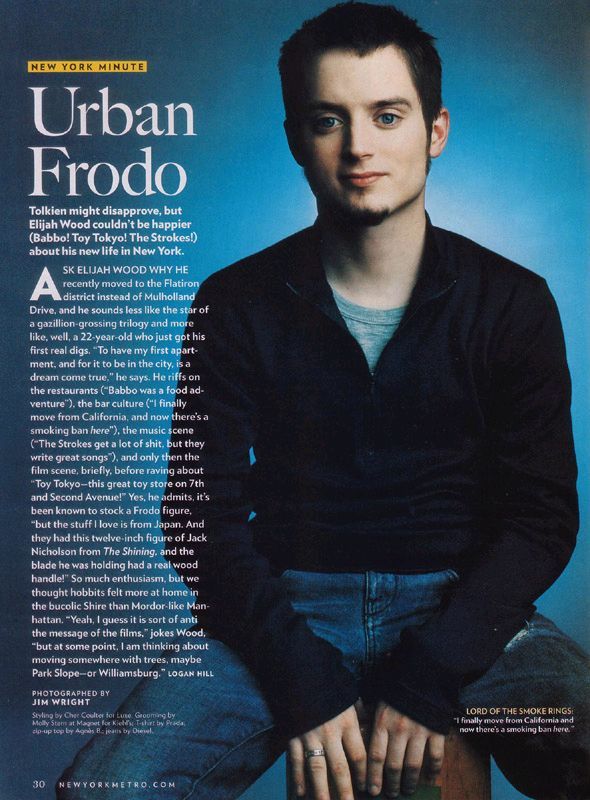 ---
My Journey Continues:
When the pics of Elijah filming Eternal Sunshine began to crop up, it felt very strange to me to see him working on something that wasn't LOTR!! Of course, I knew that this had to happen, he's an actor, that's his job!! But at that time, I found it quite difficult to separate him from Frodo!!
Regarding the time he 'disappeared' - it's strange how quickly you can get caught up in - I was going to say 'hysteria' - that sounds a ridiculously strong word but at that time some rumours and theories came very close to that!! The sensible part of my brain told me that he was just taking time out, or working on something we knew nothing about and that he'd soon pop up. But every now and then I did have a moment of panic!!
16 April 2003 was quite a milestone for me. I opened my Live Journal account!! And I really had no idea what I was doing. In fact I didn't even succeed in posting an entry until 24 April!! I explain on my profile why I chose the name Not Alone:
http://not-alone.livejournal.com/profile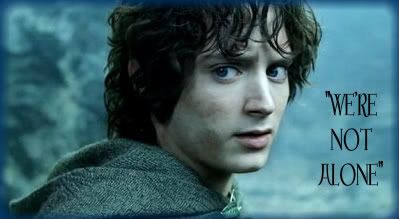 ---
Frodo's Journey Continues:
The Cave Troll
Sean A, dvd:
"I will never forget the Saturday morning and we were all to meet at the stage and Peter Jackson arrived a little bit later than the rest of us – all the actors from the Fellowship were there, all the stunt doubles were there, all the scale doubles were there and all of the digital technicians and we all showed up and then Peter walks in and just describes and acts out – you could see him adopt the mannerisms of each member of the Fellowship and of the cave troll – it was awesome."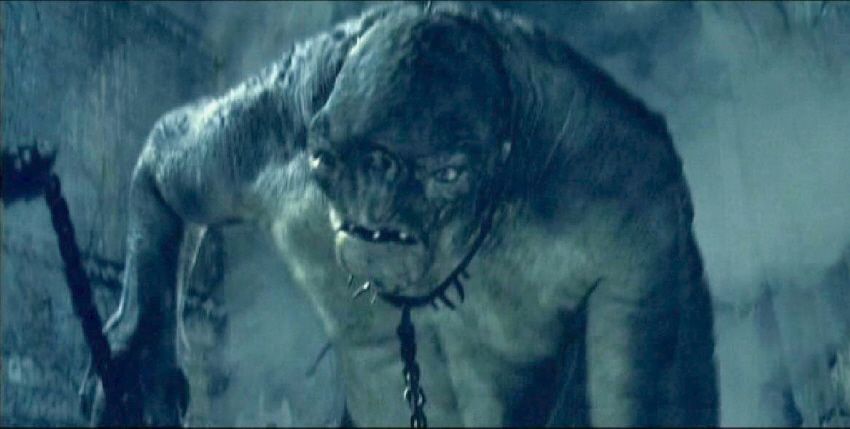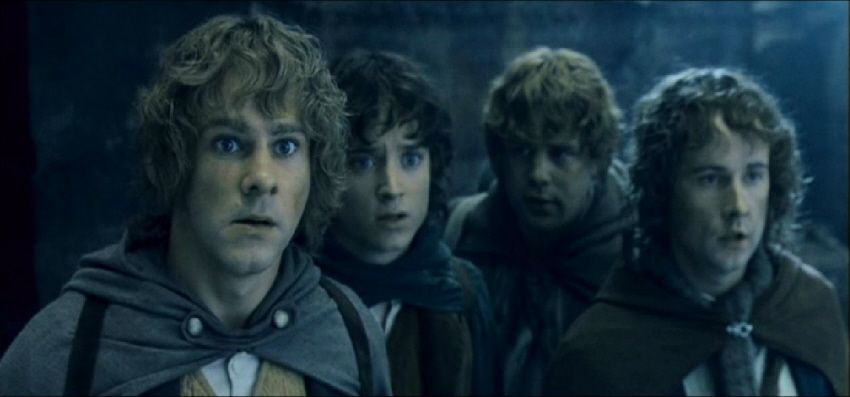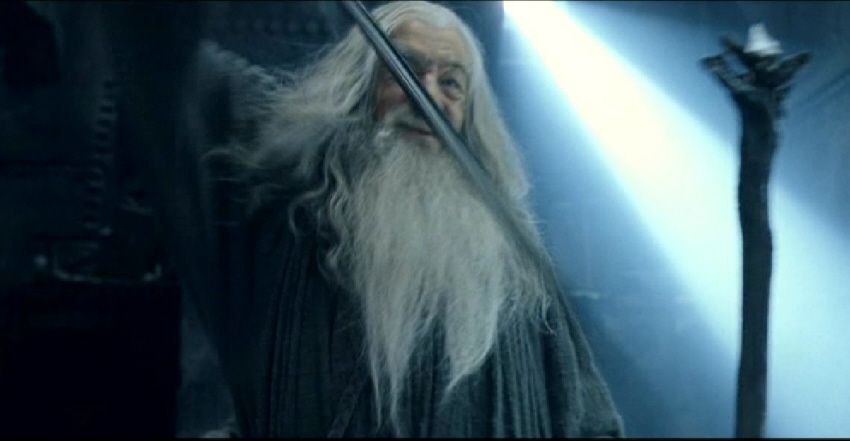 Dom:
"I love what happens here, the Fellowship is coming into its own, you know, everyone gets their swords out and I think the audience don't know whether the Hobbits are going to fight or not and - that shot right there .."
Elijah:
"That was the coolest!"
Dom:
"You know they are so involved - they don't mind dying for this cause."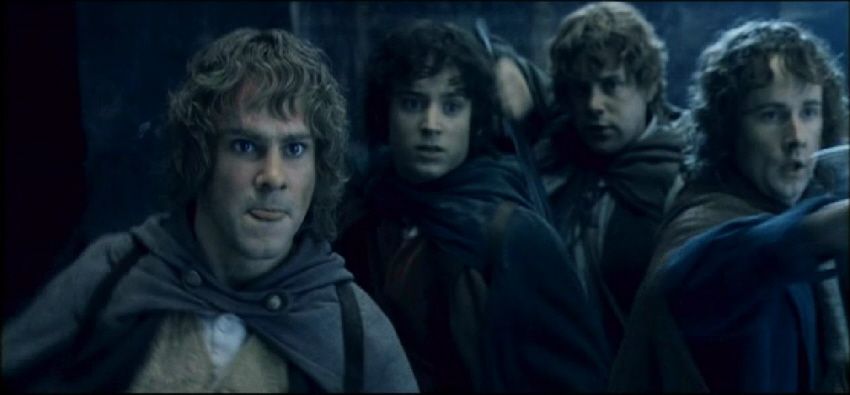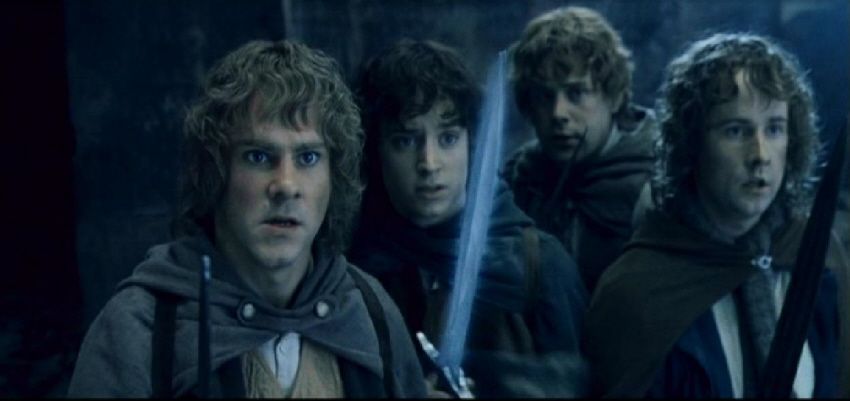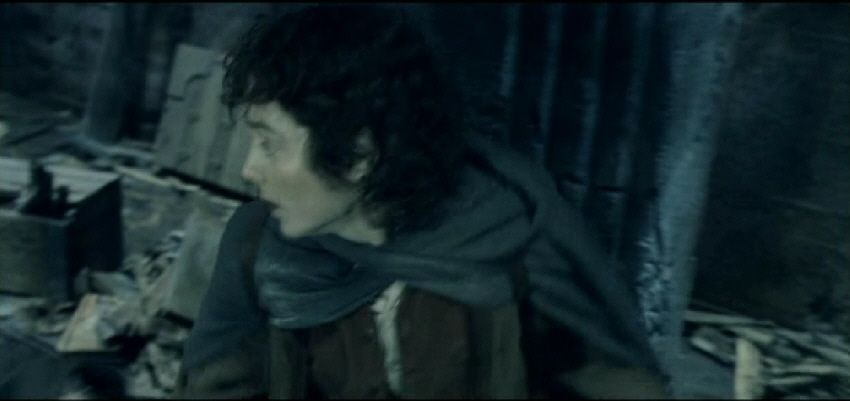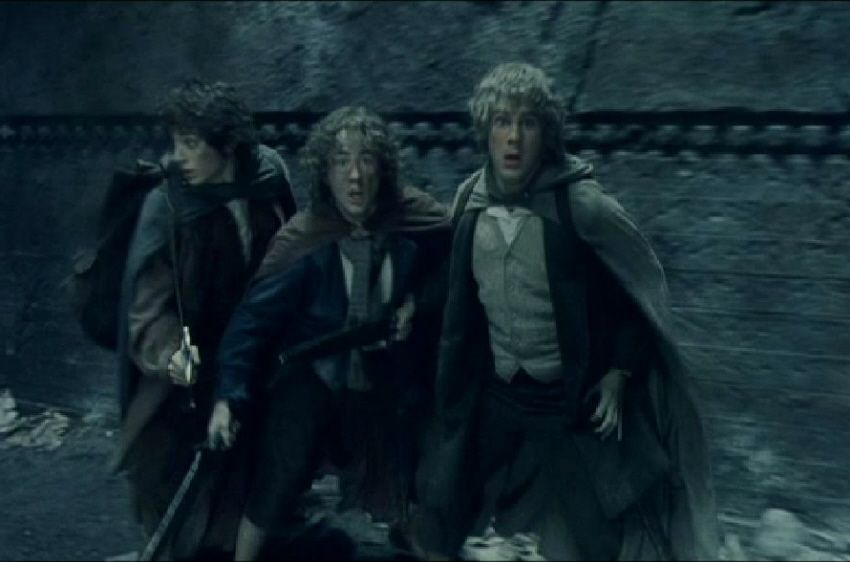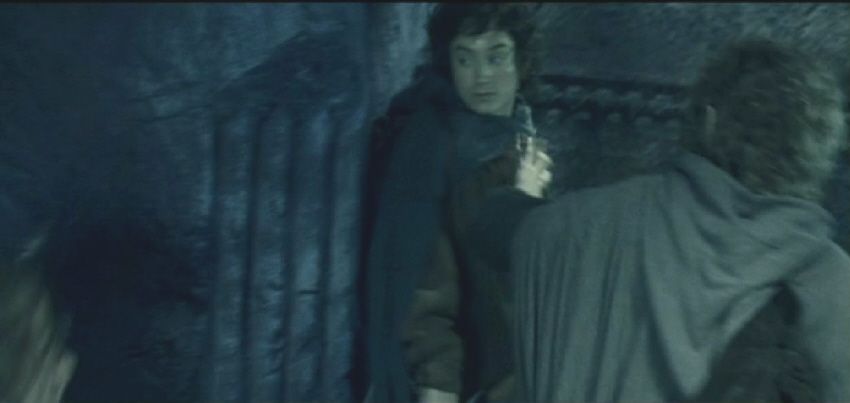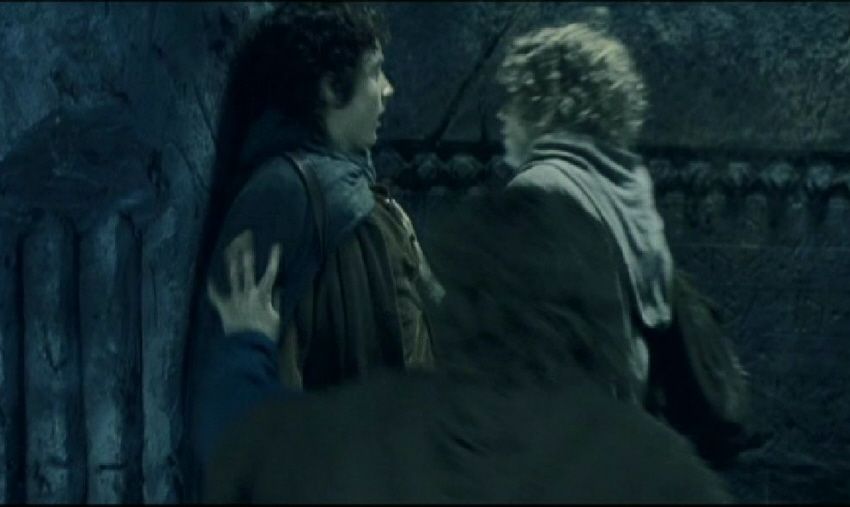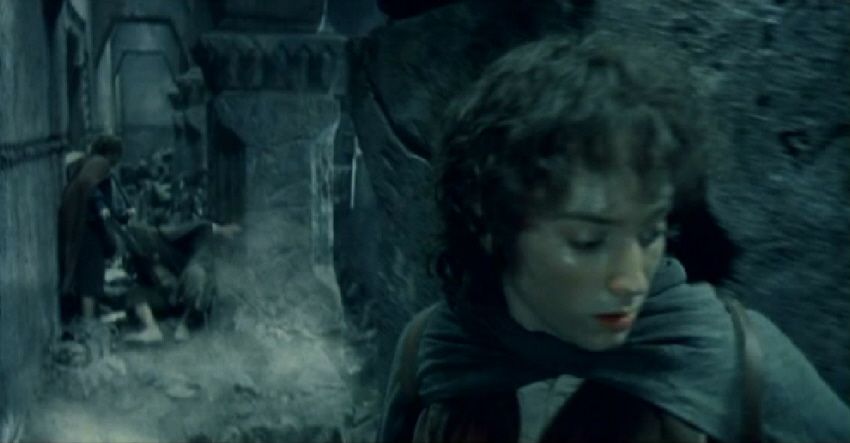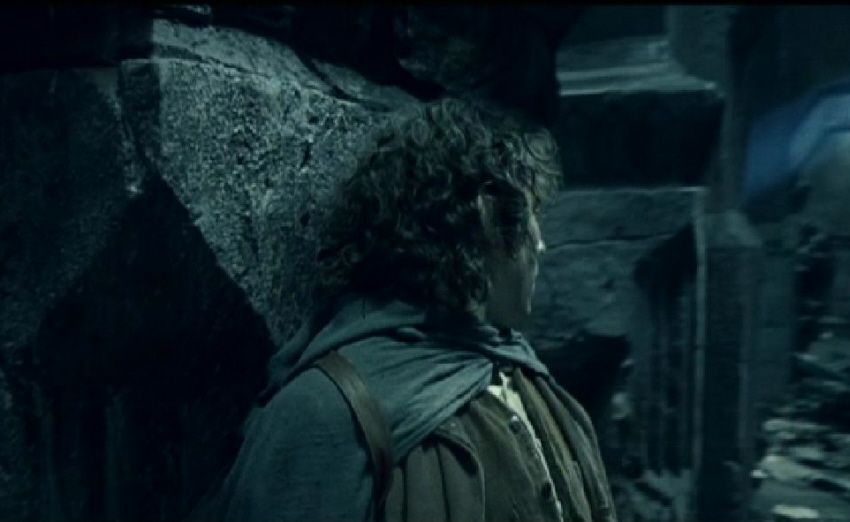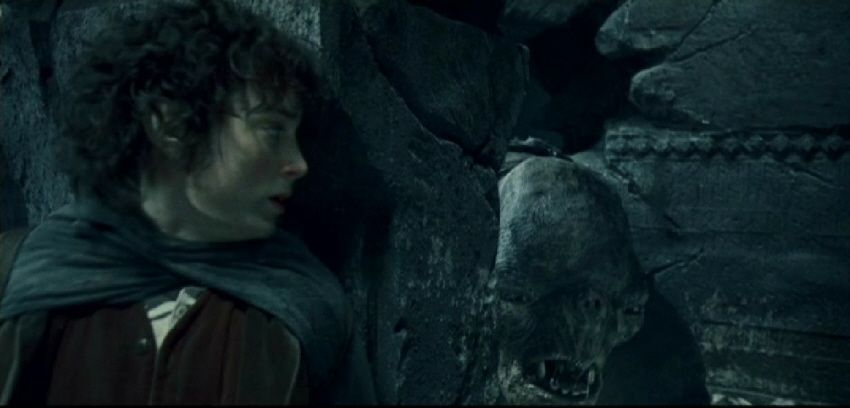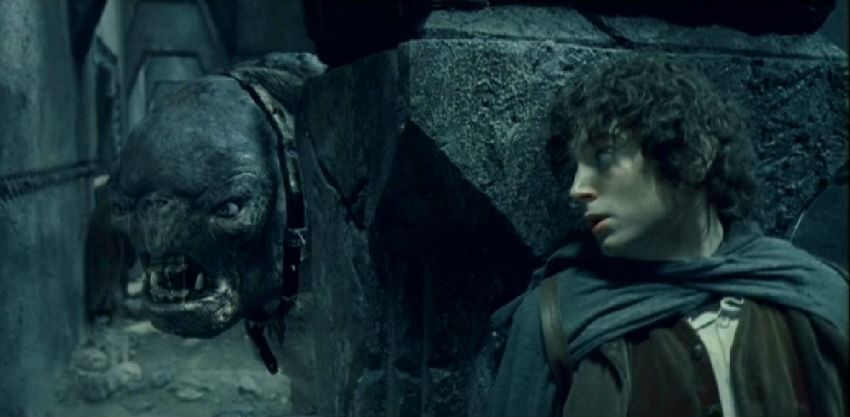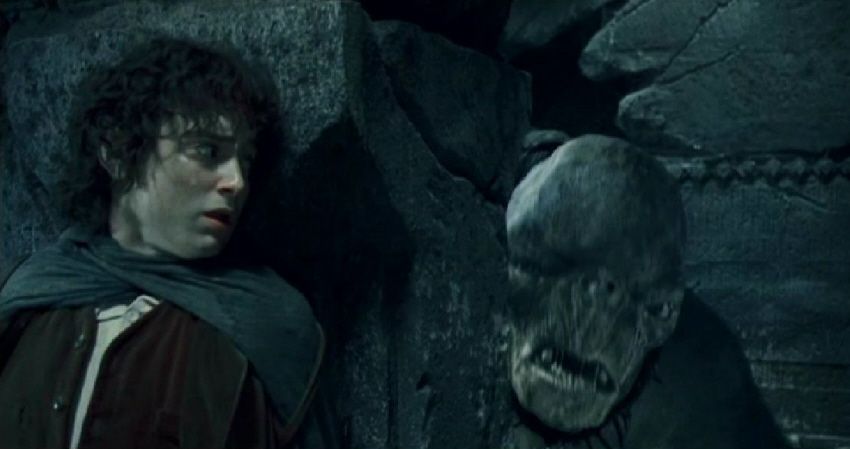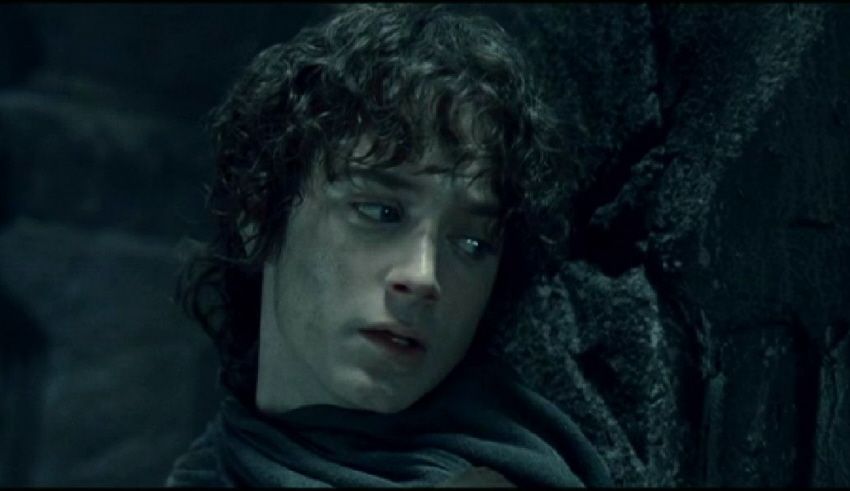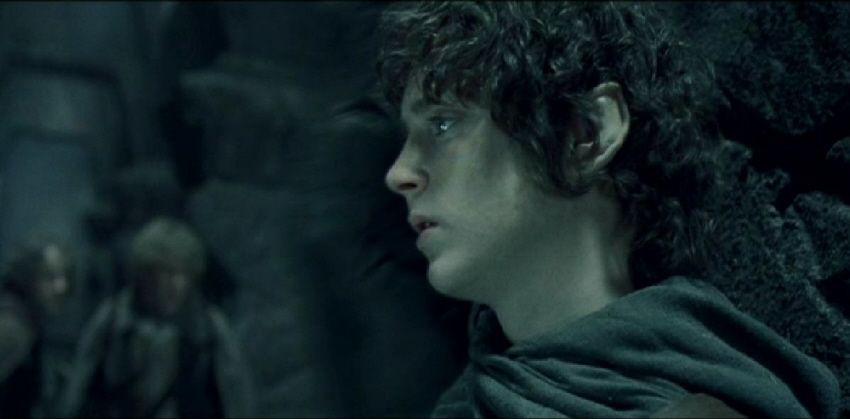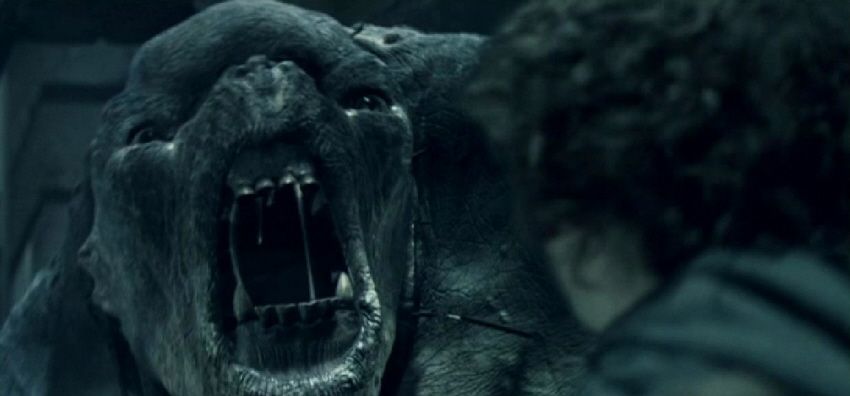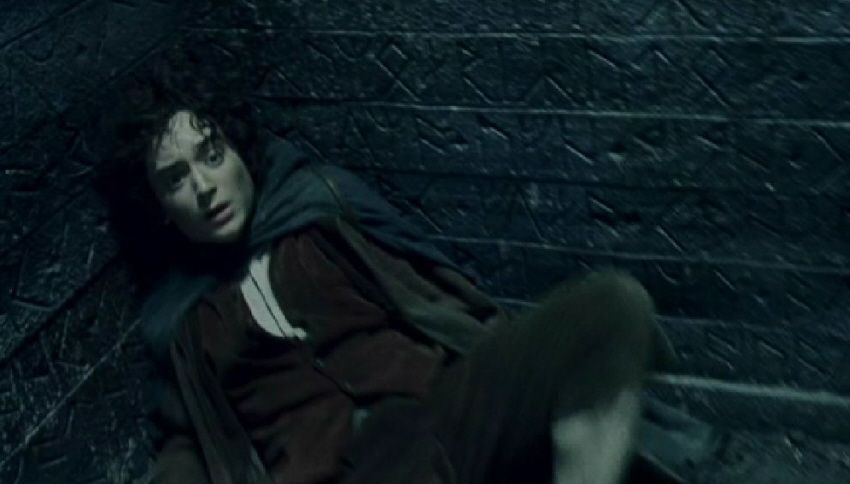 Aragorn!!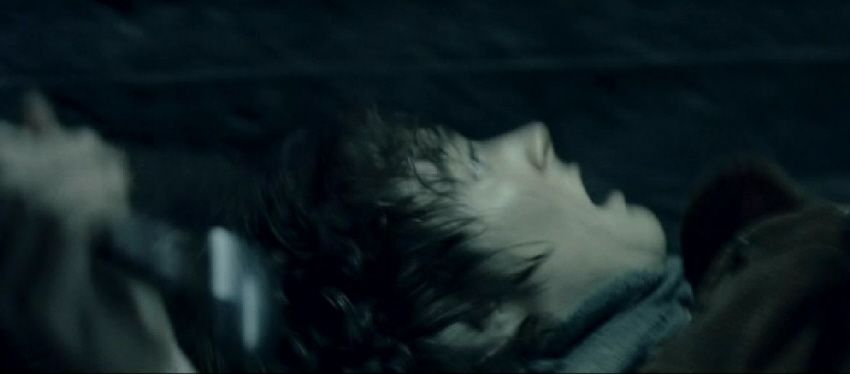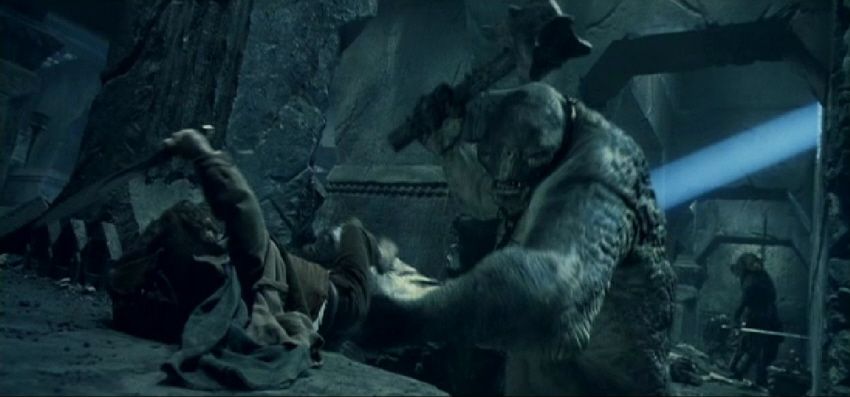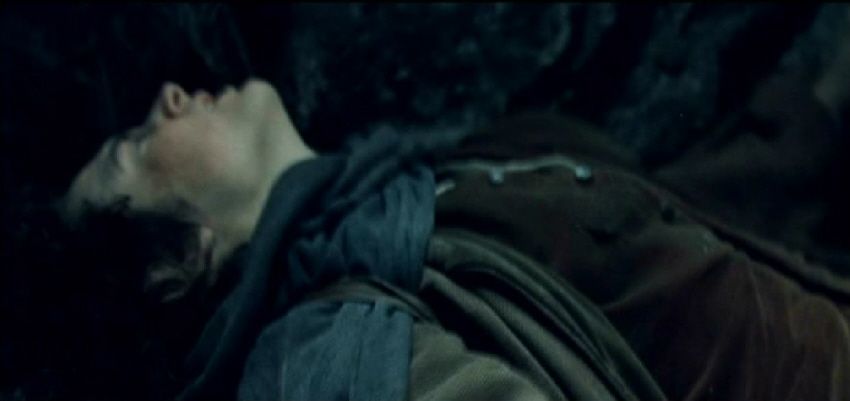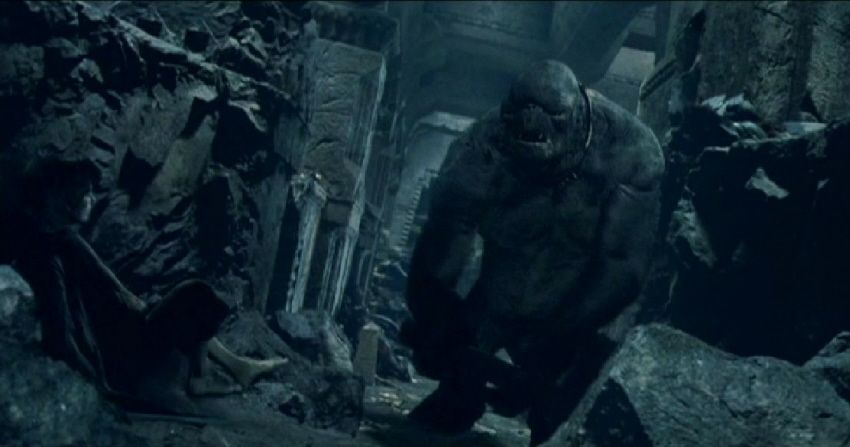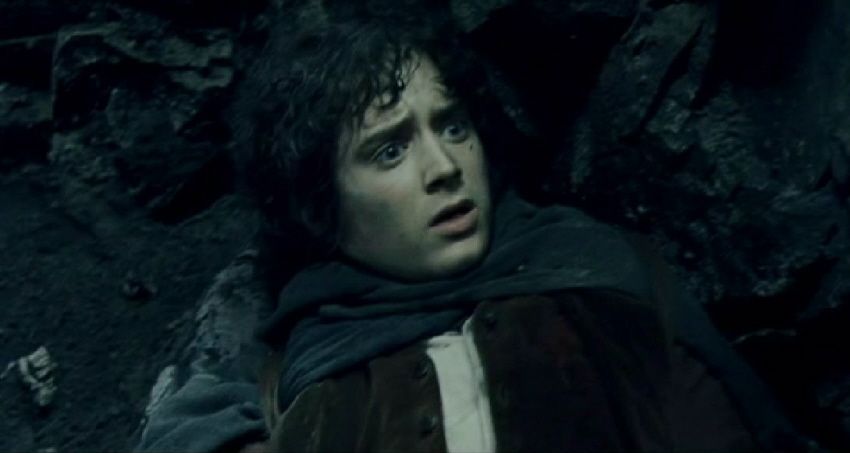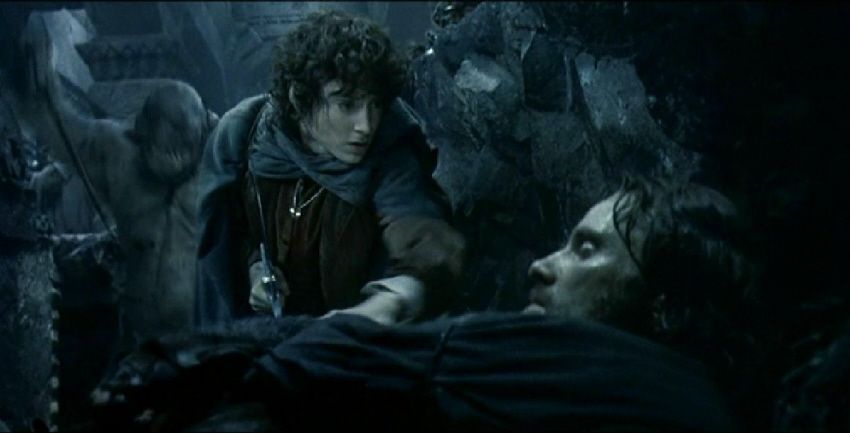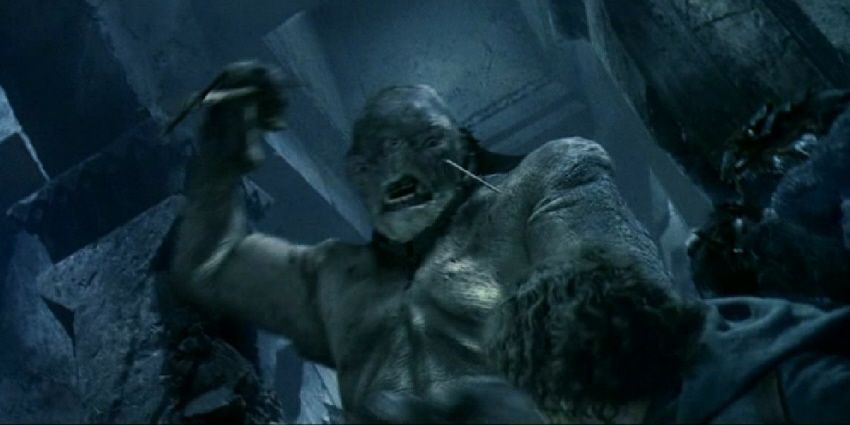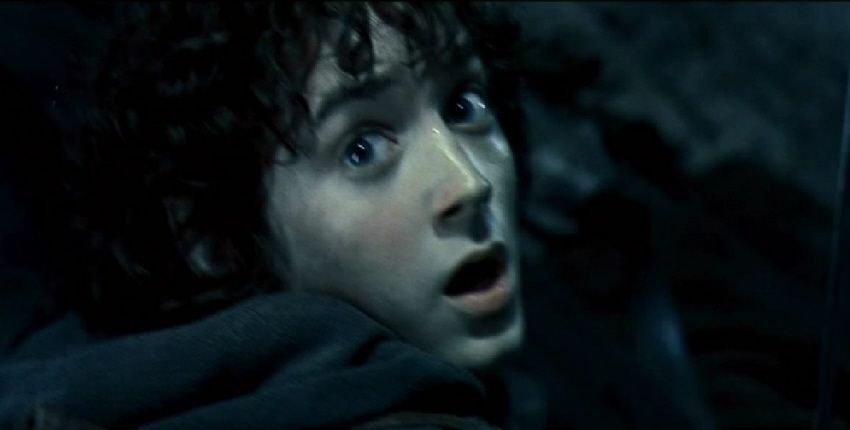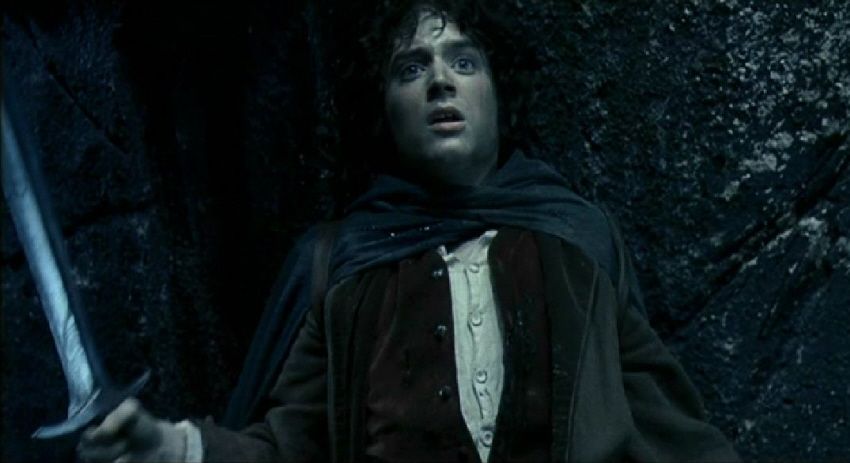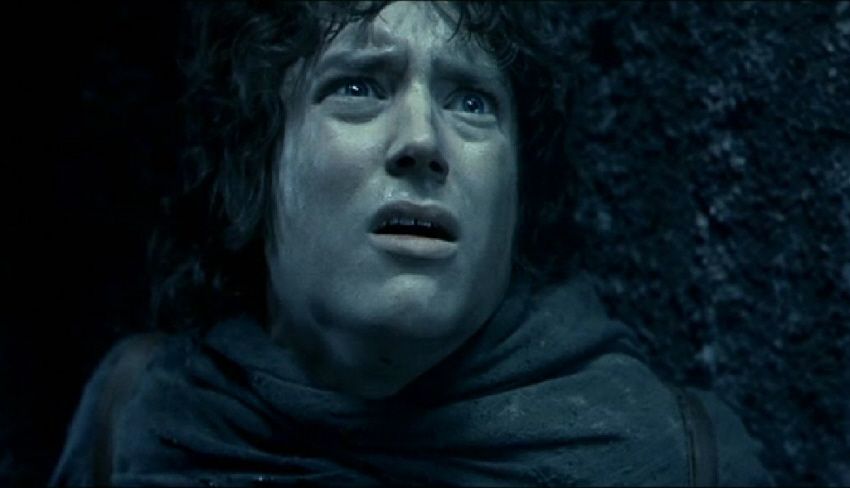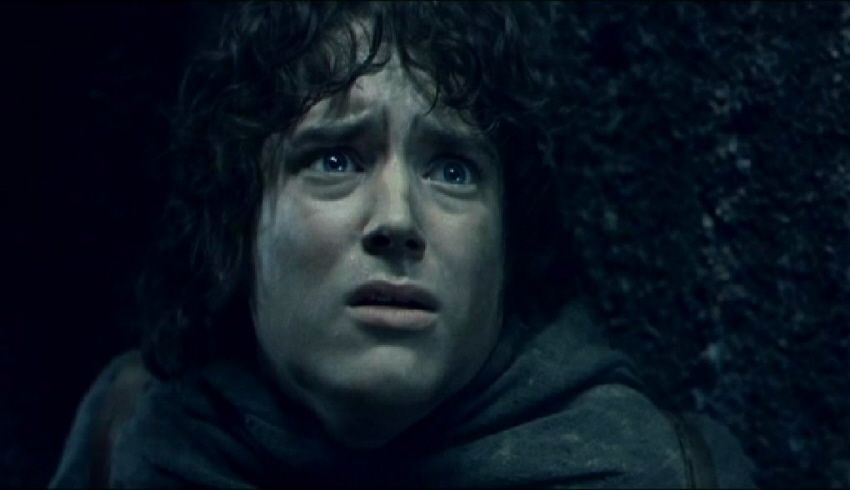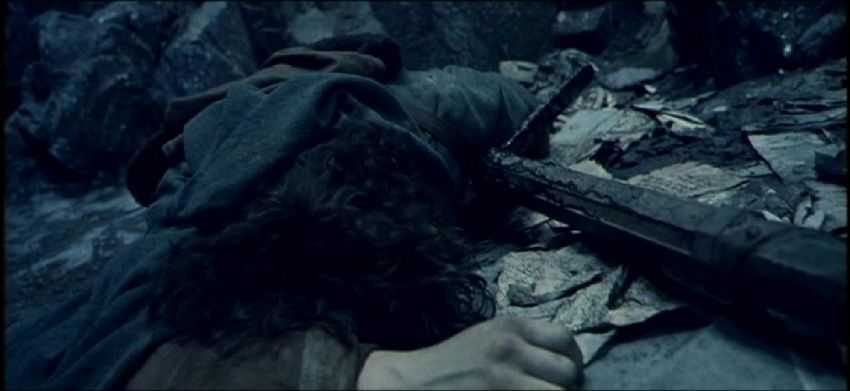 Sean:
"Orlando Bloom - the coolest single archer in the history of cinema!!"
Elijah:
"He worked really hard at all that as well, he became really good at - I think particularly the knife work he had to do, the spinning of the knives. He really sort of took on that whole assassin role - it was wicked!"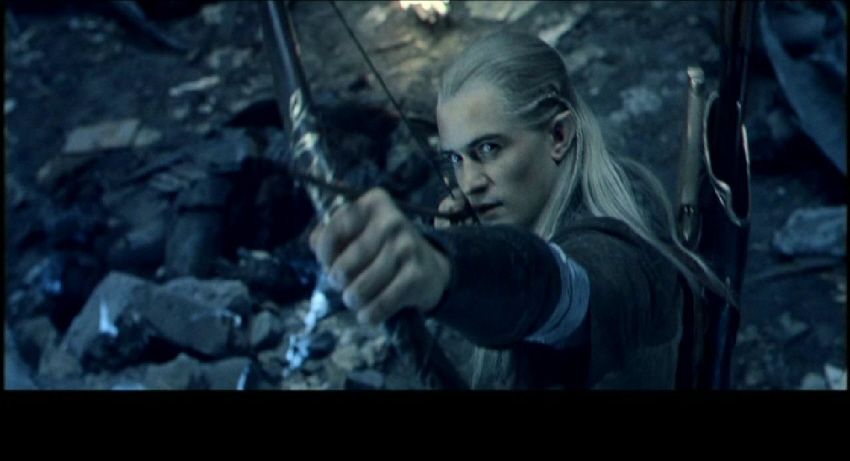 Sean
"As mean and bad as the cave troll is, there's something in his eyes and expression in the way the digital artists sort of rendered him - he just looks so sad, he's just as much a victim as everyone else."
E:
"I always feel really bad for him when he dies at the end."
Dom:
"He just doesn't know what's happening."
E:
"Poor guy! He's overwhelmed - it's all these people running around with swords and shiny things."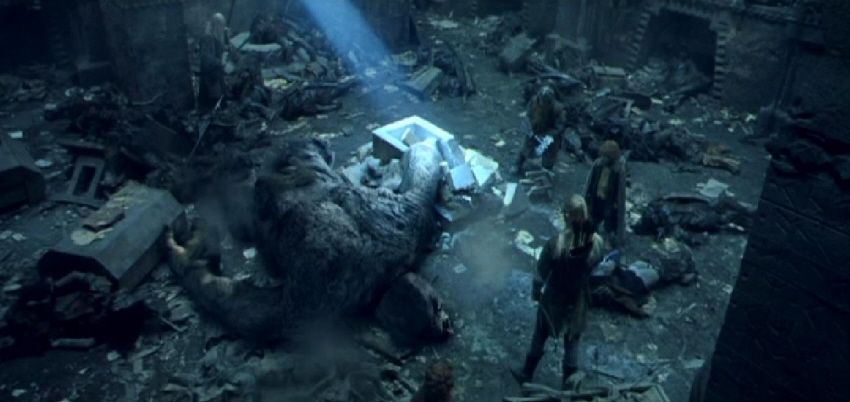 Oh no!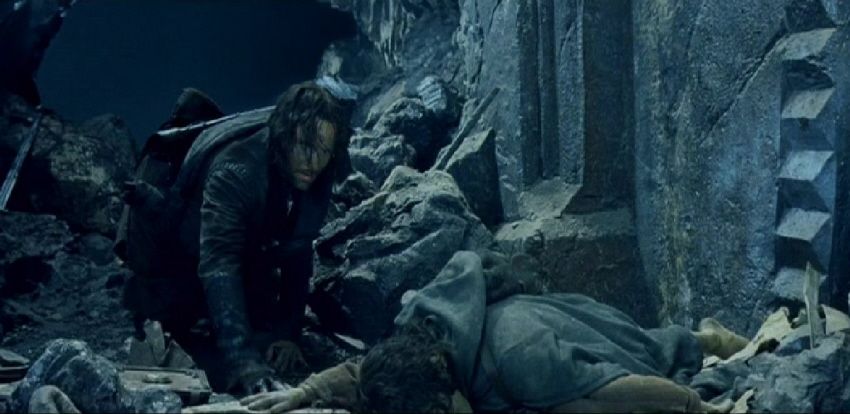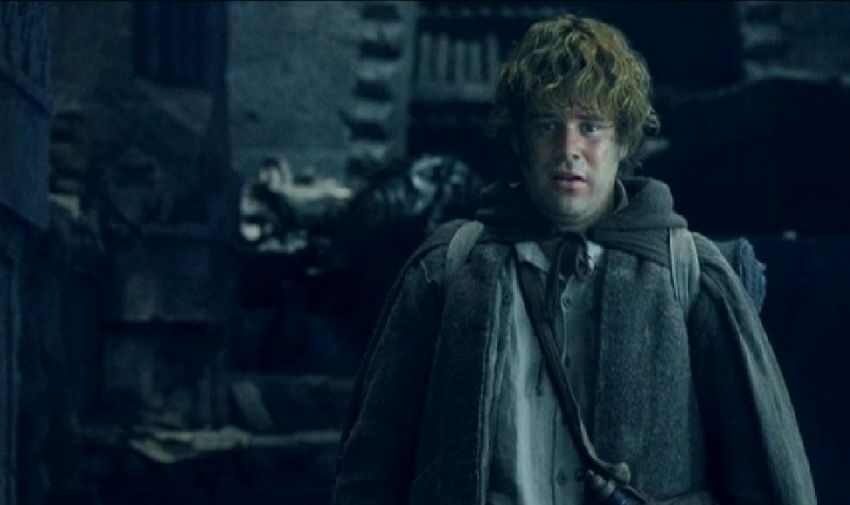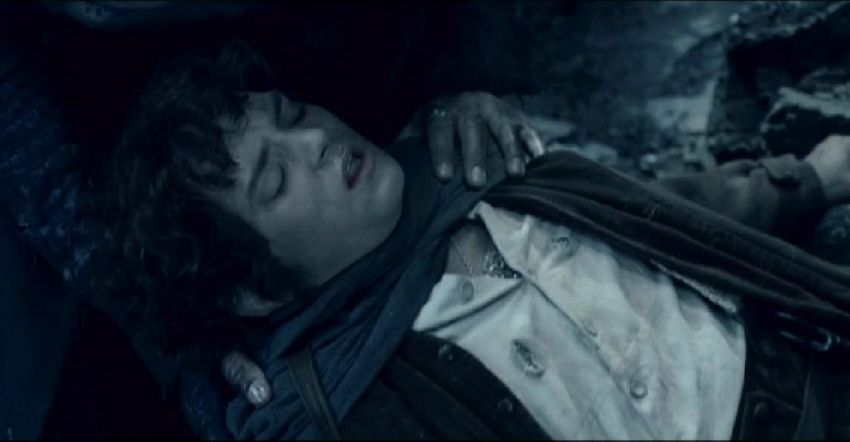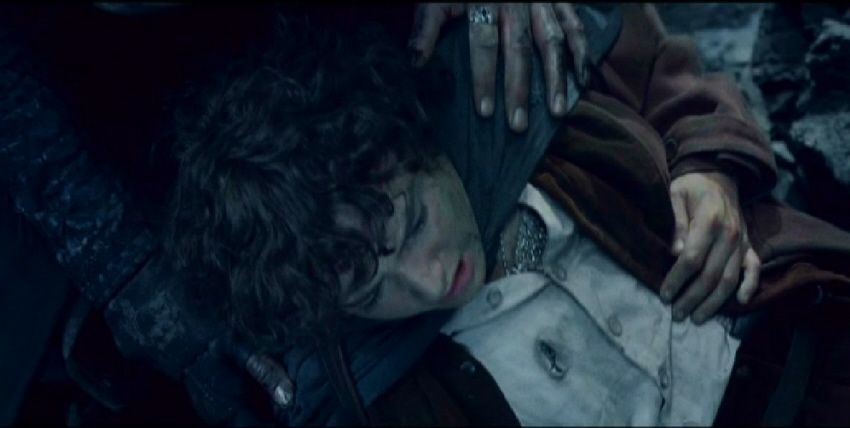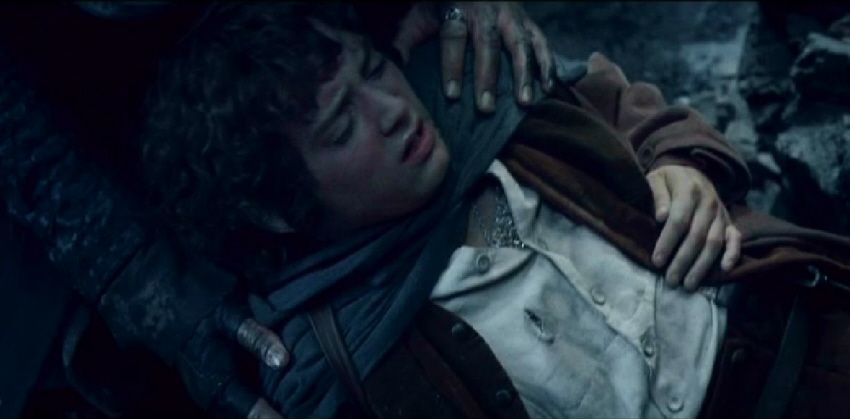 He's alive.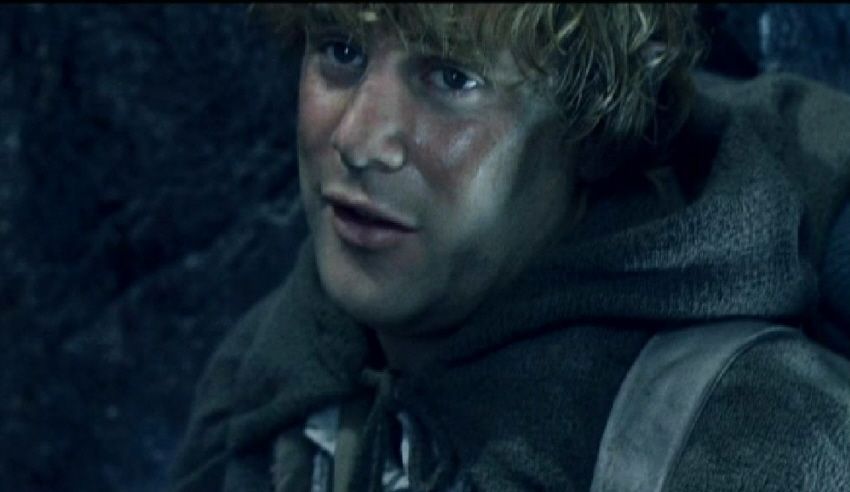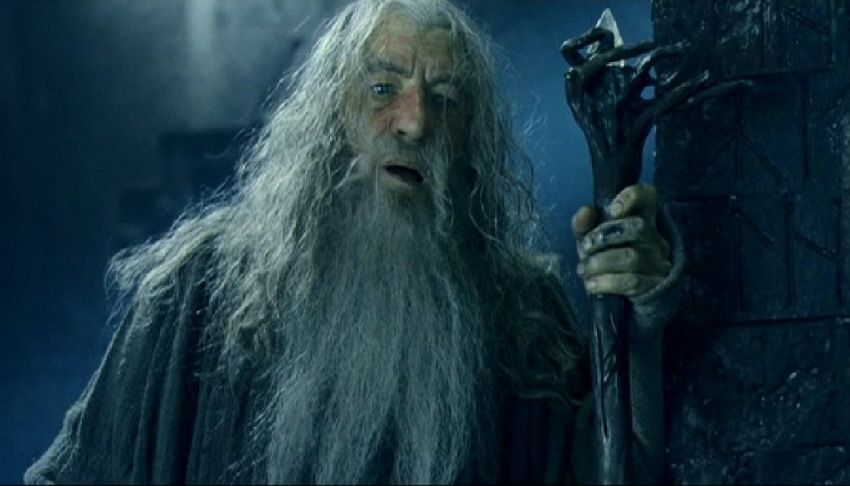 I'm alright. I'm not hurt.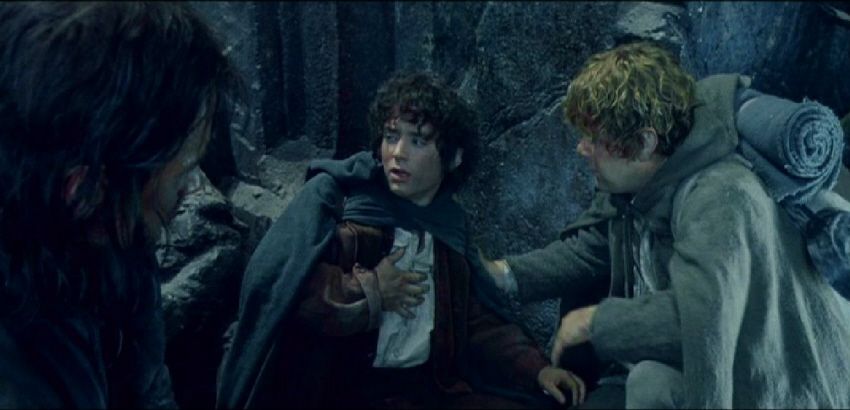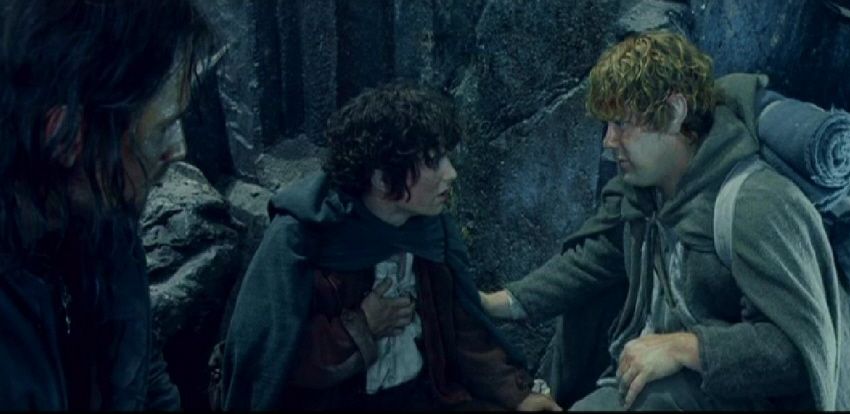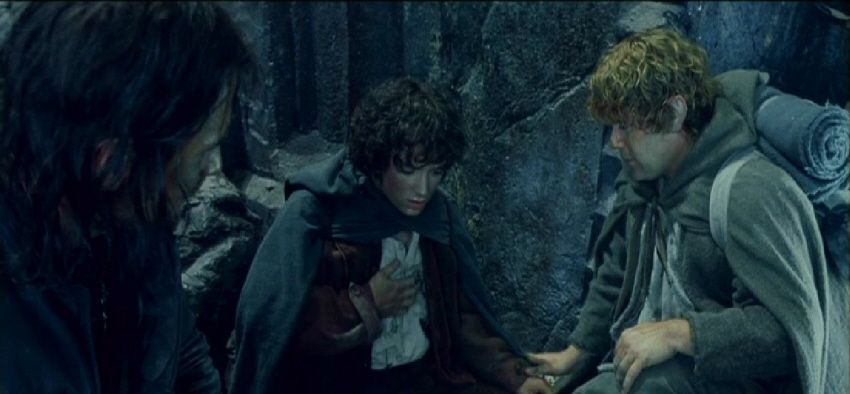 You should be dead. That spear would have skewered a wild boar!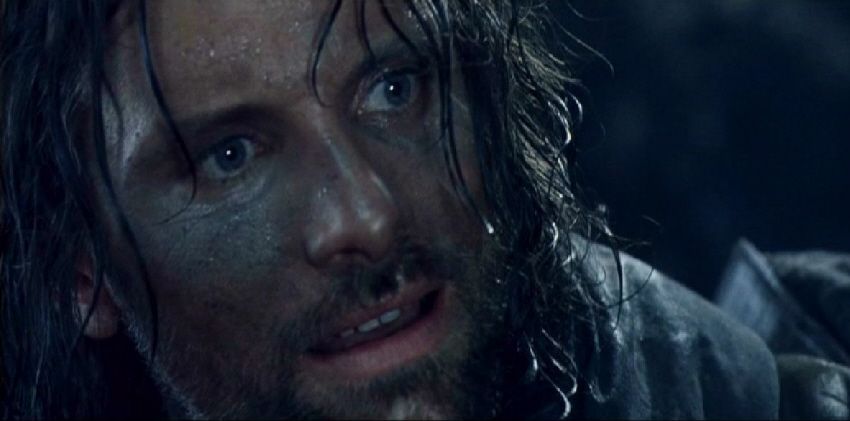 I think there's more to this Hobbit than meets the eye!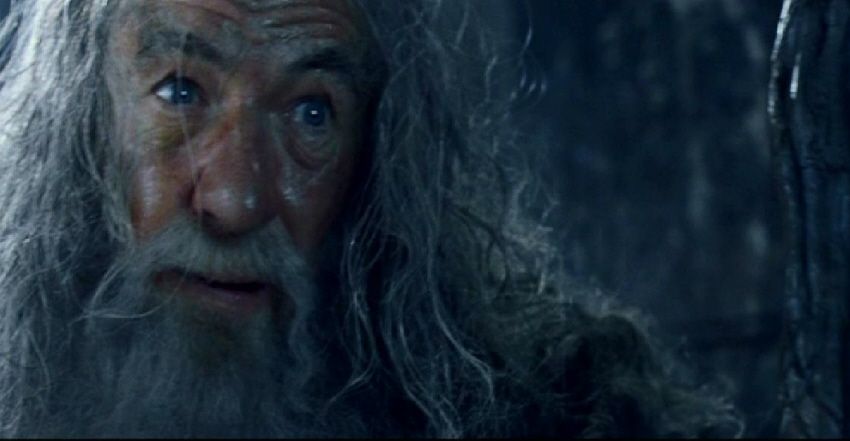 Elijah, DVD:
"Um, a secret about the Mithril vest - I never wore a full chainmail vest! It was a bit of a cheat cos for some reason they made one full one but I think for costume reasons and not wanting to mess up the full chainmail, they had like a tight t-shirt and then they kind of grafted the front of the chainmail onto the t-shirt so I never actually wore the full vest."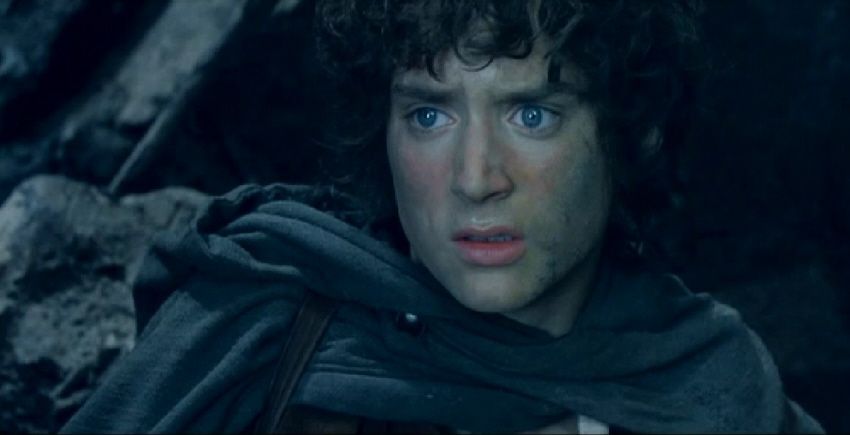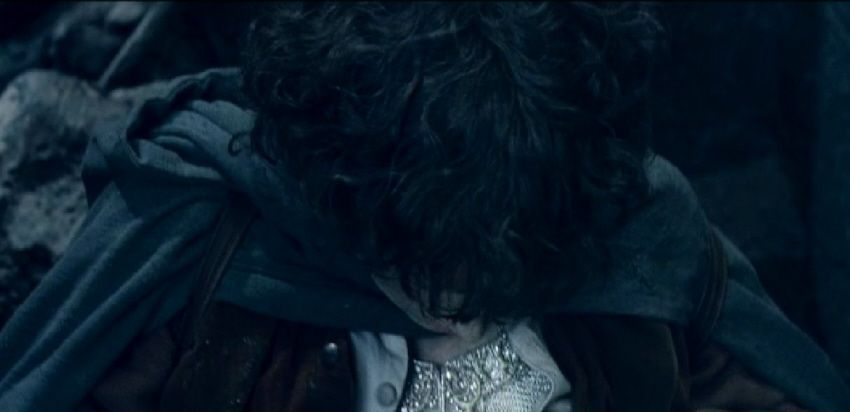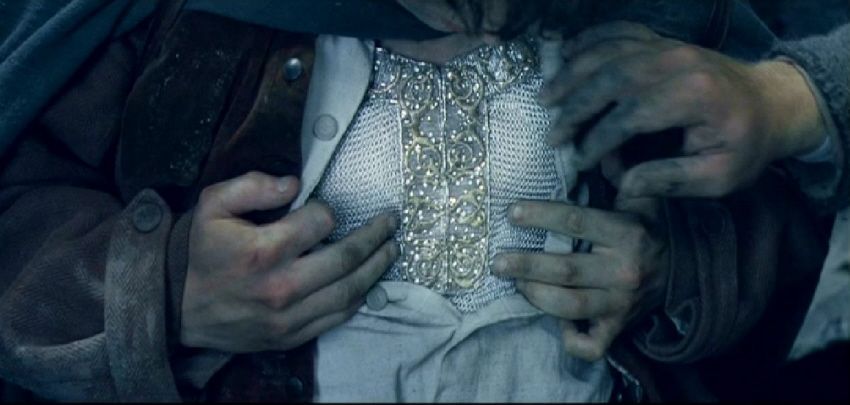 Mithril!! You're full of surprises, Mr Baggins.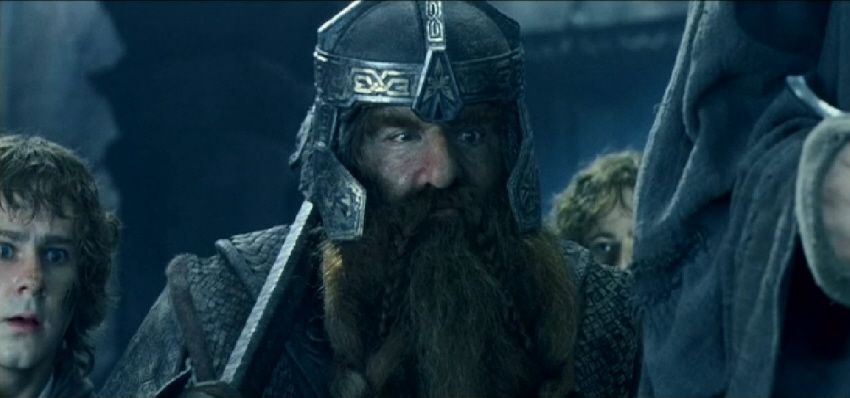 ---
"The night a blizzard blanketed the streets he walked 40 blocks in 'utter peace'"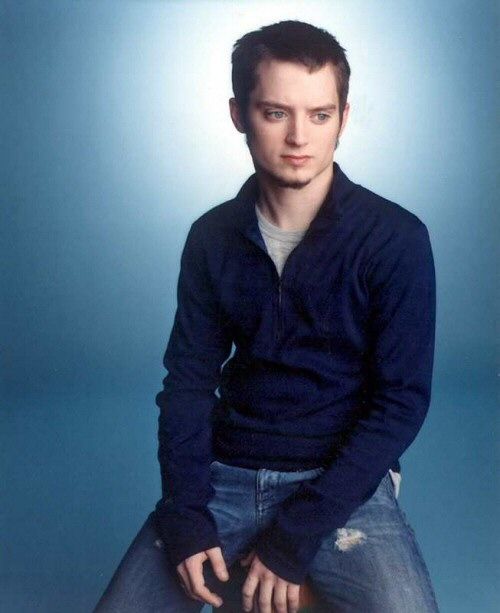 TO BE CONTINUED
LINK TO ALL CHAPTERS:
"A JOURNEY WITH FRODO"
comments: Leave a comment