| | |
| --- | --- |
| Tags: | a journey with frodo |
| Security: | |
| Subject: | A Journey With Frodo Ch.41 - 'Popcorn and Pandemonium' |
| Time: | 09:55 pm |
The journey continues. This chapter covers the 2003 MTV Movie Awards and the jamming session with Viggo for his Pandemonium in America album. I actually get to meet a hobbit - but not The Ringbearer. And in Frodo's journey, the Fellowship mourn the loss of Gandalf.
For anyone unfamiliar with my pet project, 'A Journey With Frodo' (a work in progress) is the story of Elijah Wood's experience in becoming Frodo, from back in 1998 when the LOTR movies were just a whisper up to the triumphant Oscars of Feb 2004. In reliving Elijah's journey, and mine, I am using everything I can lay my hands on - behind-the-scenes material from the various dvd's, magazine articles, books, internet sites, tv coverage, word-of-mouth info, etc. Previous chapters can be found here:
"A JOURNEY WITH FRODO"
Hope you enjoy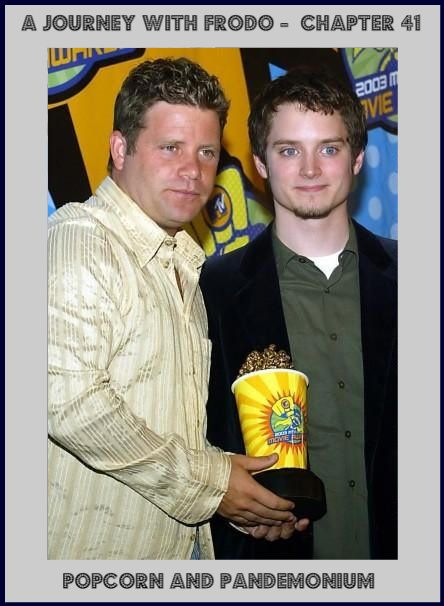 ---

31 May 2003 - Elijah, Sean and Billy attend the MTV Movie Awards:

Nick Zano speaks with Elijah just before the show begins:

NZ: "I'm with ... The Man!"
E: That's lofty, man!

Elijah tells Nick that he's excited about seeing the "Russian import Tatu".

Sorry about the poor quality of some of the pics but they were taken straight from my tv screen!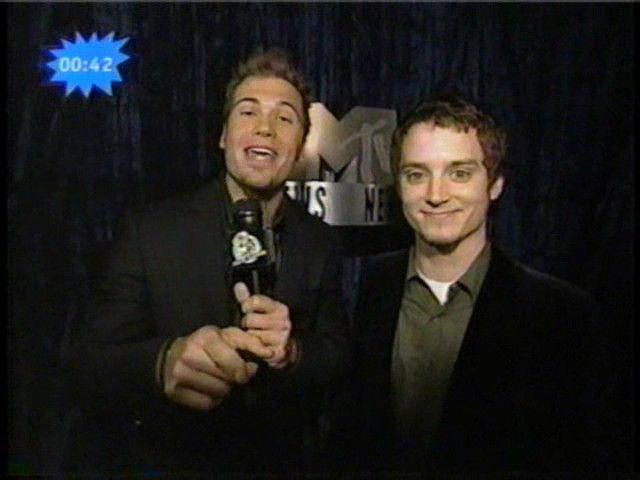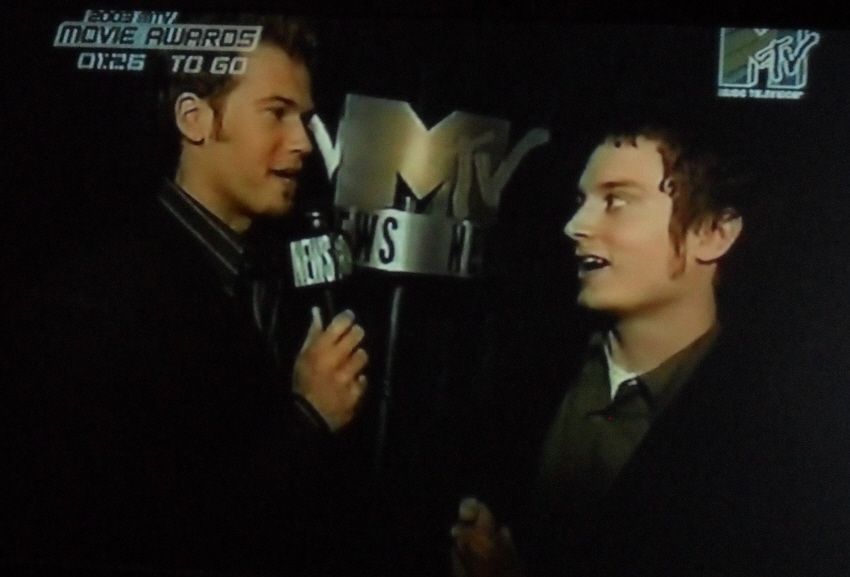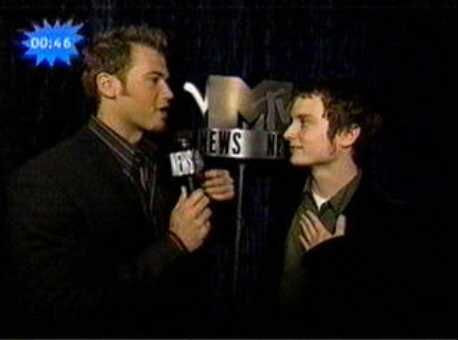 Elijah, Sean and Andy Serkis win the award for Best Onscreen Team: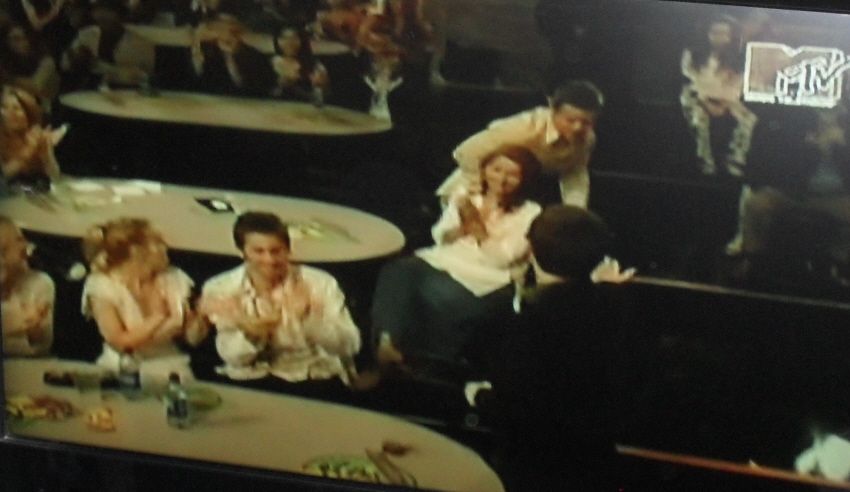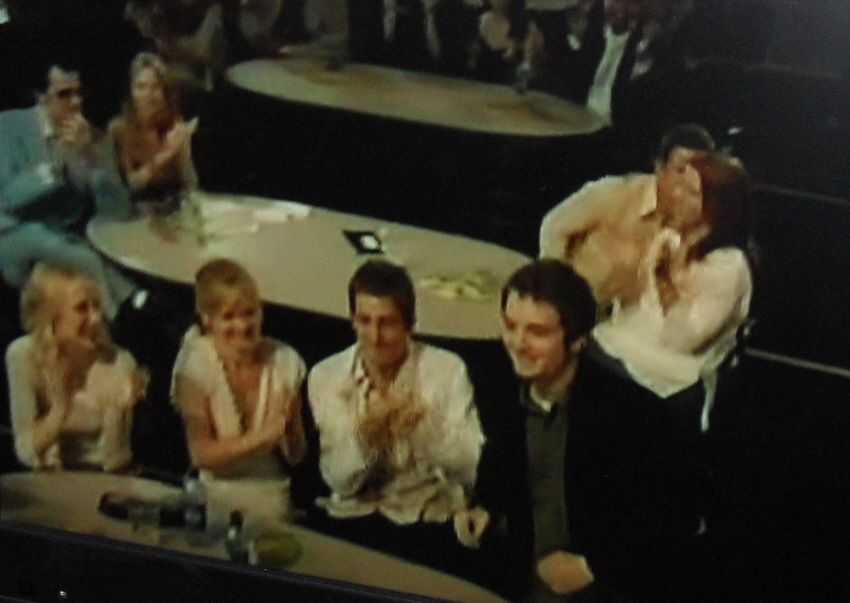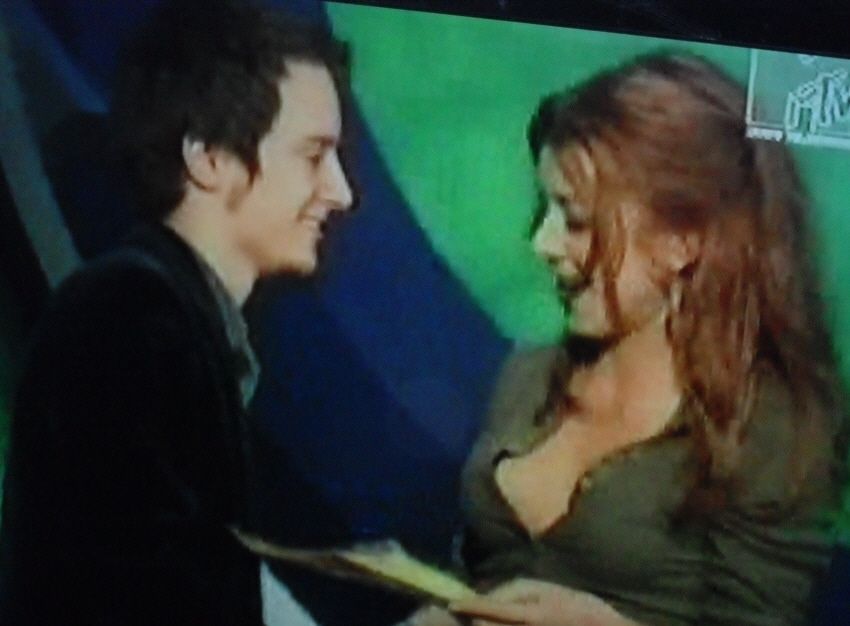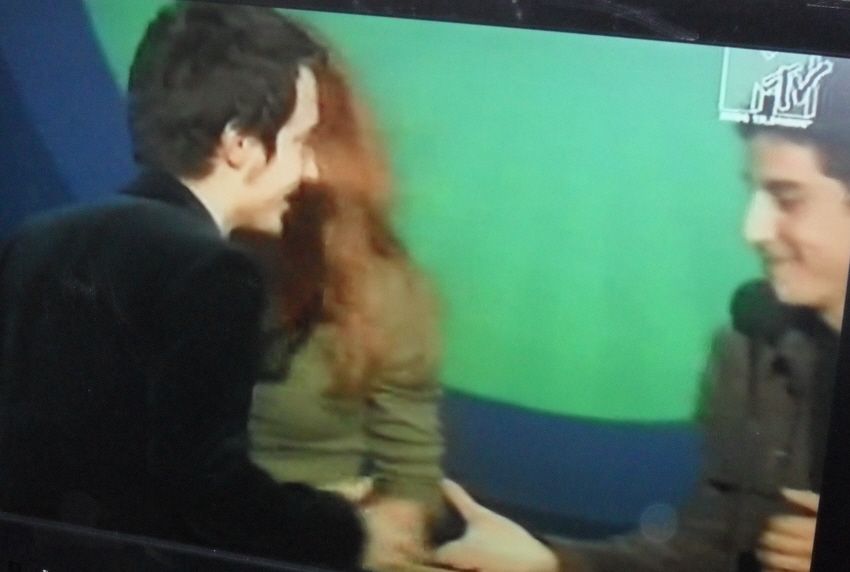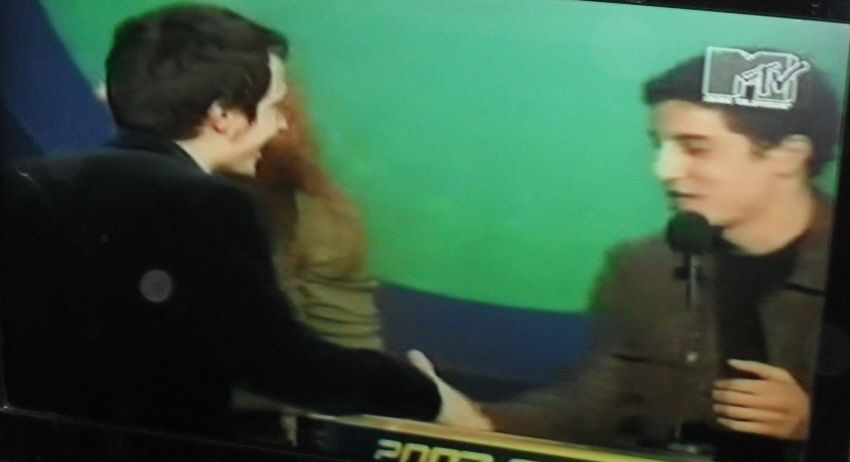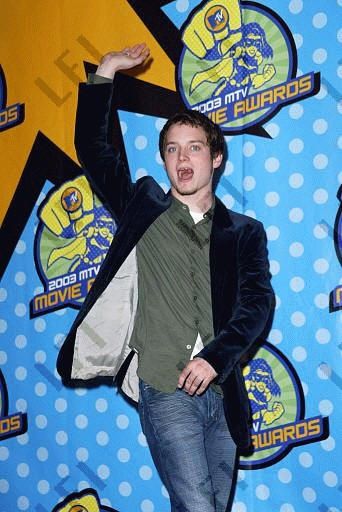 Elijah: "It's funny to receive an award for such a dysfunctional team 'cos our relationship with Gollum is slightly skewed!!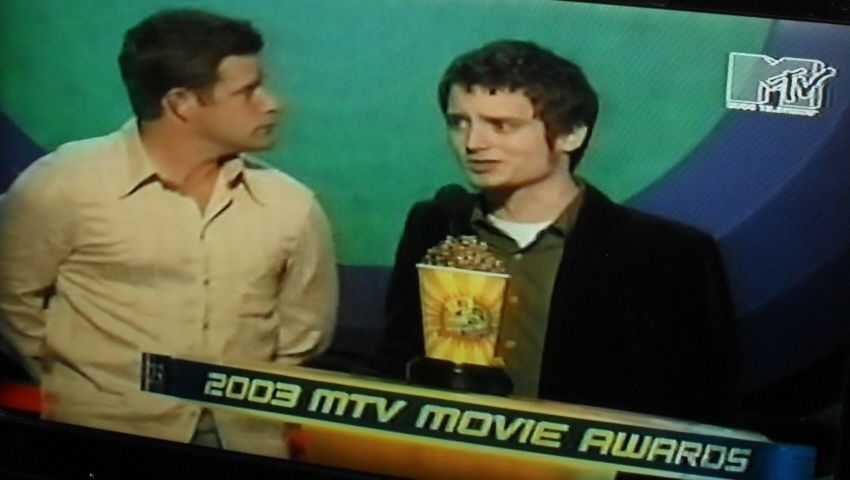 E: "We're getting this award for being friends 'cos a lot of our friendship went into the roles."
Sean: "I'd agree with that."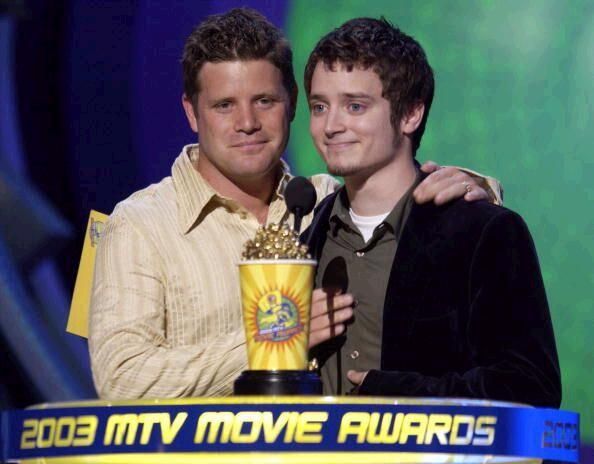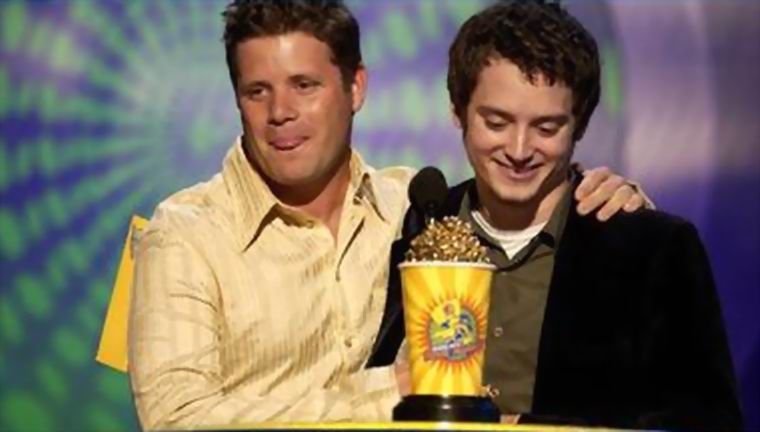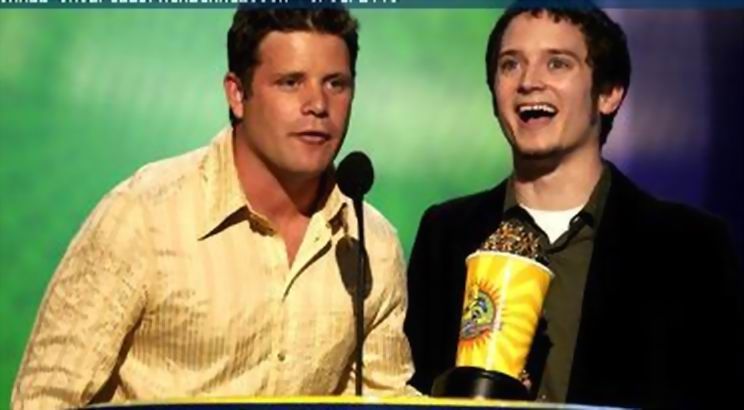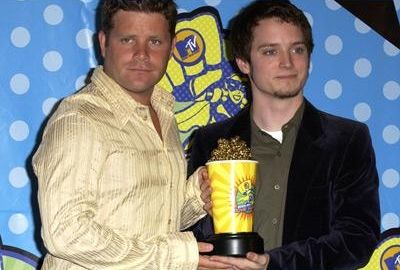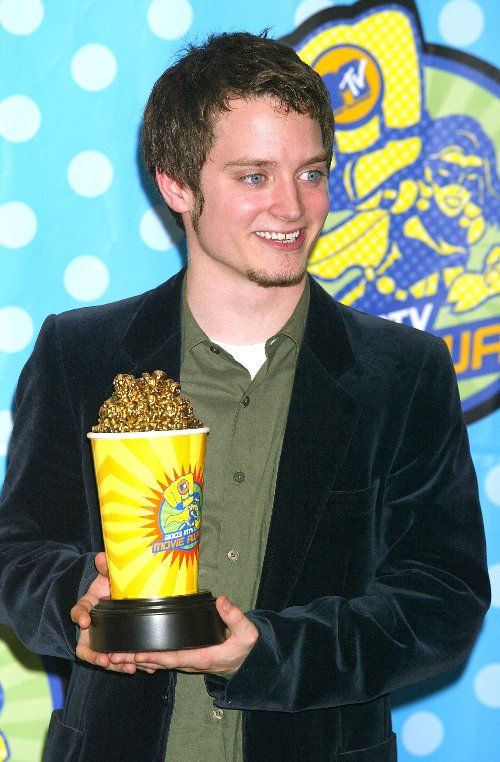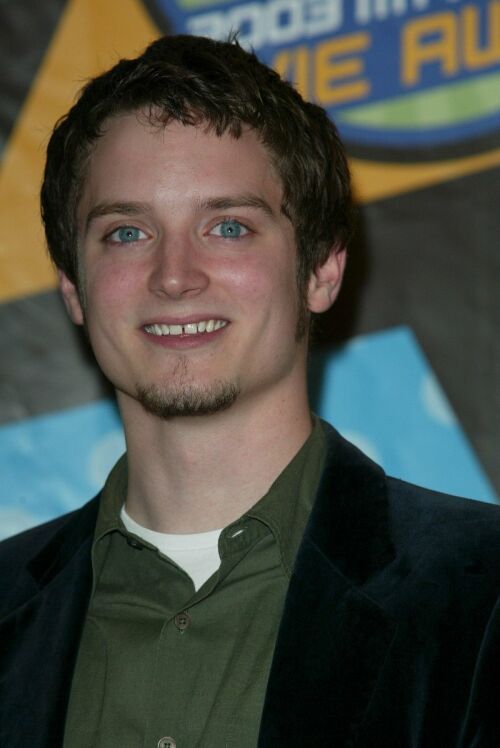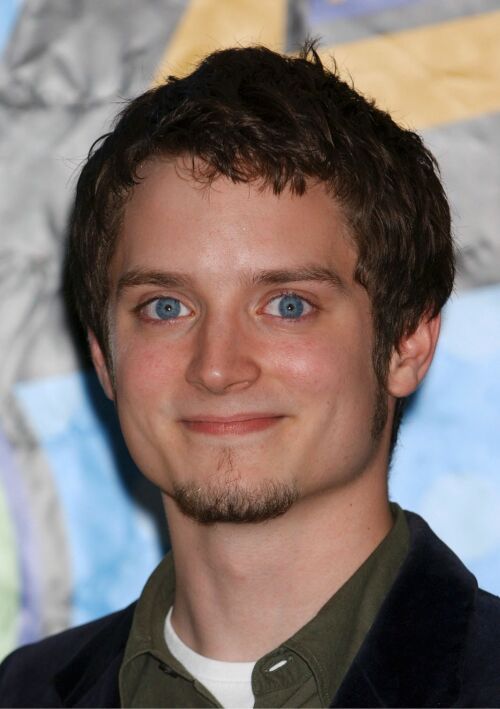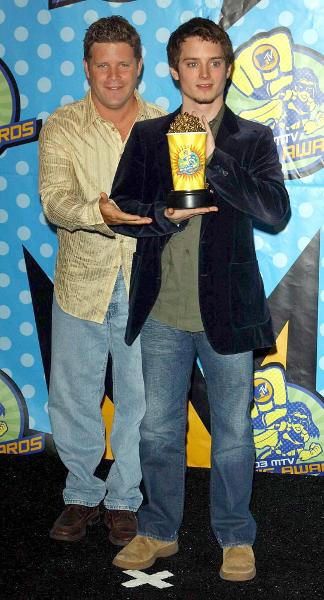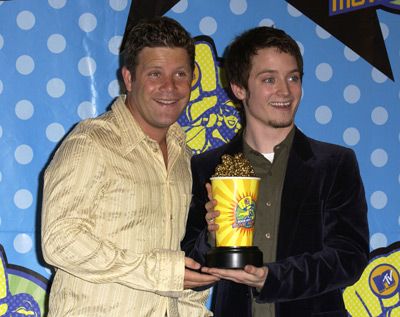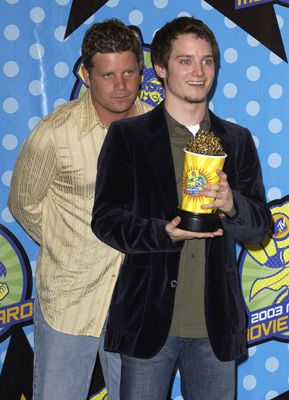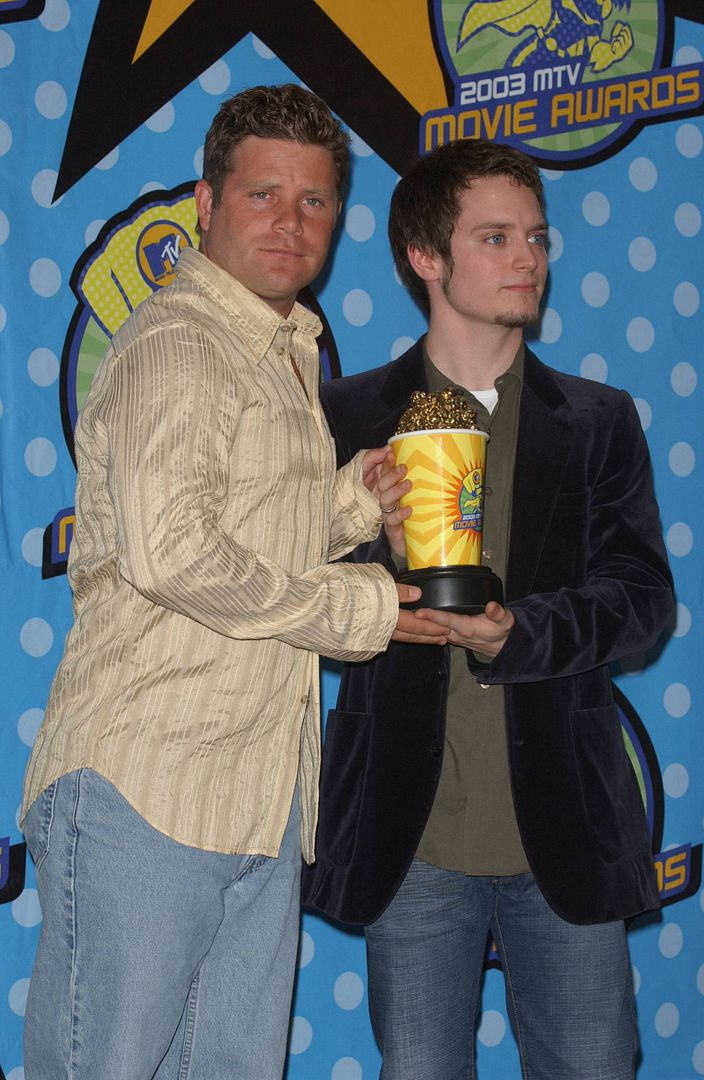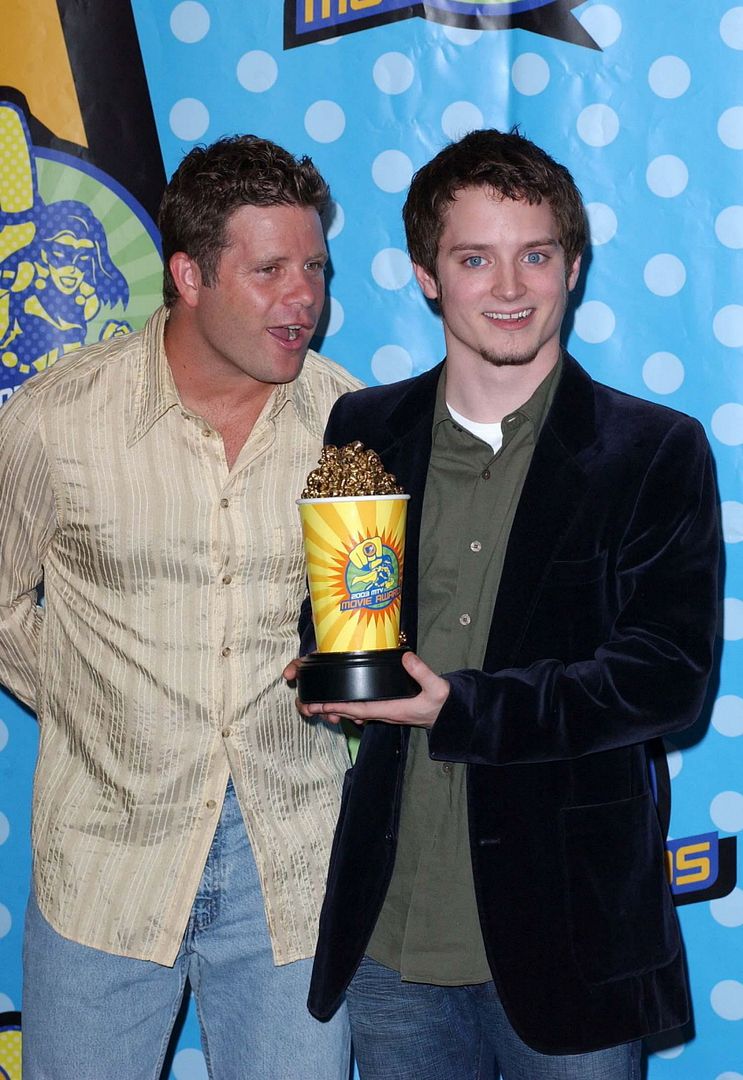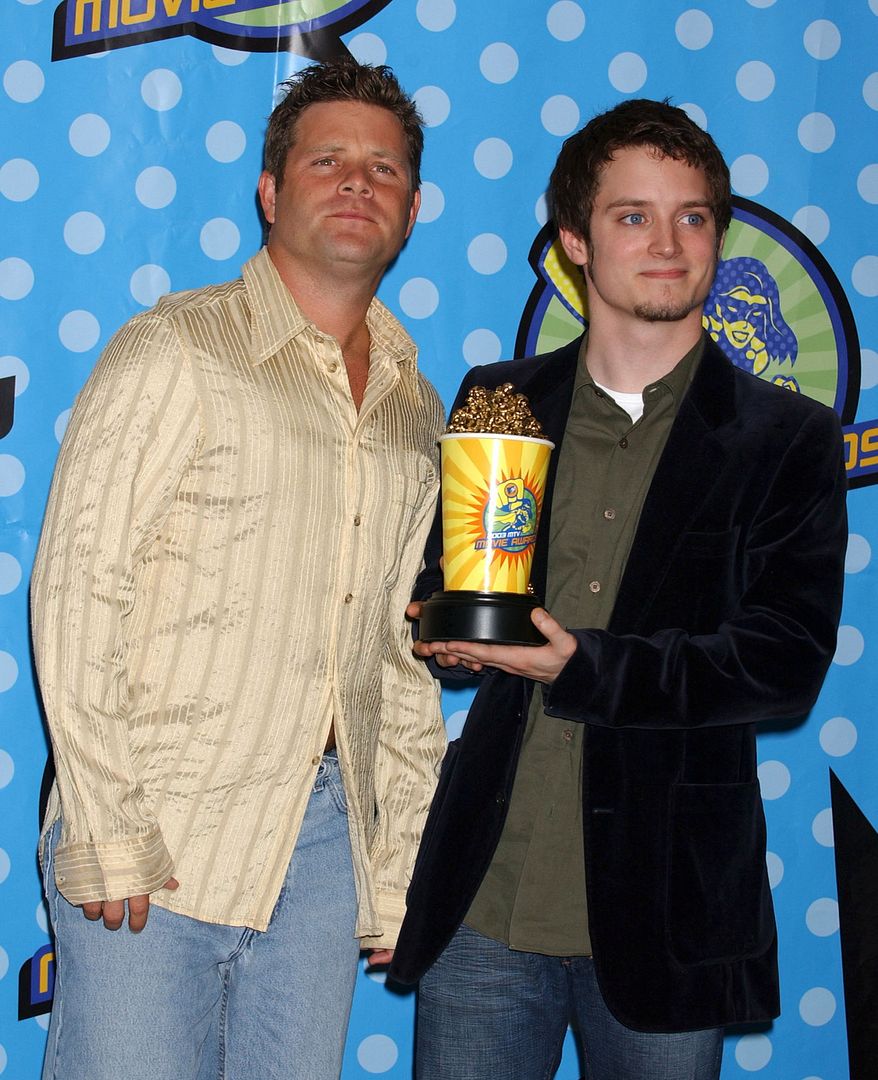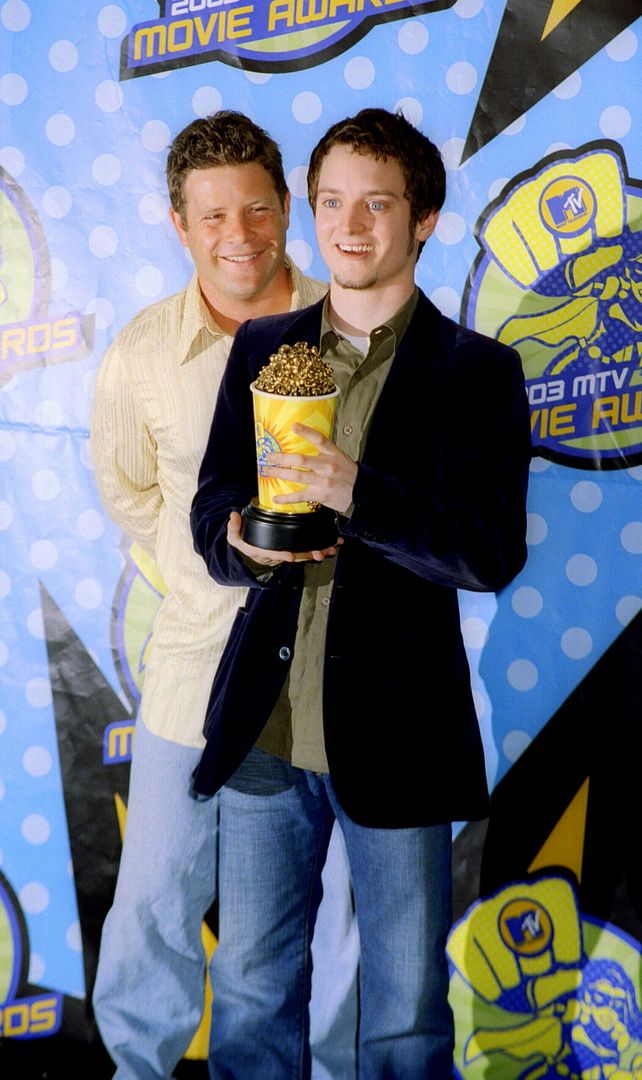 Ok, I caught him mid-blink but I still love this pic!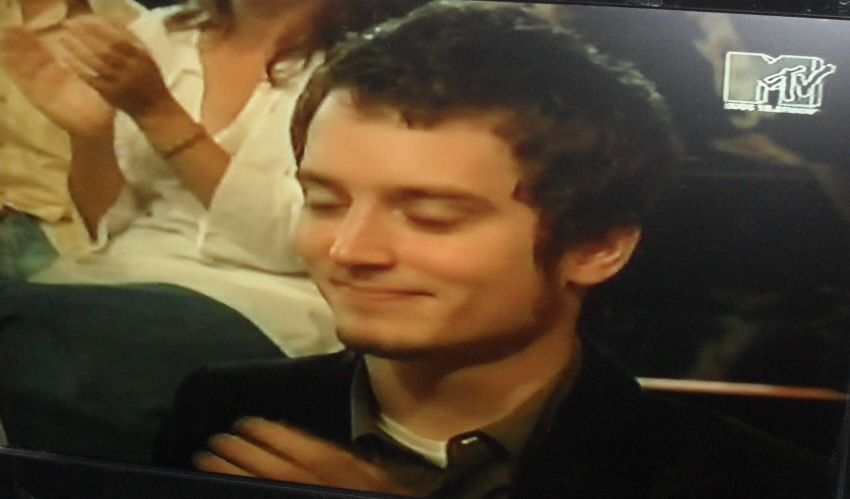 Andy was unable to attend as he was in New Zealand filming pick-ups.

Sean: "We love you Andy, wherever you are you little Stinker!!"

Andy/Gollum/Smeagol's hilarious acceptance speech for the award of Best CG Character, recorded in NZ, was much appreciated by Elijah:)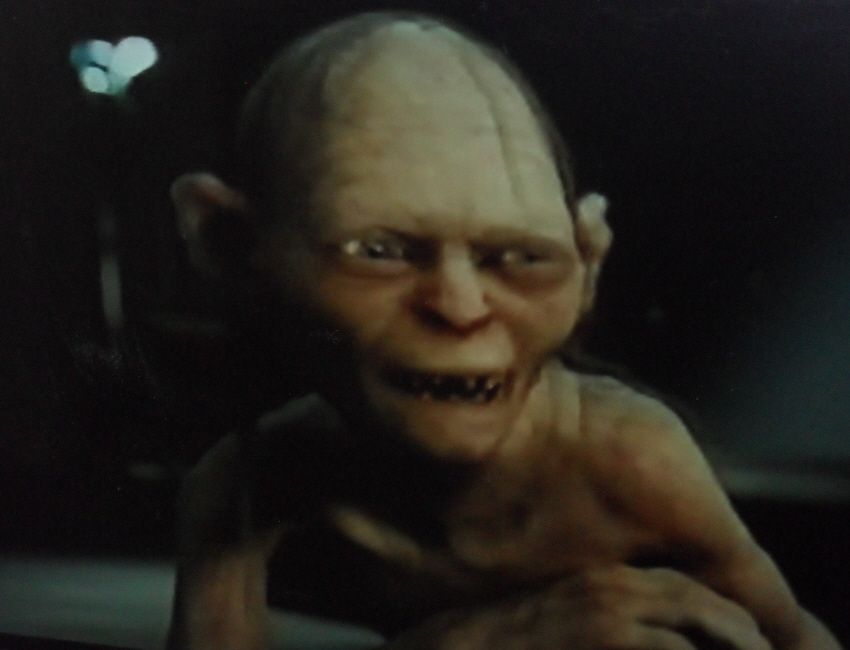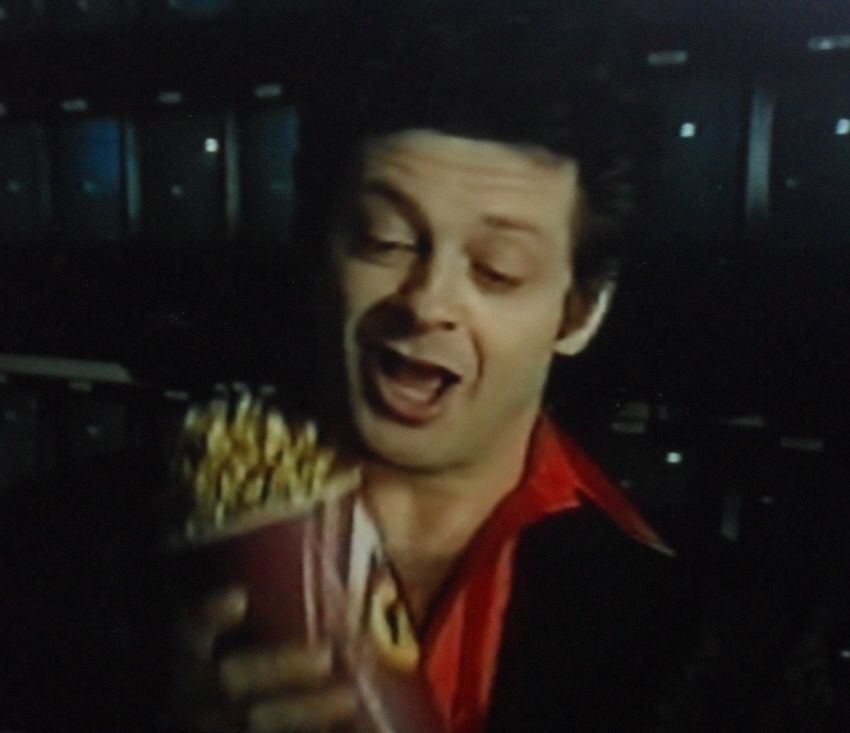 "That was f***ing awesome!!".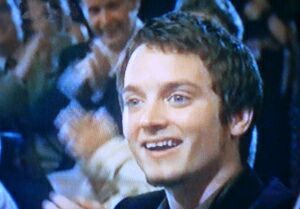 "The Two Towers" gets the Best Movie Award and, following a group hug, Elijah and Sean return to the stage with Billy.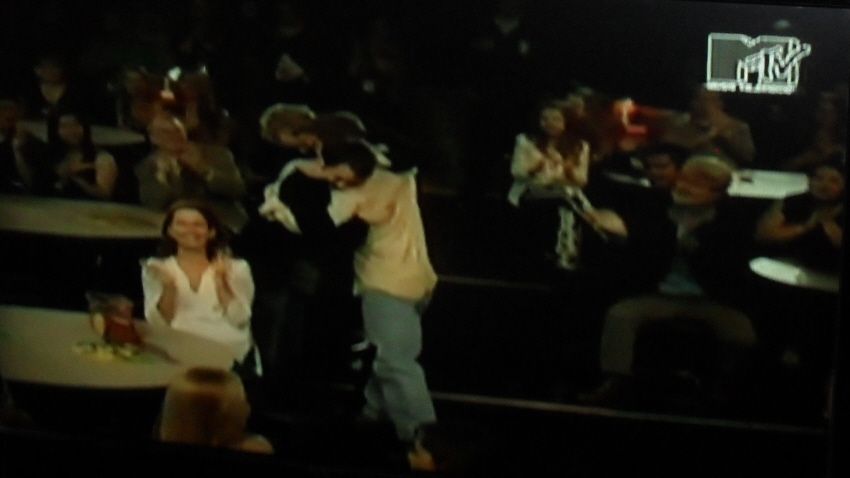 E: My God, my God!
Sean apologises for Gollum's behaviour during his acceptance speech.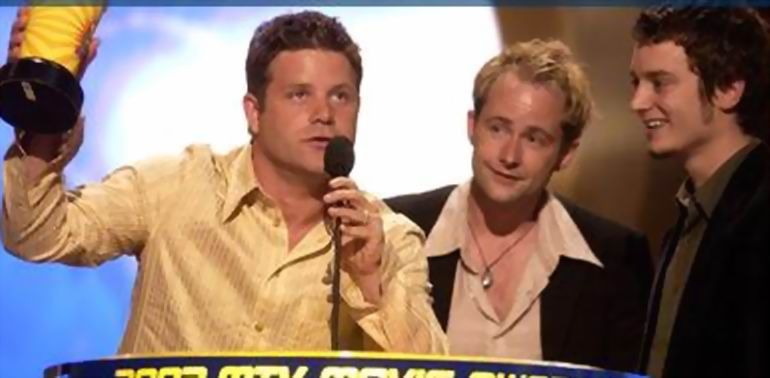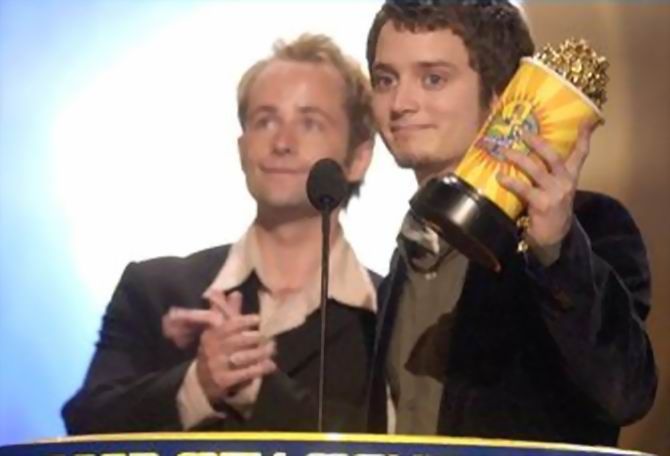 E: "Peter Jackson should really be here to accept this as this is a rather lofty [apparently E's favourite word during this event] experience for us but you have a couple of hobbits from the Shire."
Billy: "We are missing one hobbit but I'm sure he will be happy that we won."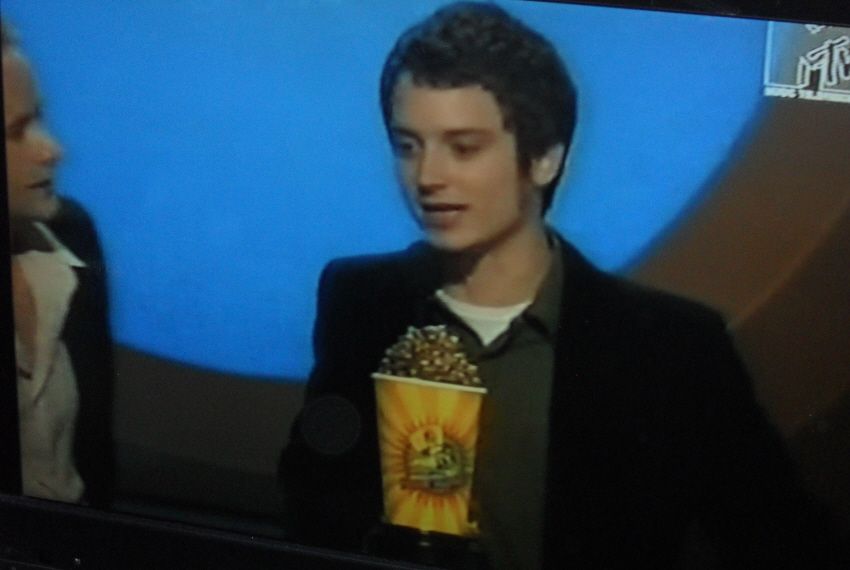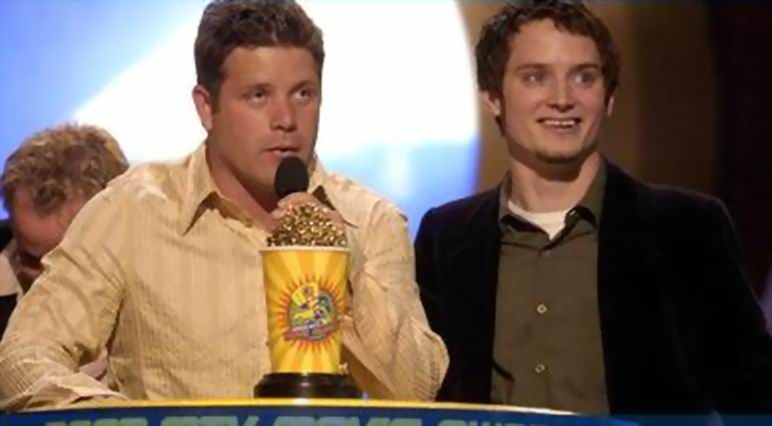 Post-show pics and interviews: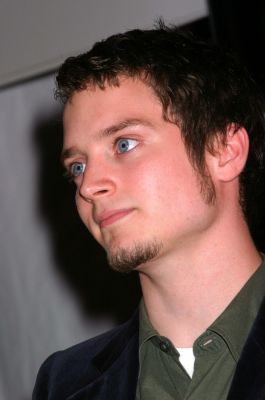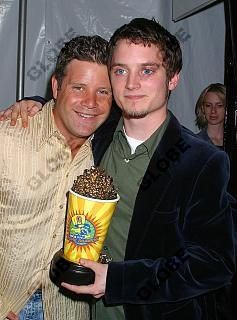 Interview with Nick Zano:

E: We won, we won!!!
S: I can't talk!
E: This is a really big moment for Sean!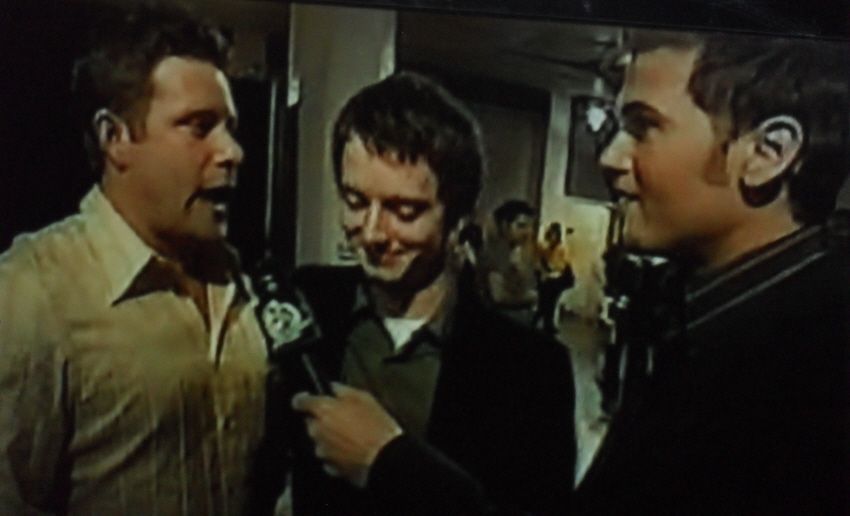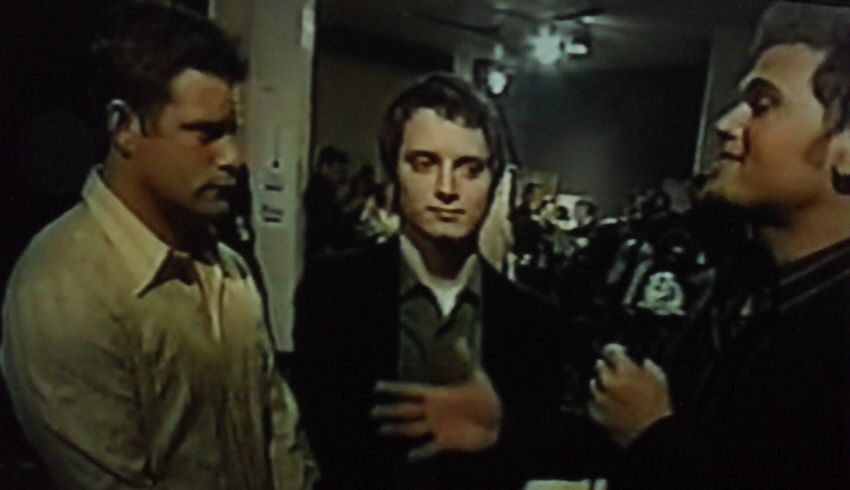 Asked where he'll keep his popcorn, Elijah says, "In the fridge - it's a food item!".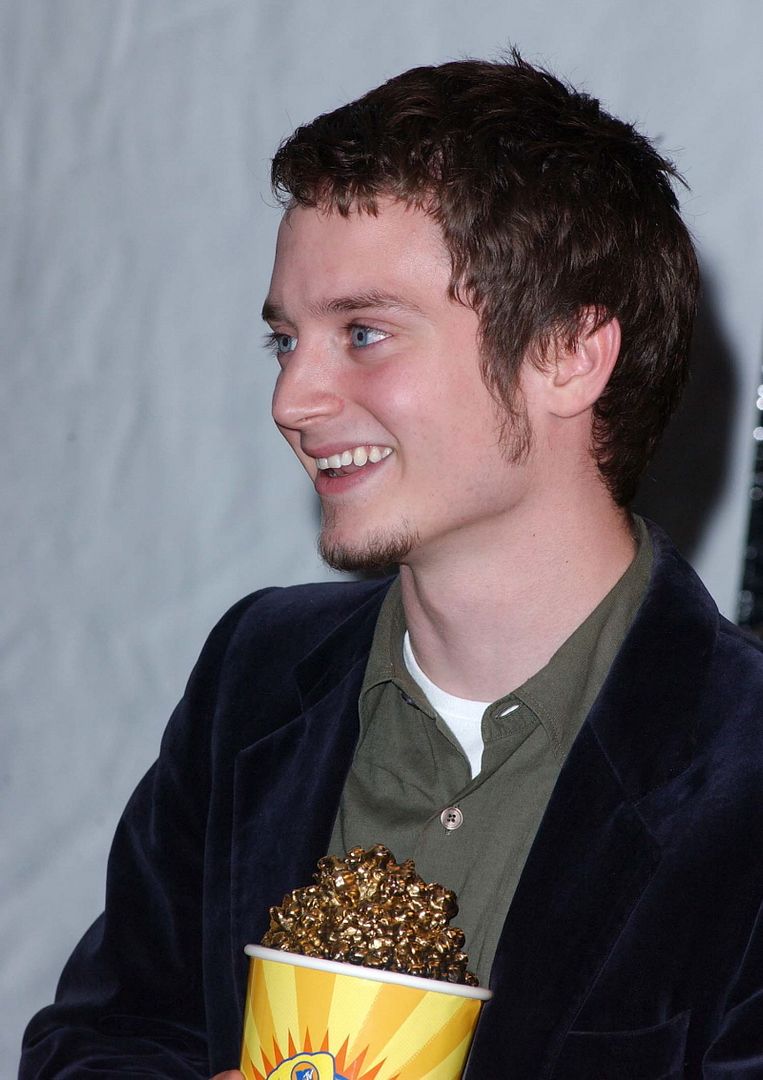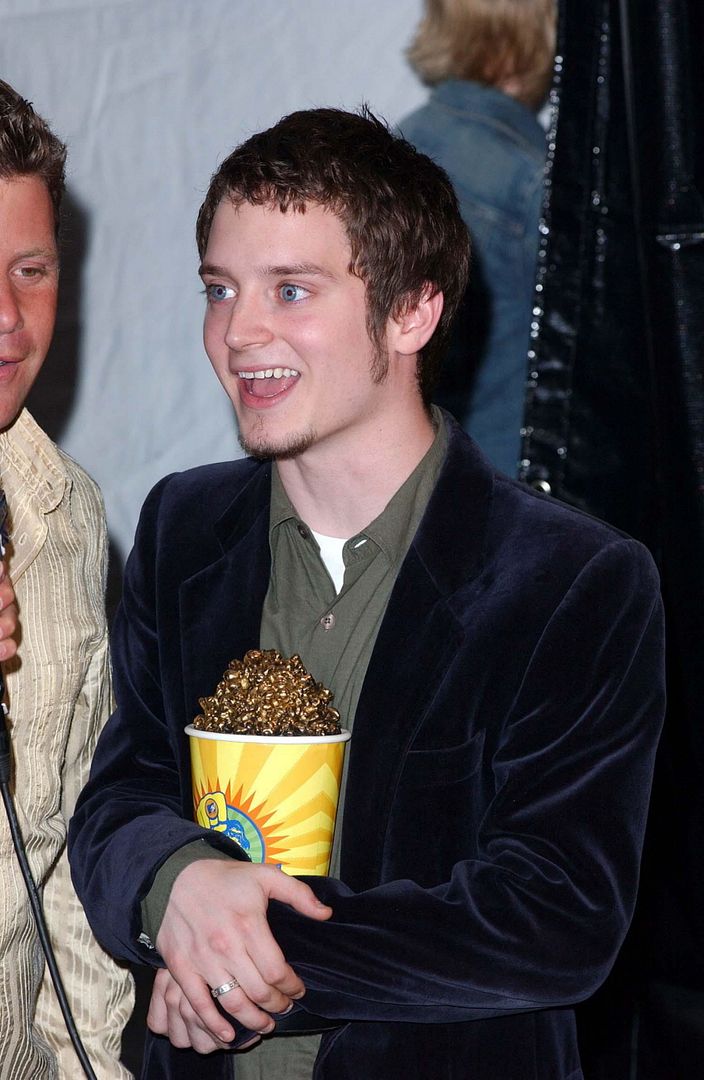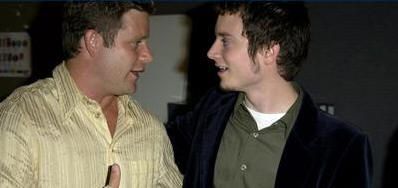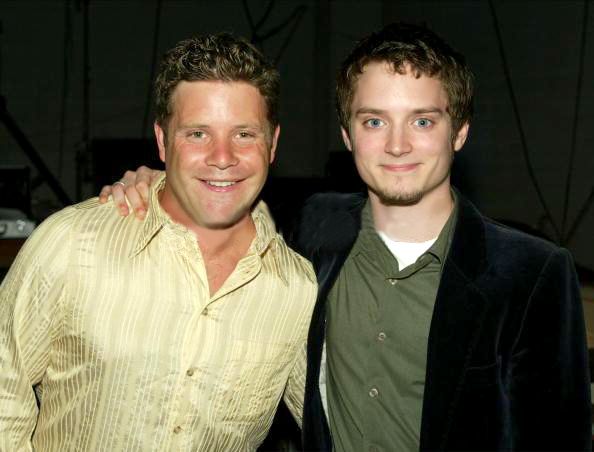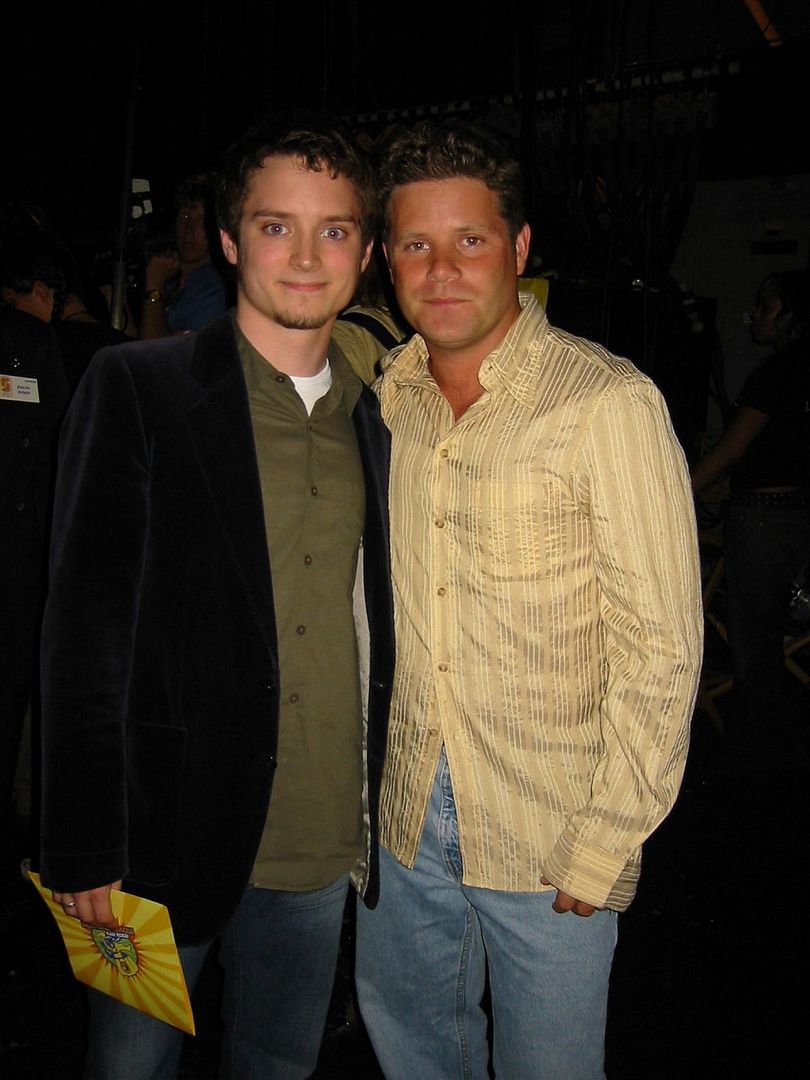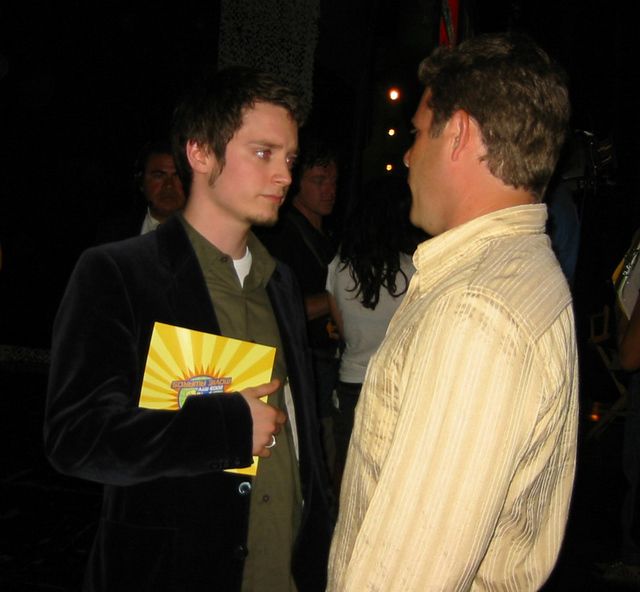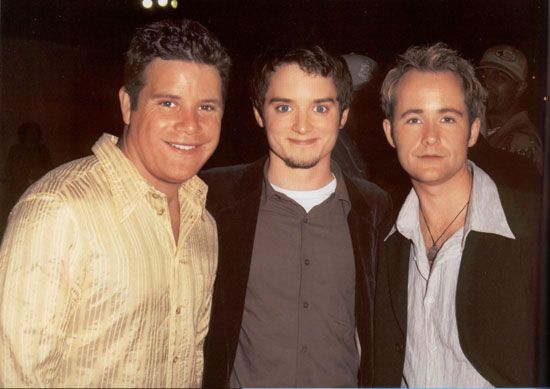 Elijah leaps onto his friend Ian Robinson's back while he's interviewing Kelly Osborne.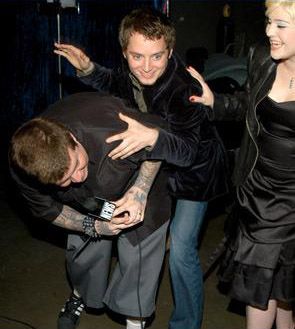 He apologises for crashing the interview.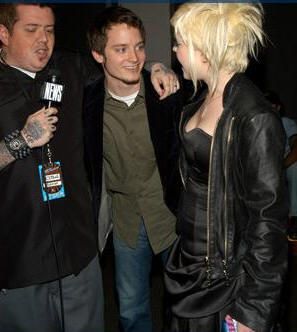 He tells them he missed Tatu!!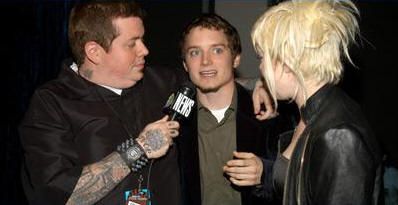 So Ian gives him a kiss!!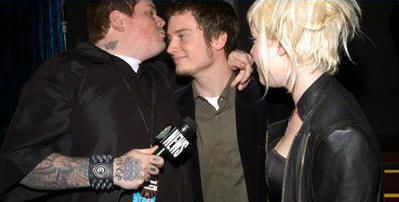 Posing with various other people!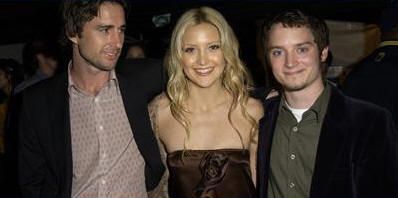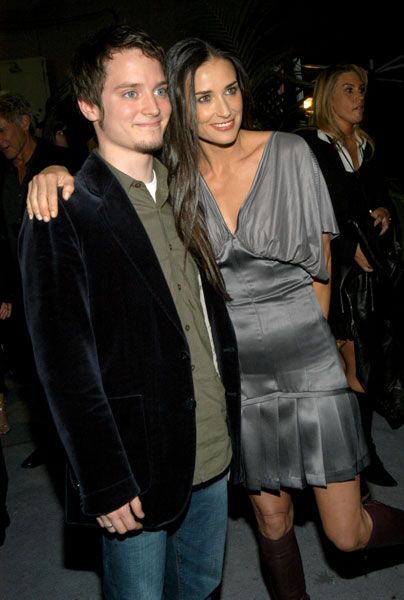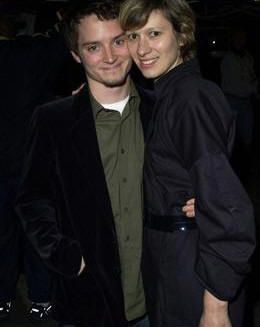 ---
Sometime during that summer Elijah had a huge thrill when he, Dom and Billy were invited by Viggo to a jamming session at a recording studio:
"Lord of the Wingdings

Elijah Wood recently gave keen-eared riders on the No. 2 train a preview of his most recent artistic collaboration with fellow actor Viggo Mortensen. We're not talking about plot points to the last installment of the Lord of the Rings trilogy, but rather his participation in a musical jam session with his Rings co-star and the exotic rock 'n' roll creature known as Buckethead, which took place during the recording of Mr. Mortensen's upcoming album of experimental rock.

"The guy is a genius, and I was like, 'Oh my God, this is my chance,'" Mr. Wood was overheard saying of his opportunity to play piano, percussion and even sing alongside Buckethead, the enigmatic performer who wears the equivalent of a K.F.C. bucket on his head while playing. Buckethead was last seen by a mass audience when he appeared as a member of the new lineup of Guns N' Roses on the 2002 MTV Music Awards.

"I got to jam for about four hours!" Mr. Wood could be heard saying on the No. 2 train. "It was really fantastic to be able to contribute, and I'm actually going to be on the album!"

According to a rep for Mr. Mortensen, a few weeks ago Mr. Wood and a few cast members from the Rings trilogy paid a visit to Mr. Mortensen, who was in his studio recording with Buckethead. "They ended up jamming," said the rep, "and they used some of that on the album, which is what Elijah was talking about [on the subway]." Mr. Mortensen, who has also expressed himself via painting and photography, has already produced three albums with Buckethead.

Mr. Wood—who was looking very un-Frodo-like on the train with a crew cut, designer jeans, Diesel shoes and a mid-length tan jacket—told his subway companions that Mr. Mortenson's albums are "very atmospheric. Some of it isn't really music, but with each progressive album, they've become more musical." Mr. Mortensen's new album, Pandemoniumfromamerica, comes out in November.

Blair Golson - NY Observer"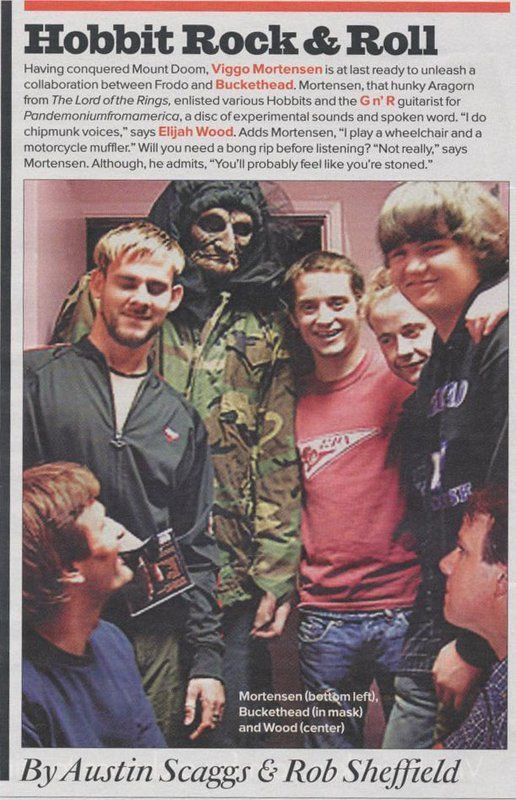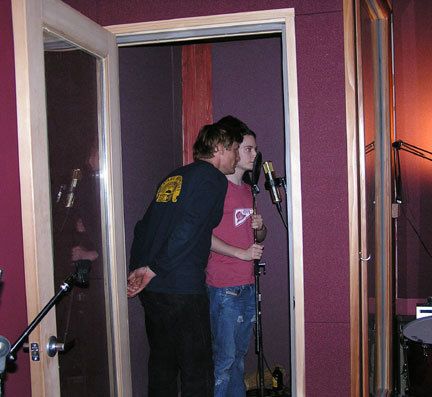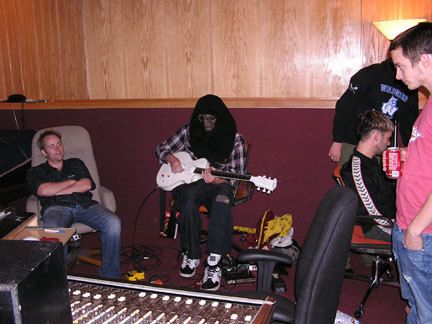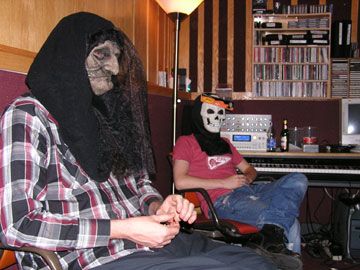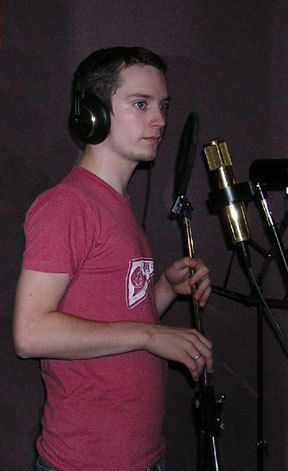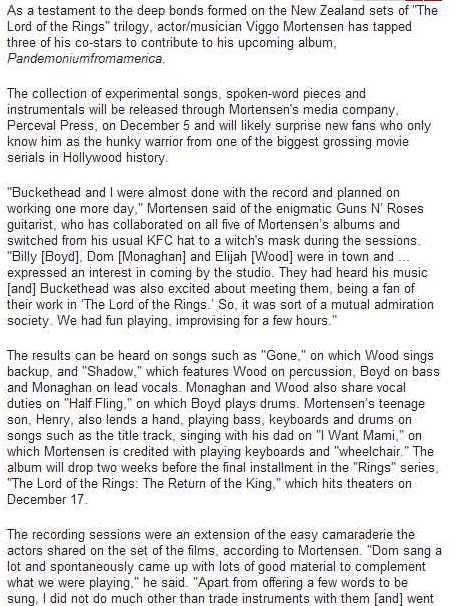 ---
My journey continues:
4 May 2003:
This was the day I met a hobbit for the very first time. He was a very nice hobbit - but not The One! Billy Boyd attended Collectormania3 here in the UK. I'd never heard of this sort of event before and can't even remember exactly how I found out about it. I even dithered about whether to go or not - or at least, if I should join the queue for an autograph. What if I found myself in a queue full of kids and teenagers!! As it turned out, I needen't have worried. Yes, the majority were probably teens/twenties but there were all other ages there too. Not understanding how manic these events can be, we didn't make too much of an effort to get there early and I very nearly missed out on getting to meet Billy at all!! It was very close to closing time by the time I reached him in the queue. I was so nervous - couldn't believe I was about to come face-to-face with someone who had worked closely with Elijah, who was one of his best friends. I believed this was the closest I'd ever come to meeting Elijah himself. I really had no idea what I was going to say and for some reason ended up asking him when they'd be going back to New Zealand for the ROTK pick-ups!! "In about three weeks", was the reply. He signed my LOTR fan club mag with the pic of Pippin on the cover, "To Pauline, With Much Love, Billy Boyd". He was so sweet to everyone and looked wonderful. I also saw Andy Serkis, Sala Baker and John Rhys-Davies but didn't get their autographs. The signing tables were not screened off at all so we were able to just stand and watch Billy signing for as long as we wished. As we finally walked away at the end of the day, I took a long, lingering look at him - he happened to be standing at that moment and I knew that he and Elijah are exactly the same height. So that's how tall Elijah is, I thought to myself. I tried to imagine how I'd feel if it had been Elijah standing there - I'd probably end up making a complete fool of myself!! As if Elijah would travel from the US to attend an event in Milton Keynes!! It was never going to happen. Was it?
Billy prepares to greet a fan (not me!) at Collectormania3: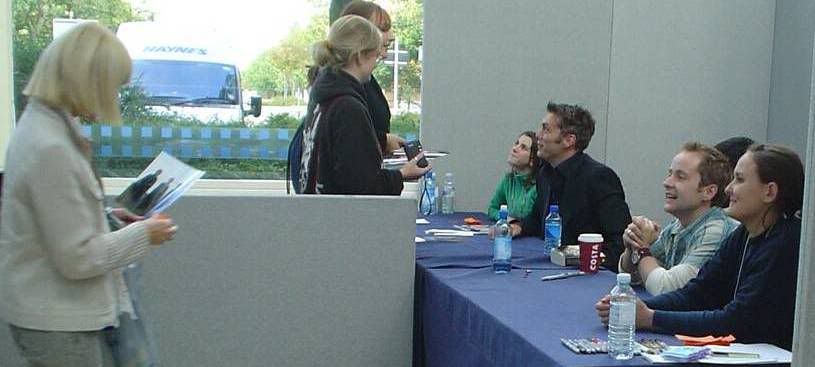 ---
Frodo's Journey continues:
The 'death' of Gandalf:
To the Bridge of Khazad-dum!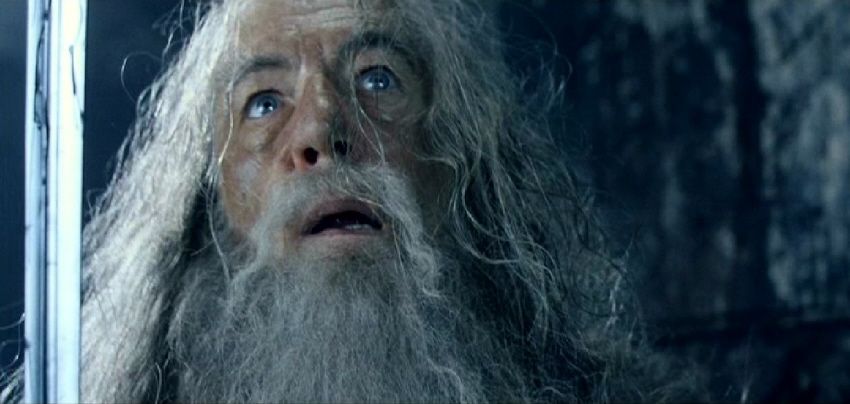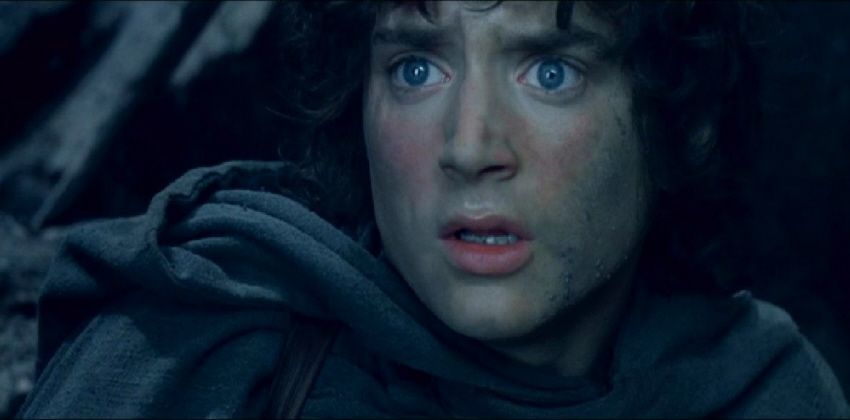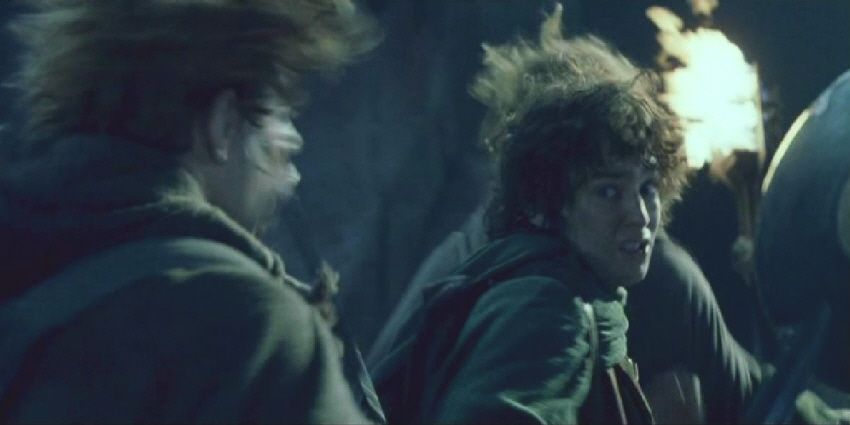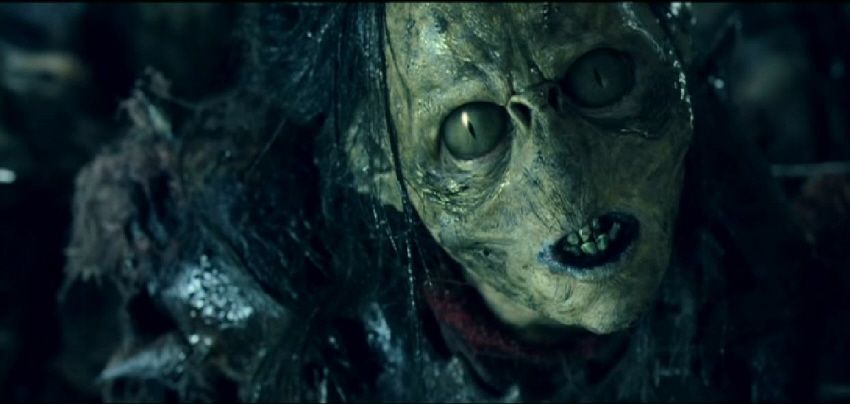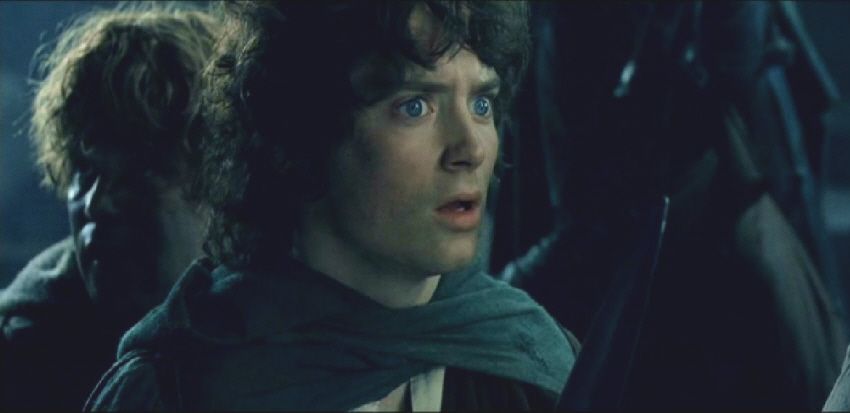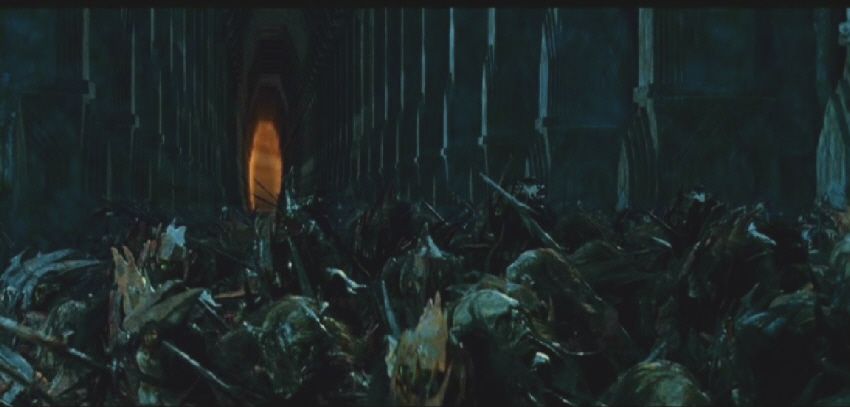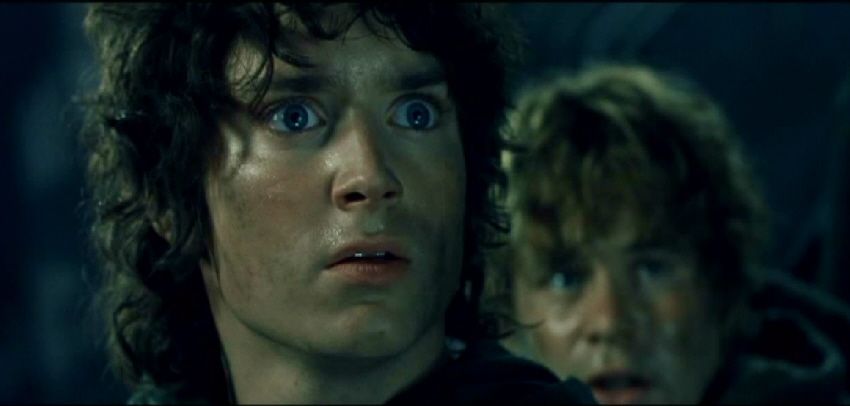 What is this new devilry?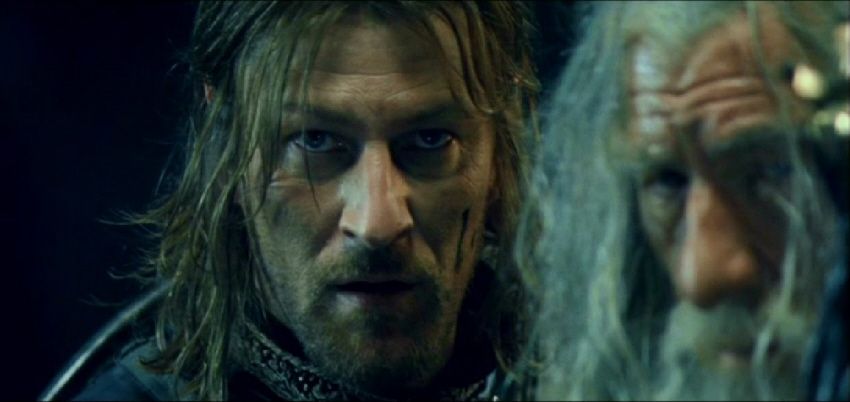 A balrog. A demon of the ancient world. This foe is beyond any of you.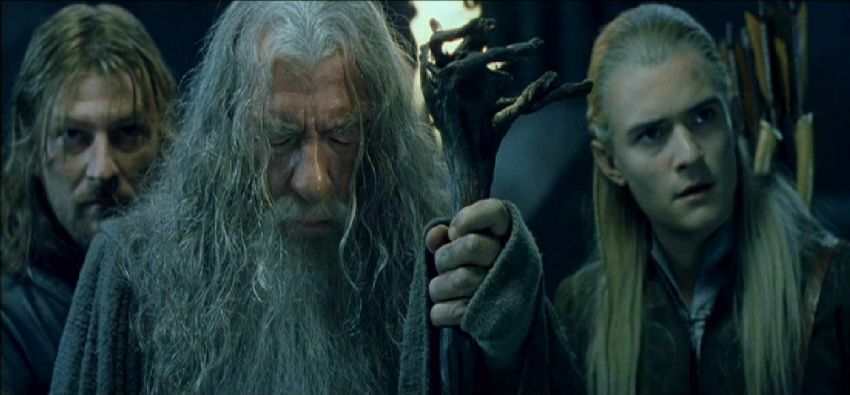 Run!!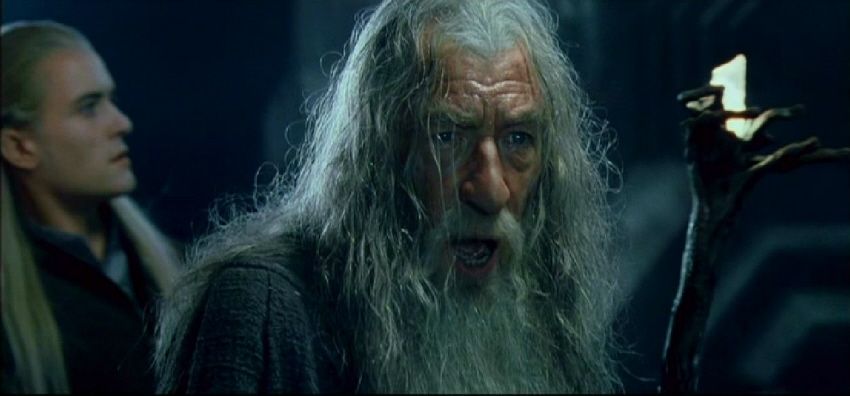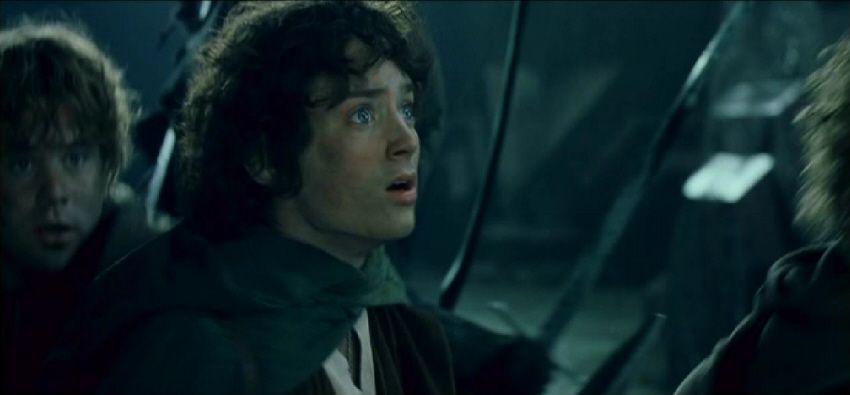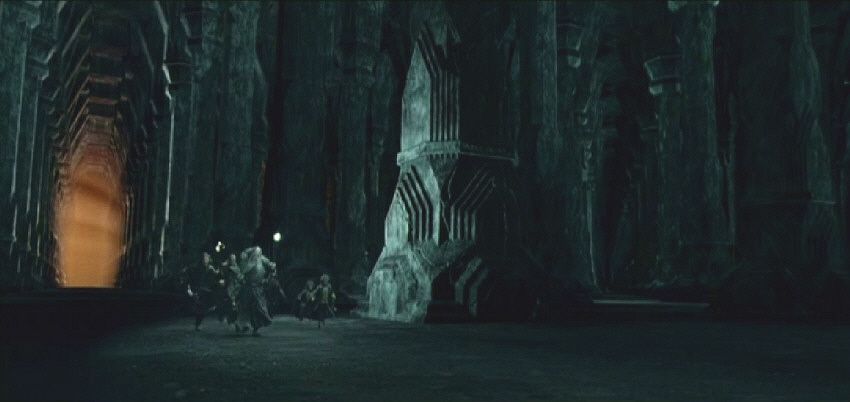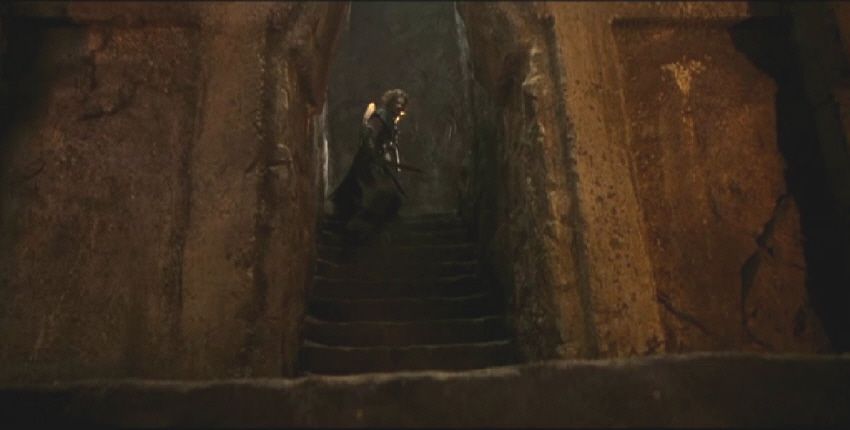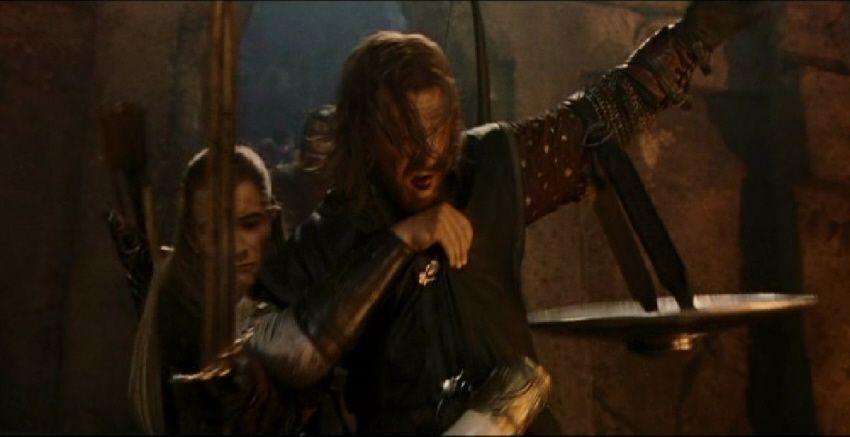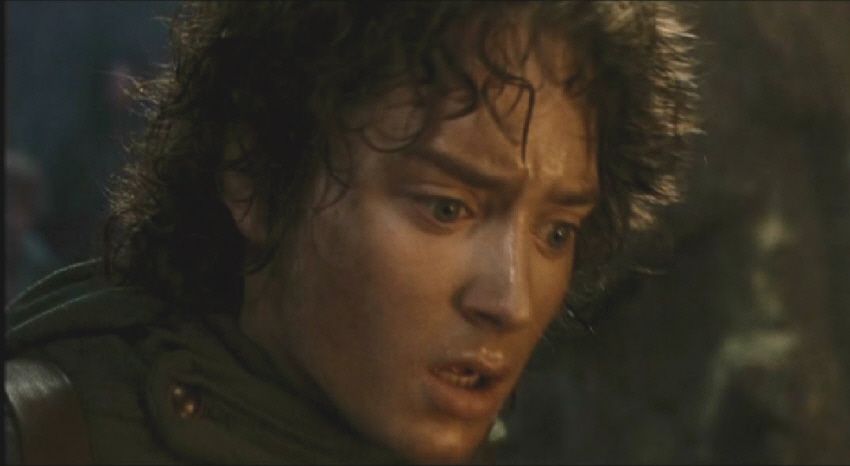 Lead them on, Aragorn. The Bridge is near.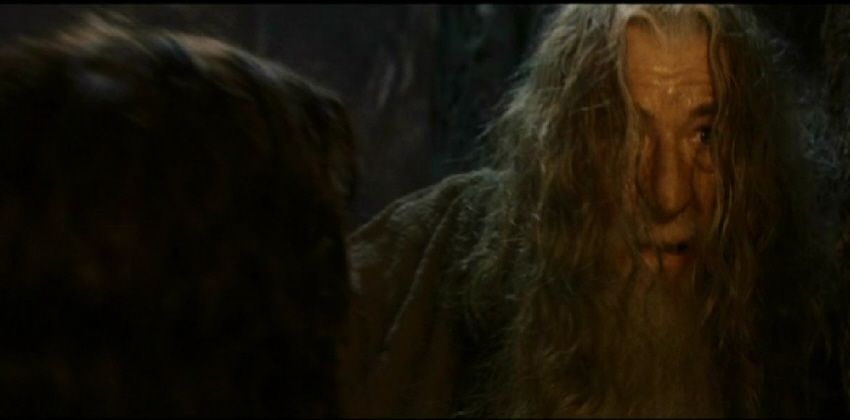 Do as I say. Swords are no more use here!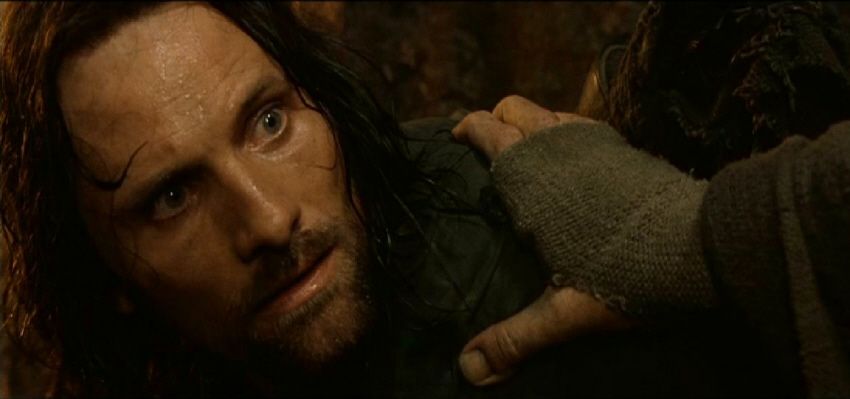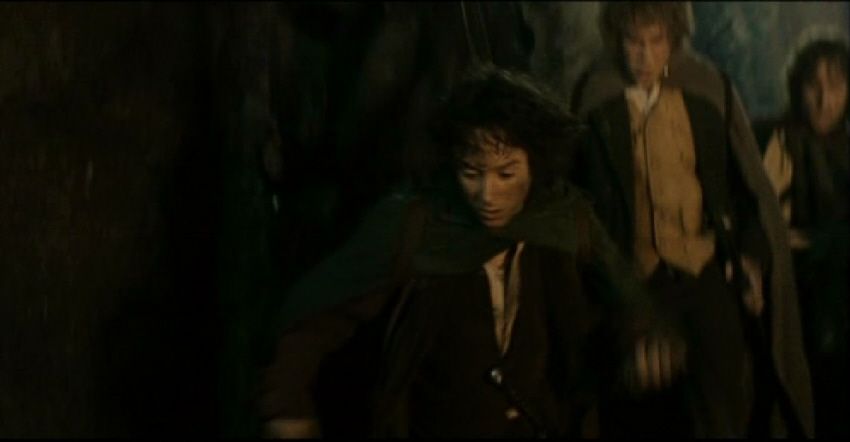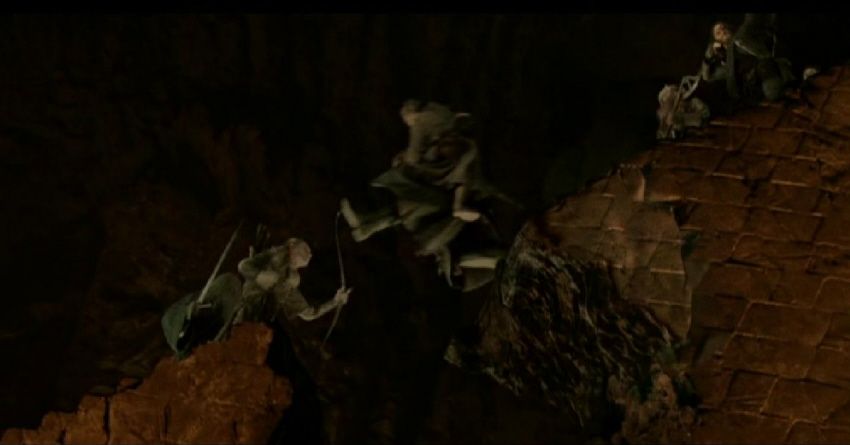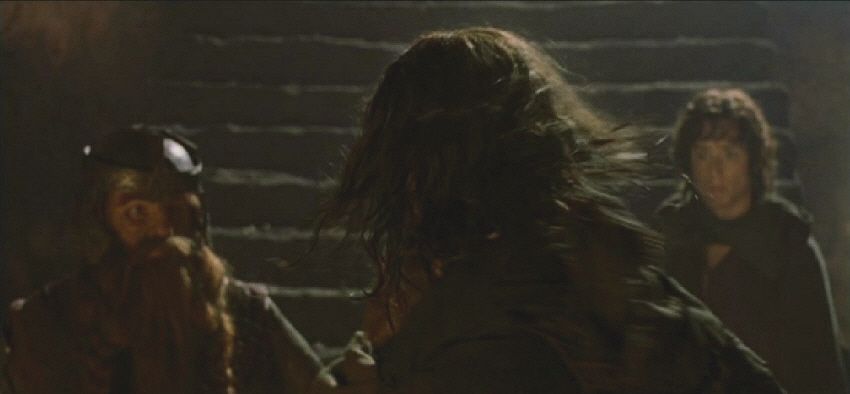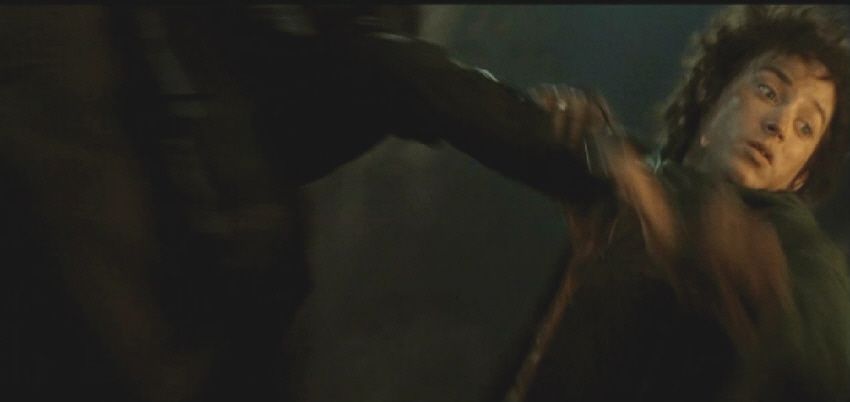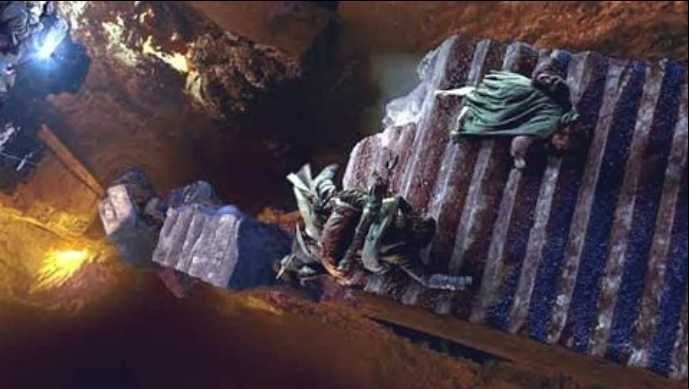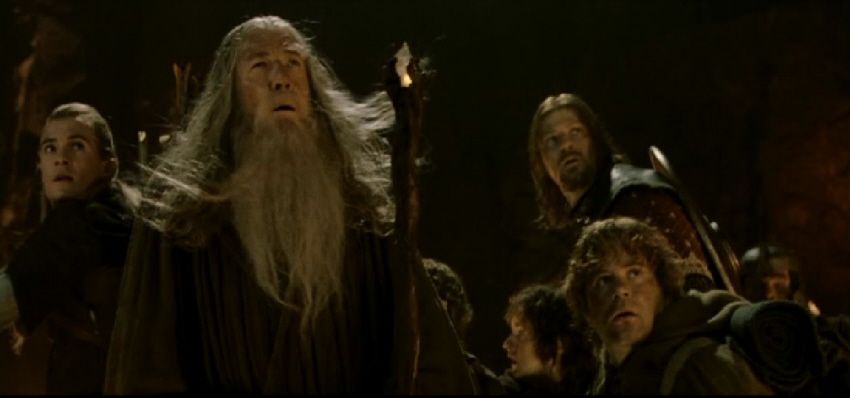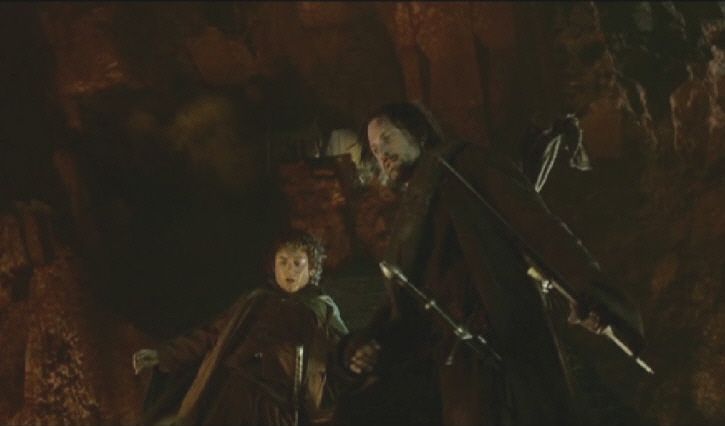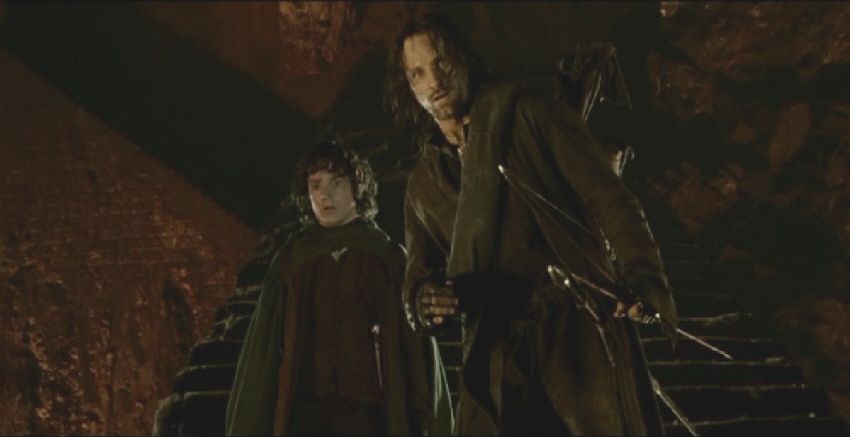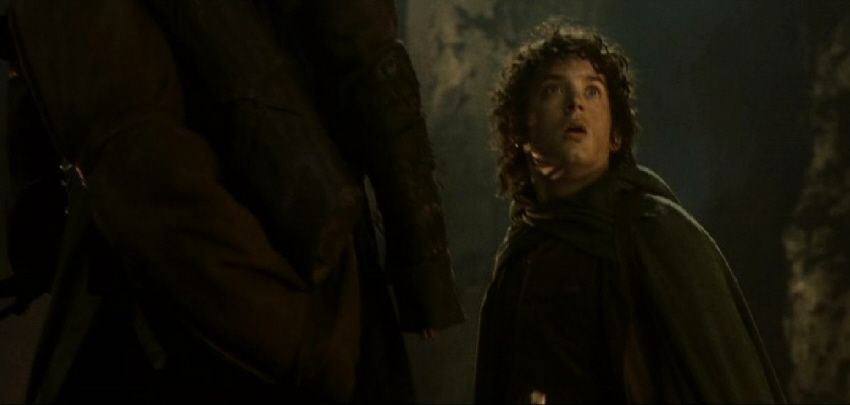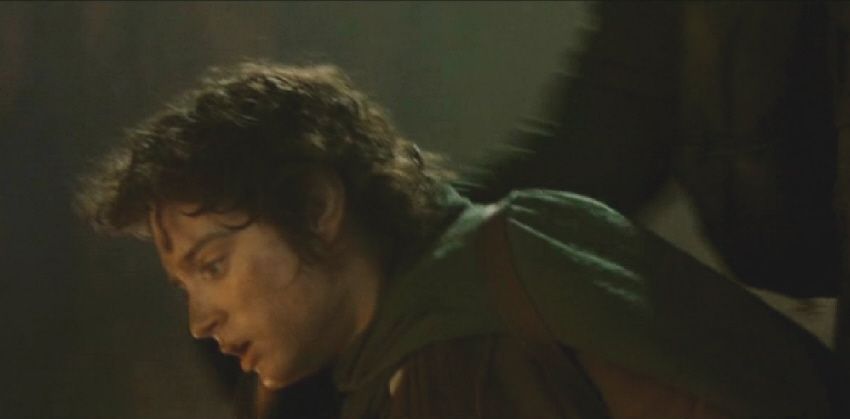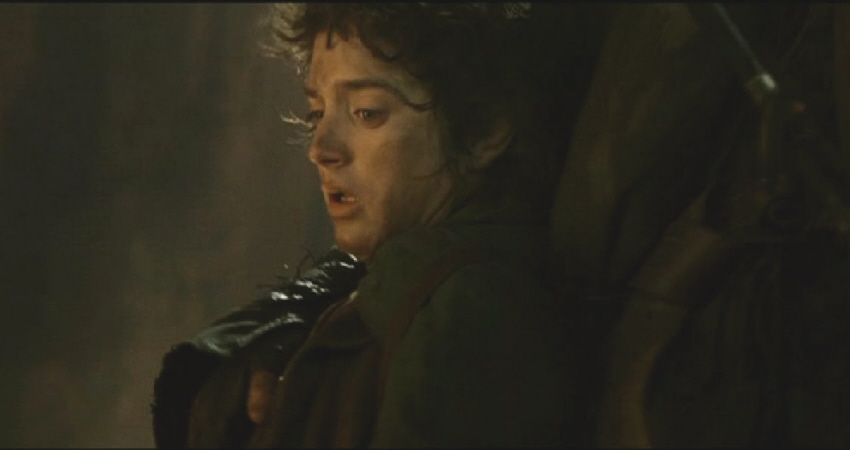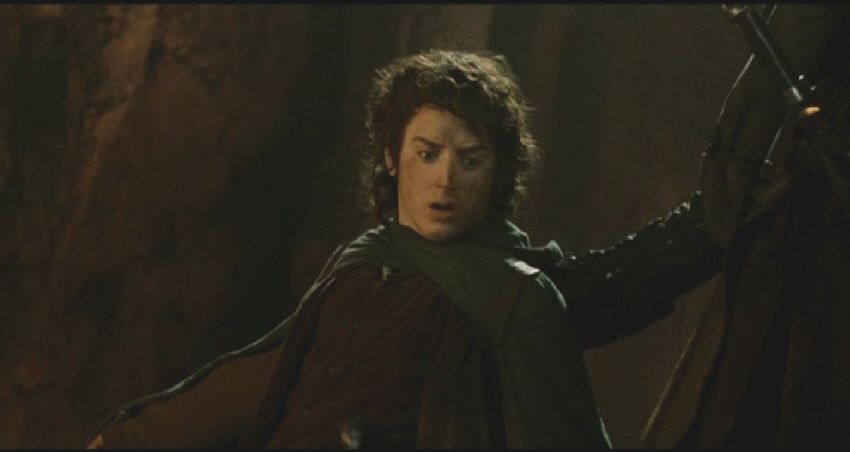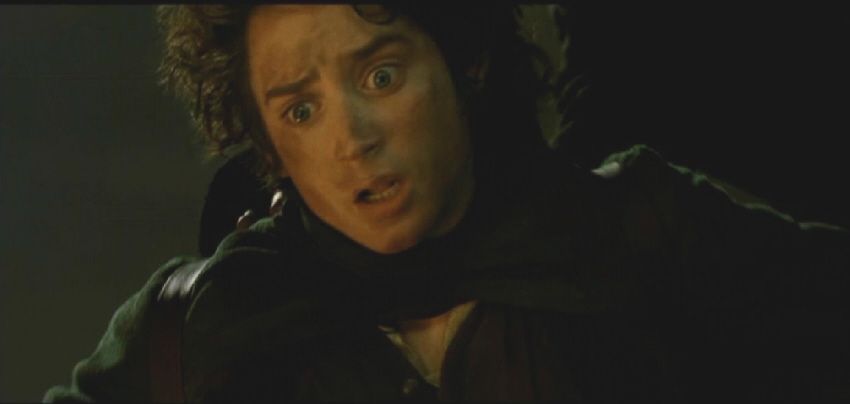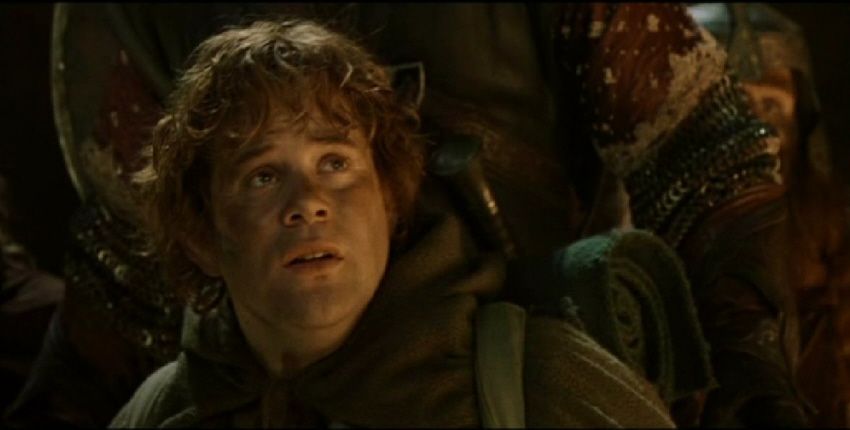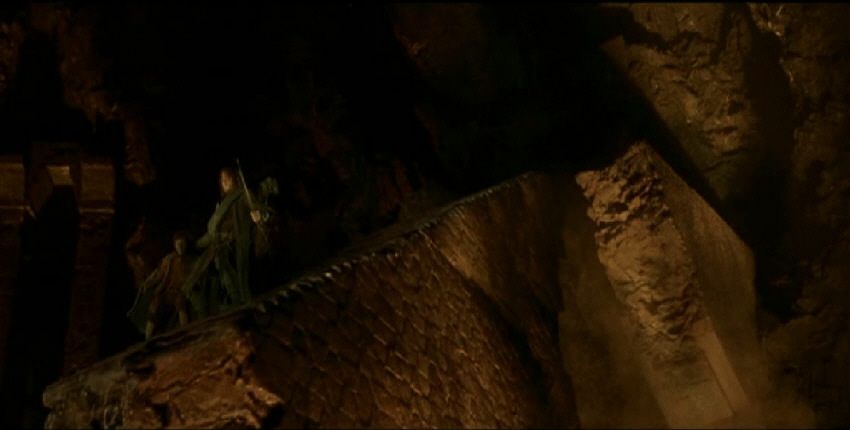 Lean forward!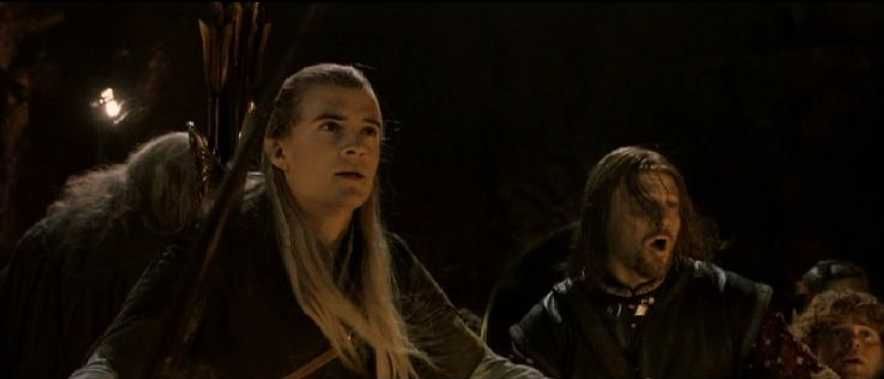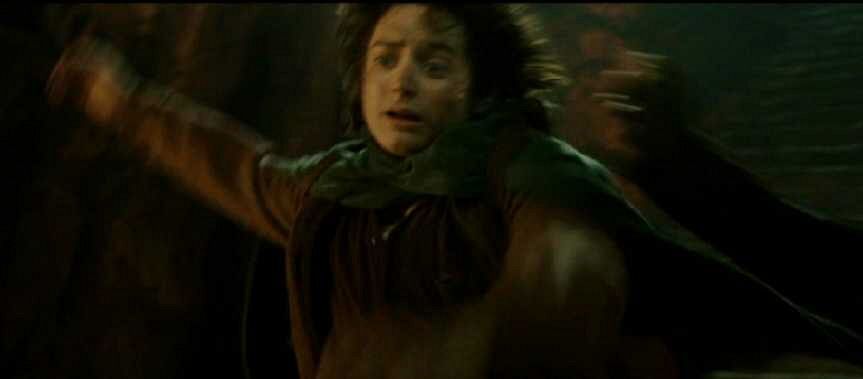 Over the bridge! Fly!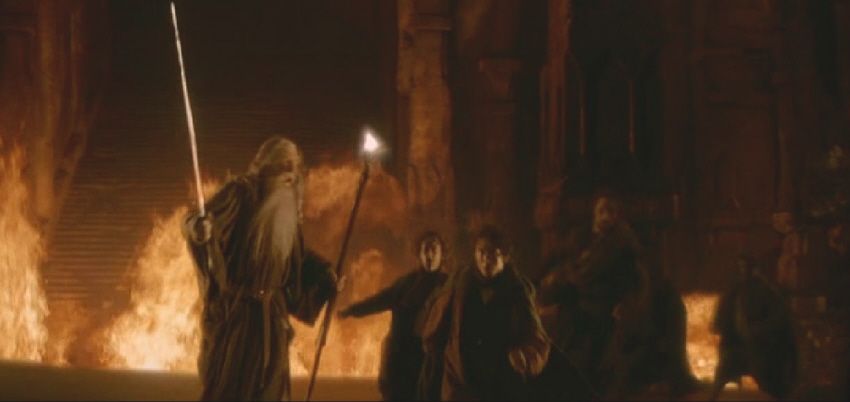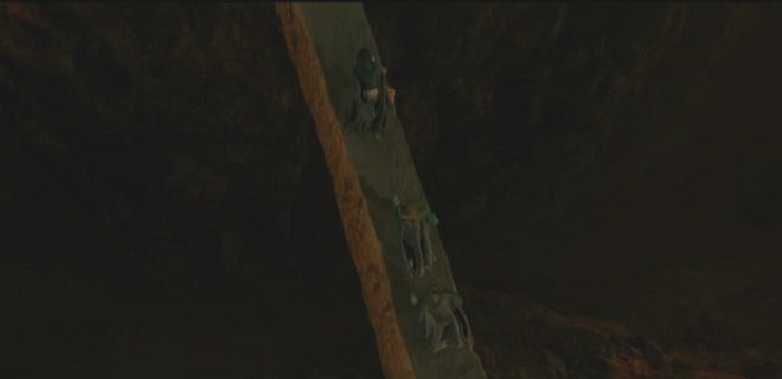 Elijah, dvd: "Initially they were going to try and photograph - and they did actually - real fire against black but, because of the length of time that it took to make these movies, during the production a guy actually wrote the programme for CG flame."

I am a servant of the secret fire. Wielder of the Flame of Anor.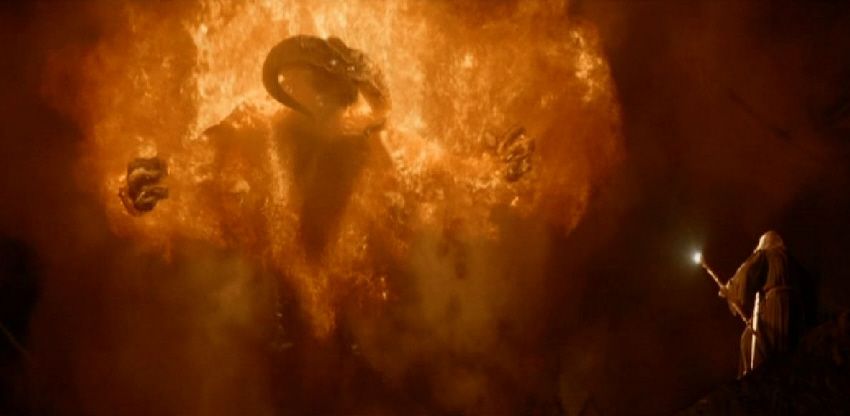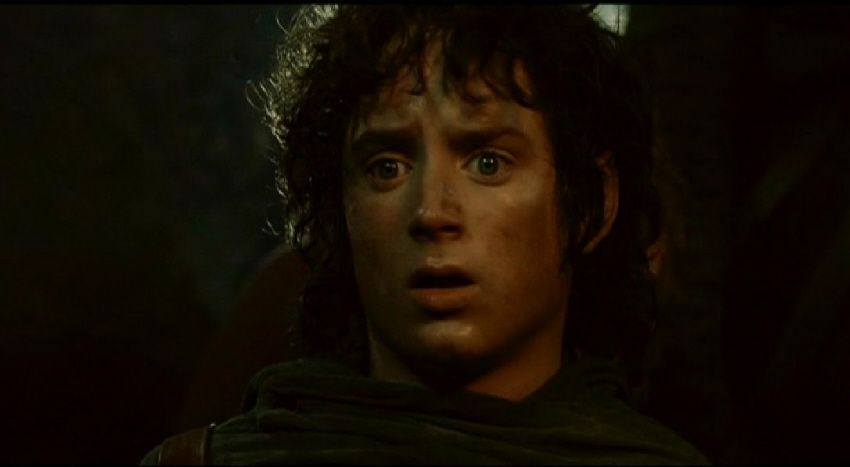 You shall not pass!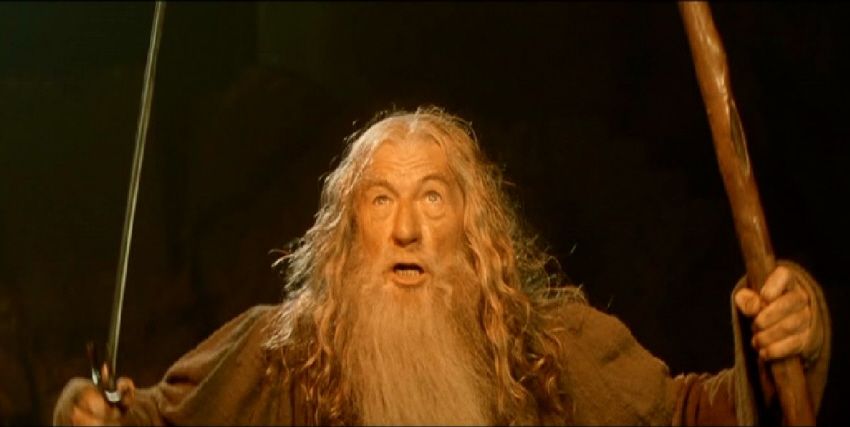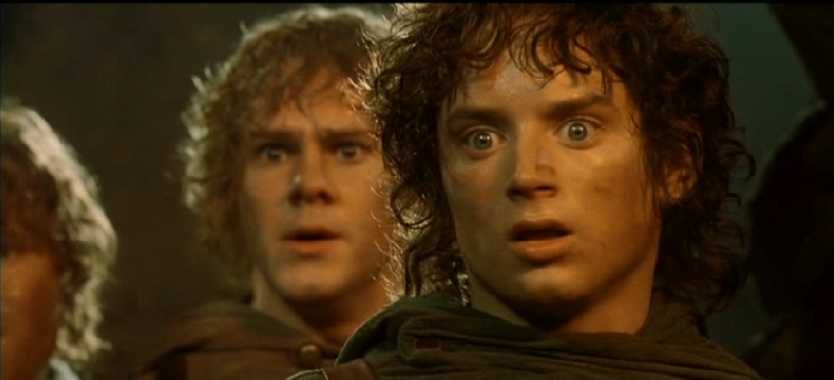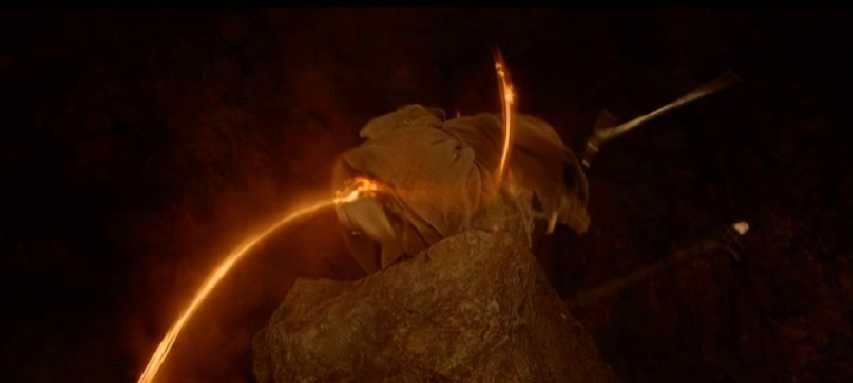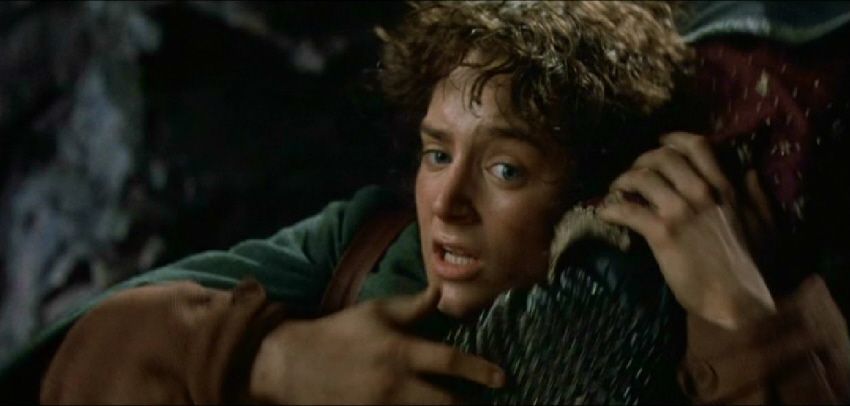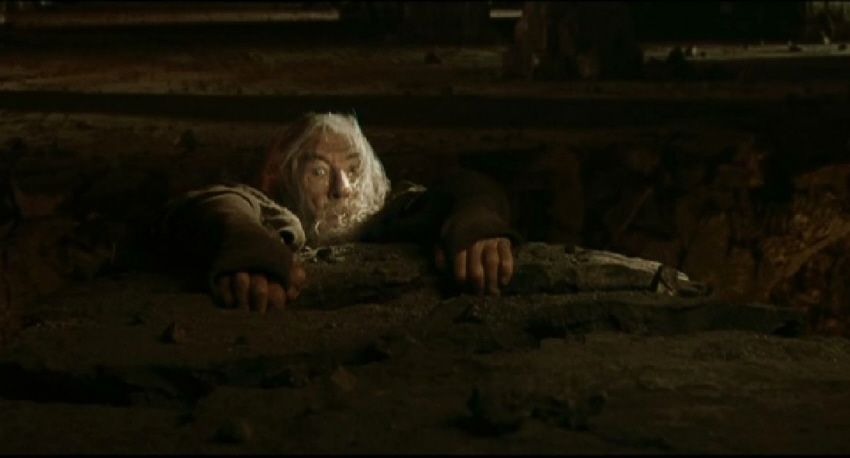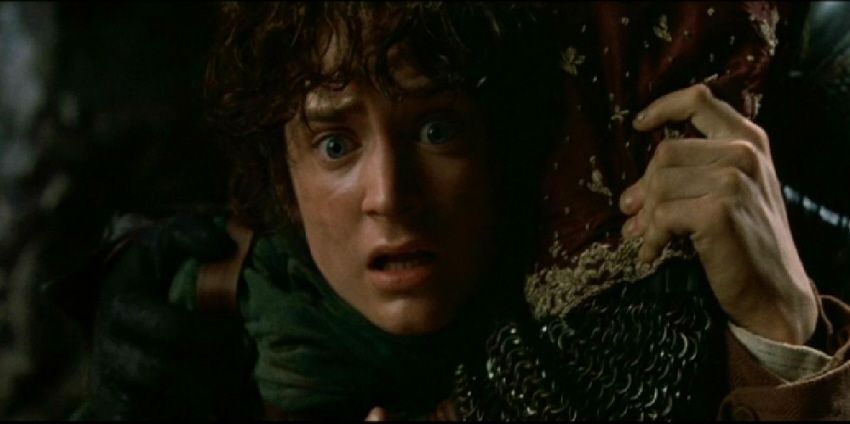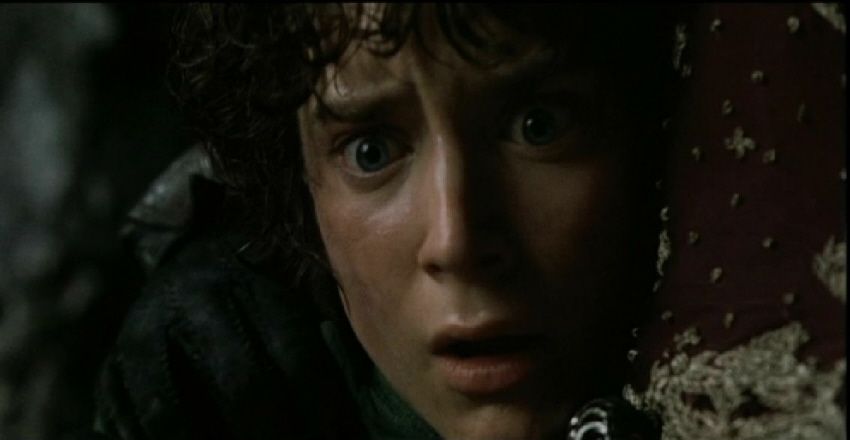 "I think it was I who pleaded for one last look in close-up between Gandalf and Frodo as the two friends part forever" ~ Ian McKellan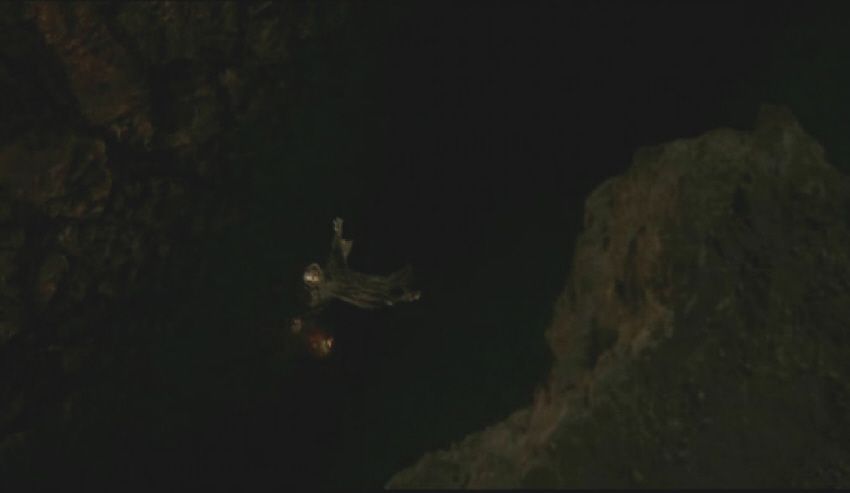 "The music at this point is what I remember most. And the cry of utter anguish from Frodo as Gandalf falls. If you're not moved by this, check your pulse" (Reviewer, Ain't It Cool News)

"Gandalf takes his deathly fall…and the next clip just had me going … Elijah Wood you acting b*****d genius you!!! The look, body language and yell let out by this 20year-old is enough to bring your soul to a standstill .... Frodo Baggins just saw one of his best friends die right before his eyes¡ it truly is one of the best scenes in the film, you just need to SEE it, if only just for that!!" ( Xoanon, theonering.net)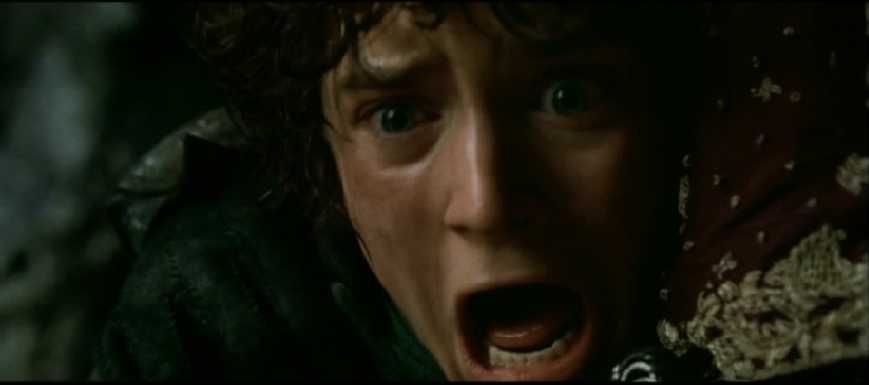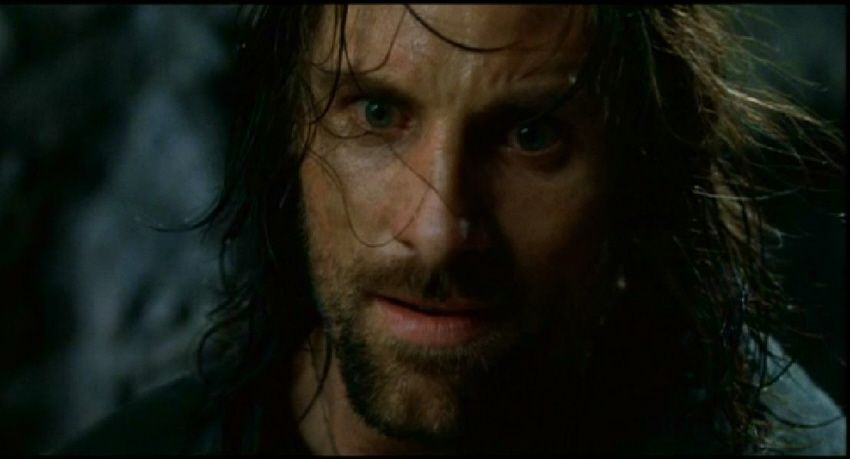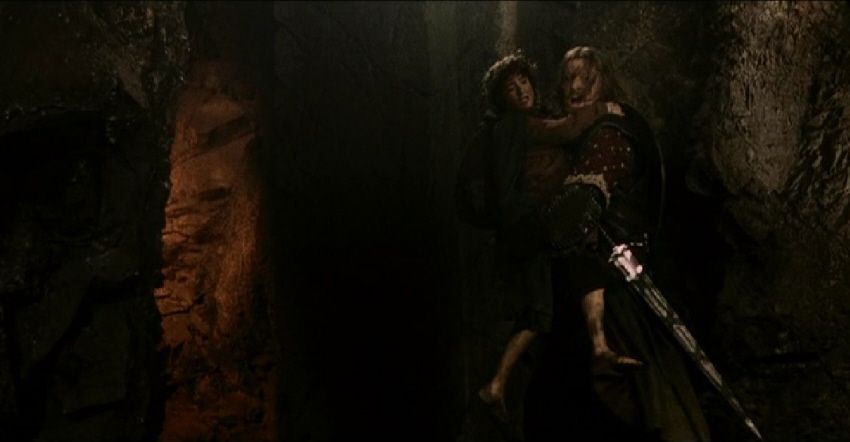 I was amazed to learn that the following scenes were shot completely out of sequence:

PJ, DVD: "We did this very early in the shoot - we shot this sequence long, long before we ever shot Moria. In fact, Ian McKellan hadn't even arrived in NZ to start working with us so they were all reacting to Gandalf's death without having ever seen Ian McKellan dressed up as Gandalf. This was late 1999 and Ian didn't start working on the movie until January 2000. So it was one of those weird scenes where we found ourselves shooting this without having filmed anything leading up to it at all!!"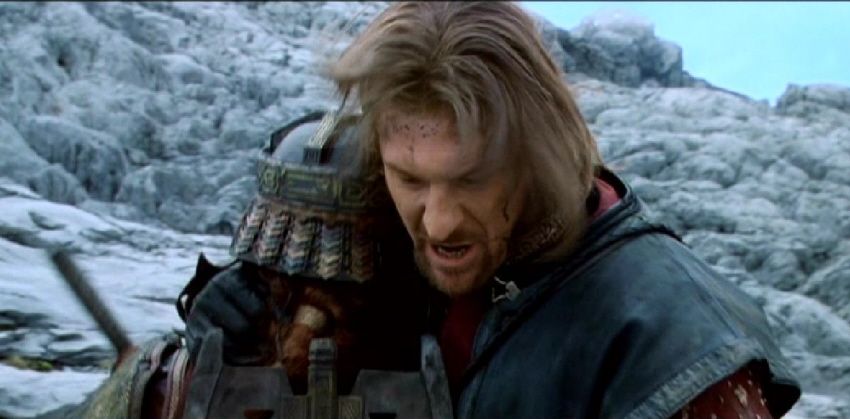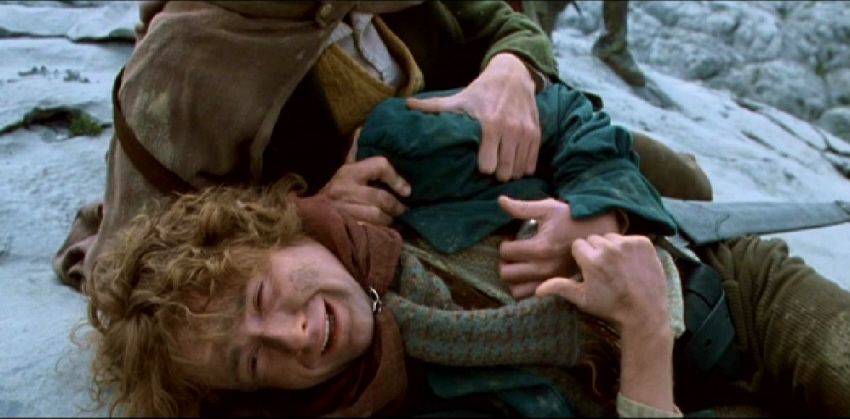 Elijah: "Such confusion in his eyes - I love that"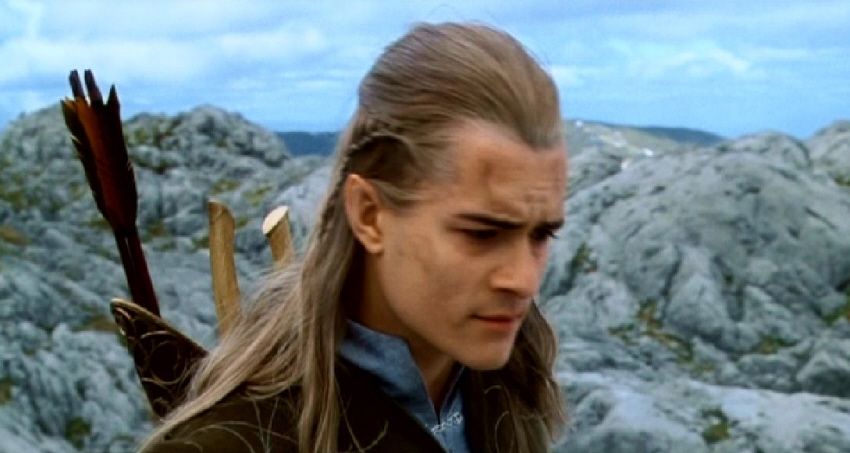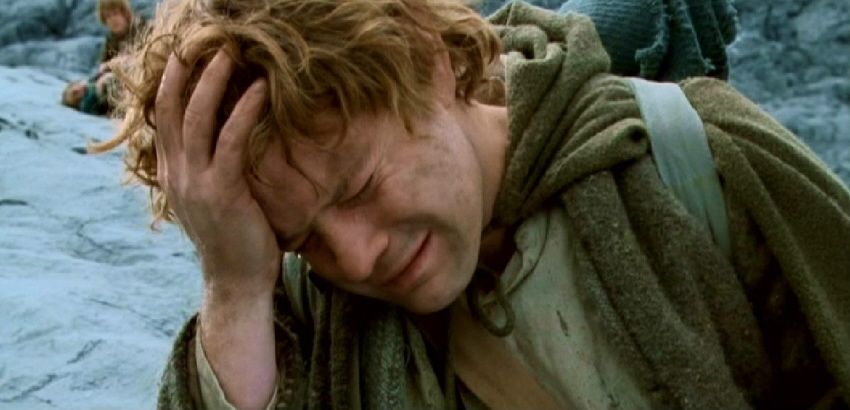 "Grief at last wholly overcame them, and they wept long: some standing and silent, some cast upon the ground." (Fellowship of the Ring : The Bridge of Khazad-Dûm)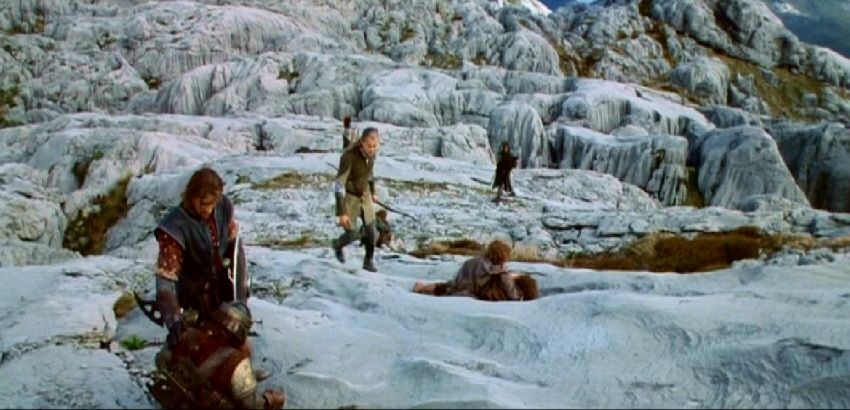 Legolas - get them up!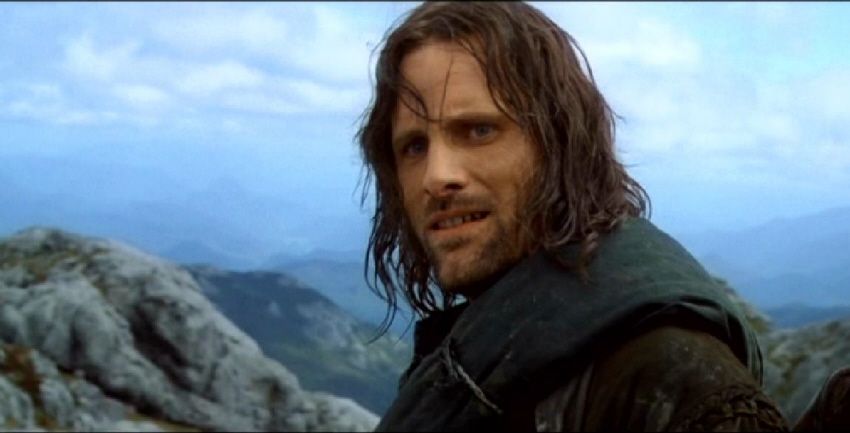 Give them a moment, for pity's sake!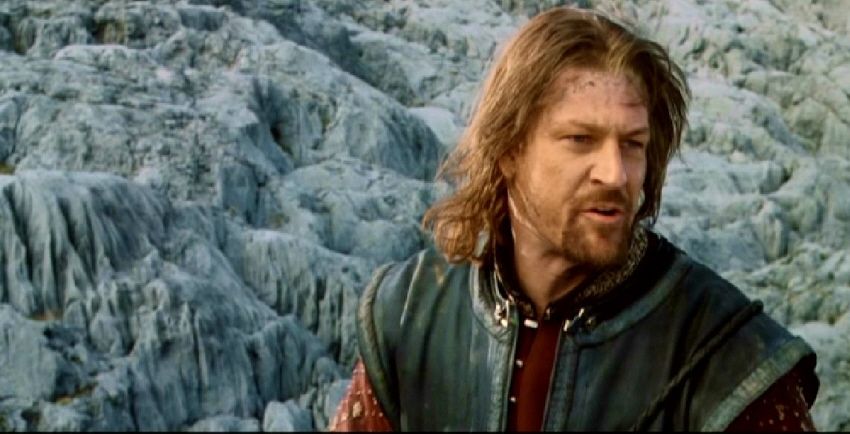 By nightfall these hills will be swarming with Orcs! We must reach the woods of Lothlorien.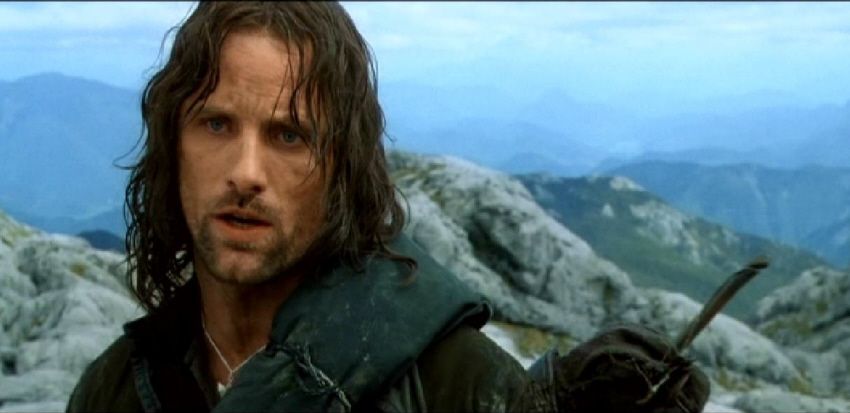 On your feet, Sam!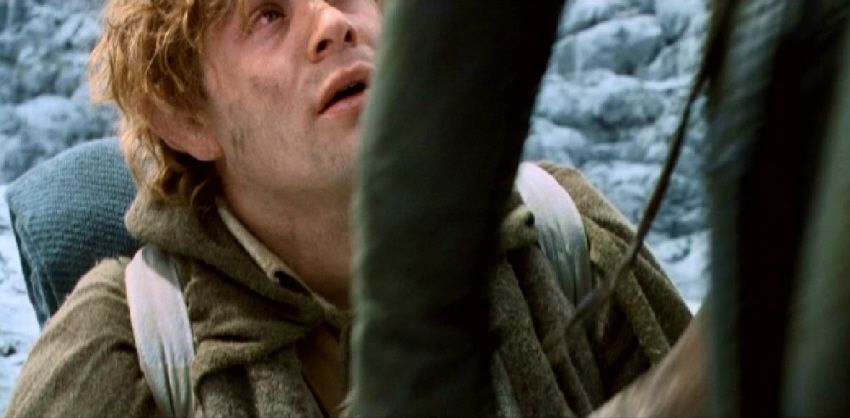 Frodo?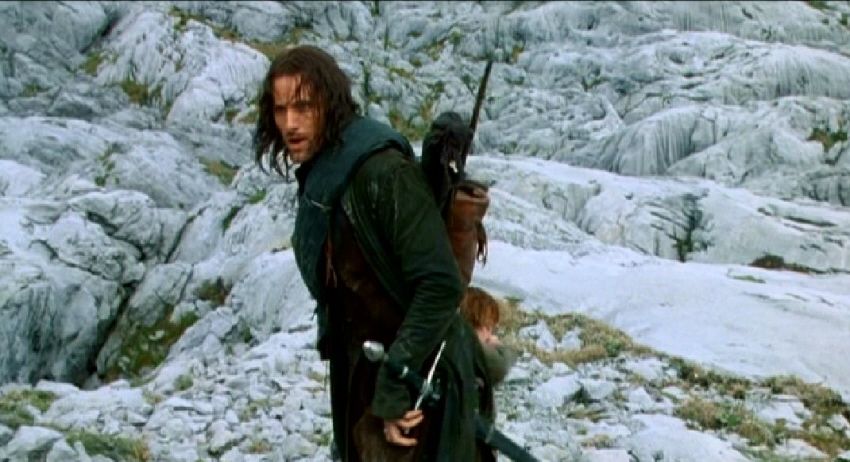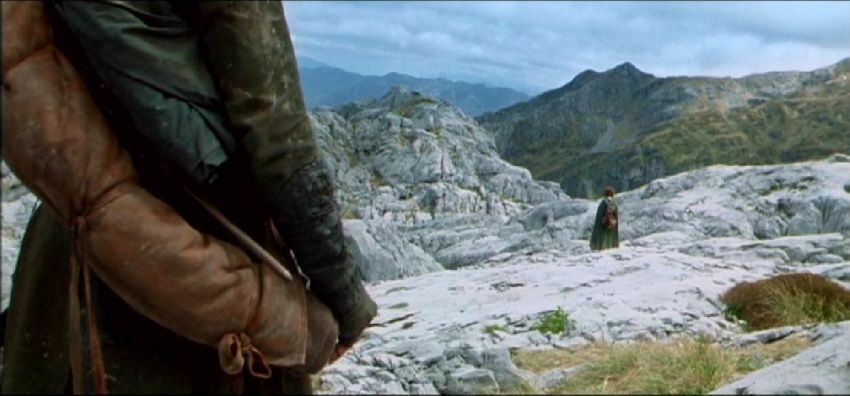 Frodo!!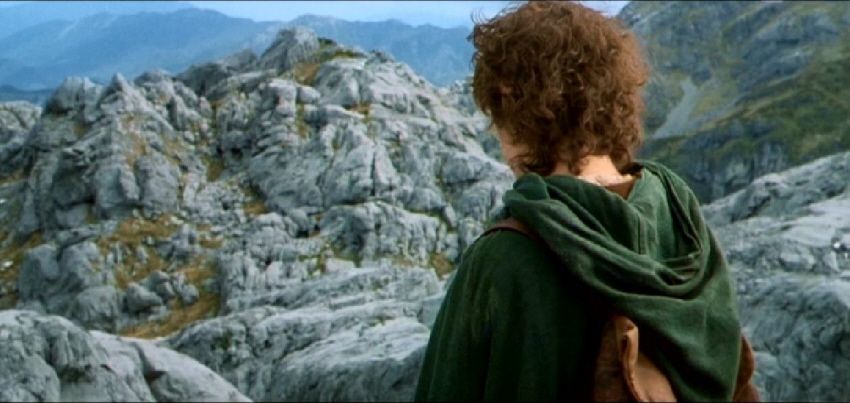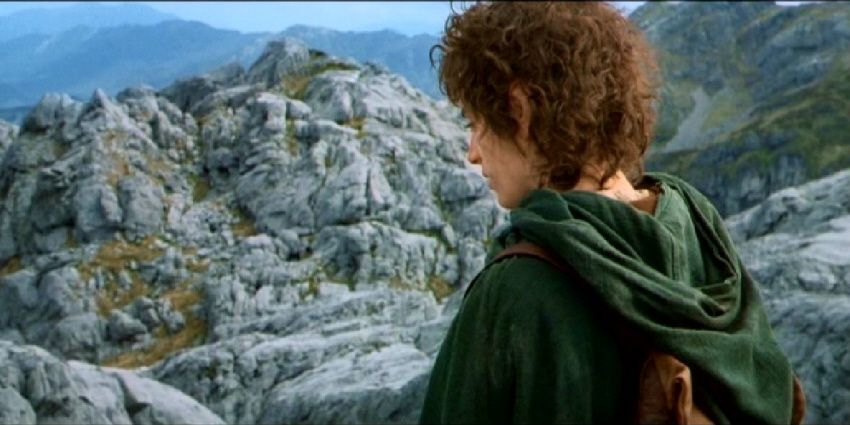 Phillipa Boyens, DVD: I remember Elijah saying you gave him a great note here Pete when you asked him to turn, you said, "I want your grief to be frightening".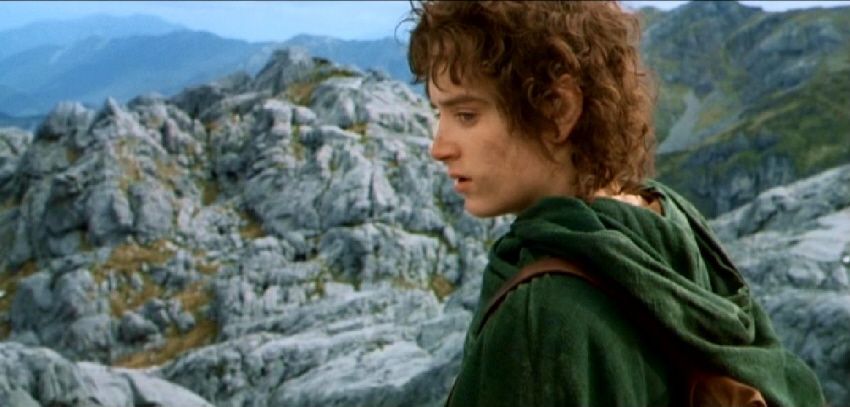 "I remember we were on the side of a mountain and he came up to me before we did the first take and he just said 'I want the look that you have on your face to scare the audience and - that horror, that deep sadness, all of the things that are going through Frodo's mind at that moment – that should be encapsulated in this one look". (Elijah, The Quest Fulfilled)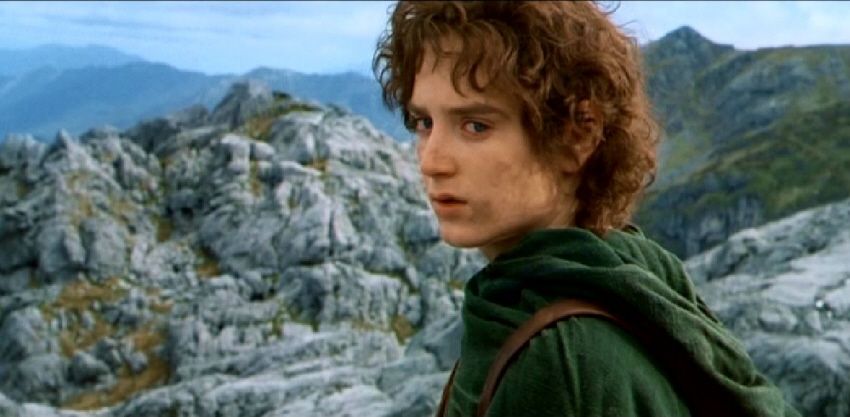 There are no words ...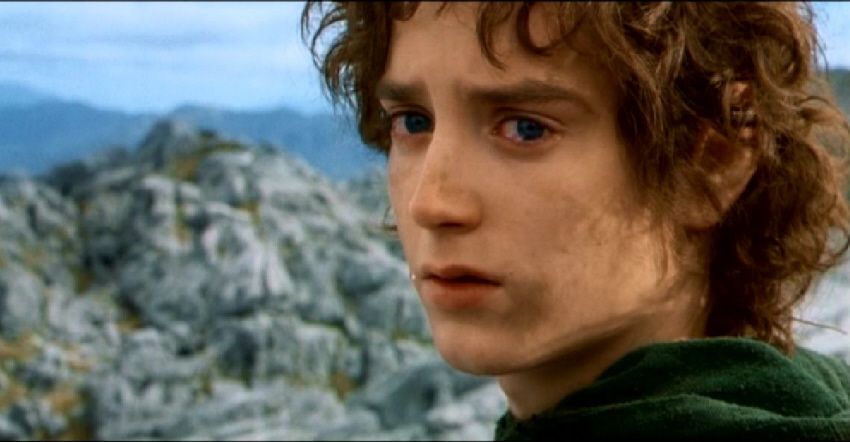 "Elijah's huge strength, especially in the role of Frodo, is his wonderful ability to convey complex emotions and thoughts just through his eyes." (Peter Jackson, Movieline)


---


TO BE CONTINUED



"We're getting this award for being friends 'cos a lot of our friendship went into the roles."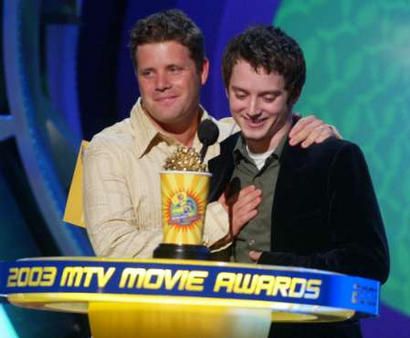 LINK TO ALL CHAPTERS:
"A JOURNEY WITH FRODO"
comments: Leave a comment