Today is a very special day for our dear Elijah - his 30th birthday!! I hope it's full of joy for him and that the coming year brings all that he wishes for. He's accomplished so much in his 30 years - here's hoping the next 30 will be just as fulfilling.

If you'd like to take a look at some of the events of the past year since his last birthday, the link is below the pic.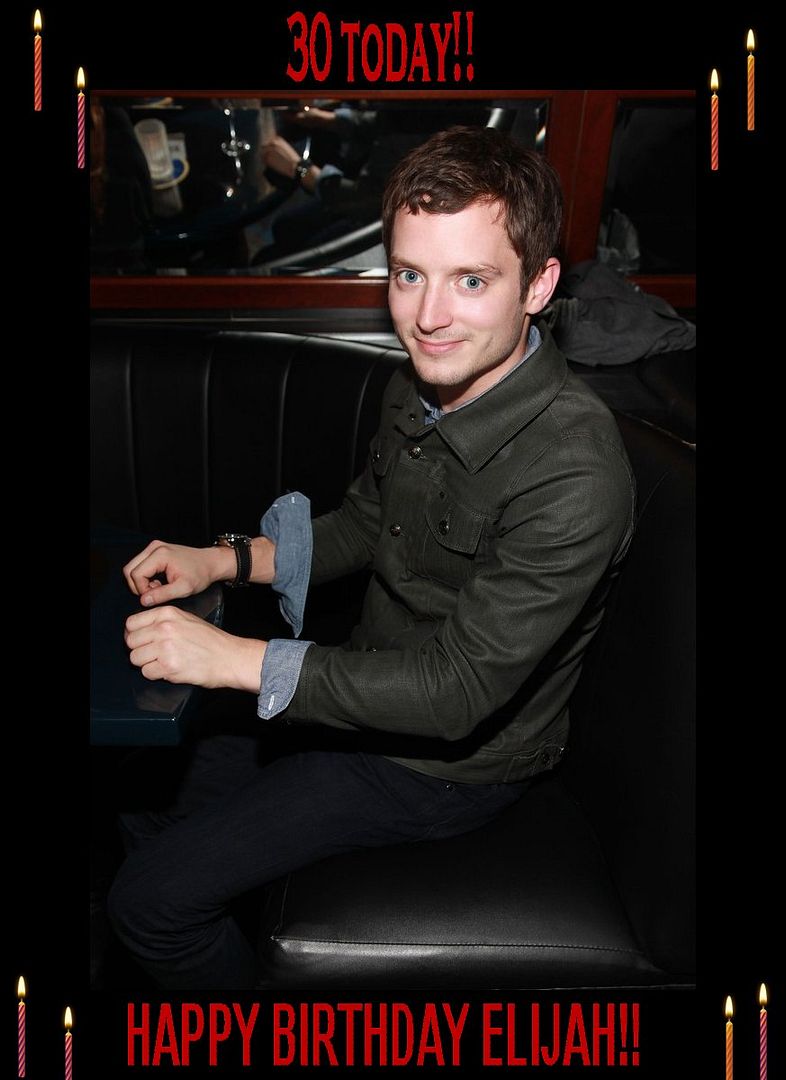 28 Jan - Elijah returns from the Sundance Film Festival just in time for his 29th birthday: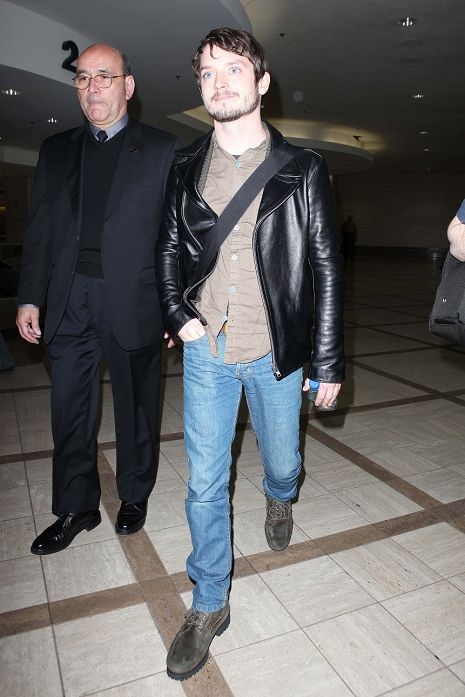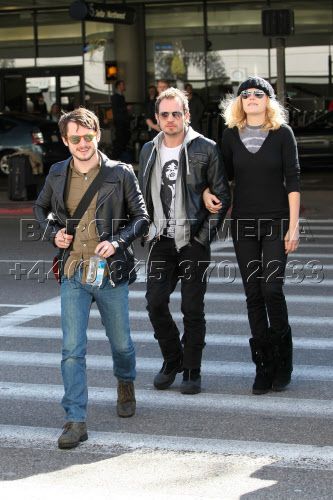 But soon he was off on his travels again, this time much further afield - Sydney, Australia to work on the second 'Happy Feet' movie.

4 Feb - Sydney, recording Happy Feet 2: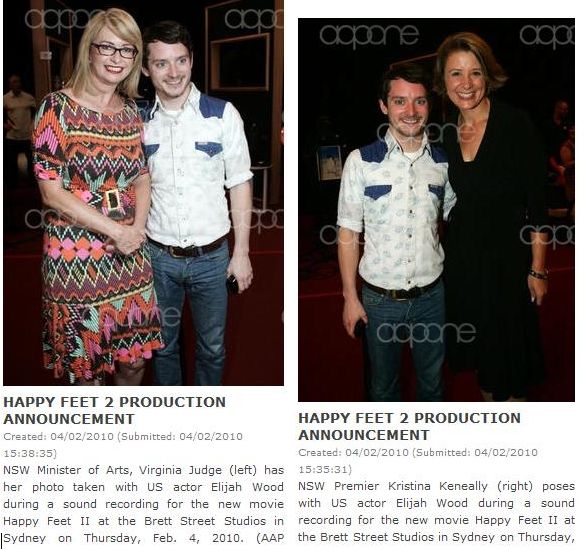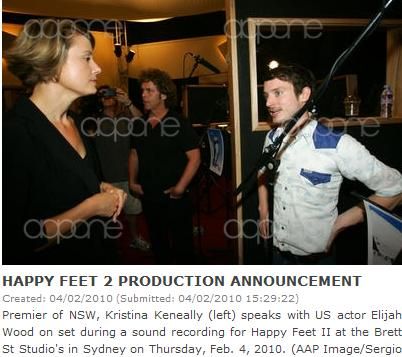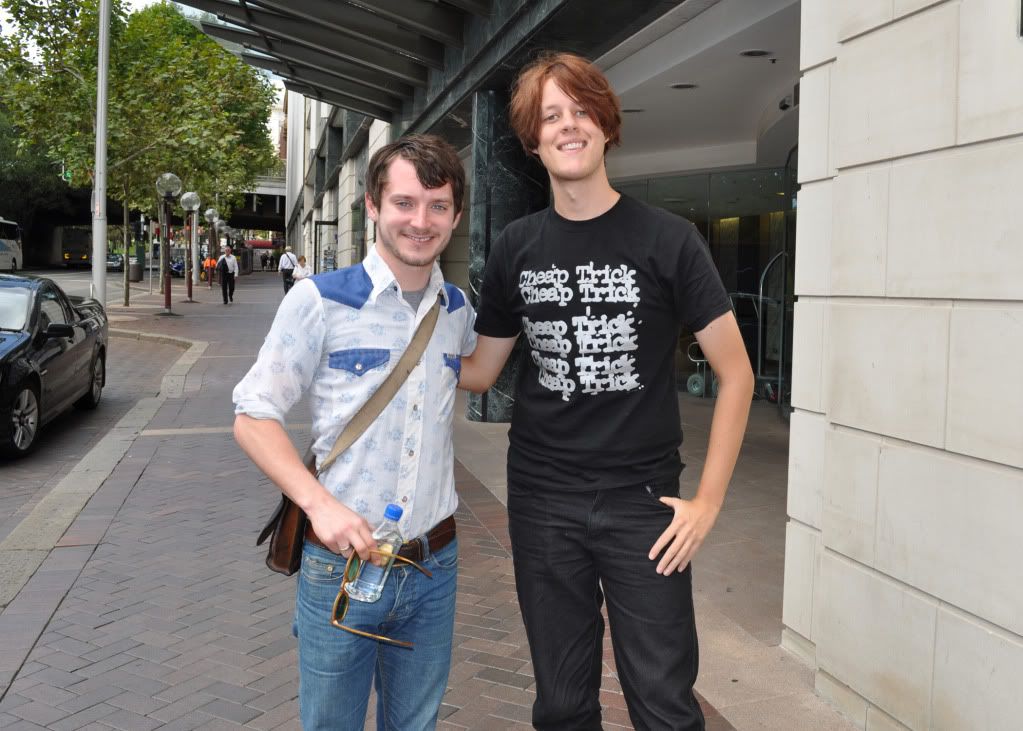 21 Feb - Tropfest, Sydney:

Elijah tells the interviewer how he likes the concept of a short film festival, how he's enjoying his longest yet stay in Sydney and gives a few hints about the new "Happy Feet" film.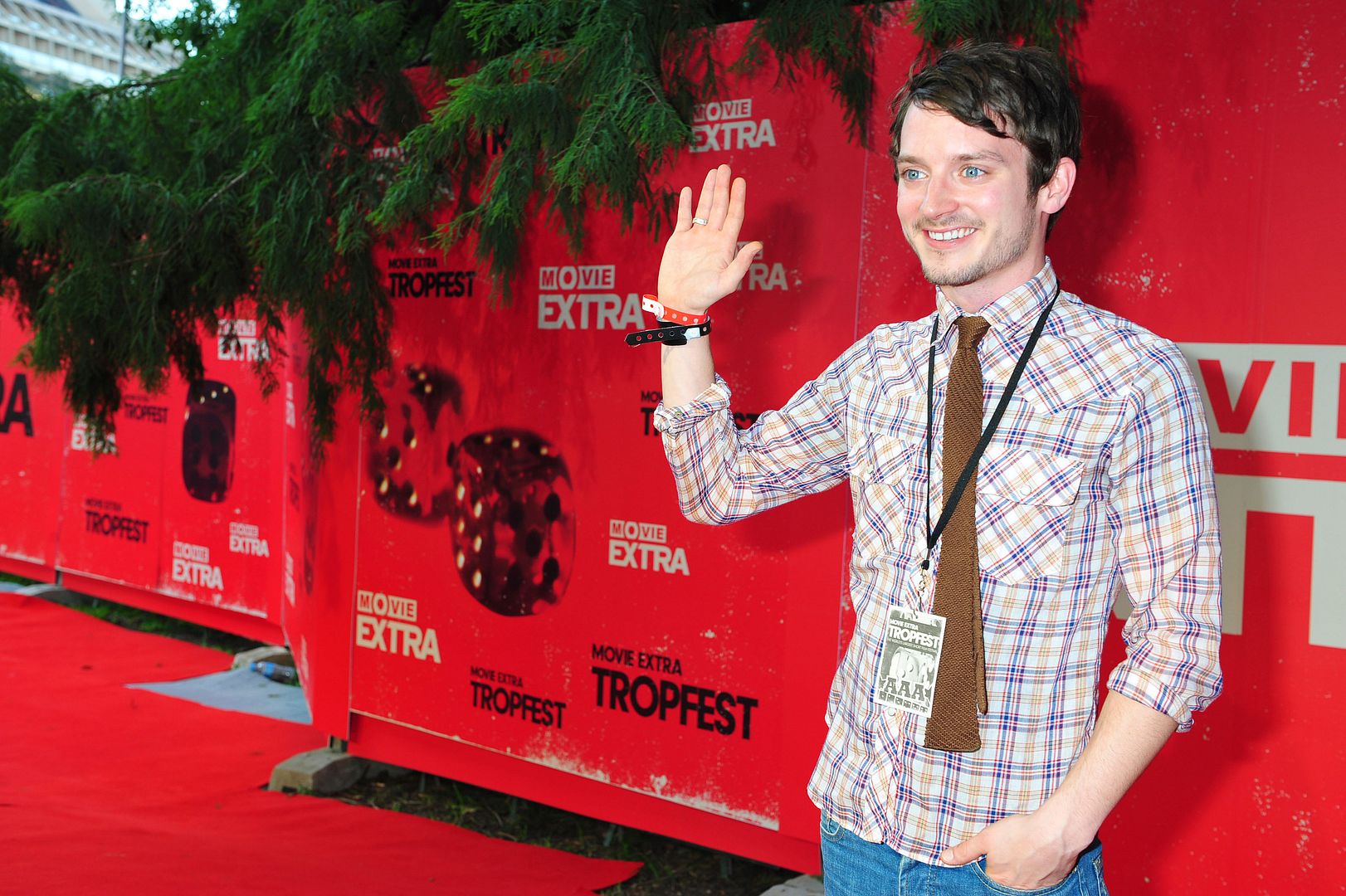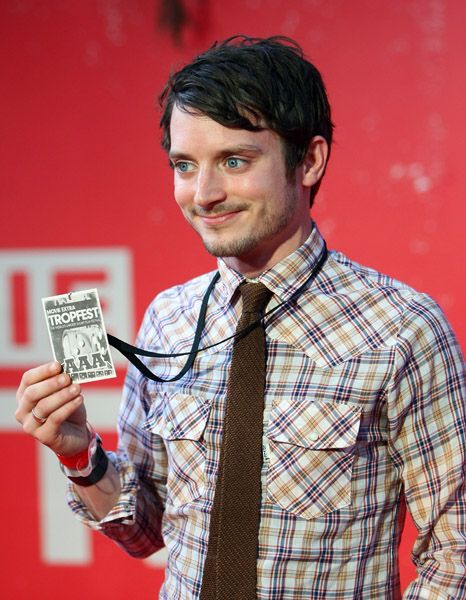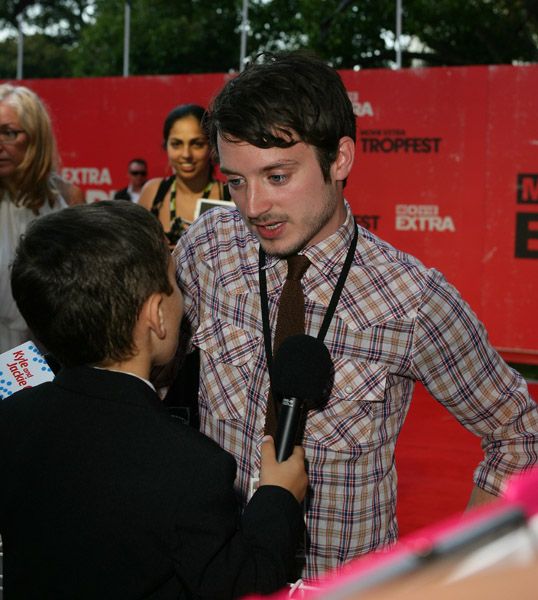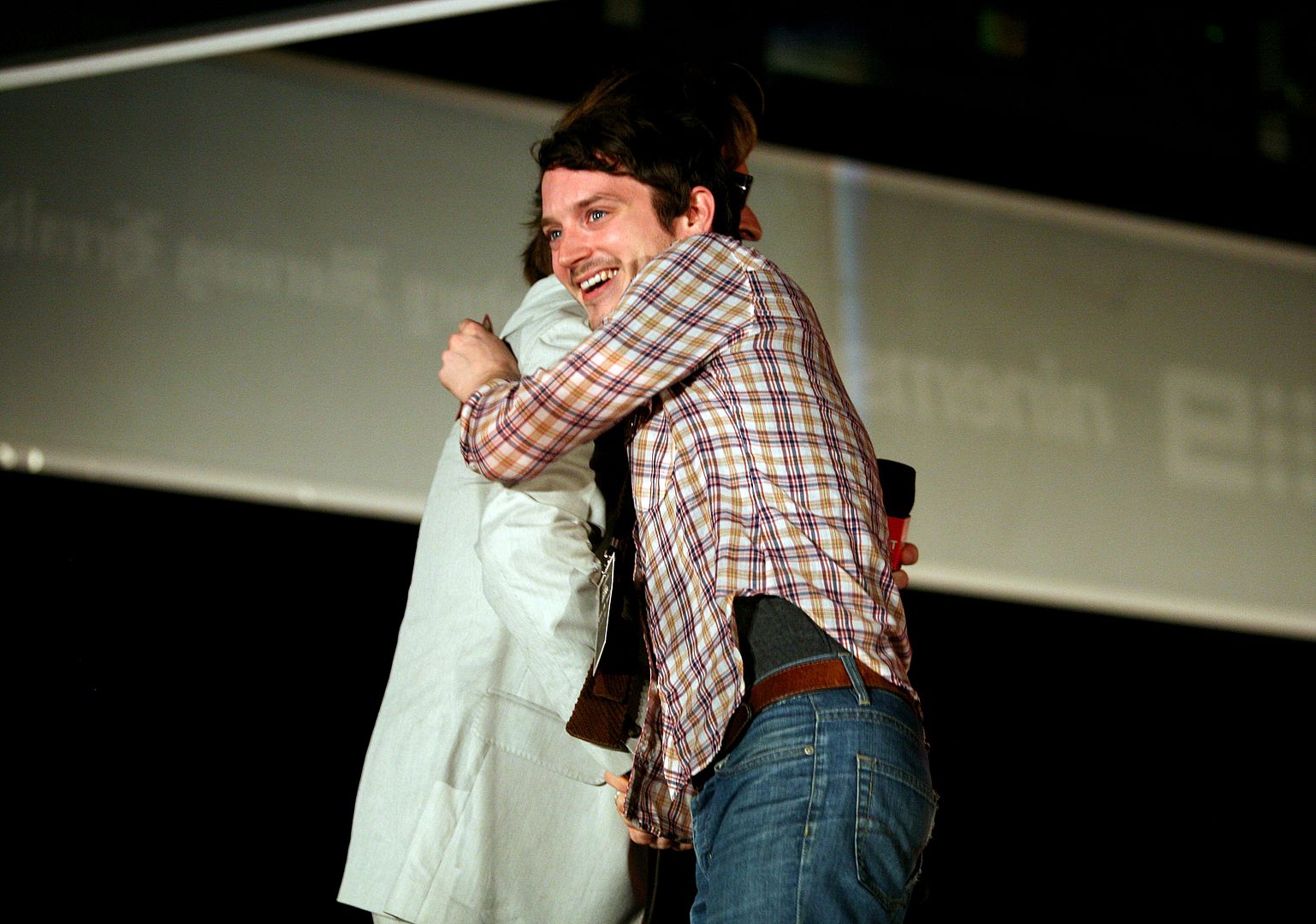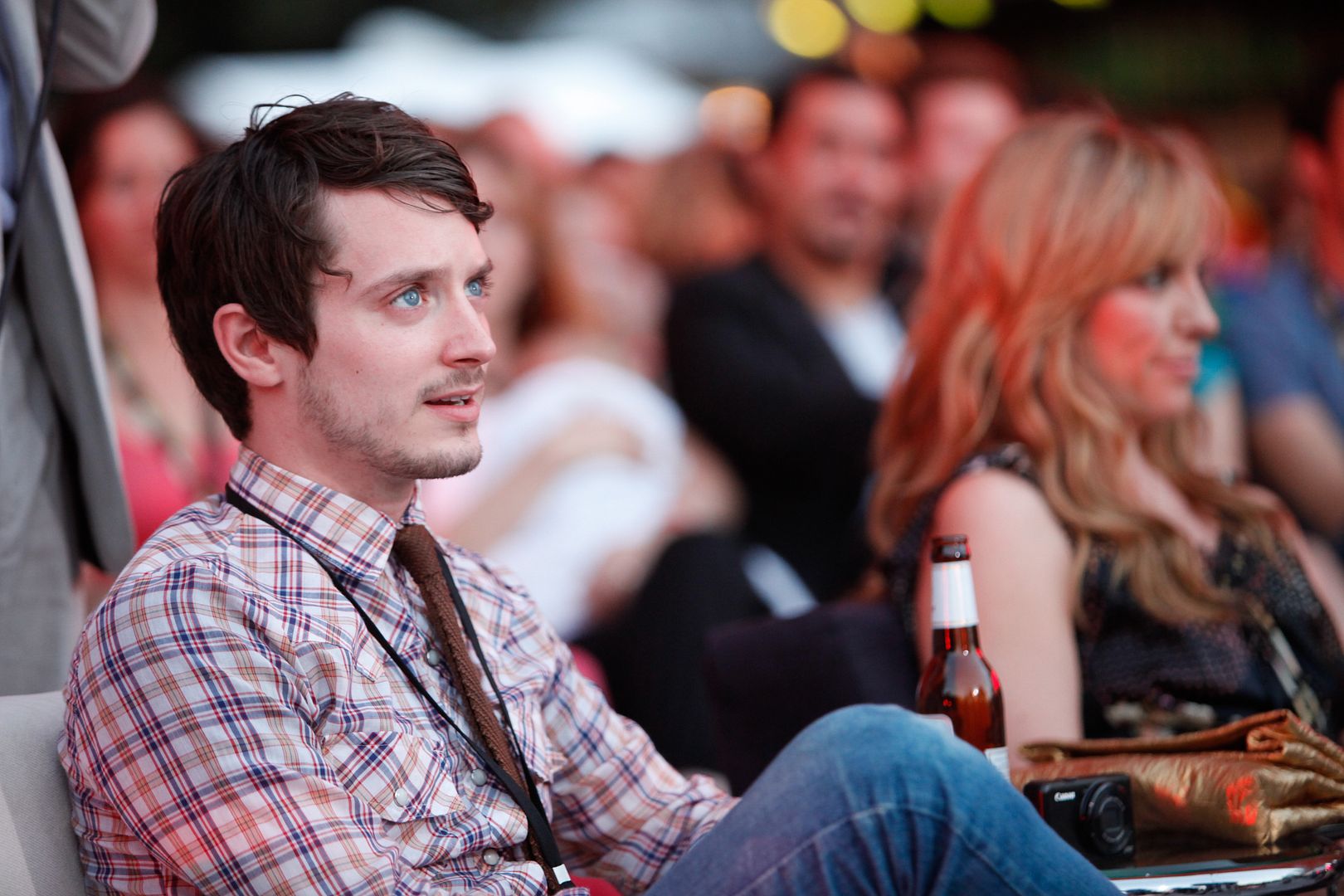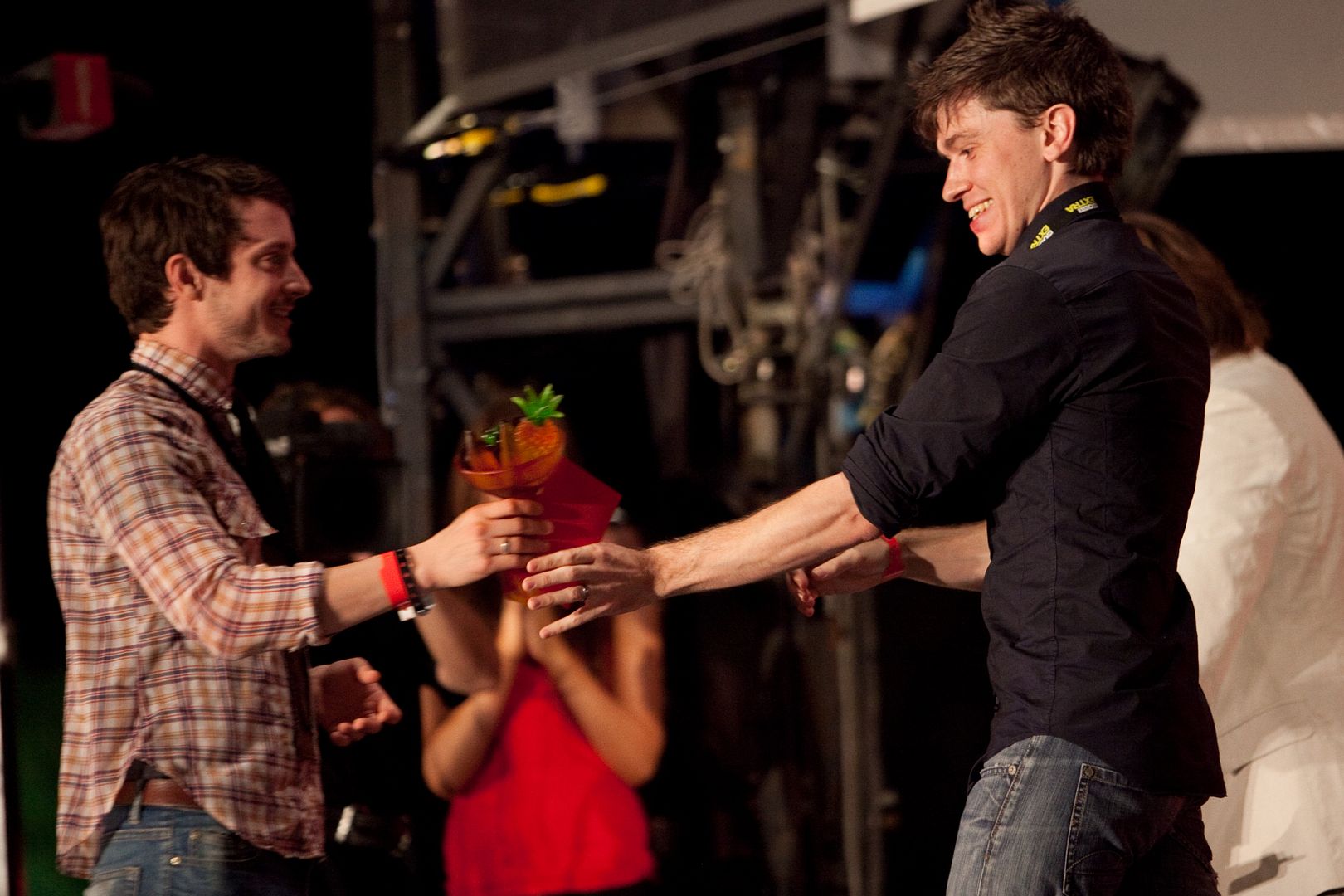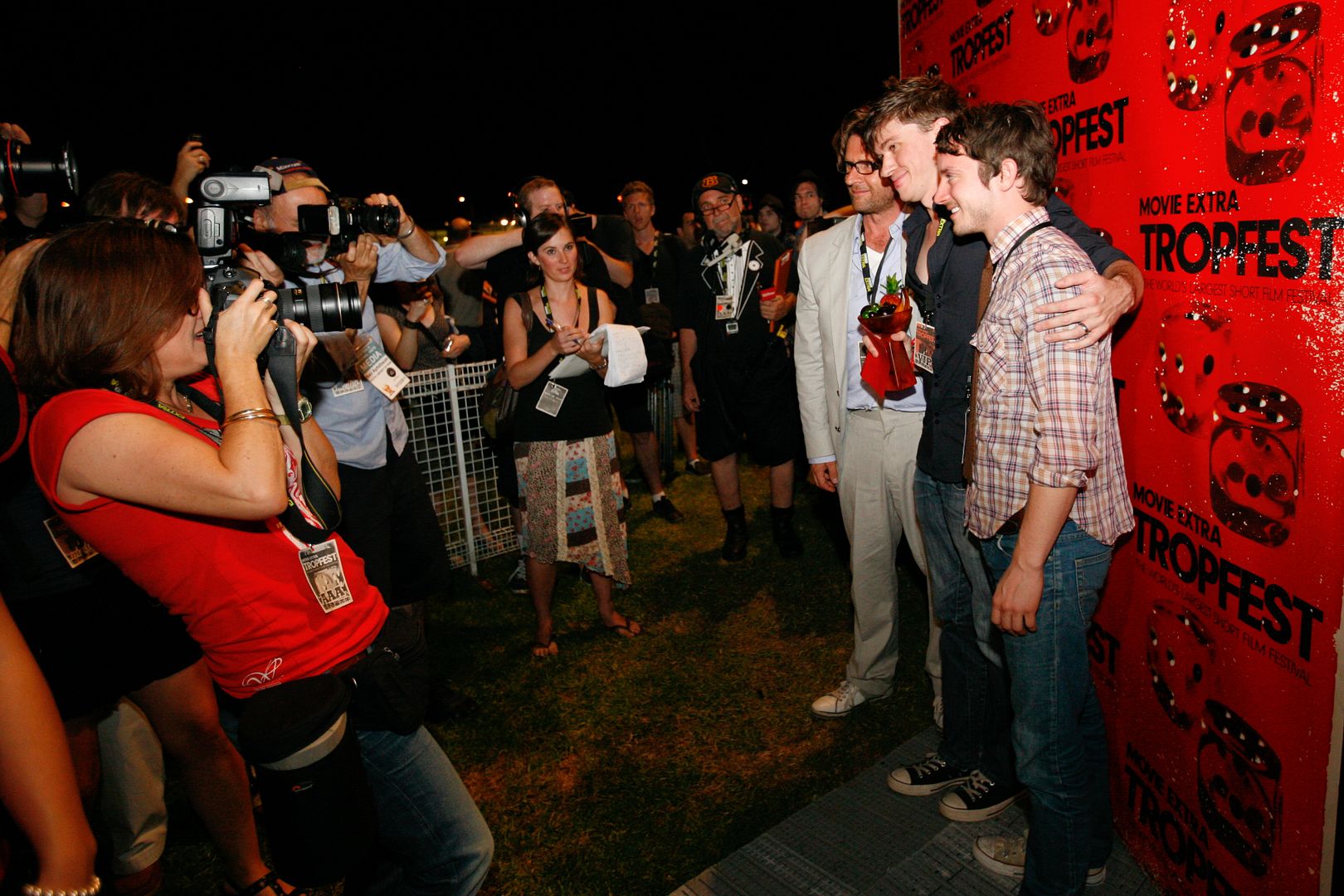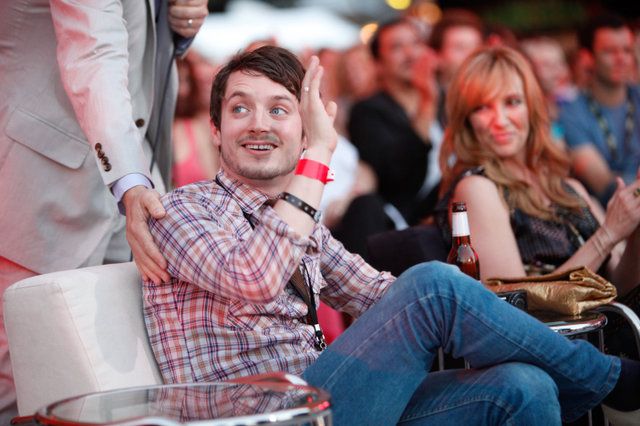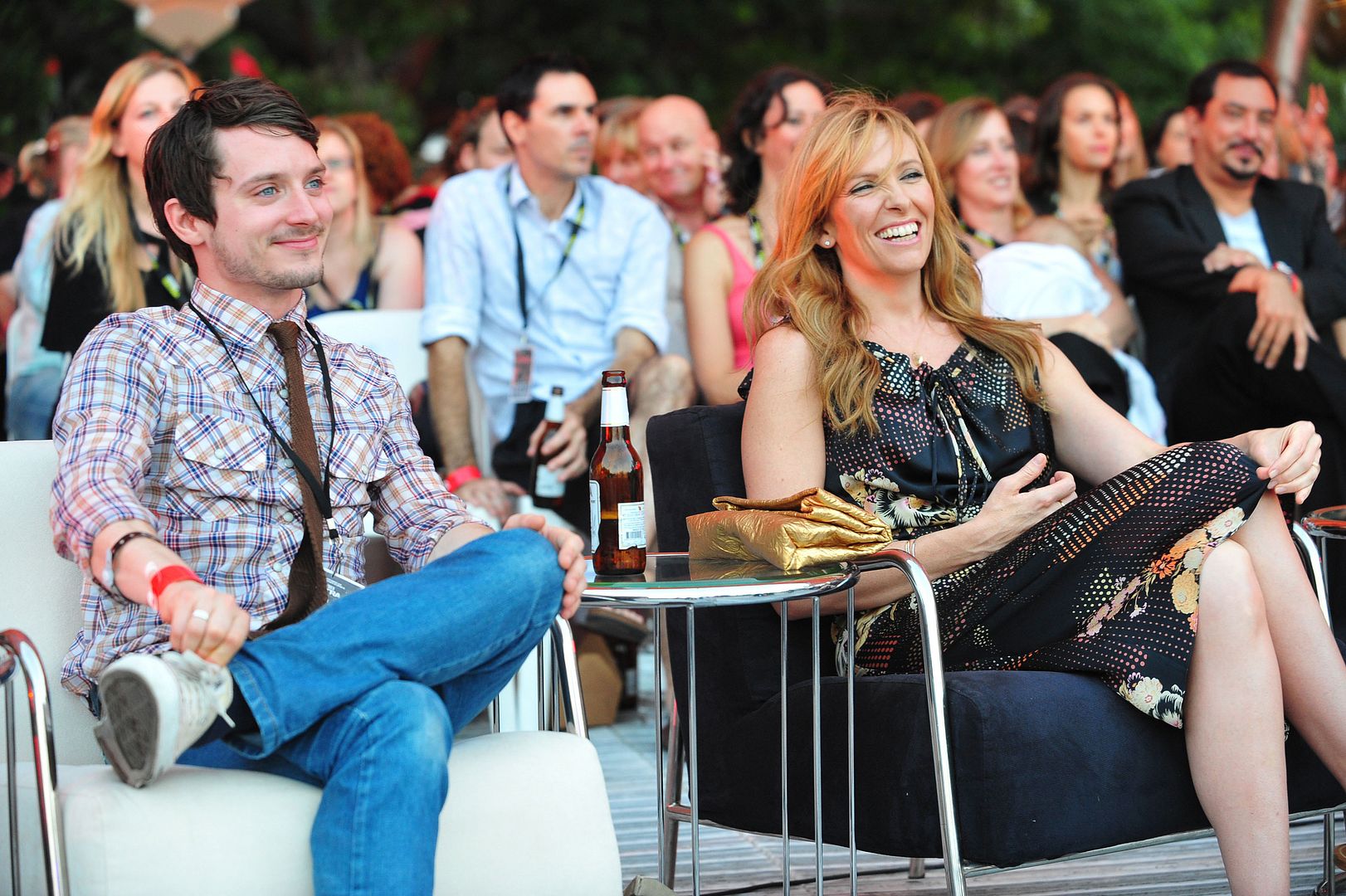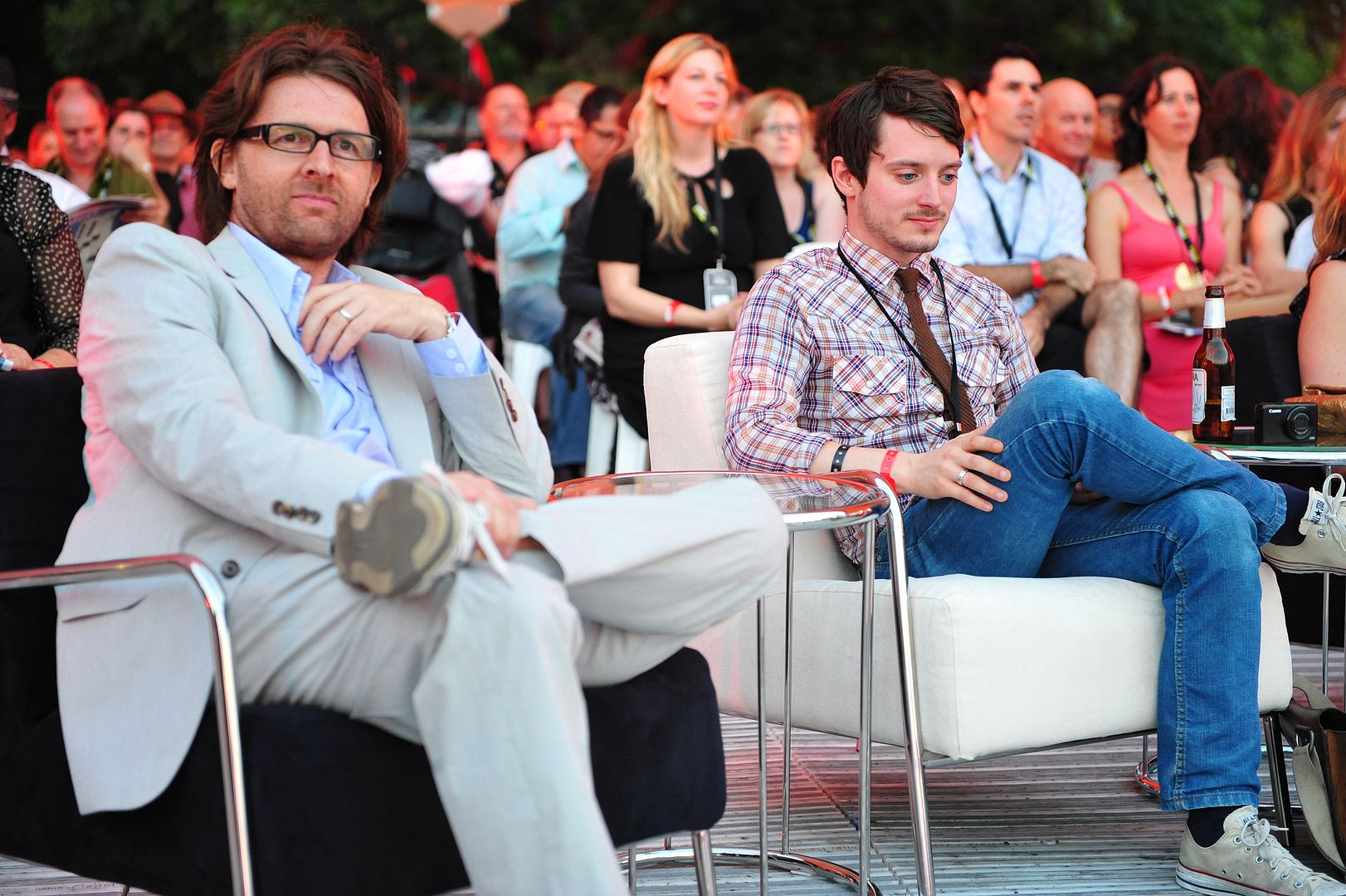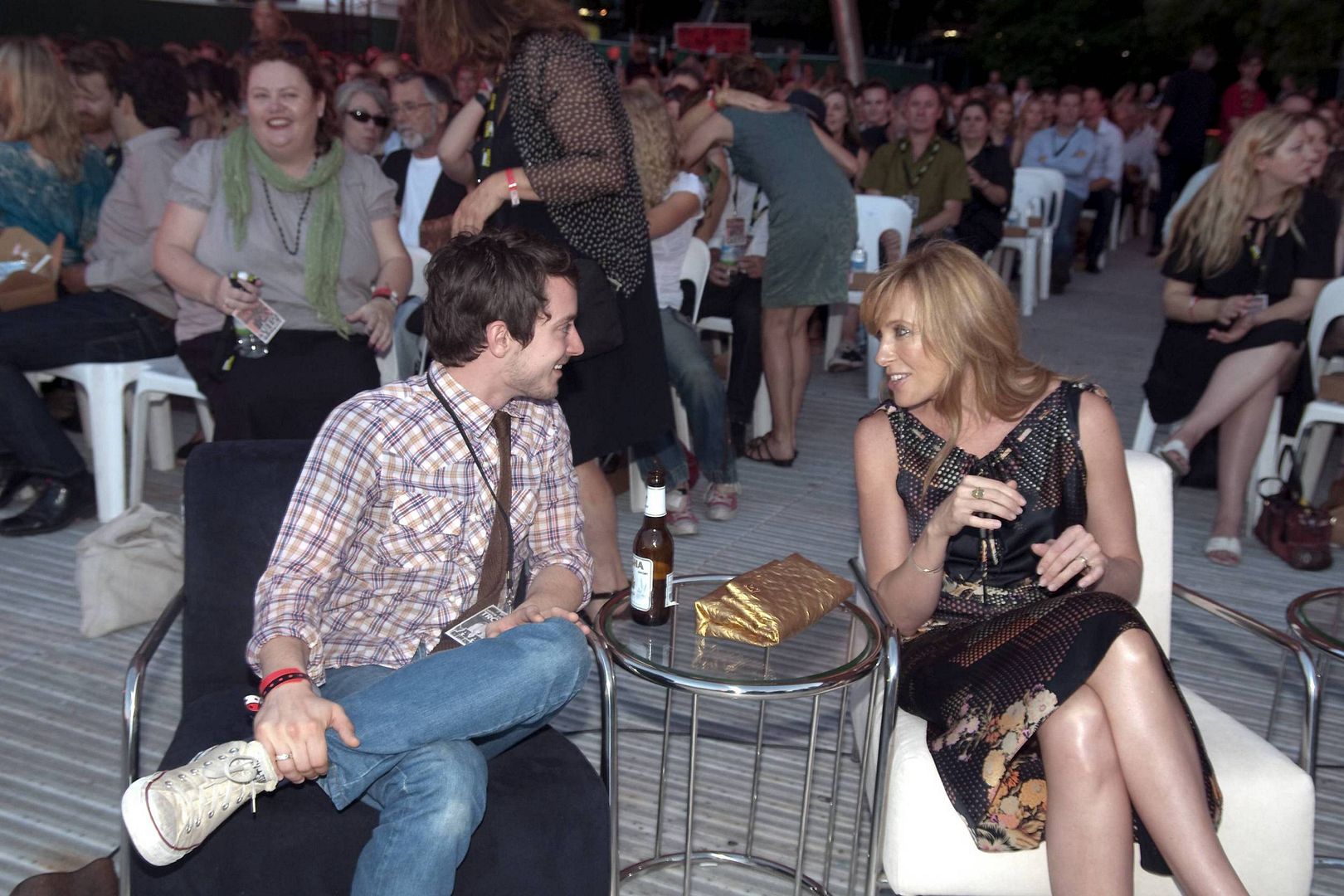 25 Feb - a real treat for Elijah's fans. The Oliver Peoples video, 'Les Enfants Sont Ennui les Dimanches' surfaced online.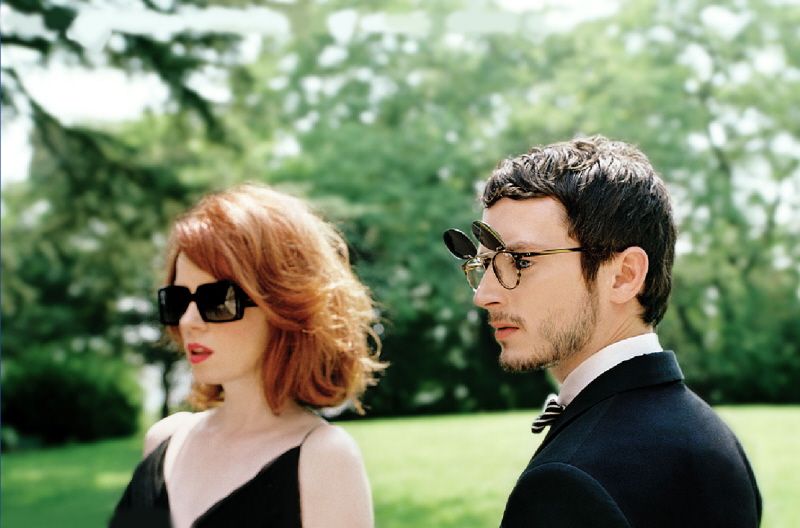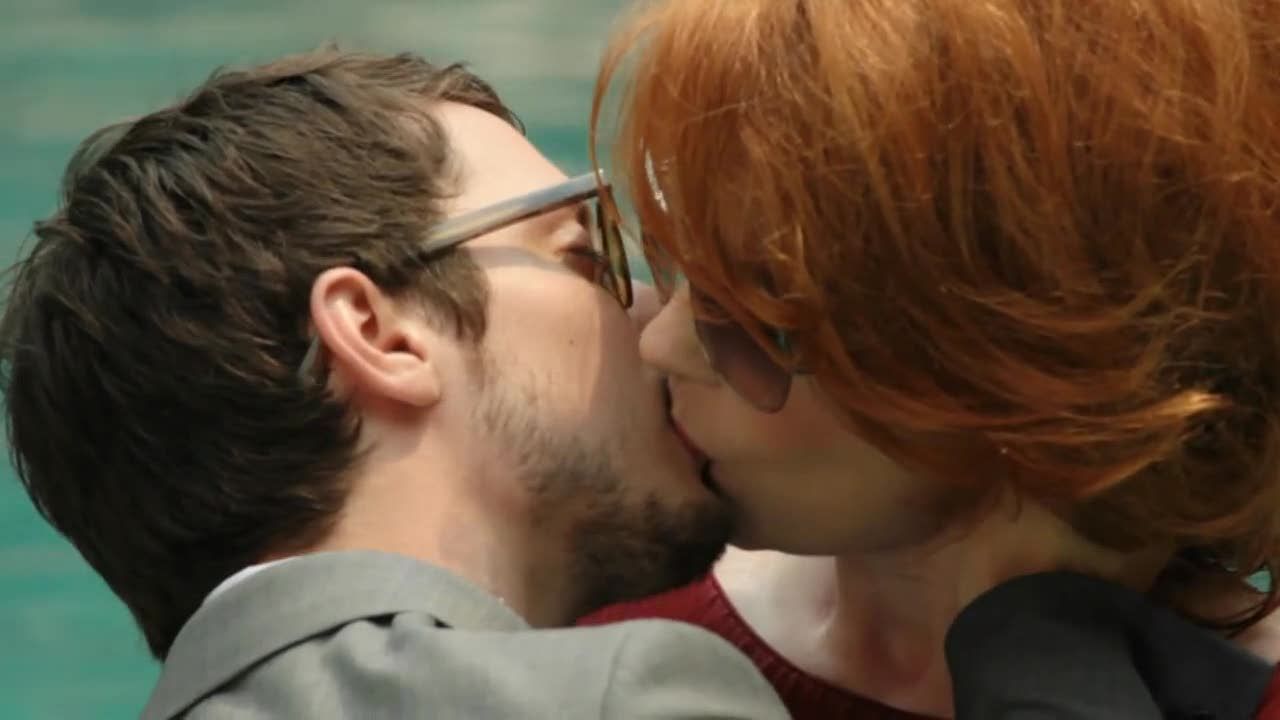 3 March - Sad news - Pierre Vinet, the official LOTR photographer, died:

This was Elijah's moving tribute:

"I'll never forget the first time that I met Pierre Vinet. So many of us had flown to New Zealand to embark on a journey unlike anything we'd ever experienced. I was introduced to Pierre as our on set stills photographer, and I greeted him with great excitement, telling him that he had the "best job on the film!" His job was that of observer and documentarian for the process of bringing Tolkien's world to life and that unique perspective thrilled me. To be the one to capture this incredible adventure that we were all taking part in and the brilliant artistry and passion of everyone involved, was a privileged opportunity. His enthusiasm and energy was genuinely infectious. "This is ze poster!", he would frequently say, his excitement for the images he was capturing, overflowing. Pierre always made everyone around him smile, no matter how difficult the shoot became or how tired any of us were. The familiar mischievous glint in his eyes, with eyebrows dancing, and lip-pursed chuckle served to inspire anyone around him. I remember often imitating his French-Canadian accent and signature phrases and chuckles. A true original character. I loved being called into his photo studio set-up for portraits and ideas that he had. He'd grab you and run you over to a blacked out room with his equipment, on a break from filming. His simple portraits outside the context of the set environment, are still some of my favorite images from the films. It was there in his world where, through his lens, he brought the characters that we were playing to life.

I hadn't heard that he was sick until I recently visited Wellington and found out just before he passed away. It's still difficult to process. The world has certainly lost a beautiful photographer, but more importantly; a friend, character, family member, eccentric, mad man, husband, and a true light that shone on everyone who had the pleasure of knowing him."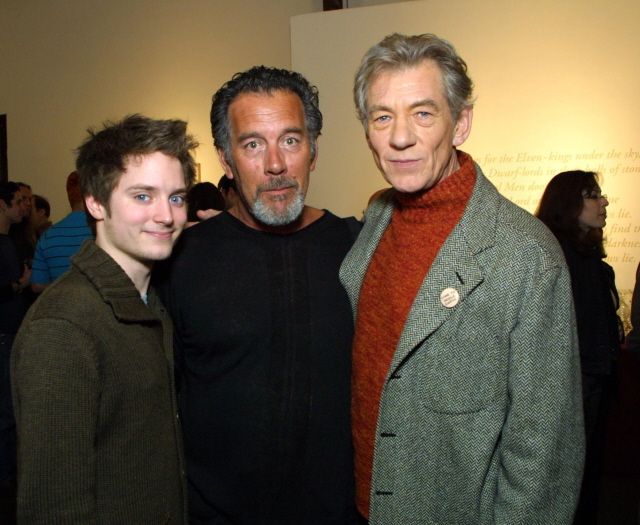 My own precious copy of Pierre's beautiful Frodo pic: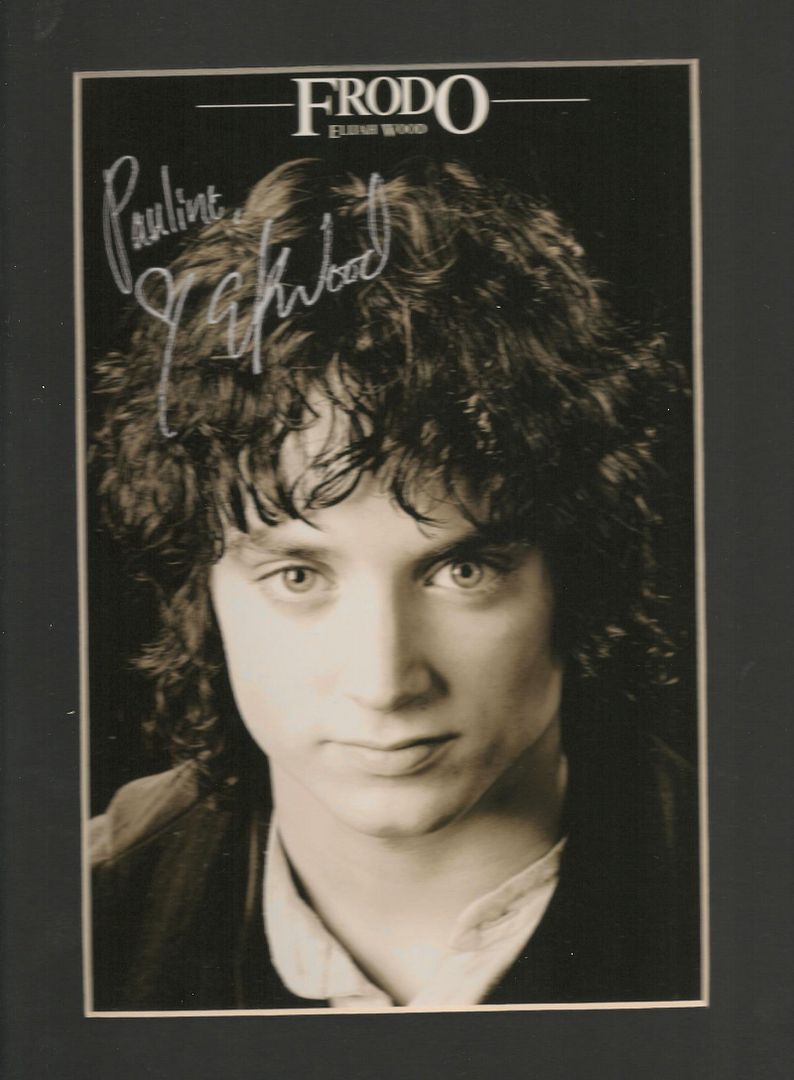 4 march - Art of Elysium Pieces of Heaven art auction: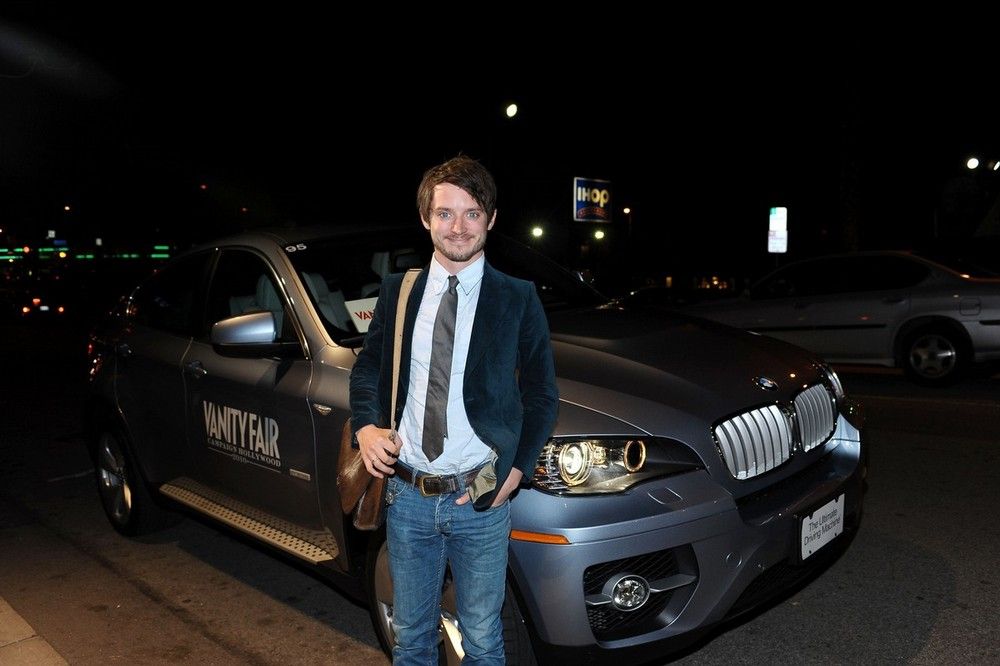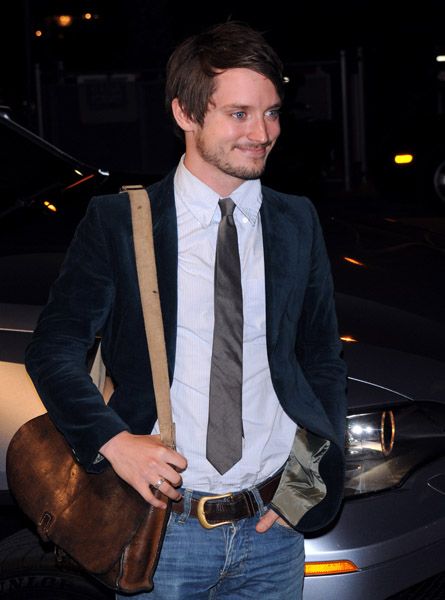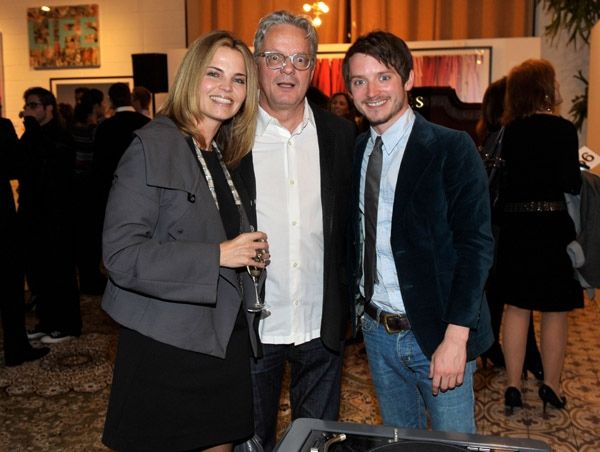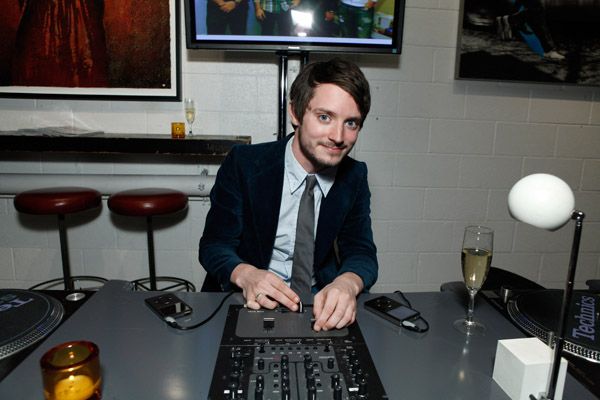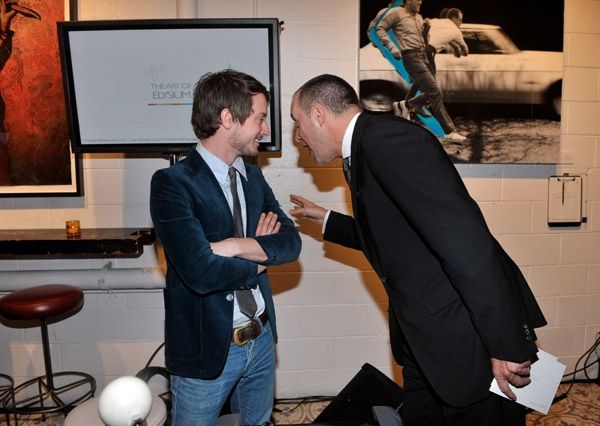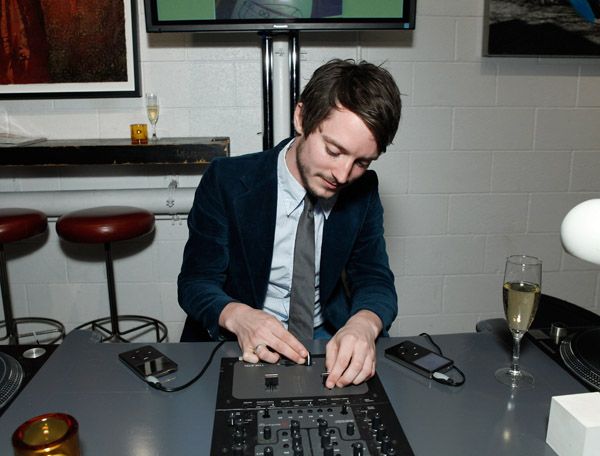 Elijah has an exhibit of his own, 'Sea of Green':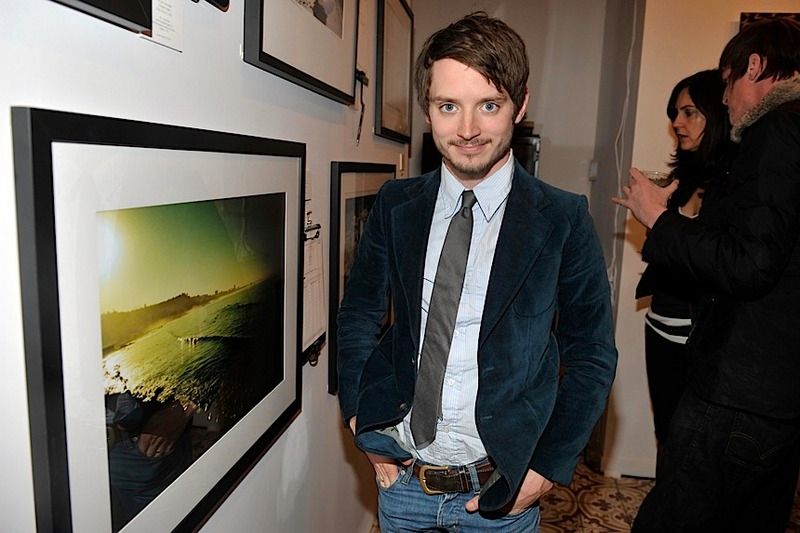 27/28 March - working on the Danko Jones vid: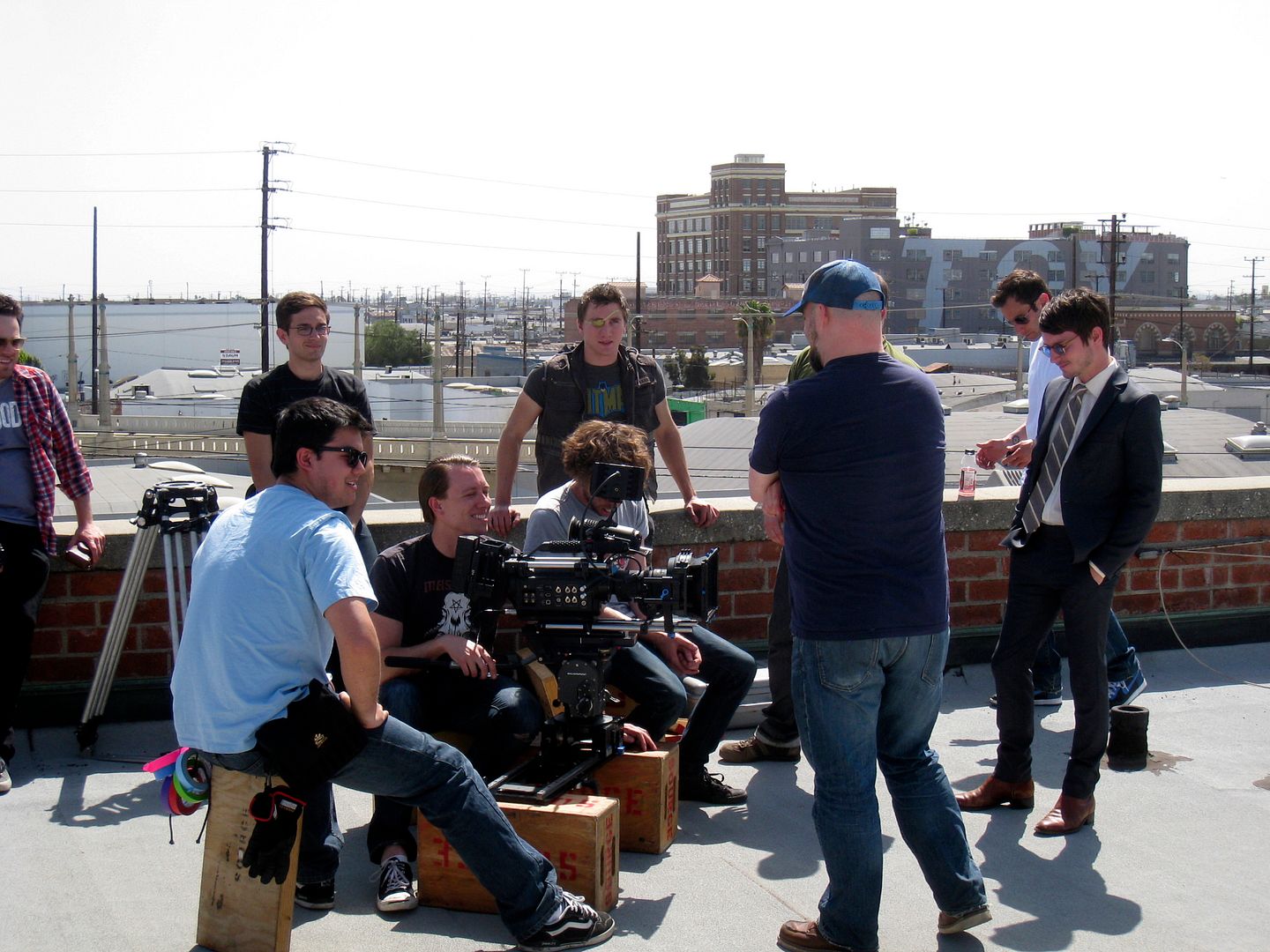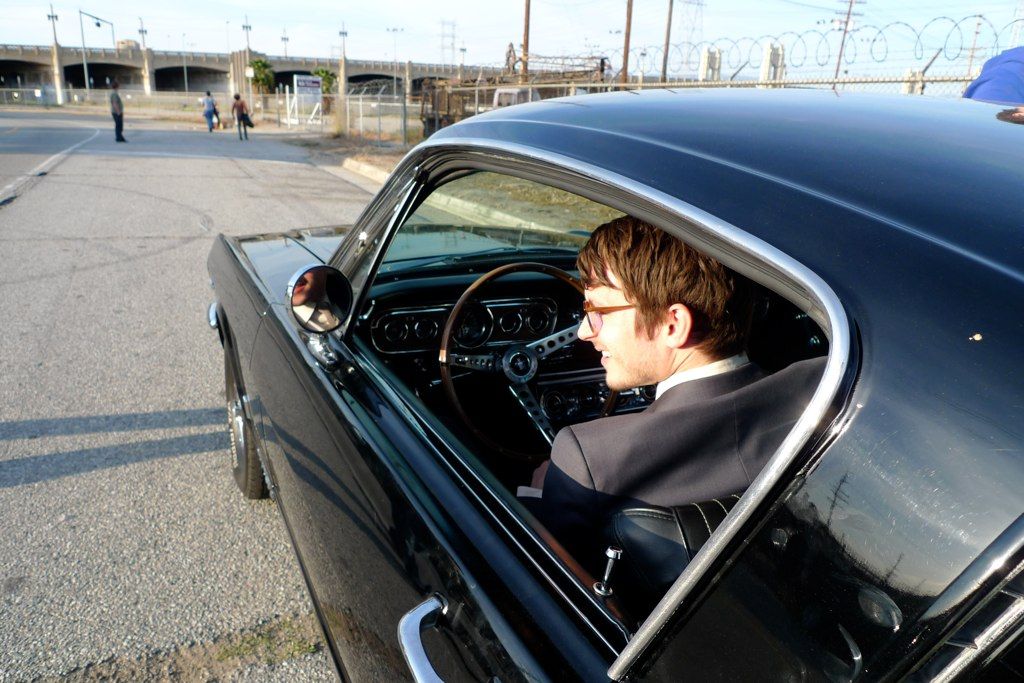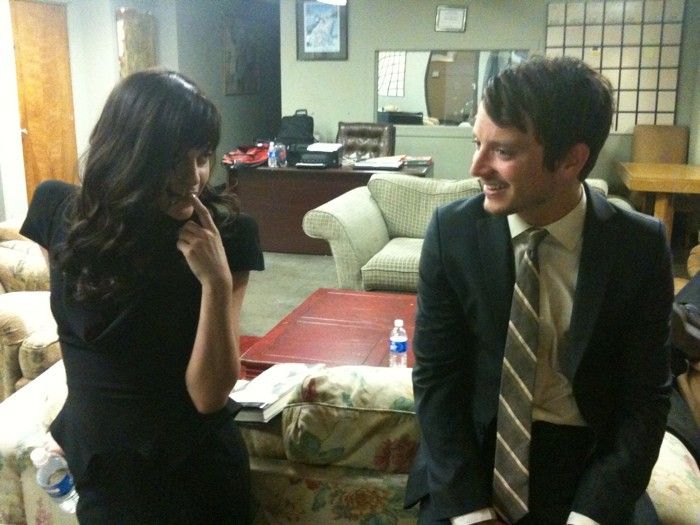 20 April - Elijah arrives in Chile

"Lord of the Rings star Elijah Wood has travelled to Chile – to help abandoned animals.

The actor was invited to the south American country by Jorge Yarur, the founder of the Yarur Bascuñán Foundation; an organization that helps abandoned pets.

Wood told Canal 13's show Viva la Mañana: "This particular trip was about stepping in and getting involved in Jorge's organization. My mum has three dogs, and I grew up with dogs and cats my entire life. I love animals."

The star, who played Frodo Baggins in the hit Rings trilogy, also travel to Curepto in the VI Region with the First Lady, Cecilia Morel, to view the damage from the earthquake.

When asked what drew him to the Yarur Bascuñán Foundation, Wood replied: "It's just a humanitarian act. As a human being your heart just bleeds for any thing or any animal or any person that is being mistreated."

21 April - With furry friend at the press con: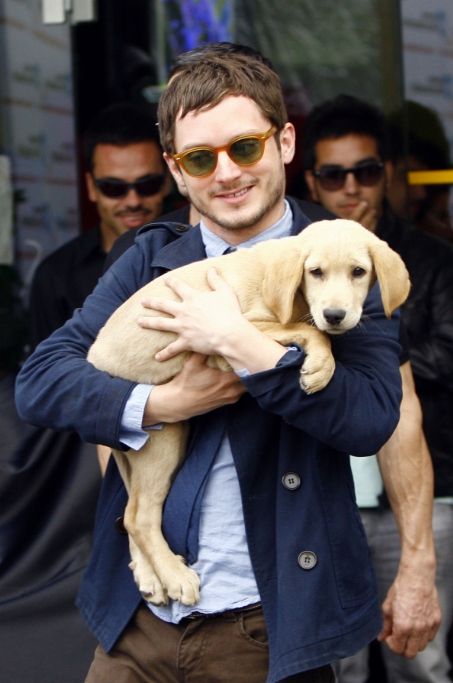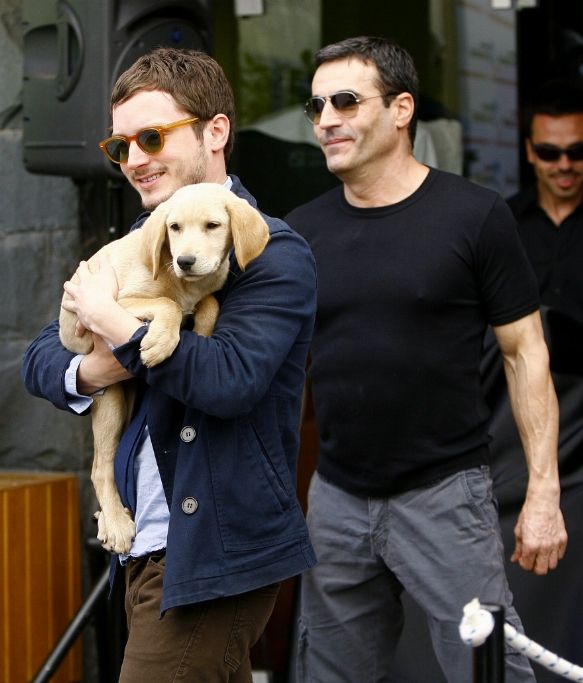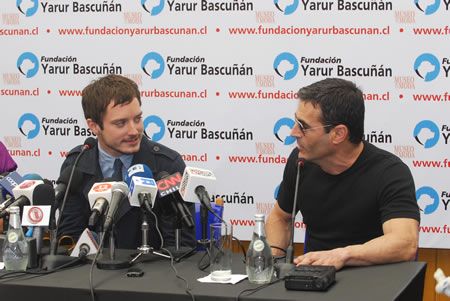 22 April - TV show: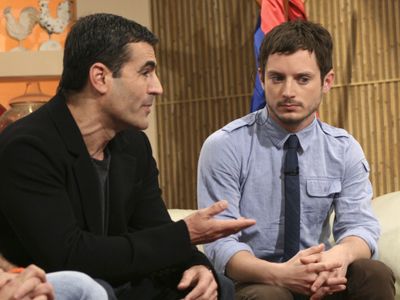 Another furry friend!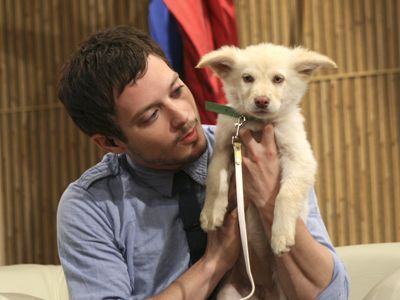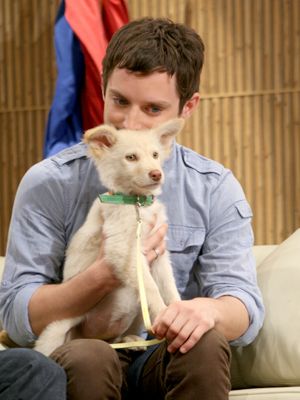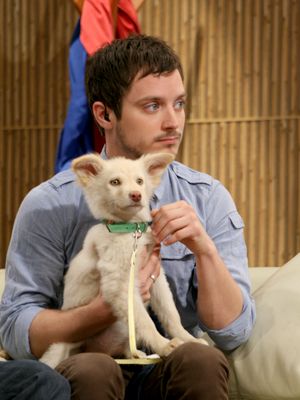 "As part of his trip, Wood also visited Curepto with Chile's First Lady, Cecilia Morel, to view earthquake damage."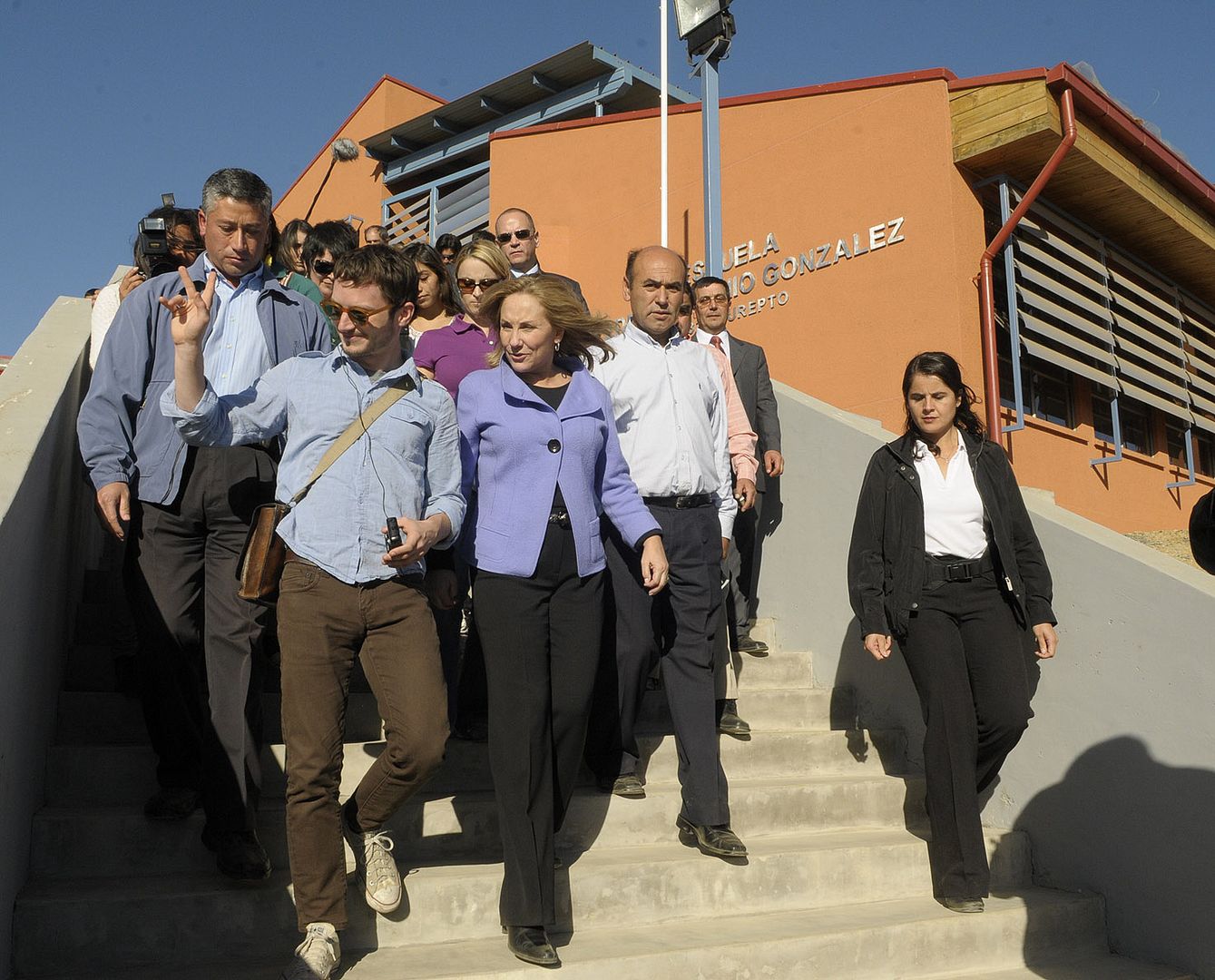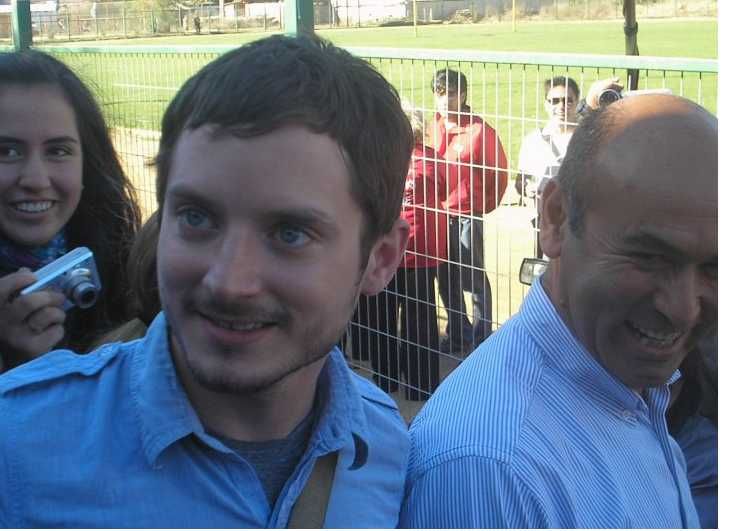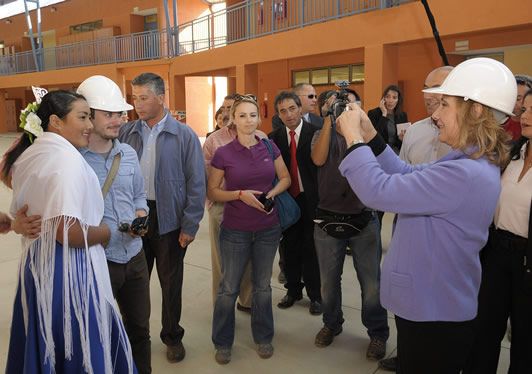 The 'Ring of Curepto'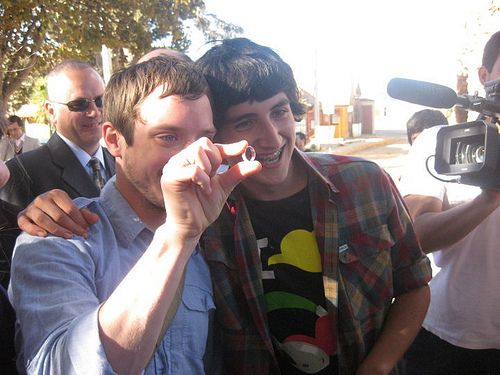 08 May - LOTR Reunion

We fans had no idea this was happening in May - but there was great excitement when the 'Entertainment News' article appeared later in the year followed by a tv appearance!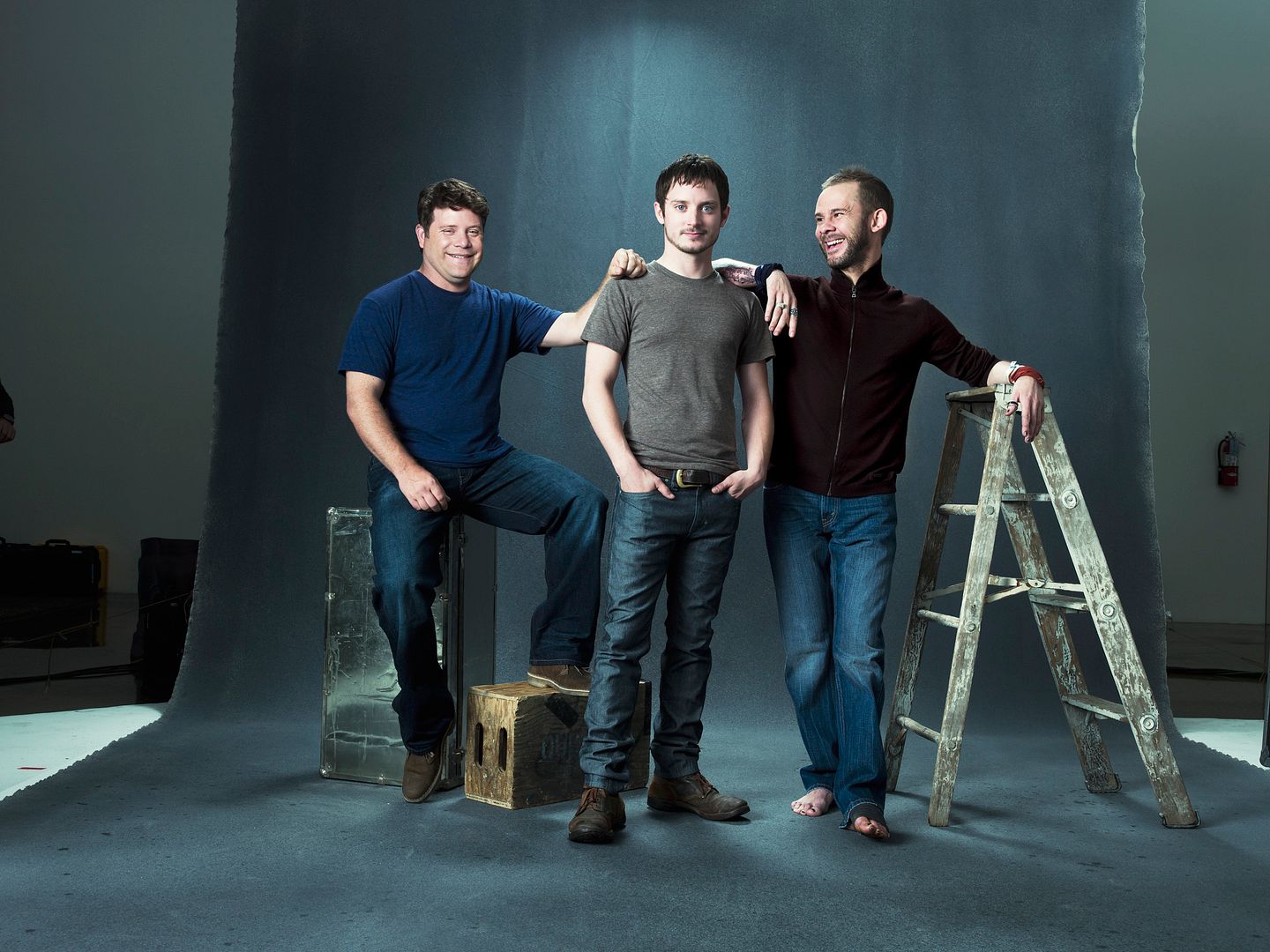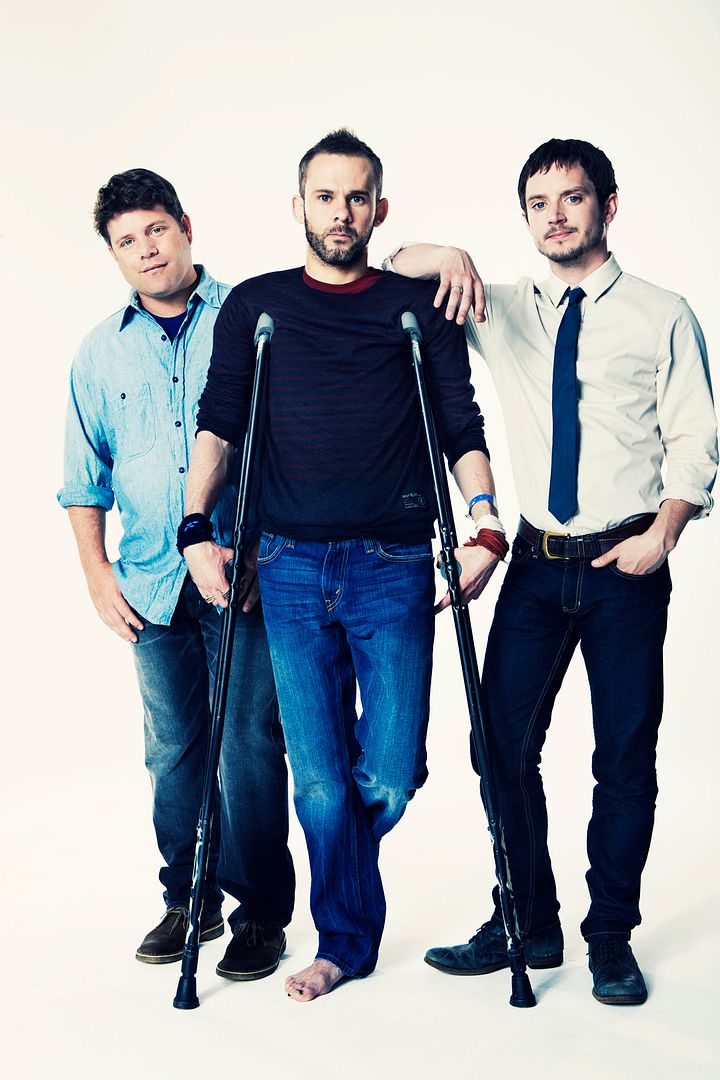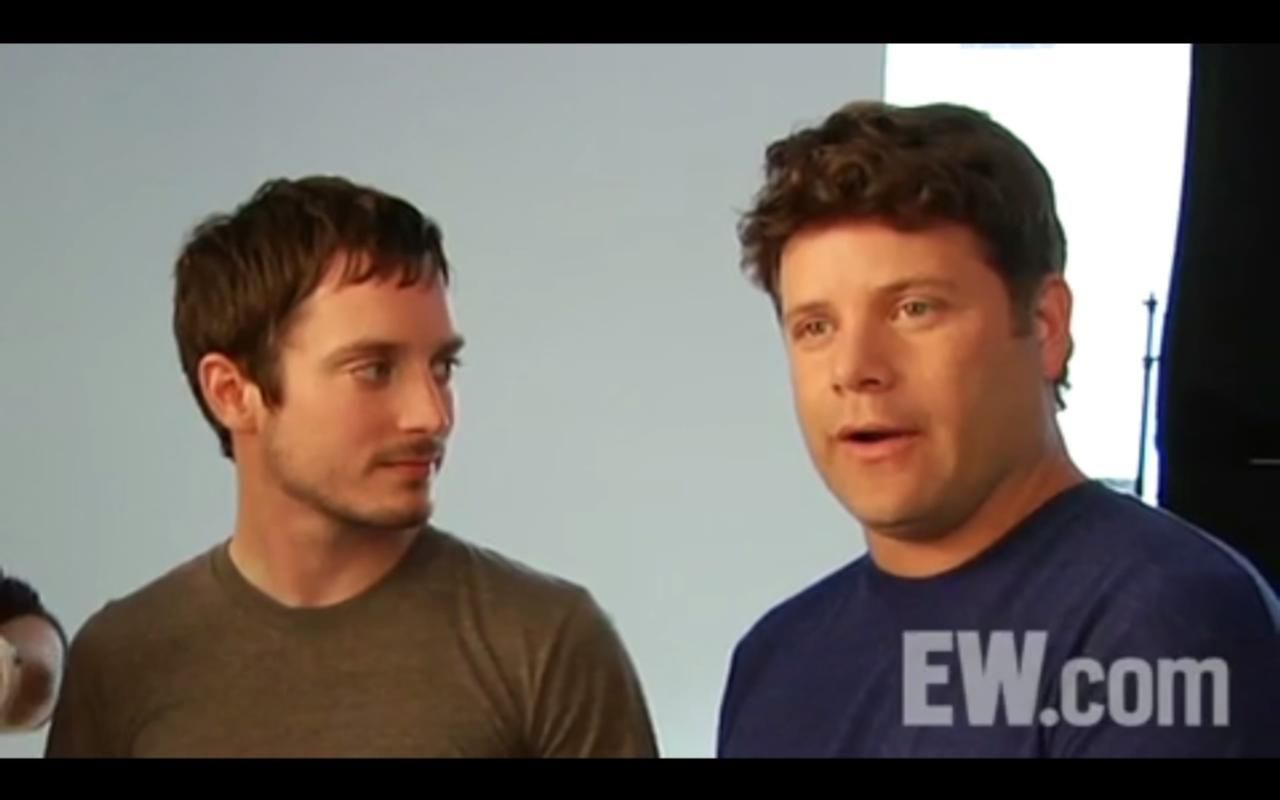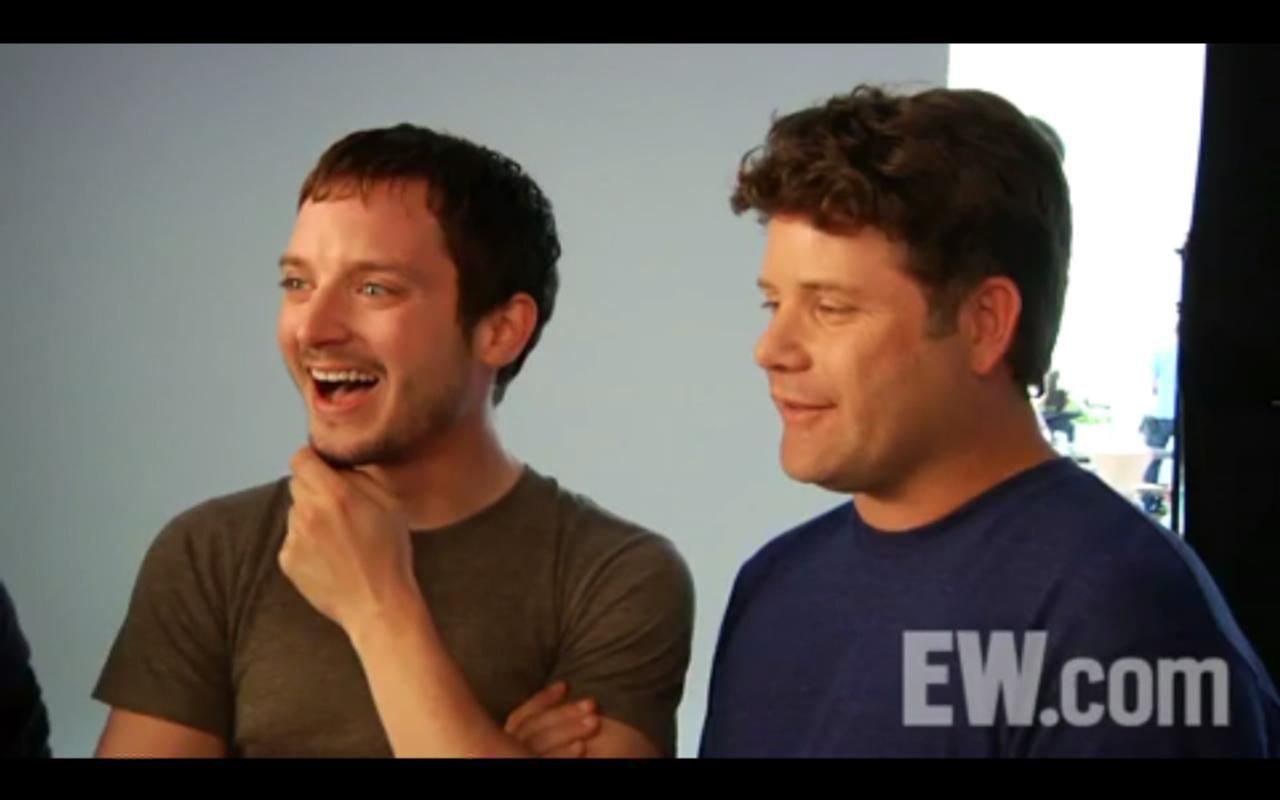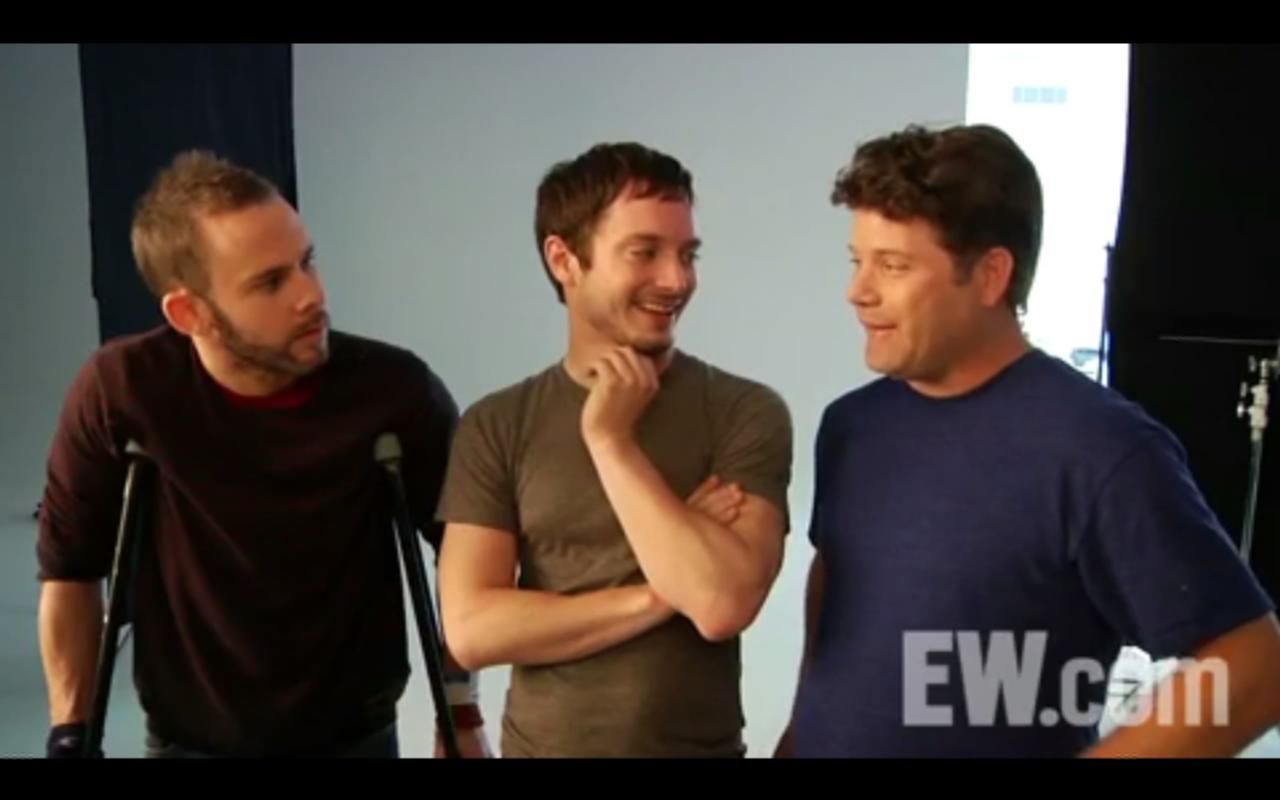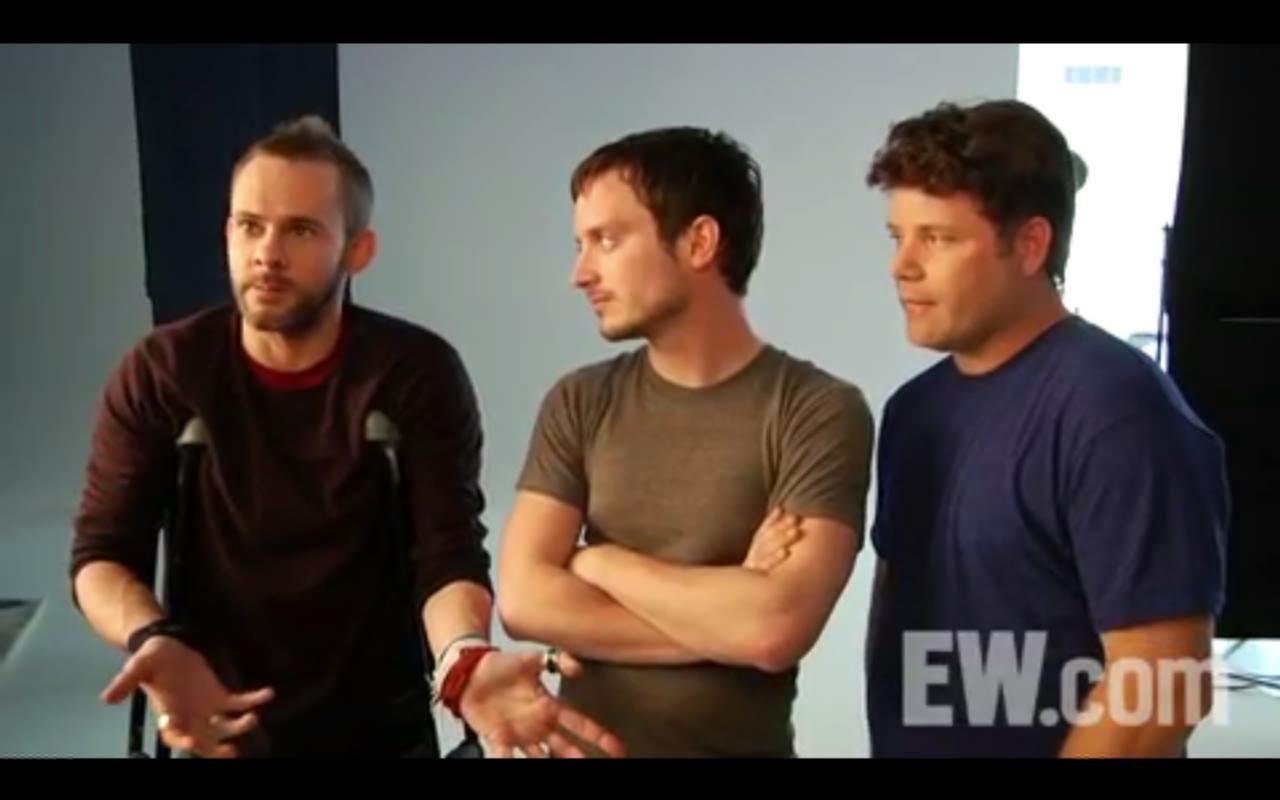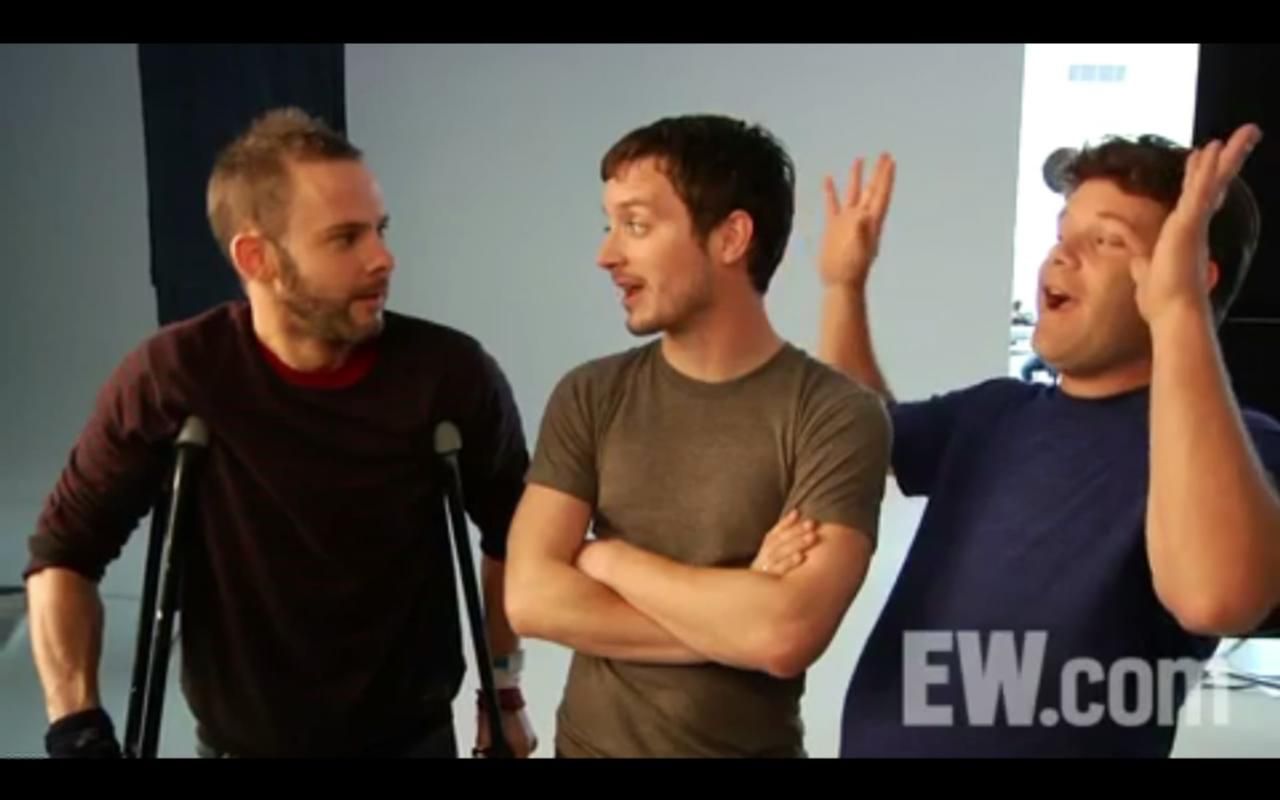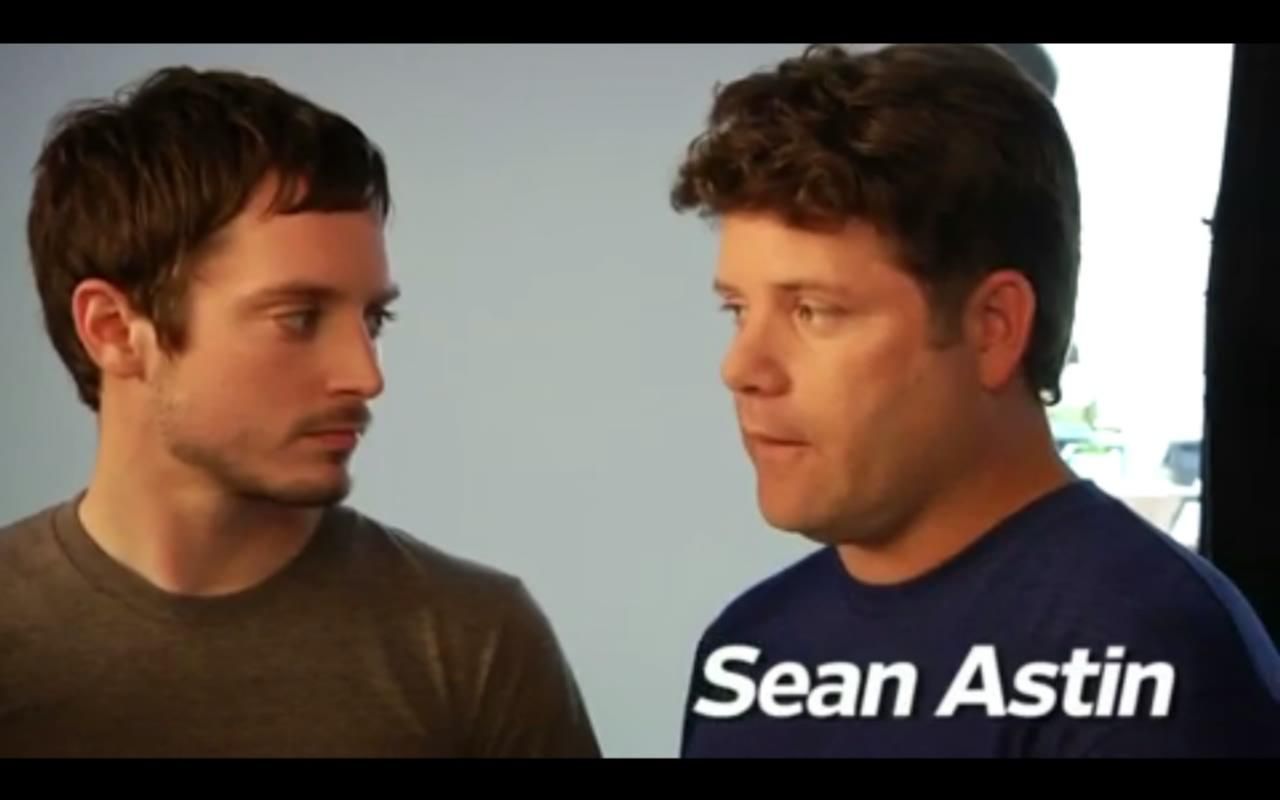 14 may - 'Cosmic Children'

The book 'Demigods and Cosmic Children' by Giovanni Reda is released: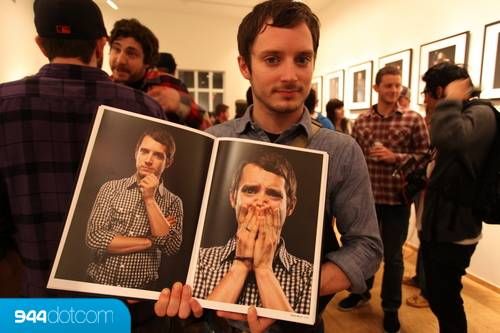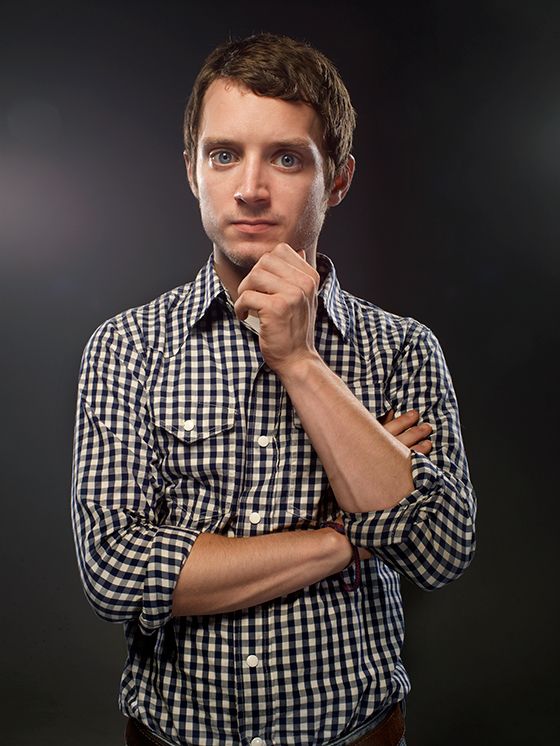 10 June - Elijah dj's for another Art of Elysium event: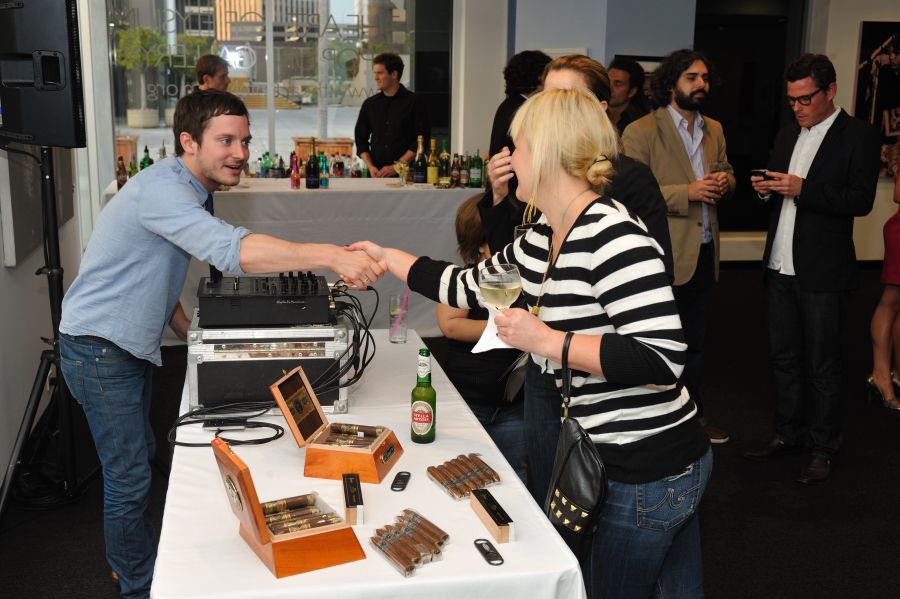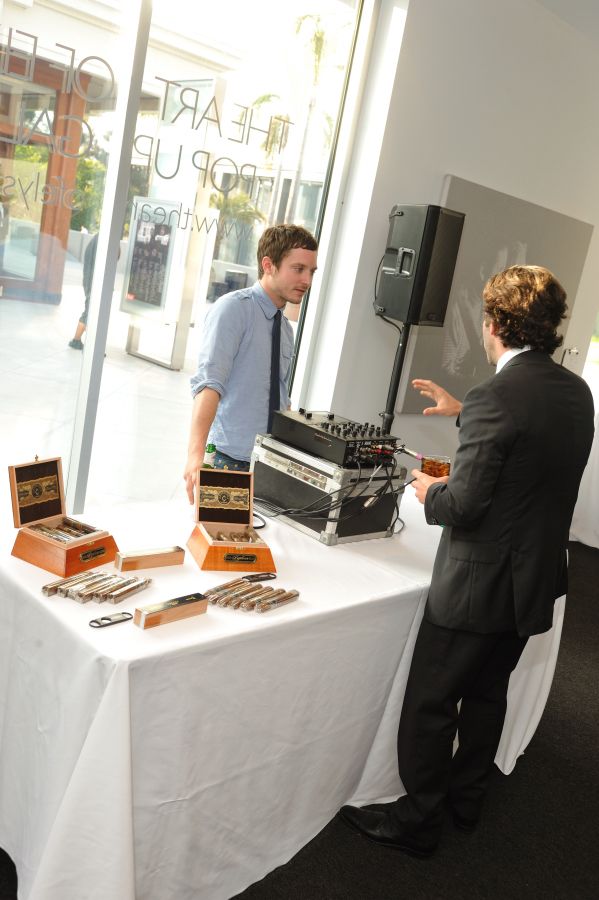 01 July - 'Buds' premiere: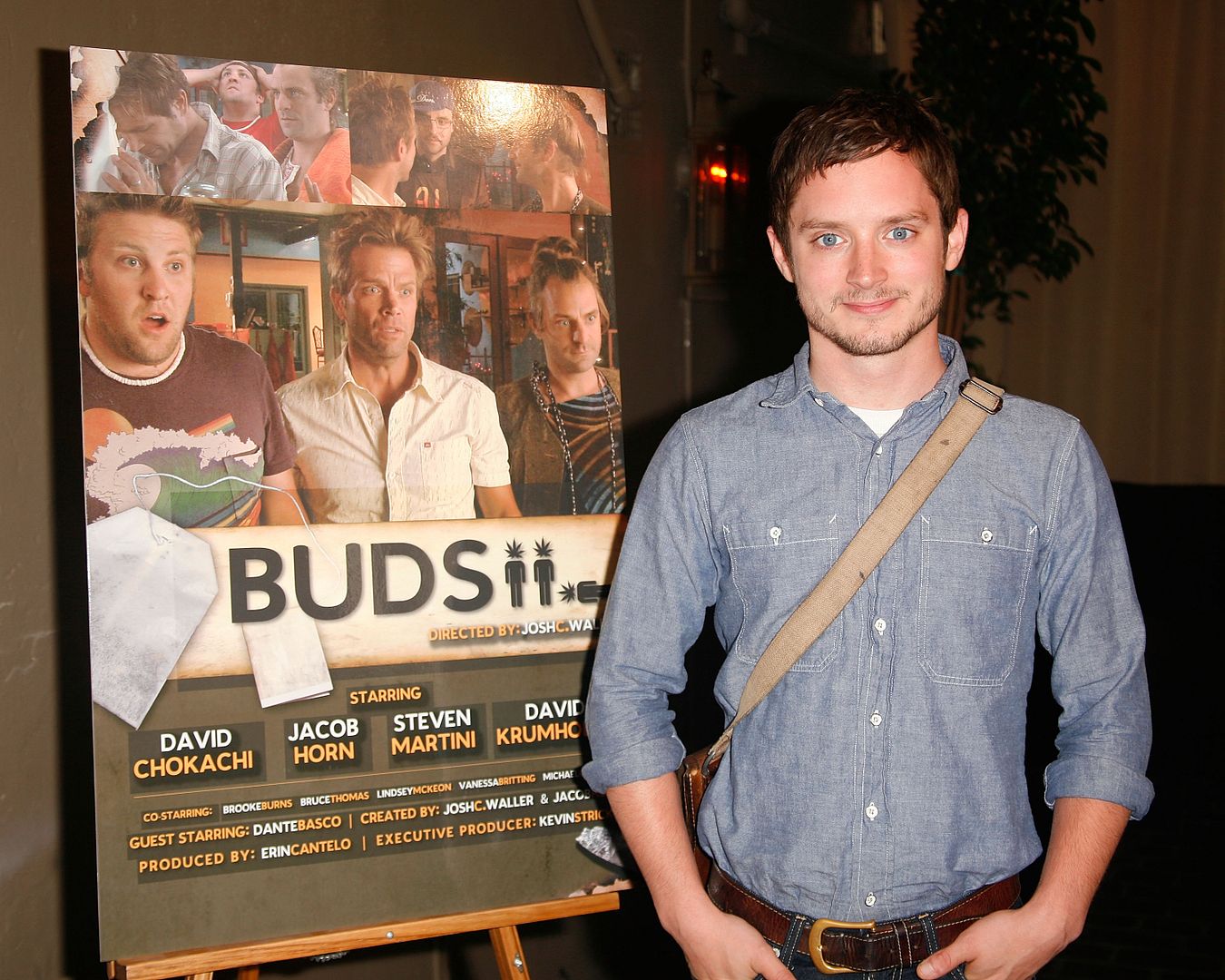 8 aug - a Sunday DJing session at Amoeba Records: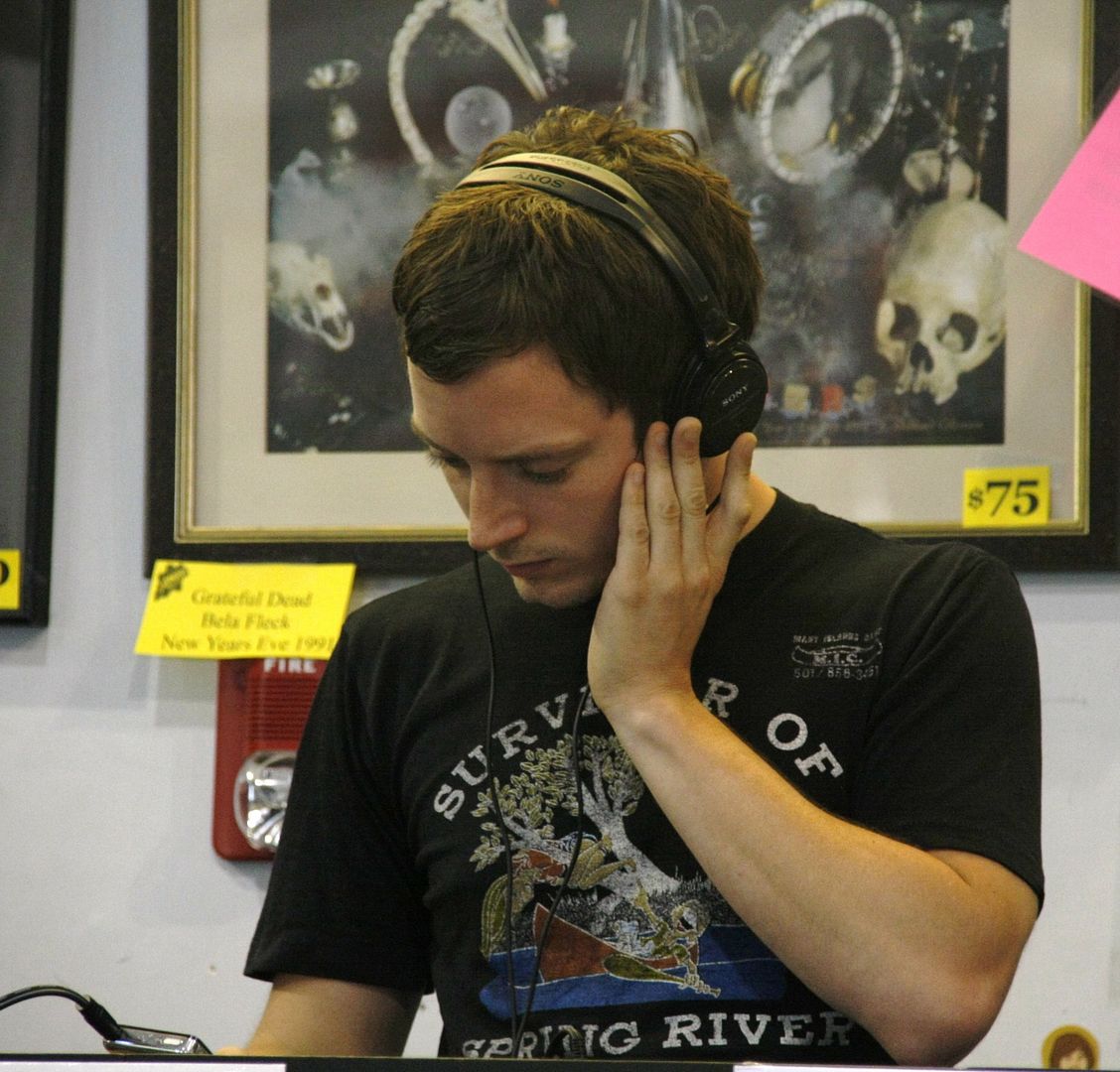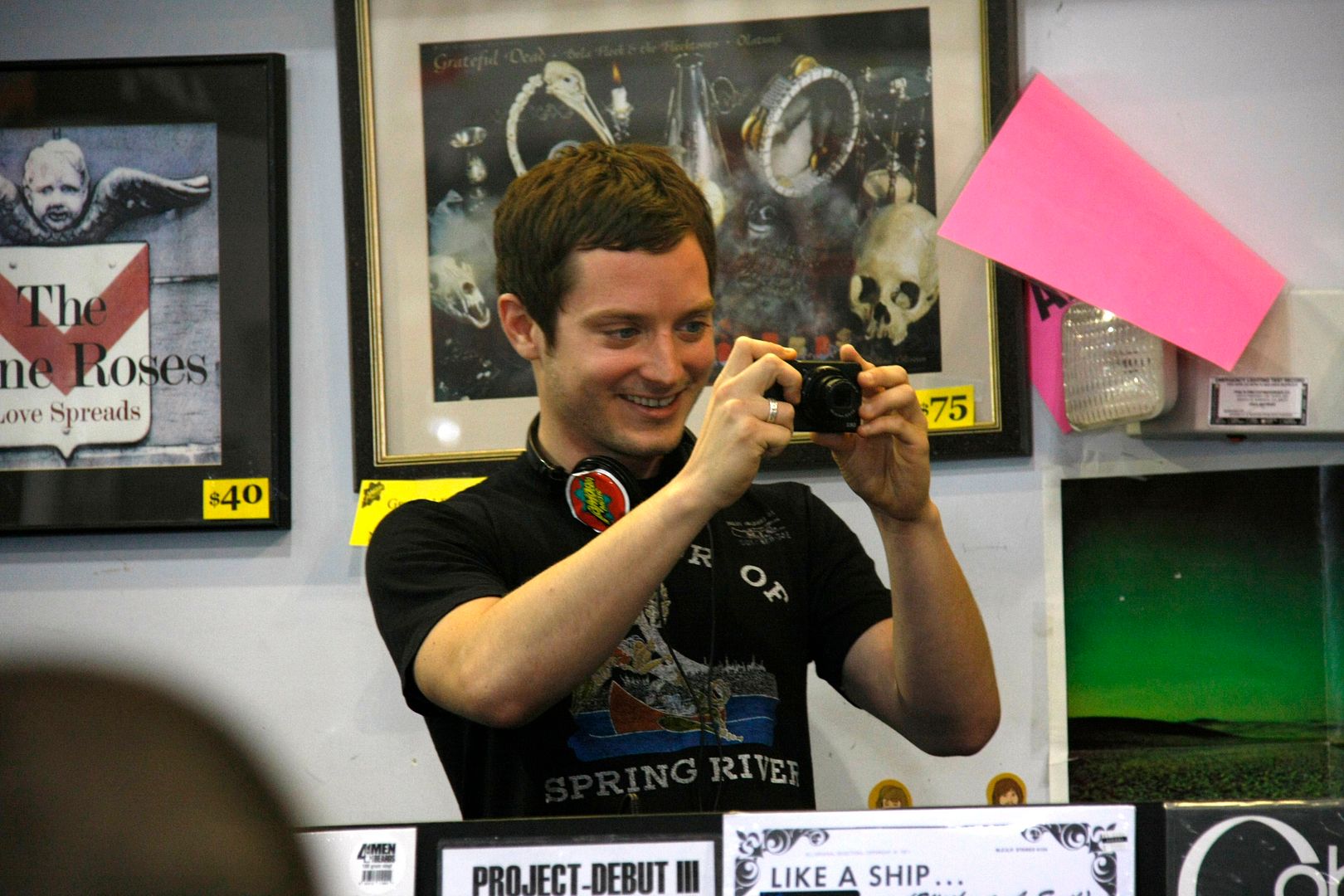 And on the subject of Amoeba - around this time a video surfaced called 'What's In My Bag?' in which Elijah made a confession:

"I'm A Record Nerd". But I think we already knew that!!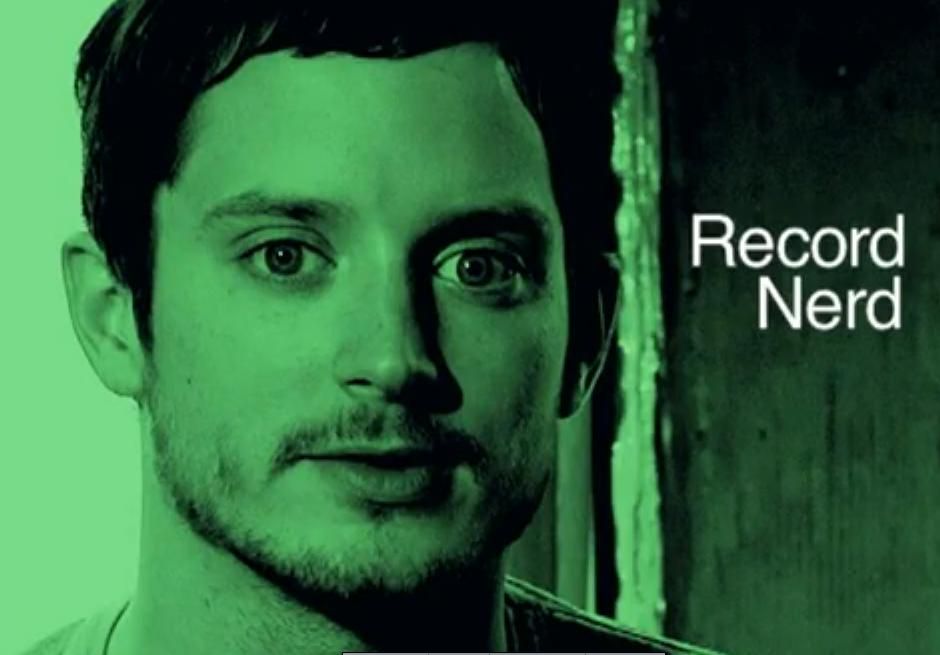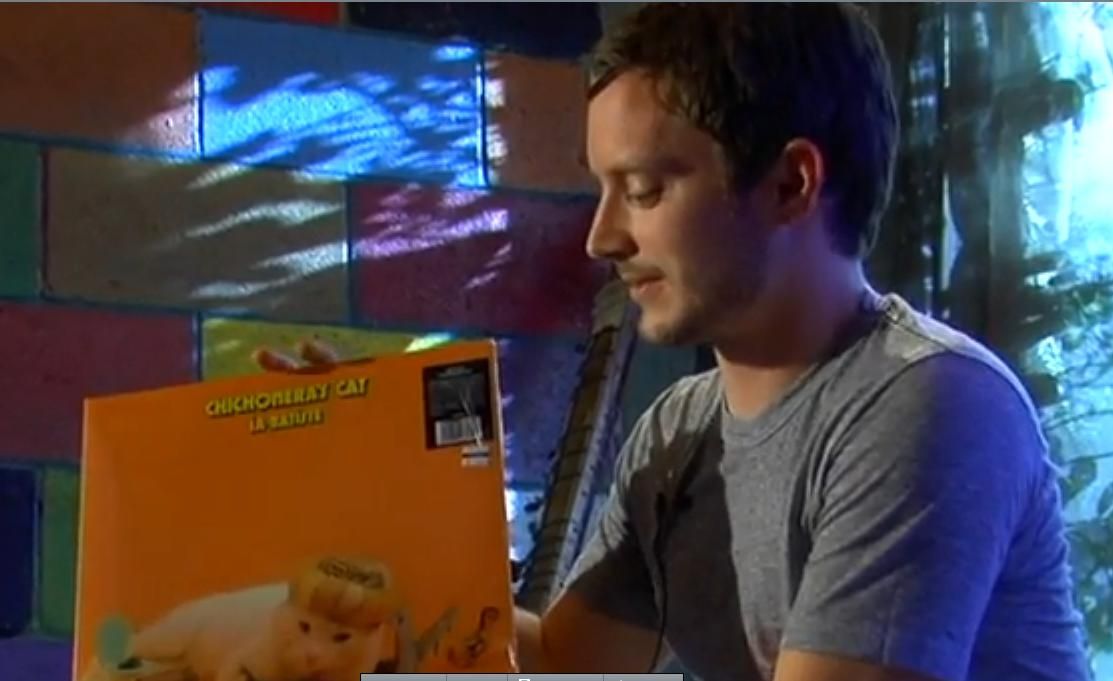 19 Aug - recording an ad for The Bunny Museum - marvellous! :D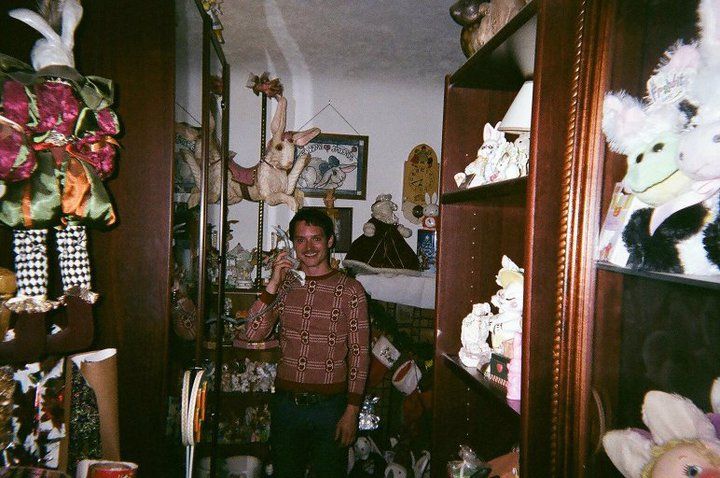 21 Aug - Elijah & friend attend the wedding of Anna Paquin & Stephen Moyer. Guess who dj'd!! (Together with friend in pics)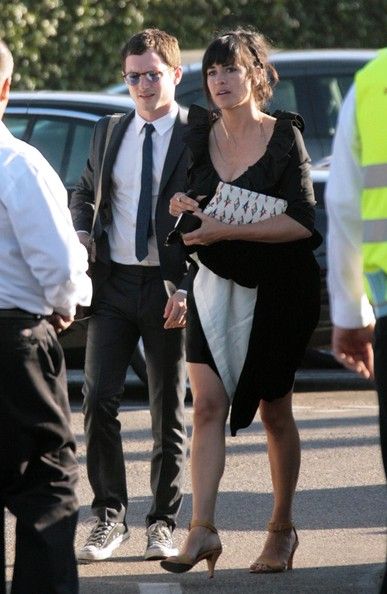 7 Sep 'Romantics' Premiere, New York: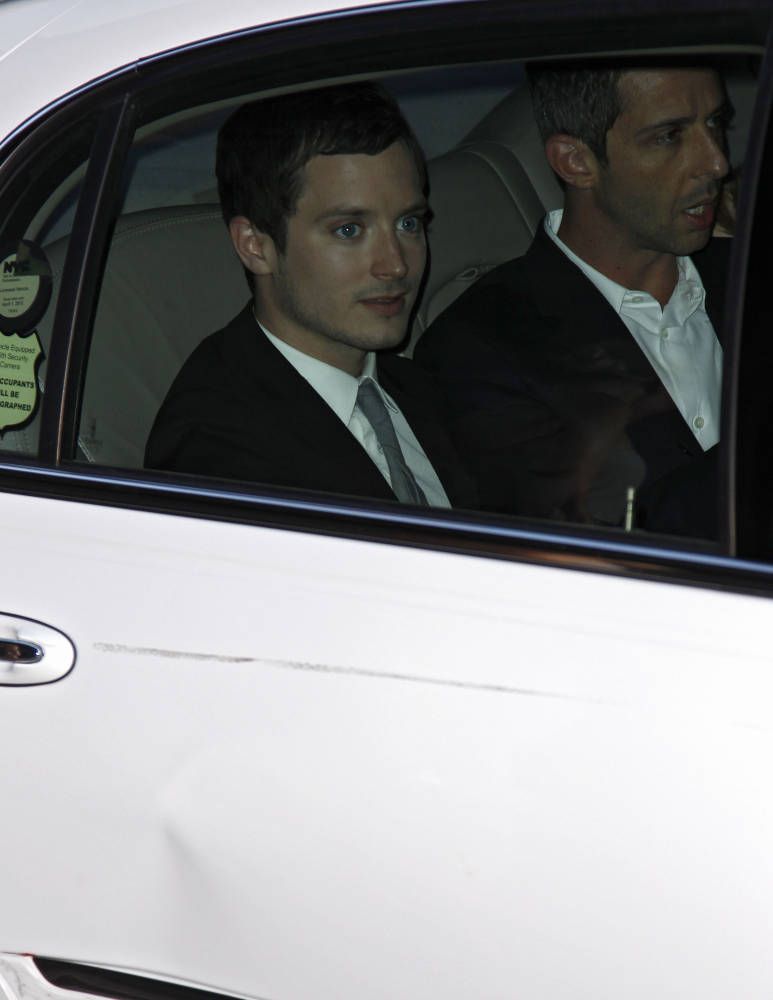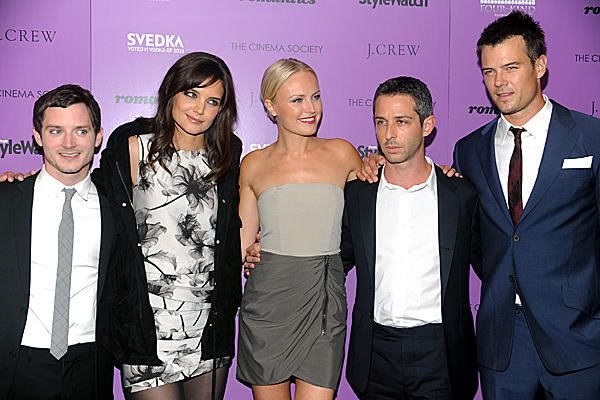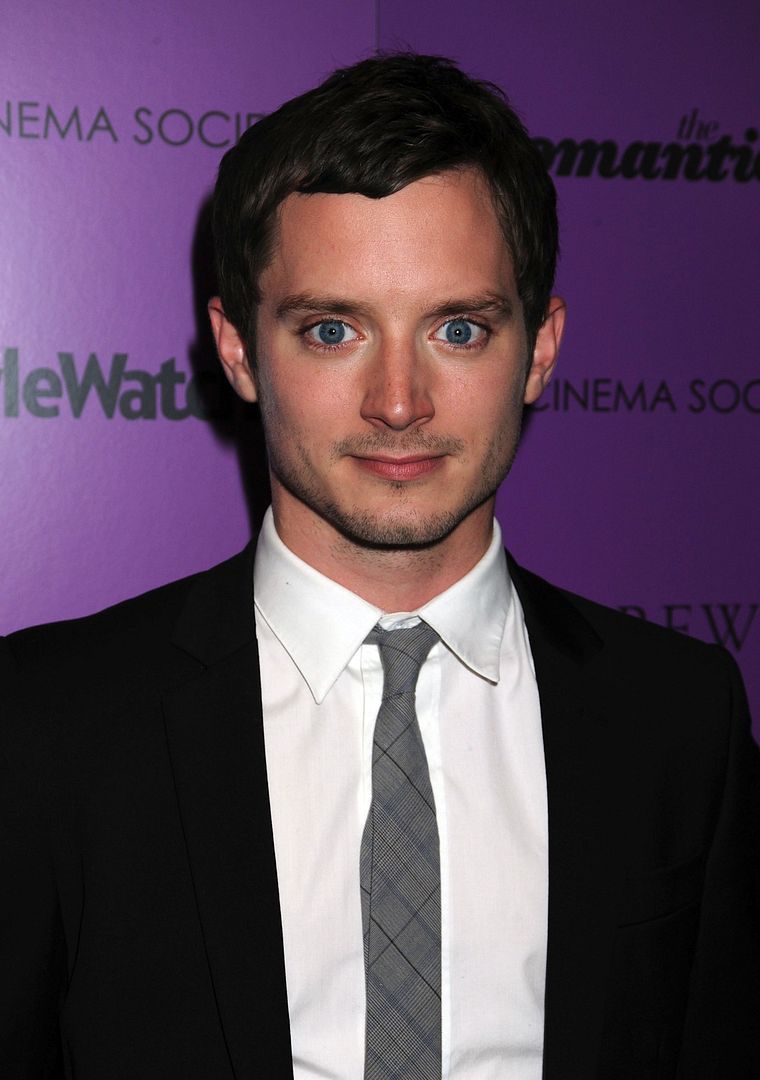 8th Sep - signing for fans outside hotel: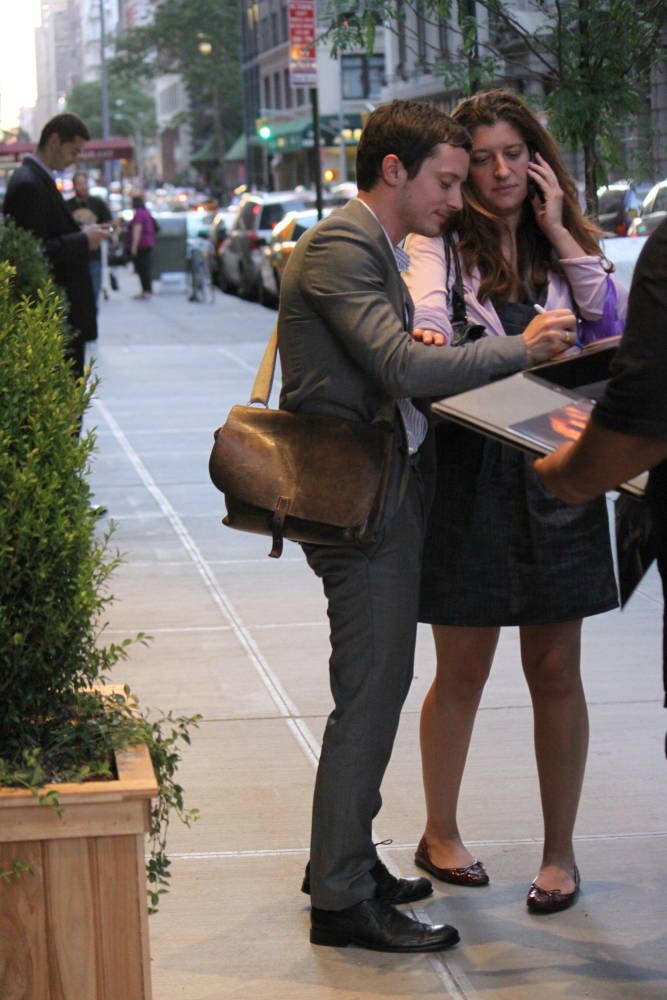 Also 8 Sep - Elijah appears on 'Jimmy Fallon':

He explains that he spent the summer making pizzas and smoking meat!!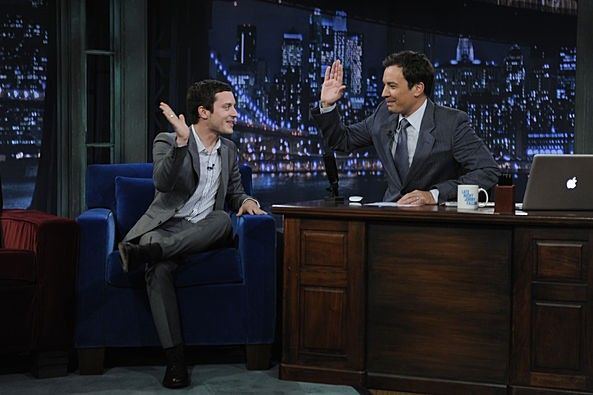 He also partakes in a game which requires a crash helmet!!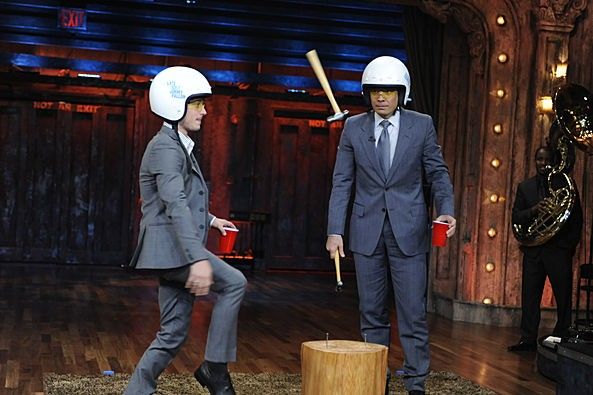 14 Sep - Rodarte, NY Fashion Week: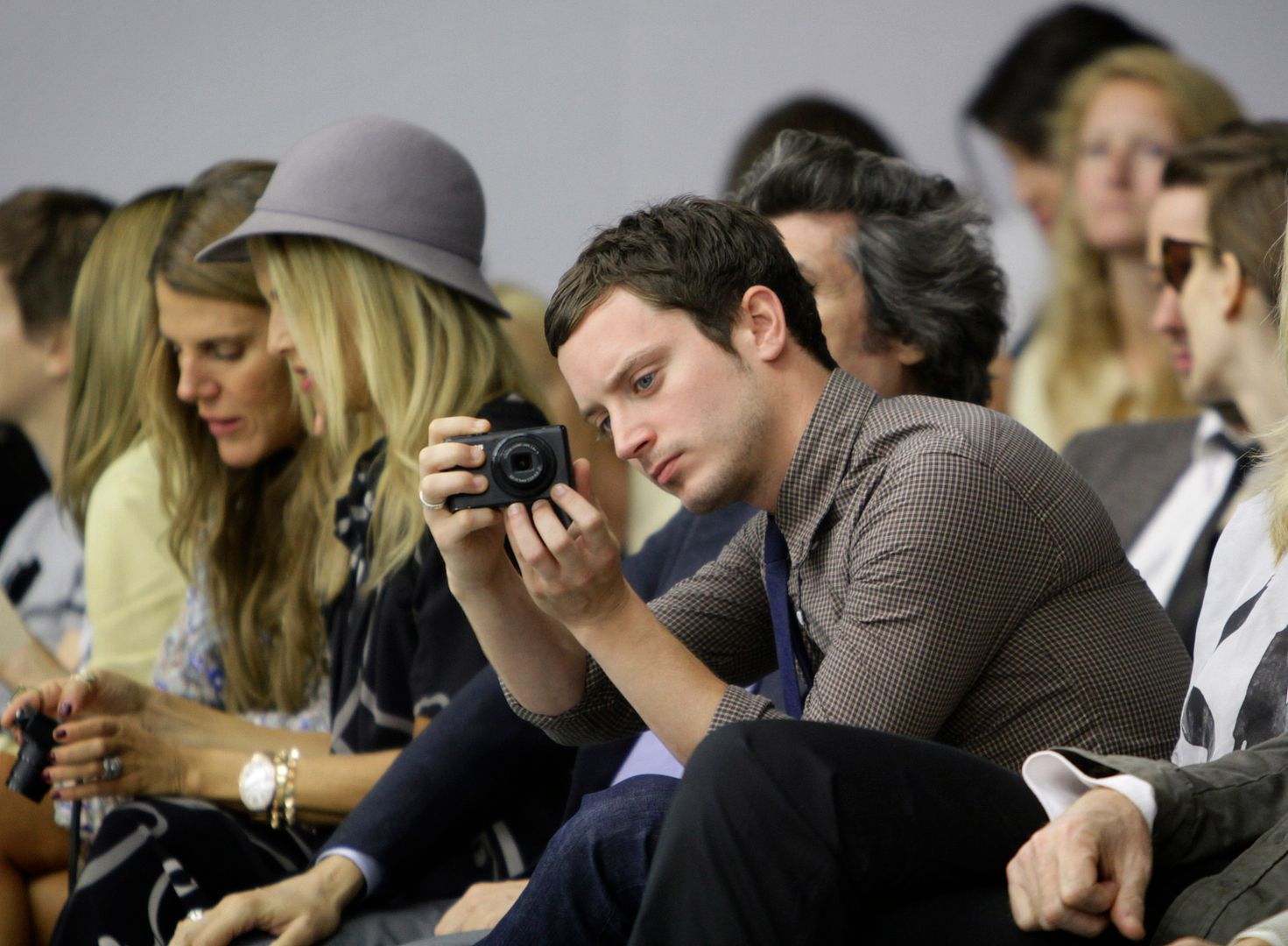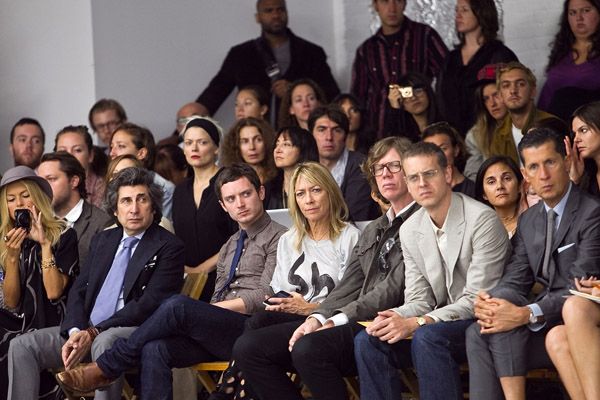 20 Sep - 'Romantics' premiere, San Francisco: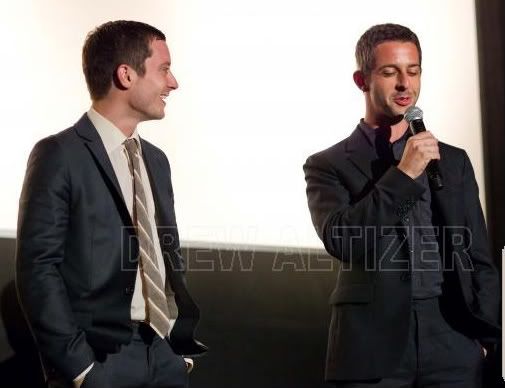 And on to Austin, Texas:

22 Sep - Fantasy Fest, Austin: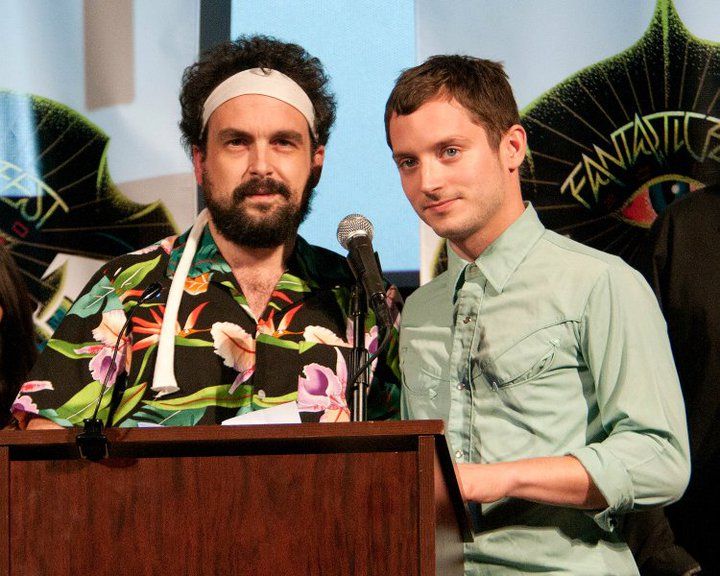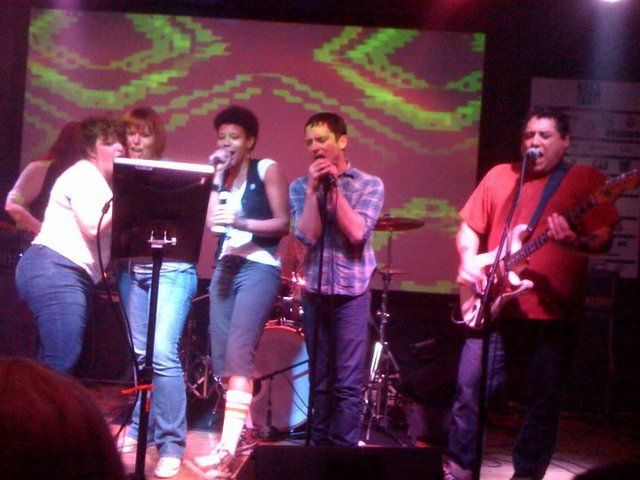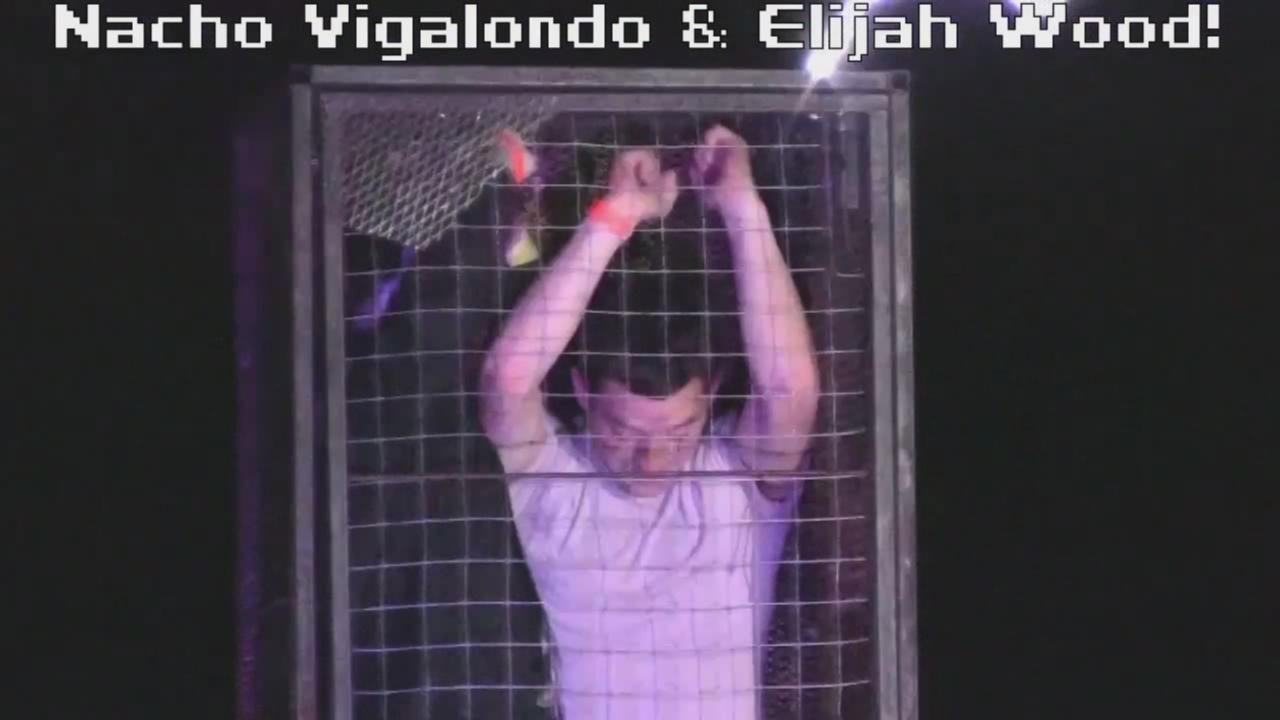 30 Oct - Elijah dj's at a Halloween ball: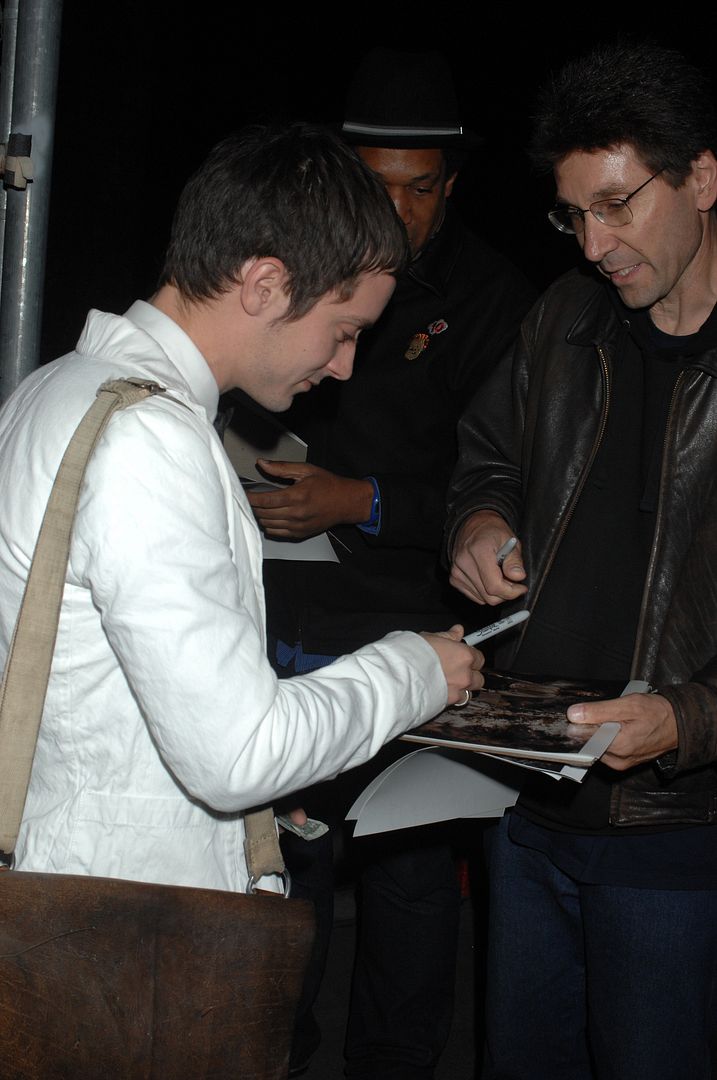 11 Nov - Elijah spotted by fans in NY: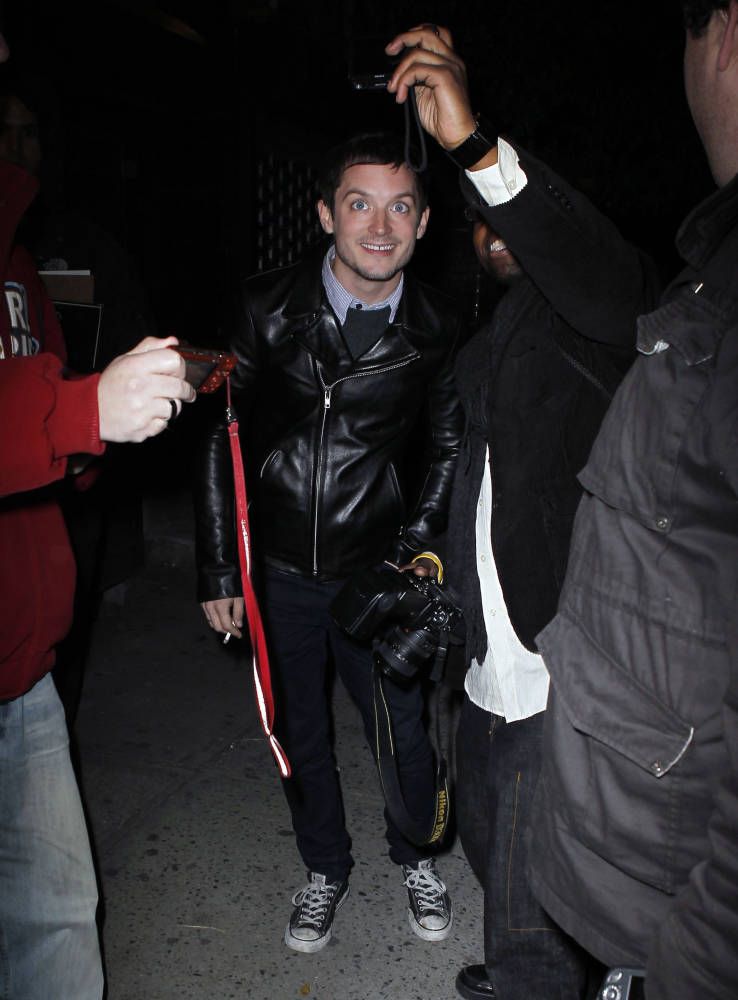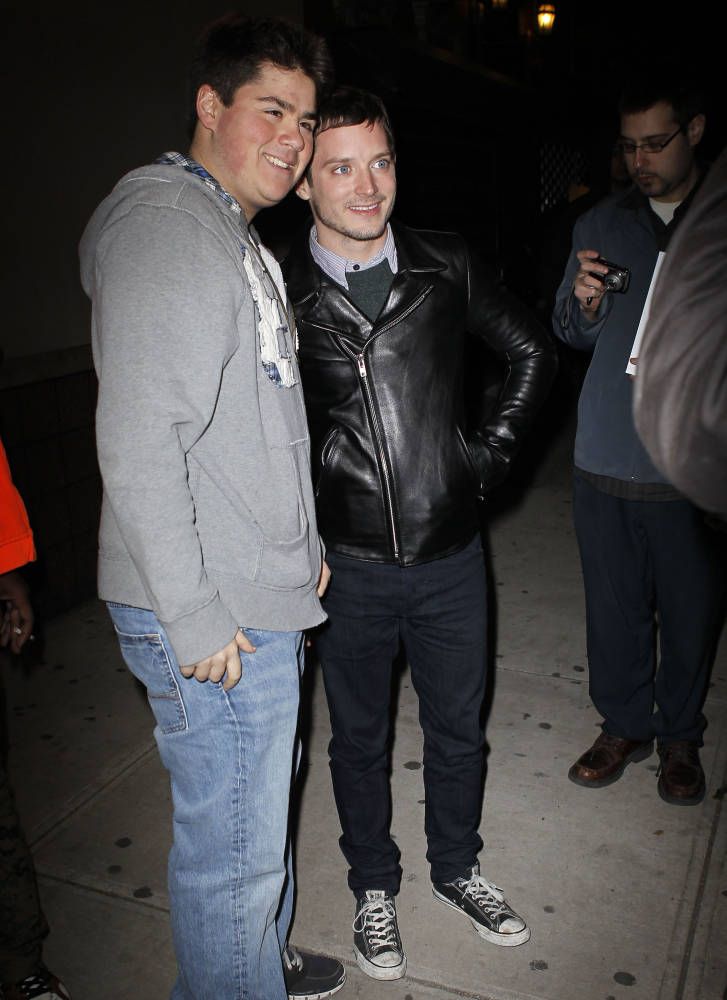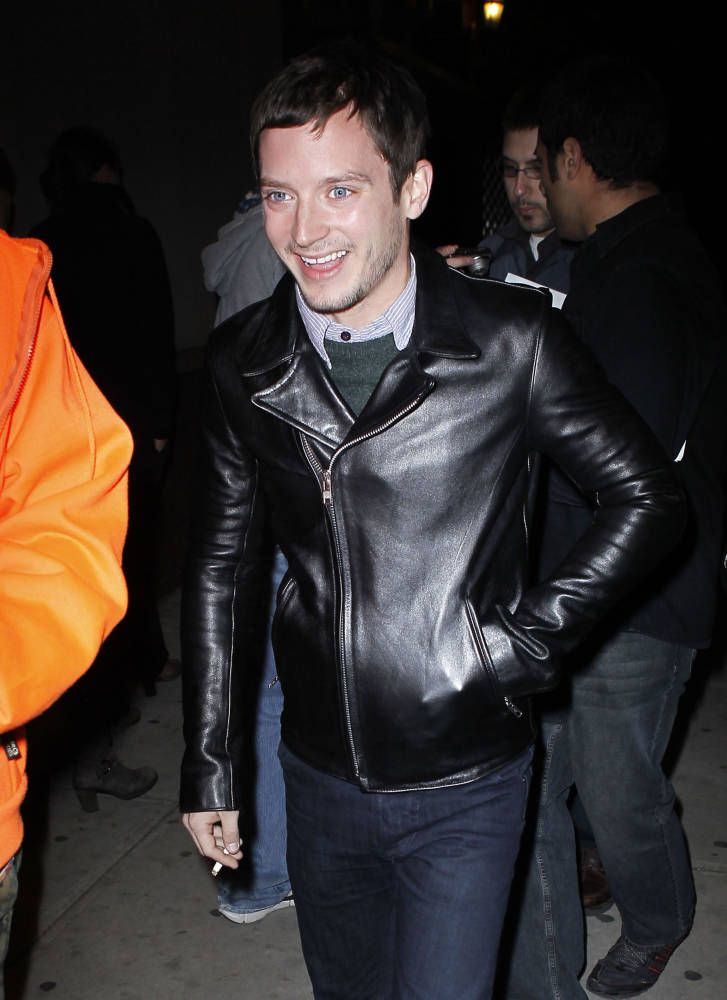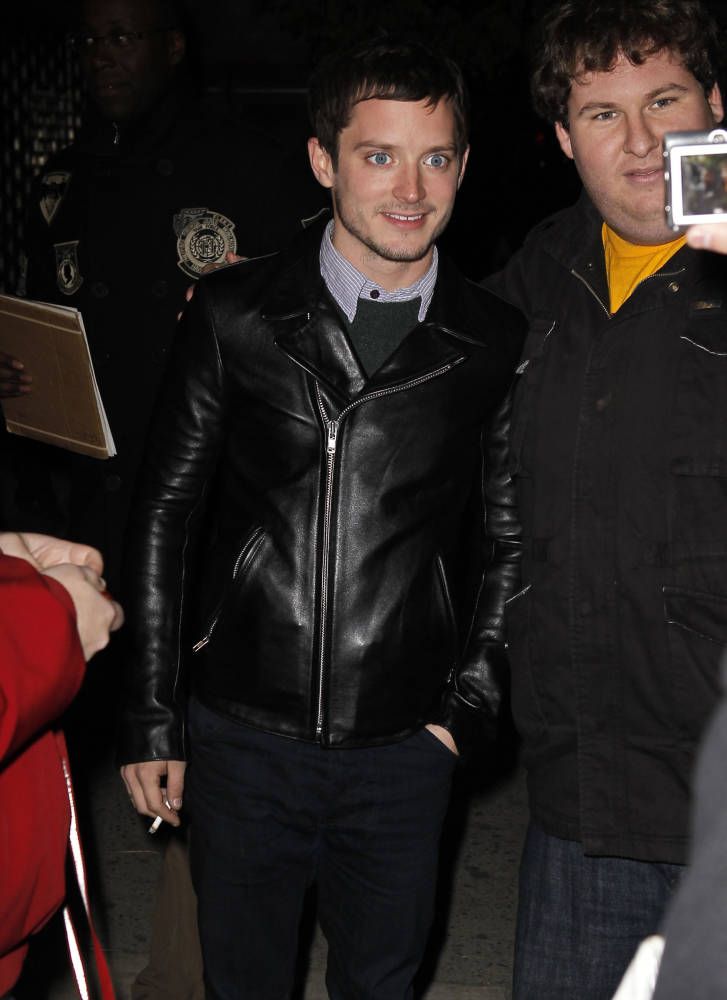 13 Nov - With these few words an exciting new chapter begins for Elijah's fans:

"Hello Twitter - I've finally succumbed to your wiles!!"





15 Nov - 24-Hour Plays, New York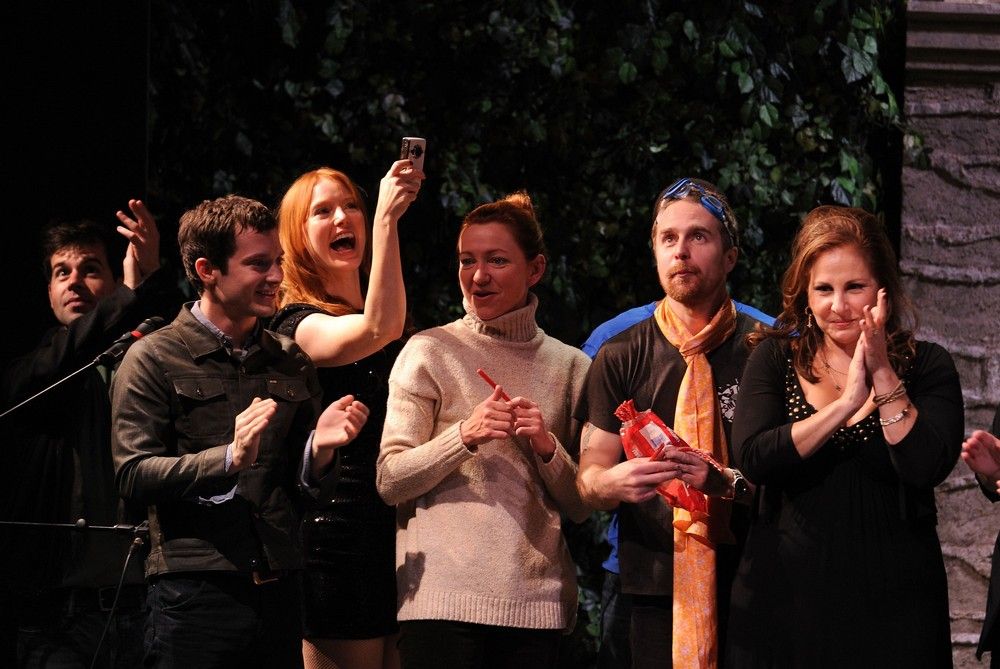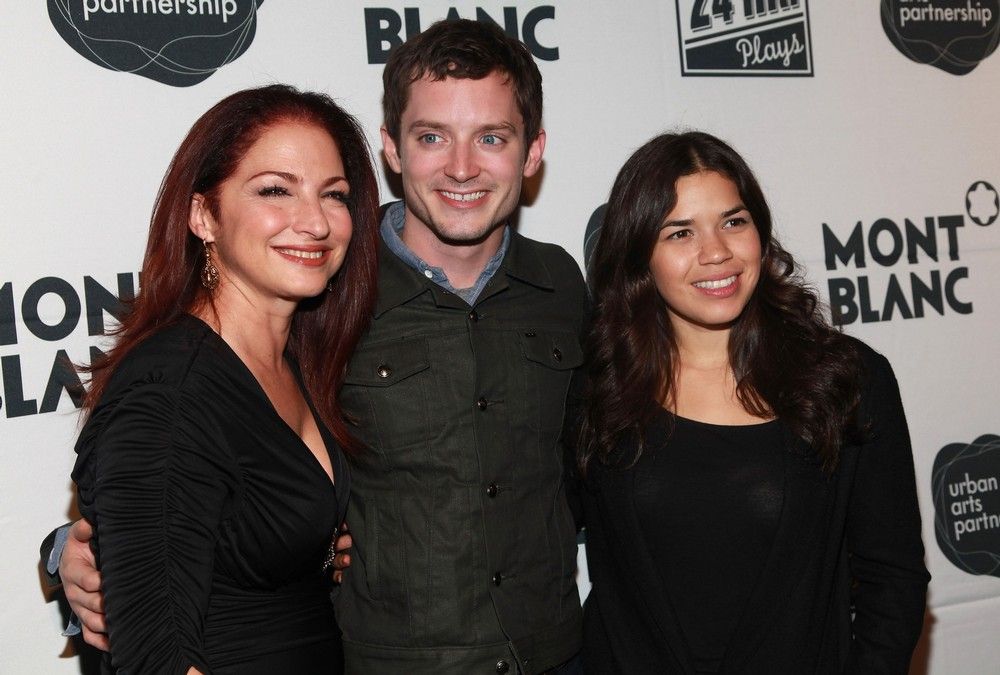 11 Dec - BNAT, Austin Texas:

Elijah attends the annual 24-hr film marathon and ...

12 Dec he is a surprise guest at the LOTR Feast, Alamo Drafthouse.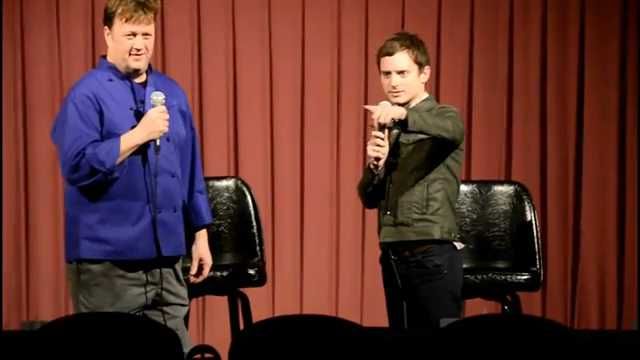 13 dec - Elijah is snapped on Venice Beach filming for his upcoming tv show 'Wilfred'. I'm really looking forward to this!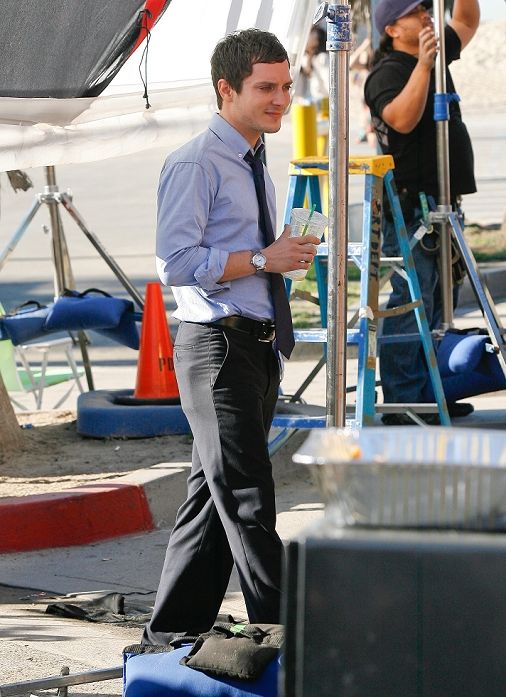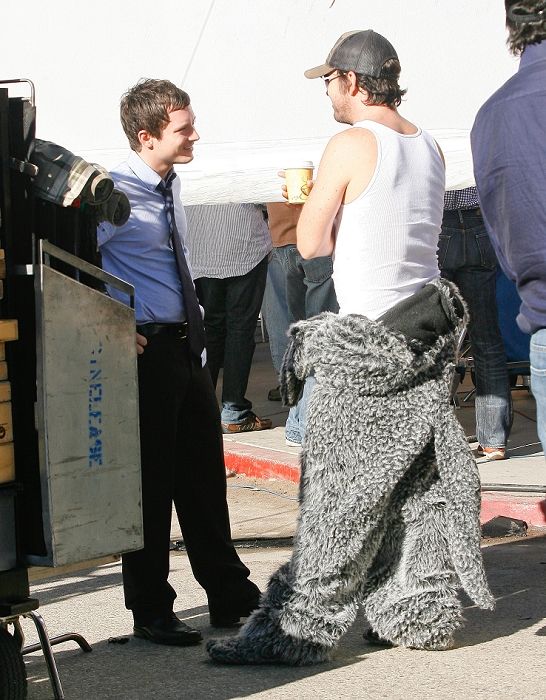 29 Dec - A wonderful event - Billy Boyd gets married to Ali in Scotland and Elijah & Dom fly over to attend: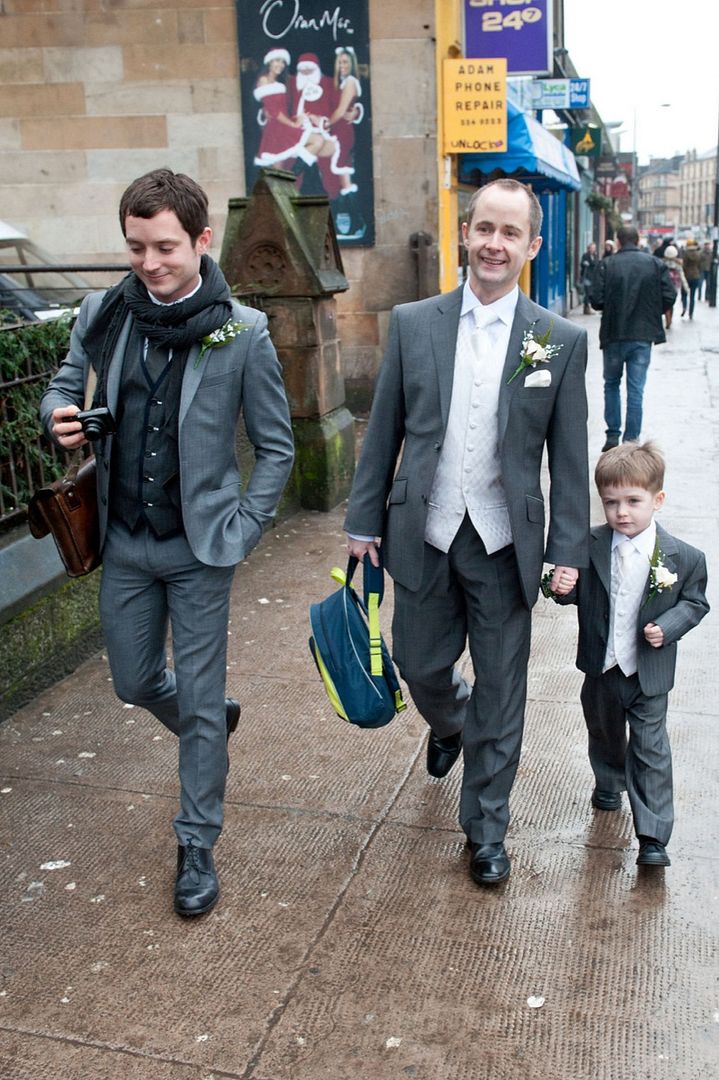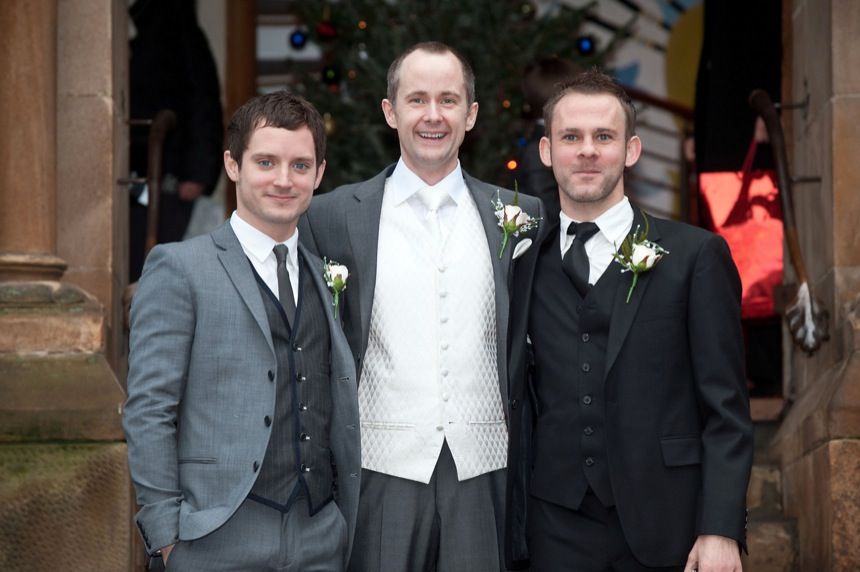 After the wedding Elijah, Dom and friend Jason spend a holiday touring Ireland.

07 Jan 11 - Wonderful news - Elijah will reprise his role as Frodo in 'The Hobbit!! I always believed, deep down, that I'd see him as Frodo again:)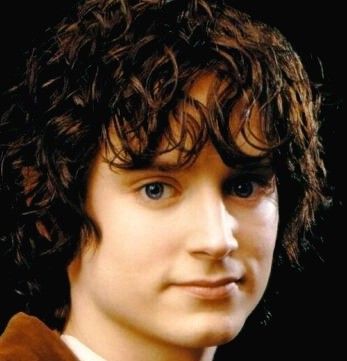 08 jan 11 - More exciting news - Elijah will appear as Ben Gunn in a tv adaptation of 'Treasure Island'!

9/10 Jan

Making the new Danko Jones video: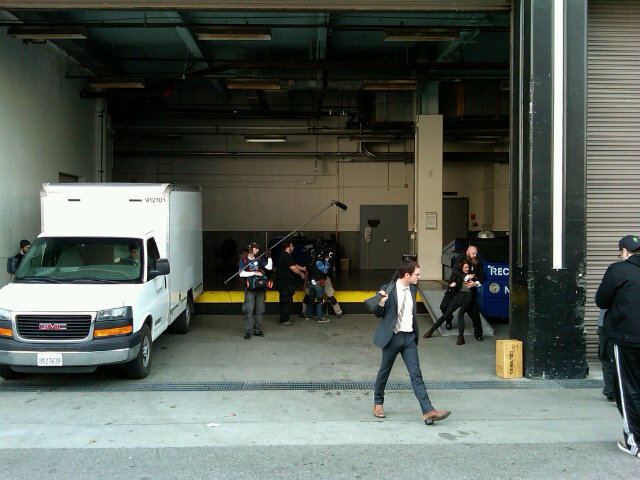 11 Jan - Promoting 'Wilfred' at the Fox All Star party: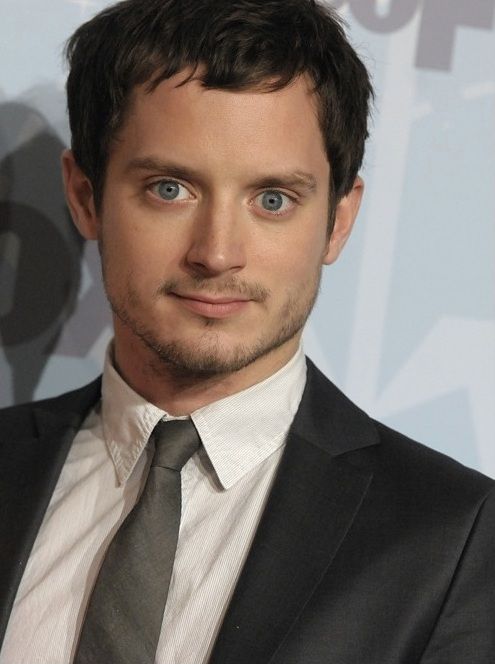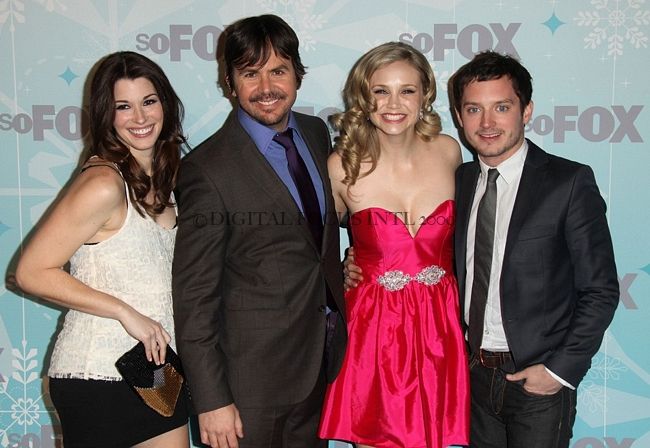 15 Jan - a very busy day!

First a TCA event in Pasadena - again for 'Wilfred':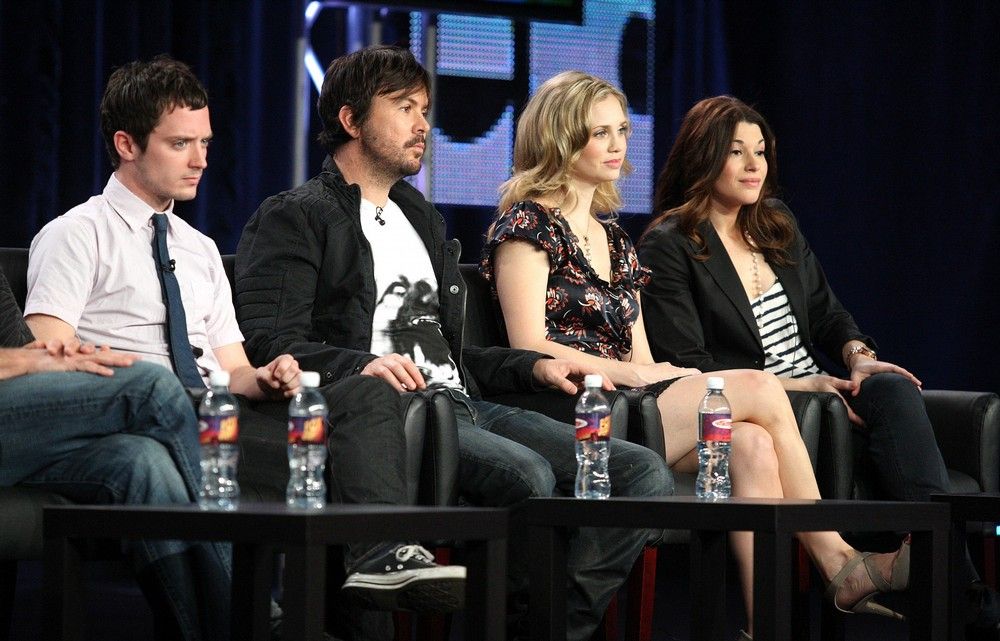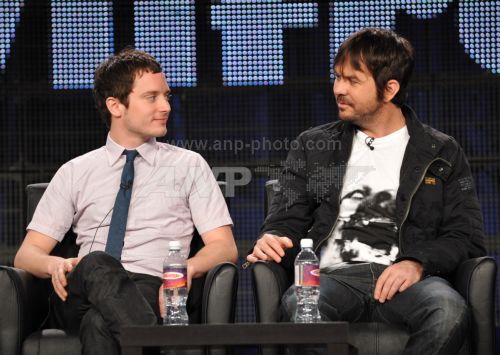 And then the Art of Elysium Heaven Gala: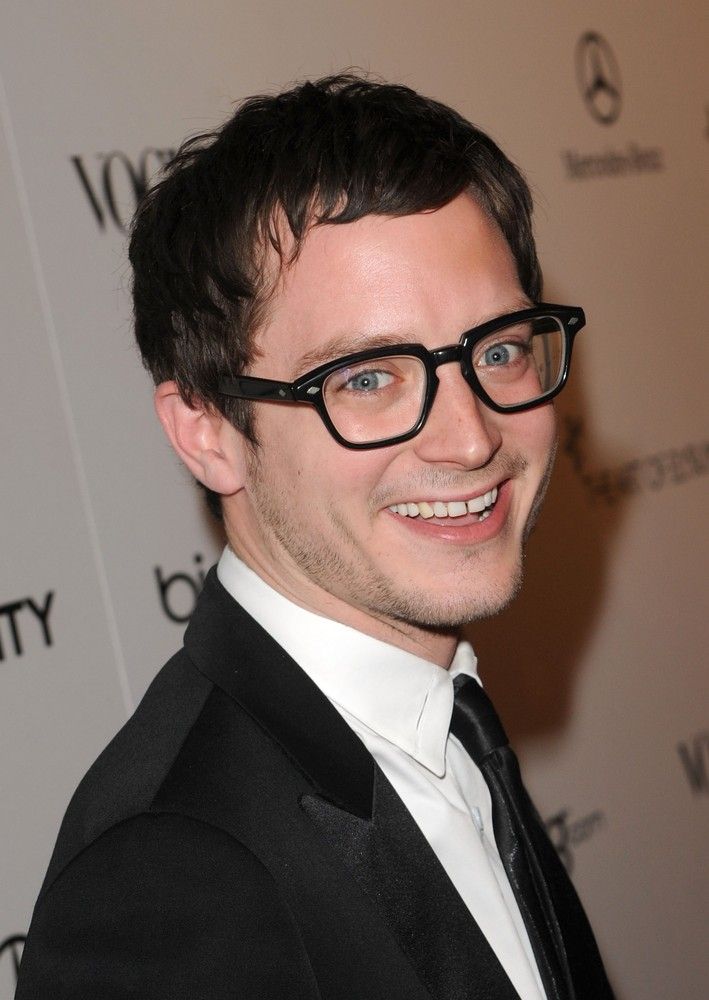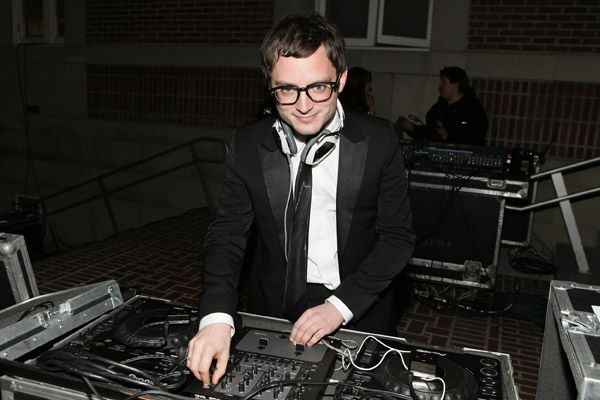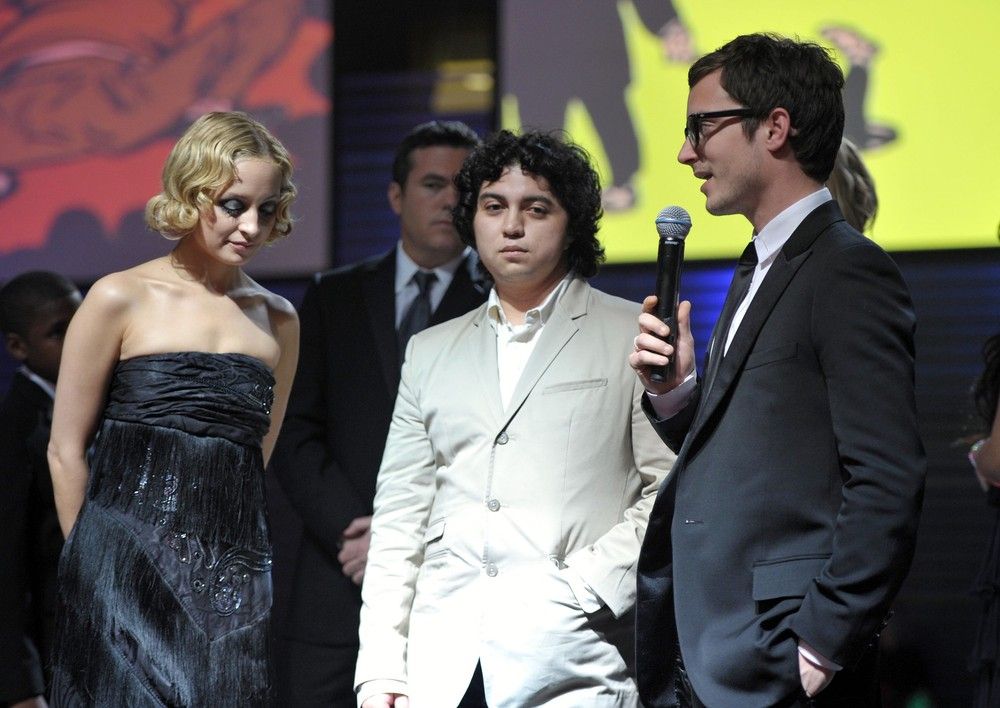 16 Jan - the Golden Globes: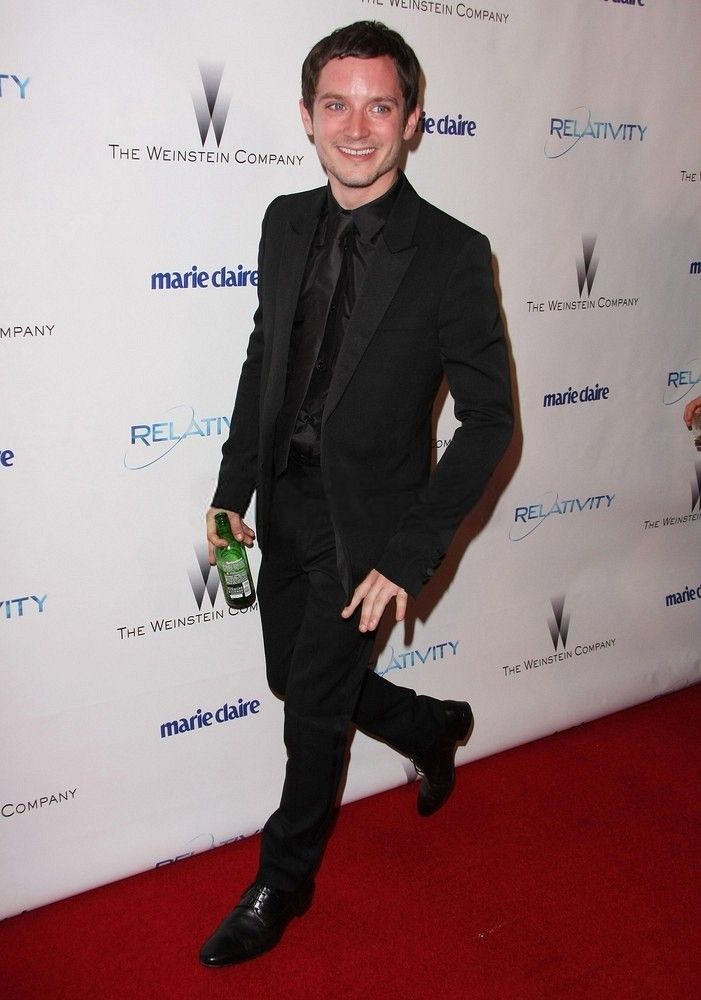 19 Jan - and we've come full circle - he's off to the 2011 Sundance Film Festival:

20 Jan - taking a look around:




20 Jan - 'Fight For Your Right Revisited' Premiere: