| | |
| --- | --- |
| Tags: | a journey with frodo |
| Current Music: | fields of gold-sting |
| Security: | |
| Subject: | A Journey With Frodo-Ch:46 'Madness in Milton Keynes Part One' |
| Time: | 11:35 pm |
| Current Mood: | relieved |
It has taken me so long to get this chapter of 'Journey' posted!! In fact, it turned out so huge that I've had to split it into two parts!! My main problem this time has been the fact that I now have a new laptop but most of my 'Journey' stuff is still on my old one so I've had to sort out and transfer all the bits I need. I don't want to transfer everything en masse or I might just end up with the same overloading problems I had before.
This chapter is a very poignant one for me as it covers the time I finally saw Elijah 'in the flesh' for the very first time - at Collectormania4 here in the UK. One of the problems with covering a convention is that the great majority of pics have been taken by fans and it's not always possible to contact those people to ask if it's ok to post them. So if anyone should see their own pics here please let me know so that I can either give you credit or remove them, whichever you prefer. Many thanks to
msilverstar
who sent me several pics from this event, a few of which are in Part 1 but most will be in Part 2.
Frodo's Journey covers the breaking of the Fellowship.
For anyone unfamiliar with my pet project, 'A Journey With Frodo' (a work in progress) is the story of Elijah Wood's experience in becoming Frodo, from back in 1998 when the LOTR movies were just a whisper up to the triumphant Oscars of Feb 2004. In reliving Elijah's journey, and mine, I am using everything I can lay my hands on - behind-the-scenes material from the various dvd's, magazine articles, books, internet sites, tv coverage, word-of-mouth info, etc. Previous chapters can be found here:
"A JOURNEY WITH FRODO"
Hope you enjoy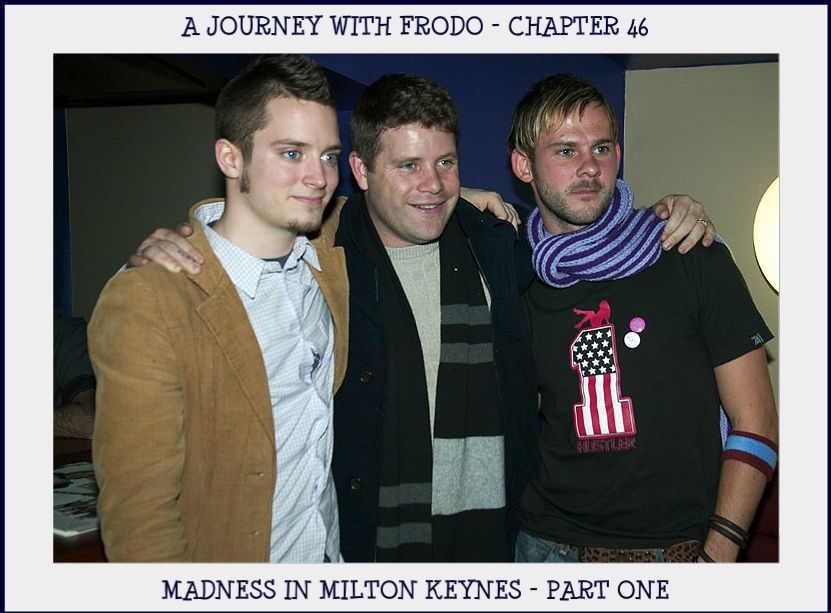 4 – 6 October 2003 – COLLECTORMANIA!!

On Saturday 4 October three 'hobbits', Elijah, Sean and Dom, landed in Milton Keynes, UK. Unfortunately Billy couldn't make it. Due to commitments in New York, they arrived too late to be able to attend the Saturday signings and for this reason the event was extended by an extra day. They were, however, able to attend a q&a session before the FOTR screening that evening.

SAT 04 Oct 2003 – Q & A Session:

We were not informed beforehand which actors would appear before which screening ('The Two Towers' was screened separately) but you didn't have to be a genius to guess that Elijah and Sean would be before FOTR! The following pics and text are not necessarily in the right order. And the text is not a complete transcript, just a mixture of my own observations and extracts lifted from other reports:

Showmasters spokesperson: " I want to thank you all for coming. I really hope you're having a good time. You're going to have a great evening, you're going to enjoy yourselves with a nice film. Before the film we have a couple of nice guests for you. You may recognise them. We have in here, Sean Astin ... and Elijah Wood"

Elijah : "90% women!! Well, how exciting! I've, literally, I've just woken up everyone!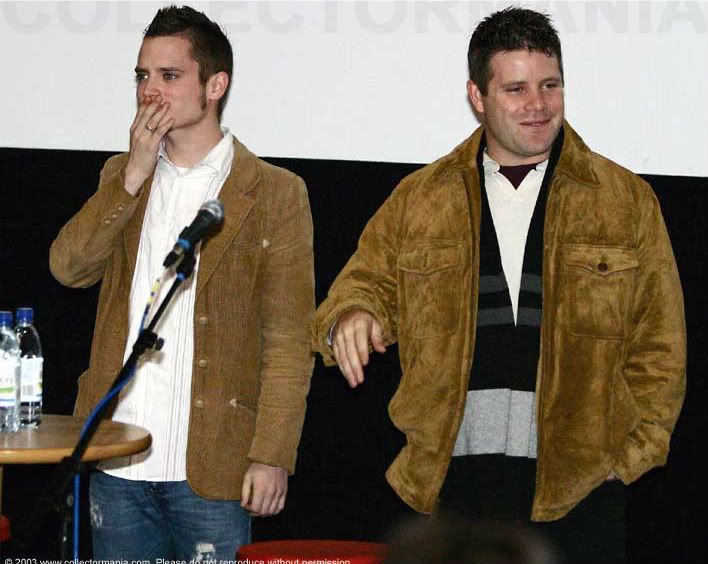 Sean: " I was pounding on his door. 'Get up! Go! The women are waiting! They wanna watch the movie!' My friend was calling Elijah to wake him up and Elijah kept picking up the phone and hanging up."
Elijah: " I didn't know what I was doing. I was sleeping and I just.... aaargh! Instinct! Hang up! I didn't want to wake up!"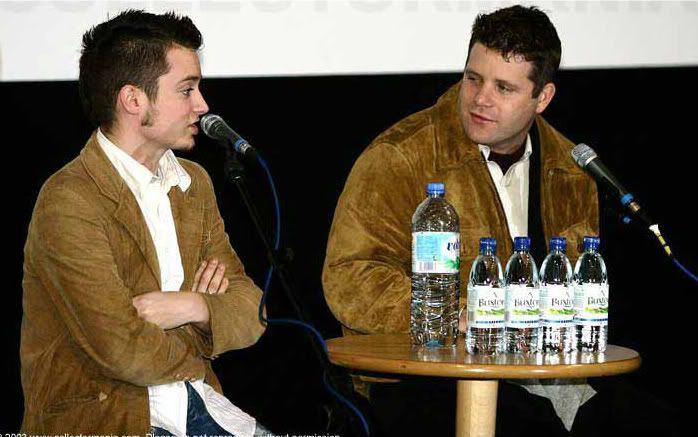 Organiser: Can we stop the flash photography now please.
Audience: awwwwwwwwwwwwwww!!!
Sean: Unless Elijah makes a REALLY interesting gesture and then they can start!
Question: Firstly - good hair!
Elijah: Aww thank you!
Sean: I knew she wasn't talking about me!
Questioner: You'v BOTH got good hair!
Someone in the front row hands up a Frodo standee:
Sean: " I remember that photo shoot".
Elijah: "So do I."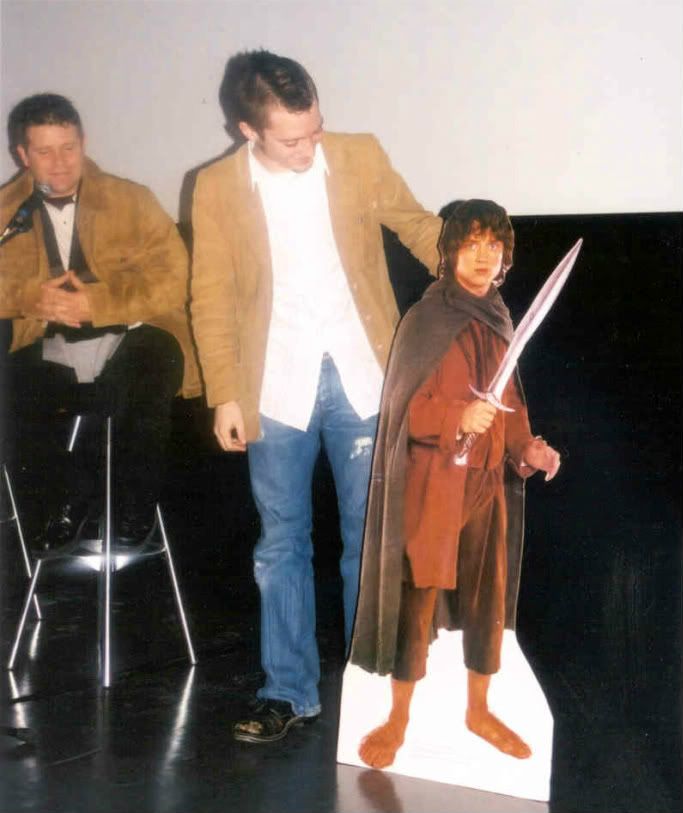 Someone asks what excites them!
Elijah: "What really excites us? What.. just.. in general?... What turns me on?... Heh now! Probably music. Music and women. I'm kind of a music addict myself, so....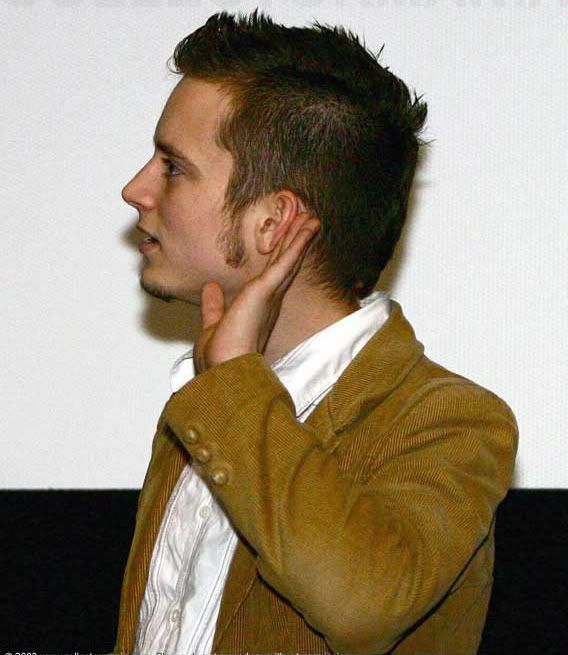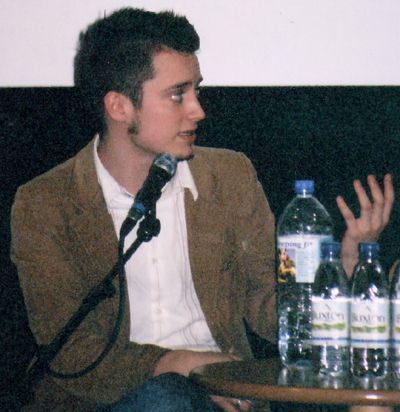 They're asked about the food on the LOTR set:
Elijah: "It sort of started out being alright but then it kinda took a decline! The catering.... Well during the day, there was a lot of cheese!) And what was that... those things that Peter used to eat... that made his breath stink?"
Sean:" Oh yeah, that was horrible!"
Elijah: "Peter used to come up to us with the most awful breath because he used to eat these pickled things."
Sean: "Yeah, I don't know. They were like kind of onions."
Elijah: " And he'd eat that with a big thing of cheese! And then come up and say 'So you're going to be … (impersonates PJ coming in close and breathing over them) …over there. '
Sean: "The catering food was pretty... you know they had to feed a lot of people."
Elijah: "Quite a job!"
Sean:" It was a military style effort feeding everyone, and it was really heavy, heavy foods. Lots of..."
Elijah:"Lamb. Beef. Curry."
Sean: "Elijah and I, we got to a point when we were at the studio we would either have Miyabi take-out .. Miyabi was the sushi store on Willis Street and we'd have.."
Elijah: "We'd get chicken or beef teriyaki".
Sean: "Yeah but the chicken teriyaki set was the best! A little chicken teriyaki. A little meso soup. A little salad. Something like that. Or subway!"
Elijah: "Subway sandwiches, man! You want to know what Sam and Frodo ate on their journey? It wasn't lembas bread! It was always subway sandwiches! That's what kept us going!"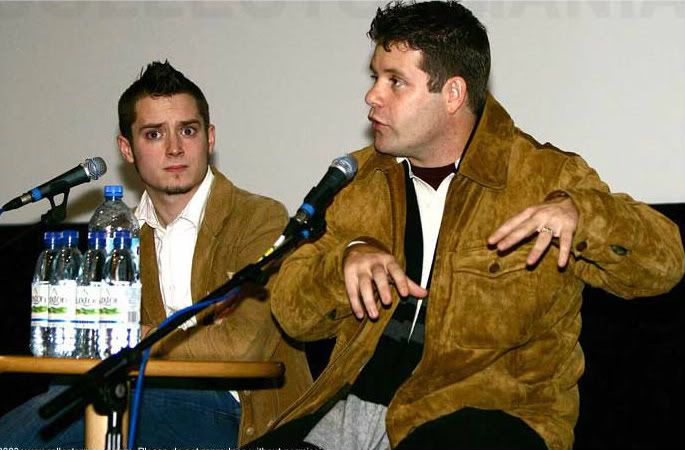 Sean: " And then once in a while, we'd send out for a dessert. There was those chocolate crunch things. Remember those ice cream...?"
Elijah: "Oh yeah! Chocolate - do you guys have a hand signal for that as well? [Someone had said that the signal demonstrated by Elijah below was a sign for cheese. I have no idea why.]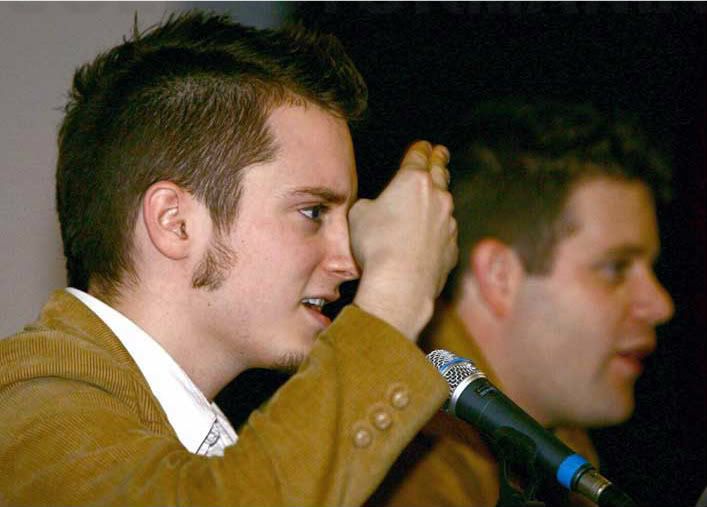 Elijah was asked what he would have studied if he'd gone to university. He said English and that he likes to read.
Question: What I want to ask is, because you read, do you ever write?
Elijah: I used to. I used to write sort of short stories and creative writing. I was better at writing essays than writing original ideas and fiction. But I haven't written in so long. And I think I get out in my writing style in my emails and things. But I haven't actually sat down to write something in a while. I should! It's something I've been meaning to do, but I'm too afraid that I'll be bad and it's just going to suck. I know I should
Question: Elijah, what do you like to read?
Elijah: What do I like to read? Oh... here it goes!! Anything! There's not any specific genre that I'm totally into. One of my favourite books in the last like five years is this book called 'House of Leaves'. Has anyone here heard of that? It's a book by Mark Danielewski. It's this intense like thousand page opus that I freaked out over. . [I've still not got round to finishing that massive book] But there is no specific genre.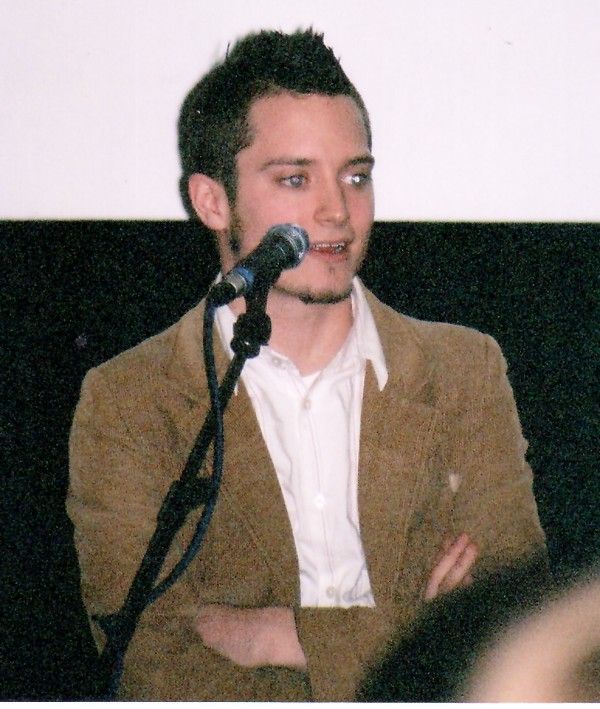 Elijah: I understand Corey Feldman will be in attendance?
Everyone - you have to understand - Corey Feldman did a song, years and years ago, called "What's up with the youth?" It was on the Howard Stern cable access television show. Listen - if any of you meet him…OK does anyone know that song? [nooo!] OK …when you meet him - you have to go up to him and say "What's up with the youth?" OK - I've got friends who have been following him for years.. And if all these girls from England suddenly come up to him, it will be a big deal! - You'll be helping me out - thank you.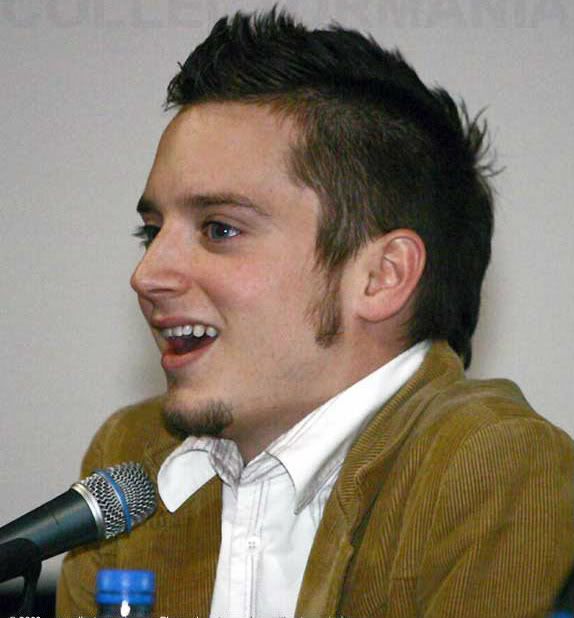 Question: I have a question for Sean. Have you checked out the exits, in case of emergencies?
Sean: The thought had occurred to me! The security people told us that if the girls got too outrageous they'd just take us right out. So I feel relatively safe at the moment. But you know I was on a plane last night, flying from New York and we were up in First Class in Virgin, it was one of their smaller planes, and their seats go all the way down. And as I was sleeping, I don't know if this is ...
Elijah: That was a weird way of sleeping by the way ..there was the bed …and that thing [demonstrates the way the seat flattens out with his hands] kind of lying down.. And the floor …That was weird..
Sean: And before we went to bed ..Dom ..oh man I don't know if I can say this kind of thing…!
[confers with Elijah by whispering in his ear what he is thinking of saying and Elijah gives the go ahead!]
Sean: Well Dom and Billy were talking about how sometimes….
Elijah: Dom and BILLY?!
Sean: Dom and ..no.. you're Elijah
Elijah: I'm Elijah! I mean, I like Bill...
Sean: I'm just used to saying those two names together! So, Dom and Elijah were talking about sometimes when they wake up in the middle of the night…
Elijah: We were talking about nocturnal emissions folks ! [Yes, you did read that correctly!!]
Audience Ewwwww!
Sean: And I was saying, I'd never had that! And he was were like - "You're not normal!"
Question: Hi I'm Suzie. This one is for Elijah. We know you showed your Fellowship tattoo on the Jay Leno show...
Elijah: You want to see it now?
Audience scream out 'Yes!!'. Elijah spends several minutes pulling his t-shirt up to show his tattoo to different parts of the room. Everyone ignores the 'You will be thrown out if you take flash photo's after the first five minutes' rule and takes pictures as flash and shrieking mayhem ensues.
Sean: That's where he had his appendix out. That's the scar. Just a few weeks ago. 3 weeks ago
Someone in the audience shouts: " I'm jealous! Your scar is much smaller than mine".
E: "Well, I've actually got 3 scars, also one here --points somewhere lower thanthe tattoo-- and one here --points even lower, but unfortunatally doesn't show it!!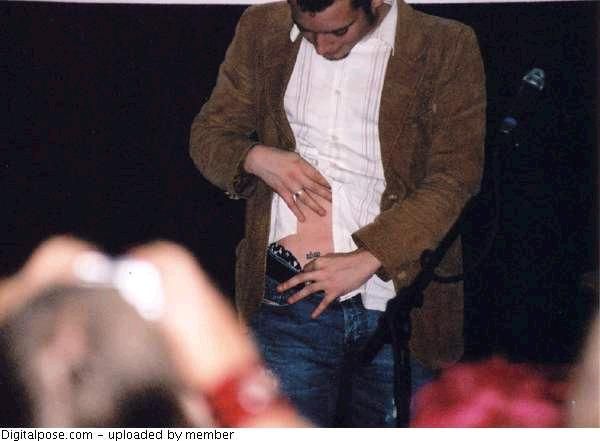 Elijah: Well I've got .. I had laproscopic, so it's three incisions. And then there's one below there....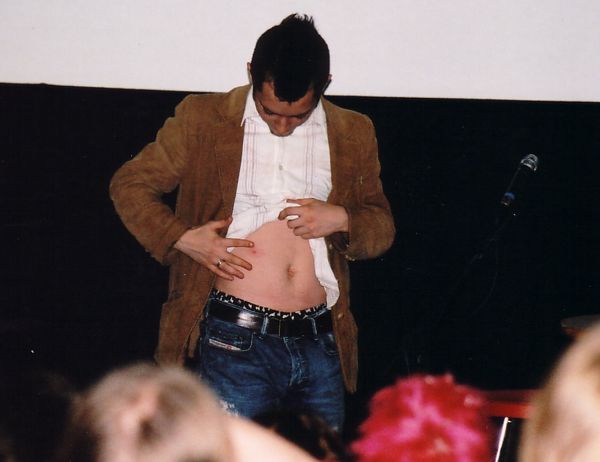 Question: " I'm from Wellington, New Zealand..."
Elijah: " Where in Wellington do you live?"
Question:"Out by Johnsonville. Going home at Christmas."
Elijah: " What are your favourite restaurants in town? Do you ever go to Fidel's, Dixon's?"
Question: " No. I think you guys went to all of them. What was your favourite location in New Zealand?"
Elijah: " I'd have to say, probably Queenstown. It's so beautiful in the South Island. South Island's my favourite out of all the places we went to as a whole, the South Island's my favourite. But I'd say Queenstown specifically because it was some of the most beautiful pieces of location that we ever filmed at and we spent quite a lot of time down there. It's stunning."
Sean: " I think it's an impossible question to be honest about answering because..."
Elijah: …"and also Milford Sound as well..".
Sean: " Yeah, except that dark tunnel!"
Elijah: "Ah! The dark tunnel was brilliant!"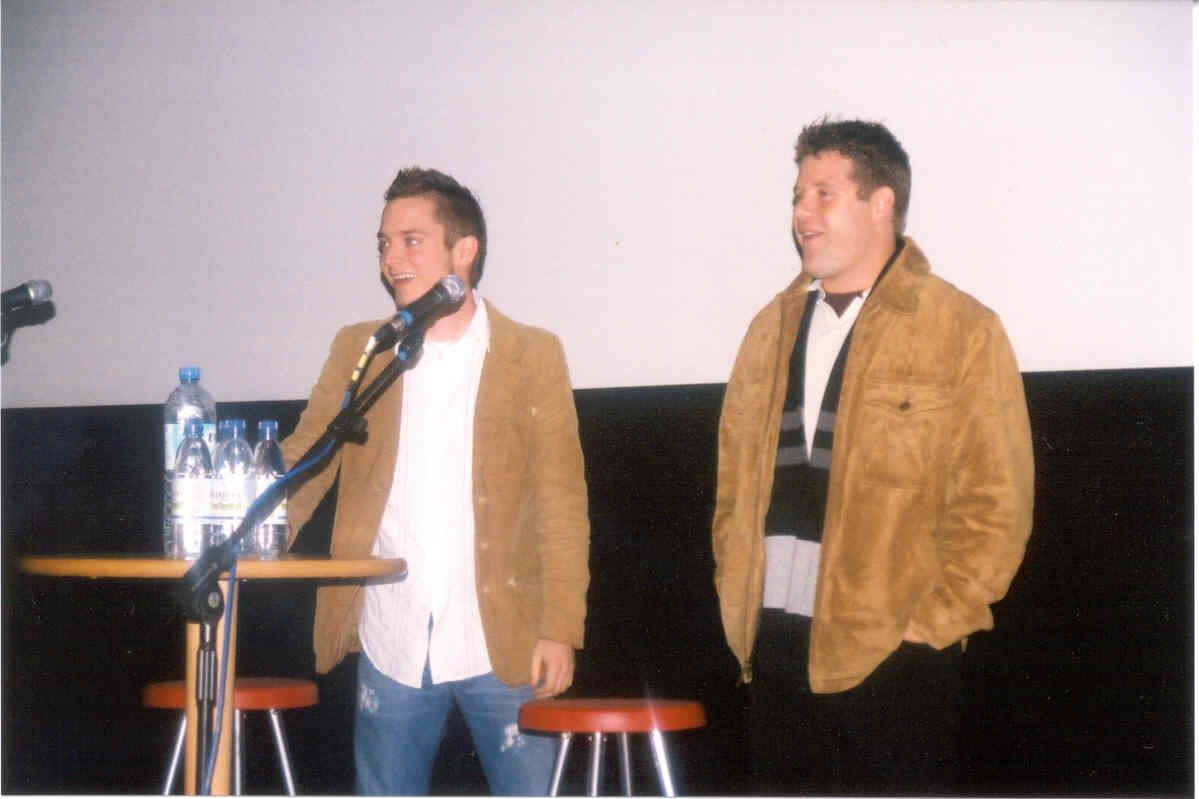 Question:" Is there any book that you've read that you would like to turn into a movie?"
Elijah: Yeah. There's a film, I mean a book, by Douglas Copeland called 'Girlfriend in a Coma' that I really want to make into a film. I wouldn't want to act in it necessarily. I just think it's an incredible story. It would be logistically interesting in terms of the apocalypse at the end. But I would love to turn that into a film and I've actually spoken to Douglas about it himself and he was like 'Yeah. I'm not real interested in that!' so we'll see what happens. I'd like to do that.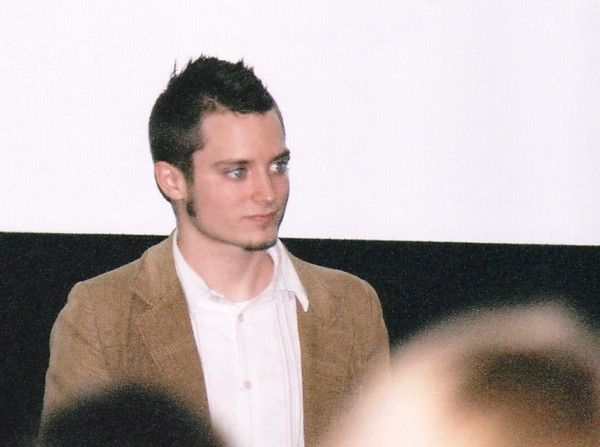 Question: It's not a question, but can I tell you.. You look fantastic in the Tan Jacket of Godliness!
Elijah: The Tan Jacket of Godliness??!!! Wow! I'm never going to take it off!
Sean: Is that a Gap item?
Elijah: No, this is vintage. Thank you. Thank you so much. That's very sweet.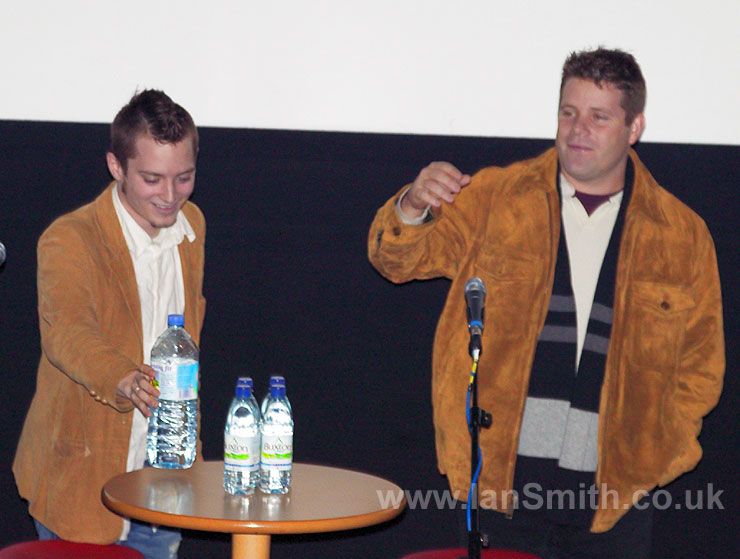 Question: Elijah, these two films are two of my most films favourite ever. But which of these is your favourite: 'North' or 'The Adventures of Huck Finn'?
Elijah: Between the two? I'd have to say 'North'. Because I like... I think the story's brilliant. I don't know if it's the best movie, but I love the story.
Question: Was it Bruce Willis in the bunny outfit?
Elijah: Probably. Yeah, I'd have to say... I love that movie. It's a great story. Very sweet!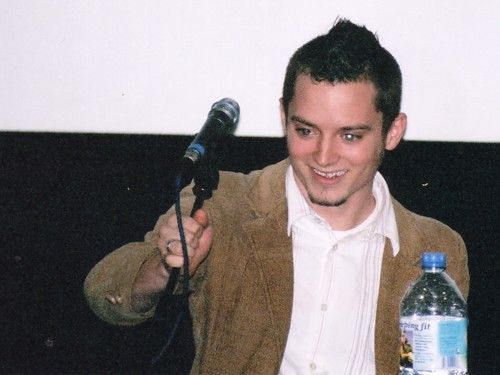 Question: I want to ask Elijah a question... When I first saw Fellowship of The Ring , I hadn't seen any of your other movies. And I actually thought you were English! [That's what I was going to say to him if I'd found the courage!!]
Elijah: (gasps) I convinced you? Wow!
Question: What I have noticed is that your voice, as Frodo, is a lot lower than your normal one. Is that deliberate or did that just come with the training?
Elijah: Um, it's actually deliberate. It was quite deliberate. We would go back and re-record a lot of the dialogue in ADR because we shot the movie with a guide track. So we knew that we'd have to go back and re-record everything. So, in that process ermm... we actually, you know... we intentionally, made the voice a little bit lower. It gives him just a little bit more of a wiser resonance, which is important. Thanks. That's wicked!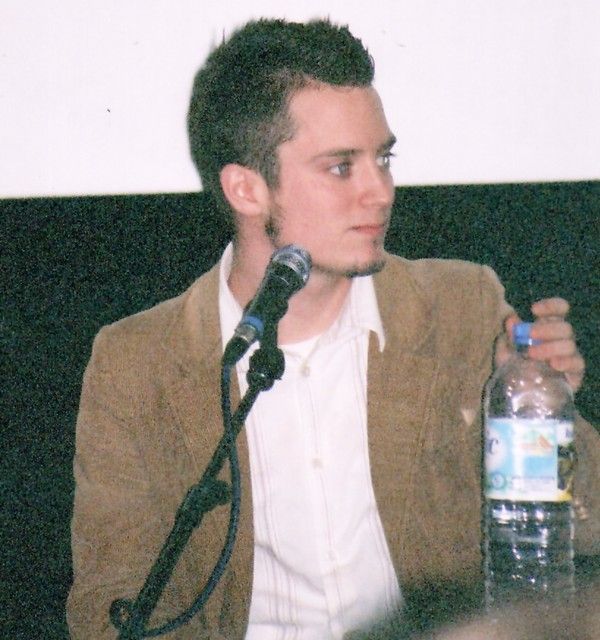 Question: What was the most demanding scene you had to film?
Elijah: It's a moment on the side of the mountain where Frodo collapses and Sam holds Frodo in his arms. It's just a really emotional scene for both Sam, as he is sort of seeing his friend essentially die in his arms, and for Frodo in the sense that he can't remember the things that Sam is trying to make him remember about home and The Shire. It was a really difficult scene and the day that we both felt like we'd actually done everything that there was to do with our roles, I think. We felt like we'd gone to the peak as actors on the film.
Sean: We were filming on an actual volcano on Mount Ruapehu. It felt like kind of a sacred. I mean I've talked about it a lot already. So I don't know how many...
Elijah: I have as well.
Sean: So it was a pretty sacred experience. Pretty emotional!
Elijah: (turning to Sean) And to have gone through that with you... And for both of us to have gone through the same thing together was pretty significant.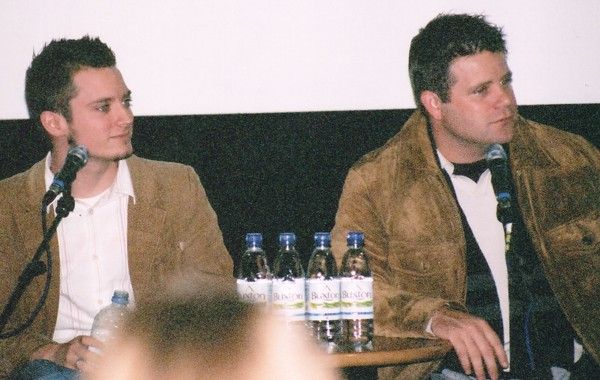 Last question: "On behalf of everybody - would you sing the hobbit drinking-song?"
Elijah: "We're a bit rusty with this!" They faltered over the words a few times but remembered most of it.
Elijah: "Thank you guys so much for coming out! Now you are going to watch the movie? Enjoy the film!!"
Sean: "Thank you so much."
Elijah We'll see you all tomorrow - alright!
Sean: See you in the morning!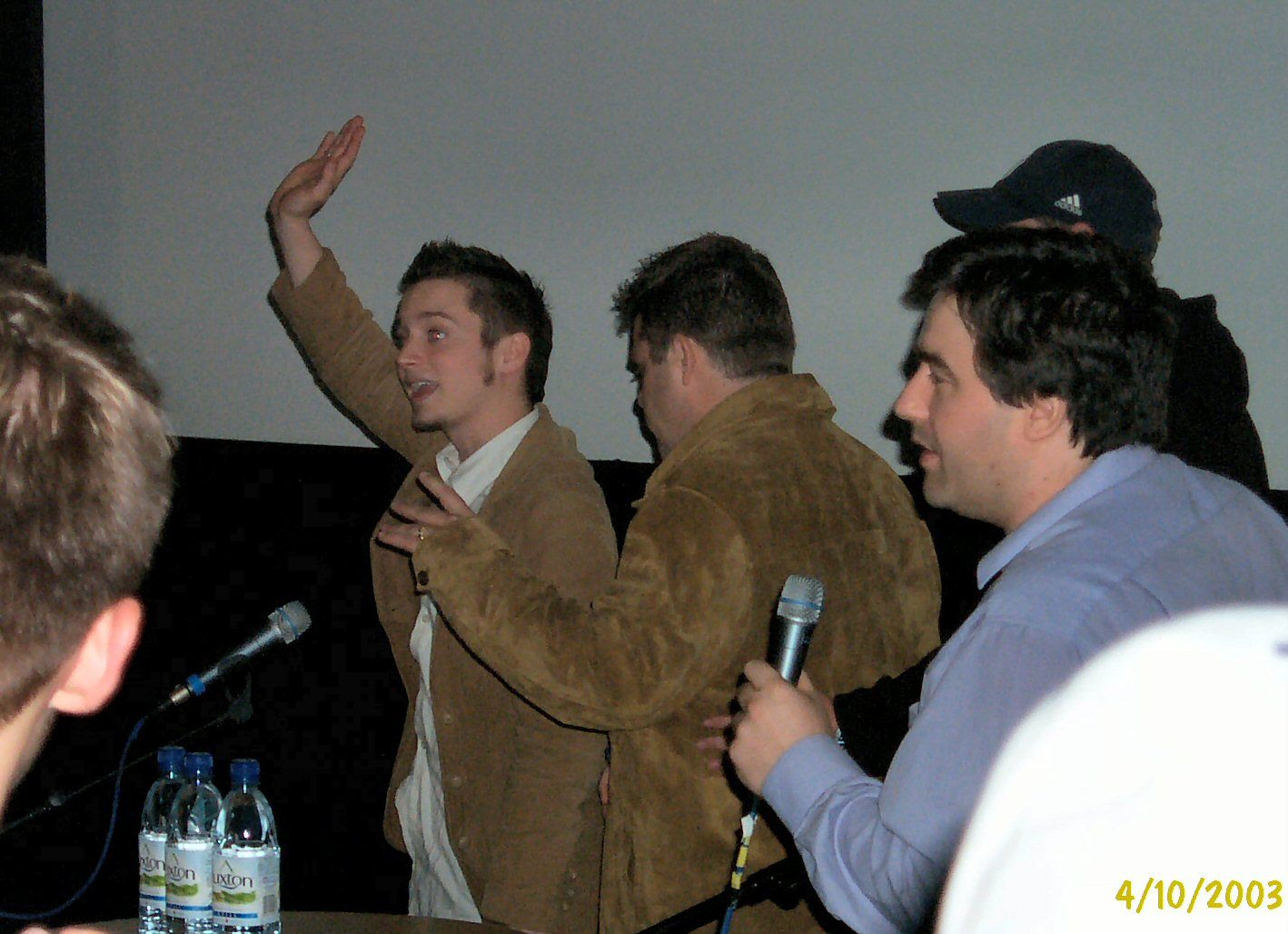 ---
SUNDAY 05 OCTOBER 2003- THE SIGNINGS:
"All 1000 tickets for Elijah Wood's queue were gone at 9.30 that morning, with the vast majority of hopefuls yet to arrive. No star can sign a thousand photos in the time allotted let alone chat to the fans or have a photograph with them, so by Sunday afternoon, personalising autographs was frowned on and any chat with your idol curtailed. Monaghan and Wood began rebelling, chatting even - and managed to slow the queue even further. Every fan had a personal tale to tell to link them directly to a hobbit; every other fan had a present. "Look at this, isn't it really cute", says Wood, holding a photo of a three year old dressed as Frodo. Behind him was a treasure trove of presents, ranging from CDs, clothes, chocolates, carved boxes and handmade scrolls detailing the rules of 'Tag'."
(The Times)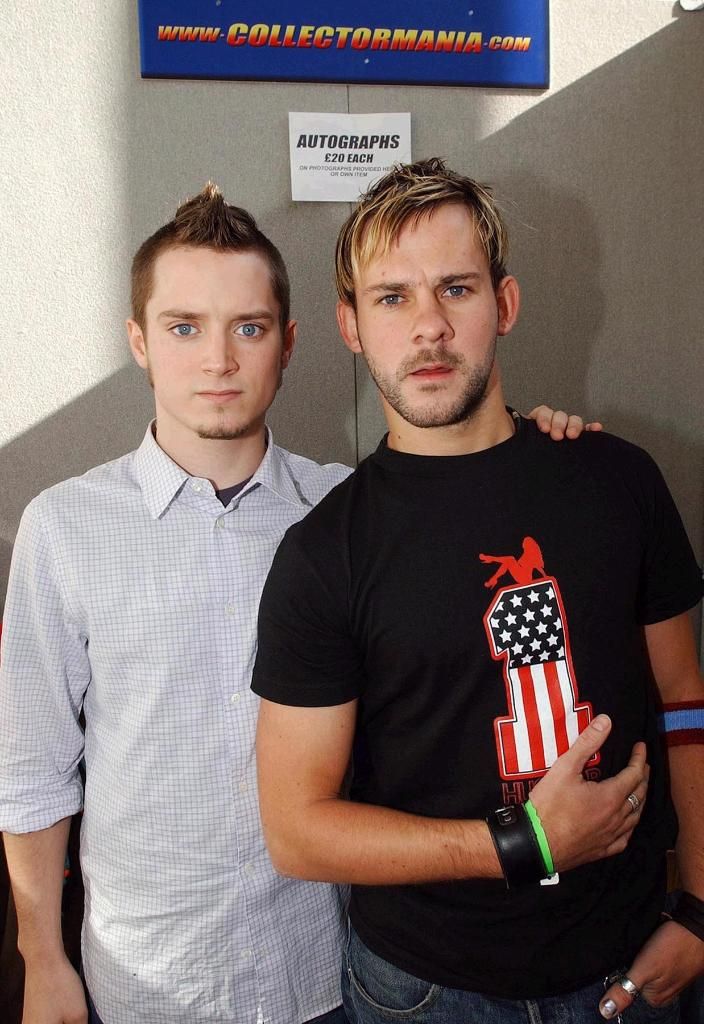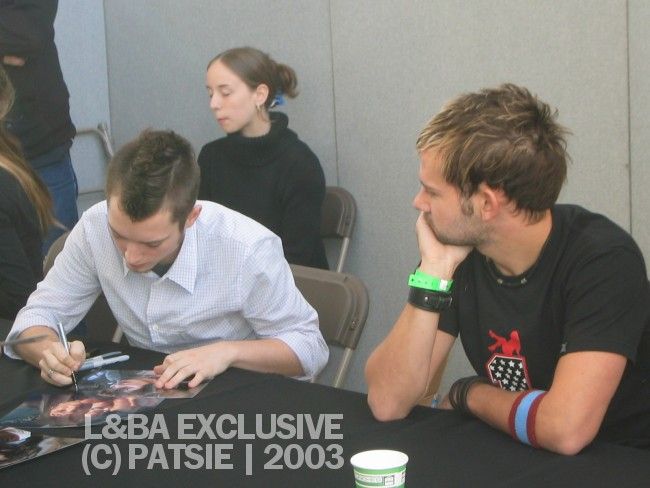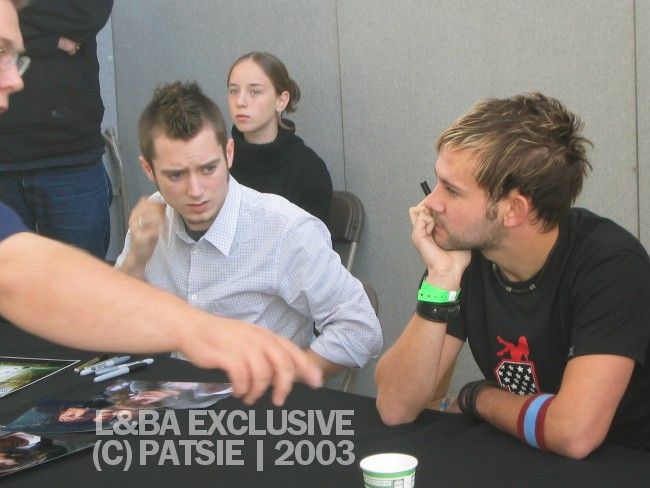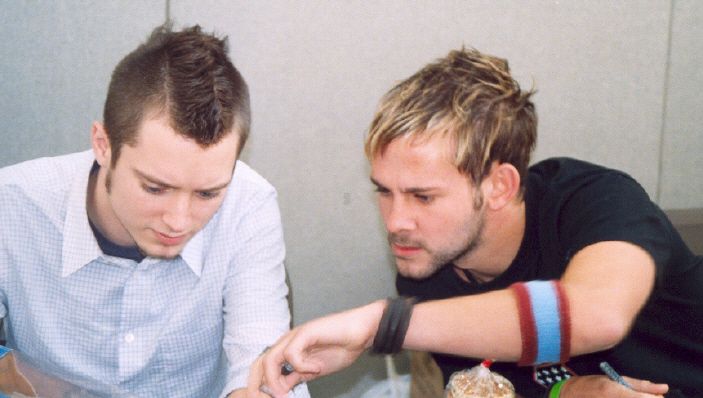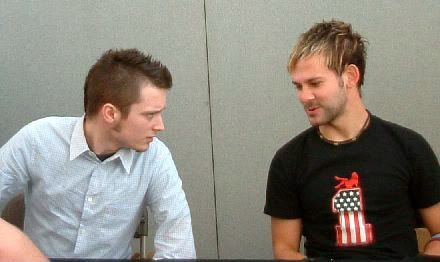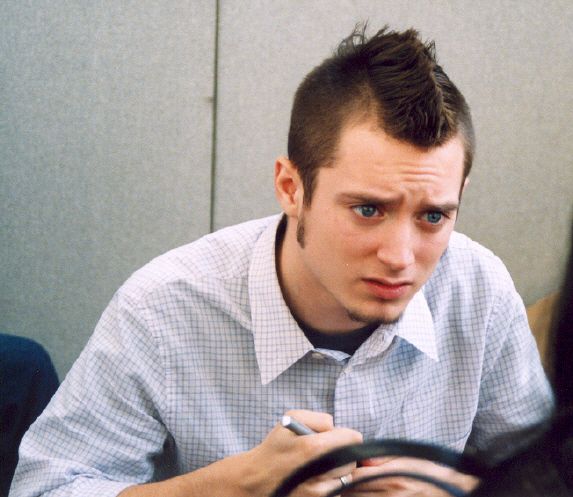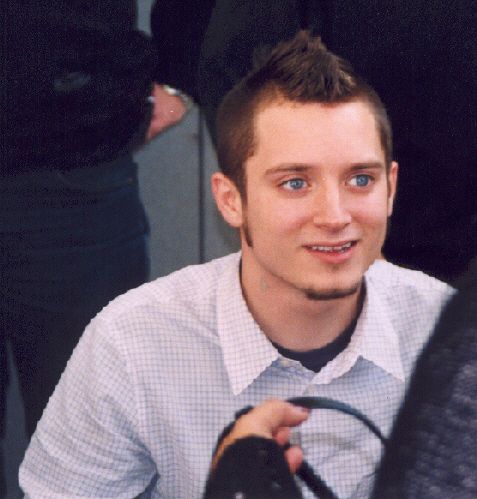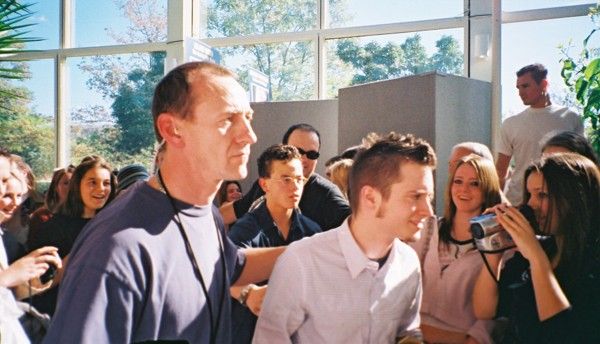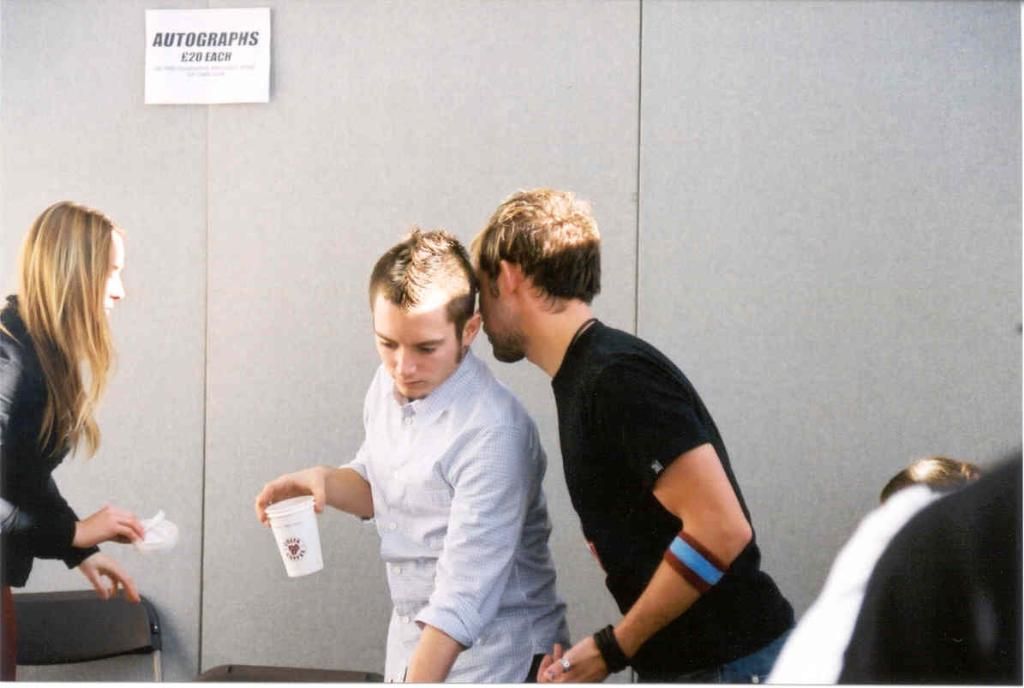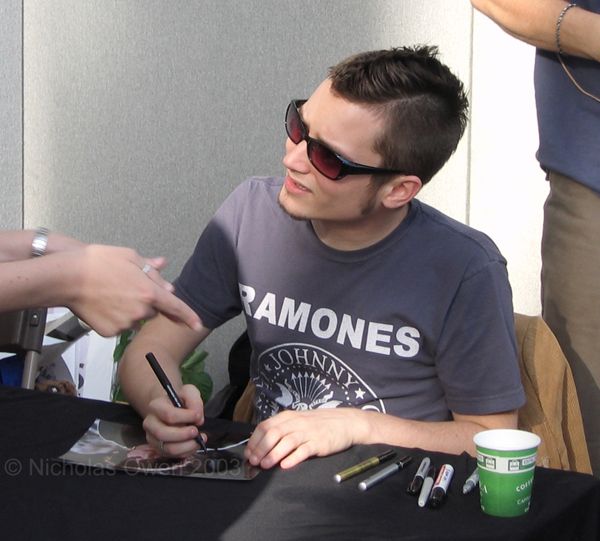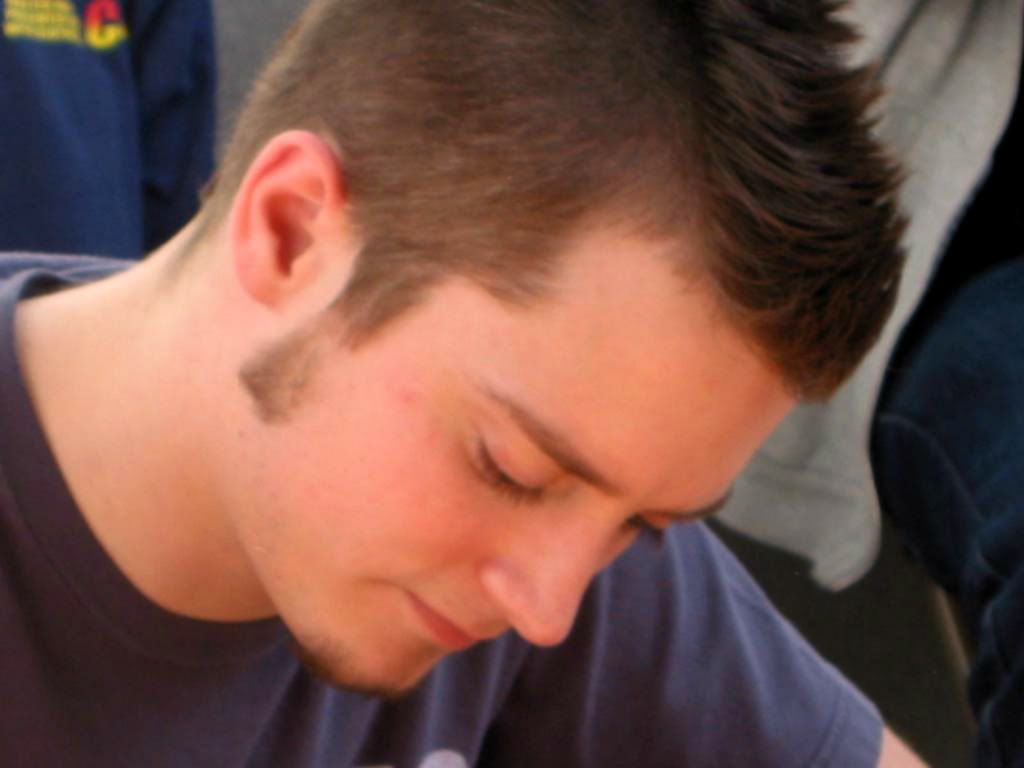 An overexcited fan sends Elijah's water flying!!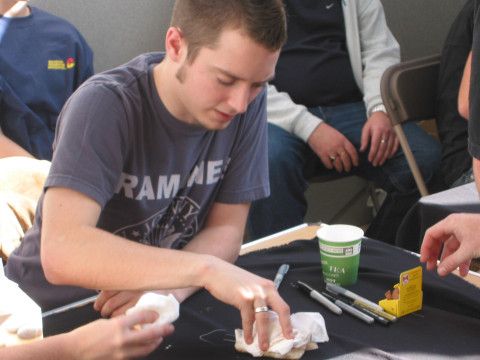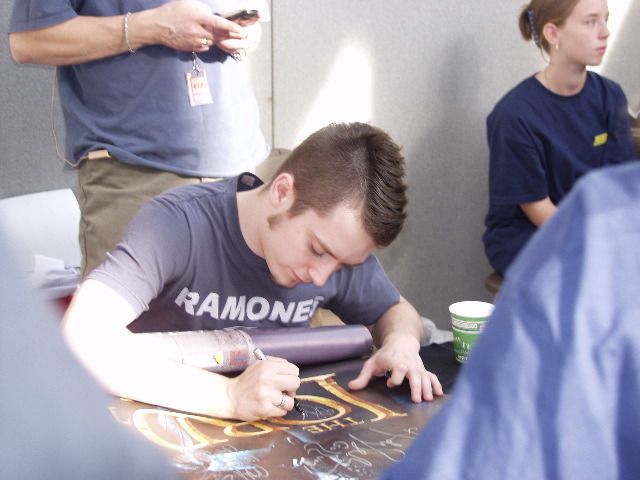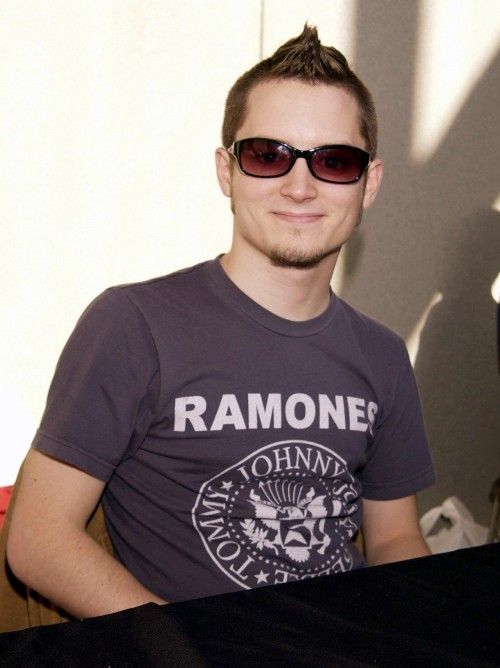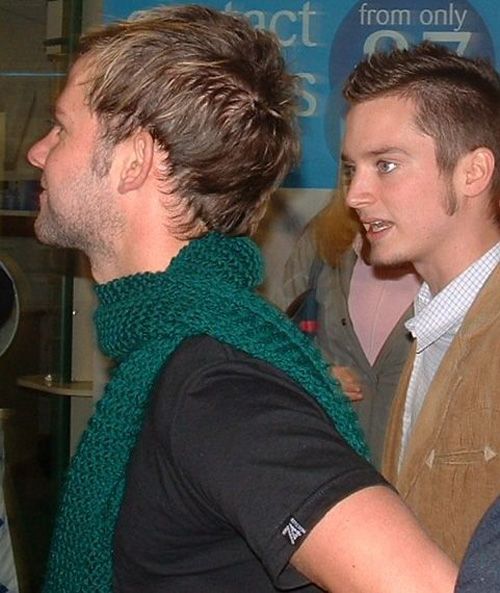 Funny to think that toddler would now be about 9 years old!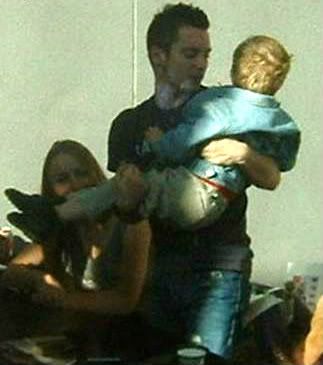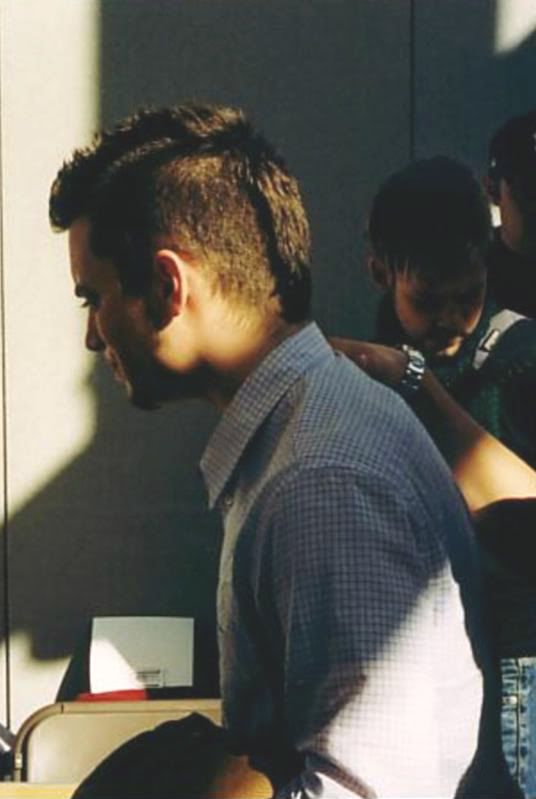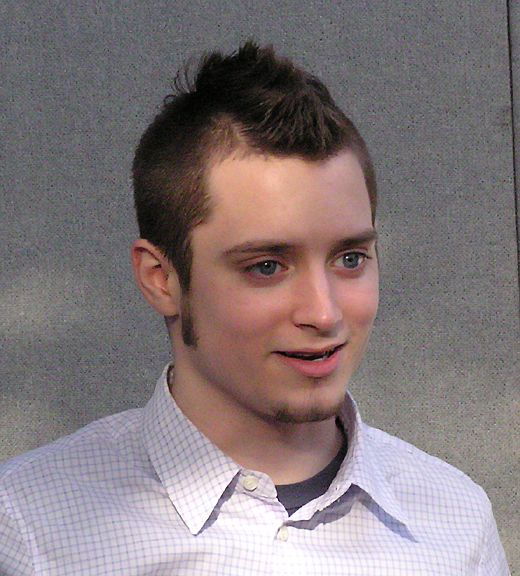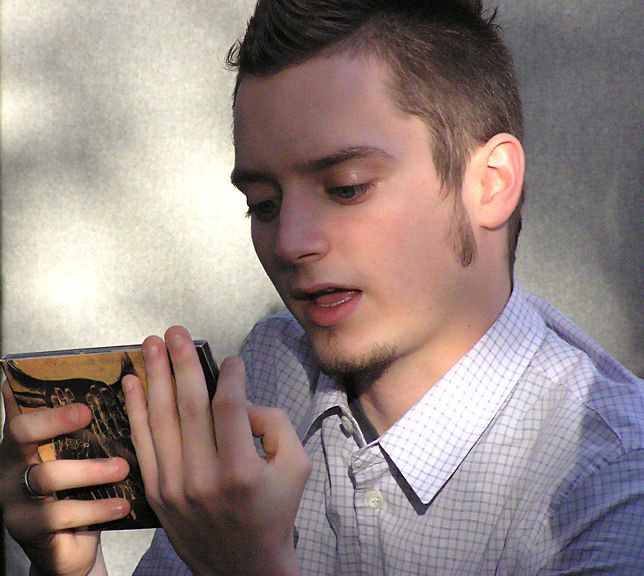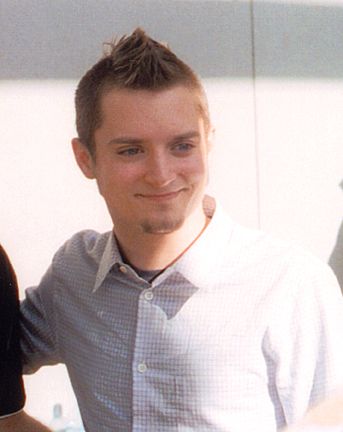 They're sucking on lollypops given to them by a fan.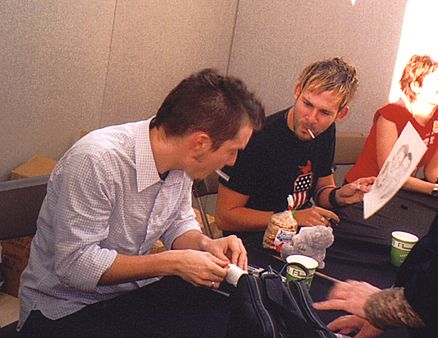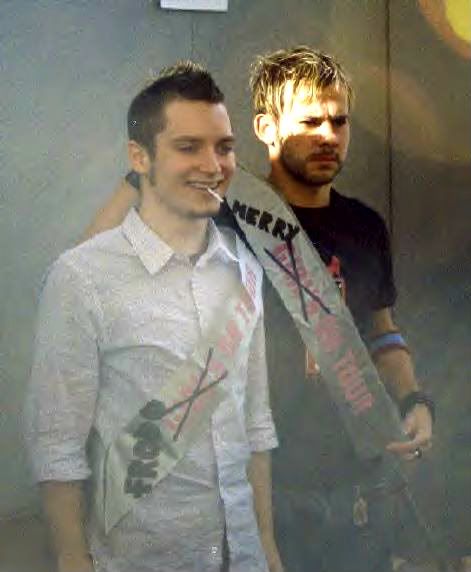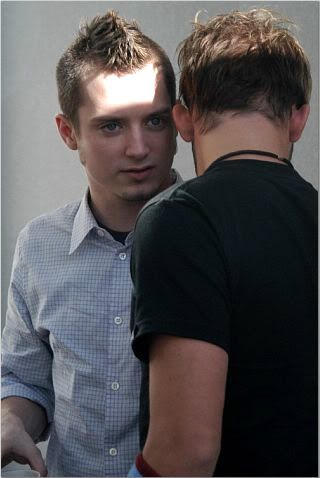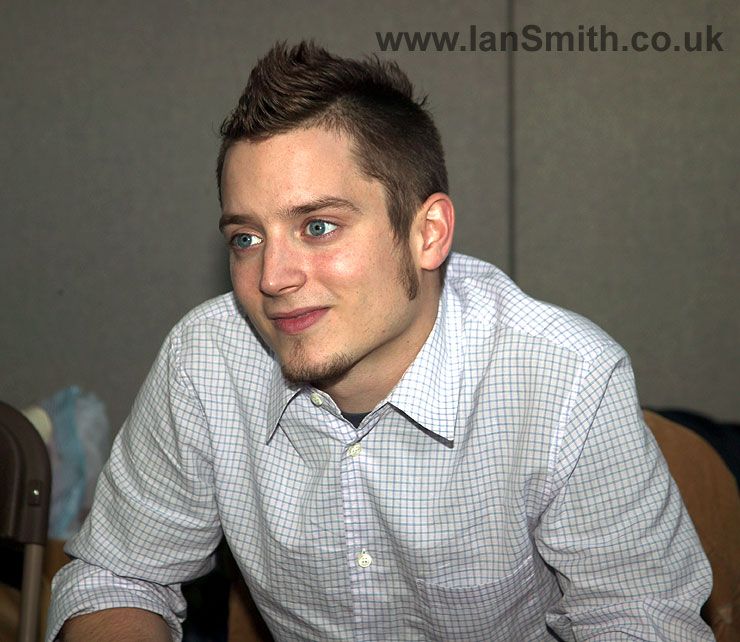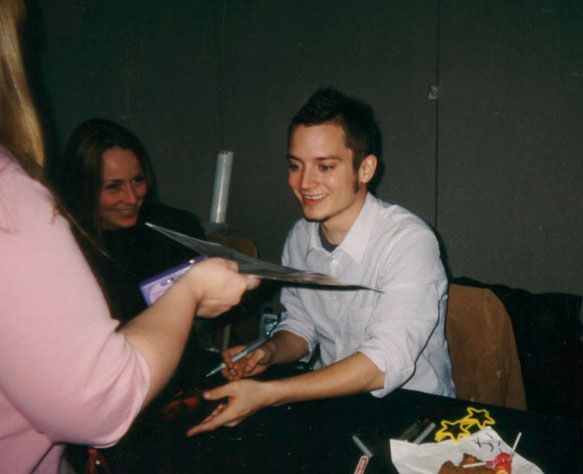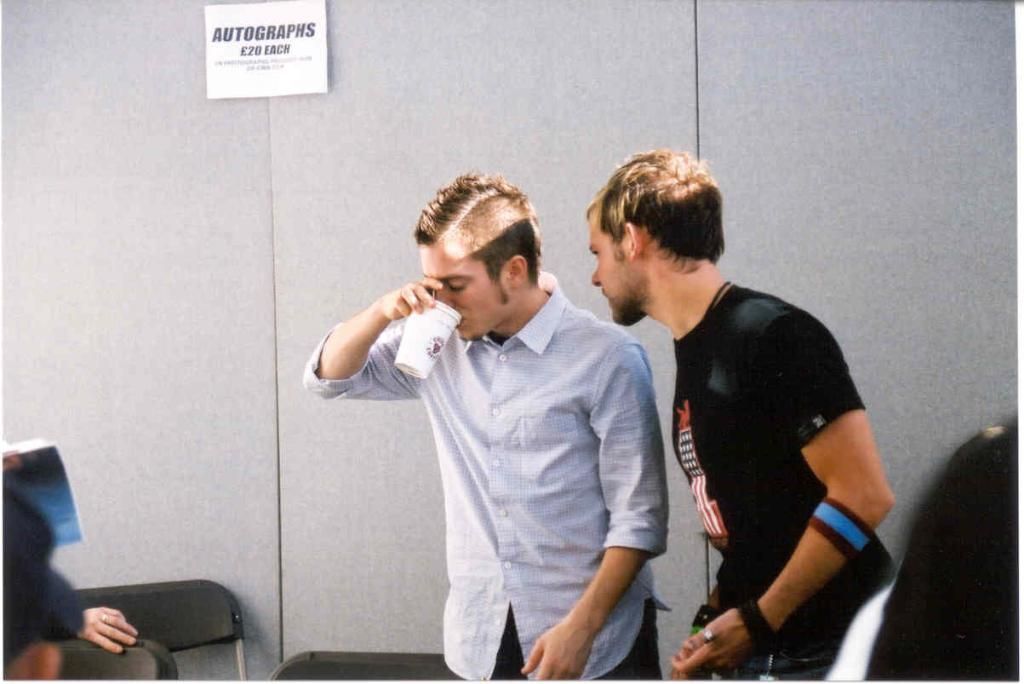 Thanks to
msilverstar for these gorgeous black & white shots: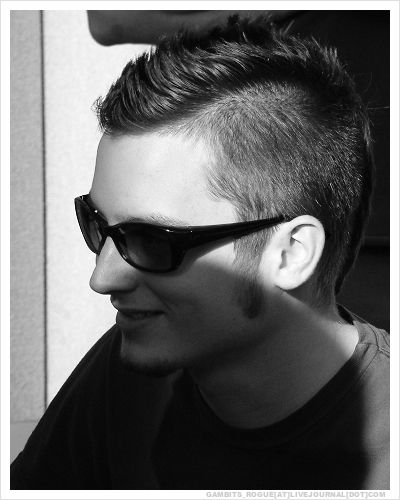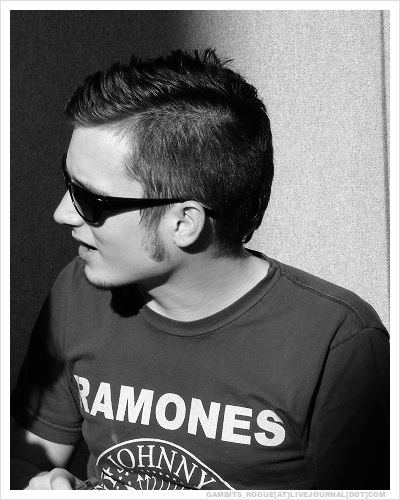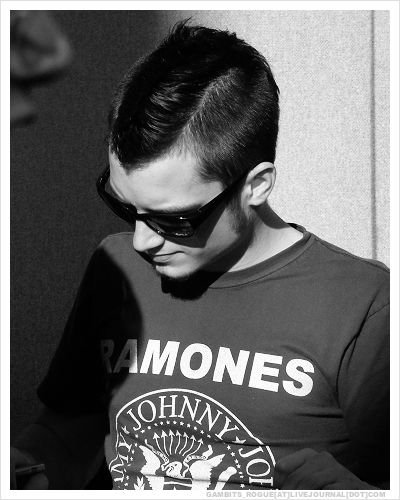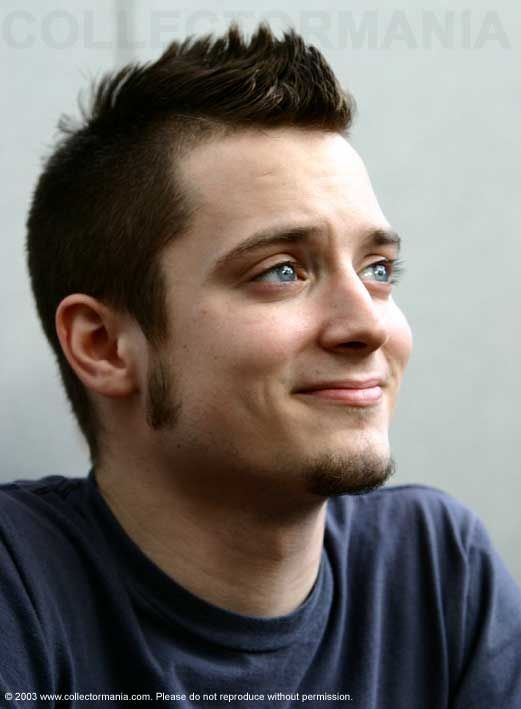 ---

Some pics taken at other times during that day: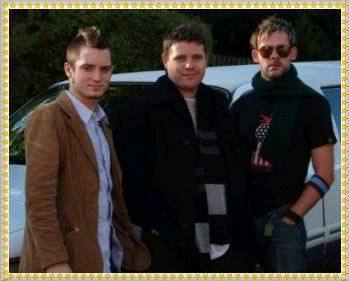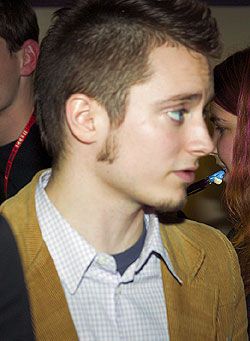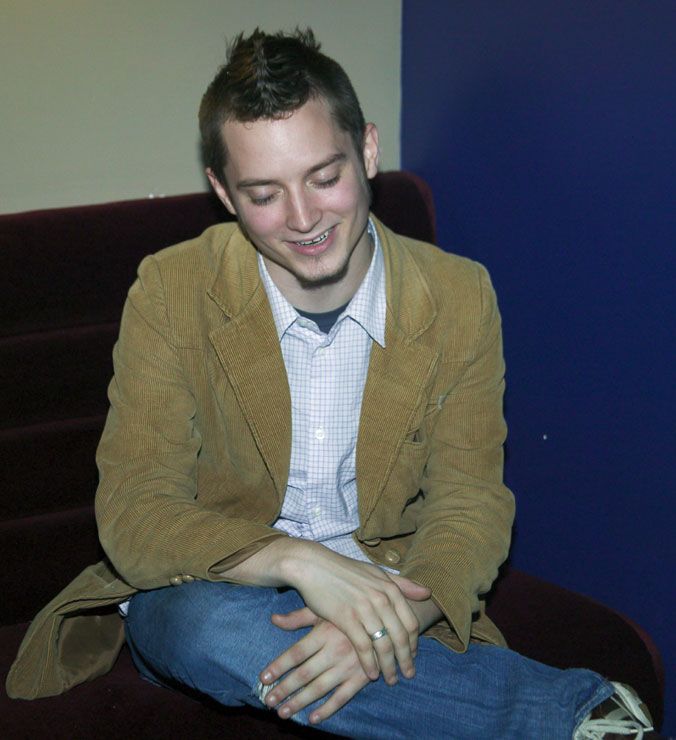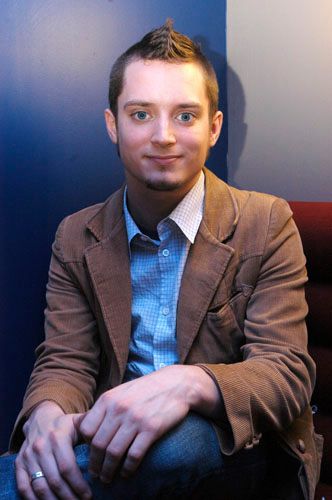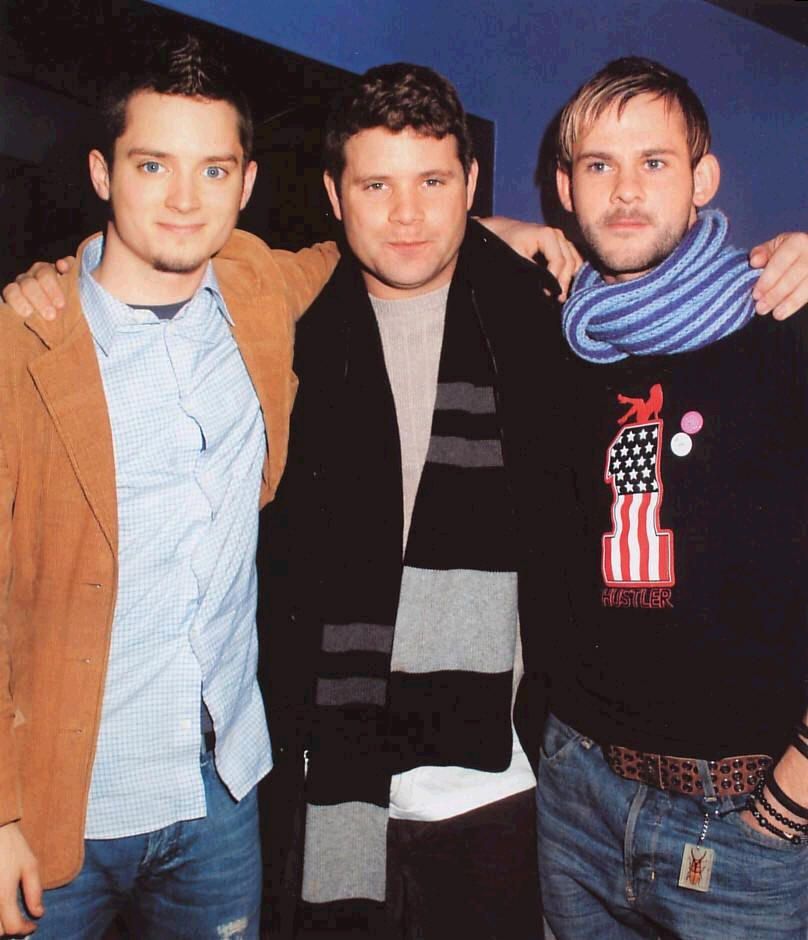 ---
MY JOURNEY CONTINUES:
And so, on Saturday 04 Oct 2003, for me Elijah Wood ceased to be just an image on a screen or in a picture, but a living, breathing human being in my own world. Back in May of that year I had seen Billy at Collectormania3 and had tried to imagine how I'd feel if Elijah had attended the event. I did not believe for a single moment that it would actually happen. I've never been so happy to be completely wrong!! My very first sight of him was coming onto the stage with Sean that Saturday night. I wasn't as close as I'd liked to have been but even so that moment was beyond description - it felt quite surreal to me, that person who had captivated and mesmerised me with his portrayal of a fictional character, was there before me in Real Life, not in Middle Earth, but in Milton Keynes!!!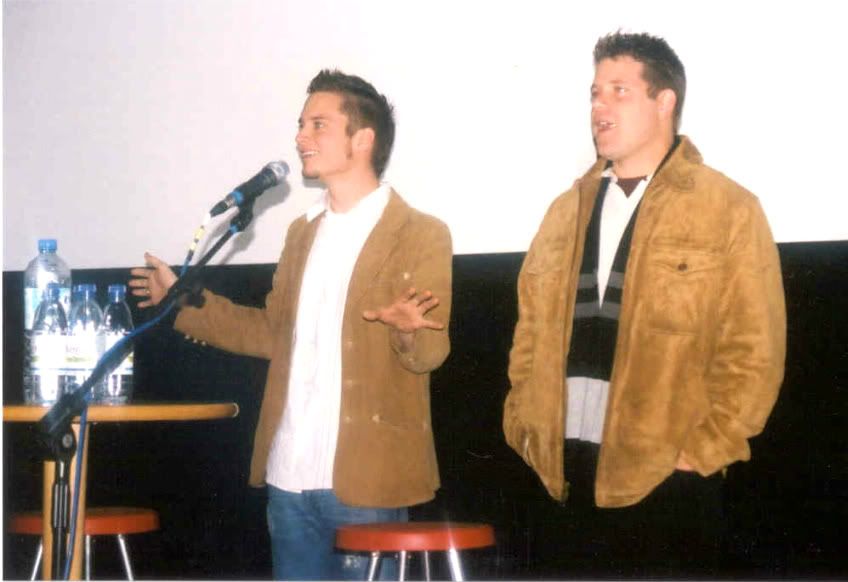 I took a couple of pics, not even worth posting they were so distant and fuzzy, but I soon gave up with that, I needed to concentrate on what was happening, try to drink in every moment. I contemplated asking a question but I was just too nervous, I felt that no words would come out. It was just complete joy to watch them, they were in such high spirits, Elijah often lapsing into giggles and when it was over we were able to sit back and enjoy 'Fellowship of the Ring' on the big screen once again.
On the Sunday morning we arrived at the centre by 9am, believing the place wouldn't even open until 10. How wrong we were. We found the queue for Elijah but as we tried to find the end of it, we walked, and walked, and walked. I began to think we'd never reach the end and all the time my heart was plummeting. I knew then that there was no chance of reaching him that day, even though I was given a ticket. Thank goodness there was to be another day, another chance. But although I didn't get to speak to him that day, I did see plenty of him, as he and Dom went back and forth several times to take breaks. You always knew when they were on the move - by the screams!! At one time I joined the group of people outside where there was quite a good view of Lij and Dom through the huge plate glass window. And at last I was able to see with my own eyes what so many others had written about after seeing Elijah. He was even more stunning in real life. And that hairstyle which I really wasn't too sure about - it looked great! They smiled and waved to us all quite often. They seemed to be having such a great time.
I really believe that Showmasters and the Milton Keynes Shopping Centre had no idea of what they had taken on. I witnessed a rather panicky conversation between some of the organisers - they seemed to be worried about the level of protection for the guys and were apparently trying to round up some burly escorts for them. I also saw a couple of people from some magazine trying to bribe someone so they could interview Elijah. The person concerned threw the bribe back at them. I don't know if they got their interview, but they were told that he would have to carry on signing while they interviewed him. I hope they didn't. I believe these events should be just for the fans, the press should not even be allowed there, they get plenty of other opportunities.
---
FRODO's JOURNEY CONTINUES ~ THE BREAKING OF THE FELLOWSHIP: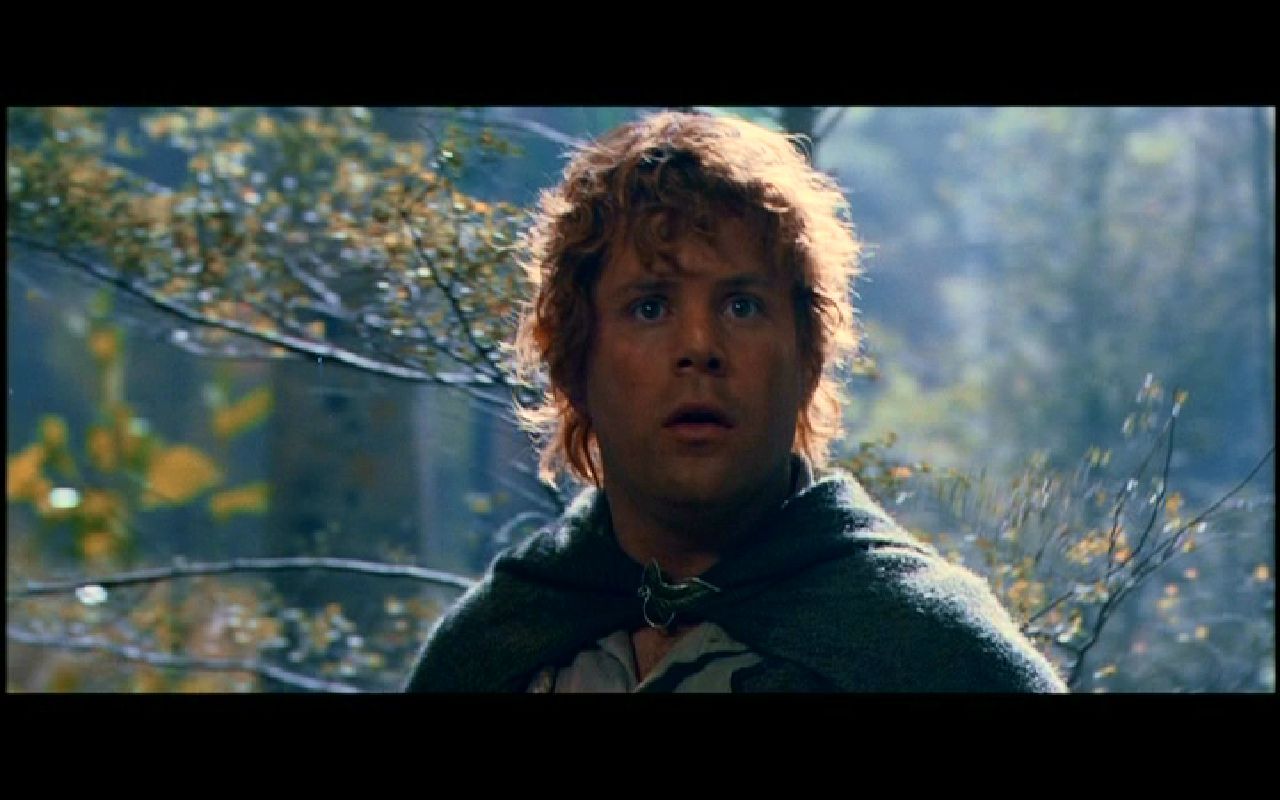 Mr Frodo!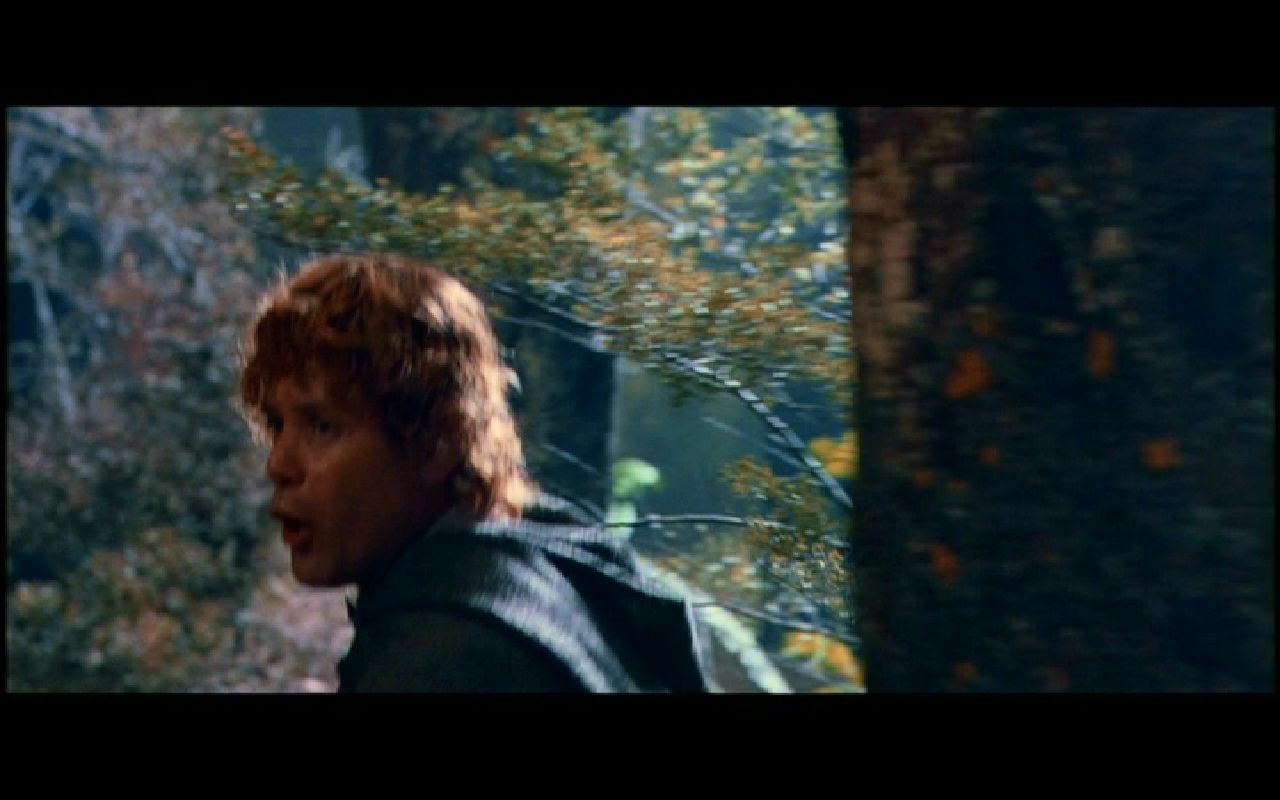 Find the halfling!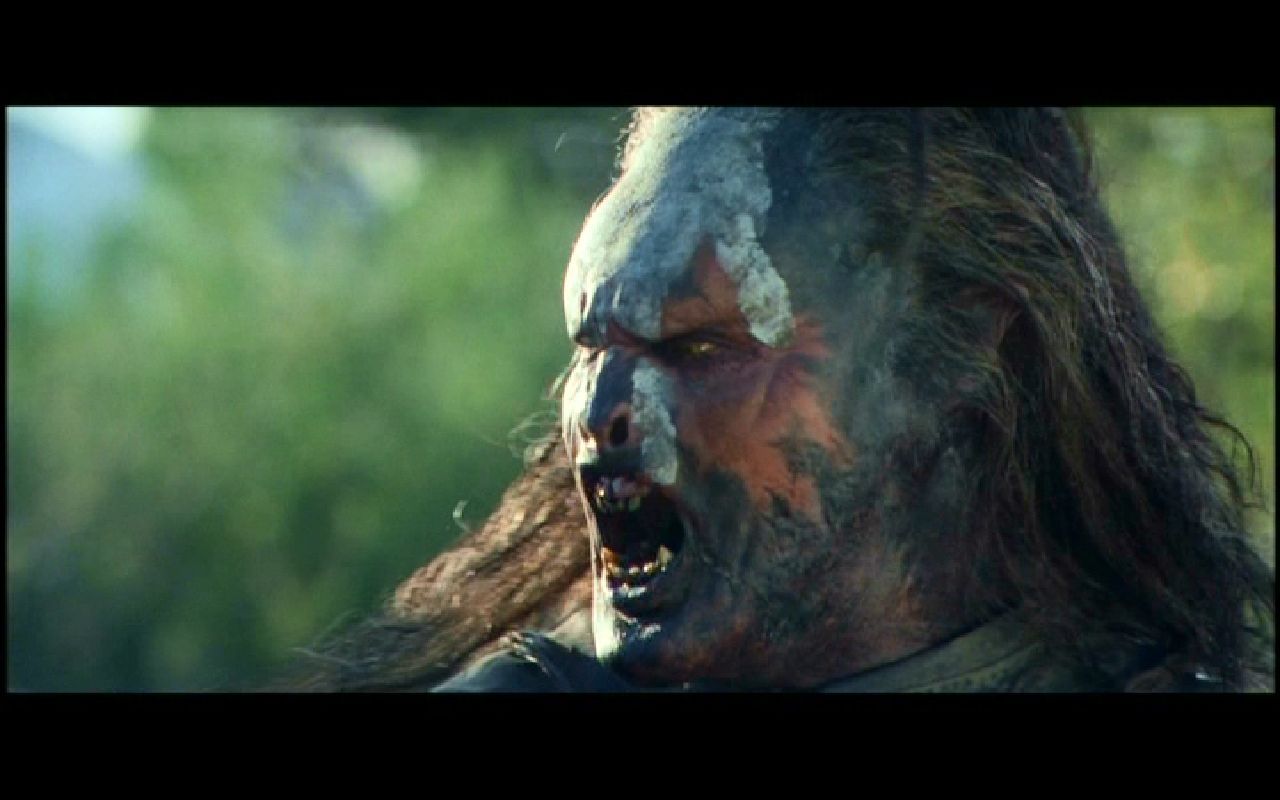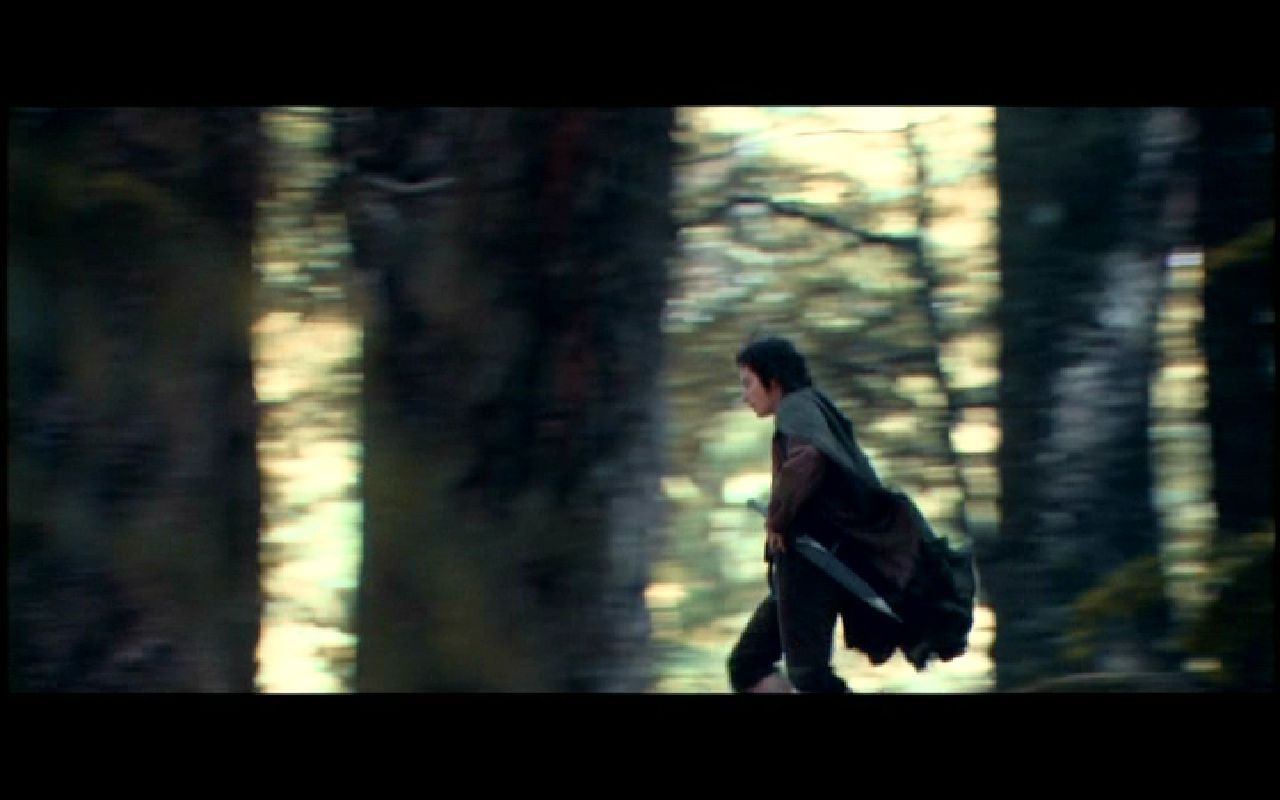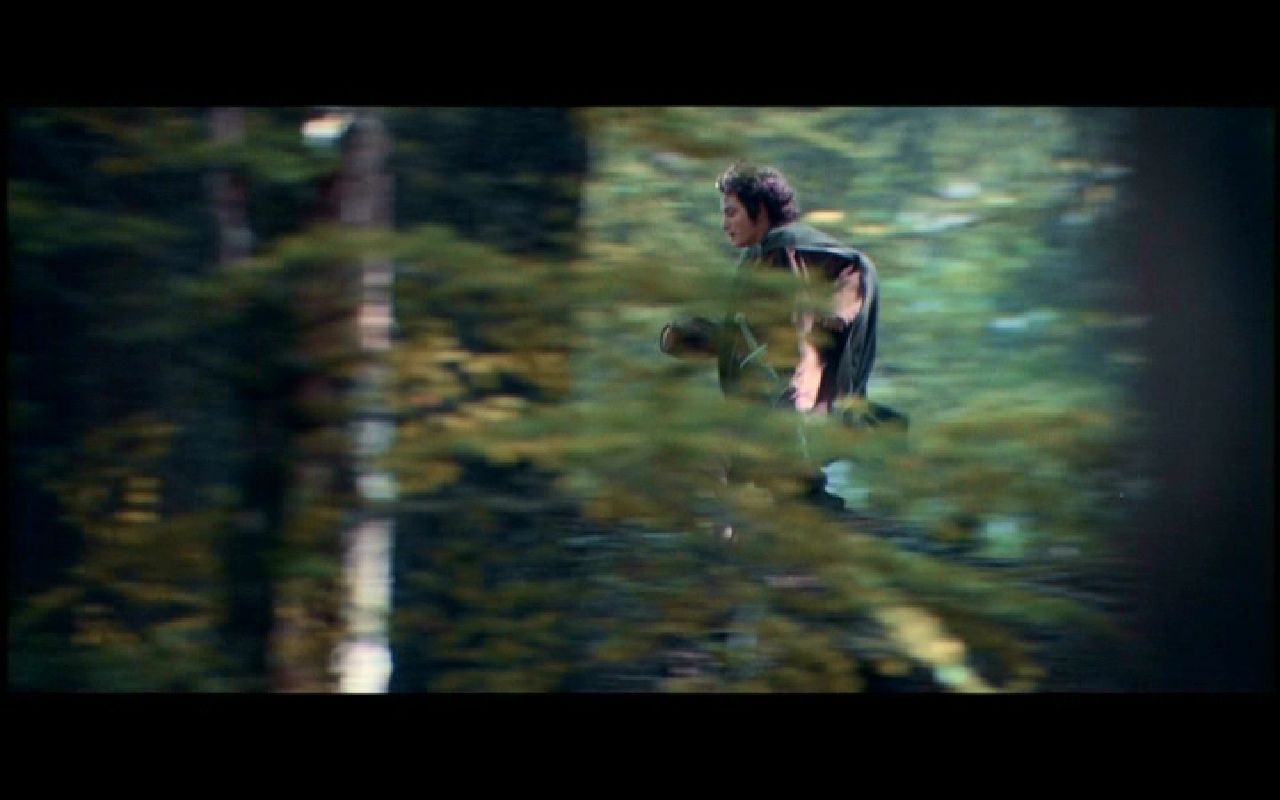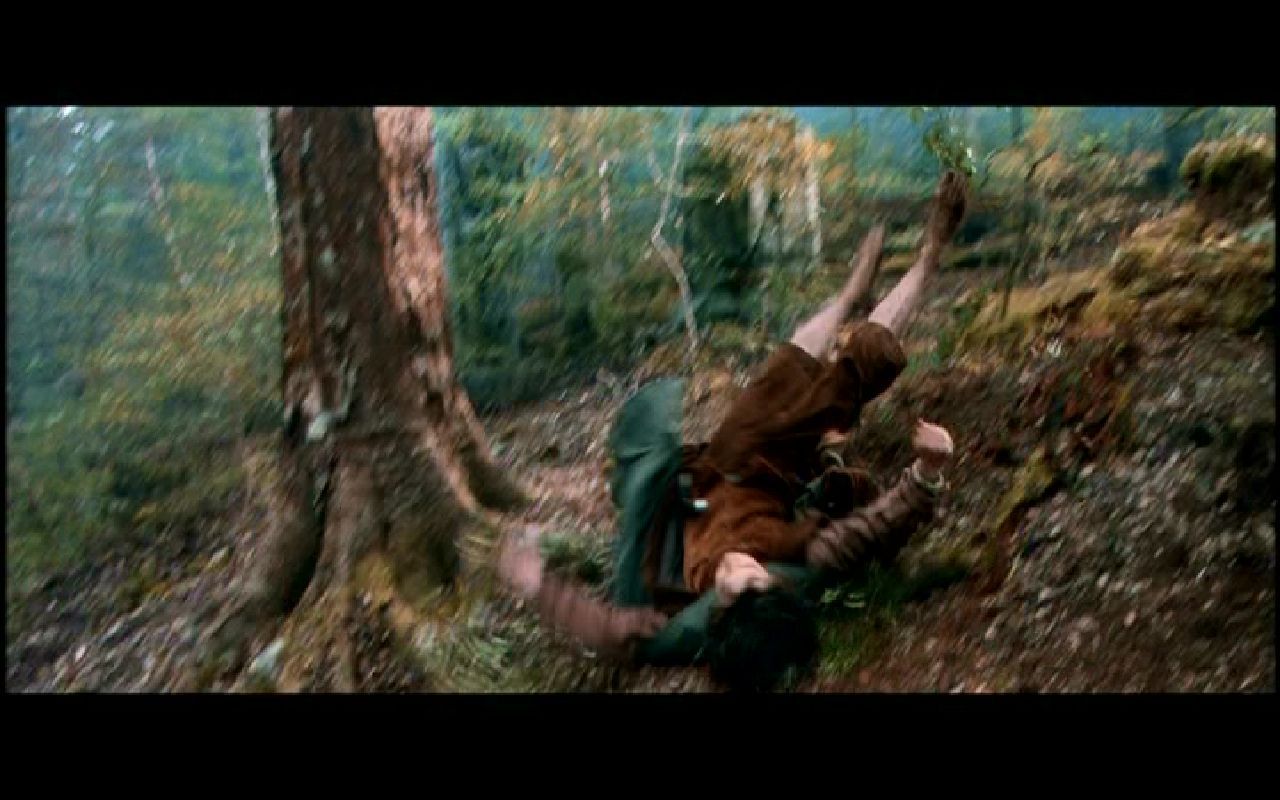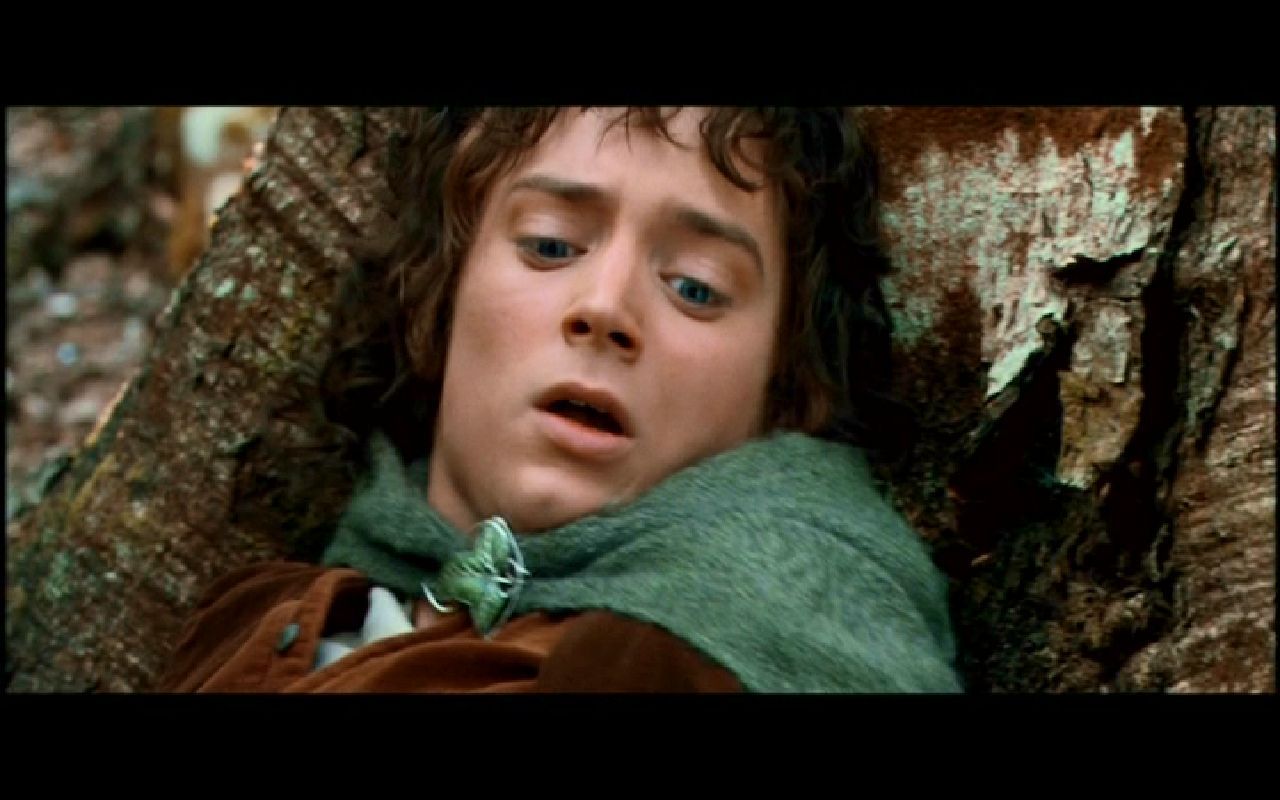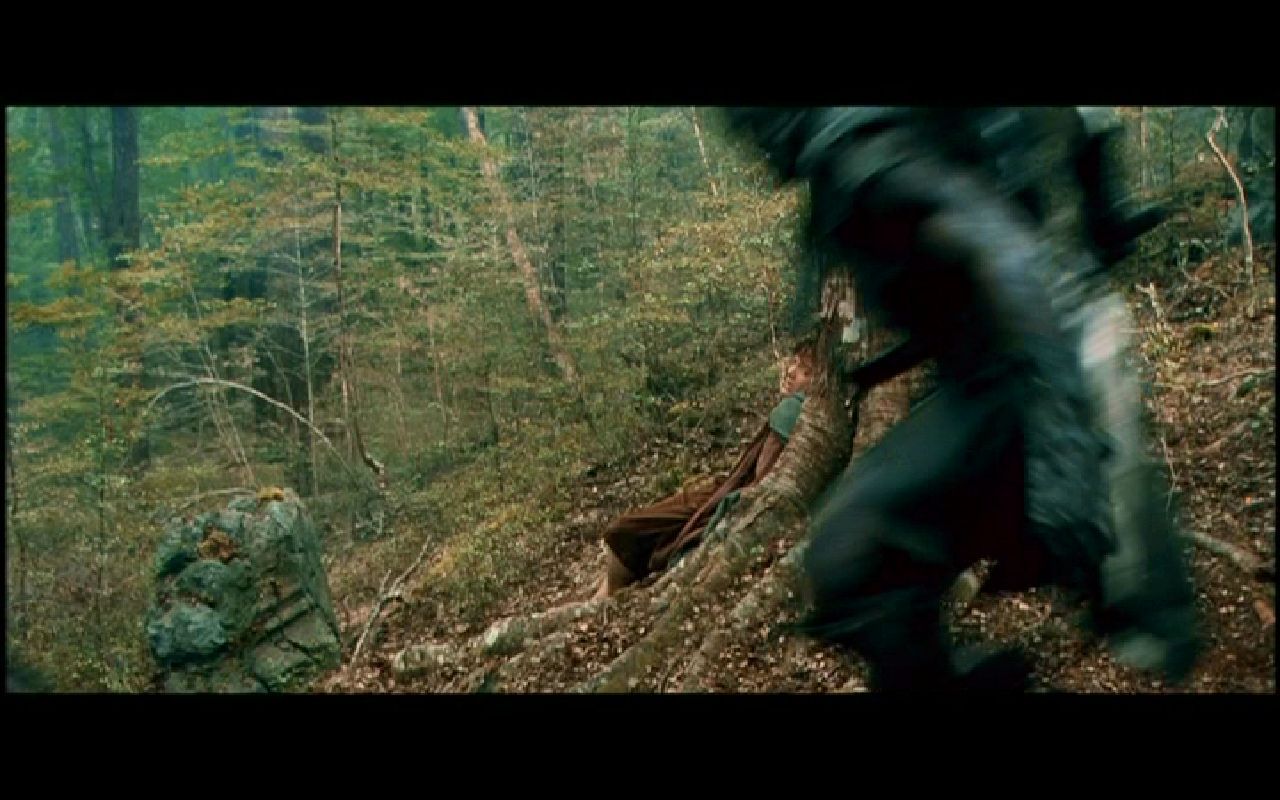 Frodo! Hide here quick!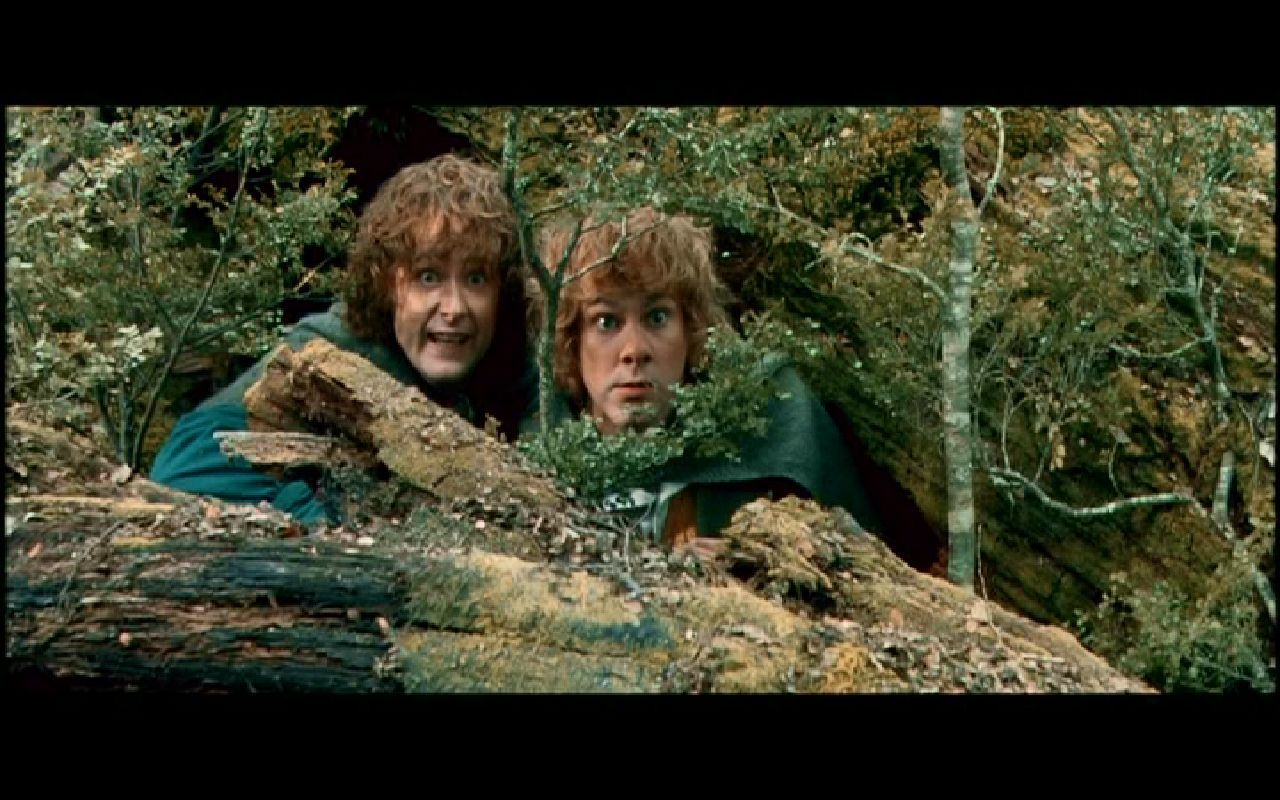 Elijah(dvd): This is one of my favourite moments between ...oh man, this is great. This ending of the film would not nearly be the same without this.
Dom: They hadn't addressed the fact that to a certain extent Merry and Pippin make that decision for Frodo, you know, say to Frodo, "Go, we will distract the Urukhai for you" which was a really great touch I think.
E: Well, it keeps our connection alive which ... in some ways that was forgotten about to a certain degree.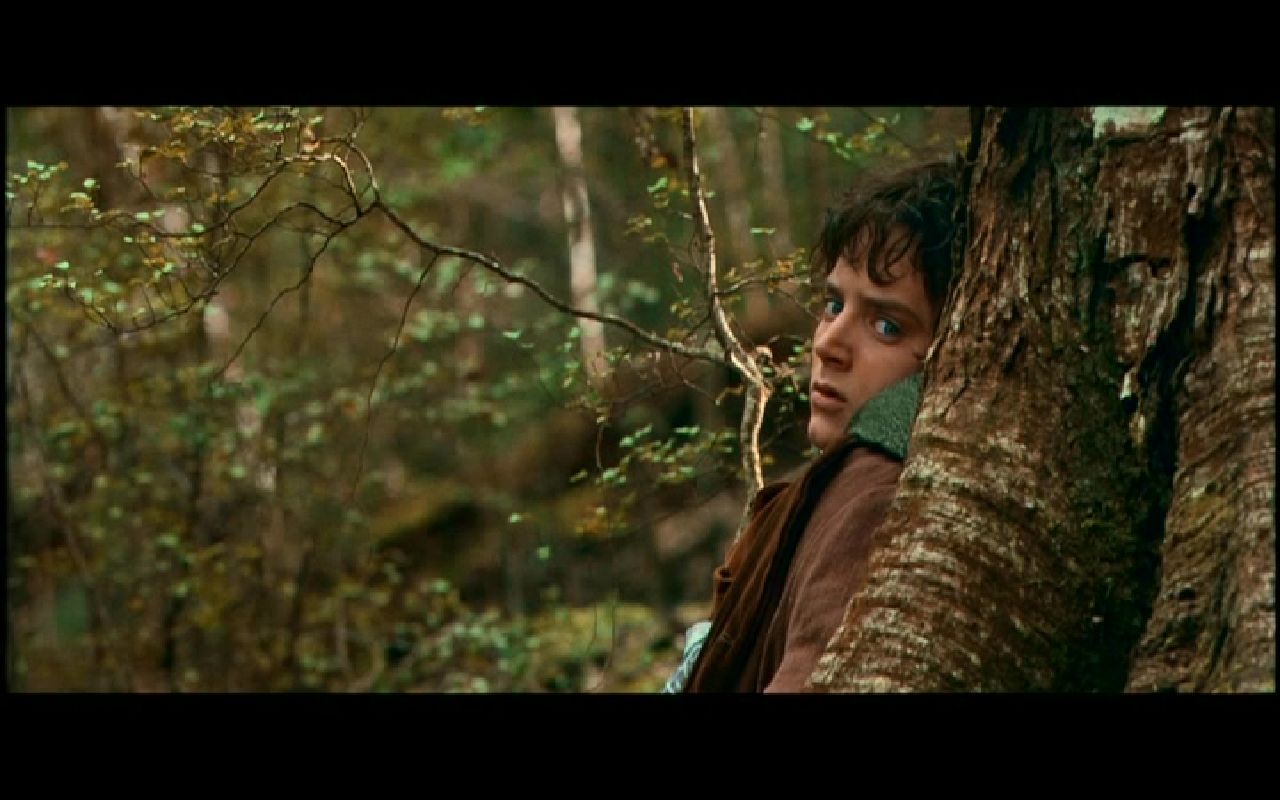 Phillipa Boyens(dvd): This moment and especially the understanding between Merry and Frodo is very, very important because it shows you that Merry especially, who's slightly brighter, shall we say, than Pippin, has an understanding of what it is that Frodo is doing. And with their usual extraordinary courage these two little hobbits help their friend.


What's he doing?
He's leaving.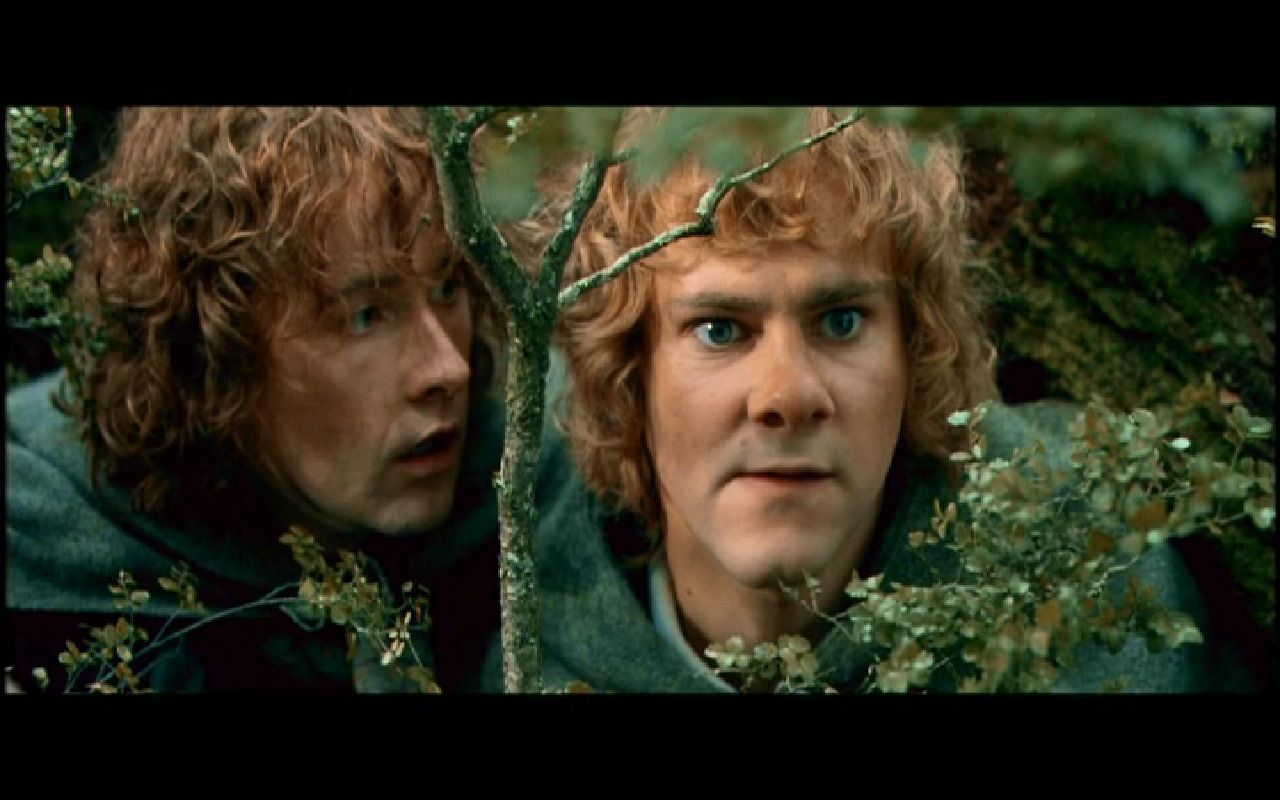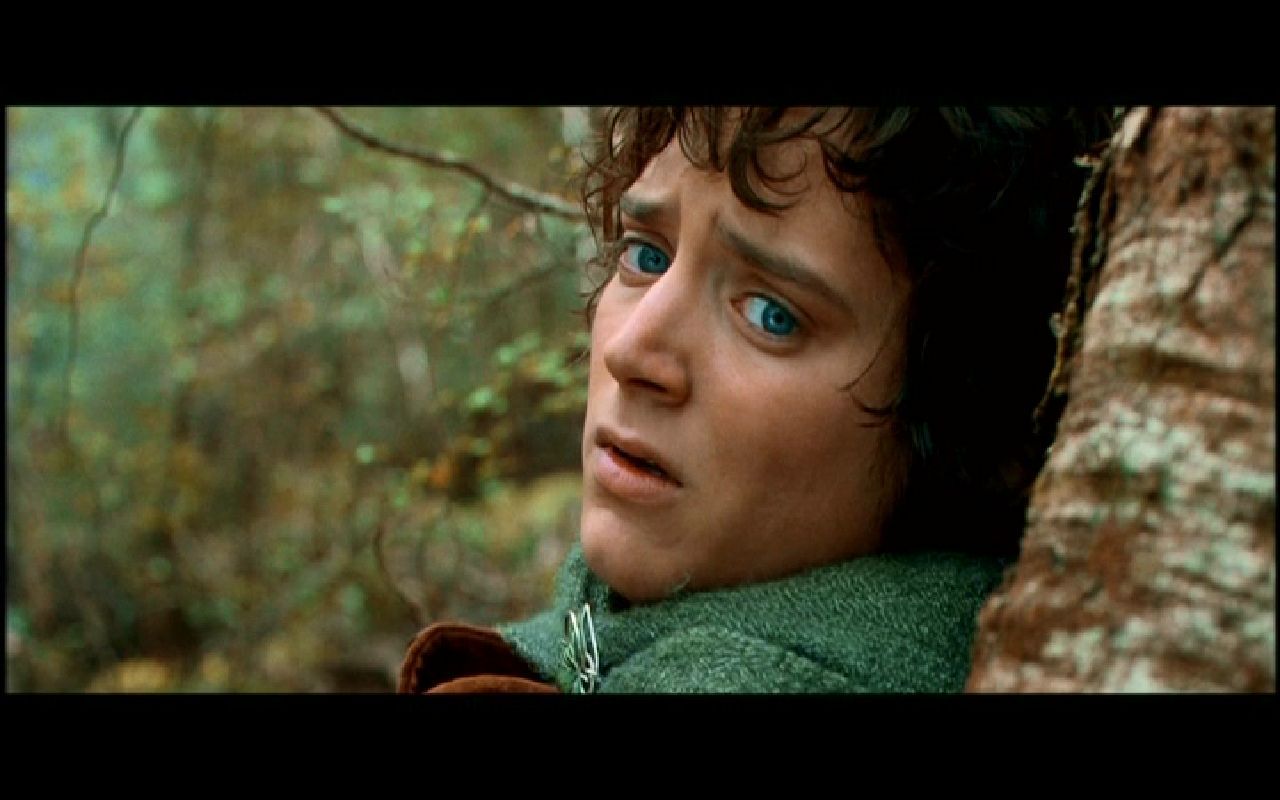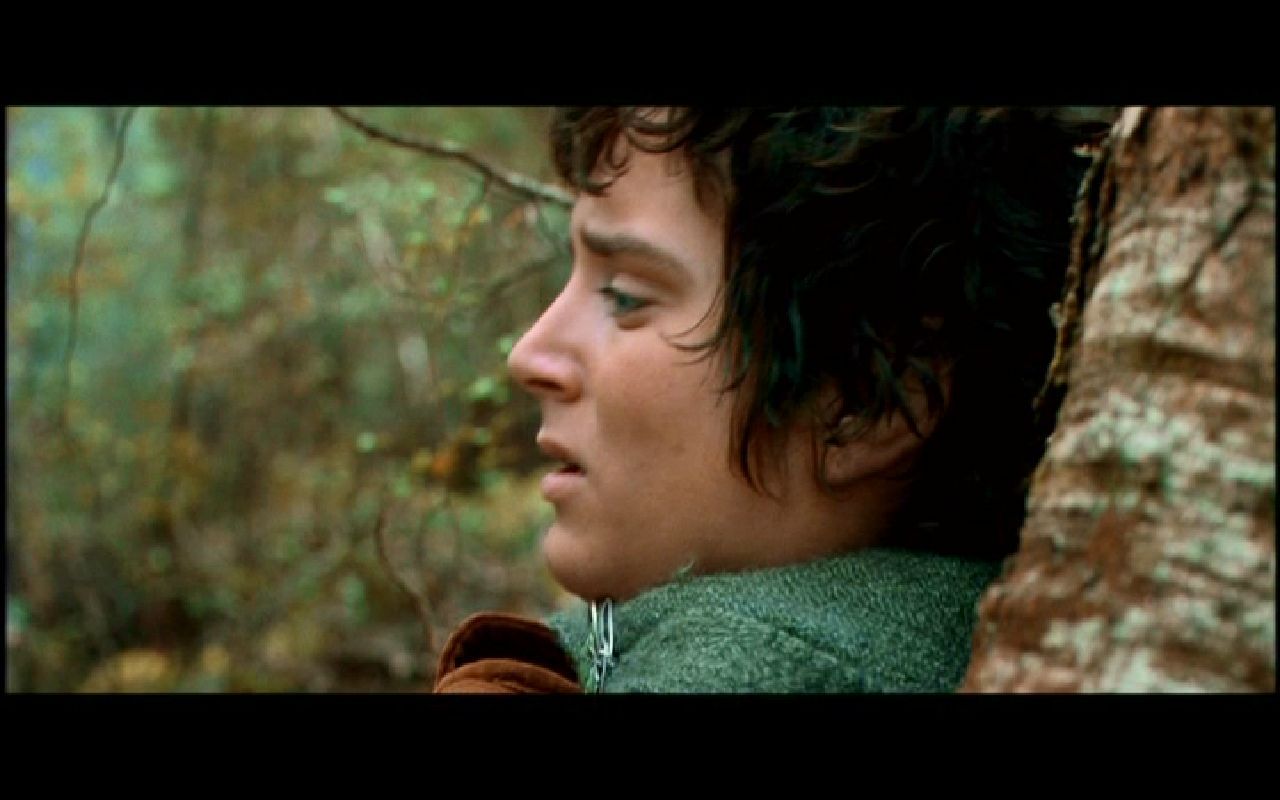 Run Frodo! Go on!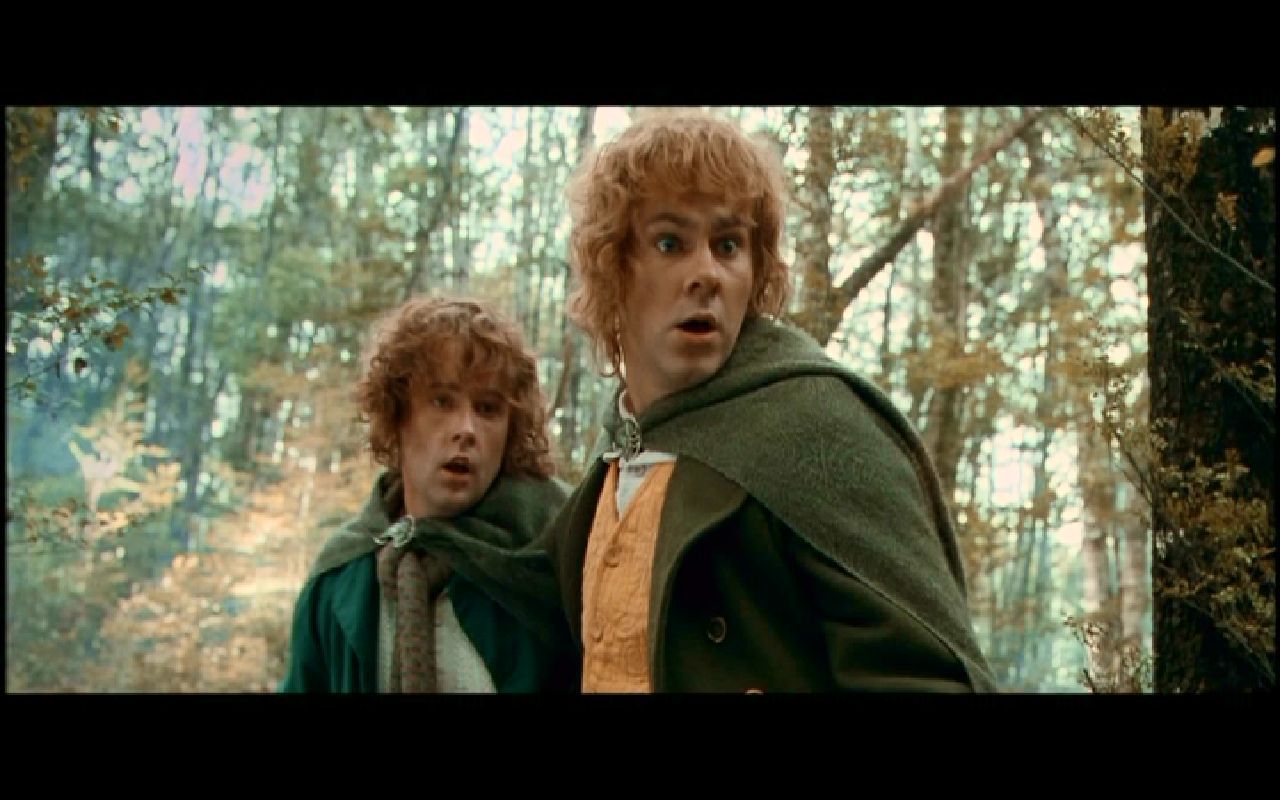 Hey, hey, you! Over here!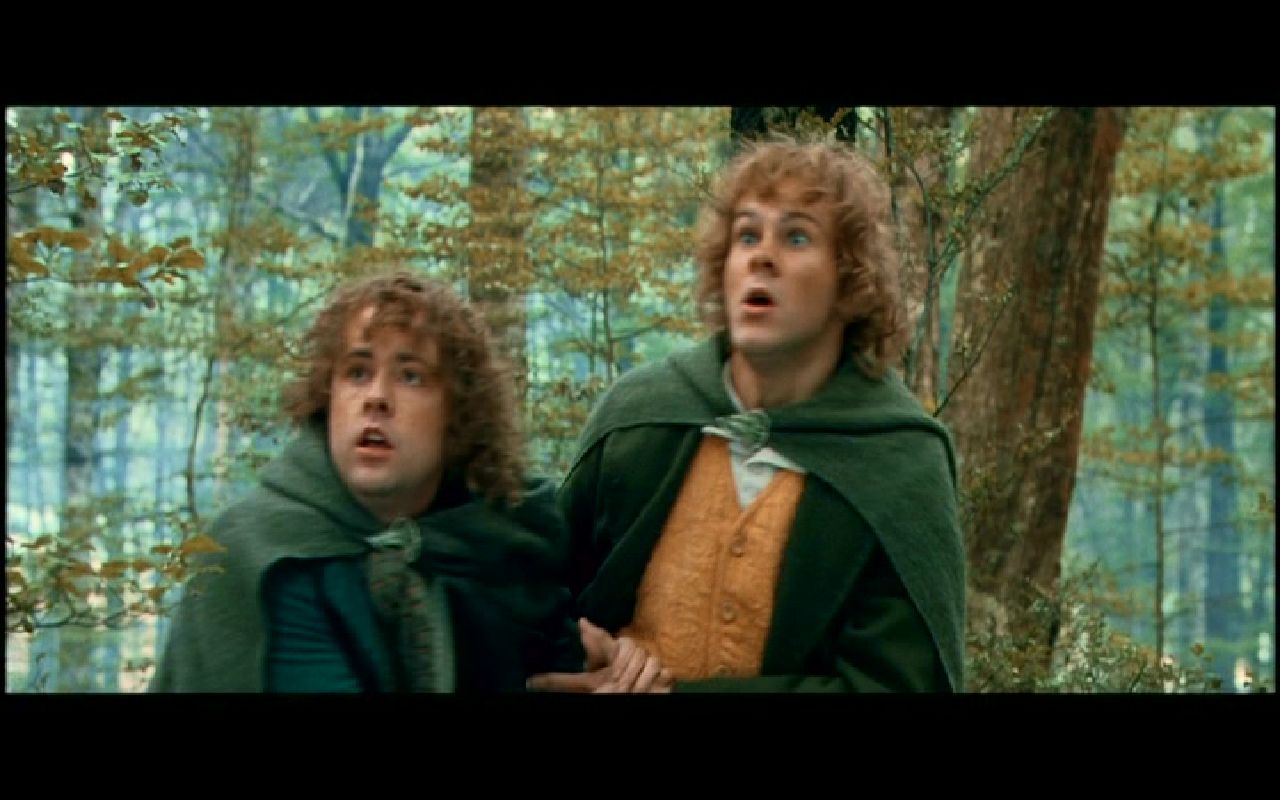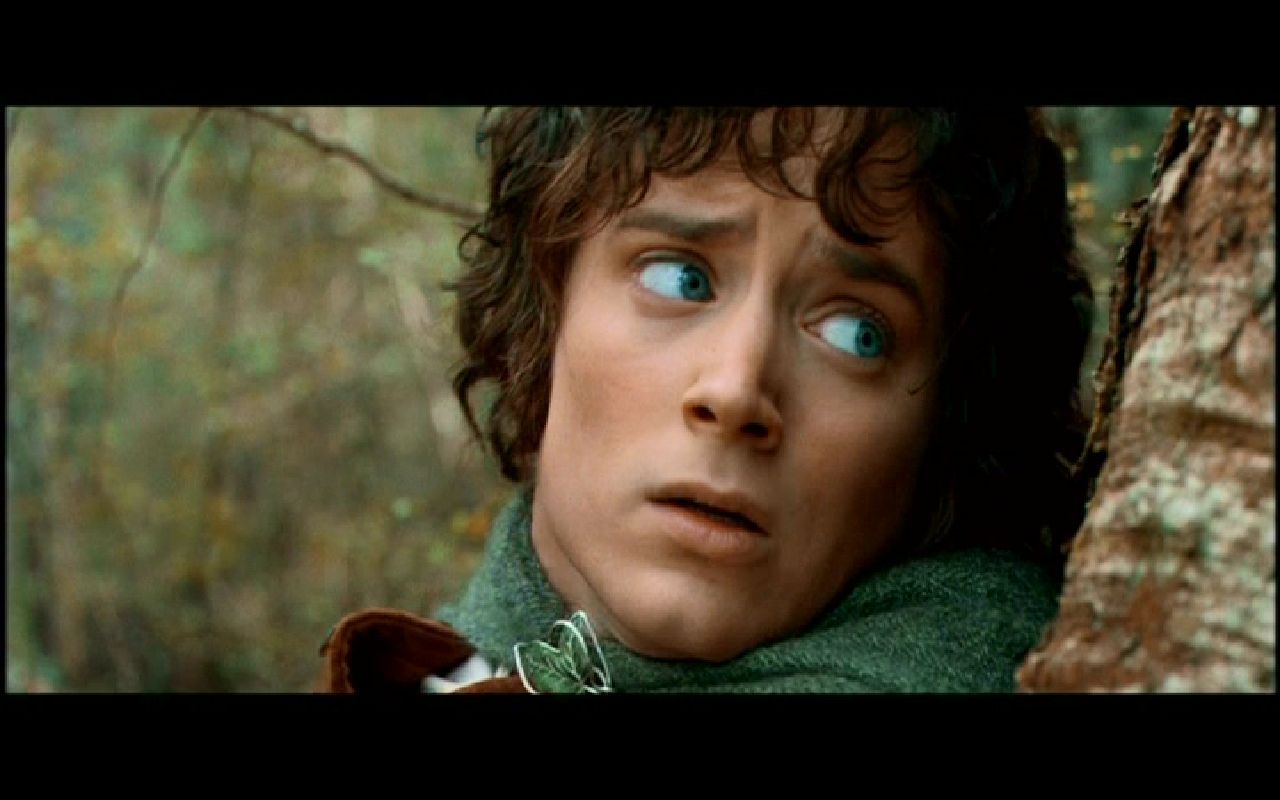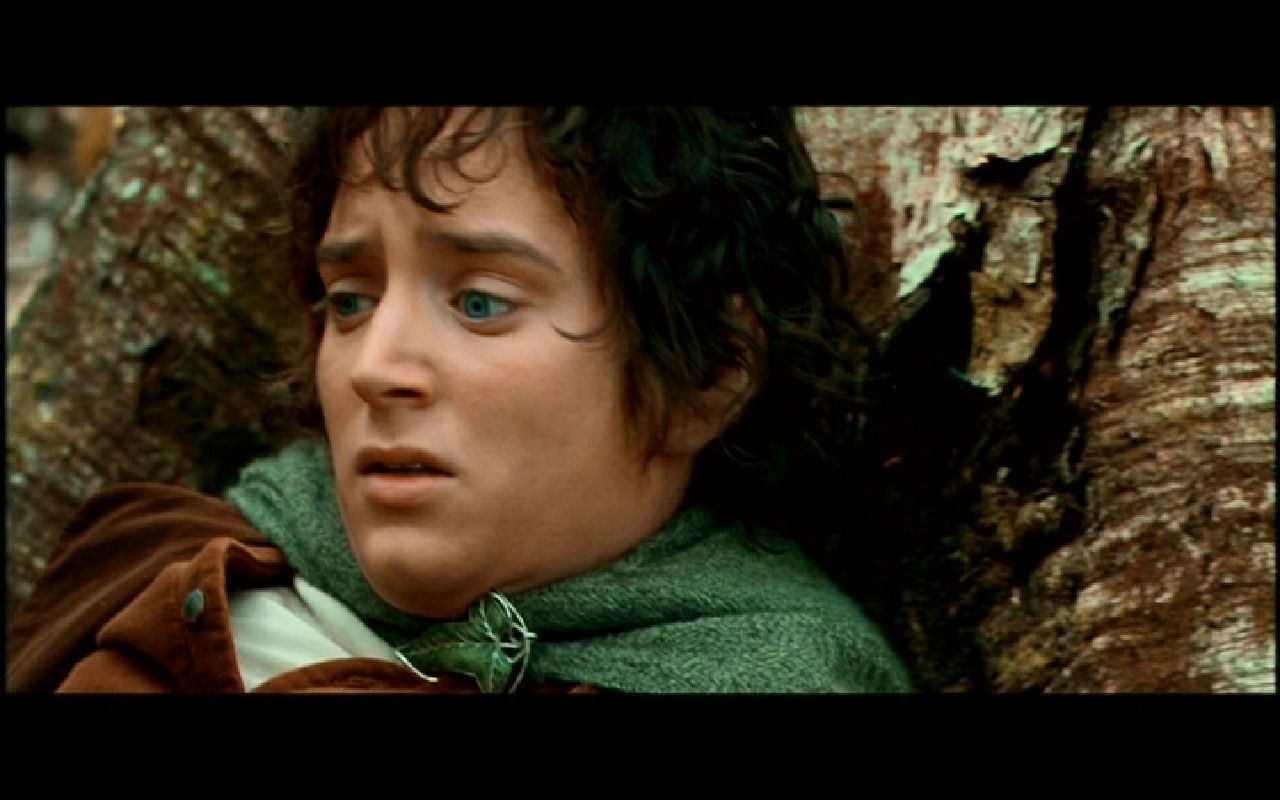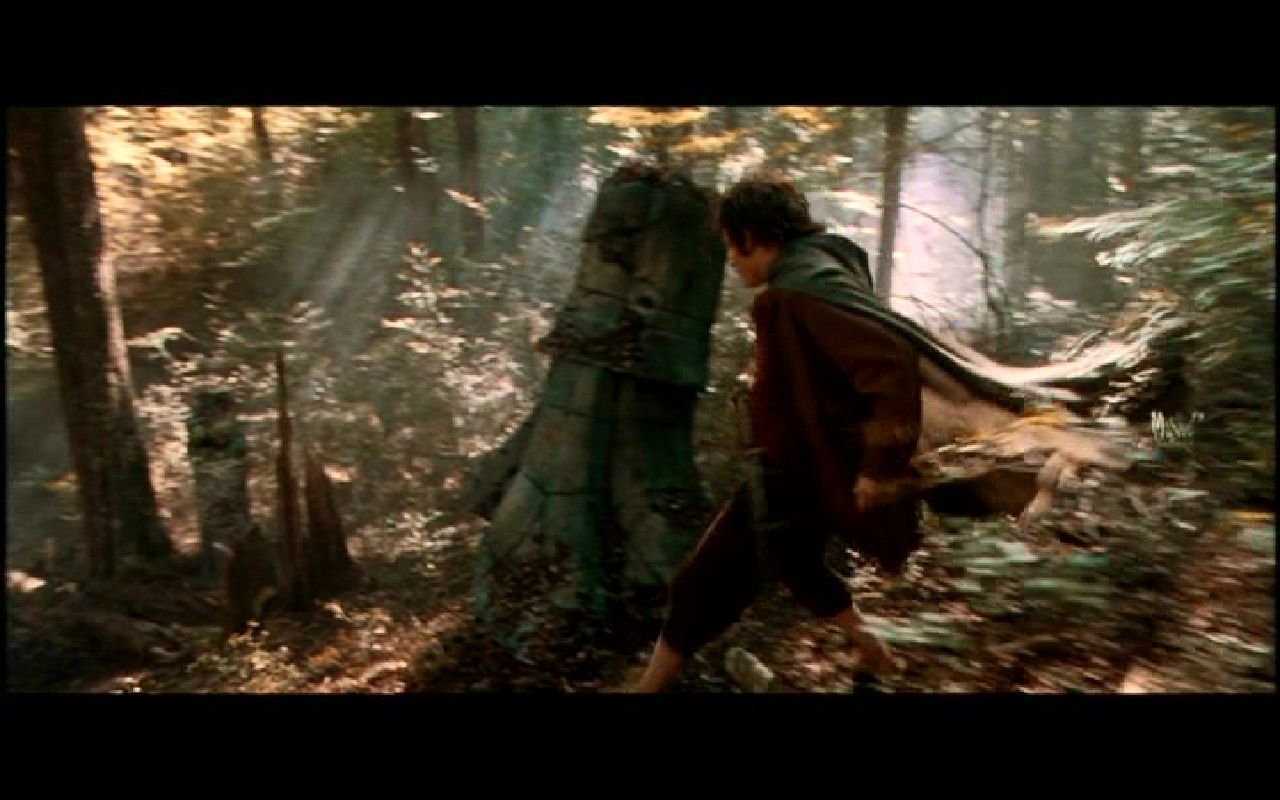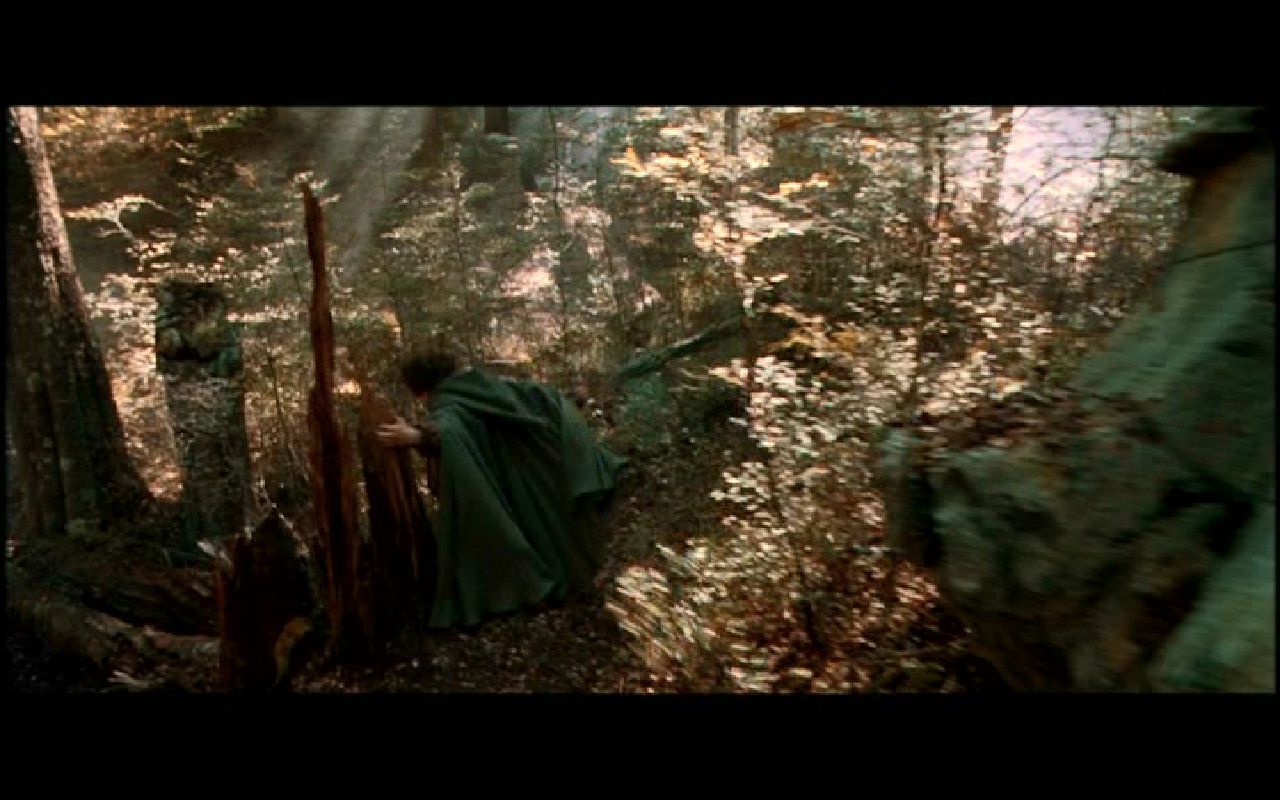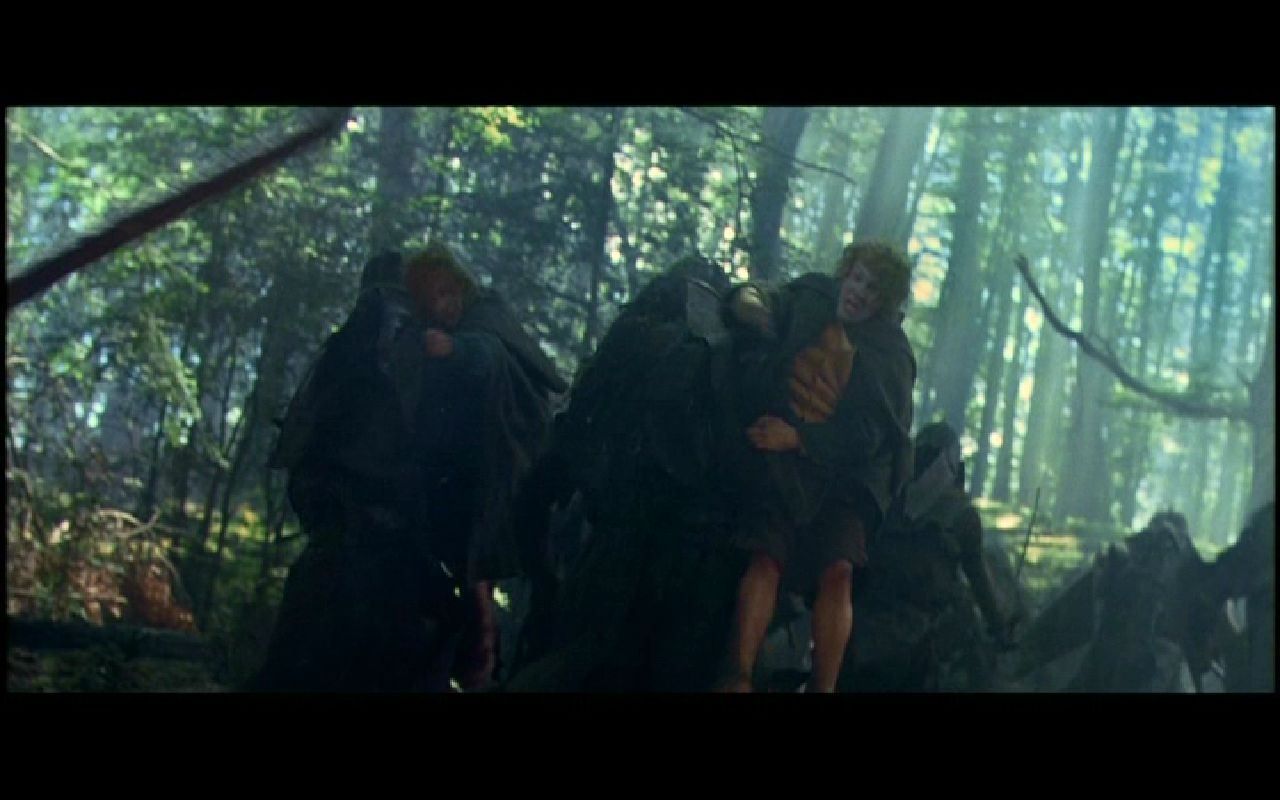 Frodo. Where is Frodo?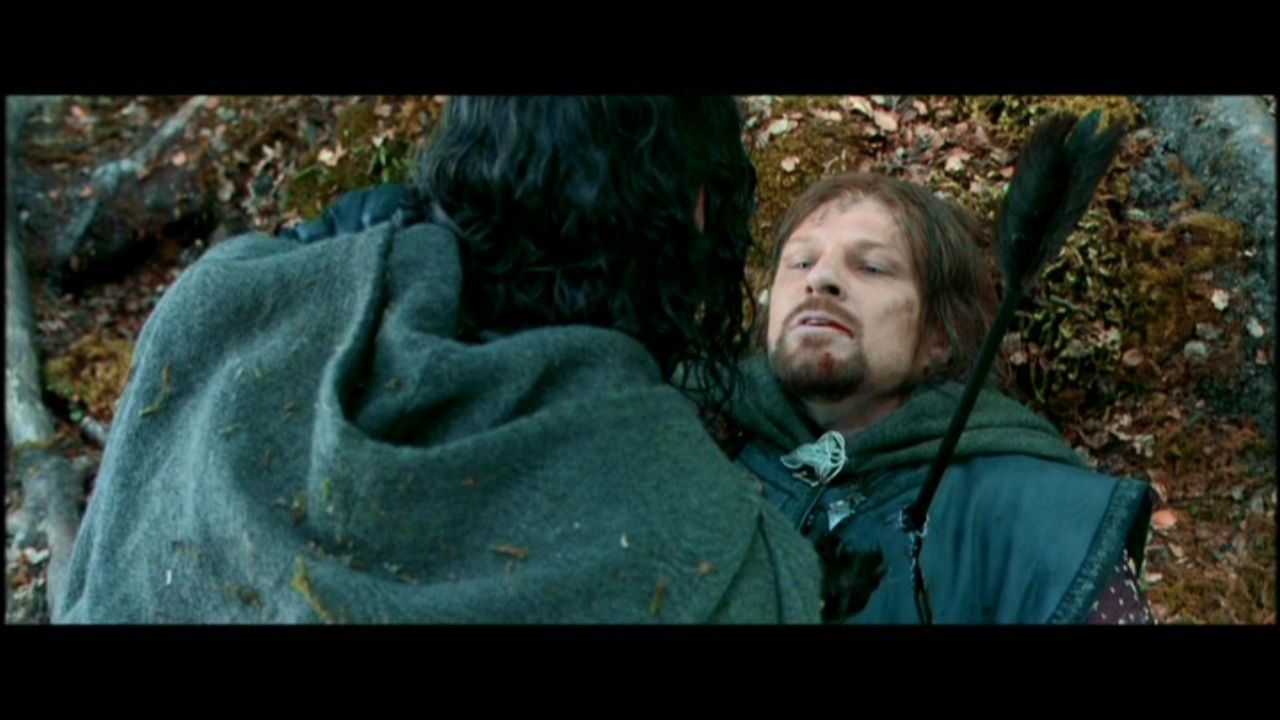 I let Frodo go.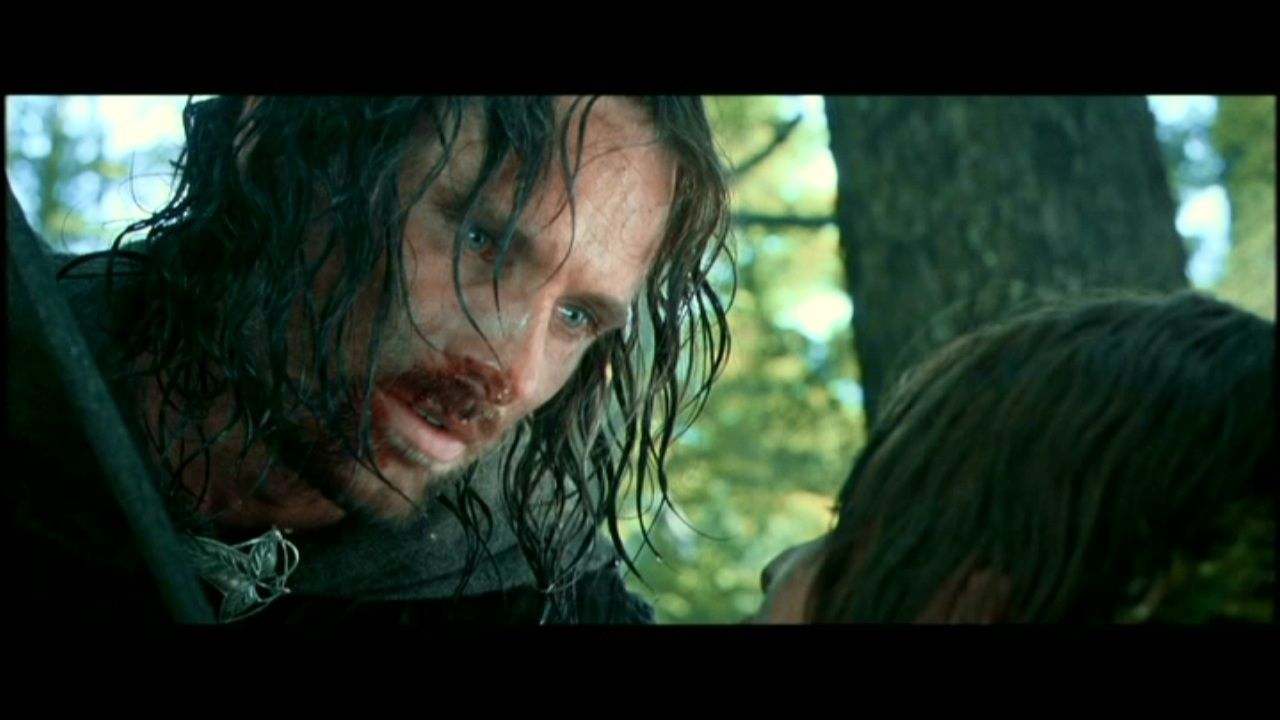 Then you did what I could not. I tried to take the Ring from him.
-The Ring is beyond our reach now.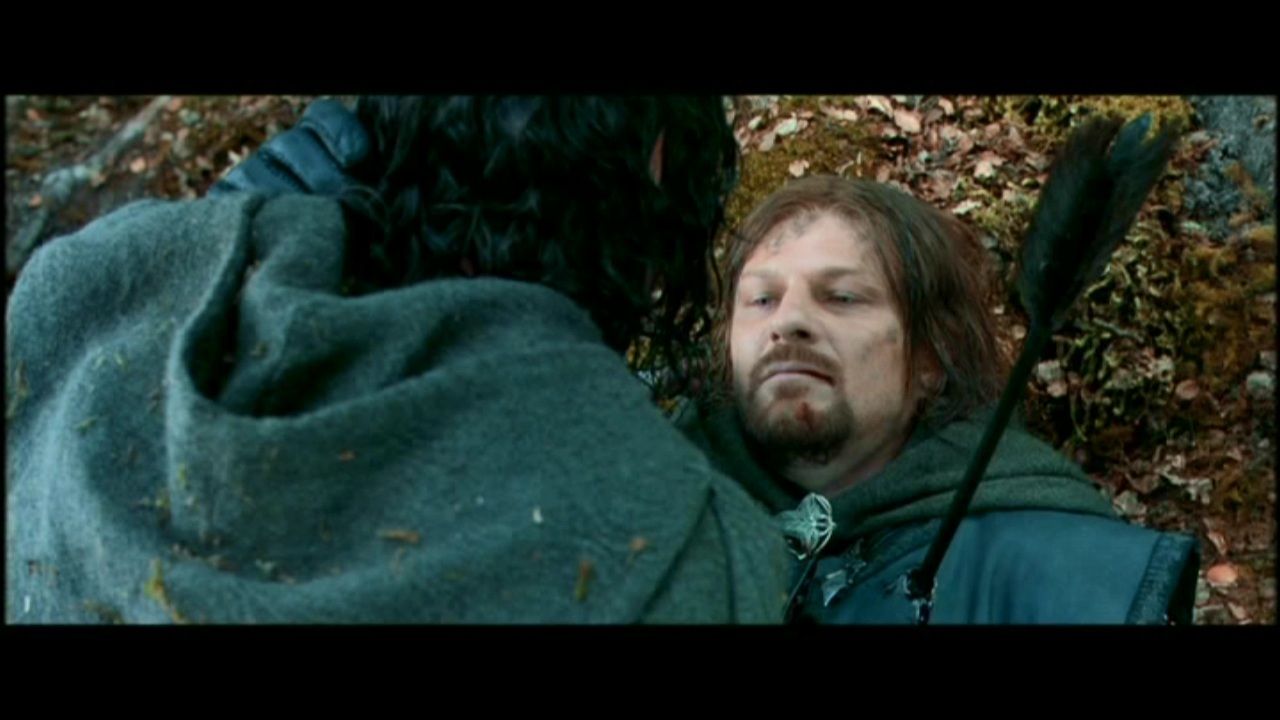 Forgive me. I did not see it. I have failed you all.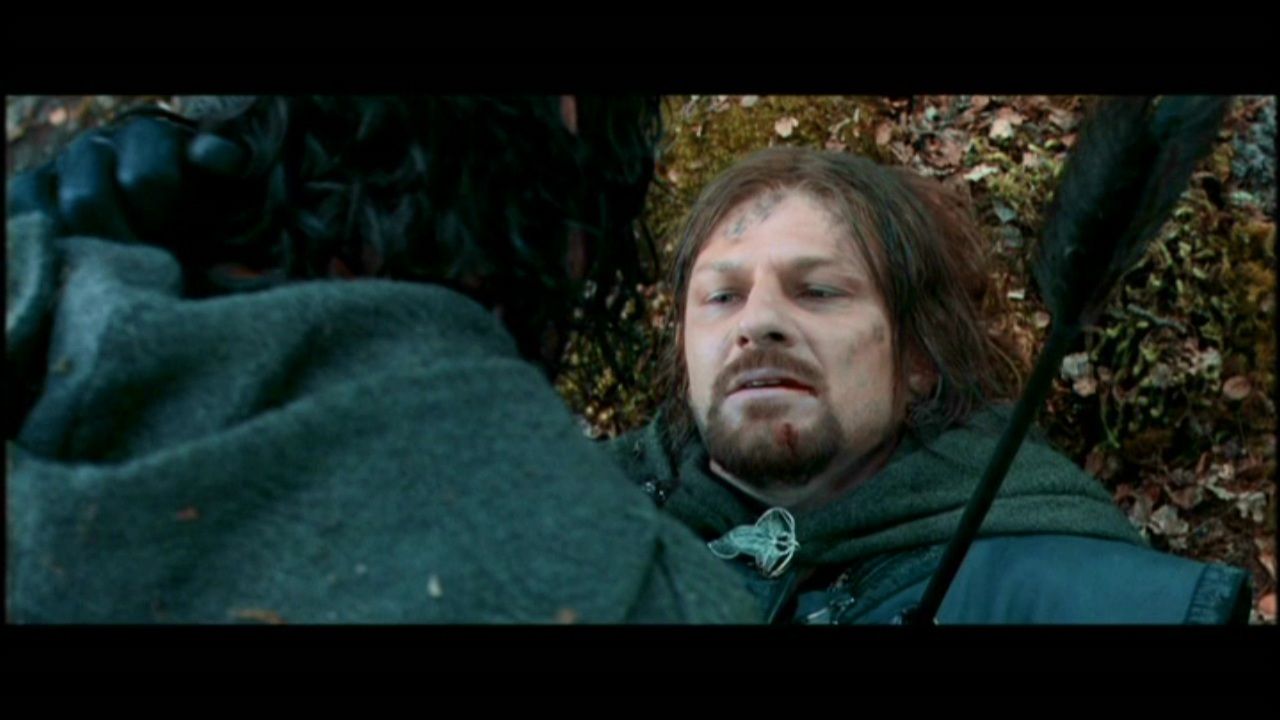 No Boromir. You fought bravely. You have kept your honour.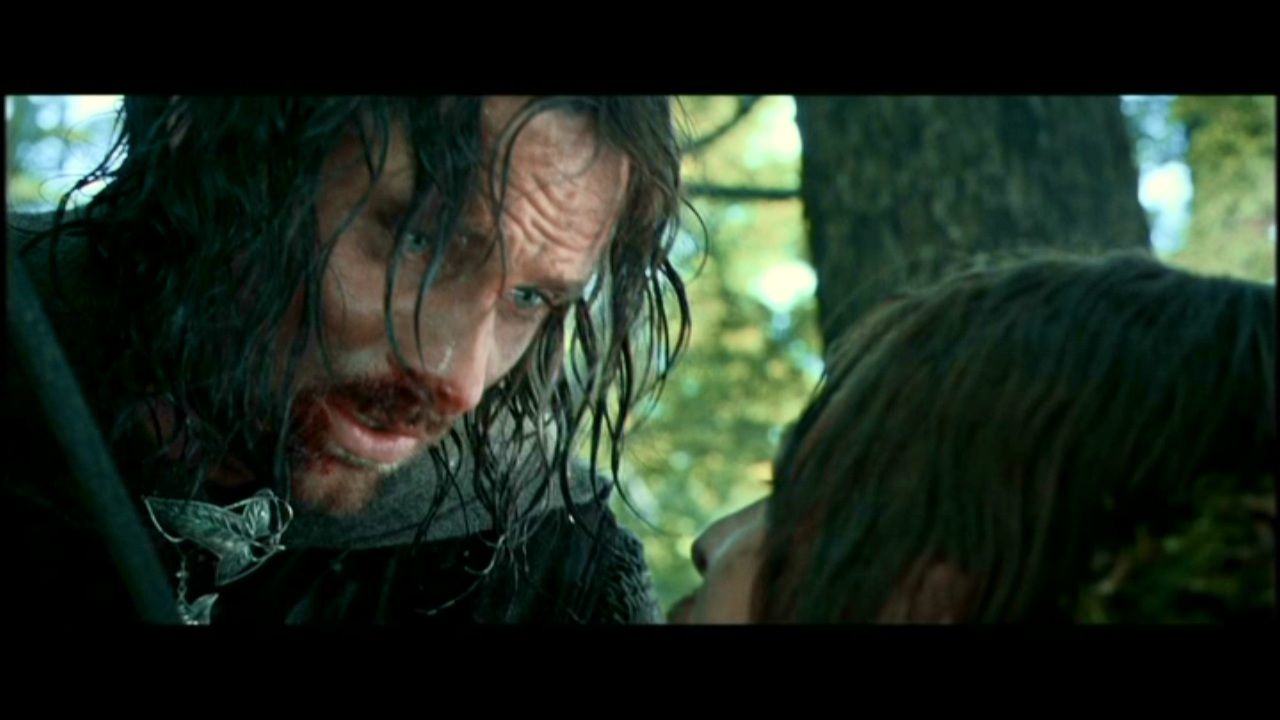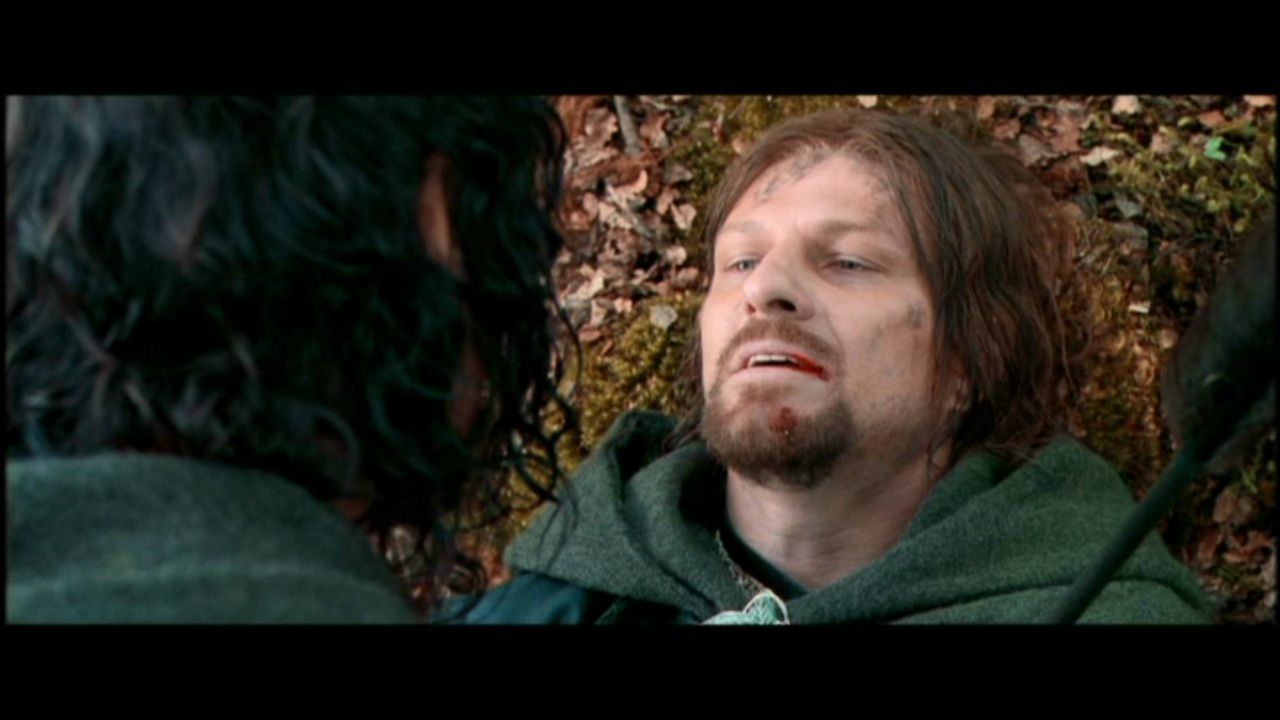 Be at peace, son of Gondor.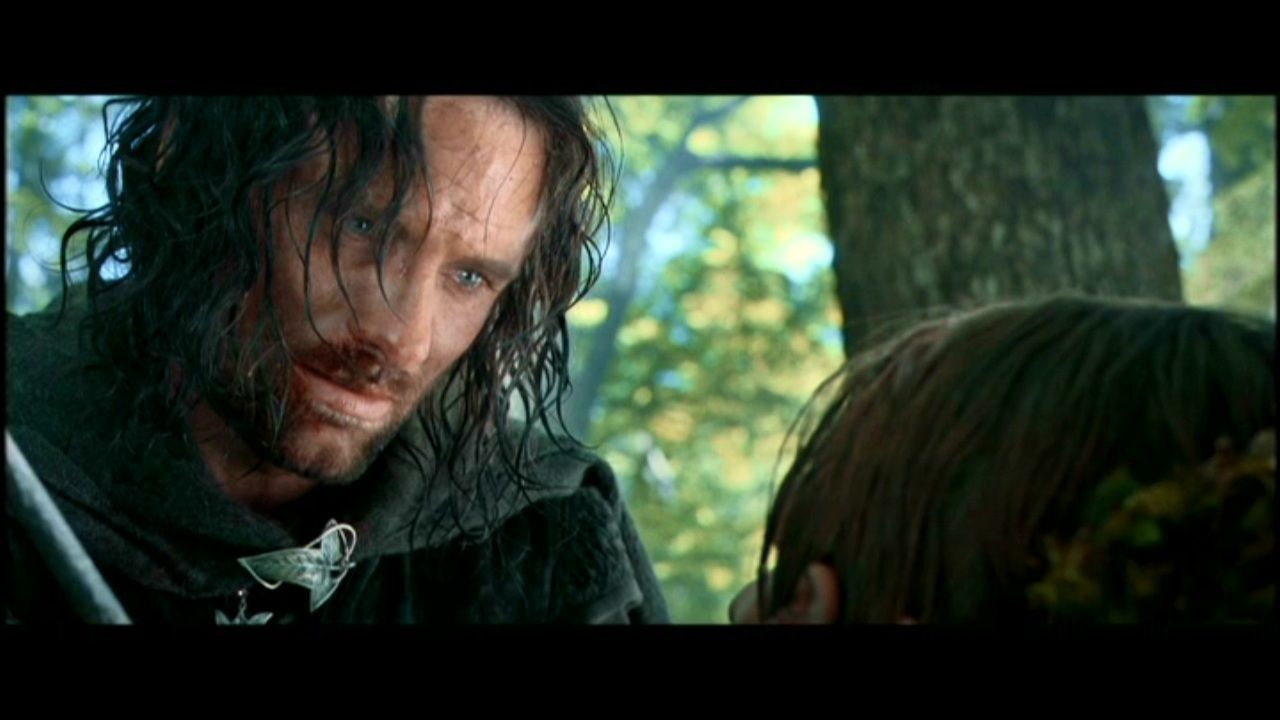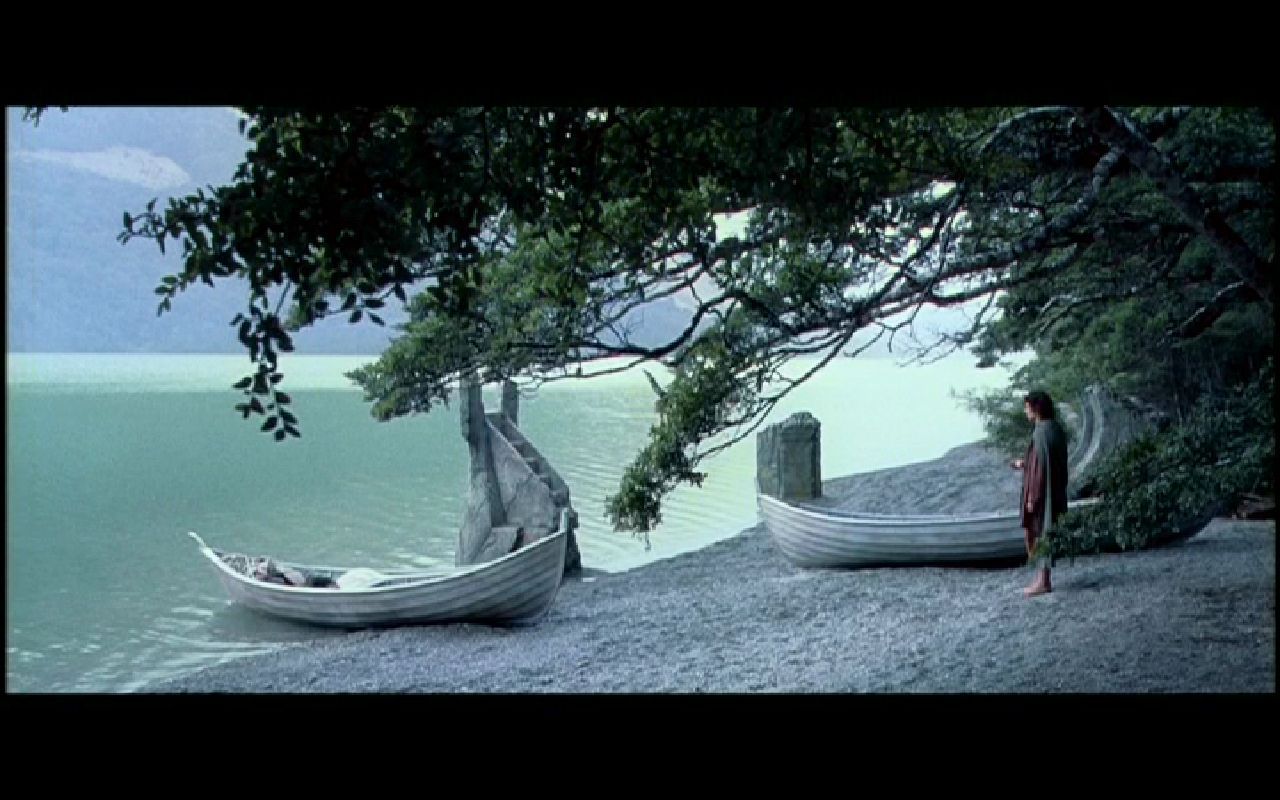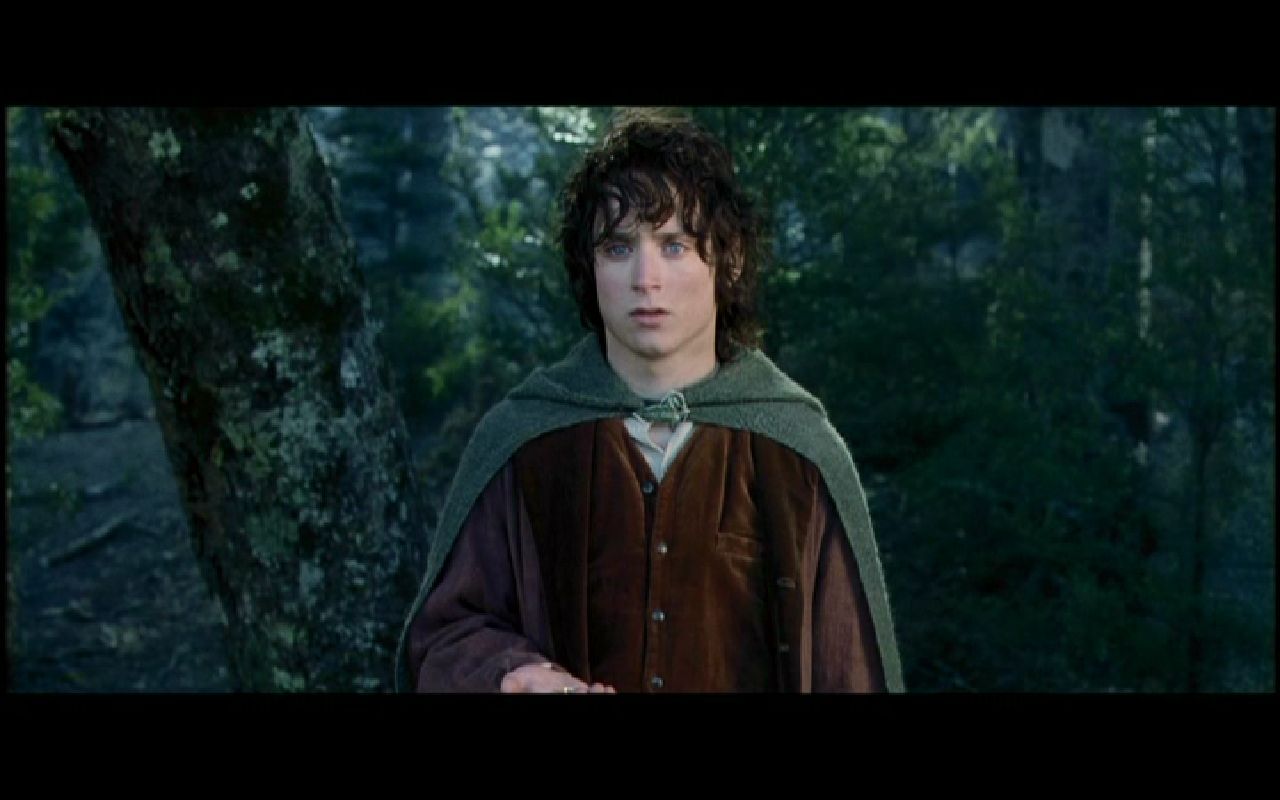 Frodo!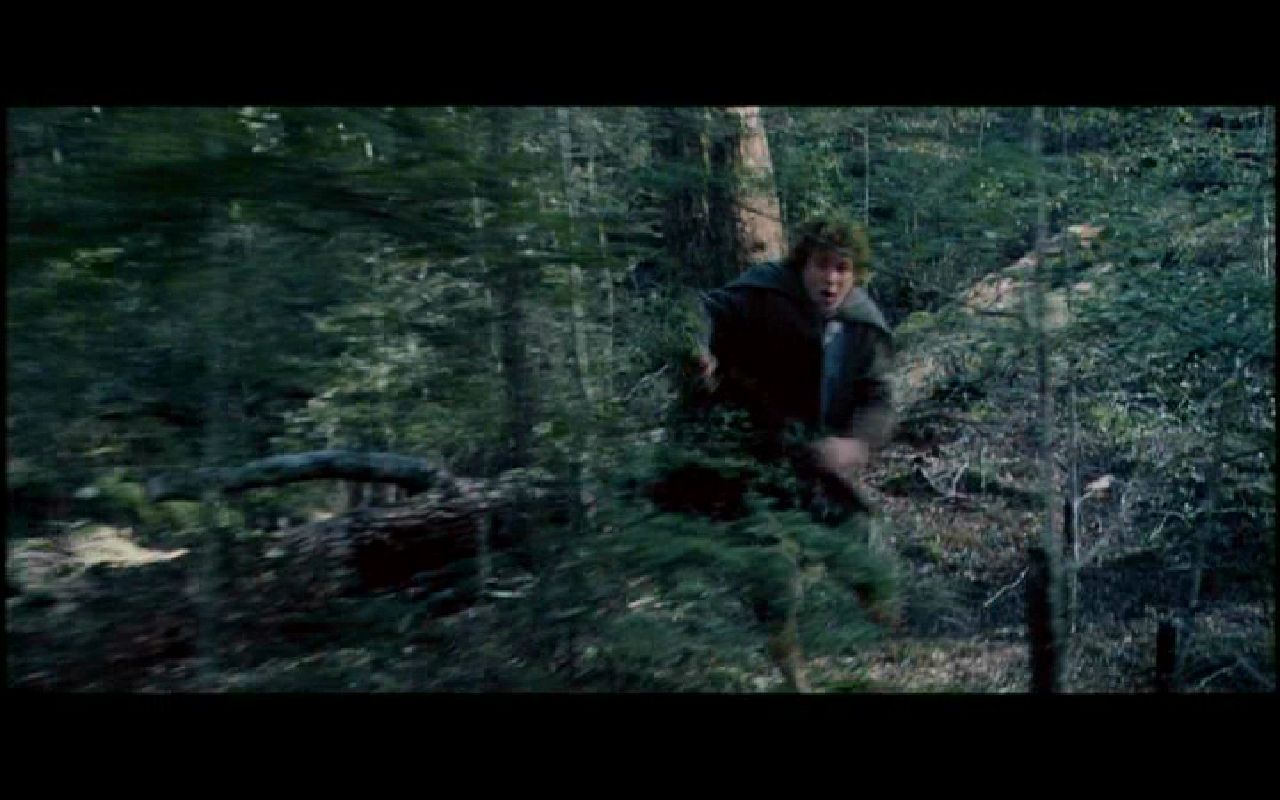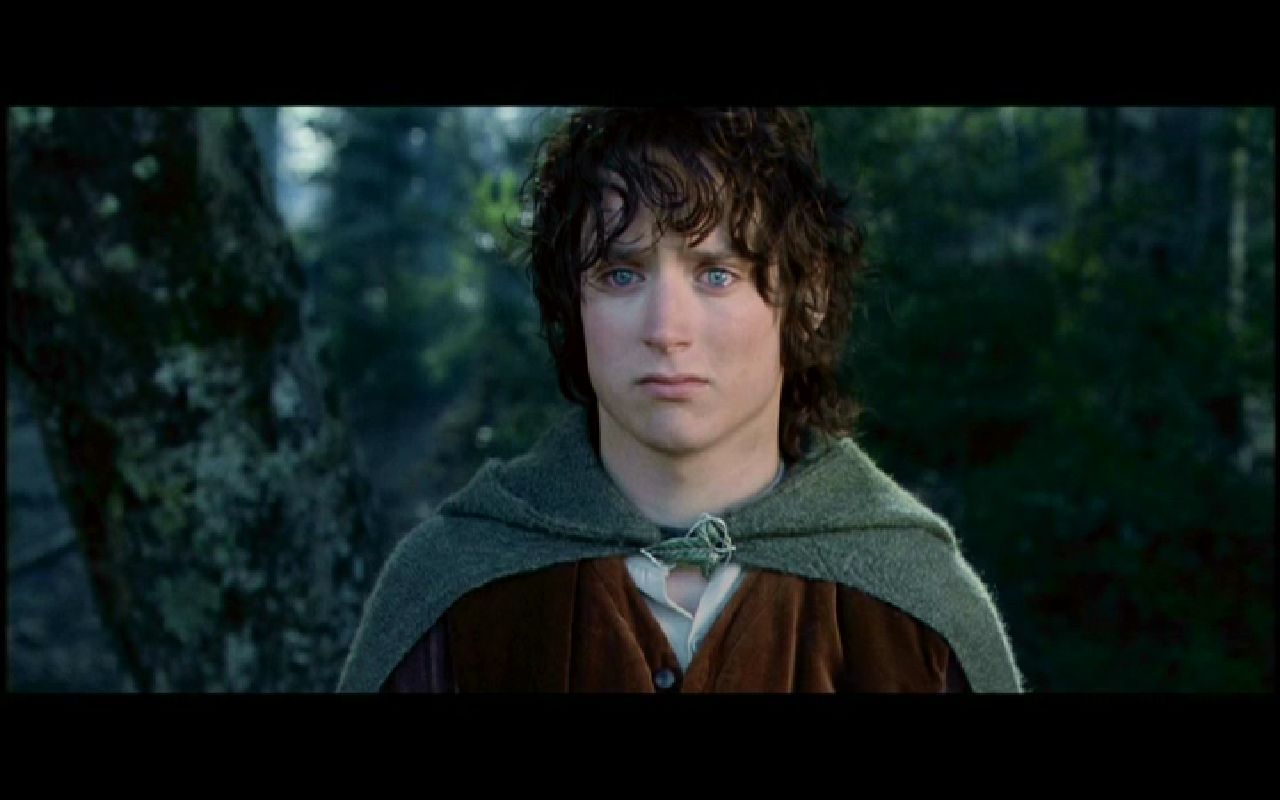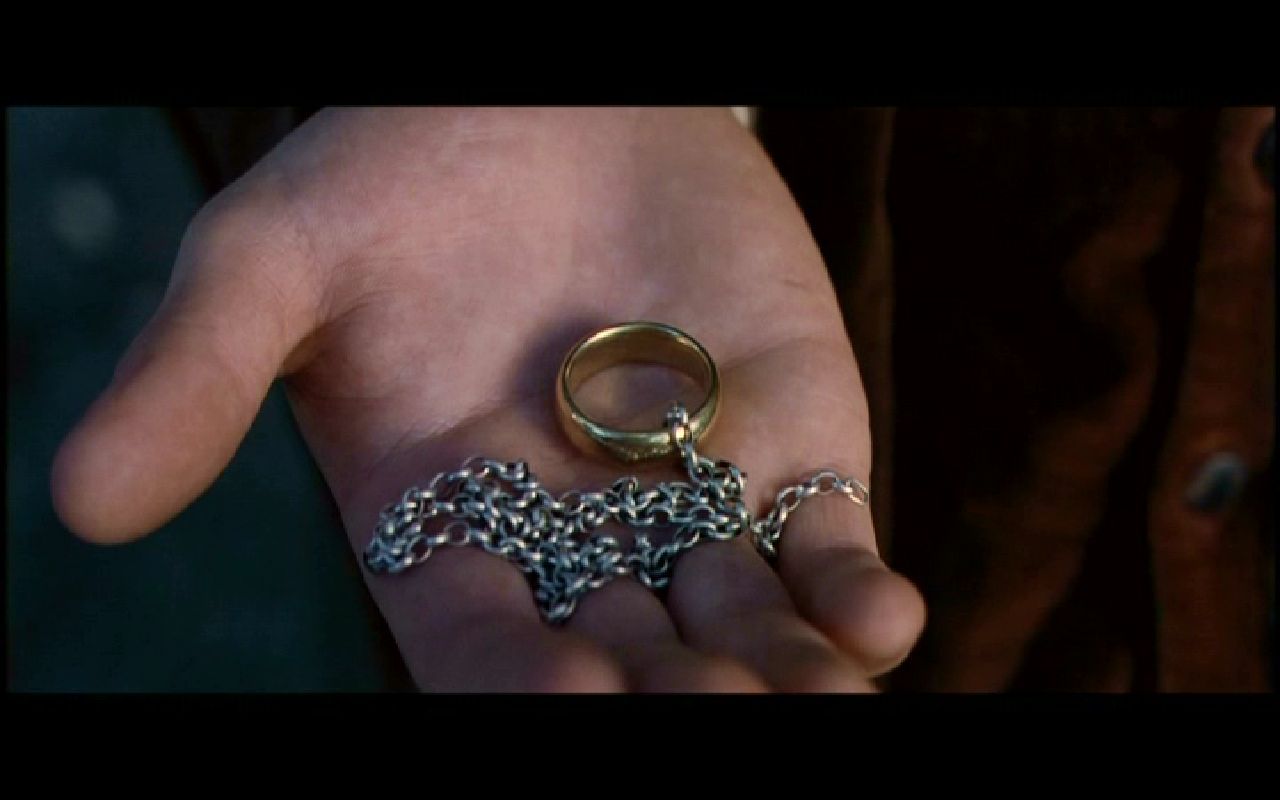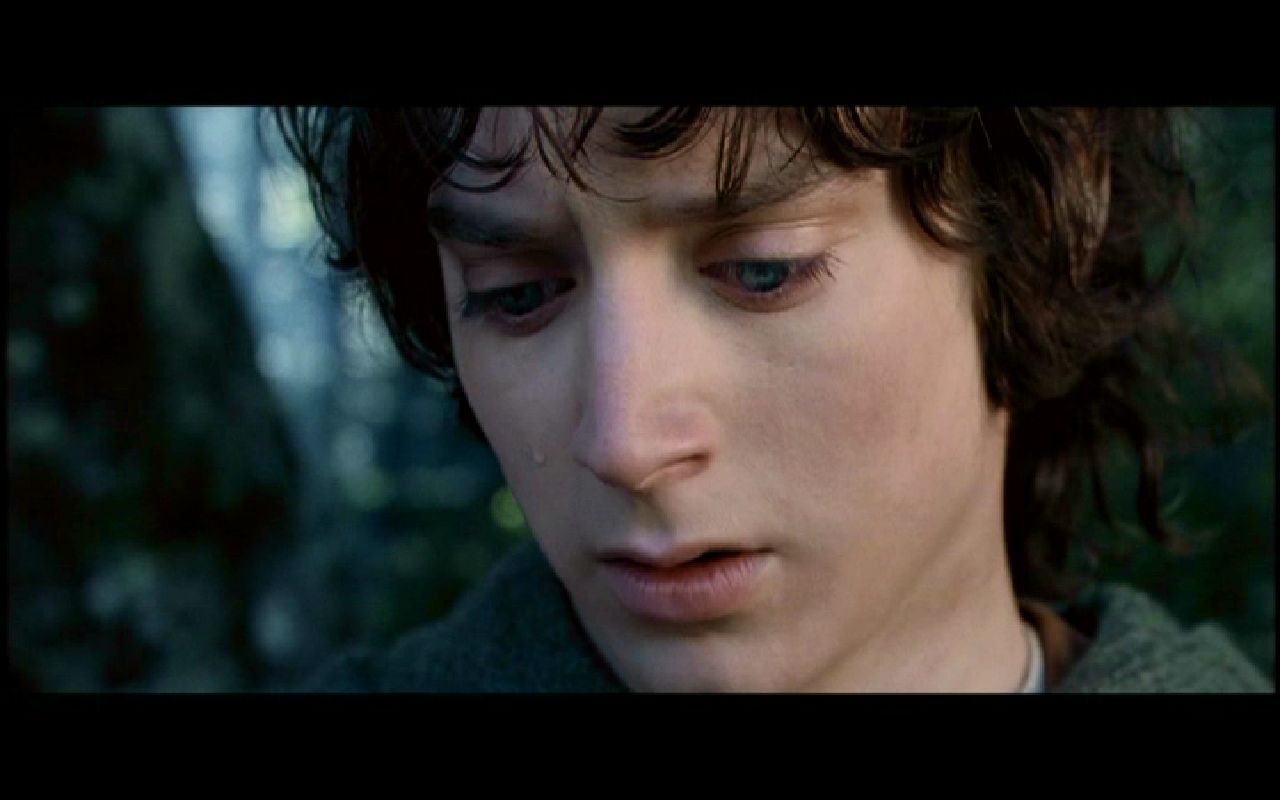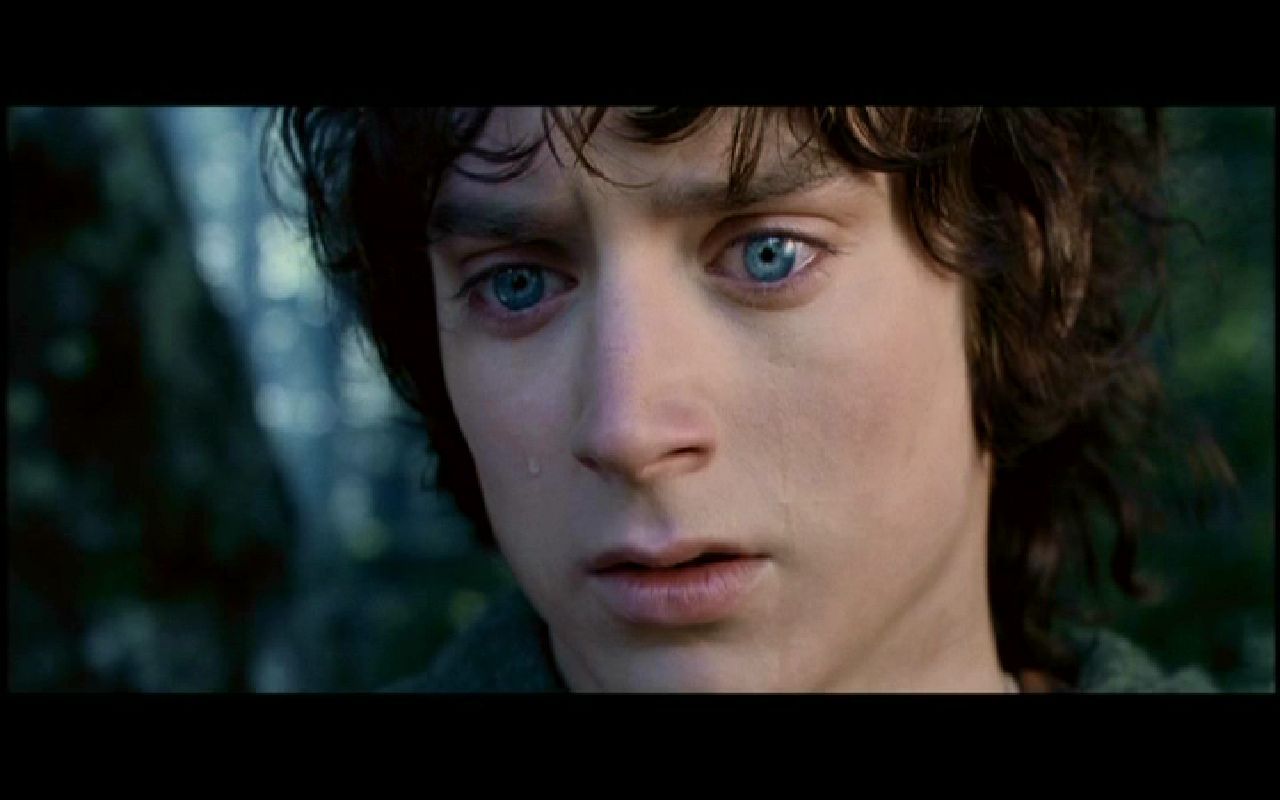 Rick Porras (Co-Producer): "Elijah just really nails this performance, I mean he's just so fantastic. It's amazing, the camera is so close to him, just inches away and yet he's just giving this fantastic performance and really getting you into the moment and you're just so much there with him."

I wish the Ring had never come to me.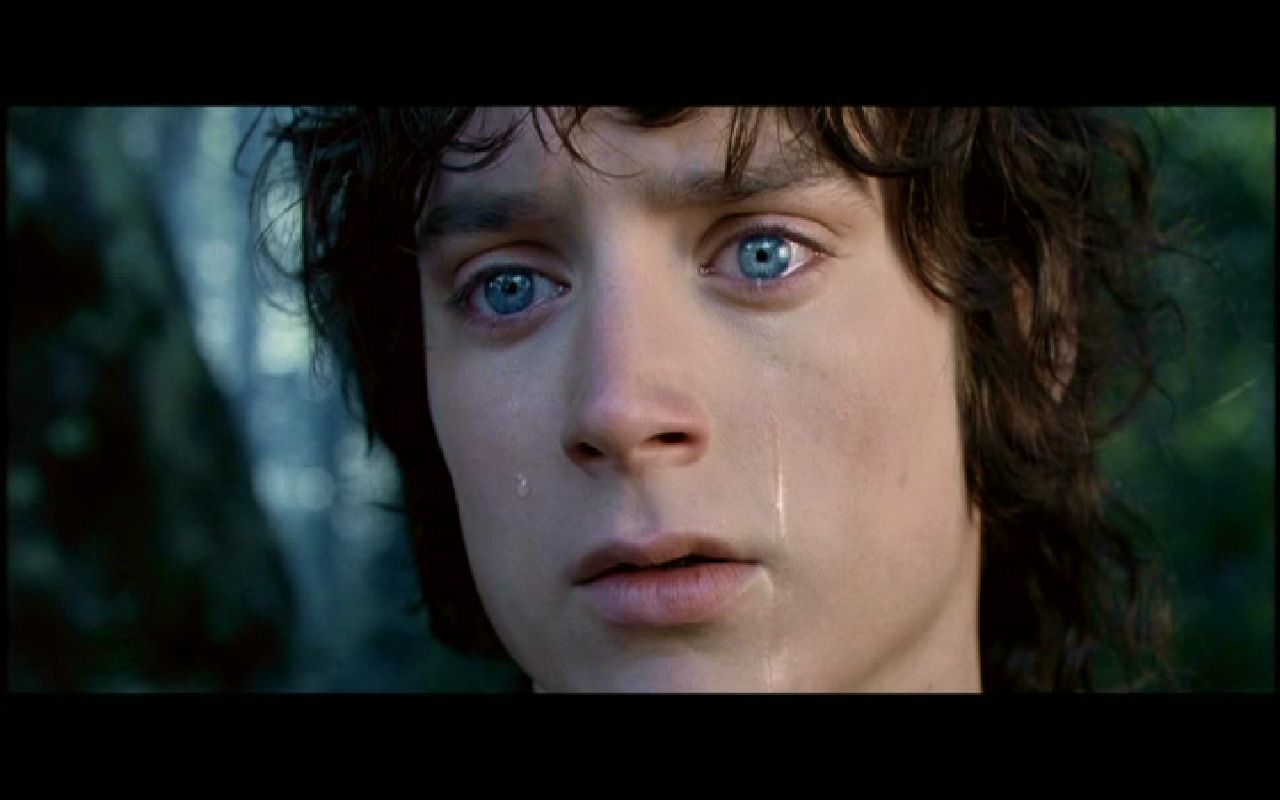 I wish none of this had happened.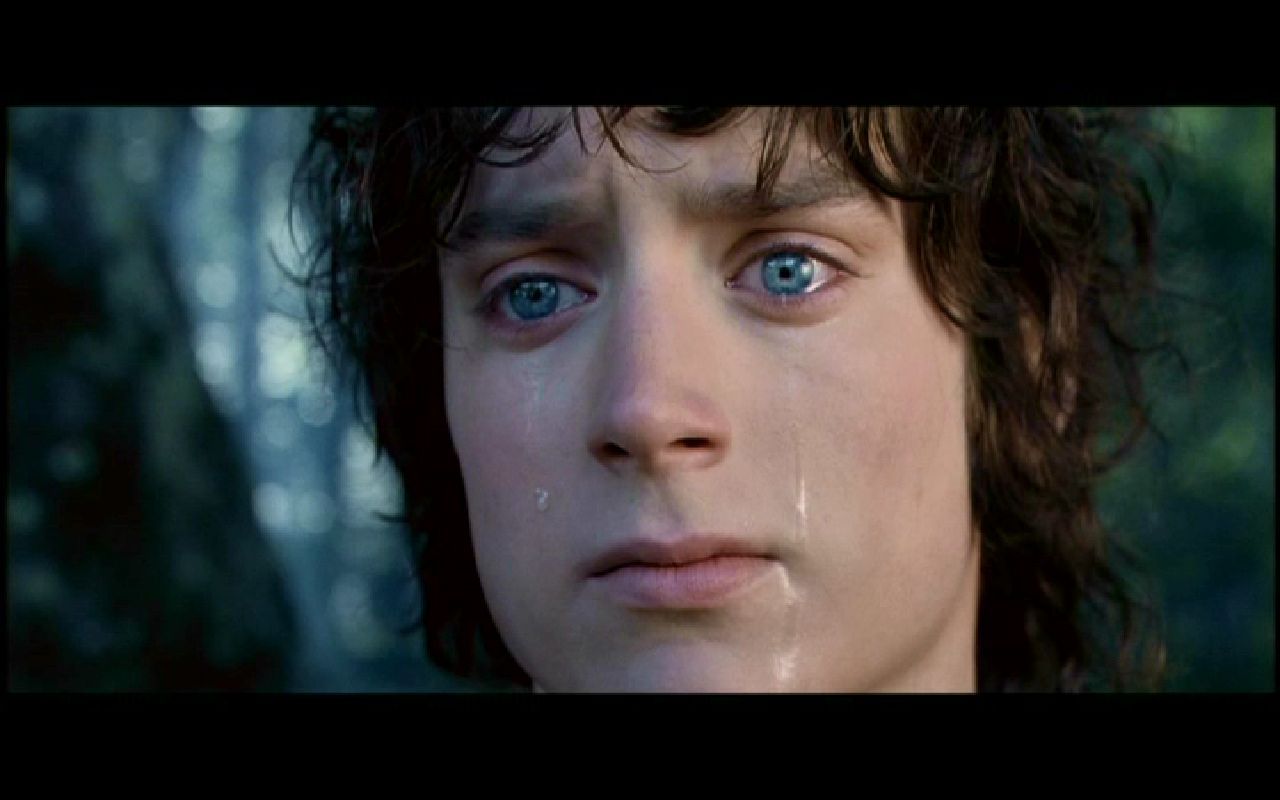 So do all who live to see such times but that is not for them to decide. All you have to decide is what to do with the time that is given to you.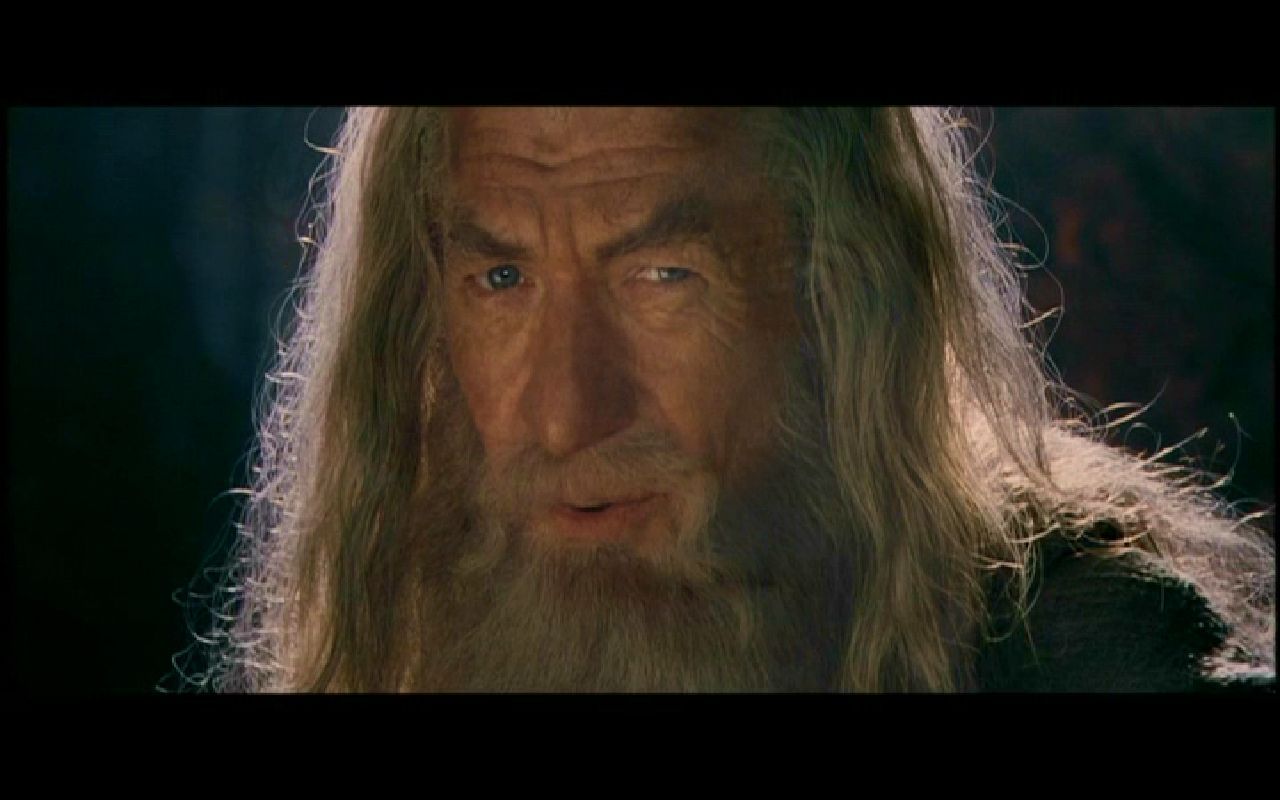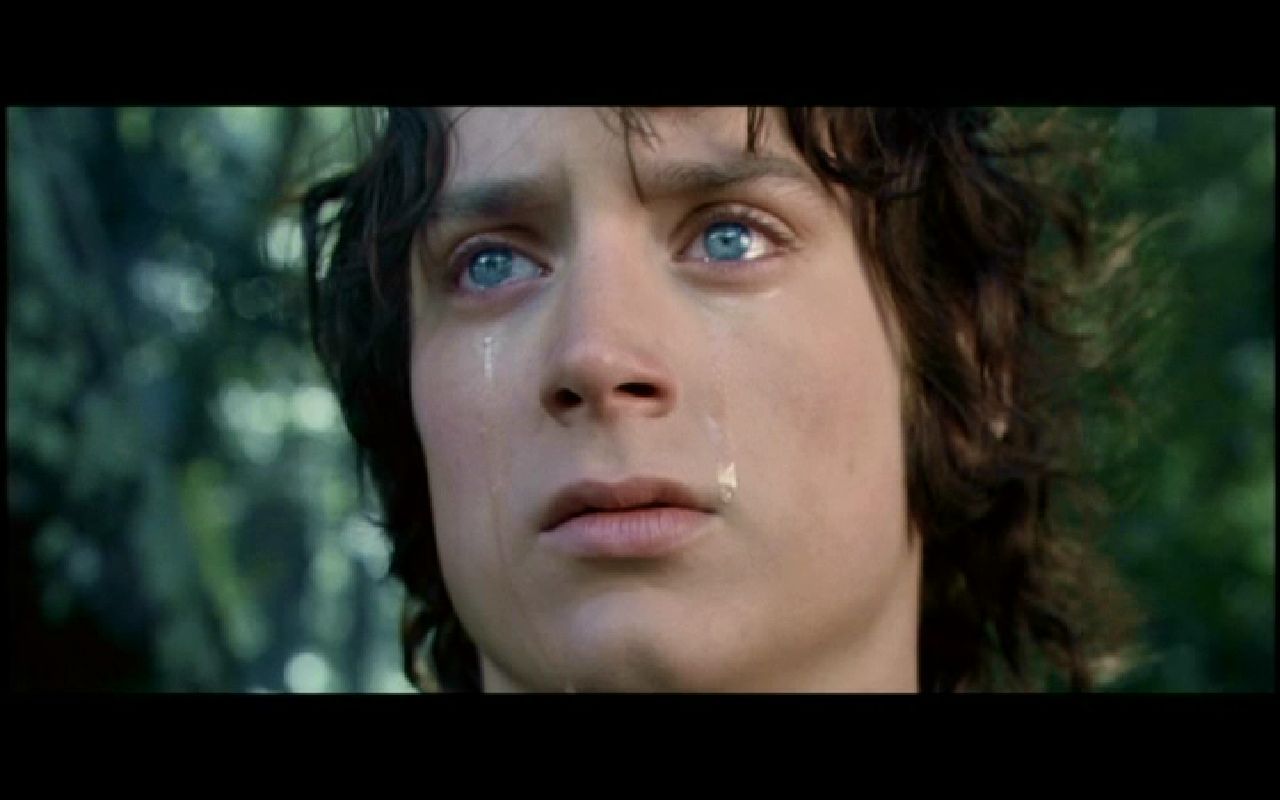 PJ: "The final moments with Frodo here before he decides to go on the boat and then with Sam we actually ended up shooting this twice, didn't we? We shot a version of it where we made it much more of an action climax, a version that was not a good idea, and we realised it was not a good idea when it was shot. We actually had a Uruk-hai attacking Frodo in the water as he was attempting to escape in the boat ... it wasn't ultimately what this part of the story should be about and it was reconceived and we travelled back down to Lake Mavora doing pickups."
PB: "And the great triumph for Frodo is not over some Urak-hai of Saruman's but over the Ring, it is when he grabs that Ring and does not allow the Ring to control him."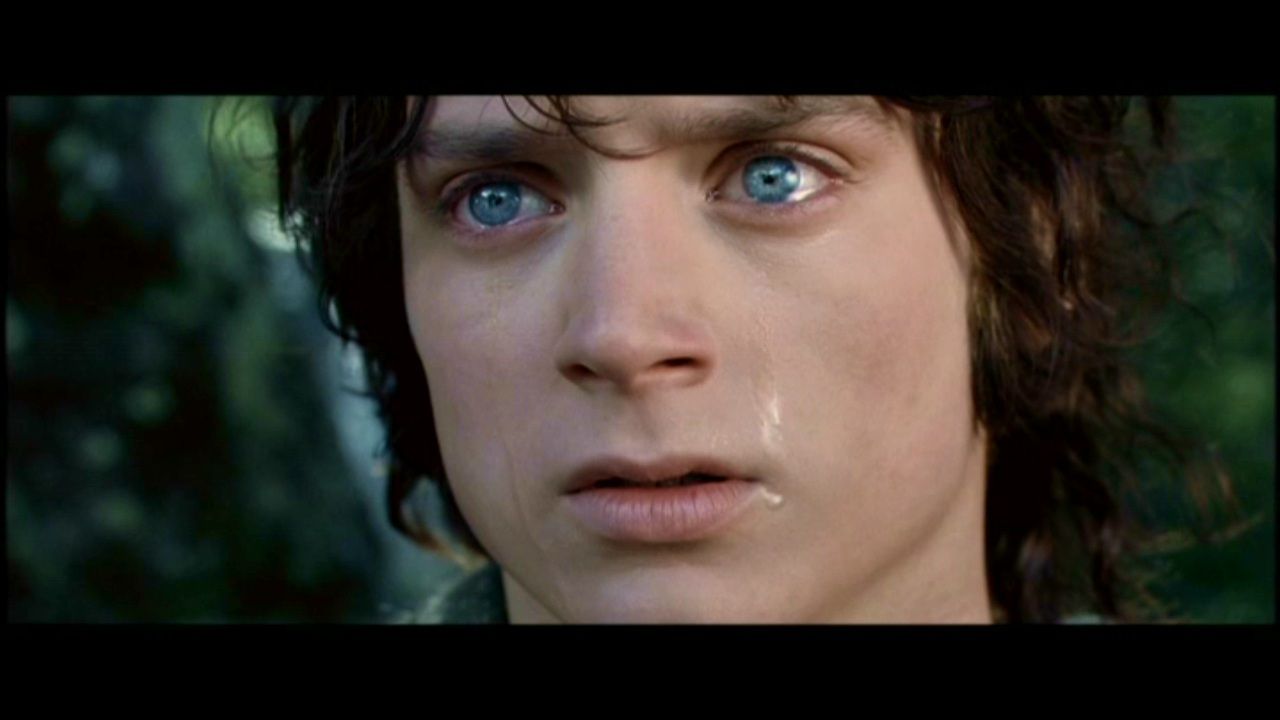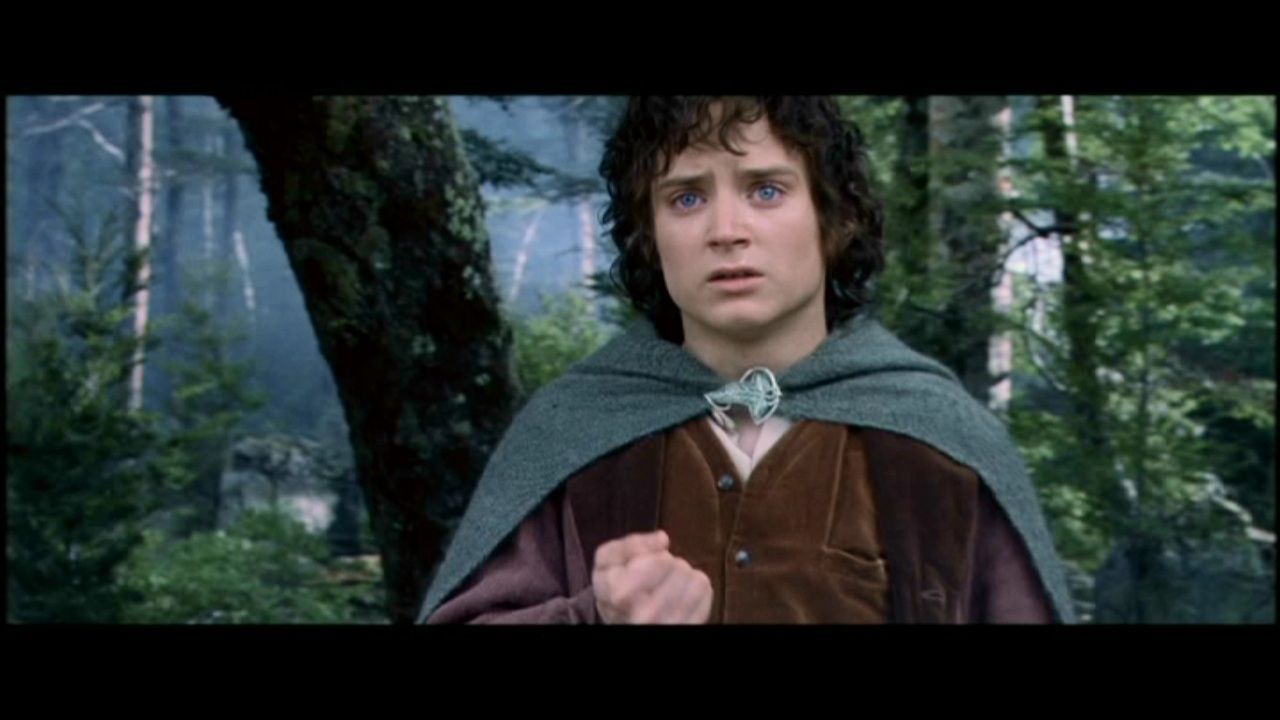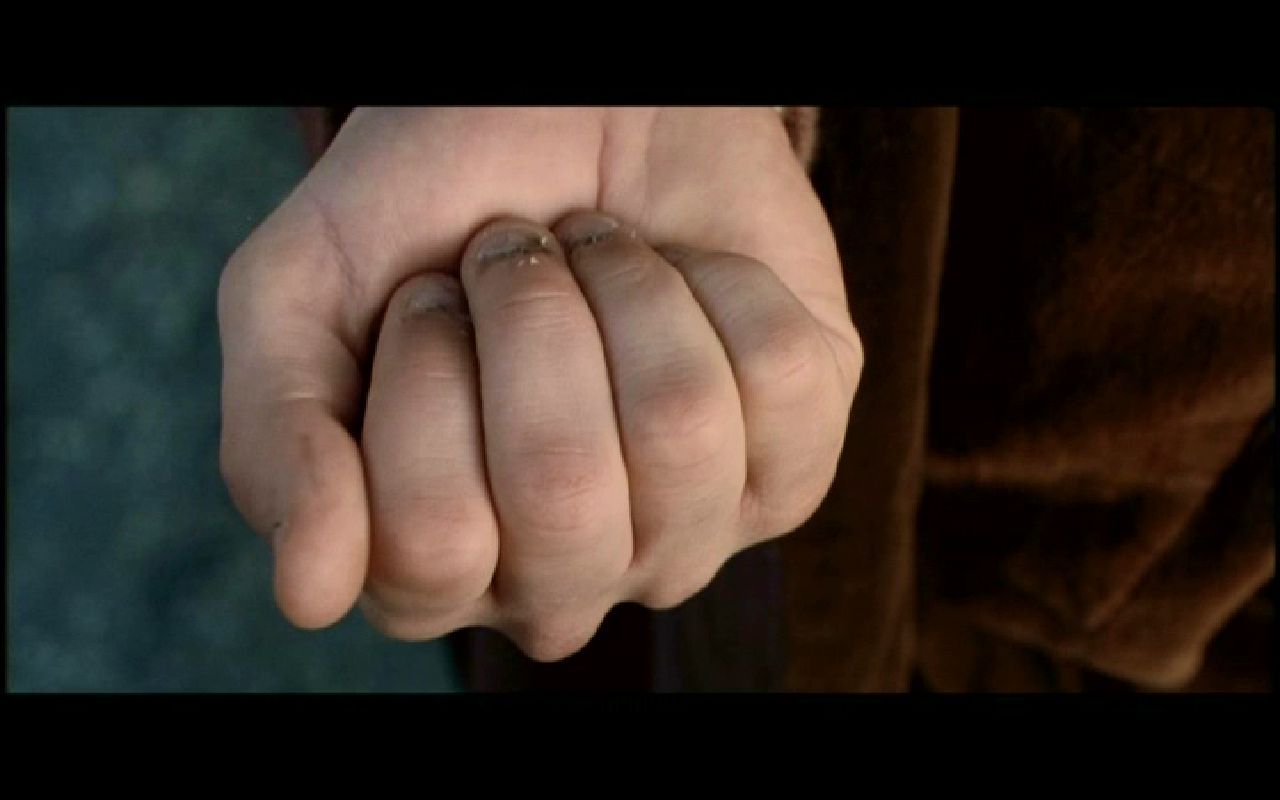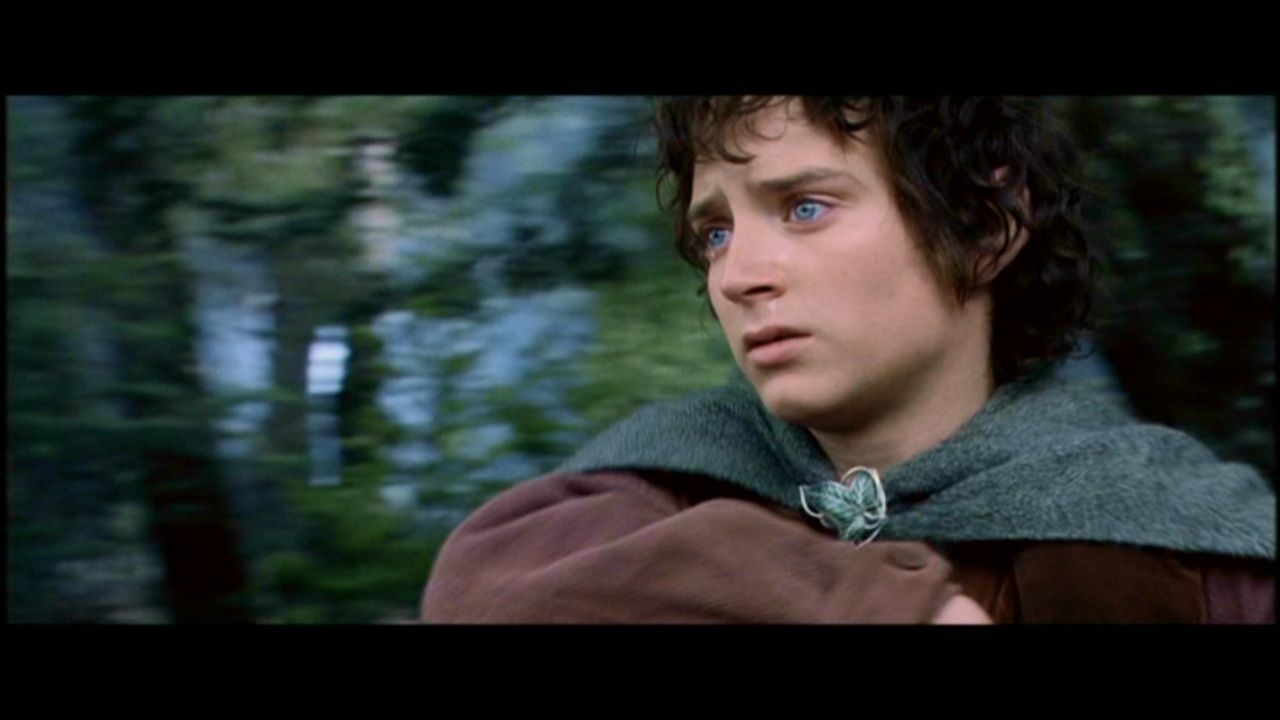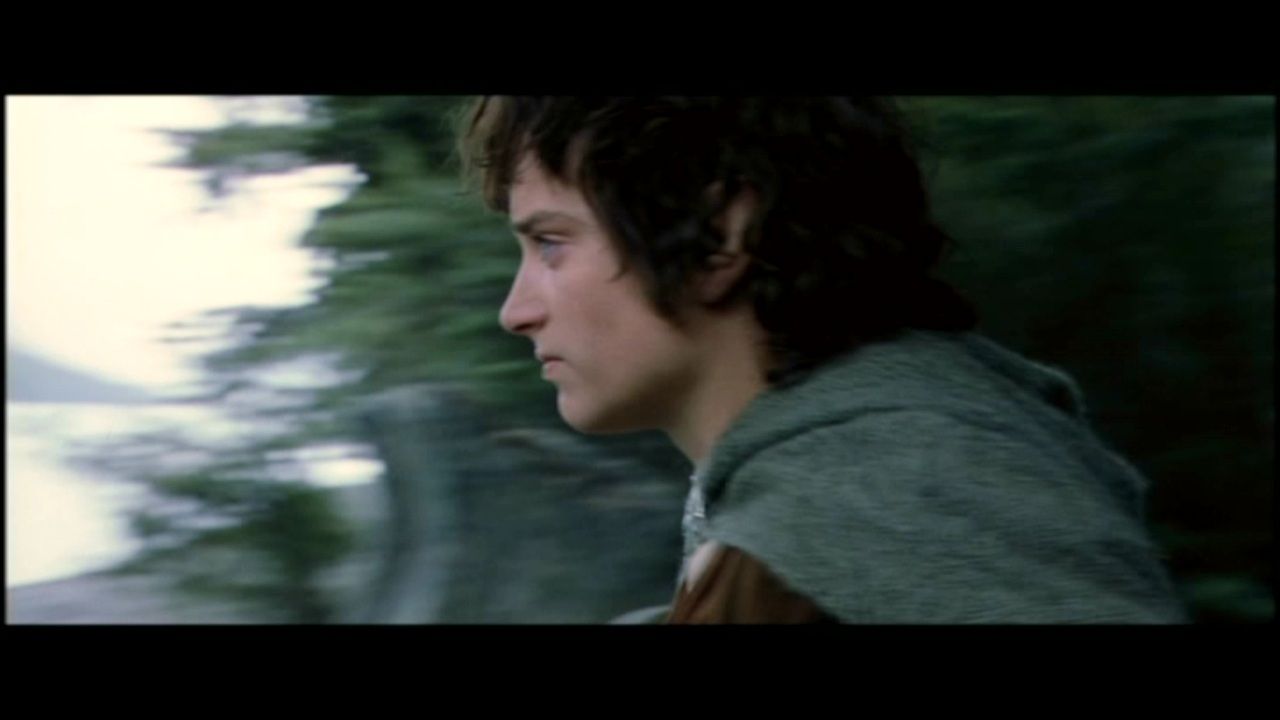 ---
Question: What was the most demanding scene you had to film?
Elijah: It's a moment on the side of the mountain where Frodo collapses and Sam holds Frodo in his arms. It's just a really emotional scene for both Sam, as he is sort of seeing his friend essentially die in his arms, and for Frodo in the sense that he can't remember the things that Sam is trying to make him remember about home and The Shire. It was a really difficult scene and the day that we both felt like we'd actually done everything that there was to do with our roles, I think. We felt like we'd gone to the peak as actors on the film.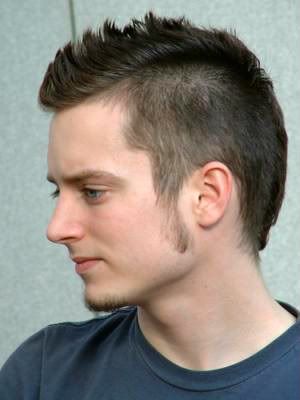 TO BE CONTINUED
---
LINK TO ALL CHAPTERS:
"A JOURNEY WITH FRODO"
comments: Leave a comment