| | |
| --- | --- |
| Tags: | a journey with frodo |
| Security: | |
| Subject: | A Journey With Frodo-Chap.51-'Better Late Than Never' |
| Time: | 11:05 pm |
Have at last completed Chapter 51 of 'A Journey With Frodo'. This covers the time immediately following Elijah's return from New Zealand after the ROTK world premiere. He appeared on the Jay Leno Show and then had a mad dash to get to the Los Angeles premiere!
In Frodo's Journey it's the terrifying return of the Ringwraiths - with wings!!
For anyone unfamiliar with my pet project, 'A Journey With Frodo' (a work in progress) is the story of Elijah Wood's experience in becoming Frodo, from back in 1998 when the LOTR movies were just a whisper up to the triumphant Oscars of Feb 2004. In reliving Elijah's journey, and mine, I am using everything I can lay my hands on - behind-the-scenes material from the various dvd's, magazine articles, books, internet sites, tv coverage, word-of-mouth info, etc. Previous chapters can be found here
"A JOURNEY WITH FRODO"
You'll need to scroll back to get to Chapter 1:)
Hope you enjoy this new chapter: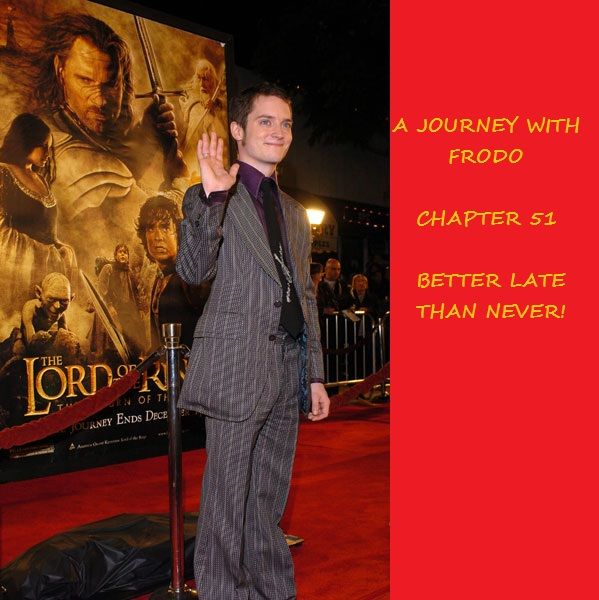 ---


03 December 2003:

"So there I was on the sleeper plane from New Zealand to Los Angeles, and I woke up and looked around me, and I was surrounded by Orlando, Liv, Viggo, Elijah… So much beauty. And I thought I must be the luckiest man on earth!" (Ian McKellen, Press Roundtable, LA Premiere of ROTK)

Yes, Elijah is back home in Los Angeles and in for a very busy time!

First off - the Jay Leno show: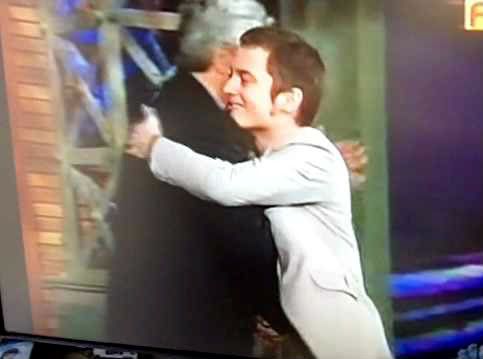 A little bow for the audience: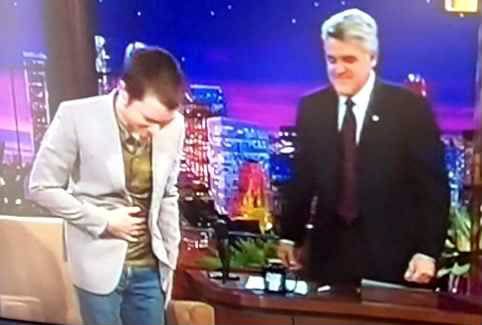 Jay: "Forget the movie, I know it's like the biggest movie ever, but forget all that. There's something that's amazed me more than anything else. YOU have finally got you own place. Did I hear that? You've finally moved out of your mom's house?"




Elijah: "That's right. I think I need a little music for that, guys."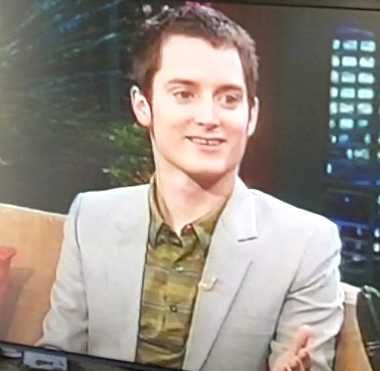 Elijah: "I thought you'd like that, Jay." He explains that he now has an apartment in the Flatiron district of New York with his sister.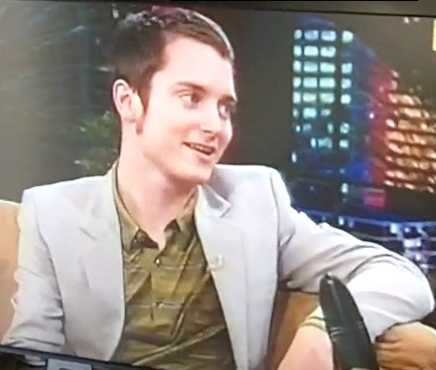 Elijah says that he returned from New Zealand yesterday and they discuss the premiere and parade.




They talk about the film of course, also about on-set pranks such as the 'decoration' of Viggo's trailer.






Elijah reveals that he will be hosting Saturday Night Live and Jay hints that there will be an 'initiation'!!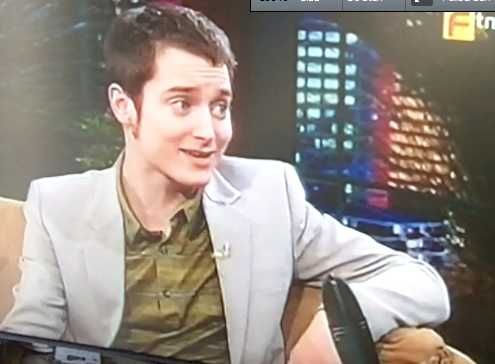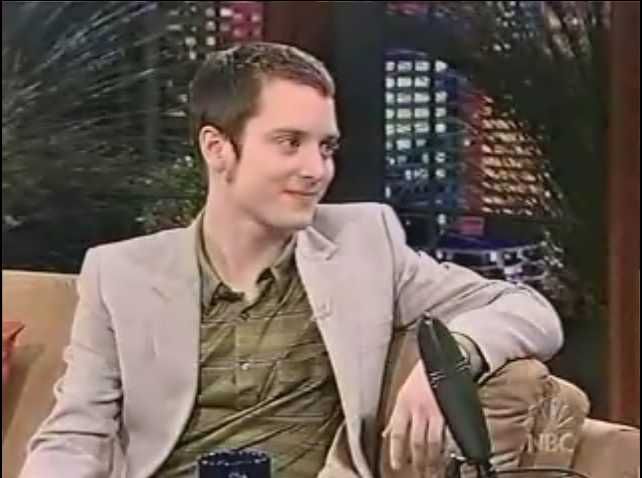 ---
Return of the King Premiere, Los Angeles:
Appearing on Jay Leno's show made Elijah late for this event:
From Rebecca Murray,
Your Guide to Hollywood Movies:
Elijah Wood arrived very late for the North American Premiere of "The Lord of the Rings: The Return of the King." In fact, Wood's arrival was so delayed that by the time he raced into the theater, the red carpet was empty of celebrities. Catching a glimpse of Elijah as he ran for the theater's front door, the fans and media let him know that that old saying "Better late than never" also applies to red carpet events.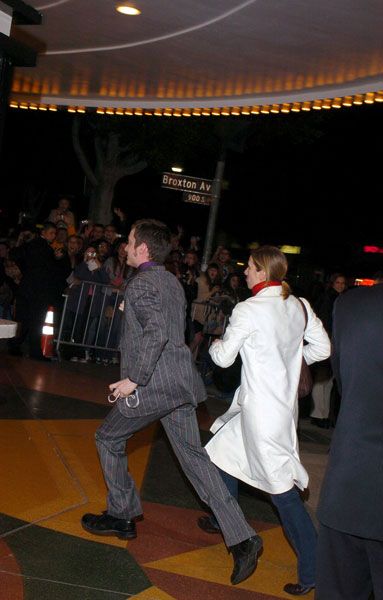 After putting in a brief appearance inside the theater, to the delight of the fans Elijah Wood returned to the hoopla outside. Posing for photos, signing autographs, and spending time with the media, Elijah Wood discussed his time spent working on "The Lord of the Rings" trilogy:
Rebecca Murray: "Is it possible to summarize the Wellington Premiere?"
Elijah: "125,000 people in a seething, roaring mass. It was incredible."
RM: "The trilogy is over. What are you feeling right now?"
Elijah: "Well, I just listened to Peter Jackson give a speech about the fact that this is the end and welcome to the end. I'm feeling kind of sentimental a bit at the moment. It's been four years in the making and finally here we are at the eve of its release. It's very sad."
RM: "You've become a fellowship in real life."
Elijah: "Indeed. That is actually what we'll carry on as these films are over."
RM: "Do you have a favorite scene?"
Elijah: "Oh my God. I don't know. I don't know if I have a favorite moment. In terms of in the film, I'd say probably there's a moment in this film with the hobbits and Aragorn that is very sad – and I won't tell you what it is because I'd ruin the moment. That's actually probably my favorite from all the movies."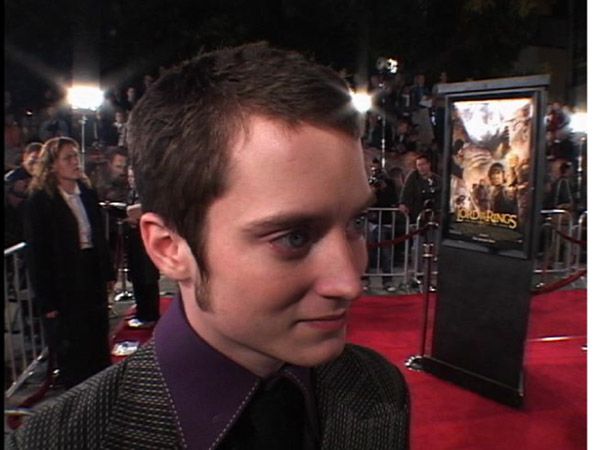 RM: "How did life change after these movies?"
Elijah: "My life hasn't really. I think that the recognize-ability has increased but I go about my life in very much the same way as I would have before."
RM: "How did "The Lord of the Rings" change you as a person?"
Elijah: "It allowed me to grow as a human being. It allowed me to grow into the adult that I am now. I think it's difficult to articulate beyond that."
Access Hollywood: "What took you so long?"
Elijah: "I did Jay Leno and I got stuck in traffic!"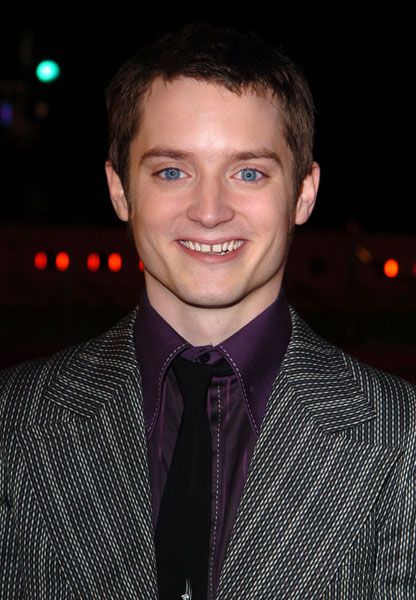 Access Hollywood had asked all the Fellowship members who were there about the famous tattoo. Sadly, pics from the video are too fuzzy to post but it would be a shame to leave out this little exchange:
Access Hollywood to Ian McKellan: "Tell me where the tattoo is."
Ian: "Mine is there – don't ask me where Elijah put his!"
AH to Dom: "Where's your tattoo?"
Dom: "On my arm here."
AH: "Now I've heard Elijah's tattoo is somewhere else."
Dom: "Yes, Elijah's tattoo is right down here. [Exaggerates greatly!!] In the no-no area. In the ah-ah spot!"
AH to Elijah: "What about that tattoo in the no-no spot?"
Elijah: "They said the no-no spot?"
AH: "Yes they did."
Elijah: "Right, well it's sort of – it's below the belt but it's not in the no-no spot! It's on the waist."
AH: "It's in the yes-yes spot?"
Elijah: "Well, depends on how you look at it!!"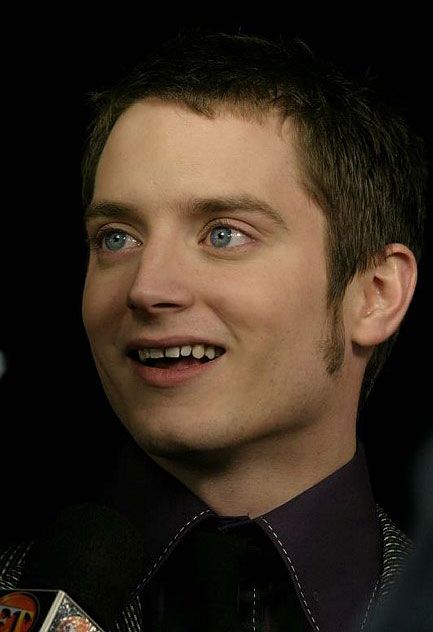 Rather oddly, ET News asked Elijah (and others) to send a message to Gwyneth Paltrow:
"Gwyneth, I don't know you - we were on a plane once, I don't know if you saw me there, I saw you - I didn't want to say 'hi' because I was a little nervous and shy but congratulations and I hope that it's a wonderful pregnancy."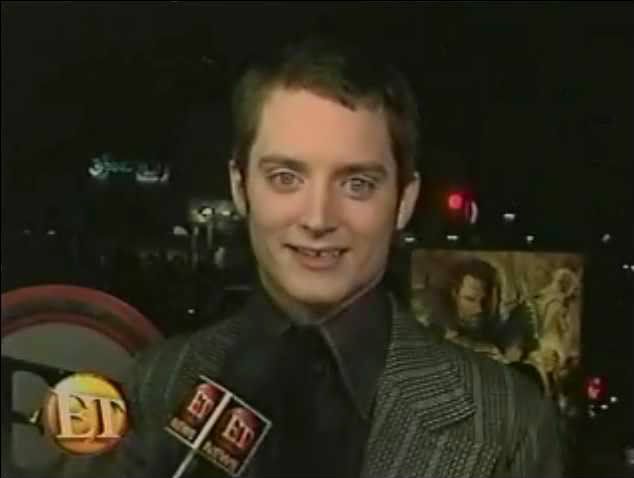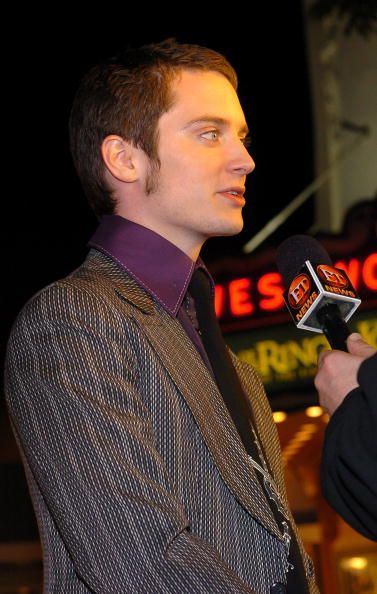 ENews gets Elijah to do their intro!
"Hey, it's Elijah! ENews Live starts now!"



Jason Feinberg, ENews: "A powerful jewel in Middle Earth but very little threat in LA!"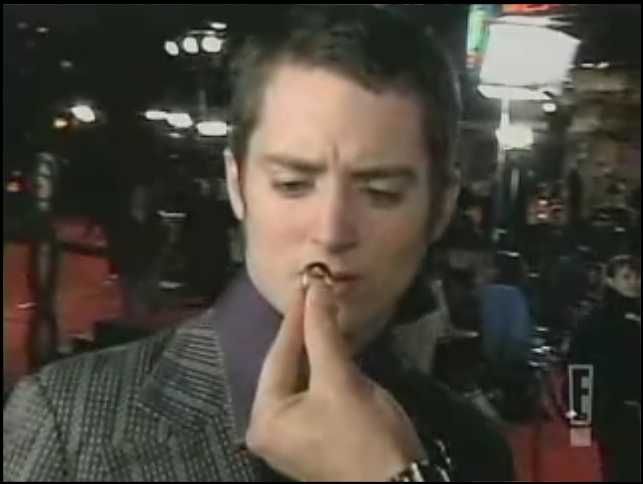 Jason Feinberg: "There's no chocolate in it!"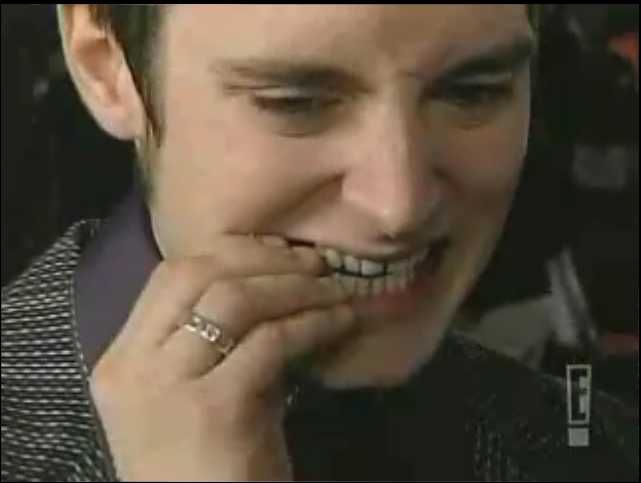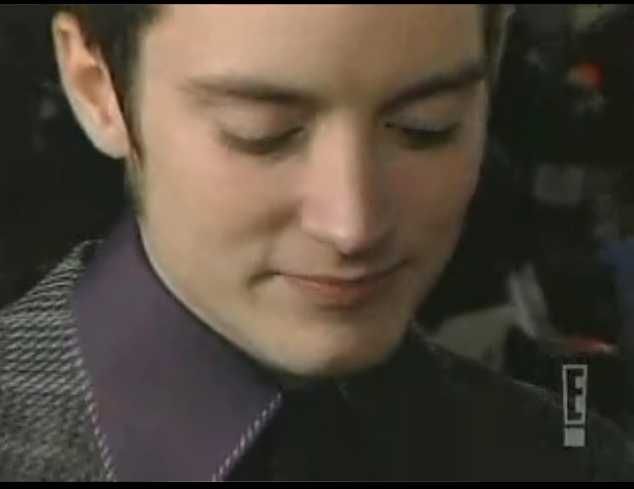 Elijah: "It's plastic folks!!"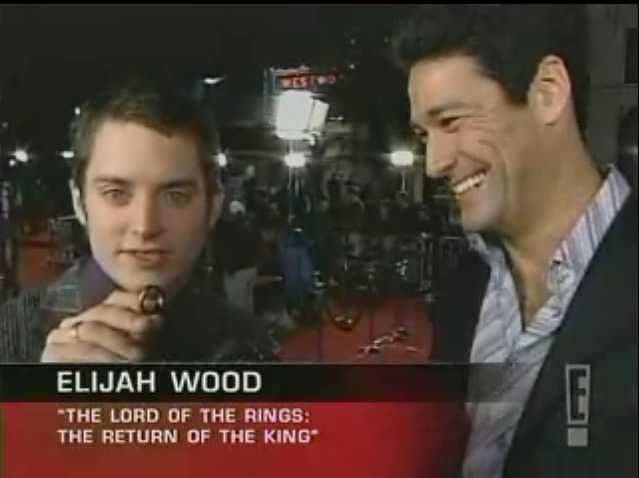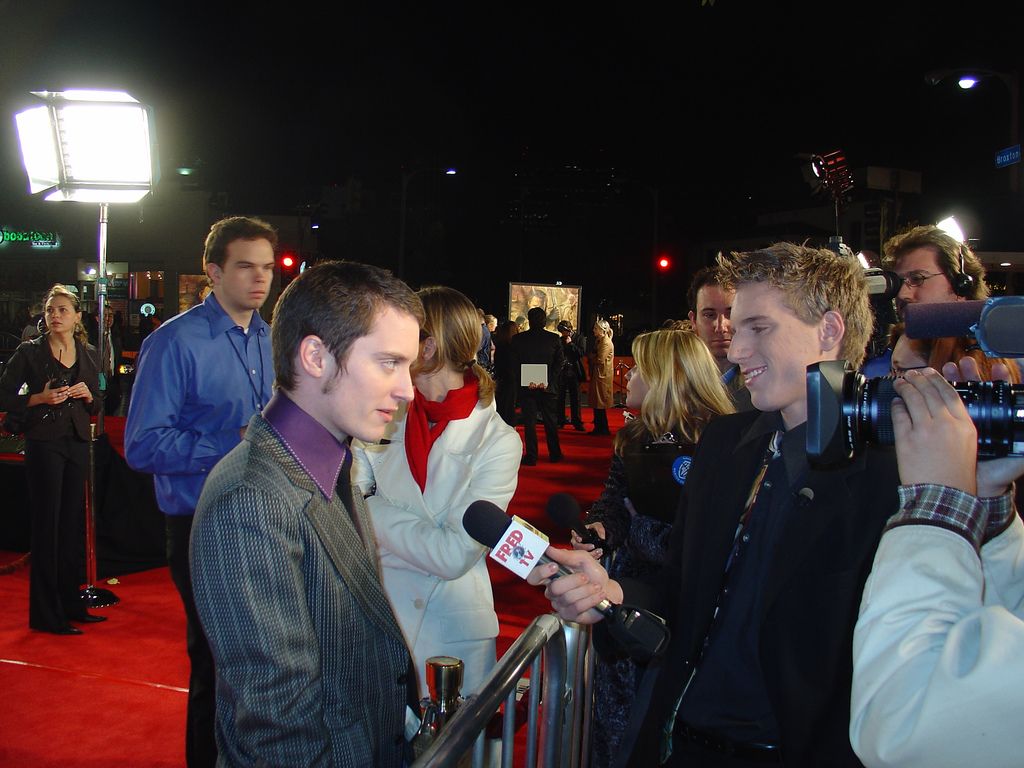 Fred: "I got a chance to talk to the stars away from all this. Check it out!"

Fred: "Oh-oh!" (Two hobbits are creeping up behind Elijah during his interview!!)





Elijah: "3 years ago when we set out to make the movies, did we expect the movies to be nearly as popular as they've become?"




Billy: "Yes, more popular!!" :D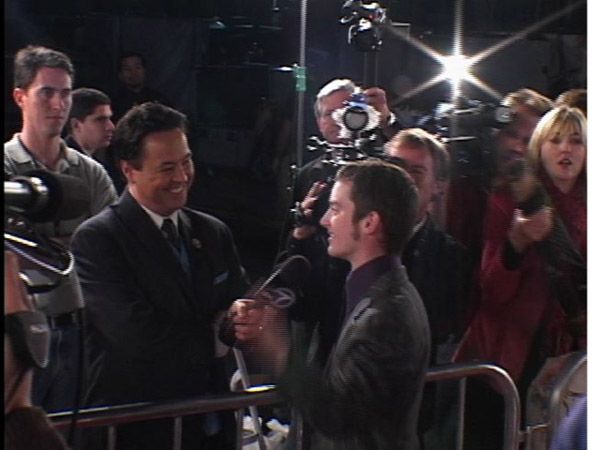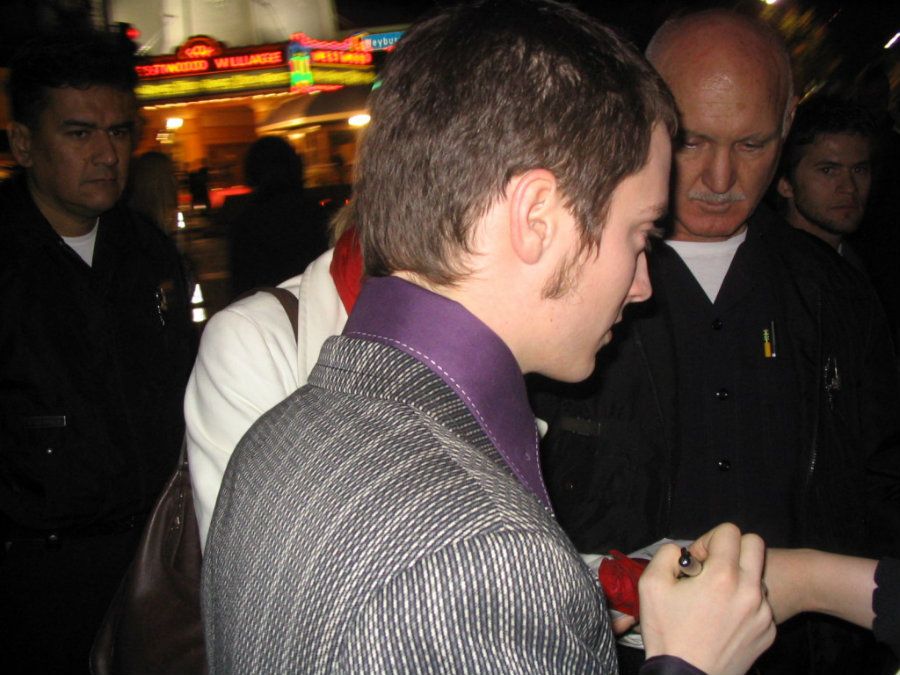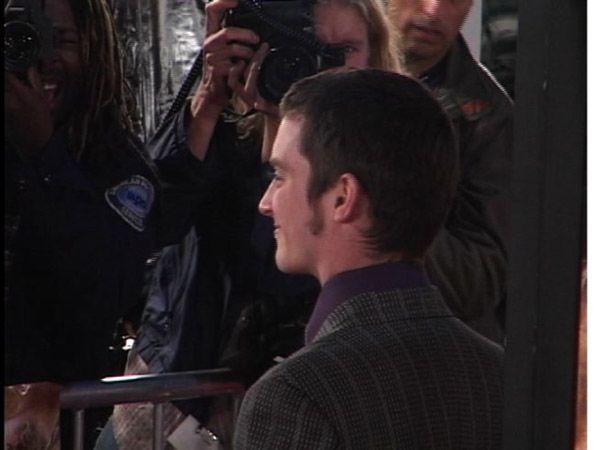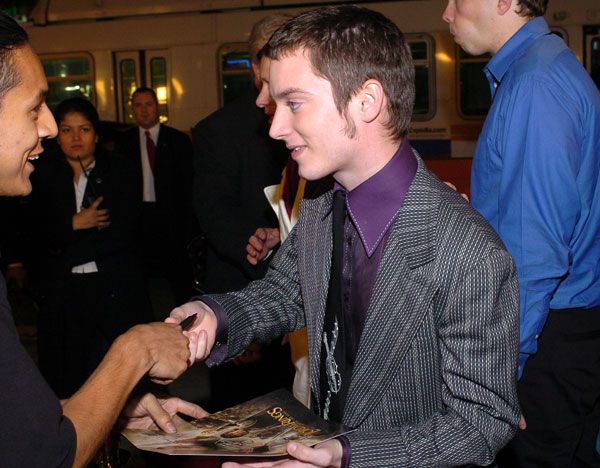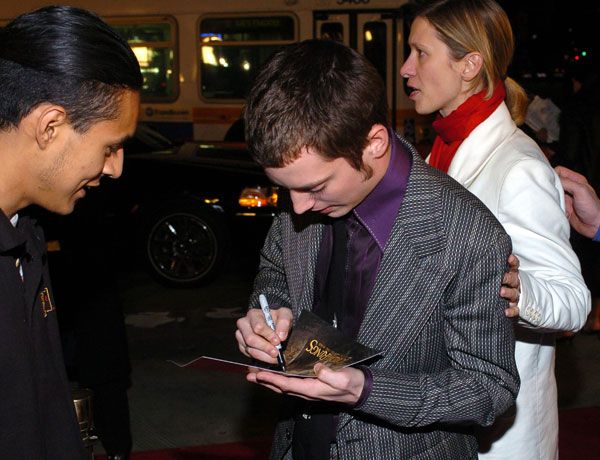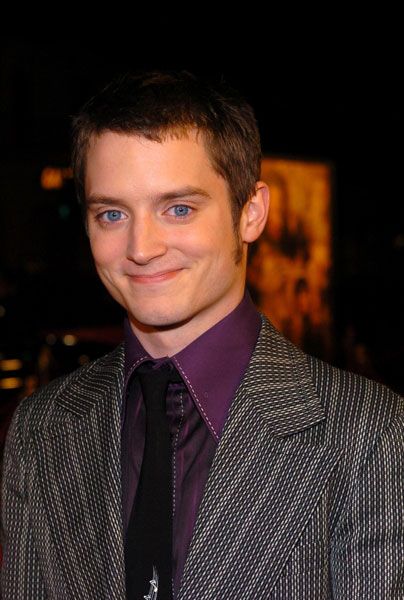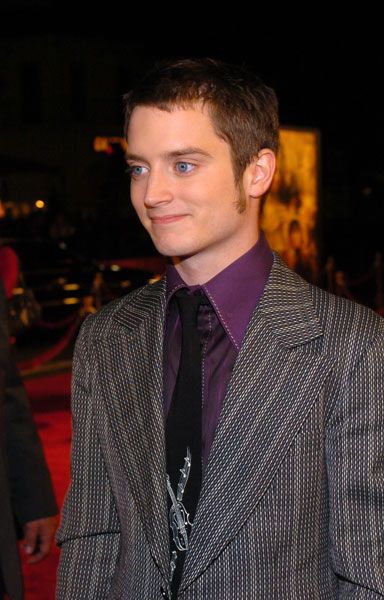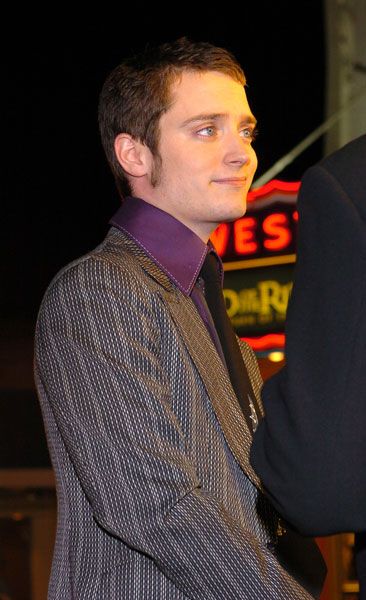 I find this interview with theonering.net quite touching. The stars are obviously being rushed around by their 'handlers' and some of them just said a few quick, snatched words in reply to Torn's request for just one question. But Elijah, bless him, recognised how important this interview was, Torn representing the LOTR fans. He stumbles quite a lot over some of his words which is very unlike him but to me it seems that, although under pressure to hurry, he is searching for the right words to best describe his feelings at this momentous time, determined to do it justice.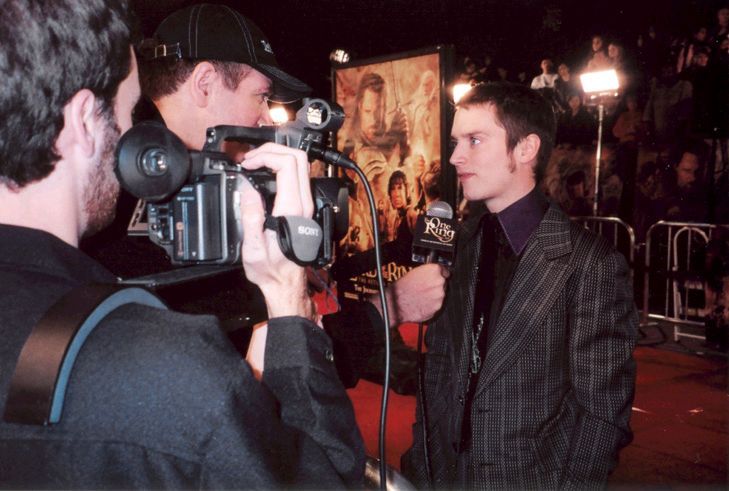 David Baxter, theonering.net: "What has it meant for you to be a part of this and to finally reach its end? And you have an hour to tell us."
Elijah: "Oh right - no kidding! I need a little bit more time! It's a life-defining four years, to have been asked by Peter Jackson to join this adventure. It was a once in a lifetime opportunity that he was giving me and it has meant so much, so much that I can't even begin to articulate, to my life and it has informed upon my life and has given me some of the greatest friends of my life, and so on and so forth. It really is special now that we stand at the brink of the release of the last movie, it's very sad to not be allowed to carry on, you know.
DB: "Well, all the fans at theonering.net - you know how they feel about you so is there anything you want to say to them - the last time on the red carpet for a Lord of the Rings movie?" [Not strictly true, there was still Japan!]
Elijah: "Oh my God! Jeez! Well apparently this is the last time on the red carpet for a Lord of the Rings movie and I'm going to say goodbye to all the fans or - a message to all the fans, my God -I don't know what to say, you've all been so unbelievably supportive over the last four years and it touches all of us and I want you all to know that we're all aware of your presence and of the fact that you do care and thank you so much and thank you for understanding the element of family that has embodied the film because it seems to have extended to you, so thank you."
I think he looked quite emotional at the end of the interview.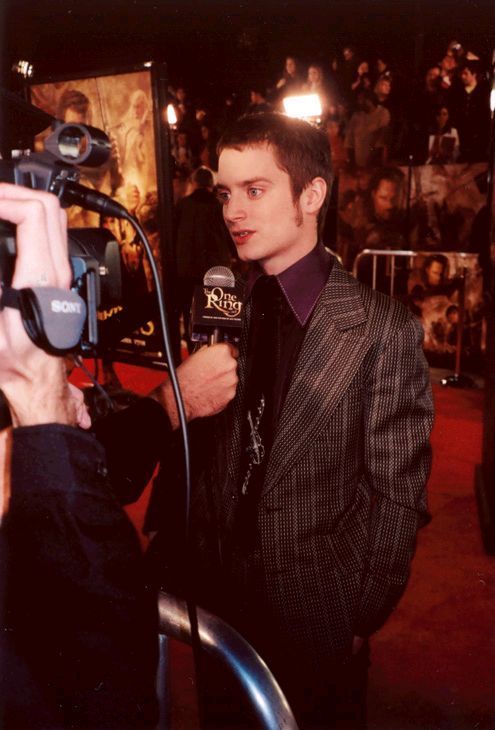 Meeting up with Dom:




Dom: "Elijah's a cool guy. I think the thing that linked Elijah and I together was that we have an intense, geek-like love for music. We can both sit around and talk for hours and hours about Coldplay, Eminem & Radiohead.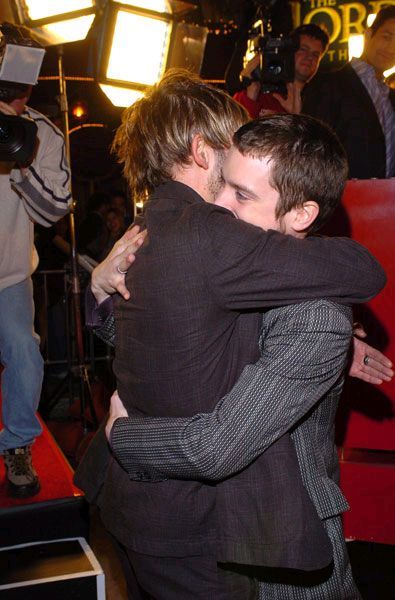 Dom: "I'm sure that in casting us all they must have asked themselves: 'Can these people survive this ordeal? Do they have the strength of character to get through a year and a half together?' But we did! Elijah was inspiring because he was so incredibly resilient and hard-working." (The Making of the Movie Trilogy)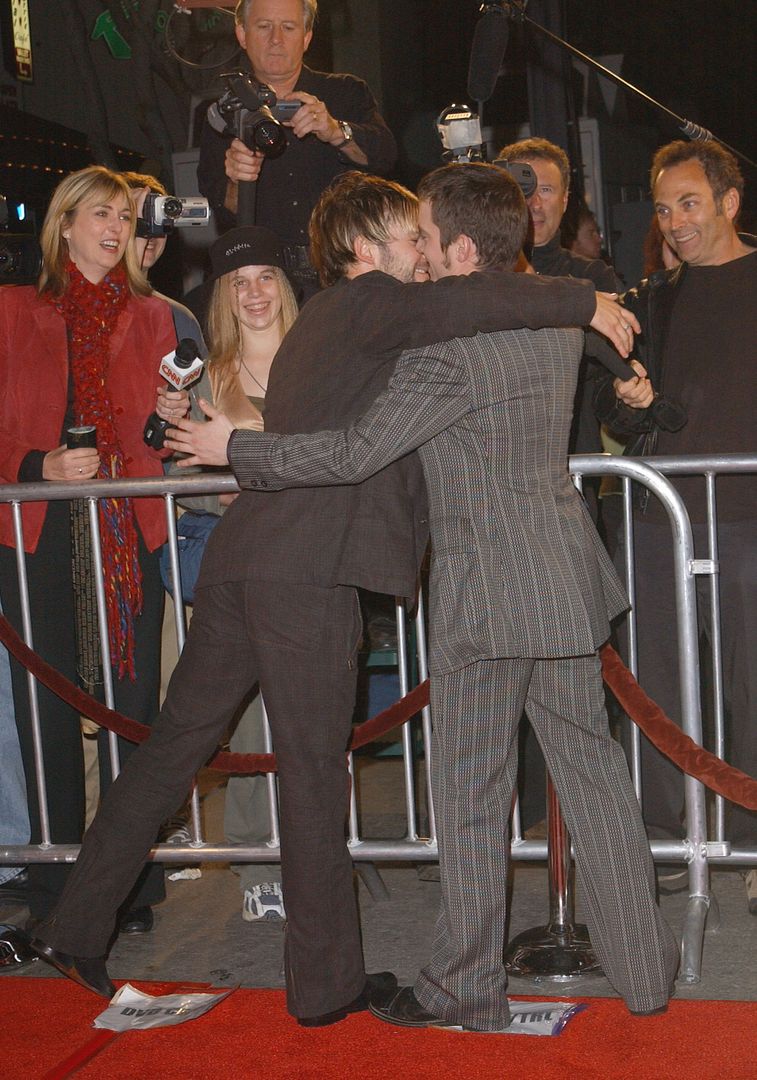 Dom: "We are so close and connected, especially the four Hobbits. We still meet up when we can. We all went through this weird experience together that I think will always tie us together. There are only eight other people in the world that know what I got up to in those 18 months."
(UK Telegraph)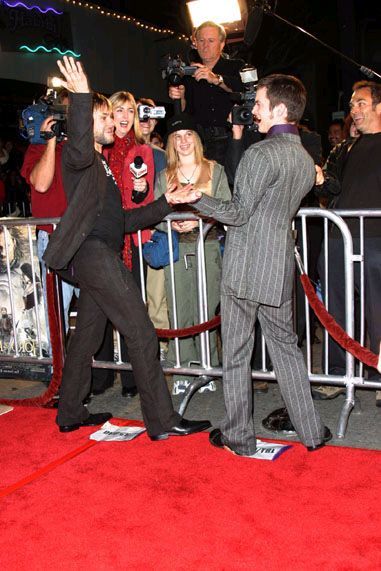 Dom: "Elijah's great, I get a lot of questions from young ladies about Elijah. He's a really sweet guy. He's done a lot of jobs and is very experienced, but he's very sweet. Lovely, Lovely man. (tv interview)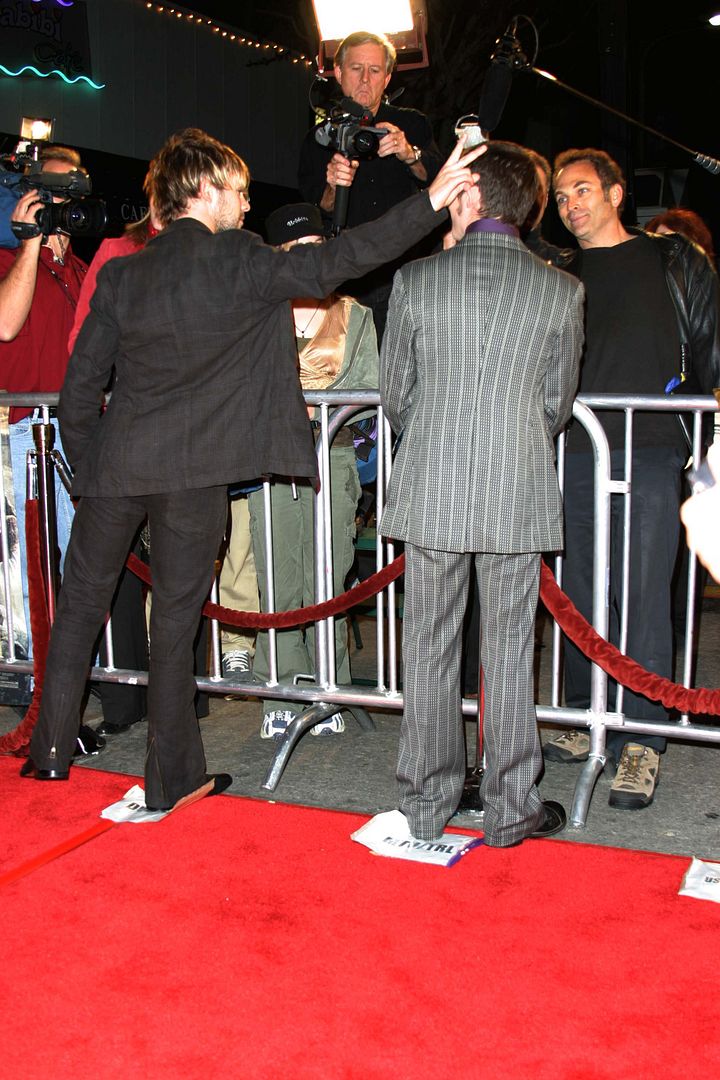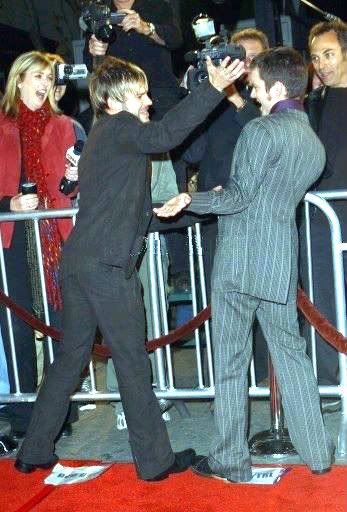 The Photo-call: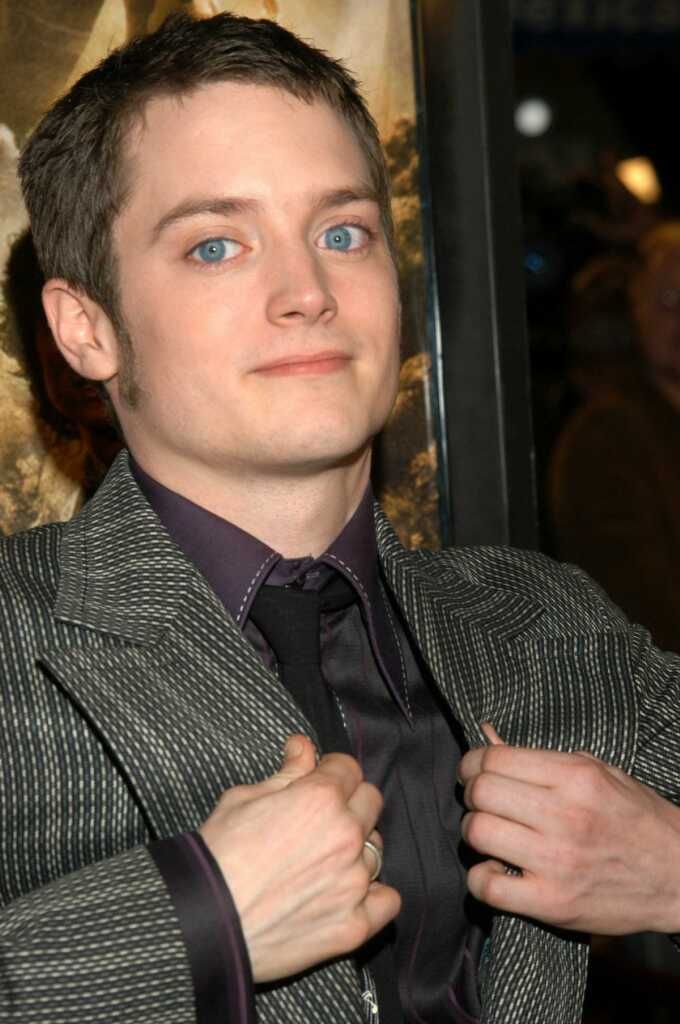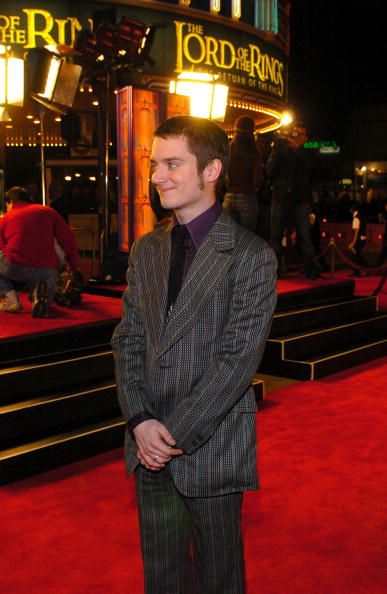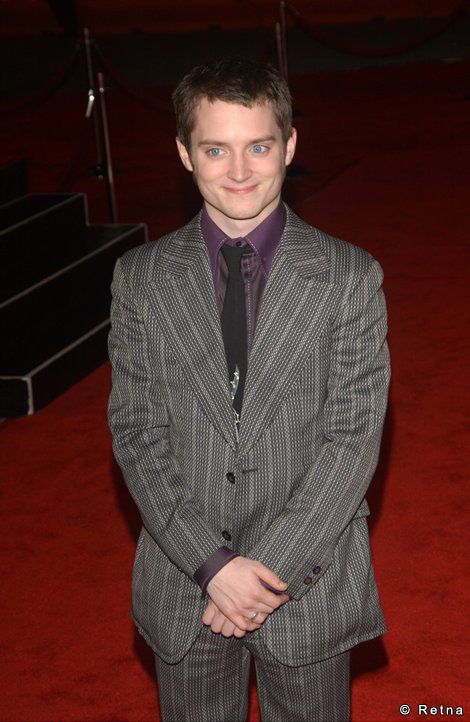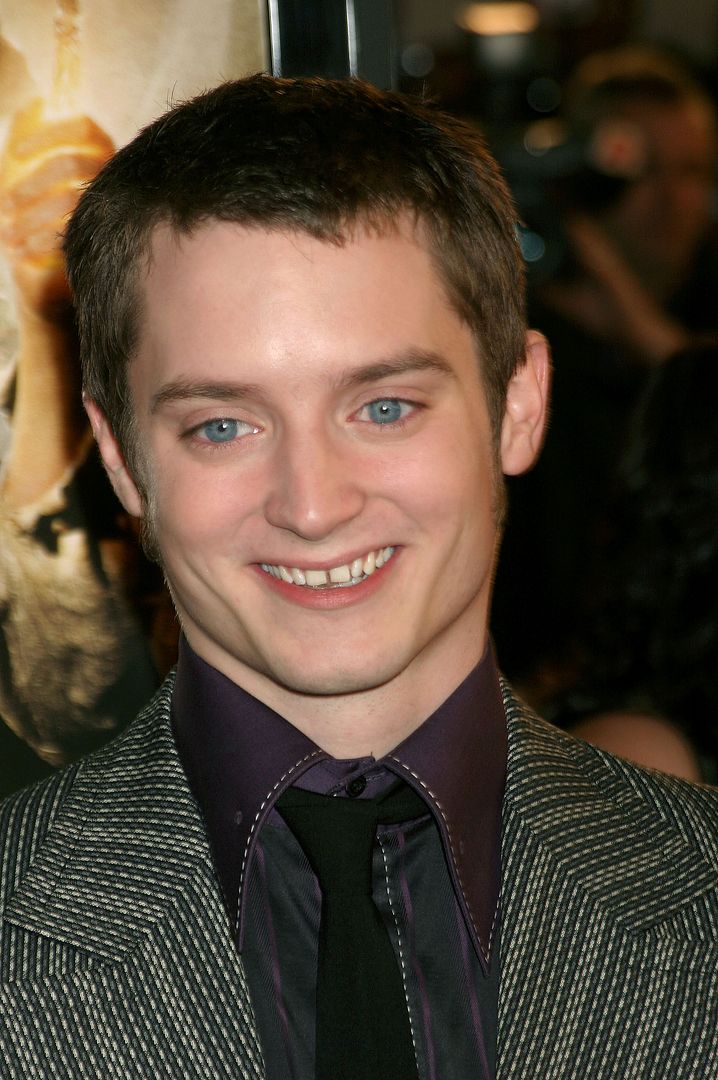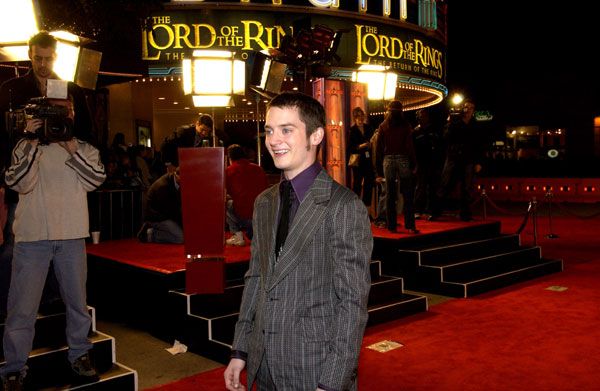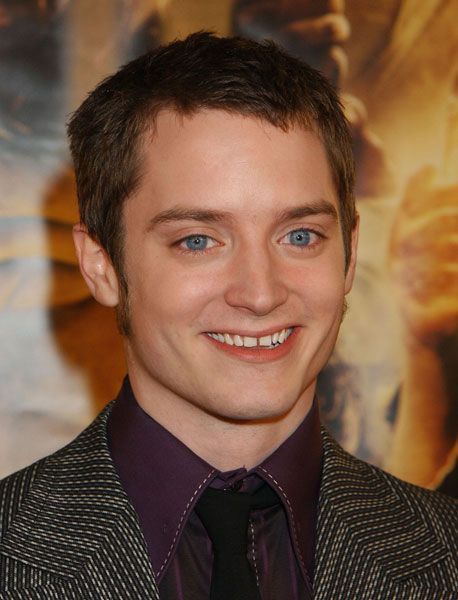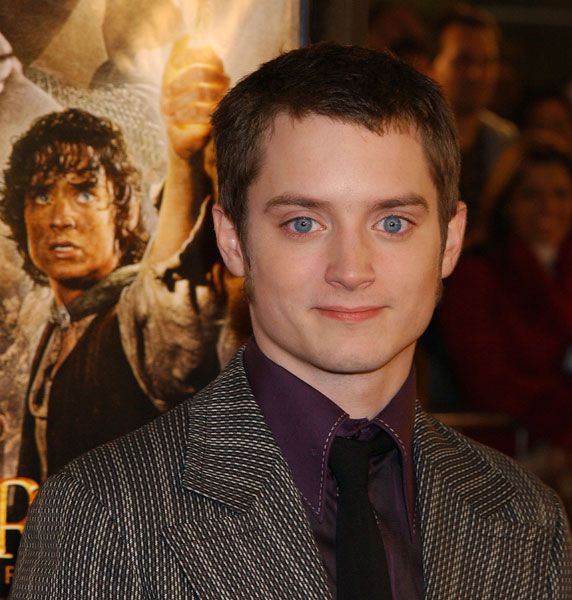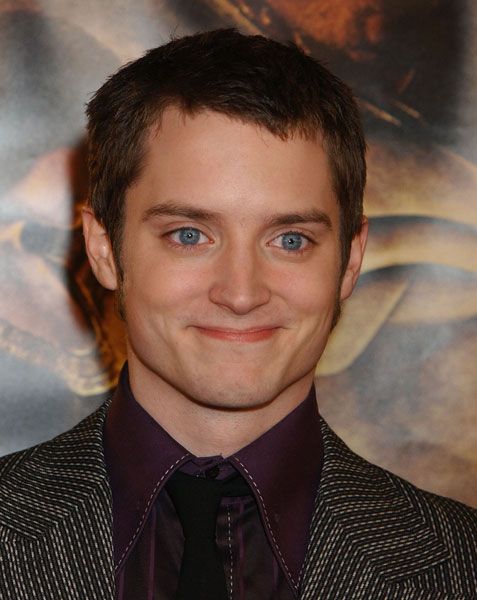 Finally going in to see the film. I think Elijah is eyeing Sean's popcorn!!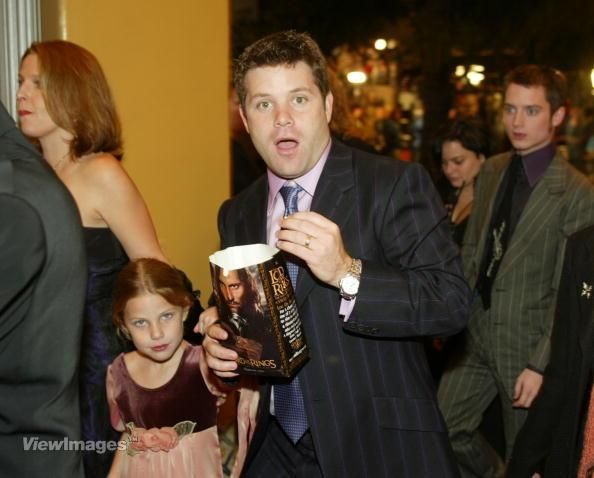 The Afterparty: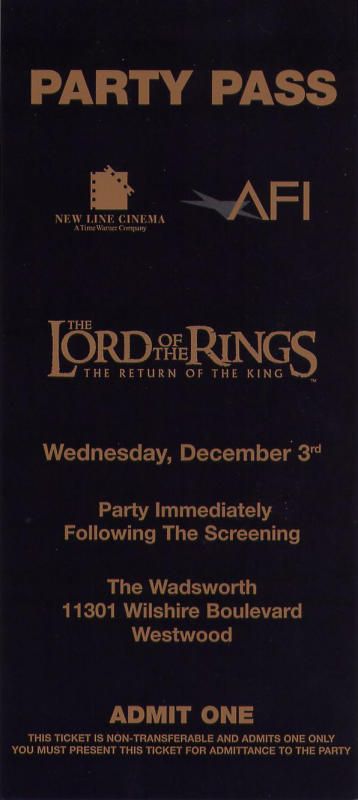 That face looming over Elijah's shoulder looks very familiar! I believe Elijah took this himself.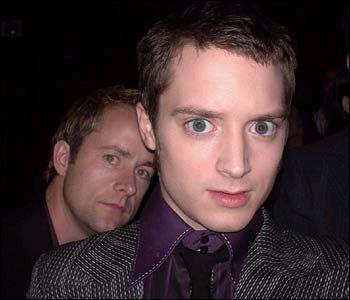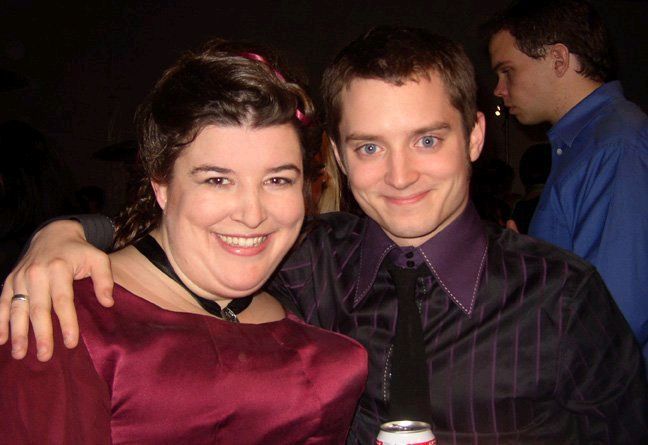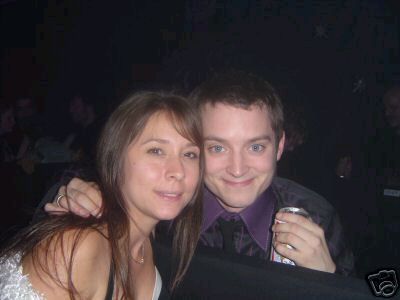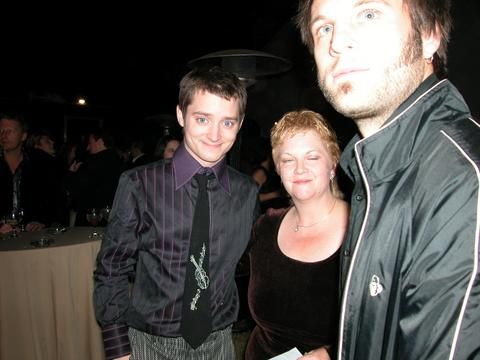 From Premiere Magazine:
"In almost every group of friends, there is a loose cannon, the naughty one who draws the others to the edge of bad behaviour. In Tolkien's group of four hobbits, however, there is no such individual. Among the actors who play them, there's Monaghan.

"Dom is a rake," Astin says, with mock foreboding. "A rapscallion." Or, as Wood says, "There's a virile swagger to Dom. He also brings a certain amount of cool and style that's dfferent from everybody else."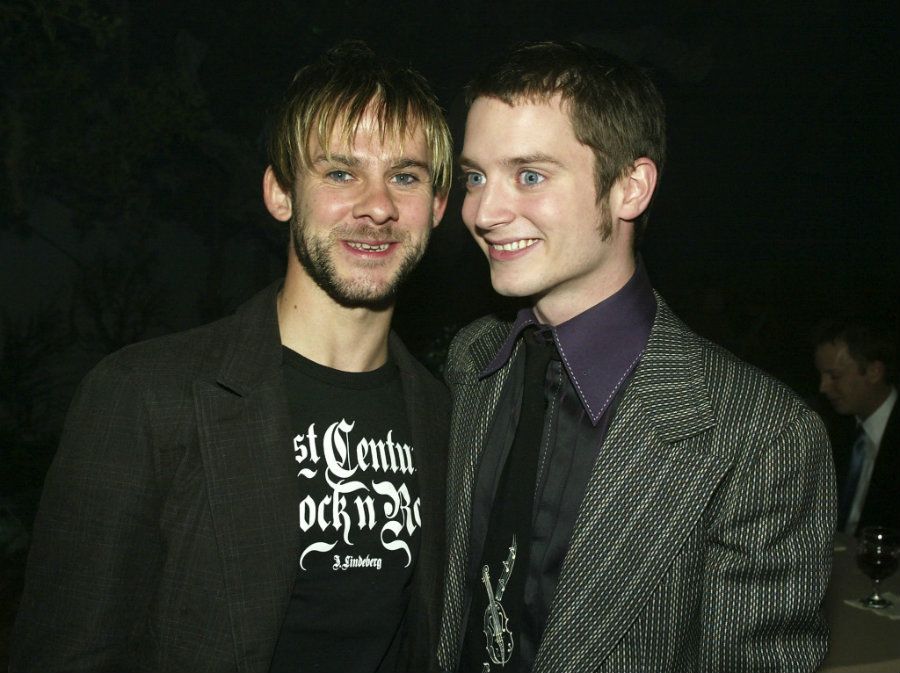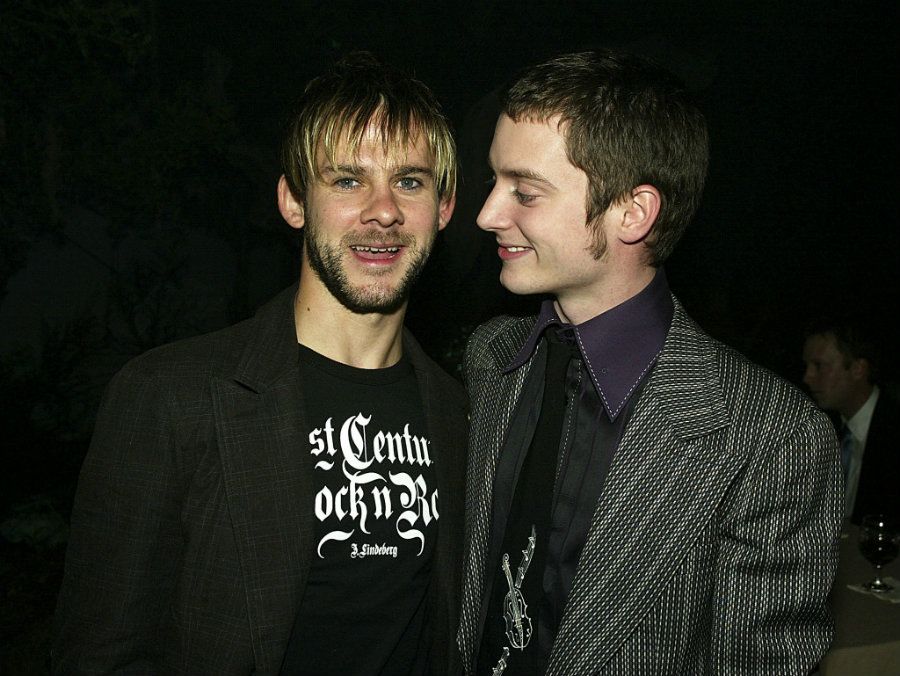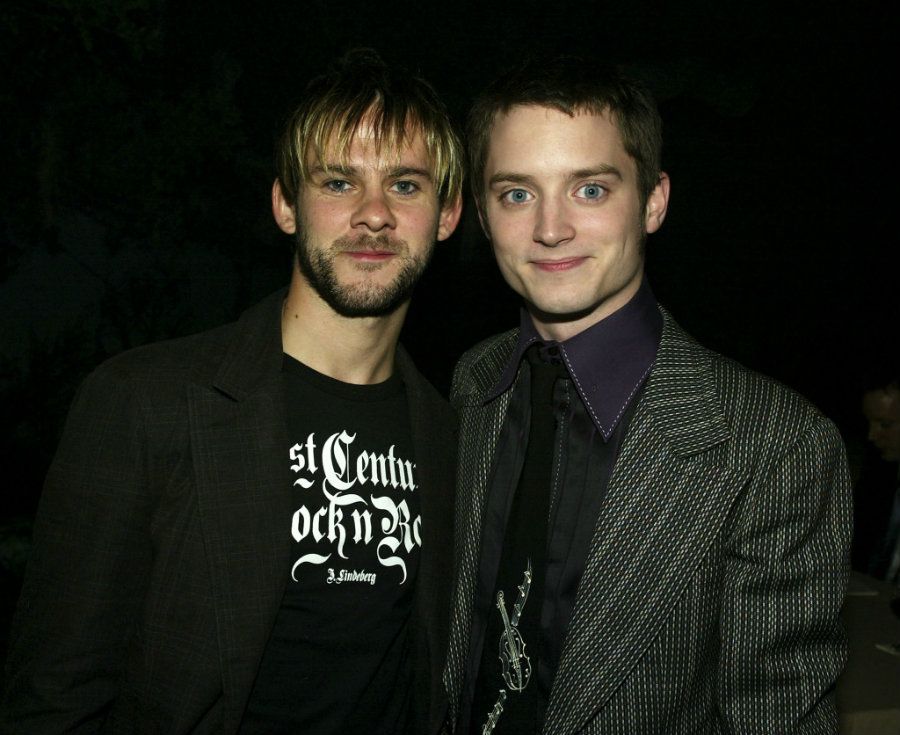 ---
Frodo's Journey Continued: Wraiths With Wings
(All comments from dvd commentary unless otherwise stated)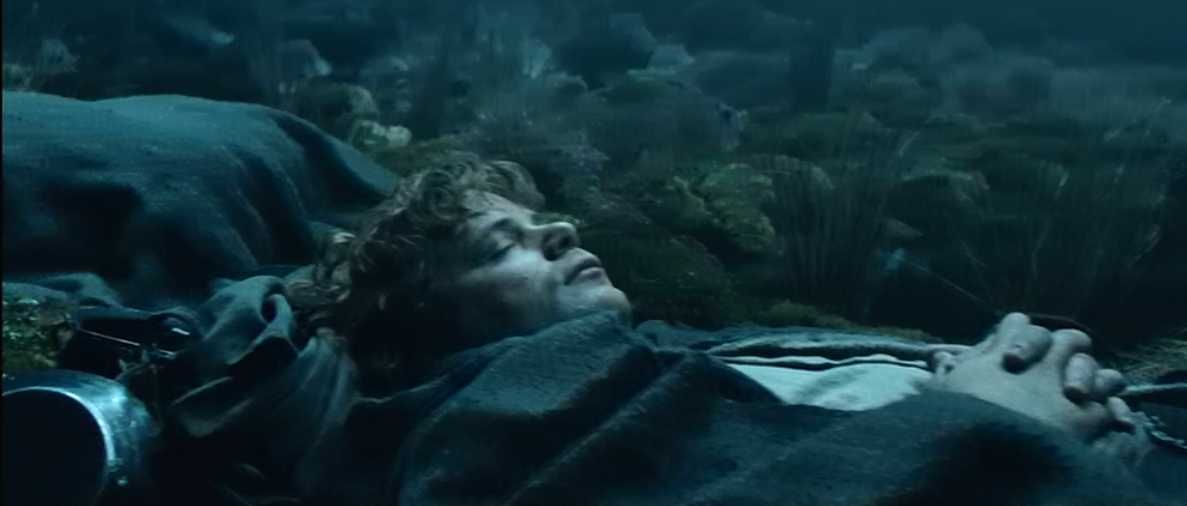 Peter Jackson: "This was a scene that we shot as a pick-up early in the editing of The Two Towers – we felt that we didn't have a strong moment of Frodo and the Ring because unlike the Fellowship of the Ring, where he actually puts it on two or three times and so you have that real impact of what happens in the twilight world – in this film he never puts the Ring on so in a way we hardly ever see the Ring. The scene develops into a really nice connection between Gollum and Frodo."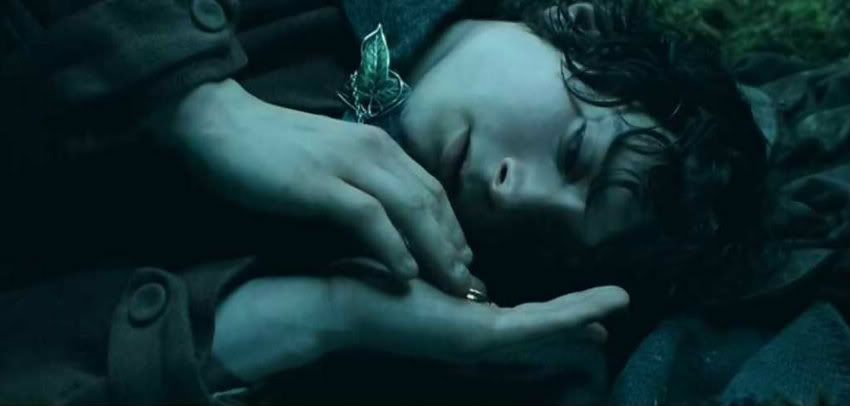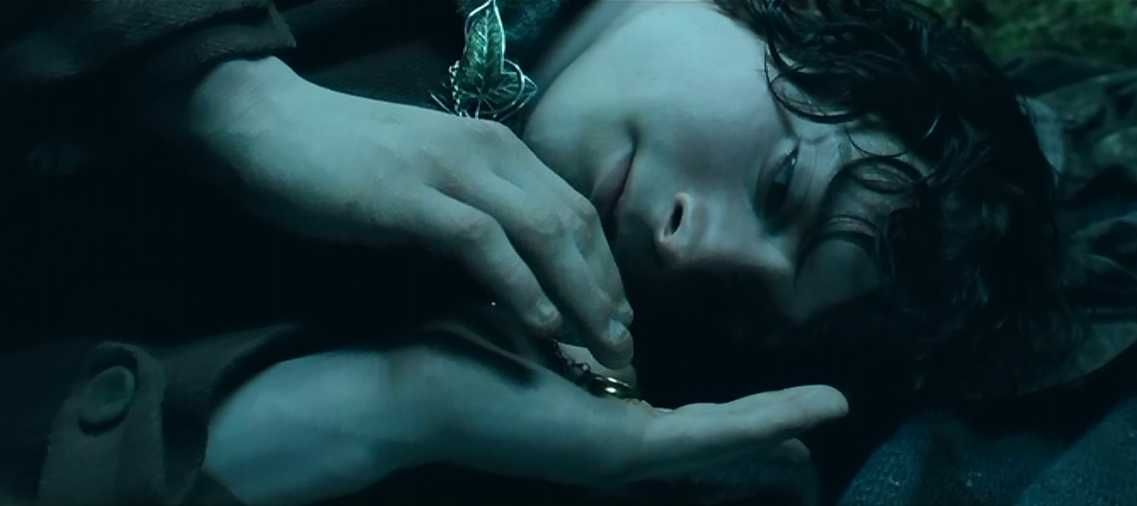 So bright.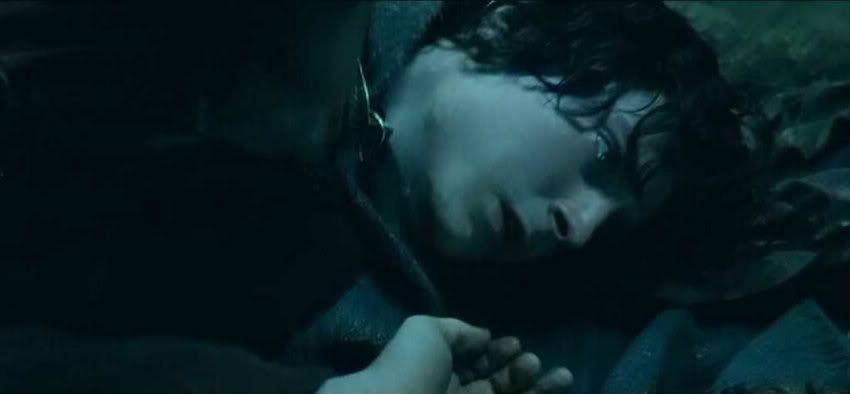 So beautiful.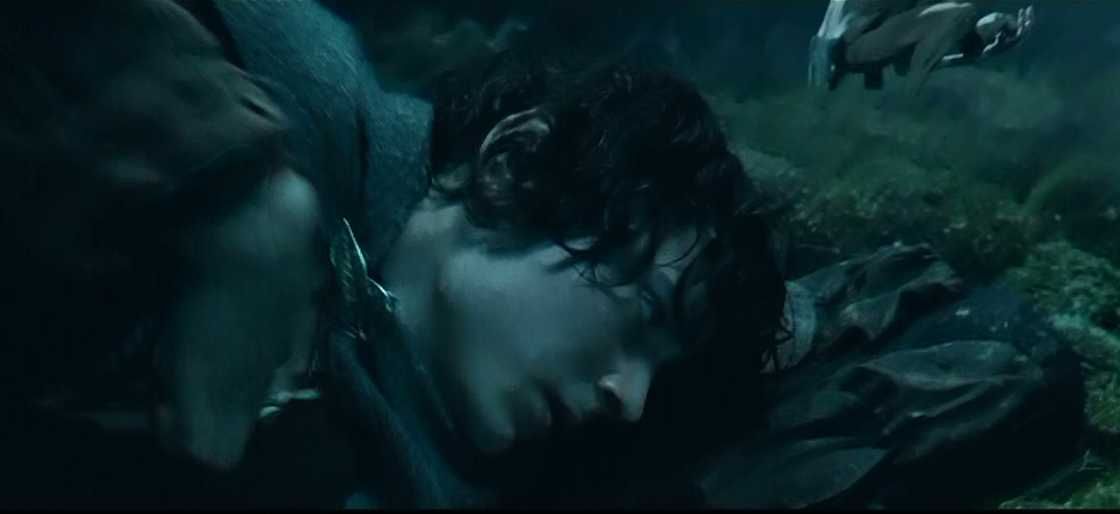 Our Precious!

Philippa Boyens: "We thought it would be really creepy actually – I think this was your idea Fran – that Gollum knows when he's looking at the Ring – knows exactly."
PJ: "He's rubbing his hand because he almost feels the Ring in his hand like Frodo is looking at it in his."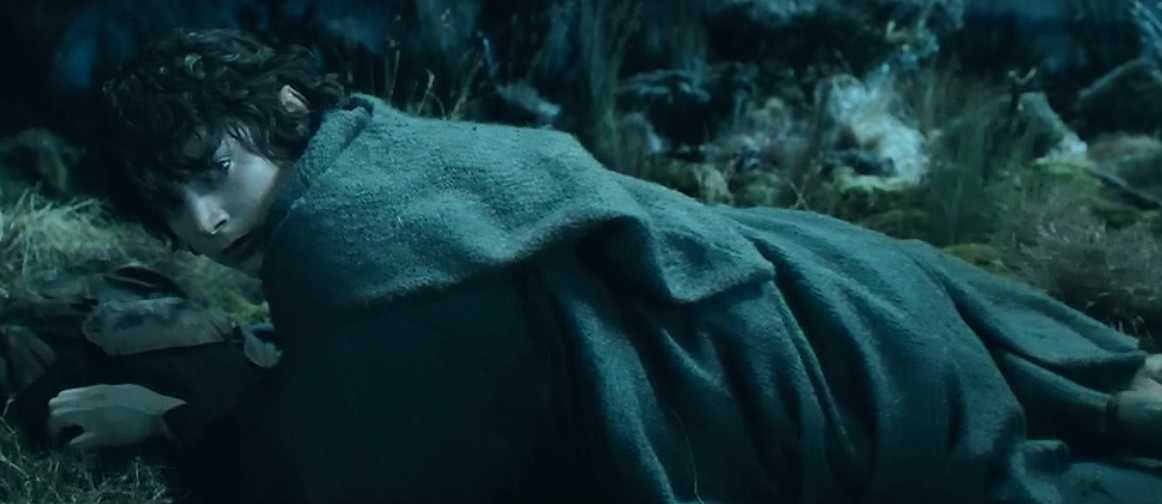 What did you say?

Elijah: "I remember the first time I saw this film, and it's always such a nerve-wracking experience to see it laid down the first time, it's overwhelming 'cos there are so many things coming at you and it's such a dense part of the story – well each part of the story is dense – but with Gollum I just remember the relief of feeling so emotionally attached to the character as a viewer, as an audience member, and really feeling horrible for him and I was so struck and relieved that I did, that I made that connection."


Master should be resting.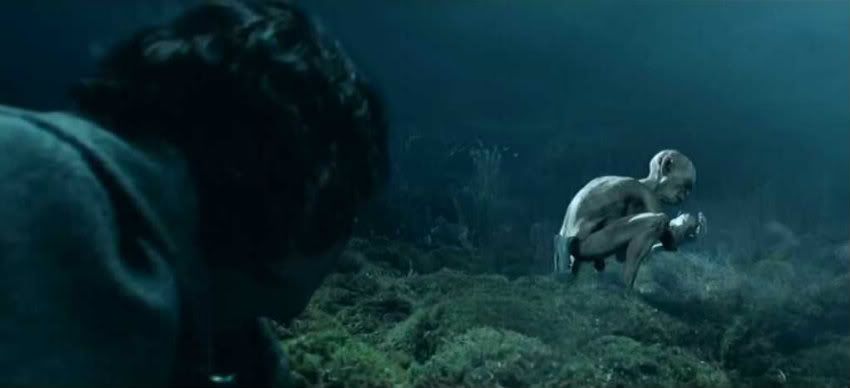 Master needs to keep up his strength.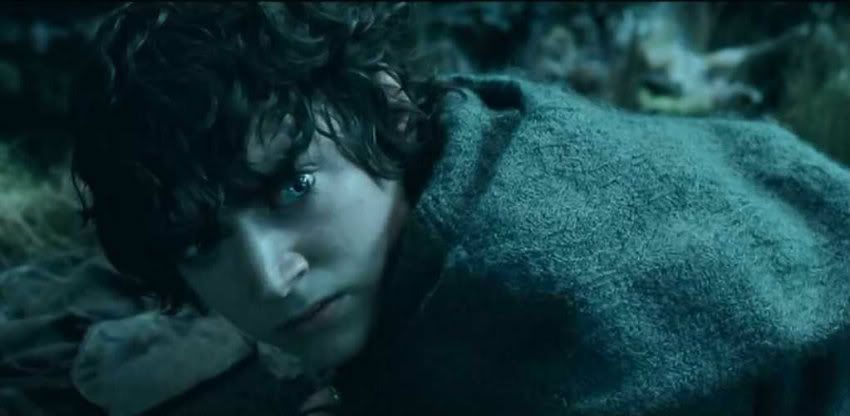 Who are you?



Musn't ask us. Not its business. Gollum! Gollum!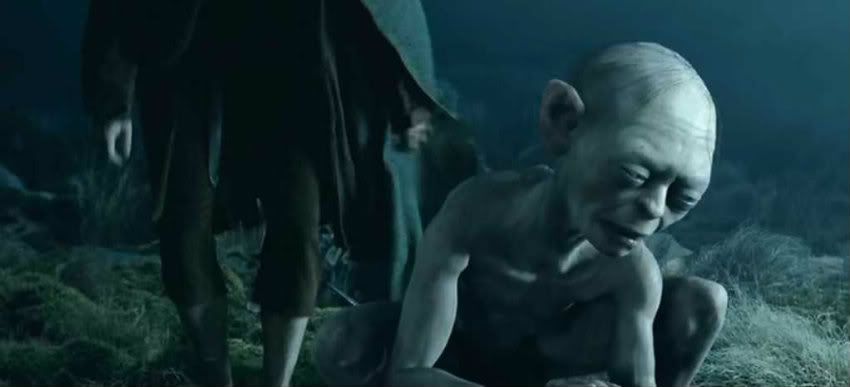 Fran Walsh: "What's really interesting about this scene to me is that it starts off with Frodo very much at a disadvantage, on the back foot if you like, and Gollum's almost taunting him about his knowledge of the Ring and what it's doing to Frodo, and Frodo turns it because he too has knowledge and he starts to reveal what he's learned of Gollum's background and who he used to be and disarms him by the end of the scene – disarms him quite considerably and really that's the time when we see this character of Smeagol, it's kind of bringing him forward."
Gandalf told me you were one of the river-folk.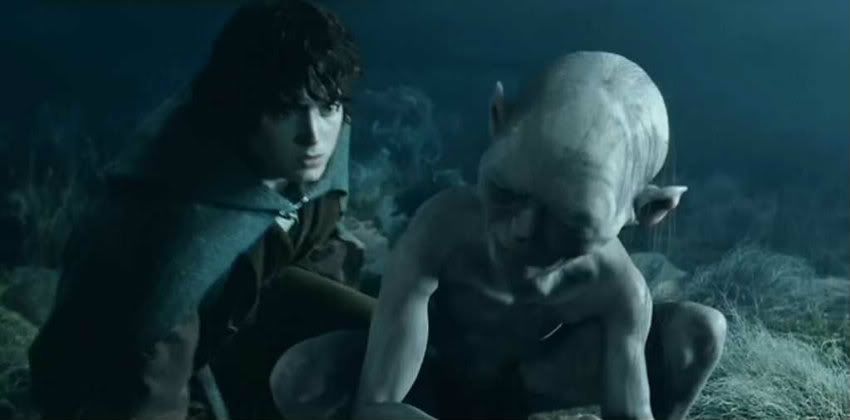 Cold be heart and hand and bone.
Cold be travellers far from home.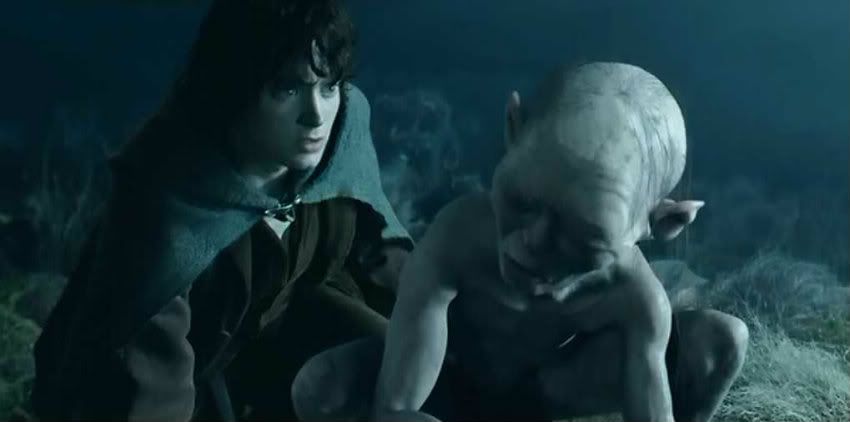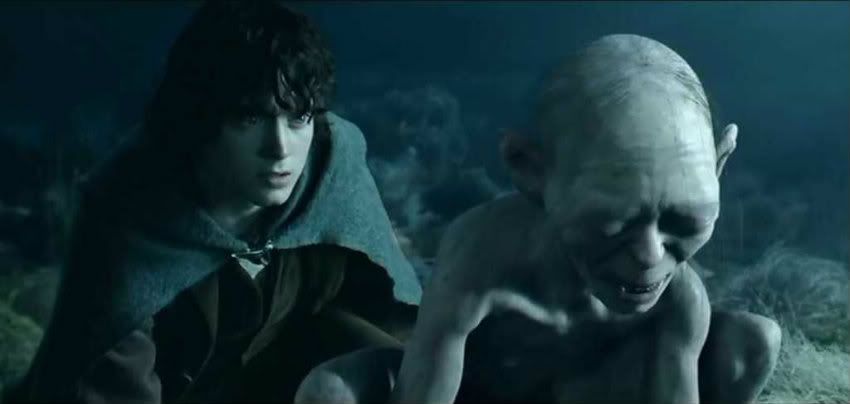 They do not see what lies ahead
When sun has failed and moon is dead.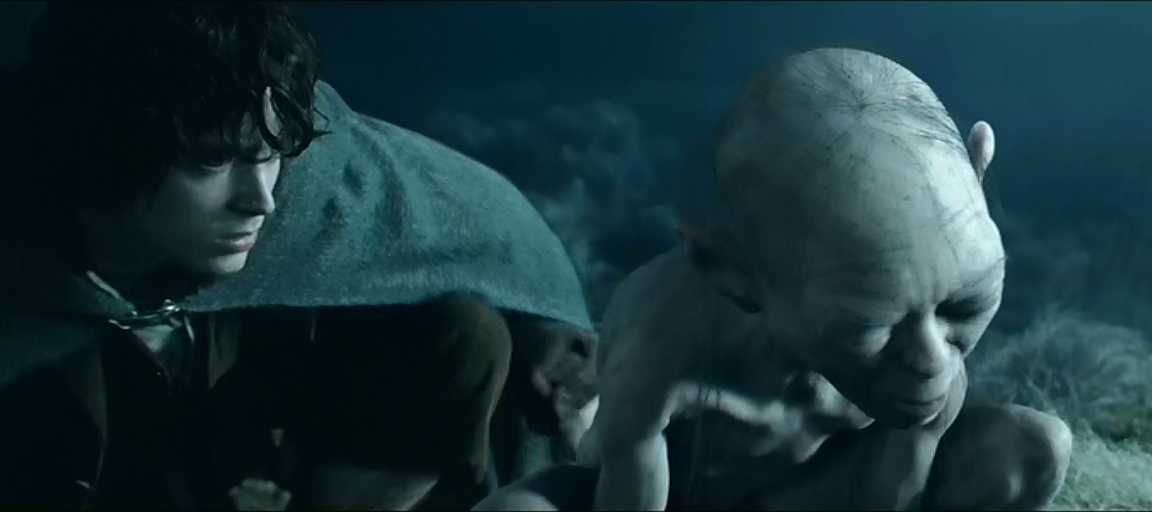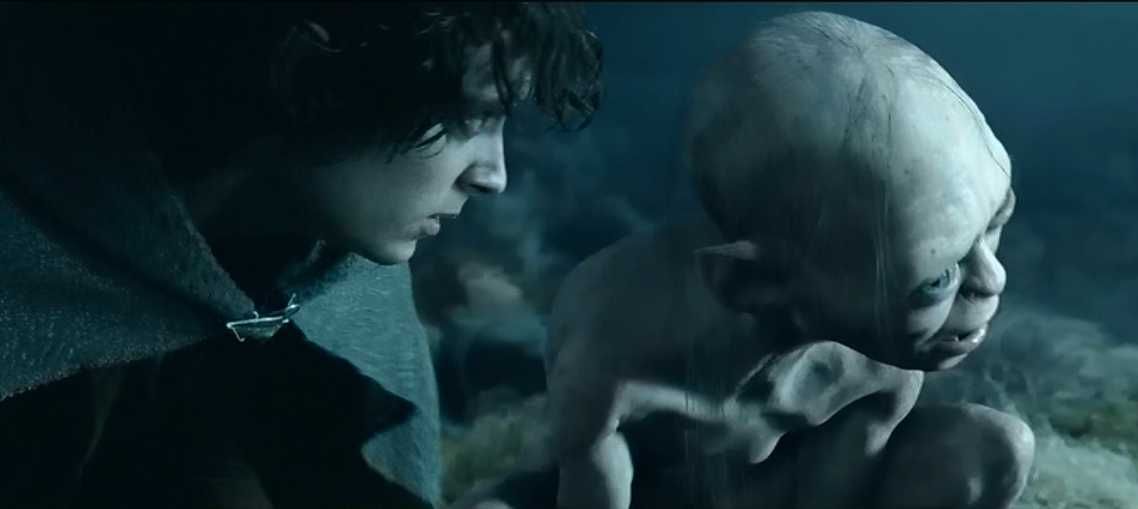 He said your life was a sad story.

Alan Lee: "Frodo's actually talking to this orange ball that was perched on this camera thing so that he could keep his eyes on the same spot. It's very important to keep a focal point for the eye – if he is just looking straight out into the distance then you can tell he is not focussing on something that's just a couple of feet away."


You were not so very different from a Hobbit once.



Were you?



Smeagol.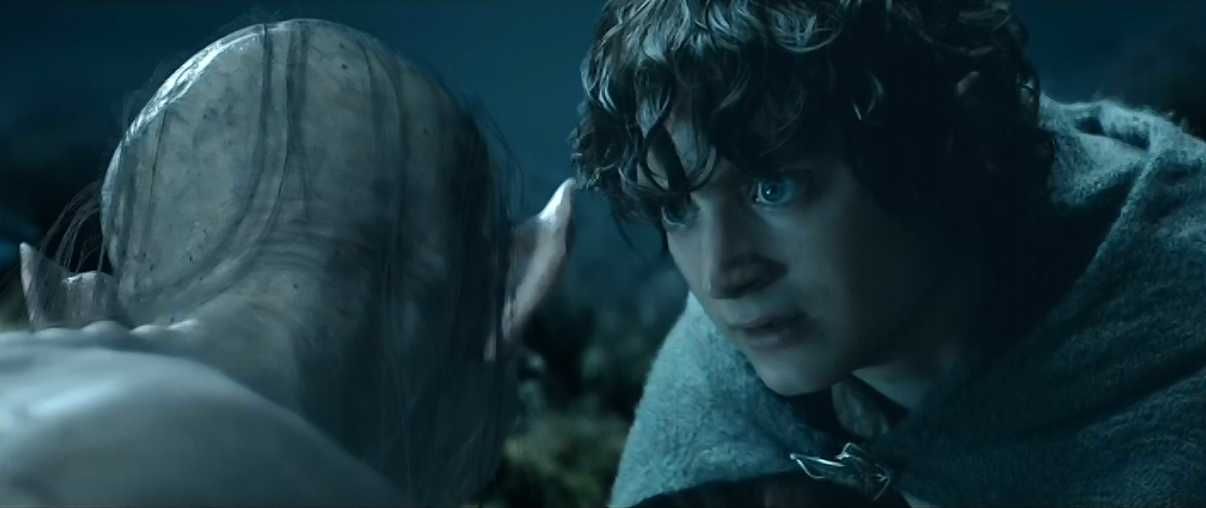 What did you call me?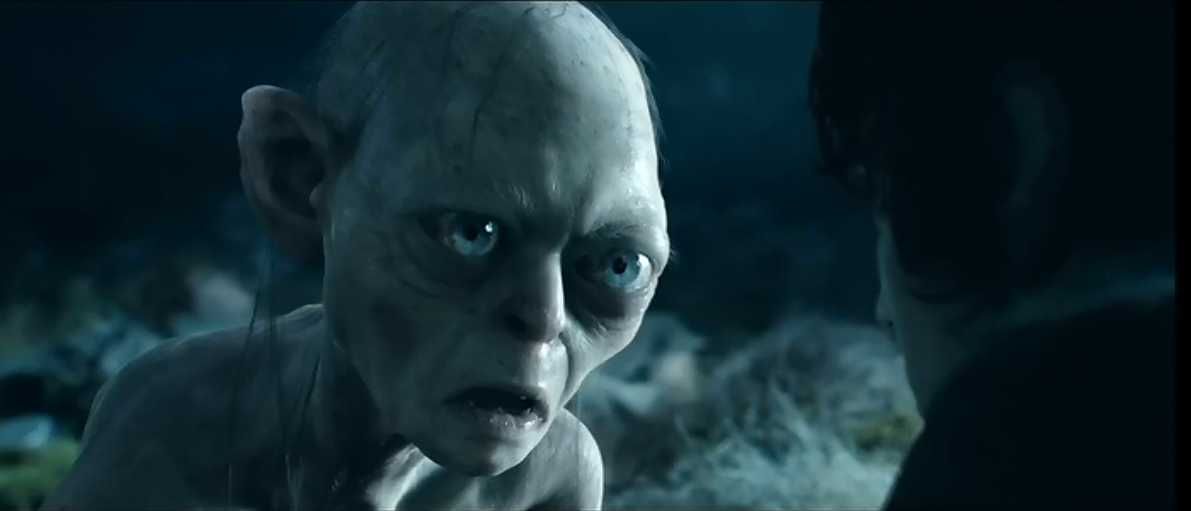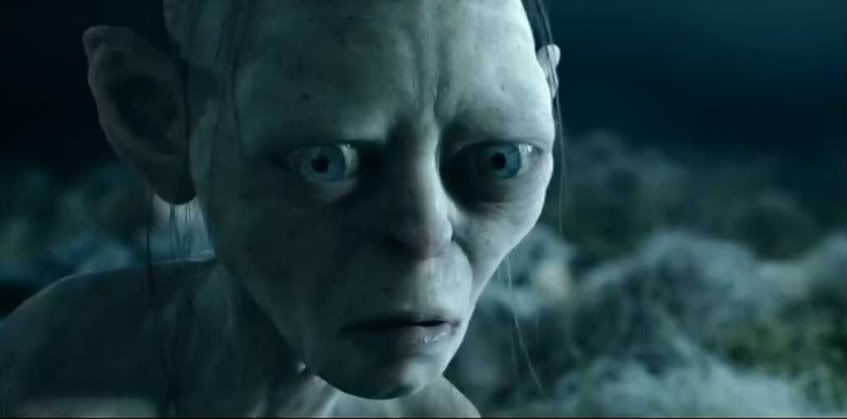 That was your name once, wasn't it? A long time ago.



My name.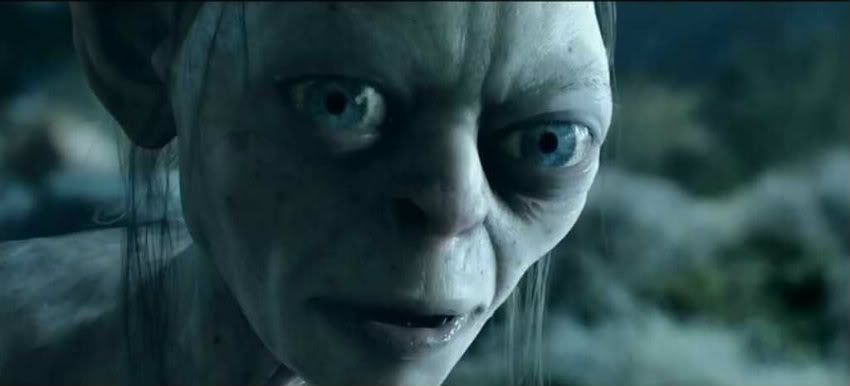 Smeagol.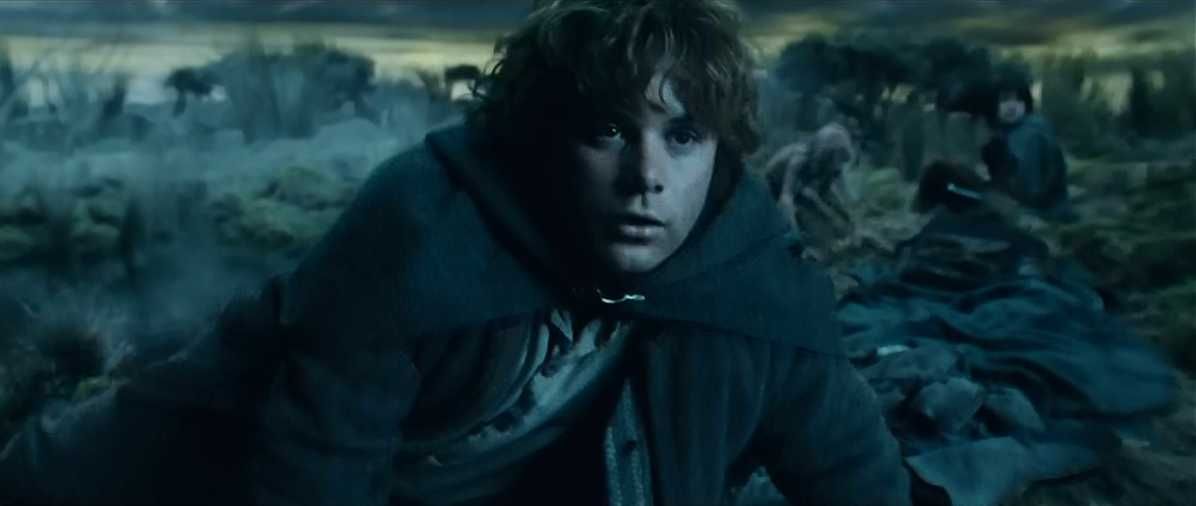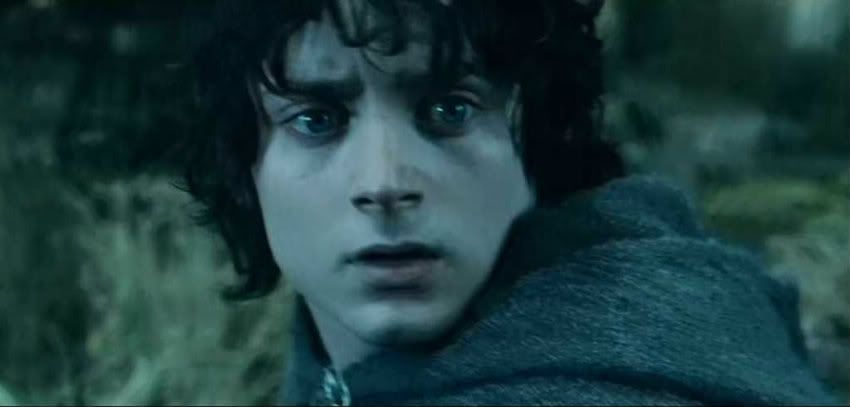 Black Riders!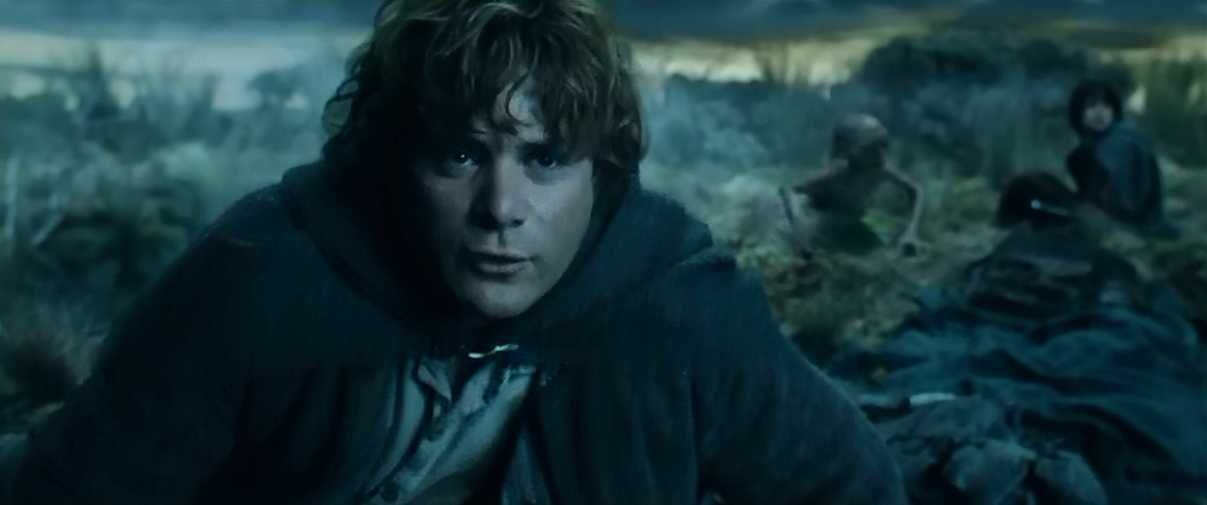 Hide! Hide!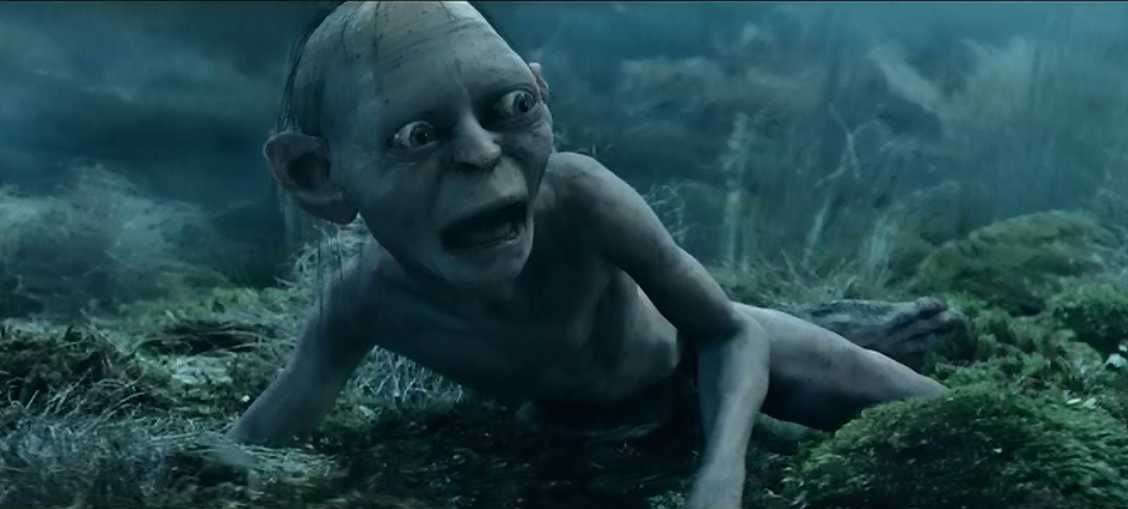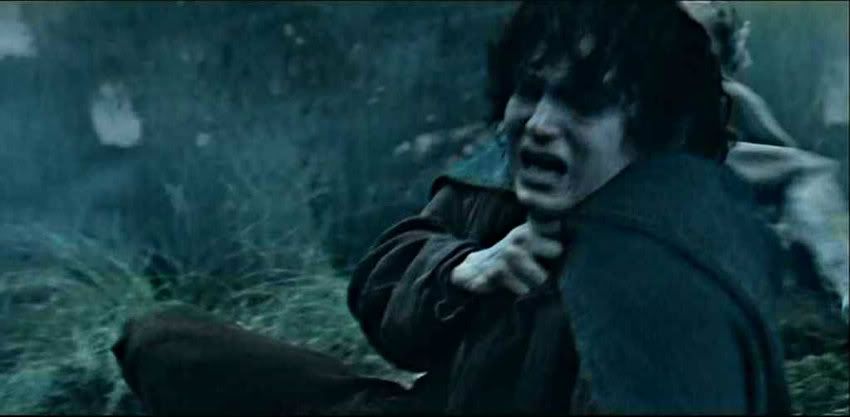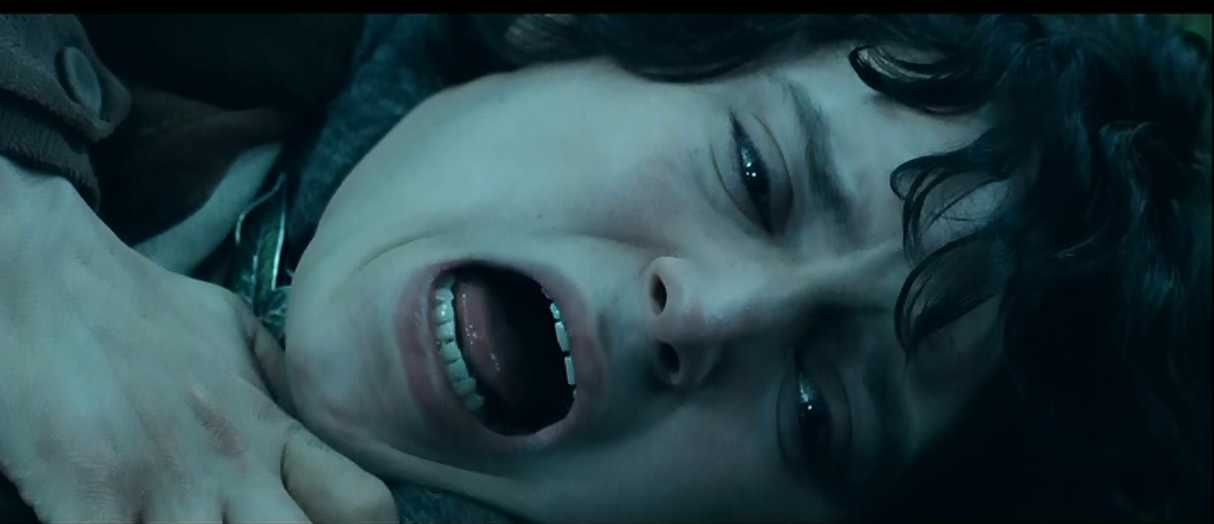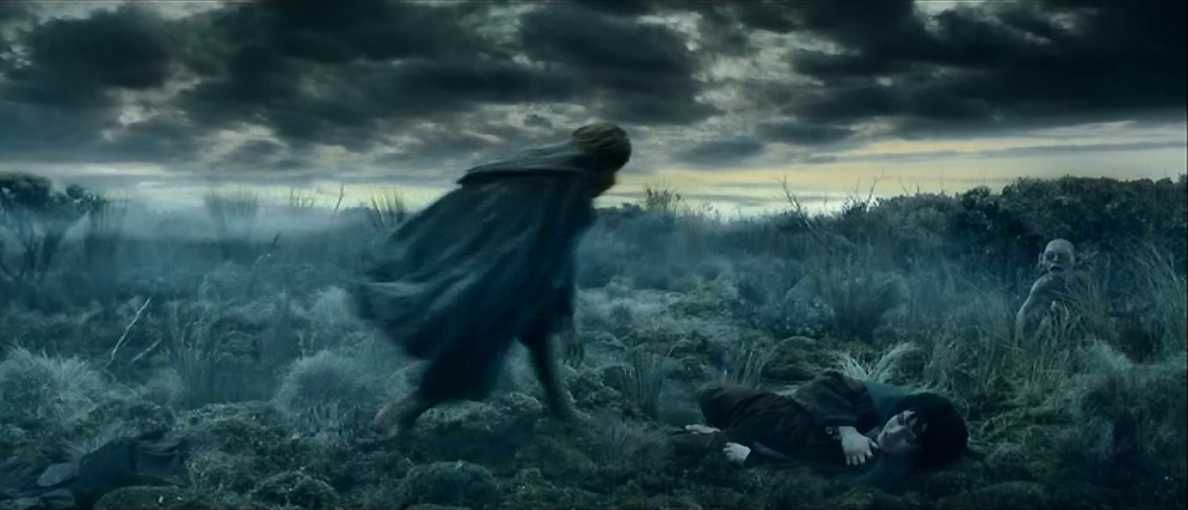 Come on, Frodo! Come on!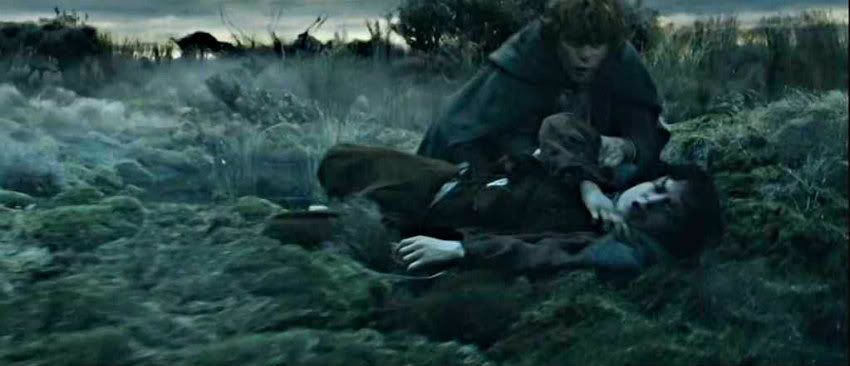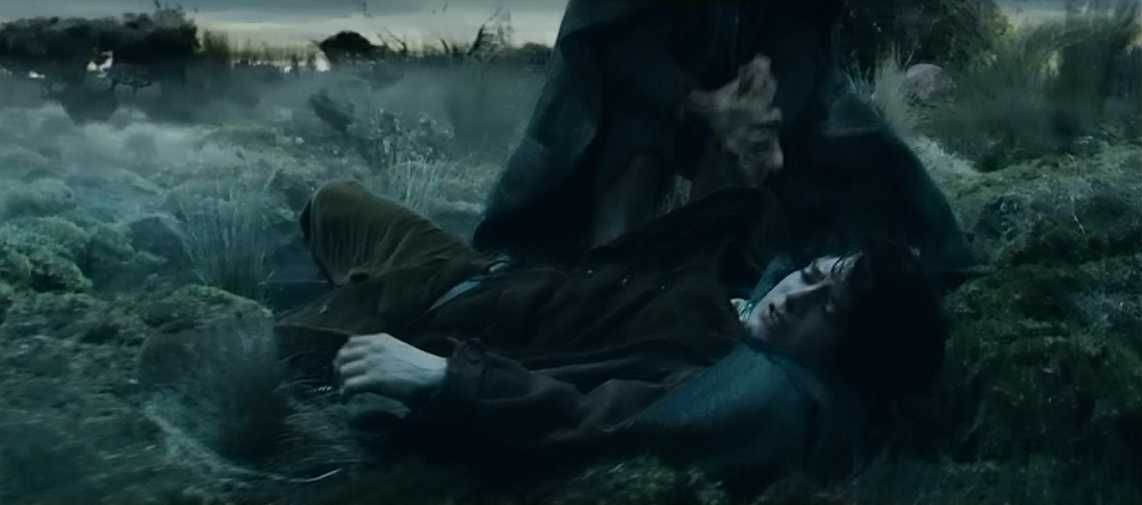 I thought they were dead.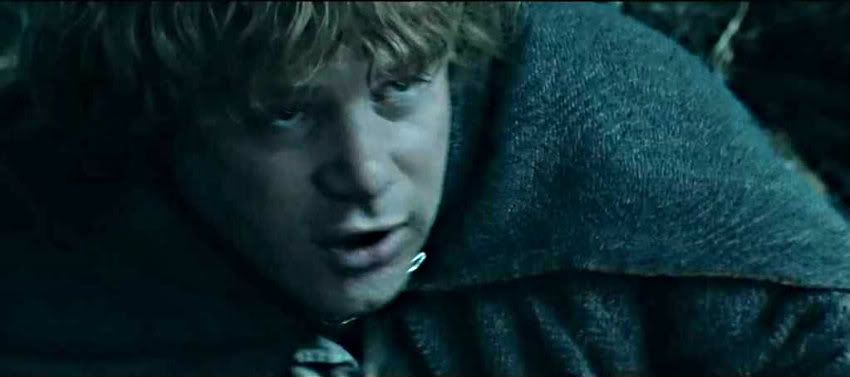 Dead? No, you cannot kill them! No.

"
"Then Frodo and Sam staring at the sky, breathing deeply of the fresher air, saw it come: a small cloud flying from the accursed hills; a black shadow loosed from Mordor; a vast shape winged and ominous. It scudded across the moon, and with a deadly cry went away westward, outrunning the wind in its fell speed.
They fell forward, grovelling heedlessly on the cold earth. But the shadow of horror wheeled and returned passing lower now, right above them, sweeping the fen-reek with its ghastly wings. And then it was gone, flying back to Mordor with the speed of the wrath of Sauron."
(The Two Towers ~ The Passage of the Marshes)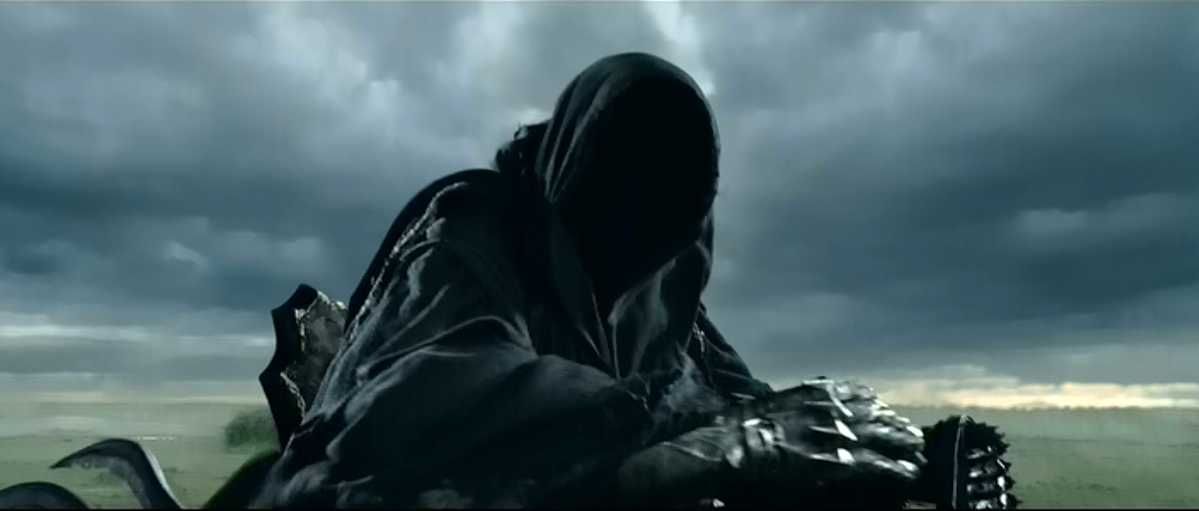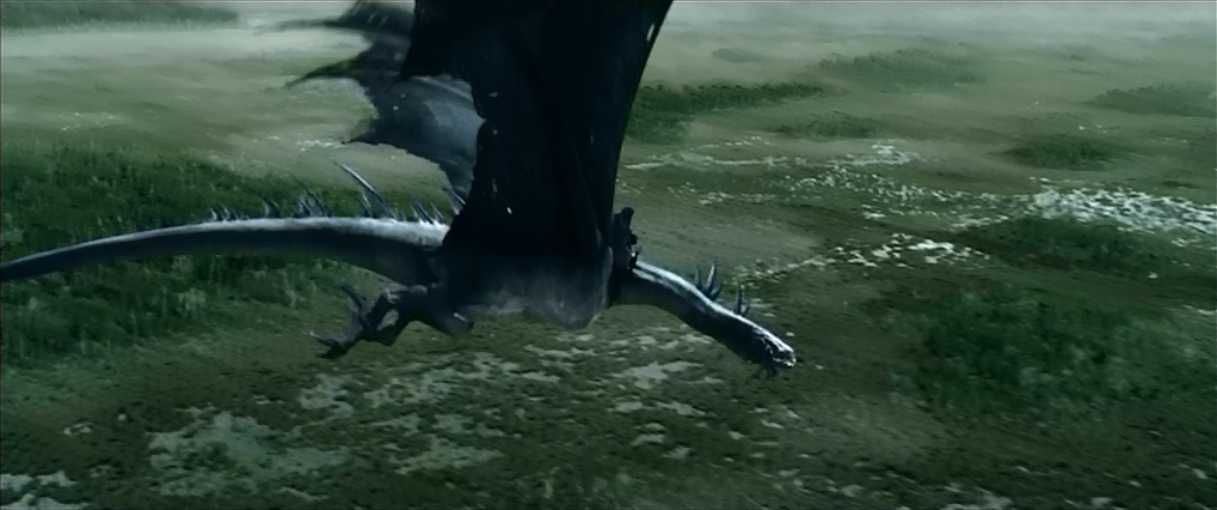 "'Wraiths!' he wailed. 'Wraiths on wings! The Precious is their master. They see everything, everything. Nothing can hide from them"
. (The Two Towers ~ The Passage of the Marshes)
Wraith! Wraiths on wings!!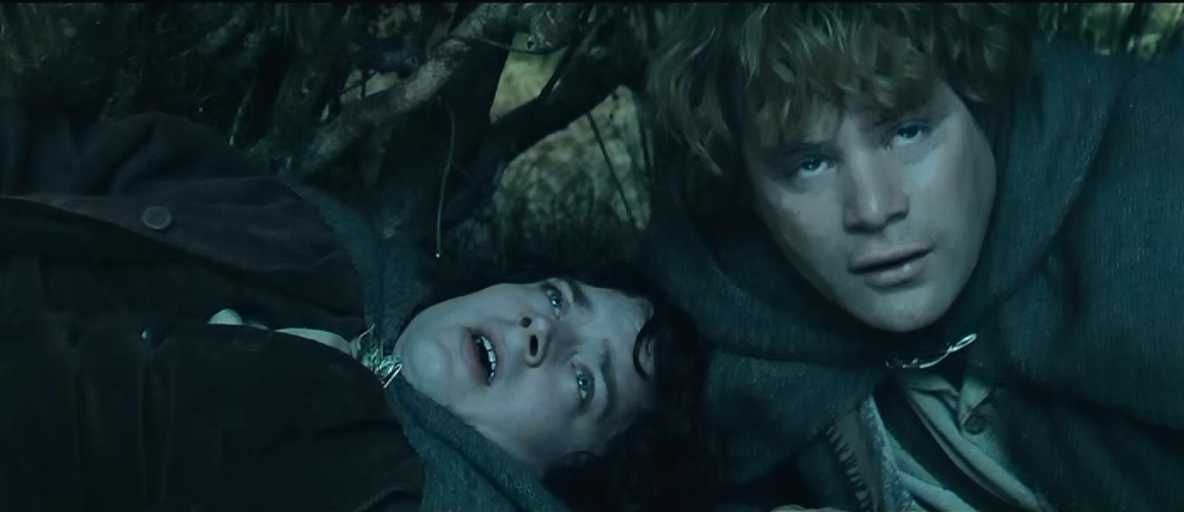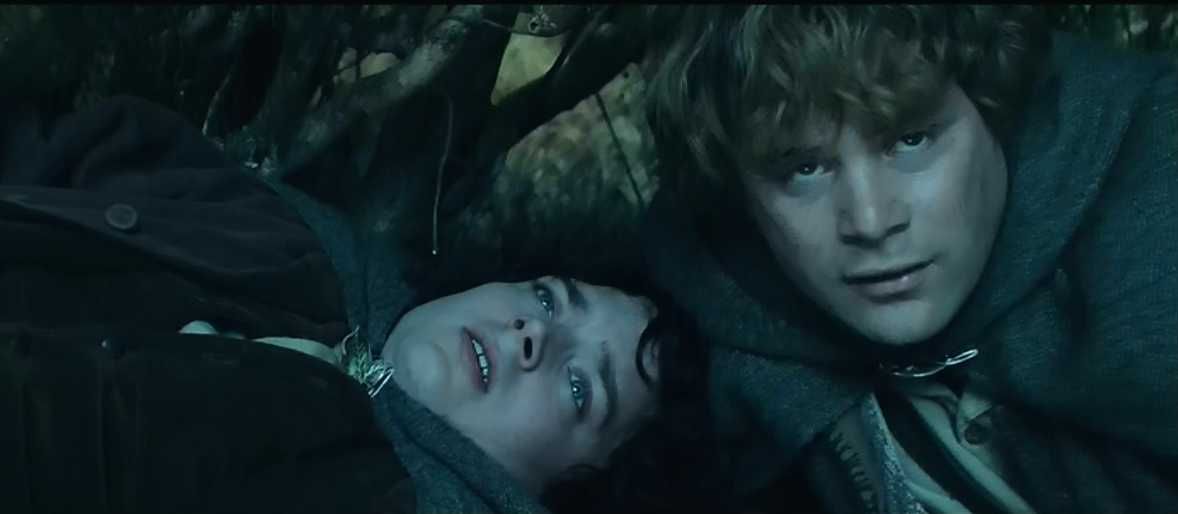 They are calling for it. They are calling for the Precious.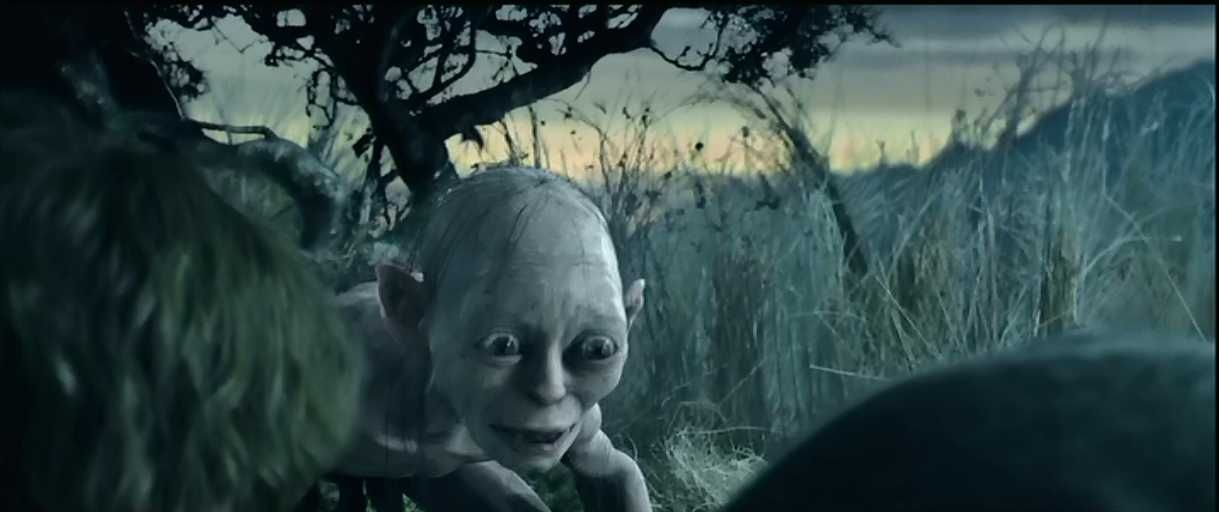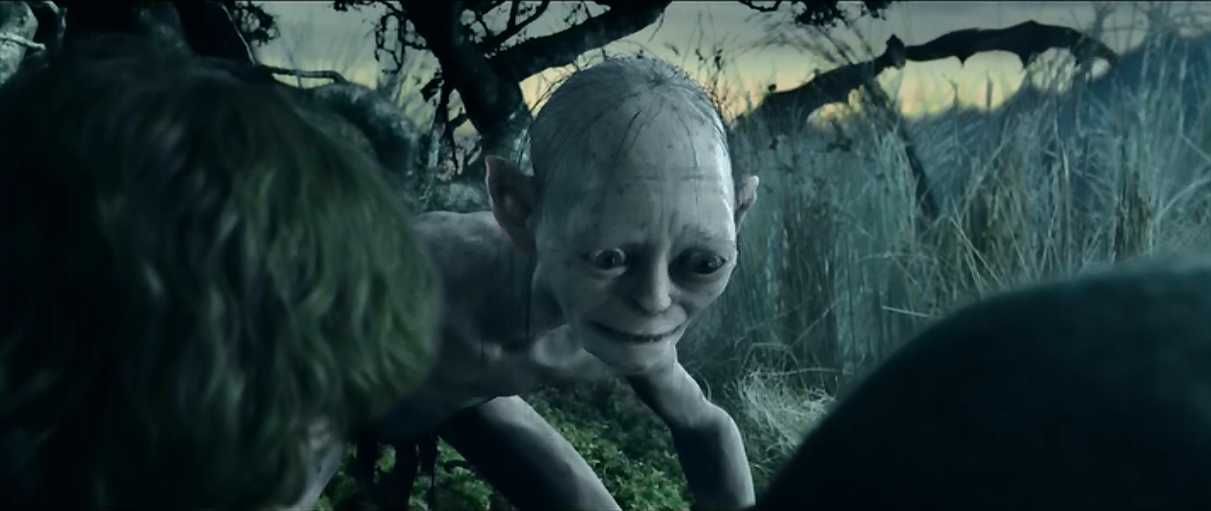 Mr Frodo!! It's alright.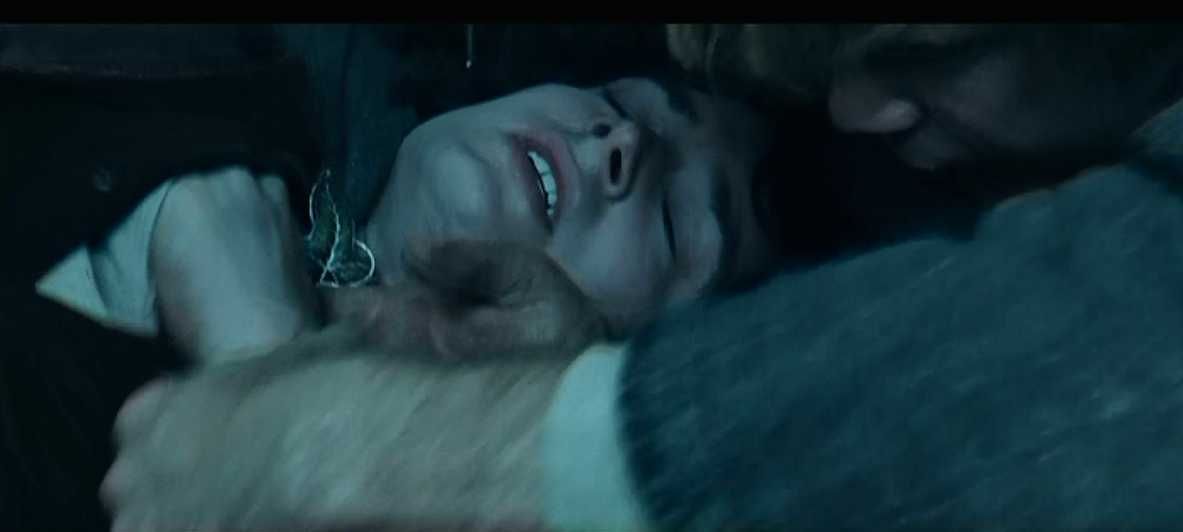 I'm here.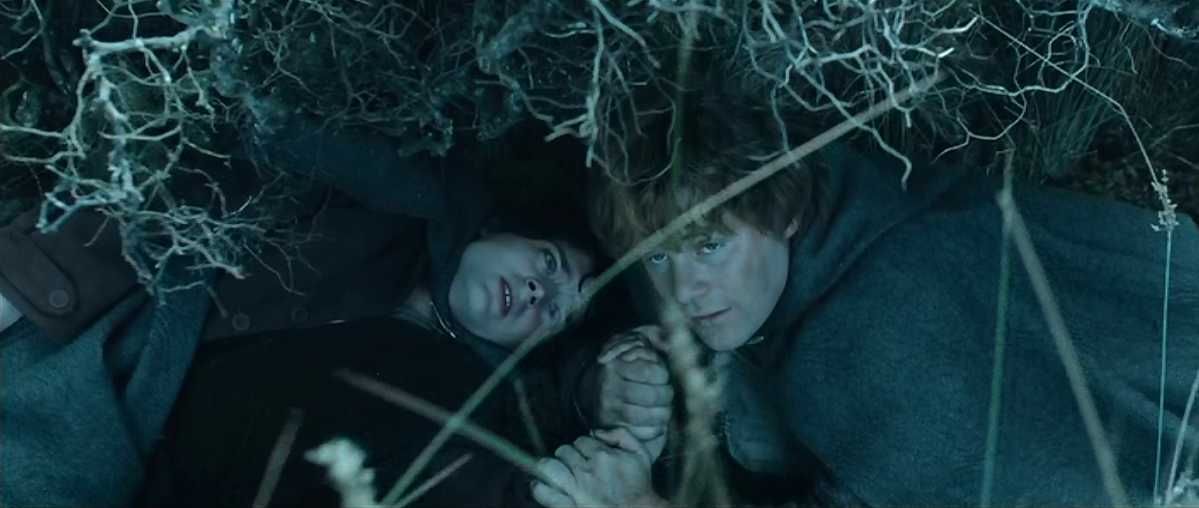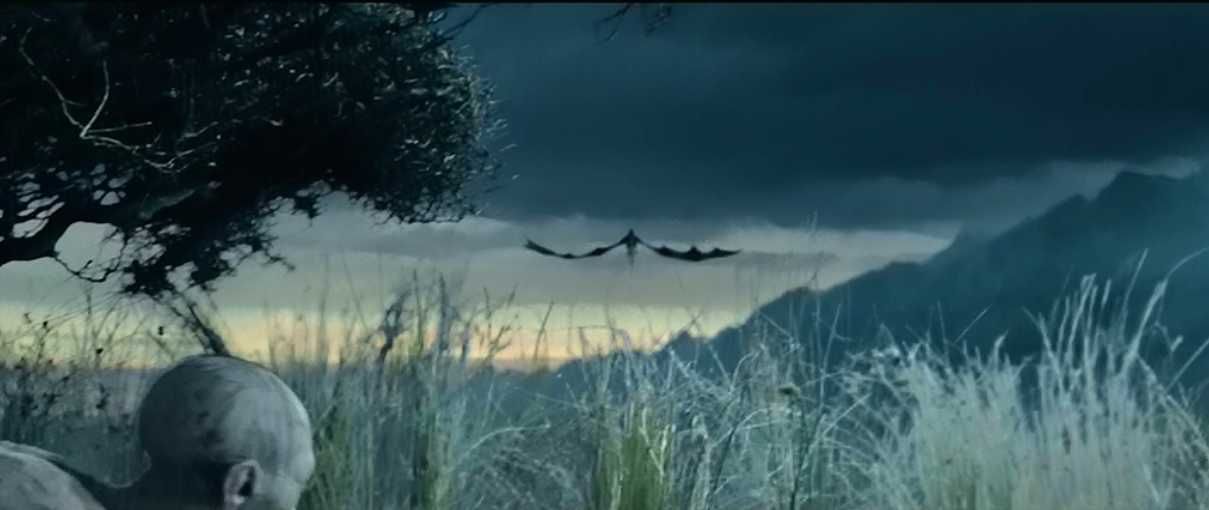 Hurry, Hobbits! The Black Gate is very close.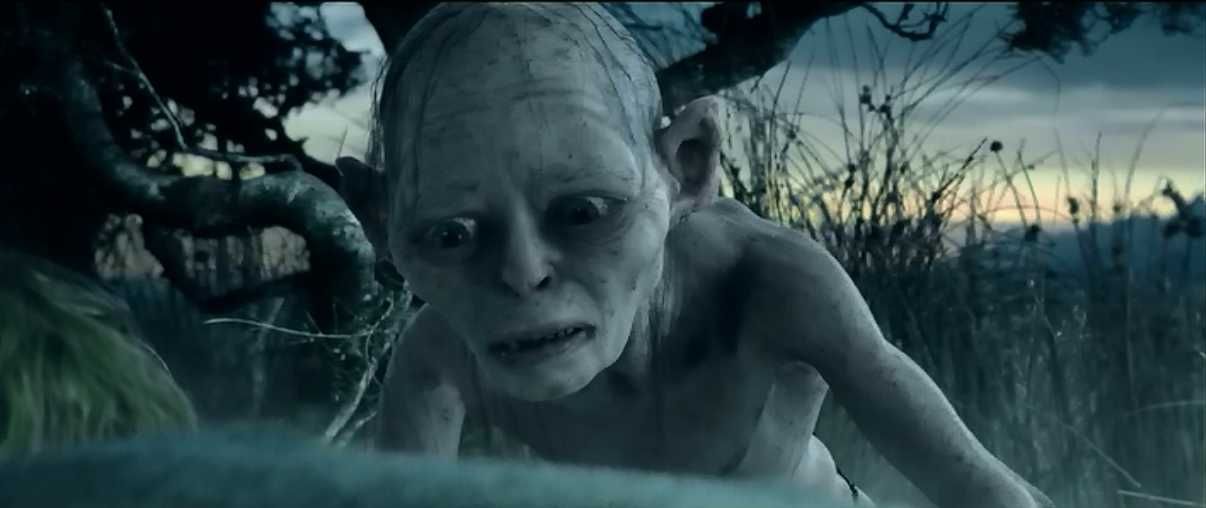 ---
"How did "The Lord of the Rings" change you as a person?"
"It allowed me to grow as a human being. It allowed me to grow into the adult that I am now. I think it's difficult to articulate beyond that."
TO BE CONTINUED

LINK TO ALL CHAPTERS:

"A JOURNEY WITH FRODO"
comments: Leave a comment