| | |
| --- | --- |
| Tags: | a journey with frodo |
| Security: | |
| Subject: | A Journey With Frodo - Chap.55 - "The Fellowship Continues" |
| Time: | 10:13 pm |
Have finally finished Chapter 55 of 'Journey'!! This was such a busy time for the LOTR cast just before the worldwide release of 'Return of the King'.
In Frodo's Journey, Frodo and Sam are captured by Faramir.
For anyone unfamiliar with my pet project, 'A Journey With Frodo' (a work in progress) is the story of Elijah Wood's experience in becoming Frodo, from back in 1998 when the LOTR movies were just a whisper up to the triumphant Oscars of Feb 2004. In reliving Elijah's journey, and mine, I am using everything I can lay my hands on - behind-the-scenes material from the various dvd's, magazine articles, books, internet sites, tv coverage, word-of-mouth info, etc. Previous chapters can be found here:
"A JOURNEY WITH FRODO"
Hope you enjoy CHAPTER 55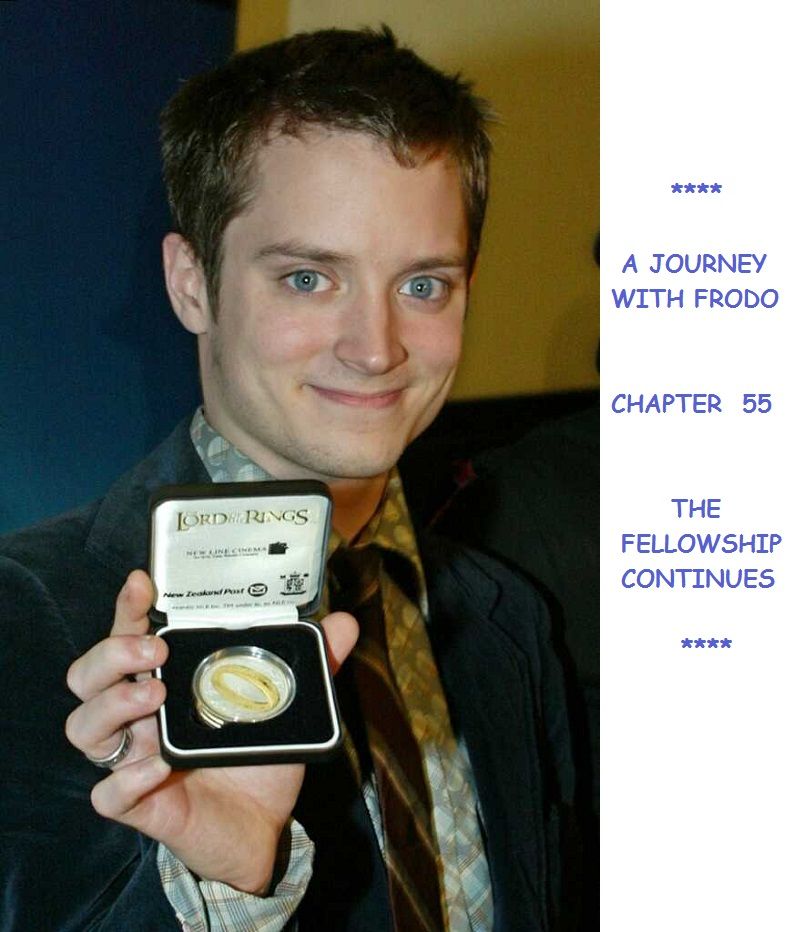 ---
15 December 2003 - Return of the King Advance Screening, New York:

Whilst in New York Elijah was interviewed by Thomas Chau, UGO - some extracts from this interview accompany the pics from the advance screening:

"Much as Mark Hammill's face will forever be embedded in our memories from Star Wars, so, too, will that of Elijah Wood whenever Lord of the Rings is mentioned. Elijah's young, innocent turn as Frodo Baggins becomes the lasting image of the trilogy, especially when one thinks of his journey as the Ringbearer that began in the Shire and ends at Mount Doom. Elijah was in New York City recently to talk about the trilogy coming to an end."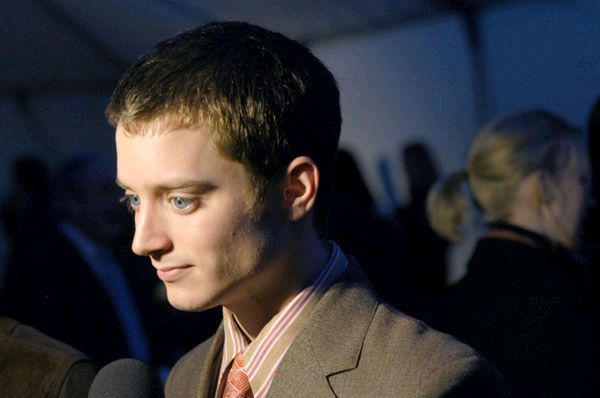 UGO: "Elijah, can you talk about the sentiments going through your own head now that this four year journey is coming to an end?"
ELIJAH: "Yeah, it's strange. It's strange it's all coming to an end. I think part of it feels like it was going to continue to go on for the rest of our lives, and I think we were all happy with that. I think we had our emotional end in June when we went back to do the pickups for the last film, because that was really saying goodbye to the experience – the experience working with the crew and the cast. That was very difficult and emotional. Now, it's nice to be releasing the last film. I think there's a lot of excitement associated with this because it's the movie, I think, we've most anticipated ourselves. There's also a real sense of completion, because we can look at the entirety of the trilogy and say we've done it. Our work is finished and there's nothing more to be done. I think that's a great feeling. As it comes to a close, we look to the relationships forged in New Zealand, and throughout the experience. That will carry on. The "fellowship" will carry on. That, I think, gives us great hope because we don't have this anymore. Our lives will interweave."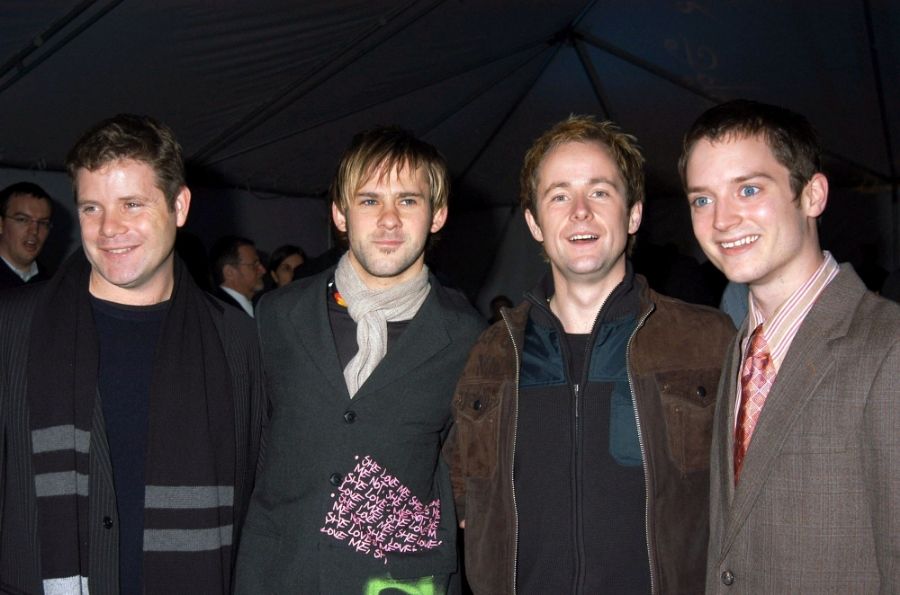 UGO: "How has the Lord of the Rings experience changed your life?"
ELIJAH: "Oh, my God. It's informed my life in so many ways, down to the friends that I've made, that I will have for the rest of my life, that is family to me. The effect that New Zealand had on me; that it was such an incredibly pure place and incredibly pure people. I think the experience asked so much from us to a point where we learned how much we were able to give and what we were capable of doing, which I think teaches you quite a lot as well. There has been a lot of growing through the various life experiences that the film has afforded us in the past couple of years. We're different people now. I think we're different people also because of the effect that we've had on each other. We've influenced each other quite a lot."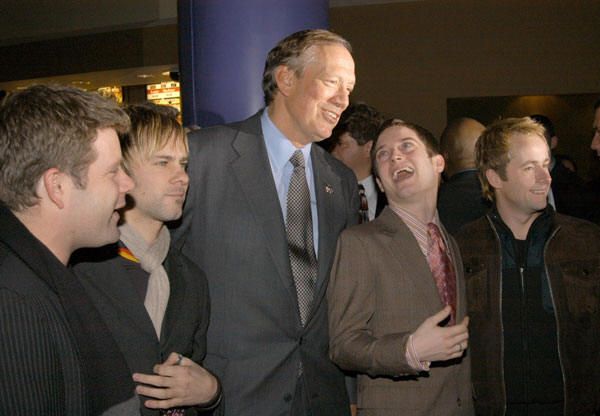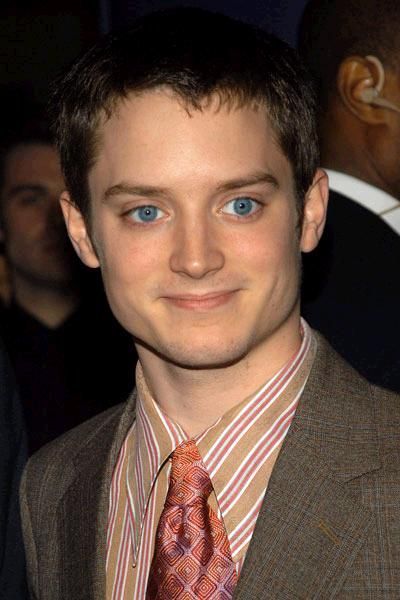 UGO: "Do you collect your own Lord of the Rings toys and stuff?"
ELIJAH: ""Totally. I call up New Line and say, "Listen: Whatever you get, send it my way. No matter what it is."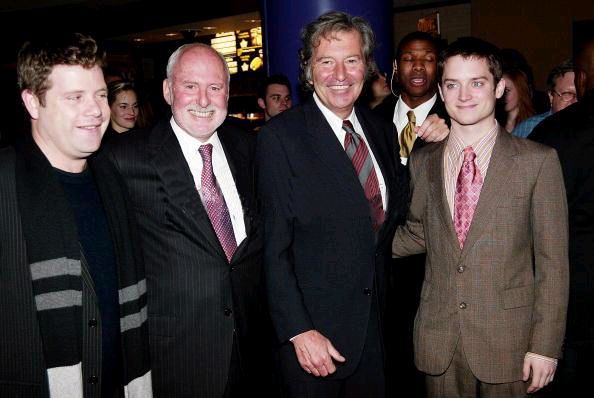 UGO: "What about the video games? Have you played them yourself?"
ELIJAH: I've got the games, definitely. I haven't played much of the new one. But they're all great.
UGO: ""Are you a video game guru? What platform do you have?
ELIJAH: "I've got them all."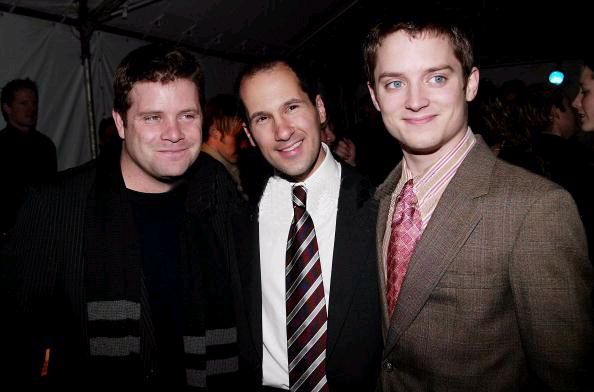 UGO: "How do you feel about Sean Astin possibly getting an Oscar nomination for his role?"
ELIJAH:" The man deserves it. It's an incredible, tour de force performance. He's absolutely brilliant. He deserves anything he gets. He makes me cry so many times and he's so wonderful to work with and a dear friend. I support him, I want everything for him."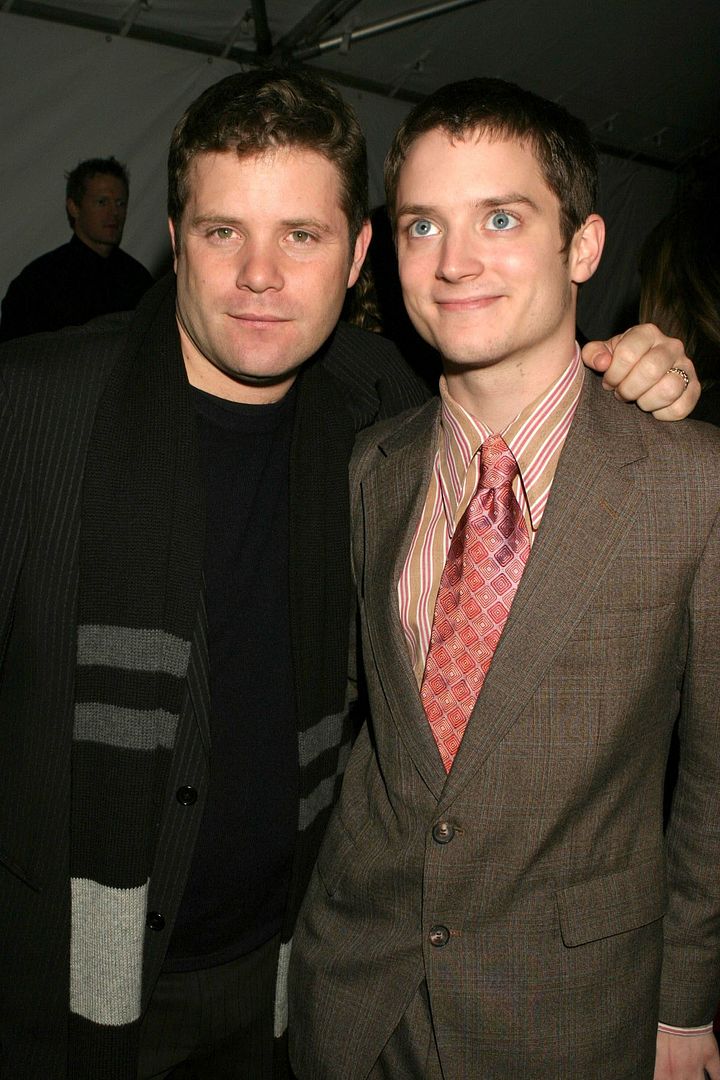 UGO: "Are you conscious right now, when you're looking for roles, to find something very different from Frodo so that you aren't typecast?"
ELIJAH: "It's not too hard to do something different from Frodo, because there aren't that many roles that are similar to [him]. It's a pretty unique opportunity and a pretty unique character. I'm just trying to find roles that are different from anything I've ever played before; certainly an embodiment of the human experience that I have not experienced yet."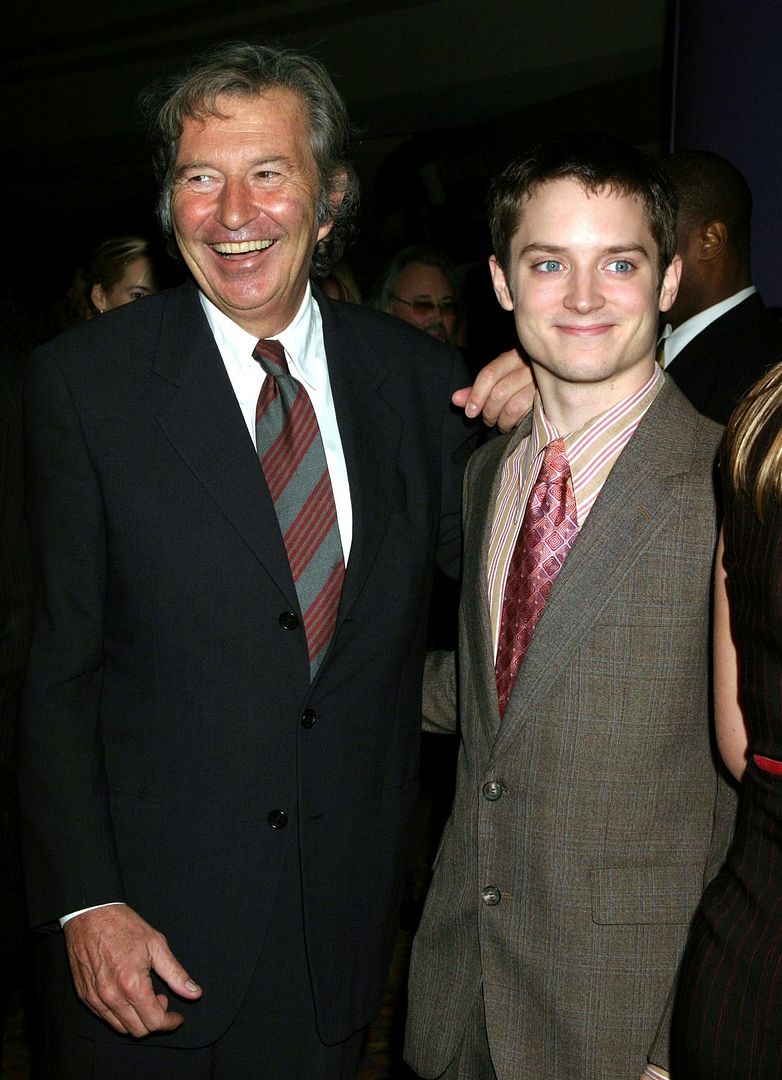 With Hanson: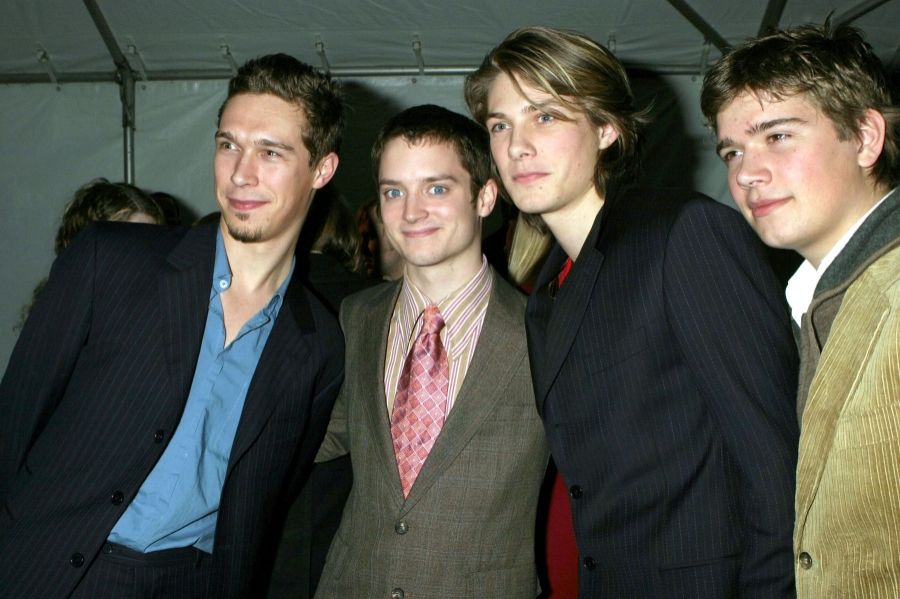 With model Angela Lindvall. (Thanks for that info, Karin!)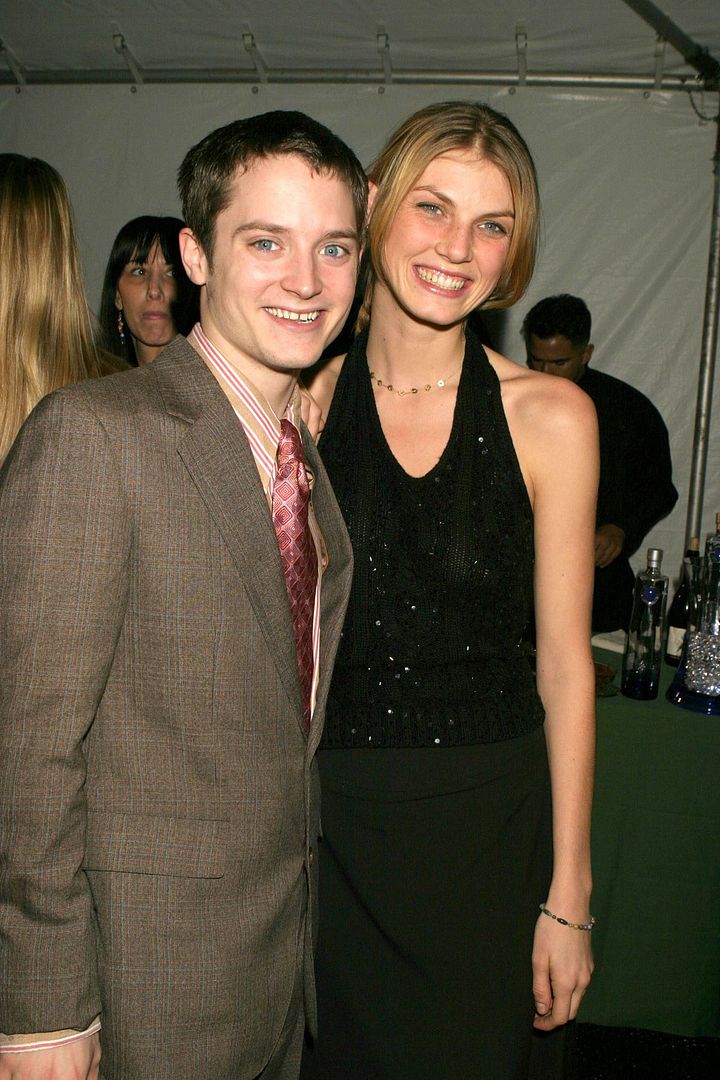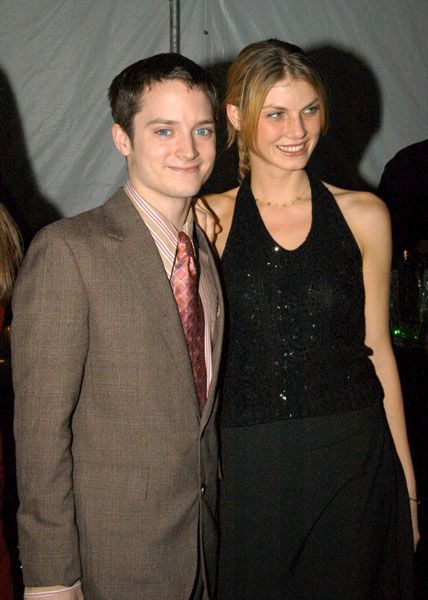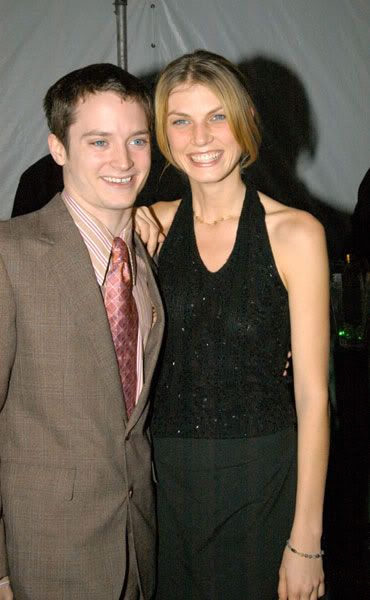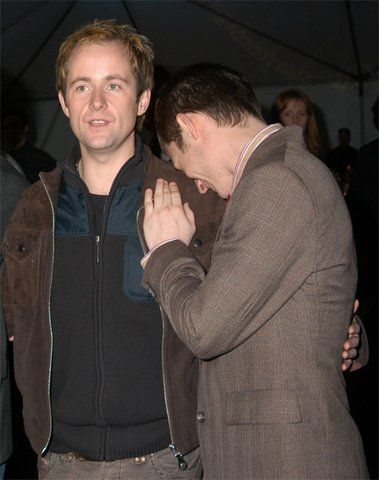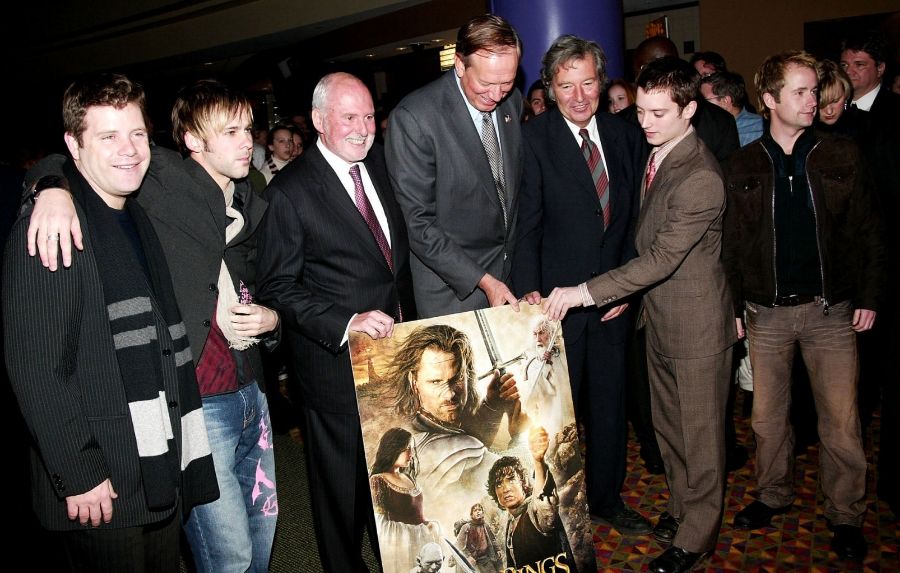 (Many thanks to
karin_woywod for this pic)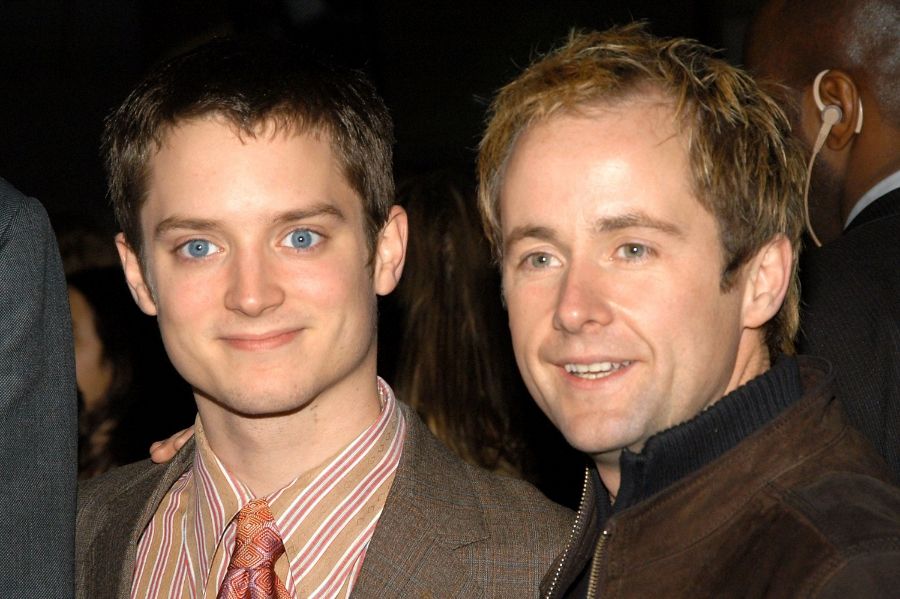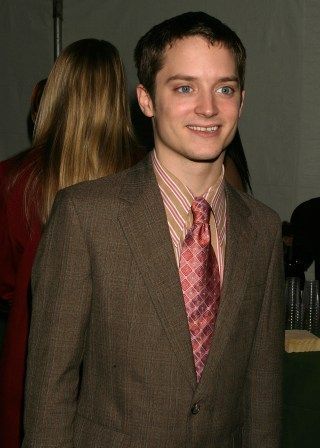 ---
16 December 2003 - Total Request Live:
Elijah arriving at the MTV studios: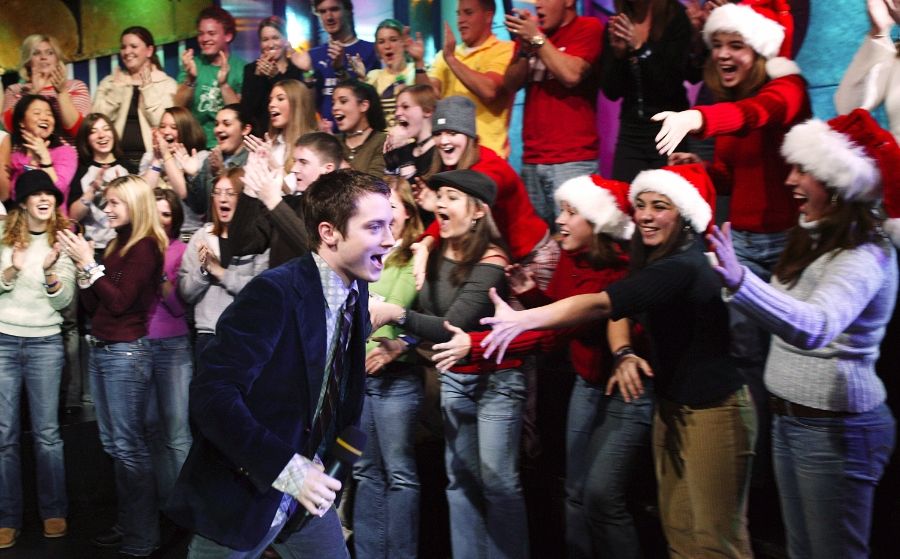 TRL Interviewer: "What can we expect in this installment that we didn't see in the first two?"
Elijah: "An ending!! It says "The End" - imagine that!! It's the darkest part of the story, it's the most dramatic ...
... it's also the most emotional, I cry my eyes out when I see it."
Crowd: "Awww"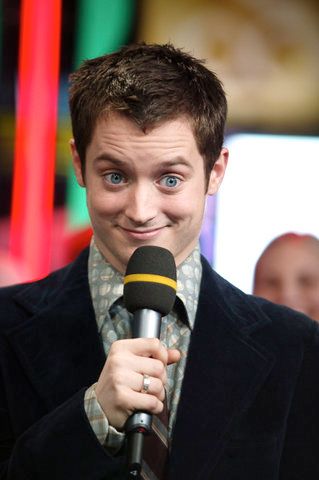 Asked if he was sick of seeing the movie yet, Elijah said, "Well, I've only seen it twice so I'm not sick yet but I really look forward to seeing it again and again. It's so overwhelming and there's so much to take in I think you get more out of it every time you see it.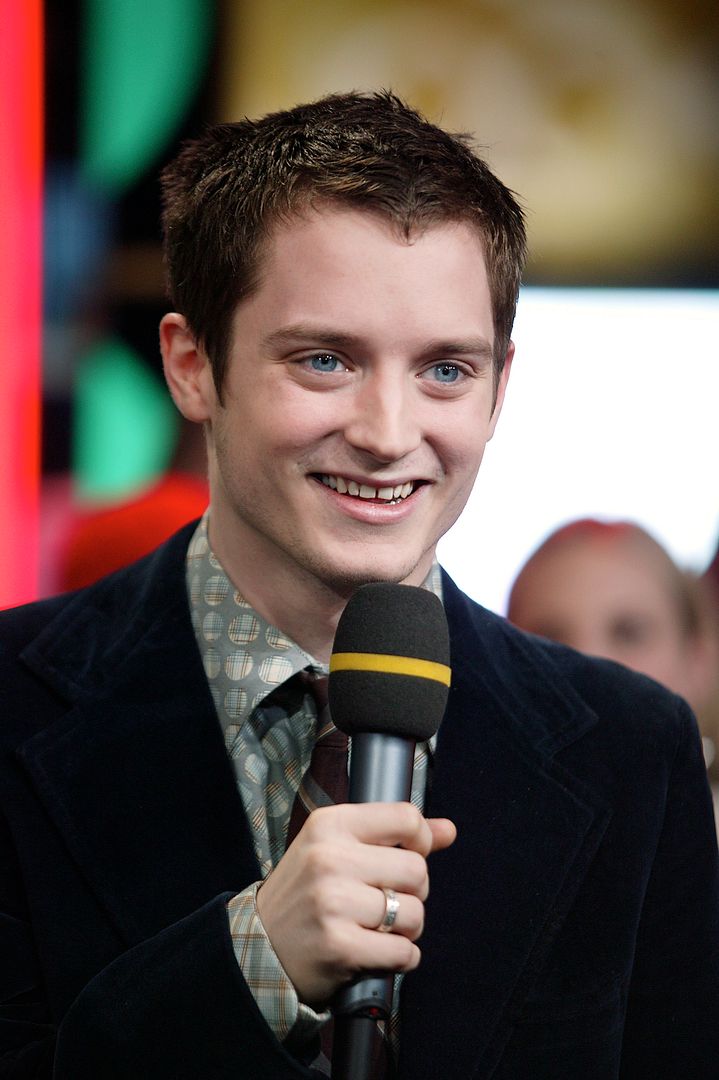 They discuss how the Fellowship will carry on and Dom says that the real test will come now, how they will act now that the movies are finished and they don't have to hang out . "Make sure we return calls" said Elijah, with a knowing look at Dom. They laugh and have a big hug which is then followed by a group hug.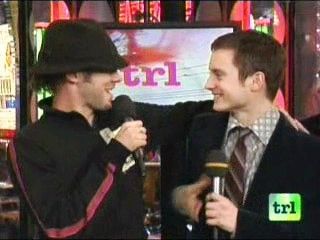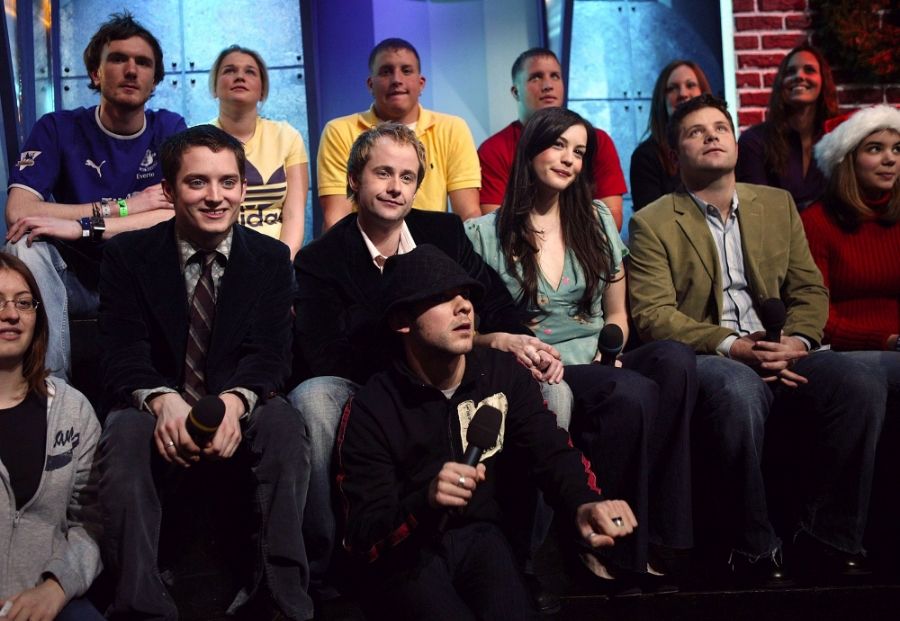 The cast were invited to cast (:D) one item of their choice into an improvised Mount Doom. Sean chose bags of candy because he'd had to eat these during filming to gain weight, Dom chose mediocrity, Liv threw in her mobile phone (bet she couldn't wait to retrieve it) and Billy went for cinammon and I have to say I'm completely with him on that!! Elijah opted for the celebrity-obsessed tabloids:
"There's a growing obsession with celebrity and a lot of lies about celebrities and I'm tired of the focus on celebrity and so here goes the tabloids."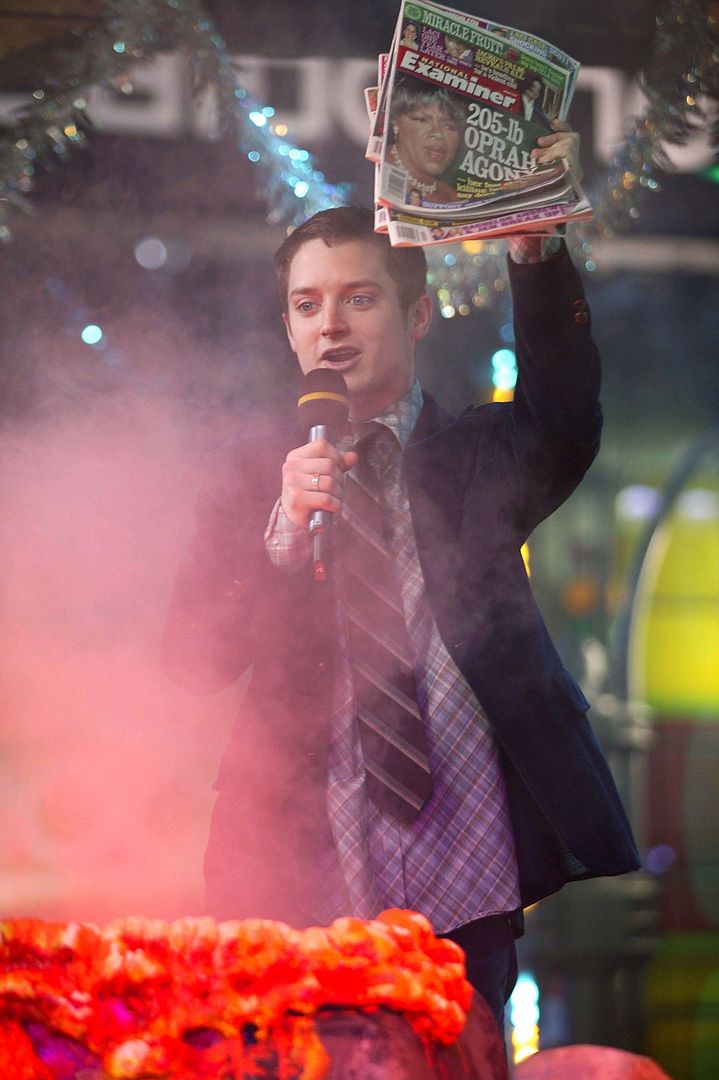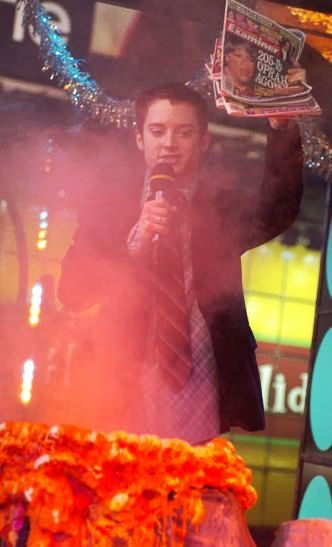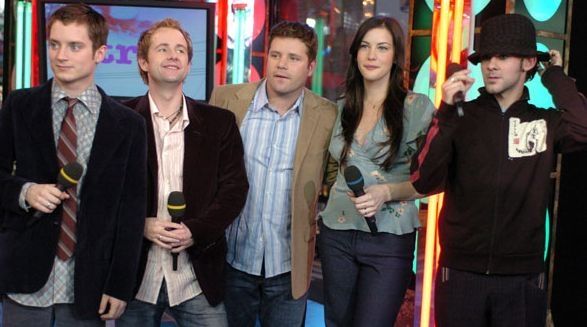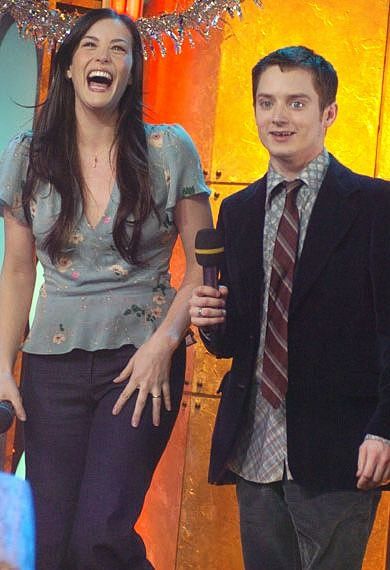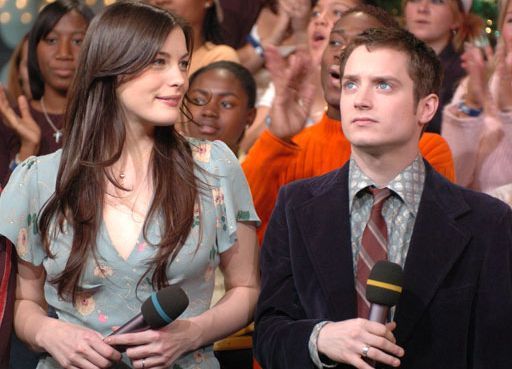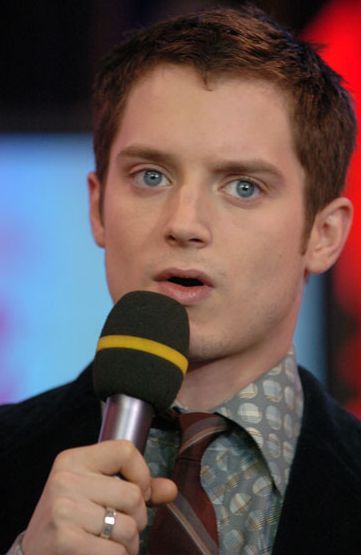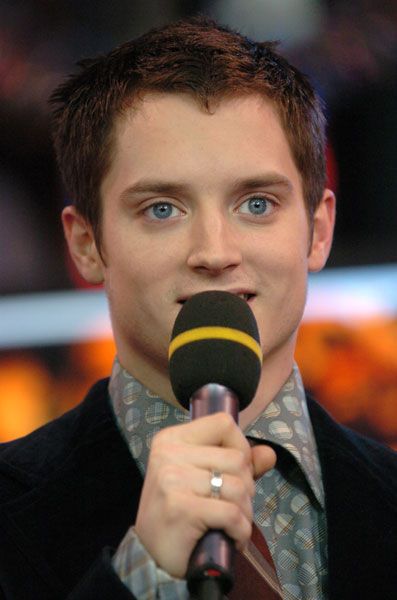 ---
It was then straight on to another special screening of the film:
"New Zealand Films honours Lord of the Rings:Return of the King:

"Cast members from the new film "The Lord of the Rings, Return of the King," pose at a special screening of the film in New York, December 16, 2003. The quartet was presented gifts from New Zealand's Ambassador to the U.S. John Wood (not pictured), including a coin minted with the likeness of a Hobbit."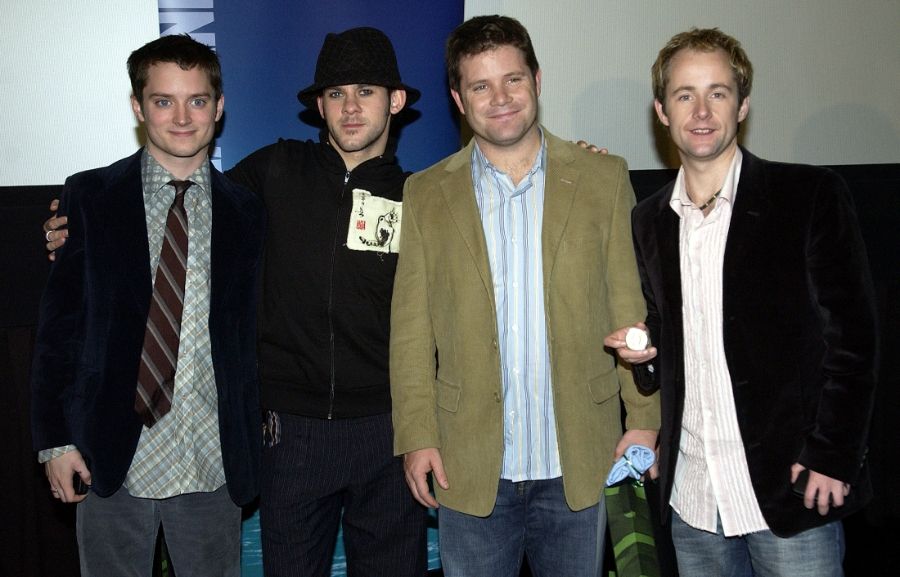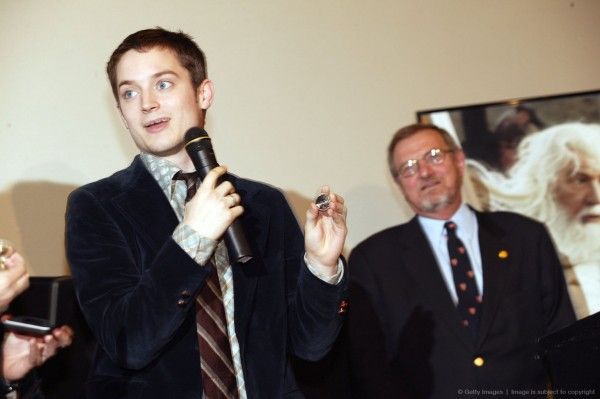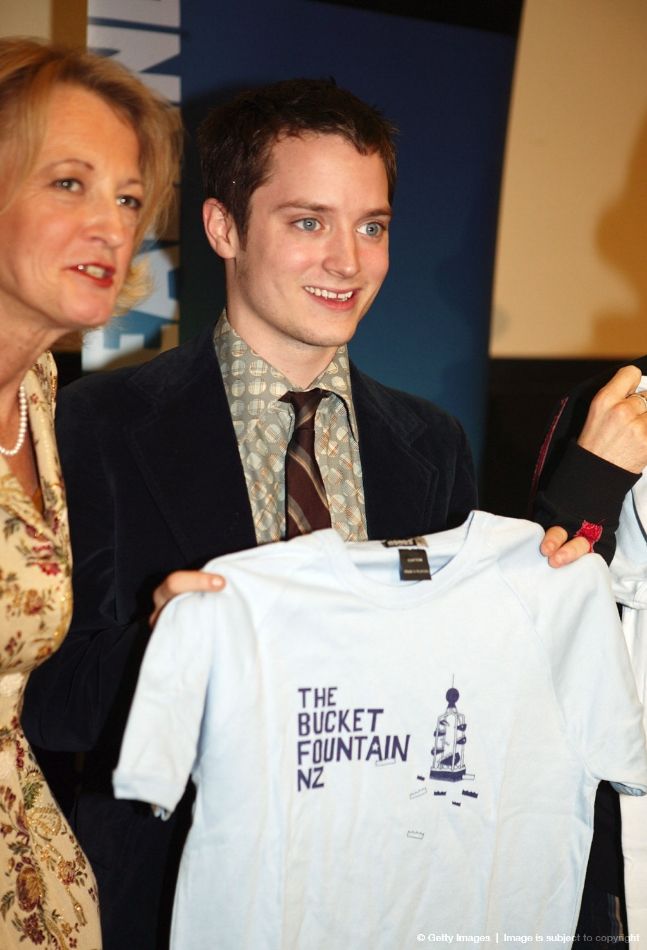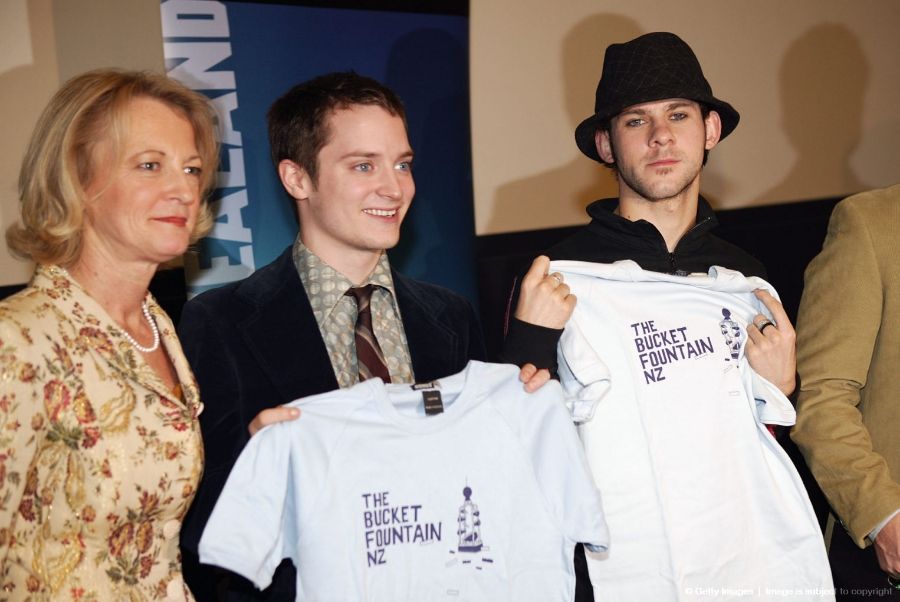 "Wood and three other actors who played hobbits in the film addressed a cinema audience before a private screening of the film"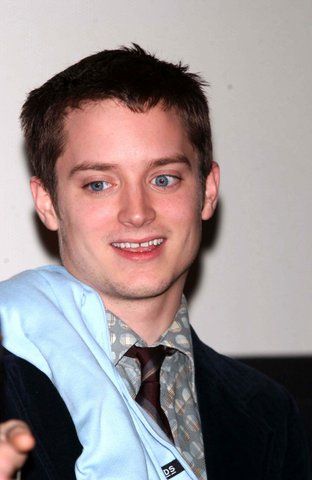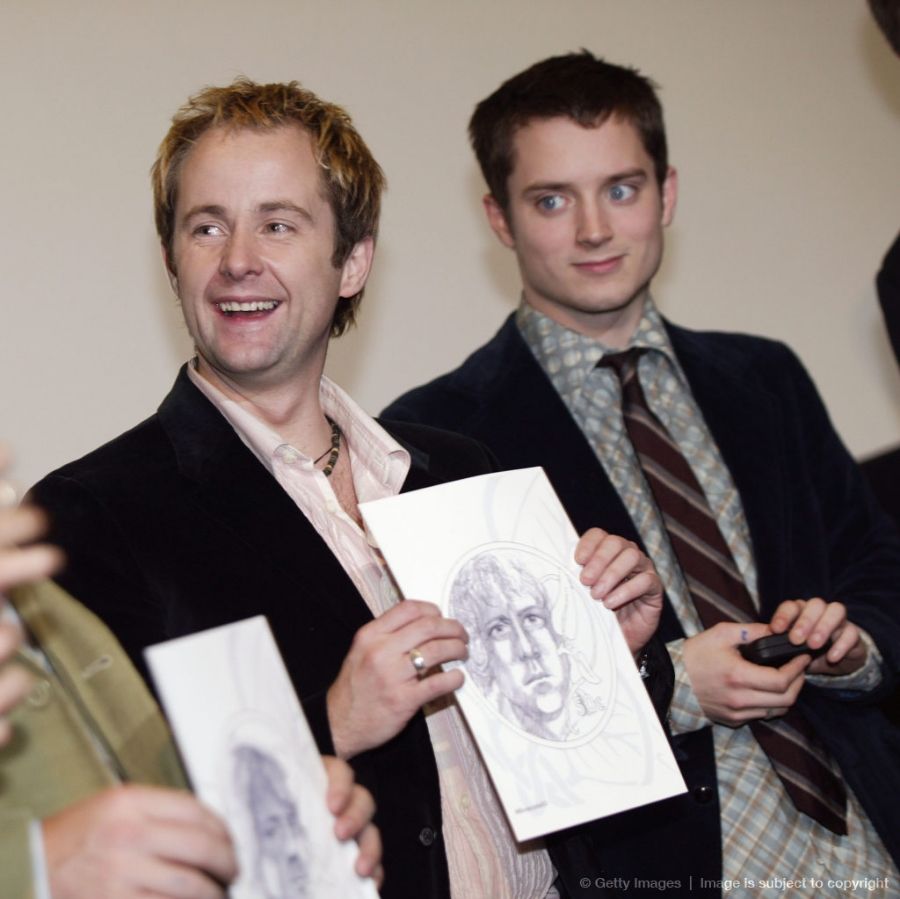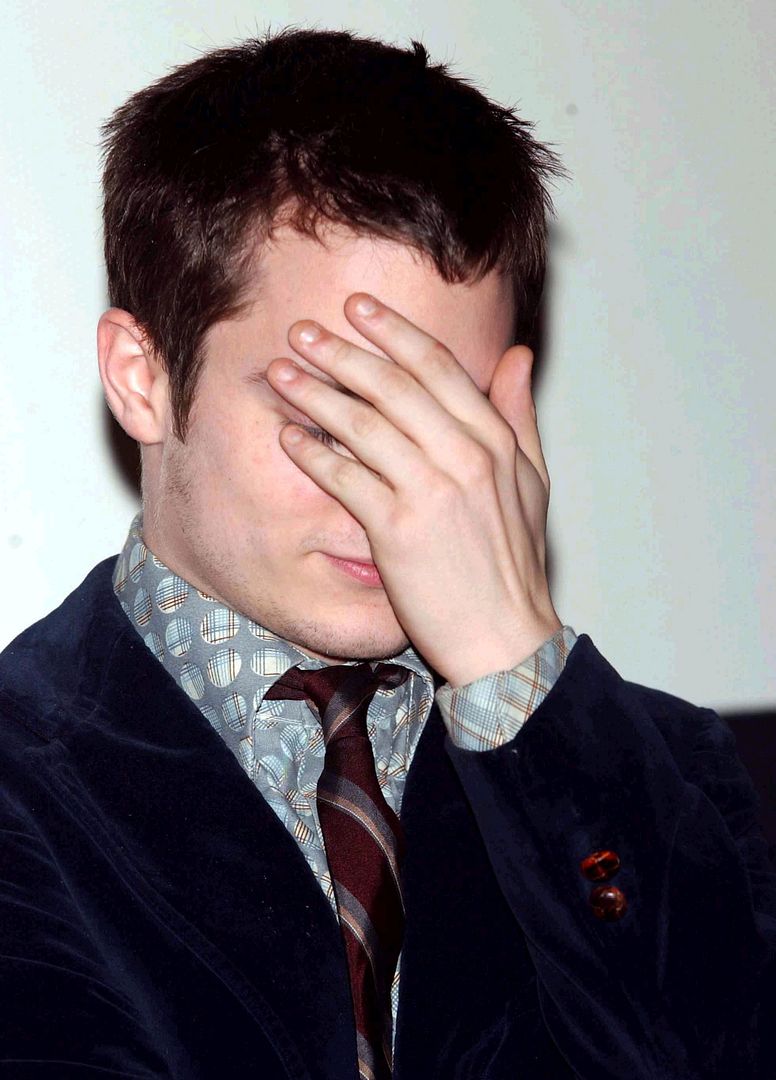 "Elijah Wood, star of the film trilogy Lord of the Rings, displays a New Zealand commemorative coin that features the ring from the movie."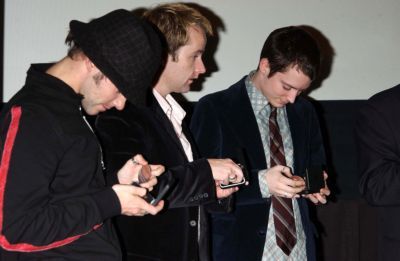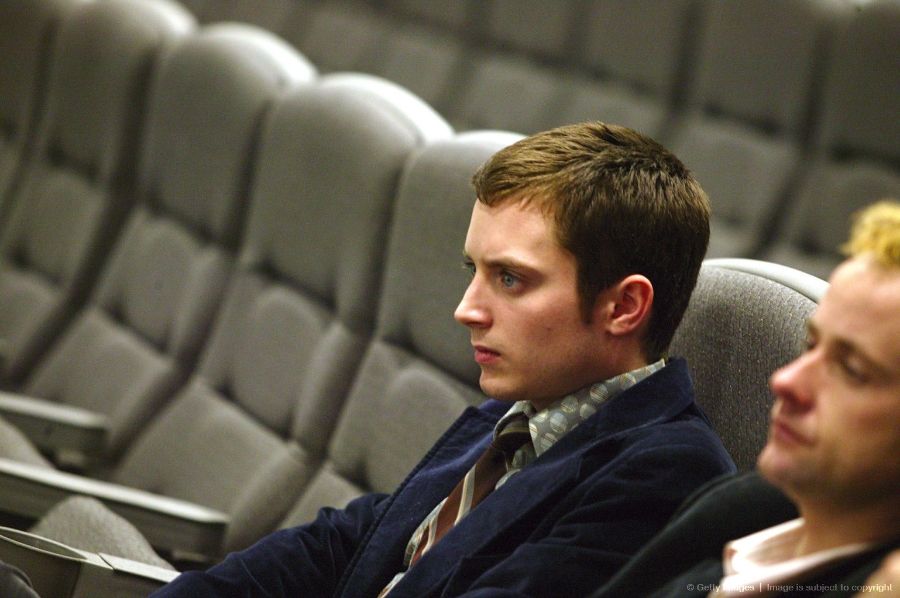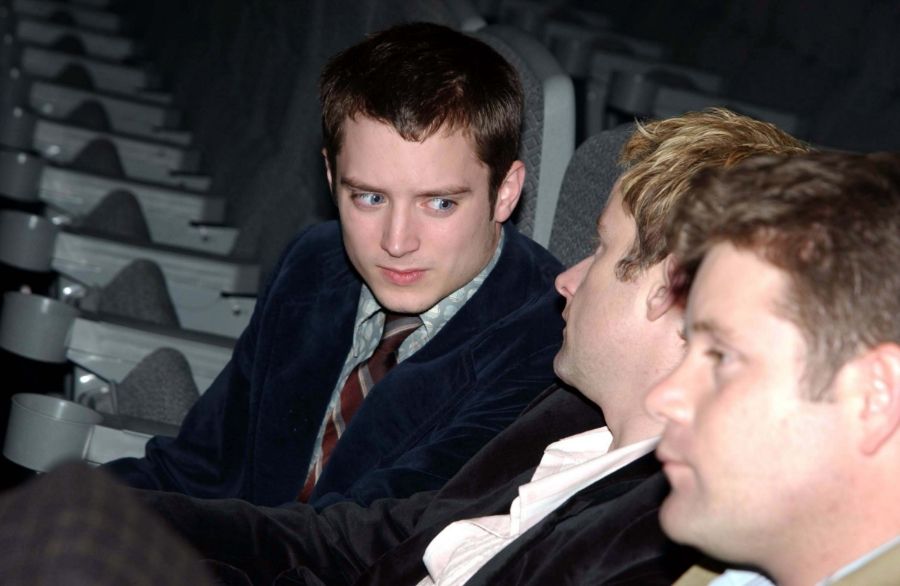 ---
FRODO'S JOURNEY continued : THE CAPTAIN OF GONDOR
(Comments are from dvd commentary unless otherwise stated)
The power of the enemy is growing.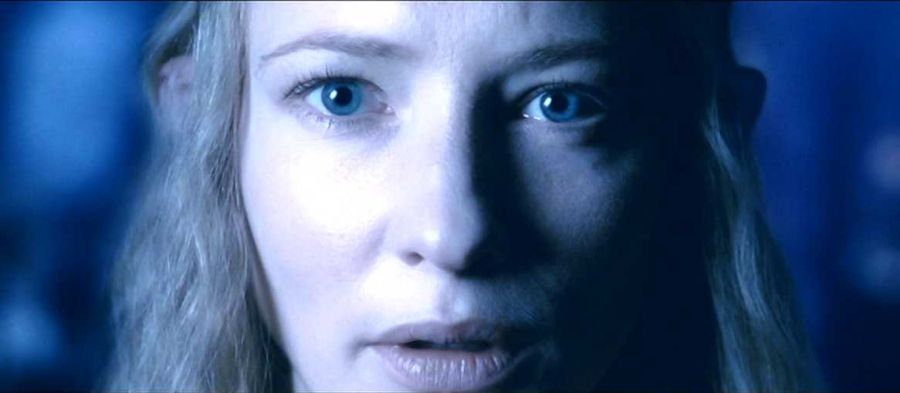 Sauron will use his puppet Saroman to destroy the people of Rohan.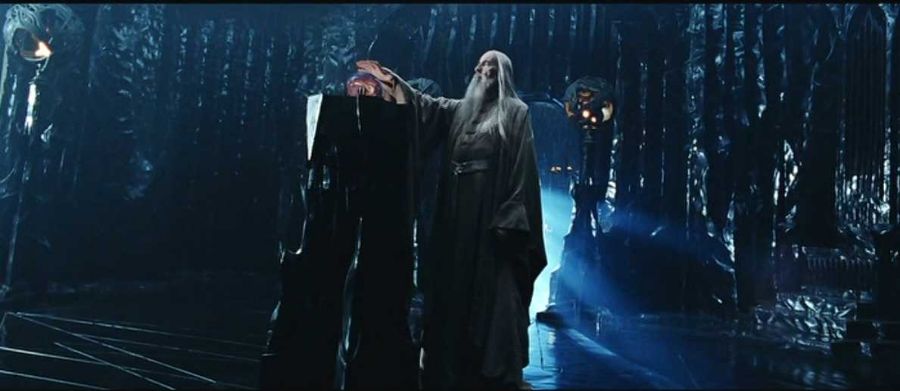 Isengard has been unleashed.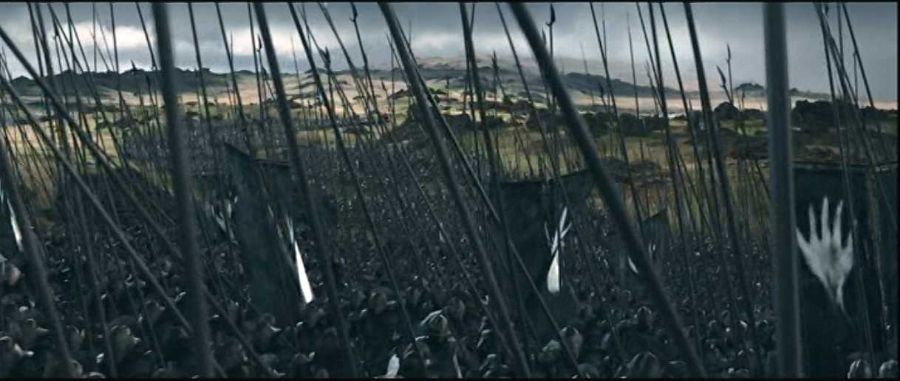 The Eye of Sauron now turns to Gondor...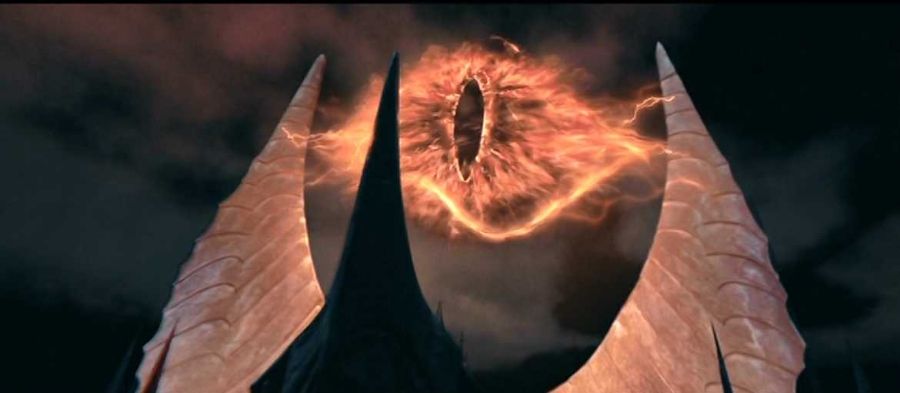 ... the last free kingdom of Men. His war on this country will come quickly.



He senses the Ring is close.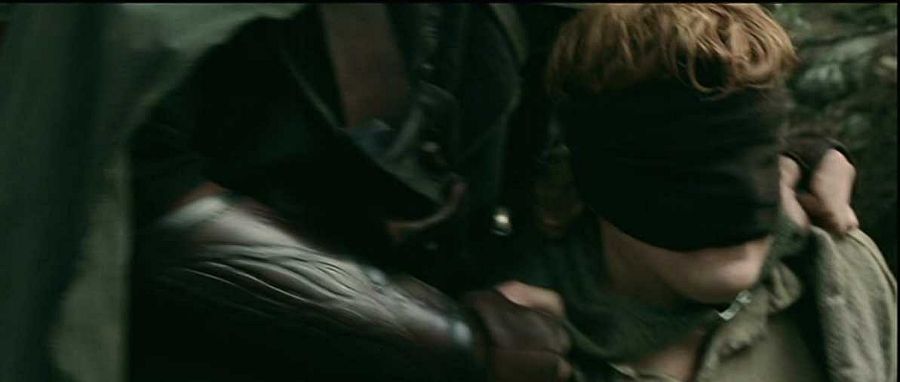 The strength of the Ringbearer is fading. In his heart Frodo begins to understand – the Quest will claim his life.



You know this, you have foreseen it.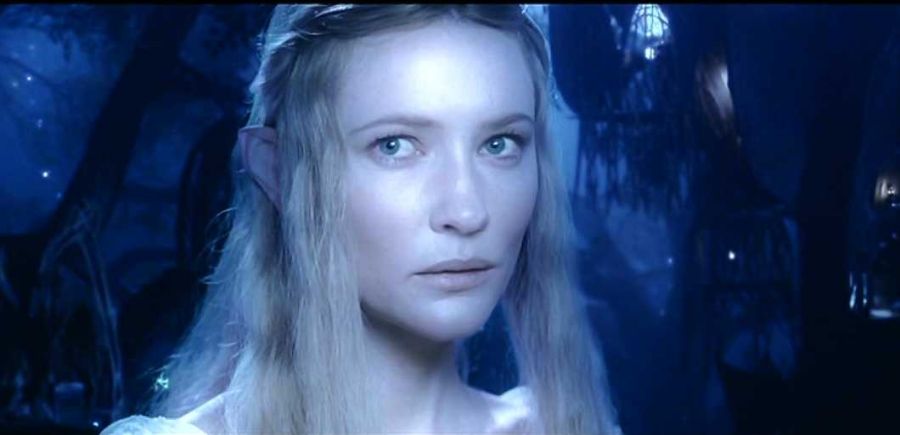 It is the risk we all took.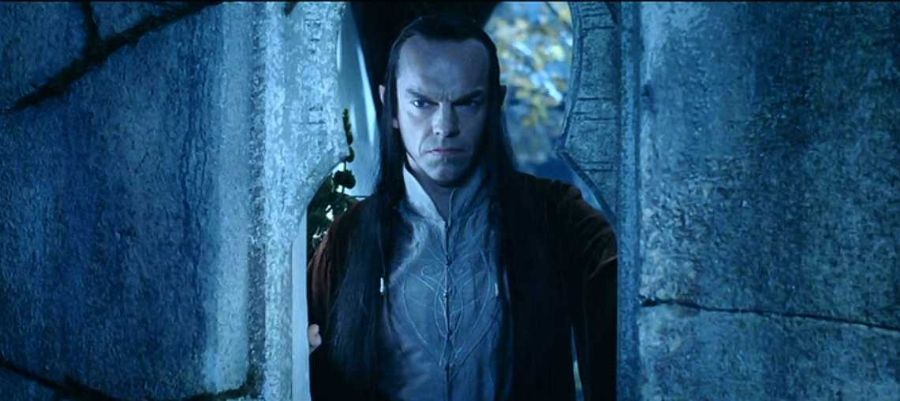 In the gathering dark, the will of the Ring grows strong.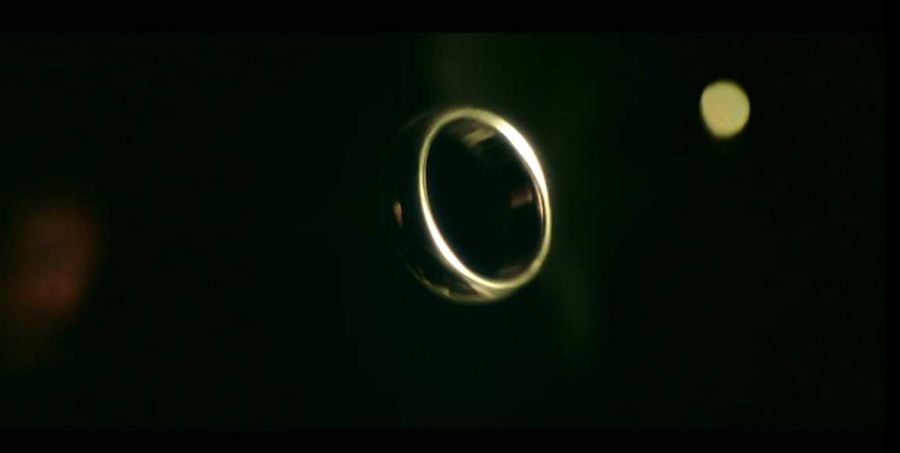 It works hard now to find its way back into the hands of Men ...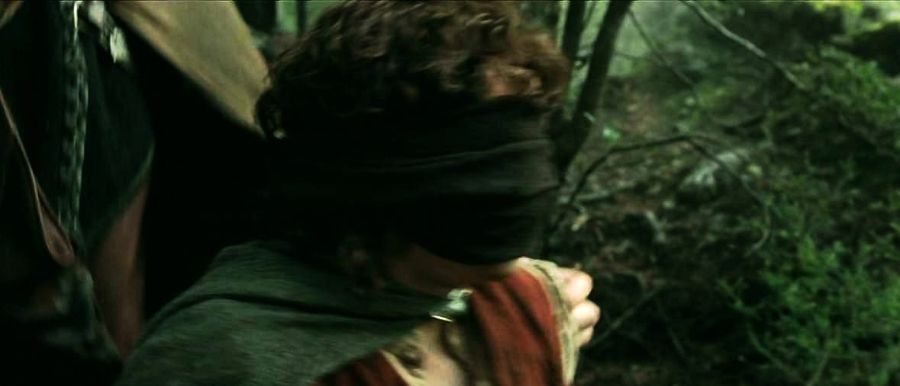 John Howe: "I also love the constant reminders of the power of the Ring and the power of the Eye that's seeking it and the fact that, although they are very far away, distance is abolished by Frodo's carrying of the Ring and all it has to do is chance upon him and that's the end."

...Men, who are so easily seduced by its power.



The young Captain of Gondor has but to extend his hand ...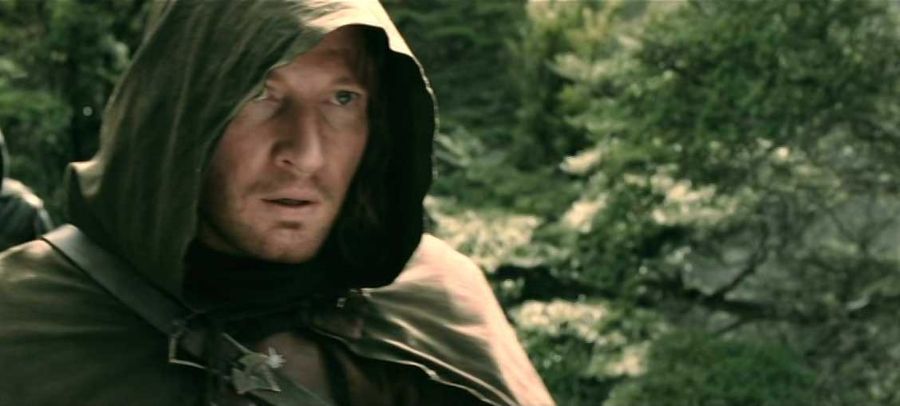 ... take the Ring for his own, and the world will fall.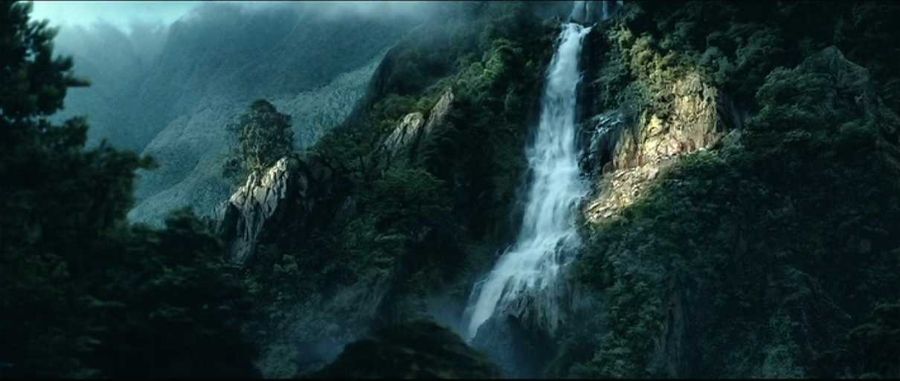 It is close now. So close to achieving its goal.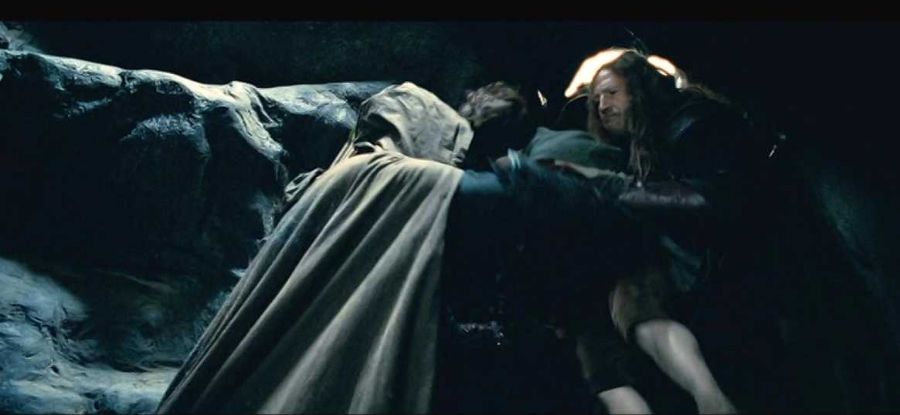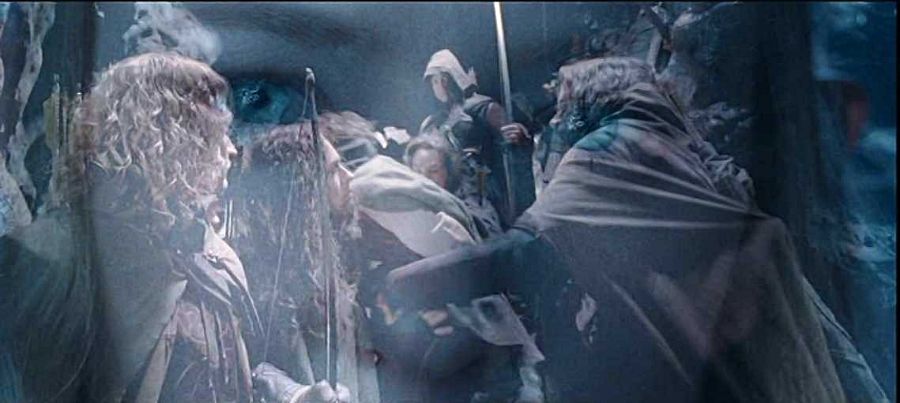 For Sauron will have dominion over all life on this Earth even unto the ending of the world.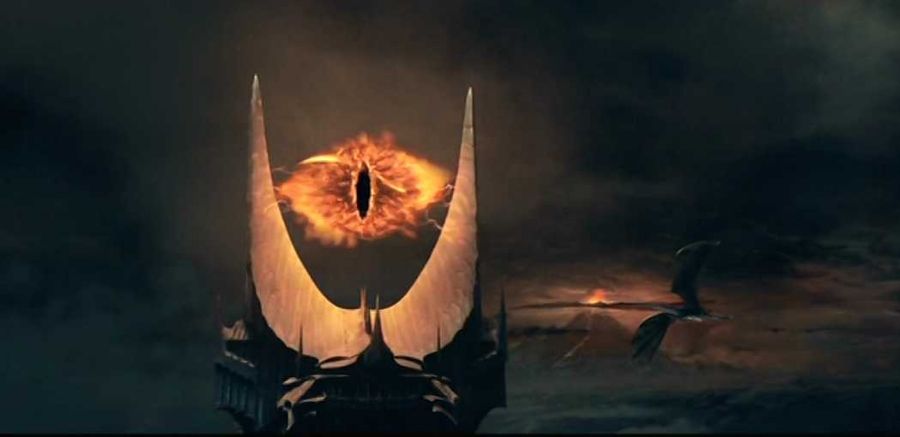 The time of the Elves ...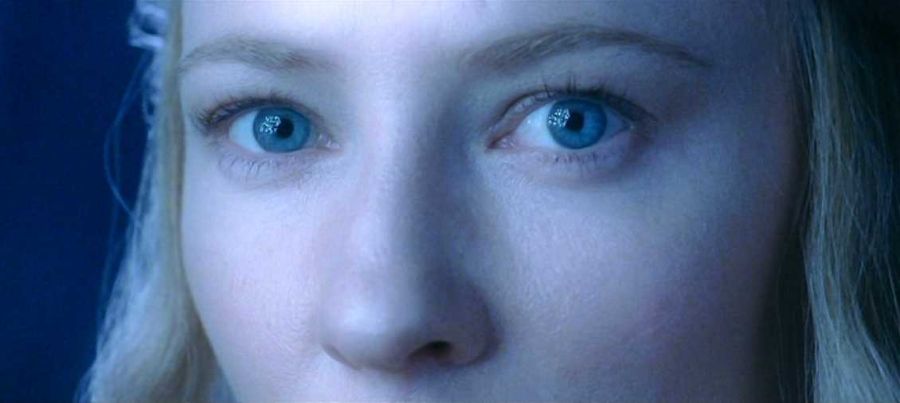 ... is over. Do we leave Middle Earth to its fate?



Do we let them stand alone?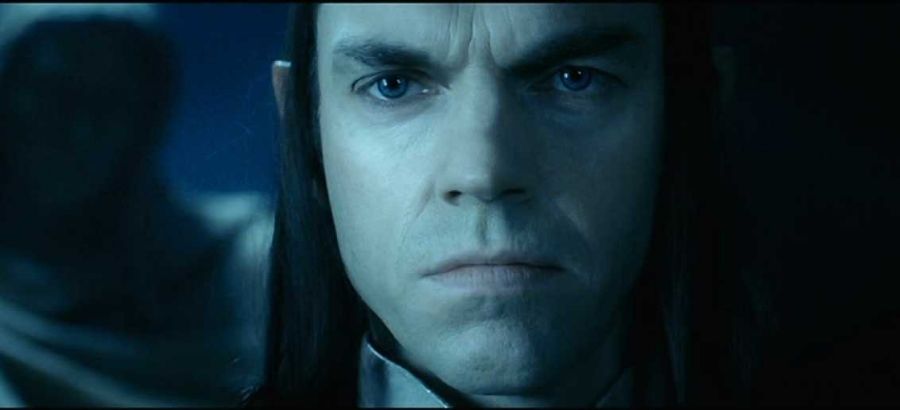 "At last they were set on their feet once more. For a moment they stood so, half fearful, blindfold, not knowing where they were: and no-one spoke.
Then came the voice of Faramir close behind. 'Let them see' he said. The scarves were removed and their hoods drawn back, and they blinked and gasped.
They stood on a wet floor of polished stone, the doorstep, as it were, of a rough-hewn gate of rock opening dark behind them. But in front a thin veil of water was hung, so near that Frodo could have put an outstretched arm into it. It faced westward. The level shafts of the setting sun behind beat upon it, and the red light was broken into many flickering beams of ever-changing colour. It was as if they stood at the window of some elven-tower, curtained with threaded jewels of silver and gold, and ruby, sapphire and amethyst, all kindled with an unconsuming fire."
(The Window On The West : The Two Towers)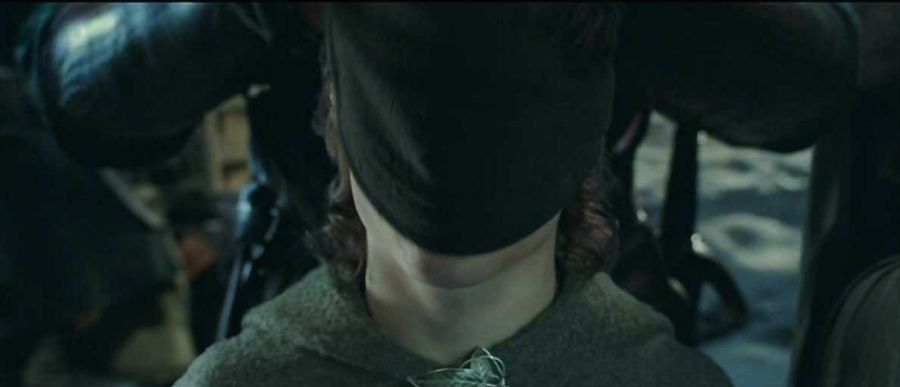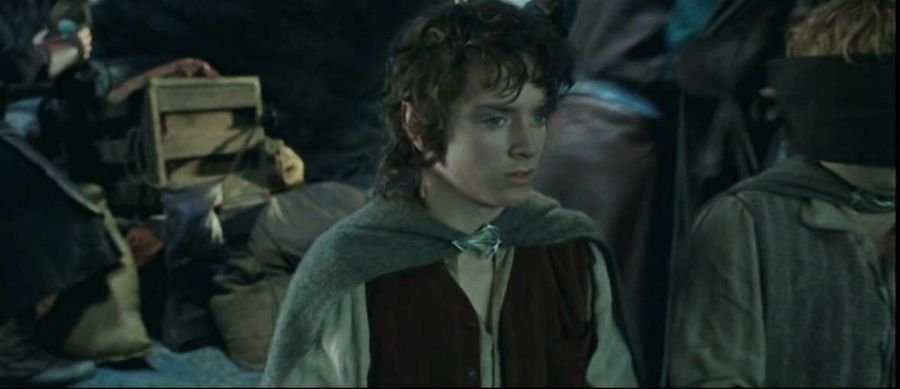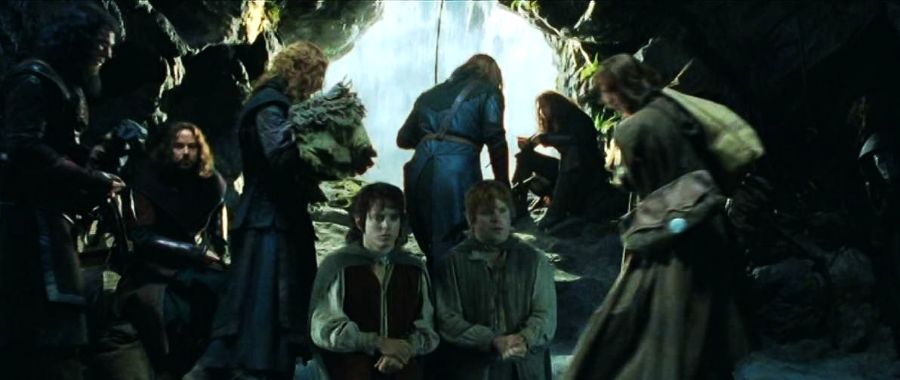 My men tell me that you are Orc spies.

Phillipa Boyens: "This scene never changed very much surprisingly, did it? This is one of the few scenes that, well certainly Sam and Frodo's stuff never really changed from the grey pages that were written."
PJ: "It's actually one of the few scenes in the movie where we get to see how big hobbits are too. There's a lot of things in this film that are a bit different to Fellowship, I mean Fellowship had all that stuff where you saw that hobbits were small but because Frodo, Sam and Gollum are by themselves most of the time there's very few opportunities to remind you how big they are but when they're with these guys obviously we do get that chance."
Spies? Now wait just a minute!



Well, if you're not spies, then who are you?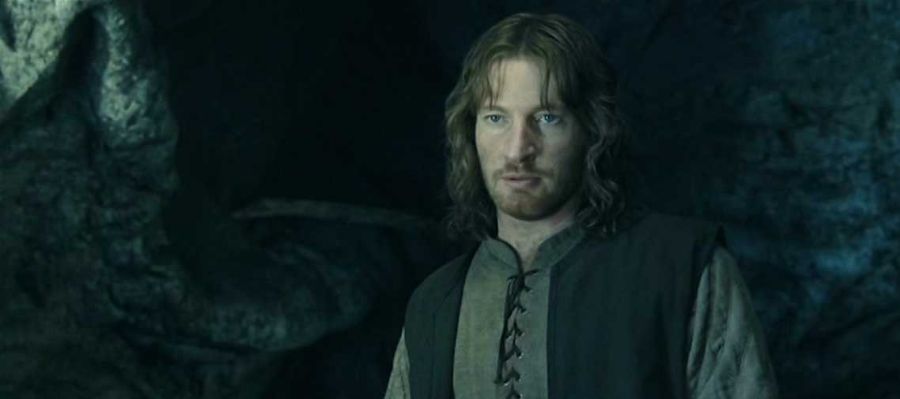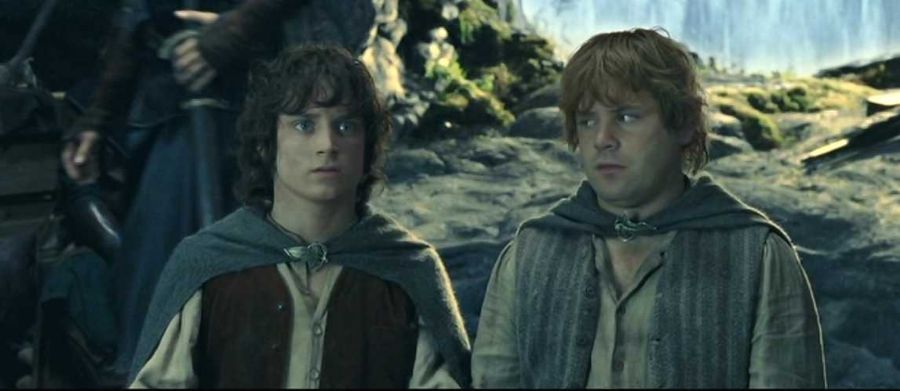 Speak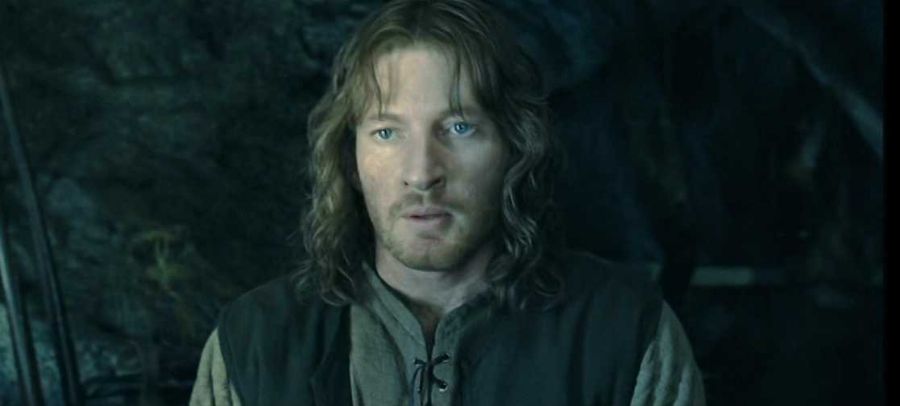 We are Hobbits of the Shire.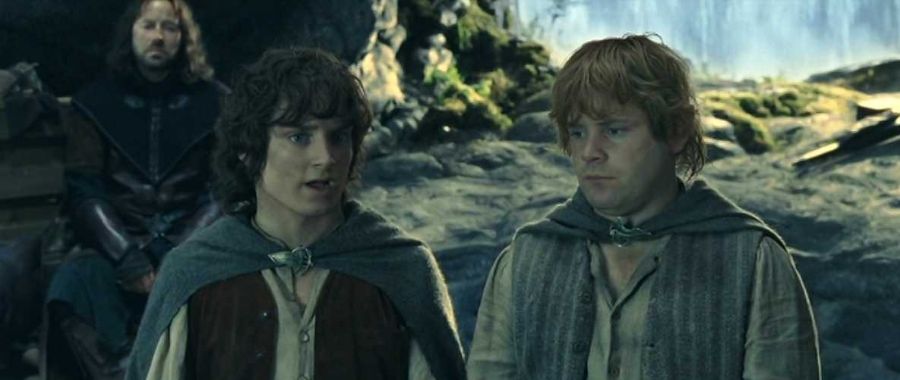 Frodo Baggins is my name and this is Samwise Gamgee.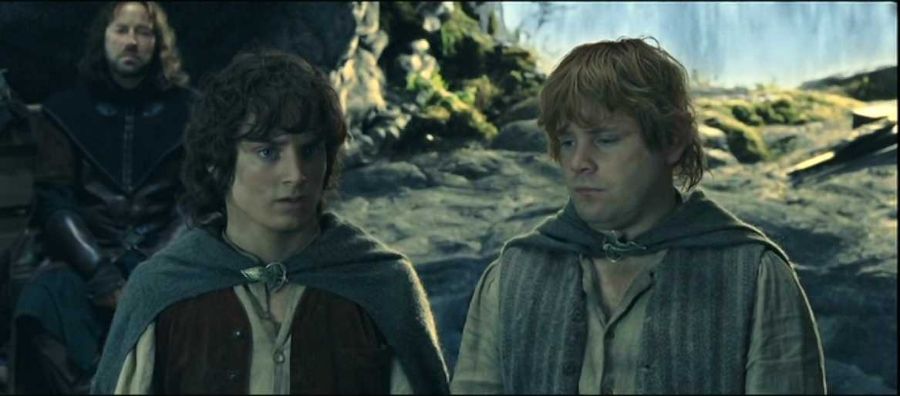 Your bodyguard?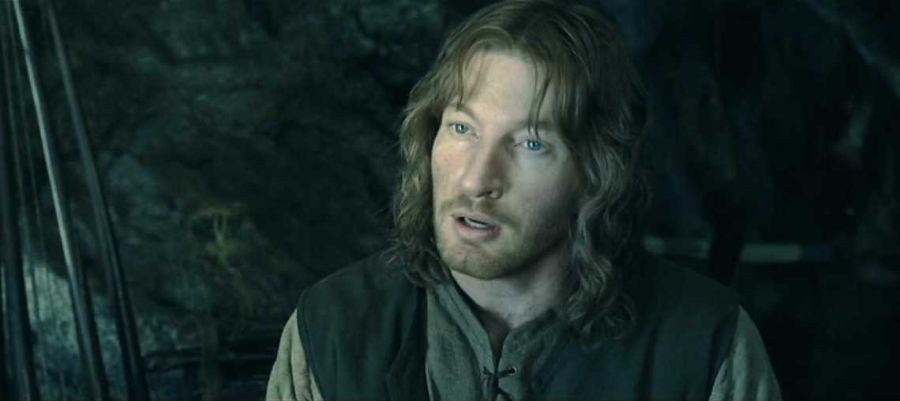 His gardener.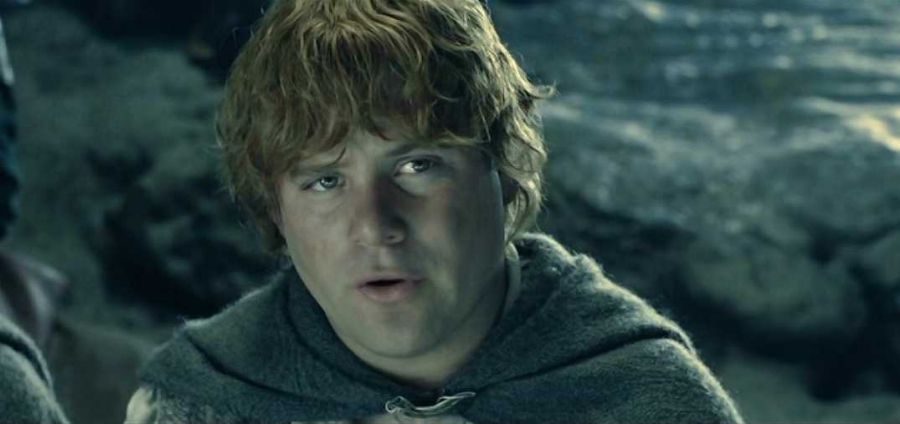 And where is your skulking friend? That gangrel creature. He had an ill-favoured look.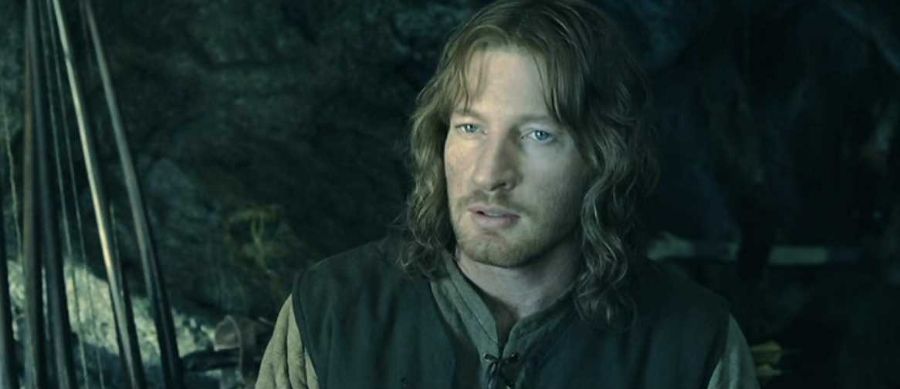 There was no other.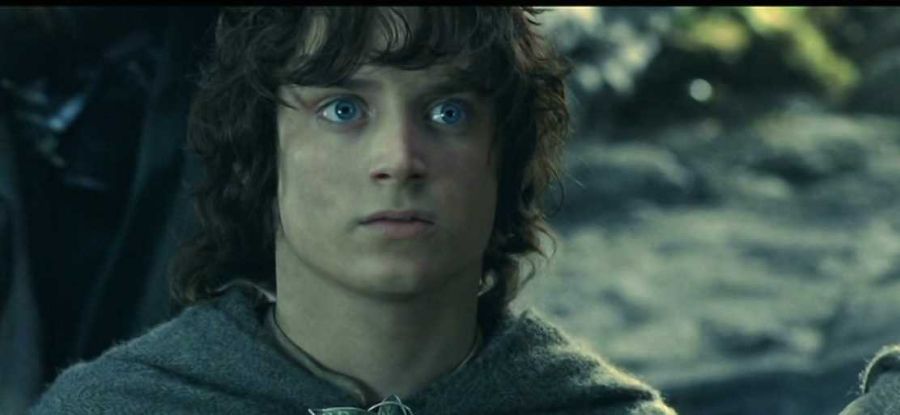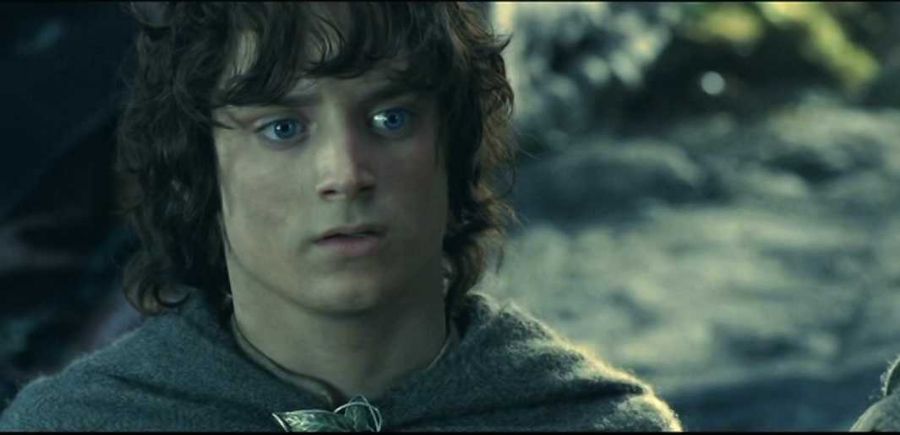 We set out from Rivendell with seven companions.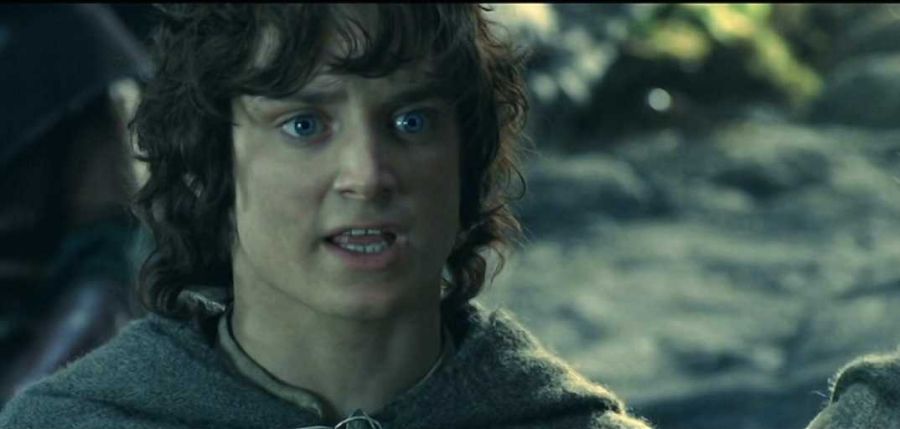 One we lost in Moria ...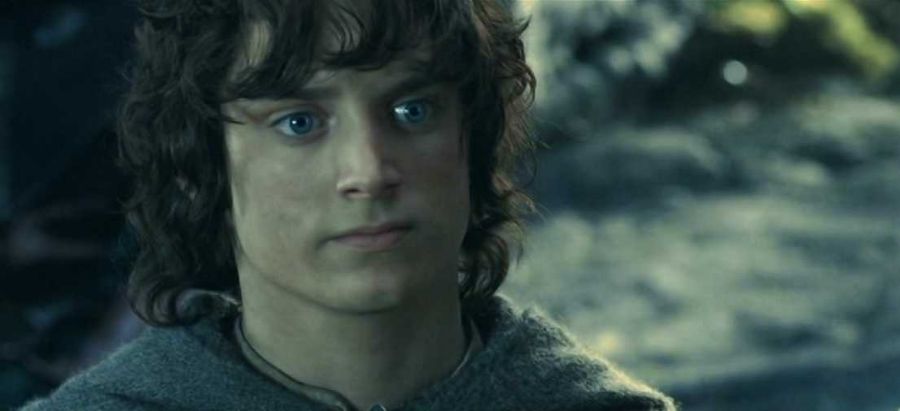 ... two were my kin. A Dwarf there was also. And an Elf and two Men ...
Aragorn, son of Arathorn, and Boromir of Gondor.



You're a friend of Boromir?



Yes. For my part.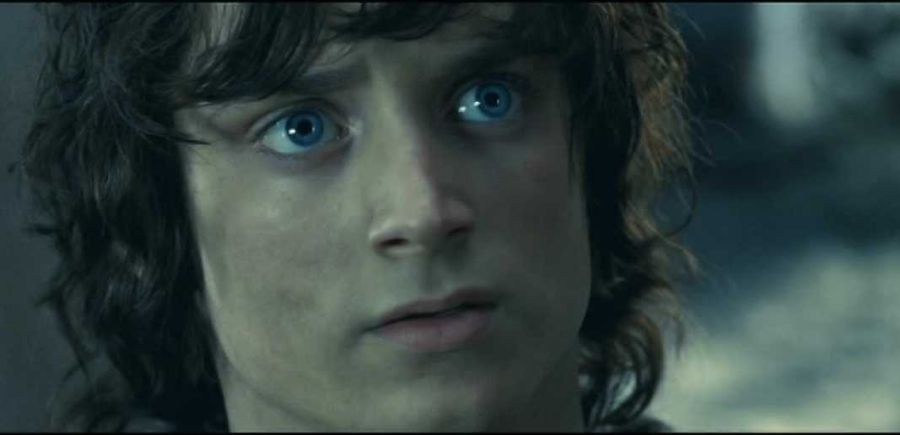 It will grieve you then to learn that he is dead.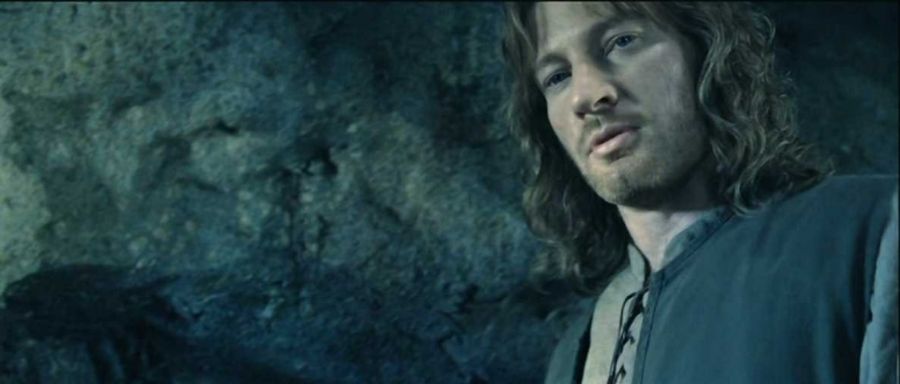 Dead! How? When?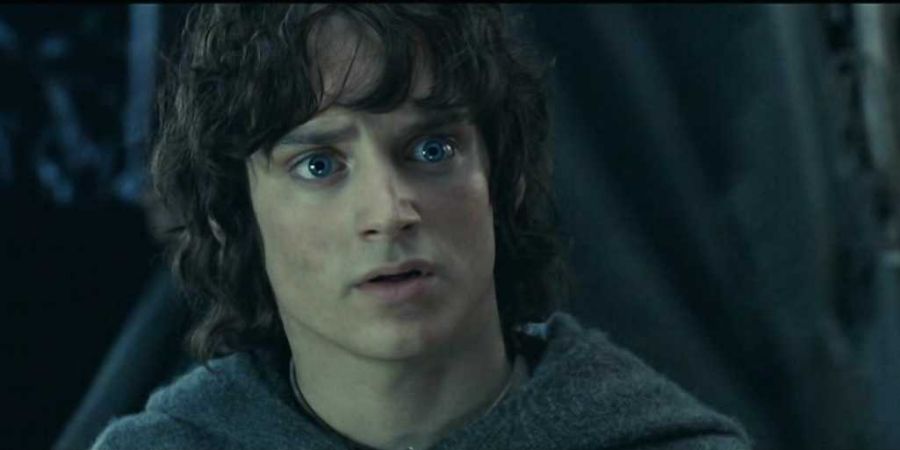 As one of his companions I'd hoped you would tell me.



If something has happened to Boromir we would have you tell us.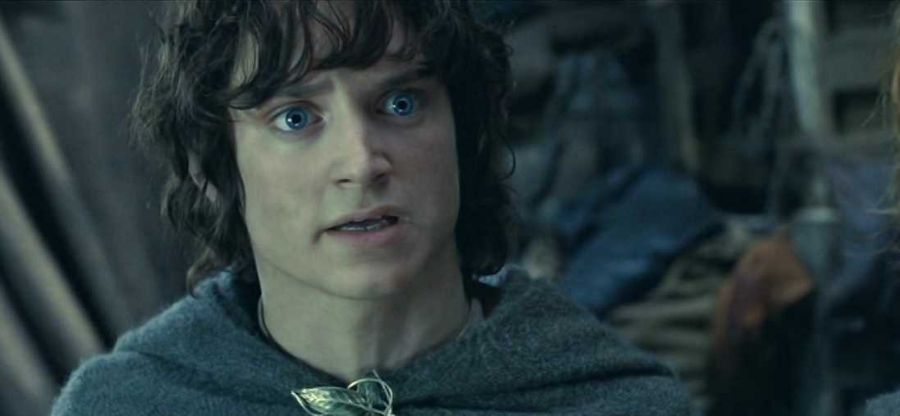 His horn washed up upon the riverbank, about six days past. It was cloven in two. But more than this I know it in my heart. He was my brother.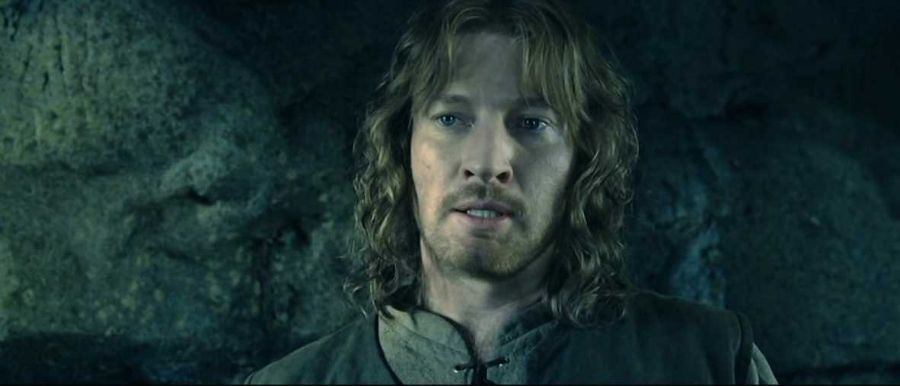 ---


UGO: "How do you feel about Sean Astin possibly getting an Oscar nomination for his role?"
ELIJAH: "The man deserves it. It's an incredible, tour de force performance. He's absolutely brilliant. He deserves anything he gets. He makes me cry so many times and he's so wonderful to work with and a dear friend. I support him, I want everything for him."




TO BE CONTINUED

LINK TO ALL CHAPTERS:

"A JOURNEY WITH FRODO"
comments: Leave a comment