| | |
| --- | --- |
| Current Music: | Gone : Elijah Wood (yes Blossom I have it!!) |
| Security: | |
| Subject: | A Request for Help:) |
| Time: | 09:53 pm |
| Current Mood: | Reminiscing |
Finally posting next part of my NZ journey - still doing battle with my pc - but first:
HELP!!!
I really thought I'd got all my video clips stored safely on disk but after my computer crash I find I'm missing a few. So, if anyone could provide me with a link to the following I'd be really grateful:
The Today Show, 13 Dec. 2001. Can't believe I've lost this - its this one:
A little news clip - probably on NZ tv - announcing the return of Frodo Baggins to Middle Earth. This was when Lij arrived at the airport for the ROTK premiere. It was only very small but I loved it - especially some man saying "Welcome home, my friend".
The long Nieman Marcus clip - I have the short one - but this is the one where Lij & Billy were asked about working with Liv.
David Letterman - Dec. 01 - I do have this on video but its very poor quality.
The Matthew Harding interview - I have two clips from this but I seem to be missing the one where Lij, Billy & Dom talked about what it was like doing motion capture, amongst other things.
There may be a couple more but I can't remember them just now.
And does anyone - prays - have the Viva interview from Dec. 01 where Lij is interviewed by a (German?) girl? I lost this one after my FIRST computer crash & have never been able to find it again.
Keeping fingers crossed.
The second part of my NZ report covers Rotorua which is about the only place we stayed which wasn't used for LOTR filming. However, it was a very beautiful place and as mentioned in the report it was visited by Lij and some other LOTR folk:
We concluded our visit to Hobbiton with a cup of tea at The Workmans Café which gets a mention in The LOTR Guidebook. We then headed for Rotorua where we had a room booked for the night. This is an amazing place, the home of the famous thermal springs. It was voted most beautiful town in NZ several years running. Our room at the Royal Geyserland Hotel actually looked out onto these steaming geysers. I don't think any LOTR filming was done here but some of the cast did come here – there was a pic in Sean's book of Lij, Sean, PJ & Rick Porras playing golf in Rotorua. The golf club was opposite the front of our hotel. And as they were there I'm sure they'd have paid a visit to the nearby Maori Arts Centre. This is what we did the next day and it was a wonderful & fascinating experience. I really wish we'd had longer in Rotorua – I hadn't expected it to be so lovely. Somehow, when you hear about bubbling mud springs it doesn't really evoke a very pretty picture - & I'd worried about how we'd spend the time once we'd seen the geysers. We were only there for one night, and we were disappointed to hear that the Maori concert for that night was fully booked.
A view of the golf club taken from the Maori Arts Centre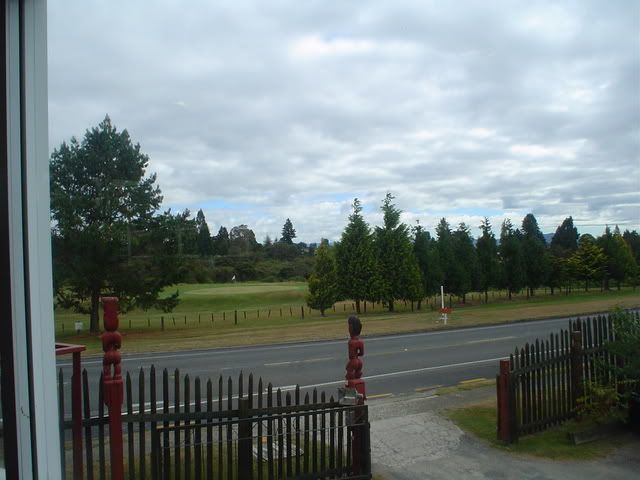 The Maori Arts Centre where we were given a wonderful insight into Maori culture: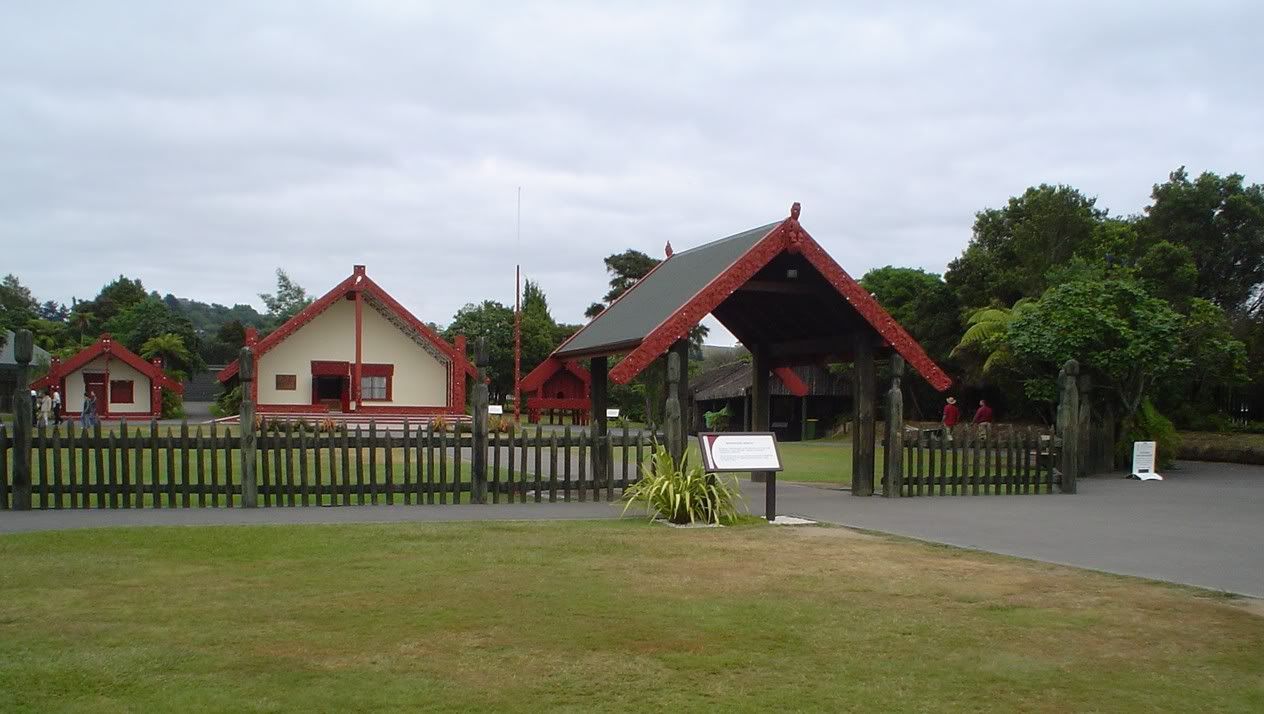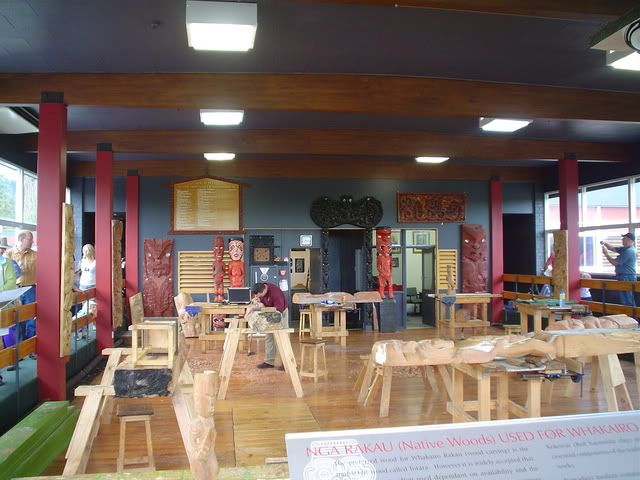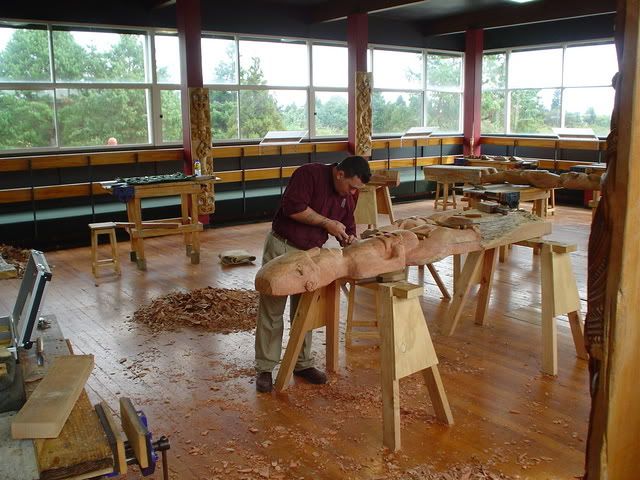 This was the road which led us to the thermal springs: we also saw a kiwi (should have been two but the other one was hiding!). They are kept in a special darkened building as they are nocturnal & we were told not to make any noise or do anything which might startle them, like taking pics. Sadly, their numbers are dwindling rapidly:(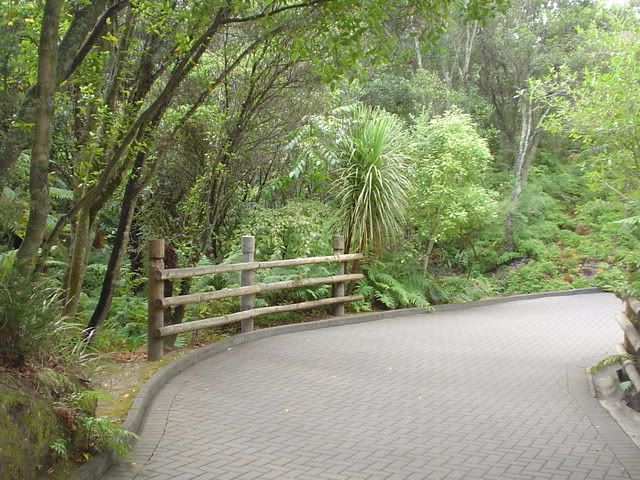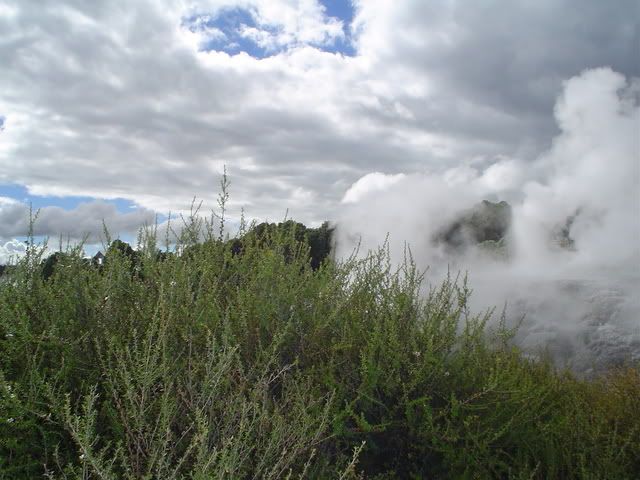 The geysers are fascinating, every now & then they shoot high into the air (and everyone around gets soaked:D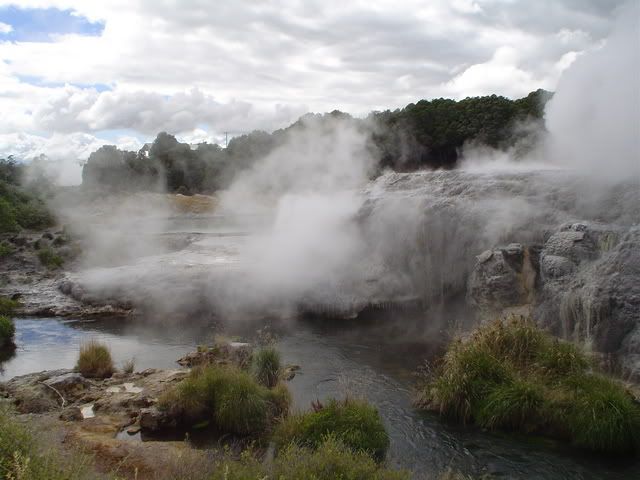 Government Gardens - so beautiful!!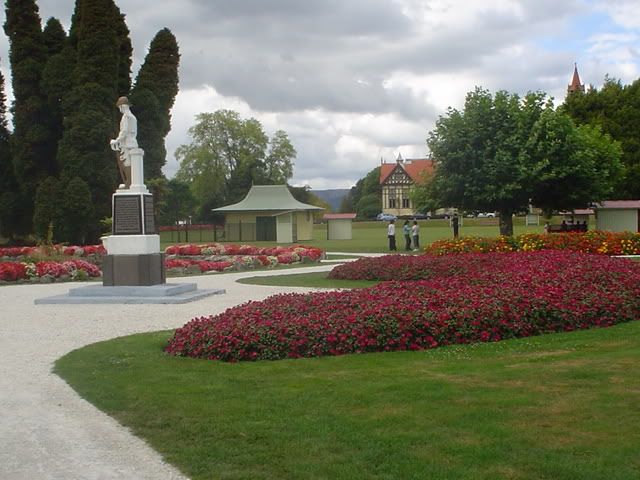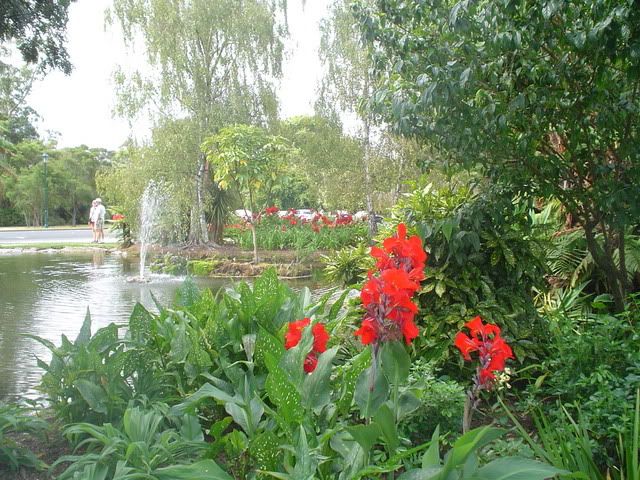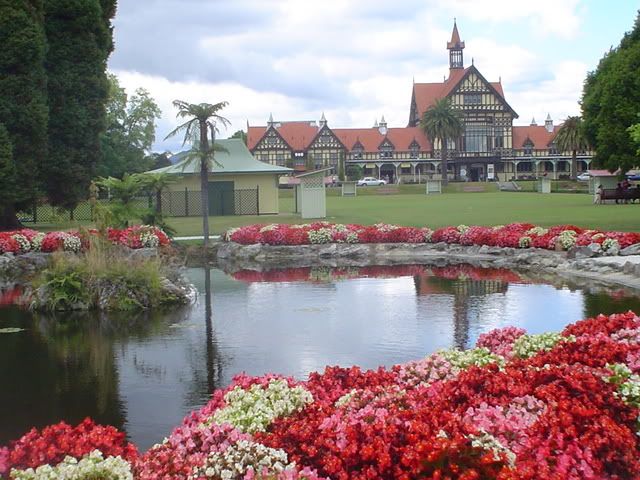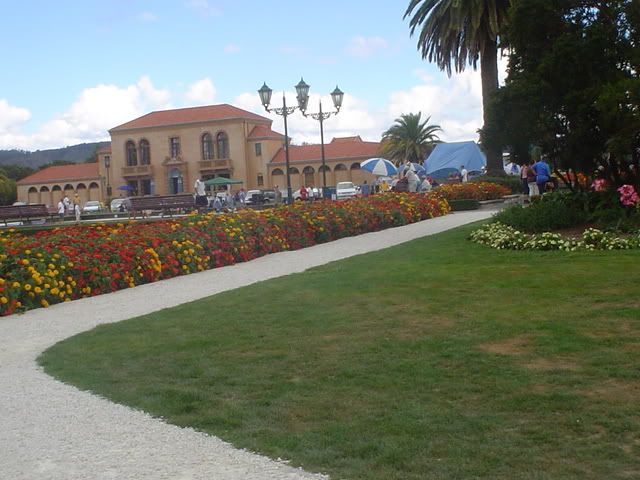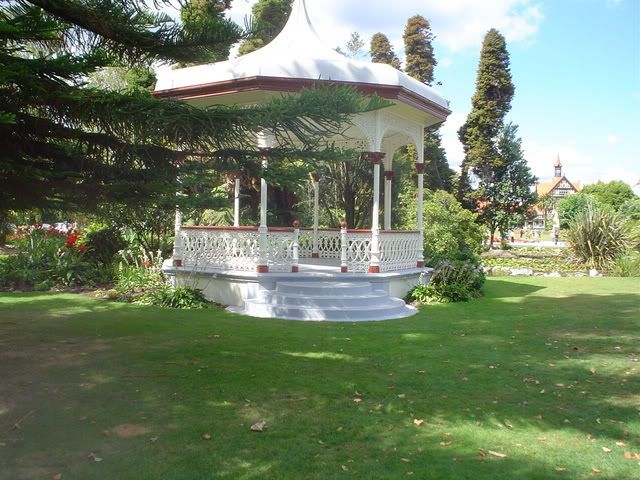 Coffee time!!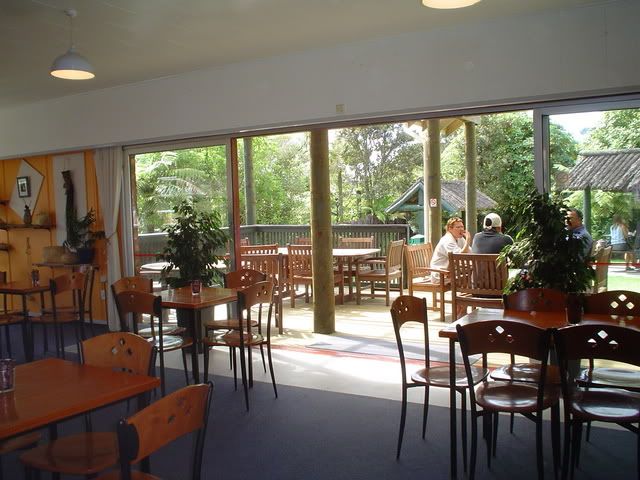 Tourist Centre: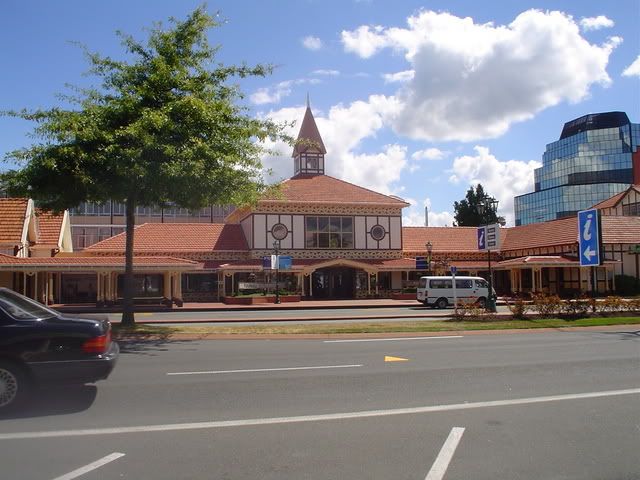 Police Station: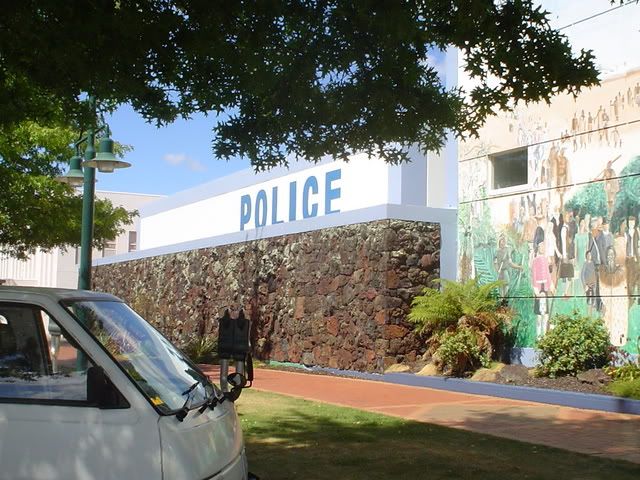 The Maori name for NZ is Aotearoa ~ Land of the Long White Cloud - & this pic, taken by Lake Rotorua, is a perfect example. We saw this same sort of cloud formation very often.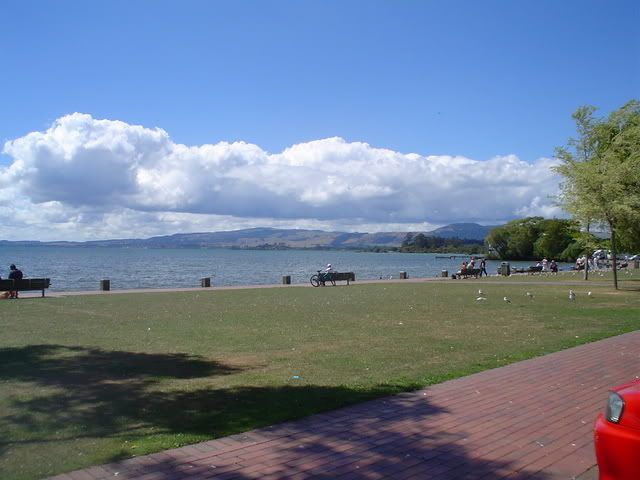 We really could have done with longer in this lovely place. Next we were off to Tongariro National Park - Mordor!! Sadly, I have no pics of this, only video footage - but thats another story, which I will relate next time:)
comments: Leave a comment