| | |
| --- | --- |
| Current Music: | After The Fall ~ October Project |
| Security: | |
| Subject: | WELLYWOOD!! |
| Time: | 08:56 pm |
| Current Mood: | Wellywood |
Next part of my NZ saga - but first, does anyone know if its possible to download Lij reading from the 'We're Still Here' documentary anywhere? We didn't get it in the UK. Also, does any fellow Brit know which MTV channel the XBox thing will be on Friday?
The next day we set off for the fair city of Wellington. We were staying at the Ibis Hotel right in the centre. We were shocked to find out on arrival that there was no parking. A self-drive holiday & they give you a hotel without parking!*?!! They told us where we could park but it cost us quite a bit extra & wasn't all that close to the hotel. It was a nice hotel but I'd have preferred to stay on the outskirts near one of the bays, like PJ's home of Seatoun for example. Our original intention had been to visit all the LOTR filming sites round Wellington on our own, but as I looked into it more I could foresee all kinds of problems. Also, I had come across a leaflet a few days earlier advertising one-day escorted tours by the Flat Earth Co. It was rather expensive but so tempting. Although I doubted we'd be able to book one at such short notice, I decided to give them a ring and sure enough they said they could fit us in with two other people the next day and our guide, Colin, would pick us up at our hotel at 9 the next morning. It turned out to be one of the highlights of our holiday.
Like most of the population of Wellington, Colin had appeared in LOTR. He was a soldier at Helms Deep. He will also be in King Kong. After picking up our fellow travellers, Peter & Sydney, he said our first stop would seem rather a strange place to go and wondered if any of us knew the connection of this place to the films. It was a rugby stadium and of course I knew it was where PJ had asked the crowd to stamp their feet for the TTT battle scenes. There was silence from the others so I pretended I had to think hard before coming up with the answer!! This was the first of a series of quiz questions from Colin – guess who won!! I actually felt quite embarrassed!! We then went to the site of the quarry where Helms Deep & Minas Tirith had been built. There was a road running right past it which apparently had been open when those structures were there – how strange for regular drivers along that road to see those sights every day.
Next we were taken to the Hutt River which was one of several rivers used for the River Anduin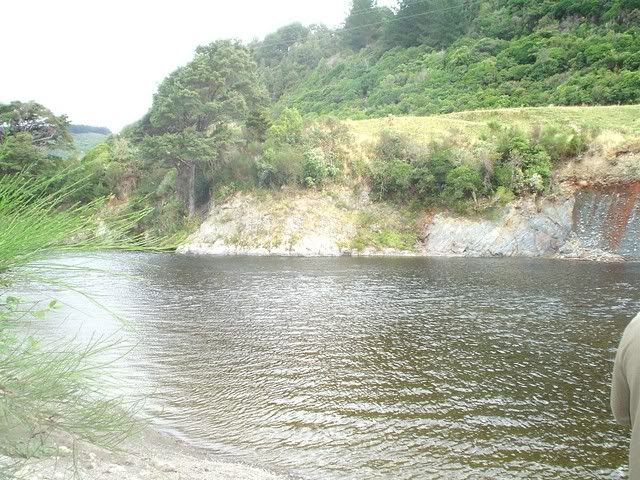 We were then off to Harcourt Park which was the location used for the gardens of Isengard in FOTR. Remember Gandalf and Saruman walking through the garden as they talked? That was here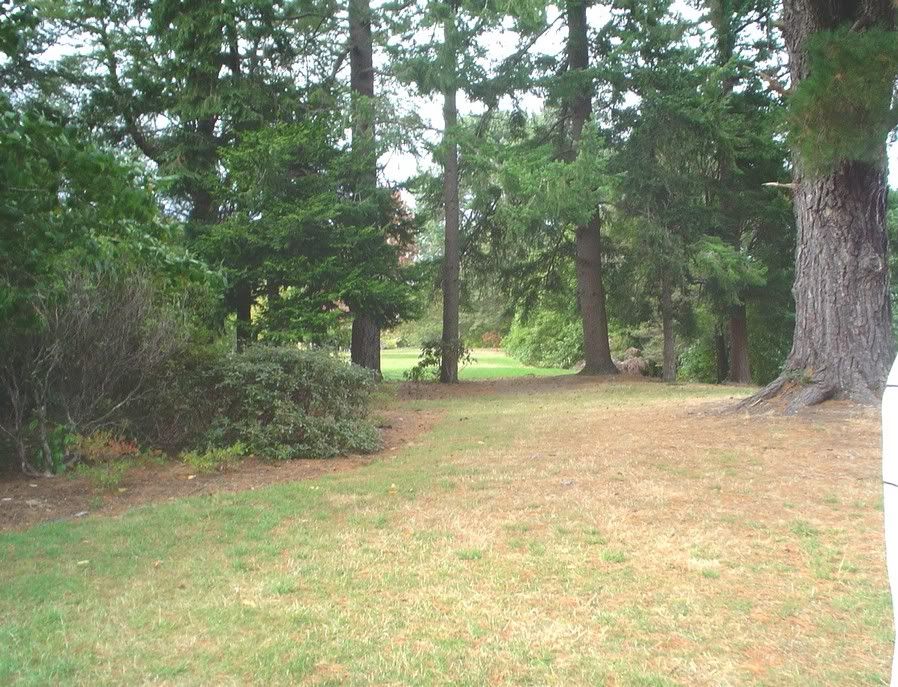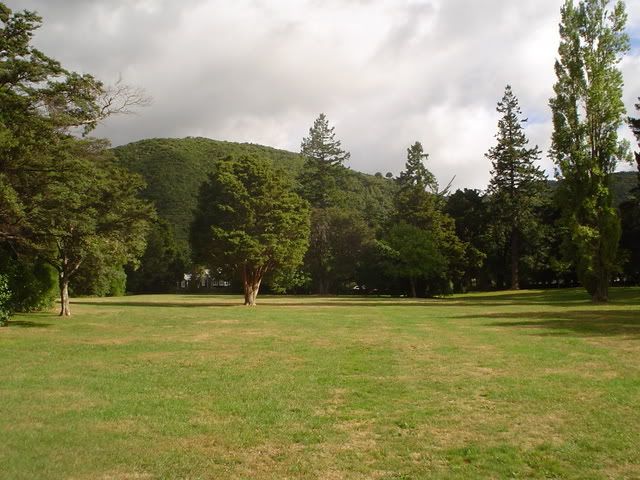 This is also where the orcs were filmed at night tearing down the trees.
We were then taken to another part of the River Hutt and told this was a scene featuring just one person. I did have to think about this one, and at first I thought it might be where Frodo stood weeping with the ring in his hand. But suddenly the penny dropped – it was one human being, but there was also an animal in it. It was where Aragorn lay after falling during the battle with the wargs and where his horse nuzzled him: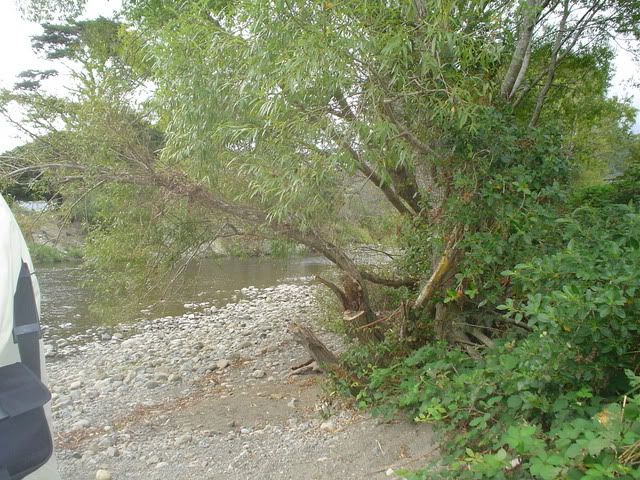 And then to Rivendell!! Situated in Kaitoke Regional Park, it is not difficult to picture that Elven paradise in this beautiful place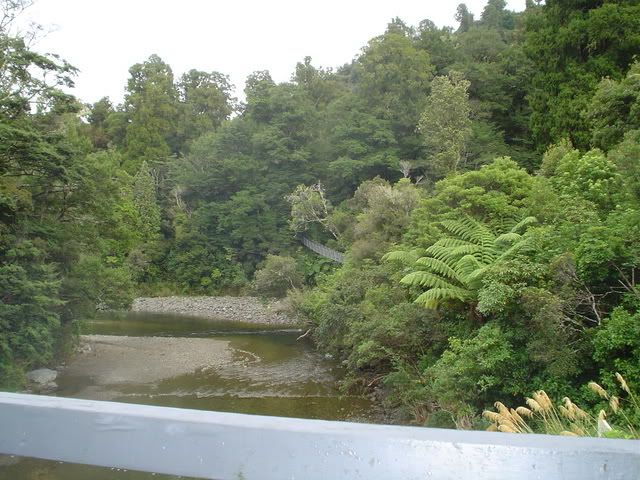 This is the very spot where Frodo's bedroom was constructed: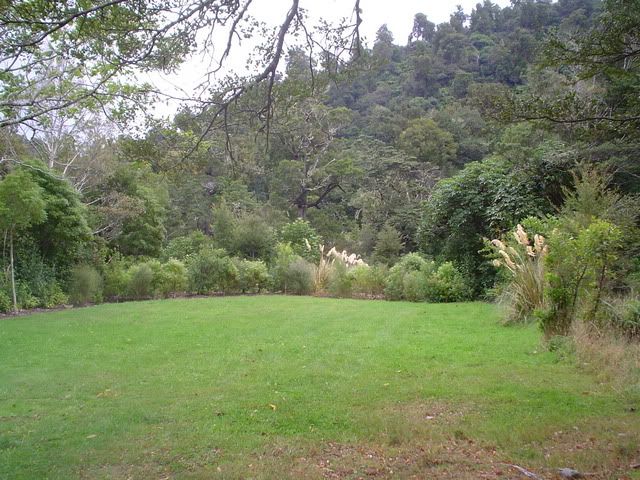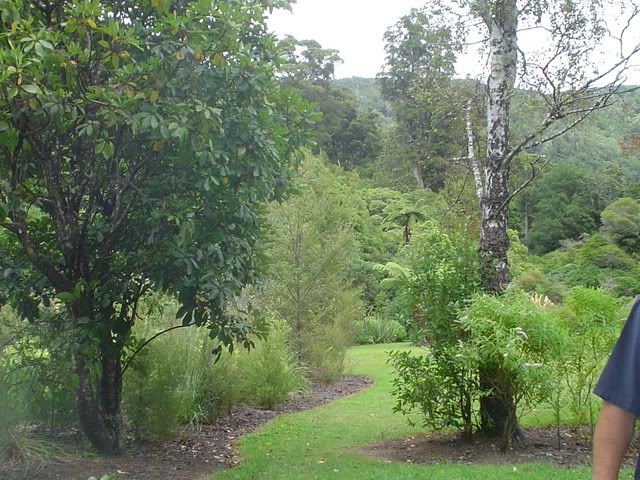 Our next stop was somewhere we would have been unable to visit if we'd tried to do this on our own. Fernside is a beautiful house standing in private grounds which were used for some of the Lothlorien & Gladden Fields scenes. The only way to get in is to either stay at the house, and I believe there are only 3 or 4 guestrooms which I should imagine are extremely expensive, or to go with the Red Carpet Tour or Flat Earth. We were greeted by Mike whose job it was to escort us round the grounds. He was a very imposing figure dressed in a sort of Aragorn/Boromir get-up complete with sword. His sword had been signed by Orlando & he told us a funny story about that. At the ROTK premiere parade in Wellington he spotted Orlando and it suddenly occurred to him how cool it would be to get him to sign his sword – without thinking he whipped the sword out and was immediately pounced on by some worried security people!! He managed to convince them that his intentions were quite harmless & succeeded in getting his signature.
I wish I'd thought to ask whether the cast actually stayed here during the filming. It is so beautiful & tranquil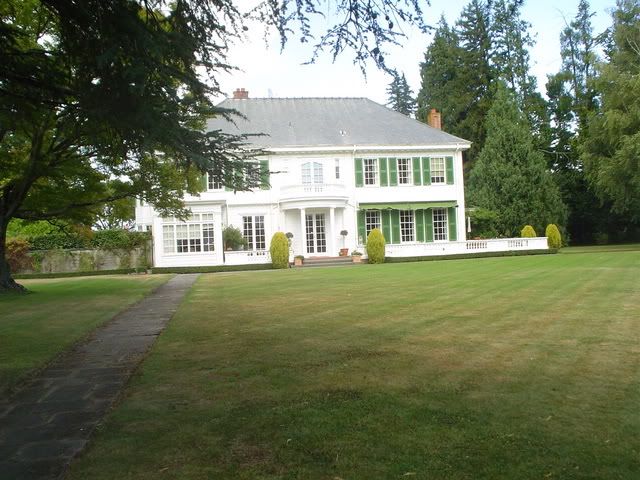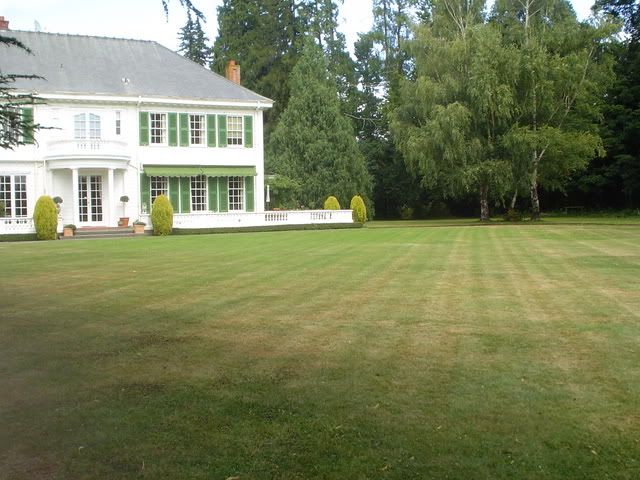 The path to the lake: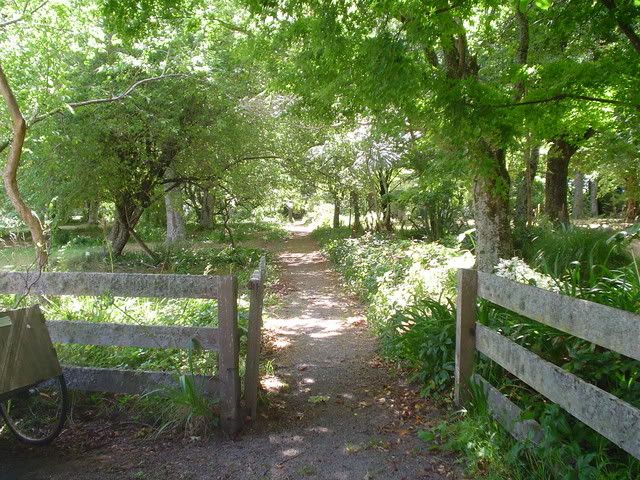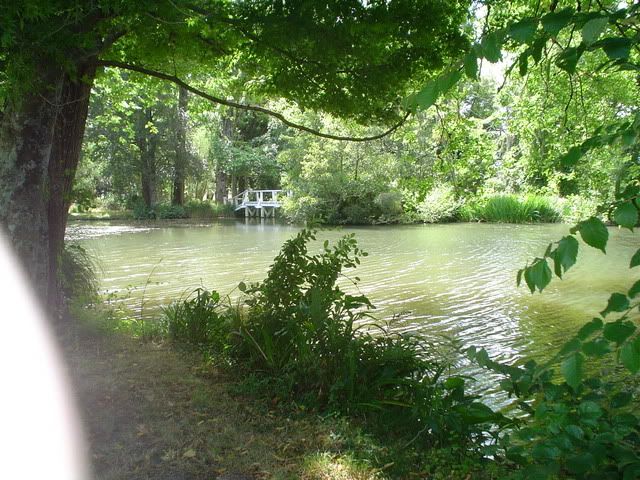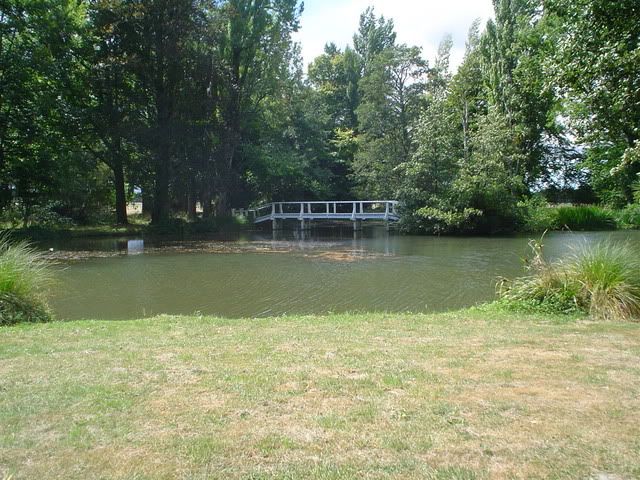 Mike told us he was there during the filming of Smeagol & Deagol's fight on the river bank. They were told to avoid eye contact with the actors while filming was taking place but he said it would have been impossible anyway to distract Andy & Thomas, they were so completely lost in what they were doing: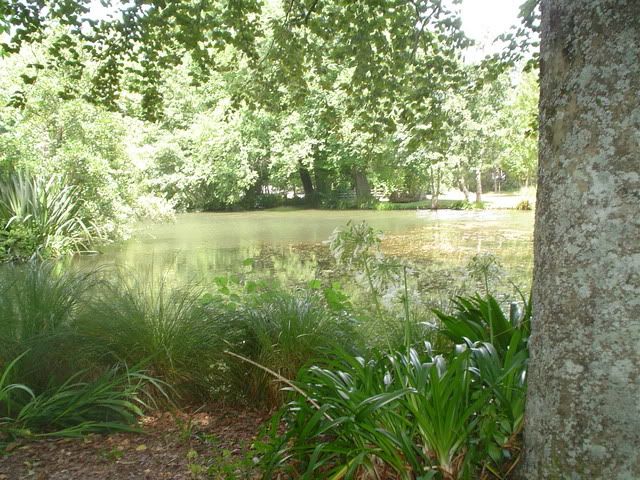 Mike, fellow travellers Sidney & Peter & Mike's little dog who followed us everywhere!!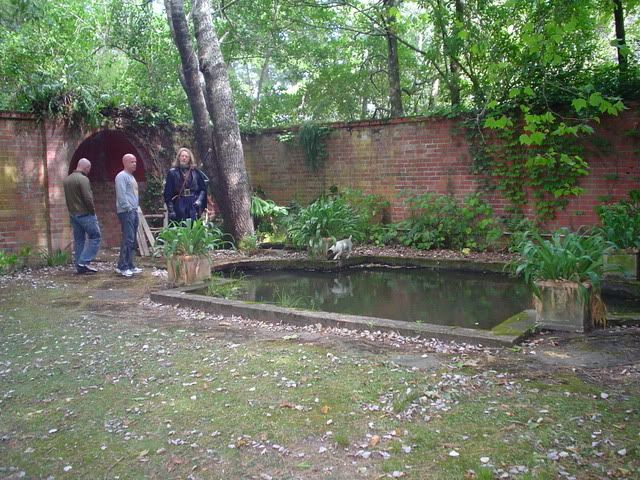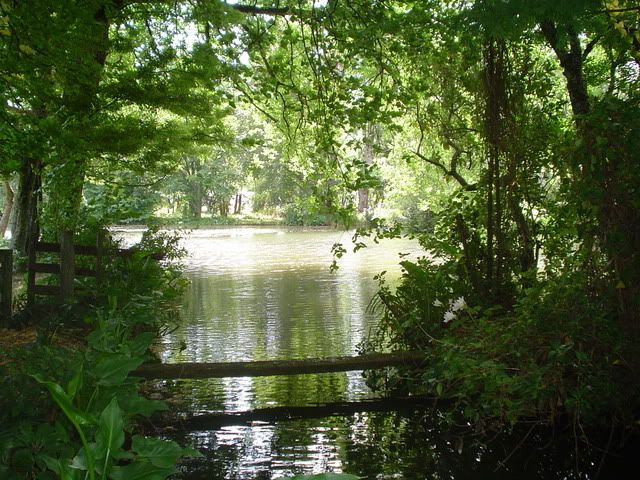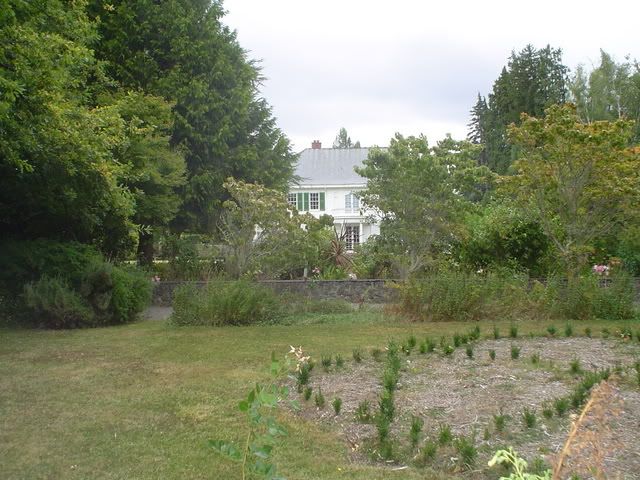 This marquee had been erected for a family wedding the next weekend and we were allowed to have our lunch in there. Very nice it was too!!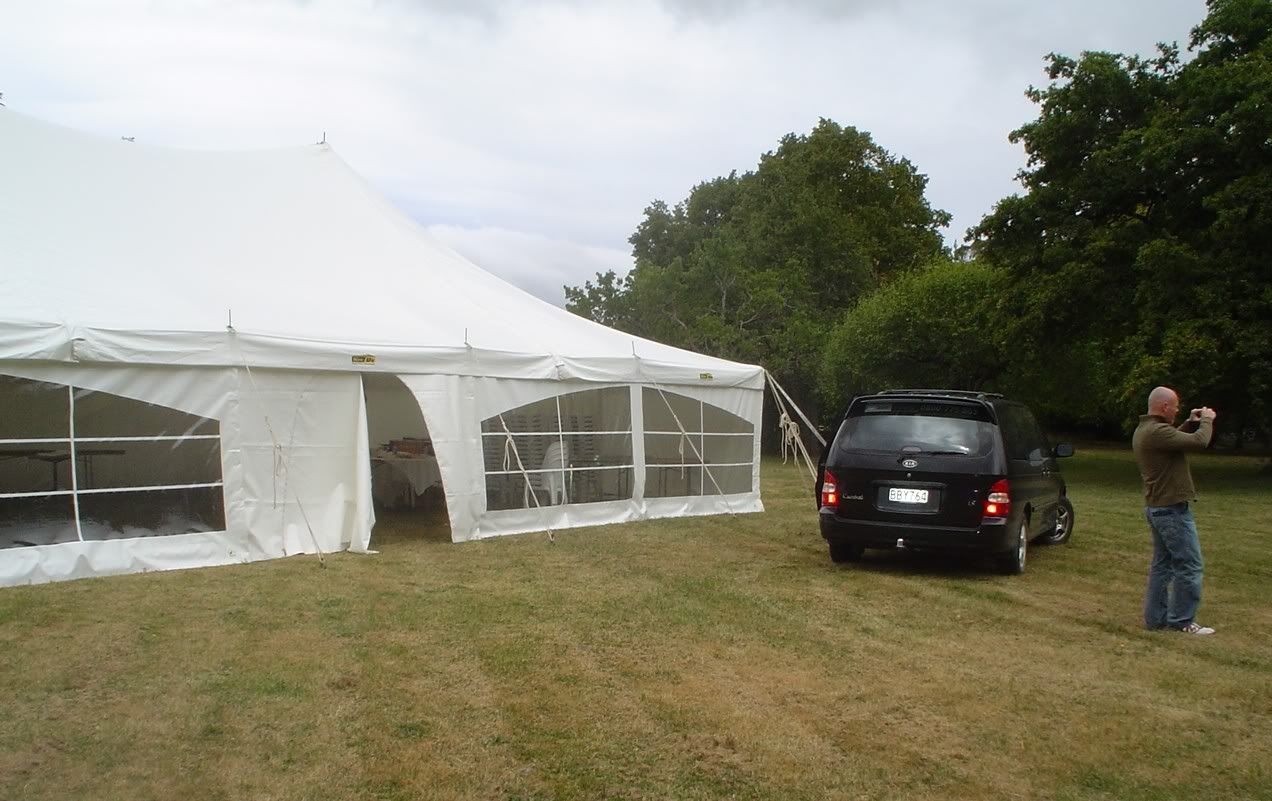 Next it was Miramar & Seatoun and we had a little peek at the studios – when we went round the back we saw the huge blue screen which is currently being used for King Kong.
Our next stop was something I'd been looking forward to but it turned out rather disappointing for me. We went to Mt. Victoria Park, location of the very first day of shooting on FOTR and the unforgettable 'Get off The Road' scene. However, what I hadn't realised was just how steep it would be. I should have taken more notice of the dvd commentary when they were discussing this spot – remember how the hobbits had to be carried up the hill because it was raining & very slippy? I stood at the top of that very same slope – I might just be able to get down, but I doubted I'd ever get back up. If I'd gone down I'd probably still be there now – huddling under a tree on The Road!! Roger went down with the others & took some video shots of it, but I really wanted to stand on that historic spot where they had all gathered on that memorable day – 11 October 1999.
While waiting in the van I took this pic, the opening in the foliage is the top of the slope down into the woods: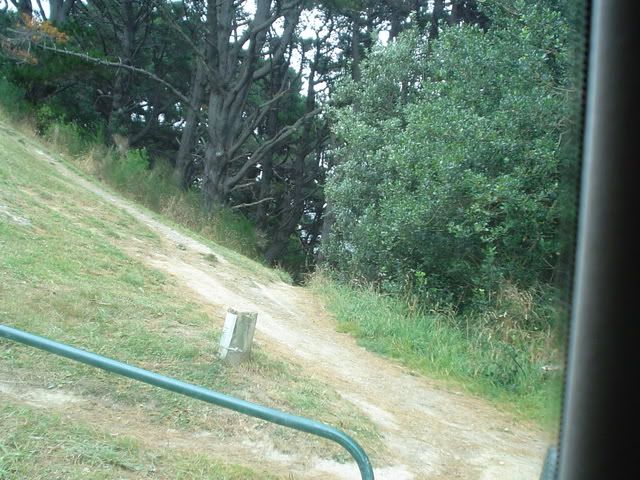 On the way back we drove along the route of the parade on ROTK premiere day and saw the Empire Cinema which I'm sure I took a pic of but it seems to have vanished. And that was the end of a fantastic, memorable day, I was exhausted but it was so worth it.
The next day I was on a mission. There was something I intended to find & luckily it didn't take us too long. Its garish and really rather ugly – but its also very special.
THE BUCKET FOUNTAIN!!!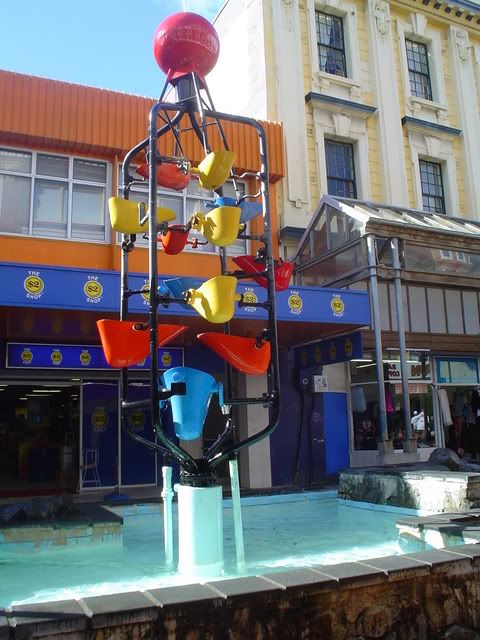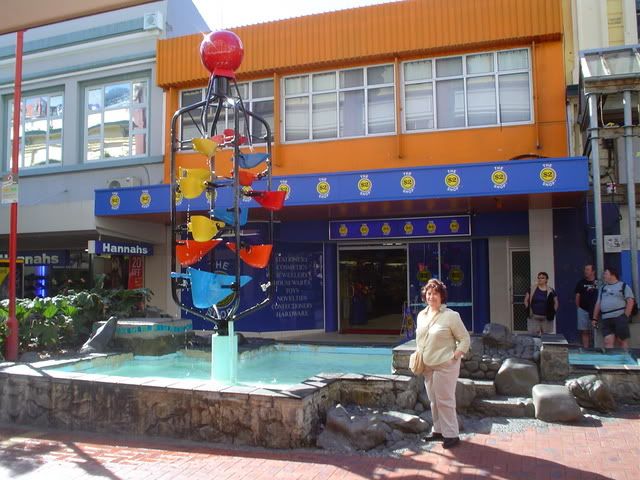 I pictured this place late at night and a group of young people full of fun, and probably a little (or a lot) intoxicated. I swear I could hear Liv's voice ringing through the air, "Guys – did you just
pee
in that fountain!!".
Then we were off in search of the Chocolate Fish Café – we drove round for ages looking for it but we didn't really mind, we were on the coastal road and it was just beautiful. I can't for the life of me remember what I ate at the CF, I'll have to look out the receipt to remind myself. Its next to the beautiful Scorching Bay and I'm sure many of you know that its situated on both sides of the road, the waiters having to constantly cross from one side to the other, and was a great favourite with the LOTR cast. I'd been told there's a chair marked 'Frodo's Chair' but I didn't see it. Viggo used to sometimes turn up by boat, having rowed himself from further up the coast. We chose to sit over the road on the coastal side - & whatever it was we had to eat I remember enjoying it!!
I wonder if this is the only place in the world to have this traffic sign!!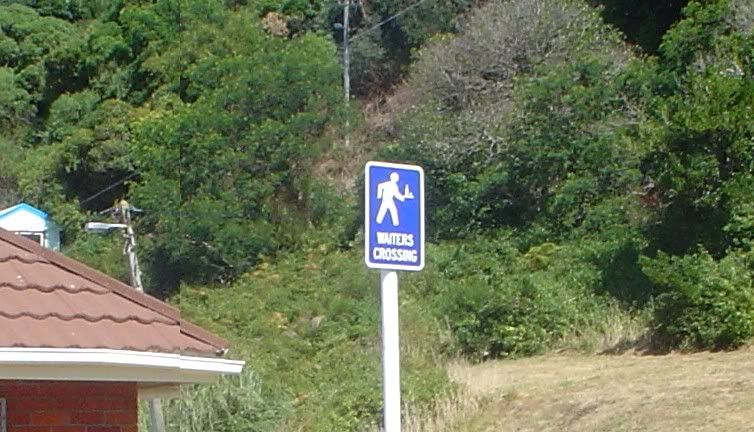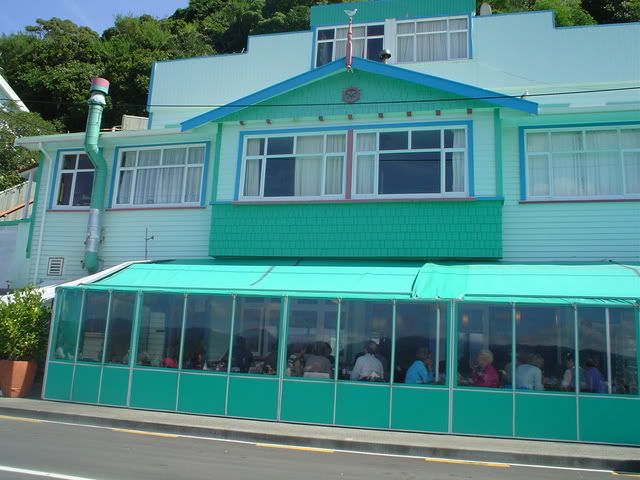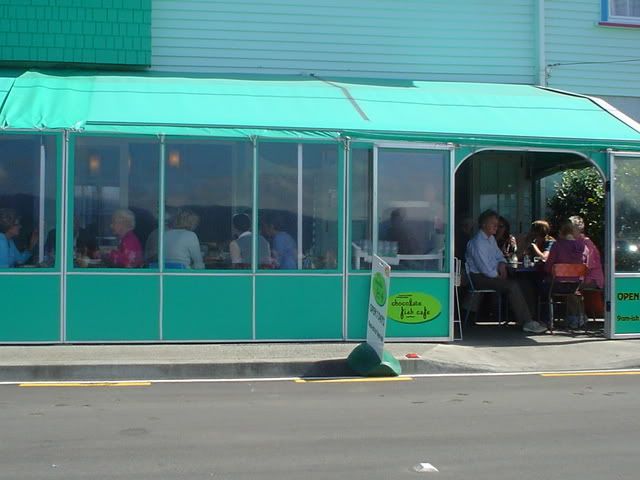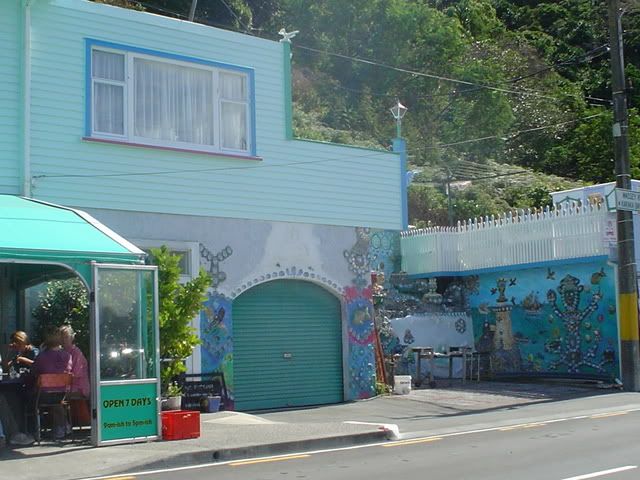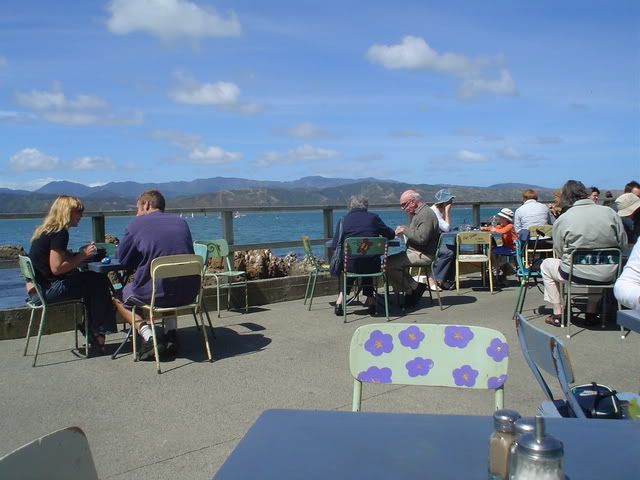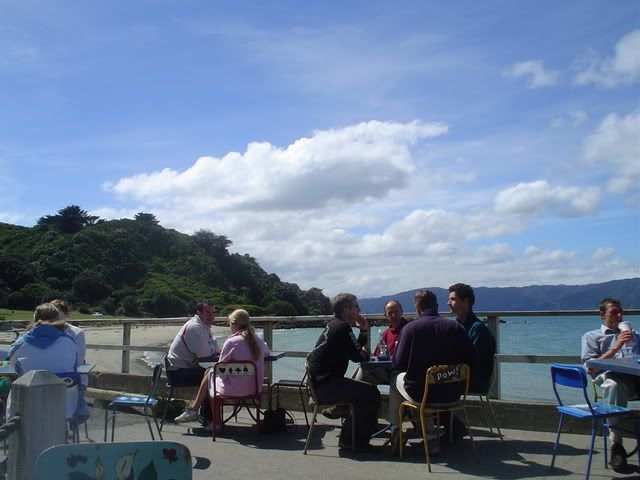 Hubby waits patiently for his meal:
Scorching Bay - wish I was there now!!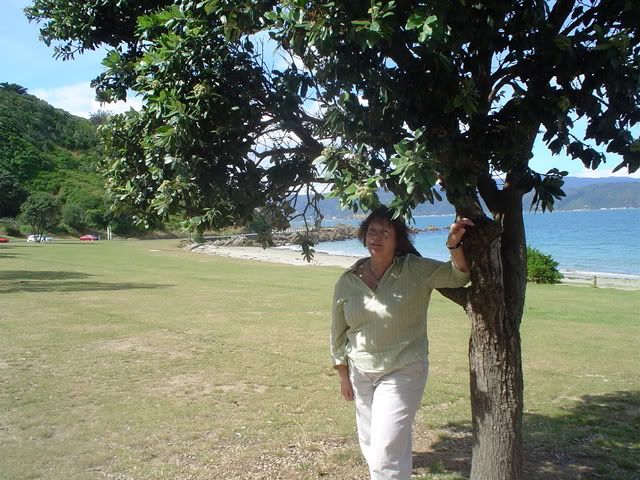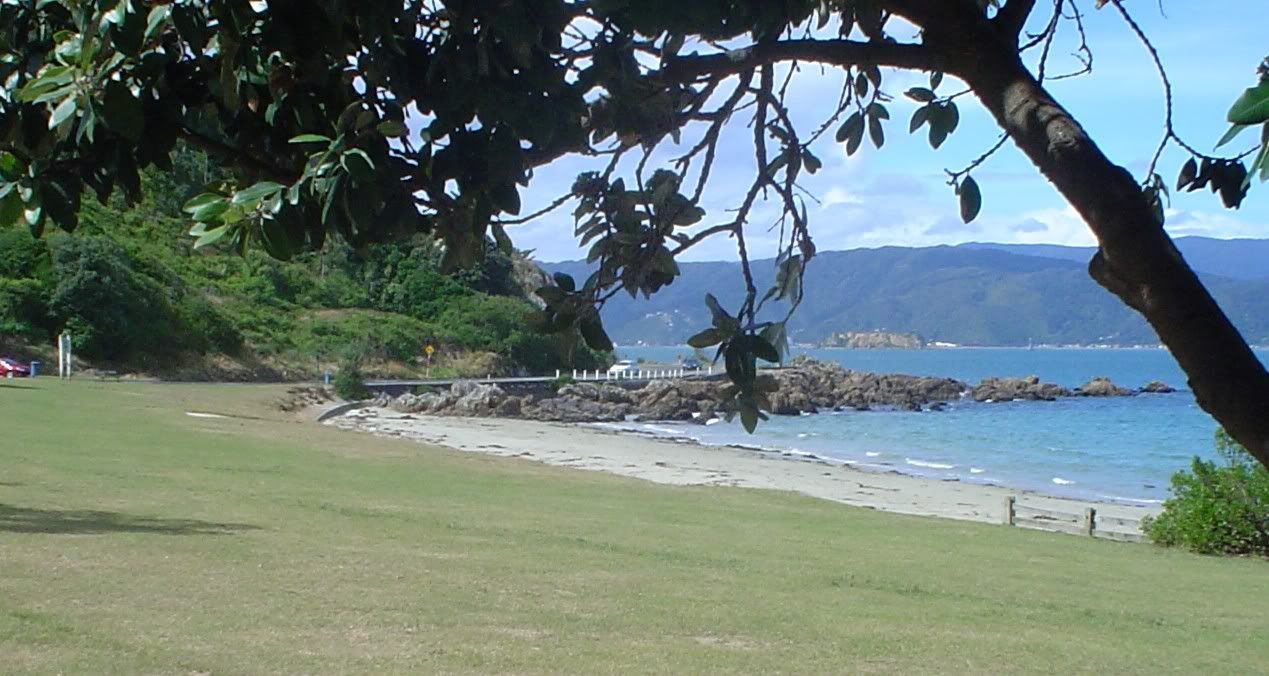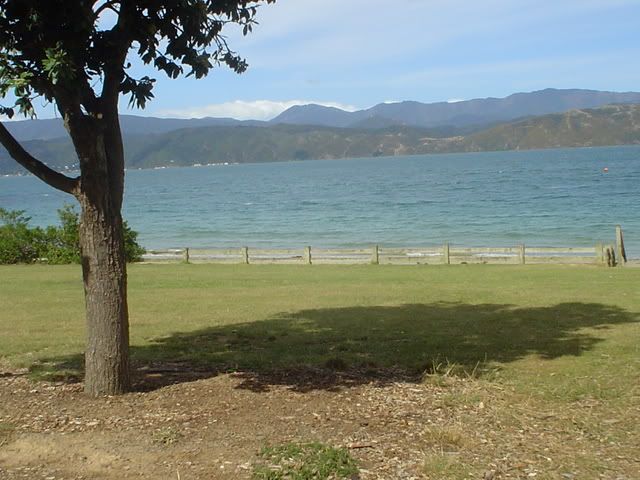 We rounded off the day with a visit to the Te Papa Museum – a fascinating place – and I spent a fortune in the wonderful shop there!! I believe the ROTK press conference was held here – but I must check that out.
View from inside Te Papa:
The next day we had to be up really early – we'd be leaving the North Island and flying to Queenstown. I was very sad to be leaving Wellington with all its LOTR connections. I'd miss seeing buses go past with names like Miramar and Seatoun on the front – and Lyall Bay, where our beloved hobbits would go surfing. So many familiar names cropped up everywhere – sometimes I wouldn't even be able to remember exactly why I recognised a name, I'd just know there was some LOTR association.
However, I was really looking forward to the South Island, particularly Queenstown, Elijah's favourite place in NZ.
comments: Leave a comment