| | |
| --- | --- |
| Current Music: | Shelter ~ Sarah McLachlan |
| Security: | |
| Subject: | MEMORIES ~ SUMMER IN THE SHIRE |
| Time: | 11:24 pm |
| Current Mood: | nostalgic |
I will never tire of browsing through all the behind-the-scenes LOTR stuff that I have, all the details involved in the making of these films will never fail to fascinate me, but I particularly love Elijah's story in becoming Frodo, this 18-yr old boy landing the role of a lifetime, leaving home for the first time and travelling across the world to shoulder this huge responsibility. I wish he would write a book about his LOTR experiences. I've always loved the report by Tehanu from TORN - the 'spy' who eventually got herself invited to spend a day on set. When I read this I am there, in Hobbiton on a hot summers day, and I can almost smell the Shire. For anyone who has never read it or would like to reread it, I have copied it out and added some pics. One thing that occurred to me when I was reading through this yet again - all that talk about the pronunciation of nicotiana and yet we never saw any of that scene, not even in the EE. Just reminds me of how much we never got to see. *Wants more*
"After spending months being a stone in the film company's shoe, I was sick of it. Perhaps they weren't enjoying it either, because when I asked to meet the producer Barrie Osborne he agreed. Two days later I was at the Wingnut production headquarters in Matamata, boggling at a selection of concept art pinned up on the wall. Scary castles, bits of Hobbiton, things I couldn't recognise. Spy heaven, in short.
'Some people at the set want to meet you,' said Barrie.
'Who?'
'Peter Jackson.'
'Um, that's nice,' I said, or something equally alert. I don't remember, because my brain checked out instantly leaving only a hastily scribbled note to say that it would be back as soon as I could offer it a bit more realism in life.
Not long after, we were driving along the familiar road to the Hobbiton set; only this time when we got to the gate it was open and the gate-guard waved us through, and we headed along that tantalizing dirt road that went out of sight over the hill.
First impressions: It's a circus. Tents and marquees everywhere, pens of horses and cattle at full and half-size, and a Clydesdale horse being led past which would make anyone look hobbit-sized next to it. People wandering around in and out of costume. A fake Gandalf went by in a dark grey robe, followed by a hobbit double, or maybe a real hobbit actor– even the film people weren't always sure unless they were up close.
The large marquees had their sides rolled up to let the air in and I looked into some that were set up as workshops and fitting rooms. The wig people worked in one, surrounded by racks of hair and piles of foam head moulds. They had thousands of wigs now, since every character had their double and their stunt-double to be fitted out, and the very tall and very small people had sets of wigs so they could double anyone. Another tent held the Feet; stacks of prosthetic hobbit-feet, filed for identification. The footpeople were busy cleaning and disinfecting the hairy feet for their next outing. Billy Boyd was in the makeup tent with his hobbit-feet on; he let me have a close look. They were very realistic. I touched them – the cool rubber felt odd and the soles were very thick. I asked if they made up for not having shoes on and he said they did.
In the trailers people were tapping away on computers, hooked up via satellite with their cellphones and earphones connecting them to all parts of the sprawling set and to Wellington. It was a contrast with the Hobbiton set outside, with its rustic implements lying about and old-fashioned architecture already weathered into the hillsides.
We walked over Hobbiton. Everything is exquisitely detailed, with gently curving rooflines, leadlight windows, carved wooden beams and round wooden doors. The gardens by now are full-blown with the summer heat. Convincing-looking fruit was tied onto some of the trees to add to the sense of idyllic plenty. I overheard discussions about the watering, how long they could afford to keep the grass green. The set is noticeably greener than the surrounding farmland.
Further on down the hill we saw some of the extras in rustic-peasant gear getting set up for a shot that looked like a harvest festival. Wicker baskets overflowed with fruit and vegetables. All products of a Shire that must stand for simplicity, comfort, abundance and peace. The crew is filming in brilliant summer weather, and Hobbiton is going to appear like a rural paradise. Even if the film's whole coverage of the Shire is distilled into these few bright images, we will have a strong sense of what Frodo is leaving behind and what the hobbits are fighting to preserve.
It was odd looking at the camera monitors, and seeing this rustic idyll, whereas if I looked up at the real scene it was framed by about twenty people in t-shirts holding gear, microphones, cameras, computers, lighting and camera cranes, radios and cellphones…
We followed a narrow winding lane into a field where the main action was. PJ and Elijah Wood were sitting in a tent full of monitors and computers, watching Sir Ian McKellen and the small Frodo double do a scene in a horse-drawn cart. They had to drive down a little hill, chatting. So far so good; the horse behaved and everything went well once Gandalf's hat managed to stay on in the wind.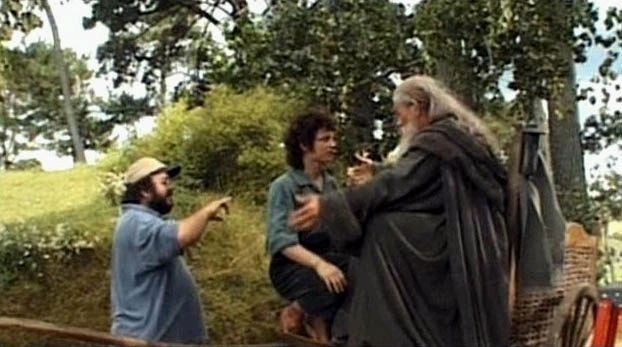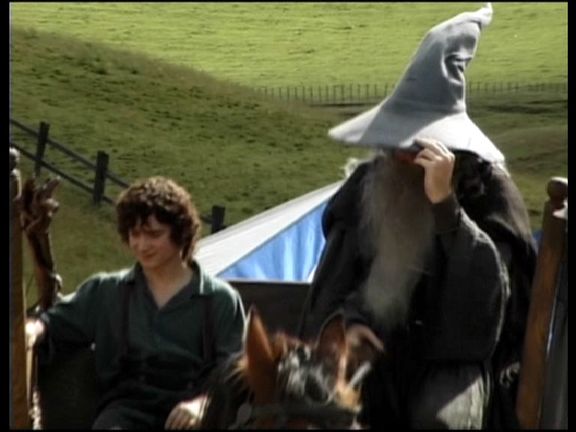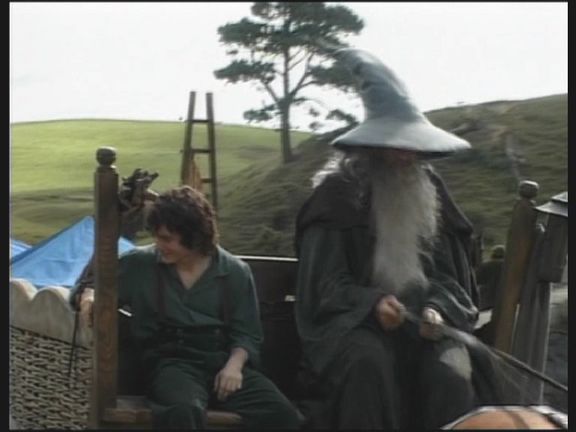 Then I got a chance to see the same scene in forced perspective: Wood and McKellen in a larger cart cunningly made so that the two of them would appear to be sitting side-by-side from the point of view of the front-mounted camera. Because in fact Wood was sitting further back than Mckellen, he appeared smaller. It worked fine so long as neither of them moved so they overlapped. The complexity of building props for every single scene using this technique was a bit mind-blowing.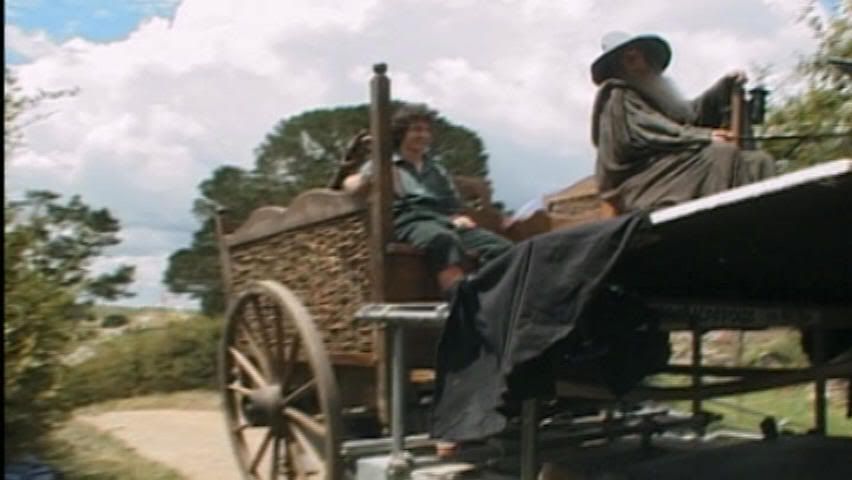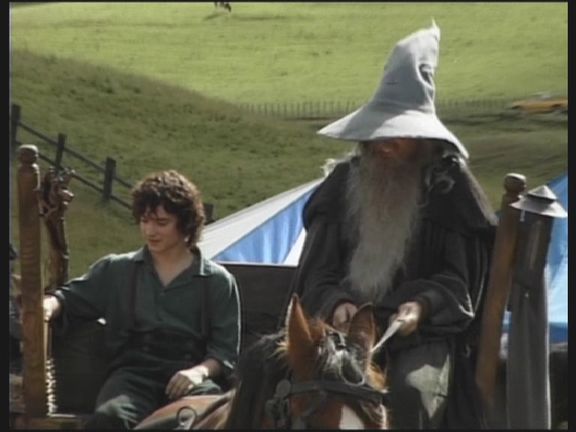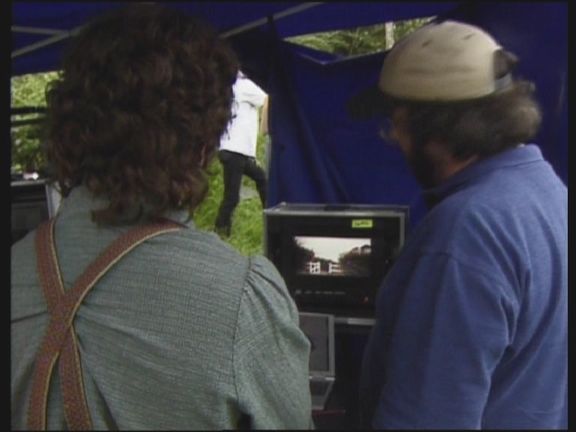 Two hours of real-time and a half-minute of film-time later, I could admire the sheer stamina of these actors. It was a hot, humid mid-afternoon, and Gandalf was wearing his thick felt hat and heavy robes. Frodo's costume was lighter, but still heavier than what anyone else could stand to wear The crew were in t-shirts and staying in the shade of the tents as much as possible. I was collecting a new sunburn.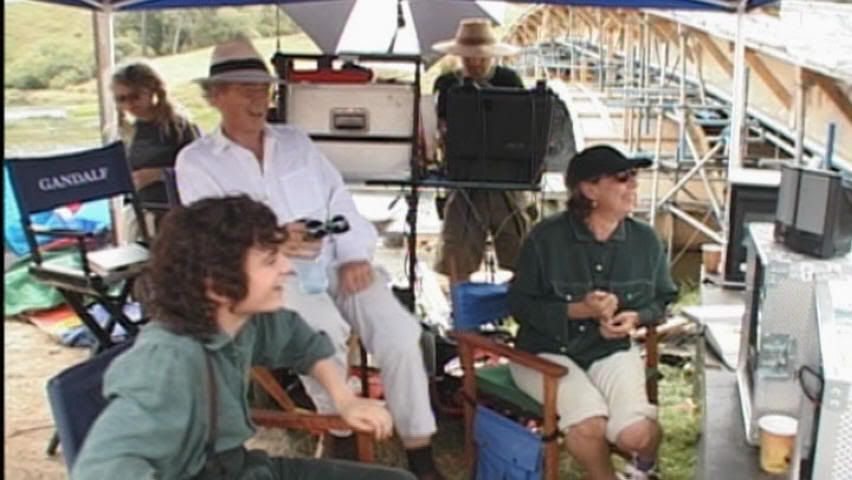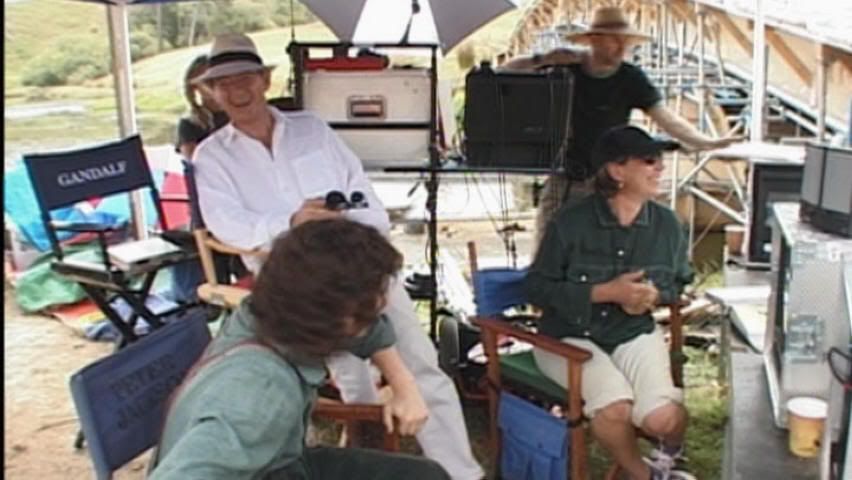 Wood and McKellen came down into the tent to look at the rushes of the scene and see why it wasn't working. There was a bit of easy laughter, no tension. I've been on opera sets a fair bit during rehearsals, and often enough after three hours in costume under lights the air is sizzling with ill-will between the performers, lighting crew, mechs, director and producer. This set couldn't have been more different.
I asked if there was going to be a bloopers and outtakes movie, and Jackson said yes, it would be part of the DVD release.
McKellen looked stoical about the heat; PJ suggested another take and Wood absolutely bounded off up to the cart without a second's hesitation, depsite all the uncomfortable waiting he'd done already.
I don't know how some people stand all the waiting around. One person's job involved standing in the sun holding up some aerial thing, basically being a human telegraph pole. At least the director doesn't suffer from monotony. In the time I was there Jackson directed the cart shots, looked over the rushes from the other crew and suggested some improvements that would make them funnier; looked at Alan Lee's designs for the saddlery that Theoden and the other Riders of Rohan would be using – there was some discussion of how practical the stuntriders would find them – looked over some stuff from Fran and Philippa, which I assume would be something to do with scripts…it went on and on, everything going on simultaneously. I could see that the whole production plan was so clear in Jackson's mind, and yet it wasn't rigid, and there was room for spontaneity.
I looked at Lee's sketches, of which he was justly proud. We've all grown up with his and Howe's images of Middle-earth; so a lot of what we see in the movies will be familiar in the way the books are familiar, yet at the same time new. There was a beautiful sketch of the Grey Havens. Lee explained which bits would have to be built and filmed on, and which bits would be painted in later. Using composite backgrounds means that there is no limit to the size and complexity of the architecture, and what I saw was fantastic.
There was every kind of expert on the set. I talked to the dialogue coach and the linguist. They've been working with tapes of Tolkien himself reciting in Elvish, as well as consulting with Tolkien language experts in the States. I heard a bit of Elvish; it sounded like Welsh to me, but with clear vowels like Spanish. As well as dealing with the Elvish they're sorting out what kinds of English accents the different races would use. For instance, the Elves speak English as a second language; as do the Rohirrim. The hobbits differ among themselves because they're from different parts of the Shire, and Frodo's accent is different again as he's more educated. Everything is thought about. The scene being filmed had Gandalf talking to Frodo about pipeweed, I presume, for he mentioned its Latin name. The linguists worried about whether he'd use a Latinate pronunciation or not. "Nicotiana." Gardeners say it 'nic-oe-chana,' but Gandalf, being 'learned', could be expected to say it more precisely, 'nicoteeahna.' The linguists beat the subject into the ground, made phonecalls, established that the accepted pronunciation was changing with time…..later on I heard them riffing on a North Country accent they'd picked up from the movie 'Brassed Off,' which made me appreciate how versatile they were. You could have sworn they were from 'down pit.'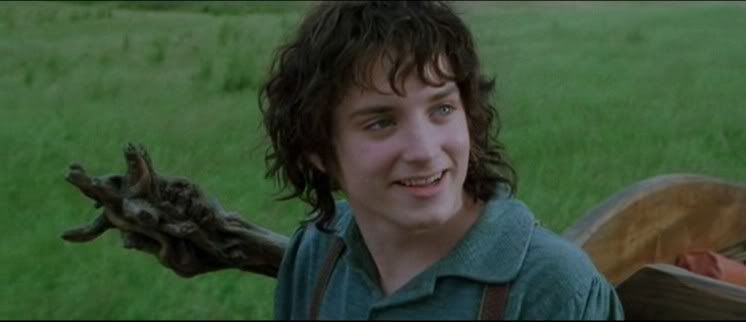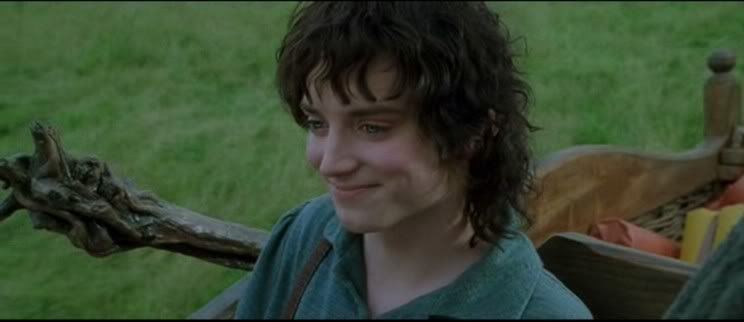 I looked up to find myself being filmed. They are making a 'making of' movie, and they film everything every day. I talked to the 'making of' woman until the absurdity of reporting on the making of the 'making of' got too much. The caterers were in anxious contact with the film crew, trying to time their operation to perfection. Lunchtime was declared at 3pm and everyone headed up to the base camp. They'd been filming until late most days, and were looking forward to some great cloudscapes and sunsets later on. Regretfully, I had to leave them to it and head home."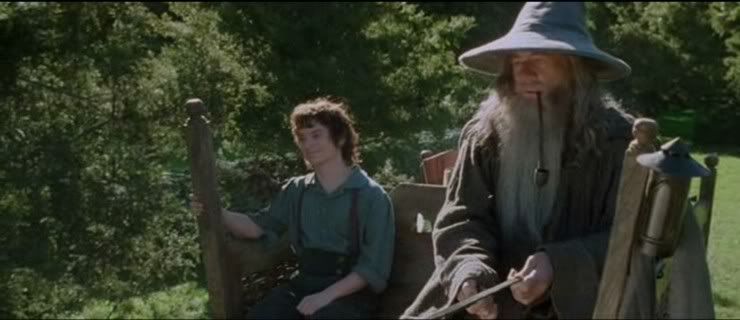 comments: Leave a comment