| | |
| --- | --- |
| Current Music: | Sacrifice ~ Elton John |
| Security: | |
| Subject: | I MISS IT SO MUCH .... |
| Time: | 08:11 pm |
| Current Mood: | nostalgic |
... the LOTR Fan Club Mag, that is. Every couple of months this treasure would plop through my letter box - oh, the delicious excitement of wondering what little gems would be revealed this time!! And then, like all good things, it came to an end. Anyway, I thought I'd post a little snippet, for those who didn't have it. But first, I must mention something that suddenly occurred to me when I was watching the LOTR dvd appendices (again!). I remember reading somewhere that Stuart Townsend had taken part in the six weeks of training prior to filming - so when Costa Botes and others were filming the behind-the-scenes stuff, he would have appeared in a lot of it. So there must have been a load of footage we weren't able to see for that reason - unless they were somehow able to edit him out. Just wondering if anyone else had thought about that.
So, that little snippet from the fan club mag with a few appropriate pics - I love how they used to race each other!!
"So what exactly went into the process of turning Wood into a Hobbit? First, [Nancy] Hennah would slick Wood's hair with a gel that when dry had a texture similar to concrete. Next, the Hobbit ears were glued on. "The ears are made out of foam latex" she says. " Every actor who played a Hobbit or an Elf had casts made of their ears at the beginning of the shoot. Prosthetics were then modelled off those casts creating a perfect fit for each individual actor" Once the ears were on, Hennah would blend them to match the skin tone and would apply the makeup. "Elijah didn't need much – he's got beautiful skin!" she admits.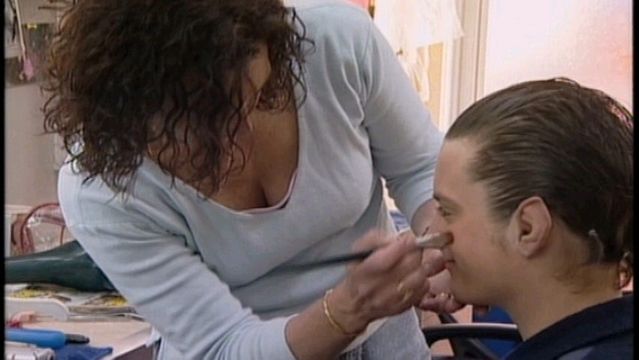 Time for a spot of brekkie!!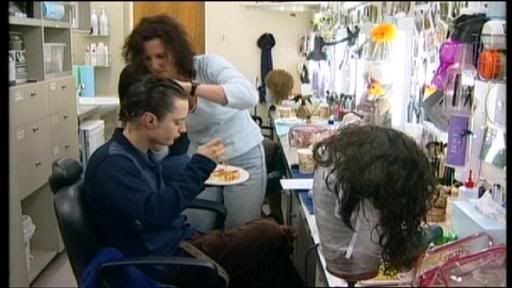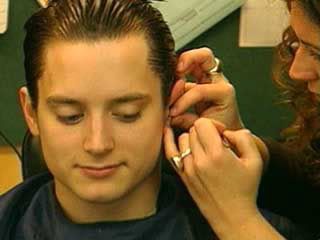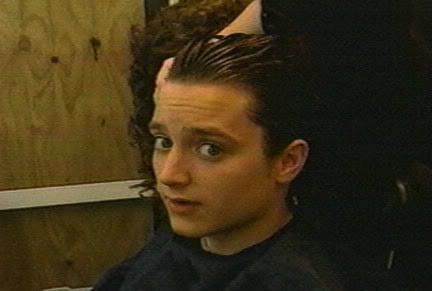 Lastly, the actor's wig was put on, glued onto the forehead and then pinned in the back. The entire process "takes about an hour to do – 45 minutes if we are racing." Hennah says. "Elijah and I used to race to beat Sean Astin. It always seemed that Sean got out of the chair before he did".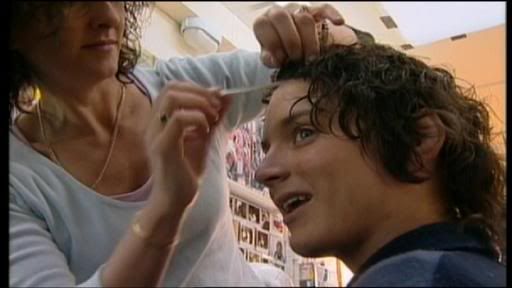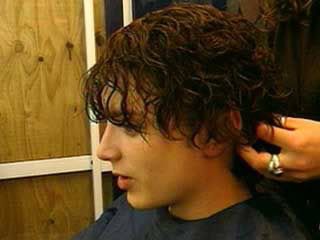 Hair and makeup is not the sort of thing that could be done in the morning and then the actors would be fine all day: the makeup artists would literally be with the actors all day long. "We are the first people they have contact with in the morning as they sit in the chair, and then we go with them on set and we stand by them all day" Hennah says
(LOTR Fan Club Mag)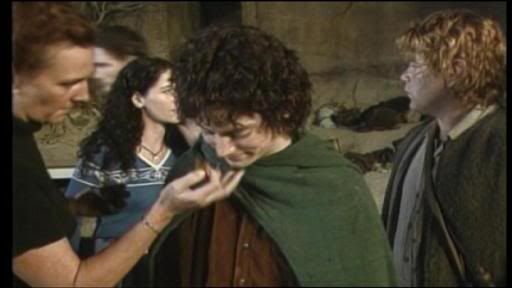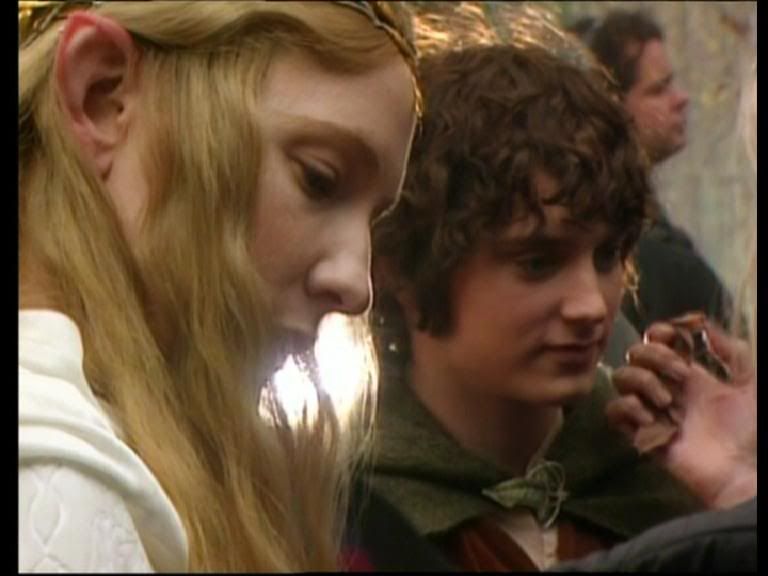 And the result of all these ministrations - the perfect - and very beautiful - incarnation of Frodo Baggins of the Shire. I'm sure Tolkien would have been delighted: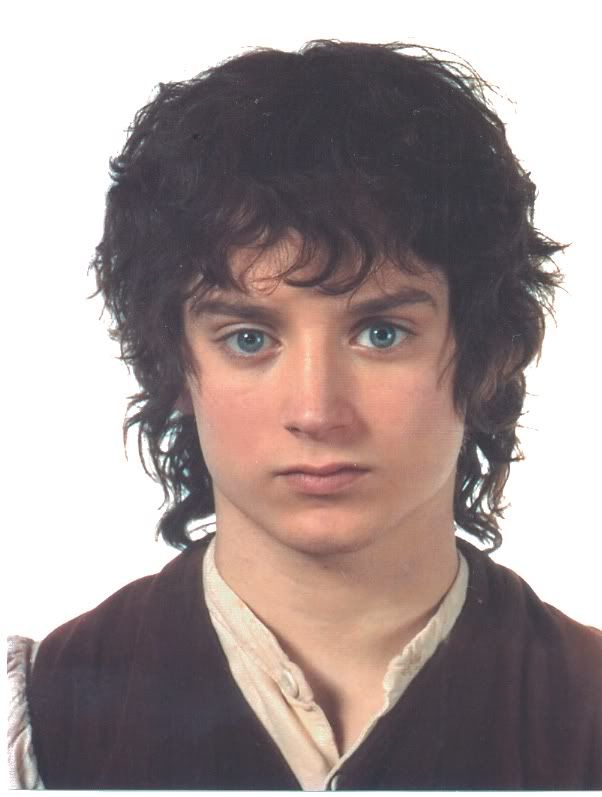 comments: Leave a comment