| | |
| --- | --- |
| Current Music: | Wuthering Heights ~ Kate Bush |
| Security: | |
| Subject: | LENO ETC. |
| Time: | 10:39 pm |
| Current Mood: | tired |
Wasn't Elijah adorable on Leno? The laundry!! The cold cure!! But oh the pain of this one-sided relationship - I want to
discuss
things with him. For instance, when he was talking about eating Croque Monsieur in Paris - I wanted to ask him if he knew that if he had Croque Madame instead he'd get the same thing with an egg on top!! And when he said he wished he could grow a full beard I wanted to plead with him not to hide the lovely chin cleft any more than he does already. And when he was talking about not taking antibiotics, only natural remedies, I wanted to ask why, when he's concerned about such things, he's ok with tobacco. On second thoughts, perhaps its just as well I couldn't ask him that last one - may not have gone down too well!!
I have a confession to make ... anyone who knows me will be aware how completely and utterly passionate I am about Frodo and yet I have never celebrated Froday with a Frodo picspam!! Isn't that terrible? My excuse is that I usually work on Froday so just don't have the time. Sadly, today is no exception but I do have time to just post a random FroMo (Frodo Moment)or rather, in this case, Frolijah moment:
"Arena: Renowned luvvy Sir Ian McKellen plays Gandalf. Is he very thespian? Because we've read his website and he tends to slip into Olde English.
Elijah: He does – but he's very intelligent and very well read and very eloquent and he always has beautiful ways of saying things. I've seen interviews and he forms these beautiful lyrical quotes about the experience. You can have an absolutely normal conversation with him but he's also really funny and VERY flirtatious.
Arena: So did he try it on with you?
Elijah: Oh, he's flirtatious with everyone. It's wonderful, it's very alive…"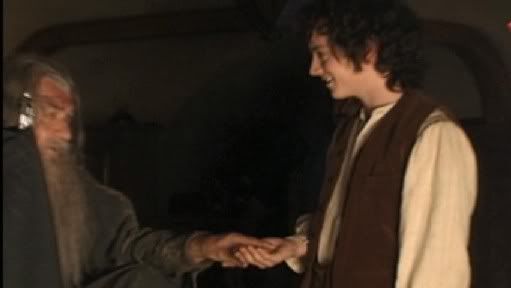 I have begun the massive tidy-up of all things LOTR/Elijah - I'm hoping this will help me to post here more efficiently and more frequently in future:)
comments: Leave a comment