| | |
| --- | --- |
| Current Music: | Falling Farther In ~ October Project |
| Security: | |
| Time: | 09:51 pm |
| Current Mood: | Reminiscing |
First of all, there is a really beautiful Frospam by
mochalover
here:
http://www.livejournal.com/community/elijah_daily/354031.html
She has done something I love to see - combining pics from the films with quotes from the books - all Frodocentric, of course!!
And over on
ourdramaqueen
's LJ there has been some reminiscing going on about the time, during LOTR filming, when there was a freak snowstorm and they all had to beat a hasty retreat back to the hotel. I have a wee transcript:
Dom at ComiCon:
"The snow was as big as my palm. We were in water up to our knees, getting pushed in by Viggo every two minutes. The AD wanted to wrap but Peter didn't want to and we didn't want to but it was getting so bad. We headed back to the hotel and ended up sitting in the laundry room with a big bottle of whiskey. Viggo took some pictures you might have seen. We are sat on the washing machines and there was a space between the washing machines and the wall. Elijah tells a story with a terrible punch line, I give him a push and he falls between the gap and all you can see are his feet sticking up. We were all drunk as monkeys."
And Elijah on an AOL Chat:
"There was a time during the month of November which for NZ is heading towards summer, the weather isn't supposed to be too cold, it got horrible and started to rain which was ok for the sequence we were filming. It started to rain early in the morning then as the day progressed it turned to sleet, then snow. The snow became so heavy they had to stop filming. The snow looked incredible but it became a hazard so we had to rush out of there. The hobbits hopped into a car but we got stuck in a ditch. An SUV came by and towed us out. After that we sat in the laundry room of the hotel and dried off our feet and drank wine. But the snow was amazing – the flakes were huge and you could see the massive details of the flakes."
And, as I'm sure everyone knows, these are two of the beautiful pics Viggo took that day:
Te Anau ~ November 1999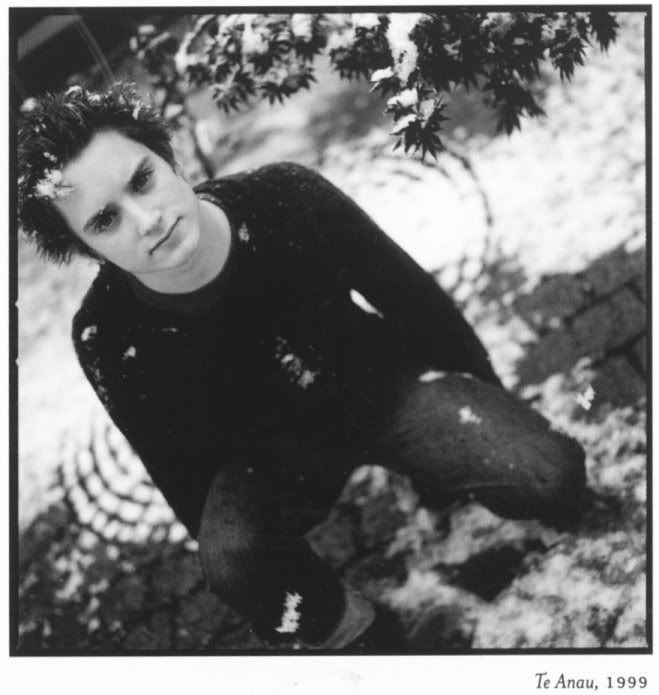 Viggo's writing on this is a little difficult to read so I've typed it below the pic, but there's a couple of words I can't decipher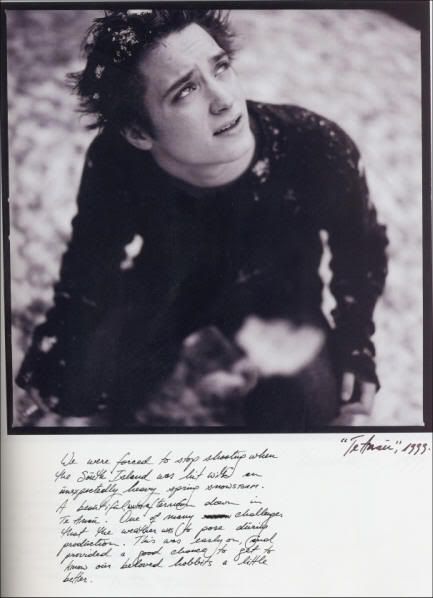 "We were forced to stop shooting when the Smith Island was hit with an unexpectedly heavy spring snowstorm. A beautiful (??? white terrain perhaps) down in Te Anau. One of many challenges that the weather was to pose during production. This was early on, and provided a good chance to get to know our beloved hobbits a little better.
A very lucky fan bought the original of this pic at Viggo's Sign Language Exhibition.
comments: Leave a comment