I think I'm just in time to wish dear Seanie a very happy birthday, it'll probably be past midnight here by the time I post this but its still his birthday over there - I do hope "there" is New Orleans where he's indulging in some drunken revelry with Elijah!!
I felt like doing a Frospam (with a few embellishments) - and for some reason I decided on Emyn Muil - please forgive any errors - it took me so long I started to panic and thought I'd never finish it!! Thank goodness for the new LJ feature that saves a draft - just as I was finishing off I lost my internet connection!!
"And here he was a little halfling from the Shire, a simple hobbit of the quiet countryside, expected to find a way where the great ones could not go, or dared not go. It was an evil fate. But he had taken it on himself in his own sitting-room in the far-off spring of another year … "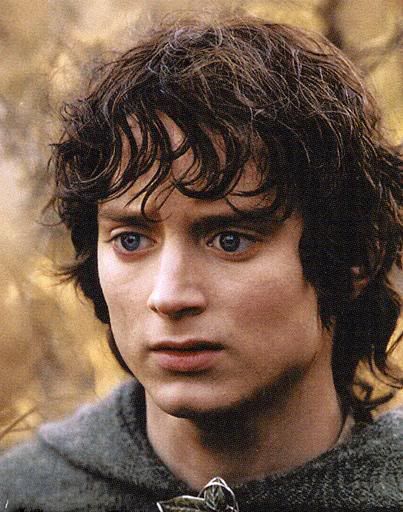 'Then you know about Frodo' said Gimli 'How do things go with him?'
'I cannot say. He was saved from great peril, but many lie before him still. He resolved to go alone to Mordor, and he set out: that is all that I can say'.
'Not alone' said Legolas. 'We think that Sam went with him'.
'Did he!' said Gandalf, and there was a gleam in his eye and a smile on his face. 'Did he indeed? It is news to me, yet it does not surprise me. Good! Very good! You lighten my heart.'
(The Two Towers : The White Rider)
Just a dream ...
"What's in this?" ( Marijuana – according to Dom!!)
Salt ... just in case we have roast chicken one night ...
Roast chicken!!!
My dear Sam!!
It is special ...
...it's a little bit of home.
Real Elvish rope!!
He didin't mean for a lot of things to happen Sam … but they did.
"In fact with every step towards the gates of Mordor Frodo felt the Ring on its chain about his neck grow more burdensome. He was now beginning to feel it as an actual weight dragging him earthwards. But far more he was troubled by the Eye: so he called it to himself. It was that more than the drag of the Ring that made him cower and stoop as he walked. The eye: that growing sense of a hostile will that strove with great power to pierce all shadows of cloud, and earth, and flesh, and to see you: to pin you under its deadly gaze, naked, immovable. So thin, so frail and thin, the veils were become that still warded it off. Frodo knew just where the present habitation and heart of that will now was: as certainly as a man can tell the direction of the sun with his eyes shut. He was facing it, and its potency beat upon his brow."
(The Two Towers ~ The Passage of the Marshes
Mark Ordesky: There's another interesting thing – we don't go into the whole Ring thing, its like its taken as a given – he's clutching his chest, you've got to know the Ring is there, and all that the Ring represents, its all just taken as a given.
Laaaaaambas bread!!
S: When we got back to the Powderhorn Lodge where we stayed …
E: God bless the Powderhorn Lodge – I love that place!
A: Yes, God bless the Powderhorn …
S: … at the Powderhorn there was this Camp Goodtimes feel to it where everyone would gather in the room and the dailies were set up and Peter, who would shoot a lot of takes – that wasn't a sort of reflection on the fact that you were sucking …
… well everybody was piped up and we had the pizza and we watched a couple of rolls of this and – look at the beautiful thing …
E: Then all of a sudden there are endless takes of Laaaaambas Bread!!!!
S: It was crunchy and kind of powdery.
E: It was dense – I mean it was funny because in some ways it really was as dense as it was described
S: That's the thing as an actor you need to eat foodand then be able to swallow quickly while talking ..
E: Some actors love that though, some actors use food as a prop.
S: But I wouldn't say that on the continuum of foodstuffs that are easiest to work with that lembas bread is towards the easier!
E: No its not exactly especially if you over compensate and put too much in your mouth it suddenly becomes a bit of a burden 'cos its so difficult to digest.
I just love their expressions in these pics - Sam is ever the optimist, but Frodo has obviously had his fill of Lembas Bread!!
Nothing ever dampens your spirits, does it Sam?
Sometimes in the silence of that barren country they fancied that they heard faint sounds behind them, a stone falling, or the imagined step of flapping feet on the rock. But if they halted and stood still listening, they heard no more, nothing but the wind sighing over the edges of the stones – yet even that reminded them of breath softly hissing through sharp teeth.
(The Two Towers ~ The Taming of Smeagol)
"It was the third evening since they had fled from the Company, as far as they could tell: they had almost lost count of the hours during which they had climbed and laboured among the barren slopes and stones of the Emyn Muil, sometimes retracing their steps because they could find no way forward, sometimes discovering that they had wandered in a circle back to where they had been hours before."
(The Two Towers ~ The Taming of Smeagol)
We're not alone
comments: Leave a comment