| | |
| --- | --- |
| Current Music: | LOTR Complete Recordings - Flaming Red Hair |
| Security: | |
| Time: | 08:35 pm |
| Current Mood: | exhausted |
The house is a tip, the pile of laundry is really scary, but one must get one's priorities right, so I've spent most of the day looking at everyone's pics from LF & CC and trying to sort my own feeble offerings out.
First of all, sorry I haven't commented on anyone else's pics & reports yet, I knew if I did I'd never get round to doing this today, but I do intend to go back and read everything more carefully and to leave comments - I've seen some absolutely amazing pics out there.
Well, I still haven't come back down to earth from my experience yet - I don't know how I'll be able to go back to work tomorrow and just act normal - just saying "oh, it was great" and quickly changing the subject should anyone enquire about "this exhibition you went to in London"!! How could I tell anyone that I'd feasted my eyes on the light of my life for two days running and it was pure bliss? Think they may get a bit worried:)
On top of all this I had the lovely experience of meeting my friend Alexandra (Allie)who came with her friend Maria all the way from Prague especially to see Elijah. We have corresponded on the internet for years but this was the first time we'd met. They are two delightful ladies and I was amazed at how brilliant their English was. It was also lovely to see a few other LJ friends again:)
It was because of Allie & Maria that, on the Sat morning, the 3 of us got into Elijah's autograph queue much earlier than we should have done. Despite queuing for a couple of hours to get in, our tickets were No. 300+ and these numbers weren't called until the afternoon. But the Showmasters person was so interested in the fact that they'd come from Prague because he'd been there, and he let us in!!! I loved the arrangement here because you got to see Elijah for a long time before you actually reached him for your signing. The first sighting had exactly the same effect its always had - I now call it the china doll effect because he is just so petite and compact and dainty, and his skin is so perfect, and the eyes, the eyelashes ... sorry, got a bit carried away there!! Yes, he still has the beard, and even though I'd prefer him to shave it off, when you see him in real life it doesn't seem to matter so much - he's just so stunning that whether or not he has a beard doesn't seem important. So I was able to just observe him signing for people, over & over, and being so polite and shaking hands with everyone - and he just seemed so serene. One thought that occurred to me while I was standing there - I wish I'd been able, just once, to see him in the flesh during LOTR filming - he must have been the most beautiful sight imaginable in the Frodo costume.
Only those who have had this experience will fully understand that at this stage you need six pairs of hands. You have your money to pay for your pics which is then replaced by a tiny ticket to prove you've paid, you have the things you want him to sign, you may, like me, have a gift for him, and then there's the camera. There were lots of opportunities at this stage to take pics of him but I was torn between wanting pics and wanting to just drink him in - I missed a perfect opportunity when he posed for someone and I was really close - I was just gazing at him and then it was too late. I took quite a few pics but most of them were blurred - I'm hopeless, I'm afraid. Below are the not so blurred ones, but not terribly good:
Sat morning signing: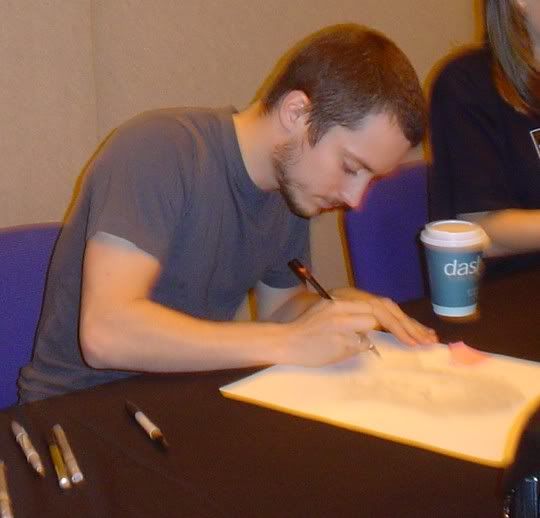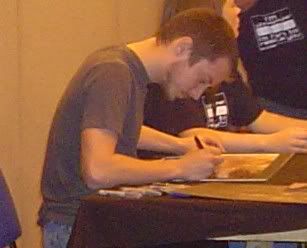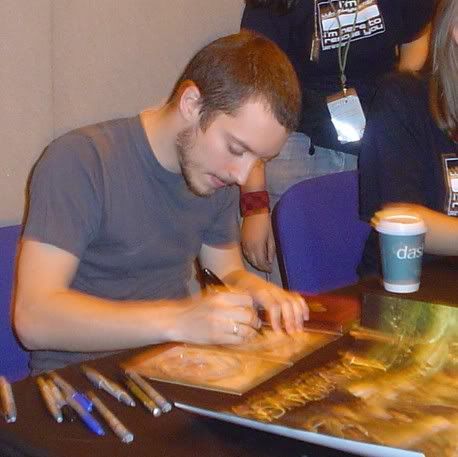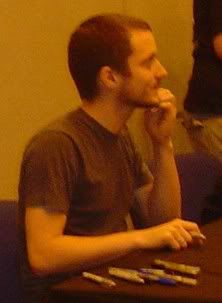 Suddenly, you realise you're getting really close to him, things are moving too fast - everything you were going to say just disappears into thin air. When I was really near the attendant asked if I wanted my name on the pics and asked me to write it down. This was great news - I've had a load of things signed by him but never personalised. And suddenly omg there I was right in front of him. I said something to him but I won't say what because it will sound very silly - but it worked at the time and I got a lovely smile and laugh from him. I gave him 2 things to sign and then his gift - the metal puzzle that I posted about a few days ago, similar to the one they gave him on that Japanese programme. I said something along the lines of "I saw you grappling with that puzzle on Japanese tv, don't know if you remember, but I thought you might like to try another one". Recollection dawned on his face - he was really interested in it and studied it hard - he said "I've seen this - its supposed to be really difficult" He thanked me and we shook hands and I said "Its lovely to meet you again Elijah" and he said "And you too". He doesn't know me from Adam, of course, but its lovely to hear him say that. And when I got home and opened up my computer what should I find but a pic of him studying my gift - it was on one of those official photographic sites and has been posted by several people. Thank God I'm not in it!!
When he was signing my pics I hadn't noticed what he was writing and when I looked at them afterwards I got a lovely surprise - on each one he'd put "Pauline, Much Love, Elijah Wood". I know he probably put the same on hundreds of others that day - but I get such a warm glow when I see those words:) And I can't tell you how precious it is to have those words on my copy of the very first LOTR Fan Club mag with Frodo's lovely face on it: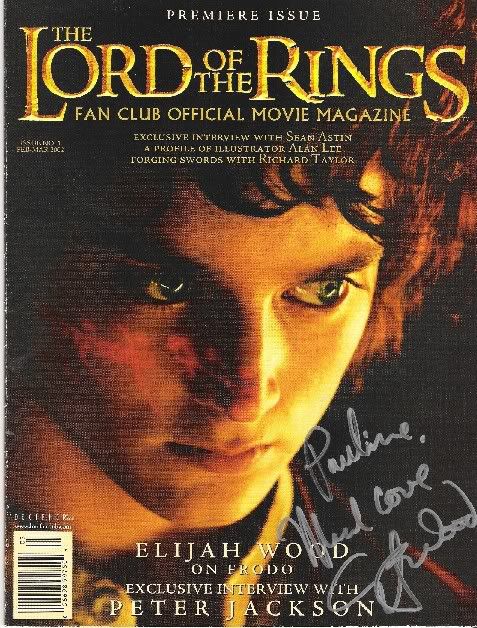 This was the second pic: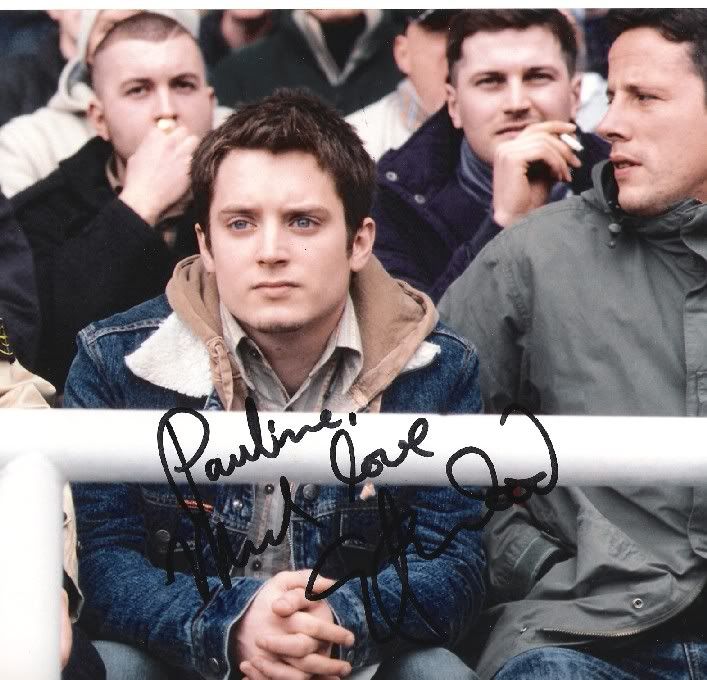 Then it was straight on to the photo op queue. This was the quickest photo op I've seen yet - it was literally rapid-fire, one after the other. As it got to my turn my legs suddenly turned to jelly - I felt really nervous, even though I've done this twice before and I was visibly shaking - as I walked up he said "Hi, how are you?" and I said "Very nervous" - he made a sympathetic sound and I put my arm round his shoulders as I'd seen many others do. When it was done he said "You did great". Sorry, this one is not fit for public consumption. Elijah is fine - just his standard photo op smile - but me, well ... my first reaction was "For God's sake woman get back on that diet"!! but a good caption for this pic would be "Look what I've got"!! I really look like the cat that got the cream!!
And so to Day 2. Again, I somehow managed to get myself ushered in early & I don't quite know why - my ticket was 200+, I'd lost Allie & Marie at that stage and was talking to
janejanejane
and we noticed that people were just going through - so in we went. Again I took a few rather pathetic pics: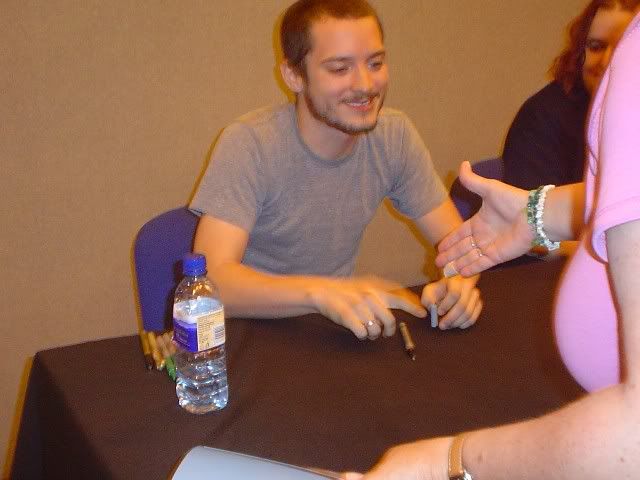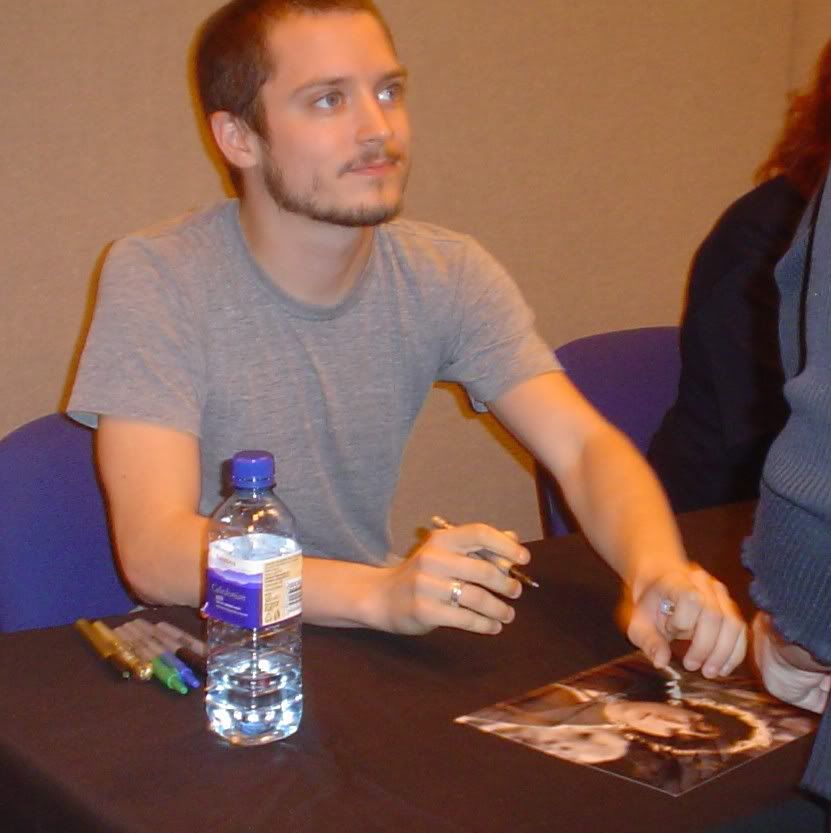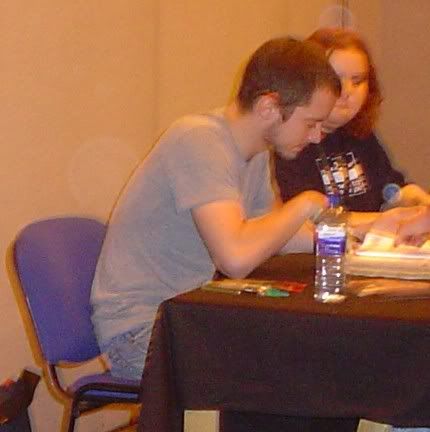 The first thing I gave him to sign was a mounted copy of the Paul Vinet Frodo portrait. As he handed it to me he very carefully explained that the surface of this was such that it could take a long time to dry and I'd need to be careful that it didn't smudge - I can't remember his exact words but I was quite touched that he really took his time over this. I then gave him another gift - I said it was a little something I wanted to give him and it was all explained in the attached note - he seemed quite intrigued and thanked me. It would take too long to explain this now - perhaps in another post - one day. This time I got a heart on the Frodo pic and the second one I just had signed at the suggestion of the assistant:
There isn't really a kink in the pic - it was something I did during scanning!!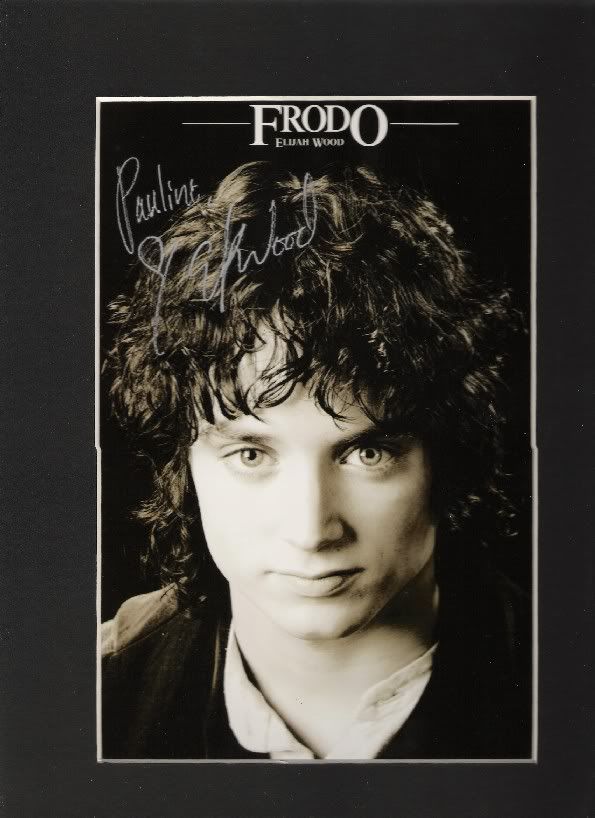 Only one more signature needed on this!!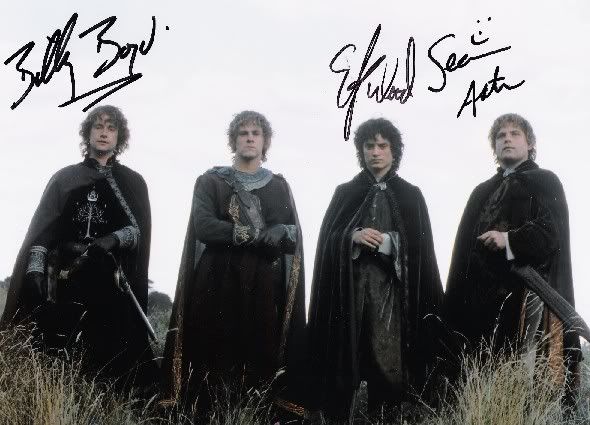 And on to the photo op!! I'd been thinking to myself that it would be nice to get a proper smile from him - with teeth. It shouldn't be too difficult - and it wasn't!! All I said, as I put my arm round him again, was "I hope you're not getting a sore shoulder". I wonder if he got the Frodo ref. I heard a little chuckle but it wasn't until I collected the pic that I realised I'd succeeded - I'd got teeth!! So its a great pity that I had to go and completely spoil it by pulling the most ridiculous face imagineable. And I don't even remember doing it:( No way can that be seen. However, I'm so proud of the teeth that I've cut myself off and posted it below. I think the smile was just beginning to fade as the camera clicked, a second earlier and I'm sure it would've been a beauty!!
Again - there are no black streaks on the pic - its something that happens with my scanner: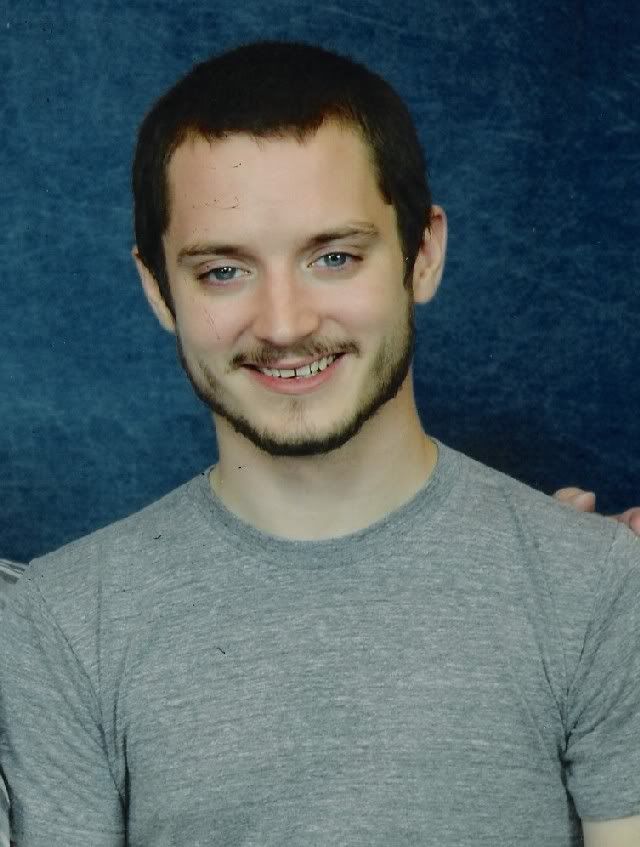 My fingers look as if they're really digging into him but I promise they weren't really!!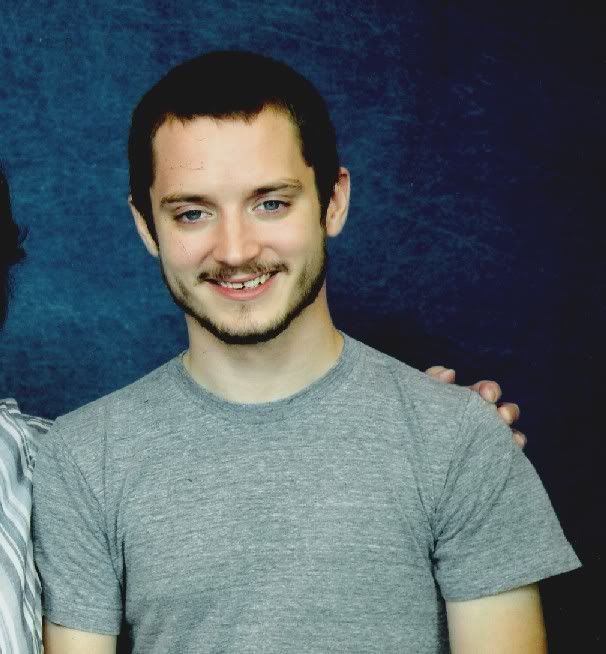 You know what's really special about this pic? Every time I look at it I'll know that I brought that smile to his face.
After that there was just one more treat in store - the talk in the afternoon. Got quite a good seat in sixth row. I knew this would be the quickest half hour in history and I was right. I'd intended to write about the questions and answers but this is turning into such a long post perhaps I'd better leave that for now. I'm going to trawl through my flist and if I find a transcript anywhere I'll post a link to it. Otherwise I'll write as much as I remember in another post.
Can't believe it's over. Only now is the true disappointment of ELF sinking in. I loved the idea of coming to London and not having to cope with the horrible anti-climax afterwards - it would have been complete luxury to know that in less than a month I'd be experiencing this all over again. But some things are just too good to be true - it was never meant to be. And I know its so much worse for many others who have never met him at all.
comments: Leave a comment