| | |
| --- | --- |
| Tags: | a journey with frodo |
| Current Music: | May It Be ~ Enya |
| Security: | |
| Subject: | ELIJAH WOOD'S JOURNEY WITH FRODO - CHAPTER TWO - 'A FAR GREEN COUNTRY' |
| Time: | 10:37 pm |
| Current Mood: | productive |
I can't believe I'm finally posting this - if it takes me this long between chapters I'll be in my dotage before I reach ROTK!! I wonder who'll still be around to read it then:D I've decided to change the format I'd originally planned - I was going to do it film by film ie covering behind the scenes of FOTR, then the release, prems, awards shows etc - then onto TTT etc. But I think that would be too complicated so I'm going to do it strictly chronologically. On top of all the RL things that have delayed me with this has been my own reluctance to post it when I know I have so much more that could be included. The sorting of my LOTR/Lij stuff still has a long way to go so I think the best thing will be to edit in anything I find that should have been included. This will be to satisfy my own need not to leave anything out, but I will mention any additions as I go along just in case anyone wants to check back. So, finally, Chapter 2: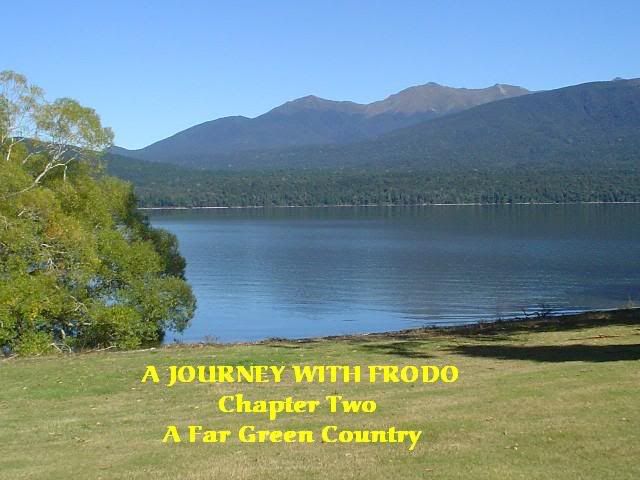 And so, on 30th August 1999, Elijah landed in New Zealand for the greatest adventure of his life:
"Wood recalls that it was a clear day that Aug. 30 when his plane landed in Wellington and a producers' assistant drove him around its spectacular bay. He was unnerved, though, as he often is when starting a film.
'There's the sense of 'I'm not familiar with any of these people, I'm in a foreign land, I'm by myself,' he explains. But they took him to a cast dinner that first night where Fran Walsh — Jackson's partner in filmmaking and life — plunked him next to Sean Astin, a fellow Angeleno in a cast mostly of Brits and the one tabbed to play Samwise Gamgee, "Sam," his faithful hobbit companion and protector. "She was like, 'We'll make sure Elijah sits right next to you,' " recalls Astin, who was a decade older, 28 then, and married with a child. " 'I don't want him to feel scared.' " It worked — Wood says he felt "immediately comfortable" and remained so their nearly 16 months in New Zealand, with Astin becoming "like a brother". (LA Times)
"I didn't know anyone, and there's always that fear of going
to a new place and uncharted territory."
(FOTR DVD)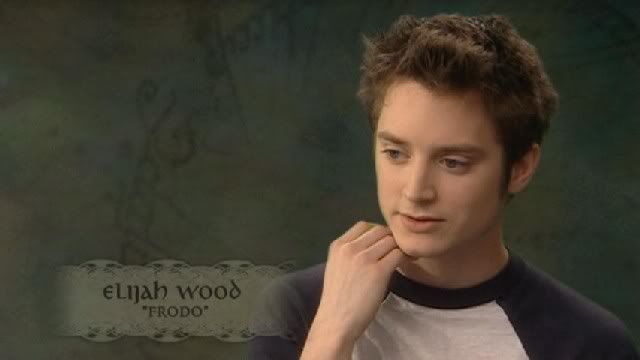 "The friendship between Frodo and Sam resonates with audiences because it appears to be genuine. There is chemistry, and chemistry rarely happens between actors who do not care for each other. I can honestly say that I love Elijah like a brother. For the sake of this book I can also say that, like any sibling relationship, ours is at times a complicated one. When we met in New Zealand (which was the first time I'd seen him since our brief introduction at the Ma Maison Sofitel), I had the weird feeling that Elijah was something of a chameleon. It happened at a restaurant called Castro's, where the cast and the ' upper echelon' of the production team (including Peter, Fran, co-writer Phillipa Boyens, Barrie Osborne and then-producer Tim Sanders) gathered for the pre-production party. Elijah and I shared a big hug, but I sensed something a little bit different about him, something I hadn't noticed when we met in LA. He was really happy to be there, and happy to see me, but he had a more cosmopolitan air about him. He was smoking his ubiquitous clove cigarettes, and was dressed very sharply- not so much dressed up, but it was apparent that he had a very clear sense of his own personal style. In sum, he looked like a movie star, and I remember marvelling at him. Here I was, just a guy trying to put a jacket on so I wouldn't be cold or look out of place, trying to figure out what the hell to wear to dinner, and Elijah seemed unburdened by such trivialities, even though it was obvious that in fact he gave such things considerable thought. It just seemed to come naturally to him. He was ten years younger than me, but already had figured out how to move elegantly, smoothly, in virtually any crowd." (Sean Astin – There and Back Again : An Actor's Tale)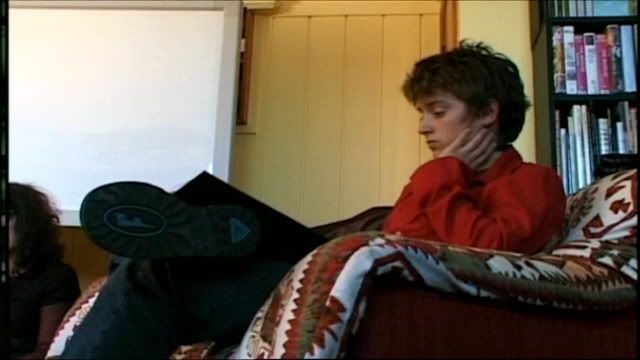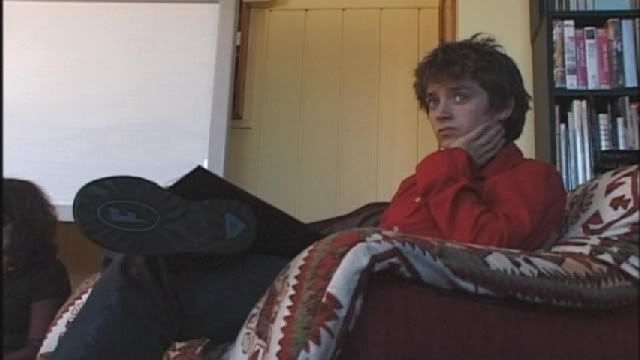 At first Elijah stayed in an apartment but later moved to a house at Breaker Bay. In March 2005, my husband and I drove through this lovely place during our NZ holiday – wish I'd known then that it was where Elijah had lived!!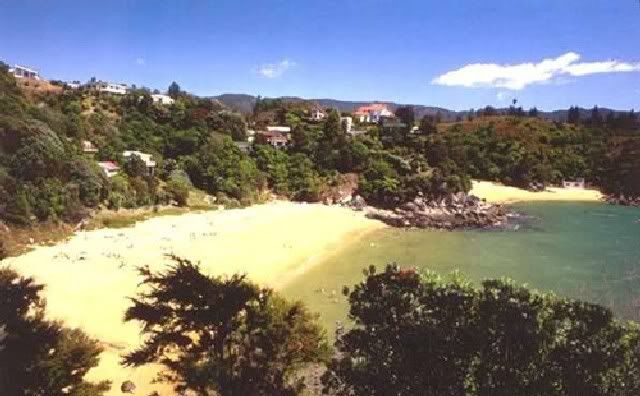 When Elijah arrived in NZ Sean and Billy were already there but there was still one of the hobbits missing. Two weeks later Dominic Monaghan – Merry – arrived. This is Dom's account of his first meeting with Elijah and Billy:
"Then I went up to have a costume fitting, and Billy Boyd was in the wardrobe department with Elijah Wood. That was the first time I met those guys: I turned the corner, and we all looked at each other, jumped about, and hugged each other! It was a very interesting meeting, because you realize that you're going to have to work with these people on probably the closest basis for a year and a half through the whole trilogy … and the first thing that we did was hug each other, so it was amazing." (LOTR Fan Club Mag)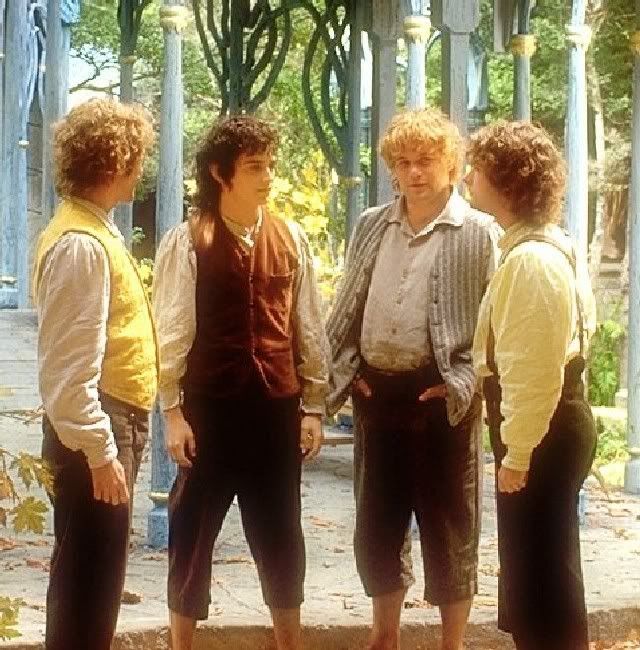 This was six weeks prior to the commencement of actual filming – six weeks that would be packed with all kinds of preparations for what lay ahead. In late August and early September members of the cast would be arriving every couple of days and would be welcomed with a dinner in their honour at one of Wellington's many restaurants. But it was a physically and mentally gruelling task ahead of them and the preparations included activities such as fencing, rowing and work-outs at the gym. This looks like fun though …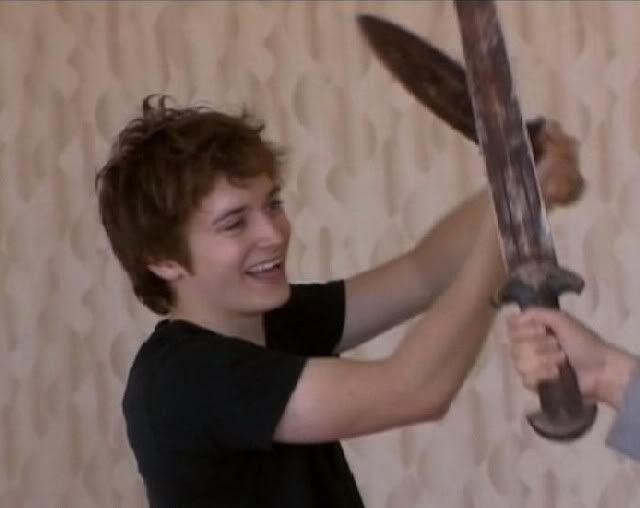 "Luckily we had about two months before we started filming to rehearse and physically prepare, but also more for me, to mentally prepare for the role and the experience." (Empire)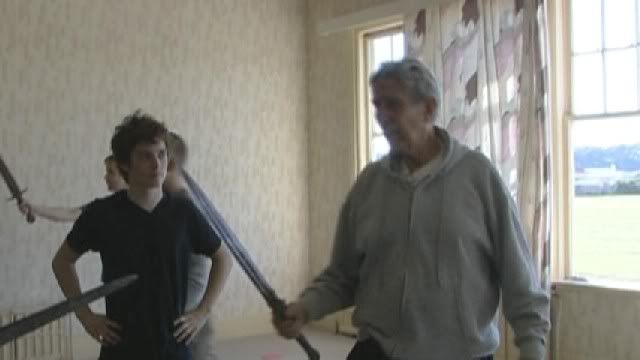 "The Lord of the Rings required a commitment from our cast to learn how to swordfight, horseback ride, canoe, learn Elvish, climb mountain peaks and at the same time bring the magic and magnetism of Tolkien's characters to the screen. They were up to the task. (Barrie M. Osborne ~ Eonline)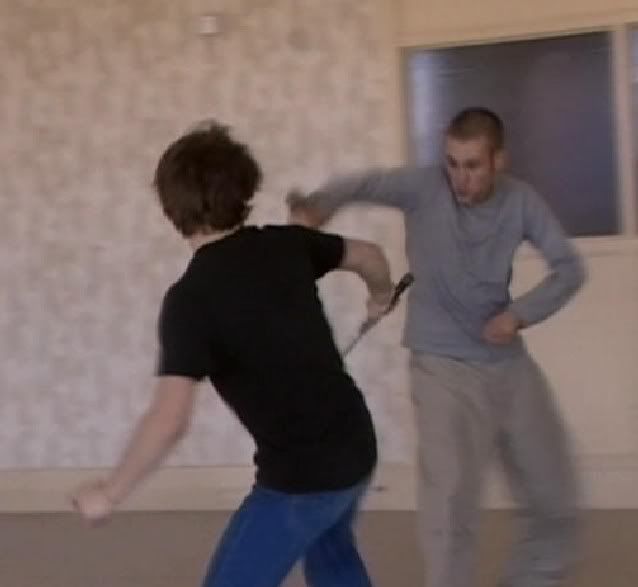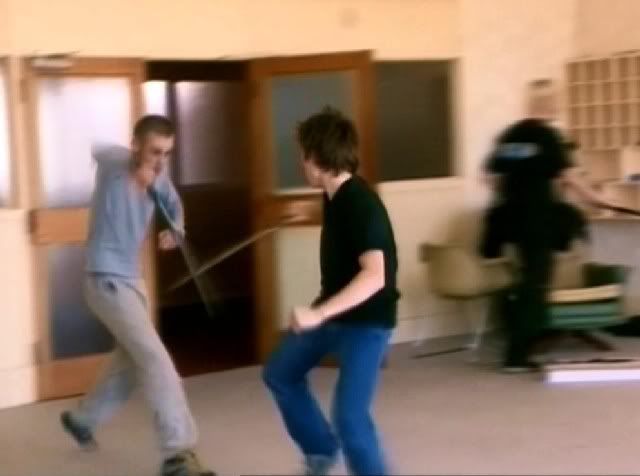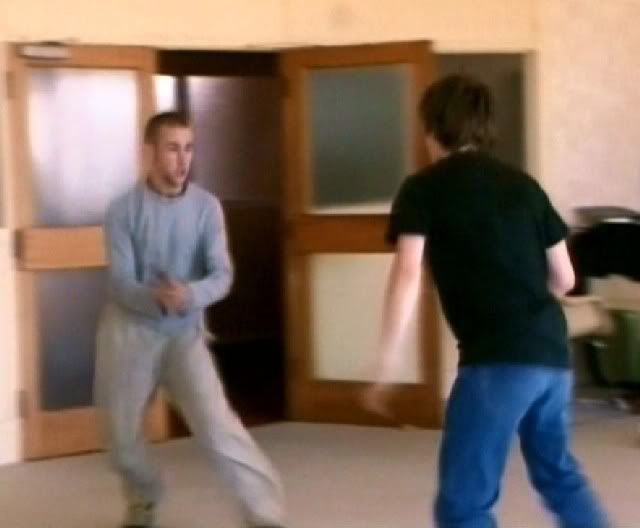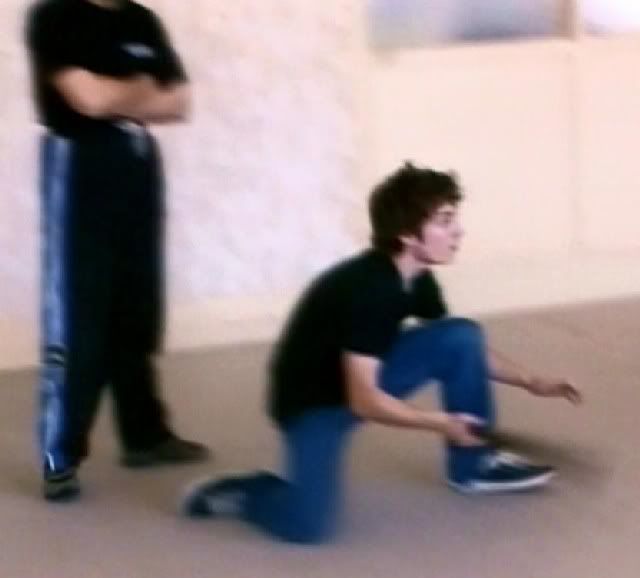 "Parry!! Pull him over!! That's good …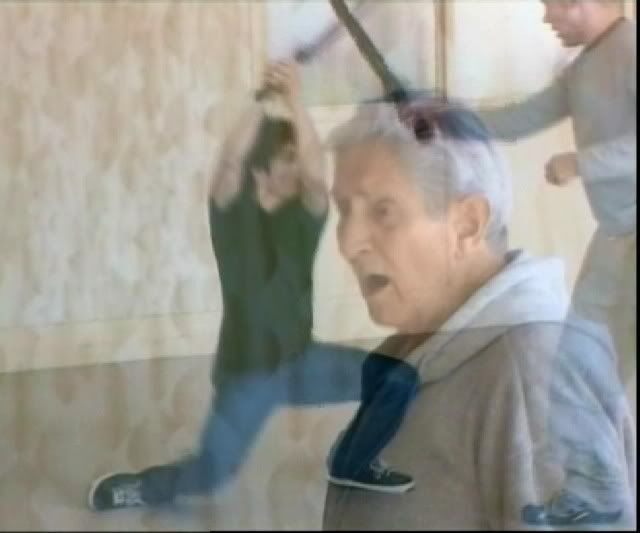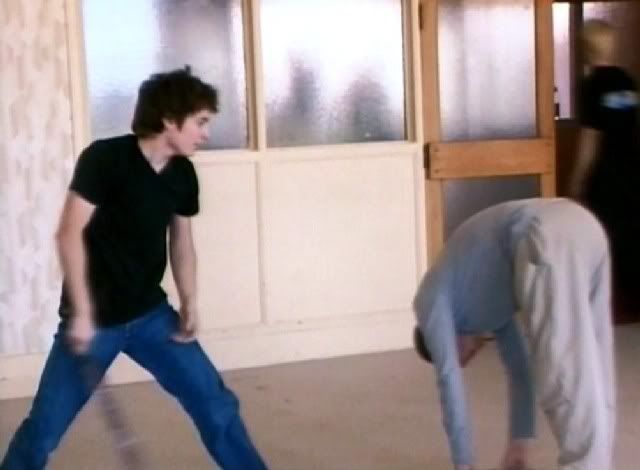 "Initially I also did sword-fighting training, but then I got kind of kicked out because they realised that Frodo really didn't have any battles!! " (The Face)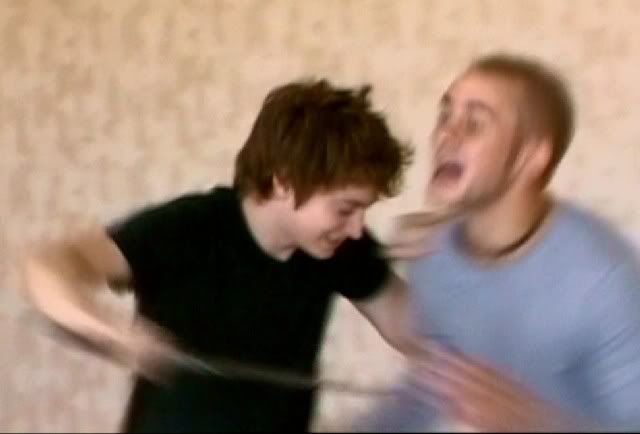 "… when I arrived in New Zealand, it immediately felt like home to me, and I was immediately comfortable. And within the first couple of weeks, once I'd met everyone and the Hobbits were all hanging out together and working together, "Lord of the Rings" became my life. And it became everyone's life. The kind of camaraderie that everyone felt together working over that period of time was unlike any I'd ever had before. I mean, it was a family." (Box Office)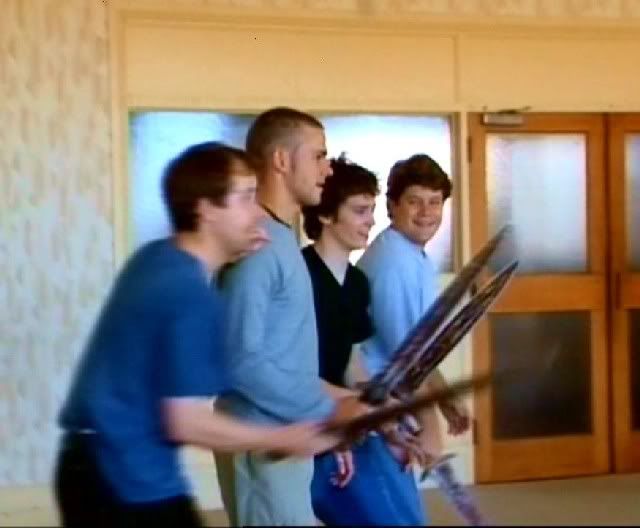 "
What kind of preparation did you do before filming started?
There were about two months of training. It probably wasn't as difficult as the boot camp on, say, 'Saving Private Ryan' but we had quite a hefty schedule. Every day was planned out for us.
So it was more like summer camp than boot camp?
It kind of felt like that. We did sword fighting and had rowing classes, we had physical training and dialect coaching. And just tons of sitting down with the director and writers and talking about the characters and the story and the relationships – you know, really trying to get a grasp on what we were about to undergo. When you initially read the script, it's kind of overwhelming. Each of the roles are so massive because they stretch over such a wide story and a long period of time. (Total Film)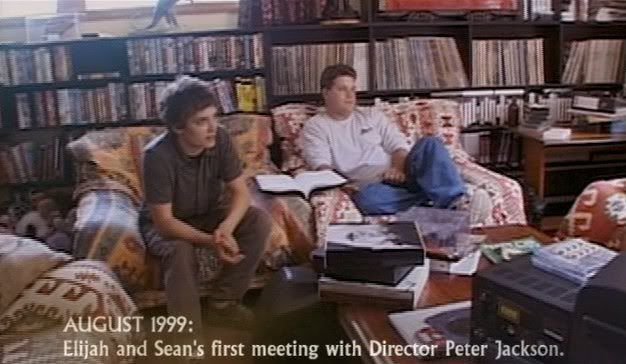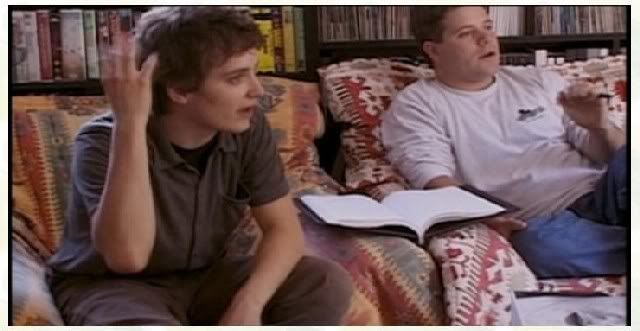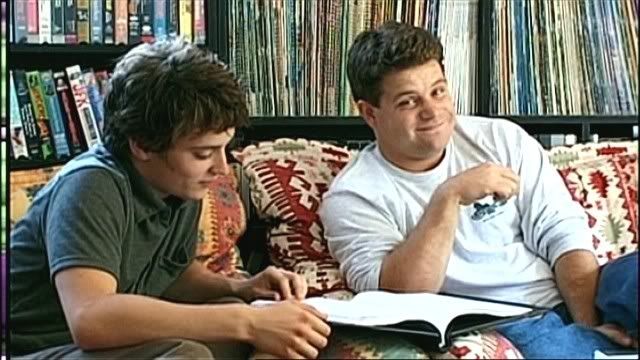 "... and I really hoped that those four guys would bond because 1) it would make the 15 months go a lot quicker if everybody was friendly and got along but also for the film - I knew that having the hobbits feel like they were connecting was something that was important for the movie" (Peter Jackson, dvd)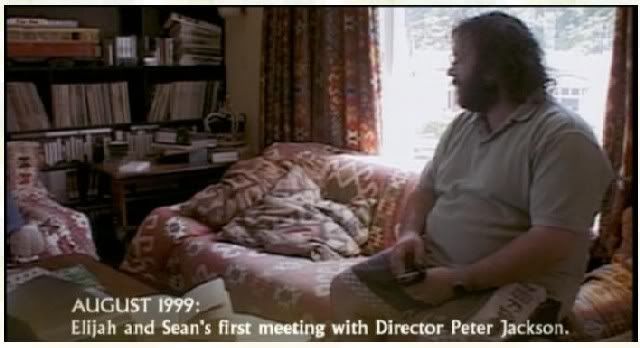 "As I look back on it now, I realise that the point of pre-production training was not simply to get us ready for the hard work ahead, but to toss us all – hobbits, dwarves, elves, wizards and men – into a cauldron and see what bubbled to the surface. With any luck we'd form friendships and alliances, and the strength of those friendships would be reflected on screen. Elijah led the way. 'We're going to be friends forever', he'd say." (Sean Astin - There and Back Again : An Actor's Tale)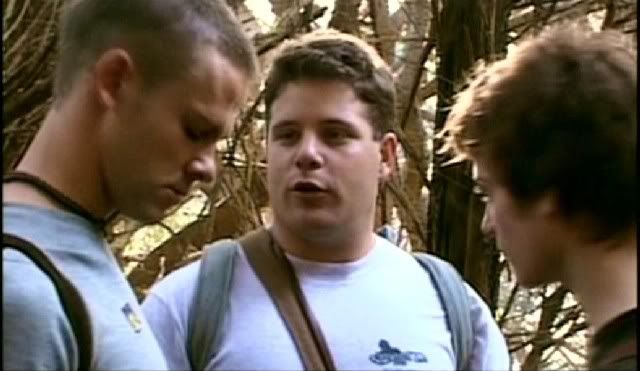 "One of the extraordinary things I discovered when I went down there was that I could tell early on who the characters were. I had seen Elijah Wood in a movie. I didn't really know him or recognize him. But as I looked around at the faces in this room I knew who was Frodo, and that that was Merry, and so on and so on. It was astonishing. When you have that level of precision of casting, you are in for something very special. What a fabulous collection of young and old talent, and what an extraordinary ensemble it became" (John Rhys-Davies - LOTR Fan Club Mag)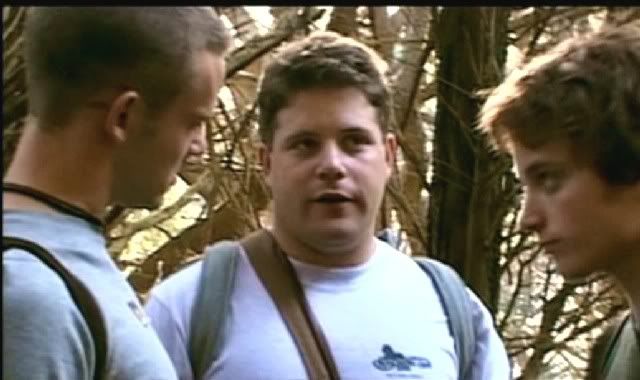 These two look very pleased with themselves after flinging Elijah into the ocean!!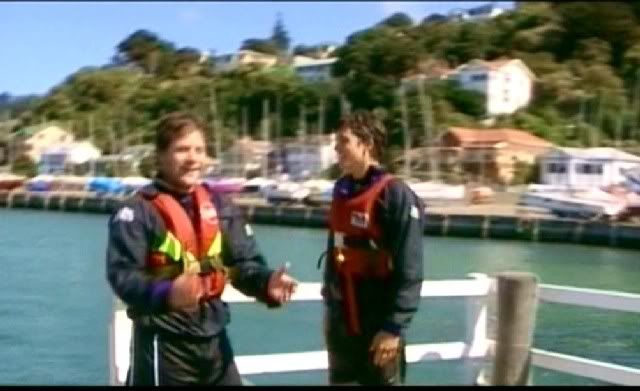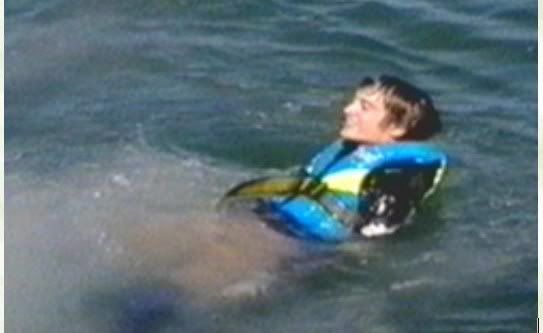 There were also make-up tests and costume fittings:
(The following costume shots can be found on
lilithlotr
's website
http://lilithlotr.ejwsites.net
along with many more).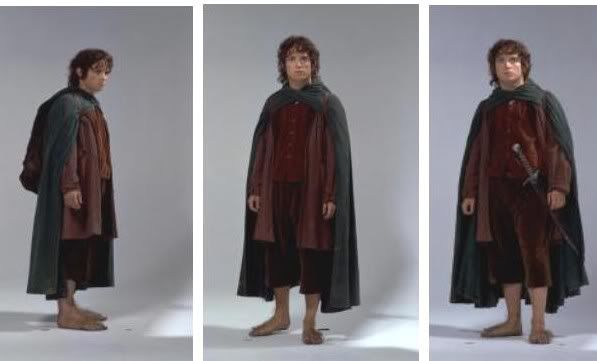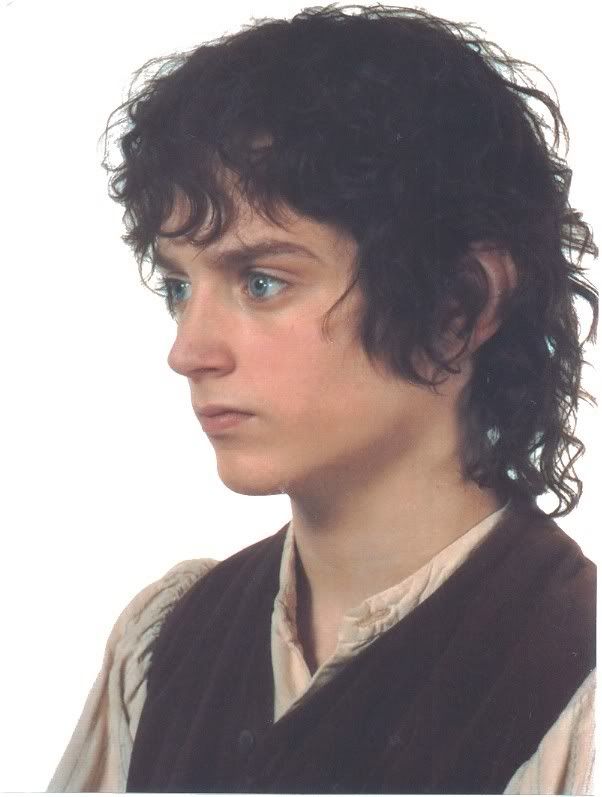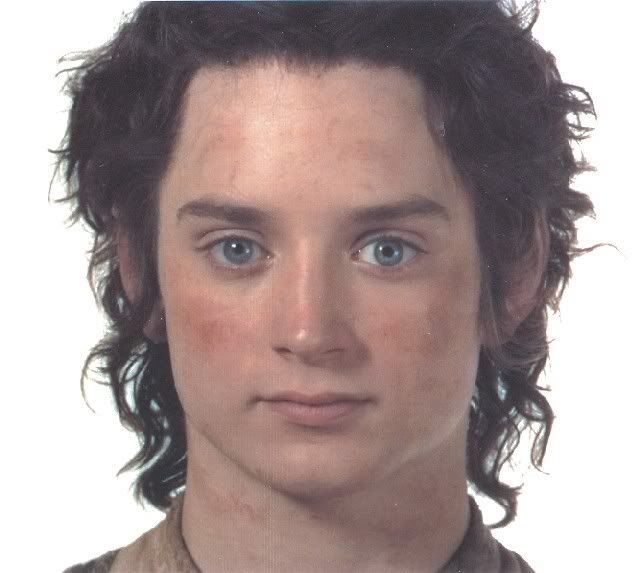 I remember Elijah saying at Collectormania that he came to love the familiar scent of Frodo's clothes. He also said that they were always getting stabbed in the neck by the Elven brooch!!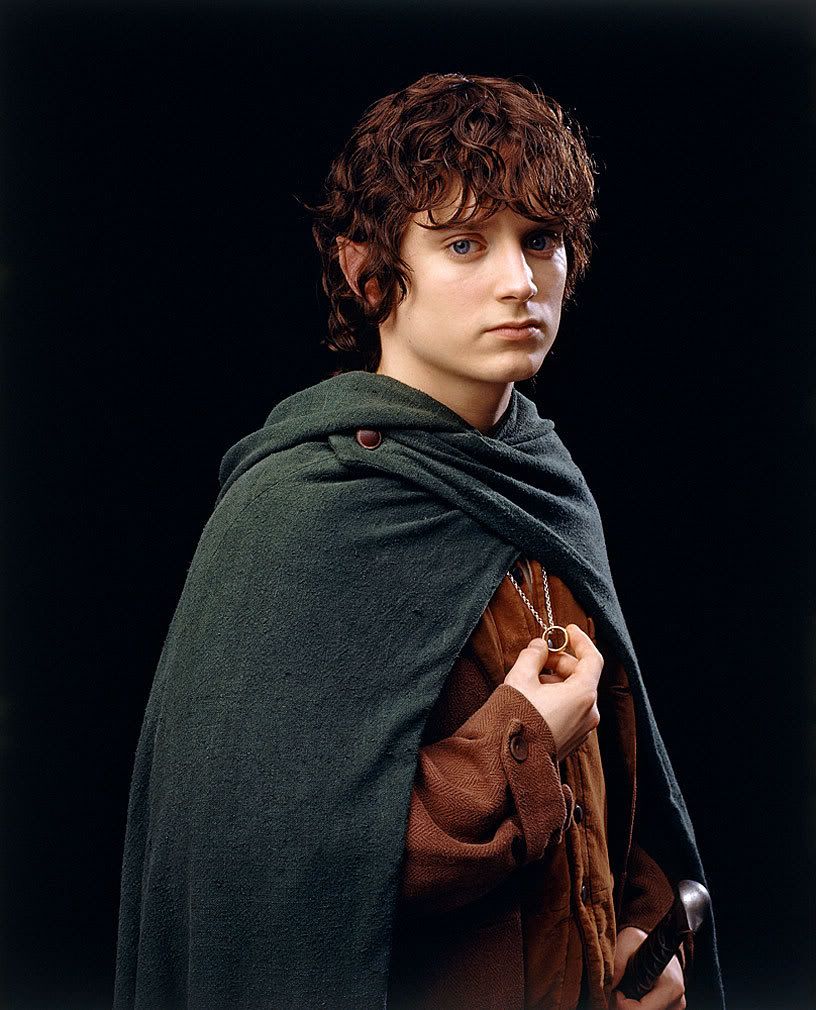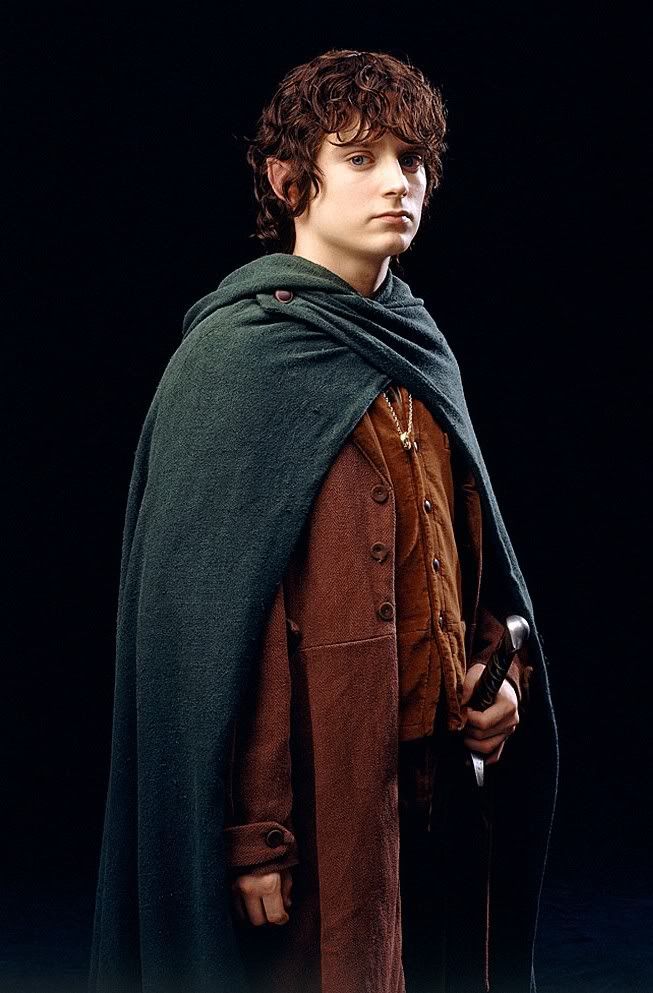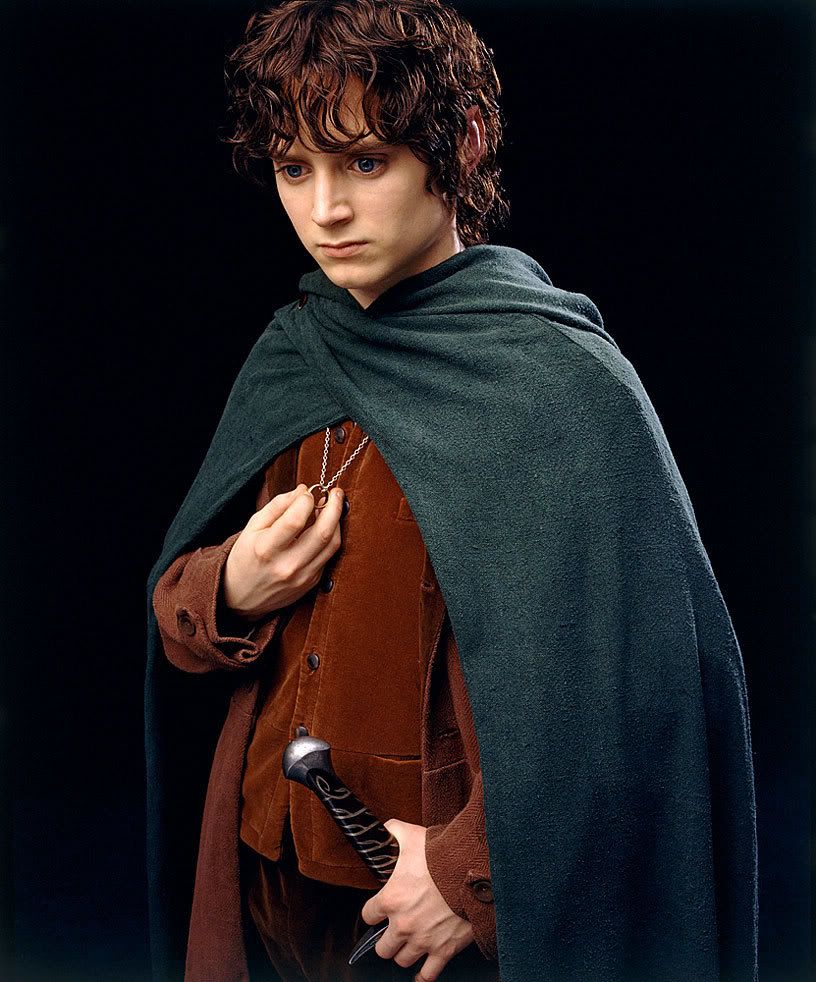 "Can you give us some brief comments on each of the major costumes? Let's start with the hobbits:"
"Well, we wanted to make each character quite separate; we wanted you to be able to spot each one from a distance. We wanted to give you a sense of who each character was. Frodo's costume is probably the most princely of them all. He's got a bit of velvet, which doesn't really appear with hobbits very much. His colors – that very warm golden brown and that maroon red – were used to set him slightly apart from the others." (Ngila Dickson – LOTR Fan Club mag)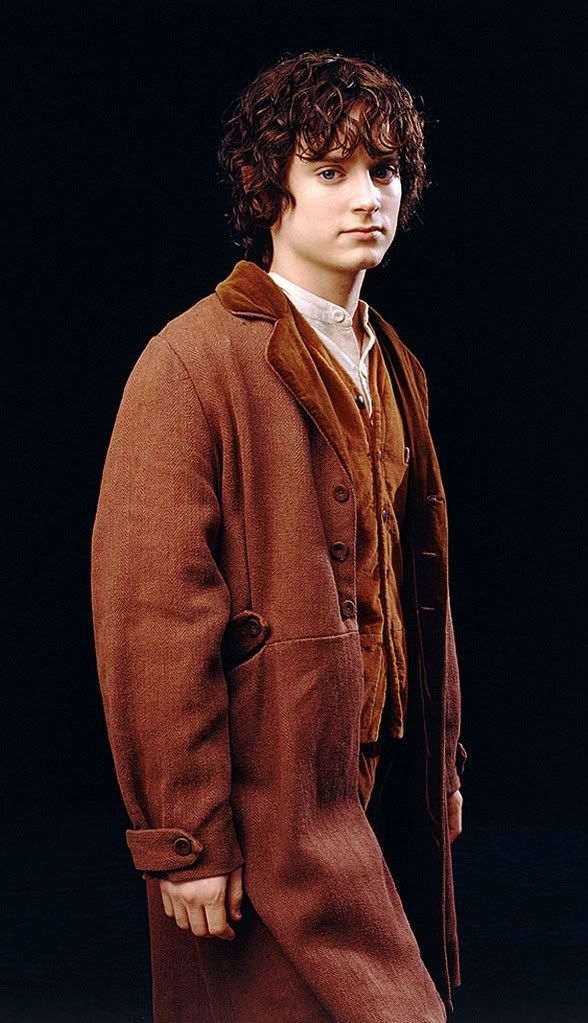 I have my own tiny scrap of Frodo's travel jacket!!! Well, not his actual jacket of course – but the same material it was made from:)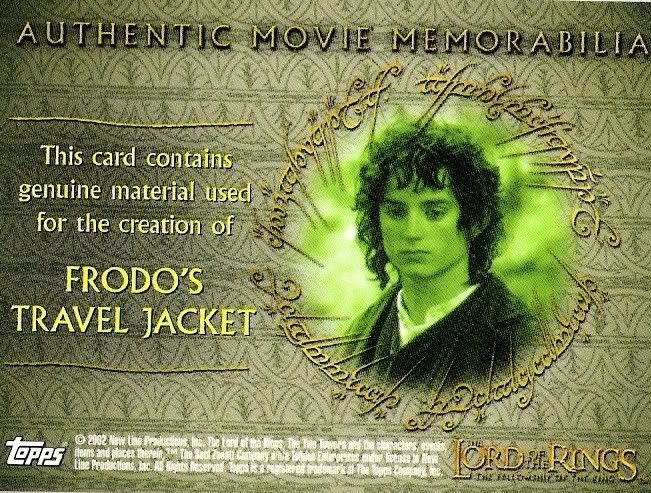 And Elijah Wood, eyes glowing with the noble burden of his cause, from the tip of his pointed ears to the bottom of his hairy feet, is a Tolkien vision made flesh.
In him, now and forever, Frodo Baggins lives.
(The Face)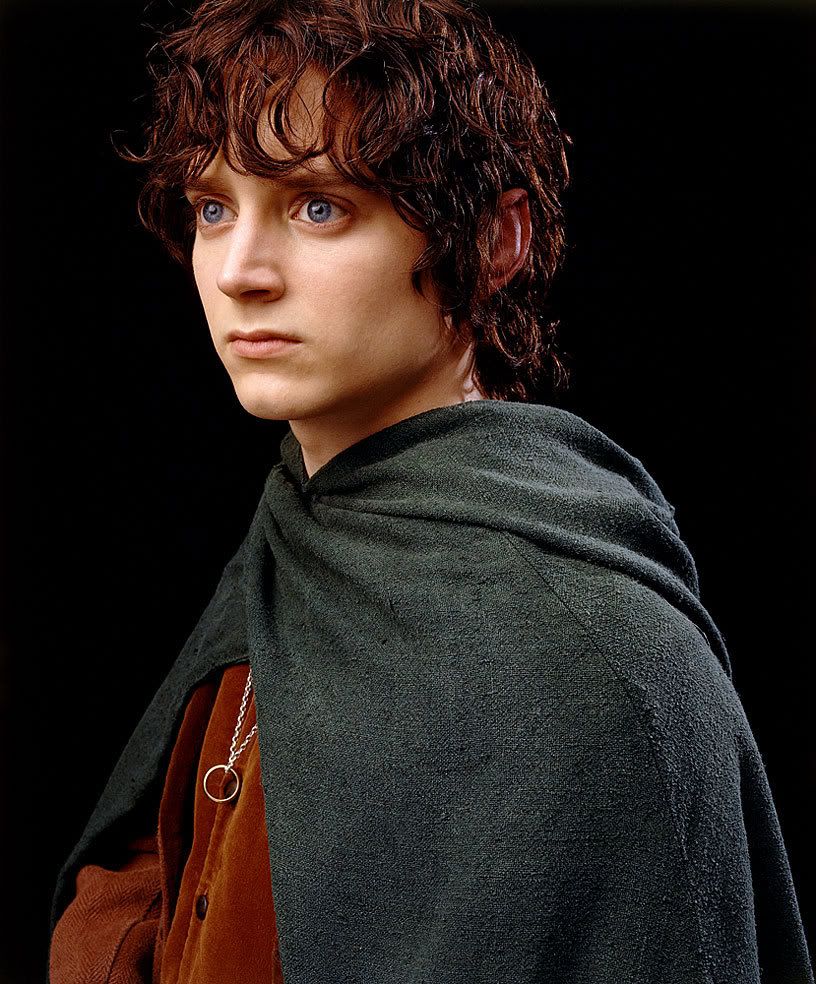 The hobbits and their scale doubles have a dress rehearsal - in the car park!!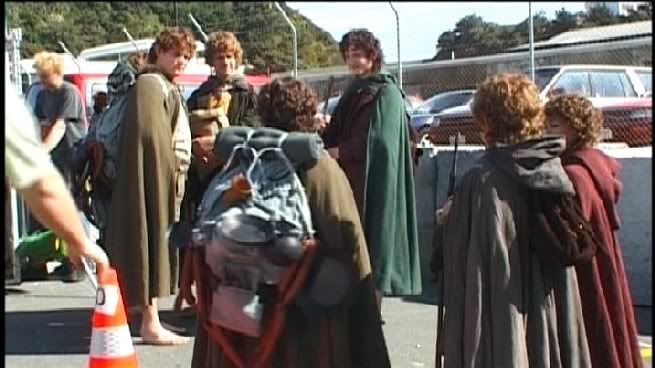 Elijah calls over to Dom's scale double, in a perfect English accent "Martin, you look just like him".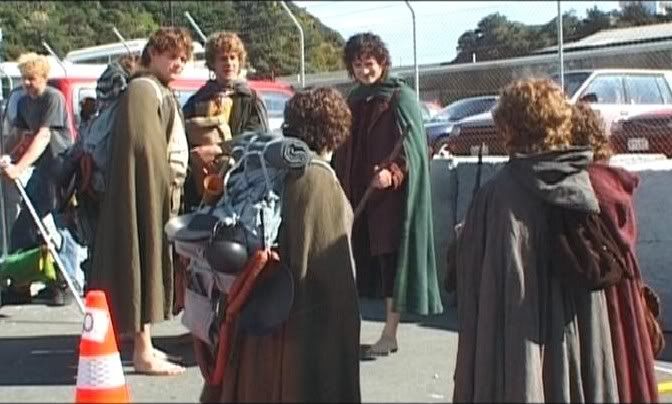 Dom:
"You lucky, lucky man!!"
They conclude that Martin is very flattered by this remark!!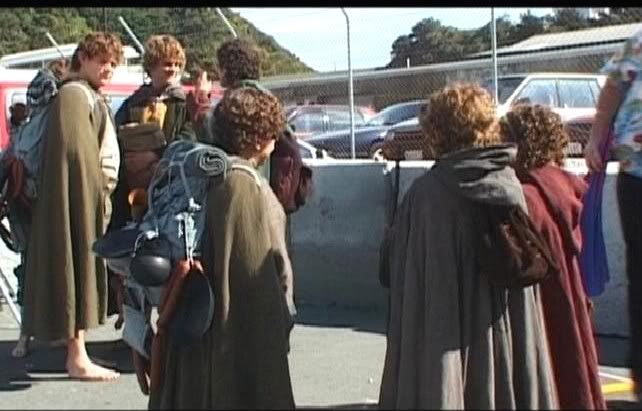 A contemplative moment for Elijah: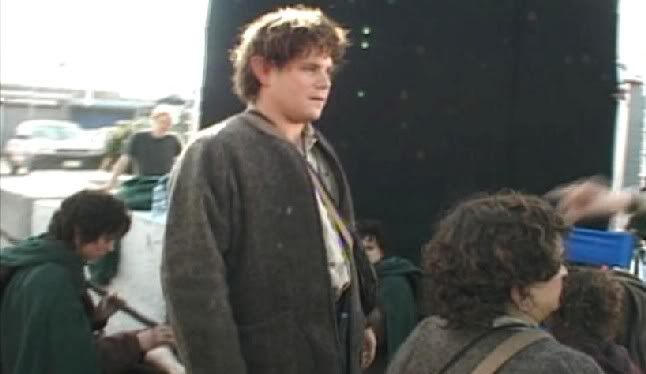 PJ:
So, can we just strip everybody ...
(I'm saying nothing)
... everybody down to their jackets please - you can keep the trousers on!!
Spoilsport!!!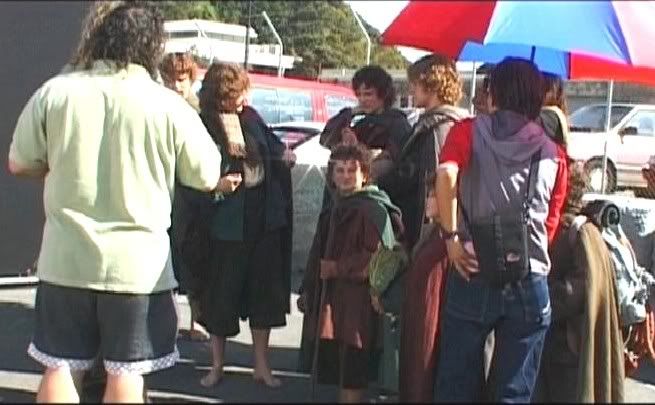 Elijah appears to have invented some sort of game to keep them entertained.
"stand in a line, like you're waiting for the bus ...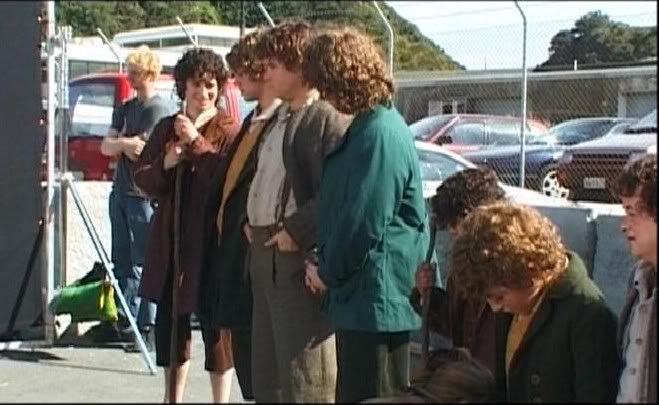 and when I say 'mingle!!' you mingle ...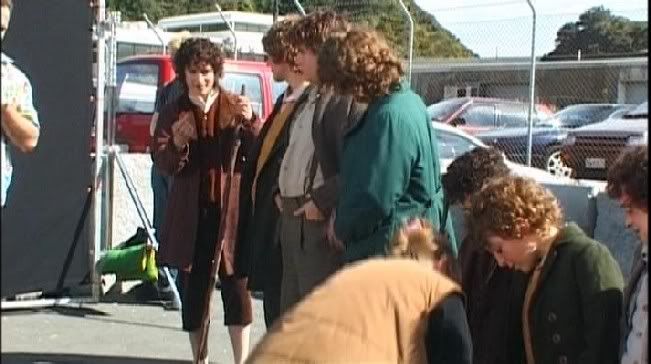 but don't cross the line 'cos then you lose points."
Well, at least Billy looks interested!!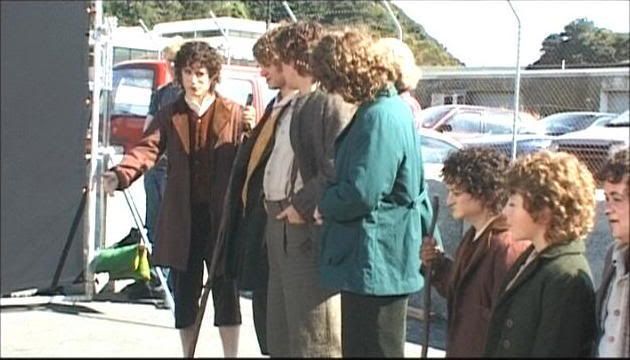 PJ:
"Ok, if you could just do some walking around."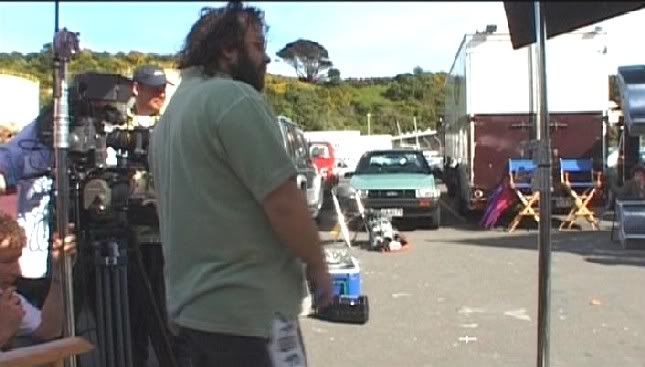 Elijah asks Billy,
"How's the missus?"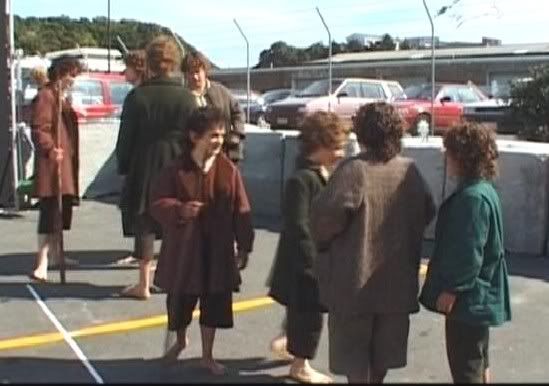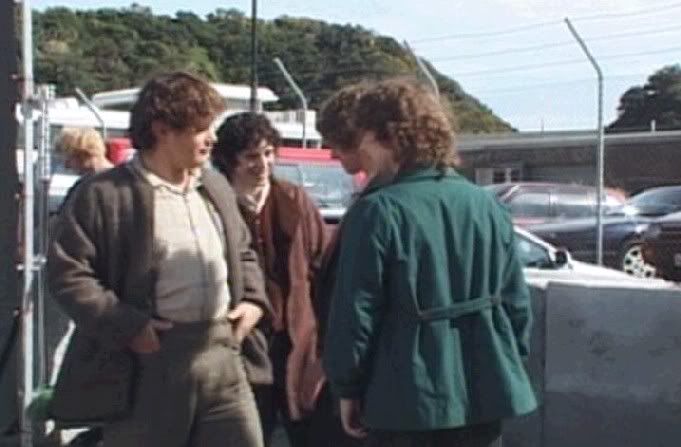 Elijah:
"What's your problem?"
Dom:
"Whassup?"
Elijah:
"Whassup?"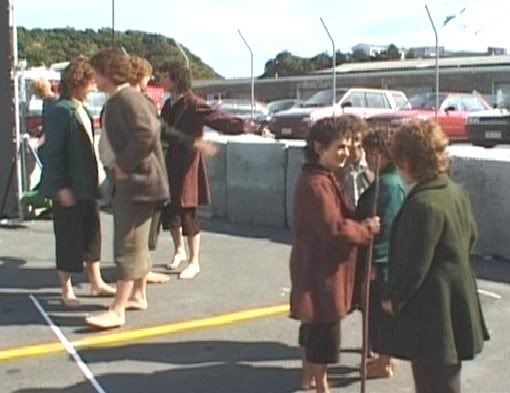 This reminded me of ...
this - many years later at Collectormania!!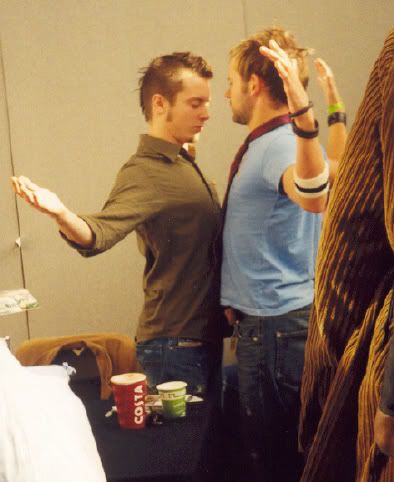 PJ giggles -
"It's very bizarre, isn't it?"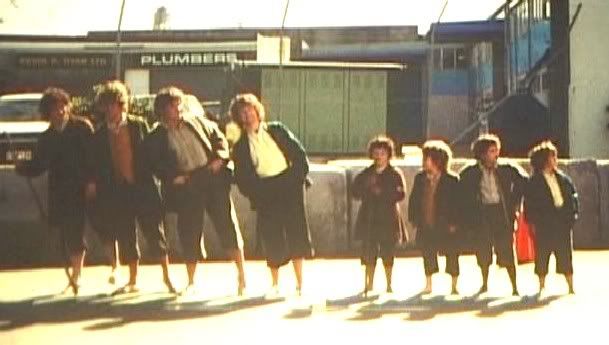 PJ -
"That's a good one for the old dvd!!"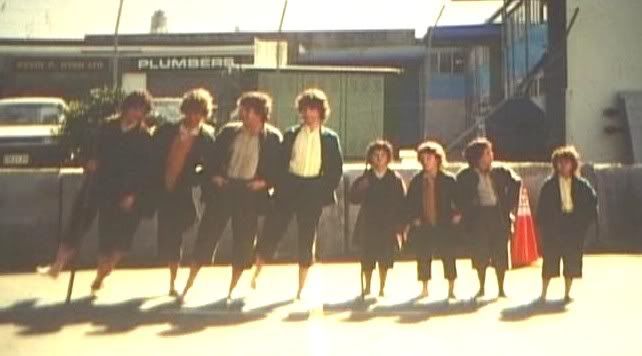 This pic is from Sean's book. It was taken at a party held at Barrie Osborne's house before filming began. Barrie had a fireman's pole in his house - as you do ;) - I can just picture the fun those guys had sliding down that pole!! To me there is something symbolic about this pic - all gazing up at that pole -it wouln't be so easy to climb up it, it would be quite a struggle and you could easily slip back a few times. Well, I'm sure you know what I'm getting at, and some of you who are so good with words could put it better - but yes, it seems to symbolise the mountain they have to climb - and I don't just mean Mt. Doom!!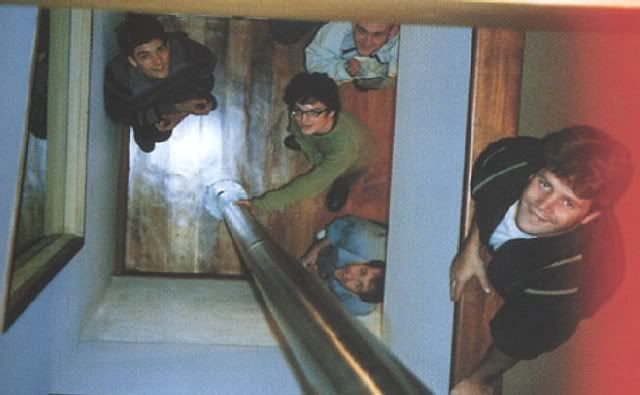 "And it was this amazing kind of coming together - we're all finally here - well, almost all of us - and we are going to set out on this journey and it was this incredible excitement and anticipation for what we were about to do ... together." (Elijah, dvd)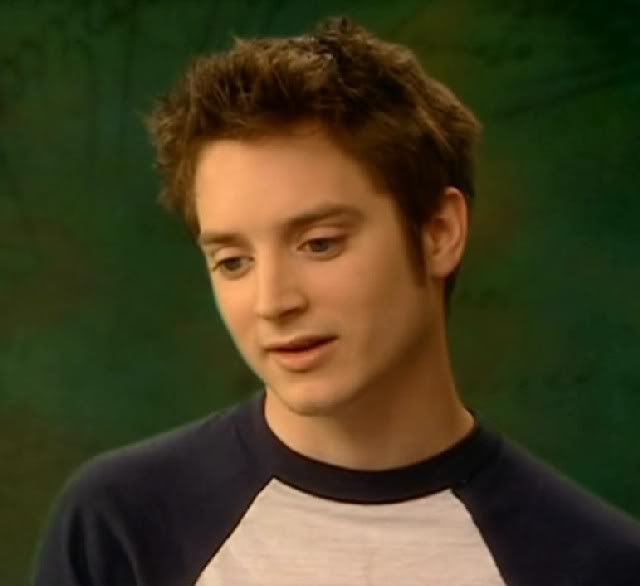 comments: Leave a comment