| | |
| --- | --- |
| Tags: | a journey with frodo |
| Security: | |
| Subject: | ELIJAH WOOD'S JOURNEY WITH FRODO - CHAPTER THREE - THE JOURNEY BEGINS |
| Time: | 01:42 pm |
| Current Mood: | productive |
Chapter 3 is finally up folks - hope you enjoy it. I have included a couple of quotes from PJ's just-released biog but will put a spoiler warning so you can skip if you wish.
Just in case anyone wonders why I haven't included any screencaps from the actual films or quotes from the dvd commentaries so far, I will be incorporating those into the 'book' at a later stage, probably after the release of FOTR. I wanted to be able to have these in the correct sequence and because filming wasn't in sequence it wouldn't have worked out to do that yet - if that makes any sense;)
Once again I must apologise for the fuzziness of some of the screencaps - this is usually because the original source is poor quality but I want to include them because they're so evocative of that day:)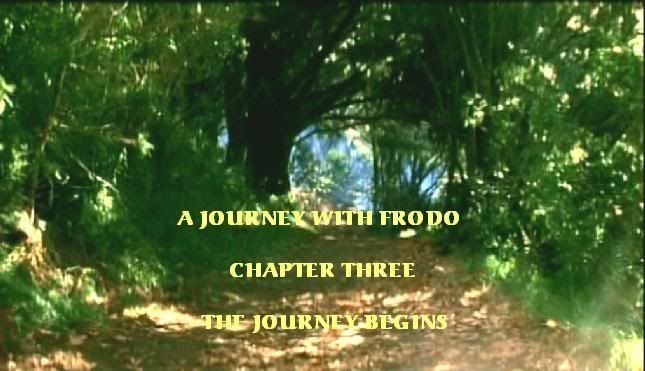 FOR IMMEDIATE RELEASE
Contact:
Mary K. Donovan Steve Elzer
New Line Cinema/NY New Line Cinema/LA
(212) 649-4945 (310) 967-6654
"THE LORD OF THE RINGS" TO BEGIN PRINCIPAL PHOTOGRAPHY IN NEW ZEALAND
Peter Jackson Directs International Cast In Production of Unprecedented Scope
(Los Angeles, October 7, 1999) – The Lord of the Rings film trilogy begins principal photography in Wellington, New Zealand, on October 11, 1999, under the direction of Peter Jackson, it was jointly announced today by Robert Shaye, Chairman and Chief Executive Officer of New Line Cinema; Michael Lynne, President and Chief Operating Officer of New Line Cinema; Michael De Luca, President and Chief Operating Officer of New Line Productions; Mark Ordesky, President of Fine Line Features; and Jackson, who is also a writer and producer of the production. (cont'd) ...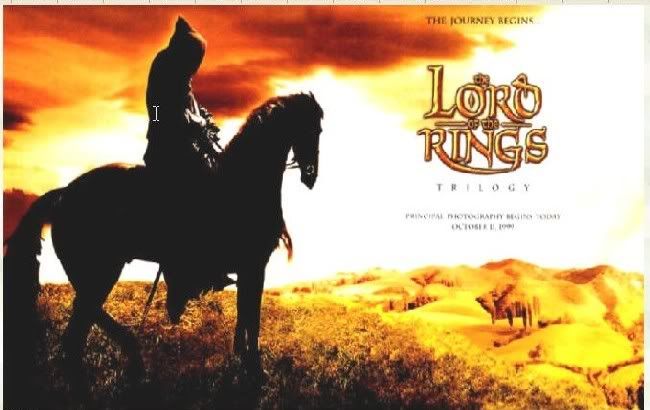 Unprecedented in scope, the production breaks new ground in movie-making by filming the three titles in this saga -- The Fellowship of the Ring, The Two Towers and The Return of the King – not consecutively but concurrently, as though they were all one giant motion picture production
Based on J.R.R. Tolkien's beloved series of fantasy novels, The Lord of the Rings franchise stars (in alphabetical order) Sean Astin, Sean Bean, Orlando Bloom, Billy Boyd, Brad Dourif, Sir Ian Holm, Christopher Lee, Sir Ian McKellen, Dominic Monaghan, John Rhys-Davies, Stuart Townsend, Liv Tyler and Elijah Wood, whose casting was previously announced. (theonering.net)
And so on 11 October 1999 the four 'hobbits' found themselves in Mount Victoria Park, Wellington. A journey of a thousand miles starts with a single step, as the saying goes...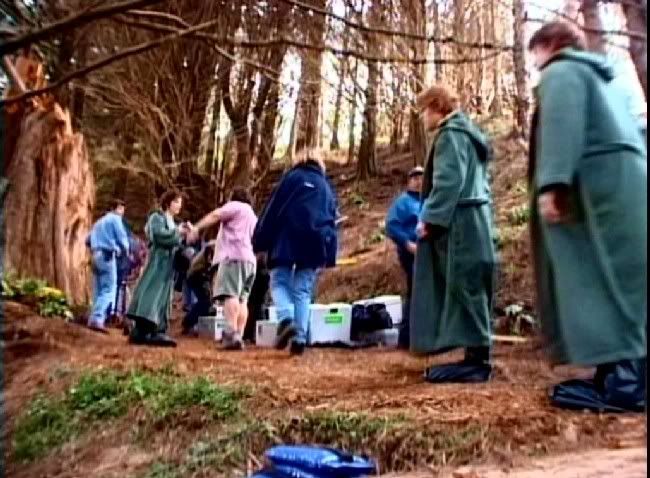 "On October the 11th, NZ time, principal photography began as it has continued: Unpredictably! Nobody expected that the film crew and the four main hobbits would quietly invade a corner of one of the capital city's parks for a week. Suddenly an area of the hilly pineforest on Mt. Victoria right near central Wellington was fenced off by security guards, and the hobbits' flight from the Shire began. At the same time, the four Hobbit actors began the long process of becoming the inseparable friends that they are today. If this dynamic comes across in the film, that will be something that Tolkien would have applauded." (theonering.net)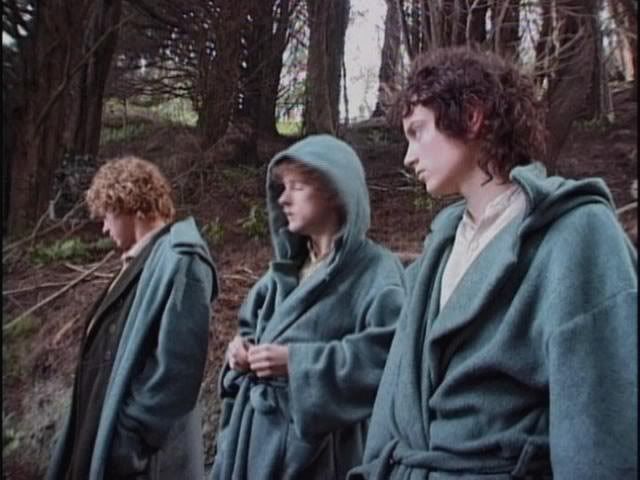 "Hobbits loose in woods above Capital ~ By Tom Cardy
Part of Mt Victoria's Town Belt became a dense wood and a walking track for hobbits as filming began on The Lord Of The Rings today.
Producer Tim Sanders said the bush around Mt Victoria was ideal for a scene for the $360 million epic, which will be filmed at various locations around the country. Extra trees were taken in to make Mt Victoria's bush denser.
"We're pretty excited. It's been a long time in preparation - 2 1/2 years," he said. Depending on the weather, filming on Mt Victoria would continue for the next few days.
Film publicist Claire Raskind said about 140 crew were involved today, filming a scene with hobbits walking through the woods, including one of the film's stars, Elijah Wood, who plays the hobbit Frodo.
"We have some hobbits working today and that's pretty much it," she said. (cont'd) …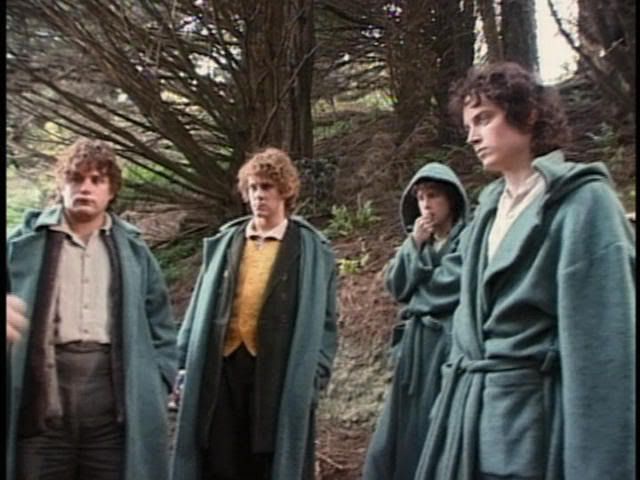 "The Post was not allowed on the set, but was allowed to look down from Alexandra Rd at the top of Mt Victoria where several equipment trucks and a wind machine were parked.
Film crew with several large lights could be seen hidden in the bush down a steep bank, but no sign of anyone with big hairy feet.
The only hint as to what audiences may see on film was a black horse wearing a medieval-style saddle and armour in the Mt Victoria Bowling Club carpark, with another two horses. Cast, crew and equipment were ferried up into the steep hill tracks using four and six-wheel motor cycles." (Wellington Evening Post)
SPOILER ALERT!!! Quote from PJ's new biography after this pic!!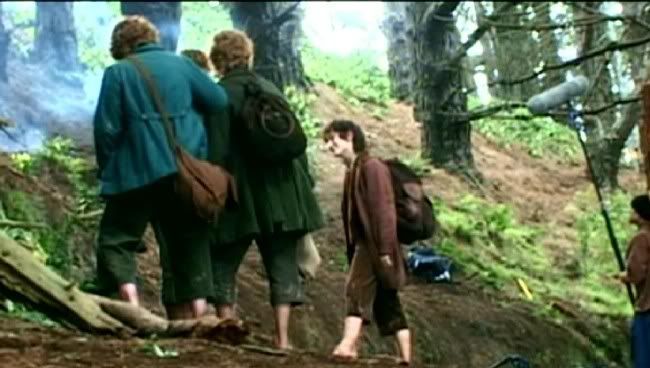 SPOILER
" 'The first day of filming', recalls Elijah Wood, 'we were all nervous, and I know Peter was nervous too. There was also a tangible sense of excitement amongst the actors, the crew – everyone. This was the beginning. The beginning of a journey that seemed like it was going to go on for ever. The end was so far away that it didn't exist. The idea of beginning this journey with the four hobbits was fun for us because we'd already become quite close – but it also seemed really appropriate. It's in the hobbit's nature to be excited and full of life. So to start with that atmosphere was really cool.' " (Peter Jackson : A Film-Maker's Journey by Brian Sibley)
END OF SPOILER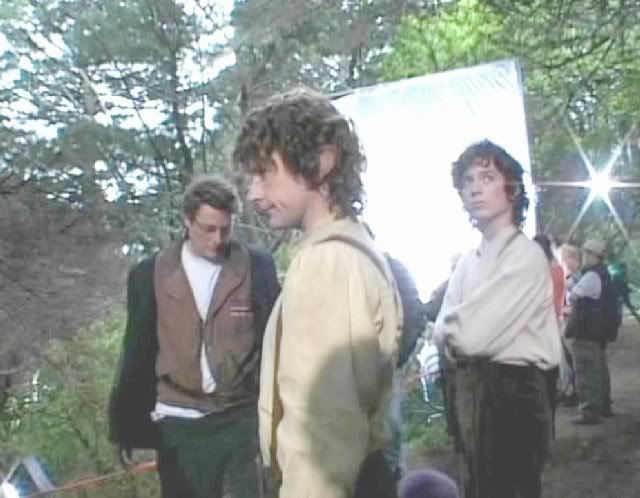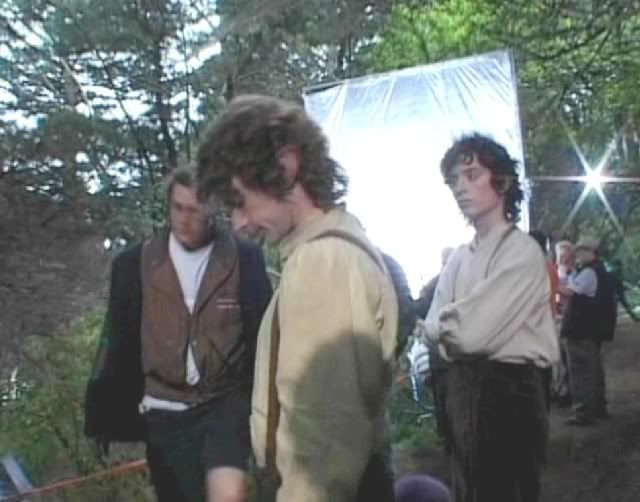 The first scene shot was the hobbits falling…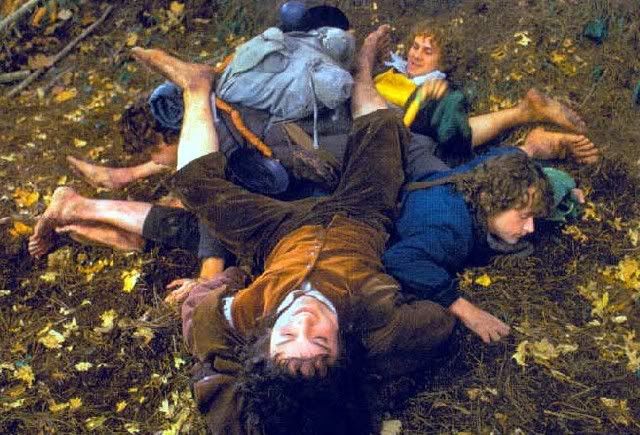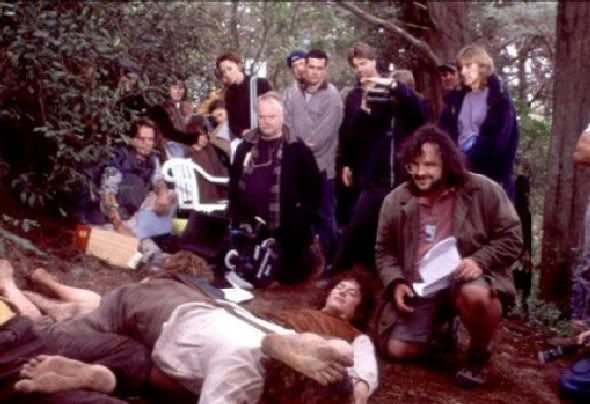 Hmmm – should I include the story of Elijah's little mishap? Why yes, I think I should:D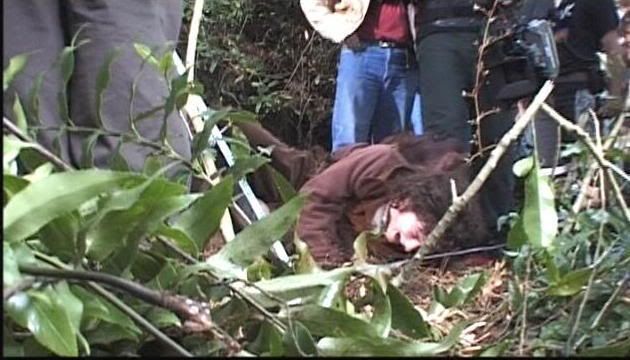 During the fall – and I will quote Dom here – "Elijah let out a little tommy squeaker".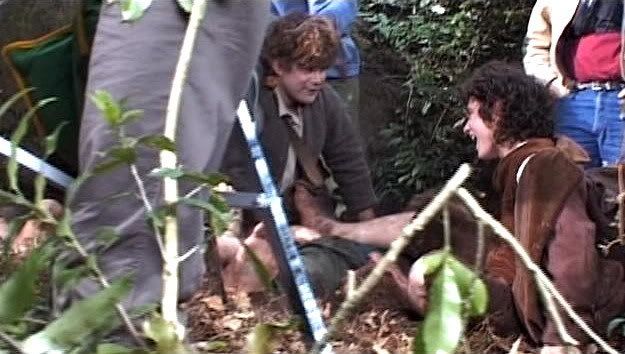 Hysterical laughter ensues. "It was pressure gas" states Elijah.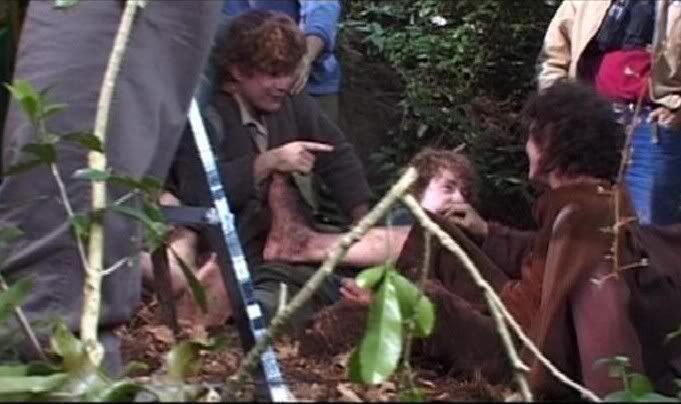 He tries to explain that if Dom hadn't landed on him it wouldn't have occurred.
But it's no good – Elijah resigns himself to merciless teasing!!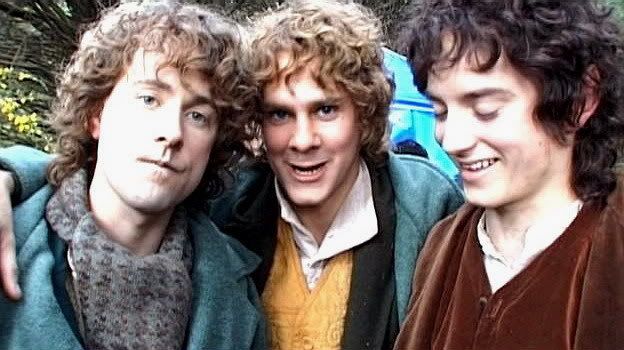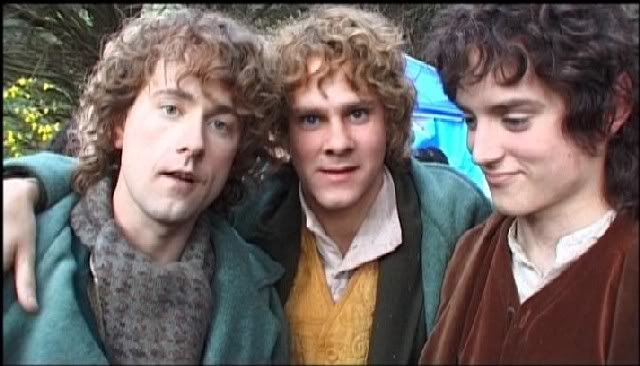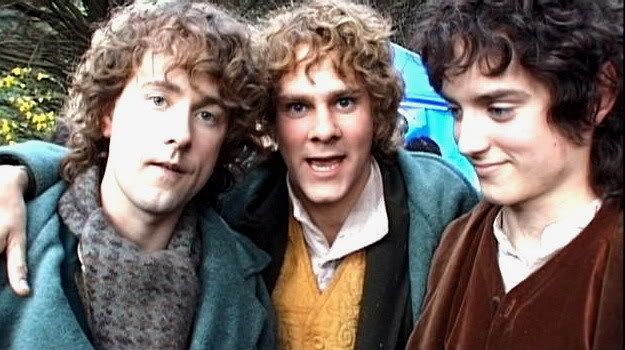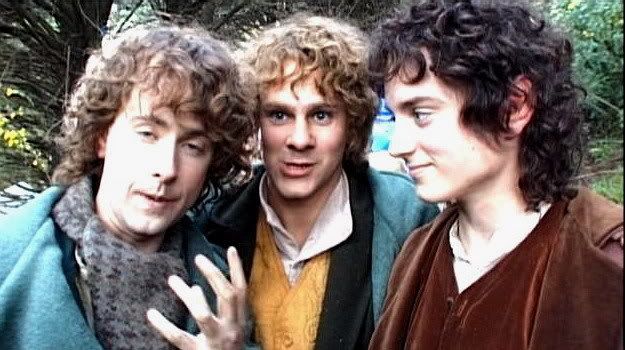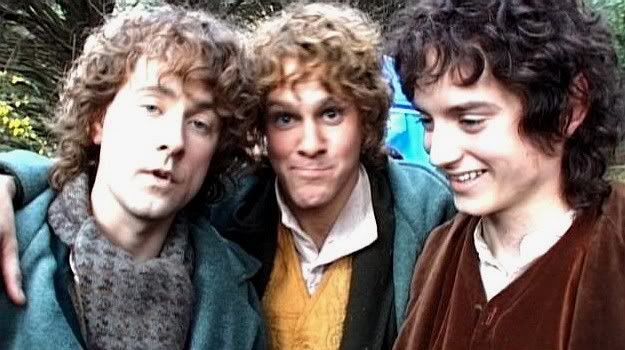 "I can't wait to see if it shows up on the sound" Elijah says at one point.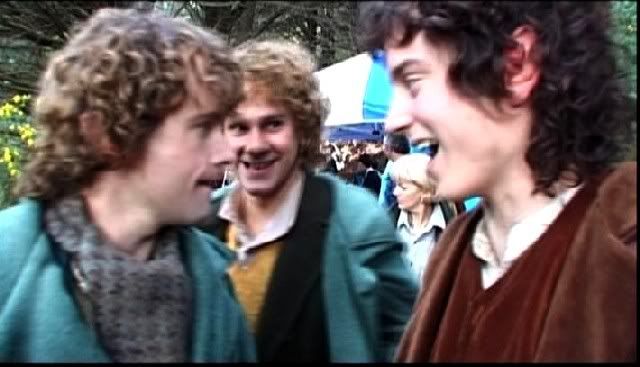 "You gotta love your castmates!!"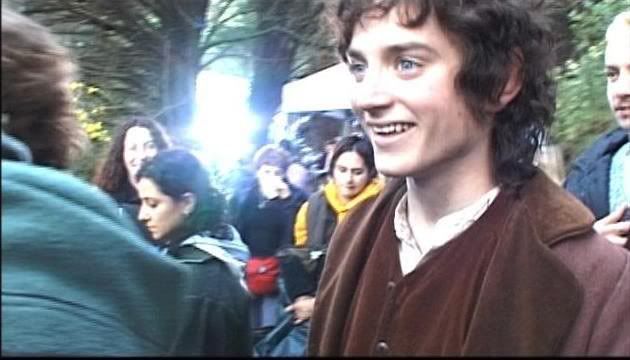 The screencaps from this scene are a mixture of my own and
mechtild
's (the better ones!!) from her LJ post here
http://mechtild.livejournal.com/51905.html
Next scene up was "Get off the Road". Elijah receives some advice from dialect coach Andrew Jack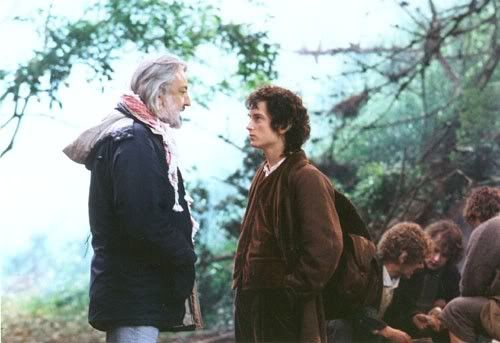 and from PJ.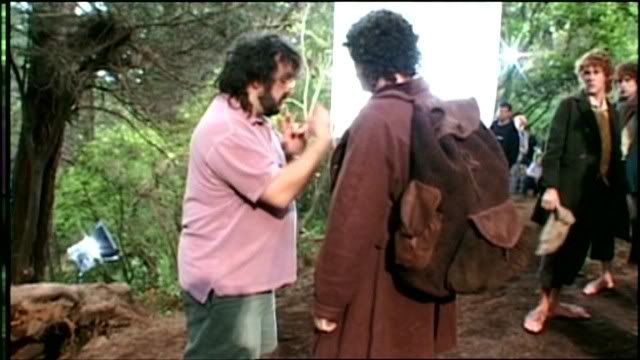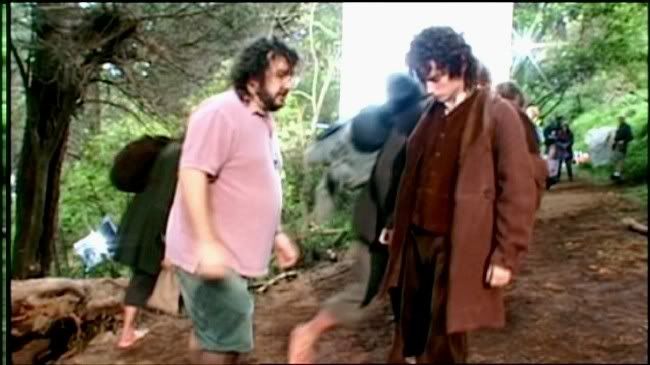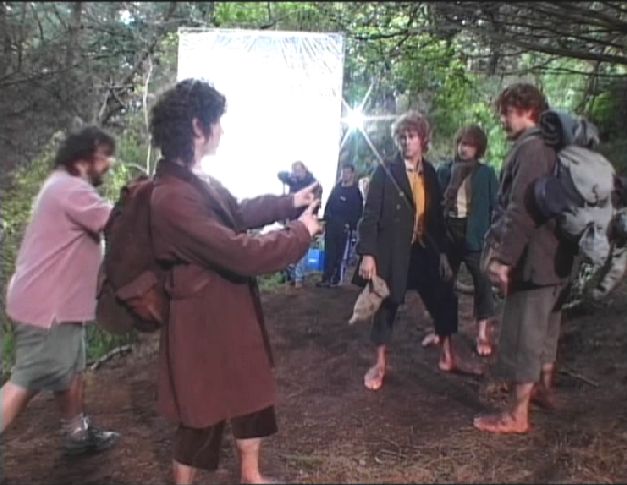 This just begs for a caption!!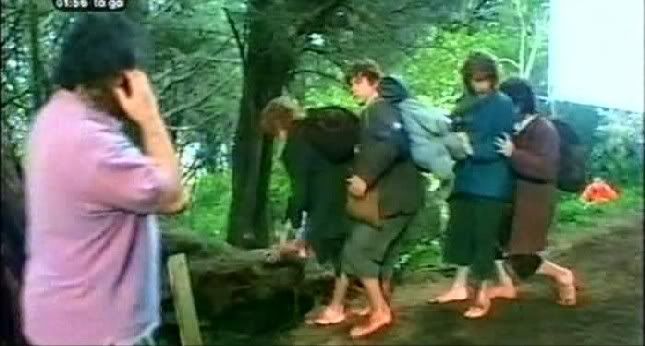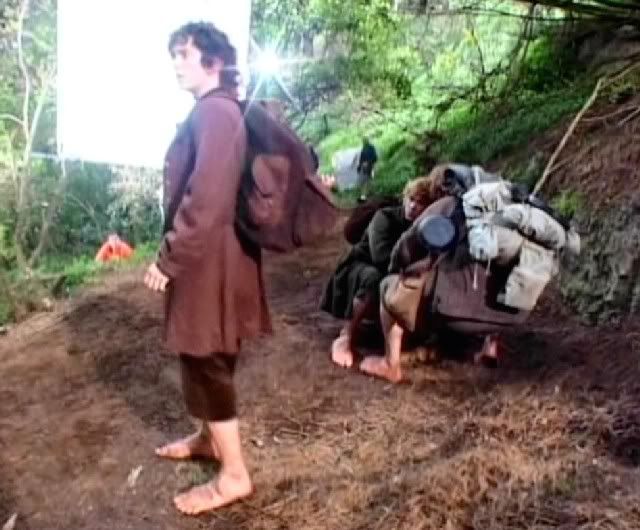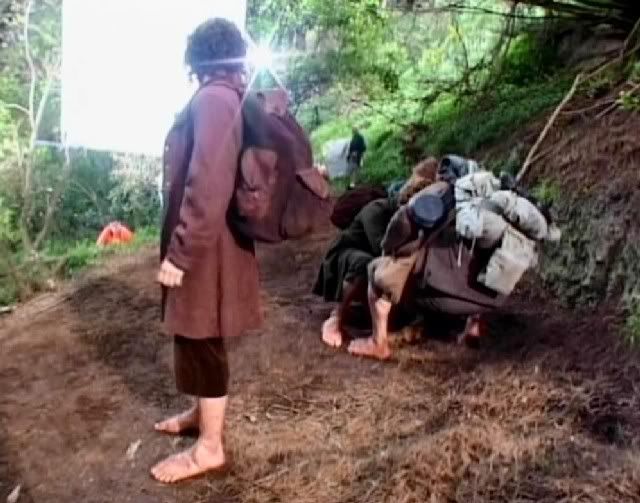 "You have big spiders?"
PJ has just asked Dom if he would mind having a big spider crawling over his shoulder and Elijah seems quite excited at the prospect of a huge spider as a cast-mate. Don't think Frodo would share his enthusiasm!! And as a severe arachnophobe neither would I. I was fascinated to note that there was even an insect wrangler on this film!!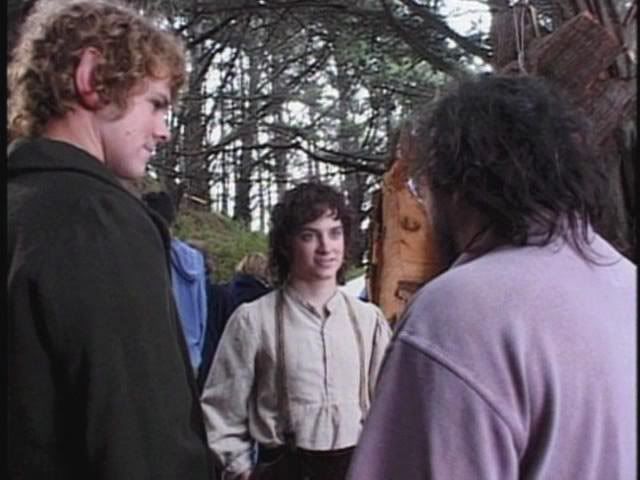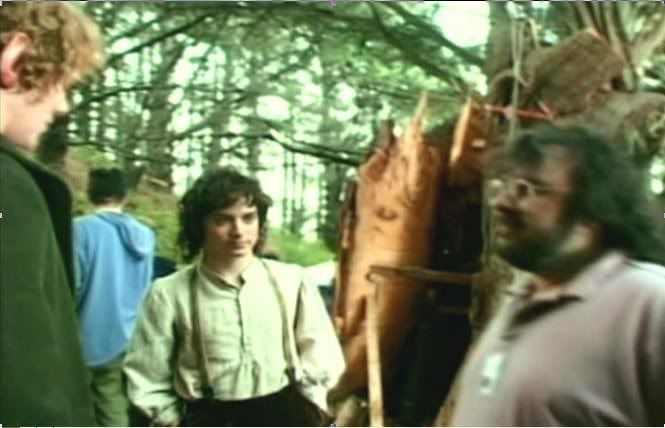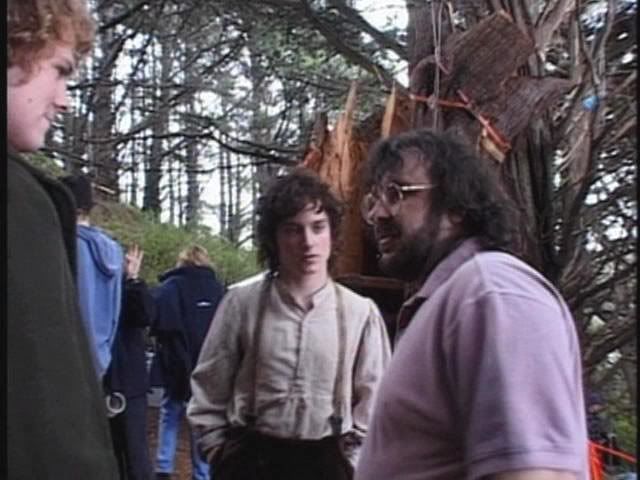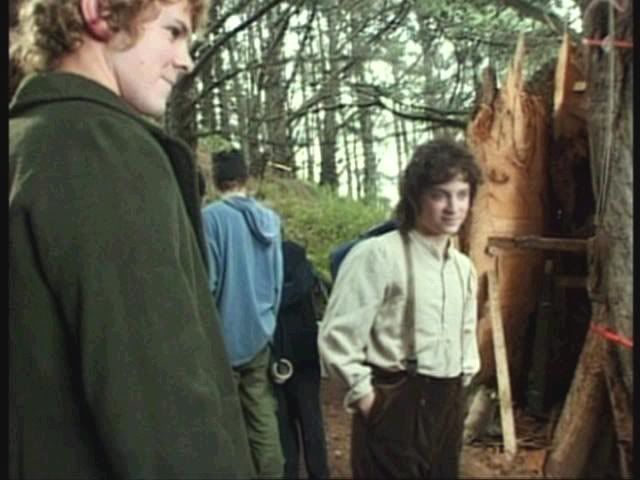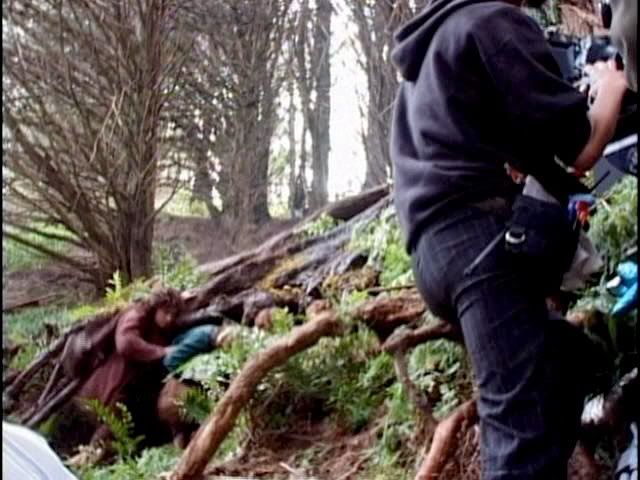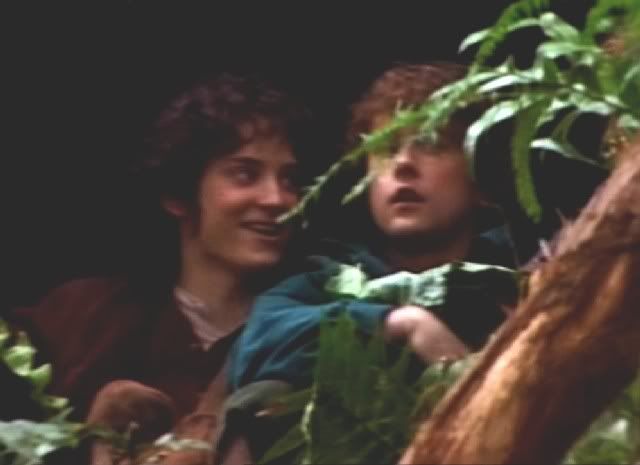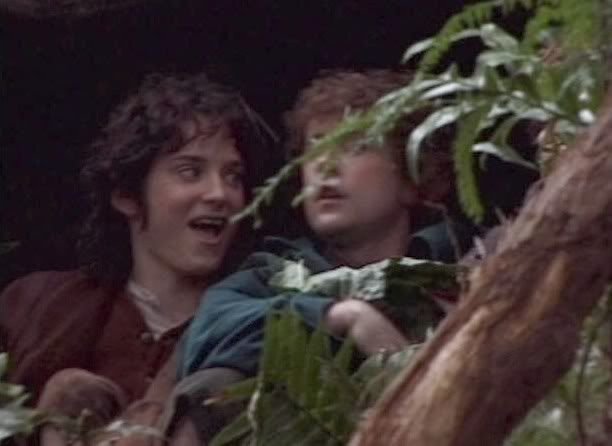 A scene from filming on "The Wooded Road" even made it onto this NZ ad!!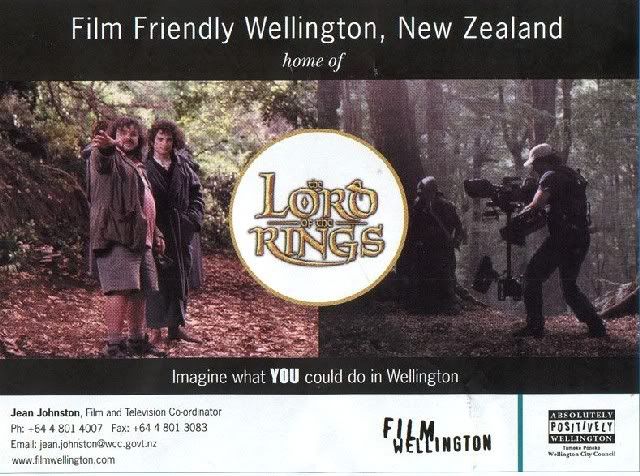 On the third day of shooting there was a great shock for the cast. Stuart Townsend, who had been cast to play Aragorn, was 'let go'. It was decided that he was too young for the part. This was someone who had shared the same six week training period with the others and formed the same close bond with them – and now he was gone.
"A couple of us were crying" Elijah Wood recalls. "If you can imagine, you spend two months with someone that you assume you'll be spending the next year and a half with. We had formed a tight bond with this guy. Whether it was right or wrong, it was traumatizing." ~ Premiere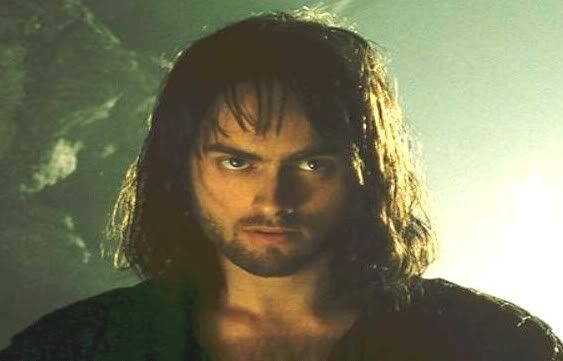 I know little about Stuart Townsend apart from his LOTR connection, but I can't help but feel terribly sorry for him because of what he missed out on. Sometimes when I'm watching dvd footage of the pre-film training, it occurs to me that Stuart would have also been taking part in this, but that's something we'll never see. Back in LA after principal filming was over, Elijah would bump into ST at a Radiohead concert.:
"Wood: 'Some people are mocking, when I tell them how sworn a community the team had been. But the other day, at a Radiohead concert, I met the actor Stuart Townsend who had been replaced by Viggo. It had been a hard decision for him, but that's the business. However, Stuart said that he's never felt bitter because he's missed three world hits. But he did miss the family feeling he had already developed after months of training together. I felt that he will never experience anything like this again.' (Source unknown)
SPOILER ALERT!! Quote from PJ book below!!
"For the other members of the cast, as Fran recalls, the news came as a terrible shock. 'The hobbits and Orlando were devastated: it was like "who's next?" Allaying the immediate concerns of the core cast members was not easy: 'It was' says Fran 'impossible really. They all liked Stuart and felt it as a painful thing. They were very professional but we felt that we had to prove ourselves to them, prove that we weren't bloody-minded and fickle. It was only time that healed it'." (Peter Jackson : A Film-Maker's Journey by Brian Sibley)
END OF SPOILERViggo Mortensen was brought in as a replacement
: "Elijah had an early dinner with Mortensen during which he found him hard to talk with. But when he started working, there was no question. This was Aragorn, this was the man who was meant to play this role. 'We had an immense amount of respect for him being able to jump in so quickly.' (Premiere)
"I bow down to Viggo. He came in and saved the day. A lot of things would happen on this film where a certain amount of trouble would arise, and then something would come along where it would not only solve it, but would seem like fate, like it was meant to be. And Viggo was one of those cases. …Someone just mentioned his name, they called him, he came and it was perfect. He was meant to play Aragorn, he is Aragorn." (Elijah ~Premiere)
TO BE CONTINUED

Link to all chapters http://not-alone.livejournal.com/tag/a+journey+with+frodo

comments: Leave a comment