| | |
| --- | --- |
| Current Music: | In the Bleak Mid Winter ~ Nevada |
| Security: | |
| Subject: | CHRISTMAS GREETINGS!!ji |
| Time: | 12:10 am |
| Current Mood: | cheerful |
I swear by the time I finally got to my pc tonight - something like 10.30 - I was suffering withdrawal symptoms!! The Christmas panic has finally caught up with me and the day has gone by in a flurry of shopping, wrapping, cleaning. I
think
it's all done now. Except - we forgot the sherry. Hubby is under strict instructions to get some tomorrow - it is tradition that I can only produce the Christmas dinner while in a sherry-induced haze.
In years gone by, it was the children who became over-excited at this time. Now, it's the cats!! I kid you not. Mabel today disovered where I was hiding their Christmas presents - she caught a whiff of the catnip & I was alerted by the frenzied rustling of bags that followed!!
Very soon it will be time for Frodo to take his annual trip downstairs. This happens every Christmas since I had him (my Frodo standee, that is) - I will not allow him to be left out. And he will be draped in tinsel:)
Due to lack of time, I'm sadly unable to post a picspam as I'd hoped, & I've had to just skim through my flist without leaving replies. So, I'm afraid it's just a very simple card from me, but the message is no less heartfelt:)
A VERY MERRY CHRISTMAS TO ALL MY LJ FRIENDS AND ANYONE ELSE WHO MAY PASS THIS WAY!!
192972043
Snow had fallen, snow on snow,
in the deep midwinter so long ago ...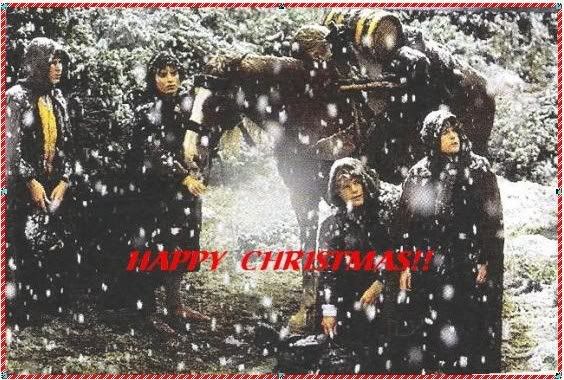 comments: Leave a comment