| | |
| --- | --- |
| Current Music: | Something More Than This ~ October Project |
| Security: | |
| Time: | 10:00 pm |
| Current Mood: | good |
alchemilla
~ thank you so much the pile of virtual pressies - that was so sweet of you:)
I believe I have thanked everyone who was kind enough to send me a birthday greeting - if I have missed anyone, please forgive me - you know what it's like when you miss a couple of days online, you think you'll never catch up with your flist again - and it is a
very
inconvenient time to have a birthday!!
Well, 2007 will be getting off to an exciting start for us Elijah fans - on 4th Jan he'll be announcing the 2007 SAG AWARD NOMS with, er - someone else who's name escapes me - and on 22 Jan he'll be back here with us again in the UK to start work on the 'Oxford Murders'. Filming is supposed to take 9 weeks, and though I do love the thought of having him here all that time, I really hope he'll be able to get back to the US for ORC in March. Although I can't be there myself this time, I'm really looking forward to the pics & vids & reports - and I wouldn't want the fans to be disappointed again. I'm sure he'll be allowed a break to go home at some time during filming - so hopefully he can arrange for that to co-incide with ORC.
Finally, a couple of people asked for a pic of tinsel-enhanced Frodo after my Christmas post - so here he is - I'm sure he's thinking about pinching an orange - look at that hand!!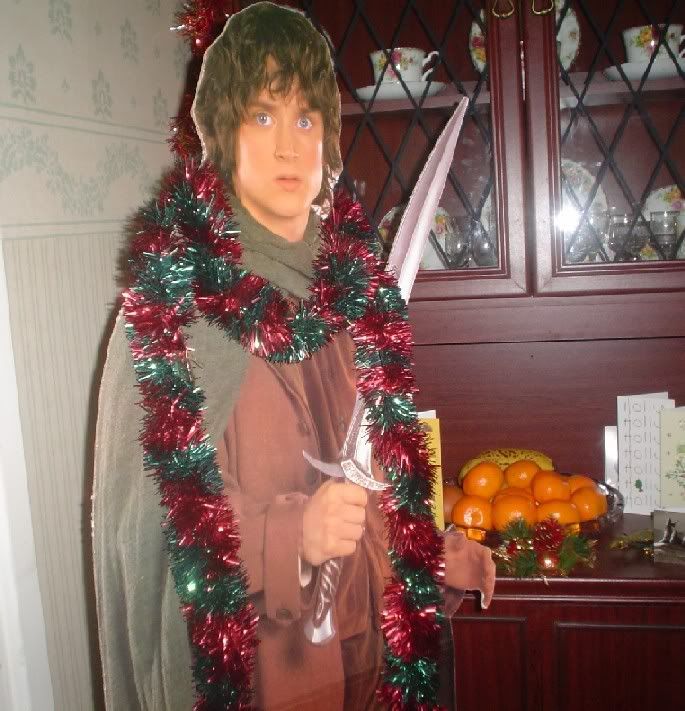 comments: Leave a comment