| | |
| --- | --- |
| Tags: | a journey with frodo |
| Current Music: | Follow ~ Richie Havens |
| Security: | |
| Subject: | ELIJAH WOOD'S JOURNEY WITH FRODO ~ CHAPTER FIVE ~ PROBLEMS |
| Time: | 05:55 pm |
| Current Mood: | busy |
Well, Christmas & New Year and the aftermath have played havoc with my work on this, but I can at last bring you the next chapter!! I'm a bit worried I may have gone a bit overboard lengthwise this time - I wanted to get up to the first break in filming but perhaps I should have made two chapters out of it - hope it's not problem.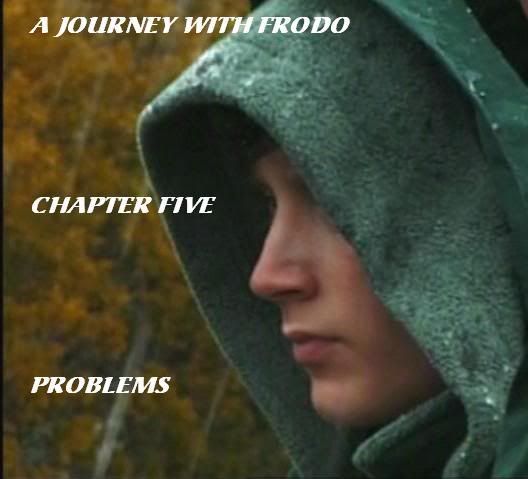 For the first few weeks of filming, the four hobbits remained together. Following the 'Get Off The Road' scenes, the next location was Bree.
"I think we shot all of Bree for the most part - the actual city street of Bree - in one night. We had the raintowers and it was mad and crazy …" (Elijah, dvd)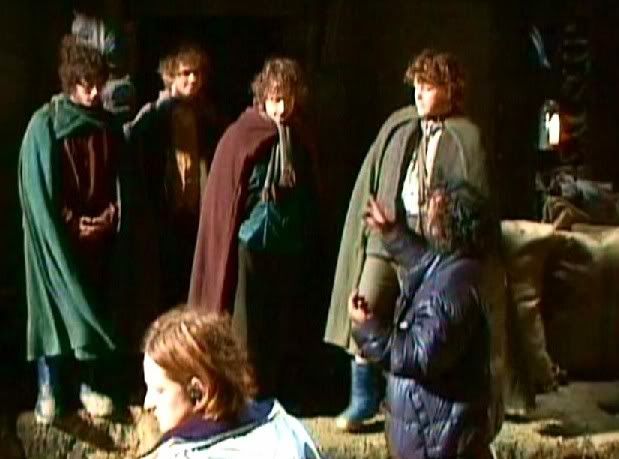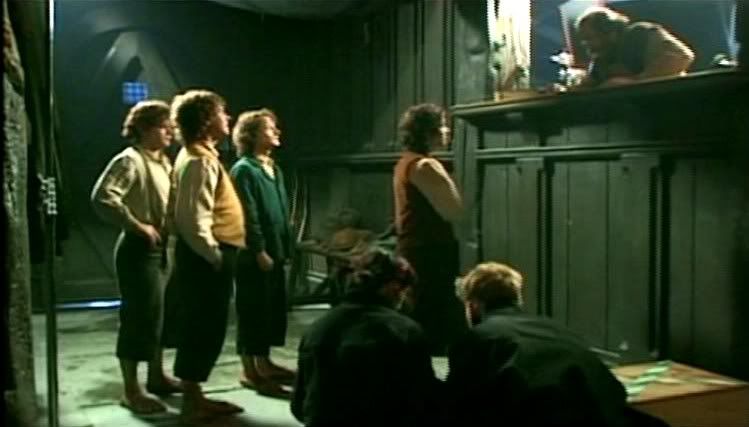 Oh dear, they've obviously been waiting around like this for ages – Elijah's reached the yawning stage!!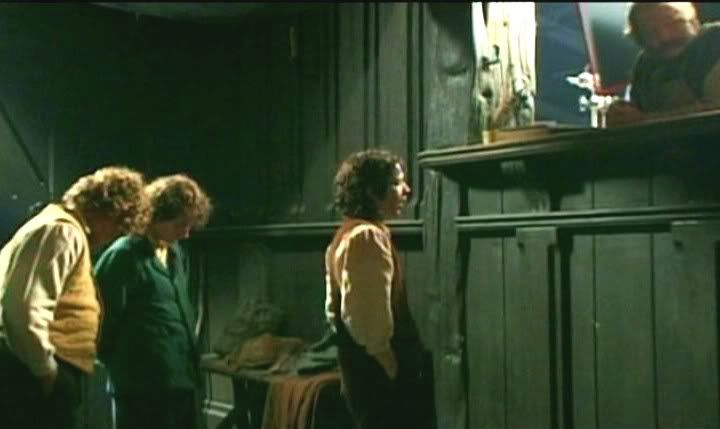 But as soon as the camera starts rolling, it's straight into Frodo mode:
"'Elijah would find levels in a story that I didn't think possible,' Jackson says, recalling the first moments he knew that Wood really 'got' Frodo. 'It was a few days into the shoot, when the hobbits arrive at the town of Bree, which is populated by big people. He is four foot tall, in a scary, creepy inn, and he shows a mixture of intimidation and courage, that somehow captured the essence of being a Hobbit on this frightening adventure. From that point, we all knew the film we were making.'" (Premiere)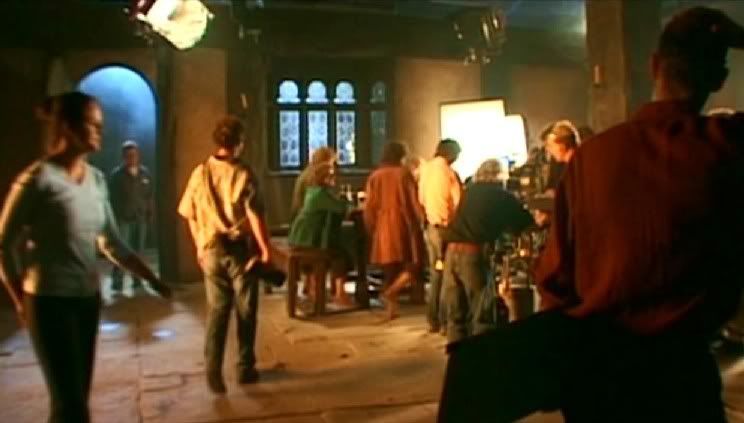 "...then we had these massive tables that we sat at which made us look small - like we were too small for the big tables - big mugs and big plates made us feel smaller and it kind of made that world more realistic for us." (Elijah, DVD)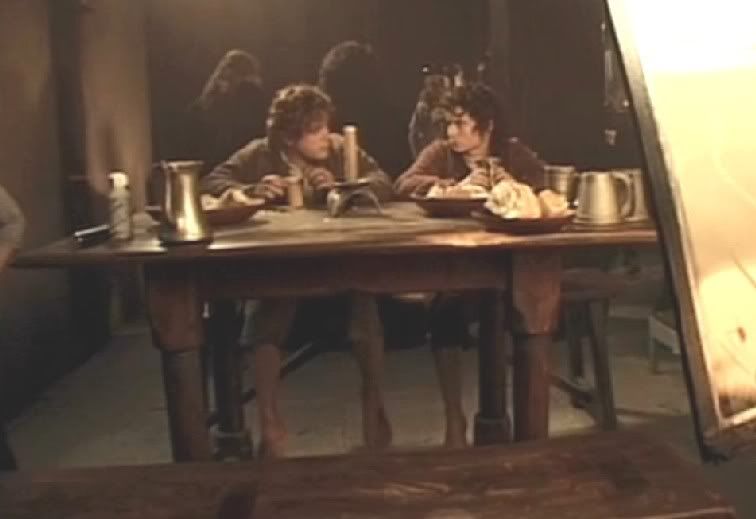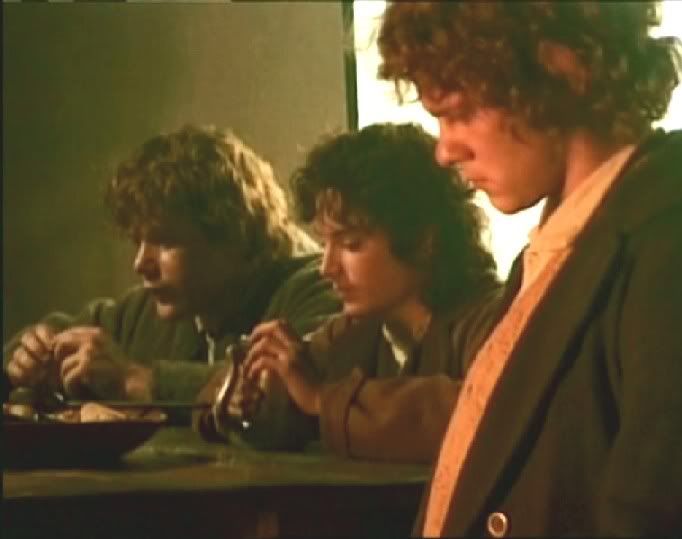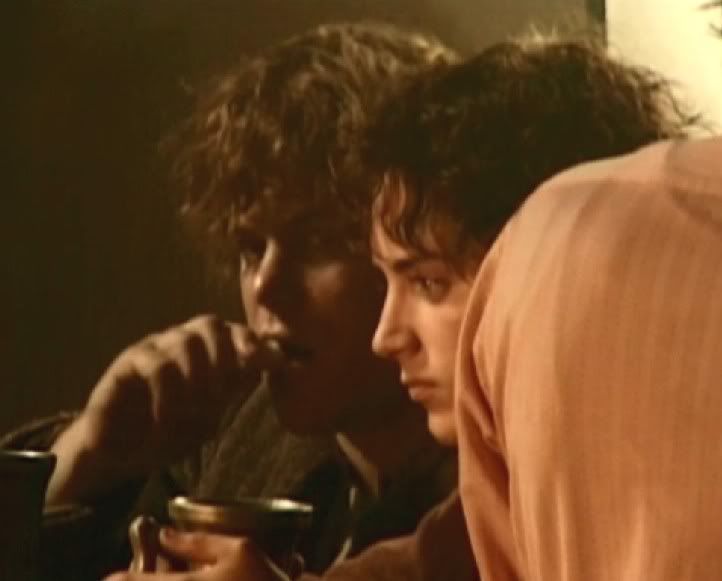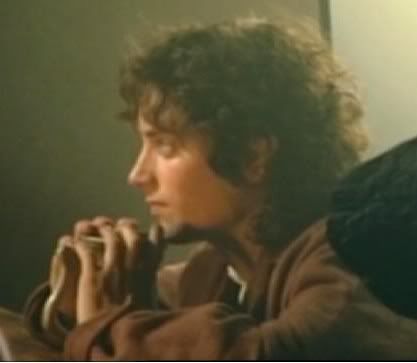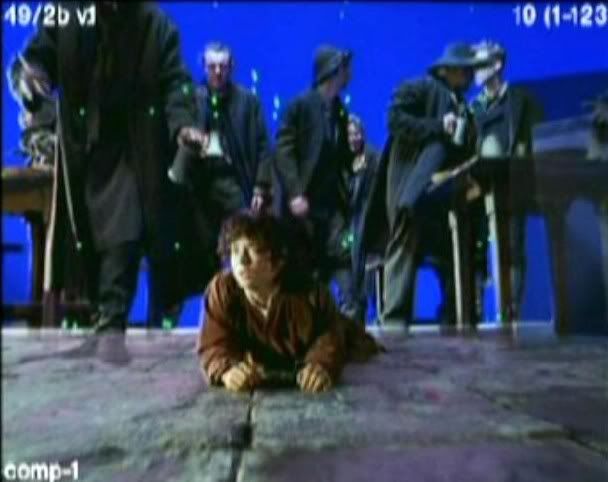 5 Hobbits in the Prancing Pony!!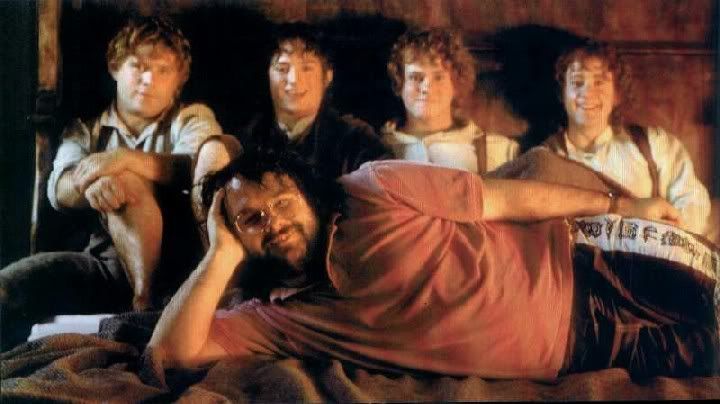 The Buckleberry Ferry shoot took place during late October:
"My first assignment on the set was to look after the Riding Ringwraiths, which were filmed over a five-week period. The first location was a farm just outside of Wellington. The shoot involved the Hobbits running down the slope to the Buckleberry Ferry raft. My heart nearly stopped when I watched Elijah Wood (Frodo) run down to the river with the Wraith galloping behind him - that horse really is as close as it looks!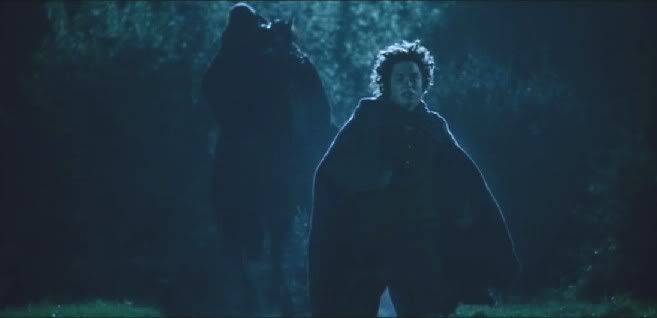 One of my favourite memories of this time is one cold, rainy night which was the third night in a row that we had been shooting the Hobbits running through the woods to get to the Buckleberry Ferry. The whole crew was soggy and tired. The lead Hobbits didn't have to come onto the set until early in the morning - 2 or 3 am. They had been warm and dry in their campers and arrived on set in an extremely good mood. I don't know whether they saw that the crew needed cheering up or if they just felt like it, but between takes, they danced and sang loud pub songs. It's very hard to be grumpy when you are watching four Hobbits do the cancan!" (Emily-Jane Sturrock, crew member - LOTR Fan Club Mag)
Oh to see the Hobbit Cancan!!
Back in September, the hobbits had spent more time rehearsing one scene than any other – Weathertop!!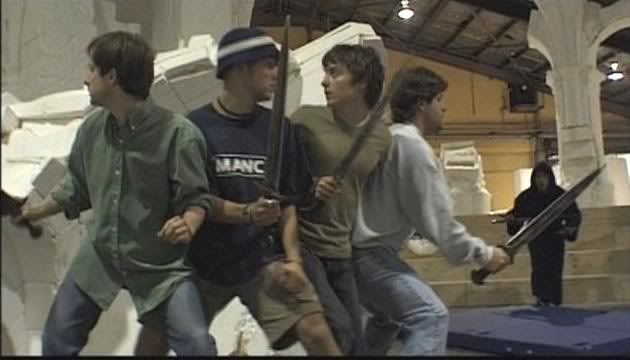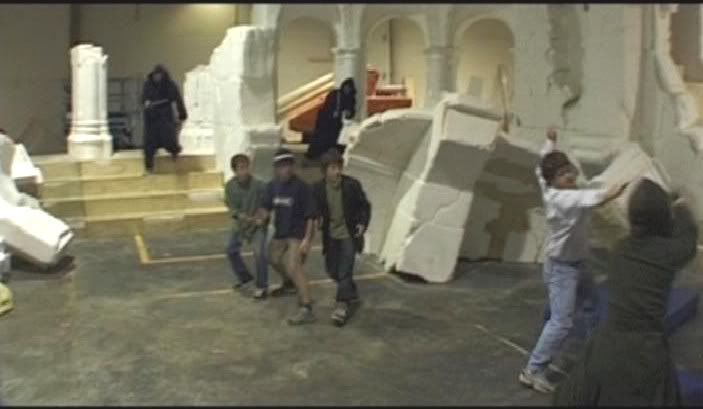 And now it was time for the real thing …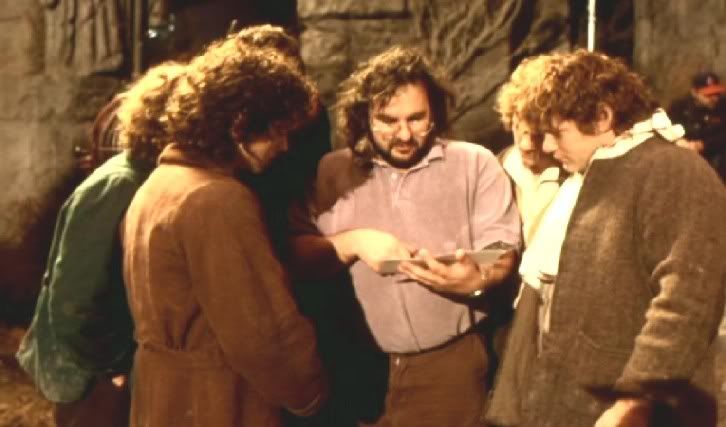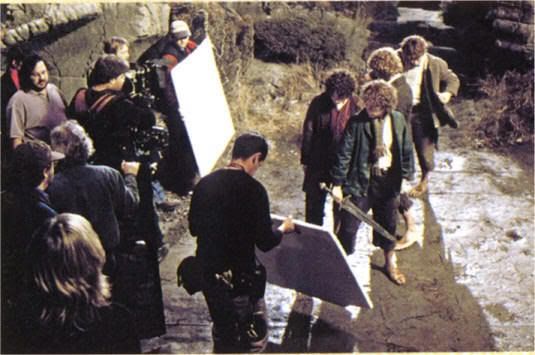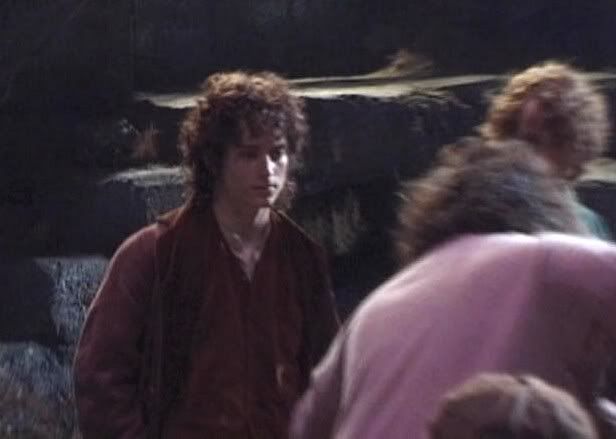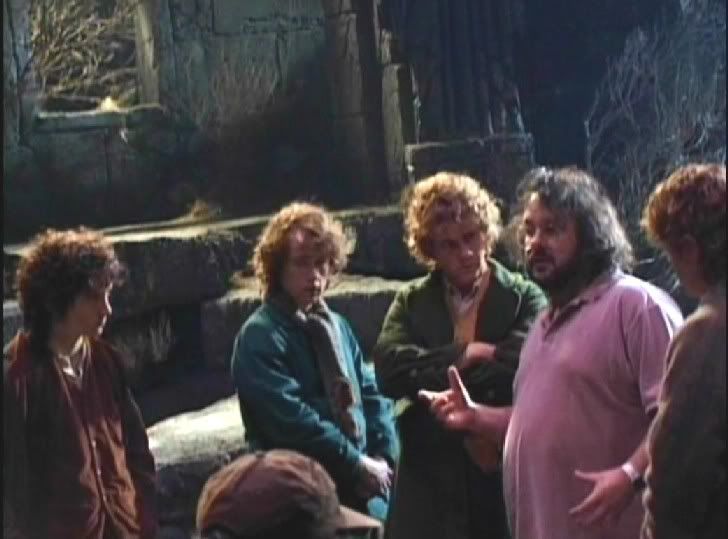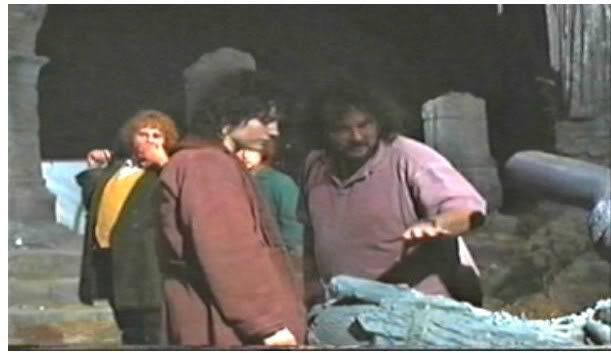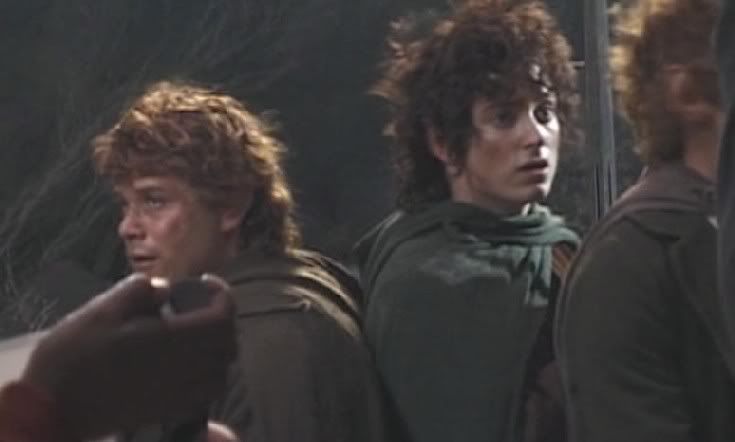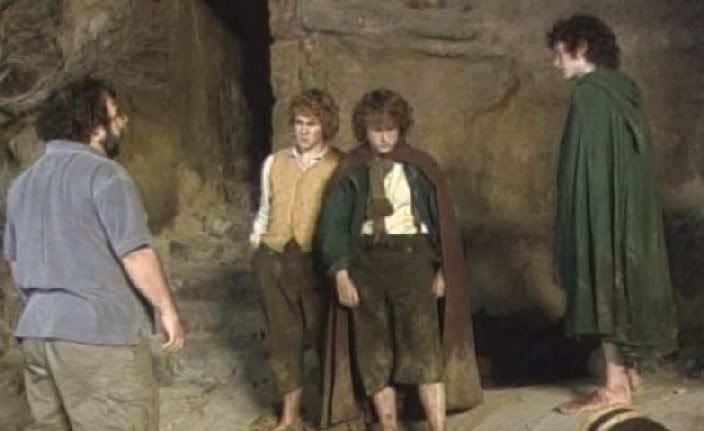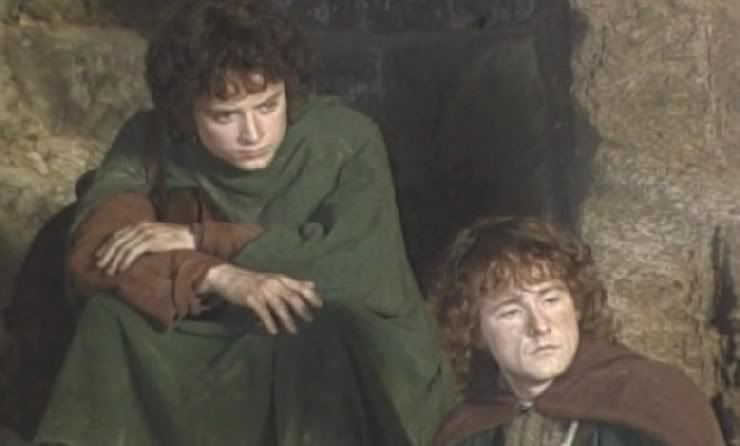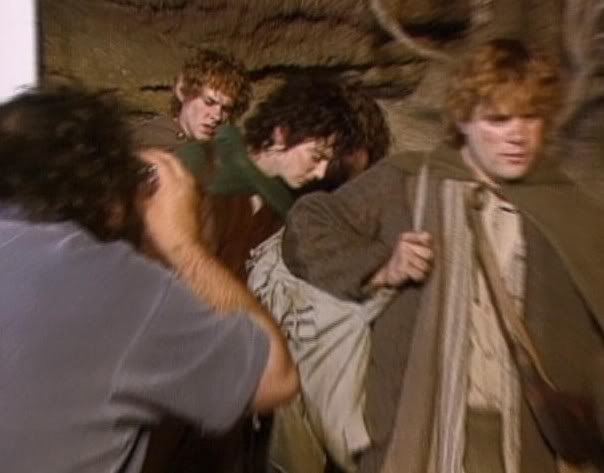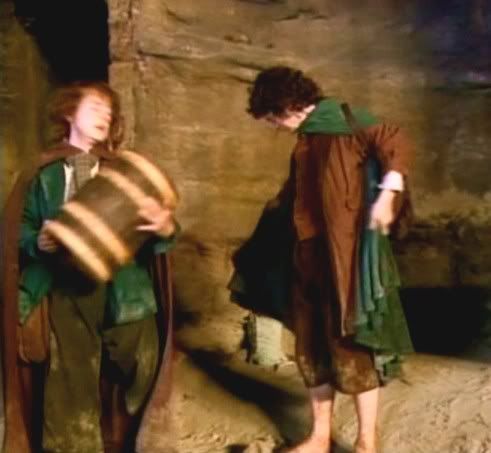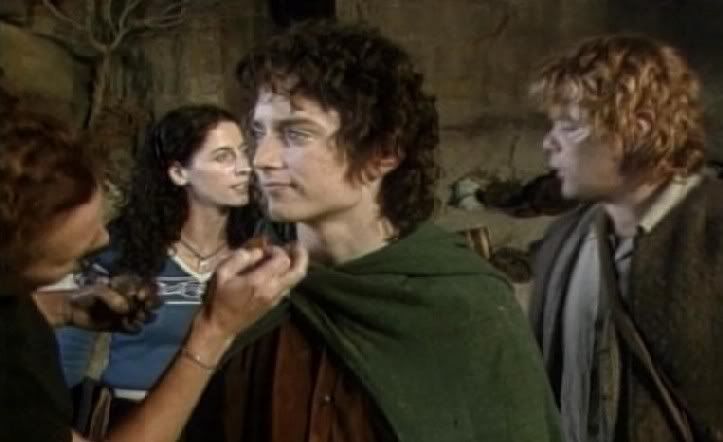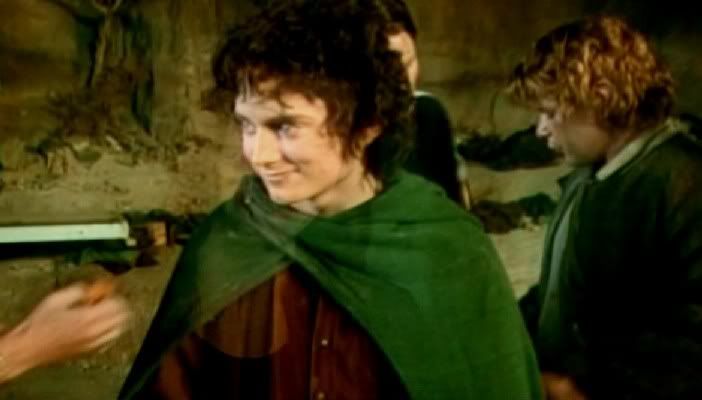 Of course, one of the best ways to keep Ringwraiths at bay is simply to ... sing??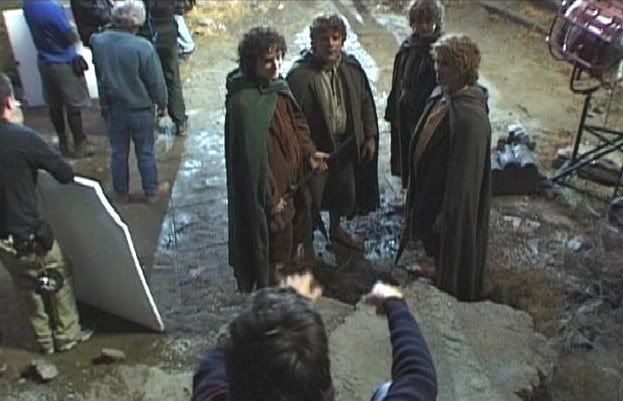 I wonder who it is conducting them.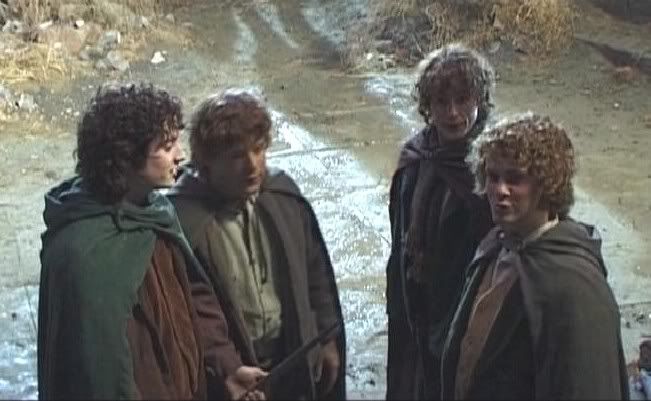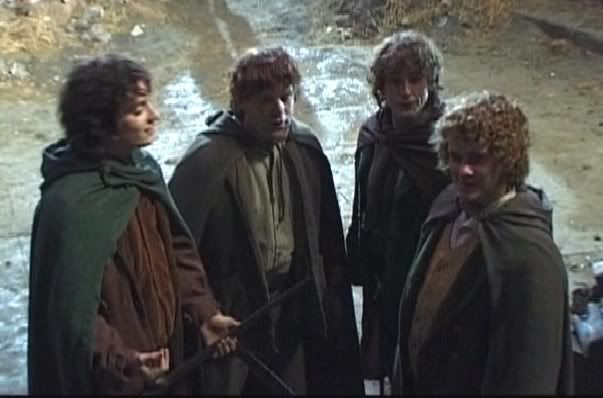 The following pic is a bit of a mystery to me. It's not in the film and I can't remember where I found it but it's entitled 'deleted scene'. I think this may just have been guessing on someone's part. Sam, Pip & Merry look quite distracted, even amused, by something, although Frodo does still seem to be in acting mode - unless Elijah's just taking one of his famous naps!!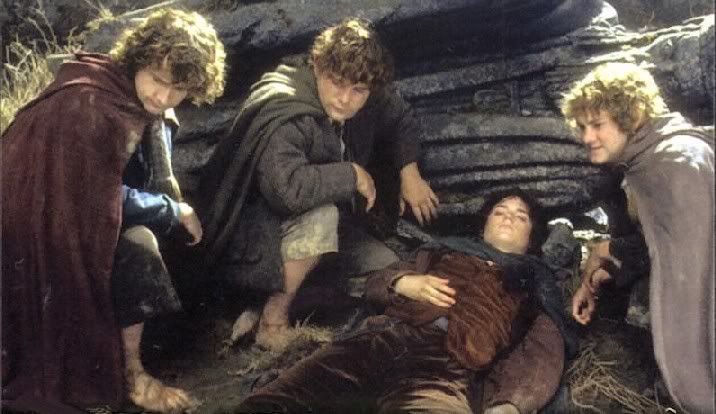 What were your thoughts when you found out you would be doubling for the Witch-King?
"Oh, it was amazing! I have been a huge fan of the books for years. I read the first one when I was about 10. I've read them dozens of times since. To get to actually do the stab on Frodo, which is a pretty pivotal point, was absolutely stunning. I did the stab shot with Frodo on top of Weathertop. He is in the twilight world with the Ring on, and he sees the White Witch-king. I knew the role of the Witch-kind pretty well since I had read the books so many times.
"So when the Witch-king stabs Frodo, is that you in the whole scene?
It is actually three different people. I am the hand. That was my role. The person in the actual prosthetic makeup was mostly Brent MacIntyre. They actually went through about four of us."
"When you did the scene where you stab Frodo, what kind of direction did Peter Jackson give you?
"We did that scene many times. Unfortunately, because it was such a close shot, we had to use the original steel dagger. Even though Frodo hadn't been given it yet in the film, Elijah Wood was actually wearing his Mithril chain mail shirt under his costume at the time. It was out of sequence, but he felt safer and I felt safer."
Did you have much interaction with Elijah?
"Yes, I did. I was also his standby, so I worked directly with him. I've known him for a couple of years." (Ben Price ~ LOTR Fan Club Mag)
When Brent MacIntyre, mentioned above, appeared at Collectormania, he was asked what was the worst thing he had to do during filming. He said "I had to stab Frodo. I don't know if you've noticed, but he's very cute". Erm ... well, actually yes - I had noticed:)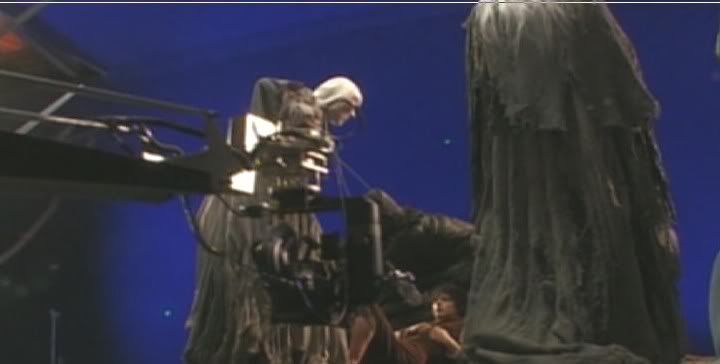 Leave him alone, you fiends!!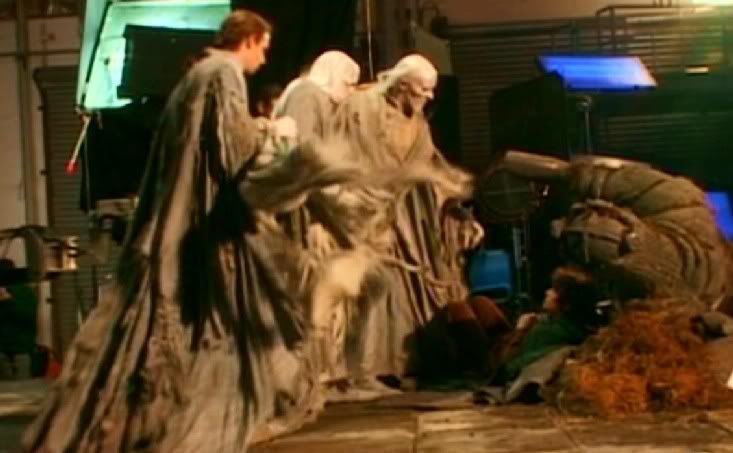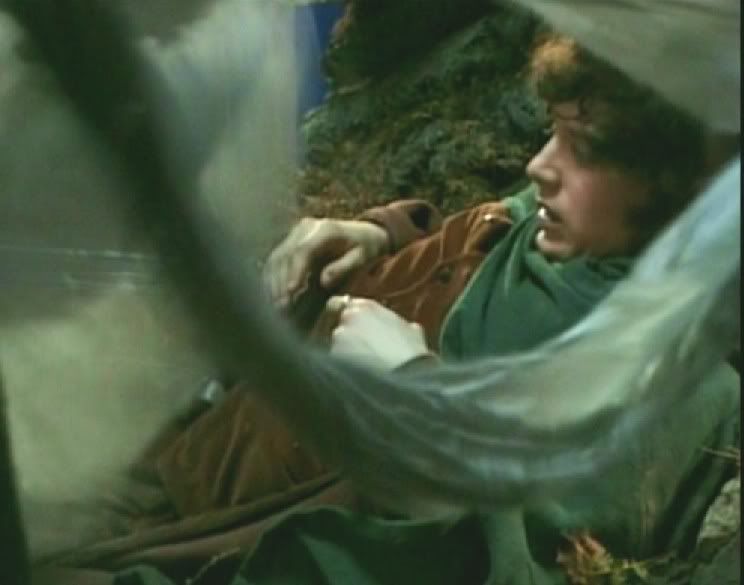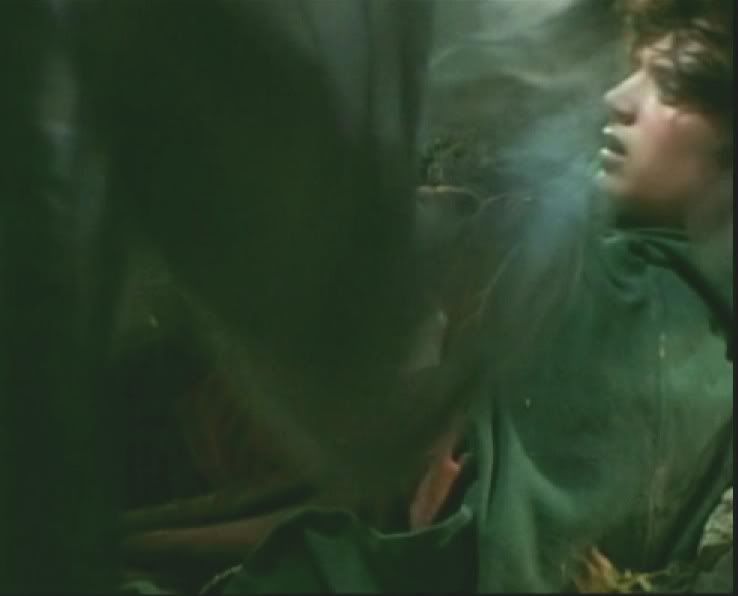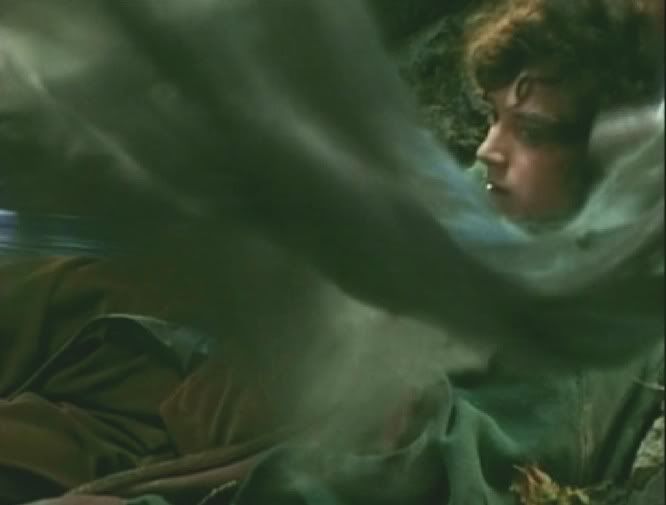 In November filming was disrupted by freak weather conditions involving flooding and snow.

"Is it true the movie was blessed by Maoris?: 'Yes! The elders sang and made a speech dressed in traditional gear, not unlike Native Americans. At times it didn't feel blessed - the flood, the snow. Bits of film were stolen. And waiting for the weather to clear up - once we worked seven days to shoot about two or three minutes of film!" (Elijah, Arena)
During the filming of the Midgewater Marshes scene at Te Anau, the weather became so bad that cast and crew had to beat a hasty retreat back to the hotel. At the 2002 Comicon, Dom Monaghan related this story about that day:
"The snow was as big as my palm. We were in water up to our knees, getting pushed in by Viggo every two minutes. The AD wanted to wrap but Peter didn't want to and we didn't want to but it was getting so bad. We headed back to the hotel and ended up sitting in the laundry room with a big bottle of whiskey. Viggo took some pictures you might have seen. We are sat on the washing machines and there was a space between the washing machines and the wall. Elijah tells a story with a terrible punch line, I give him a push and he falls between the gap and all you can see are his feet sticking up. We were all drunk as monkeys."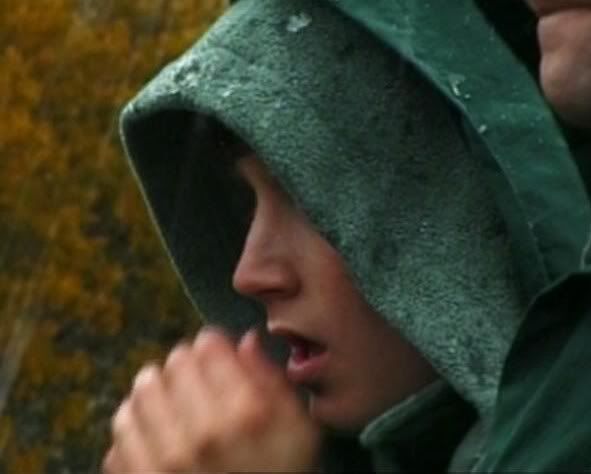 And Elijah's version during an AOL Chat:
"There was a time during the month of November which for NZ is heading towards summer, the weather isn't supposed to be too cold, it got horrible and started to rain which was ok for the sequence we were filming. It started to rain early in the morning then as the day progressed it turned to sleet, then snow. The snow became so heavy they had to stop filming. The snow looked incredible but it became a hazard so we had to rush out of there. The hobbits hopped into a car but we got stuck in a ditch. An SUV came by and towed us out. After that we sat in the laundry room of the hotel and dried off our feet and drank wine. But the snow was amazing – the flakes were huge and you could see the massive details of the flakes."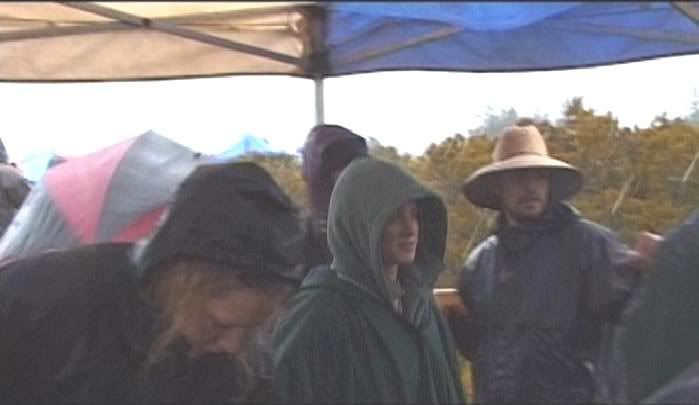 Of course, the pics Viggo took that day are now very well-known to LOTR fans. Here are the two he took of Elijah which would later appear in his 'Sign Language' exhibition: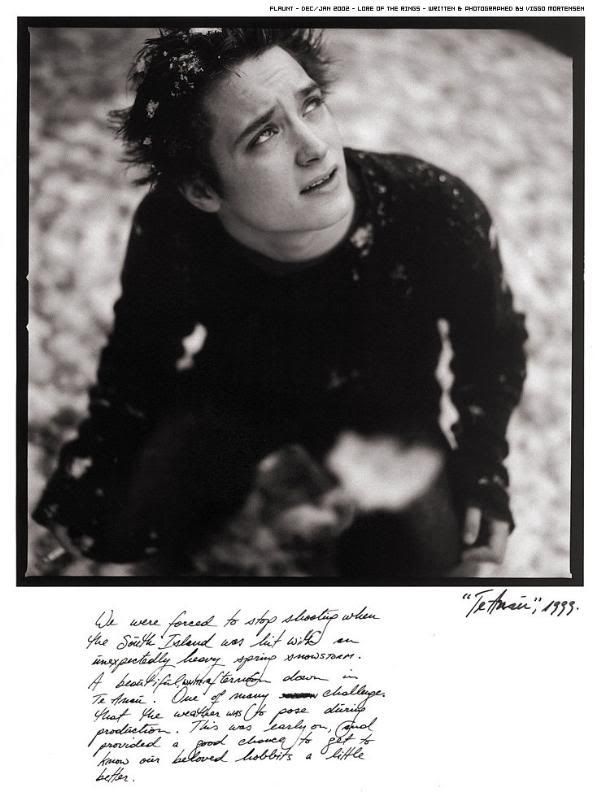 "Our beloved hobbits"
. I like that:)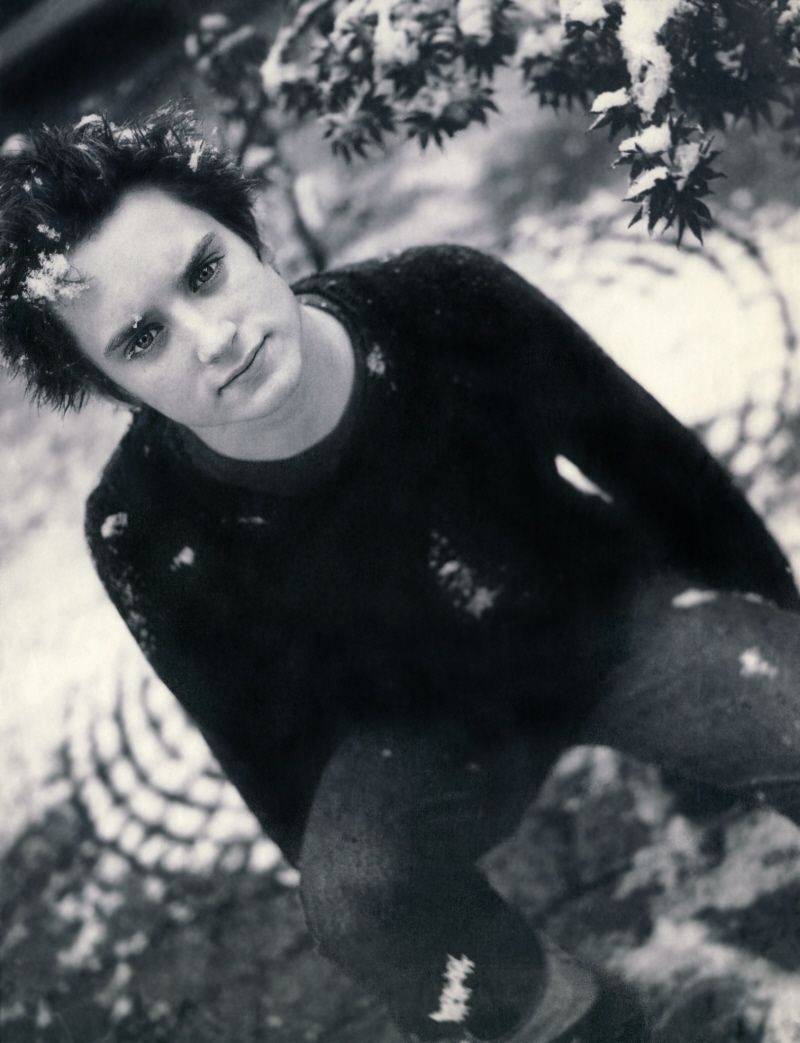 I hope they got a chance to see Te Anau in better weather than this – it is very beautiful. This is one of the pics I took during our NZ trip:
Te Anau, March 2005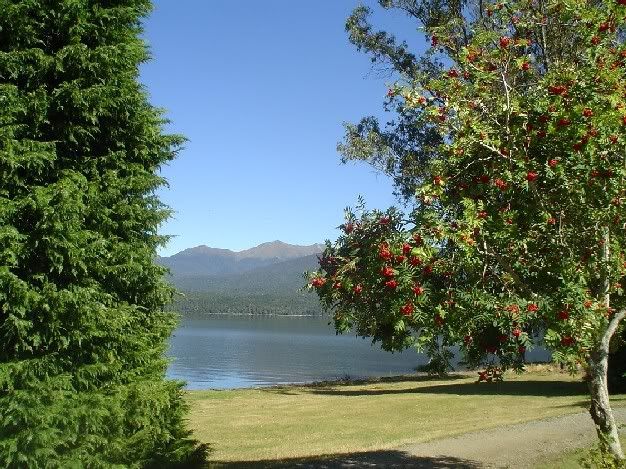 Of course, not a moment of filming time could be wasted so some indoor shooting had to be hastily arranged. PJ managed to hire the squash court of a Queenstown hotel and, much to the horror of Elijah and Sean, decided they would be shooting one of their scenes from ROTK!!
This is the hotel used for the shoot - the Coronet Alpine: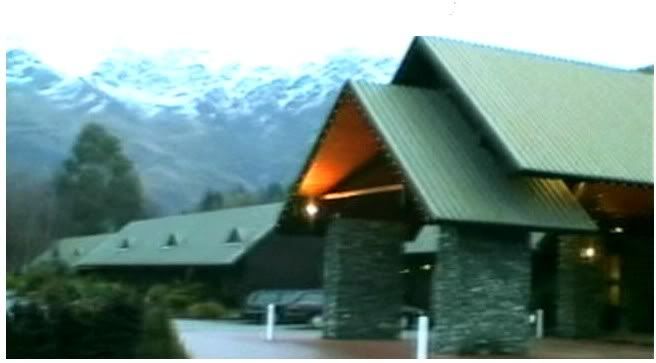 And this is a pic of the entrance taken by - ME!! We actually stayed in this hotel for 3 nights during our stay in Queenstown and I didn't even know until we got back home that it had been used for filming. I wish I had known – I could have interrogated the staff about it!!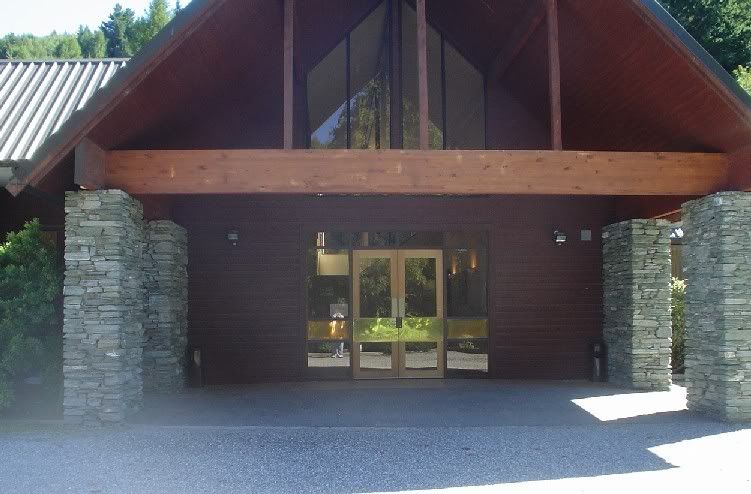 "The first time we started jumping out of sequence was when some sets flooded. We were primarily shooting film one at that point, and we had to shoot on a cover set, and they said 'Oh right, well the cover set is you in film three', which is basically a Frodo that is a mere shadow of himself. I hadn't really begun to think about what Frodo was going to be at that point. I had to completely take Frodo to a place that he had never been, but after that it became the norm. I got very used to it" (Cinescape)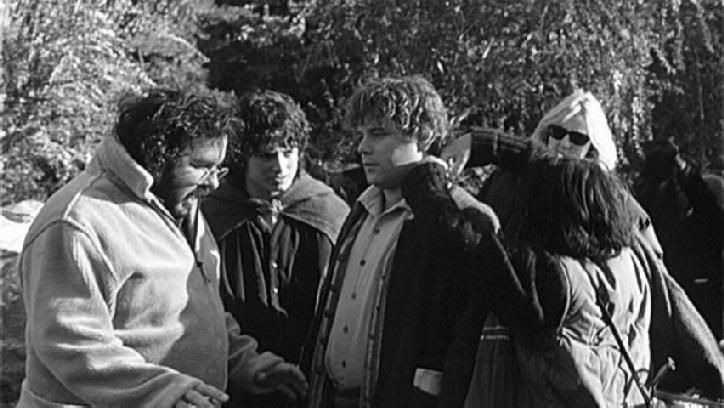 Elijah: "So that was how we arrived at shooting the very first scene for film 3.
PJ: "The scene we were doing was in a way one of the most intense scenes where Frodo basically sends Sam home."
Sean: "I frankly was scared to death that I didn't have what it took at that moment and so was Elijah"
Elijah : "My first reaction was no way - no, we can't .. no ...there's got to be something ele we can do"
Sean : We took our case to Peter. 'Peter, we're a little ...' I think we thought we were going to talk him into doing it the following week so we could get our heads around it ..."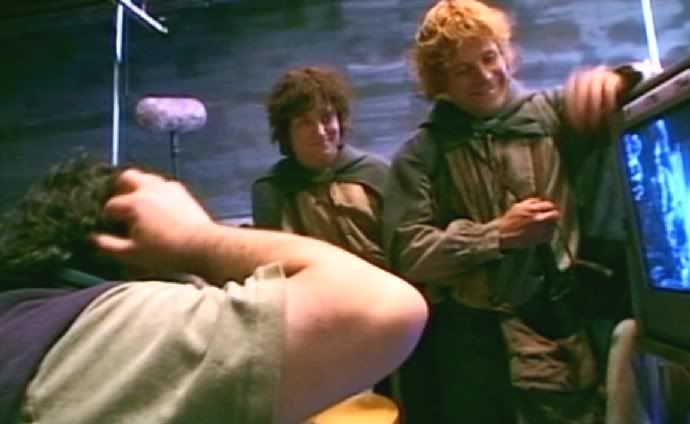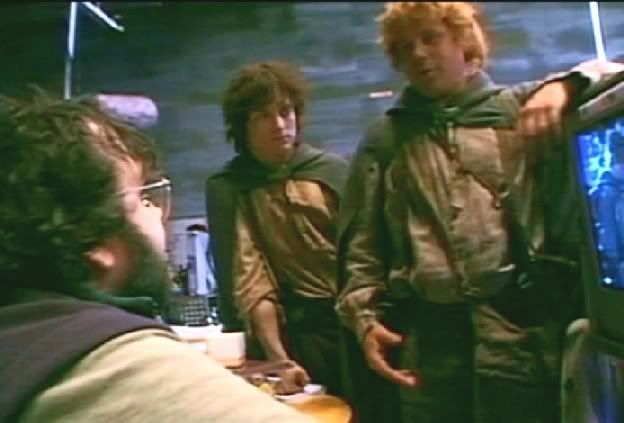 Elijah : "I think what's really wonderful about that is he had the utmost confidence that we would get there - that we would be able to deliver what he wanted - now - even though we felt that we were slightly unprepared - that ultimately we would get there. A very important detail of that scene was that it was the very first scene we shot with Gollum - without Andy Serkis!! At that point Andy Serkis had not been cast." (ROTK DVD)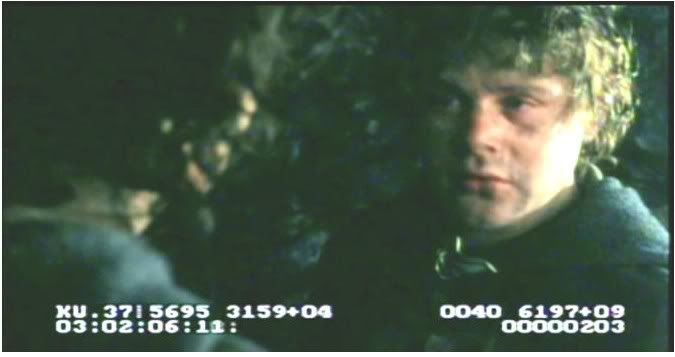 This also meant, of course, that Elijah would need ROTK Frodo make-up. "With Frodo" says Peter '"we started by working backwards!! Our first aim was to get Elijah looking as fresh and young as possible: to push that youthful look as far as we could in one direction, so that it gave us the maximum opportunity to push in the opposite direction. The ageing process (it is almost more to do with a loss of innocence) was achieved, very gradually, through shading: making tiny, tiny changes – sinking in that area in front of the ear, so that the cheekbones seemed more prominent and the face began to lose its roundness. Then it was up to Elijah."
Sometimes filming alternated on the same day between scenes featuring the younger-looking Frodo and his more world-weary counterpart. Indeed, there were often occasions when Elijah and the other hobbit actors had to have their second shave of the day at lunchtime and then be given a different make-up for the afternoon's filming." (The Making of the Movie Trilogy ~ Brian Sibley)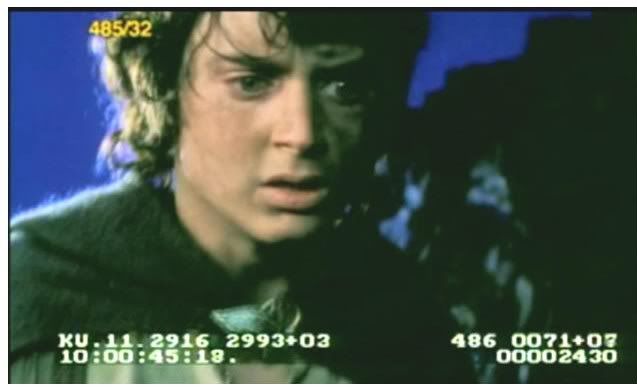 PJ intended to shoot the scene over two days, one day for Sean's scenes, one day for Elijah's. Because they were both so anxious about doing this scene, they flipped a coin to decide who should go first. Sean 'won' and his scenes were shot with Randy Cook, Director of Animation, standing in for Gollum. And as it turned out, the next day dawned bright and sunny!! PJ decided it was best to carry on with outdoor shooting while the weather allowed, so the pressure was off Elijah and arrangements were made for the hotel to be paid rent for the squash court until it was needed again - which turned out to be exactly one year ahead!!
Later, Elijah would tell Andy Serkis all about this episode
"That was the first time that we'd jumped away from the first movie, we hadn't done anything from the other two films".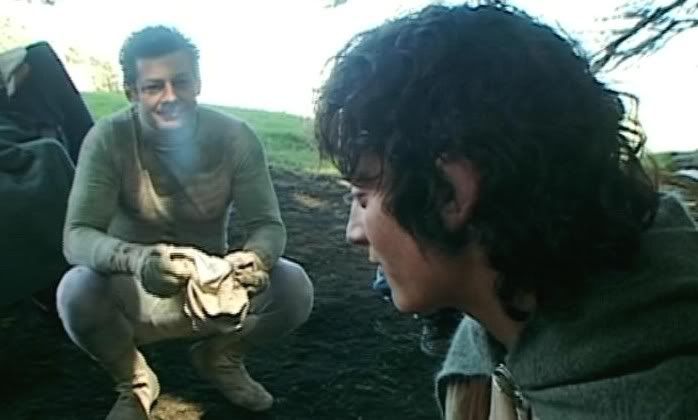 Andy: "God, that must have been bizarre".
Elijah: "It was very bizarre, and it took a while to get away from the initial nervousness of having to jump into something like that"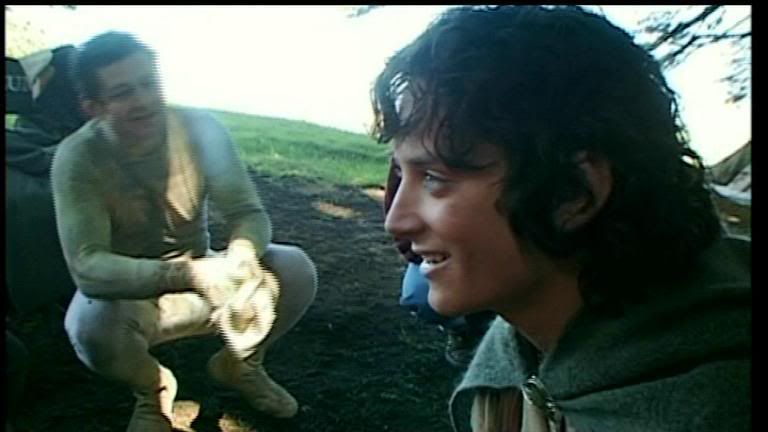 So outdoor filming continued: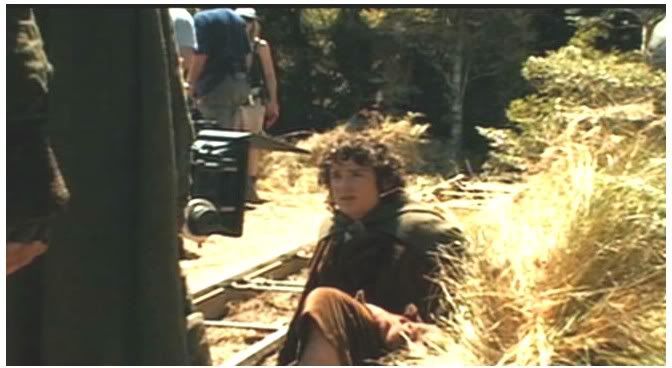 I don't think we ever got to see this scene: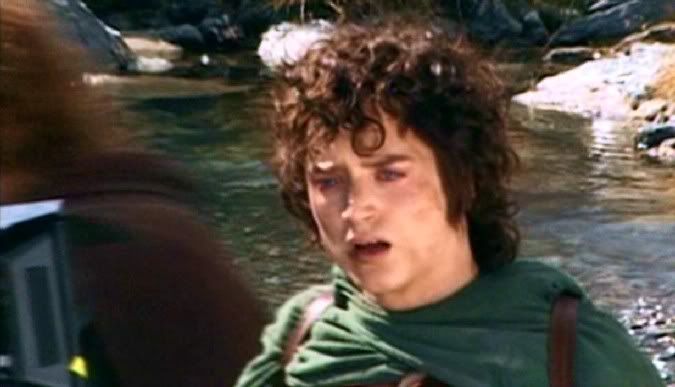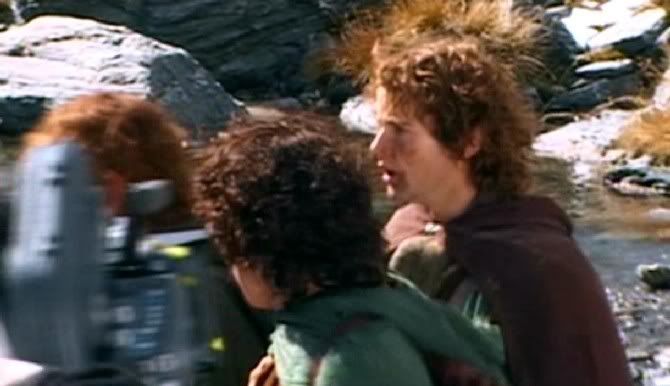 The Christmas break was drawing closer:
"Jingle bells, jingle bells, jingle all the way..."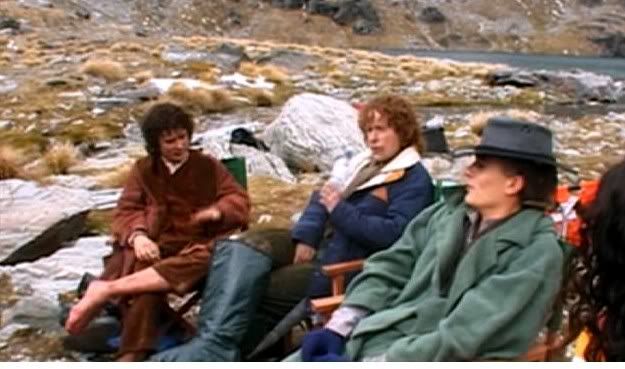 Elijah would be taking his first trip back home.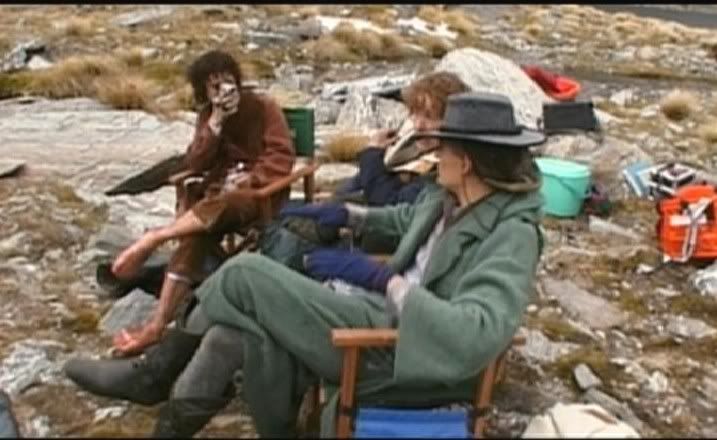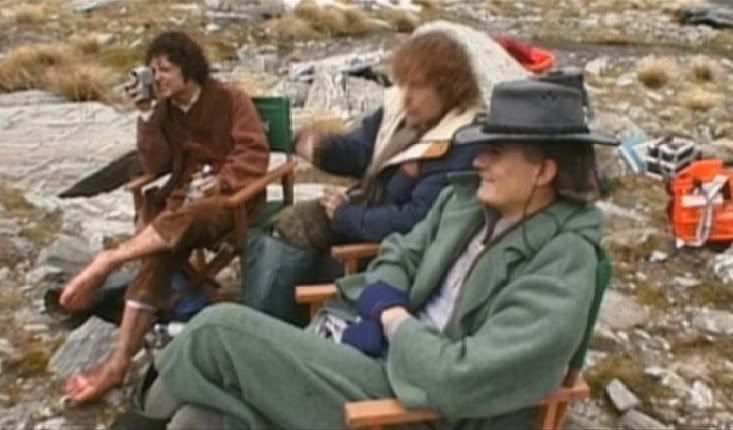 and apparently it couldn't come soon enough!!
"Is there one moment that stands out where you were like "What am I doing?"
"I think the most difficult moment that I can think of is where my own psyche kind of faltered right before Christmas break within the first couple of months of filming. It was just particularly difficult at that time. We were doing six day weeks and I was just starting to get burned out energy-wise and standing in front of me, beyond reach, was home. It was really the first time I'd gone home so I was kind of focusing on that and not work. I just wanted an escape from it all. I got home and I experienced that and it was great to go home and it was a relief to relax. Then I came back and I never felt that way again. I grooved myself into the process and accepted that fact that in my mind it wasn't going to end. I was going to be there forever and that was fine. I think there was a difference of focus. It was part of my evolution as a person." (Crème, NZ Mag)
The last day of shooting before the holiday, 11 December 1999, finally arrived and John Forde from Eonline spent the day on set. Here are a few extracts from his account:
"2 p.m.: I'm lunching with 50 Uruk-hai warriors in full armor. They wear rubber muscle shirts to enhance their imposing physiques, and they have black rings painted around their eyes. I guard my piece of pie defensively. The Uruk-hai have been filming in 1B this morning. Elves waft ethereally around the dessert table. I meet Elijah Wood (Frodo) and Sean Astin (Sam), already made up for the afternoon's work, complete with pointy ears and hairy feet.
3:01 p.m.: Back at 1A, they're shooting a still of the Fellowship running through the forest, pursued by goblins. Astin, Wood and this morning's cast are joined by Dominic Monaghan and Billy Boyd. They seem relaxed and joke around--amazing, considering they were up at 4:30 this morning for makeup. Mortensen is listening to a Pakistani song on his portable CD player--he plays it to one of the LP, who starts singing and dancing around the set.
3:20 p.m.: Jackson brings the actors onto the set and explains the scene. The Fellowship are surprised by elven arrows, which fly past them to attack the goblins behind. Mortensen stands in close up to the camera, so as to seem bigger, while Bloom stands on a box with his bow aimed at the goblins. Bean's seven-foot-tall stunt double stands in for Boromir. Of course, there are no arrows--they'll be digitally added later by computer--so the actors must mime the arrows flying past. Jackson, a hands-on director, demonstrates the movements he wants. Wood asks if the arrows will mess up his hair. They rehearse, then go for the first take. The crew blows leaves onto the scene with the wind machine. "And...Action!"
3:33 p.m.: The first shoot goes well. Assistants cover the actors with umbrellas and splatter them with more mud. Jackson wants Mortensen to act more surprised, as if an arrow has just gone right past his nose. The actors talk and joke among themselves, except for Mortensen, who broods mysteriously off to one side. The second take begins. Umbrellas disappear, the wind machine starts up, Wood jogs up and down on the spot to appear out of breath, and Legolas raises his bow and arrow. "And... Action!"
[Another scene we never got to see!!]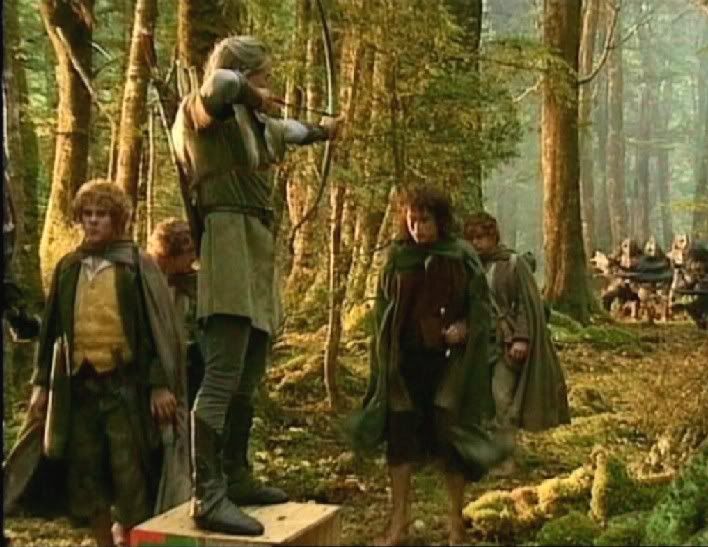 4:20 p.m.: Five takes down, and Jackson seems happy. There are photos of the cast for continuity purposes (to ensure the actors look the same for the next sequenced scene), and everyone takes a break. There's still another nondialogue scene to film, but it's been a long day, and since I'm not getting paid as much as Liv Tyler, I decide to take my mud-caked self and head back to Queenstown. I make a mental note to wear thick boots next time. Tomorrow, cast and crew begin a monthlong holiday break; shooting begins in Wellington and Hamilton in mid January.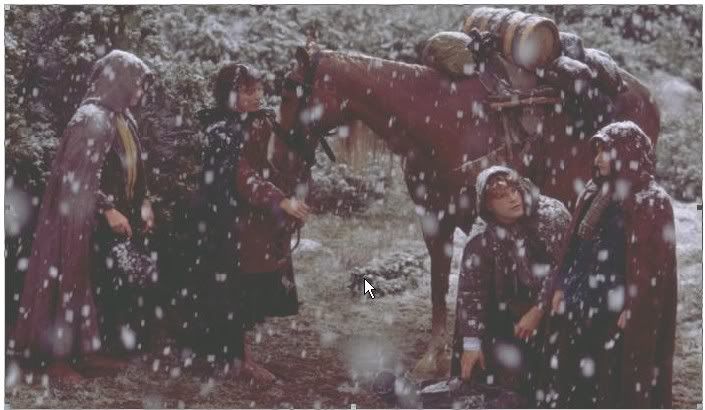 TO BE CONTINUED
Link to previous chapters:
http://not-alone.livejournal.com/tag/a+journey+with+frodo
comments: Leave a comment