| | |
| --- | --- |
| Current Music: | Something More Than This ~ October Project |
| Security: | |
| Time: | 12:04 am |
| Current Mood: | tired |
Now that I have finally got round to posting this it is probably rather superfluous to requirements (damn RL - it always knows when you want to post a report!!). I've spotted so many other wonderful reports and pics that I'm sure everyone is now well aware of the events of 13 & 14 Feb. Anyway, this is my humble offering - my experience of working for two days (with hubby)
.
Well, I haven't woken up yet, so it must have really happened. *pinches self* Two days spent watching Elijah in his natural habitat - and even being paid for the privelege!! This was truly one of the most amazing experiences of my life.
We had been told to report to the location by 8am. Our hotel was about a 5 minute drive away, and we had to allow for traffic jams and other eventualities, so we set off at around 7.15. By 8.30 we were still driving round in circles and I was a panic-stricken mess. I really thought we'd blown it!!. However, as it turned out we needn't have worried - there were others still arriving long after us. We were told to go to the sports hall and we found out that the actual filming location was situated at the top of an Everest-type hill. I explained to one of the crew members that I had a knee problem and he arranged a mini-bus for us and another lady. As we waited someone came in and introduced herself to me - it was
lyrastar77
- the first of many fellow lj-user encounters during our time there. Due to a mix-up we didn't get picked up til we were halfway up the evil hill and I was beginning to think I'd never make it!!
As we entered the building and joined the queue of people awaiting instructions, Alex, the Director swooped on us and told my husband to follow him - he took me by the hand and led us round to our seats. We were to be part of his 'hero group' - he seemed keen to grab the more 'mature' people for central positions - so sometimes it does pay to be an oldie!! As soon as we were seated we were asked if we'd be able to return
the next day. I already thought we were anyway as we'd been registered for two days - but you soon realise that in this world nothing is ever a certainty.
I exchanged a few tentative questions with the lady sitting next to me - it didn't take long to establish that she was one of us -
earths_daughter
!! And just to her left were the Always & Forever boxie group including
bellewood
Alex announced that Mr Hurt and Mr Wood would be arriving soon and would we please applaud them which we were, of course, very happy to do. And there they were - all smiles and very appreciative of their reception. Elijah was clapping enthusiastically along with us - I don't think he realised the applause was for him as well as for John Hurt!!
I have been lucky enough to meet Elijah several times at various conventions, I've had loads of things signed by him and had pics taken with him. So I decided that this was going to be a very different experience for me - that I would not be dominated by the thought of getting to talk to him or take pics - I'd try to be content to watch him working in his natural environment. Of course, should an opportunity have arisen naturally for me to speak with him I'd have been delighted - but it was not to be.
Elijah greeted Alex with a hug and before long took his seat for the scene. He was sitting directly behind me, only three rows back. The ironic thing about that is that when I turned round to look at him - which is what we were told to do at one point in the scene - I couldn't actually see him!! However, I had no trouble in hearing his beautiful voice:)
What really surprised me was how much we were required to do in the way of acting. I had imagined that we would just spend the whole time sitting there 'listening' to John Hurt's lecture. But no - they wanted reactions from us!! As I'm sure everyone knows by now, the scene begins with John Hurt (Seldom) talking from the lectern on stage about this book. When 'Martin' puts his hand up John shades his eyes and peers through the sunlight at him - he and everyone else is amazed that someone has the nerve to question what has been said. This was the point where we all had to turn round and look at him. He begins by saying "I believe in the number pi" and we
all had to laugh. When I was watching this from a different seat the next day, I saw that Martin turns his head to quickly look at the people beside him, with a very hurt expression on his face. But as he carries on with his dialogue we listen to him and then we have to mutter and mumble amongst ourselves, appearing interested and impressed by what he's said. This is not as easy as it sounds!! John Hurt then leaves the stage and walks round to look up at Martin, coming to a halt right in front of me and Roger. I don't know if we'll be seen on screen, but when we watch that part we'll know that we were right beneath him, looking up at him. Seldom then proceeds to mock what Martin has said and we have to laugh again, but then he turns very serious and we had to look slightly ashamed. John then returns to the stage and carries on talking for a while, during which time Martin leaves. I couldn't see what he was doing as he left but I heard Alex tell him that he is "completely destroyed" by what has happened. As John finishes his speech and leaves the stage we have to applaud. This would probably all result in about five minutes of screen time, but it took the whole day and much of the next day to complete. I am so full of admiration for the limitless patience of these people, but especially the actors, who had to say their lines over, and over, and over again. John would occasionally stumble over his words or forget where he was, but he did have a lot more to say than Elijah. However, Elijah did have quite a long and complicated piece of dialogue and I only heard him falter once, very slightly. He really does have an amazingly beautiful voice. It was so fascinating to watch the whole filming process but I have to admit that between rehearsals and takes my eyes were constantly drawn towards Elijah as if by a magnet. There's a luminosity about him that I've never seen in anyone else, ever. Those who have been following Alex's blog will know that he (Alex) absolutely adores him and has literally been overflowing with his praise. And it's easy to see why. This is the young man who was the star of the greatest film trilogy ever made and yet there is absolutely nothing of the Hollywood star about him. He is friendly and affectionate, hard-working, helpful, patient, always eager to please, never complaining - a director's dream:)
Between takes he would chat to the crew or go out for a coffee and I noticed that he was often carrying a newspaper open at the crossword puzzle page. The
following day he spent a lot of time doing a crossword and I heard him chatting to someone about it and he mentioned that he likes the NY Times Crossword. I'd read in an interview ages ago that he was a c/w fan and I really hoped that was right as I've long been a crossword addict myself, so I was very pleased to actually witness this!! I've also heard that he enjoys suduko(sp?) puzzles - I'm full of admiration as I've yet to be able to complete one!!
I didn't take notes so I'm having to rely on my memory of various things that I saw. At one point a member of the crew was standing a couple of feet away from me and Elijah stopped to admire his shoes!! They were sort of lace-up, canvas things with a very bright, colourful pattern and Elijah got right down to have a closer look to figure out what the strange shapes were - he thought they might be guitars.
He seems to have acquired a whistling habit. He was like a little bird, flitting round the place whistling away!! This must be quite a new thing, I don't recall ever seeing him whistle on set during LOTR filming. He actually whistles very well - a couple of times I heard him throw in some very fancy warbling effects!!
At one point someone had left a book on one of the seats and Elijah started looking through this. When the owner returned he said "Is this yours? I love what he writes - it's really funny" Don't know who 'he' was!! I'd love to know who was lucky enough to sit in the same row as him, because he was often heard chatting to them.
I was able to watch one of the make-up girls doing a few repairs to his make-up - this reminded me of seeing this happen several times during the LOTR behind the scenes coverage. In fact, I had many LOTR moments during my time there - as I always do when I see Elijah anywhere. It is always just so amazing to me that I am actually looking at the person who was my beloved Frodo.
Elijah started taking photos of just about everything, he even took one right into the lens of a camera. I'd been watching him for ages as he snapped away, and chatted to people and then I realised that lots of people were taking pics. "Well - why not?" I thought, but by the time I'd got my camera out he'd turned round so I only had a view of his back. However, it's a very lovely back, so I took quite a few pics of it!!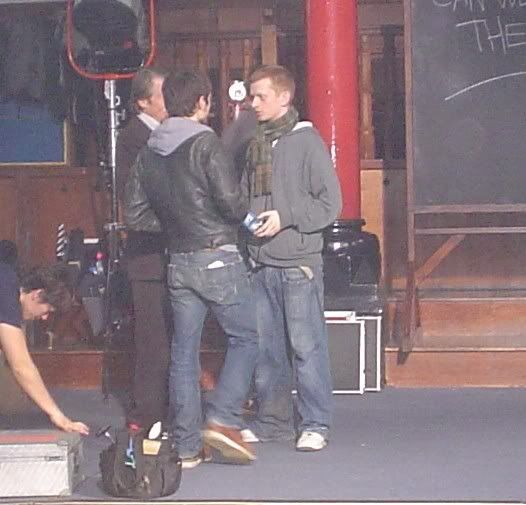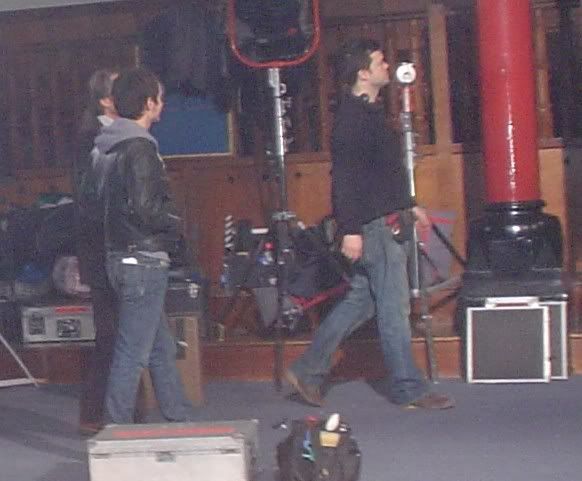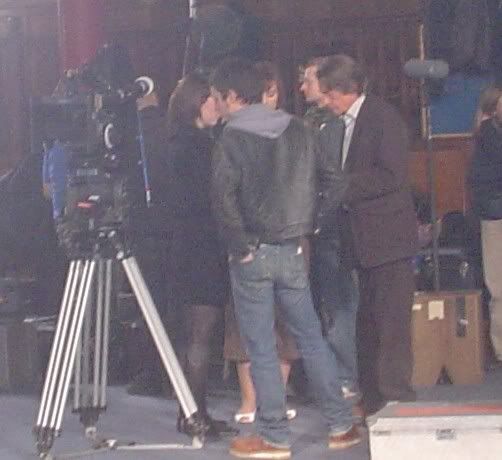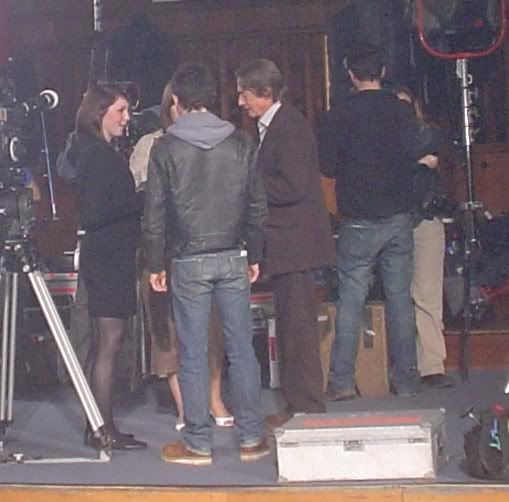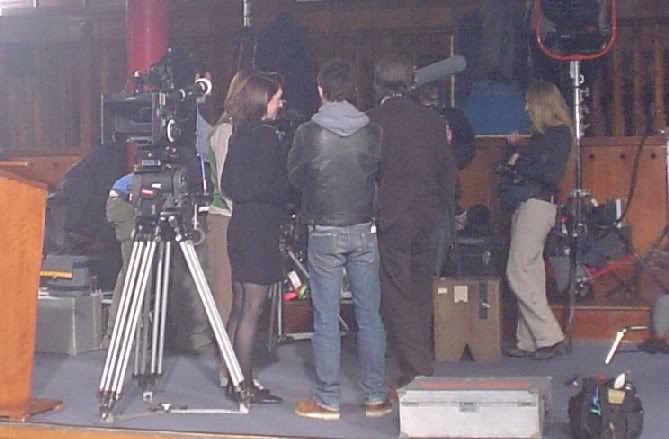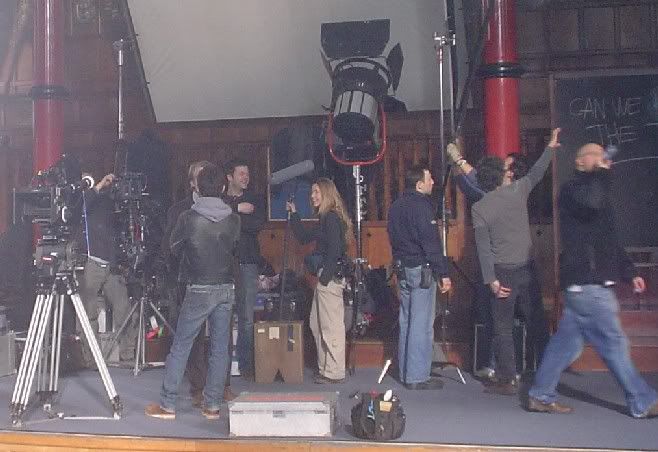 Chris, one of the crew, then pointedly stood in front of Elijah to block our view and after a while he asked everyone to put their cameras away.
There was a lovely little episode during the afternoon when Elijah was brought down to our row by one of the crew - it had been arranged for the group from Always & Forever to give him a special gift, a cd compilation with contributions from many fans.
bellewood
showed this to me and it was really impressive - I know a huge amount of time and effort went into it so I'm really pleased that they were successful in getting it to him. He sat down next to one of the group to have a pic taken - and only two seats away from me, the other side of
earths_daughter
- needless to say I was very happy to be able to observe all this from very close quarters!!
At the end of the day, as he was leaving Elijah shouted "Goodnight everyone" but I didn't hear anyone answer him - so I shouted "Goodnight Elijah" in reply. And with that he was gone and the first amazing day on the set was over.
When we arrived at the location on the second day we were asked to sit at the other side of the room as they were working in the area we'd been sitting yesterday. As soon as I sat down my Elijah radar got to work and quickly spotted him being mic'd up. This involved rolling up the legs of his jeans to conceal the mic - he was wearing what looked like white bandages on his legs, I'm not sure if those were these especially for the mic or not. He then seated himself over to the right and dived straight into his crossword!! During this time I had a very nice view - but of
course you can't constantly stare (much as I wanted to) and the self-control required not to do so is enormous.
They were still working on the same scene, but today they had some professor-type people sitting behind John Hurt on the stage. They all looked like professional actors.
After lunch we we were able to return to our 'hero' seats. There was quite a bit of discussion about the seating arrangement, whether or not it was the same as yesterday, with Elijah making various suggestions. Eventually this scene was completed and we were able to start on a new one. Roger & I were included in a group asked to go and
stand round a table where Seldom is signing copies of his book. During this scene Martin walks out, passing behind our group. As I am standing at the very back of the group he has to pass right behind me, and on the first rehearsal he actually bumped into me and quietly apologised. Someone told me that for part of the time he was standing behind us - and I hadn't been aware of it!!
There were several rehearsals and takes of this scene and then, quite suddenly, we were told that it was complete and "Thank you - you are released". We weren't sure at first if they were just talking about this scene - but it quickly became apparent that it was over. Very soon after that, Elijah left - calling "Goodbye all" as he went. It was hard to grasp that it was all over so suddenly and, despite my decision, I did feel a huge pang of regret that I'd never even got to exchange a few words with him. But I was to have one last glimpse - we walked down the huge hill back to base to hand in our release forms and pick up our pay - and as we were waiting
lisabellex
introduced herself to me and told me that Elijah was just about to leave. A few moments later we watched as he was driven away in a maroon car.
I feel so lucky to have had this wonderful experience - to be able to watch my dear Elijah at work and to witness what I have heard so many times before - that he is a complete professional. Also, it was great to see John Hurt, such a brilliant actor - to watch the hard-working crew and of course to be able to put faces to so many other lj-ers. Of course, where movies are concerned, there are so many ifs and buts - we don't know if we'll actually appear on screen at all - and, awful thought, those scenes could end up on the cutting room floor:( But whatever happens, I can now say that I worked on a film with Elijah Wood!! Surreal:)
comments: Leave a comment