| | |
| --- | --- |
| Tags: | a journey with frodo |
| Current Music: | The First Time Ever I Saw Your Face ~ Journey South |
| Security: | |
| Subject: | ELIJAH WOOD'S JOURNEY WITH FRODO - CHAPTER 6 - BACK TO WORK |
| Time: | 03:14 pm |
| Current Mood: | accomplished |
Oh dear ~ two whole months since I posted the last chapter!! I've come to realise that the main thing that delays me is not the demands of Real Life but the many distractions here on LJ!! And there have certainly been plenty of those just lately:)Very pleasant distractions, of course, but not conducive to getting much work done!! It's so lovely to have Elijah here in the UK with us - working on 'our' film - *waves to fellow thespians* - and even appearing on a couple of tv & radio shows. Now that they've started working in Oxford, I wonder if they'll film in the Eagle & Child pub - it does feature in the book so it's quite likely. I'm sure Elijah will be fully aware that this was one of the favourite haunts of someone who transformed his life. Sadly they are now in the final few days - I wish we didn't have to let him go:(
As always, amid all the excitement of the new film, and his record label, and hearing him talk so animatedly about the music he loves, I hear that familiar little voice in my head saying - "Please don't forget about Frodo". But he always manages to allay my fears, bless him, by proving that when he said "I keep the character close to my heart" - he meant it. When Jo Whiley asked him which role he was most proud of, for a few seconds my heart was in my mouth, but then he said "Frodo" and I could breathe again. And how lovely it was to hear him recite the 'Rings' verse on the radio - I wish I'd had the technical know-how to extract and save that.
Anyway, enough rambling - here is Chapter Six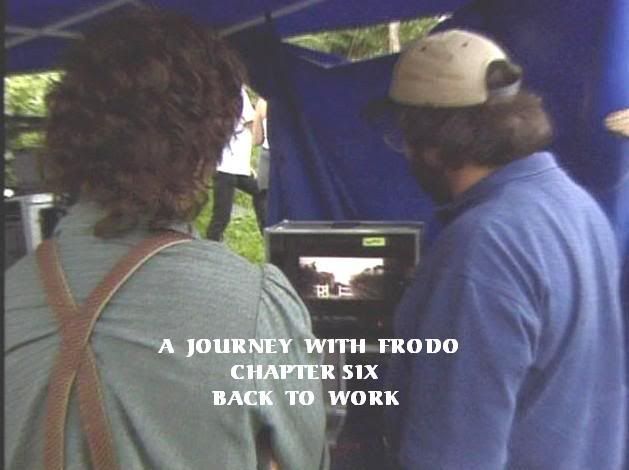 Following the Christmas break, filming resumed on 17 January 2000. To refresh their memories, the actors were shown some rough video footage of what had been shot so far.
"A videotape was projected onto the screen of the cinema near the WETA workshops where the dailies are viewed. The soundtrack was uneven. The music was from other movies. And so the audience began by cheering their hard work like a home movie until the story took over and through the silence they watched Boromir die and the hobbits weep as they lose Gandalf to the Balrog."
(Ian McKellan ~ The Grey Book). Ian had arrived in NZ a few days earlier, so now work could begin on the Hobbiton scenes – out of sequence because Ian had been held up by other filming commitments. Soon this would become a very familiar sight to all involved – the gateway to Hobbiton: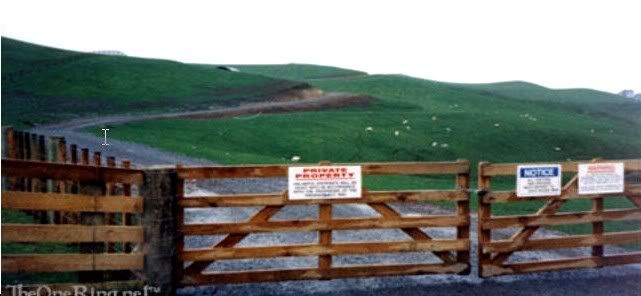 "I remember the first day really clearly - we'd already been portraying hobbits for a few months and we got to go where hobbits were born - the town centre and the pub and this amazing bridge over this little pond and it was just absolutely gorgeous We walked around and it was all to our scale so we could walk around and feel like hobbits - open the doors and walk down the streets and see other people walking round like hobbits - it was amazing!!"
(Elijah – Passage to Middle Earth)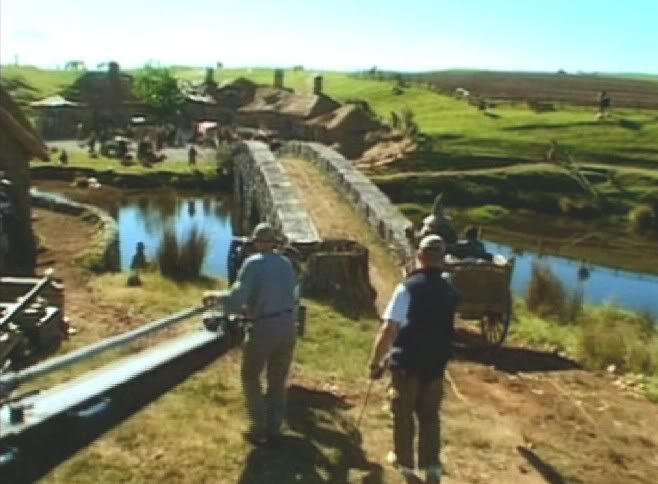 "Why haven't we thought of this before? To live, you know, like this - why does everything have to be straight lines? You just find it very comforting and relaxing"
(Elijah, DVD Appendices)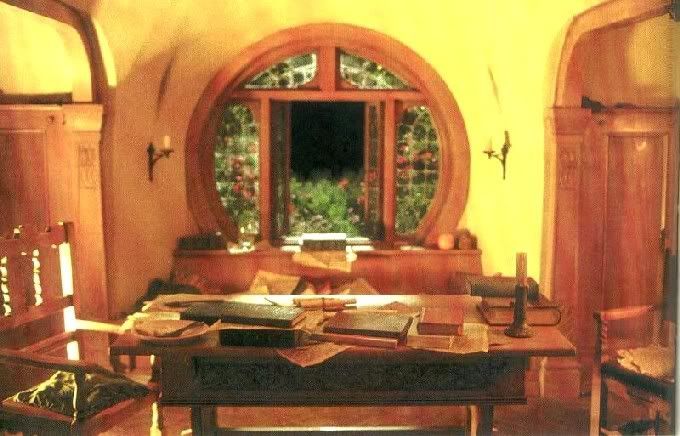 Frodo's Bedroom :D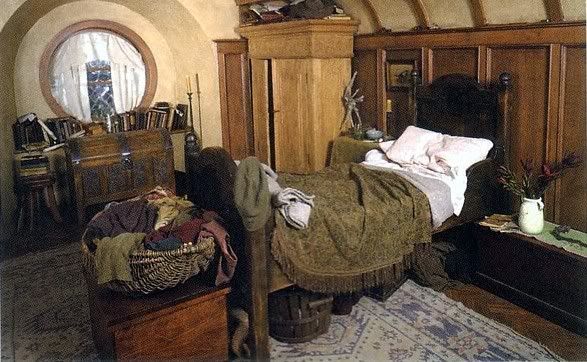 Tehanu, the renowned LOTR 'spy' from theonering.net, was invited to spend a day on set during the filming of Frodo & Gandalf's cart scenes. These are some extracts from her report:
"Not long after, we were driving along the familiar road to the Hobbiton set; only this time when we got to the gate it was open and the gate-guard waved us through, and we headed along that tantalizing dirt road that went out of sight over the hill.
First impressions: It's a circus. Tents and marquees everywhere, pens of horses and cattle at full and half-size, and a Clydesdale horse being led past which would make anyone look hobbit-sized next to it. People wandering around in and out of costume. A fake Gandalf went by in a dark grey robe, followed by a hobbit double, or maybe a real hobbit actor– even the film people weren't always sure unless they were up close."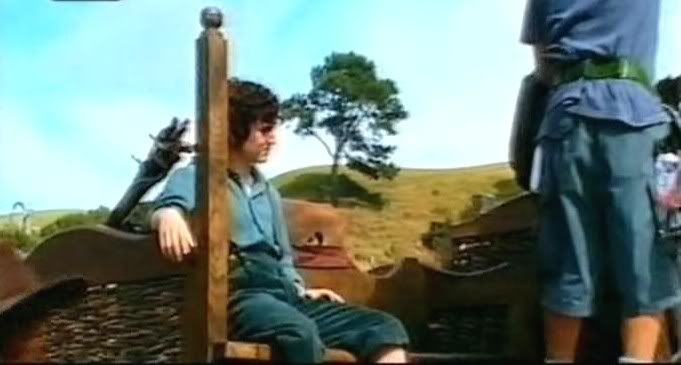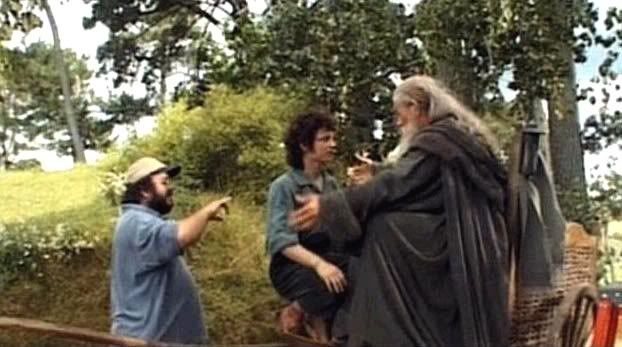 "The large marquees had their sides rolled up to let the air in and I looked into some that were set up as workshops and fitting rooms. The wig people worked in one, surrounded by racks of hair and piles of foam head moulds. They had thousands of wigs now, since every character had their double and their stunt-double to be fitted out, and the very tall and very small people had sets of wigs so they could double anyone. Another tent held the Feet; stacks of prosthetic hobbit-feet, filed for identification. The footpeople were busy cleaning and disinfecting the hairy feet for their next outing. Billy Boyd was in the makeup tent with his hobbit-feet on; he let me have a close look. They were very realistic. I touched them – the cool rubber felt odd and the soles were very thick. I asked if they made up for not having shoes on and he said they did.
"
Note Gandalf imposter!!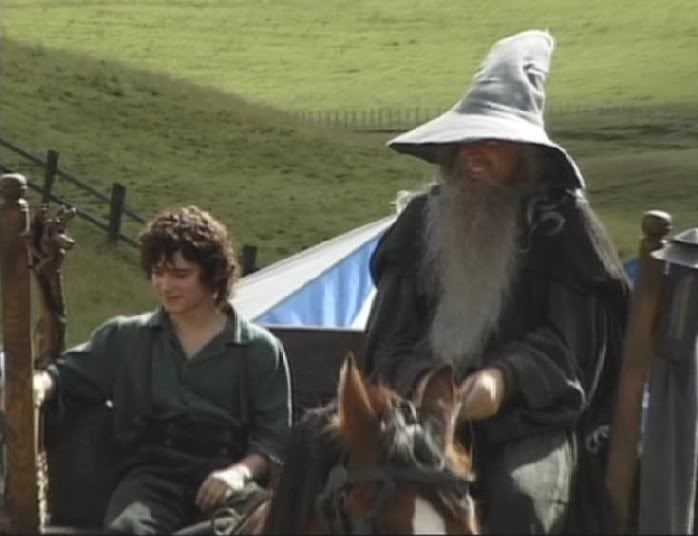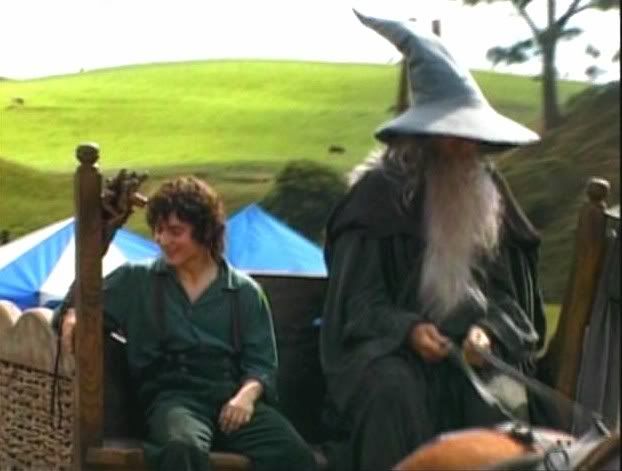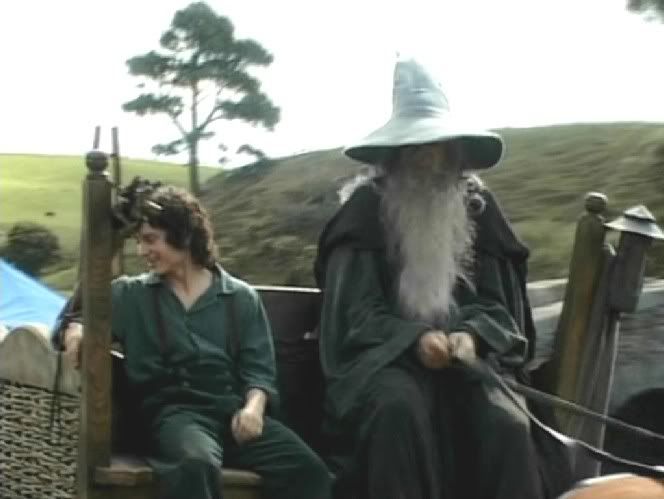 "In the trailers people were tapping away on computers, hooked up via satellite with their cellphones and earphones connecting them to all parts of the sprawling set and to Wellington. It was a contrast with the Hobbiton set outside, with its rustic implements lying about and old-fashioned architecture already weathered into the hillsides."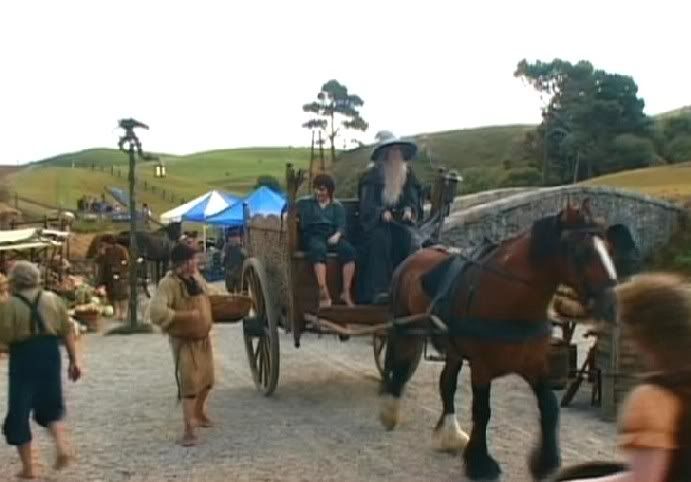 We walked over Hobbiton. Everything is exquisitely detailed, with gently curving rooflines, leadlight windows, carved wooden beams and round wooden doors. The gardens by now are full-blown with the summer heat. Convincing-looking fruit was tied onto some of the trees to add to the sense of idyllic plenty. I overheard discussions about the watering, how long they could afford to keep the grass green. The set is noticeably greener than the surrounding farmland.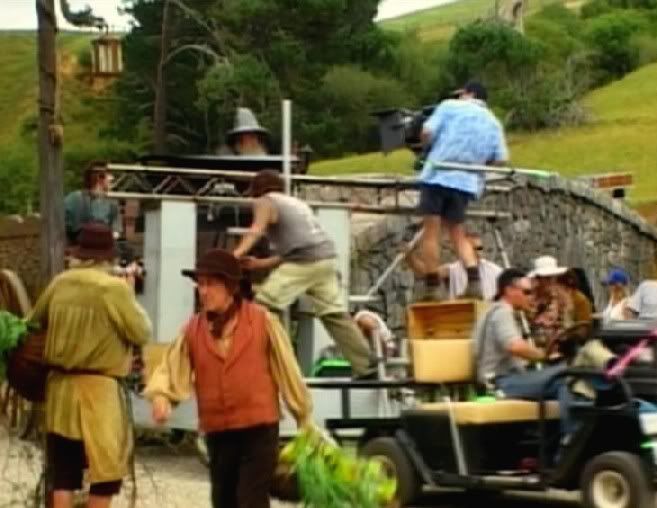 "Further on down the hill we saw some of the extras in rustic-peasant gear getting set up for a shot that looked like a harvest festival. Wicker baskets overflowed with fruit and vegetables. All products of a Shire that must stand for simplicity, comfort, abundance and peace. The crew is filming in brilliant summer weather, and Hobbiton is going to appear like a rural paradise. Even if the film's whole coverage of the Shire is distilled into these few bright images, we will have a strong sense of what Frodo is leaving behind and what the hobbits are fighting to preserve. It was odd looking at the camera monitors, and seeing this rustic idyll, whereas if I looked up at the real scene it was framed by about twenty people in t-shirts holding gear, microphones, cameras, computers, lighting and camera cranes, radios and cellphones…"

We followed a narrow winding lane into a field where the main action was. PJ and Elijah Wood were sitting in a tent full of monitors and computers, watching Sir Ian McKellen and the small Frodo double do a scene in a horse-drawn cart. They had to drive down a little hill, chatting. So far so good; the horse behaved and everything went well once Gandalf's hat managed to stay on in the wind.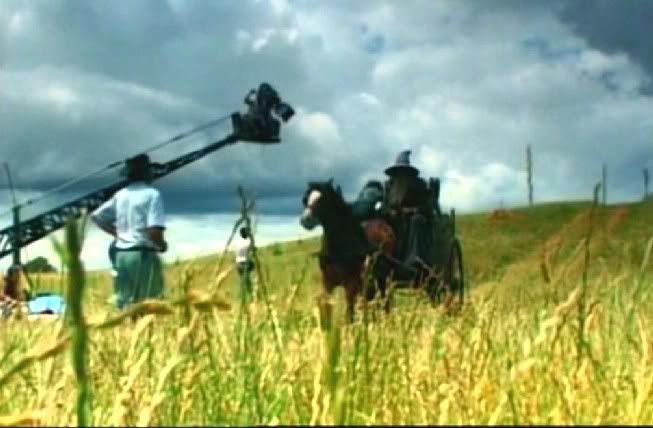 Then I got a chance to see the same scene in forced perspective: Wood and McKellen in a larger cart cunningly made so that the two of them would appear to be sitting side-by-side from the point of view of the front-mounted camera. Because in fact Wood was sitting further back than Mckellen, he appeared smaller. It worked fine so long as neither of them moved so they overlapped. The complexity of building props for every single scene using this technique was a bit mind-blowing.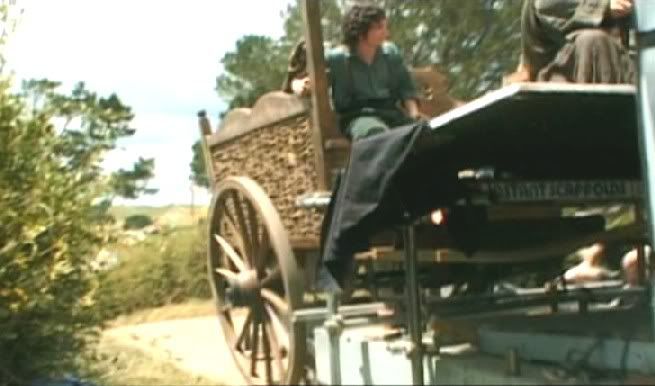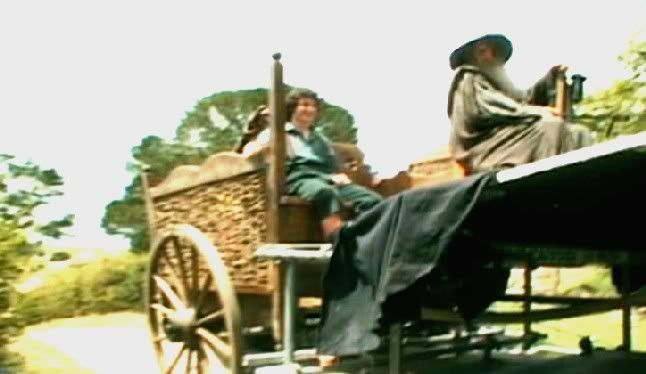 Two hours of real-time and a half-minute of film-time later, I could admire the sheer stamina of these actors. It was a hot, humid mid-afternoon, and Gandalf was wearing his thick felt hat and heavy robes. Frodo's costume was lighter, but still heavier than what anyone else could stand to wear The crew were in t-shirts and staying in the shade of the tents as much as possible. I was collecting a new sunburn

Wood and McKellen came down into the tent to look at the rushes of the scene and see why it wasn't working. There was a bit of easy laughter, no tension. I've been on opera sets a fair bit during rehearsals, and often enough after three hours in costume under lights the air is sizzling with ill-will between the performers, lighting crew, mechs, director and producer. This set couldn't have been more different.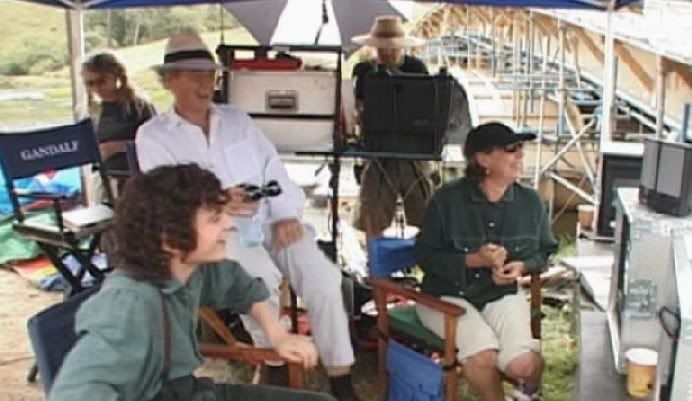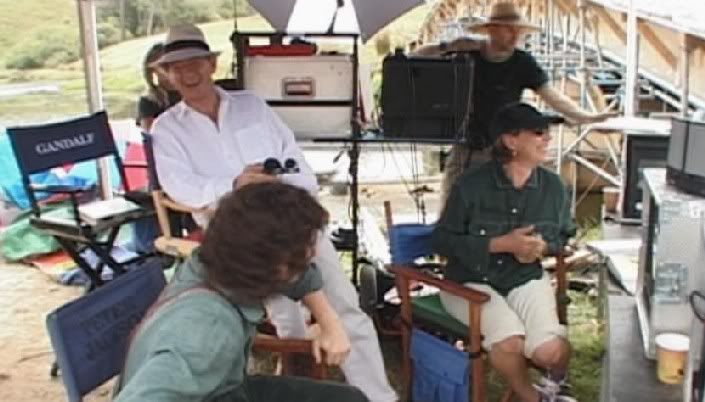 I asked if there was going to be a bloopers and outtakes movie, and Jackson said yes, it would be part of the DVD release.
McKellen looked stoical about the heat; PJ suggested another take and Wood absolutely bounded off up to the cart without a second's hesitation, depsite all the uncomfortable waiting he'd done already.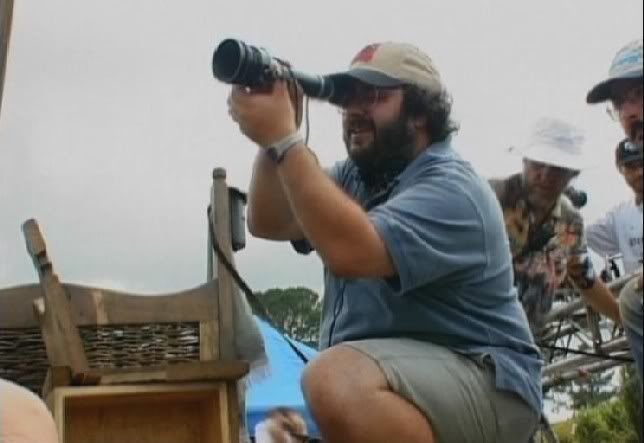 There was every kind of expert on the set. I talked to the dialogue coach and the linguist. They've been working with tapes of Tolkien himself reciting in Elvish, as well as consulting with Tolkien language experts in the States. I heard a bit of Elvish; it sounded like Welsh to me, but with clear vowels like Spanish. As well as dealing with the Elvish they're sorting out what kinds of English accents the different races would use. For instance, the Elves speak English as a second language; as do the Rohirrim. The hobbits differ among themselves because they're from different parts of the Shire, and Frodo's accent is different again as he's more educated. Everything is thought about. The scene being filmed had Gandalf talking to Frodo about pipeweed, I presume, for he mentioned its Latin name. The linguists worried about whether he'd use a Latinate pronunciation or not. "Nicotiana." Gardeners say it 'nic-oe-chana,' but Gandalf, being 'learned', could be expected to say it more precisely, 'nicoteeahna.'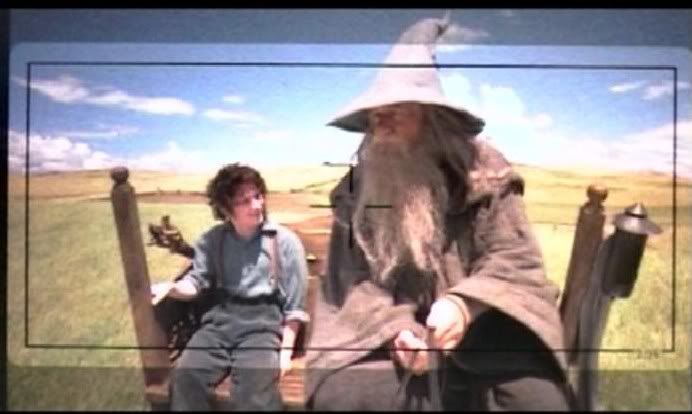 The linguists beat the subject into the ground, made phonecalls, established that the accepted pronunciation was changing with time .'I looked up to find myself being filmed. They are making a 'making of' movie, and they film everything every day. I talked to the 'making of' woman until the absurdity of reporting on the making of the 'making of' got too much. The caterers were in anxious contact with the film crew, trying to time their operation to perfection. Lunchtime was declared at 3pm and everyone headed up to the base camp. They'd been filming until late most days, and were looking forward to some great cloudscapes and sunsets later on. Regretfully, I had to leave them to it and head home."
(theonering.net)
All that discussion about the pronunciation of nicotiana and it never got screened!! This made me realise yet again just how much we never got to see. And in the Costa Botes documentary we see a snatch of another conversation the two have about pronunciation (I've probably got some of the spellings completely wrong!!):
Frodo: "You've ( printed?) The Lonely Mountain"
Gandalf: "Echineal - its from the verb echnedo"
Frodo:"plural - not singular!"
Gandalf: "Thats right - it's Sindarin - the language of Elves" .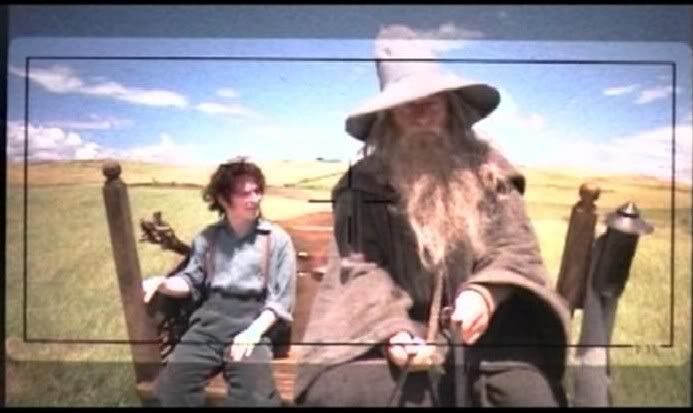 I remember when I first read Tehanu's wonderful report - I was transported to that film set by her vivid descriptions – I could almost smell The Shire!! At that time I had absolutely no idea that I would one day see this beautiful place with my own eyes – though sadly minus Frodo and Gandalf. It is a place of such tranquillity that it is difficult to picture all that activity going on, although the location is scattered with many pics of that time: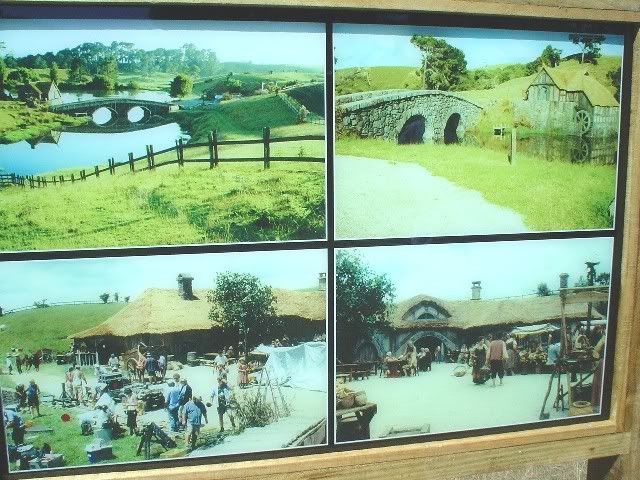 Our tour guide told us that Frodo could be seen in the bottom right-hand pic. At first I doubted her, but having examined it more closely I think she could be right. You can hardly see him – just above the woman's arm, in profile, but it does look like him.

"Between each take I watched the billy goat snatch from a stall a real cabbage to chew in the hot sunshine. I was sheltering under the marquee "Video City" where Peter Jackson examines each shot with Victoria Sullivan supervising the script, continuity and accuracy of the text.
On film I am spending my opening days shooting on board the cart laden with fireworks for Bilbo's "long expected party." The novel's title for the first chapter has been slipped into Gandalf's chat with Frodo, who has jumped up beside him. Fun as it is guiding the friendly brown 13-hand high Clyde and bantering with Elijah Wood, most of the time I am nowhere near the camera".
(Ian McKellen, The Grey Book)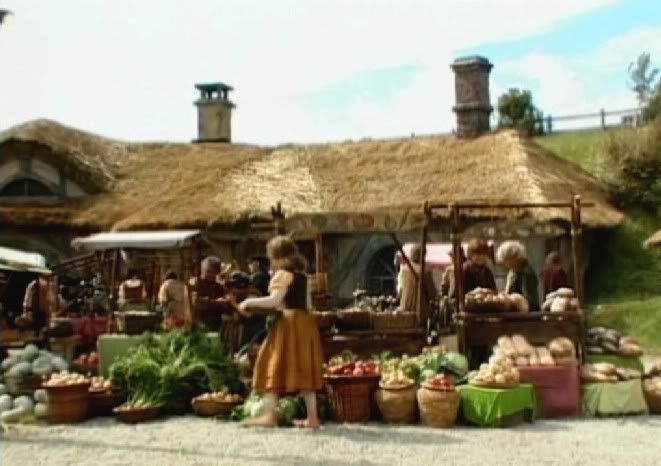 A crew member provides a strong arm to stop Elijah running too far as he jumps from the cart and bids farewell to Gandalf. This scene seems to be from a different angle to that which we eventually saw in the film.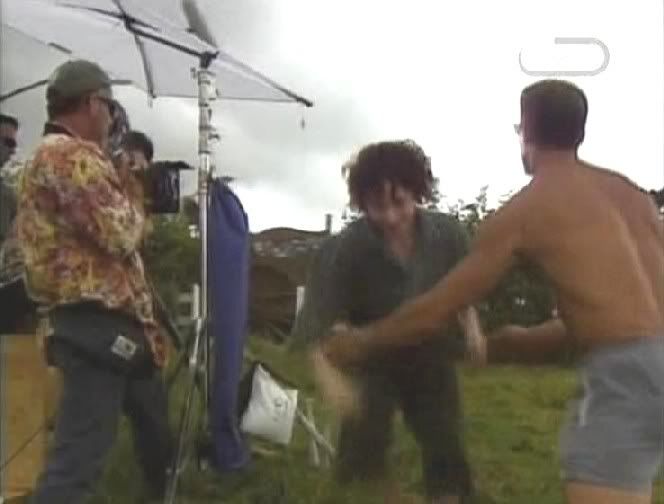 Elijah with voice coach Andrew Jack . He had so many things to think about with his dialogue in the films – he had to adopt an English accent, but it had to sound more educated than the other hobbits, at the same time using the soft West Country burr – though not as pronounced as Sam's because Frodo is more of an upper-class hobbit. As if that wasn't enough, he also had to remember to use a slightly lower pitch than his natural voice – as he told us at Collectormania4, this was to make Frodo sound wiser. And, to echo Ian McKellan's words, he does all this apparently effortlessly. And to prove that he pulled all this off perfectly, I can confirm that, as an English person myself, he had me completely fooled!! The first time I saw FOTR, I never doubted that he was anything other than English. I was so amazed when I discovered that he is American!!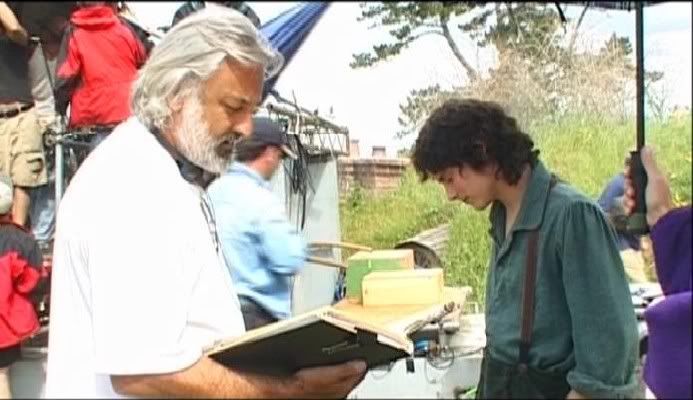 Learning yet more dialogue that never got used!!
"Very well ... er - very odd - I mean more than usual."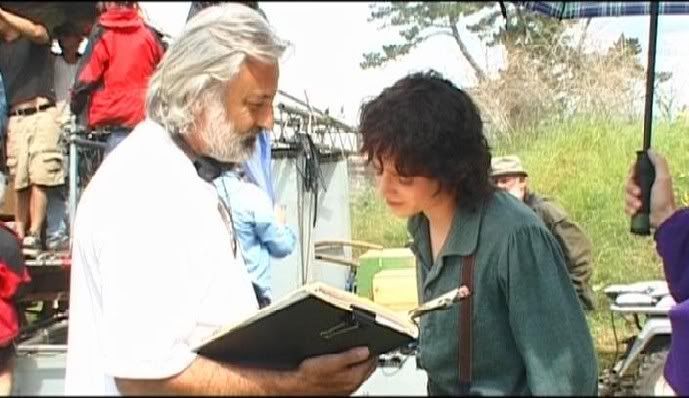 Last week he wrote his will and started roaring with laughter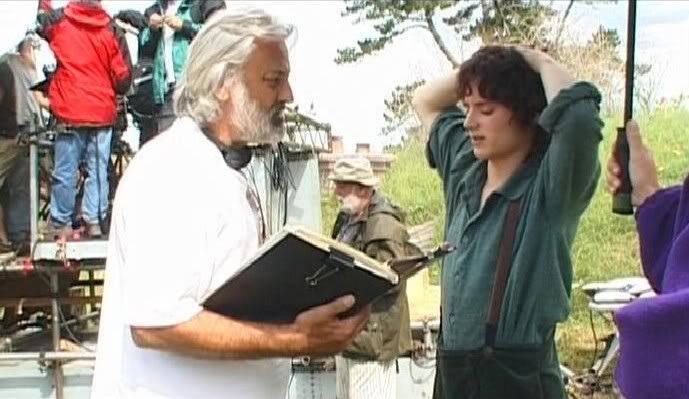 "Food and drink will be flowing all night."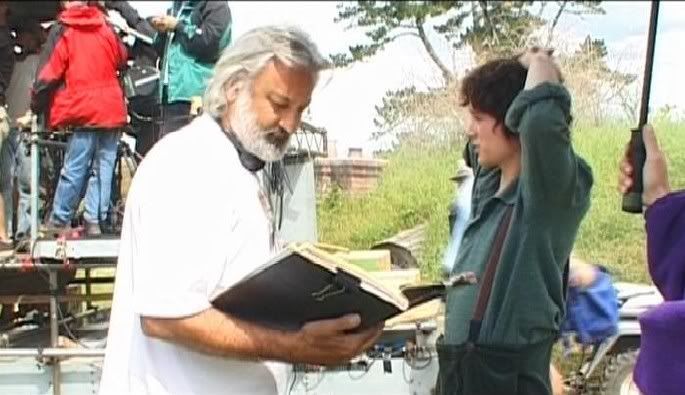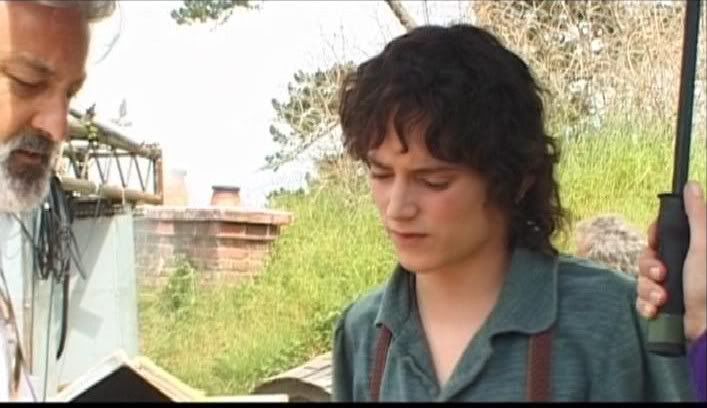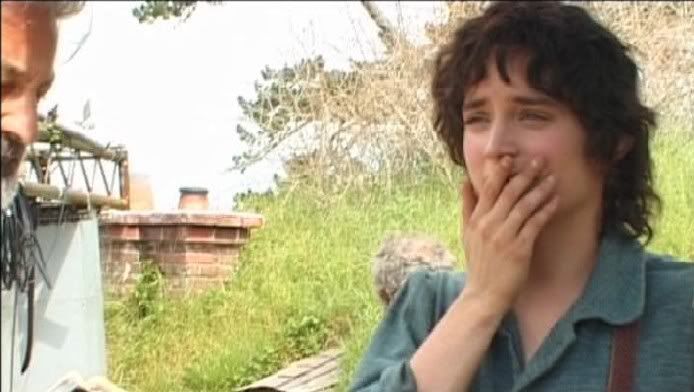 "Hi!! As I go over my lines ...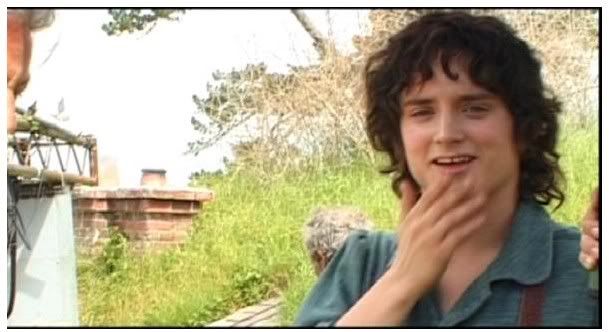 ... in embarrassment - yeah!!"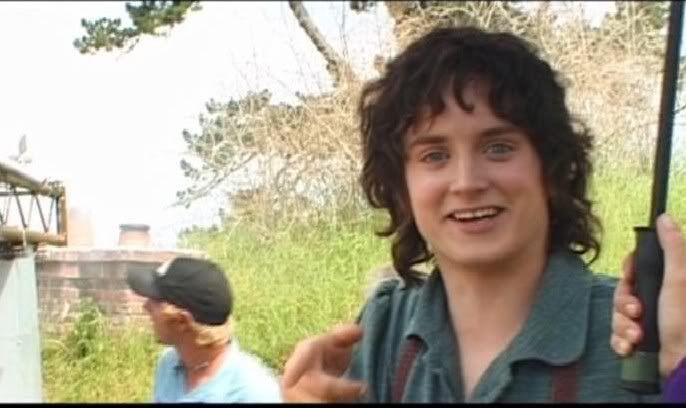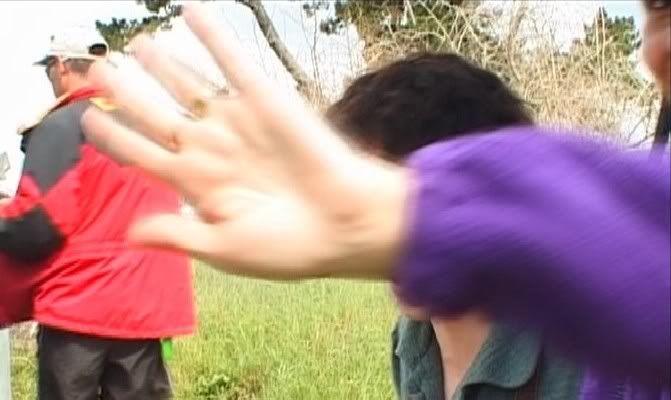 There were so many new experiences for Elijah and the other actors during the making of these films – they were even required to do some directing!! Here Elijah discusses the scene with his scale double Kiran Shah: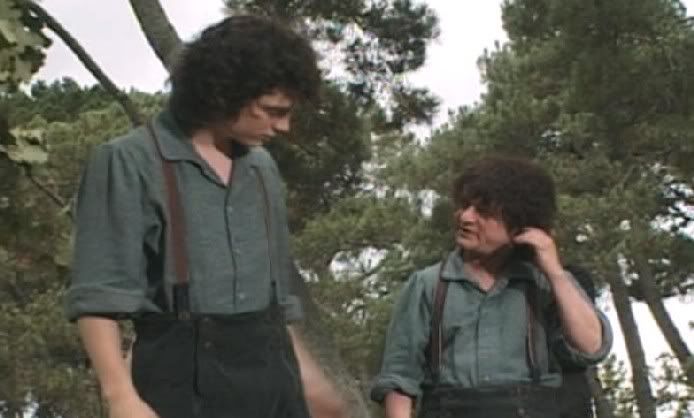 "Shah made Wood a subject of close study, knowing the actor's gestures would become Frodo's and thus need to become Shah's as well. To do so, he started with the actor's previous work. "I started finding out about Elijah and started watching videos of movies he had done in the past – I watched them over and over" he says. "I tried to pick up as much as I could from those videos. I picked up some of the characteristics that he had, which were always there from one movie to another. Hand gestures, the way he would sit down, the way he walked. It was interesting to study all that. When the flesh-and-blood Wood arrived in New Zealand, Shah kept an eye on Wood as the shoots would unfold. "I watched him very closely before the take started", Shah says. "There are different things actors do, like looking around or standing in a certain way, and I would pick up on that. That's how they get into character. And it comes naturally after that."
(LOTR Fan Club Mag)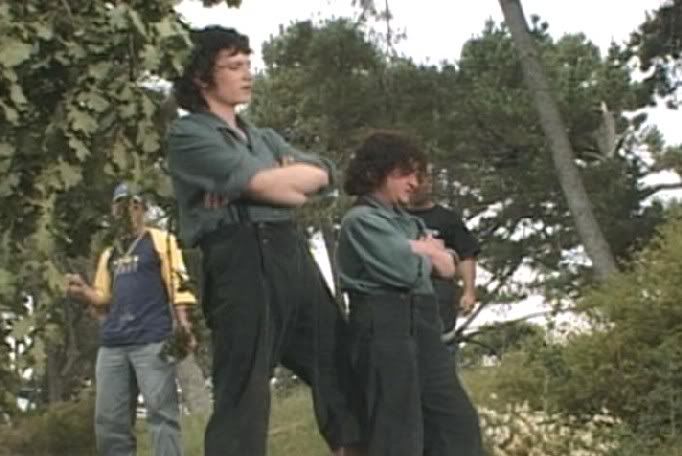 A penny for your thoughts, Frodo!!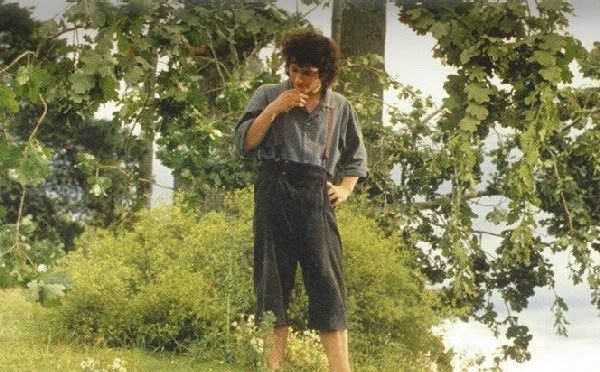 While filming in Matamata (Hobbiton) the cast stayed at the Novotel Hotel in Hamilton. On the dvd commentary, Elijah mentioned this was his favourite of the hotels they stayed at in NZ – but he couldn't remember the name!! I learned this from the Hobbiton tour guide!!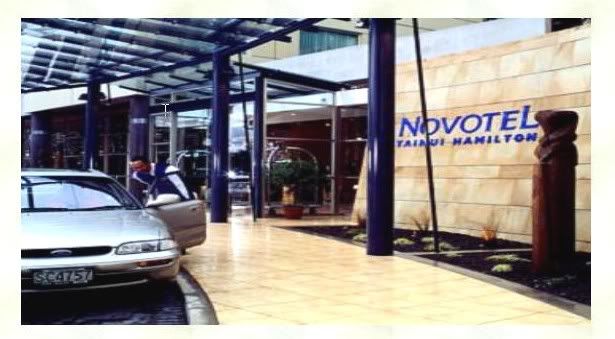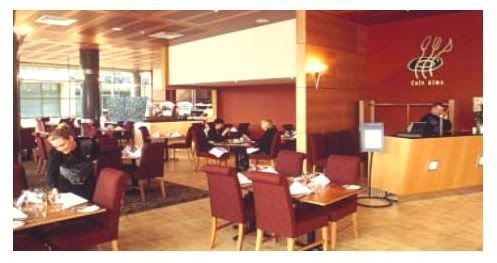 21 January 2000 was the day of the Vanity Fair photoshoot - the world would finally know what Frodo and his fellow Hobbits looked like: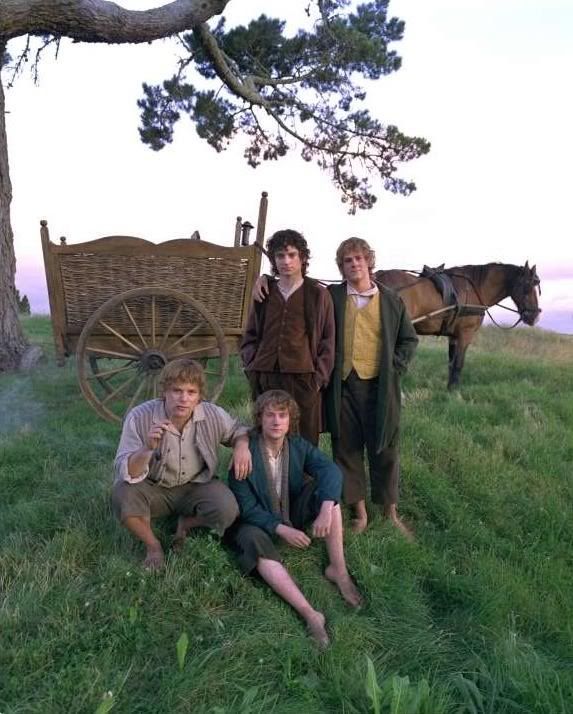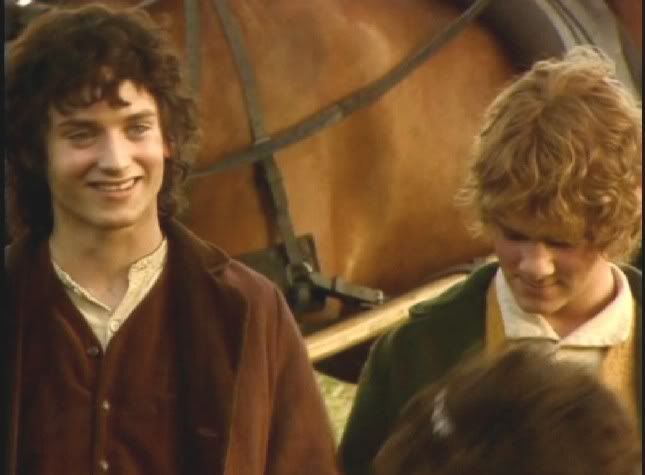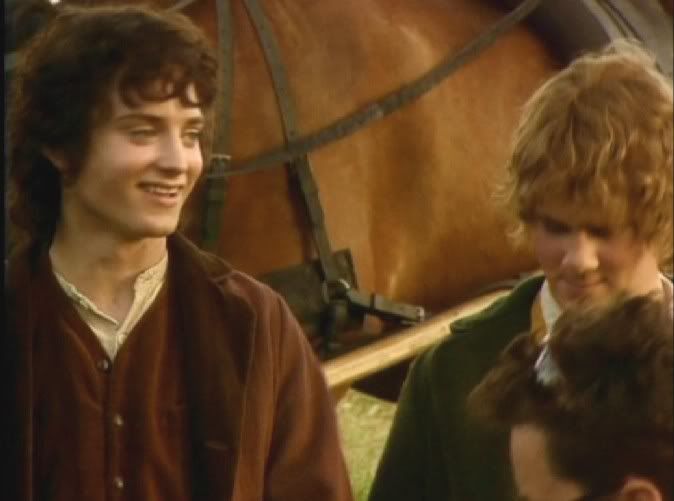 I always think Elijah seemed a little shy during this photo session. Or perhaps he's just sharing a bit of a joke with Dom & trying to conceal it.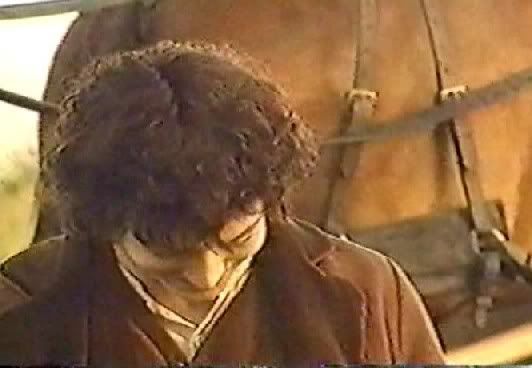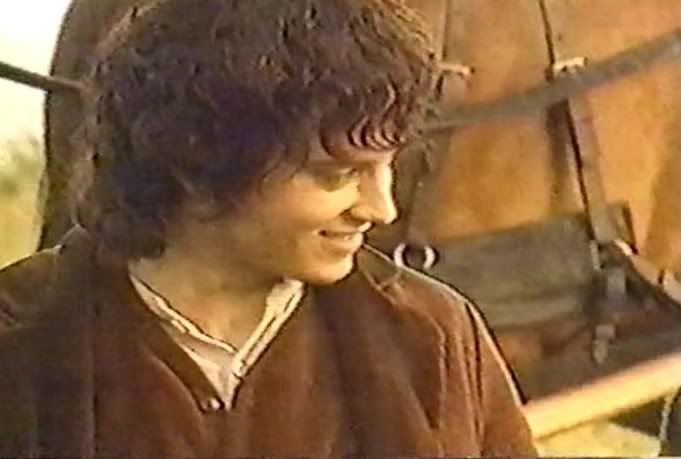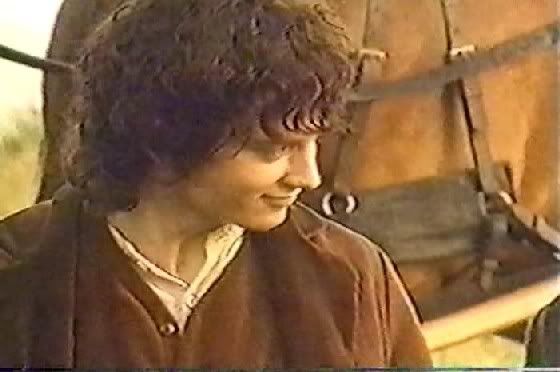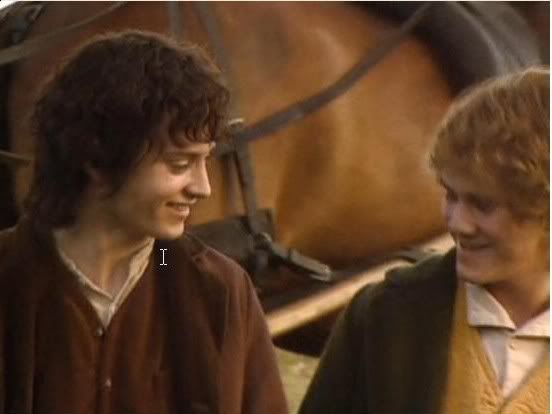 Looking at these pics, I get an occasional glimpse of how Elijah looked 12 months earlier - I have a video of when he appeared on the Regis & Kelly Show at that time to publicize 'The Faculty". This doesn't happen with any other Frolijah pics. I remember how excited he was on that show at the prospect of being 18 -he talked of his plans to move to New York "next year". How amazed he'd have been to know that he'd actually be moving much further afield !!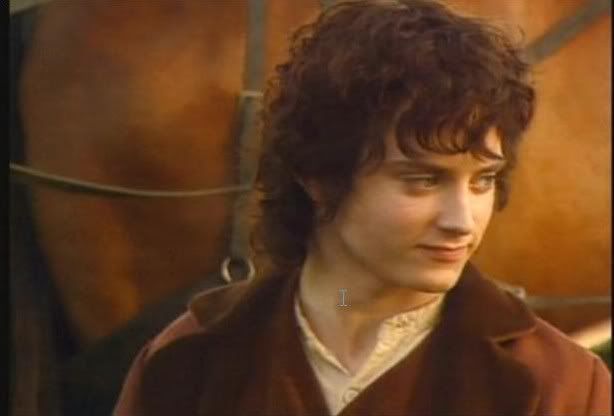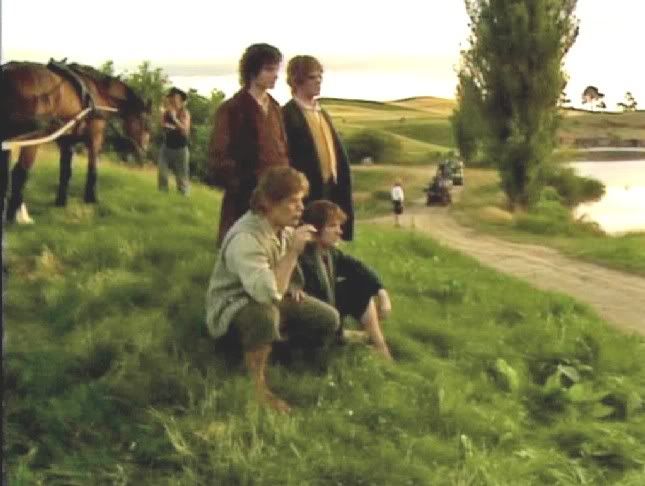 "We'd seen beautiful sets before but this was unbelievable - because it was real, it was there, it was as we'd imagined it - Bag End was there with the massive tree sticking out of the top as we'd seen it in various paintings and images before - it was exactly as we'd imagined it."
(Elijah – DVD)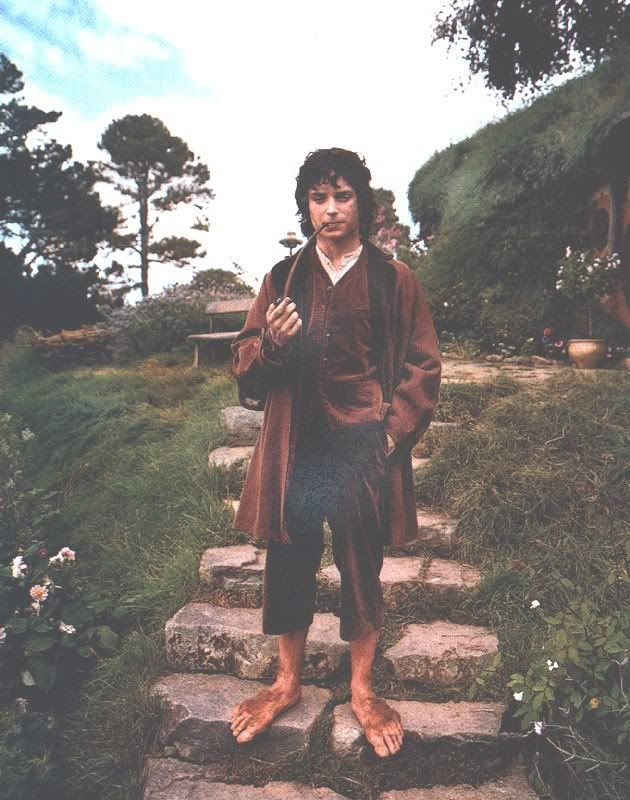 Preparing for the Bag End scenes: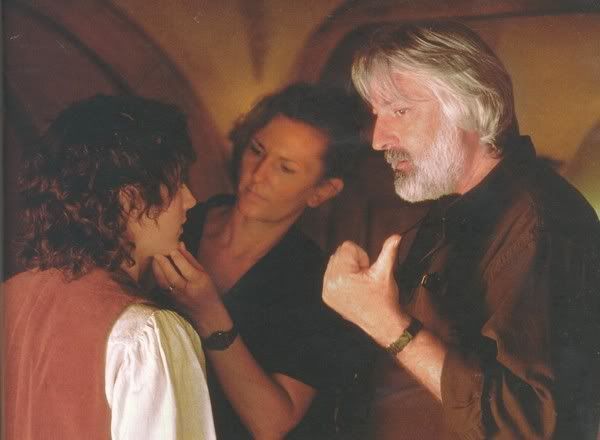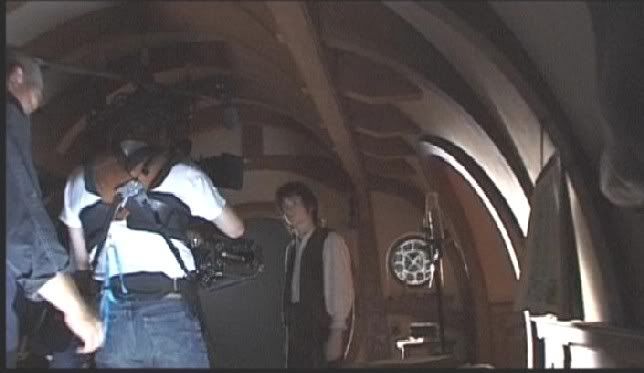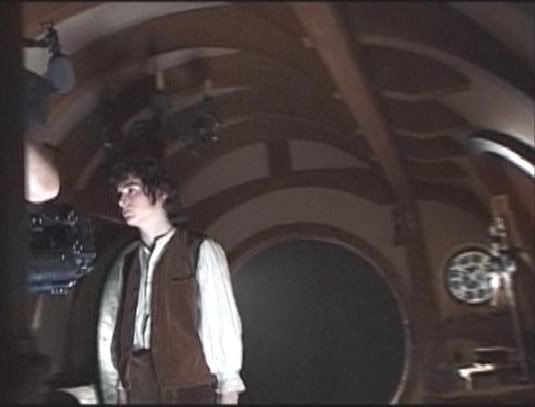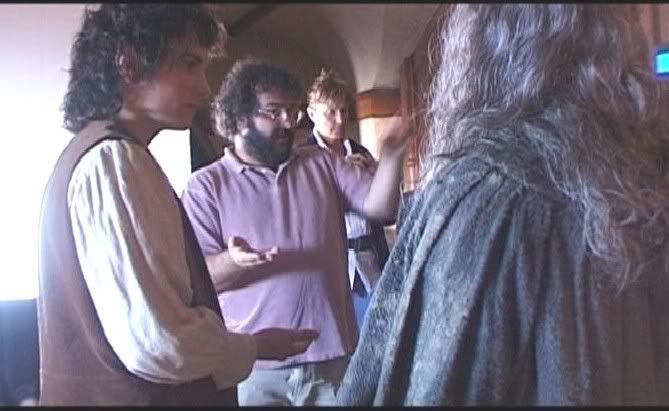 Elijah talks about the difficulties of forced perspective:
"...amazingly simple in the sense that it's literally just one person in the foreground and one person in the background. But also logistically, for us as actors, that posed the problem of eyeline 'cos we couldn't look at each other during the two shot which is a weird thing because you rely so much on the other actor's eyes when you're acting - it's important to have that connection and we didn't have that kind of connection for those kind of shots.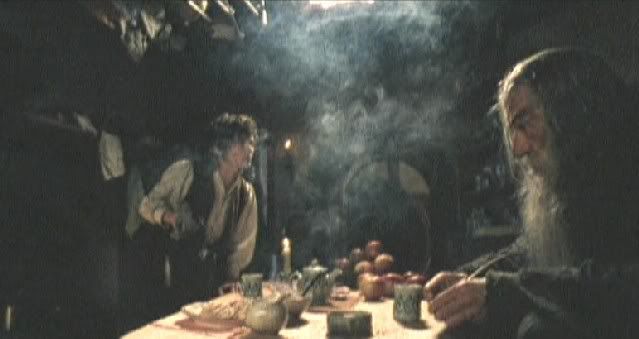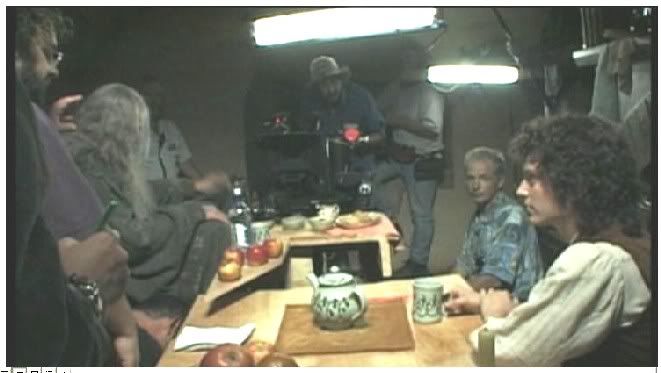 Frodo is wearing socks and shoes!!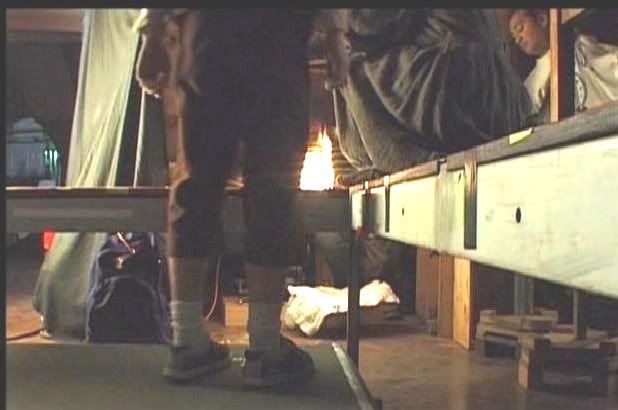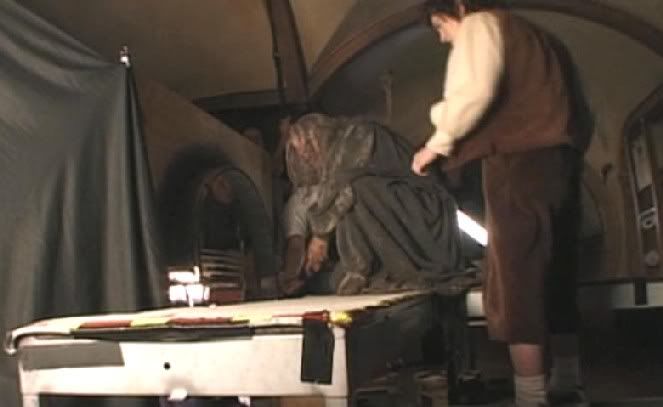 "Q: Renowned luvvy Sir Ian McKellen plays Gandalf. Is he very thespian? Because we've read his website and he tends to slip into Olde English.
A: He does – but he's very intelligent and very well read and very eloquent and he always has beautiful ways of saying things. I've seen interviews and he forms these beautiful lyrical quotes about the experience. You can have an absolutely normal conversation with him but he's also really funny and VERY flirtatious.
Q: So did he try it on with you?
A: Oh, he's flirtatious with everyone. It's wonderful, it's very alive…"
(Elijah Interview, Arena)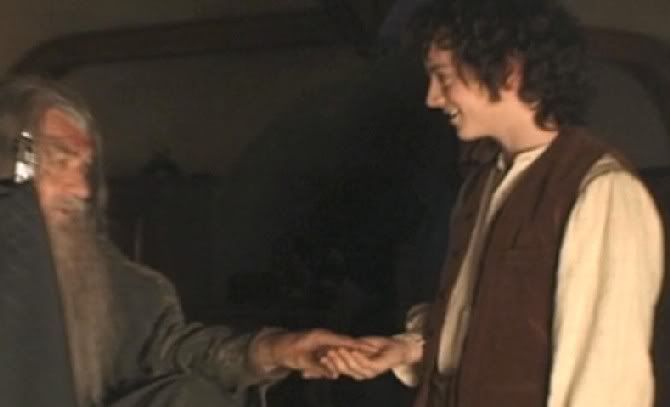 "Elijah is a very experienced actor and he is much wiser than most 20-year-olds you're going to meet. To have a leading man who is attentive to everybody and so genuinely interested in everybody, and so good-natured, is a very good emotional center for the cast. I was very impressed by the way he handled that. When you think of the monsters who might have landed that part and been absolutely horrendous to work with, well, it just redoubled how lucky we were to have had Elijah. He's a sweet man and a very good actor."
(Ian McKellan, LOTR Fan Club Mag)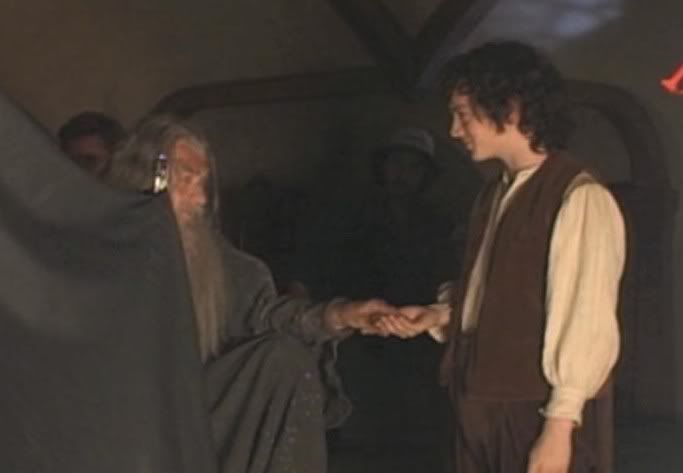 "In creating Frodo, Tolkien may well have been thinking back to the First World War and the lads who went on a terrible journey from which many never returned. Elijah reminds me of those statues of idealized young men on war-memorials throughout the world: more sublime than human and with a complexion of molten marble. He is simply terrific."
(Ian McKellan : The Making of the Movie Trilogy ~ Brian Sibley)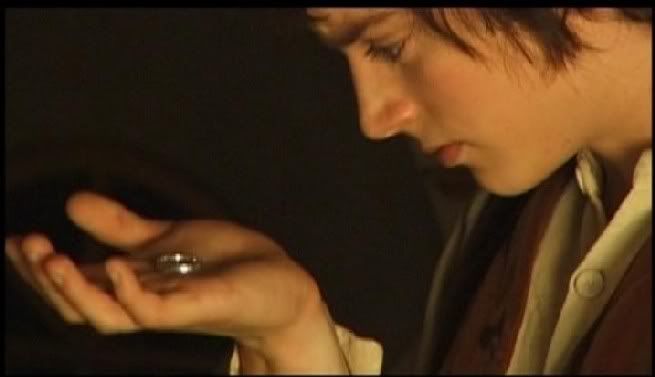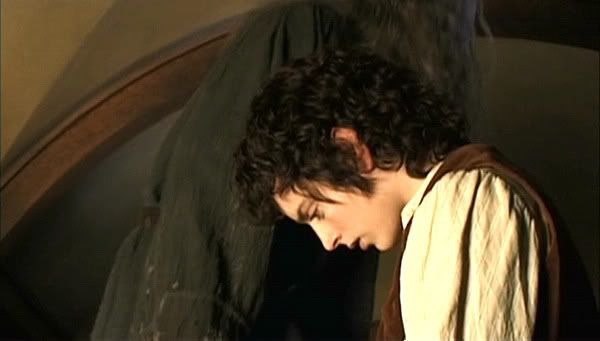 Elijah is preparing for his very first blue screen shot in the film. He will listen to a recording of his own voice saying the lines:
"So you just listen to yourself and when you hear that 'Turn' you can just sense that spot, so when you do it without the playback you'll be able to feel the position of the camera for when you turn round.
(DVD)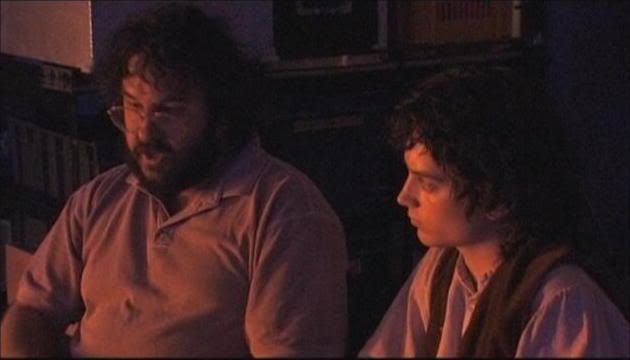 "Then there was also bluescreen and that was incredibly complicated and I was really nervous 'cos I was like "this feels really weird!" Im walking on a blue mat and there's blue around me and there's no reference at all to remind me of the place that I'm supposed to be.(DVD)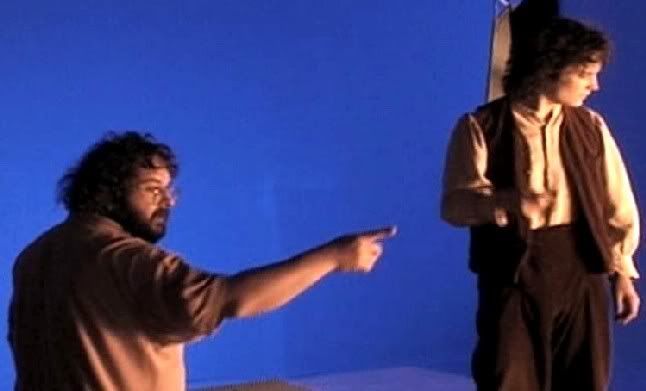 There's a scene with Gandalf and Frodo in Bag End when Frodo gets up from the table and says, you know, "We'll hide the Ring, no-one will ever find it" and suddenly I had to remember my marks and hit a mark at a specific place and specific time so that it matched the timing of the shot they got with Ian."
(DVD)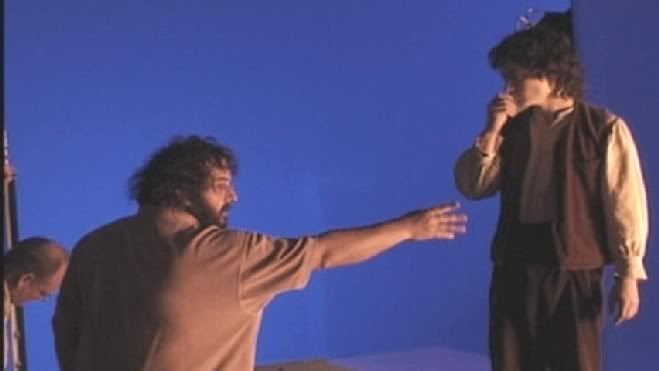 "That is so utterly confusing!!"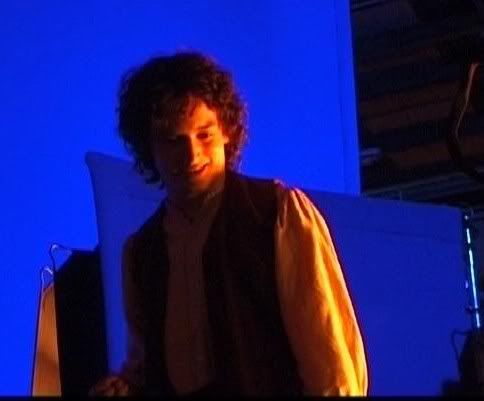 Did I look alright?"
:)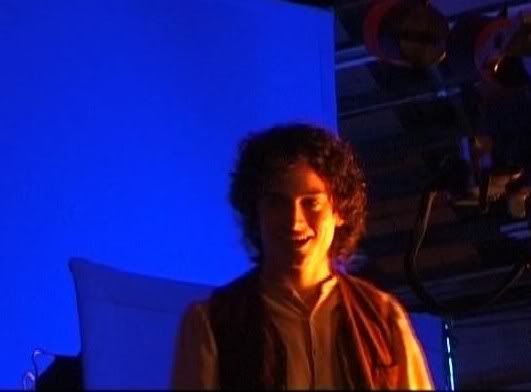 Yes, you did:)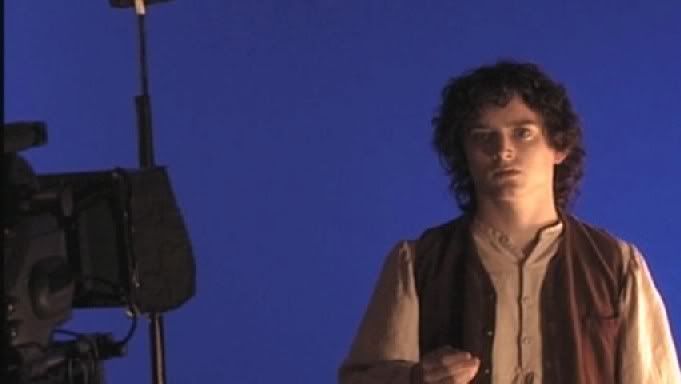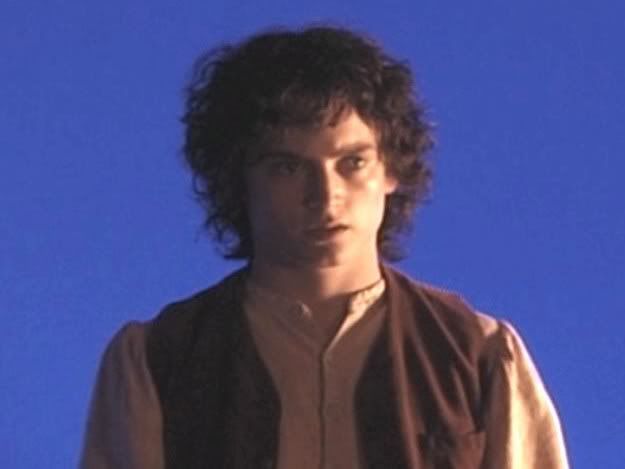 Something seems to be amusing Elijah here: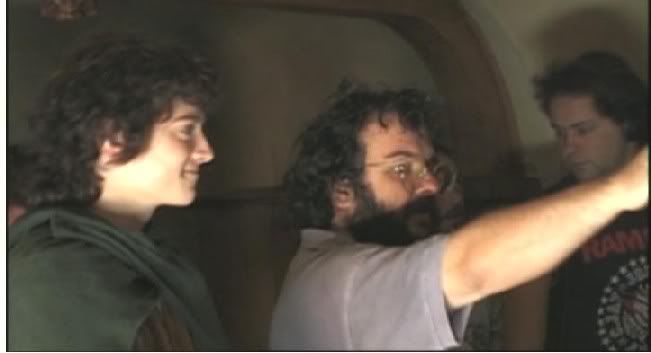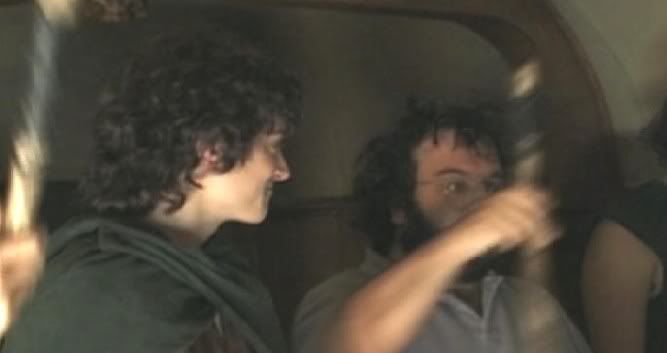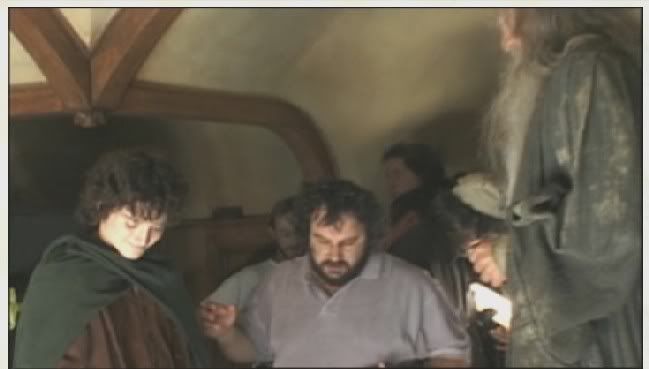 Admiring their work!!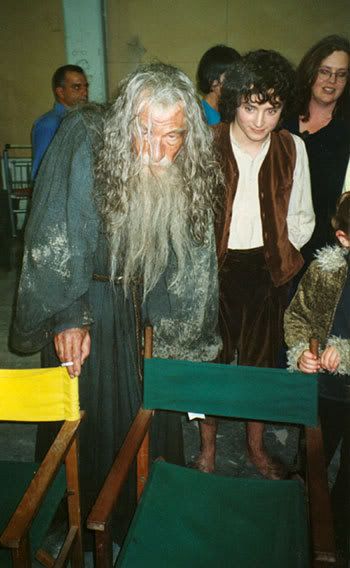 Frodo has a porcelain doll quality in these pics: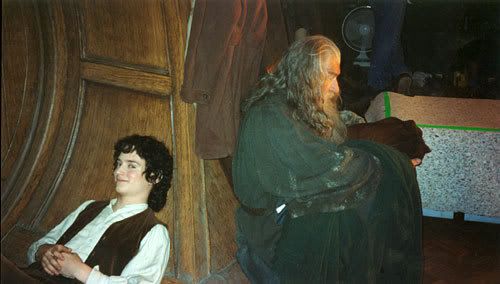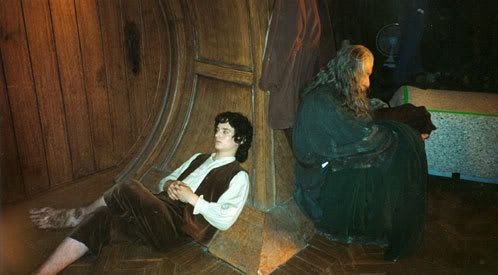 Frodo & Sam are leaving the Shire - and very soon the cameras, trucks, actors & crew would be leaving Hobbiton. Much of the set was burned for the Scouring of the Shire scene, as seen by Frodo in Galadriel's mirror. What remained would now be left to the sheep, the farmers, and - much later - the invasion of tourists!! This scene was tucked in at the end of a day's filming and never actually appeared on the filming schedule.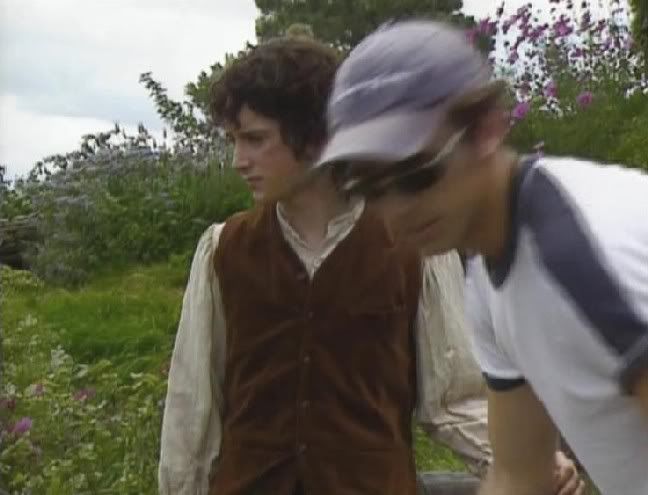 A pensive Frodo - contemplating leaving his home, perhaps.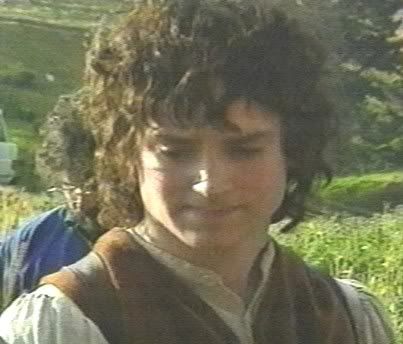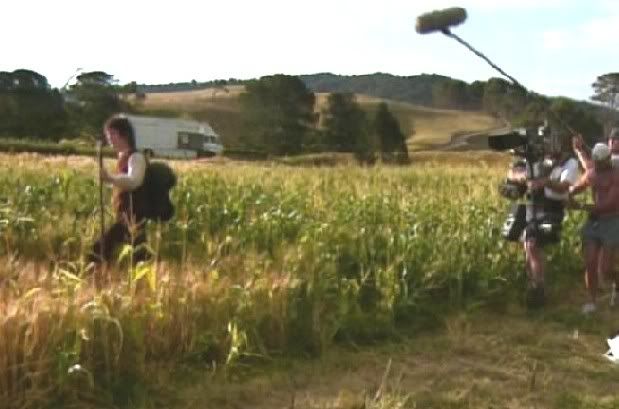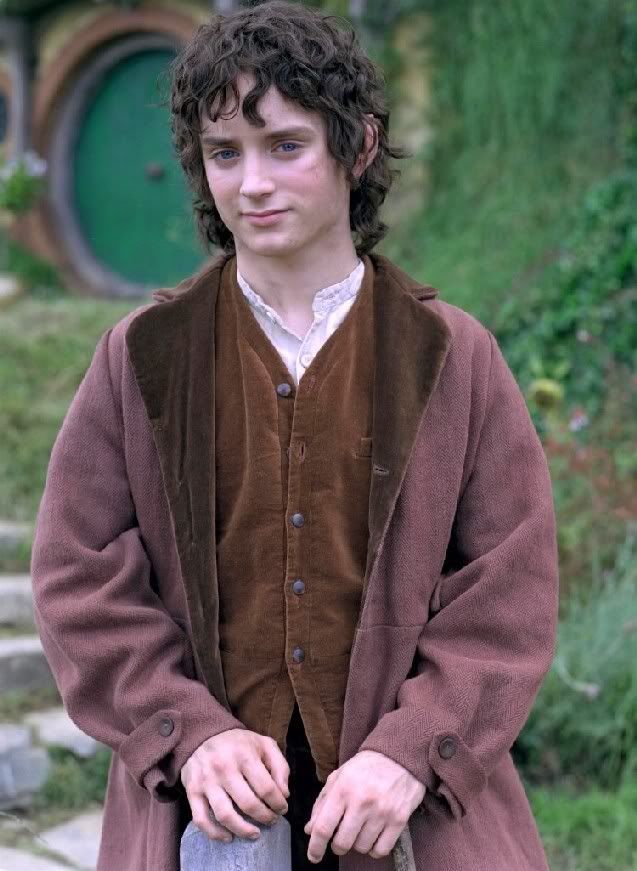 TO BE CONTINUED
Link to previous chapters:
http://not-alone.livejournal.com/tag/a+journey+with+frodo
comments: Leave a comment