| | |
| --- | --- |
| Security: | |
| Subject: | Gone Where We Can't Follow ... |
| Time: | 09:19 pm |
| Current Mood: | sad |
I don't often post about events in my life which are not Elijah-related, but a few of you know about our two adored cats, Beatrice and Mabel, who came into our lives 16 years ago when they were just six weeks old, so I thought I should share this with you. Yesterday we had to have Mabel put to sleep. She had been suffering with kidney disease, something that happens with so many elderly cats, and over the past few weeks she declined rapidly. By Monday night we knew that it wouldn't be right to let her suffer any longer and she was put to sleep early yesterday morning.
I can't even begin to describe how this has affected us - sixteen years is a long time. She was our 'teddy bear cat' - big, fluffy and cuddly. I've never known her catch a bird or mouse, she lacked the quickness and agility of her sister, but she was strong and solid and one of my most vivid memories is of her sitting by the butterfly bush and launching her stout little body into the air every time she saw a butterfly - with little regard for the law that says what goes up must come down!! A more recent memory is of her tottering along the back of the sofa on her now unsteady legs to greet me on my return from hospital. I can't believe she's gone.
Our beloved Mabel. Laid to rest 30 May 2007. Rest in peace.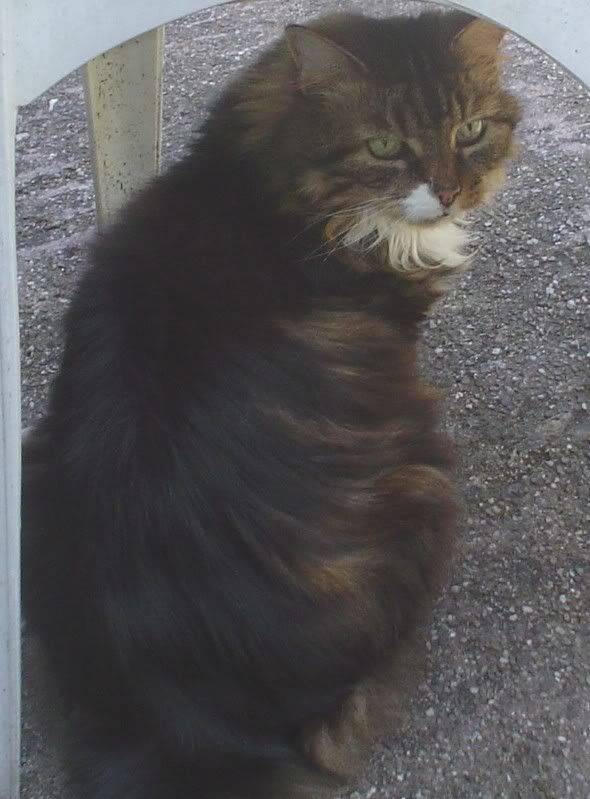 comments: Leave a comment