| | |
| --- | --- |
| Tags: | a journey with frodo |
| Current Music: | The Arms of Mary ~ Everly Bros |
| Security: | |
| Subject: | A JOURNEY WITH FRODO ~ CHAPTER 7 ~ PLAYTIME |
| Time: | 02:14 pm |
| Current Mood: | accomplished |
At long last I have completed Chapter 7!! After the last rather traumatic few weeks it has been great to get back to working on this project. However, this chapter has been quite difficult to put together, due mainly to the lack of pics available. Over the years we've been fed various morsels about what Elijah and his castmates got up to during their time off in New Zealand, but pics are almost non-existent. Or are they? I'm sure there must be some lurking out there somewhere. For instance, a certain Mr Lawrence Makaore must have a pic or two of
that
party – the one where all the male cast members dressed as women and he was greatly impressed by the prettiness of a certain hobbit!!! So Lawrence, just in case you should ever pass this way (well, you never know!!) - how about sharing a few more details with us? And pics would be more than welcome:D
Anyway, I've thrown in some pics of places they were known to hang out – although it does mean that parts of this chapter tend to resemble a New Zealand guidebook!! So, without more ado - Chapter Seven ~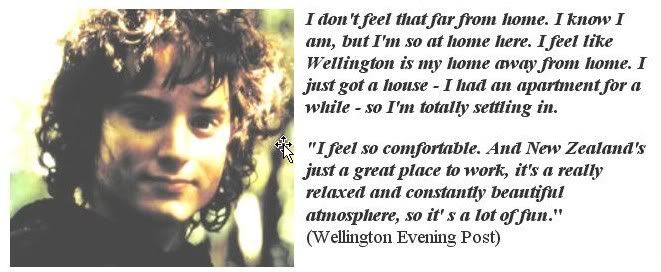 Despite the long hours spent working on the films, there was still some time for the cast to either relax or have some fun getting to know New Zealand. Billy's claim that Elijah never had any time off (in article below) was an exaggeration, although it did become true towards the end of the shoot when things began to get really manic and Elijah and Viggo worked 12 hour days, seven days a week!! But before that happened Elijah and Dom even managed to DJ regularly at a couple of Wellington bars.
"We DJ'd a few parties and a local bar where we made some friends. I loved it - to play music and make people groove is a great feeling"
(Elijah on TRL)
These are a few of the places Elijah and co were known to frequent:
"Because Wellington isn't Hollywood--thank goodness--or even Vancouver, it's a big deal when a film company plants its roots for a couple years and shoots a trio of Oscar-worthy epic films. Even the Starbucks that dot the city got into the act. One placard outside the ubiquitous coffee chain depicted a drawing of actor Elijah Wood, who portrays lead hobbit Frodo, and stated, "Don't be shire . Come in and claim a Frappuccino ... Elijah Would. Caution: Frappuccinos are extremely Hobbit forming." Cute.

Brava Bar, 2 Courtenay Place (64 4 384 1159). Frodo himself was a frequent visitor at this favored watering hole. Elijah Wood liked the beer selection and the pretty ladies. He even briefly dated one of the Brava waitresses. Might we add, bravo!

Molly Malones Irish Pub and restaurant, corner of Taranaki and Courtenay Place (64 4 384 2896). After a late night of shooting, Wood and his fellow cast members enjoyed hearing live bands play. The atmosphere is as laidback as an Irish bar can be and although their presence drew their shares of "oohs" and "ahhs," the actors were pretty much left alone.

Matterhorn, 106 Cuba St. (64 4 384 3359). When the cast wanted to grab a drink and eat something yummy, the Matterhorn was a no-brainer. Polenta and herb-crusted eggplant with kumara (called sweet potatoes in most other countries), orange and mint salad (about $5 in American dollars) is a house specialty.
(Chicago Sun Times)
When Elijah was interviewed on TRL, he admitted that there were a couple of things he missed:
"No Mexican food, which is a shame. Not very good Italian food unfortunately. They love pizza but they do their own thing with it - they put like Brie cheese and turkey and pineapple on their pizza, so it was kind of strange"
And although Viggo loved The Green Parrot, from his description Elijah didn't seem quite so impressed:
"When I first met him, we sat down in this real crusty place, the Green Parrot, and I remember not being able to hold a conversation, because I was so intimidated. There is something beautiful and quiet about Viggo, but the more I got to know him, the more I realized how insanely brilliant and crazy he is--how he has this insane wild side. Yeah, he's mental. But in a good way."
(Vanity Fair)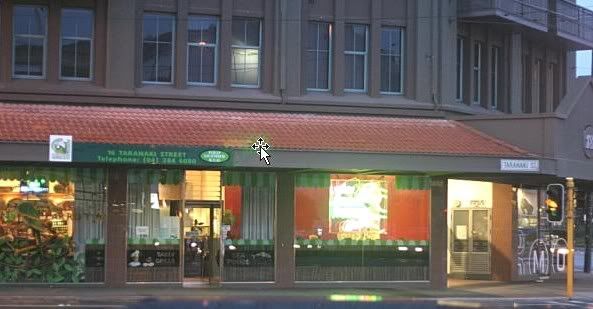 It's well-known that The Chocolate Fish at Scorching Bay was a great favourite with the whole cast. These are a couple of the pics I took during our own visit: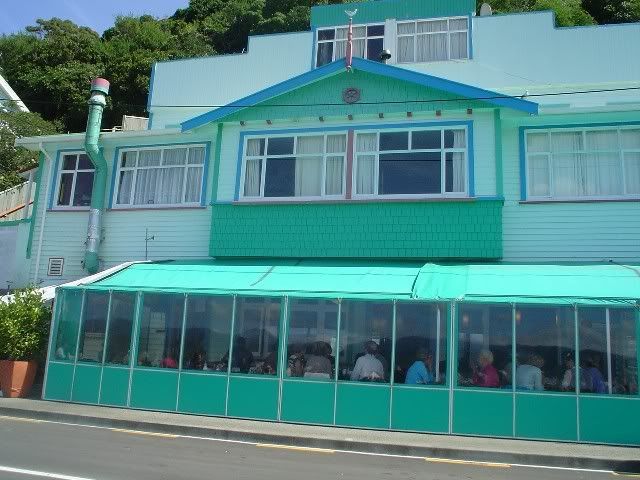 While we were there I bought two 'Chocolate Fish' key rings. I gave one to Elijah at ELF in August 2005 with a couple of other small gifts from NZ but it was this that caught his attention. I wonder if he still has it.
It's on both sides of the road – the waiters have to run from one side to the other. I've heard there's a Frodo chair but I didn't get to see it.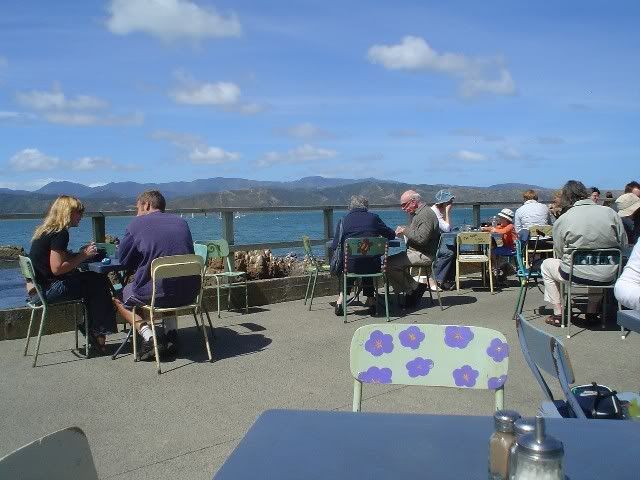 "Oh, I love it! It's just so beautiful, so laidback and relaxed. People are so friendly. They don't have any airs about them. There's a bit of a bohemian lifestyle in Wellington that I really dug. The locals became very used to us and brought us right into their culture. They loved us. It was great -- we had our local haunts where we went to all the time. People probably assume that the locals were bothering us all the time, but not at all. Initially they may have been in awe, but the novelty wore off. Eventually they were just like, "Oh, Lord of the Rings? Cool. How's it going?"
"I loved my house, I loved my car, I loved the Matterhorn Bar – a great local bar we went to. They make some of the best eggs benedict by the way. I just loved everything about it. I loved Wellington, it was home. I loved going over to Peter's house and borrowing DVD's. There were so many things that were normal to me that became a part of my life living there. I loved going to Arrow Street Videos and picking up videos, it was its own life and I loved every minute of it."
(Crème, NZ Mag)
| | |
| --- | --- |
| < | "Pub culture was something he had to embrace for full hobbitness. 'Yeah, Dom & Billy showed me the way of the pub. We got that bit down pretty fast'." (Empire) |
Saffron in Arrowtown – another favourite of Elijah's I believe: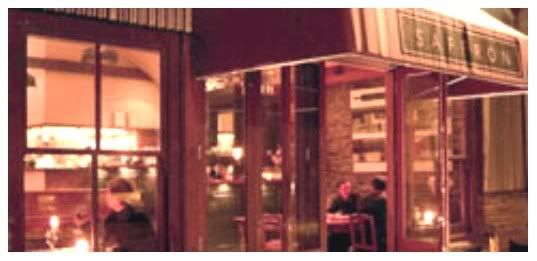 "I think we lived very Hobbit lifestyles. We were always going to the pub and having a bit of a drink and a meal. Hobbits love to eat, so Hobbits love to drink. We, in some ways, embodied the things that are Hobbity initially, and I think we just became more Hobbity as the project wore on. The Hobbits tended to spend their free time together, so the closest friends that I had on the movie were Billy and Dom and Sean. And Orlando the Elf, who happened to join us as well, much to our dismay. No, he's a good guy.
(Eonline)
What is your fondest memory of New Zealand? 'It's a simple memory of going to breakfast at either Eva Dixon's or Fidel's, which is on Cuba Street. It just became such a common thing that we would do on Sundays, which tended to be normally our only day off, or any other day when we had free time. Normally it would be followed by going to the record store right next door.
(Empire)
Eva Dixon's – a favourite place for Hobbit breakfasts – I wonder if that includes second breakfast!!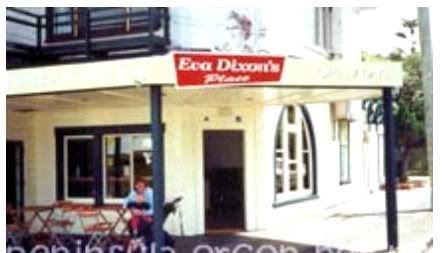 And then there's this ...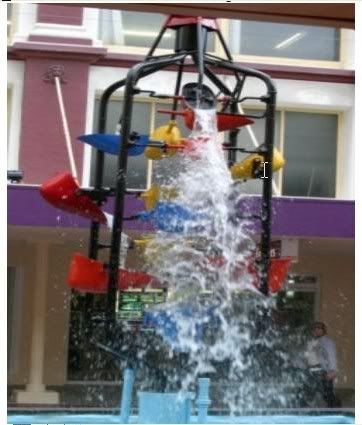 ... a very familiar landmark to Elijah and Dom!!
"Mostly, what one hears from those who shared his company in New Zealand are testaments to Wood's maturity. It is Wood who describes a rare exception to this - a night out in Wellington drinking vodka and cranberry juice that ended with Wood and fellow hobbit Dominic Monaghan climbing up a fountain statue that had been annoying Wood and pissing in it as Liv Tyler, cast as Arwen the elf princess, looked on and said (Wood does a high-pitched Tyler impression), "Guys, what are you doing? Did you just piss in the fountain?"
(Rolling Stone)
I'm sure they never imagined that night that this story would become so well-known in LOTR circles that t-shirts would be specially made to mark the event!!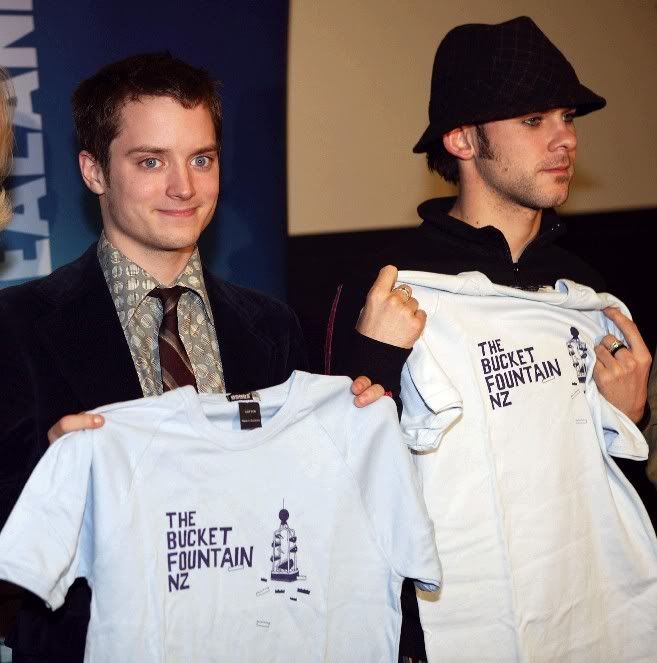 Arena: What's the wildest thing you've ever done?
Elijah: Not so much wild, but spontaneous. In New Zealand there was this really cool girl Madeleine Sammy - if this ends up in the magazine I hope her name goes in because I lost her phone number - we all went and saw this play she was in and I thought she was really attractive and lovely and a brilliant actress. I was blown away. One Saturday I decided to drive for four hours to spend some time with her. She was essentially a stranger.
Arena: Did you get it on?
Elijah: I can't say!
Arena: You did. Were you wearing your hobbit feet?
Elijah: No! That's kinky! Cheeky!
Arena: Have you ever mooned anybody?
Elijah: No, but... We were out in Wellington, Liv, Orlando, Dom and I, we couldn't get in this club - we were underage - and Dom says: 'I've got to pee," and I had to piss too. So we climbed this... I don't want to say what it was as people from Wellington would know.
Arena: You peed on a national monument?
Elijah: Not a monument.
Arena: A major urban landmark?
Elijah: No. Maybe... Peter was very disappointed. He said he grew up with that fountain. He was very upset.
Arena: You're 20 now, right? What's the drinking age in New Zealand?
Elijah: Twenty.
Arena: You got lucky.
Elijah: I did. I think they actually switched it. It was 20 initially and they switched it to either 19 or 18 when I got there.
Arena: The studio probably made that happen as a gift to the actors.
Elijah: Right? It was actually much needed, I think.
Of course, they weren't always in Wellington, and Elijah has often said that one of his other favourite places was Queenstown on the South Island.
"We shot at the tip of the South Island, then we had three or four days to get from that locations to Queenstown and I actually decided to drive. I drove down the whole of the East Coast, which was just amazing. It was those kinds of experiences that were so enriching. Going to Milford Sound, getting on the boat and having a dolphin follow us."
(Empire)
Pic from Ian McKellan's website taken at Milford Sound: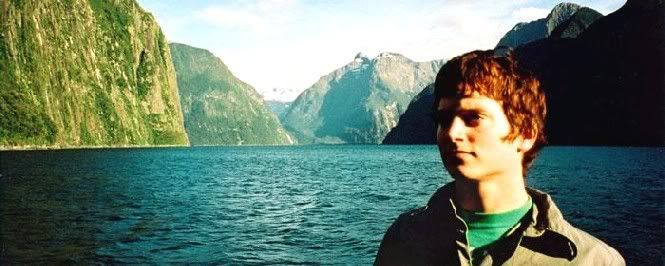 "Yeah, it's funny actually just thinking about it now. With him playing Frodo, him being the ring bearer, and how much people tried to look after Elijah was amazing. And not because he was young, because even then – when he was 18 or whatever – he's always acted a lot older than he is, I think. But he was also working harder than anyone else. When we would occasionally get a day off, or a few a days in a row off, and Elijah just had no time off in the whole of the filming, you know? So it was always nice to kind of... if he was working and we weren't, me, Dom, and Orlando might arrange a barbecue that he could come 'round and we'd have it all fixed up. So yeah, it was weird. He was a kind of ring bearer in some ways."
(Billy Boyd ~ IGN Insider)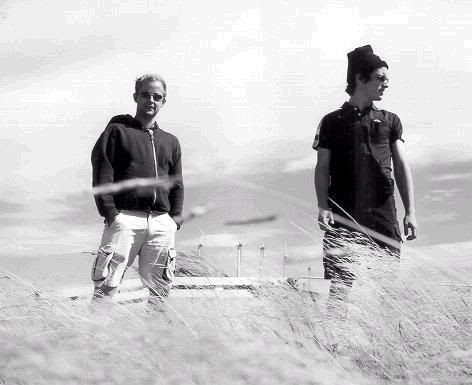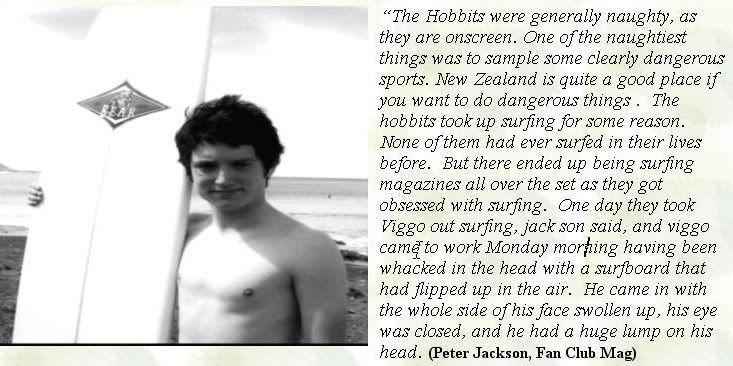 Frodo Baggins can shred. While shooting The Lord of the Rings trilogy back-to-back-to-back, the men who play Tolkien's diminutive woodland creatures bought surfboards and took advantage of New Zealand's raddest natural resource. Studio execs undoubtedly cringed while the stars of their $270 million project braved thundering waves and coral reefs. But the actors swear their off-screen bonding made their on-screen chemistry work. "Surfing is when the Hobbits really became the Hobbits - it's all about the cameraderie and bonding. It was massively keen" Wood says. "We called ourselves the Black Riders. It kind of became official when we made up some t-shirts that said LORD OF THE RINGS SURFING CLUB".
(GQ)
THE BLACK RIDERS!!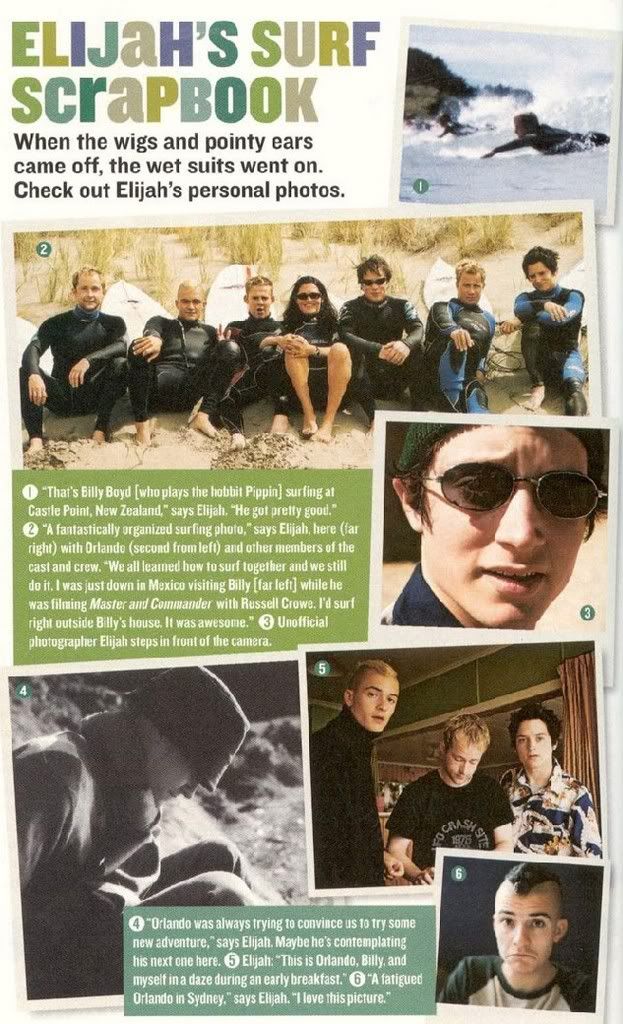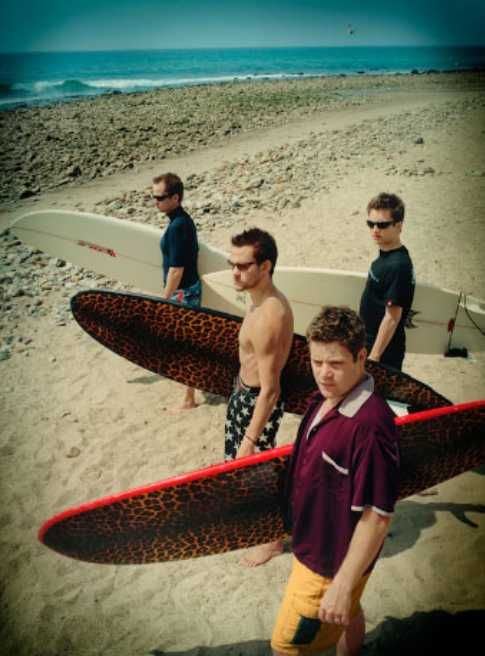 In his book 'There and Back Again ~ An Actor's Tale' Sean recalls an evening out with the other hobbits and an incident in which life imitated art: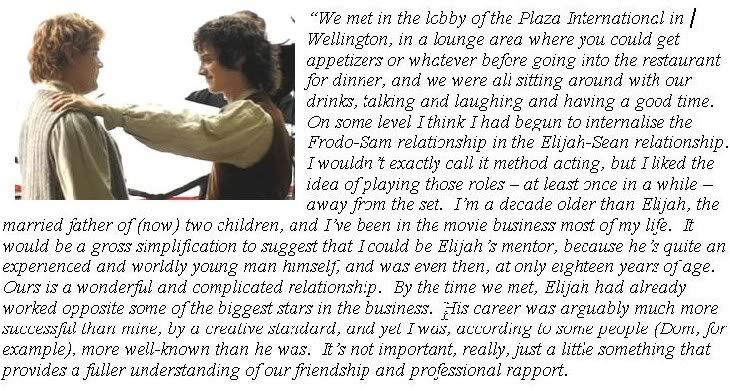 Anyway, we were all having fun that night. I was particularly happy to be experiencing a taste of grown-up, child-free time, and I liked hanging out with my co-stars. I found out that Elijah had inadvertently locked his keys in his apartment, and instantly I took it upon myself to say 'Don't worry, enjoy yourself, I've got it covered.' With the help of the hotel concierge, I found a locksmith who went over to Elijah's apartment, got his key out, and delivered it to me. Elijah never had to lift a finger, never had to worry about anything. I did this because I wanted to be Sam, so he could just keep being eighteen and in Wellington.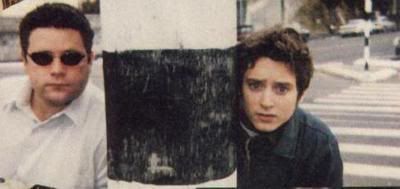 But there were other times when I tried to look after Elijah in a much more serious manner, more like the big brother that I sometimes felt I was. Elijah could be courageous and even blasé when it came to some of the more elaborate action sequences in the film. If they were going to do a stunt, they'd wrap something around Elijah's leg and use a cherry picker to haul him up into the sky, and Elijah didn't mind at all. He'd do it in a heartbeat! He just didn't care. He was so trusting. But I did care. I'd grown up on movie sets. I'd seen people get injured. … I believe that on a movie set you have to share the responsibility for your own safety, but Elijah was not concerned about that. He knows that I think he was too trusting of the production. I was, perhaps, more cautious than I needed to be, and sometimes I'd annoy people. But I didn't want to be the guy on set who wasn't paying attention when Elijah's leg was ripped out of its socket.

On this particular social night, however, I didn't think it was important for Elijah to learn a lesson about being careless with his keys. I thought it was more important that he had a good time, courtesy of 'Sam'. So while I ran around and rescued his keys, he continued drinking, smoking clove cigarettes, connecting with cast and crew … perhaps eyeing the ladies. Not that Elijah was a rake, mind you. He was much more elegant than that with how he handled himself with the fairer sex. For an eighteen-year-old, I thought, he was remarkably graceful and sensitive and thoughtful. And I wanted to serve him, just as Sam might have done for Frodo."
Some pics from Sean's book:
Some well-earned peace and relaxation for the hobbits!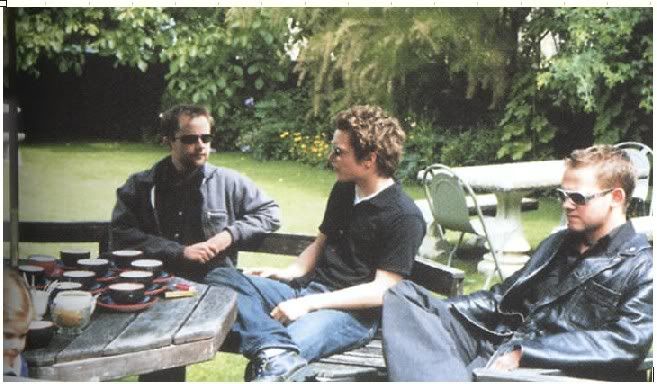 The hobbits play at a party. "We were terrible!!" admits Sean.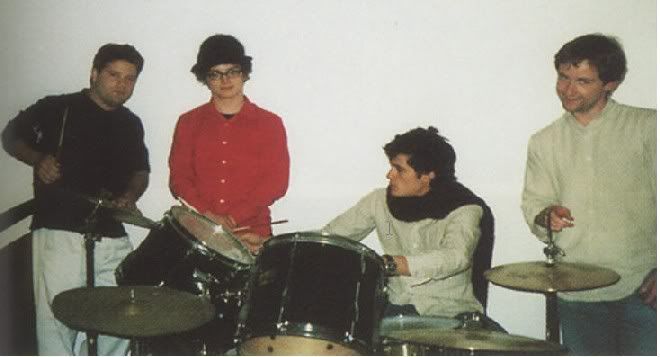 Golfing at Rotorua. When we stayed there our hotel was right opposite this golf course. I'm almost certain no filming was done here so this must have been a visit just for pleasure, in which case I'm sure they'd have visited the wonderful Maori centre opposite and perhaps attended one of the special Maori evenings.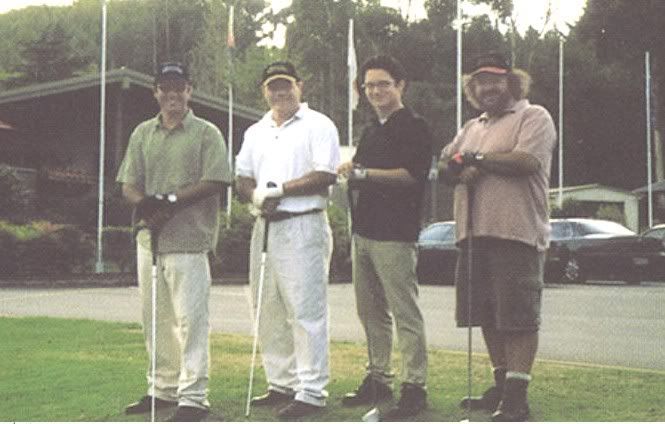 And a few pics from Phon's book. (I'd love to know if anyone actually has this book - I believe it's written in Phon's own language so if anyone could translate some snippets for us that would be great!!)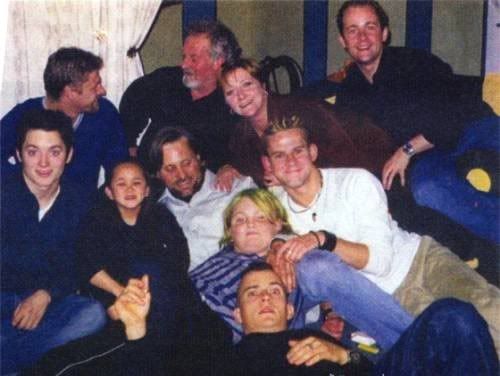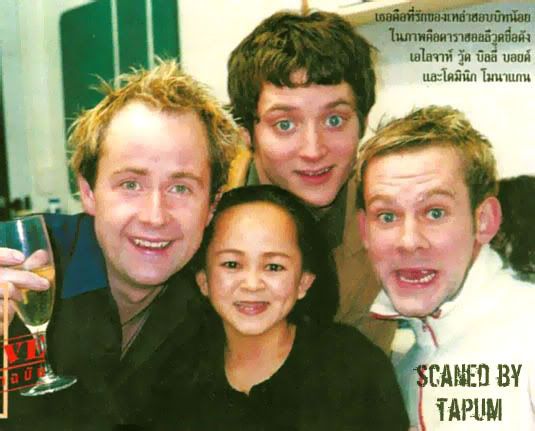 Three of the hobbits and an elf even managed to fit in a trip to Australia where they visited the Star Wars set:
"About five months into production on LOTR, Wood and fellow actors Dominic Monaghan, Billy Boyd and Orlando Bloom took a week's vacation and went together to nearby Australia, to visit another massive fantasy film set, Episode II of the Star Wars series. They hung out with Hayden Christensen (the new Anakin Skywalker), Natalie Portman and other Episode II stars, and swapped set stories. And though Wood says the gathering was amicable, he sensed an underlying tension between the two parties. 'We felt like the rogue crew. There was a weird sense that with the two trilogies there was this odd undercurrent rivalry', he says. 'They all thought that we were quite strange, because we referred to each other as hobbits.

'Within the first month we were those characters', Wood explains. 'We called ourselves the hobbits because we adopted the relationships that were important to those characters. We were always together, we went out for meals together, we loved being around each other'."
(Premiere)
Sadly, I've never found any pics from that event. However, when the same three hobbits and the elf attended
this
event, there were plenty of cameras around:
27 FEBRUARY 2000 ~ THE BATH TUB RACE!!
"Lord of the Rings Stars join in Bathtub challenge.
The Lord of the Ring stars Elijah Wood, Dominic Monaghan, Billy Boyd and Orlando Bloom, will appear in the celebrity bathtub race being held at the Wellington Dragon Boat Festival, on Sunday 27th February, 12.00 noon to 1.00pm.
The stars have agreed to appear and help with a fund raising effort organised by the Festival to raise money for Ronald McDonald House.
They will be joining other local celebrities Ian Ferguson, Members of the Capital Shakers netball
team and others.
The festival organisers added bathtub racing to the event as a fundraiser for Ronald McDonald House. With 2,700 participants and over10, 000 spectators expected over the weekend, the organisers felt there was an opportunity for some audience participation and to also benefit a worthy charity such as Ronald McDonald House. Participants and spectators are being asked to pay $5 for a bathtub race, which goes straight to Ronald McDonald House. Ronald McDonald collectors will collect donations during the weekend, with the celebrity race expected to draw a lot of support."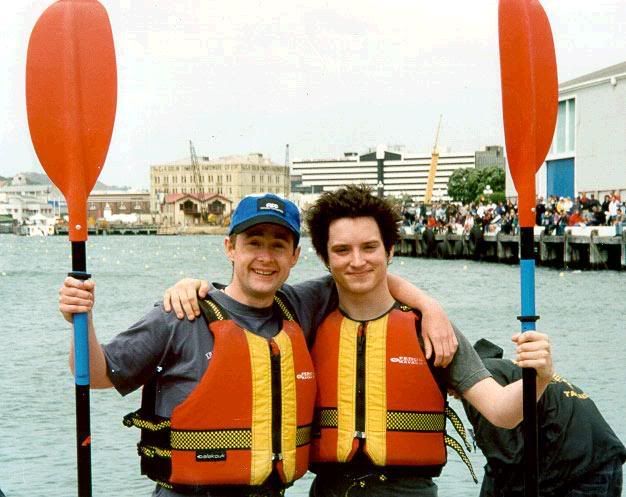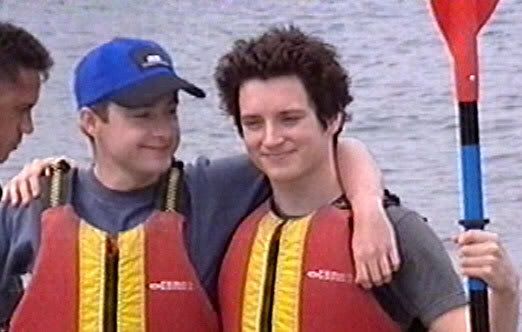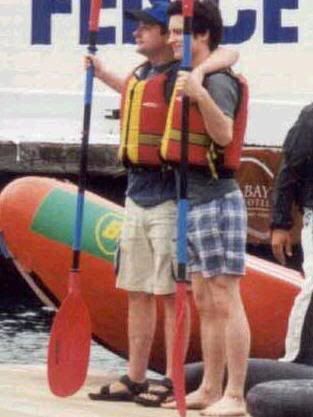 From a report by Sharon M. - tolkienonline:
"… I sat down where the bath tub races were going to start and soon saw our four stars clowning around. I took a lot of photos. It was quite embarrassing: all the other fans were about 14 years old and just screaming about movie stars; I don`t think any of them knew a thing about Tolkien or cared at all. But for you guys, I put up with this ritual humiliation . . .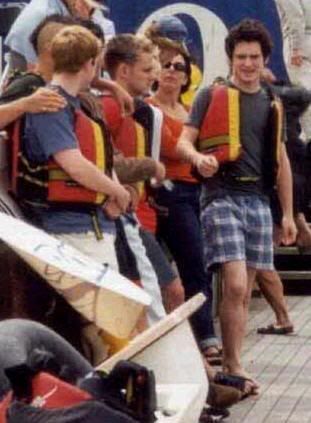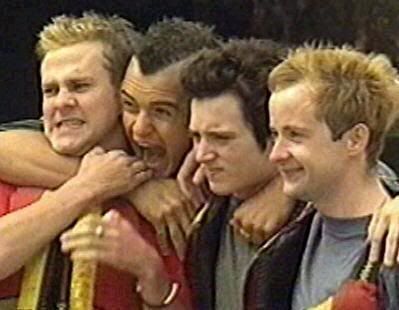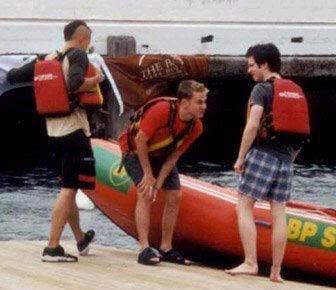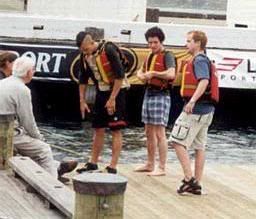 I tell you, what was really neat is that they were all obviously really good friends, and really comfortable with each other. There were arms round each other for photos, big smiles, lots of jokes etc.They were obviously having heaps of fun. As for the bathtub race itself: well, Orlando and Dominic fell out pretty much straight away. Elijah stayed upright but made little forward progress, while Billy Boyd stormed out in front. Unfortunately for him, Orlando and Dominic decided that if they were going swimming then he was too, and they swam over and tipped him out! So then they all swam for the finish and I`m not sure who won in the end! Elijah said that Billy did, while Orlando and Dominic each claimed they had. Then they did a race in the rescue boats where one star had to "rescue" another as they shot past. That was quite successful, only the rescue boats were suddenly required as one of the dragon boats had capsized! So our stars were dumped without ceremony on the wharf and the boats raced off to do real rescues!Orlando had a MOHAWK!! WHAT DOES THIS MEAN!!!! Elijah had hair about 2 inches long, with heaps of volume (he smiles ALL the time and looks just like his web photo: he is so perfect for the role). In fact they ALL smiled all the time: they looked like a really nice bunch of guys, with great synergy between them, and I think they`ll make a very endearing group of hobbits (and elf). They each had a completely different accent: it will be very interesting to see how (if) that is dealt with!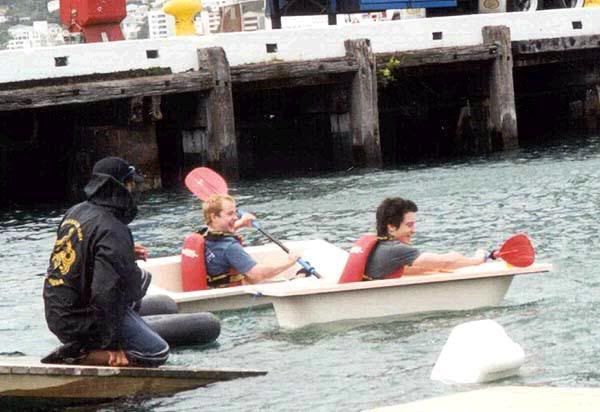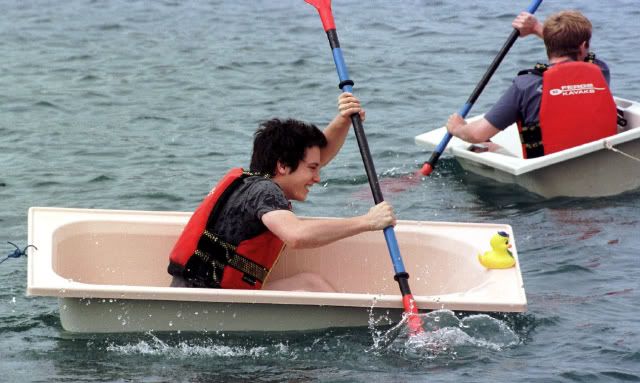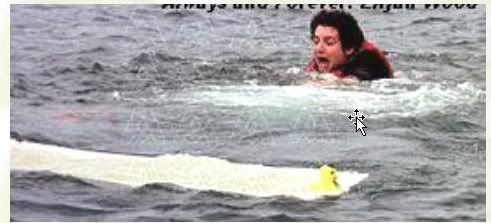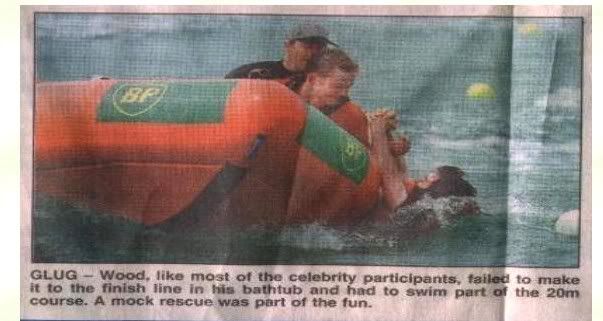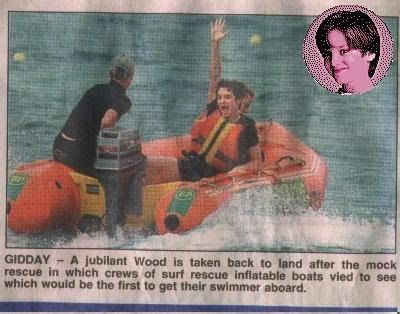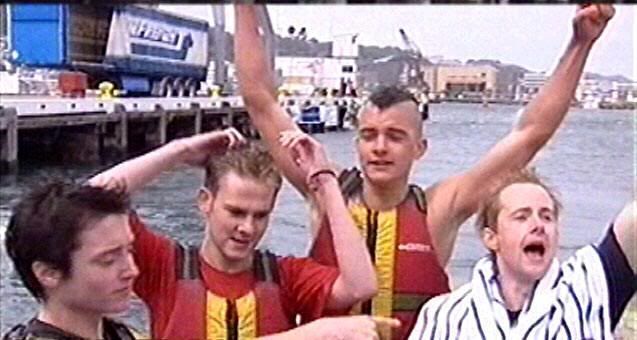 | | |
| --- | --- |
| | When asked by a tv interviewer how Frodo would handle this challenge, Elijah replied "Oh God, I don`t know. . . I think Sam would probably come to his aid. Frodo can never do much by himself!!". |
| | |
| --- | --- |
| | He also said ""We`ve already seen about 20 minutes of the film all cut together . . . and it`s shaping up. It`s looking really amazing".". |
But there were never enough pics from this event:
13 MARCH 2000 ~ HOBBITS IN KILTS!!
| | |
| --- | --- |
| | On the Town: LOTR stars/hobbits Elijah Wood, Billy Boyd and Dominic Monaghan attended a local performance of the Edinburgh Military Tattoo (a Scottish bagpipe-band concert). So what? They were all wearing tartan kilts, thanks to Glasgow native Boyd. No word on what they wore underneath (Eonline) |
Not the clearest of pics - but I couldn't leave it out:)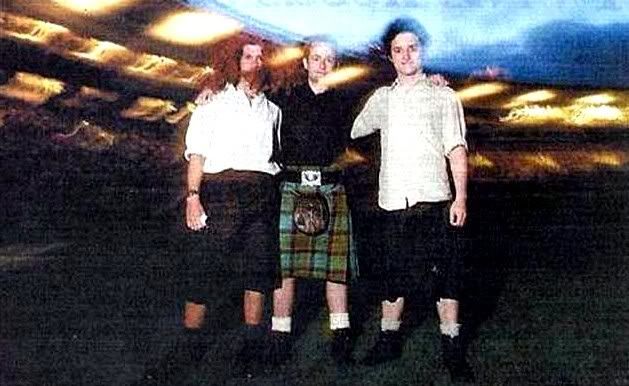 21 July 2000 ~ Queenstown Winter FestivalHeld at the Milennium Hotel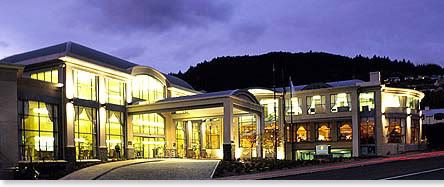 Arriving at the hotel ...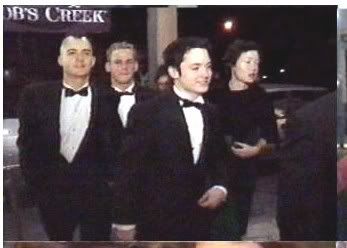 Elijah during a short interview. He says that filming is
going well and that coming off a month's vacation has him raring to go again. (theonering)
A Night for Hobbitnobbing
It was a veritable who's who of Hollywood stars at Queenstown last night. It was just that nobody knew who was who – well not just yet. Perhaps after the $365 million movie The Lord of the Rings is released, those attending last night's glamorous Hollywood Ball might better appreciate rubbing shoulders with Frodo, Sam, Pippin, Merry and Legolas. Elijah Wood (Frodo), Sean Astin (Sam), Billy Boyd (Pippin), Dominic Monaghan (Merry), and Orlando Bloom (Legolas) nevertheless played their parts, arriving in a limousine to the squeal of an overcome fan. The four hobbits and one elf cut a dash in tuxes. What they lacked in elevation – the script did call for small folk – they made up for in charisma. "This is cool," Wood said. The stars have just returned to continue filming in New Zealand after a month's break. "I've been like on a plane for like the last 20 hours but I'm all right, I'm good," Wood said.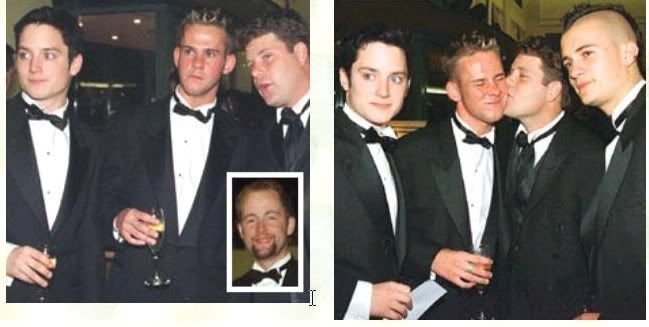 The cameras were not allowed beyond the foyer of the Millennium Hotel and the stars were whisked off to dance the night away. The curious may be able to catch a glimpse of the little men on the ski slopes of Queenstown today. "I'm going snowboarding," Wood said. "I'm an inexperienced boarder, I'll probably fall a lot. "I've only done it once."
Certainly the Millennium Hotel rose to the glittering $140-a-head occasion, providing a red carpet, lashings of bubbly, nibbles and music by The Roger Fox Big Band.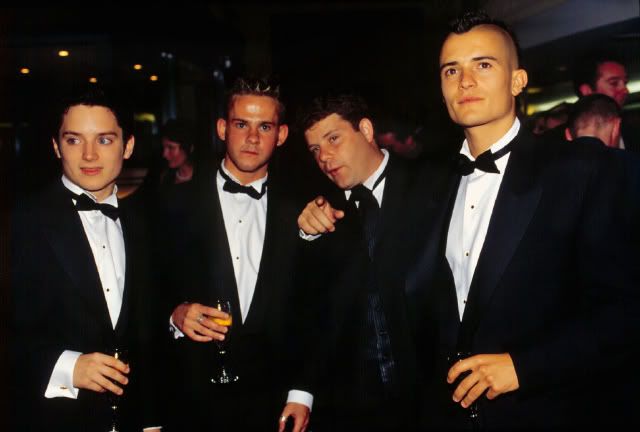 Meanwhile, a company director appeared in court yesterday charged with stealing items valued at more than $1500 from the set of the film trilogy. The 39-year-old man was remanded on bail until August 4. He was charged with stealing two The Lord of the Rings scripts valued at more than $300, 12 VHS tapes at more than $300, prop swords at a total of $600, and various colour photographs of approved costume and armour conceptual designs valued at more than $300. The offences were said to have occurred between July 19, 1999, and June 24 this year. (Southland Times)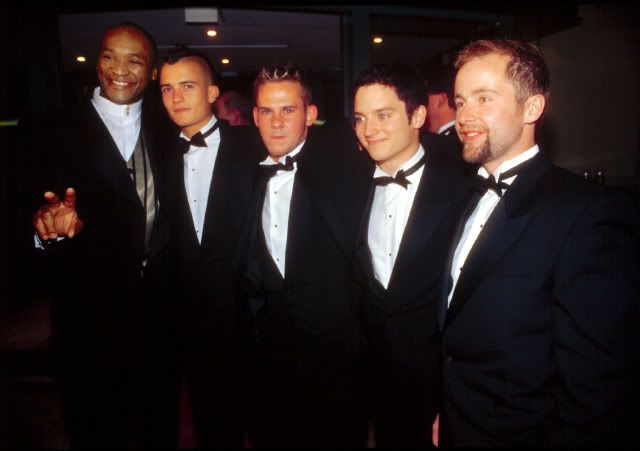 It Was the Stuff Teenage Dreams are Made of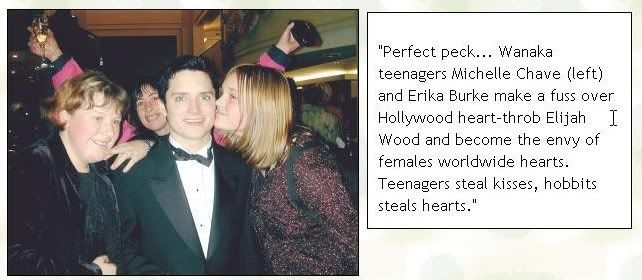 Wanaka teenagers Michelle Chave (14) and Erika Burke (15) became the envy of females worldwide last night when they stole kisses from Hollywood heart-throb Elijah Wood. After waiting for an hour to catch a glimpse of the Lord of the Rings star - a guest of honour at the Queenstown Winter Festival Hollywood Ball - they lived their dreams and pecked the star's cheeks. Wood (18) was happy to meet the pair. He made their night, week, month and year.
"I can't describe it, it's just like, aahhhhh," said a flushed Michelle. "He is a total babe, the biggest babe in babe history. This is the best day of my life. It will be better than my wedding . . . unless I marry Elijah."
Erika was just as thrilled. While stars such as Sean Astin, Billy Boyd, Orlando Bloom and Dominic Monaghan left other ball-goers starstruck, she had eyes only for Elijah.
"I'm all flustered. My head is spinning," she said.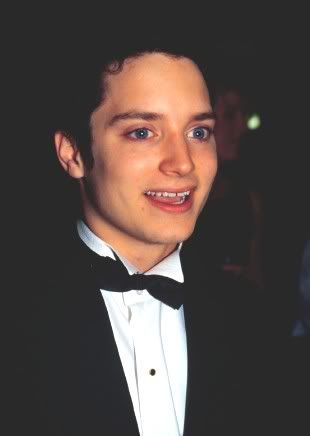 Wood, who plays Frodo Baggins in Peter Jackson's Tolkien trilogy, has starred in films such as The Faculty , Deep Impact and Flipper . He was thrilled to be back in Queenstown after filming there last year and did not mind the teens' attention.

"This is cool. This is such a cool town. The last time we were here was during the floods, so it's nice to be in the town now it has been put back together," he said.
Astin, star of The Goonies and Memphis Belle , was excited to be at the festival and said Queenstown provided the perfect setting for Lord of the Rings . "It's as though Tolkien walked from Invercargill to Auckland and sat down to write this trilogy," he said.
"This film has been the greatest experience of my life." And it was certainly the greatest experience of Michelle and Erika's lives. While the actors were looking forward to filming on Monday, the teens were looking forward to school. "We are going to tell everyone. They are going to be all so jealous," Erica said. (Otago Daily Times)

Lord of the Rings stars hit mall for Sunday lunch - July 24, 2000

CAMERA SHY: Lord of the Rings stars Billy Boyd (Pippin, left) and Elijah Wood (Frodo Baggins) enjoy their lunch in a camera-free zone in the Queenstown Mall yesterday.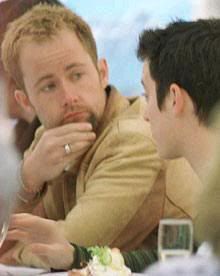 Lunchtime browsers in Queenstown's Mall yesterday had an opportunity to see Lord of the Rings stars tucking into brunch and bubbles, but anyone with a camera was sent packing. The $365 million movie's publicity department was working in overdrive to keep the paparazzi to the far end of the Mall, a public part of the resort. "Sorry, no interviews and no photographs," The Southland Times was told. A handful of women's magazine journalists and photographers sat at a distance, dejected, as Elijah Wood (Frodo Baggins), Billy Boyd (Pippin), Dominic Monaghan (Merry) and Orlando Bloom (Legolas) dined in public within throwing distance. Sean Astin (Sam) was missing from the group. He had gone sightseeing in Queenstown with his wife and three-year-old child. "The boys are just lovely and delighted to be here, very open," Air New Zealand Queenstown Winter Festival spokeswoman Alexa Forbes said. But the movie publicist was firm that no one take pictures of the group. The group had enjoyed its time in the resort, Ms Forbes said. It had attended the Jacob's Creek Hollywood Ball on Friday night, when the media had 5 minutes to take pictures of them, and gone snowboarding at Coronet Peak on Saturday, before unexpectedly joining sponsors and members of the public for the American Express Long Brunch yesterday. The five flew out of Queenstown at 1pm for Wellington to continue filming the Tolkien epic after a month-long break.(Southland Times)
On Saturday, 5 August there was an LOTR ball for the cast and crew. No press were invited but here are a couple of snippets from a report by someone who was lucky enough to get an invite:
"As my eyes adjusted to the darkness I could see girls dressed in fabulous period costumes and jewllery (costume department personell)and most of the others adorned in an astortment of black tie, evening wear and fancy dress. Then a hush fell over the crowd(well it should have) and in came the stars who dived straight into it all with an unrestrained amount of glee.

There was Orlando Bloom decked out in a white suit, dark eye makeup and his now trademark mohawk, getting down with his bad self alongside an incongrouosly short Darth Vader and a dancing ape enjoying his champagne through a straw. Presently there came sailing through the crowd of the now much amused production crew the green sequined head of a large bug-eyed creature which later revealed itself to be attached to Dominic Monaghan who could easily have gone home with the best mask award if only there had been one.

But as most of you will know the person everyone wanted to meet was Elijah Wood, and it was easy to pick where in the crowd he was as crowds of young women formed and reformed wherever he went. And it was not hard to see why as he introduced himself to a young lady across the room by bowing and kissing her hand, needless to say she was suitably impressed by his gentlemanly manner.

As the night wore on the rather unhelpfull waiters continued to refill my glass with wine whenever it even looked like getting close to half empty and somehow I ended up dancing the night away with the likes of Alan Lee and Viggo Mortenson dressed as Zorro (I believe I can die happy now).
By about 4 O'clock everyone had danced with everyone else and most of the helium balloons had been sucked empty. Almost everyone in the room had been up since 5.30 the previous morning and the fact that they were (mostly) still standing was testament to the long hours they must be used to working.

I left at about 4.30 in the morning and had danced and talked with almost everyone there. I won't tell you too much because the people were relaxing, enjoying themselves away from the public eye, what I will do is answer the question "what is it like to party with the stars?"
Fantastic-they know how to have a great time,how to be real gentlemen and had no problems talking and dancing with anyone and everyone there(well they danced with me didn't they?)"
(Altariel, theonering.net)
"He is a total babe, the biggest babe in babe history!!" :D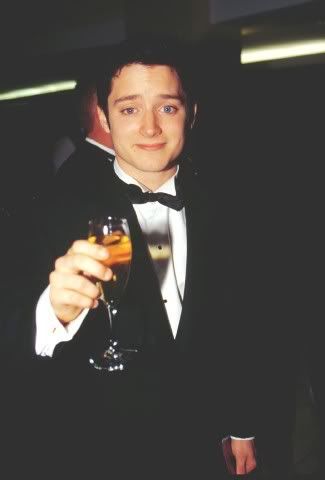 TO BE CONTINUED
LINK TO PREVIOUS CHAPTERS ~
http://not-alone.livejournal.com/tag/a+journey+with+frodo
comments: Leave a comment