| | |
| --- | --- |
| Tags: | a journey with frodo |
| Current Music: | Many Meetings ~ FOTR Soundtrack |
| Security: | |
| Subject: | A Journey With Frodo ~ Ch : 9 ~ Rendezvous in Rivendell |
| Time: | 01:47 pm |
| Current Mood: | hopeful |
I have now completed Chapter 9 of 'A Journey With Frodo'. Because I am so chronologically-obsessed, at least where this project is concerned, I would love to be able to set everything out exactly as it happened, right down to the last minute. But, as we know, for various reasons many scenes in the films were shot out of sequence. In some cases part of a scene would be shot at one time but it would not be completed until weeks, even months, later, and I doubt if even the film-makers themselves would be certain of exactly when every scene was shot. So, for the purpose of this document … project … thing, I will now cover the locations as they occur in the actual films.
Hope you enjoy this latest offering: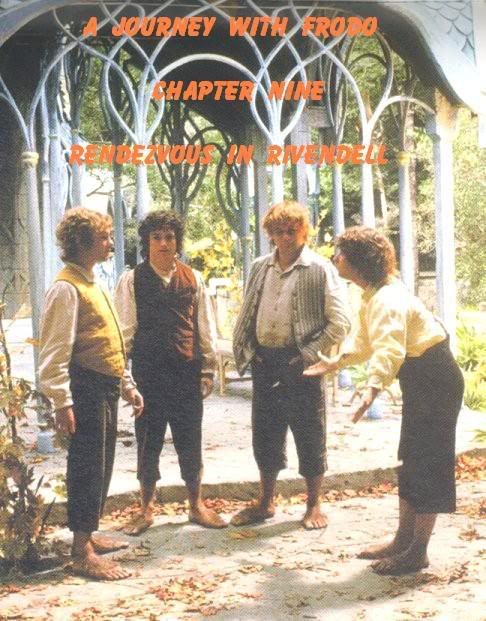 This chapter will concentrate mainly on filming on the Rivendell set but I have started with a few scenes which occurred prior to that time.
Back to happy times at The Green Dragon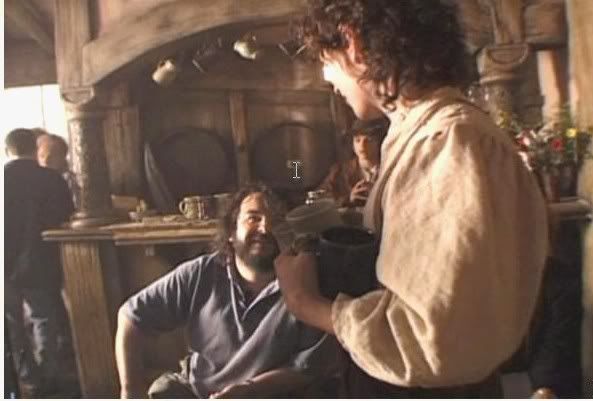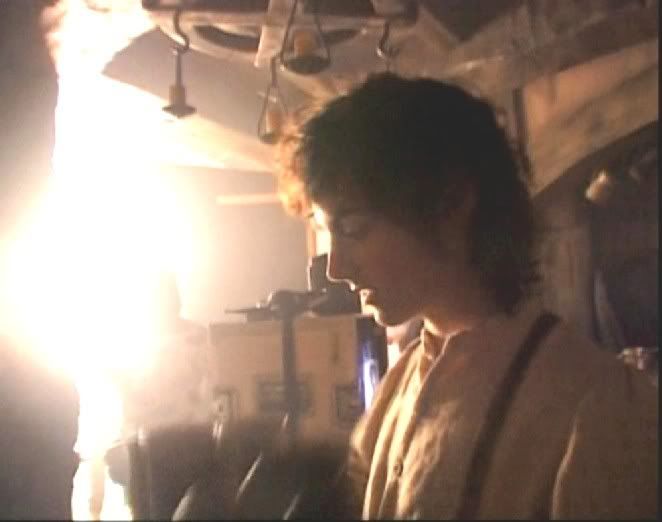 Frodo gets them in!!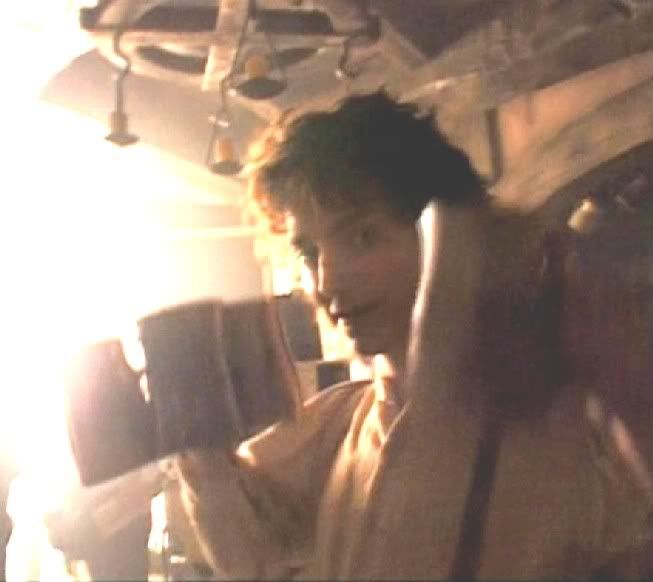 * * * * *
"It's quite funny watching the dailies 'cos you occasionally see the actors sort of stopping in their tracks to allow a 757 to blast off the runway which is literally 50 feet away - then they wait for the sound and then just carry on."
(PJ – dvd)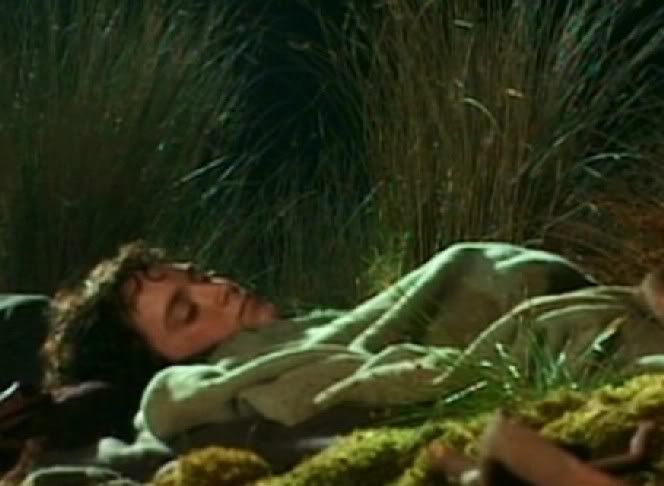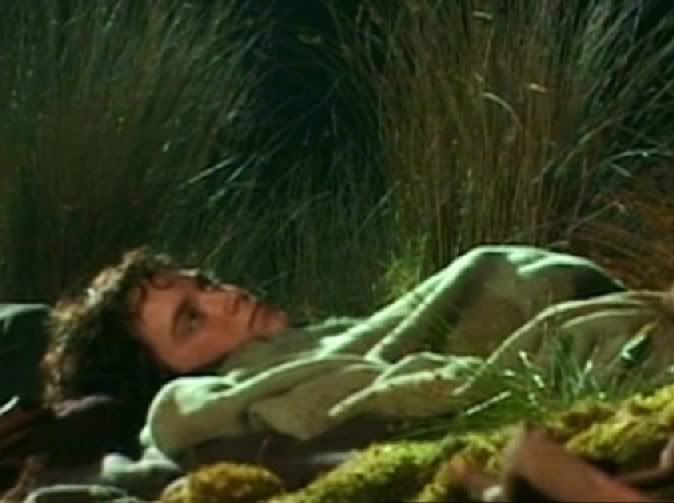 Same scene, different take - it's the scene where Frodo and Sam are camping out (probably their first night) - and they can't get comfy!! Apparently the film-makers experimented with having various animals - eg a deer, a rabbit - coming up and sniffing at them but then this idea was abandoned.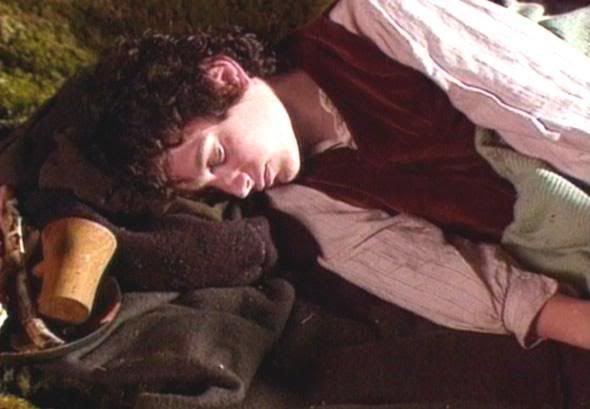 * * * * *
I keep the following sequence of pics in a folder labelled 'Yawn' because I've never been able to work out exactly which scene was being filmed at this time. However, I do believe it's pre-Rivendell and could possibly have been the scene which was abandoned due to the Queenstown floods. One thing is certain - Elijah was
very
tired at this point - probably didn't get to bed early enough the night before.
I defy anyone to look at these pics and NOT yawn!!
"I'm so tired - and I think I'm gonna yawn"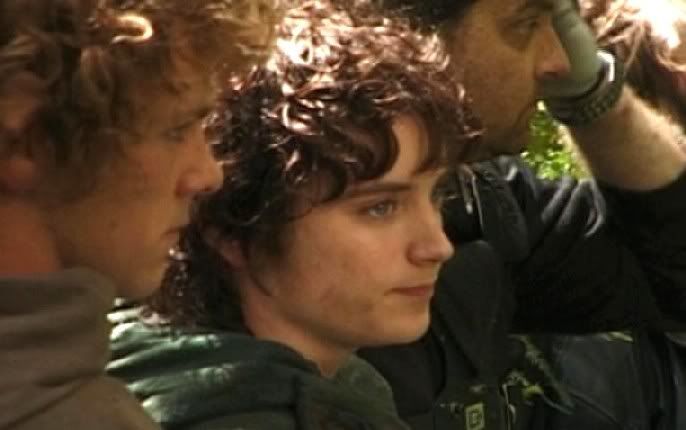 "Yep, here it comes"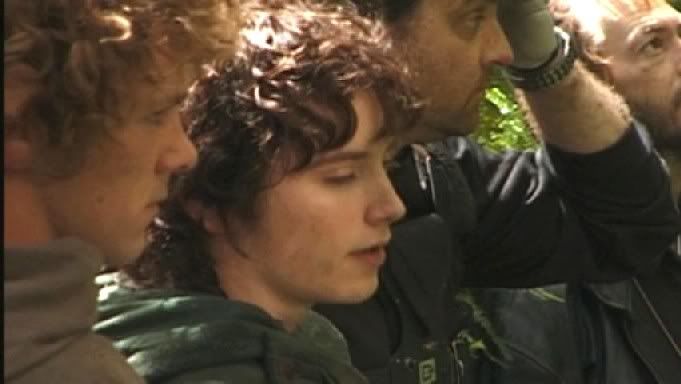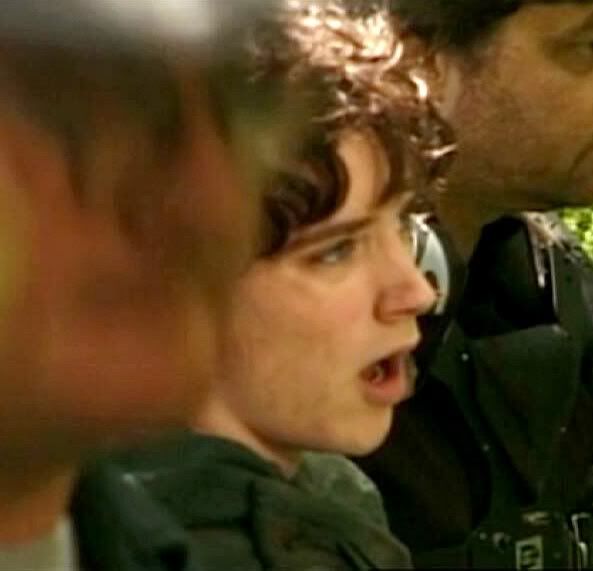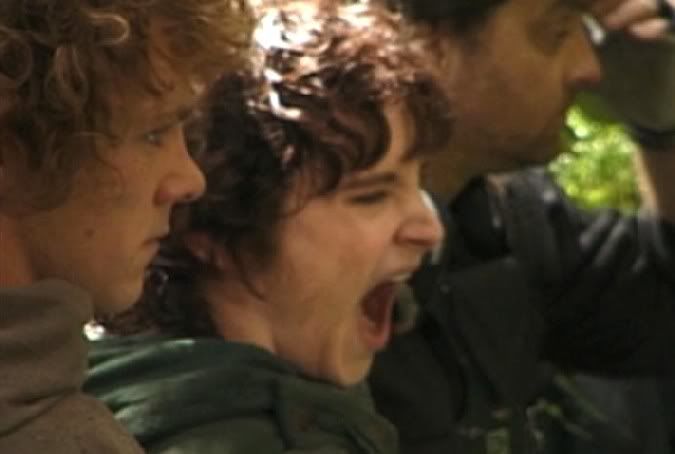 "Perhaps no-one noticed"



"But I'm still sooo tired"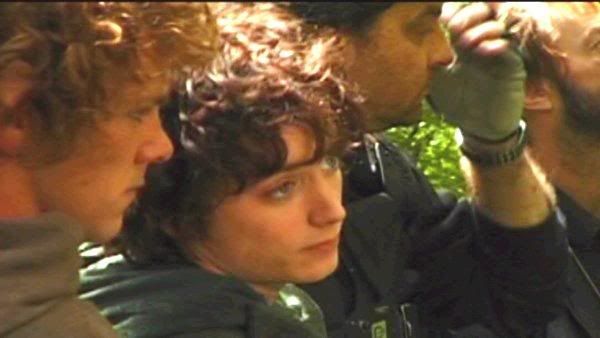 "Even Elijah, with all his youthful energy, needed to rest sometimes"
(Viggo – Premiere)
This pic, taken by Viggo, is one of my favourite behind-the-scenes shots – I believe it was taken in the bedroom of one of PJ's kids: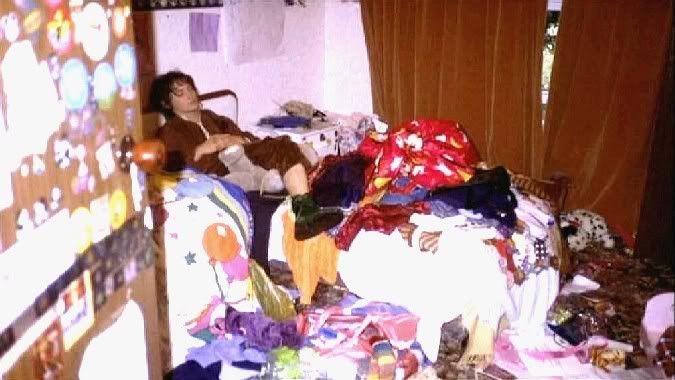 He looks so blissfully content – as if he's having a really lovely dream:)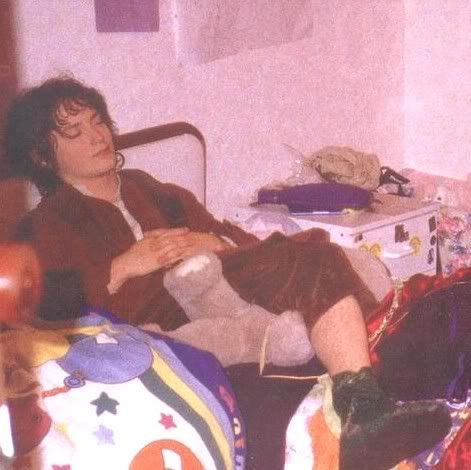 I wonder if Elijah managed to take 40 winks during the bed scene at Rivendell – I know PJ did!! Apparently he lay on Frodo's bed, fell deeply asleep and stayed there for a couple of hours. No-one liked to disturb him!!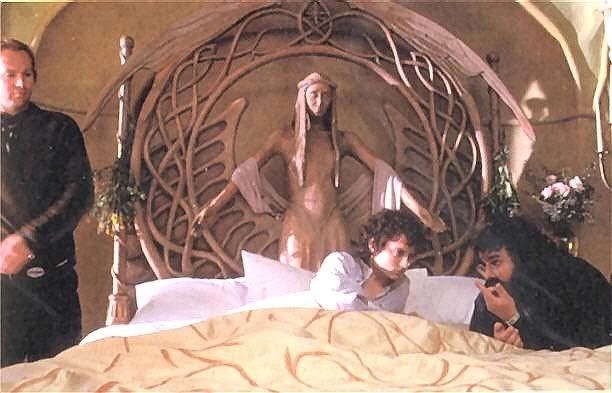 "To the north sits an utterly beautiful open-air bedroom, with elaborately carved furniture. Frodo awakens here, under the outstretched arms of an Elven woman carved into the bed's headboard (Freud would have a field day)."
(Eonline)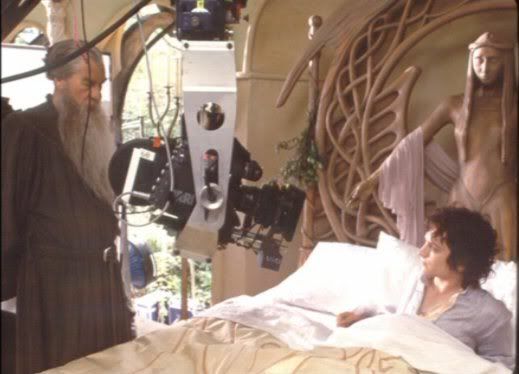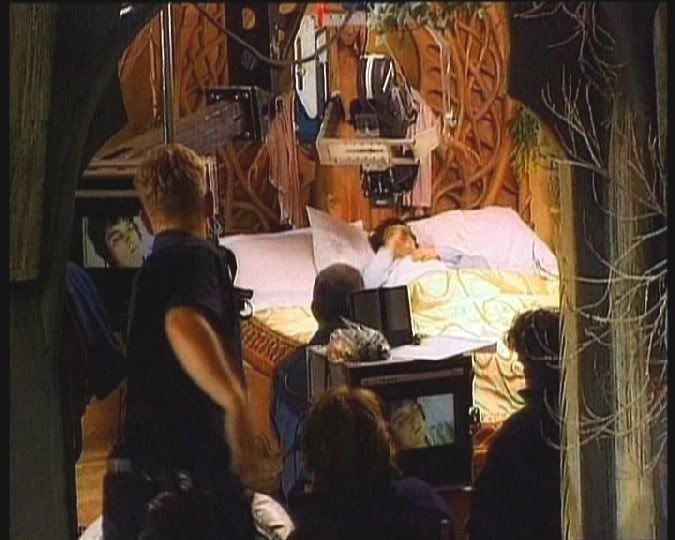 And this is the actual spot in Kaitoke National Park where that bedroom was erected. It is a beautiful, tranquil place - it was quite easy to imagine wee Frodo lying there in that beautiful room, but oh - how I wish it had still been there in reality. (And wee Frodo!!)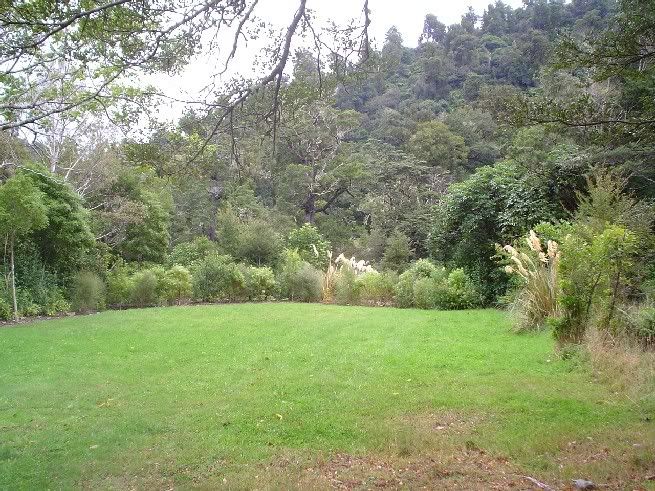 "I just remember stepping onto the set at Rivendell and seeing it all come to life – extremely beautiful. They speak of the passion of the flm-maker and everyone else involved – it's in those little details."
(Elijah ~ Passage to Middle Earth)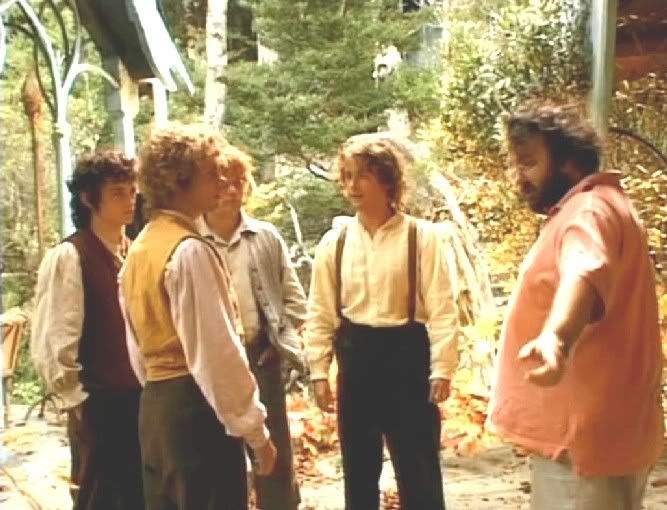 Beautiful Rivendell - I want to live in Hobbiton but I'd take my holidays in Rivendell!!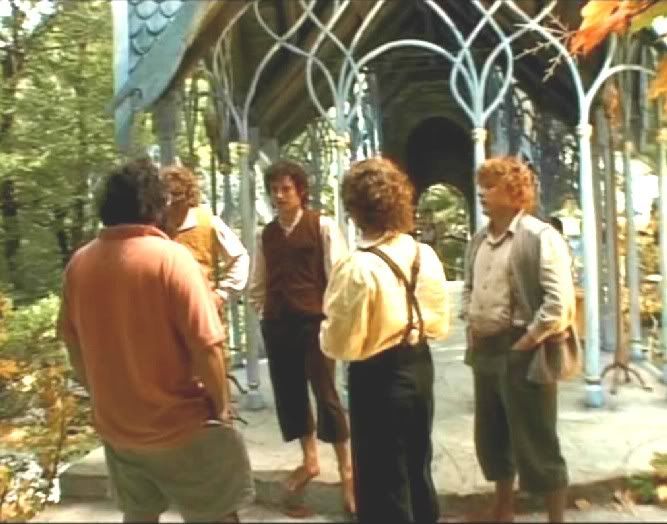 This bit of the reunion hug didn't appear in the film. Although I love that scene, there is also something that worries me about it. They're all hugging Frodo really hard and not being careful of that poor, wounded shoulder!!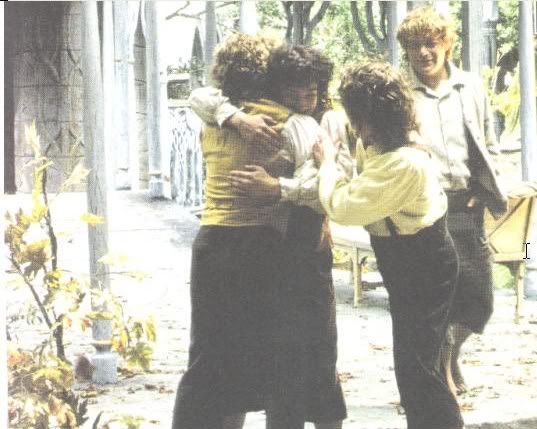 Frodo and Sam take a stroll round Rivendell but all we got to see of this in the film was a couple of seconds in a close-up shot. Thank goodness for the dvd extras!!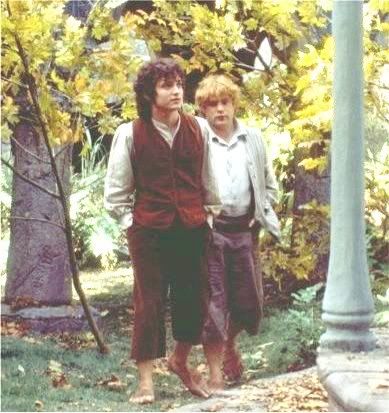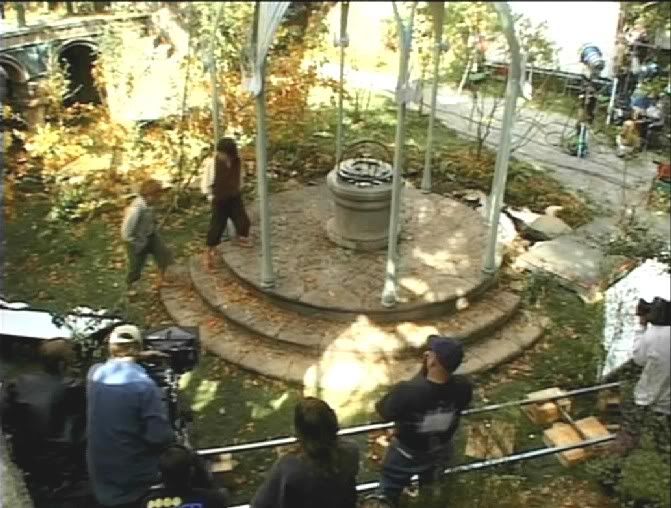 "It was incredible to see this amazing environment with which we weren't
familiar. It was great, because this was supposed to be all new to the
hobbits as well - so we could easily convey those kind of emotions, because
it really was quite different and beautiful."
(Elijah - dvd)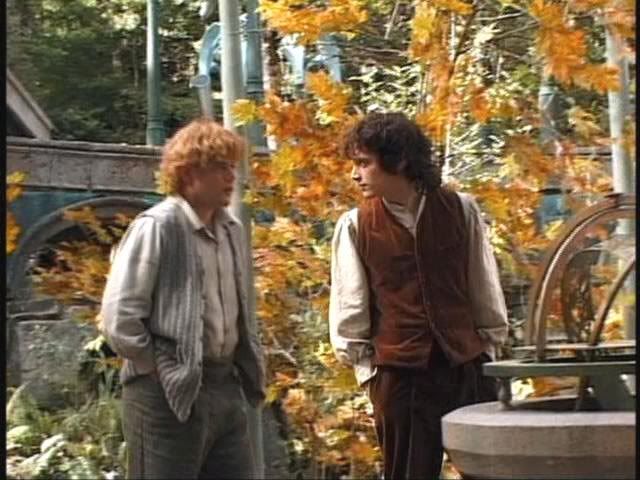 "By the time we got ready to film the sequences at Rivendell, we had been through a whole lot already and so to all of a sudden be able to walk onto a set that is this paradise, this Garden of Eden, was a really wonderful escape and a welcome change from what we had been filming before. For Frodo, Sam, Merry and Pippin and the rest of the Fellowship, it was almost as if no acting was really required: you entered this tranquil, lush, beautiful environment and simply created this feeling of peace within yourself."
(Sean - dvd)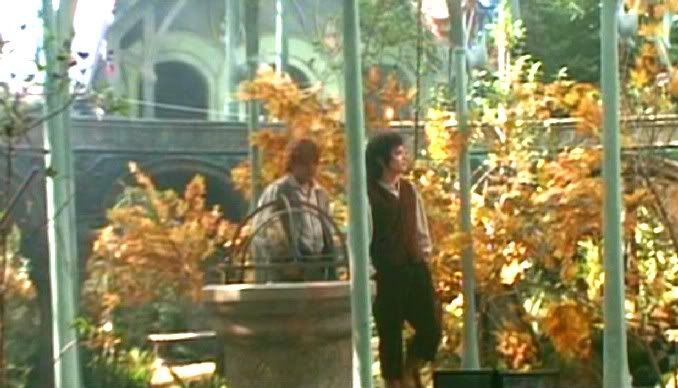 Aha!! They've found ... something:)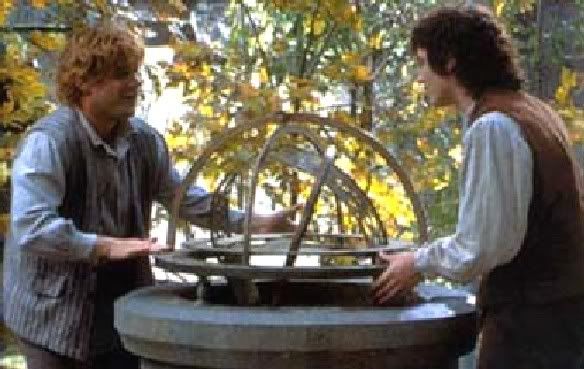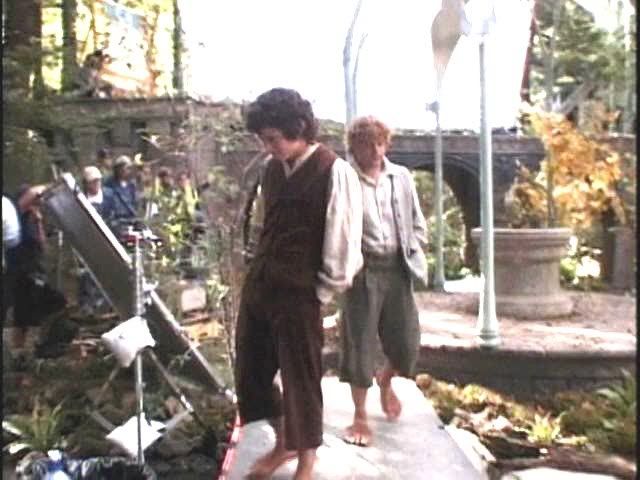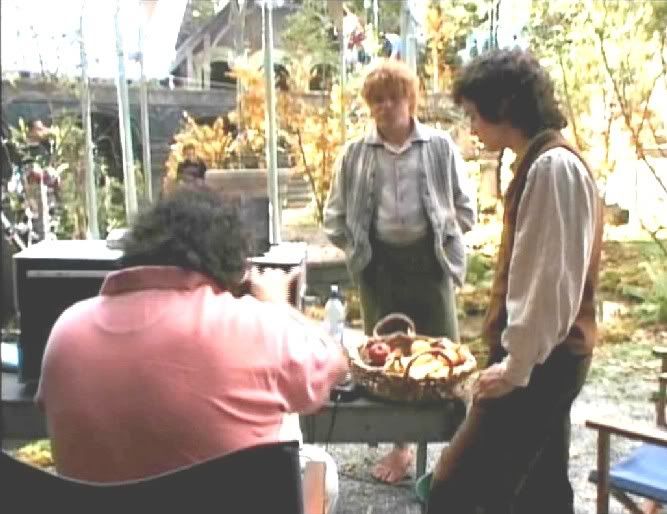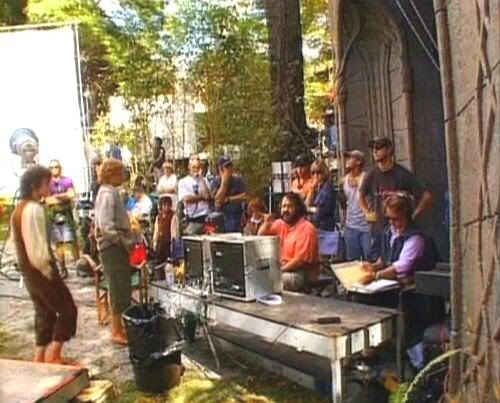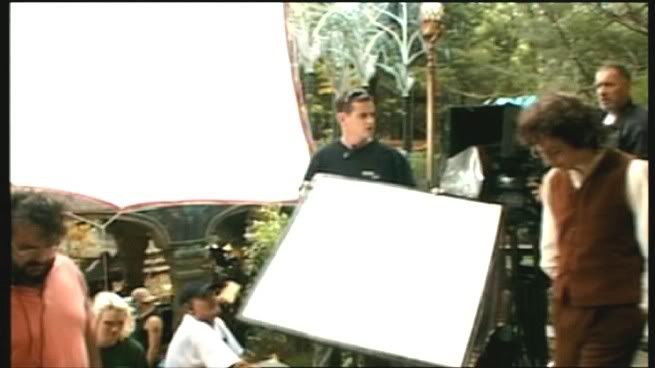 Time for some more dialect coaching from Andrew Jack: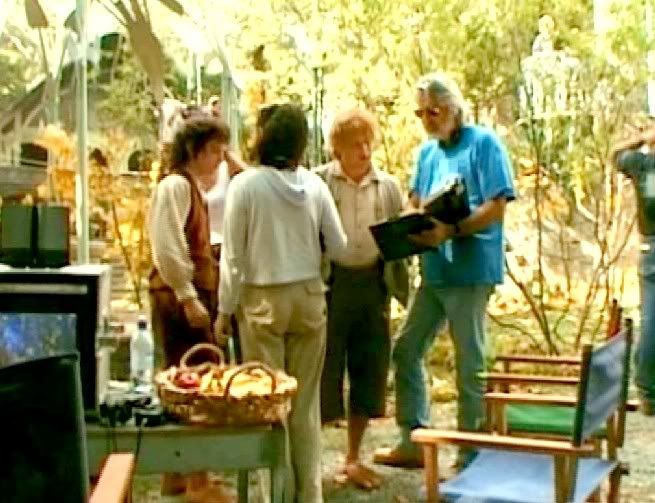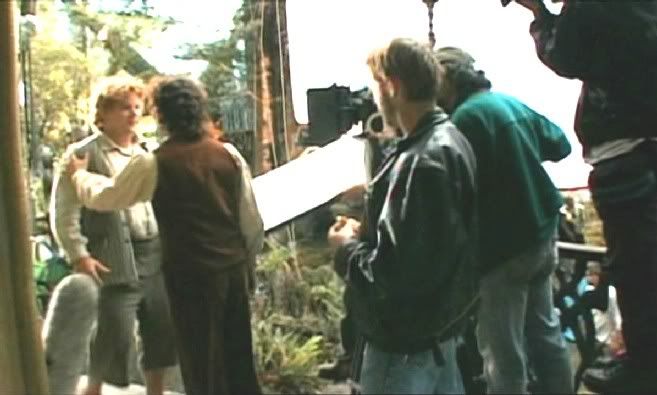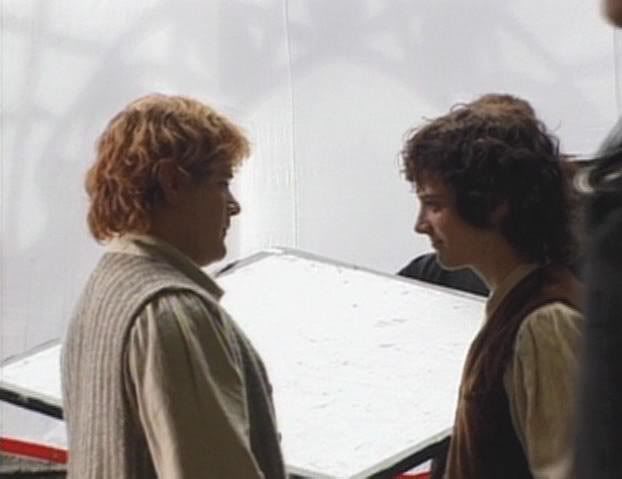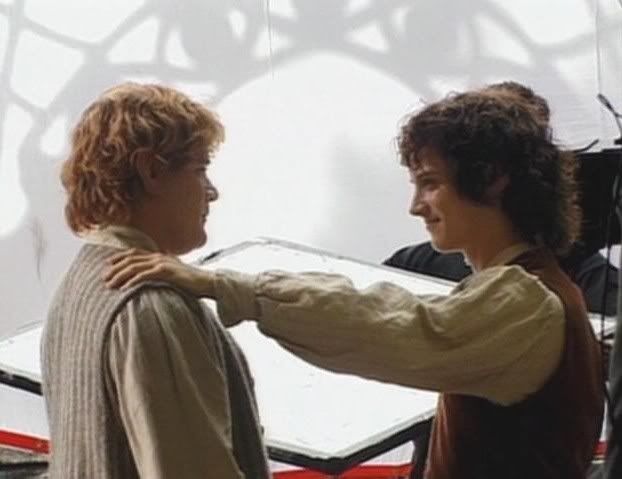 I wonder what they were saying here. Suppose we'll never know:(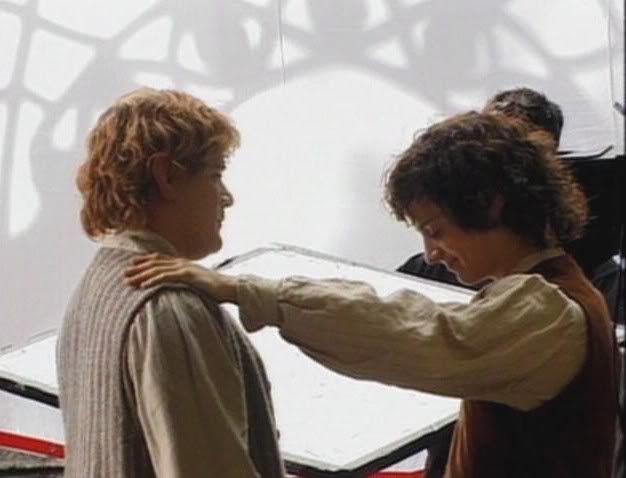 Five wee hobbits!!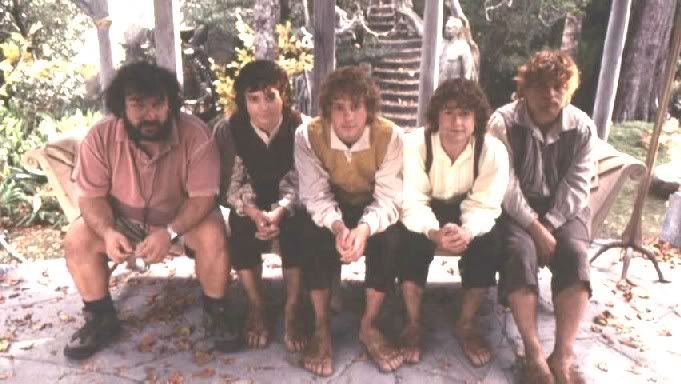 There had been some problem - with the lighting, I think - which meant some waiting around. I'm sure it was at times like these that they all got to know each other really well.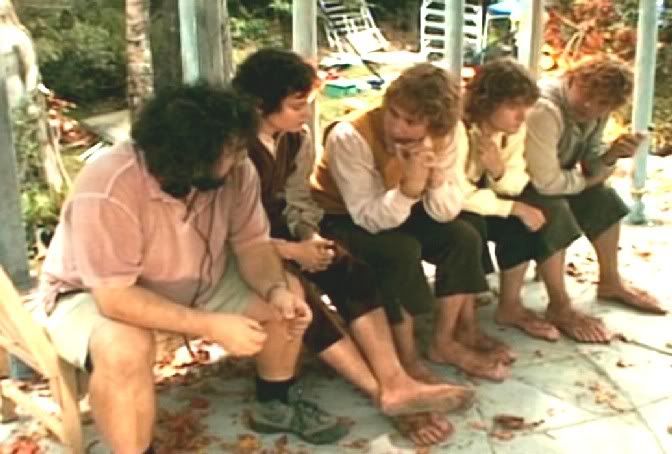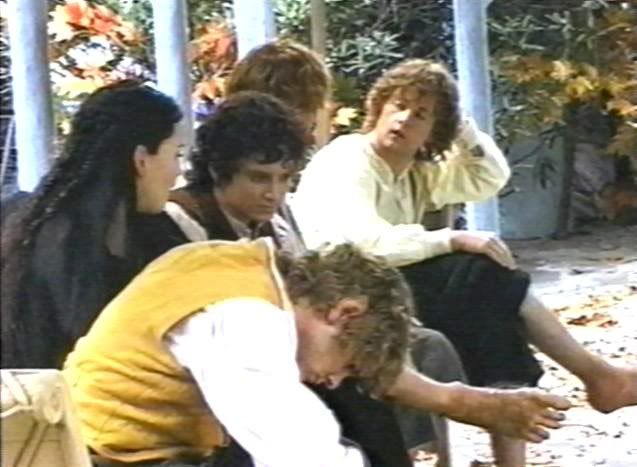 I wonder what was going on here - has Billy put something down Elijah's back or is he after that Ring?!!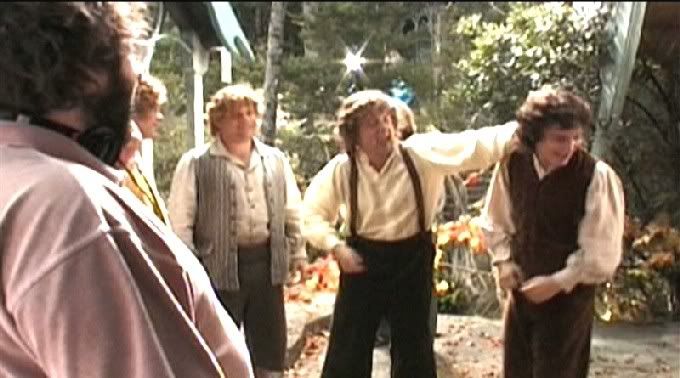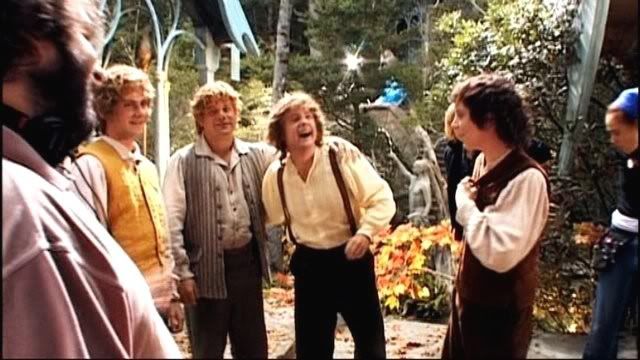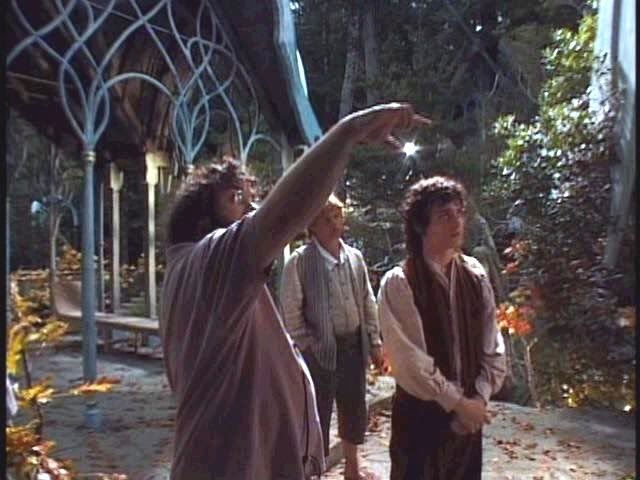 There were no scenes of the hobbits and Arwen together at Rivendell in the film. I want a dvd of all these cut scenes!!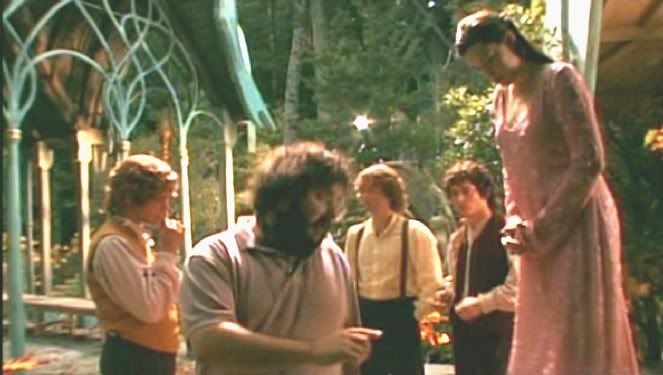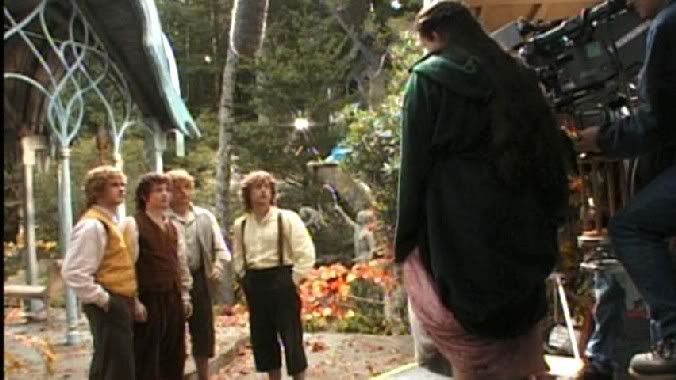 Viewing the results of their work: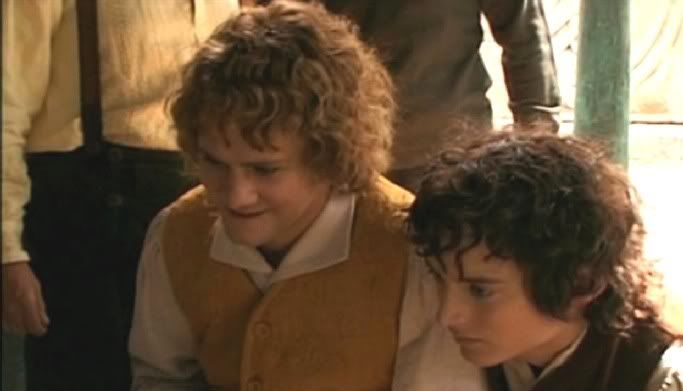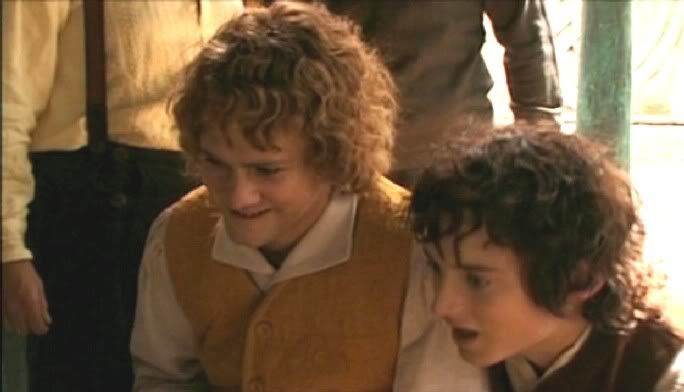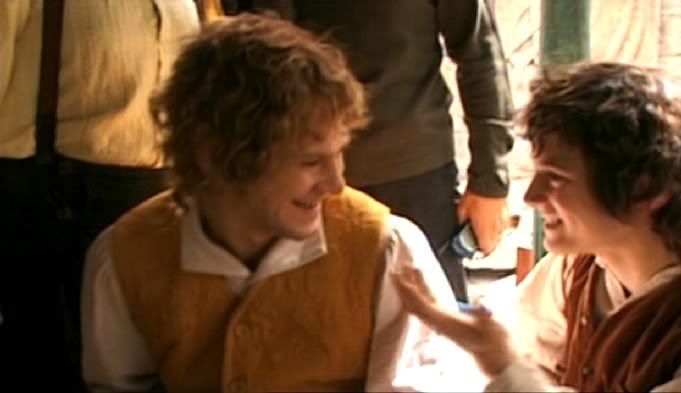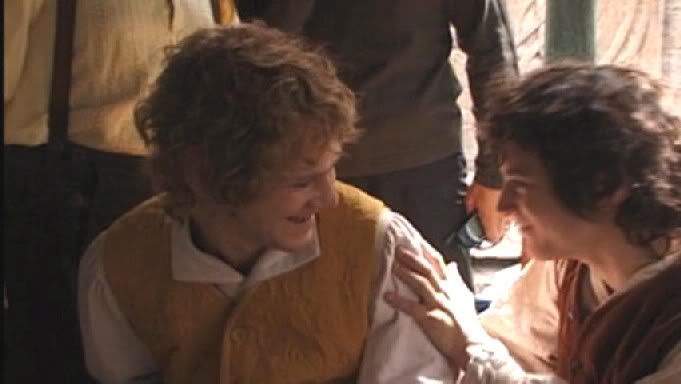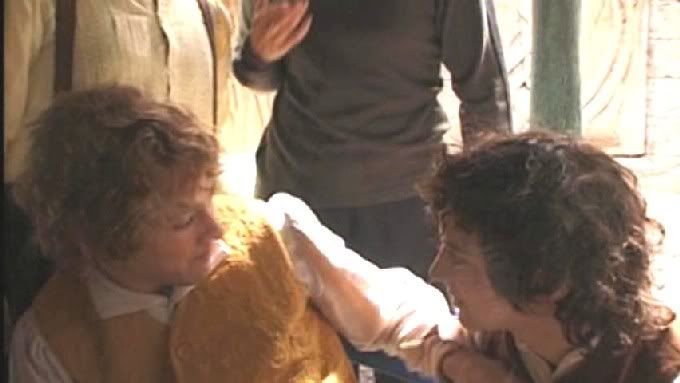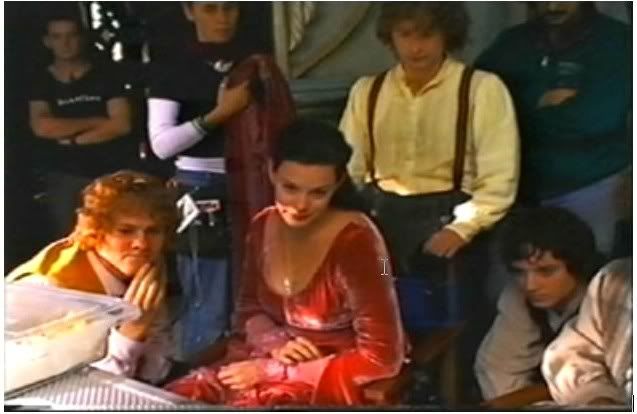 The Council of Elrond ...
"It dominates most of my memory because the council scene took about - my God, I think it took the best part of five days!! It was probably the longest sequence in the movie which is kind of shocking 'cos I think there are scenes that seem a little bit more complicated than that but just pure scenes that was one of the longest."
(Elijah - dvd)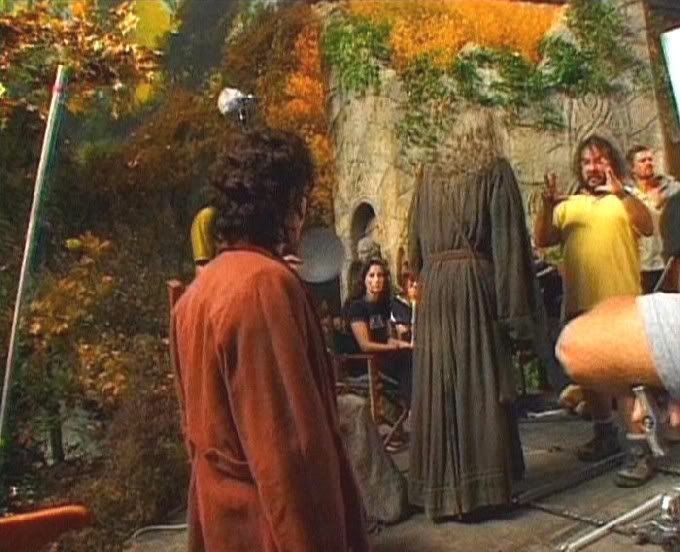 At least on this day Elijah didn't have to bother with feet, costume, etc!!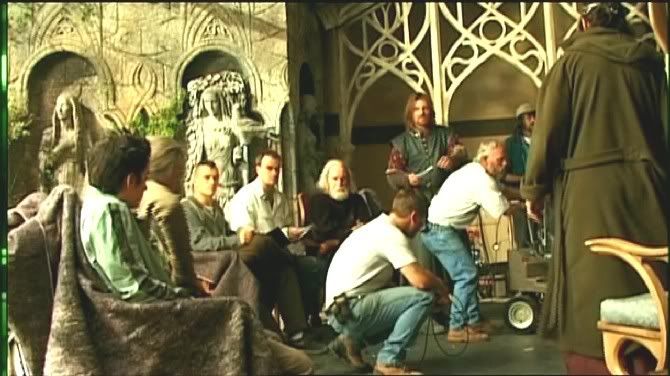 One of many, many takes during the forging of the Fellowship:
I recently posted more of these for a Froday picspam - they can be found here:
http://not-alone.livejournal.com/64978.html#cutid1
Blue screen was used for this scene at the end of the Council: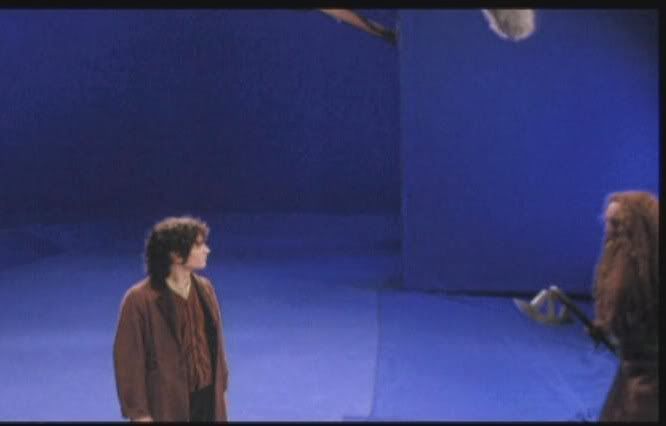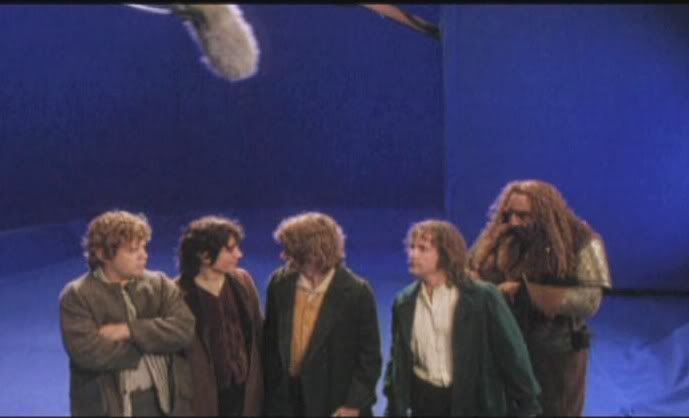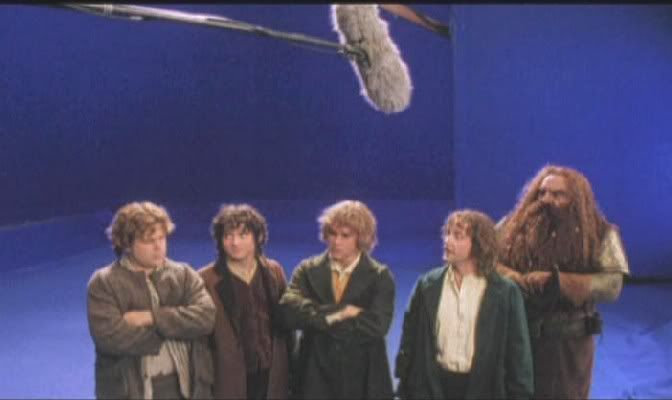 The leaving of Rivendell. Note the false Boromir!!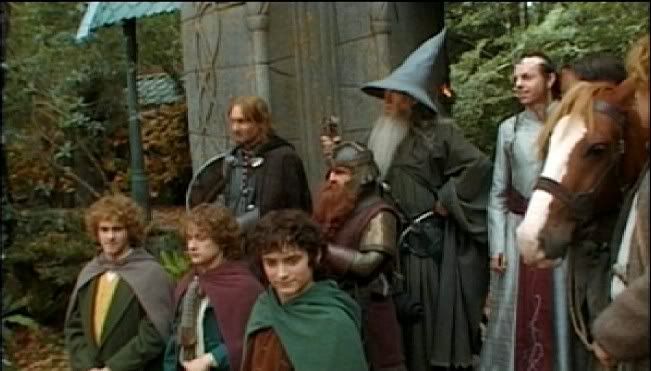 Elijah worships The One PJ ...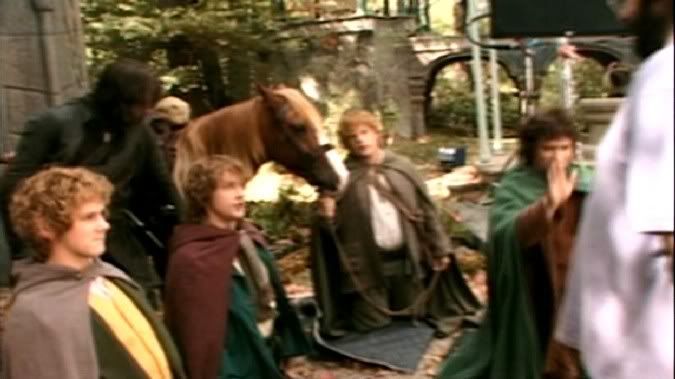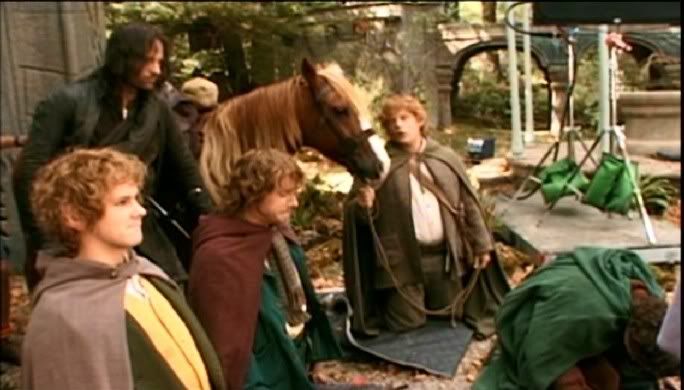 All that working on their knees must be very tiring: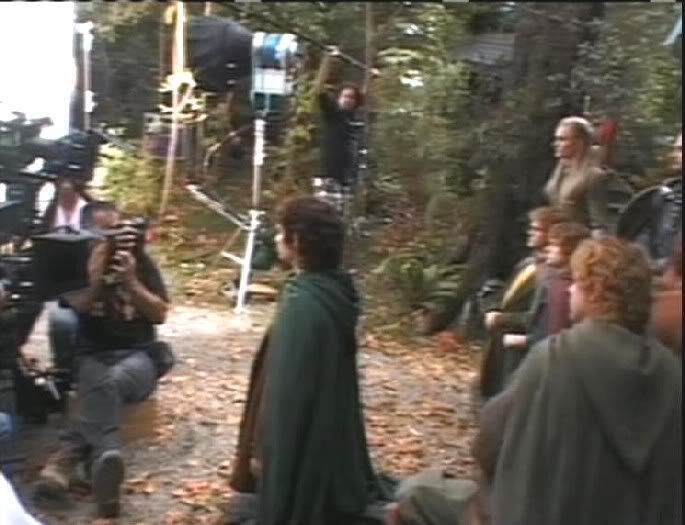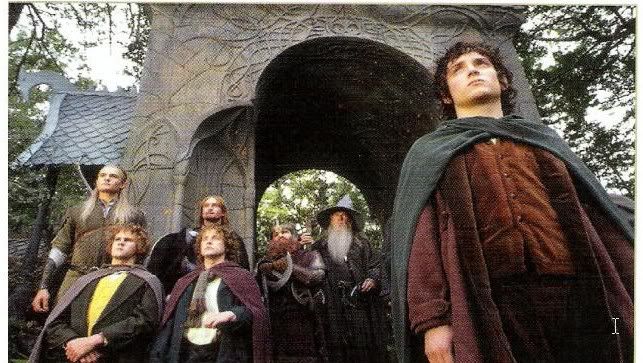 But now the hobbits have legs and the real Boromir is back!!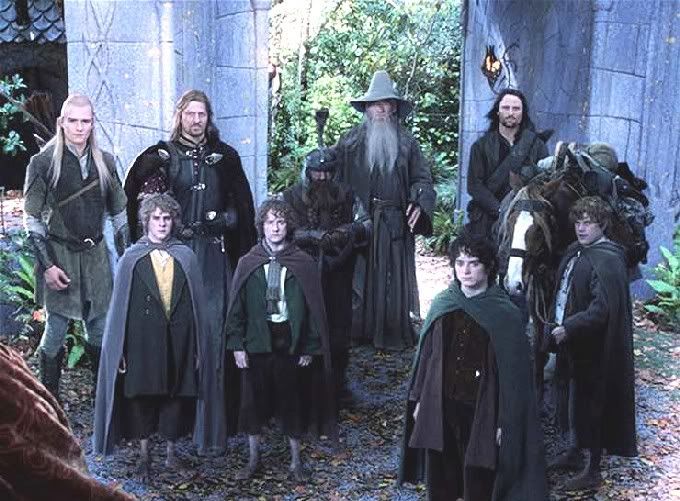 * * * * *
"We went in thinking we'd do digital grade on forty percent of the film, but we ended up doing a grade on nearly eighty percent. The funny thing is that people are always asking me if we did something to Elijah Wood's eyes to make them so blue - but that's the one thing we didn't touch at all!"
(Peter Jackson - Cinefex)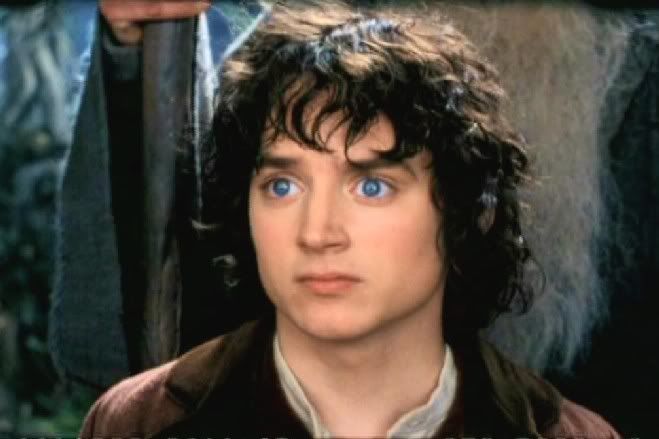 TO BE CONTINUEDLink to previous chapters:
http://not-alone.livejournal.com/tag/a+journey+with+frodo
comments: Leave a comment