| | |
| --- | --- |
| Tags: | a journey with frodo |
| Security: | |
| Subject: | A Journey With Frodo ~ Ch: 10 ~ "MORIA AND BEYOND" |
| Time: | 09:05 pm |
| Current Mood: | rushed |
Phew!! I've been rushing to get this posted before we go away on Tuesday for a short holiday in Jersey. I've had a bit of trouble with the formatting on this entry - from a certain point everything is in italics!! I'll investigate further tomorrow. This chapter brings us to the end of principal filming on FOTR - hope you enjoy it:)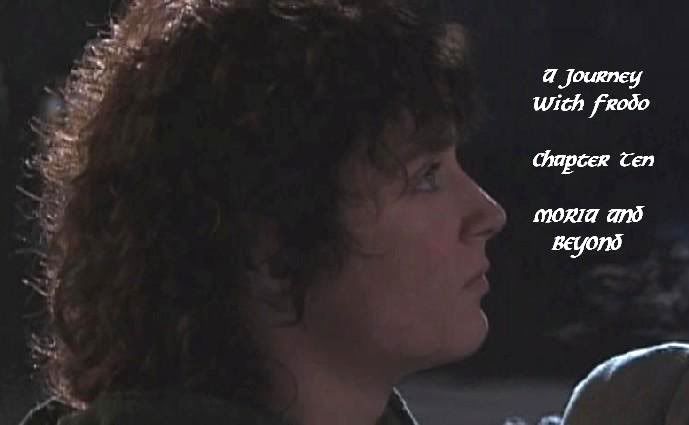 The cast and crew had to be transported to some of the locations by helicopter, and one of these was Caradhras. PJ mentions on the dvd that they had to allow for all eventualities, such as being stuck overnight on a mountain if bad weather prevented the helicopters from taking off, so they had to take provisions, tents, etc. As usual, Elijah relished every new experience, but he did find flying through cloud a bit nerve-wracking.
I think it took 10 or 15 minutes to get there and I remember we flew through cloud which freaked me out 'cos we couldn't see anything - I mean I was normally fine in helicopters and I was always really excited in helicopters - but it was actually quite turbulent - the weather wasn't perfect.
(Elijah, DVD)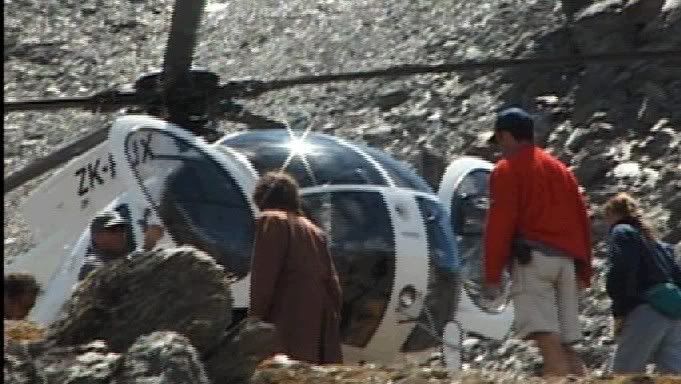 Q:
What's it like physically, going by helicopter to locations, etc? Have you done this before?
EW:
There's so many elements to what we do every day. We fly to locations in helicopters, to the tops of mountains and to remote locations. It's overwhelming, but absolutely brilliant. It's such an adventure. It actually feels in some ways like the adventure that's taking place in the film, because we're working hard and we're going everywhere and there's just all these magical, magical elements to what we're doing. It's really incredible and it's an experience of a lifetime. I'll never have another experience like this. It's truly wonderful.
(On-set interview – lordoftherings.net)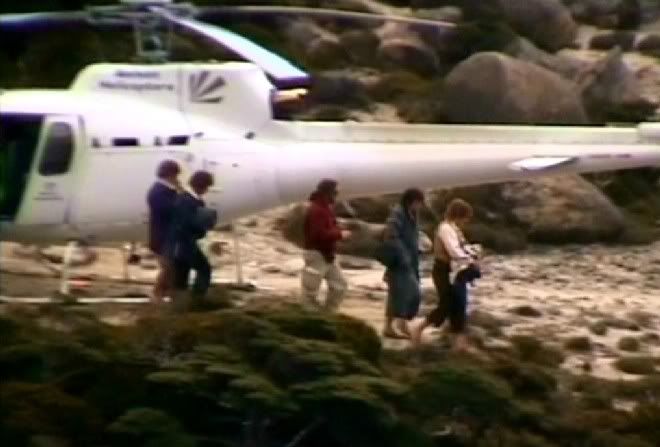 The following article and pic were found by
chickenlegs11
in the Melbourne newspaper Herald-Sun.
"Heliworks Queenstown Helicopters tours include the Misty Mountains, Amon Hen (where the Fellowship broke) and the River Anduin. Clients pay standard industry rates, from $295 for 45 minutes up to $1485 for 3 ½ hours per person.

Bill Reid was chief pilot for the movie's aerial shots around Nelson.

When did he realise how big The Lord of the Rings was?

"I guess when they rang up and said they wanted six helicopters," he says recalling that a shoot at Mount Owen (the Mines of Moria) cost about $500,000 for about 12 seconds' screen time.

"It was a lot of fun. On a lot of other movies we've worked on (including The Navigator) it's been a pain in the arse…. they're all prima donnas."

Bill had a ball with the four hobbit actors: Elijah Wood (Frodo), Sean Astin (Sam), Billy Boyd (Pippin) and Dominic Monaghan (Merry).

"They're all absolutely crazy, especially Sean Astin – he's always cracking jokes," he says. [I agree with CL here - I think he got the names mixed up!!]

"I'd been briefed by their minders to really look after them. If we'd had an accident and hurt them, we'd have been sued for millions and millions of dollars. But as soon as I'd get off the ground, they'd say 'C'mon Bill, c'mon Bill – throw it around! Loop it! Roll it! Do some aerobatics!'"
PRECIOUS CARGO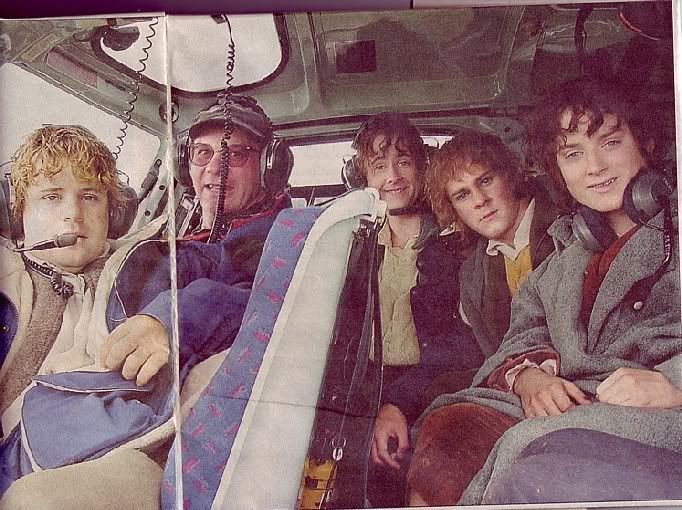 They've landed safely, so now it's down to work. Hmmm ... Frodo looks good in shades!!
I presume Sean is testing how secure the wig is for when he ruffles Frodo's hair.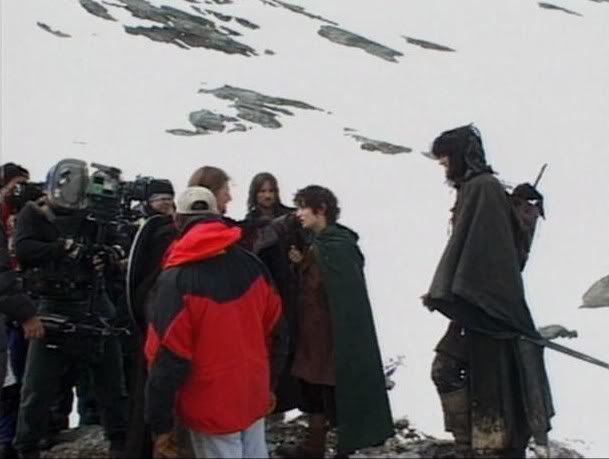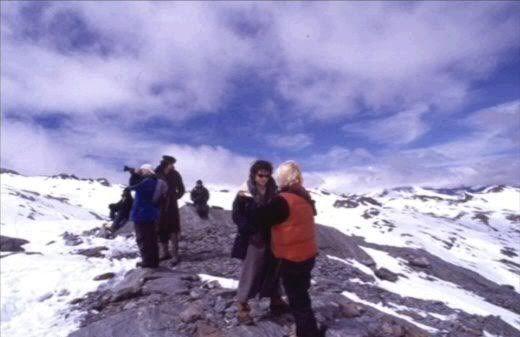 Elijah finds time for a spot of reading.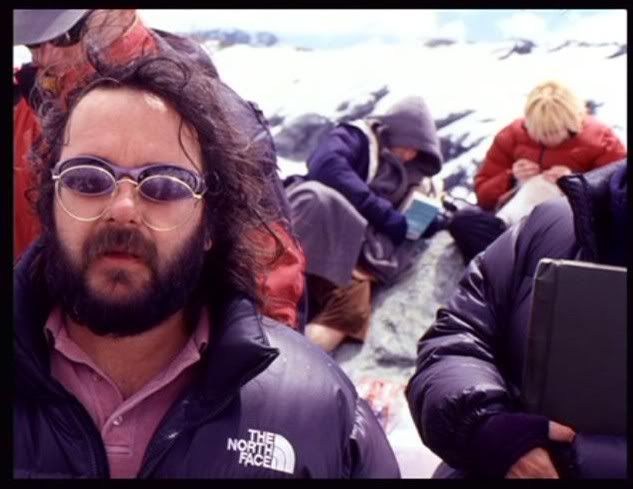 Find Frodo!!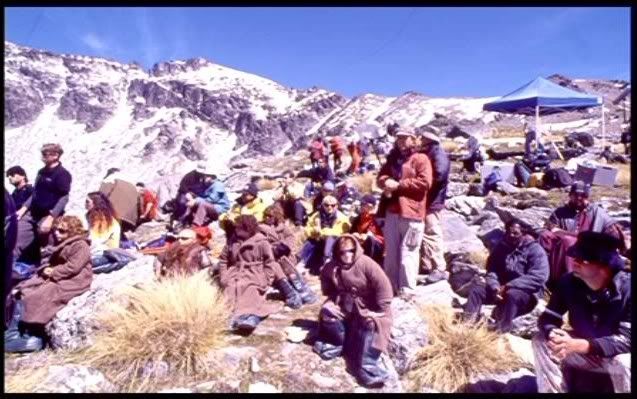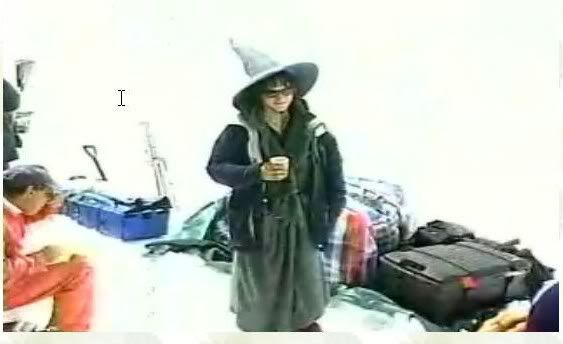 Elijah and Orli have found something strange on the mountain ...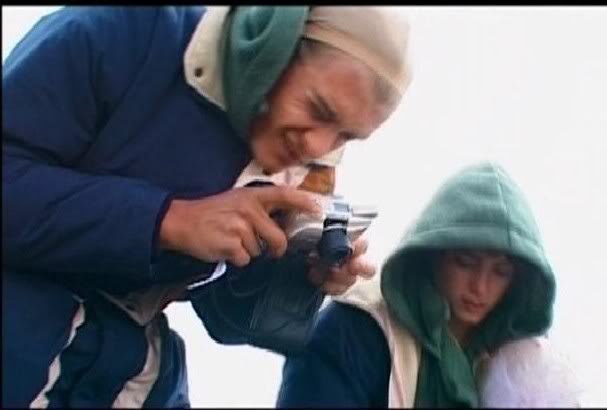 I'm going to take mine with me when I leave.
(Elijah SE DVD)
But in the end, he wasn't able to:
"Q: For certain shots, four foot stand-ins were used wearing masks of the actors. How surreal was that?
EW: It was very surreal. I've never worked with a double that was to be smaller than me ..
Q: And wearing a mask of your face!!
EW: That was pretty strange as well.
Q: How accurate was it?
EW: It was pretty accurate! It was kind of ghostly. But it was also quite cool as well, because we all got to stand back and watch people of real Hobbit size walk around and, essentially, they were Hobbits. So, for us, it was kind of a joy to watch them go through our scenes in the wider shots, because they were the real Hobbits and, in some ways, I think we were the scale doubles."
Q: But just to see someone looking pretty much like you .. what's in your head?

EW: There were a lot of strange, new experiences for all of us in this movie, so it was just one of the many after a while. But it was certainly bizarre, especially to have a picture taken with me and my smaller self. I remember one day I noticed this kind of bin – I opened it up – there were all of the Hobbit faces. And we took a picture of it, because it was so bizarre! It looked so eerie because nothing was filling the faces. They were just these blank expressions.
Q: Sounds like one of those snuff movies – Hannibal discards or something. Did you keep your skin?
EW: I didn't, actually. I don't think they had enough for anyone to steal a copy.
(Box Office)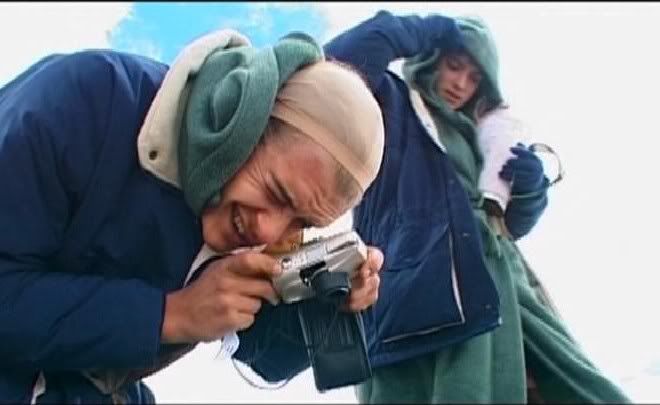 "I remember being up at the Pass of Caradhras and we're all trapped by this snowstorm. There's a blizzard and an avalanche and we're all filming this scene and there was Ian McKellen and Sean Bean and Viggo and Elijah and me and we were working with all this fake snow, breathing it in and choking on it. And then we just had this fake snowball fight. I took a mental snapshot. I thought: 'Here is a group of people whose work is admired the world over and we're all as giddy as school children.'Looking at Astin, this scenario isn't difficult to imagine. He exudes a boyish eagerness as he darts through memories of his time on the film and his fellow actors. He comments that Jackson did more than choose a cast that would do justice to the books, he chose a group of people that would mesh well."
(Pavement)
Such an angelic face, but there's a snowball clutched eagerly in each hand!!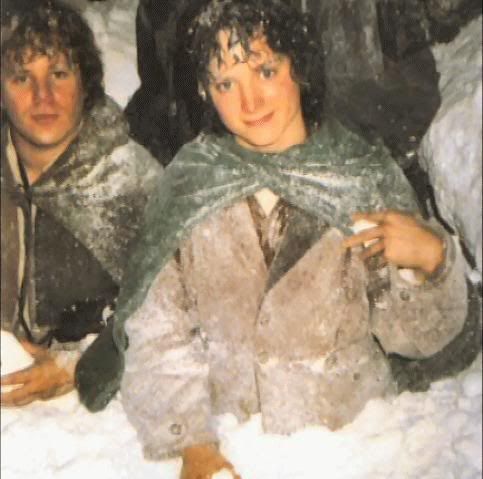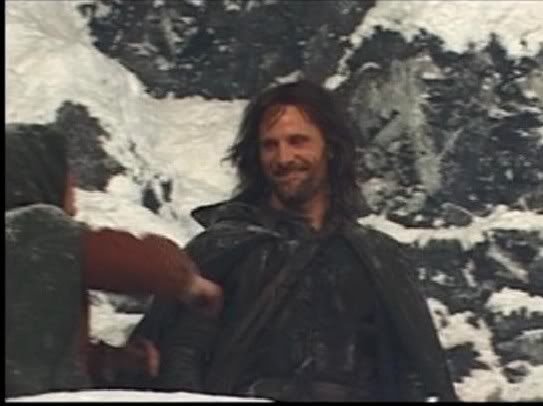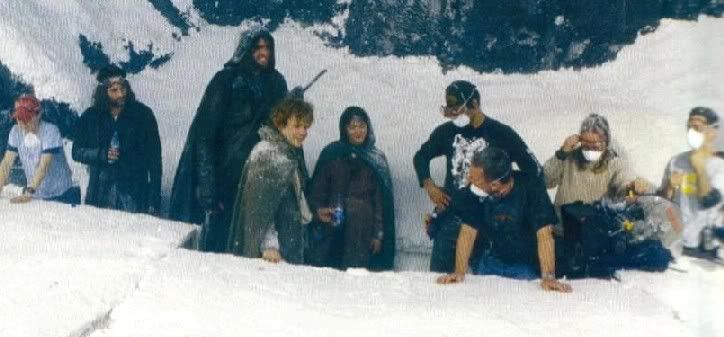 The artificial snow used for the studio shots was very irritating to the eyes and skin. You can see how red it made the skin on Elijah's face, even in the actual film.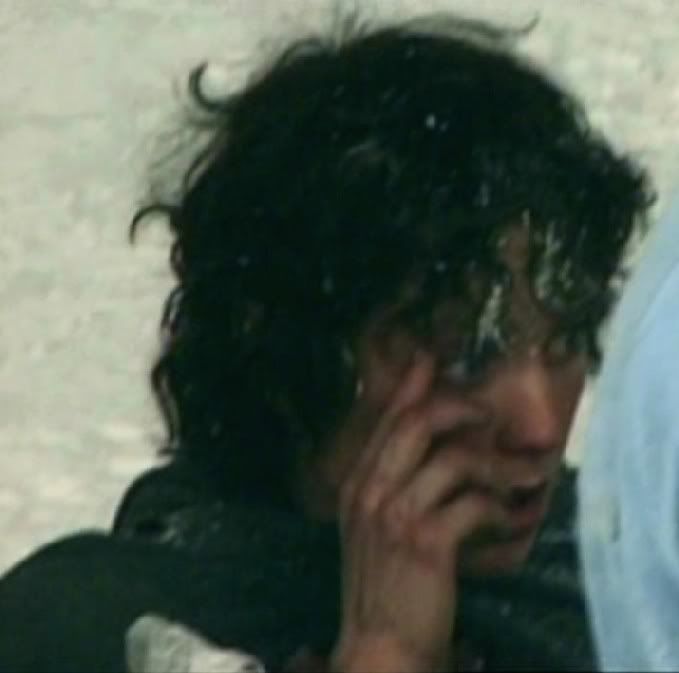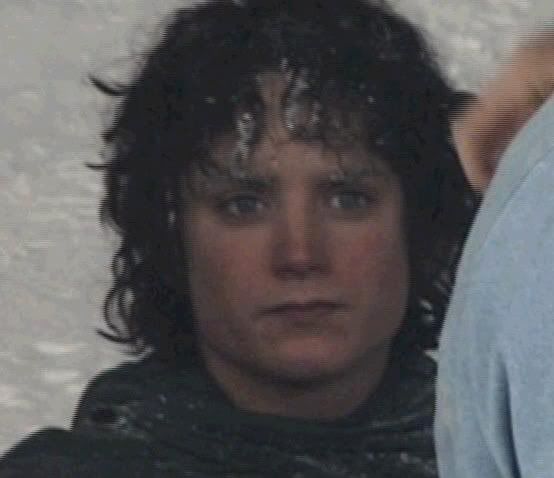 Elijah :
"Apparently there's MSG - MSG and rice - which can't be good for you .."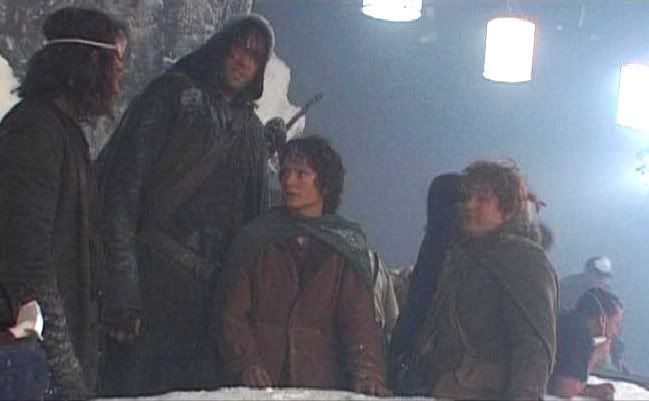 Sean :
"Basically, its take-out!!"
(SE DVD)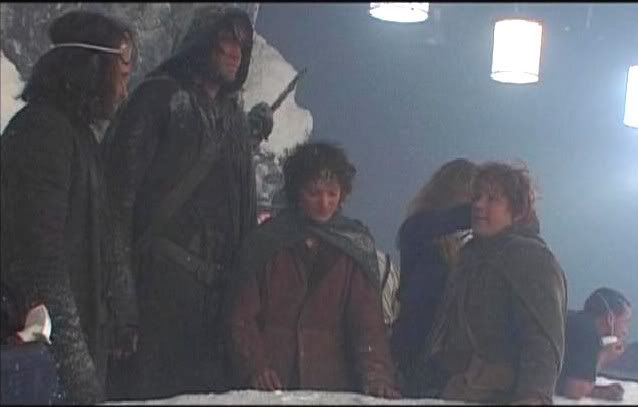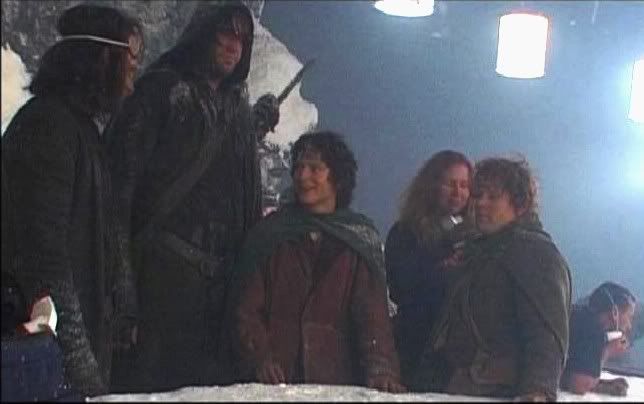 And as we leave Caradhras, a shot which never made it to the film:
*****
And so to Moria - and Elijah has a problem:
"Do I have my bag at this stage?"
"Cos I don't know if I have it in Moria."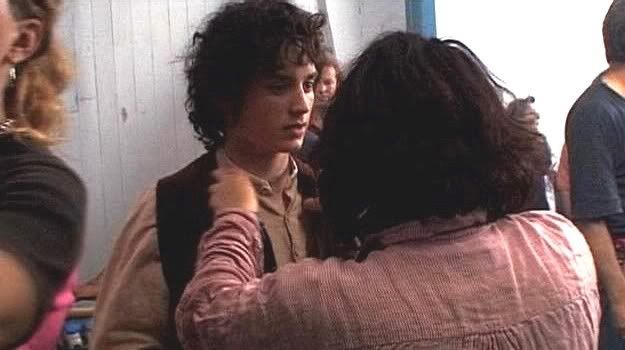 He still looks worried - perhaps she doesn't know either.
The exterior of Moria was shot in a car park by a railway station.
"It was freezing the nights that we had to do the exterior stuff there – it was some of the coldest nights I can remember. I remember actually Billy Boyd was probably the coldest of us all."
(Elijah, DVD)
"He's an amazing young man. He's genuinely filled with energy. I'm 10 years older than he is, and I had a lot of energy when I was his age, but he's like a cat. He's undaunted. They would tie him up and whip him around off these cherrypickers, and he was just game. He would go for it. And I was this Nervous Nelly of an old granny. I was like, "Is that safe?"
(Sean Astin - Eonline)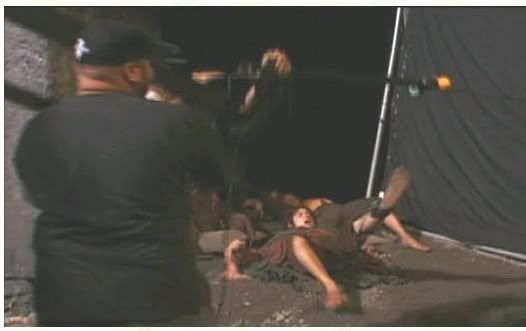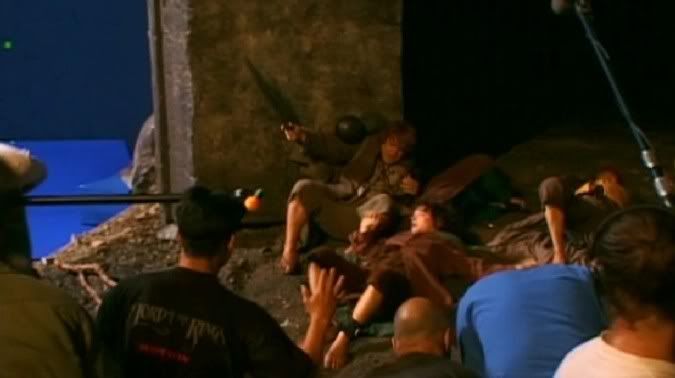 Another version of downward-facing Frodo?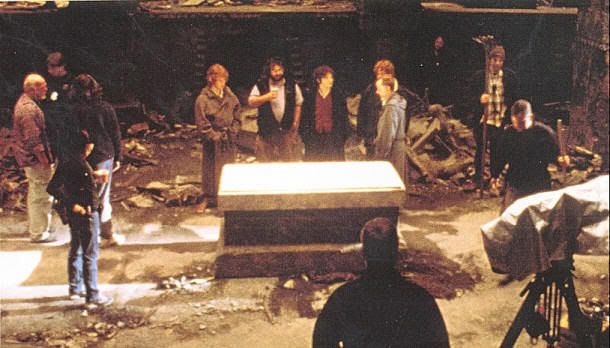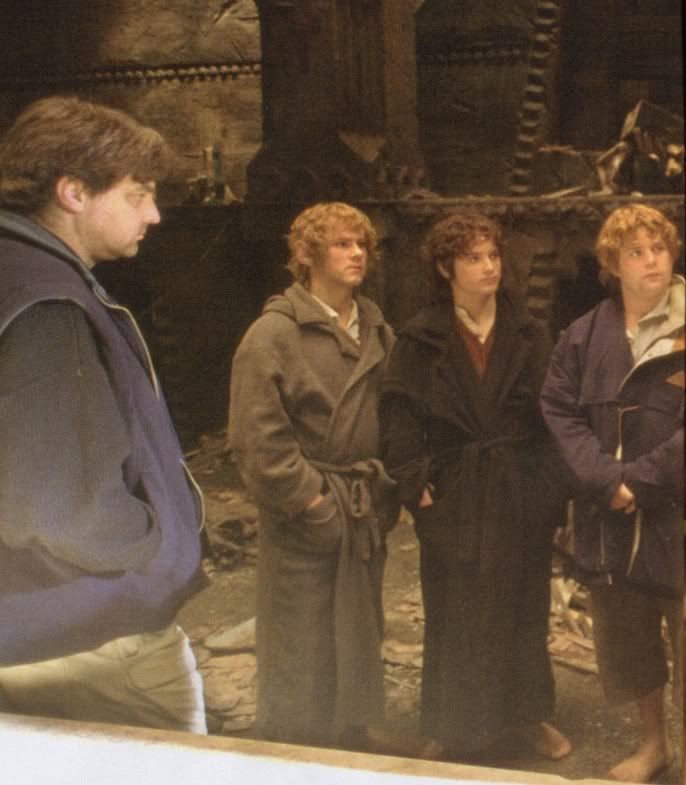 The Bridge of Khazad-Dum scene involved motion capture - here Elijah is having the process explained to him: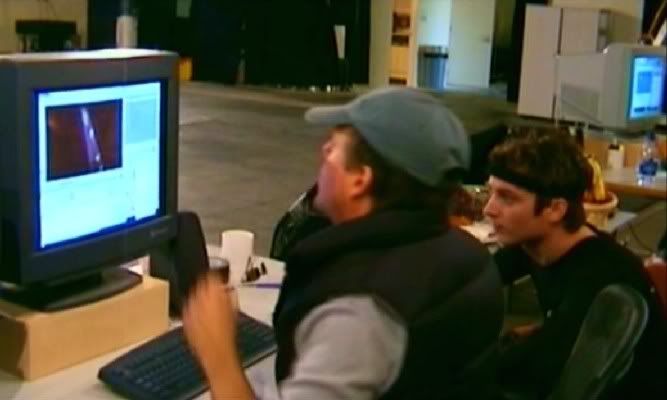 "Ohh - motion capture!! I think we all kind of opened up to very different worlds on this film - that was one of them. It basically involved putting on a tight lycra suit with all these knobs everywhere that fit our joints so that they can basically implement all our movements into the computer and then create a computer version of us. But it was long, boring, sort of standing there in this kind of position and they'd go 'ok, and you can walk now', so you're walking, 'Ok, we've got you walking', so they'd take ten minutes to process, 'And now you can run'. So it was great - the final product and what it ends up being in the film is wicked - in fact there were a few sequences where we actually had to motion capture specific movements for a sequence which is a bit more interesting 'cos it gave us kind of a focus - it looks cool but its just long and boring hours in the studio with these computer geeks who love what they're doing which is great - for them!!"
(Australian TV interview)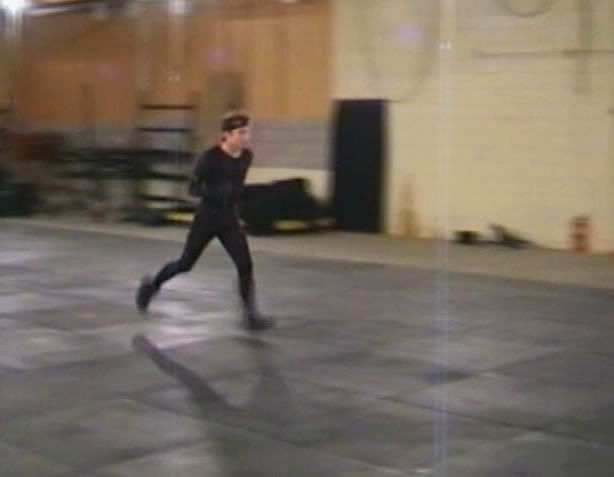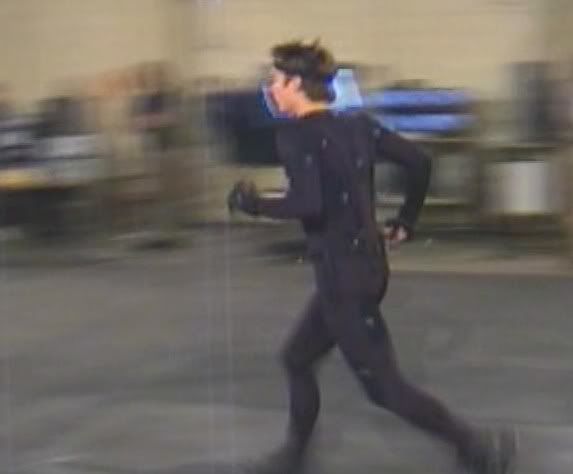 *****
PJ directs Elijah in The Mirror of Galadriel scene: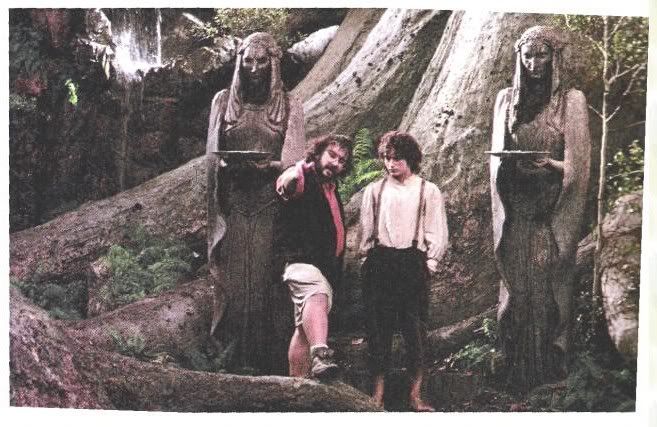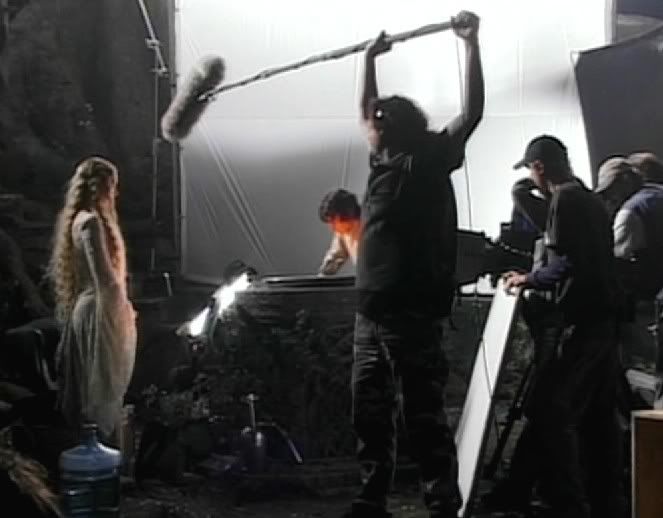 Q:
"There are some beautiful women in the film. Liv Tyler on a horse with a sword, now that is good news …"
Elijah:
"And Cate Blanchett! I'm absolutely in love with that woman. Cate looks amazing in this white gown she wears."
Q:
"A 'revealing' white gown, perhaps?
Elijah:
"No! But it didn't matter, she's gorgeous. To be in her presence not only as a guy who is absolutely infatuated with her physical beauty, but her brilliance as an actress is just stunning… in one scene she shows me what would happen if I don't take the ring to Mordor and destroy it… I look down into this bowl of water and I see massive destruction and my friends being killed. She also makes Frodo realise he's alone and only he can take the ring to Mordor."
(Arena)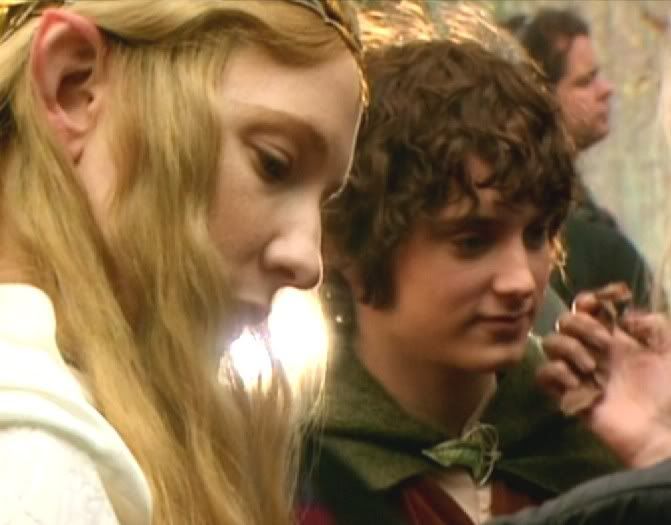 Plus, there are elements of Galadriel that keep her apart from other characters.
'"Galadriel doesn't really step down to the others. You never truly get to know her--she's an enigma, and that's part of her allure. The closest she gets to knowing anyone really is Frodo--or to Frodo knowing her. I think it's important to keep that sense of mystery.'" (Cate Blanchett, Eonline)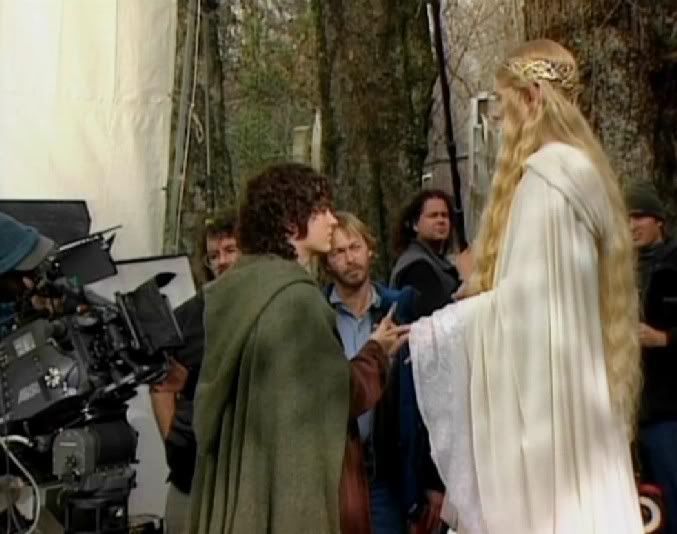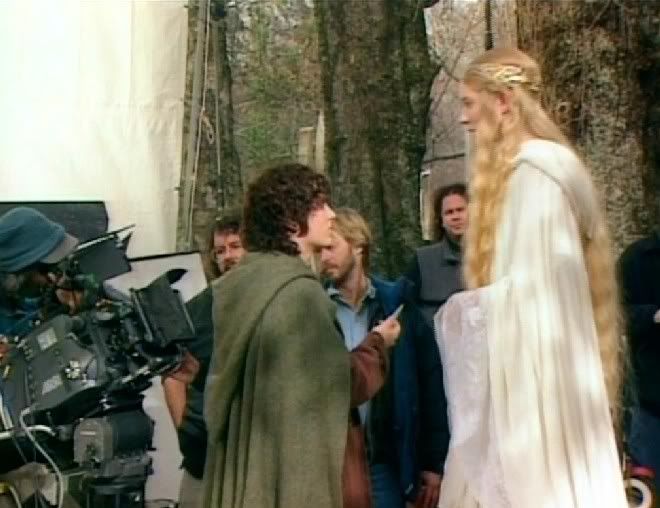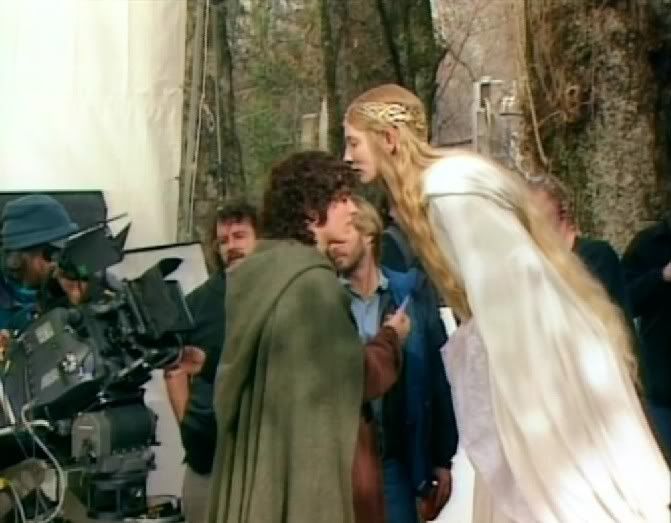 Although this incredibly beautiful shot was seen in trailers and promos, it never actually appeared in the film: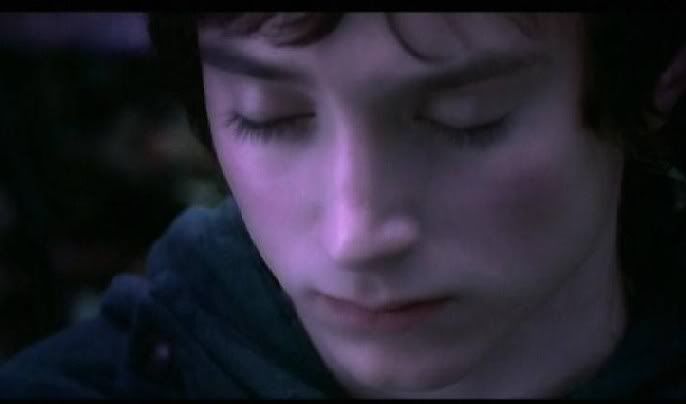 And neither did any of these: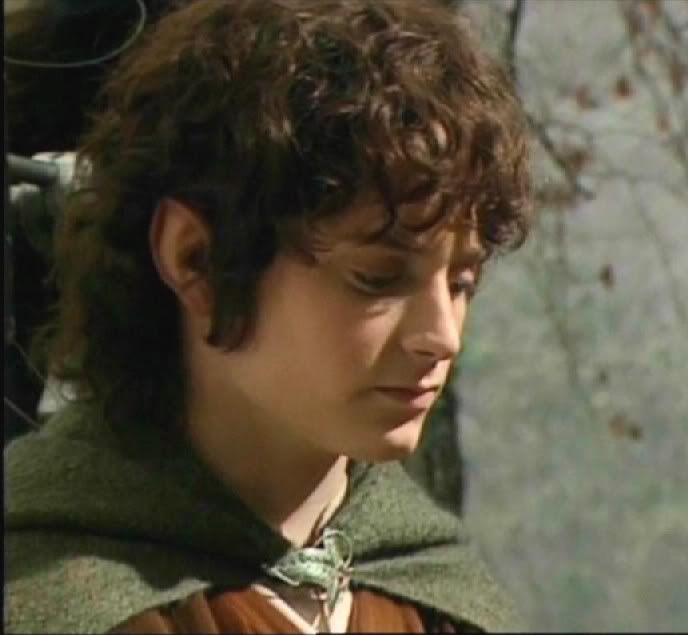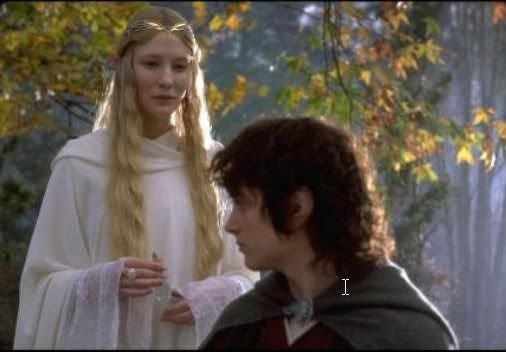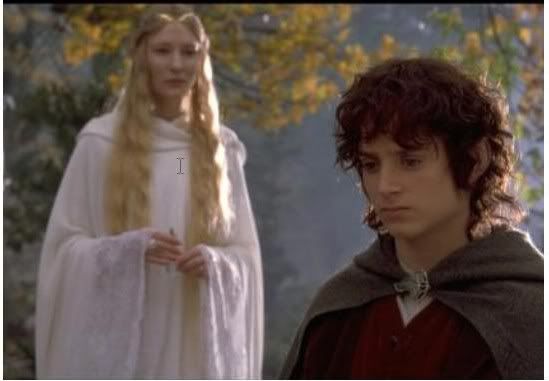 A nice little moment between Elijah and Sean - wish I had these bigger and clearer.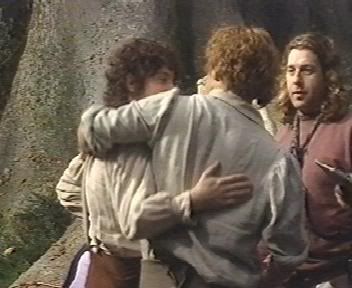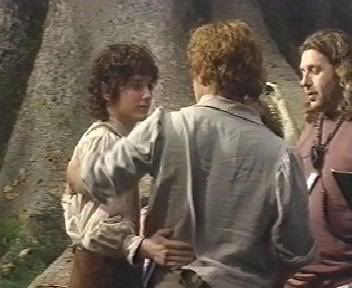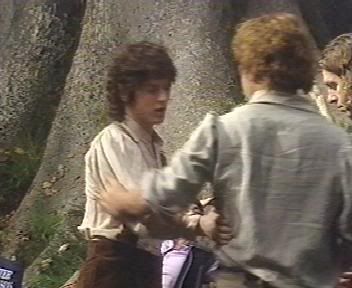 *****
And now Elijah receives some direction in the Arrival at Amon Hen scene: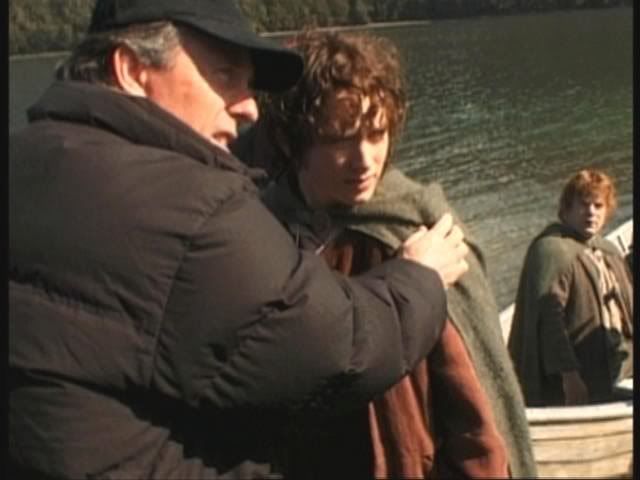 Careful Frodo!! Remember what happened to your parents!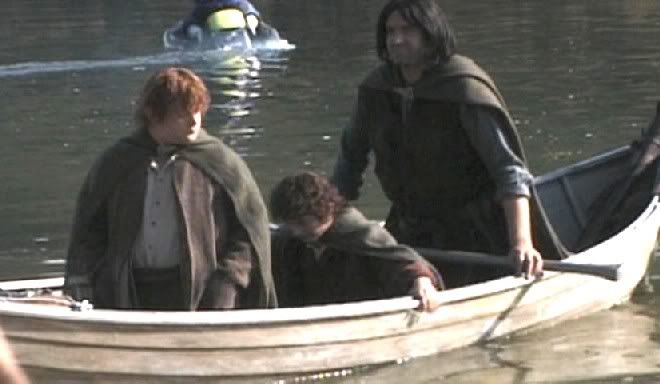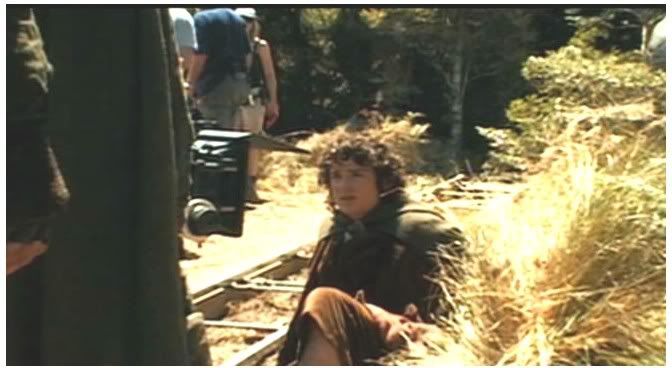 The incident of Sean's foot:
"I discovered that day you can determine the severity of an injury by looking at the faces of the people around you. If it's really bad they squint or scrunch up their faces, or even turn away in revulsion. That's the reaction my wound seemed to provoke. Not from everyone, mind you. Elijah walked over as one of the emergency medical technicians was cutting off my prosthetic foot, an act that dislodged a huge blood clot, which landed on the ground with a splat. This naturally disgusted everyone in the proximity, with the possible exception of Elijah, who simply said "Cool", and then began poking at the blood clot with a stick, an act that disgusted even Peter Jackson whose background in splatter films ought to make him immune to such things. "Come on, Elijah, don't do that", he admonished. "No, that's ok", I said "He can play with my blood clot"."
(There And Back Again ~ An Actor's Tale – Sean Astin)
"Master Frodo can play with my clots any time he wants to."
(DVD)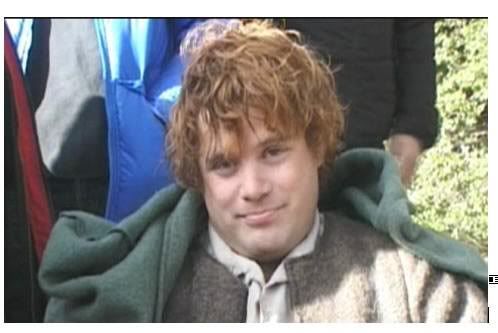 "There was this globular ... thing ... a mass that came out of the slit in his foot that I was fascinated with"
(Elijah, DVD)
I must have watched this about 3 billion times but have only just noticed that you can actually see Elijah's hand doing the evil deed!! And I can hear PJ saying something about "playing with it like it's playdough"!!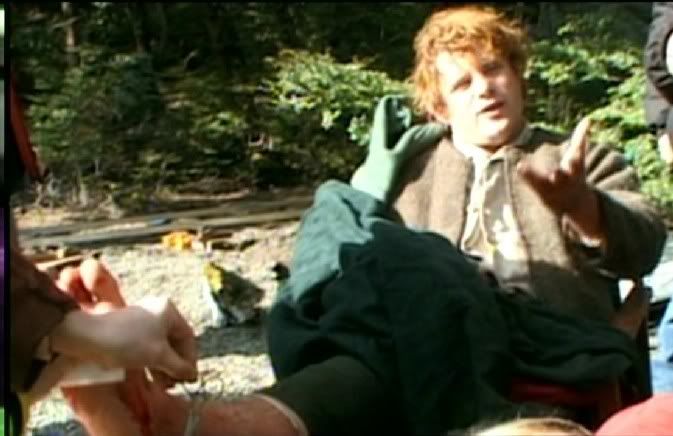 "Oh my God!! That's a lot of blood man!!"
(DVD)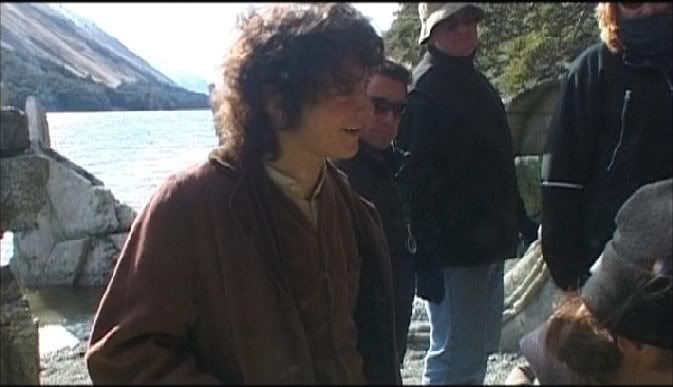 Although it didn't quite compare with Sean's, Elijah did have his own unpleasant experience connected with the boat scene. Originally a different ending had been planned for FOTR, where Frodo is dragged down into the water by a Uruk-Hai ...
"One of the harshest moments for me was actually a scene that was changed. We shot a scene from the first movie in which Frodo ends up - a boat is tipped over as he's leaving the Fellowship with Sam. He falls into
the water and is dragged down by a urukai. We shot it that way first and I spent about 45 minutes to an hour in freezing cold mountain water!! I think I changed a shade of blue and I took about two hours to warm up after that - that was one of the more memorable experiences making the movie."
(Press TV interview)
*****
Frodo takes a nap
♥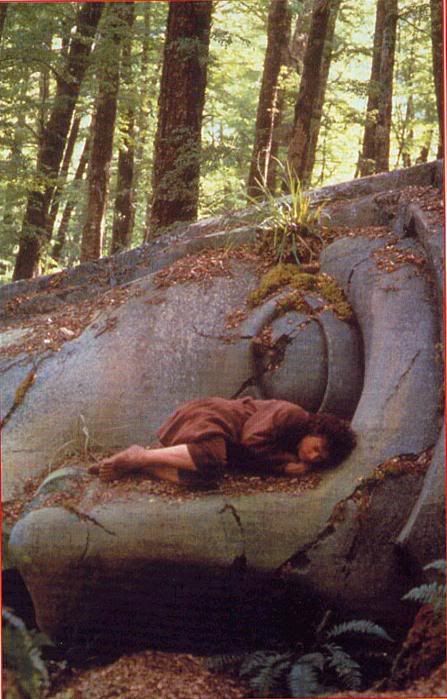 TO BE CONTINUEDLink to previous chapters:
http://not-alone.livejournal.com/tag/a+journey+with+frodo
comments: Leave a comment