| | |
| --- | --- |
| Current Music: | The Tide Is High - Blondie |
| Security: | |
| Subject: | Oxford Murders |
| Time: | 09:15 pm |
| Current Mood: | drained |
I have spotted hubby and me in this great behind-the-scenes video of 'The Oxford Murders' - on this site which I expect most people will have seen by now.
ETA: But if you haven't - beware - it's quite spoilery!!)
http://www.elmundo.es/especiales/2008/01/cultura/elijah/dias_oxford.html
John Hurt has walked along the line of seats and is approaching us - I have circled us and Elijah who is standing three rows back.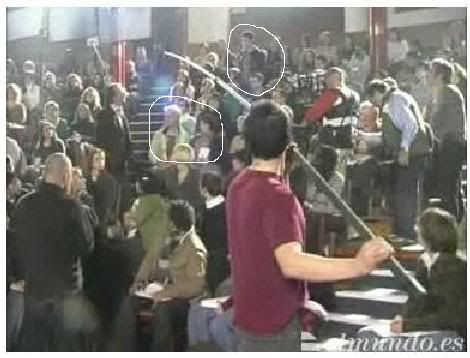 Our faces are just a blur (thank heaven for small mercies) but it's us - we were there - and I still can't quite believe it!!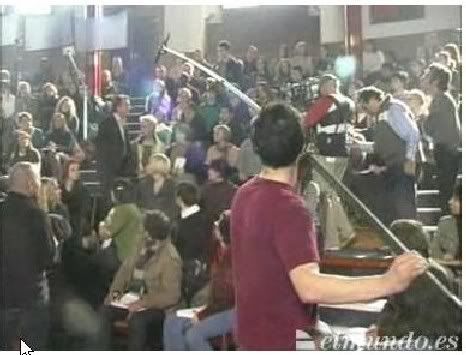 John came to a stop right in front of us, he walked on a few steps more after this frame so that he was actually standing between us - he was so close to me that I had to almost lean back to look at him. He joked that we were his 'markers'. This was when he was addressing 'Martin' who had questioned what 'Seldom' was saying: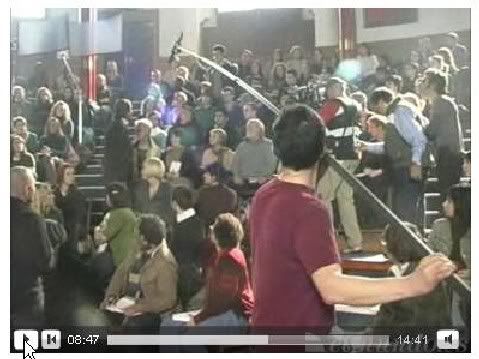 And to hear those words that they speak - they had to say them so many times - brings it back so vividly.
I love the part in that video where Elijah is whistling 'Jingle Bells' - and so beautifully!! He was whistling all the time on the set - well, not
all
the time - but he did do a lot of whistling:D Can't believe all that was almost a year ago. *sigh*
I am close to posting the next chapter of 'Journey' - in fact I've decided to split the one I'm working on into two chapters - so I'll be posting two at the same time. So far, RL in 2008 has been lousy for various reasons - I'm so thankful that I have this other life to escape to:)
comments: Leave a comment