| | |
| --- | --- |
| Tags: | a journey with frodo |
| Current Music: | ROTK Complete Recordings |
| Security: | |
| Subject: | A Journey With Frodo : Ch 13 ~ A Day of Toils |
| Time: | 09:51 pm |
| Current Mood: | enthralled |
Well, I wasn't able to post this chapter as soon as I'd hoped - I must admit I got somewhat sidetracked by all the wonderful pics, video clips and articles about 'The Oxford Murders' that have been popping up everywhere!!
I mentioned in a previous post that I'd be posting two chapters but after some revision I've decided it's best left as just one after all!! For the title of this chapter I've quoted Elijah when he was speaking about one particular day during the Henneth Annun scene, but I'm quite sure it could have been applied to any day of the entire shoot!!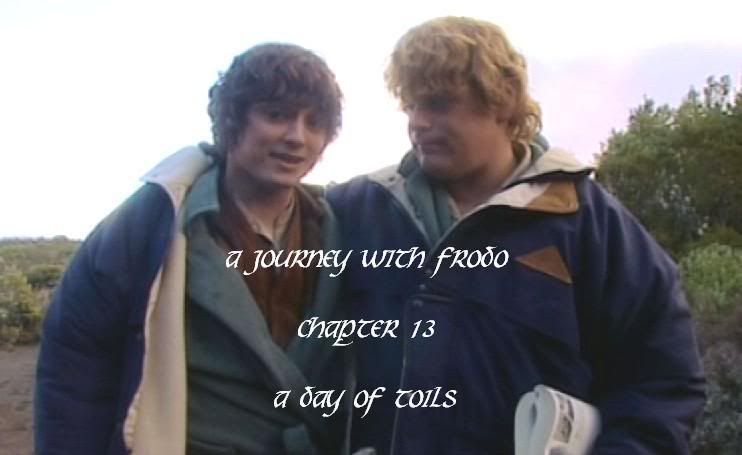 One day during our New Zealand holiday in March 2005, my husband and I were driving towards Te Anau and I noticed a signpost pointing in the opposite direction to Manapouri. Something clicked in my mind when I saw this – I knew it must have some LOTR significance but I just couldn't recall what it was. If I'd remembered, I would just had to have made a detour, if only to gaze upon this: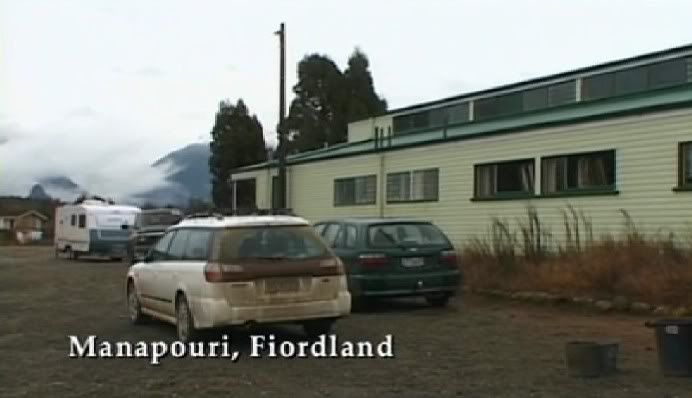 You may wonder why I should want to go out of my way to view this rather ordinary and unimposing community hall but, in the history of LOTR filming, this was a very special place indeed for it was here that another chapter in the making of these incredible movies was created:
"The central piece of drama outside The Black Gate, which happens on top of the rock where Frodo and Sam first crawl on their hands and knees and just appear over the rock and see the gate, was actually shot in a community hall in a very small town called Manapouri. We were in this very remote part of The South Island and you always have what you call weather cover which is where you're shooting scenes outside in the forest but just in case it rains, as it tends to do down there quite a bit, you build a set where you can suddenly rush everyone inside if its raining …"
(PJ, DVD)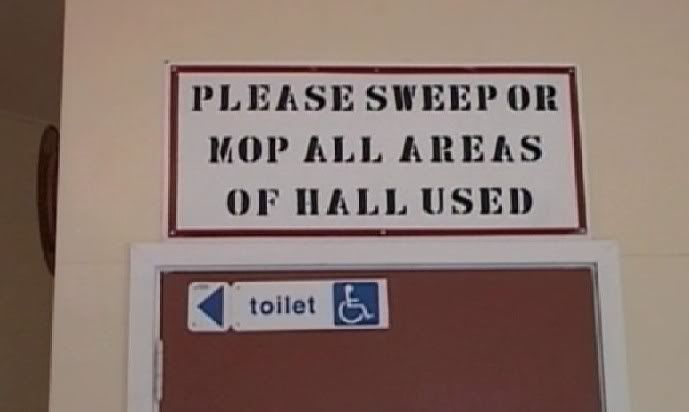 And I'm sure they did!
Elijah and Sean arrive at the hall (unfortunately only top half of Elijah's face was visible in this clip!!)- Sean mentions that he loves coming to Te Anau to film because they always shoot on indoor sports venues - for Cirith Ungol it was a squash court - and now basketball for the gates of Mordor!!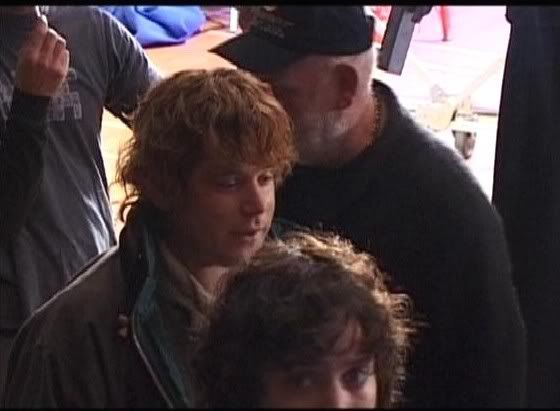 Preparing for the scene: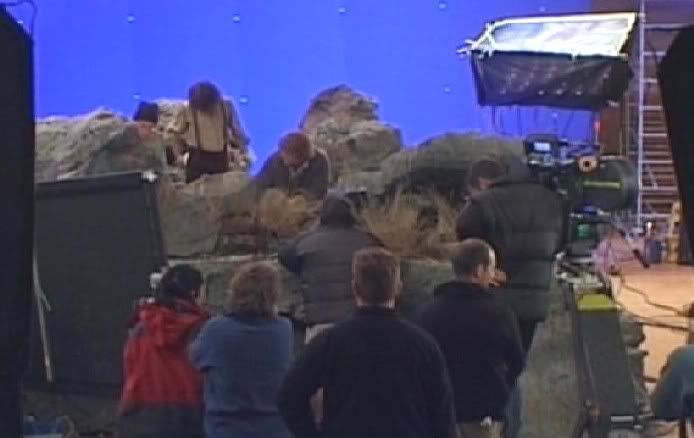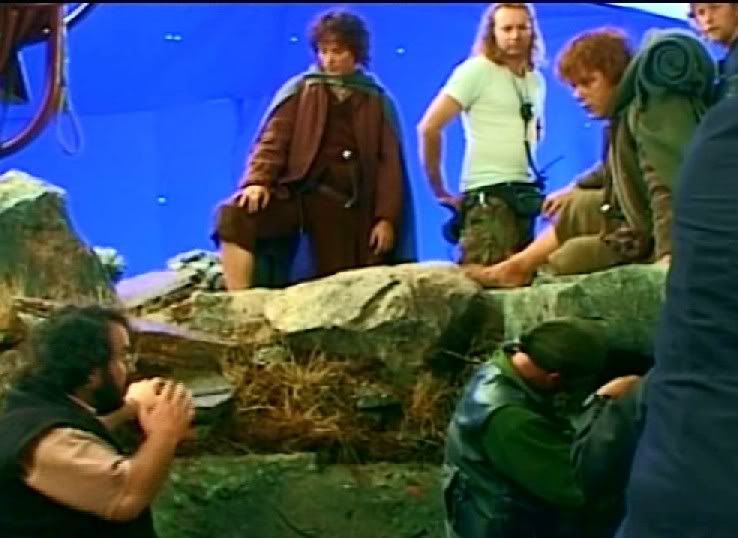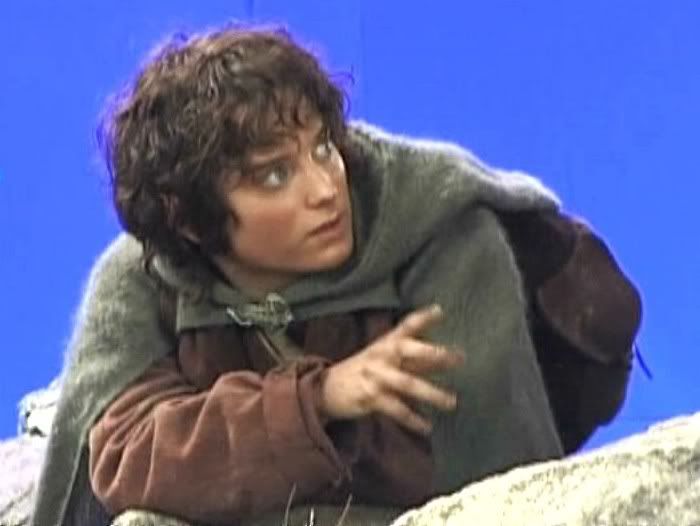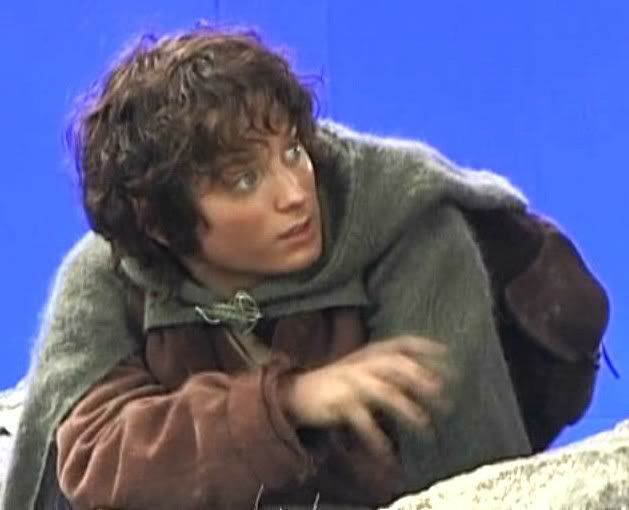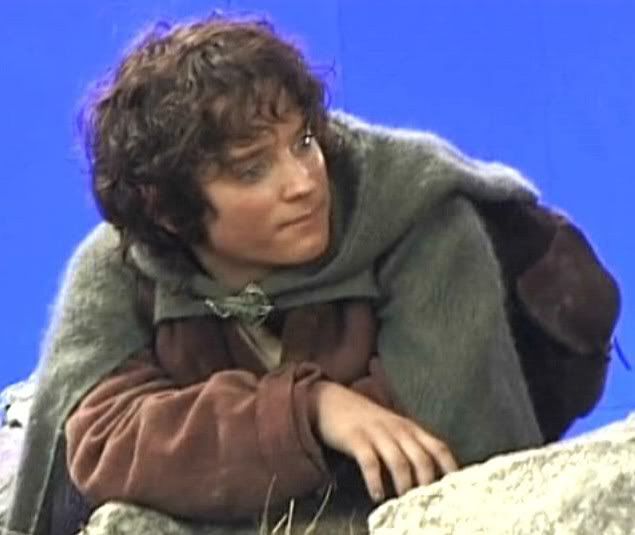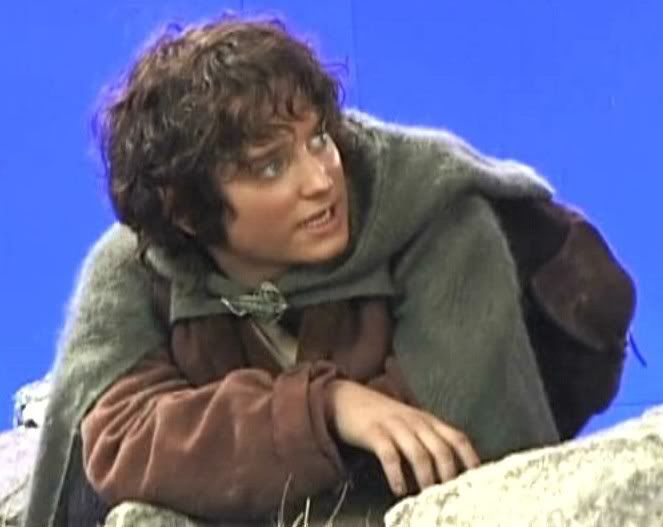 It was also here, in these humble surroundings, that an event of earth-shattering magnitude occurred, one which would be retold to hushed convention audiences for years to come. I speak of the Incident of Sean's Wig.
"Where Frodo, Sam & Gollum are up against the rock about to make that move, that sort of run, there was a moment in that scene where they get up to make the dash to the gates and Gollum pulls them back…"
(Elijah, DVD)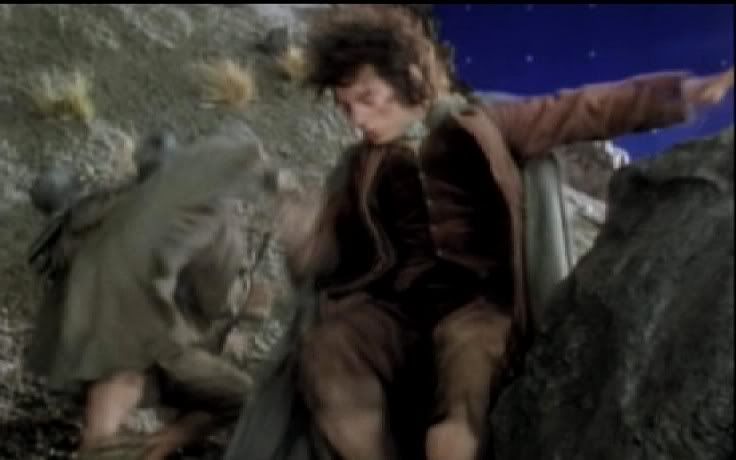 "I leapt through the air, grabbing Sean & Elijah's cloaks, accidentally grabbing hold of Sean's wig in the process. As I yanked them both backwards, Sean's wig literally took off, and was suddenly airborne, landing a great distance away. Elijah and I collapsed in a helpless heap, as did Pete who called cut. It was quite shocking . In all the months of shooting, a wig had never come off and then suddenly, in a flash, the desperate reality of Frodo's quest turned into this surreal comedy!"
(Andy, from his book "Gollum")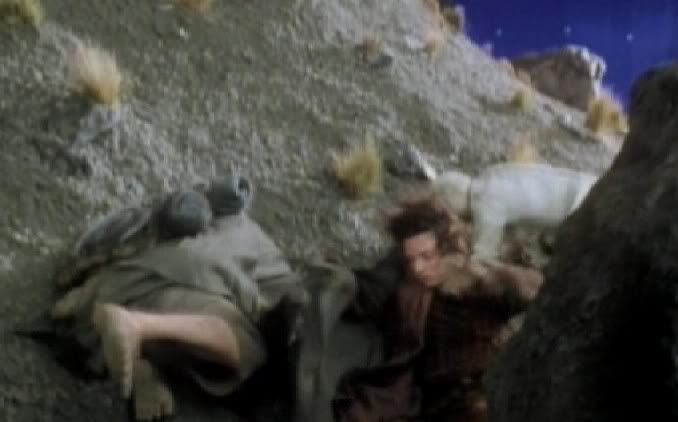 "It was kind of intense 'cos Sean got really upset and kind of stormed off
It all happened so quickly and Andy was like ' I'm sorry, I didn't mean it' …"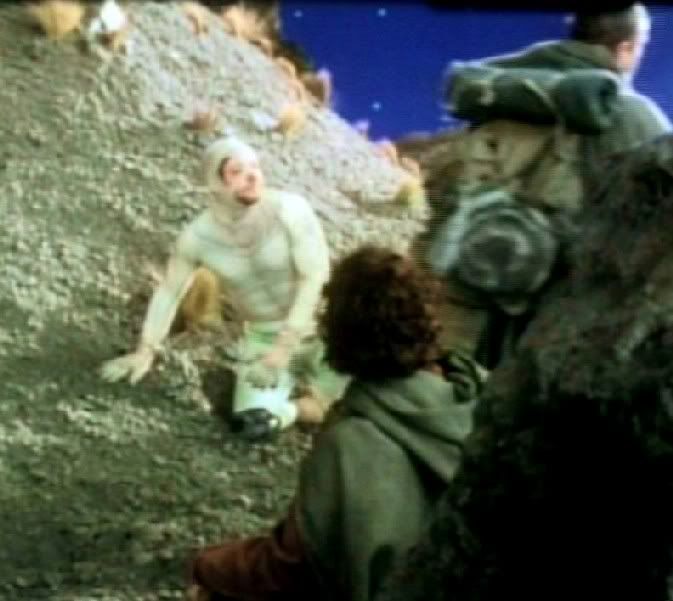 And Andy thought Sean was upset at him so Andy was upset at Sean…"
(Elijah, DVD)
The expression on Elijah's face here is just priceless!!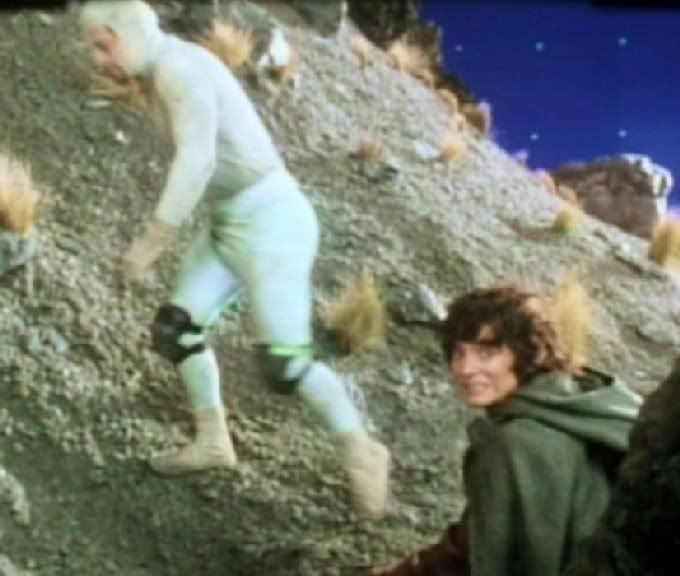 "I was also just impressed that Andy had literally torn his wig off – that was a first - no-one had done that on the film to my knowledge!!"

We all loved and respected one another and got along incredibly well but you know, as with anything tensions can run high, especially with only three people and the intensity of those moments."
(Elijah, DVD)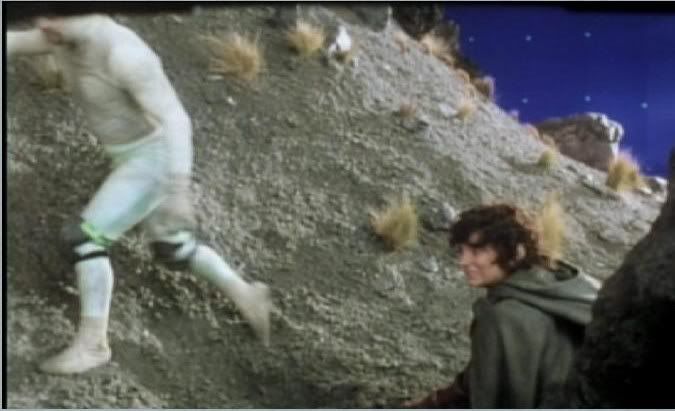 I'm not sure where they were located for this part of the Black Gate scene – but it was a very windy day!!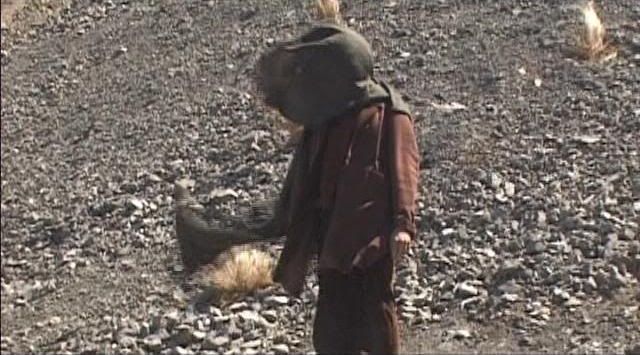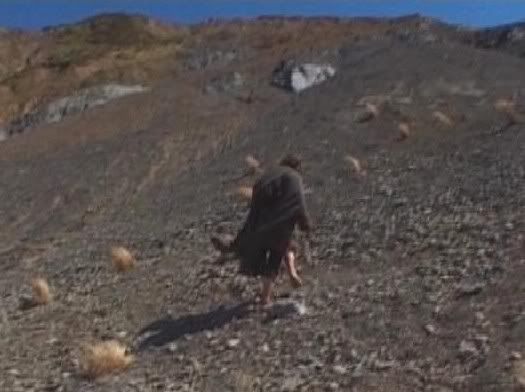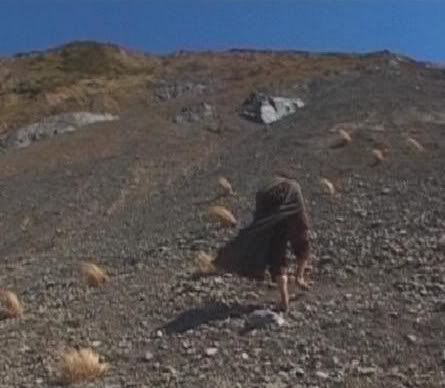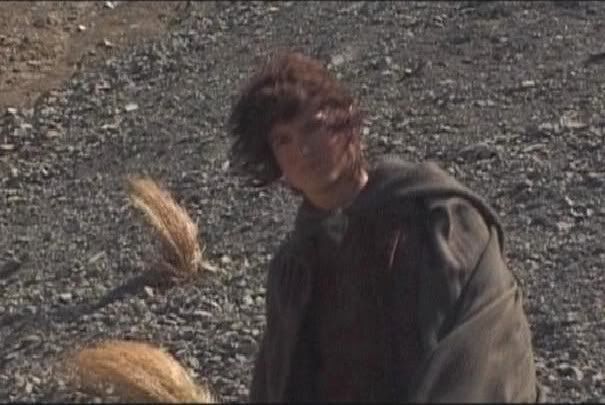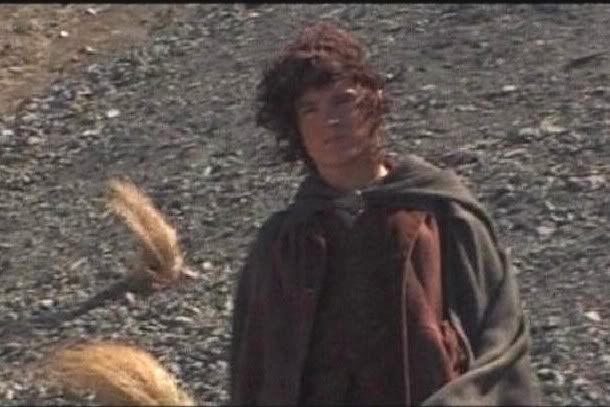 "It's a very windy day today – I heard it ws 70 – er, what is it? – 70 kilometers per hour gusts? Something like that. It's pretty mad. …"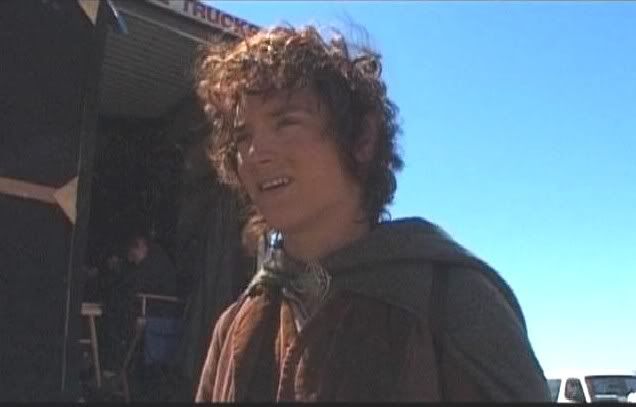 "I nearly fell over on Sean as he was tucked into the rocks there – I had to jump over him 'cos as I was going forward the wind was pushing me hard! It's very interesting to work in wind like this."
(Elijah, Limited Ed. DVD)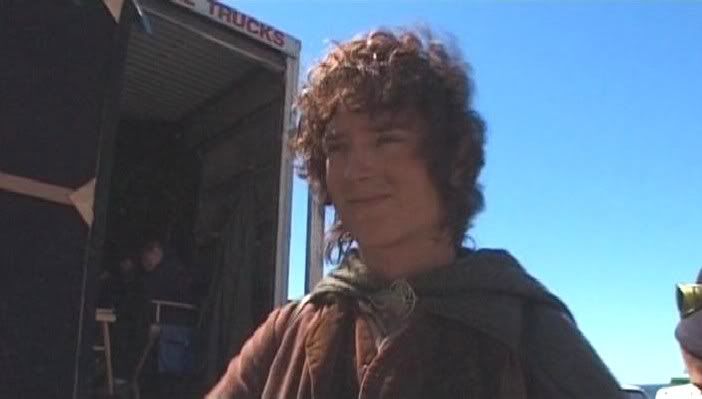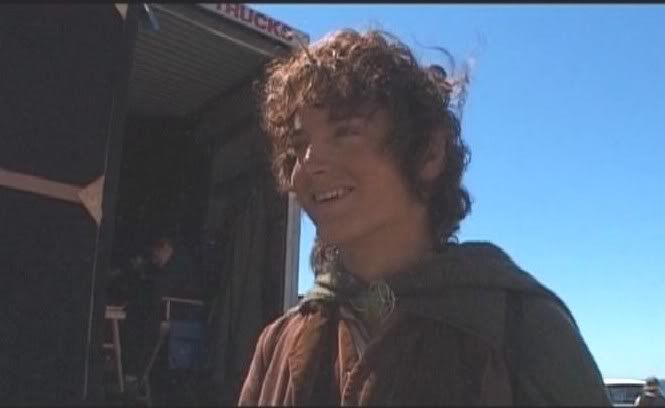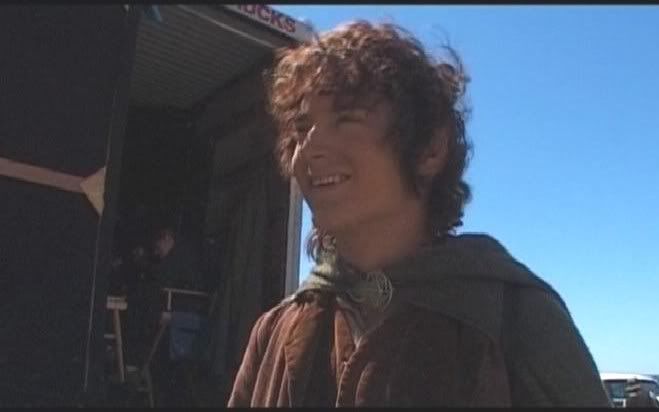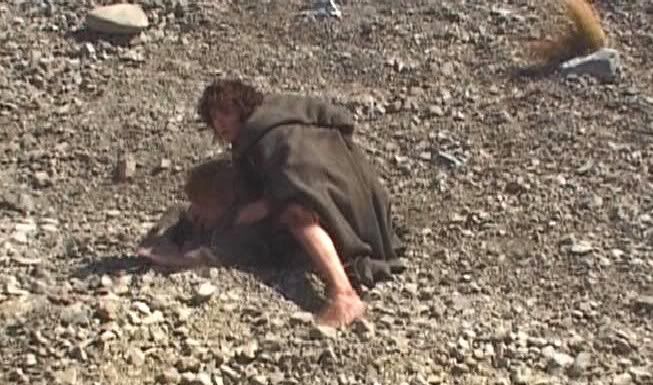 ******
"Peter, Elijah, Sean and I were driven back up to Ohakune to shoot a key new scene, where the division between Frodo and Sam really begins to grow. Sam is mocking Gollum but Frodo defends him, telling Sam that he wants to save the wretch. Sam thinks that Frodo is being maniupulated and implies that he sounds more and more like Gollum himself. Meanwhile Gollum, unaware of this conversation, is desperately trying to catch a fish. He seems happier now, almost like a child that is being shown affection at last. I wanted there to be a sense of him looking back at Frodo as if to say, 'Look at me, Dad!'

The chosen location for this scene was Mangawherro Falls, under the great Mount Ruapehu. The vista that Peter wanted to shoot was spectacular. However, there was a problem. It was under a deep layer of snow and it needed to look like summer"
(Andy Serkis ~ from his book "Gollum")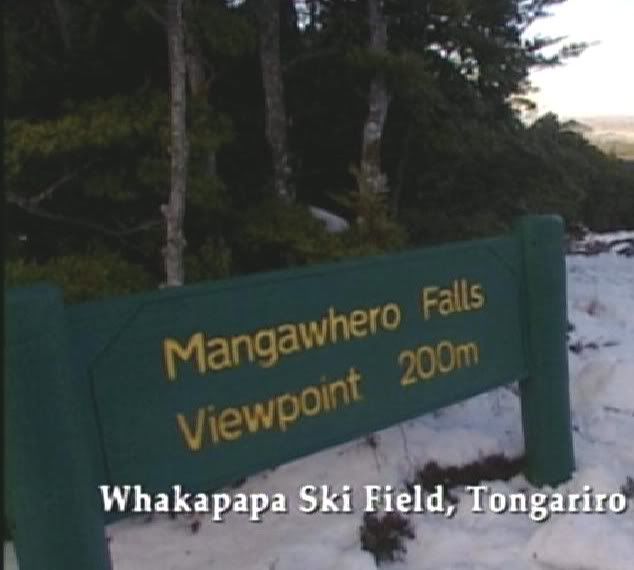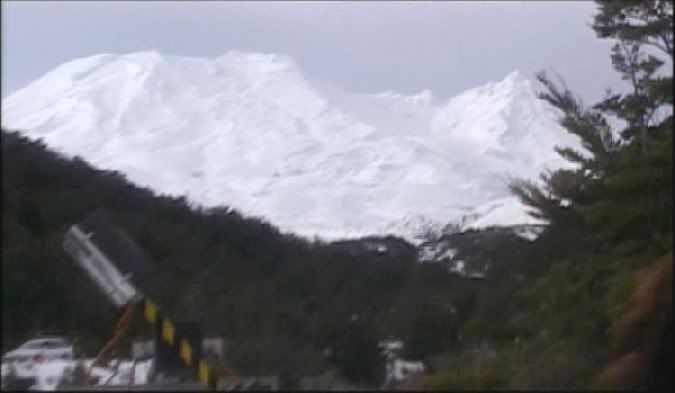 By lunchtime the crew had managed to clear most of the snow using hoses, heaters and blowtorches.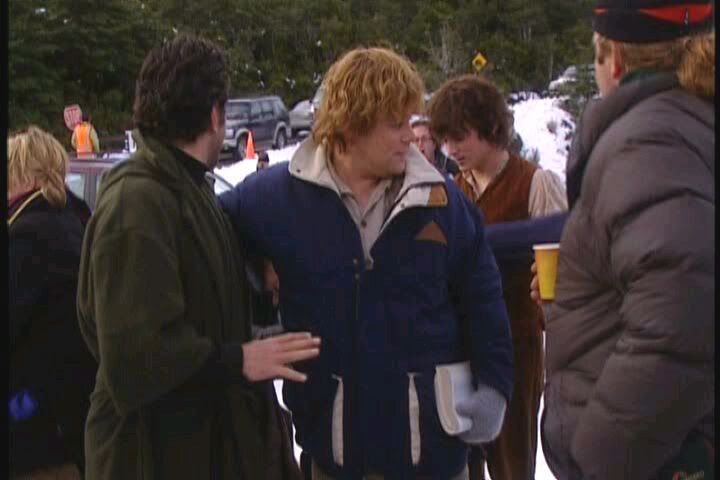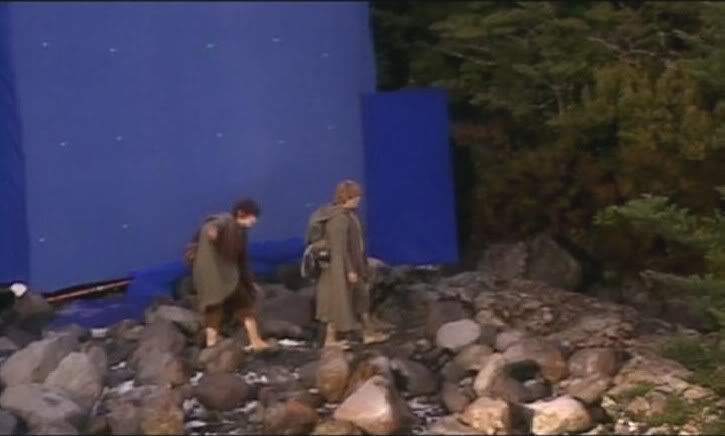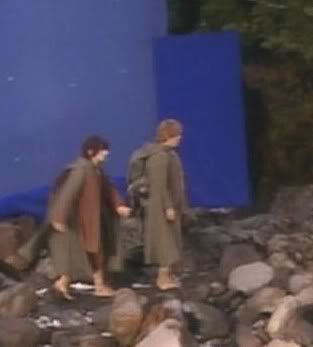 "The thing is, the snow was melted away but it didn't necessarily make the water any warmer and Andy actually had to be flopping about in the water. He had a wet suit on but it didn't help – it was absolutely freezing cold."
(Elijah, DVD)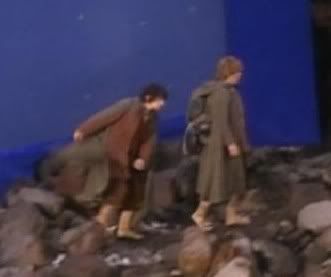 "I looked at Sean and I was like,'It's freaking me out dude, the water was freezing cold. I think we did it like – four times!! It was mental – Andy was crazy!!"
(Elijah ~ Return to Middle Earth)
"We wanted to increase the tension between Frodo and Sam - we wanted to up the ante a little bit so we wrote this scene where they have an argument"
(PJ ~ DVD)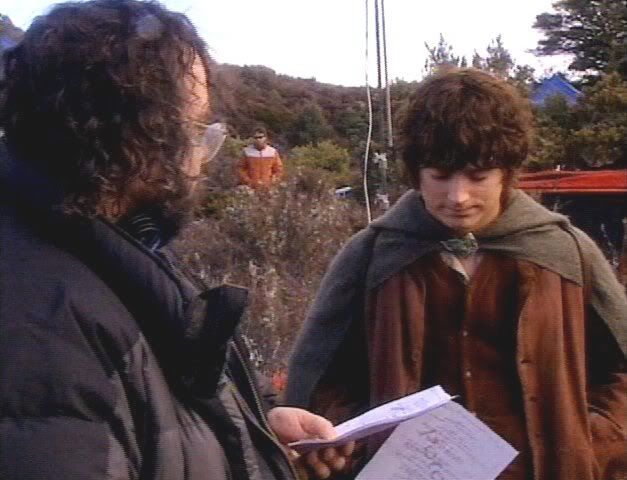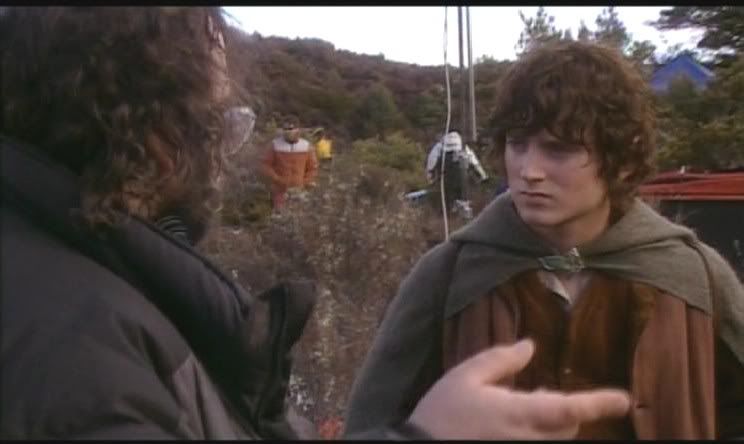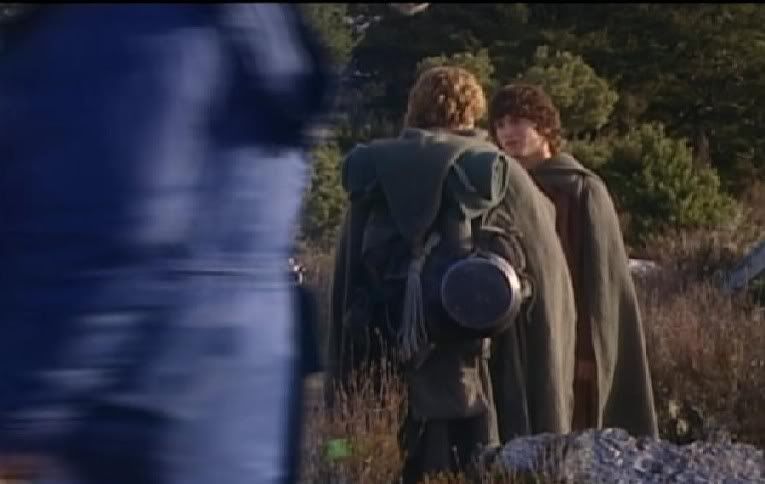 "This location was actually right on the edge of a NZ Army firing range where they do live firing with artillery and tanks and various other things and we obviously had their permission to film there - I remember we were in the middle of shooting a shot of Elijah, and Sean was saying "It's the ring, isn't it?" and - just about perfect timing - when he said "It's the ring" there was this God awful explosion, like really seriously loud, and the cameras are rolling and everyone just freaked 'cos we just don't know what this thing is … and Elijah just kind of - he barely registers it 'cos he's right in the middle of his performance -he kind of flinches and just keeps on going."
(PJ ~ DVD)
The pic below is at the moment of the explosion - I can't even detect the slightest flinch when I watch this!!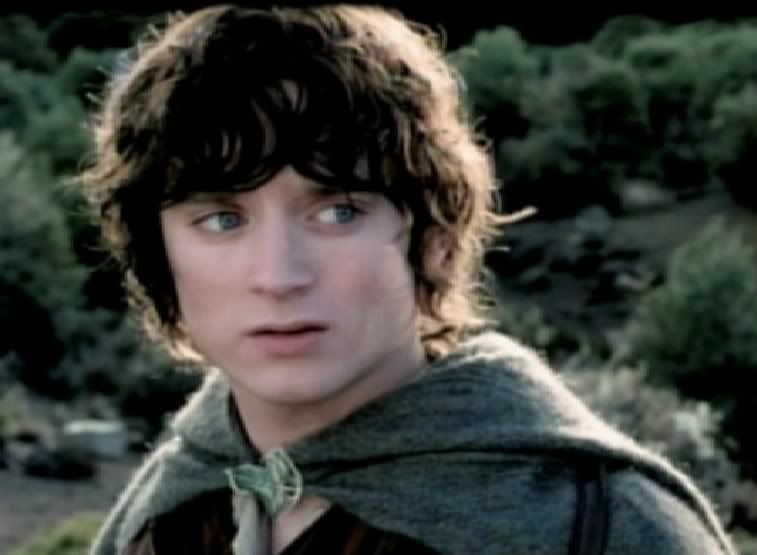 And they were actually shooting off weapons down below!!
(Elijah ~ DVD)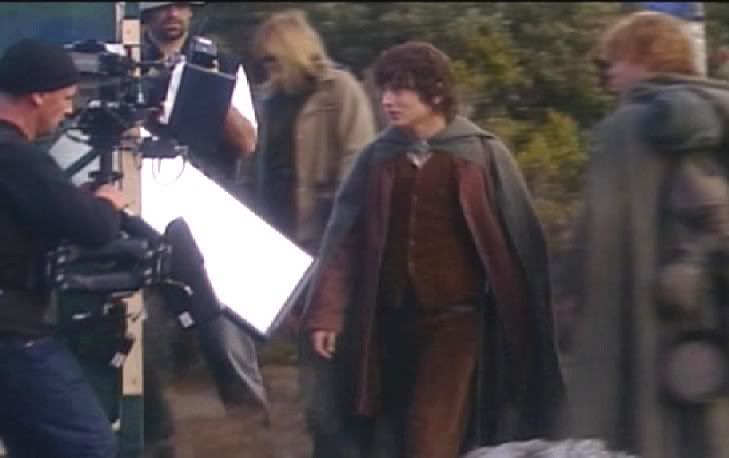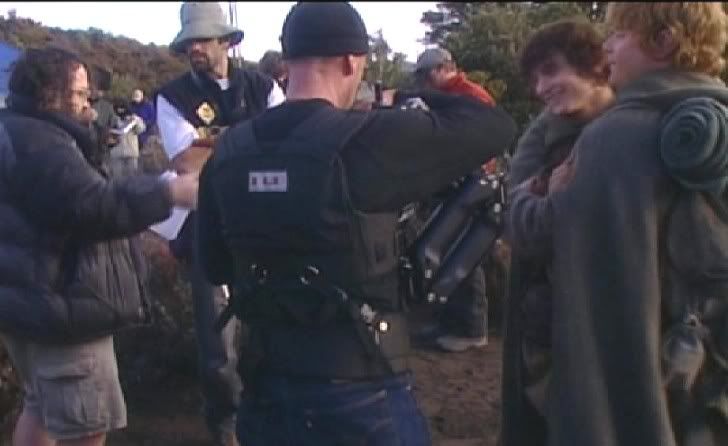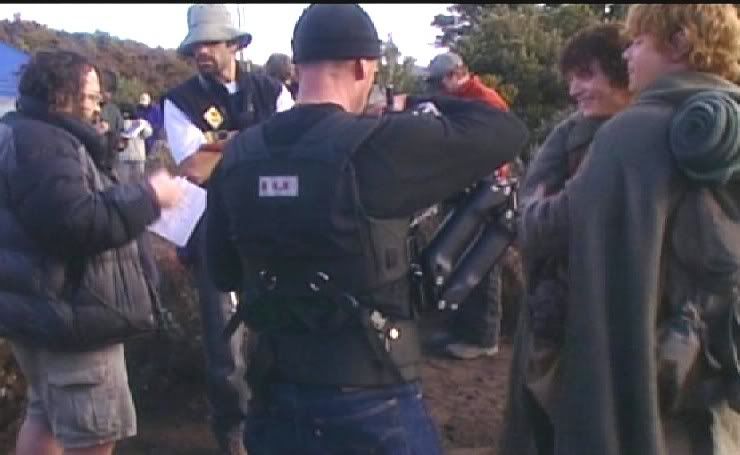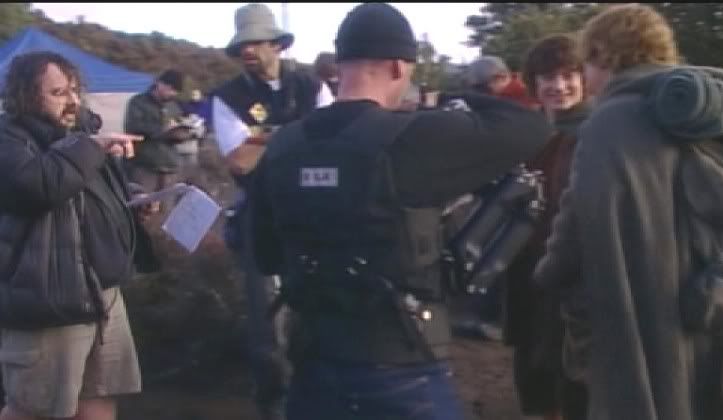 ******
It was around this time that, for one scene (which never made it to the final cut, as it happens) a stand-in was required for Andy. Rick Porras, co-producer, was the one chosen for this task.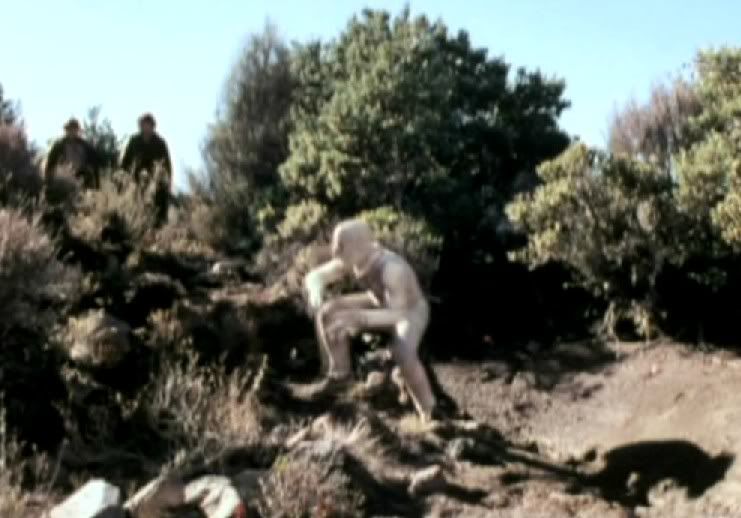 What a terrible actor. He was totally distracting the other actors - it was terrible!!
(Barry Osborne, DVD)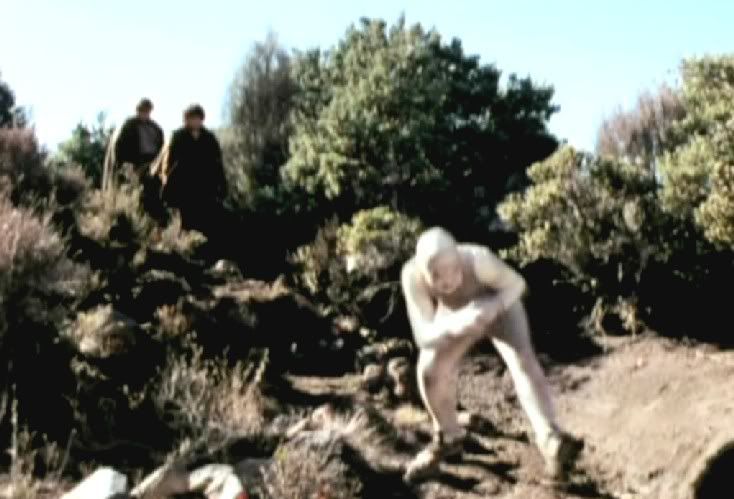 I think we were yelling all day, 'Forest Gimp'!! I think he got incredibly tired of that. He didn't really suit the suit at all - it didn't really work.
(Elijah, DVD)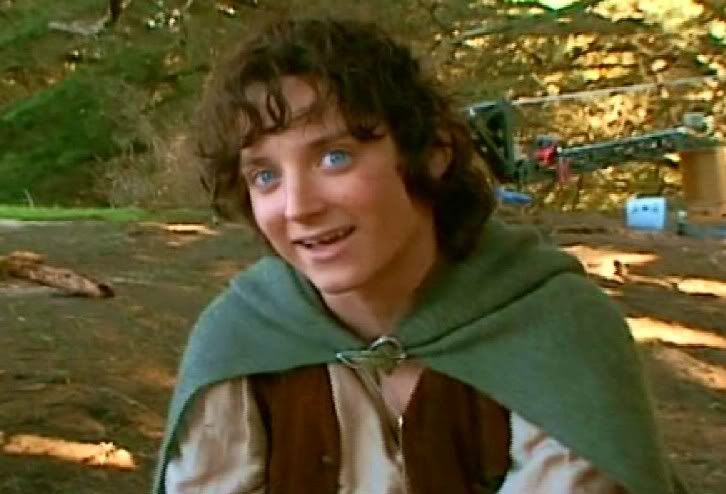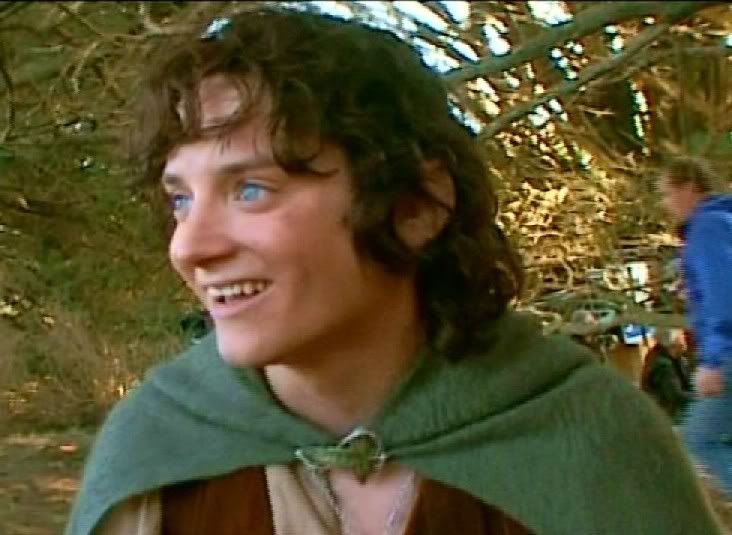 I think he was quite proud and slightly embarrassed initially - possibly - but then, you know, kind of proud to be working in that capacity and that's also a great - it's a great example of the way that these movies were shot in the sense that everybody put forth all of their effort. everybody wanted to give everything they possibly could to get these movies made in the right way and sometimes that meant taking on jobs that they weren't used to taking.
(Elijah, DVD)
******
"I hope you got all the good footage because today was no easy day ...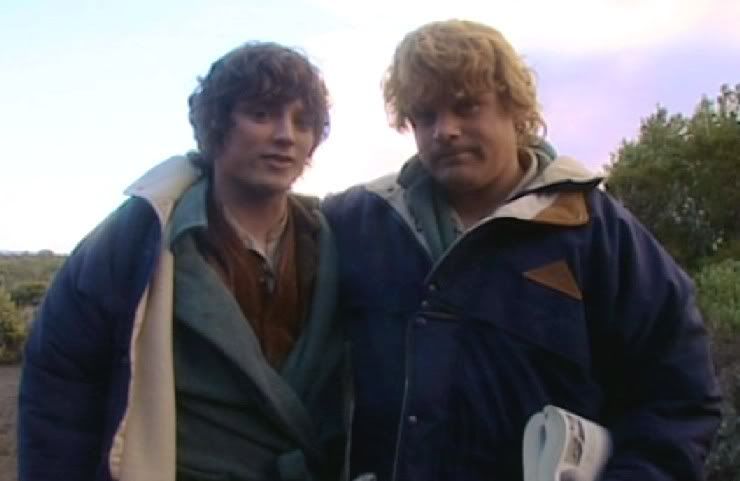 ... it was a day of toils.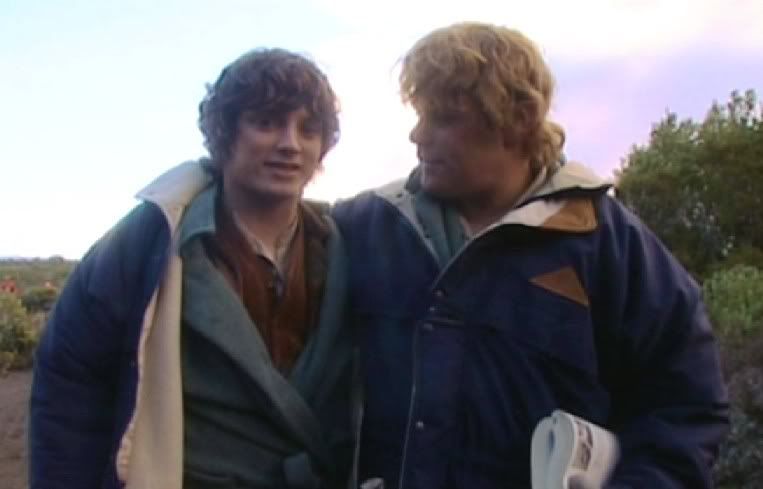 It was a lot of waiting around for the rain to stop – for the sun to shine ...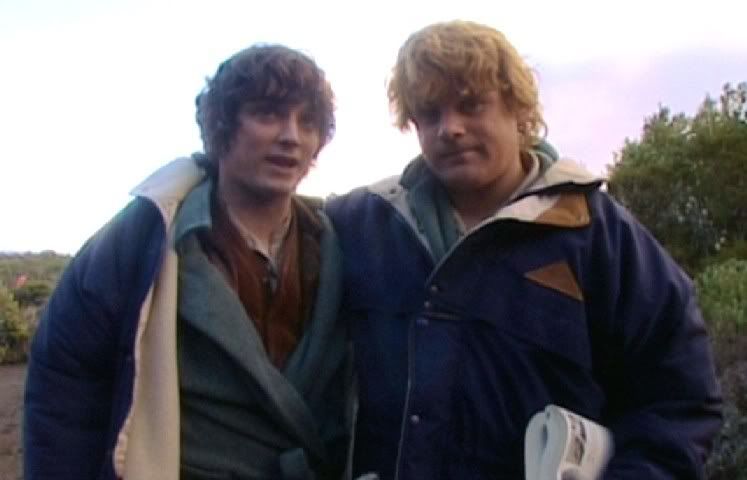 We had a little bit of sun this morning ...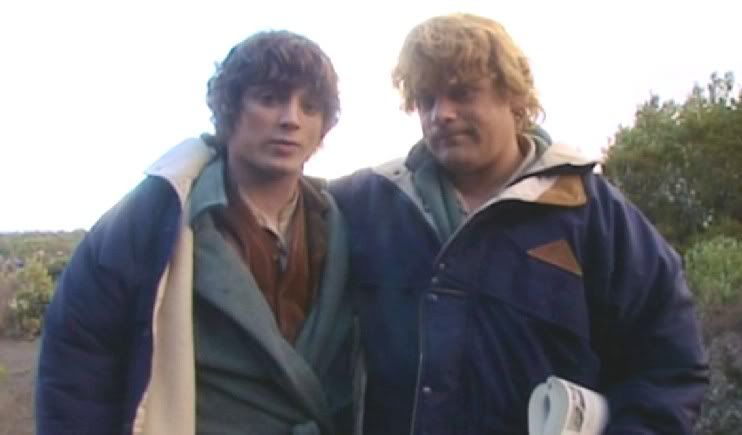 then we had a lot of rain ...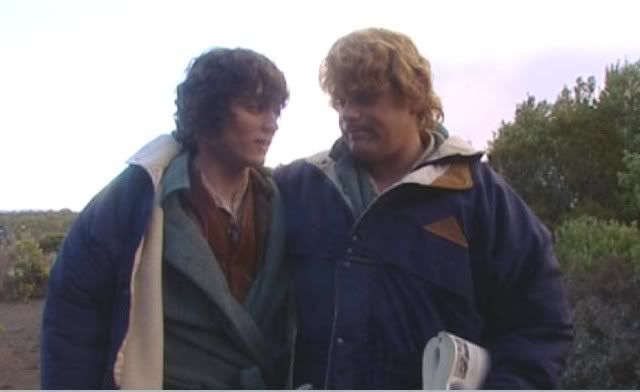 ... then we had a little bit of sun and then we called it quits.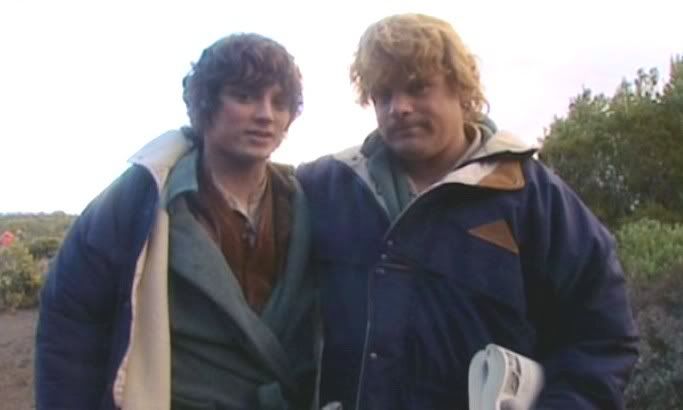 But we got the meat of the scene done ...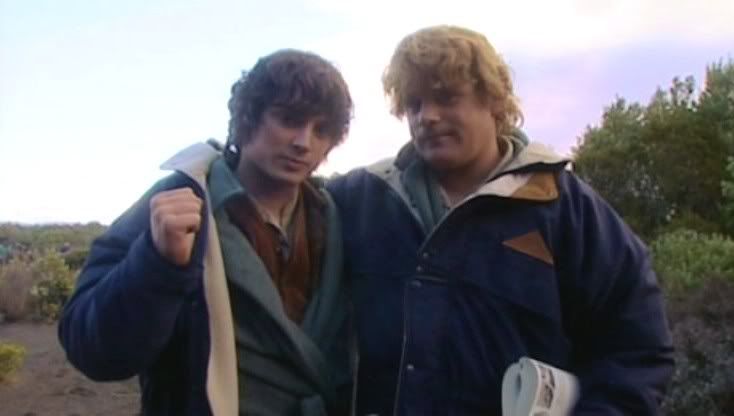 ... accomplishment!!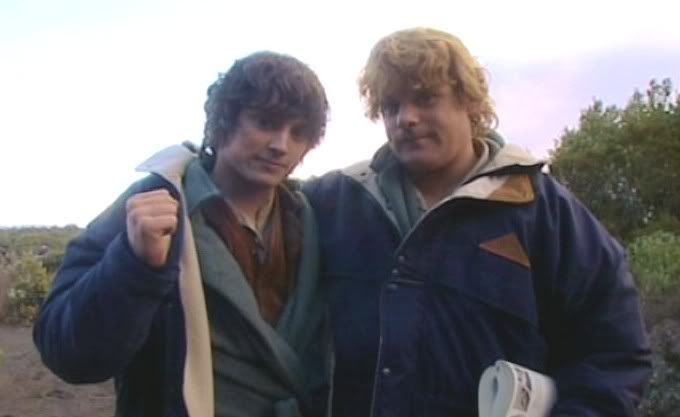 Satisfying!! (Sean)



And ... scene!!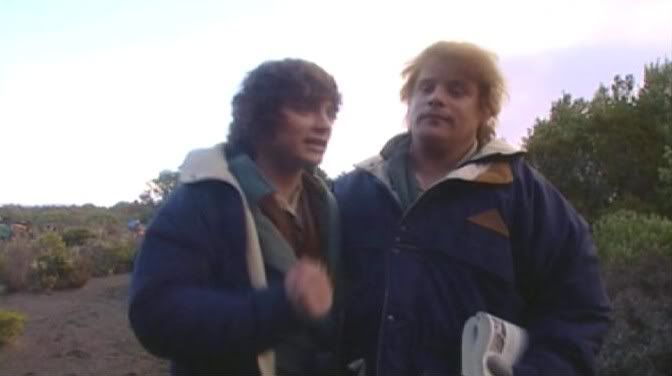 Giggles!!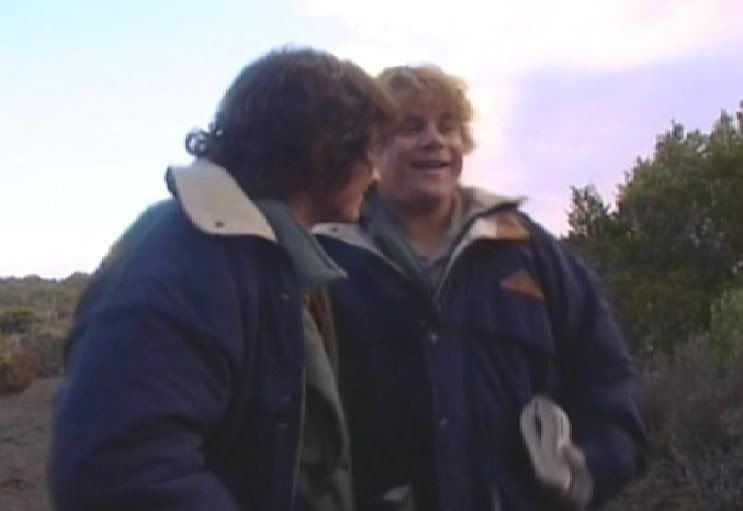 And ... scene!!



Giggles!!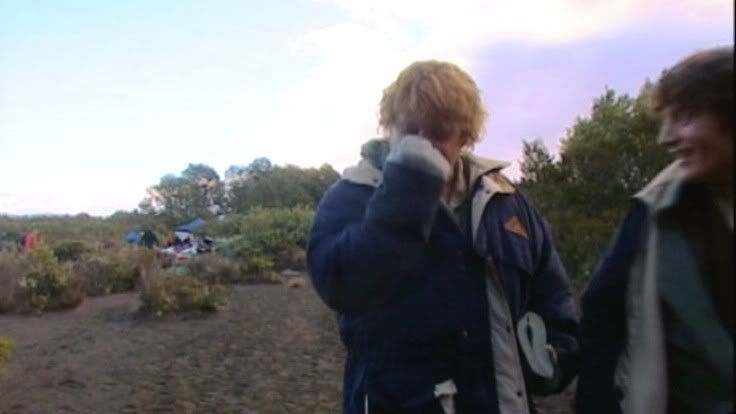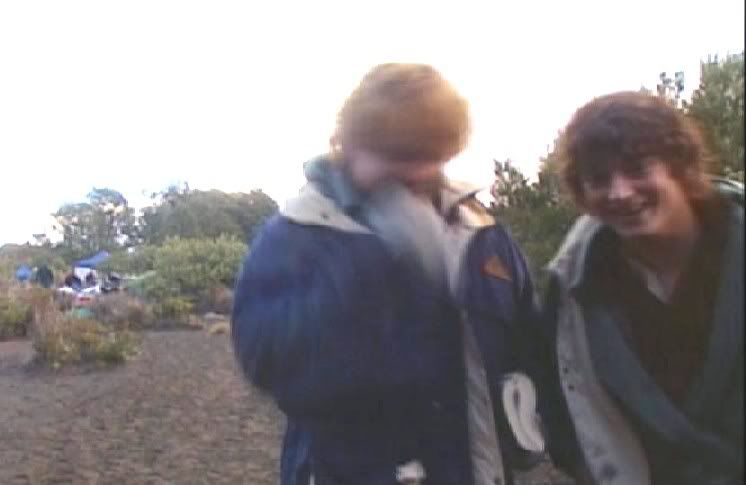 ******
We all loved and respected one another and got along incredibly well but you know, as with anything tensions can run high, especially with only three people and the intensity of those moments."

TO BE CONTINUEDLINK TO PREVIOUS CHAPTERS
http://not-alone.livejournal.com/tag/a+journey+with+frodo
comments: Leave a comment