| | |
| --- | --- |
| Tags: | a journey with frodo |
| Security: | |
| Subject: | A Journey With Frodo - Ch.14 - Coneys, Oliphaunts & A New Castmate |
| Time: | 09:52 pm |
| Current Mood: | calm |
Well, I'm beginning to feel more like myself again and have finally managed to finish this latest chapter. This one takes us to the end of filming on TTT. Hope you enjoy it:)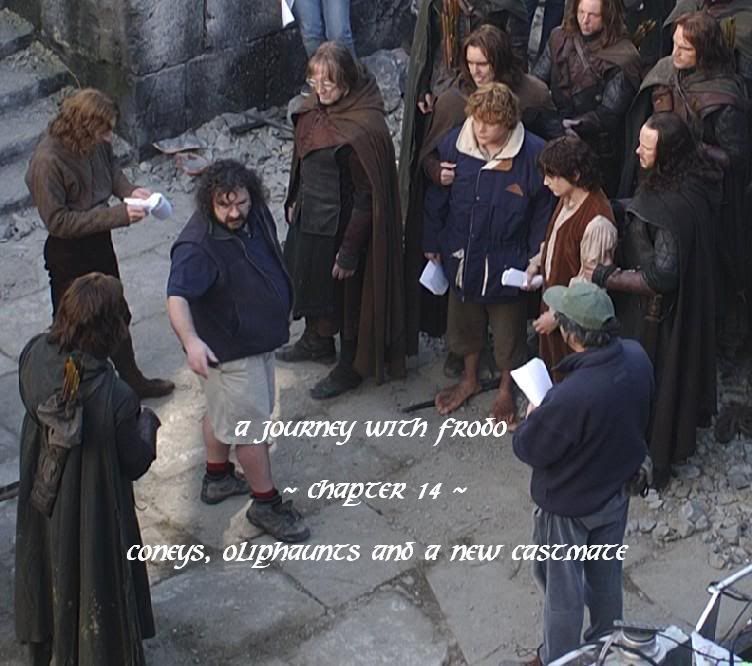 In September 2000 the four hobbits were filming in Queenstown (South Island) and the Southland Times managed to get a telephone interview with them:
"NewsWire: Hobbits Form Fellowship During Filming
07 September 2000 By Meaghan Miller
Secrecy and security prevented a face-to-face interview, but they were prepared to talk to The Southland Times about the growing bond between them, and about becoming Kiwis. "Well it's slowly seeping into my blood," Elijah (Frodo Baggins) Wood said in his heavy Californian accent. Wood said he was sitting in fellow hobbit Billy (Pippin) Boyd's trailer along with Sean (Sam) Astin and Dominic (Merry) Monaghan, wearing their hairy hobby feet, robes over their costumes and watching a movie. After a year of filming together, the four actors were inseparable, Monaghan said. They spent up to 14 hours a day on the movie set, went on holiday together in Thailand and Australia, spent time off together at weekends and had all started surfing. Wood had a house in Wellington, which he now considered home, while Astin's wife and three-year-old daughter were also living in New Zealand. Astin joked his daughter was bilingual: she spoke American and Kiwi. Although filming at times seemed a blur, Astin said he was still having a ball. "Every other day you're in a helicopter to the top of some amazing mountain." Wood said the role of Frodo had become second nature. "Initially I was less comfortable. Now Frodo has been in so many different situations . . . the world of the Middle Earth has become innately familiar," he said.
The foursome were scheduled to head back to Wellington early next week, but the intense filming regime won't end until Christmas.
Wood said he expected to be back in New Zealand next year for "reshoots." After that, he was sure he would come back just to visit. "I feel like a local. I've made good friends." Queenstowners might catch a glimpse of the actors during the next few nights. Astin was especially interested in dinner. "Thank God we're in Queenstown, it has great restaurants," Astin said."
Elijah, Sean and Andy were in Queenstown to shoot some Ithilien scenes, which Andy tells us about in his book:
"Ithilien was calling, and for that we had to fly south to Queenstown, adventure capital of the world… We were staying at Spinnaker Bay, some self-catering apartments right by the water's edge, where Sean and Elijah were also staying. From there we'd have a 30 minute drive south to Twelve Mile Delta, where we'd be filming the Ithilien scenes, the first of these being the 'rabbit scene'.Spinnaker Bay's lakefront location is just a 2 minute drive from the heart of Queenstown's downtown action, shops and restaurants. Spinnaker Bay was chosen as home by the Lord of the Rings Trilogy stars
(from a tourism website)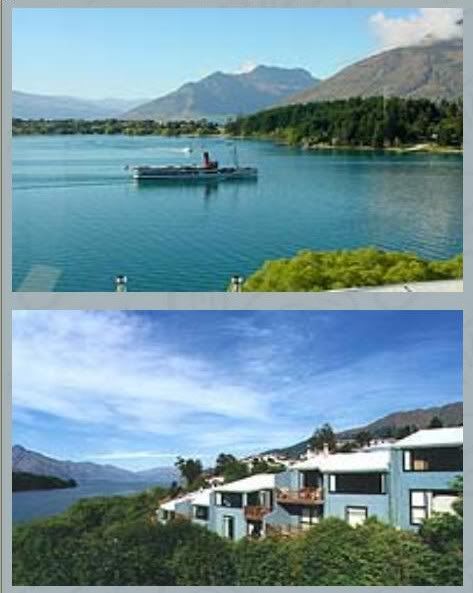 The film set at Twelve Mile Delta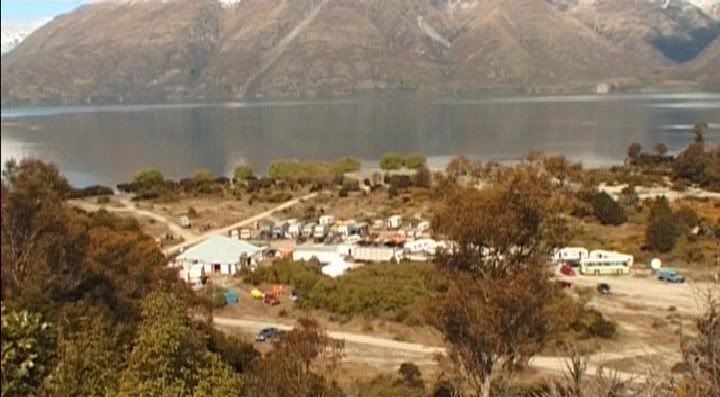 "This for me was a particular favourite in the script as it was then because it was one of the first scenes we'd shot that dwelled on characters and the developing relationship between Frodo, Sam and Gollum. Sam is beginning to feel usurped by Gollum. There is a rift growing between Frodo and Sam, and now Gollum is invading Sam's culinary territory by catching food for his master. There was a real feeling of sibling rivalry between them. As we began to shoot the scene, it felt like we had hit our stride together as a team of actors and crew. It's hard to explain but the process seemed to invade less and less and we really began to play off each other."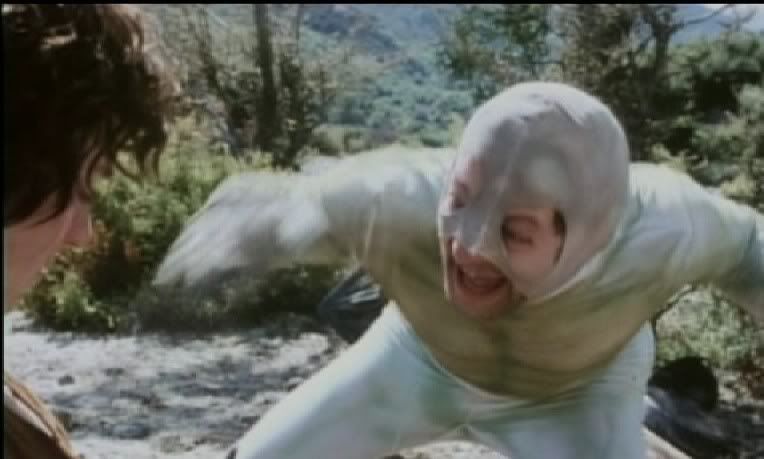 Sometimes things didn't go quite to plan!!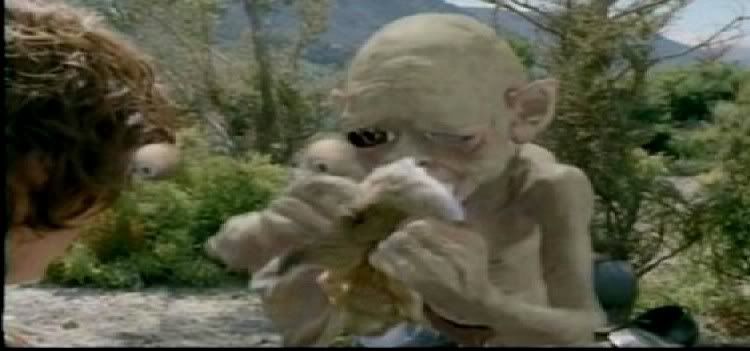 Andy tells us that a real dead rabbit was used for this scene but it had fake innards. There is a rather gruesome pic in his book of PJ pulling out some of these innards with his teeth and apparently Elijah had great fun doing the same thing – this was included in one of those elusive blooper reels that pop up in various places every now and then – let's hope there will eventually come a day when we will all get to see all these bloopers together on dvd!!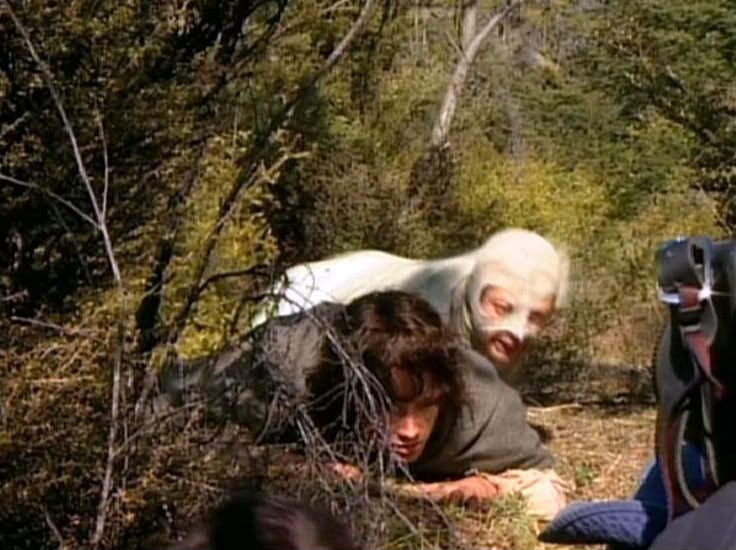 Parts of the oliphaunts scene were shot during pick-ups and apparently there was a bit of blackmail going on!! The victim was Andrew Lesnie and he was threatened with non-co-operation by the 'hobbits' and Andy unless he agreed to take part in the short film Sean was planning to make!!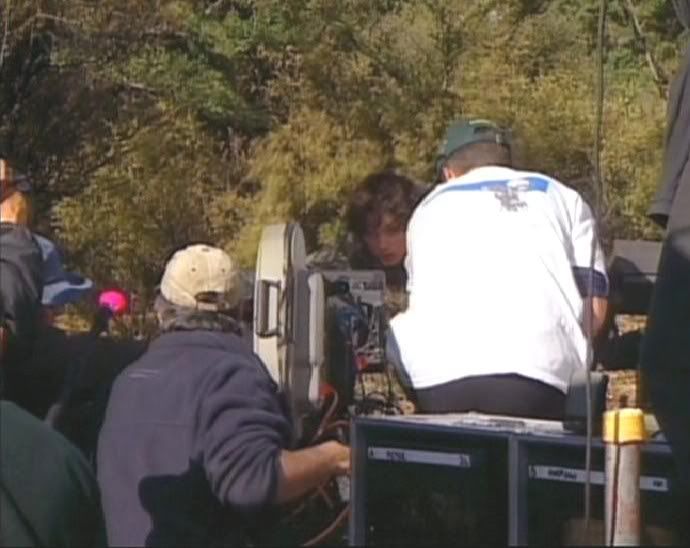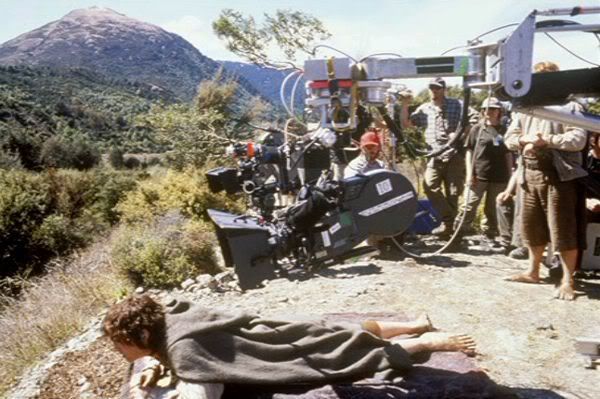 There is always so much waiting around on a film set:
But a bit of nailbiting can help pass the time!!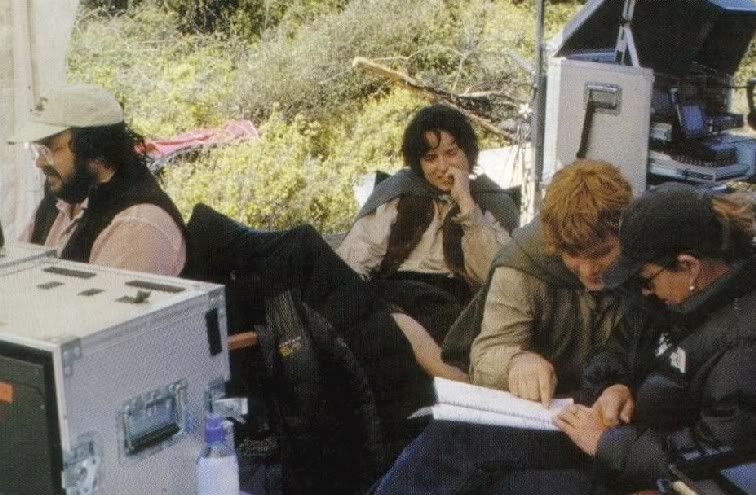 Or a spot of sword practice!!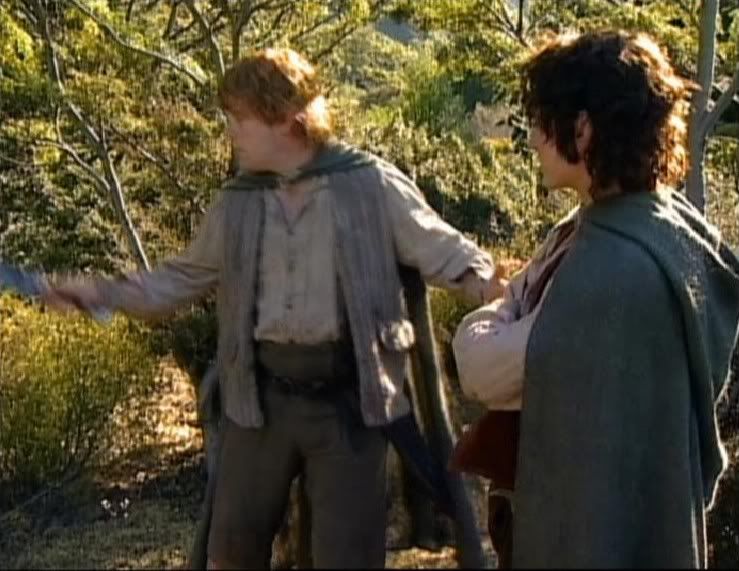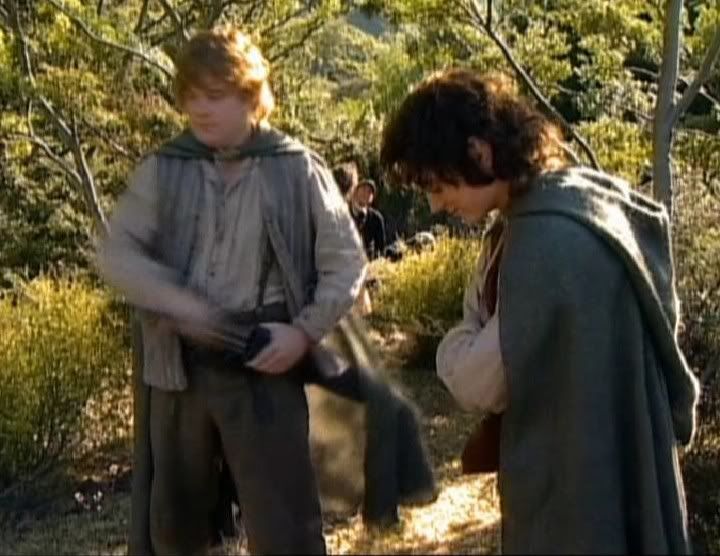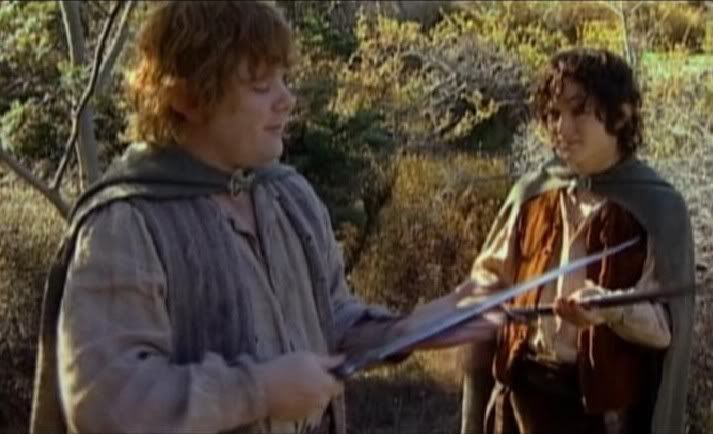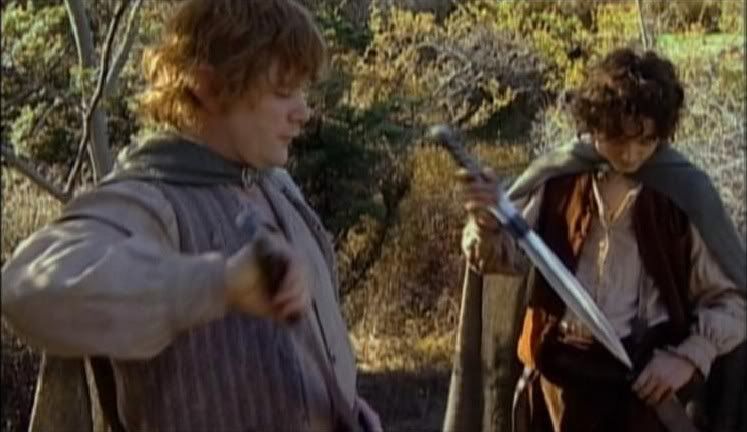 Or just a chat ...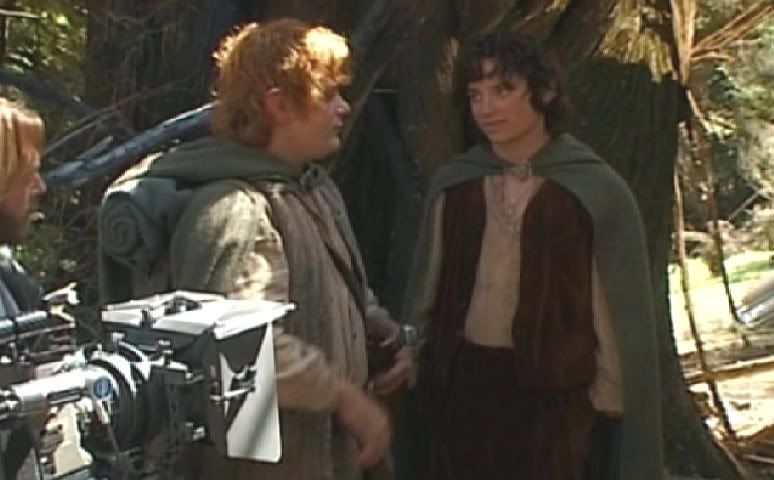 with the occasional light entertainment thrown in!!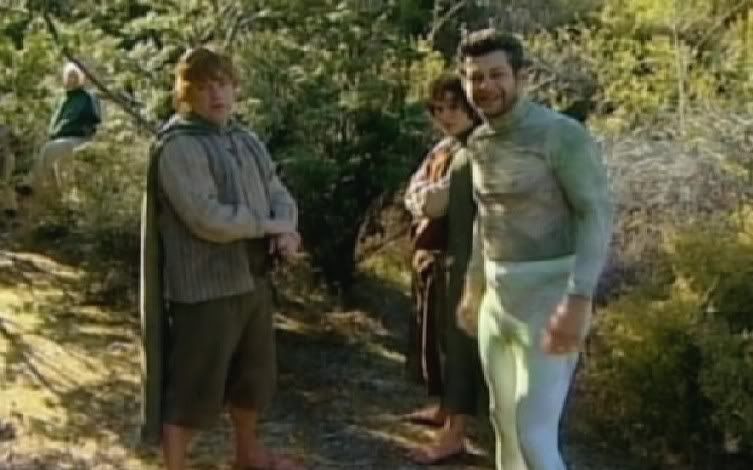 And then there are the endless adjustments to costume, make-up, etc.!!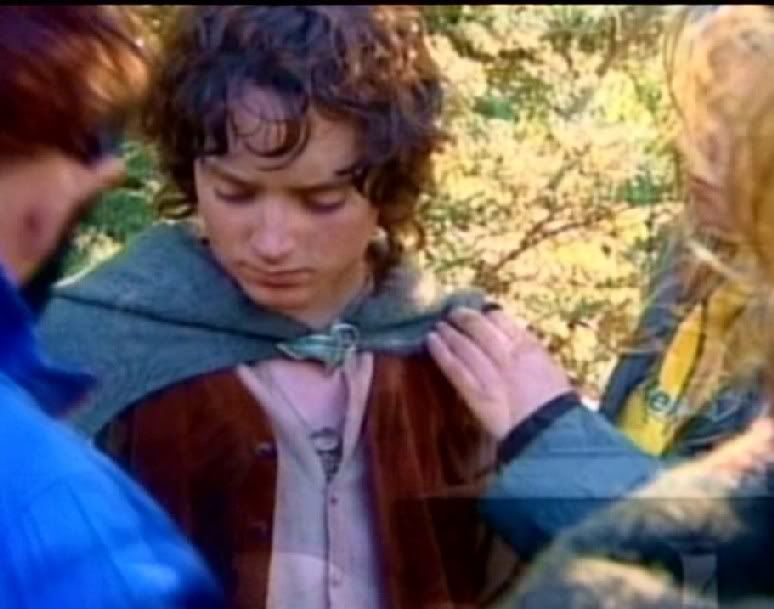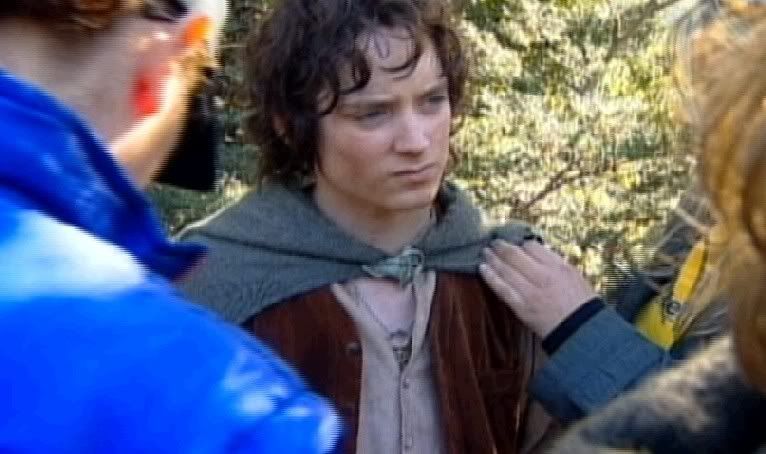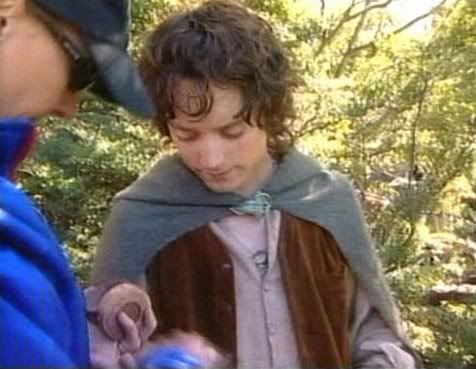 Rehearsing the capture scene with 'Tall Paul':
"And Paul will grab him and snatch him back - and then a struggle and lift"
(PJ, limited edition dvd.)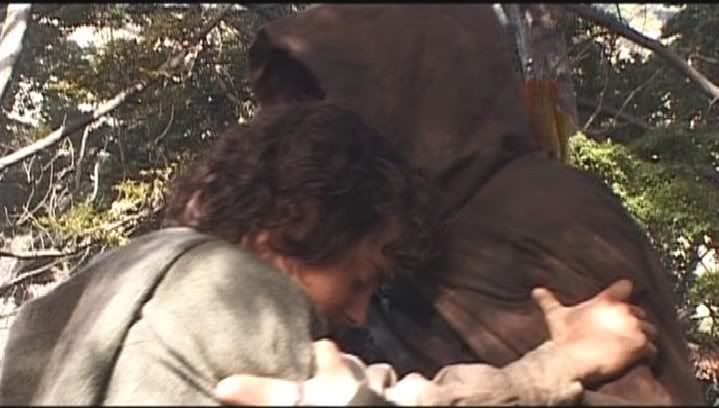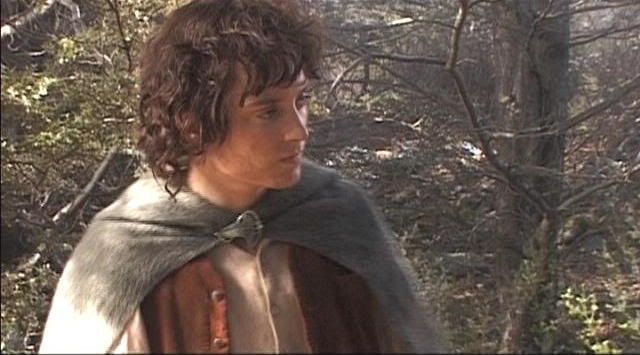 "It'd be good to get a proper fall in here instead of just falling into frame."
(Elijah, LE dvd.)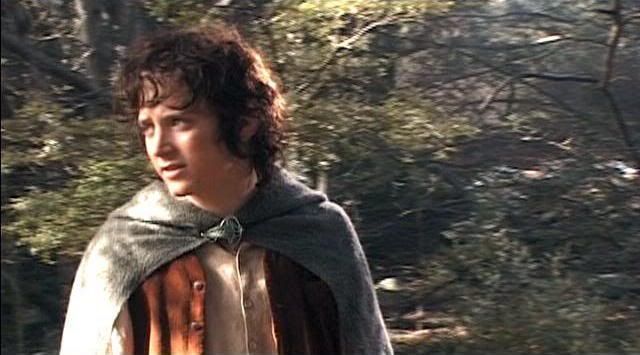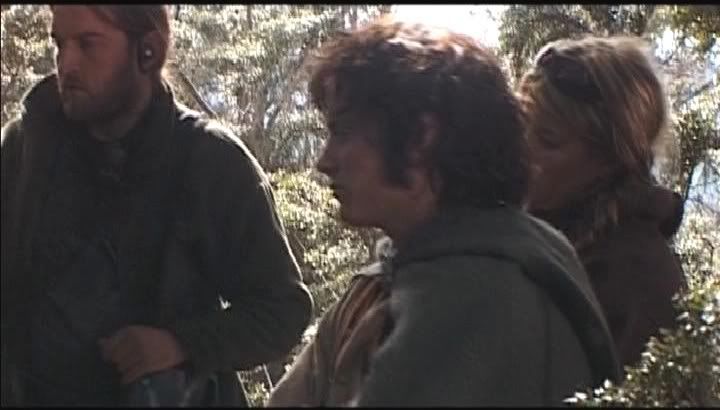 Paul misses his cue. "C'mon Paul, c'mon!!" Giggle.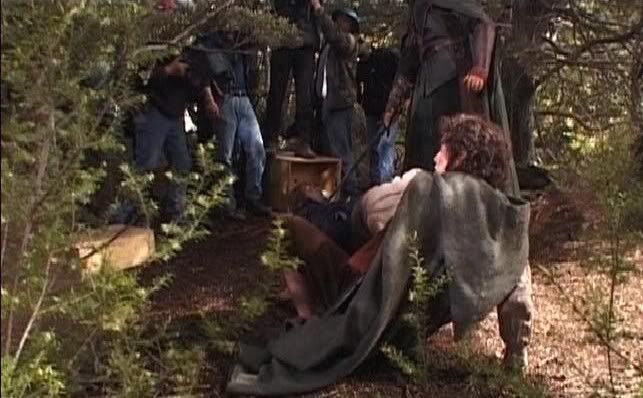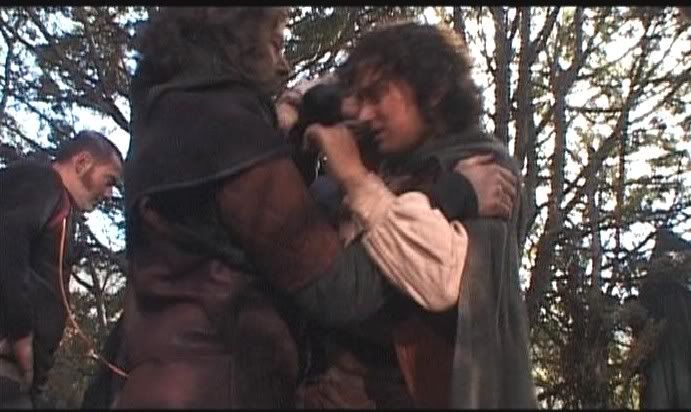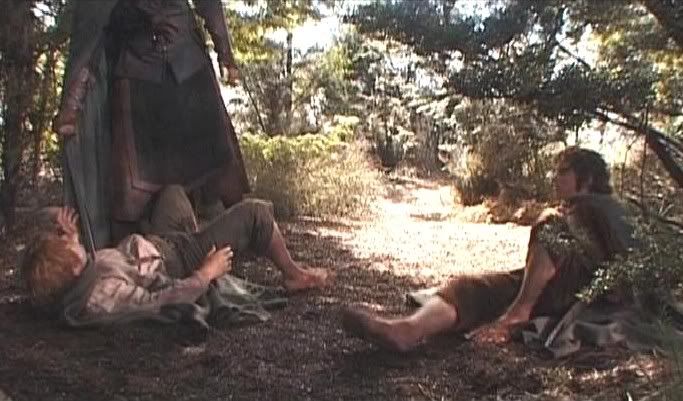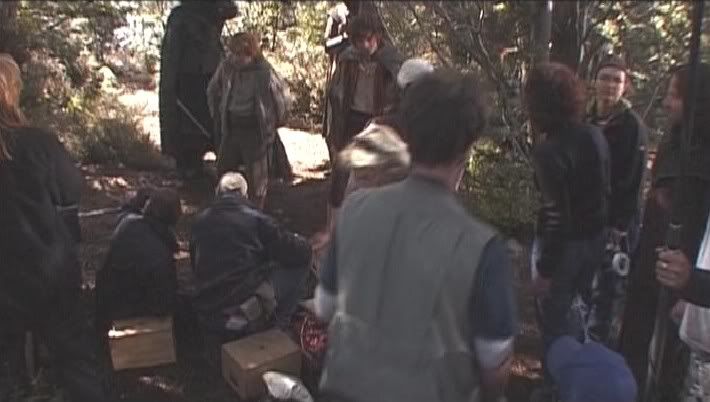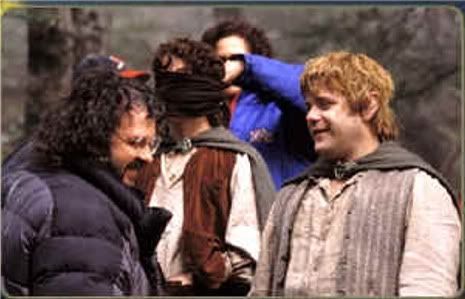 Some shots that didn't make the final cut: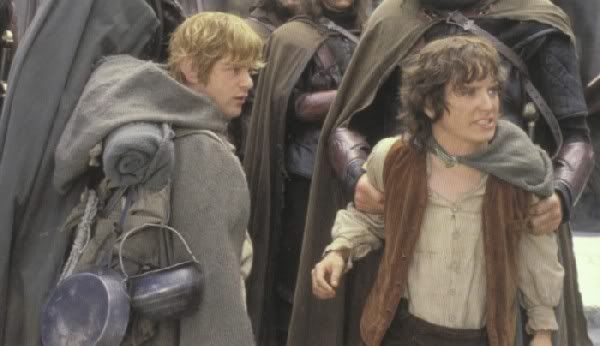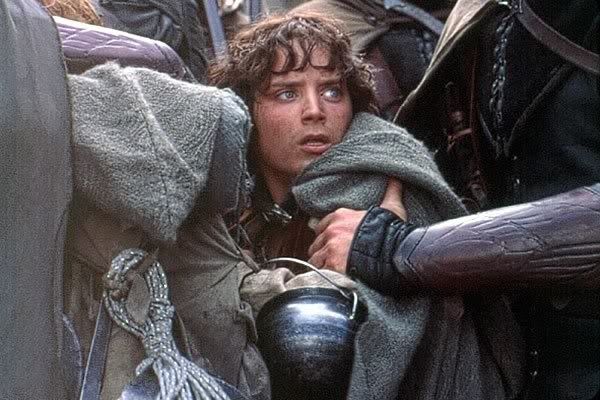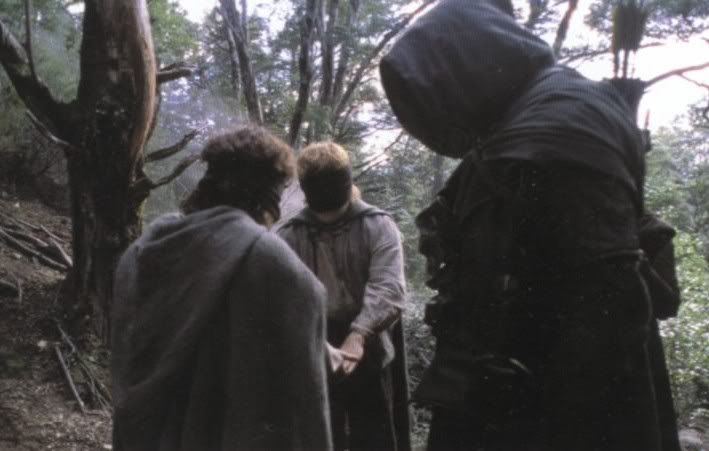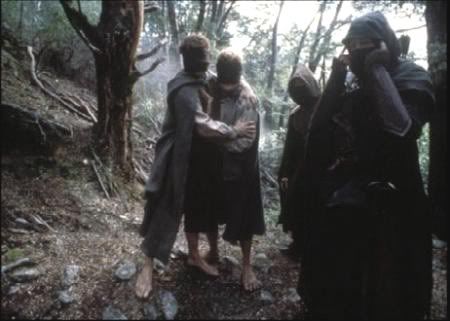 *****
The Henneth Annun Caves:
"Before the sequences with Faramir, and after, it was literally Gollum and Sam every day so it was quite nice to actually work with another actor and to explore a new area, a new world and new territory"
(Elijah, dvd)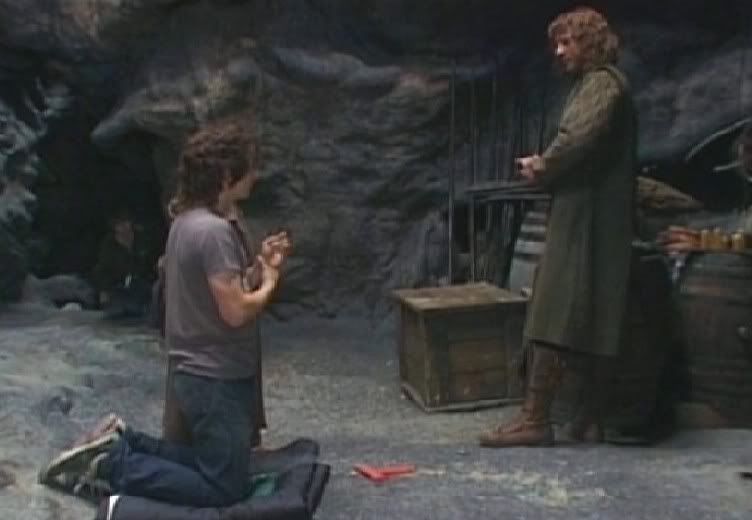 "I did most of my stuff with Elijah and Sean Astin, who played Frodo and Sam, plus Andy Serkis who plays Gollum," Wenham said.
"If there is a central protagonist of the movie, it is Frodo, and Elijah does carry a burden nearly as heavy as the Ring - he does carry that film. But oh my God, how he carries it.
"He really is such an impressive guy, he's an old soul in a way. But of course he's also extremely youthful and so much fun to be around."
(David Wenham ~ theonering.net)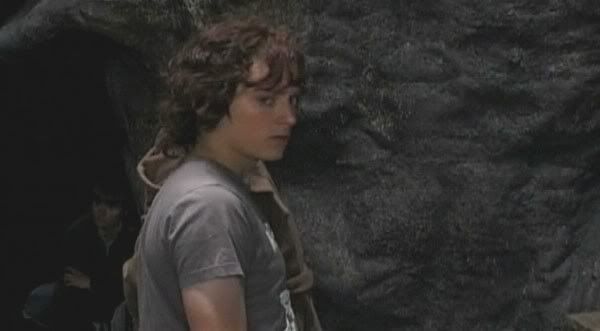 This scene in the caves was actually Elijah and Sean's last scene together during principal filming. Of course, at that stage they had no idea that they would, in fact, be doing plenty more scenes together during pick-ups. It wasn't shot until December 2000, almost at the end of the principal shoot, and at that time, Harry Knowles from AICN was on the set (you may remember him from Chapter One of this project). This is what he wrote on his website after watching the scene:
"Frodo and Sam blindfolded… led into a place (hey it's a bluescreen… I can't tell) where they are questioned by Faramir. This is where they learn that Boromir is dead, and yet the seen does not yet lead into the scene where Frodo shows and makes Faramir understand the evil of the ring, and to let Sam and he continue their trek to Mt Doom.
Now, this is just plain odd to watch… I've never seen this intricate of Blue Screen work before. Frodo and Sam are in the center of a Blue Screen stage… Activity is all about them…. Right now there are two monitors…. The one that has what is ACTUALLY shooting, and then the MIX cam… What is actually shooting is a motion control camera rig… makes this really cool whirring sound… sort of like an Electric Razor on low batteries… Well, the camera is tracking all over the place, acting a bit like a steadicam in a way… Really nice camera moves… a long long take. Meanwhile, the dialogue that is being said is piped into the stage… so they kinda have to live loop their scenes, to make sure they keep the timing between themselves and Faramir, who isn't here right now.
In-between takes, Sean runs over and sees me frantically trying to write down my perceptions of all of this… He asks me what I think of what is going on, and I can't help but respond that this is the most complicated blue screen work I've seen being done.
Sean laughs at me and says, "Well on a scale of 1 to 10, 10 being the hardest, I'd say this rates a 6.5."
Yeesh… I think, "So what was a 10?"
He then sets out to tell me about a scene where Frodo and Gollum had to roll down the side of a mountain… where Frodo had to defy gravity, leaving room between himself and the ground beneath him as he tumbled.
To this, Randy Cook – visual effects god … says, and by the time we're done with it, it will probably be an 11.
They continue to work away at the shot. This type of Bluescreen work is exceptionally painful. You see in this case there is a physical element that must be in the exact right place at the beginning of the shot… as it is the thread that ties the big with the small… and in this case it is Frodo's blindfold… that piece of cloth is the connecting tissue between the two shots… and to get it to do what you want… well, it took 6 takes, but on that last take there was a feeling… right before it, Randy Cook passed on from Philippa Boyens to me, "This is the last shot between Sean and Elijah."
I ceased watching the monitors… put down the computer, and I walked over towards where they were and watched. This scene… this is where Frodo and Sam said goodbye to one another in the realm of film production. They nailed the shot, and fell into each other… hugging. They've been atop mountains together… spent long sleepless nights… Sean has had to carry Elijah… they've wrestled with invisible cg beasties… They've cried over one another… and each morning for the last year and a half plus… they sat in FEET & MAKEUP… and became Hobbits together.
There was no champagne… no big celebration… just an honest moment between the crew and them. Elijah and Sean stood side by side… looking for the words… trying to think of something poignant to say, but instead just threw their arms up and began hugging people. This was also Sean's last day of shooting on set.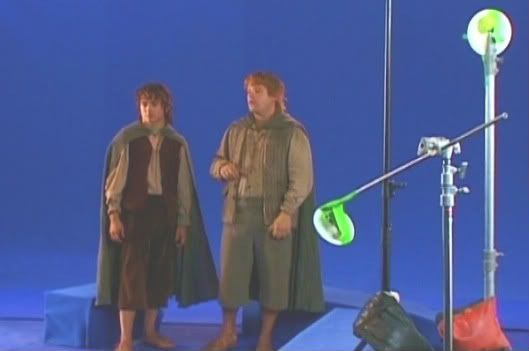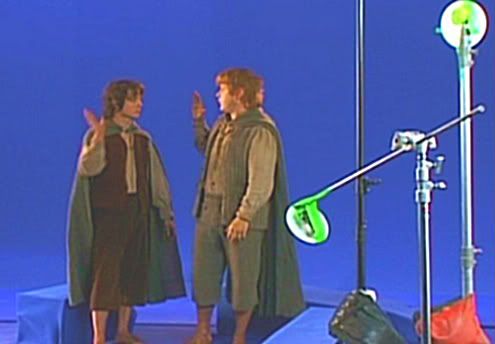 I choked up a bit, really because I know… as do all of you really, that when playing the types of characters that Sean and Elijah have here… it is a long friendship… Sure they'll stay in contact, but this is something special… the film relationship that Elijah and Sean will share onscreen… that will be eternal, but this part of it… this is it. They'll see each other in ADR… promotional junkets… They'll recall being evacuated off a mountaintop as a blizzard blew in via helicopters while Peter scouted the lowlands so as to not lose the day. I sit here and I think of what it will be like to grow an attachment with these two over the 3 films… to see Frodo and Sam… in Mordor… to imagine seeing Sam lifting Frodo while saying something along the lines of, "I may not be able to carry that for you Mr Frodo Baggins, but I can carry you!" And the idea that I was here to witness their last onscreen moment… And that it is a tiny scene really…
Two Hobbits amongst Men… recalling their journey in brief… the separation from the Fellowship… and hearing of a fallen comrade. Sigh."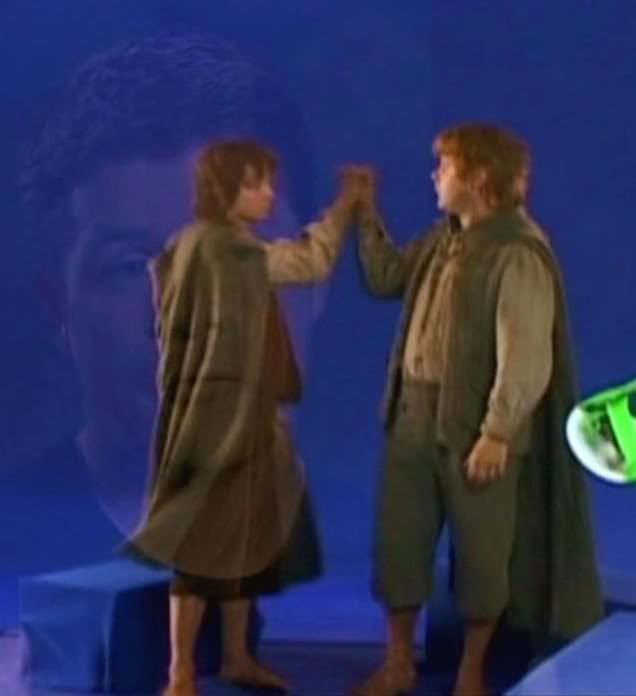 *****
"There was a scene planned and a portion of it is still in the movie - Faramir approaches Frodo in the Henneth Annun cave with his sword and pulls the ring out with his sword and is sort of talking about how he wants to take the ring from him …and Frodo is kind of backed up against the wall of the cave and freaks out. And originally what was planned was for that to continue
(Elijah, dvd)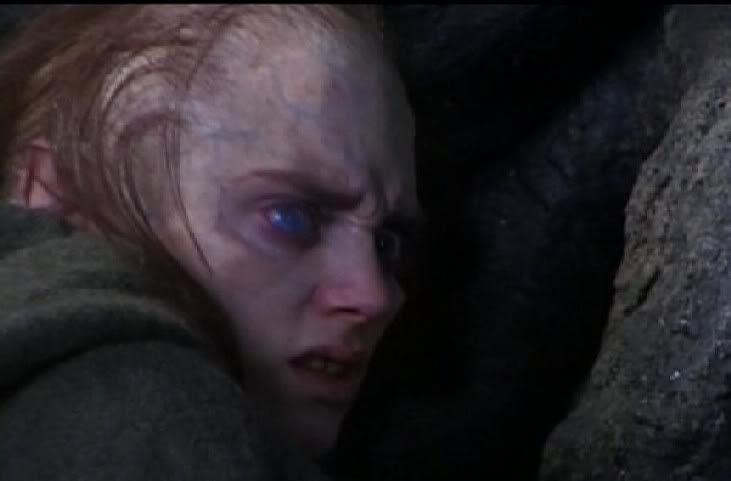 "It was Gino Acevedo who applied the make-up – I mean it was cool because I didn't have any major make-up for the movie except for the wig and the ears – it was great fun to sort of physically transform for that moment."
(Elijah, dvd)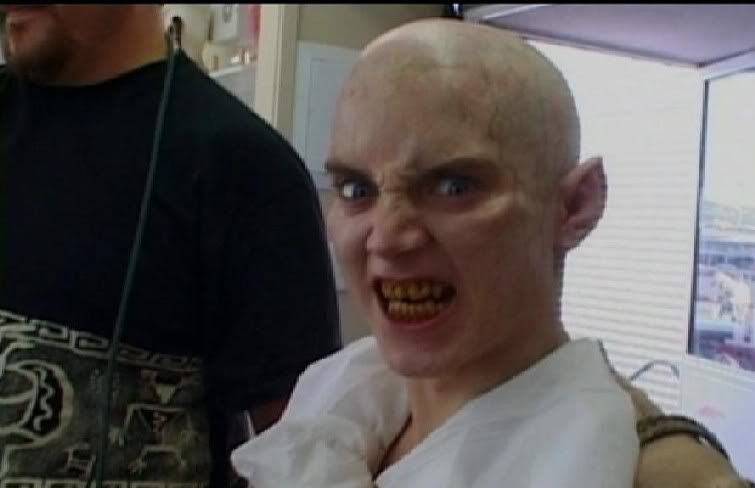 A quick Gollum impression ...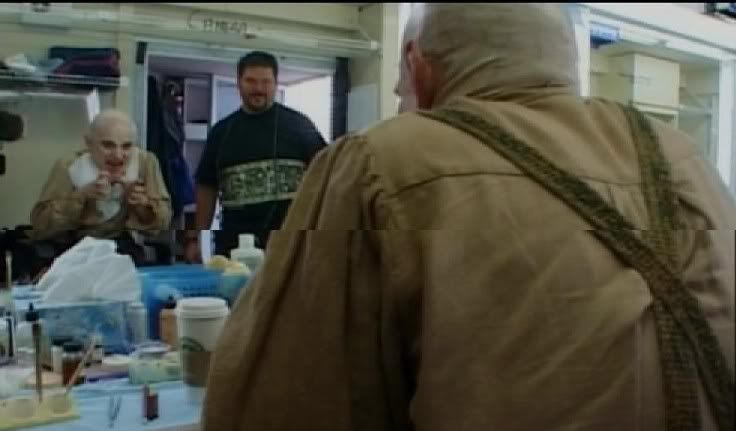 before removing his teeth!!
"That ended up not making the cut but it was quite a cool little moment - it's sort of oh - jeez – that could happen to Frodo! And Elijah looked great on the day in that make-up – it was really spooky looking. It was an interesting point in the journey because it was a moment that placed a seed of doubt in Faramir's mind as to whether to take this Ring or not. Thinking about it now, it's not necessary because they're there anyway – and I assume that's why it got the snip snip."
(Rick Porras, dvd)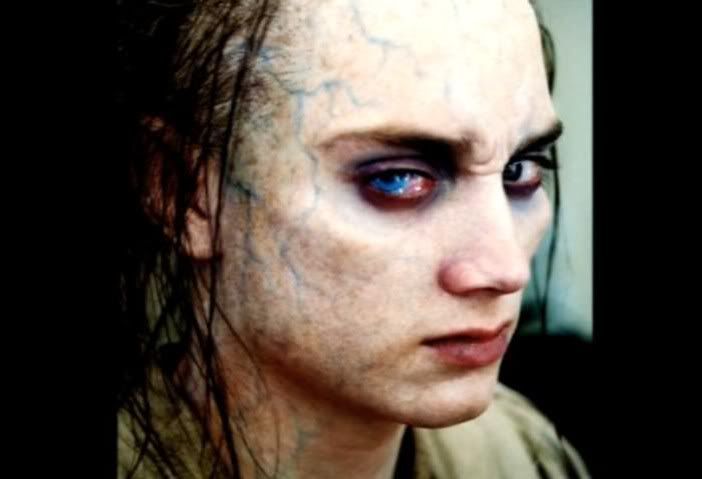 Two cave shots that didn't make the final cut: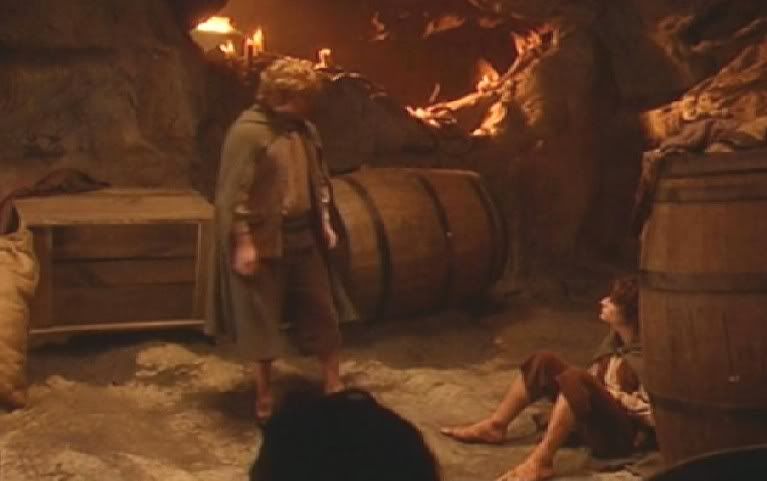 *****
Osgiliath:Frodo has a bad Ring moment on the way to Osgiliath - another shot that didn't make it to the final cut: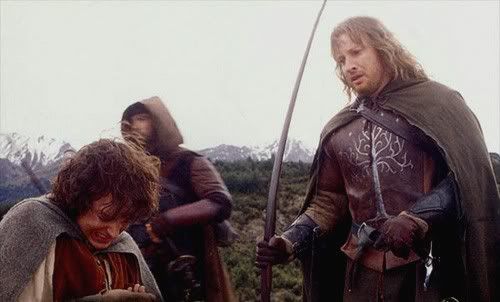 Frolijah!!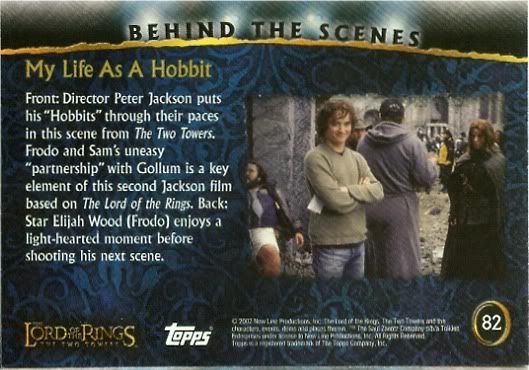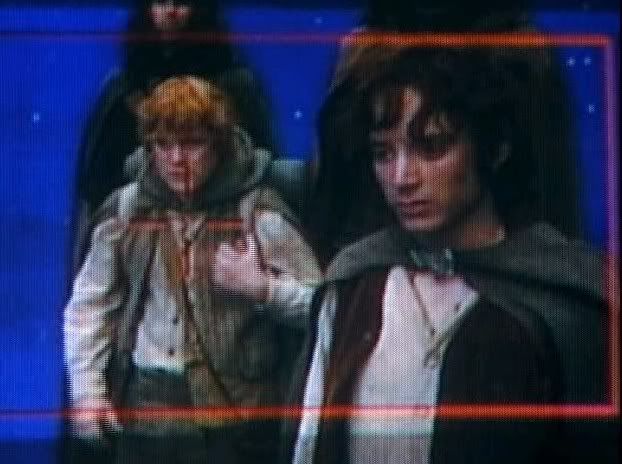 Sean:
"Elijah and I got on our knees so that we could simulate the height of the hobbits"
Elijah:
"Just for a reference for camera"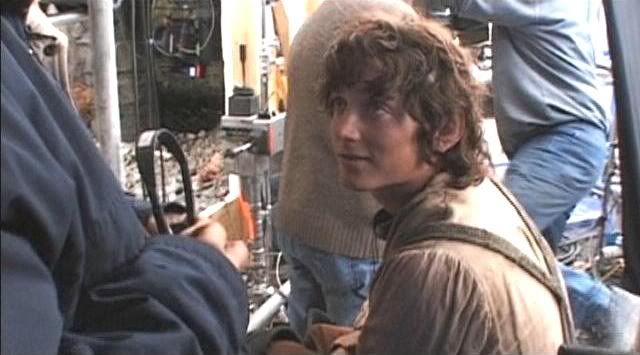 Sean:
"Well, BK and Fon saw us kneeling down and even though they're only 3 feet tall they assumed, because their job is to mimic our movements, they came in and took a knee so instead of being 3 feet tall they were a foot and a half!!
Elijah:
"So mid-shot Sean was like "BK – get up!!"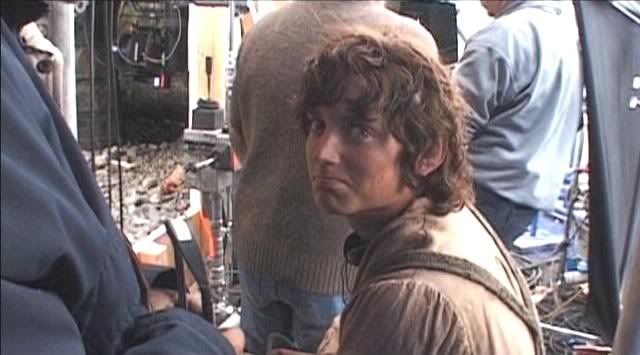 "Consider the moment when we shot a scene in which Frodo, straining against the power of the Ring, pulls his sword on Sam. 'Ok, now put the blade under his chin', Peter yelled to Elijah, who was kneeling over my prone, lumpen form. Elijah smiled. 'Which one?' That cracked up everyone on the set, including me, although the truth of it hurt a little because I was mad at myself for getting that fat again!"
(Sean, 'There and Back Again:An Actor's Tale')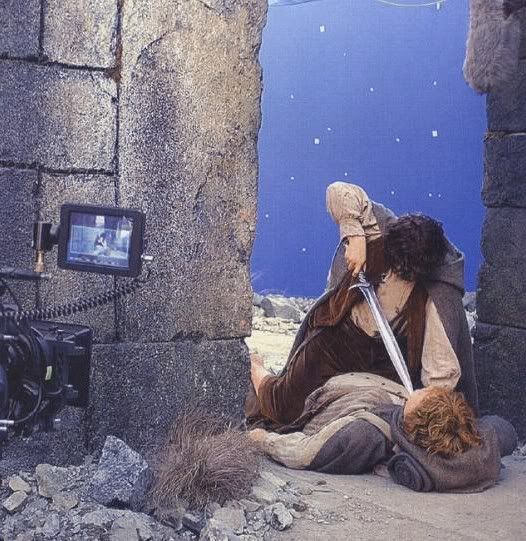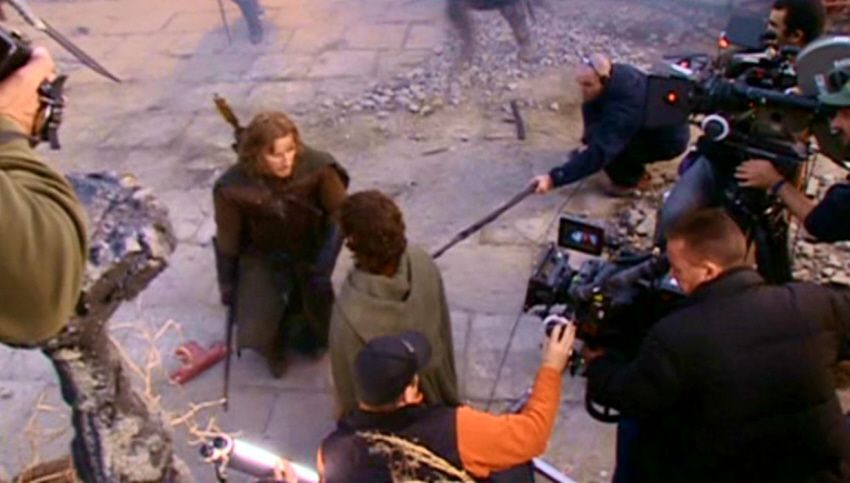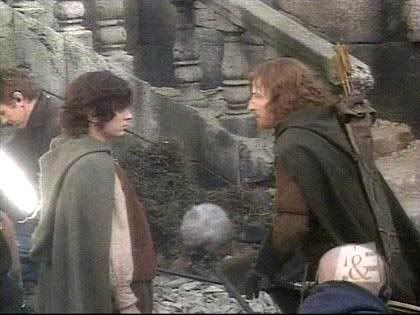 Sean talks about his dramatic TTT speech:
"I was a little concerned that I had felt more emotionally connected to the scene in my bathrobe in LA, and when I was rehearsing it alone with Elijah, than I did when we actually shot it."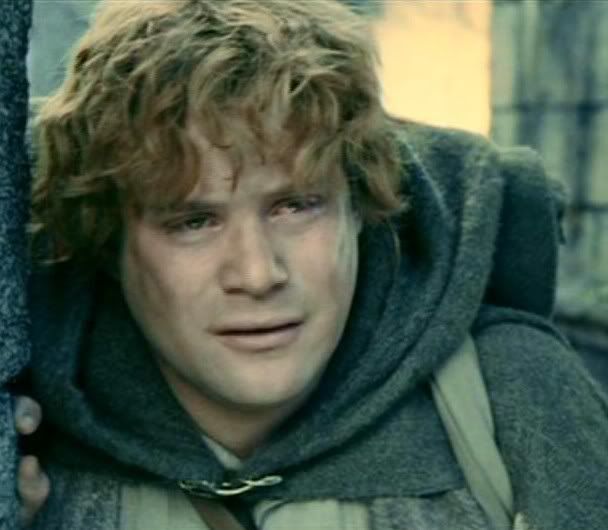 When we finally finished, Elijah gave me a hug and said 'That was hard, wasn't it?'. But he was so patient. It was a strong Sam moment and I needed his help and inspiration to get through it."
(There and Back Again, An Actor's Tale - Sean Astin)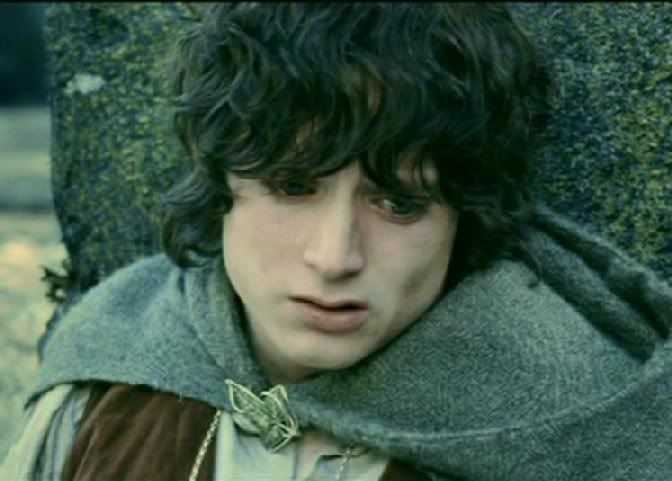 *****
The final TTT scene, apart from the bit where Gollum is holding a conversation with himself about plotting to kill the hobbits, was actually shot during pick-ups in the Waitarere Forest, north-west of Wellington.
"The second movie was always the most complicated in the writing stage. It was the most difficult of the films to infuse with heart, so it was great to go back and make it more emotional."
(Elijah ~ Entertainment Weekly)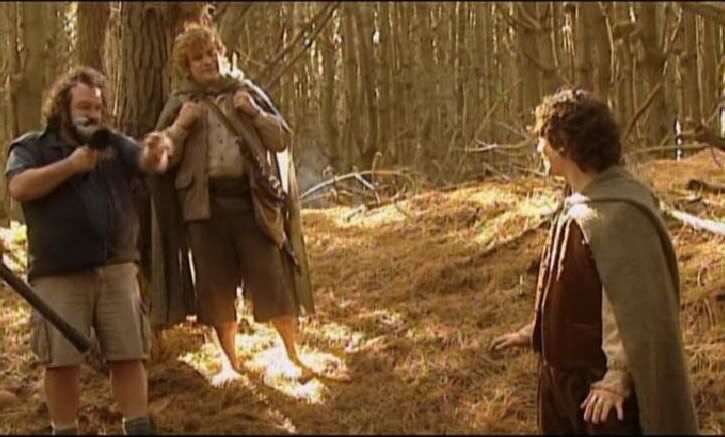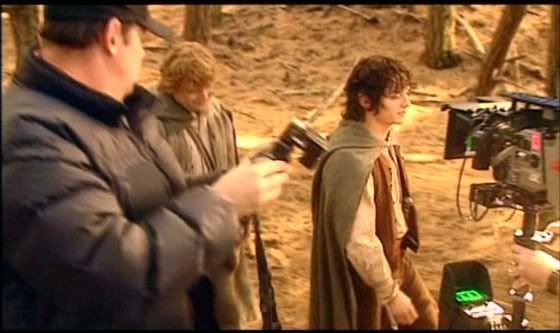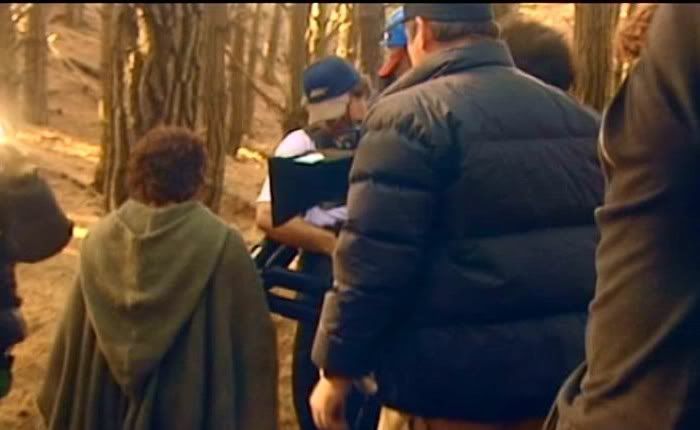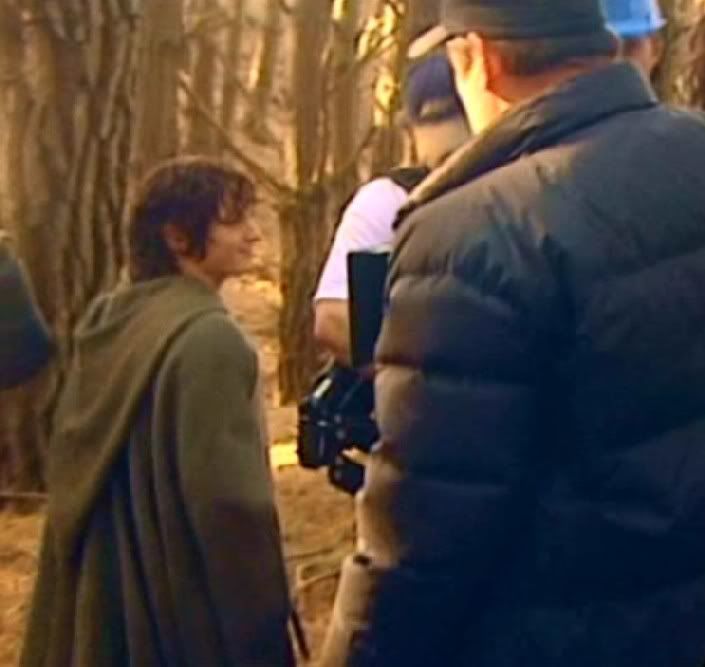 Elijah looks really concerned about Pete here:

"I was really moved by the friendship, between especially Sam and Frodo. I was especially so moved by Sam's unconditional love to Frodo. So Elijah, do you have a friend like Sam in your personal life?"
Elijah Wood:
"Sean and I are Frodo and Sam to a certain degree, you know. We experienced all of those things together. We spent over a year... ups and downs and the experience of working on the movies and we relied on each other, just as Frodo and Sam rely on each other. There's a massive amount of unconditional love between us. It's the truth!"
(NZ Press Con)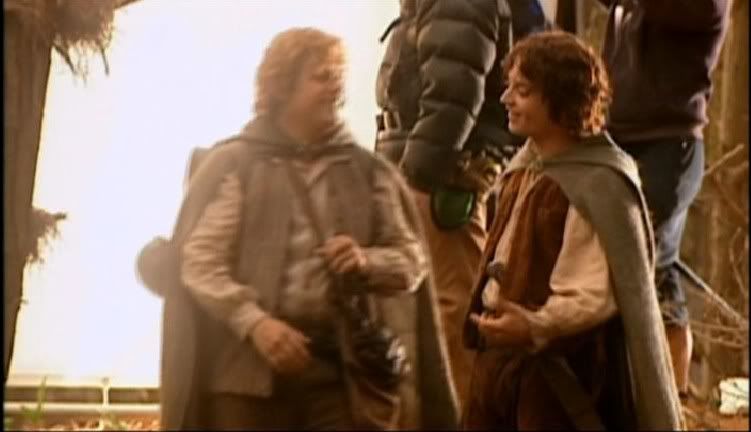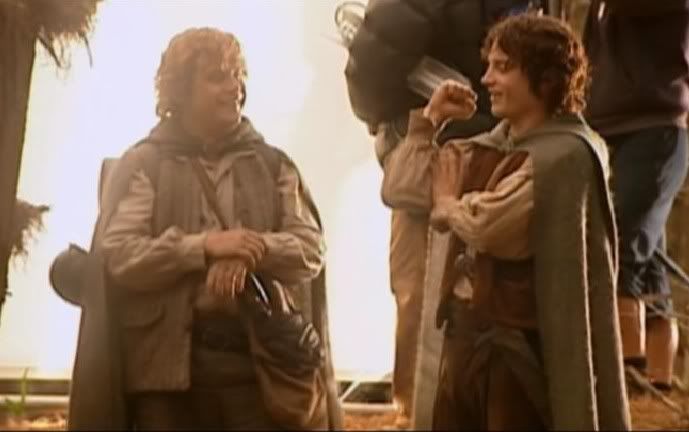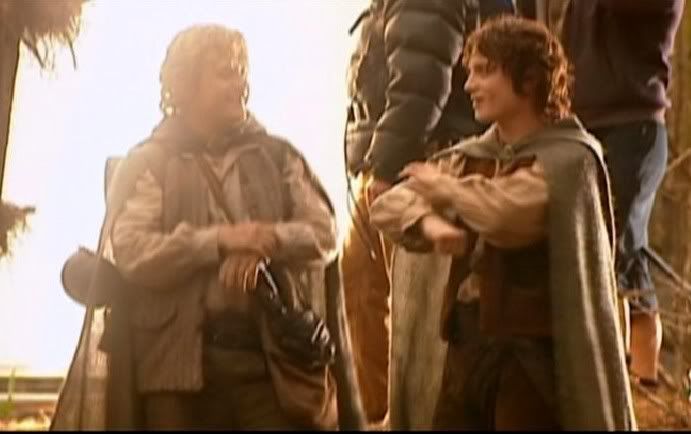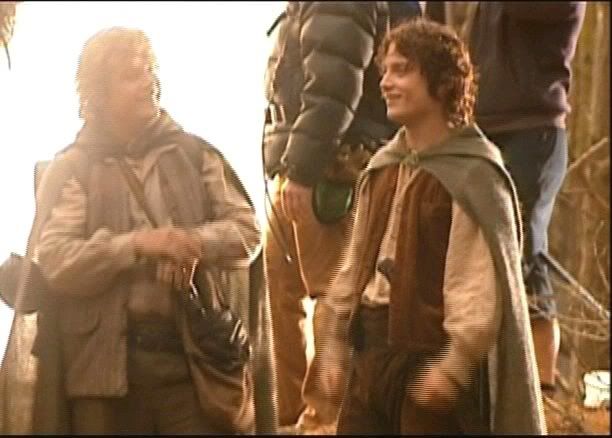 *****
"If there is a central protagonist of the movie, it is Frodo, and Elijah does carry a burden nearly as heavy as the Ring - he does carry that film. But oh my God, how he carries it."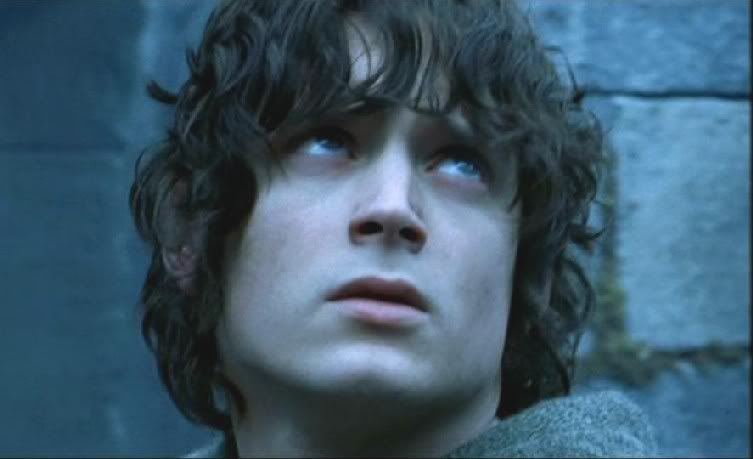 TO BE CONTINUEDLink to previous chapters:
http://not-alone.livejournal.com/tag/a+journey+with+frodo
comments: Leave a comment