| | |
| --- | --- |
| Tags: | a journey with frodo |
| Current Music: | Leftover Wine~Melanie |
| Security: | |
| Subject: | A Journey With Frodo~Ch.15~Guest of Honour |
| Time: | 09:45 pm |
| Current Mood: | relieved |
I can now bring you the next chapter of 'A Journey With Frodo'. We have now reached the shooting of scenes from ROTK - Elijah and PJ's favourite of the Trilogy. I post this with the greatest of relief - about ten minutes ago I thought I'd lost the whole thing - I pressed something and it was gone and the automatic 'save LJ entry' didn't appear to be working. I then discovered I'd actually posted it - unfinished!! So before I do anything else silly here is Chapter 15 ~ 'Guest of Honour'.

Frodo and Sam's first scene in ROTK is, of course, in the culvert on their way to the Crossroads. While the actual journey to the Crossroads was shot on the North Island, the culvert scene was shot in Okahune on the South Island in a burnt-out area which, according to Dan Hennah, looked like a World War One battlefield - "You certainly got the feeling it was the destruction of Mordor, the destruction of life". It was also shot on what Elijah described as "a day that was frighteningly cold"!
"There was this aura about ROTK that was quite special - I mean obviously we were skipping around quite a lot but whenever it came to doing something for film three there was this kind of excitement."
(Elijah, DVD)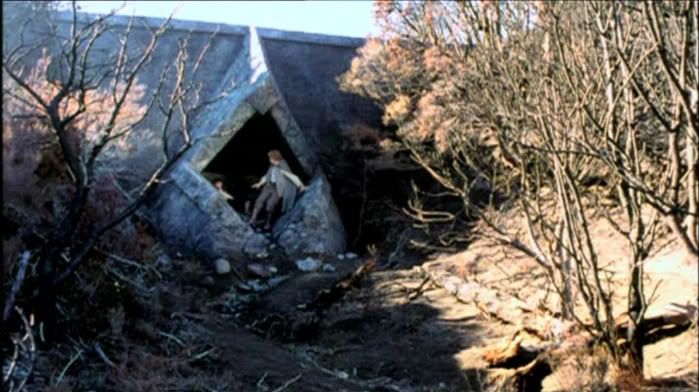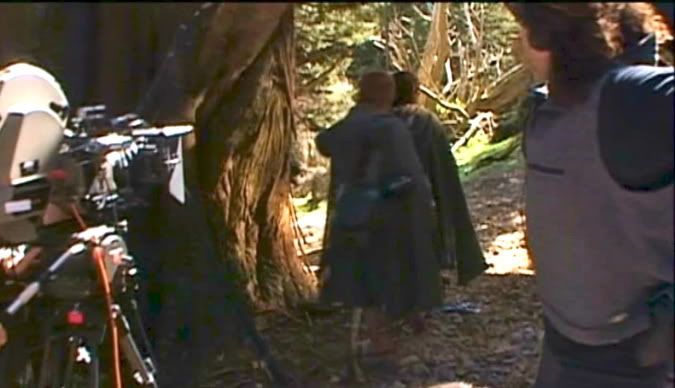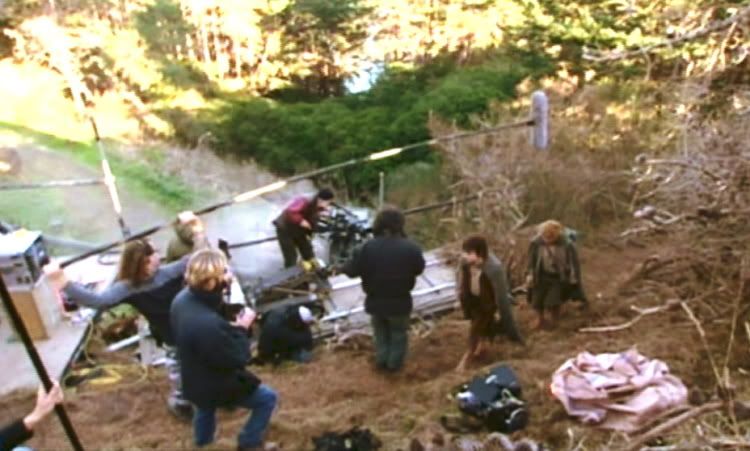 "The Morgul Crossroads was shot in a forest near Wellington - it was just a scrubby bit of farmland - we picked it because it had these interesting shapes of these trees - sort of splintered and split."
(PJ, dvd)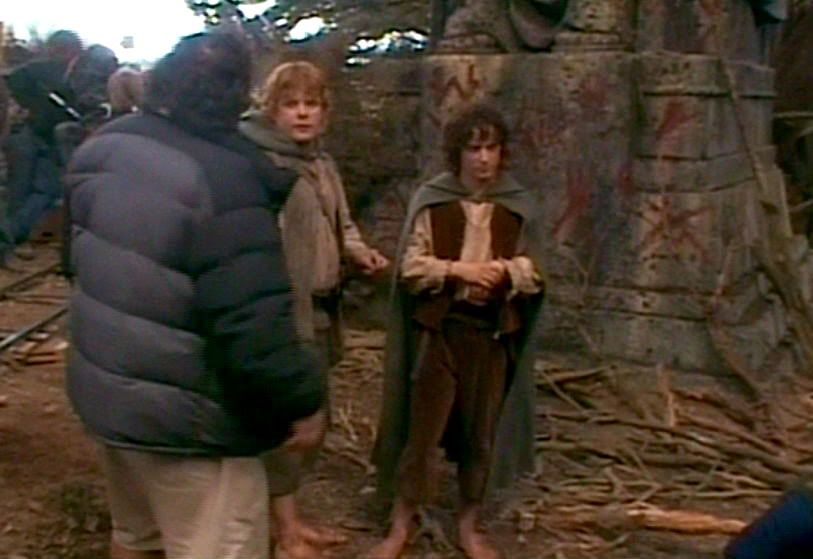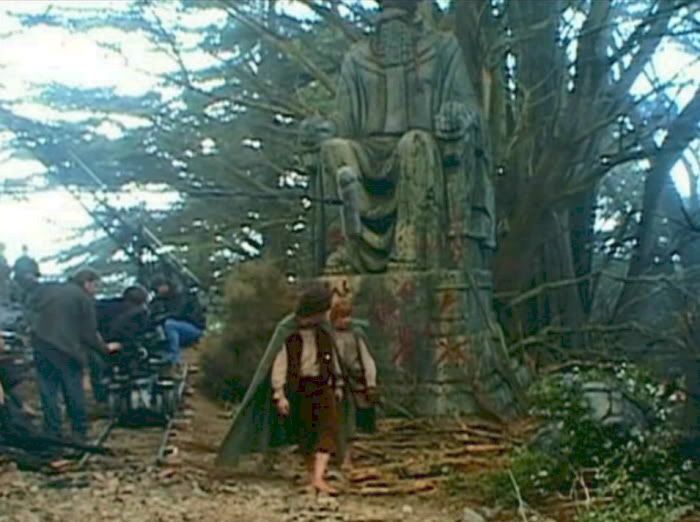 This shot is not in the film:
On this day there was a very special guest joining the cast for lunch - Sir Edmund Hillary (now sadly deceased). PJ kindly gave Elijah, Sean and Andy a copy each of Sir Ed's book and a 5 dollar bill bearing his image for him to sign.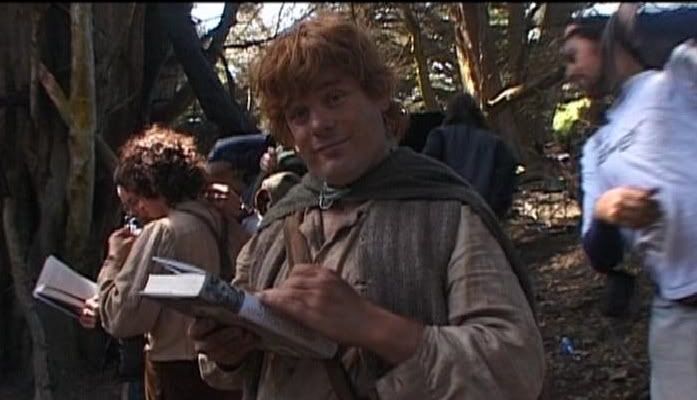 "To our surprise Sir Edmund Hillary visited that day. It was a true honour for everybody I think to be in his presence - I mean he's on the NZ 5 dollar bill!"
(Elijah, DVD)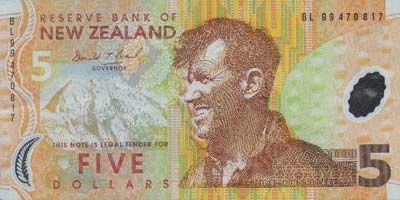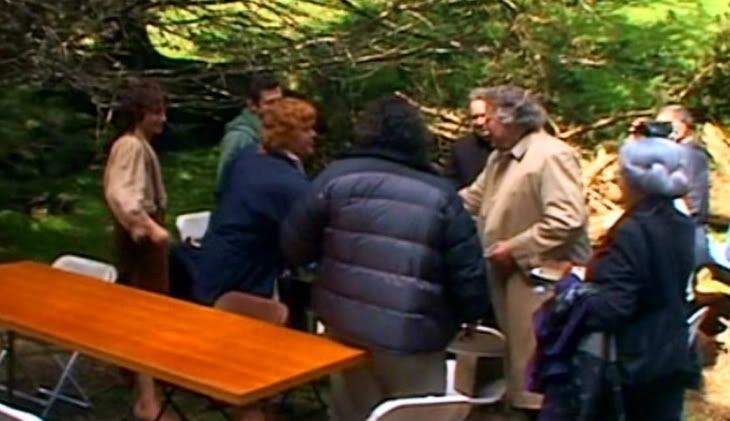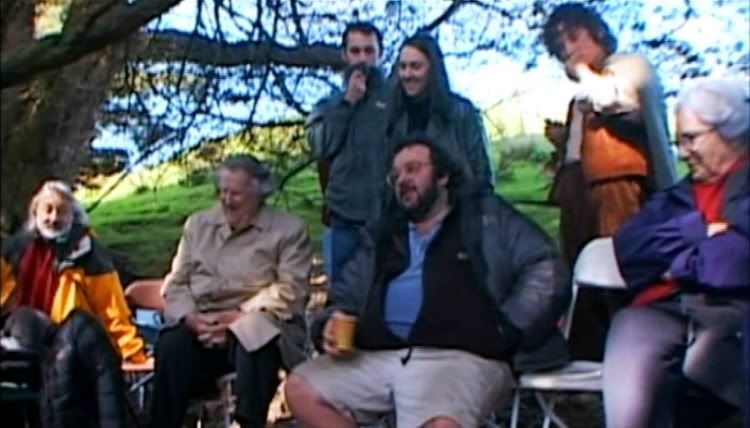 Sir Ed has requested to see a certain scene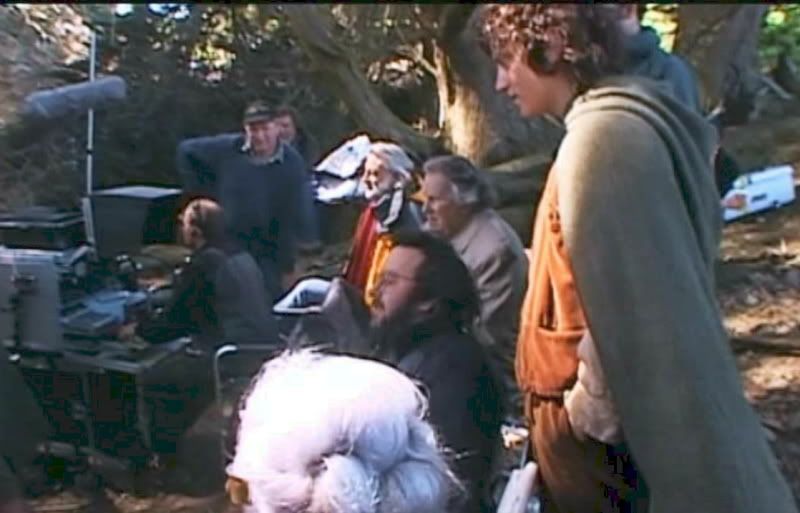 "Oh my God - I haven't seen this!!"
(Elijah, dvd)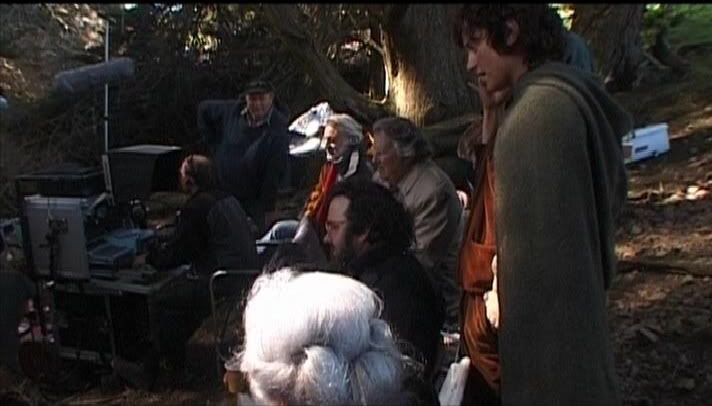 "Well, you'll have to pay - it'll be out in two years time!!"
(PJ, DVD)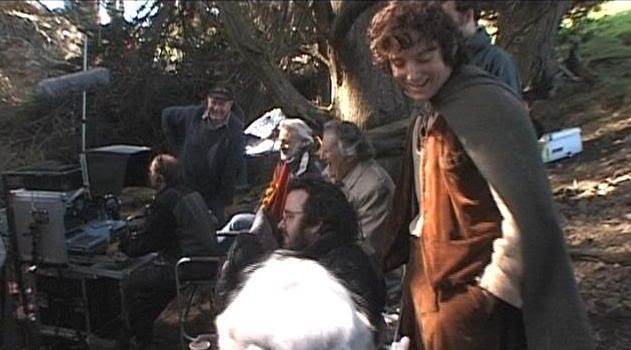 He rushes to the monitor for a closer look!!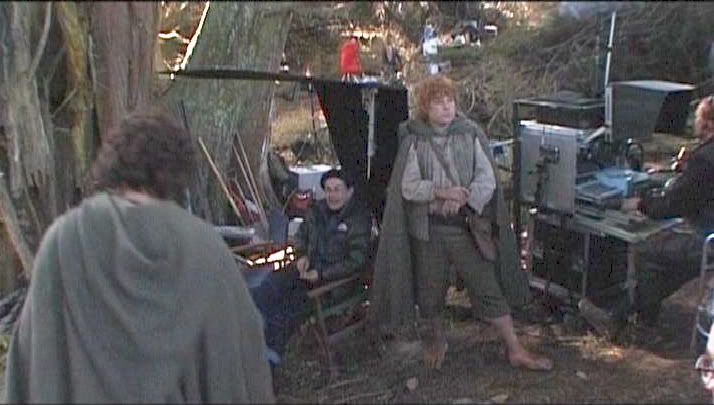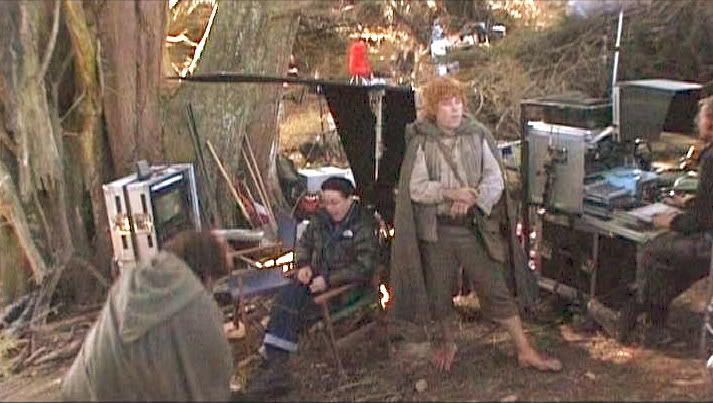 *****
The Stair to Cirith Ungol:
The scene on the ledge of The Stair where Frodo sends Sam home was shot in two parts - one year apart!! Sean's scenes were shot in November 1999 and Elijah's one year later in November 2000. How this state of affairs came about was covered in Chapter Five and for anyone wanting to refer to this here is the link
http://not-alone.livejournal.com/59571.html#cutid1
- you'll need to scroll down a bit.
"What happened is that we didn't end up going back to that squash court to finish that scene until Dec 2000"
(PJ, DVD)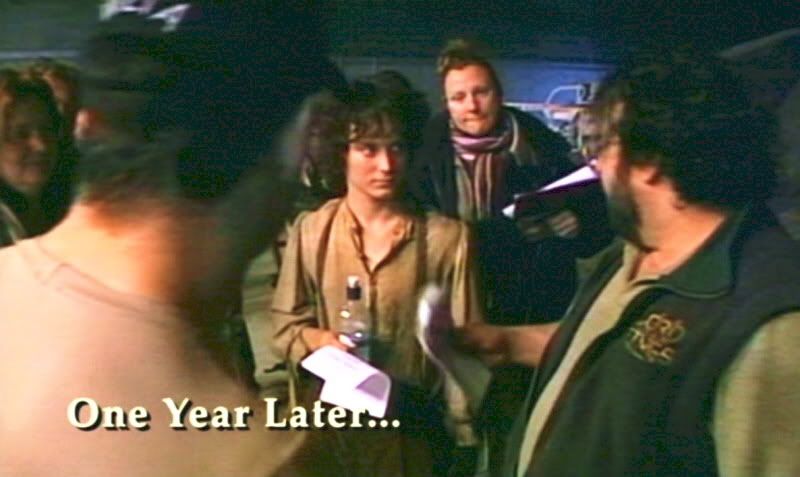 "So essentially the people of Queenstown were without squash for over a year. It was just one of the many sacrifices of making these films.
(Elijah, DVD)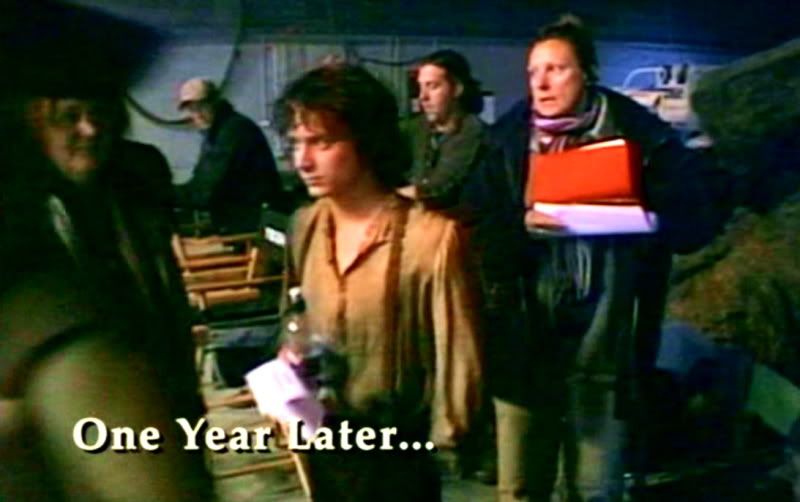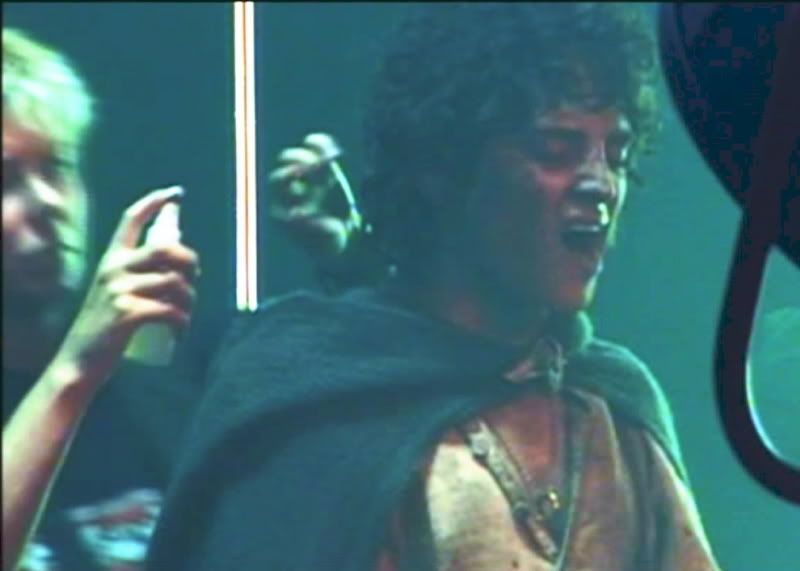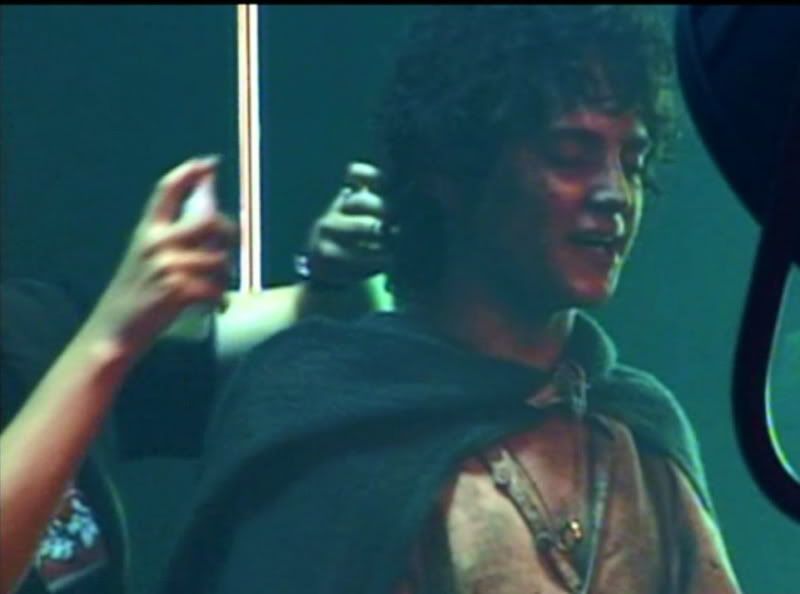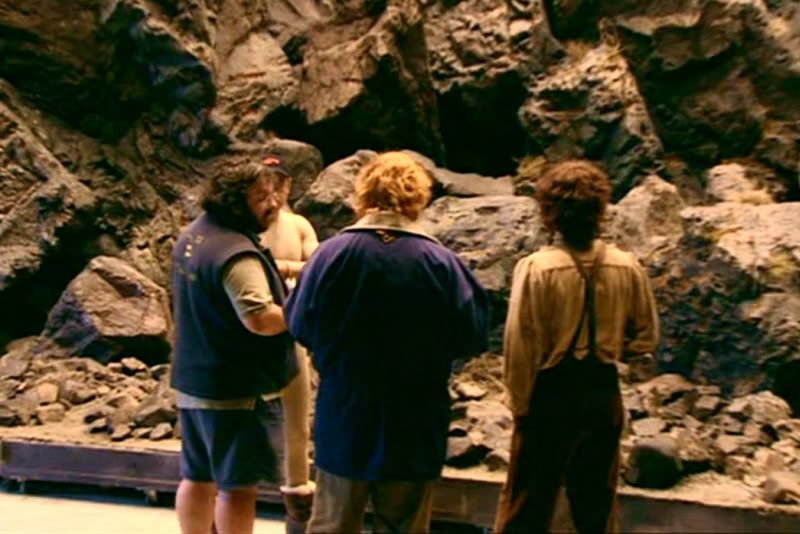 Even though they were indoors, the stairs were quite slippy and difficult to negotiate.
Elijah was in front of me and the pointy end of his scabbard poked me in the face all the time - I was sure I was going to lose an eye on that thing. There was lots of slipping and banging your head."
(Sean, DVD)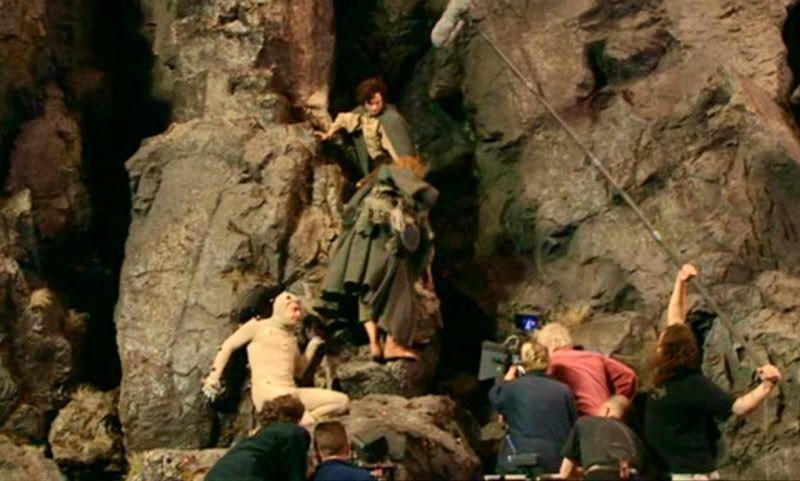 "A year later, we were back in the squash court, and this time the heat was on Elijah. He had to get his head back into a scene that had been half-filmed so long ago. He knew that he had to deliver a performance that matched the emotion of Sean's takes, and that he did to perfection. What is amazing when you look at the finished scene in ROTK, is to think that every tie we cut to and fro between Frodo and Sam we are actually jumping back and forth across a year-long gap."
(PJ, "Peter Jackson:A Film-maker's Journey" by Brian Sibley)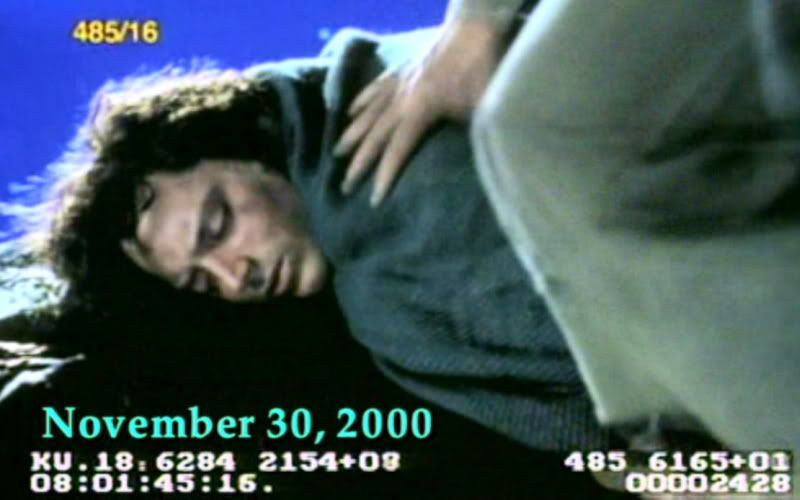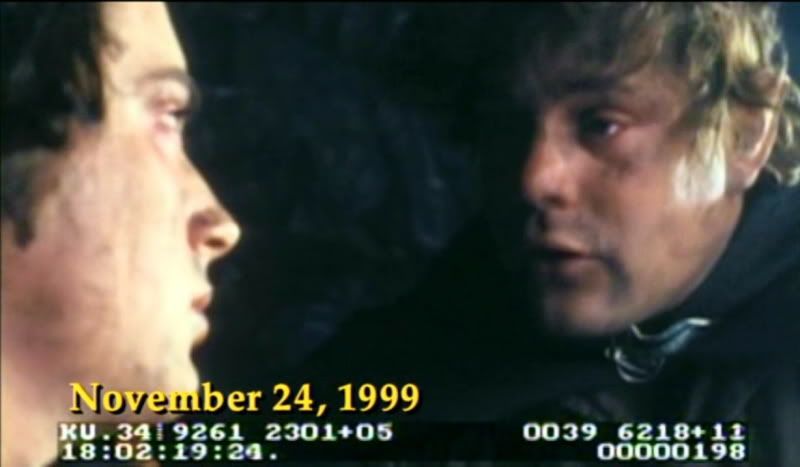 "The original version of that scene had Frodo pretty aggressive, borderline psychotic saying, you know, 'Get out of here - you can't help me', in a really kind of venomous tone."
(Mark Ordesky, DVD)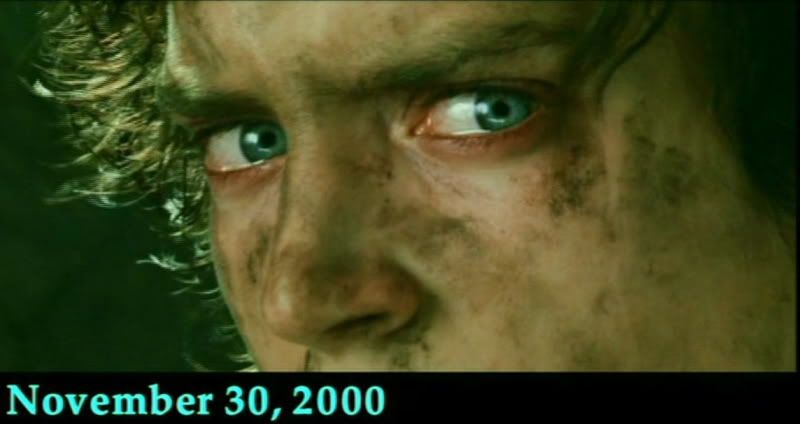 "What we were playing really was that Frodo was a junkie by this stage, that he was addicted to The Ring."
(Phillipa Boyens, DVD)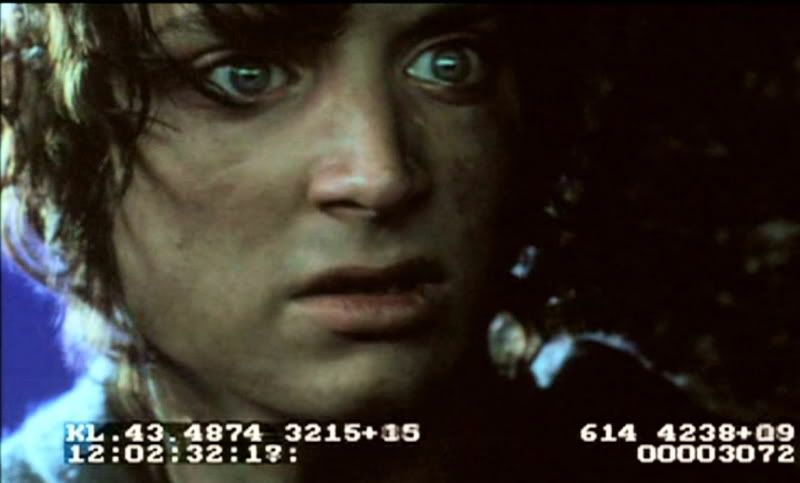 "And it was changed later as we had more time to think about it. We realised that this was a little bit too intense for Frodo. They had me doing additional dialogue recording to sort of tone it down to keep the intensity but not make it so evil, so I asked them if they had any other takes - did we ever do any versions that weren't nearly as intense - and I had, there were a couple in there that were a little bit calmer, certainly for the go home moment - it was more quiet and subdued."
(Elijah, DVD)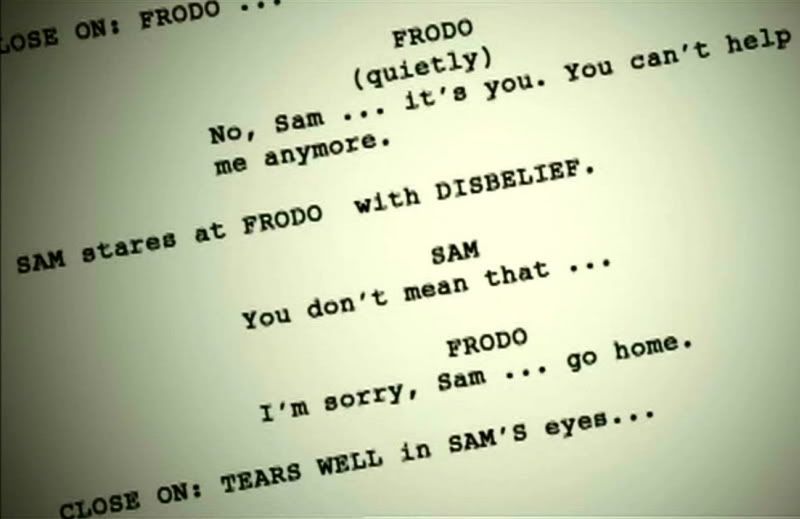 "Peter Jackson explains how, at first, he had to spur on Wood to inhabit the darker side of Frodo. 'He was having to summon up feelings of genuine hatred that he didn't enjoy doing,' says Jackson. 'Those were the times when I had to say to Elijah, 'I'm not quite believing it - let's do it again.' And when they did it again, he was there."

I propose to Wood that when darkness doesn't appear easily in someone, especially someone as upbeat and positive as he, one wonders whether there's no darkness there, or that it's buried very deep. And is even darker.

"Because it doesn't get air," he nods, considering the notion. "When something doesn't get air, it smells worse."
(Rolling Stone)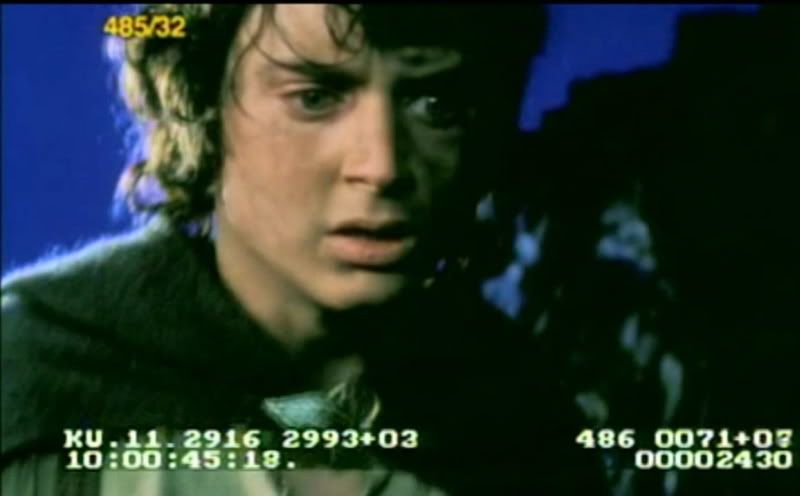 "What was it like to be part of Frodo's quest as he nears Mount Doom?"

"It was an amazing thing as an actor to watch the relationship of Peter Jackson and Elijah Wood. How could Elijah, who is so sweet and has such goodness in him, communicate the idea of trying not to give in to pain and suffering and darkness and hatred and villainy and treachery? You can see it on his face, you can feel it. The audience is in for a real treat--and for a bit of pain."
(Sean,lordoftherings.net)
*****
The Minas Tirith Press Conference
On 10 November 2000 PJ held his first press con in a large tent on the Minas Tirith set.
Glimpse of another world
by Diana McCurdy
The Press
Scoring a visitor's pass to the Lord of the Rings film set in Dry Creek Quarry, Wellington, is like winning a golden ticket to visit Willy Wonka's chocolate factory.

The set crouches in the hills just above Avalon. Gothic-looking towers and stone walls jut out above the treeline. From the roadside, it appears to be a gateway into another world.

A slight breeze curls over the towers and plays on the faces of curious onlookers. It seems to whisper an invitation, hinting at mystical encounters and unworldly experiences. This is a place where orcs might lurk. Or elves might dance.

There's been so much speculation, so much secrecy, and so much controversy about Peter Jackson's adaptation of J.R.R. Tolkien's epic tale, that the set has been imbued with almost magical qualities.

Even the external scaffolding, and the dozens of cars parked below the set, cannot detract from its air of mystery.

Once inside the gates, the atmosphere is surreal.

Famous and familiar faces wander casually around a medieval-looking courtyard. Elijah Wood (Deep Impact) stands alongside Sir Ian McKellen (Gods and Monsters and much more), Viggo Mortensen (A Perfect Murder, Psycho), and John Rhys-Davies (Indiana Jones).
These are the people that hold Tolkien's epic tale in their hands. Arguably, they know his characters better than anyone else. For the last year, they have been living and breathing Tolkien's Middle Earth as no others have done before them.

For Elijah Wood, the length of time needed to film a movie trilogy has been a Godsend, allowing him to reach an intimate understanding of his character Frodo Baggins. "That's taken some time. It's taken a year, I think, for all of us. That's the great thing about being able to make the film like this ... we've all been able to live in our characters for such a long time. So I've been able to see my character through all his changes and all the growth." The experience has been a watershed in his career, he says.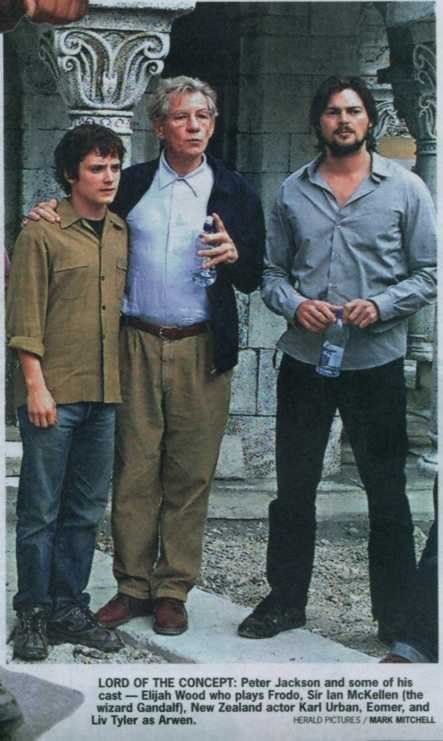 From The Otago Daily Times:

"Secrecy has surrounded the filming of Lord of the Rings, but last weekend director Peter Jackson eased security to allow journalists a look around one of his Middle-earth sets near Wellington.

If the obvious bond between the actors of Lord of the Rings is anything to go by, we're in for something special when The Fellowship of the Ring is released Christmas 2001.
The way the dozen actors so easily played off each other and gave director Peter Jackson a hard time was more typical of a family get-together at Christmas than a bunch of diverse egos that are thrown into a melting pot to see who can survive. Jackson, the chef here, has got his $650 million recipe right: to a base of stunning New Zealand landscapes and the world's best-known fantasy novels, add an energetic young cast with a pinch of experience, measure out a handy quantity of Kiwi ingenuity from his special effects workshop and simmer slowly for 14 months. Think about it. On what other job would an actor or actress spend more than a year doing the same project, with the same people, halfway around the world? The impression I got at a press conference earlier this month, at the Dry Creek Quarry (the set of Minas Tirith) about 25km north of Wellington, was that the actors thought they were a part of "something". (cont'd ...)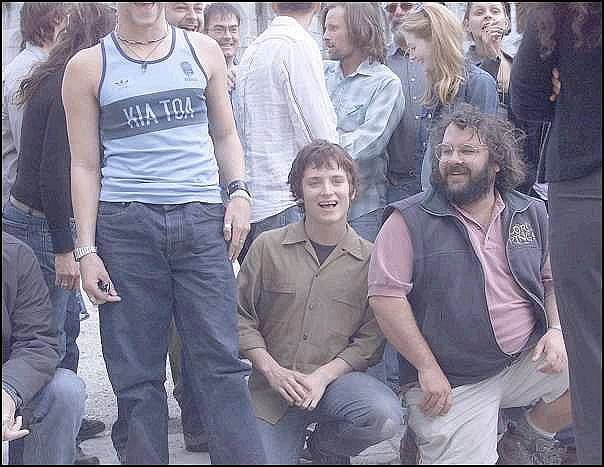 How about this from the movie's Frodo Baggins, Elijah Wood: "What drove me to be here was to work with Pete - I was a fan of his work - and to be a part of something so beautiful and so epic, you know. To recreate Tolkien's vision on film and to spend a year doing it with everyone involved and sharing their love of the project and that was what enticed me to do it." On a lighter note, Wood said one of the hazards of working with such a large cast is that eventually it will get back to you that they have seen one of your movies on TV. Dominic Monaghan, who plays Merry, said how incredible it was that he and his fellow actors were so like the film's characters. "Elijah is Frodo and no-one else could play Frodo. And Sean [Astin] has so many Sam qualities. When you think about all the fellowship, everybody has these things which are innately their character." (cont'd...)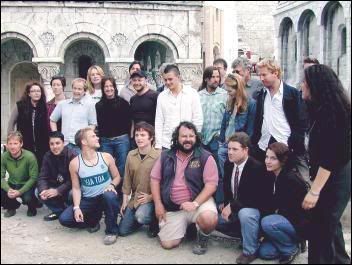 Sir Ian McKellen, who plays Gandalf, said it felt like they were physically in the places from the books. When looking at the benefits of the movie, English actor John Rhys-Davies said it would be the biggest movie of all time - "These three films are going to be bigger than Star Wars." However, the most telling of all comments was probably the director's admission that it was a privilege for him, and every other person involved in his project, to have been involved. Jackson said he was the lucky guy, because his vision of the fantasy would appear on screen. "It dawns on me from time to time that here I am in Bag End, or here I am in Helms Deep, and there's Aragon there and there's Gandalf and here's Frodo. There's moments when you do feel that you're physically transported into the book. "Everybody will be able to share the movie when it comes out on the screen but it's a real privilege for the few of us that were sort of physically there standing in the same room as these characters - being able to walk through doorways and look around corners that people in the movie won't see." (cont'd...)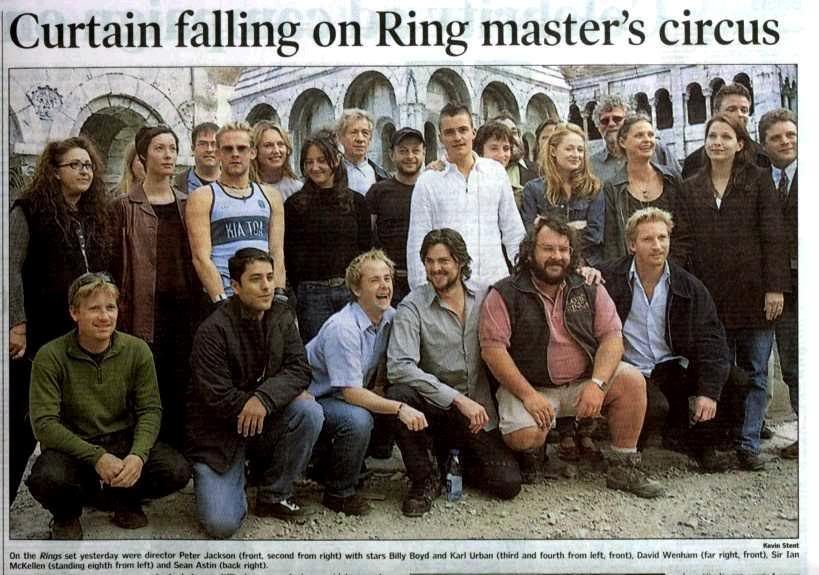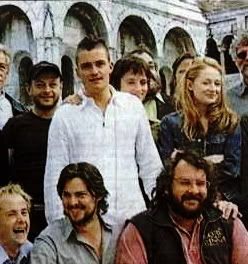 For the less sentimental, here are the best quips from the press conference: English actor Sir Ian McKellen said his trip to New Zealand was a wonderful opportunity to see Australia; Sean Astin said he knew as soon as he saw Elijah Wood in potato chip commercials he wanted to work with him; and bad guy Andy Serkis, who is the human form of Gollum/Smeagol before they get "morphed" by computer graphics, said it was great to play a character so deeply flawed, psychologically obsessed and paranoid "like everyone here". But it was English actor John Rhys-Davies, who plays the dwarf Gimli, who stole the show. He started the press conference by claiming he was Peter Jackson and went on to embarrass the director by claiming the movie trilogy would be bigger than Star Wars. After Jackson said he had a small project set up after he finished with Lord of the Rings - a New Zealand movie being shot in Wellington - Davies cut in and said: "Yeah, the Holy Bible"." (David Williams ~ The Otago Daily Times)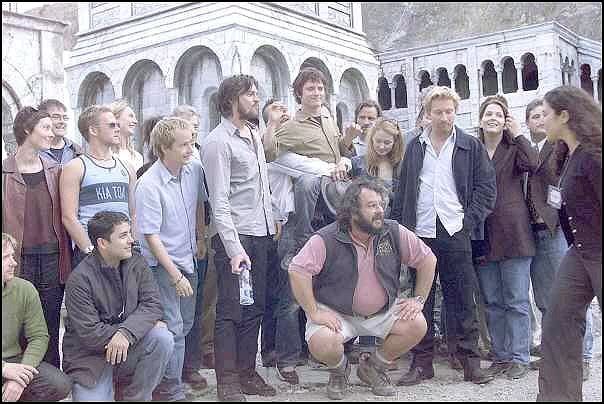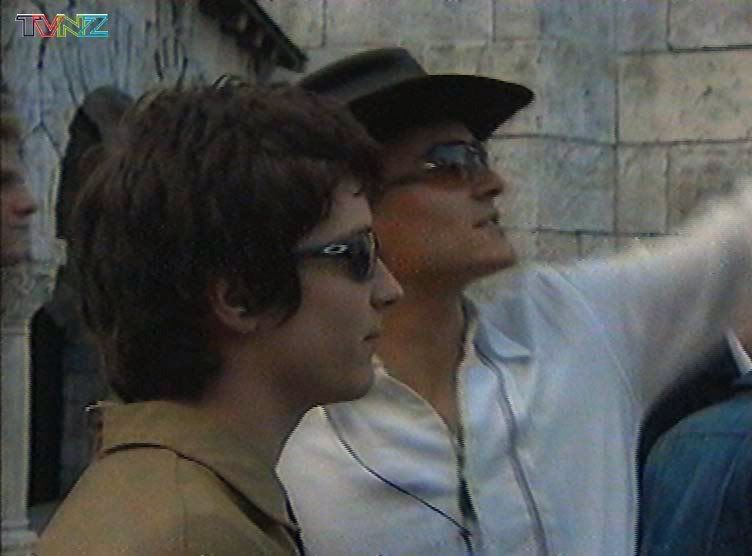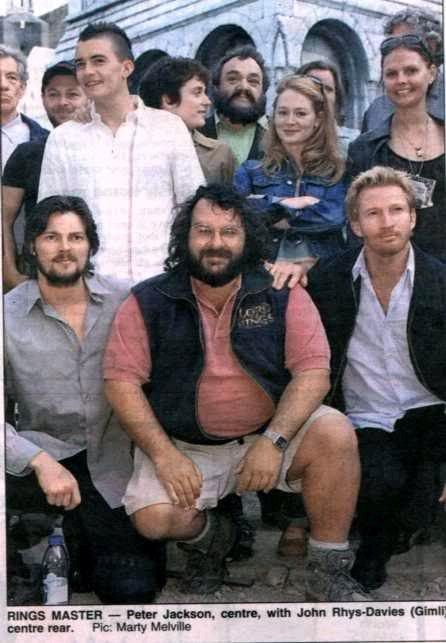 *****
"How could Elijah, who is so sweet and has such goodness in him, communicate the idea of trying not to give in to pain and suffering and darkness and hatred and villainy and treachery? You can see it on his face, you can feel it."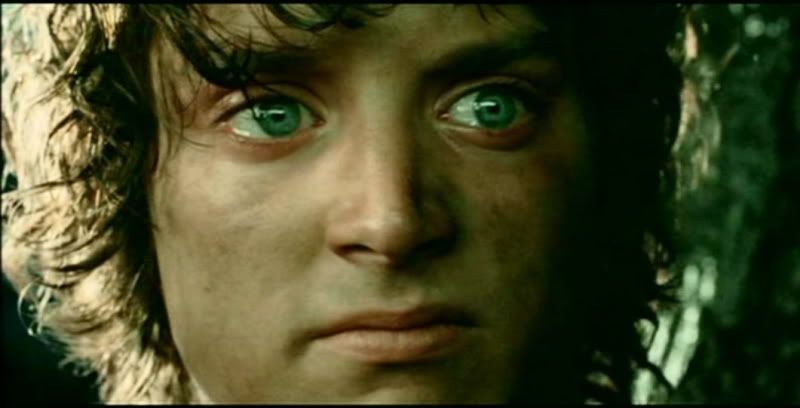 TO BE CONTINUEDLink to all chapters:
http://not-alone.livejournal.com/tag/a+journey+with+frodo
comments: Leave a comment