| | |
| --- | --- |
| Tags: | a journey with frodo |
| Current Music: | Return to Me~October Project |
| Security: | |
| Subject: | A JOURNEY WITH FRODO~CH16~'NO TURNING BACK' |
| Time: | 05:06 pm |
| Current Mood: | accomplished |
Yay - sometimes it works out just right and I can actually post a new chapter of 'Journey' on Froday!!
For anyone unfamiliar with my pet project, 'A Journey With Frodo' (a work in progress) is the story of Elijah Wood's experience in becoming Frodo, from back in 1998 when the LOTR movies were just a whisper up to the triumphant Oscars of Feb 2004. In reliving Elijah's journey, and mine, I am using everything I can lay my hands on - behind-the-scenes material from the various dvd's, magazine articles, books, internet sites, tv coverage, word-of-mouth info, etc. Previous chapters can be found here
"A JOURNEY WITH FRODO"
You'll need to scroll down to find Chapter 1:)
Chapter 16 ~ 'No Turning Back' is here:

My arachnophobia is so severe that just to see the 's' word in print brings me out in goosebumps!! This is apparently something I share with Peter Jackson but judging by Elijah's delight at the idea of big spiders on set during the first day of filming, I don't think he's affected in the same way. However, this wasn't really something he needed to contend with during the Shelob filming - this time there were no actual spiders on set!!
"The sets were incredible - I mean these holes and halls and and very creepy and twisty caverns that they created."
(Elijah, DVD)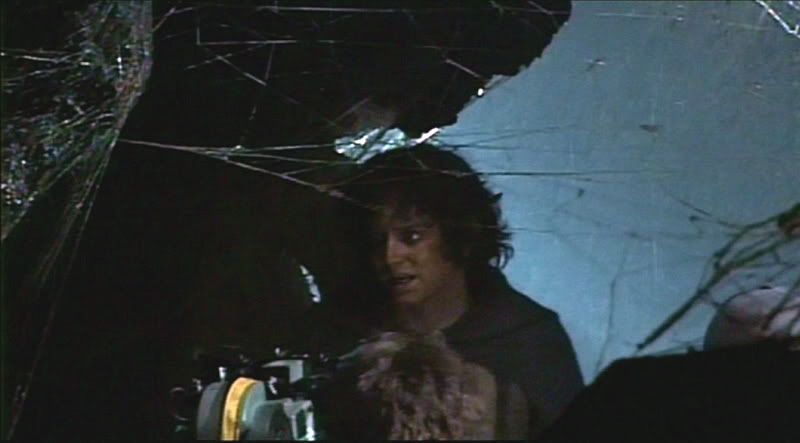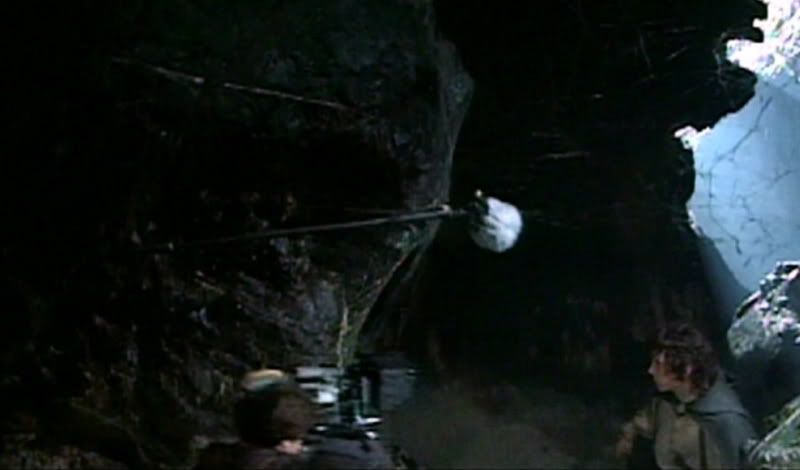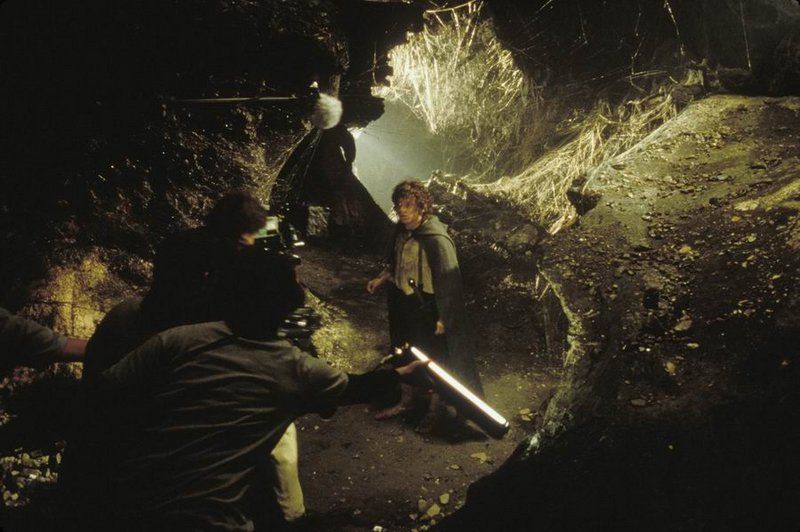 PJ directs Elijah in the Light in Dark Places scene: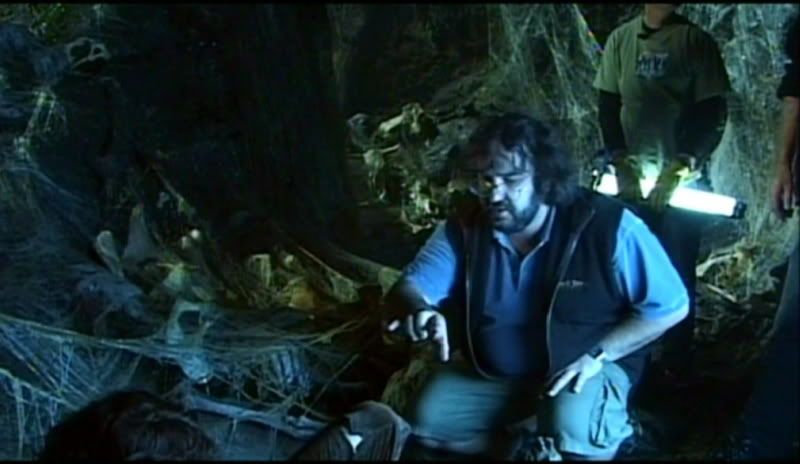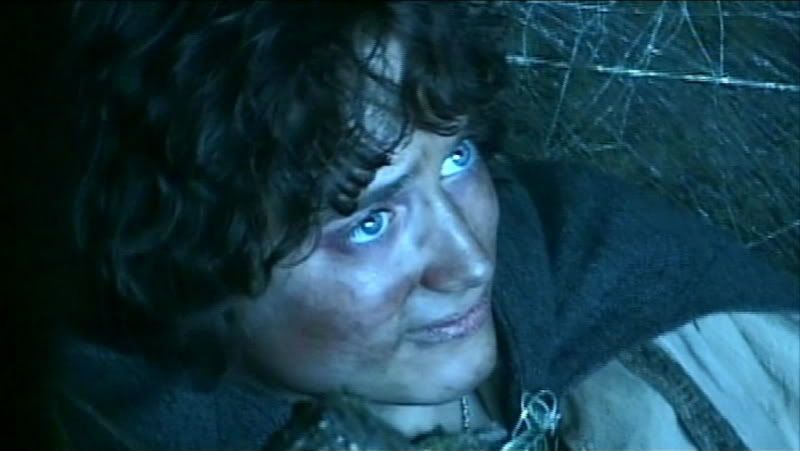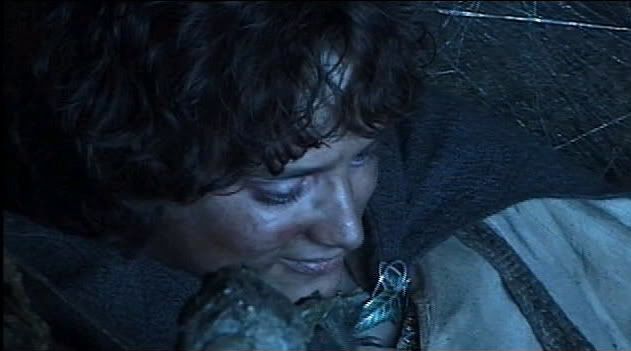 "Everything about spiders that scares me is in Shelob's performance." (PJ, Empire)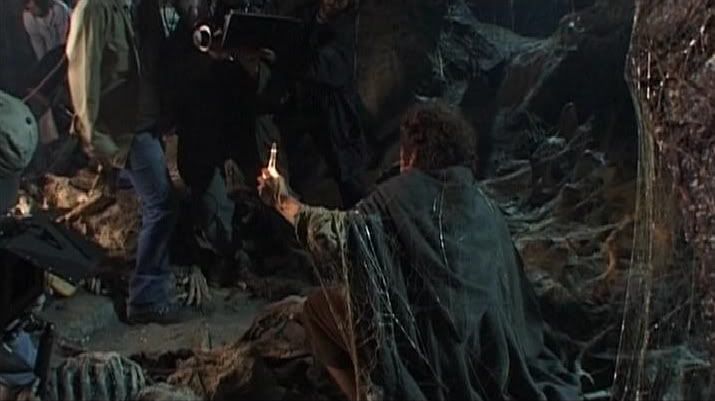 "Co-writers Fran Walsh and Philippa Boyens delighted in the fact that she was female. They really got into the idea of some deep-seated Freudian rupture in Tolkien's subconscious. 'Are you kidding' cries Boyens. 'The boy-Hobbits have to enter this long, dark tunnel occupied
by a hairy beast. Peter kind of pulled us back from that!" (Empire)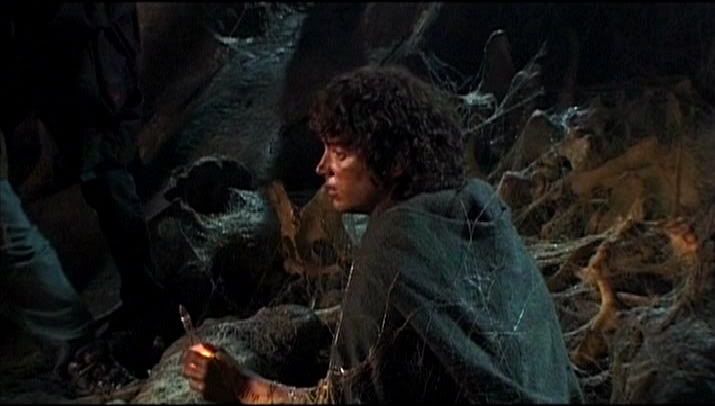 "Except, for Elijah Wood, Shelob isn't really there. 'They had a blow-up spider they used as a reference for the animators mostly', he explains, 'but it's never used in any sequence that I'm in. Mainly, it's black marks or a blank space that I look up to. So it was all
imagination'. At the time of shooting, Jackson's team at Weta Digital haven't quite settled on how Shelob's going to look. But that's not a problem for Wood. "It's not as specific as the cave troll or the Balrog because this is just a giant spider, so I could use my own imagination for that. We built this incredible set and it was basically me running around in fear for three or four days' ..." (Total Film)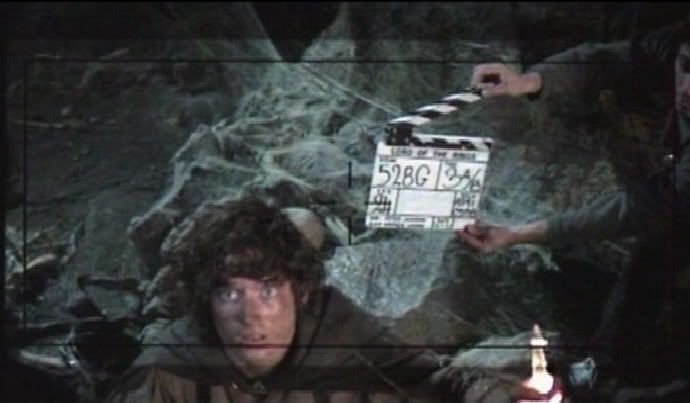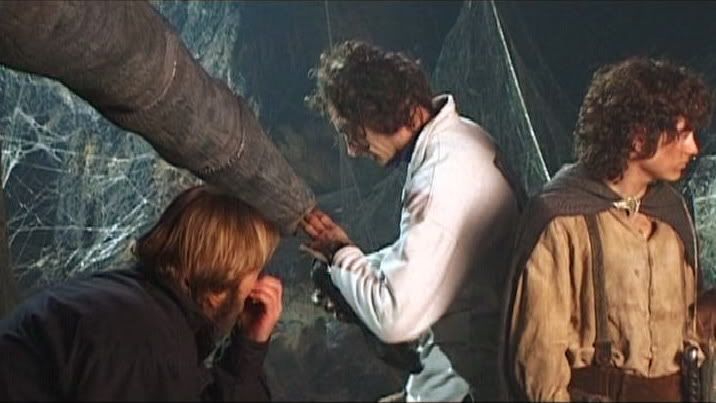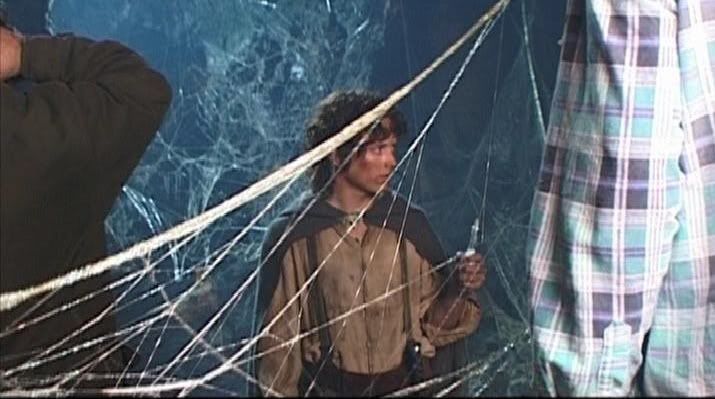 PJ discusses the web scene with Elijah and Andy:
"It's that realization that being in this web is actually fulfilling his plan. He basically says "Well, we'll just let the spider eat you, suck out your meat and then we'll come and get the Precious and you realize at that point of being stuck in the web what the whole plan was all about right from the beginning; what the tunnel, what the Winding Stair, what everythinng was all about."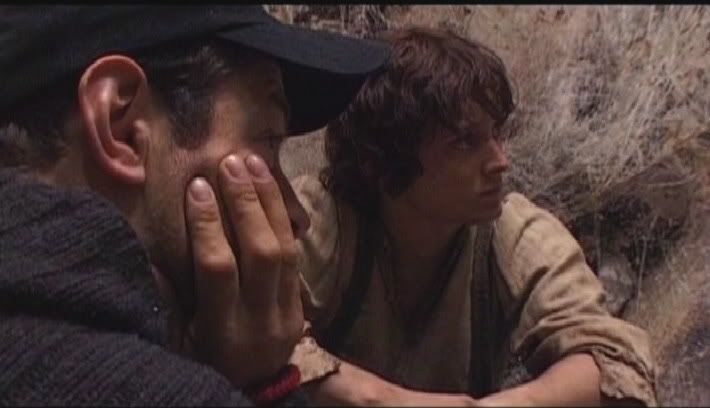 Elijah watches as a stand-in named Zo acts out the web scene: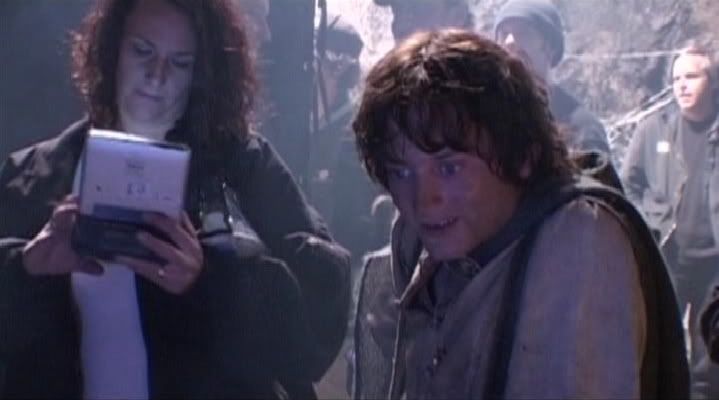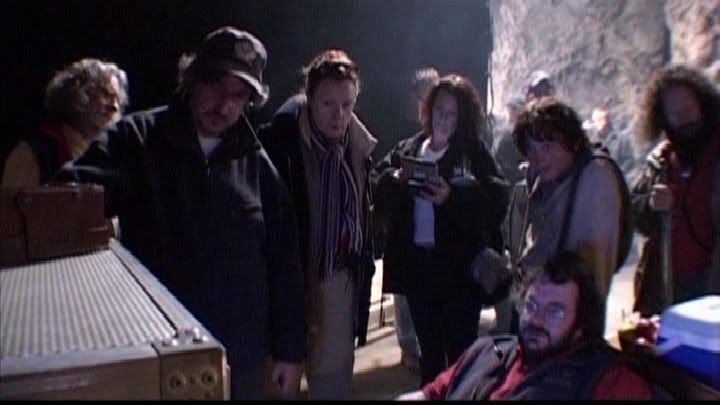 "Trouble is, Zo is stuck in there now"! Yeah, we're going to have to do it with Zo - it's gonna take like four hours!" (PJ, DVD)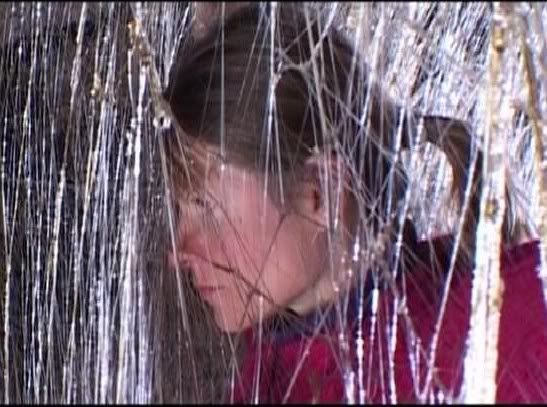 "Oh, we'll just do a face replacement!" (Elijah)
"Zo is Frodo - she'll do a brilliant job - if she doesn't get eaten by Shelob in the meantime"! Are we ready for Elijah now?" (PJ)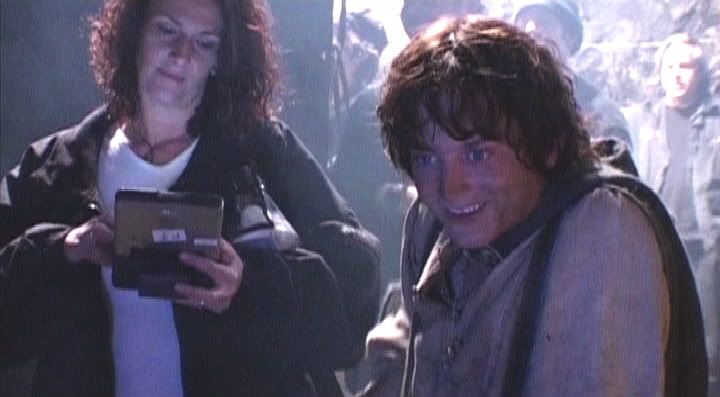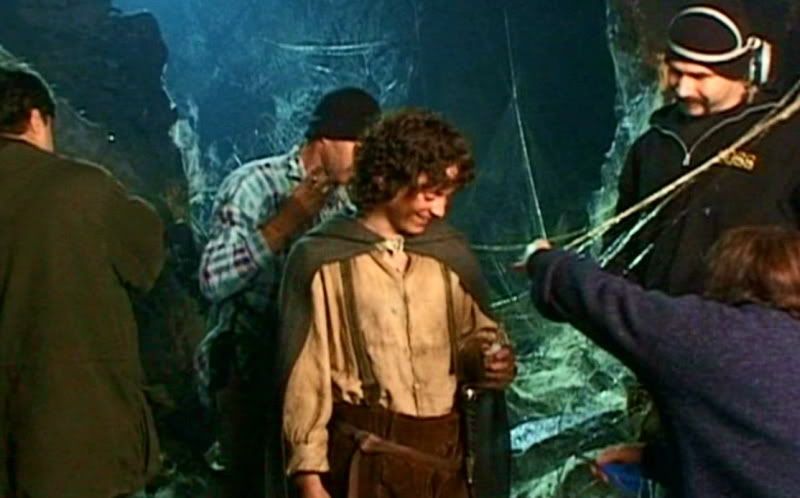 This one is a bit wet. (Crew member, dvd)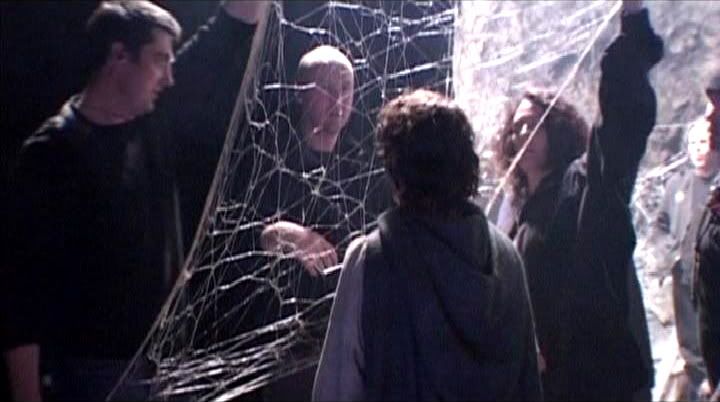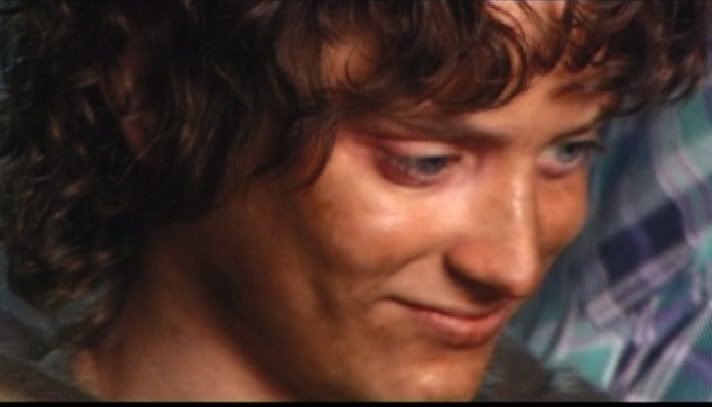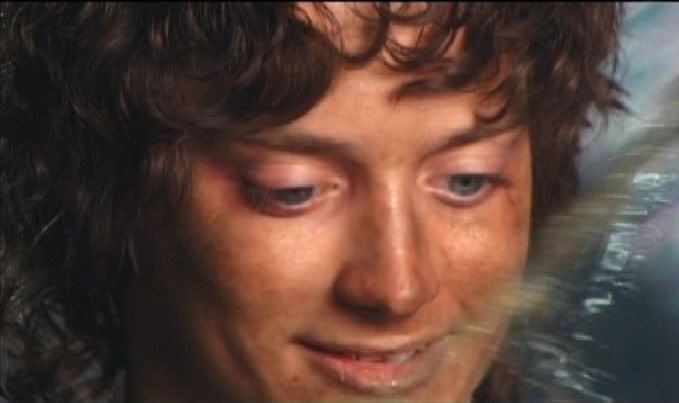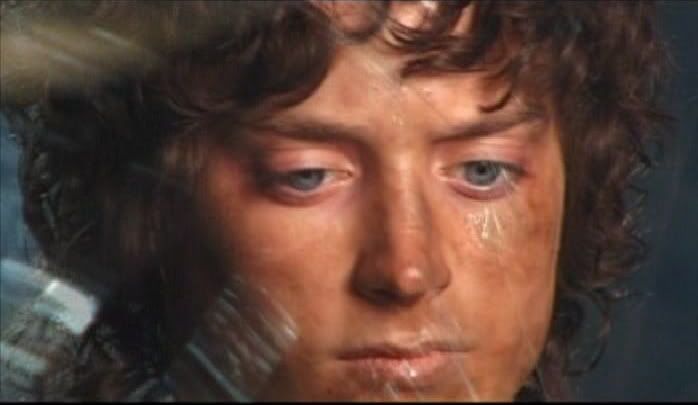 "It was actually a lot of fun to be in that environment and especially for me to be bouncing around in the web for hours at a time!!" (Elijah, DVD)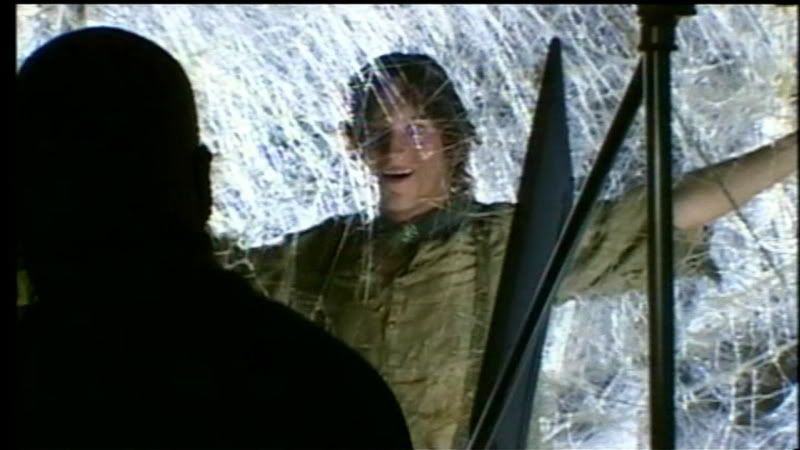 In some of the takes of this scene which we didn't get to see in the film, Frodo conveys a level of panic and terror even greater than in the final cut - I think it's a shame some of these weren't included but I suppose they had their reasons.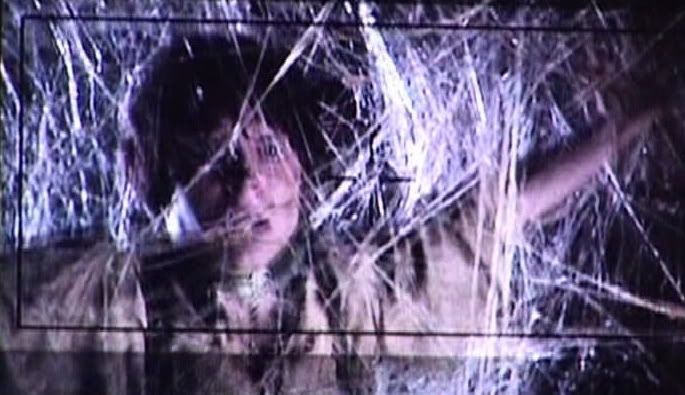 Elijah is very happy with the scene: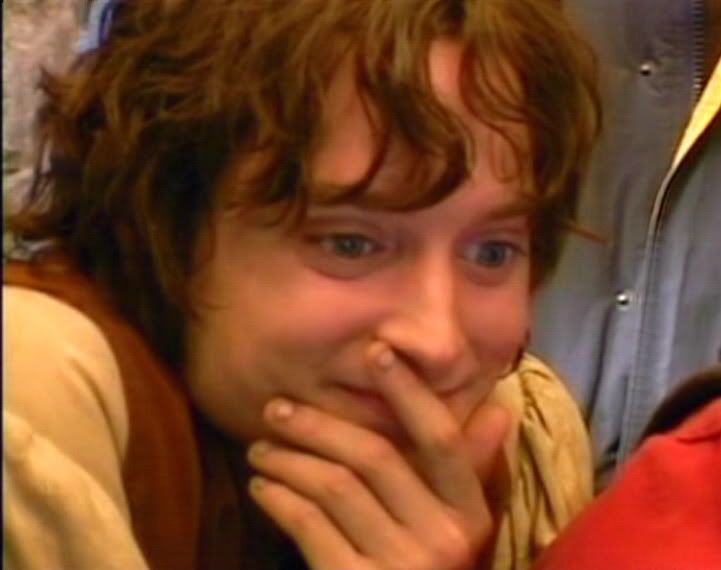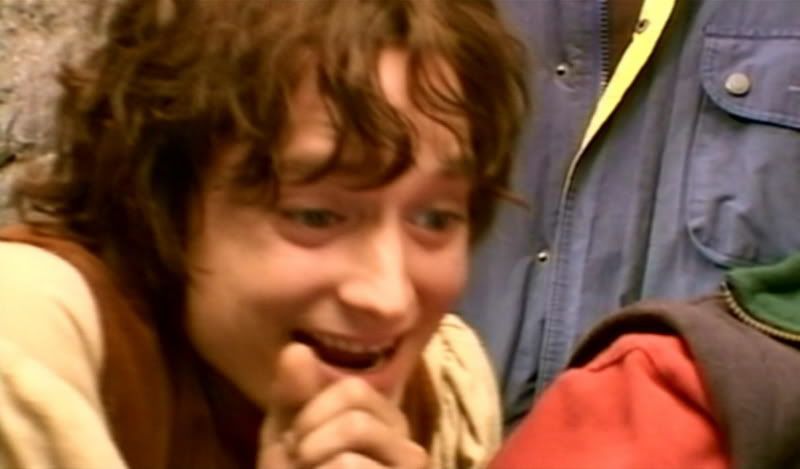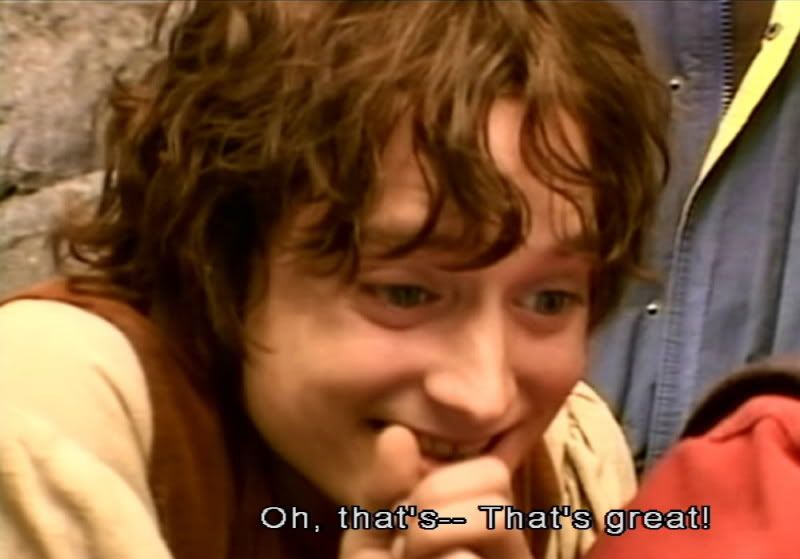 And so is PJ: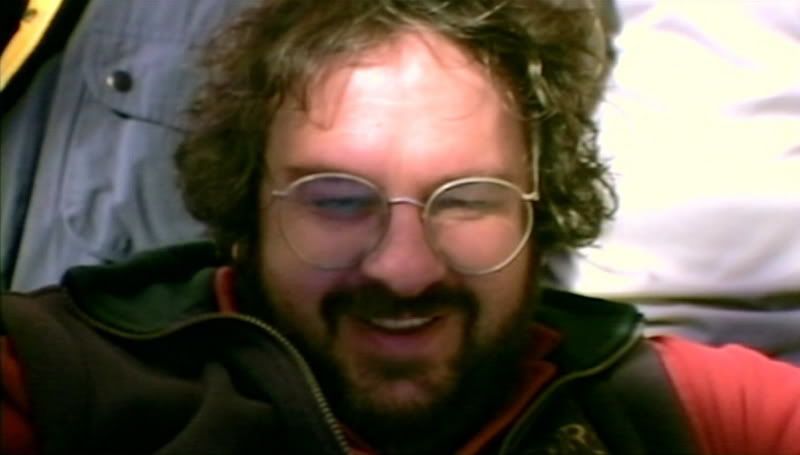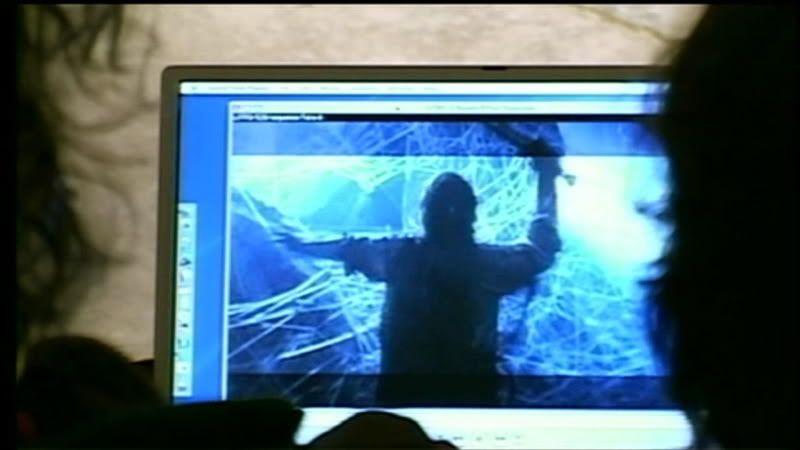 Elijah has fun strangling Andy:)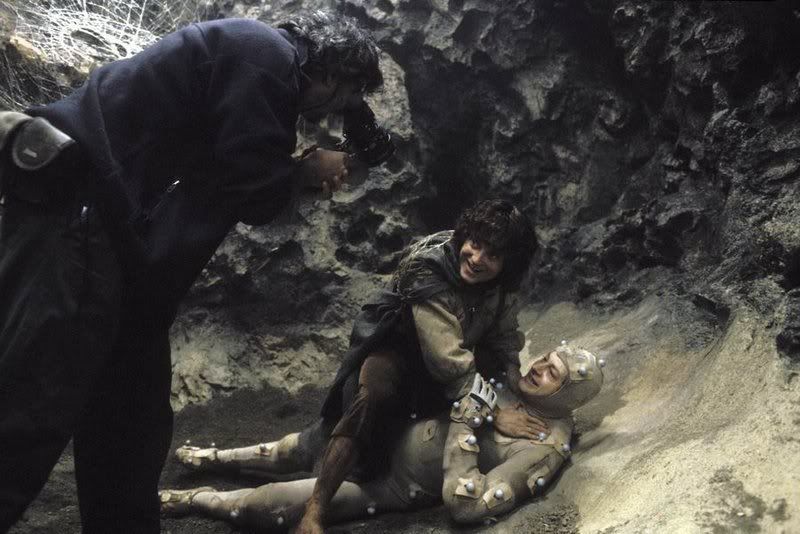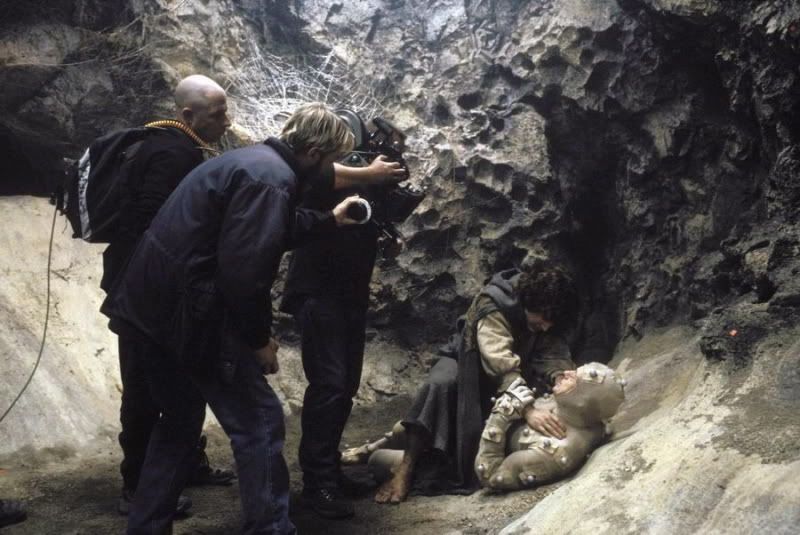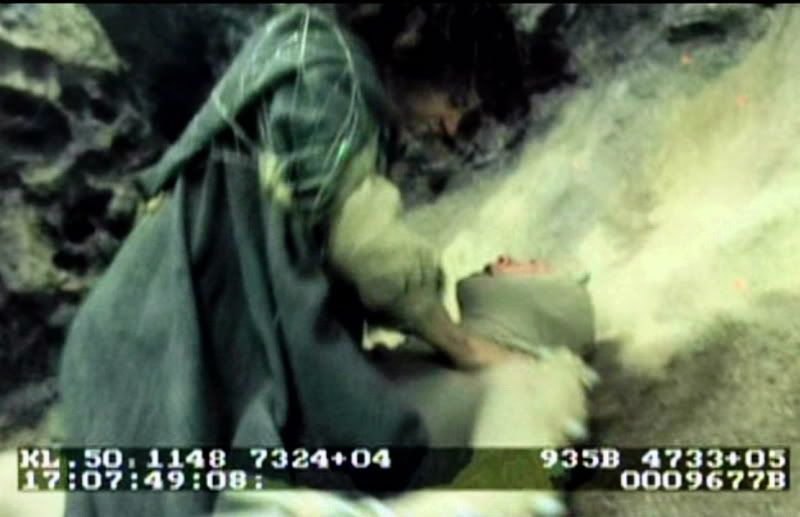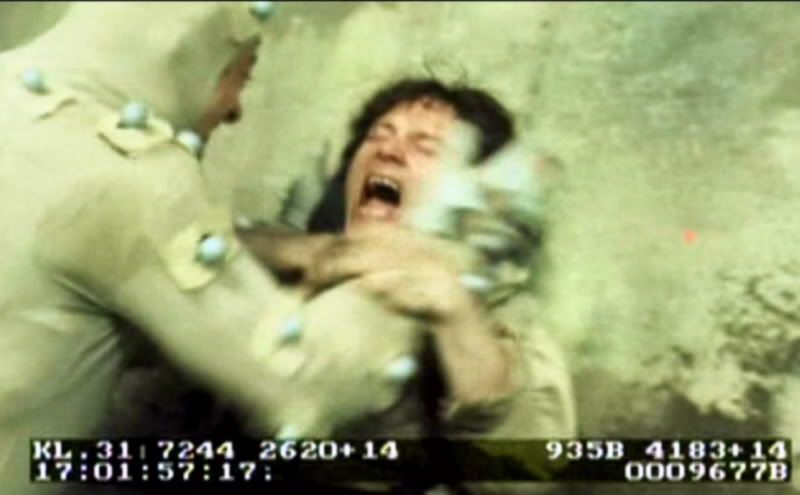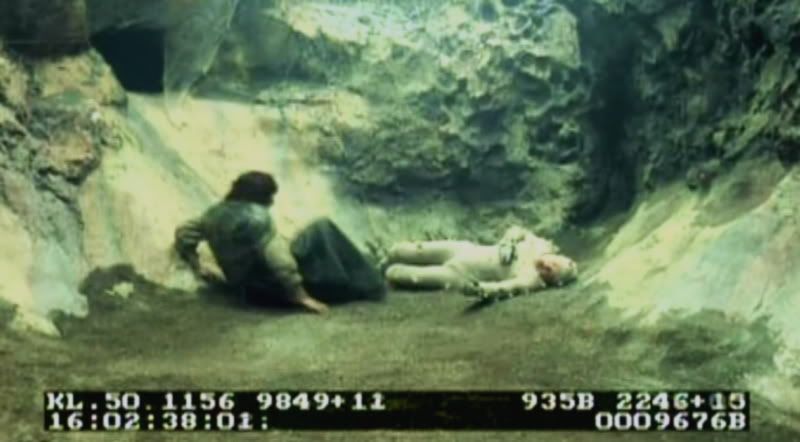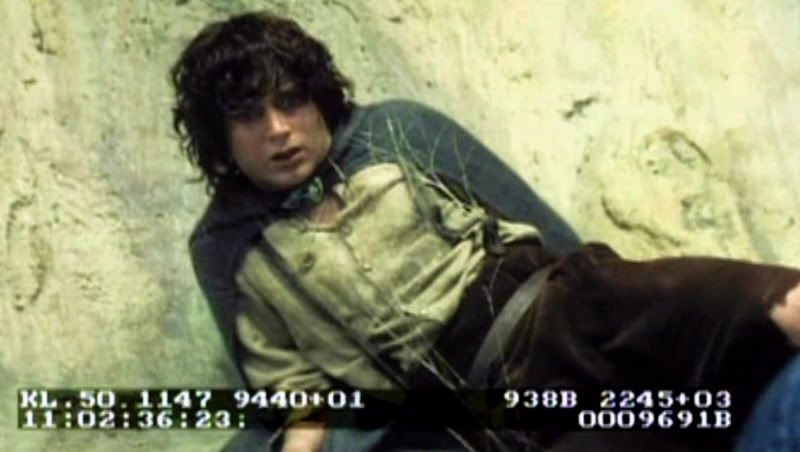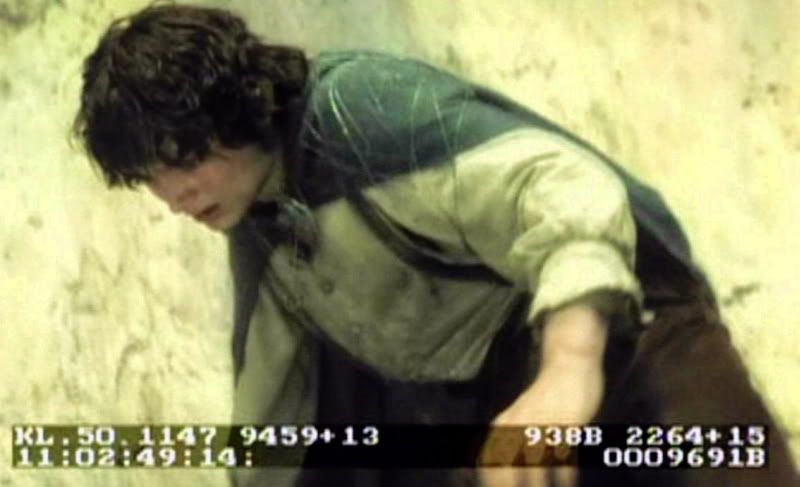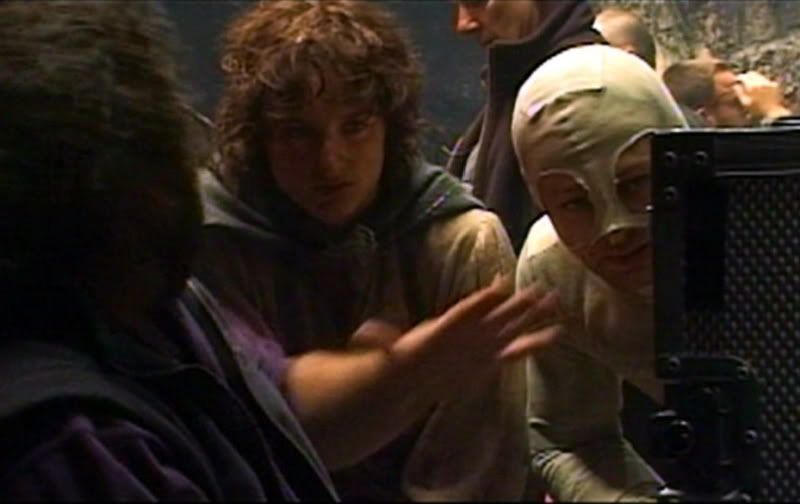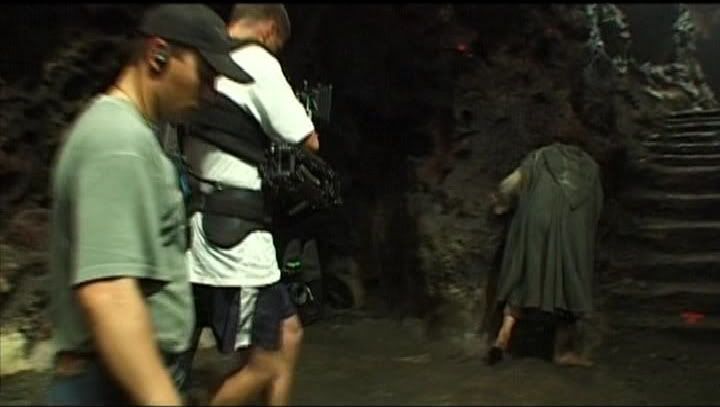 "There's a light up there!!"
"Someone's home!"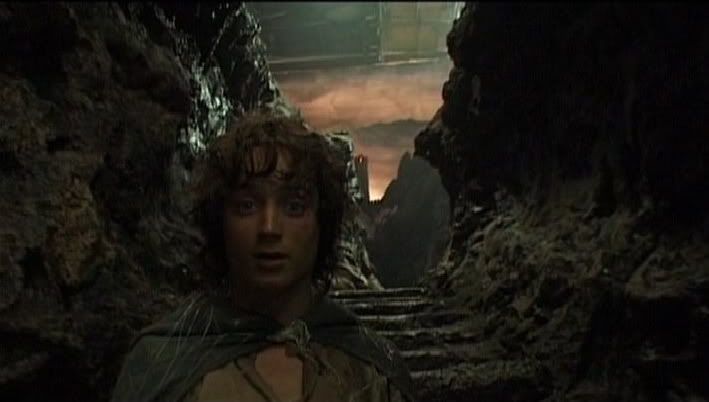 "It's like the world's largest condom. Ribbed for her pleasure" (SE DVD) I don't think Elijah really thought about what he said there. As an LJ friend pointed out - what would that make him?!! :D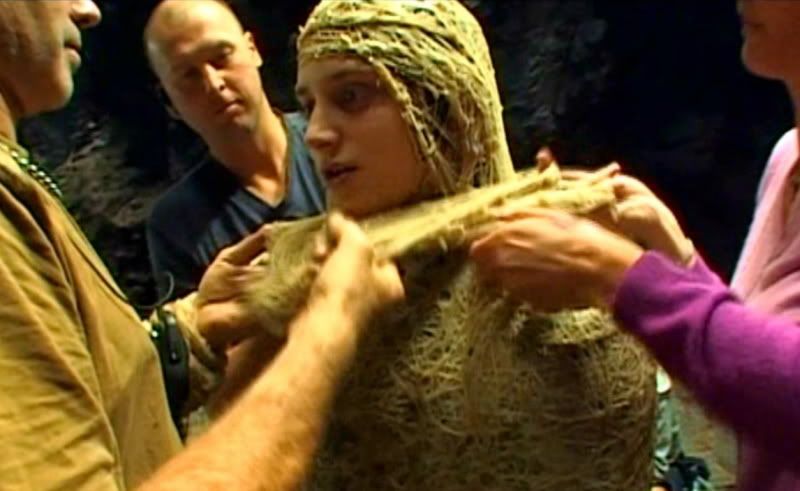 "Elijah had to get wrapped up in this stuff and had to spend all day in it - I don't know how he went to the toilet 'cos he couldn't - go to the toilet. He couldn't even scratch his nose." (PJ. DVD)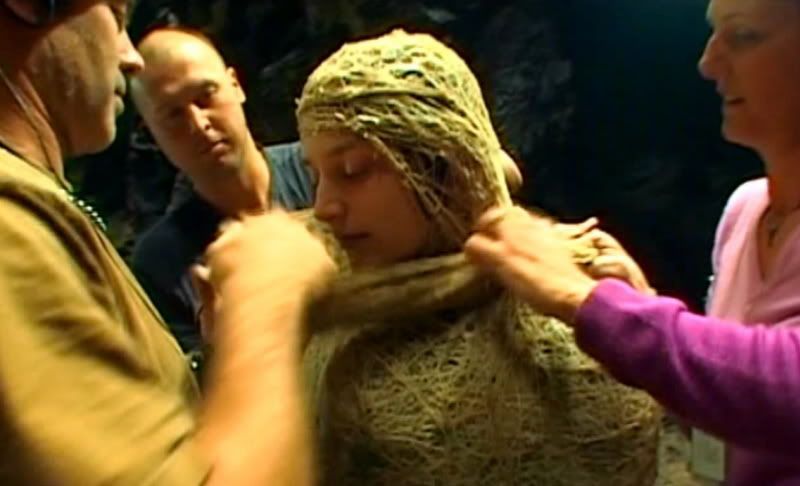 "They wrapped him up in that cocoon, it was rubbery and it was tight - I don't think he could have gotten himself out of it and he just waited and knew that they'd cut him out eventually - wow!! (Sean Astin, DVD)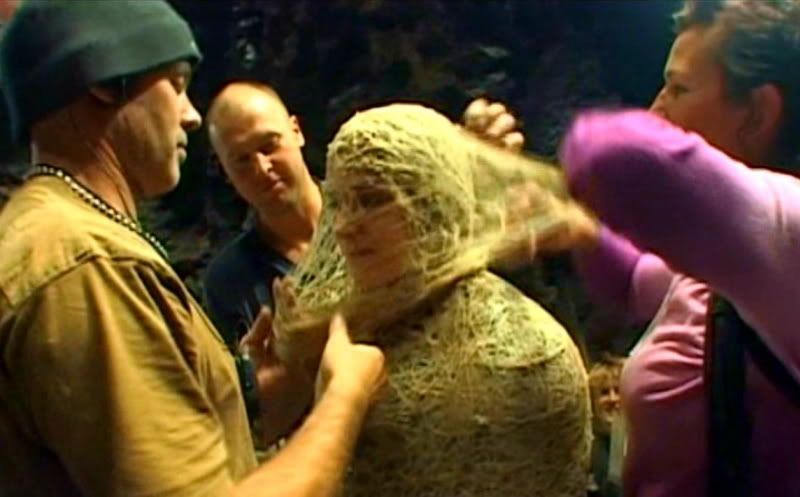 "Sean thought it was incredibly frightening and claustrophobic and there's no way I could ever be wrapped in the web and feel comfortable. It's surprisingly comfortable. I don't think I'd want to be in it all day though." (But, according to PJ, he had to.)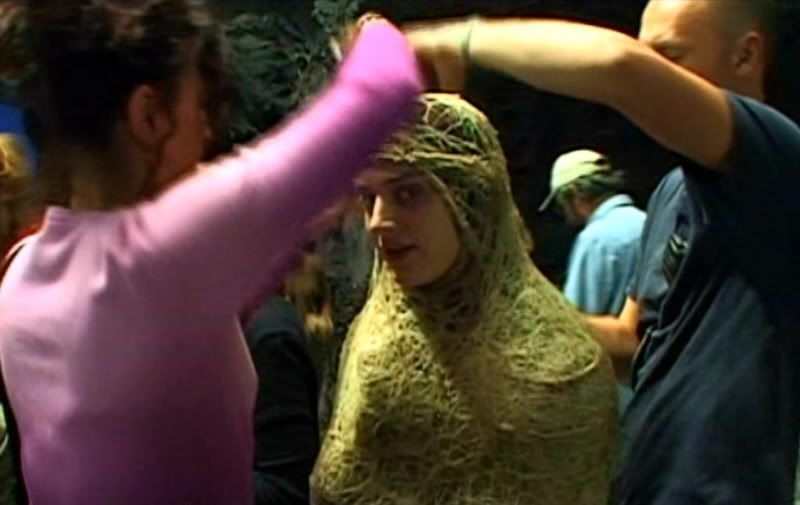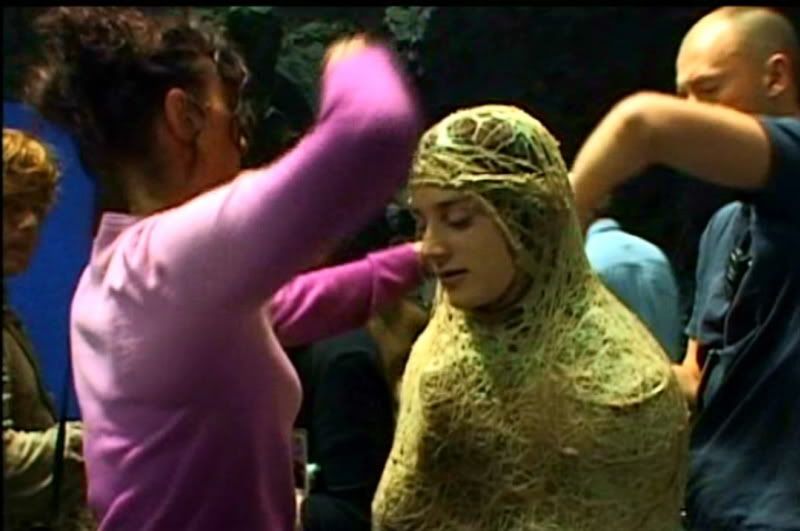 Apparently, during one of the takes, Sean accidentally got some dirt in Elijah's eyes - which must be pretty uncomfortable when you're wrapped up like a mummy!!

"If it gets in my eyes again I'm gonna have to hit you! I'll wake up from my little reverie and smack your ass!"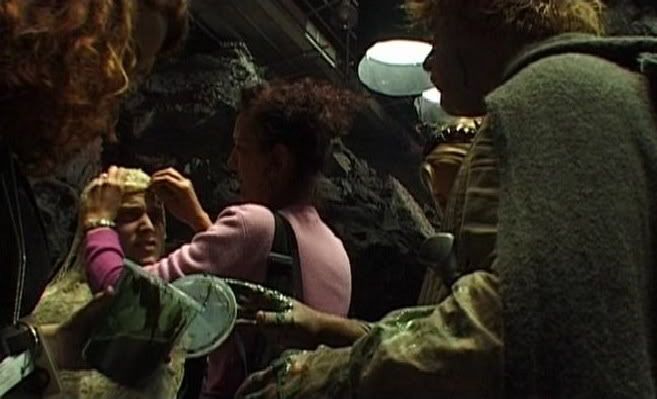 "Oh, I don''t mind that stuff - it's just the dirt. You get like dirt on your hands, that dust and stuff"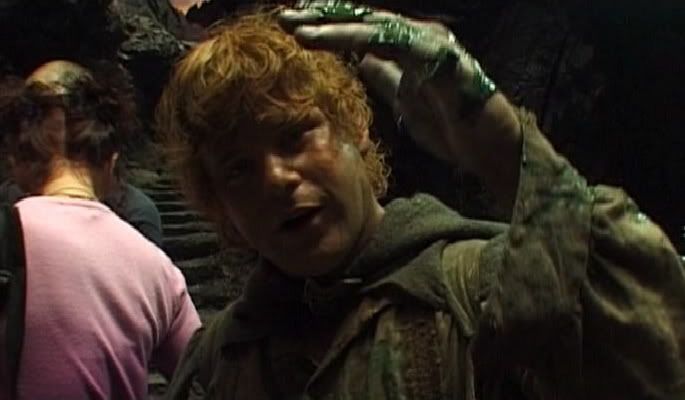 They realise that it's when Sean puts his hand down to adjust something that he's getting dirt on it.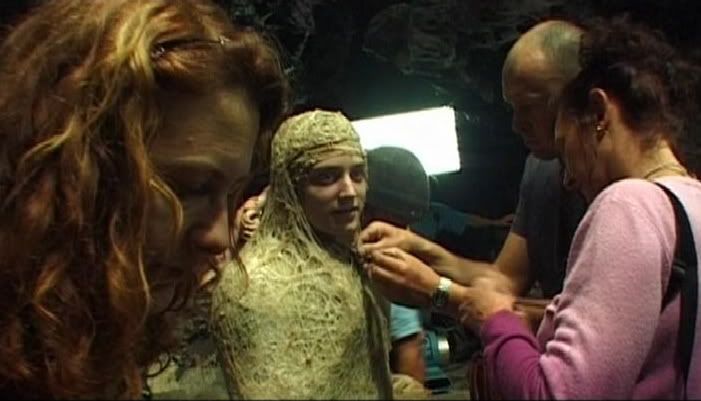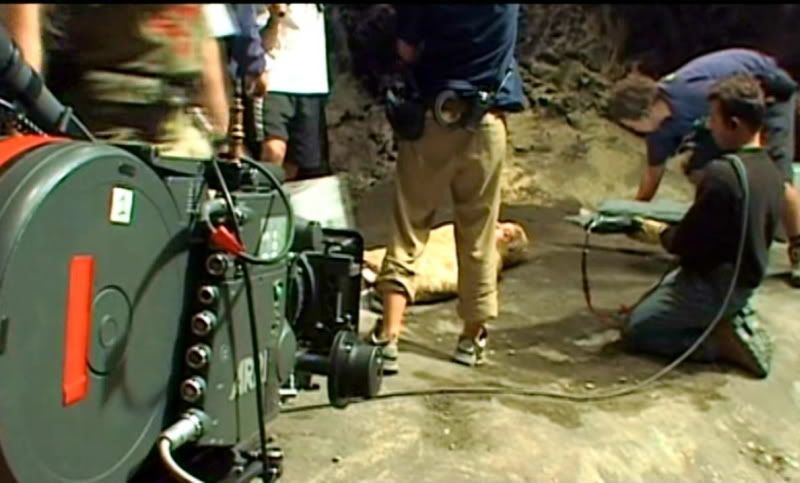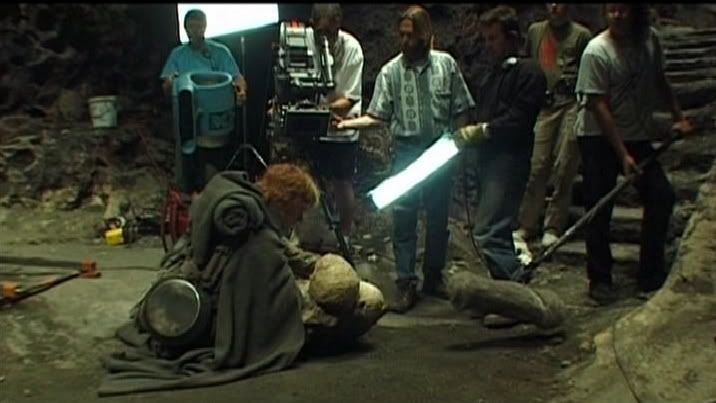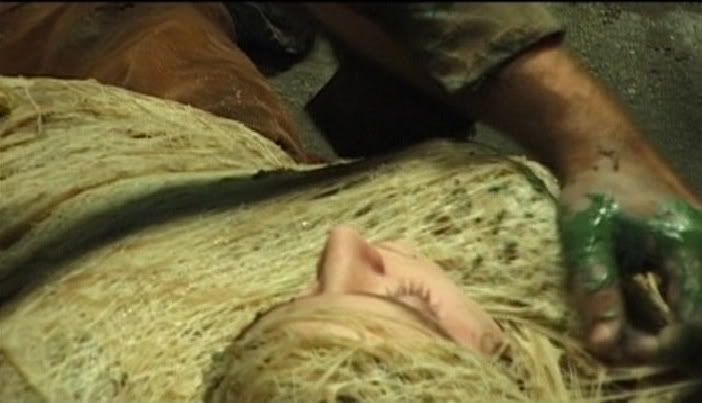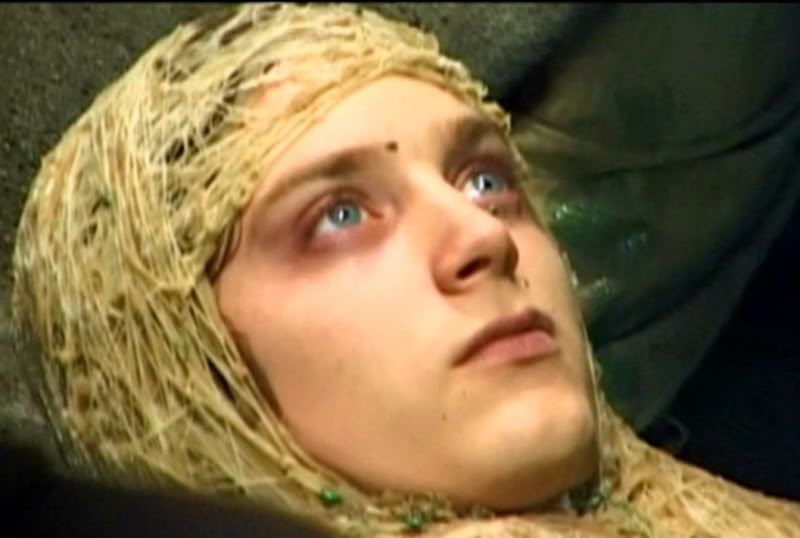 "He's reputed to be one of the world's great staring contest champions." (Sean)

"I guess I do have a strong ability to stare." (Elijah)

"He's got these big, beautiful eyes but he can't see two feet in front of himself in broad daylight." (Sean)

"The great irony of Elijah is he has the biggest, bluest eyes - in the world actually - but they don't work very well."(Billy Boyd, dvd)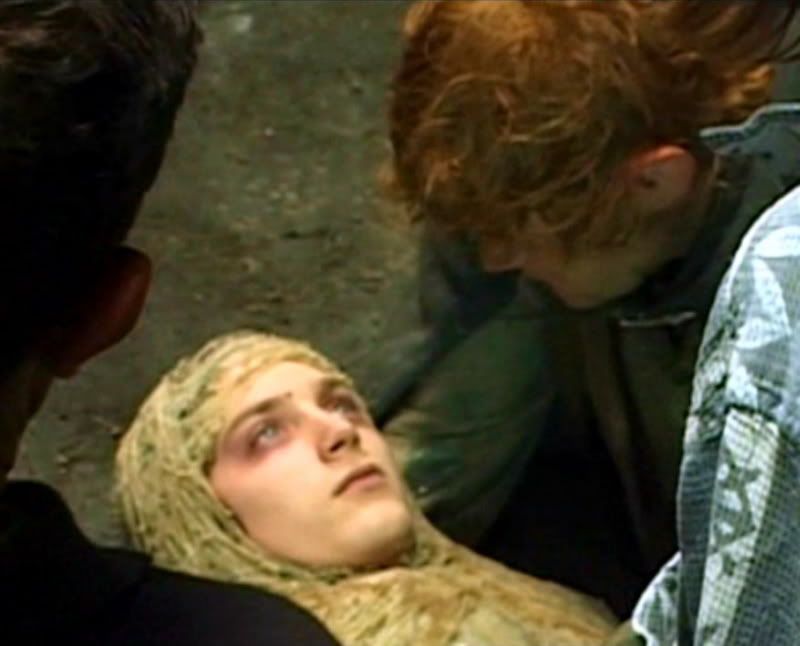 "My theory was that when he was a baby, because obviously you can't test a baby for how bad their eyes are, for the first couple of years he was just like this [see demonstration below] trying to focus and bring his world into view and they just stayed like that so as he
grew up his eyes just stayed at this constant state of surprisement." (Dom, DVD)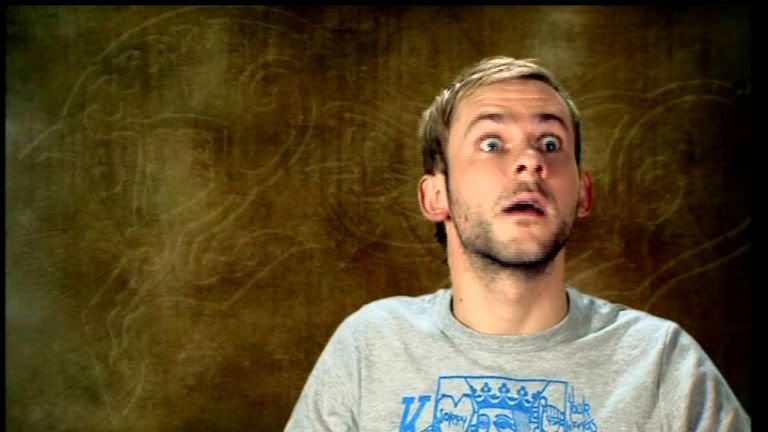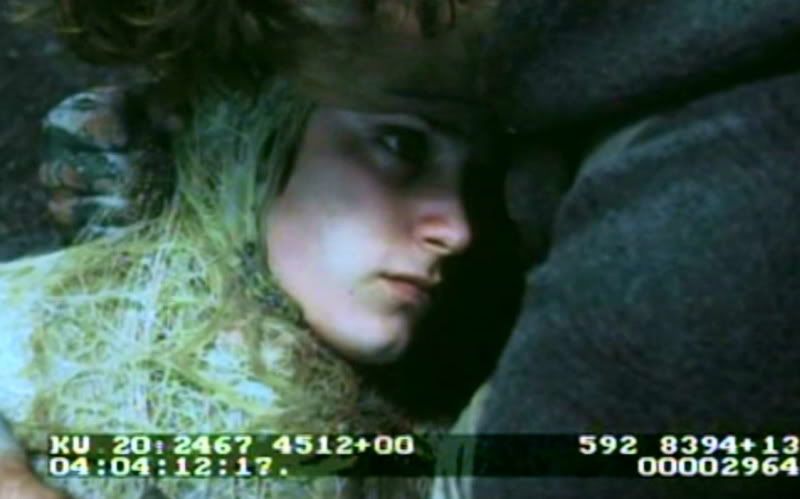 "If it's uncomfortable Elijah you can blink if you want to" (PJ)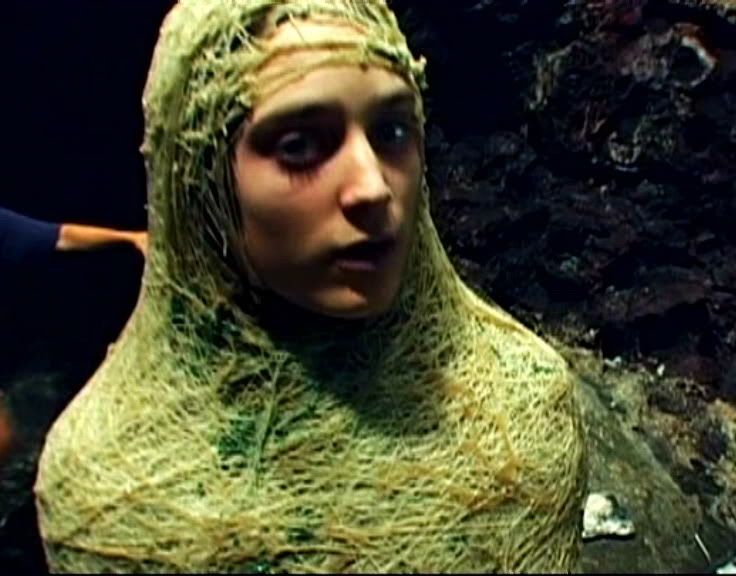 "This is a very rare moment where we actually have a tangible tower in the background. It's right there, the Dark Tower, so this is kind of a special moment - because normally we have like a sketch that we look at - literally just a sketch that'll give us a basic idea of
what the thing looks like and now we don't have to use our imagination because there it is.
It's lovely:" (Elijah, SE DVD)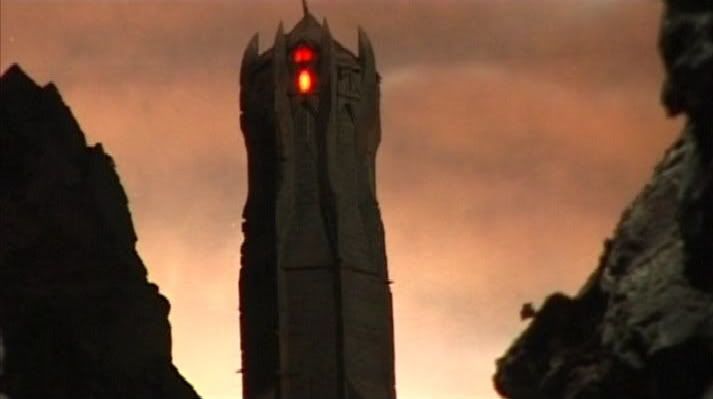 ******
The Tower of Cirith Ungol:
There was probably more speculation about this scene than any other so it's a pity that there is very little behind-the-scenes material available. There was this - an orc grabbing Frodo by his hair which didn't appear in the film: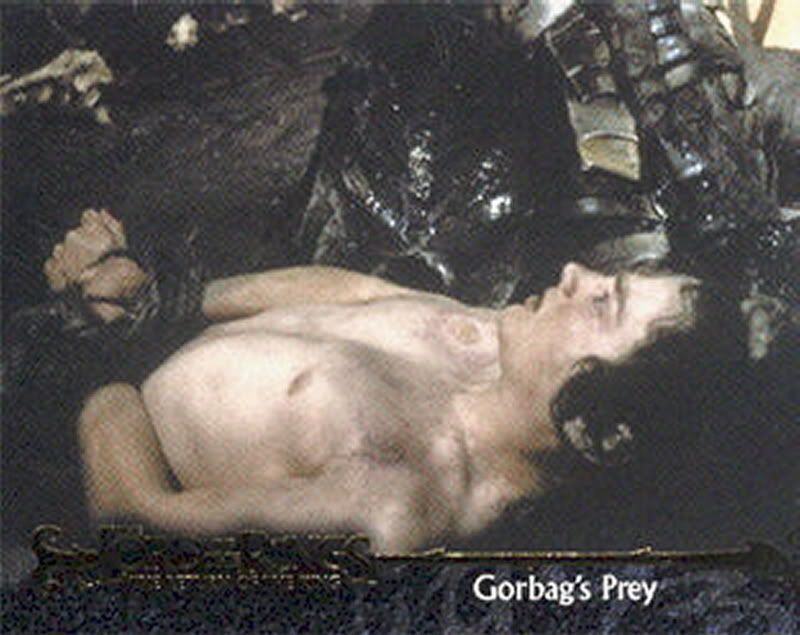 And there was this report from someone who was on set during the filming:
"Later, we sit and watch the filming, in the top room of the tower of Cirith Ungol. The scene is trimmed to its essentials. The dialog is not always Tolkien's, but I have to return to the book to be sure, the spirit is so close. I get to hear one of my favorite lines: "You can't go walking in the Black Land in naught but your skin, Mr. Frodo." The essence of Sam. Peter gives the dialog a subtext. Sam is thinking, "I'm going to destroy that thing that's causing you so much pain -- by myself if that's what's needed."

They spend all day on this bit, so critical to the emotional arc of the story. In the end, Sean Astin as Sam delivers the line with weariness, grief, determination, courage, and love. I leave with tears in my eyes."
(Bill Welden - Tolkien language advisor.)
I somehow think we did not get to see the version he describes, but I do envy him being able to witness that day's filming.
Something very exciting happened while they were working on this scene: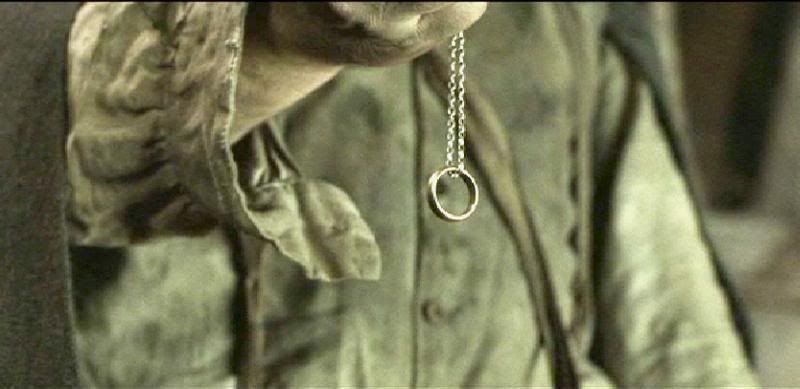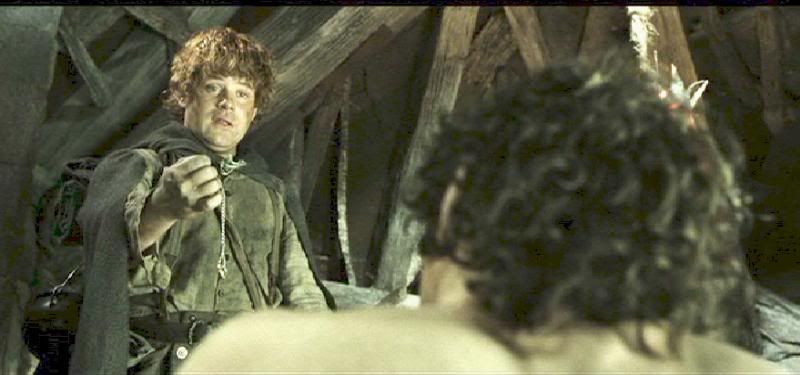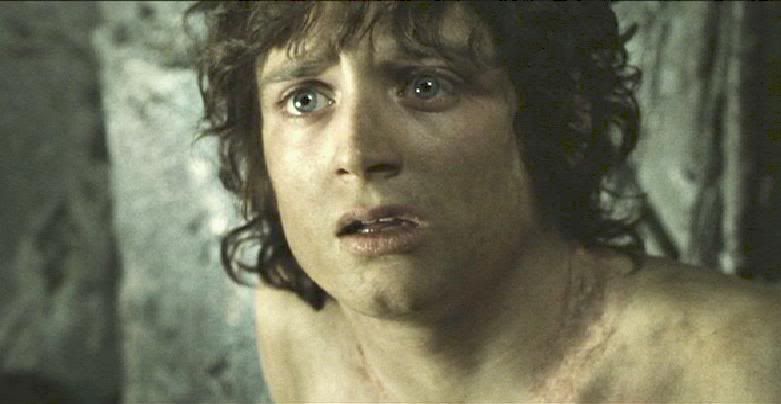 "You know, Empire had a special bearing on LOTR. It was the first magazine to ever put it on the cover. I remember when we got it. We were on set shooting ROTK, during the original photography period, up on top of the Tower of Cirith Ungol where Frodo has been captured by the Orcs and Sam has come to save him, and Sam stabs the Orc. It is the scene where Frodo says, "I've lost the Ring". And Sam says "No, no, I've got it, I just carried it for a while". And Frodo snatches it back. That is how much it is burned into my mind - I can remember from 2000, the day we were shooting. Somebody brought it on set. I didn't even know it was happening, I wasn't expecting it. And someone said,, "Oh, have you seen this"? I remember Sean and Elijah were really excited and they came down and it was like, "Oh my God'. This was when suddenly the enormity of what we were doing impacted on us. We felt we were making a movie that no-one knew much about, trying to do it as secretly as possible and it was all very much under the radar, and even though I knew that come 2001 there would be a lot of publicity, we weren't expecting it quite that early. It was exciting - those kind of things give you a little bit of a boot up the backside. You come to realise that you had better make a good movie. No turning back now."
(PJ, Empire)
The first ever LOTR magazine cover - 'EMPIRE' FEB 2001: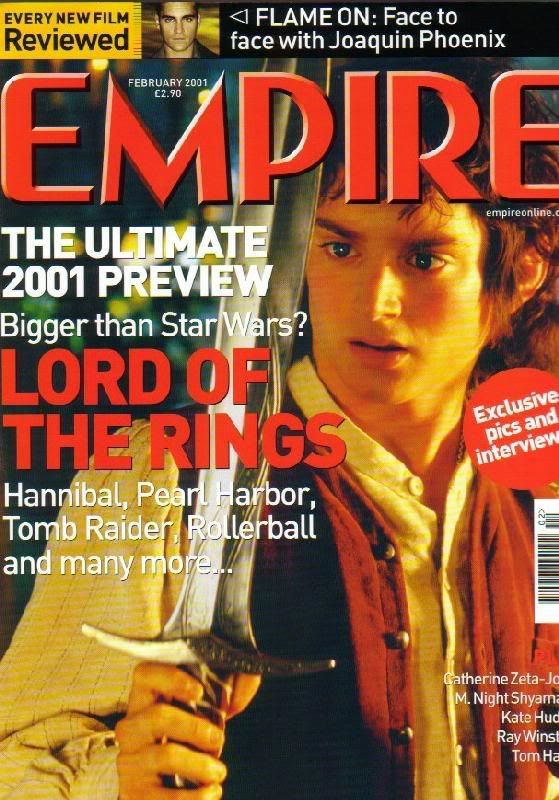 ******
"He has the biggest, bluest eyes ... in the world actually ..."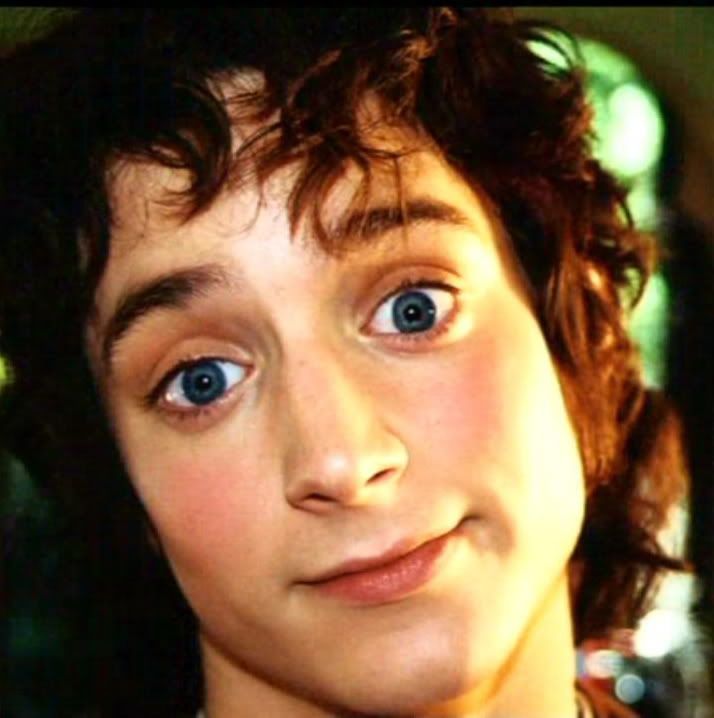 TO BE CONTINUED
Link to all chapters:
"A JOURNEY WITH FRODO"
comments: Leave a comment