| | |
| --- | --- |
| Current Music: | Full of Grace~Sarah McLachlan |
| Security: | |
| Subject: | LATE TO THE PARTY ... |
| Time: | 08:48 am |
| Current Mood: | calm |
I'm so sorry to be late Mews - I do hope you had a lovely birthday yesterday - you must be so delighted with all the wonderful birthday tributes I've spotted on my f-list. I hadn't forgotten you but due to circumstances which arose at home I had to abandon my computer before I'd completed your greeting and was unable to return to it:(
Because so much of my pc time is taken up with my project, the reading of fan fiction has become something of a rare luxury for me. However, I wanted to stay with the theme of yesterday's birthday tributes - ie 'Recommending the Recommender' - so I took a little trip to your 'treasure trove' - and therin lies the answer to why it took me so long to compose something myself - I sort of got carried away - I would read a paragraph and think 'I've got to read all of this'! and so it continued!! You are such a talented and creative writer:)
It was so hard to choose just one passage to post but in the end I opted for this small piece from 'Recipes and New Hope' - it is so bittersweet, knowing what happened ...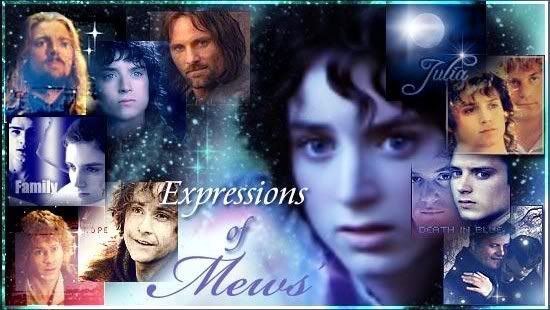 Banner by
annwyn55
"It is," Frodo agreed, after he'd swallowed that first, lovely taste. He sipped the wine, found it crisp and clean, with a bit of sweetness. It was the perfect thing, he decided, to accompany that delicious stew. He spooned up another bite to savour, and smiled at Sam. "Lads, I feel almost as though we've come home to the Shire at last. This is just what was wanted."

Sam smiled his understanding, although Frodo saw the glimmer of brightness in his eyes, and knew that Sam was as homesick as he was himself. Soon, he thought, they would have to speak to Aragorn and ask when they might be ready to make the long trip back.

He wanted so much to go home, to see Bag End, and drink a pint at the Green Dragon, and to sit outside his door in the sun and watch Sam work his magic in the gardens. A few more good meals like this one, and he would be ready, he was sure. He was getting stronger every day, and he felt more hopeful than he had since he'd awakened that he would be completely healed, once he returned to the place where he belonged.
The whole story can be found here:
http://mewstales.livejournal.com/74928.html
comments: Leave a comment