| | |
| --- | --- |
| Tags: | a journey with frodo |
| Current Music: | Moonlight Shadow~Mike Oldfield |
| Security: | |
| Subject: | A Journey With Frodo : Ch.17 : Tears On Mount Doom |
| Time: | 03:44 pm |
| Current Mood: | productive |
I can now bring you Chapter 17 of 'A Journey With Frodo' - 'Tears On Mount Doom'. While working on this project I am always reminded of the massive amount of hard work, dedication, emotion and sheer love that went into the making of these movies - but I think even more so with this particular chapter - a tale of tears, sacred moments and - strawberry cravings!!
For anyone unfamiliar with my pet project, 'A Journey With Frodo' (a work in progress) is the story of Elijah Wood's experience in becoming Frodo, from back in 1998 when the LOTR movies were just a whisper up to the triumphant Oscars of Feb 2004. In reliving Elijah's journey, and mine, I am using everything I can lay my hands on - behind-the-scenes material from the various dvd's, magazine articles, books, internet sites, tv coverage, word-of-mouth info, etc. Previous chapters can be found here
"A JOURNEY WITH FRODO"
You'll need to scroll down to find Chapter 1:)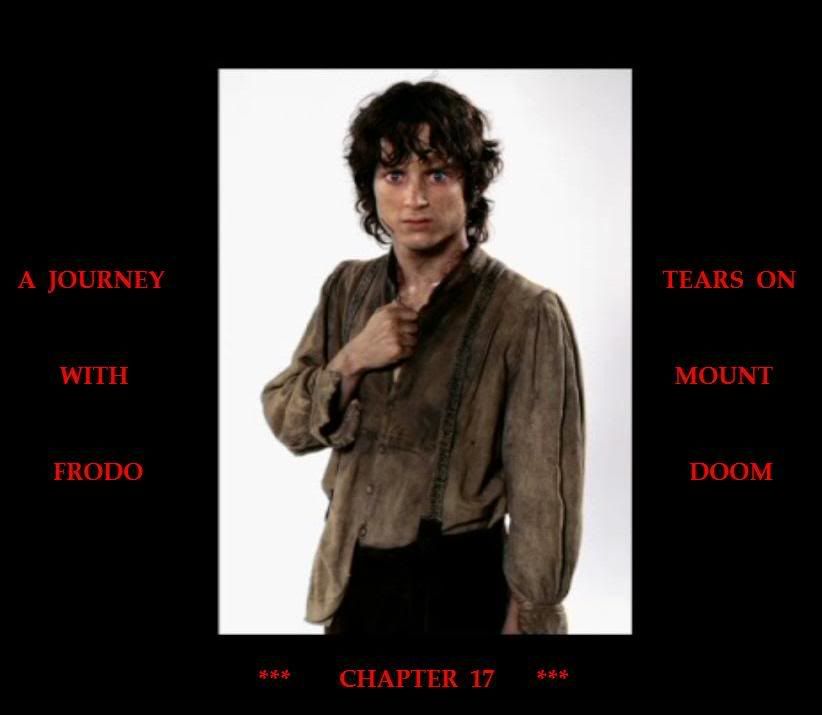 Shooting of the Mount Doom scenes began as early as April 2000 right up to the very last day of ROTK pick-ups in July 2003. They were an emotional rollercoaster for all involved, encompassing one of Andy's first scenes, Sean's final scene and some of the most dramatic moments in the whole trilogy. They were filmed on the slopes of a real volcano and back in the Stone Street studios in Wellington.

"The locations we used in ROTK for Mordor were pretty much the same locations, certainly the same geographical area in New Zealand, as the Emin Muil landscapes for 'The Two Towers'. It's a volcano called Ruapehu and there's various areas around the volcano where we shot elements of Mordor." (PJ ~ DVD)

Mount Ruapehu is ...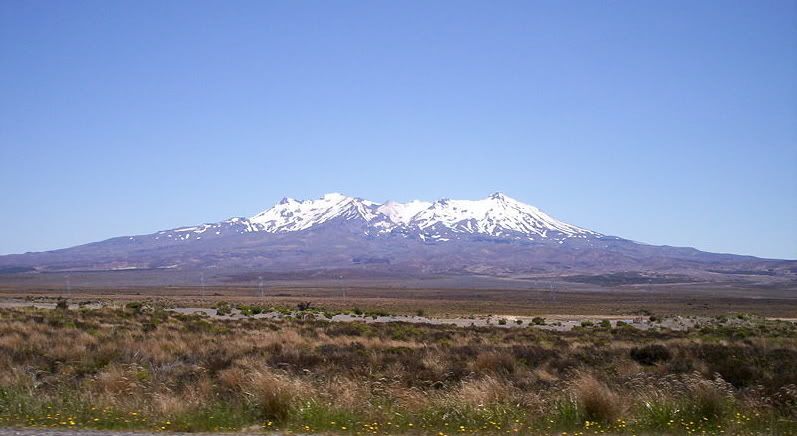 Mount Doom: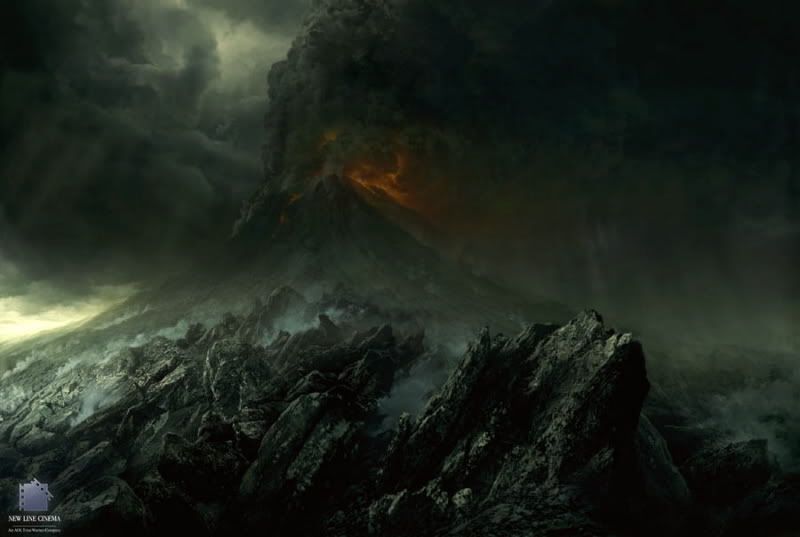 "We took four-wheel drive vehicles to a base station on Mt Ruapehu and then hiked twenty minutes to the side of an active volcano that served as a stand-in for Mount Doom. Along the way, Elijah and I rehearsed our lines over and over, not merely because we wanted to be prepared, but because it was fun! This was exactly the type of work I had hoped to do." (Sean - from his book "There And Back Again : An Actor's Tale")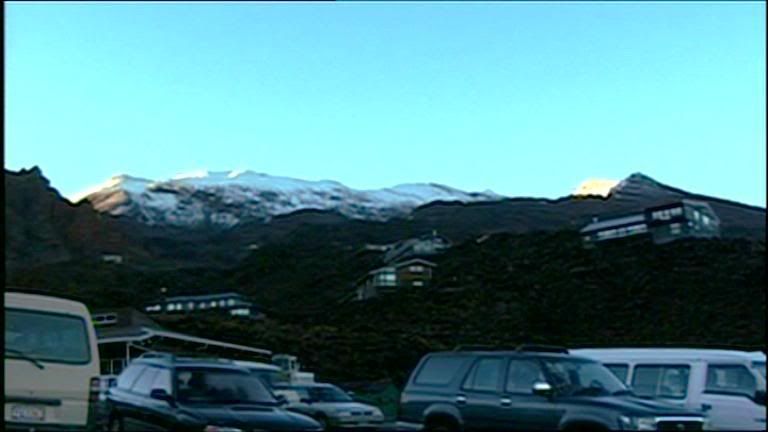 "It's actually also a ski resort or ski field complete with a lodge, chairlifts - when it's not ski season you can actually take the ski chair up before lunch and then come back down for lunch - it's cool - and then when it's time to go back to work we get back in a chairlift and go up the mountain and cry and suffer!!" (Sean ~ DVD)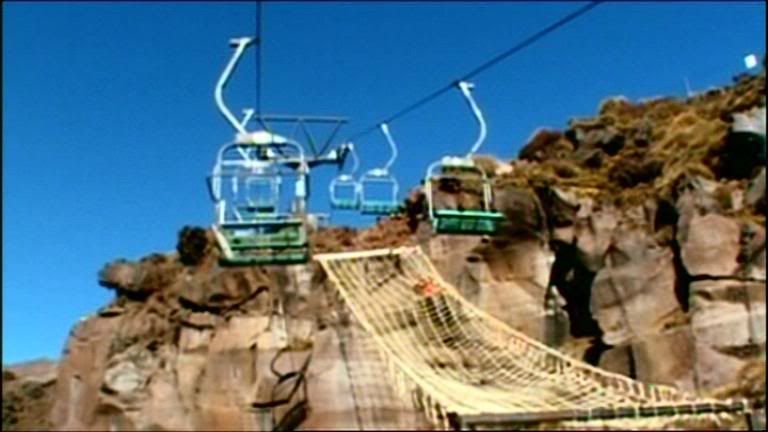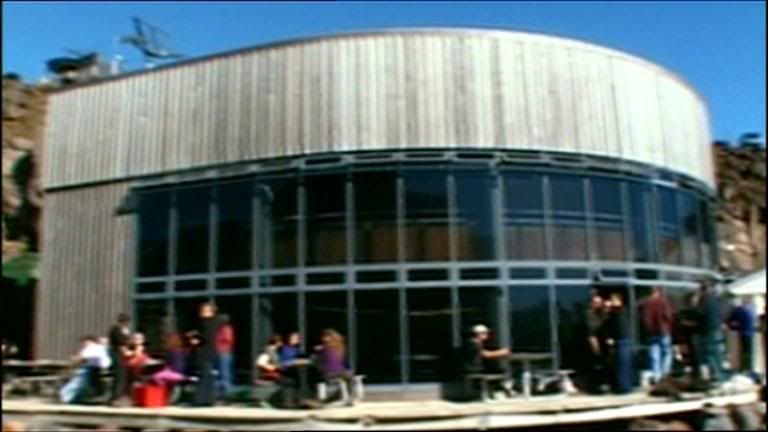 Little Orcs!! Sean teased Elijah over his choice of Orc helmet (dvd commentary) and although Elijah did have some reservations about it he said that he actually became quite fond of it - and it was very easy to remove by just grabbing the beak!!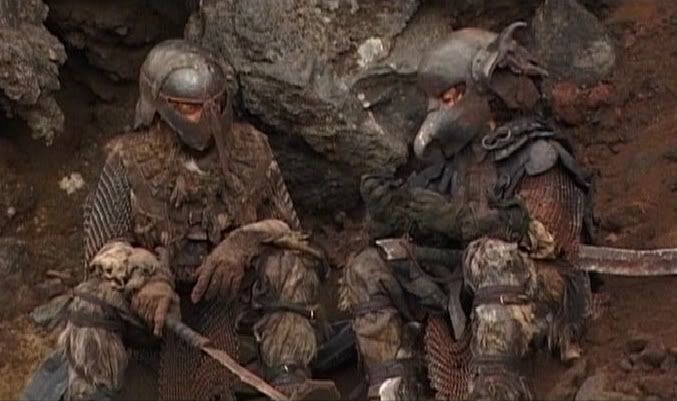 "Wood pulls off his Orc helmet between takes. His neck is covered in fake blood to show how the evil influence of the Ring literally eats into him. He tells me that yesterday, he and Sean were dangling off a cliff in safety harnesses for a scene of Frodo and Sam scaling the peaks of Mount Doom. 'Sam calls encouragement to Frodo, telling him to remember the Shire and strawberries and sunshine', Wood says. 'After the shoot, all we wanted were strawberries!'" (John Forde, E-Online)

Press:
"I noticed the marks on your neck as you got closer to Mount Doom, almost like a stigmata…
Wood:
"It's because the Ring gets heavier, and keeps getting heavier and starts to tear at Frodo's neck."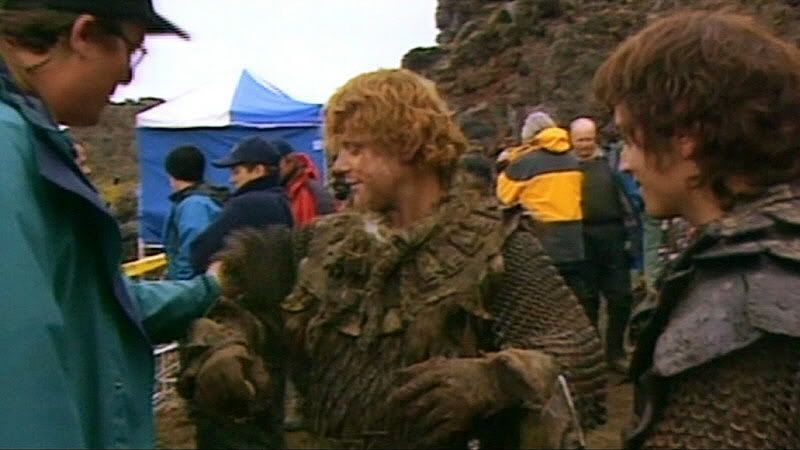 An on-set visit from Sean's wife and daughter: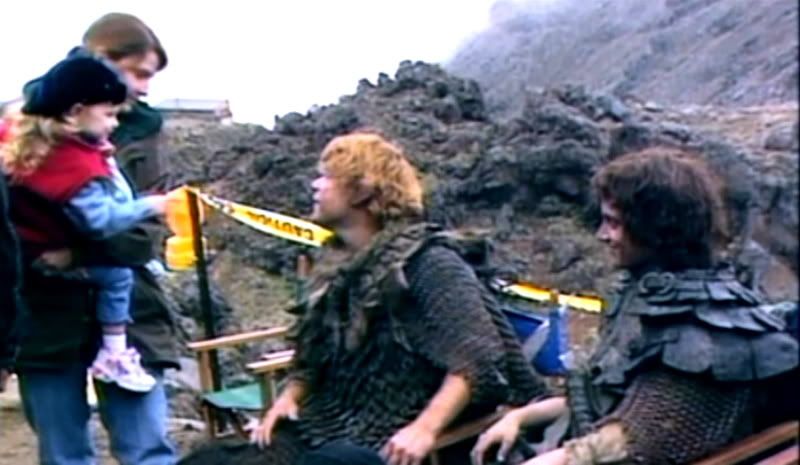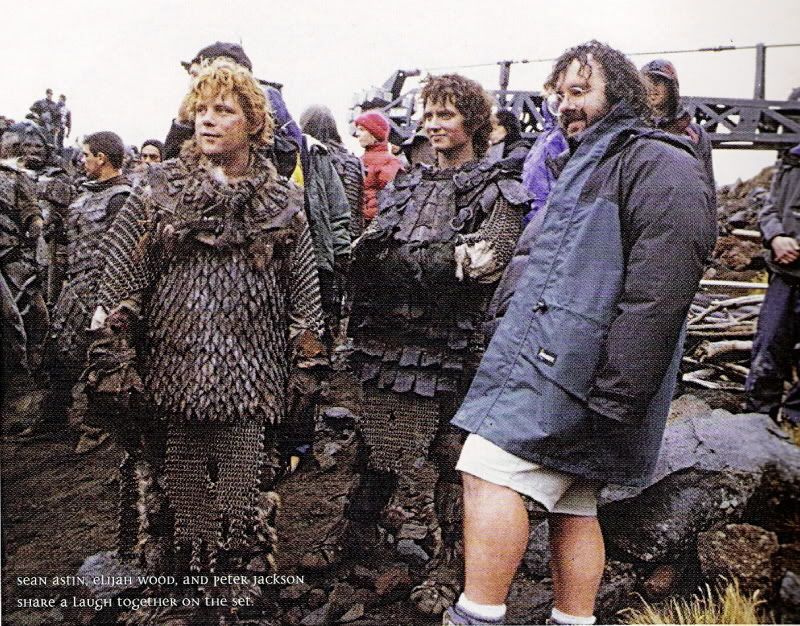 PJ is worried that "Elijah looks enormous" when he stands up in this shot. I bet that's the first time Elijah has ever been called 'enormous' :)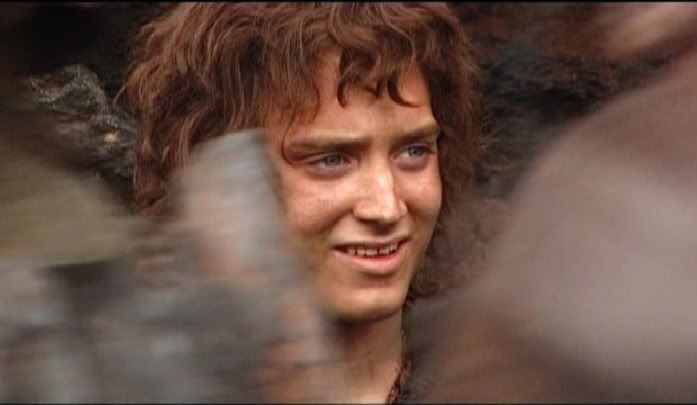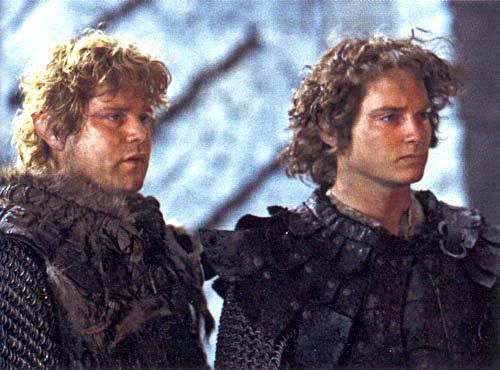 Nasssty orc clothes gone!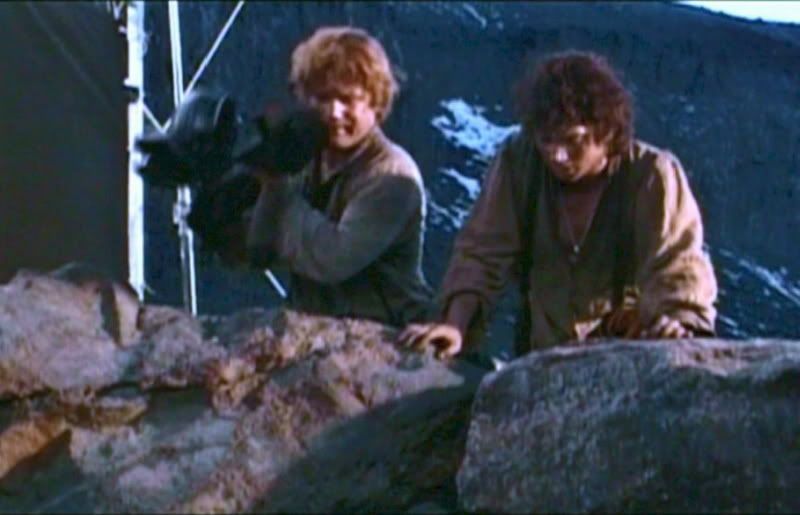 "That slow crawl up the side of Mt Doom is just satisfying 'cos you're finally at the meat of the story - you know, it's taken us a long time to get there but this is what it's all about." (PJ ~ DVD)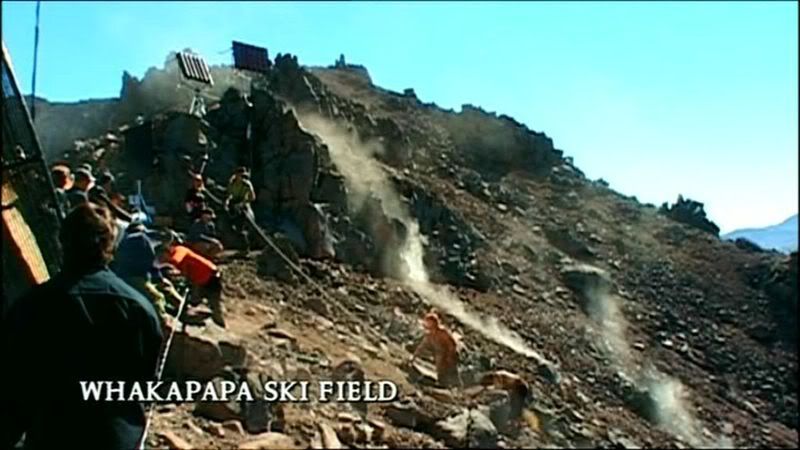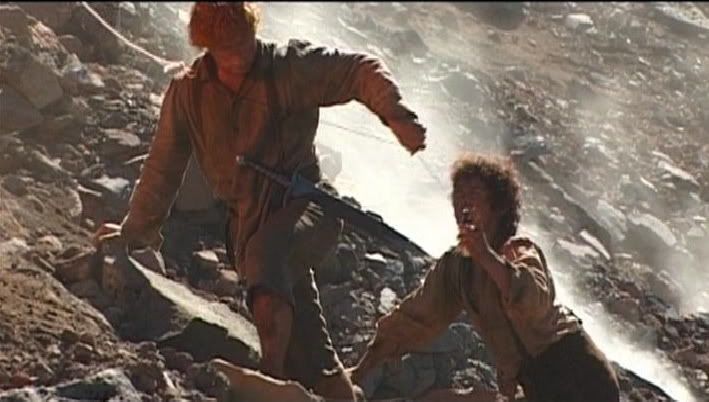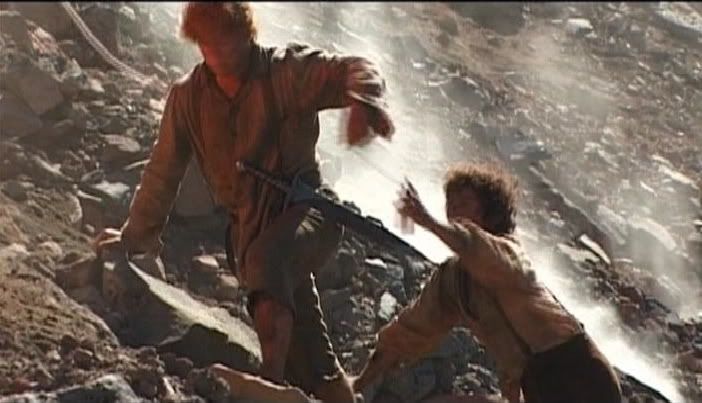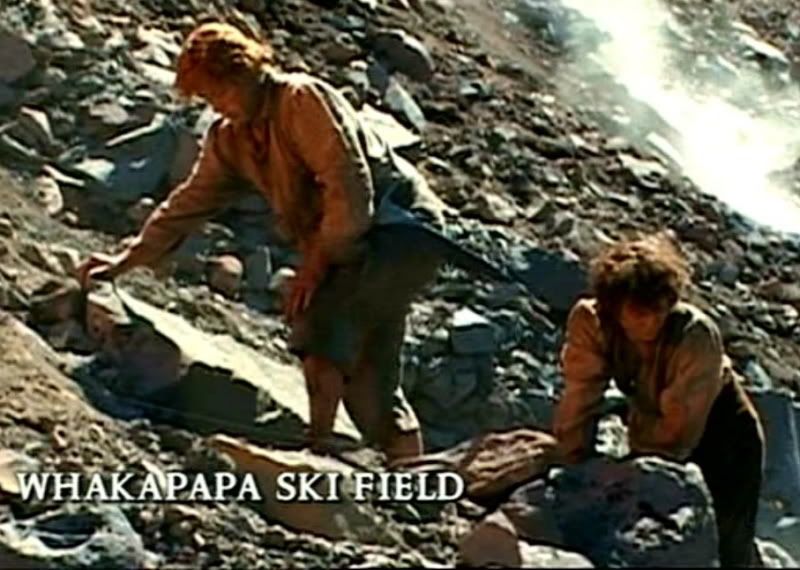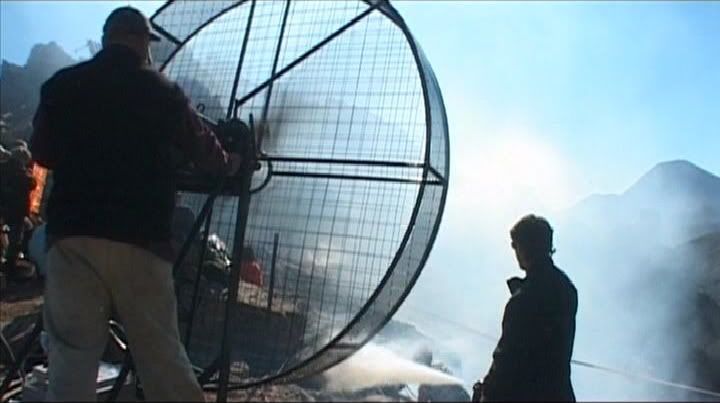 "The scenes between you and Elijah must have been intense to shoot."
"You're only seeing like a hundredth of the emotion that we did. We filmed so many crying scenes, so many more crying scenes than ended up in the movie. ... it was like a tidal wave of emotion." (Starburst)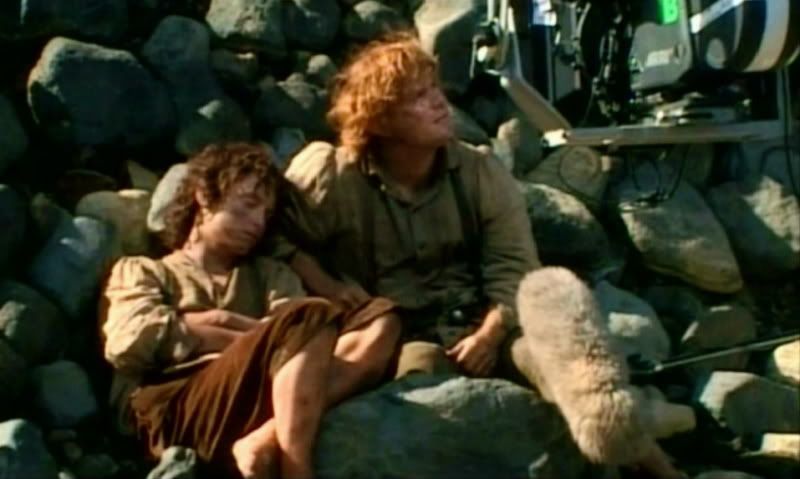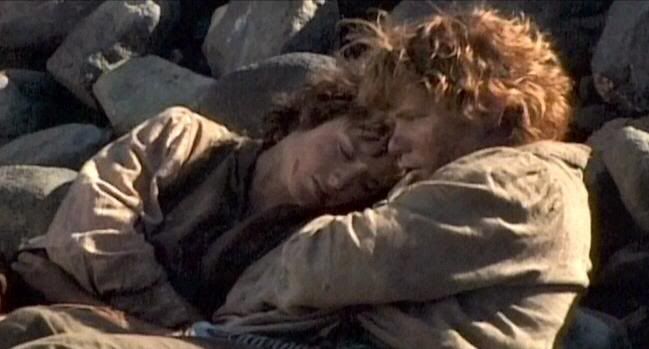 "I've been using a metaphor for other interviews today. Frodo's told 'Hold this 10,000lb weight and don't move!..and if you drop it – Everyone dies!' So how innately dramatic is that? You're just watching him. It's hurting him. It's psychological. It's inside his mind and he's dealing with the torture of that evil poison in his soul. Right! And people are running in and trying to get him to drop it…and Sam is knocking them away. But he's still the one holding it. So I had the privilege of watching Peter Jackson try to communicate with Elijah..the two of them worked to figure out 'How do you dramatise what is essentially an internal struggle' …and just wait and see where Elijah goes with this! It's incredible!"
(Sean ~ uk.geocities.com)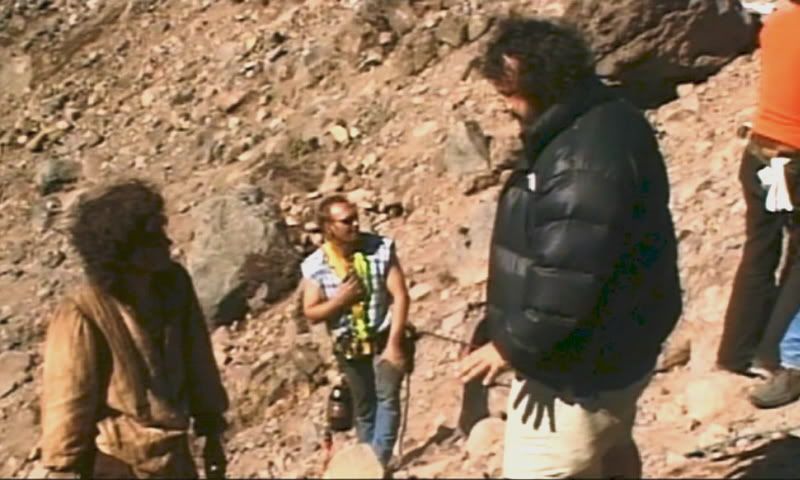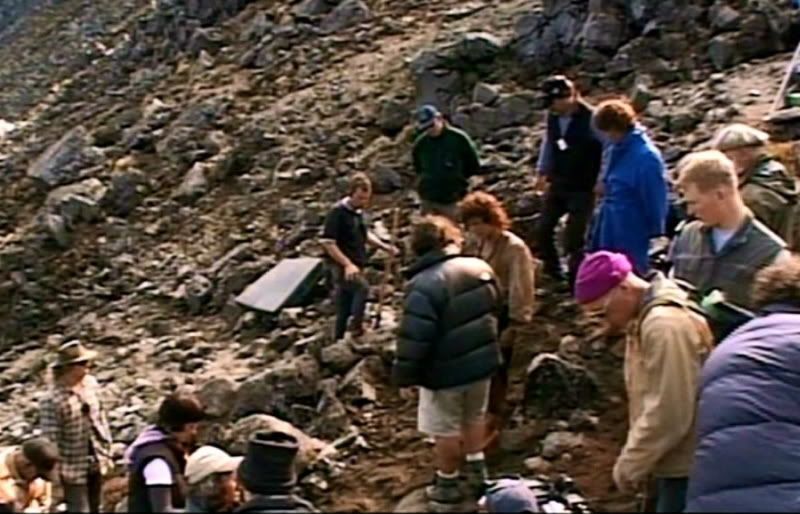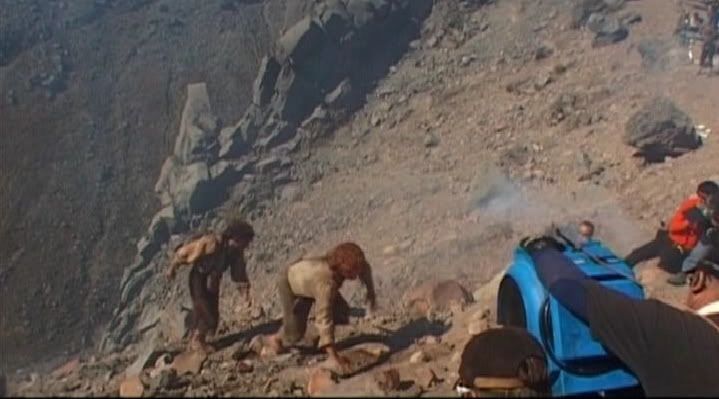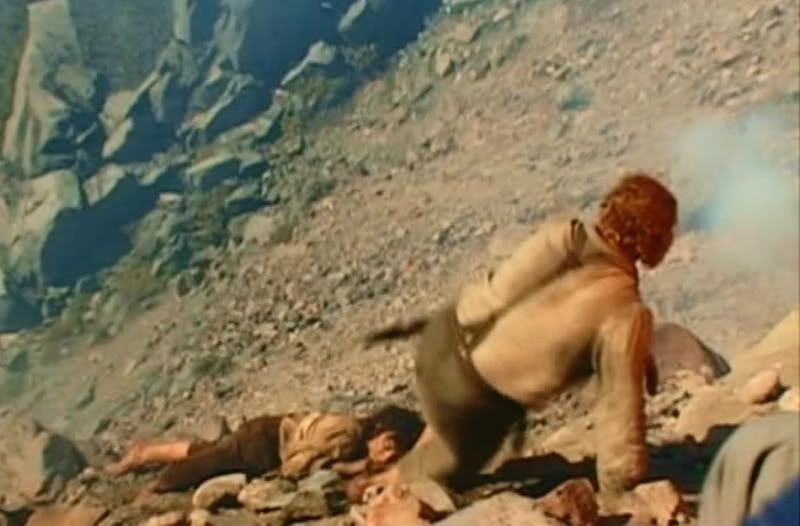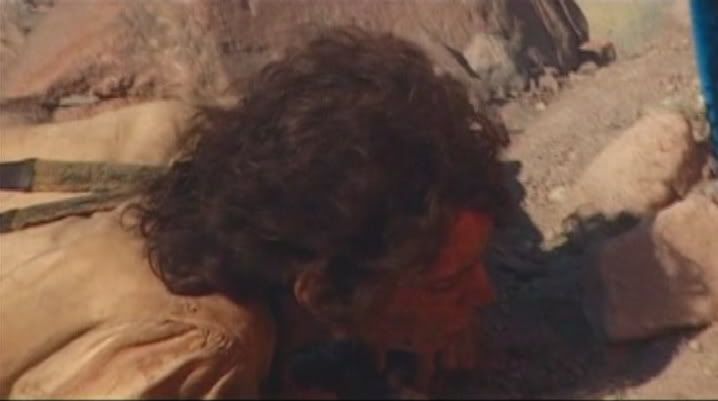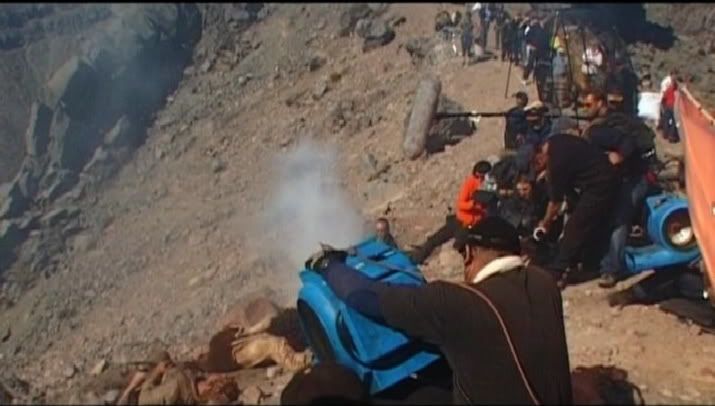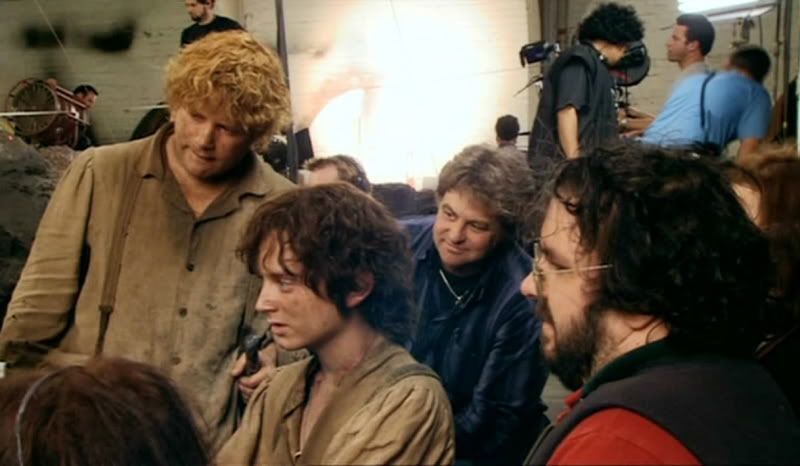 Elijah looks very much still in character here - and the tear stain - I find that so moving. Poor Fro!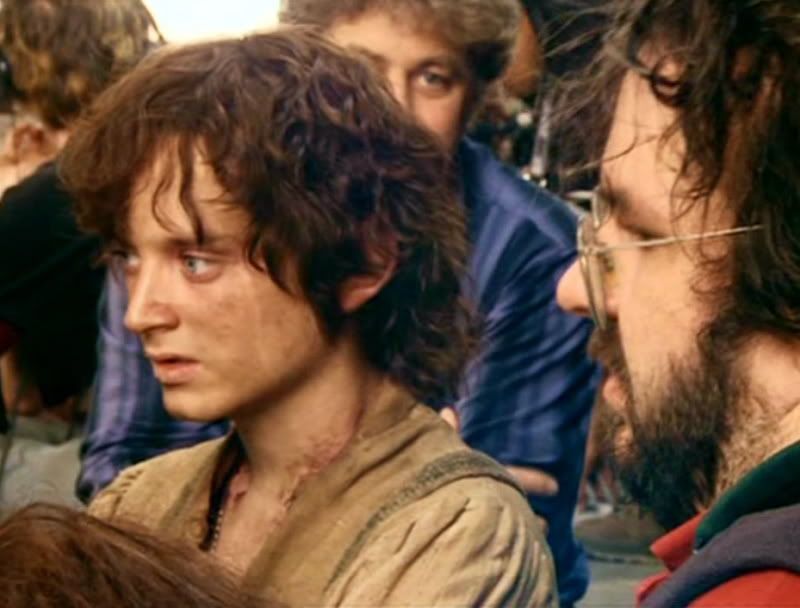 "I think the hardest thing for Elijah to do was to dramatize Frodo's internal psychological battle as the Ring is taking effect", Astin says. "It's a huge thing for an actor to say 'Okay, its month nine and I've had a nice weekend and now I have to exist in this emotional place of total spiritual, emotional and psychological suffering at the snap of a finger.' Wood agrees. "Frodo's journey up Mount Doom in ROTK and what that does to him – it's literally where he's at his end", he says. It's a f****n trippy thing to watch yourself so deteriorated and so completely different from who you are." (Premiere)




Limbering up!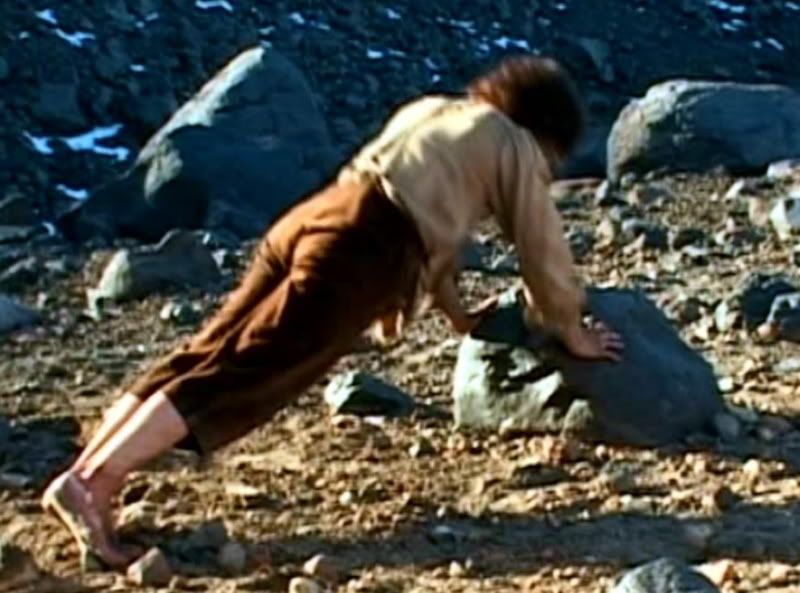 The scene where Frodo is caught by The Eye and swoons to the ground was actually Sean's final scene in the trilogy:
"It was on the plains and Elijah had to fall down in slow motion and so there was a lot of falling and getting up and falling and getting up and turning in slow motion to look at the wind ... when it was over Fran didn't want it to be over. She wanted us to run over to the sound mixer and record this four-page speech of poetry that they could use. She didn't really need to do it then but I think she didn't want to let go of that moment. (Sean ~ from his book)

"There was one rather memorable day during the looping phase of the production when Elijah and I were working on a scene in which Sam reaches around Frodo to lift him off the ground. The technicians kept rewinding and playing the scene as we tried to match dialogue to the film - back and forth, back and forth - the result being a slightly pornographic image of what appeared to be Sam having his way with Frodo. Elijah and I fell victim to our most juvenile tendencies in this setting, as we looped dialogue appropriate for the moment. What can I say? These were the kinds of jokes that sometimes bubbled to the surface over the course of an eighteen-month shoot. Sometimes they helped us get through the day. I'm sure it would be off-putting to some people in some way, but to us it was funnny, and it seemed harmless." (Sean ~ from his book)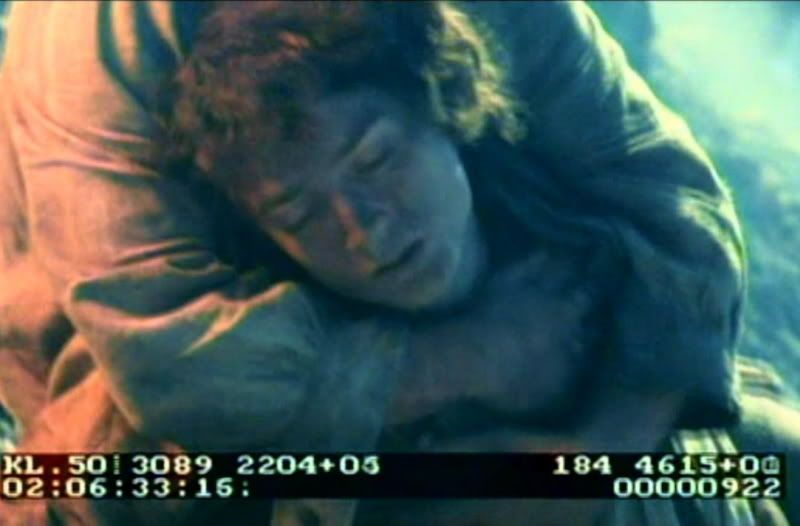 "The most sacred acting experience I've ever had was being on top of Mount Ruapehu with Elijah Wood in my arms. It wasn't acting anymore. Peter was sobbing." (Sean ~ Movie Insider)

"Sean and I were equally kind of nervous about approaching that moment and that scene 'cos we knew that we had something pretty serious that we had to nail." (Elijah ~ DVD)

"I sort of stuffed up the planning of the key day because at the time we were ready to shoot that critical scene between Frodo and Sam we only had 2 hours left - what we had to do was something we hardly ever did - it's called cross coverage which is always difficult to do, where you're basically shooting both actors at the same time. We didn't have time to shoot them separately - we had to shoot it all at once." (PJ ~ DVD)




"What was great about that was that we could be completely in the moment and it was going to be used because we were both being covered - it was perfect." (Elijah ~ DVD)

"Seeing that dialogue come to life", Boyens says, "was awesome, magical. I remember the first time I saw the rushes of Frodo and Sam heading up Mount Doom. I looked across at Fran, and she was crying--and so was I." (Phillipa Boyens ~ EONLINE)





"When Peter came out from behind the monitors, both Elijah and I realised we had nailed the scene.
...It wasn''t so much what he said that was meaningful. It was the fact that his glasses were all fogged up and tears were streaming down his cheeks. Yes! We did it! Knowing that we'd reached Peter was galvanising. I felt like a fighter who sees blood on an opponent. Time to go in for the kill! And that's what we did. Elijah and I kept going at it, take after take, and each time it got better. I loved reading the speech and kept doing it over and over, with escalating emotion. It was amazing really. I felt like I was crying from the bottom of my soul. It was unlike anything I'd experienced on a movie set. It's a rare thing where your expectations are met or exceeded and everything works out exactly as you'd hoped, and this was such a time. We had peaked at exactly the right moment.

When Peter yelled 'Cut!' I felt a rush of adrenaline. I picked Elijah up and practically lifted him over my head. We hugged and exchanged high-fives and pumped our fists. And we weren't alone in exulting. The boom operator came over and told us how moving the scene had been. The camera operator said he was having a hard time looking through the eyepiece because he was crying so hard. Admittedly, movie sets are prone to 'group think' wherein the director or the cinematographer (or someone else) pays you a compliment and suddenly everyone jumps on the bandwagon and it's all kind of bullshit. In your heart, you know you've done nothing special. But this was different. This was real. We all recognised the importance of the scene, of getting it just right. This was the climax of the story; done properly, it would serve as a tribute to Tolkien and the fans of Tolkien and it would honour the studio that had gambled $270 million.

The next day Elijah and I got a fax from Fran and Phillipa, saying, in effect, 'You guys rock!'

... Someday, I knew, audiences would see it. They'd see Sam cradling Frodo, expressing the purest form of love and strength, and they'd hear him talking about springtime in the Shire ... and they would weep. Someday." (Sean ~ from his book)

"Sam holds Frodo in his arms recalling the Shire, trying to make light of the situation . . . there's the sense Frodo is dying and these two hobbits . . . can barely carry on. It was a very sad sequence to film and very challenging. For Sean and I, I think that was the most important scene in terms of our characters' journey. I remember we were all crying. Peter was crying." (Elijah ~ Mike Houlahan Interview, NZPA)

"That's the ultimate, you know, to affect your director emotionally." (Elijah ~ DVD)

"It was one of those moments where we knew we'd got it - we knew we had something special." (PJ ~ DVD)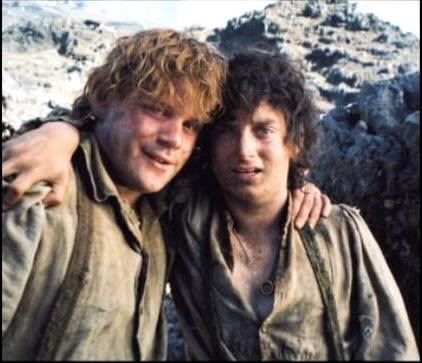 The LA Times made an interesting point - Elijah's dialogue when he's in Sam's arms was also his audition speech:
"Looking back is at the heart of their key scene in "The Return of the King," a scene that provides another reminder of how long a trip it's been. Wood recited his lines for it at three stages: In L.A., when he was a hopeful making his audition tape for Jackson; then in full costume, on the side of Mt. Ruapehu, a real volcano in New Zealand; and finally this past September, during a looping session in London, part of the seemingly endless "tweaking" to make sure they don't blow what they've started with the trilogy.

Though a saga like this is fantastical by definition, Jackson's mantra was "make it feel real," as in the scenes on the mountain which he calls "the heart" of the film. "If anybody is going to cry," the director says, "that's going to be the scene that will start them."

By phone from New Zealand, Jackson says he cried himself late one afternoon in May 2000, when they filmed Wood collapsed on the side of Mt. Doom when he can't go on, "nor can he give the ring that he's carrying around his neck to Sam because Sam would not destroy it. He knows how powerful this thing is."

In New York, Wood recalls how Astin's Sam "cradles Frodo and tries to make Frodo remember the Shire. 'At this time of year, the strawberries would be in bloom….' "

"Remember the barley in the fields," Astin pipes in, "something that isn't this barren wasteland of choking smoke and doom." (LA Times)

"What, for you, is the defining and most special moment in all three films?"
"I think, in some respects, the defining moment within the movies themselves is when Sam picks Frodo up and says, "I can't carry it for you Mr Frodo, but I can carry you." That is really the culmination of the journey for these two Hobbits since they left the Shire. It is Sam's belief and courage and unwavering friendship towards Frodo. It is Frodo who has literally spent himself to the point of exhaustion." (PJ - LOTR Fan Club Mag)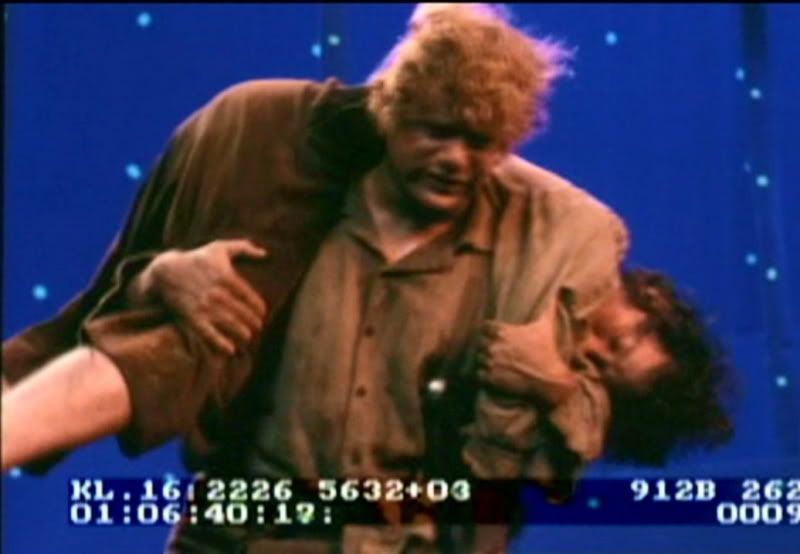 I'm sure this is what Tolkien must have had in mind when he wrote this scene in the book: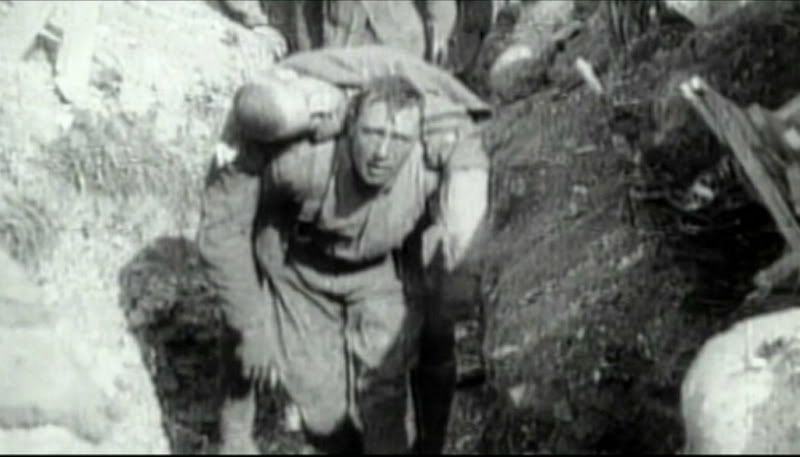 "The filming was almost uneventful, which is strange because it was an inherently dangerous sequence. We didn't use stunt doubles. I wore a harness, in the event that I slipped and tumbled off a precipice, but Elijah employed no such safety measures. He simply and bravely (maybe foolishly) climbed onto my back and allowed his body to go limp. As I trudged up the side of the mountain, with my prosthetic feet slipping and sliding through the gravel, I remember thinking, 'Holy shit! I've got the whole 270 million franchise on my shoulders right now'. Maybe they had some sense that if I fell, they'd be able to catch Elijah, but in my estimation, he was in real danger." (Sean ~ from his book.)

"Yeah - I'm kinda fearless, it's funny. Sean isn't necessarily fearless - he had a bit more of a wanting to have control over the situation and make sure everything was safe whereas I tended to have a lot of faith in the people around us seeing that everything is fine." (Elijah ~ ROTK press con)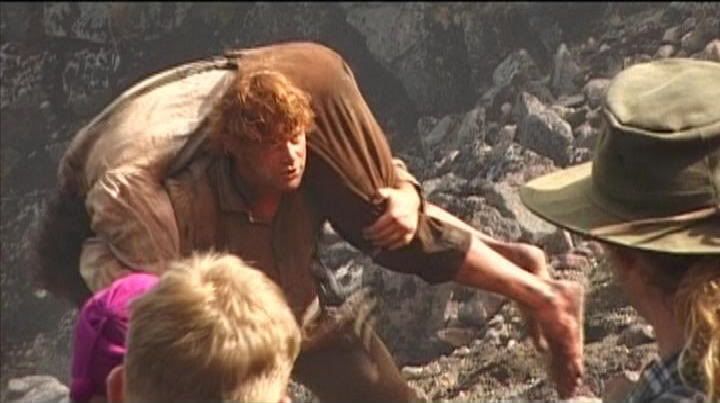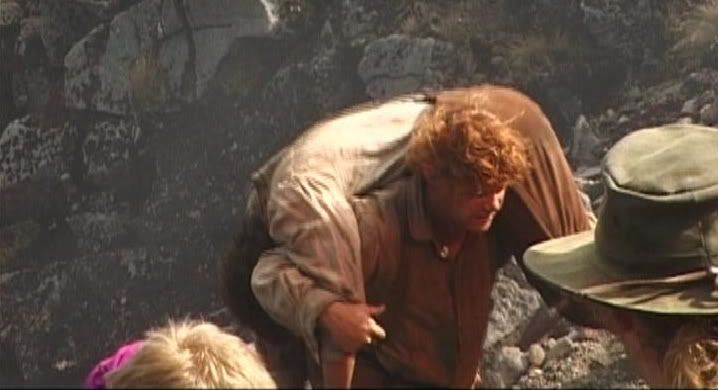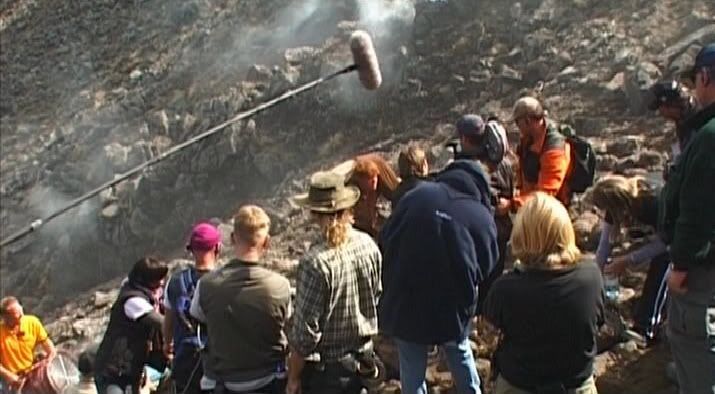 "It was a mixture - some of it was on stage and some on location. When he picks me up that's on location, after having collapsed on the mountain he says, "I can't carry the Ring but I can carry you" - that was done on the side of a mountian and then later it's on a stage." (Elijah ~ ROTK press con)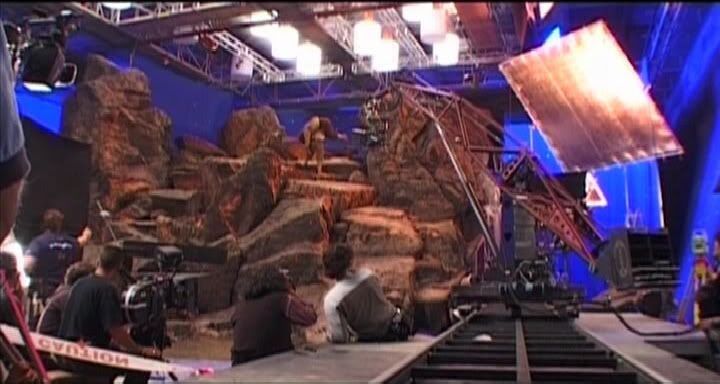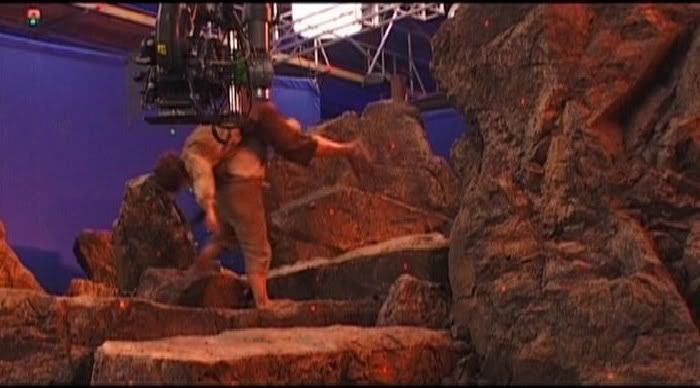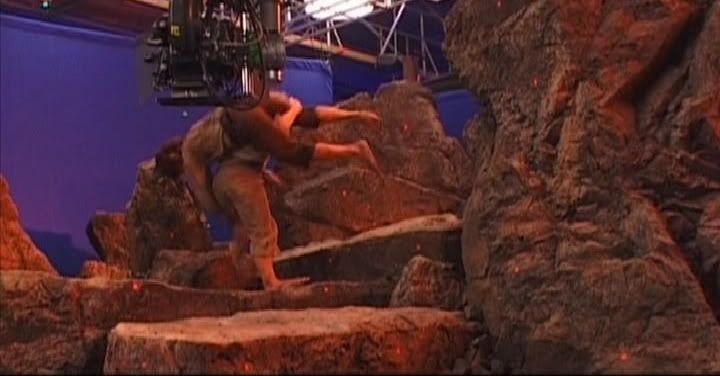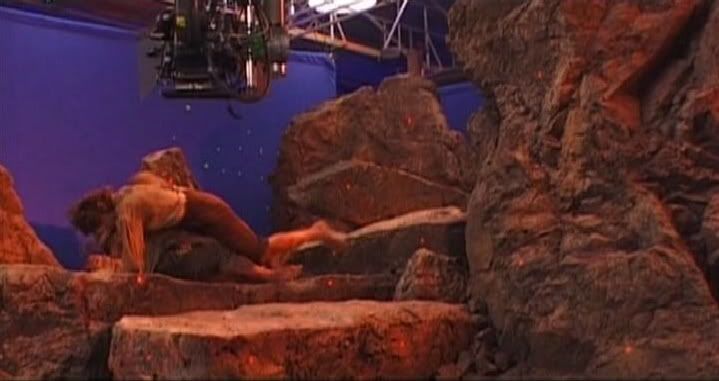 "It's extraordinary to think now that that was one of the first things we shot together as a threesome but Pete chose to extend that sequence and rather ironically one of the last things we ever shot was that same scene when we came back to do it again using motion capture on set at the same time." (Andy ~ DVD)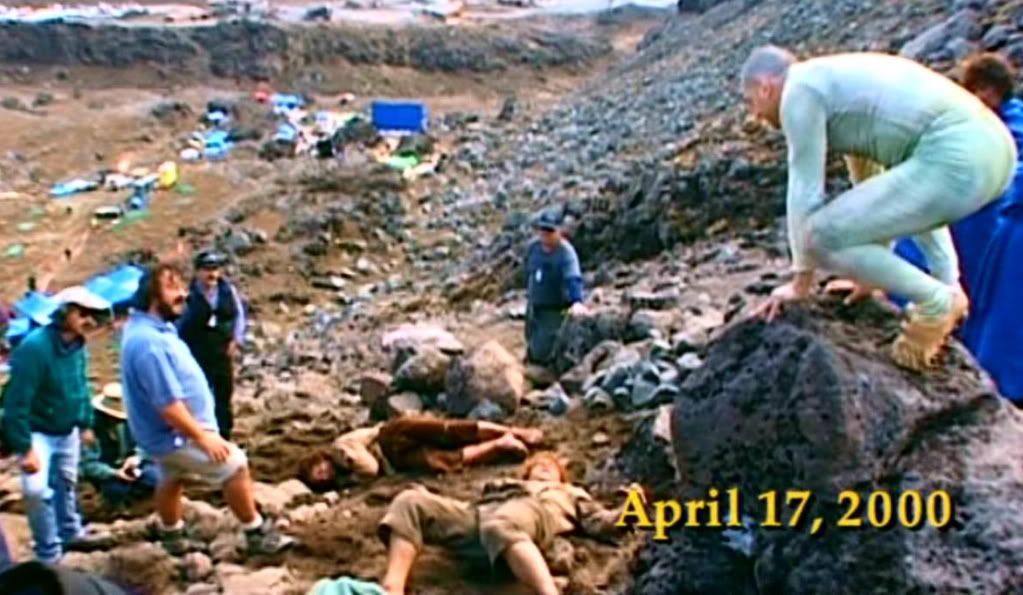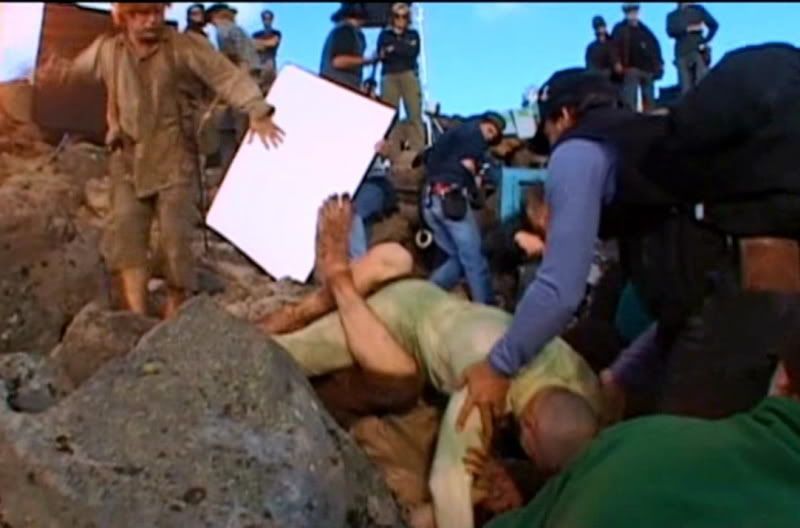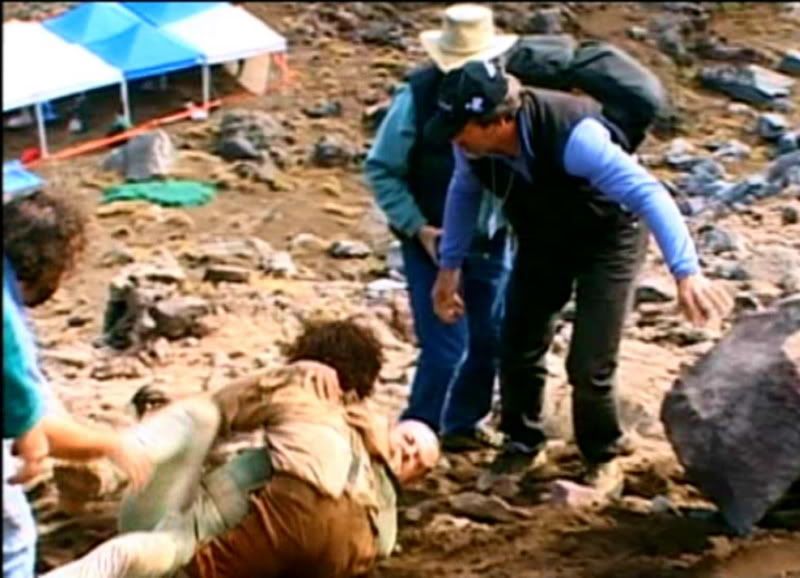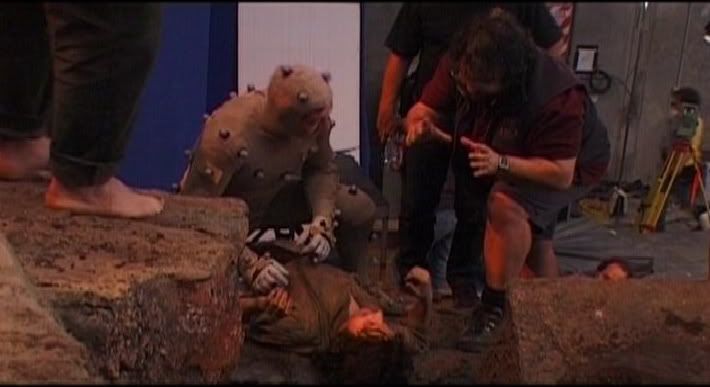 "When we got to the point where Elijah was having his final dramatic moment with the Ring, the whole crew was mesmerised. At the end of the take the crew gave him a huge round of applause, something that doesn't happen very often. It is a reminder that, as a film-maker, you rely totally on the power of the actors ..." (PJ ~ 'Peter Jackson : A Filmmaker's Journey' by Brian Sibley)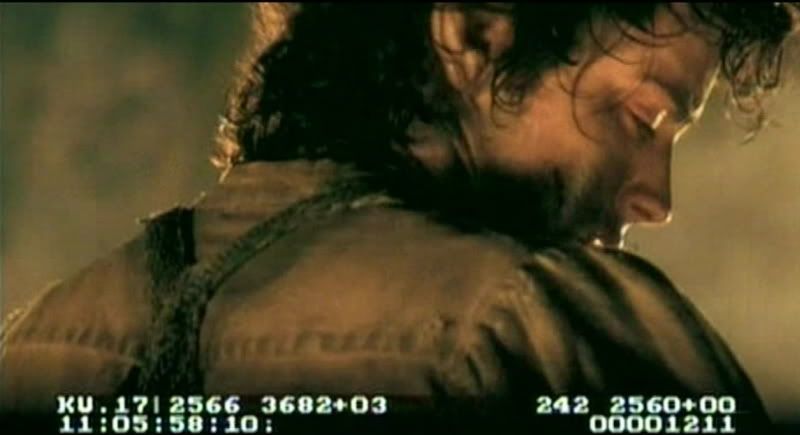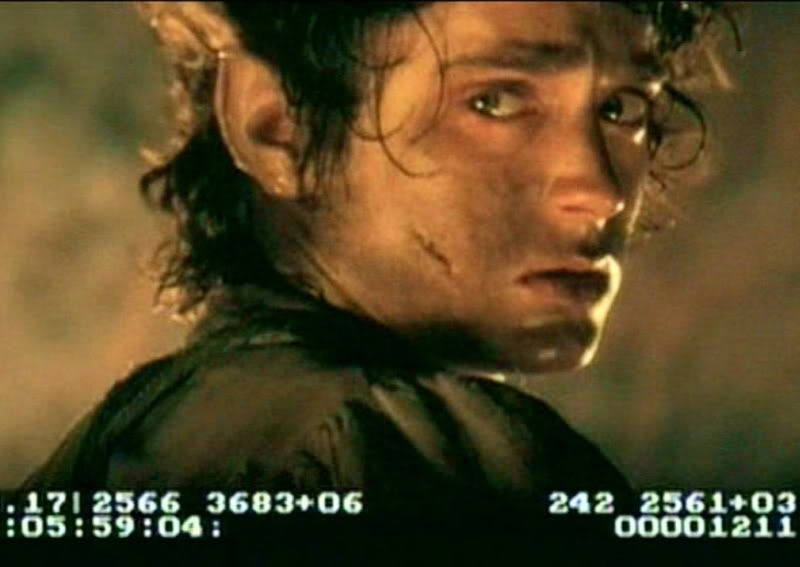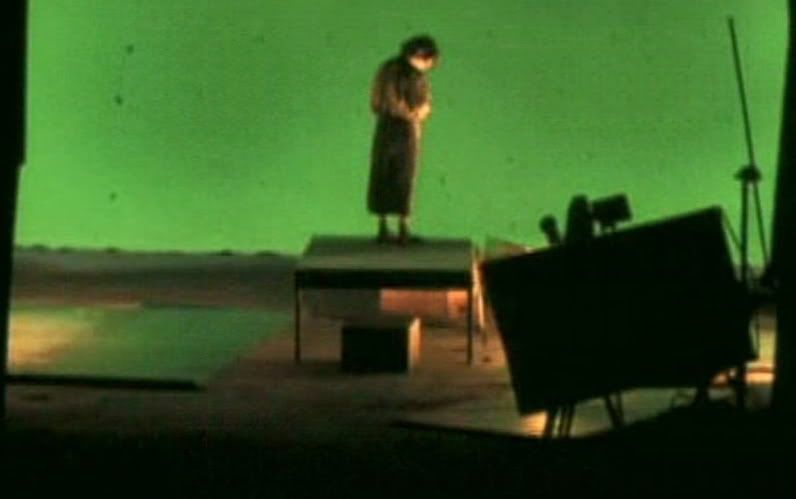 Elijah watches as the camera is on Sean: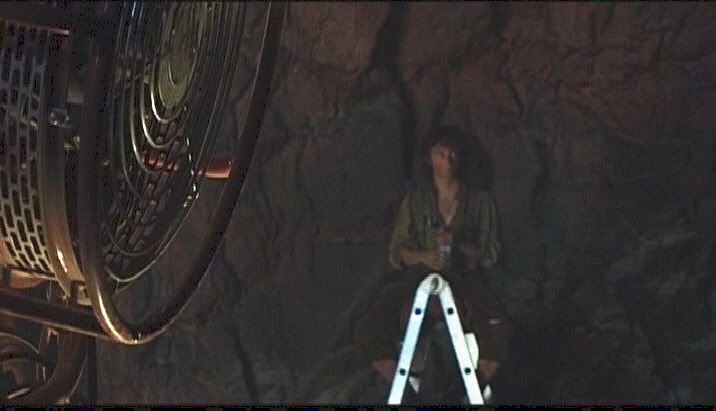 "What we were trying to promote was an extremely violent landscape. Very noisy and violent. It was achieved not just with lighting, but with an enormous amount of steam and smoke. The actual physicality of compressed steam being let off, and the noise of it, helped the actors play their parts because it was a very pivotal scene - where the climax of the quest is finally realized. It's a very graphic and brutal scenario that gets played out between Frodo, Sam and Gollum. We had the actual ledge itself, which was quite a narrow set. It ran out fairly deep into the middle of this set, with cavern walls on the sides and it was fairly high off the ground, so we had to be careful not to fall off. A lot of our lighting source was from the studio floor, where there was lava, so it was a very hot and noisy environment. There were lights flashing, bouncing and dimming along with a lot of smoke and steam. So I think the actors really benefited from that. I described it as being in a disco one time, but of a more organic nature. And outside the Crack of Doom, it's the same type of thing. The entire mountain is exploding. There's fireballs rocketing down the mountainside, and it's an extremely violent landscape."

"You shot some of the scene at a real volcano?"
"Yes, a big slab of the exterior was done on the slopes of Mount Ruapehu, which has been an active volcano within the last decade. So although we didn't encounter any lava, we were warned not to leave vehicles sitting in creeks because of the acidity that runs through the water. It can corrode the axles of cars very quickly. There's a high degree of sulphur running down from the mountain creeks. The mountain is currently dormant and there's a ski resort two-thirds of the way up, but it was sort of exciting knowing that the volcano had been active just a decade before. It was good being exposed to some of these difficult locations, because I think it helps the cast. They don't have to imagine everything. We filmed scenes of Elijah Wood and Sean Astin climbing up Mount Ruapehu and it was arduous on both the cast and the crew, but i think that helps the performances: they're enhanced because of the difficulty and reality of the location." (Andrew Lesnie ~ Starburst)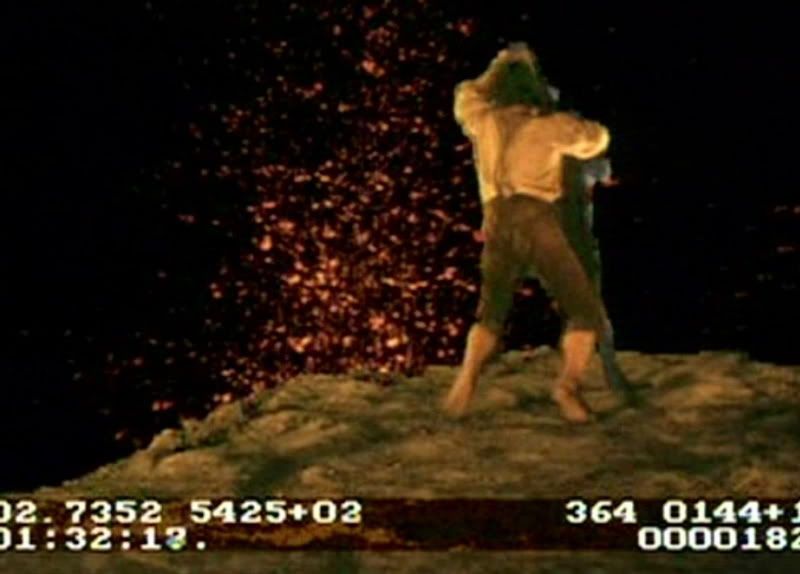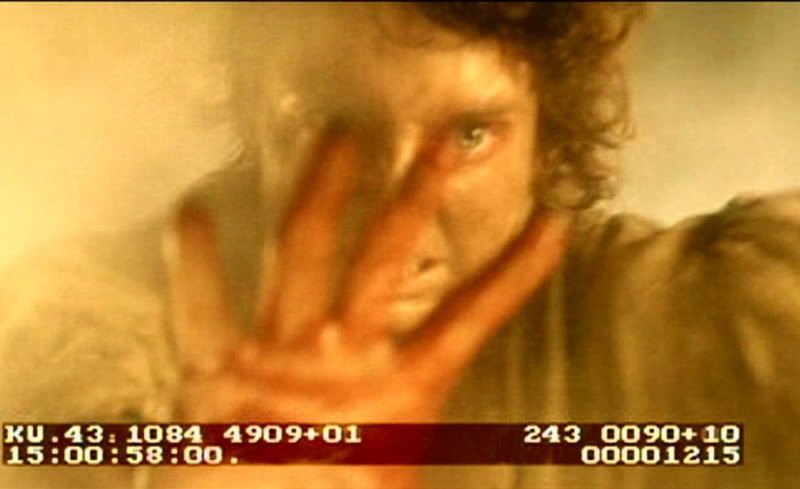 Steven D. Greydanus:
"One of the major themes is that in the very last stage, Frodo fails. He is spared the fate of Gollum and Isildur only by… chance, fate, Providence, whatever you want to call it. Do you think that for us, watching the film, as we struggle with our own inner demons, that this has any resonance? I'm thinking particularly in regard to some of the ideas in some of the addiction-recovery programs of the acknowledgement of a Higher Power. Do you think there is anything we can take away [to that effect] from the films?"

Jackson:
"It's a good question. I'm not sure. We modified the film a little bit from the book. We tried to have our cake and eat it too. This is not really answering your question, but… We did want to honor the sense that it was the pity of Bilbo that was ultimately going to lead to the destruction of the Ring. Bilbo not killing Gollum, and Frodo not killing Gollum at various stages of the story — many people would have regarded that as the sensible thing to do. Frodo showing pity to Gollum was a factor that led to the destruction of the Ring directly. Tolkien made that connection very simple in the book. In the book he had Frodo injured with his finger being bitten off and then Gollum dances for joy on the edge of the Crack of Doom, and then he slips and falls into the lava. Tolkien just did it the most simple way that he could for what he was trying to achieve.
In the movie, we felt that there was a problem with that. We felt that audiences — a lot of people haven't read the book, of course — would feel very let down and would actually judge Frodo badly for just sitting there watching as the Ring got accidentally destroyed, and they'd feel that Frodo would have failed essentially in his quest, and it was an accident that stepped in. We had to be careful in the movie to keep Frodo from looking bad because of that.
So I said to Elijah, "We've obviously modified it. So when Gollum dances on the Crack of Doom, we want you going back for the Ring. Now, you know, it's really got to be ambiguous as to whether you're going back to take the Ring and destroy it and complete your mission or whether you want to take the Ring for yourself [in a way] that's got nothing to do with destroying it." And Elijah said, "Oh, I think I want it!" [chuckles] So I said, "Just play it in a very ambiguous way." So Frodo went for Gollum — Elijah went for the Ring. The two of them fought: Andy Serkis was there, and Elijah, and the two of them fell in.
So we still tried to preserve what was important to Tolkien — the sense that it was the pity that [resolved the conflict.] There's nothing that takes away from that. If Gollum hadn't been there, if he had been killed earlier, then Frodo would have just kept it. We still had the presence of Gollum being the catalyst that led to its destruction.
[Regarding the added scene of Sam rescuing Frodo from the cliff.]
We didn't want to make Frodo heroic. We wanted to make Frodo feel that he had failed. At that point, he's free of the burden—the Ring is destroyed and it's no longer having that power over him. There's a sense that Frodo feels like he wants to let go, he feels that he has failed, and Sam says, 'No, don't do that.'" (Roundtable Interview)

It is the last couple of days of final pick-ups and PJ wants to reshoot a part of the 'Crack of Doom' scene: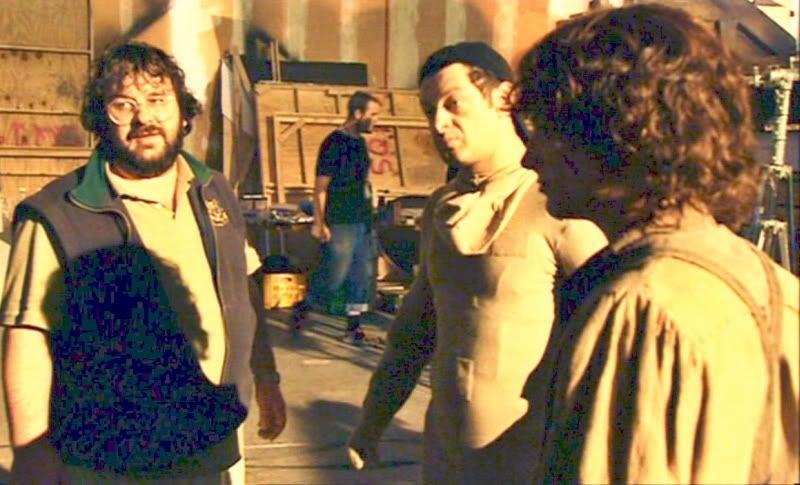 "Peter had this notion that he wanted Frodo not to be inactive - that we'd kind of invested all this time and energy with this character and then just have him be a bystander in this moment." (Phillipa Boyens ~ DVD)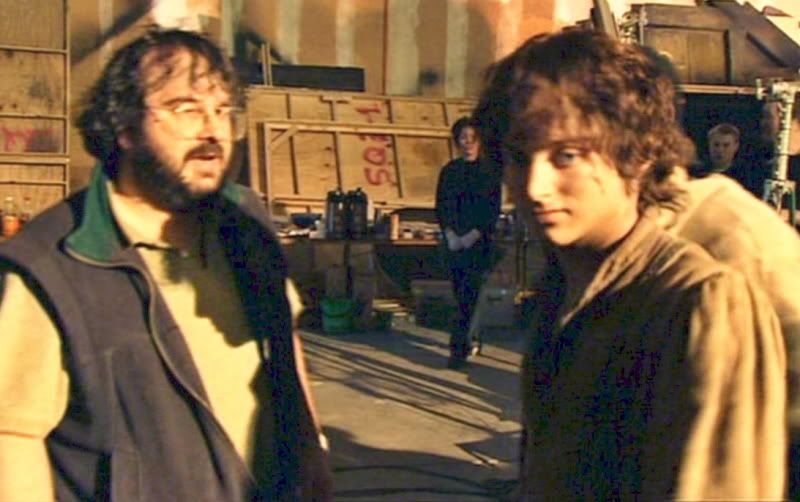 "And so our first concept that we originally had in our screenplay was that Gollum has the Ring, Frodo has his finger bitten off, Frodo jumps to his feet and he comes and he pushes Gollum - he doesn't touch the Ring, he pushes Gollum and the Ring over so Gollum and the Ring fall and Frodo kind of disappears and ends up hanging on the rock." (PJ ~ DVD)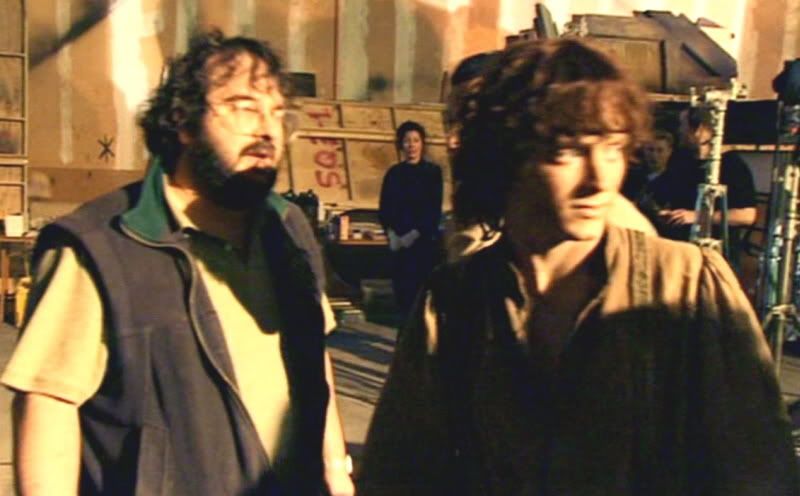 "I know Fran and I had a few doubts about how that was going to look and then when Pete actually shot it, it did feel as if Frodo was killing Smeagol and Gollum, as if it was an act of murder." (Phillipa Boyens ~ DVD)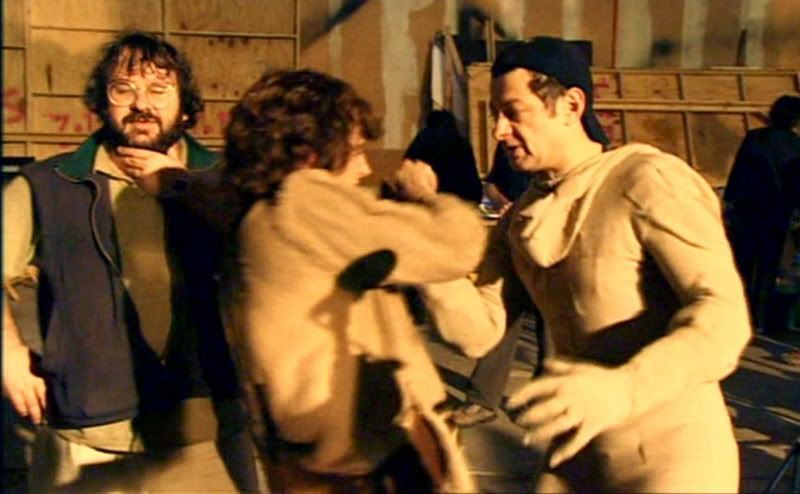 "It was not quite fulfilling Tolkien's theme that sparing Gollum's life was ultimately what causes the Ring to be destroyed. So, we then decided at the very last minute, and it really was the very last minute because it was Andy's very last day in New Zealand and it was Elijah's second to last day in NZ and we were about to lose these guys forever in terms of their involvement in the film, and we thought, you know, what we've got to squeeze in - it wasn't part of our scheduled plan during pick-ups but we thought,'We want one more go at this..'"(PJ ~ DVD)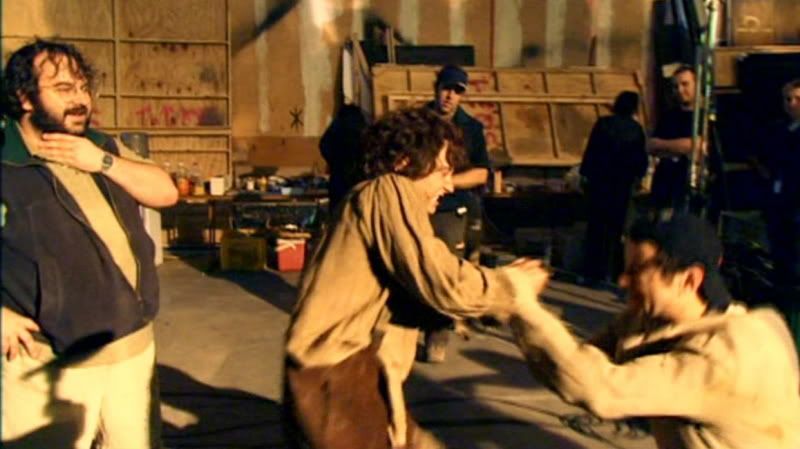 PJ explains that it should be a sort of pushyou/pullme between Frodo and Gollum ...



... echoing this, of course.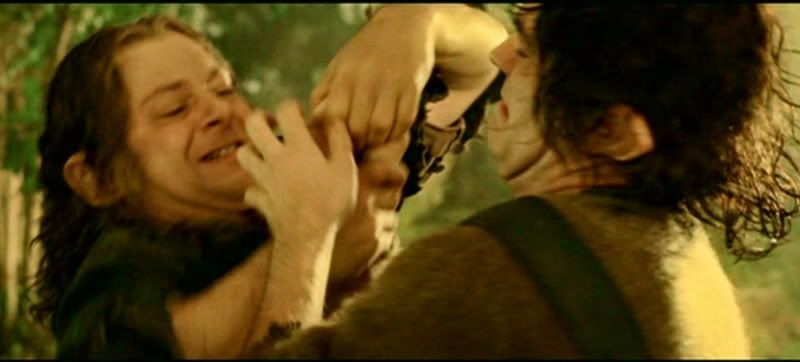 "We wanted it to appear somewhat ambiguous - that Gollum would fall over more out of the struggle - an accident rather than Frodo killing him." (Elijah ~ DVD)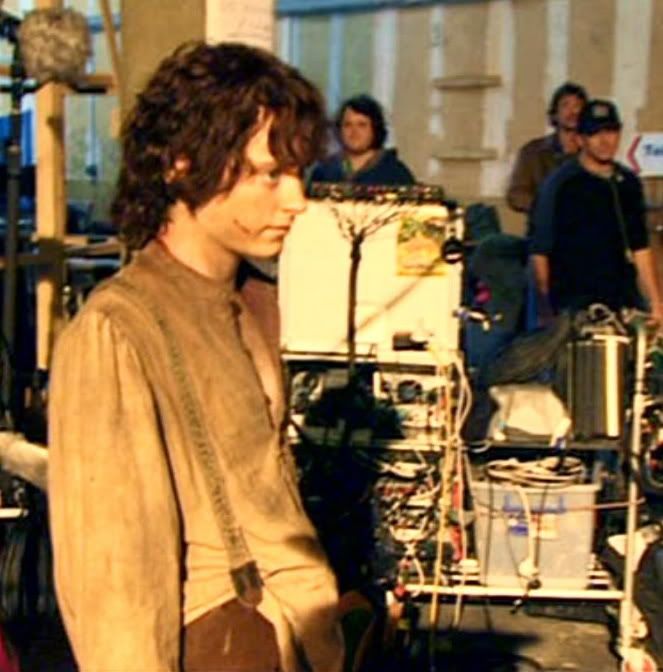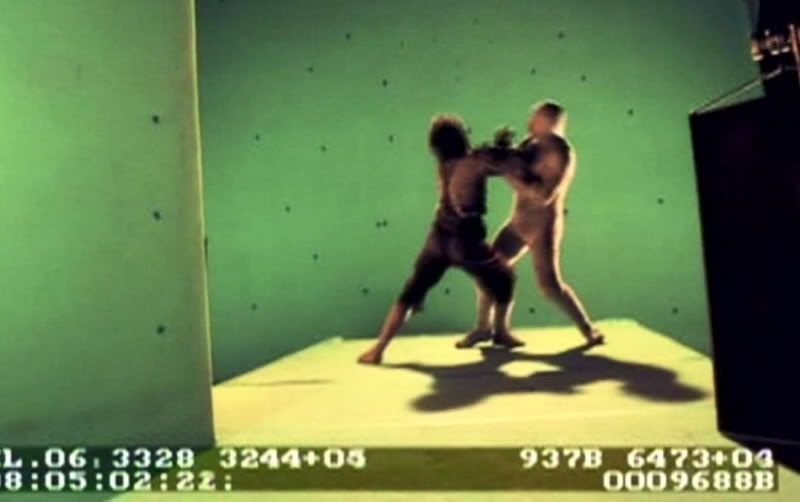 "We wanted it to look like Frodo is trying to get the Ring back. It's not about killing Gollum, it's not about destroying the Ring, it's about him taking the Ring back." (PJ ~ DVD)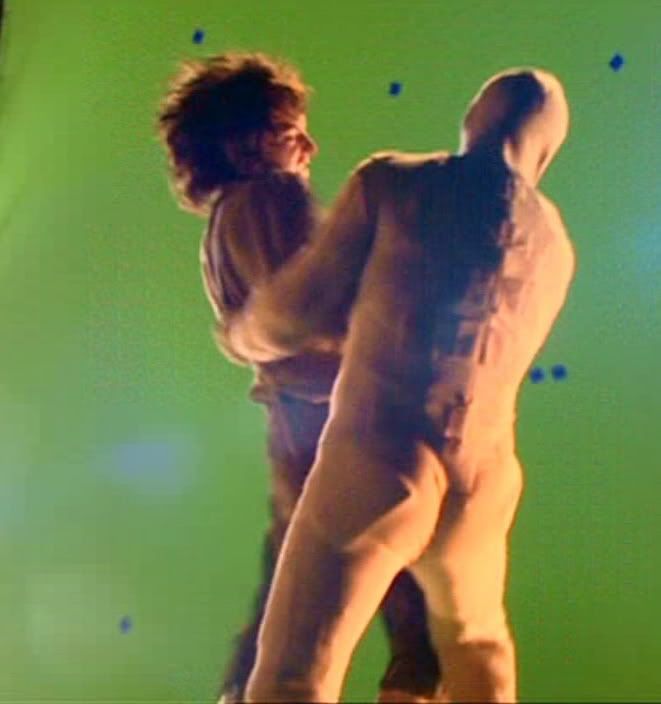 "And we also knew that we wanted Frodo to go over the edge. And the reason we wanted him to go over the edge is because we felt that one of the most dramatic moments is not just the death of Gollum and then Sam saying, 'Come on Mr Frodo, we've gotta get out of here - it's got to be, 'don't you let go' and to make that a tough choice for Frodo we needed to give him the other choice and that was to let go and end it all and you can't do that by just having him stay there and not get up - we needed to have him dangling over the edge." (Phillpa Boyens - DVD)

"You want this death. I see it in your eyes". Oscar-worthy moment no.583 (Me):)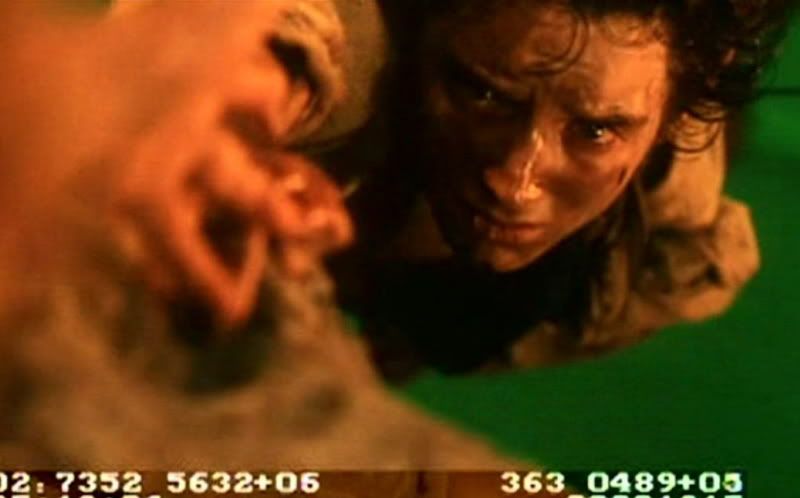 As always, there was still time for a few lighter moments:

Andy Lecter arrives on set: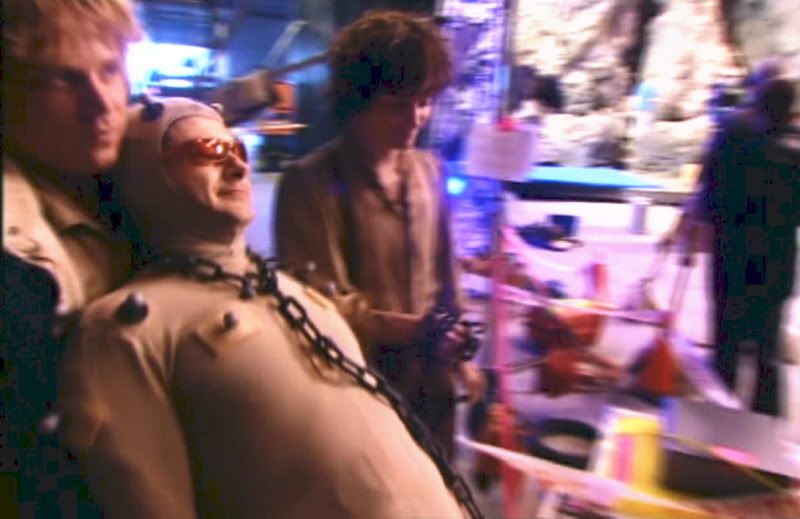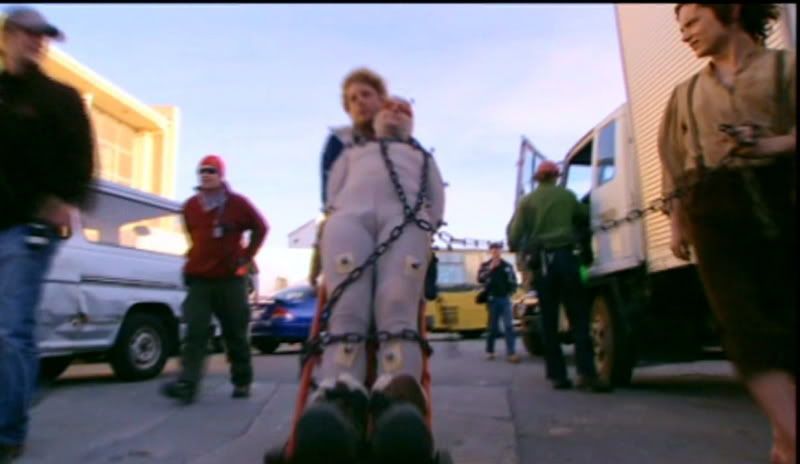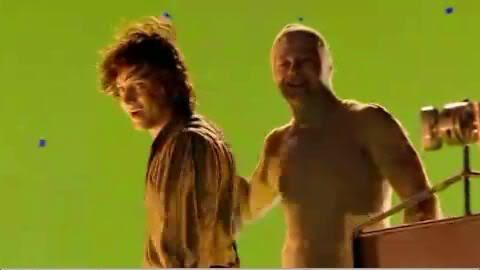 Don't know who this lucky lady is:)



From Sean's book: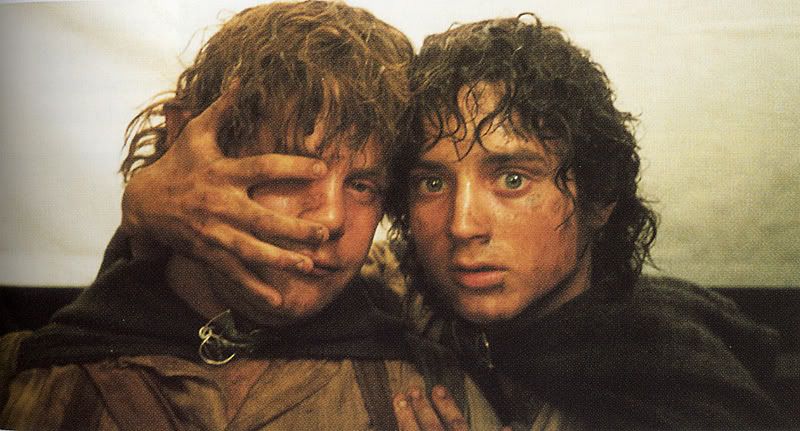 ******
"When we got to the point where Elijah was having his final dramatic moment with the Ring, the whole crew was mesmerised. At the end of the take the crew gave him a huge round of applause, something that doesn't happen very often. It is a reminder that, as a film-maker, you rely totally on the power of the actors".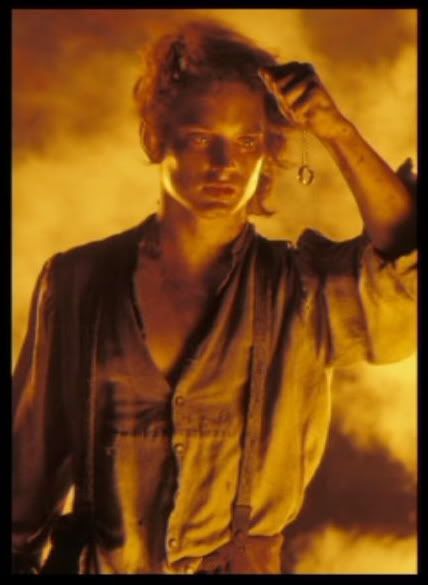 TO BE CONTINUED
Link to all chapters:
"A JOURNEY WITH FRODO"
comments: Leave a comment