| | |
| --- | --- |
| Tags: | a journey with frodo |
| Current Music: | Fudji Yama ~ Yamasuki |
| Security: | |
| Subject: | A Journey With Frodo: Ch.18: 'Capturing Magic' |
| Time: | 12:46 pm |
| Current Mood: | contemplative |
I've now completed Chapter 18 of 'A Journey With Frodo' - 'Capturing Magic'. Hope you enjoy it:) I have now almost covered all the principal filming of 1999/2000 - the next chapter will deal with the final manic week. It will seem strange to move on to the next stage of the journey:)
For anyone unfamiliar with my pet project, 'A Journey With Frodo' (a work in progress) is the story of Elijah Wood's experience in becoming Frodo, from back in 1998 when the LOTR movies were just a whisper up to the triumphant Oscars of Feb 2004. In reliving Elijah's journey, and mine, I am using everything I can lay my hands on - behind-the-scenes material from the various dvd's, magazine articles, books, internet sites, tv coverage, word-of-mouth info, etc. Previous chapters can be found here
"A JOURNEY WITH FRODO"
You'll need to scroll down to find Chapter 1:)
******
And so we come to principal photography on the final scenes of ROTK which, as with all other scenes, were shot at varying times during the fourteen month shoot and the following pick-ups.
Coronation:
"The four Hobbit boys filmed their last scene as a foursome on Friday, reacting to the coronation. Pete and Fran were on set which was great and bottles of Boli were cracked open and we filmed a gag reel in which we all drank from the bottles in the scene...
(Dom – Unofficial Dom Fan Club)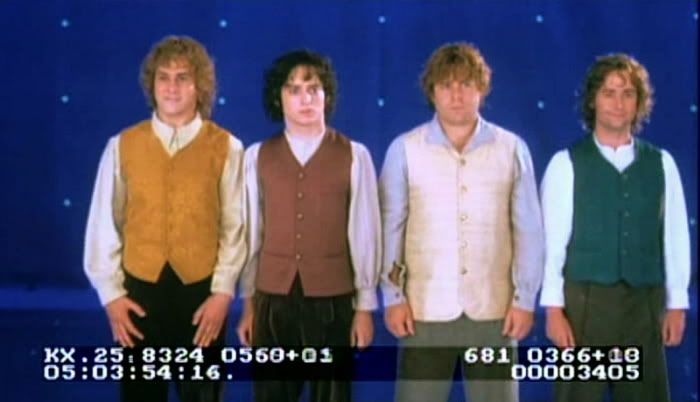 Apparently, they had great trouble keeping straight faces for this scene:
"The great thing about that was that Viggo was available to do the shot - he wasn't on camera but he came and did the shot - and he fashioned his own crown! They didn't have a crown for him so he made a crown out of paper and in every different shot the crown became more and more silly!"
(Dom ~ dvd)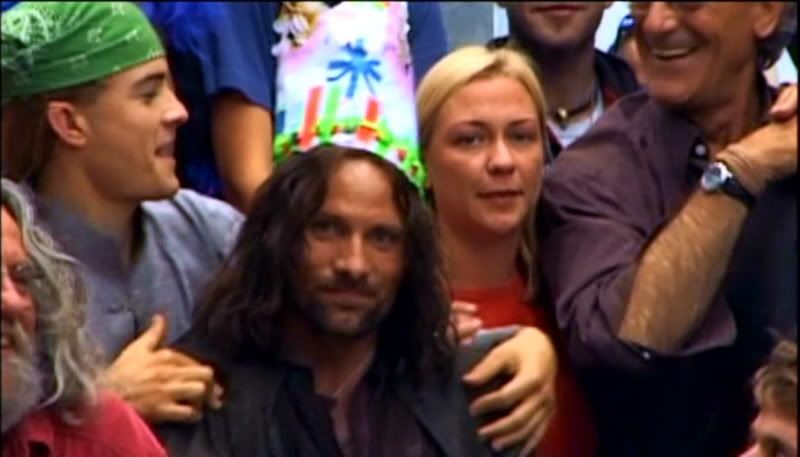 "A beautiful way to end with the four hobbits together - the first shot was the four hobbits on The Wooded Road - last shot the hobbits at the coronation - it had a symmetry to it."
(Sean ~ dvd)
******
Going Home:
I remember Elijah saying at one of the cons he attended that the scene of the homecoming hobbits originally included a shot where the four of them, on their ponies, stop on the top of a hill and look down on Hobbiton. I do wish that hadn't been cut out - and Elijah seemed to feel the same way. It would have been a lovely touch. What he didn't mention, however, and what Dom and Billy took great delight in relating, was the trouble he had controlling his pony which apparently kept wanting to walk backwards!! I wonder if this will ever pop up on some future blooper reel:) There don't appear to be any behind-the-scenes shots of the filming of this scene, but to compensate there is a great photo shoot of the hobbits looking like four little princes in their finery:
Frolijah makes some adjustments to his robes.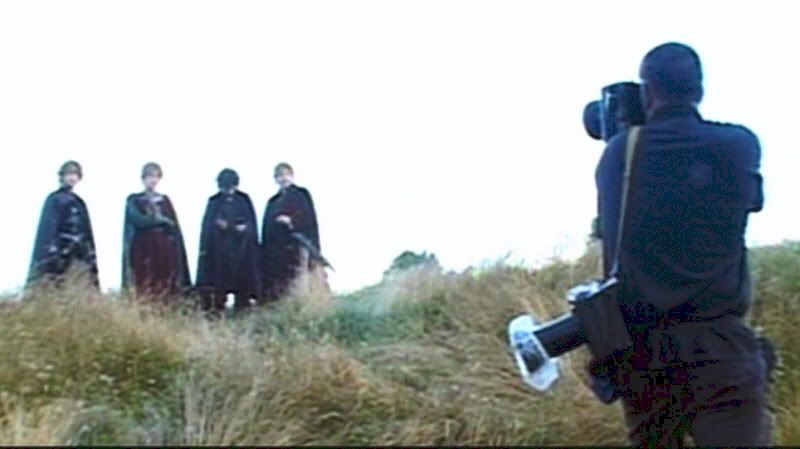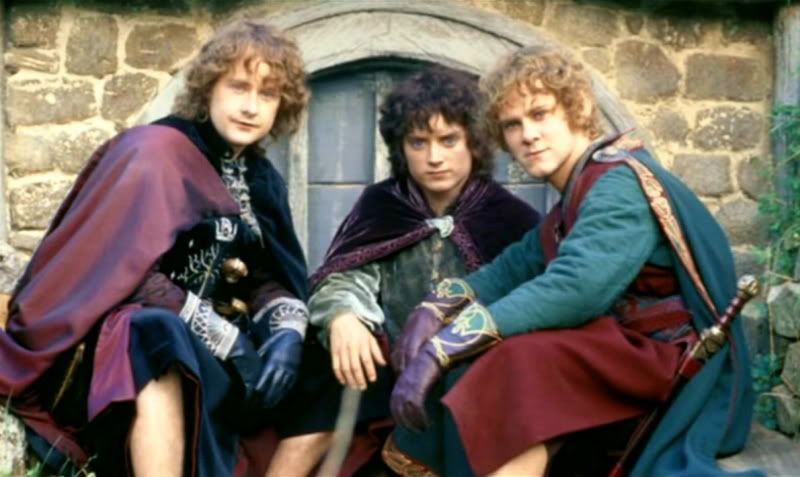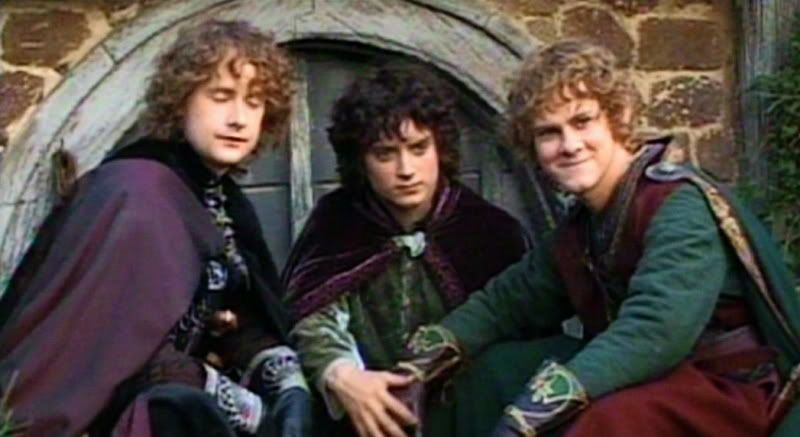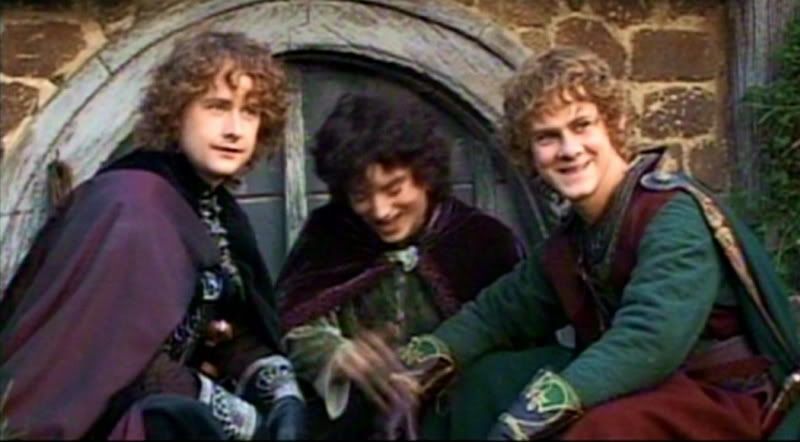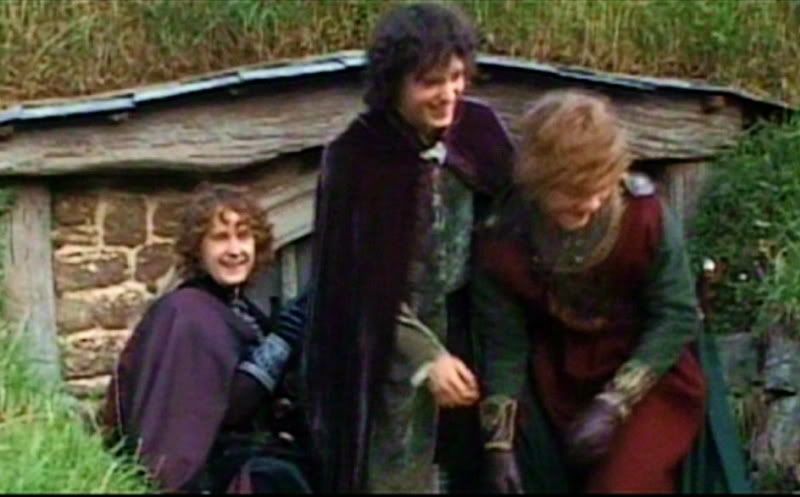 A close-up of Frodo's beautiful coat - though I can't be certain if that's Elijah's arm in it:
Those do look like Elijah's legs - but not too sure about the body!! Interesting arrangement at the front of the trousers;)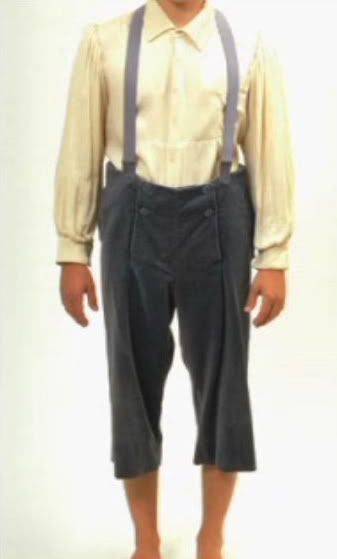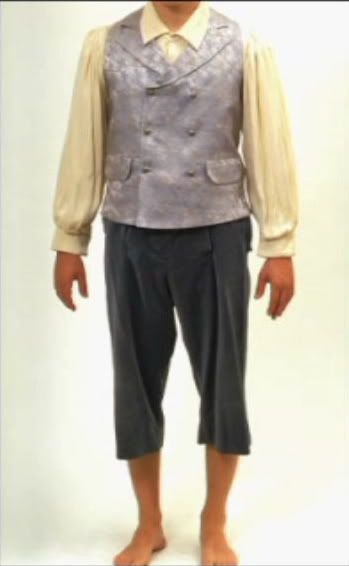 ******
"One of Wood's favorite scenes featured only hobbits; Jackson conceived it after the script was written and shot it after wrapping up the action. This vignette depicts Sam and Frodo and their fellow veterans of the quest, Merry and Pippin, exchanging glances of comradely understanding during a night of merriment at their favorite pub.

It reminded me of the astronauts at the end of 'The Right Stuff' silently affirming their bond while LBJ fetes them at a mammoth indoor barbecue. To Wood, though, it was more like, "Vietnam veterans returning after the war, and realizing that no-one else in their town really knew what they had gone through." Gandalf the wizard could not have put it better."
(Baltimore Sun)
Starburst:"Peter said all the characters in the film are changed at the end."

Andrew Lesnie: "Yes, the boys coming back home to Hobbiton is great because they're coming back to the place they've always dreamed of coming back to, ever since they left. But when they return, they realize they've changed. They can still go back into Shire life but because of their experiences they can no longer look at the world the same way as everyone else in the Shire. To me, scenes like that really resonate."
******
The set of Sam and Rosie's wedding ...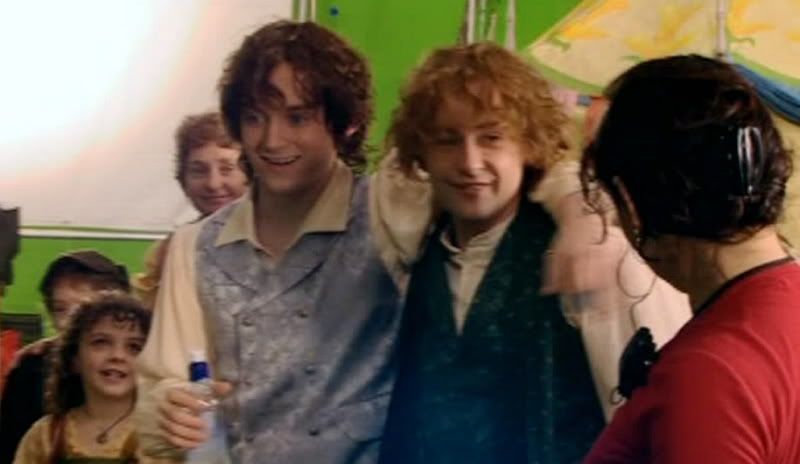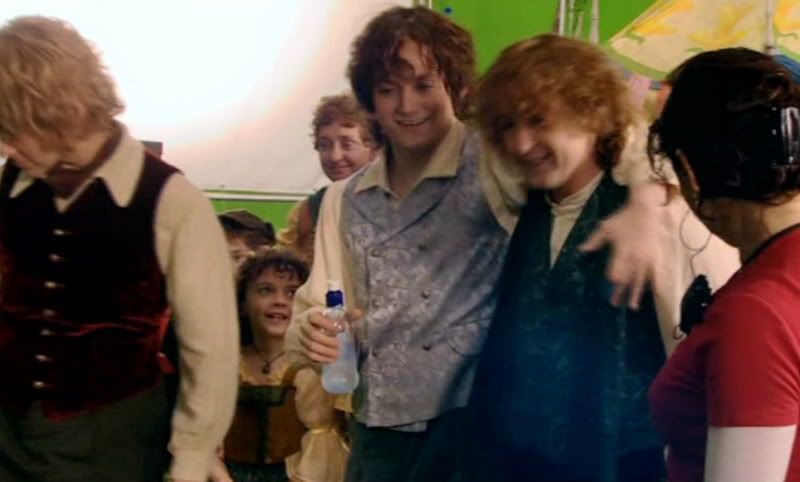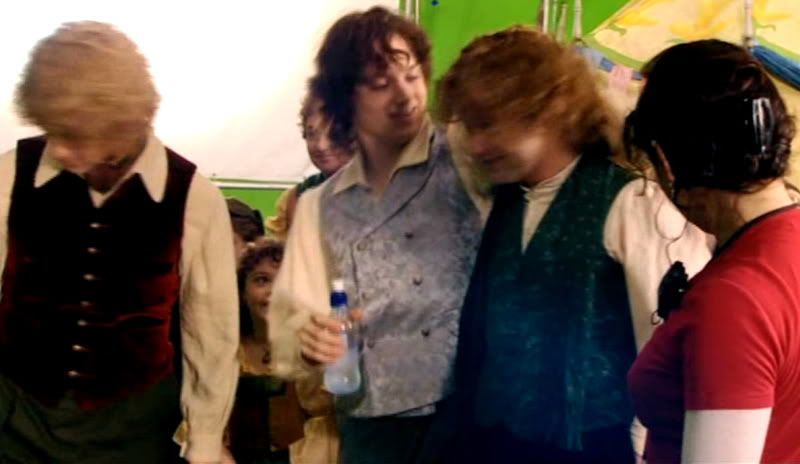 ...and Elijah's left leg seems to have taken on a life of its own!!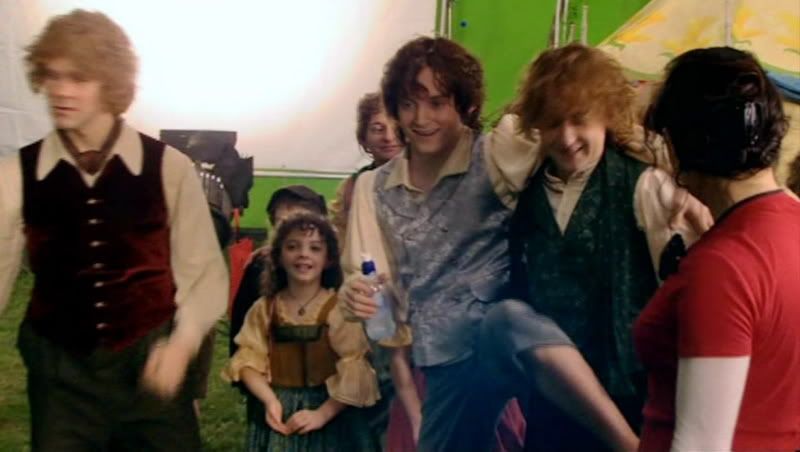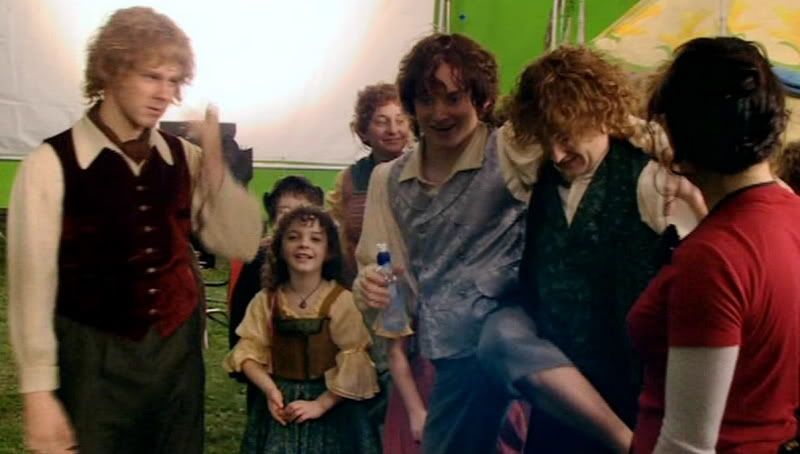 ******
"At different stages, I had to train Elijah to write with his quill too, and do his little bit in the journal. Those days were fun.
(Daniel Reeve ~ 'The Scribe of Middle Earth' : LOTR Fan Club Mag)
Many thanks to
janejanejane for the following two pics which were taken by her husband, Chris.

Elijah's practice sheet. "Need more practice"... awww!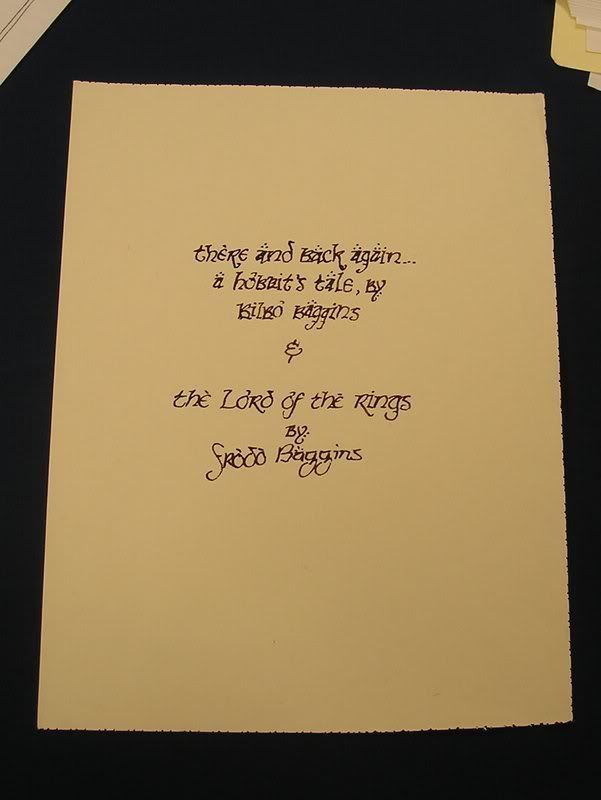 On a couple of occasions, Daniel has also related the story of how, during Elijah's first calligraphy lesson, he felt so sorry that this young man had obviously had an unfortunate acccident which had resulted in him losing a finger. Of course, the penny soon dropped - Elijah was learning to write with his finger strapped back as it would have to be in the scene.
Practising Frodo's name (from Daniel's site)
"I also wrote out letters that Elijah Wood had composed for the other eight members of the Fellowship. They were his Christmas gifts to the other members – he wrote them as Frodo to each of their characters, and they had all sorts of double meanings." (Daniel Reeve ~ LOTR Fan Club Mag)
Thanks to
karin_woywod
for providing these pics taken by the official photographer for ORC: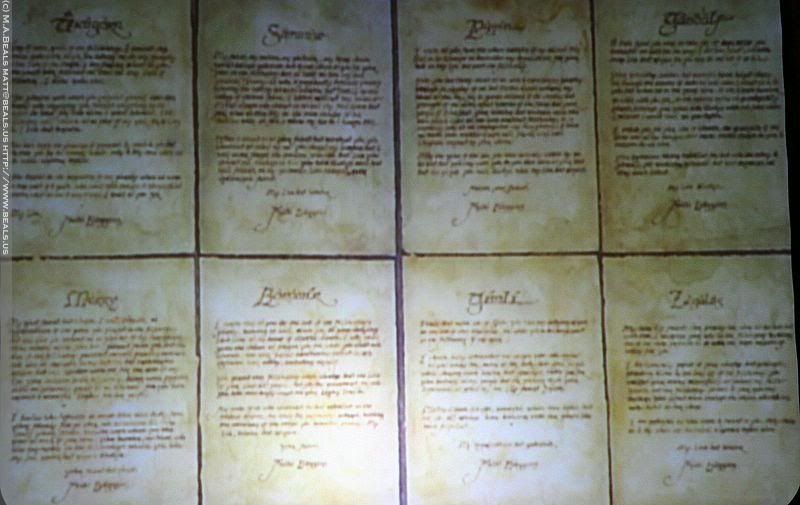 Yes, I have tried zooming in on them but I can't read them. I wonder if anyone else has the technology - it's so frustrating!!
I will include here a few pics from the shooting of this scene - but as the majority who read this will know, this was a hugely significant scene in Elijah's story as it incorporated the very last shot of him in the entire trilogy. The story surrounding this scene is, of course, extremely emotional and I have decided to keep it for its correct time slot - ROTK pick-ups - which will appear at a much later stage of this 'book'.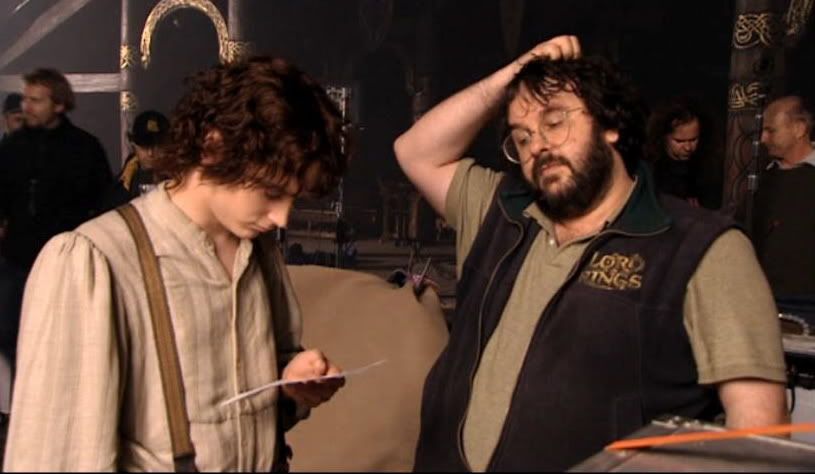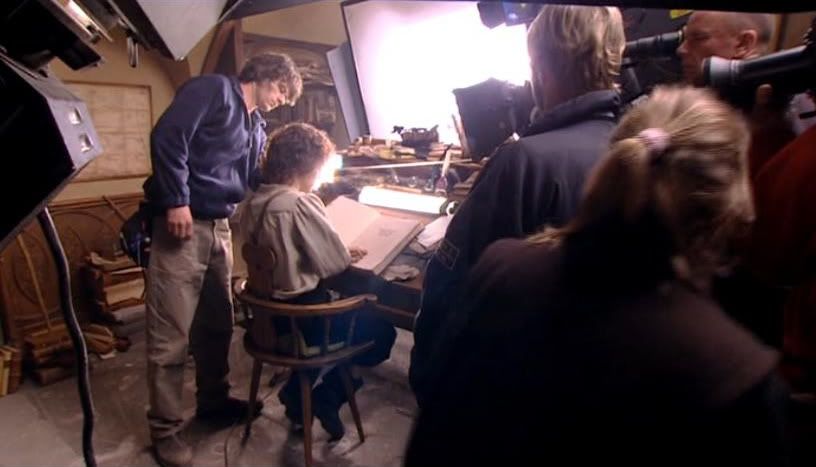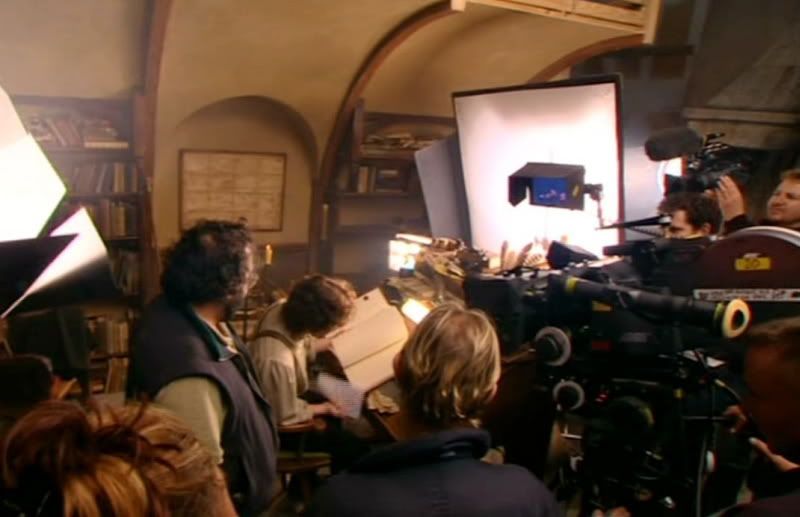 A taste of things to come:(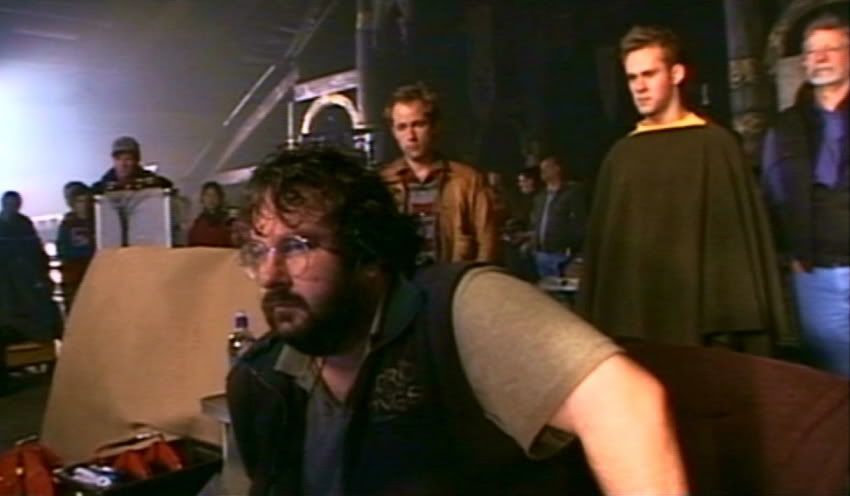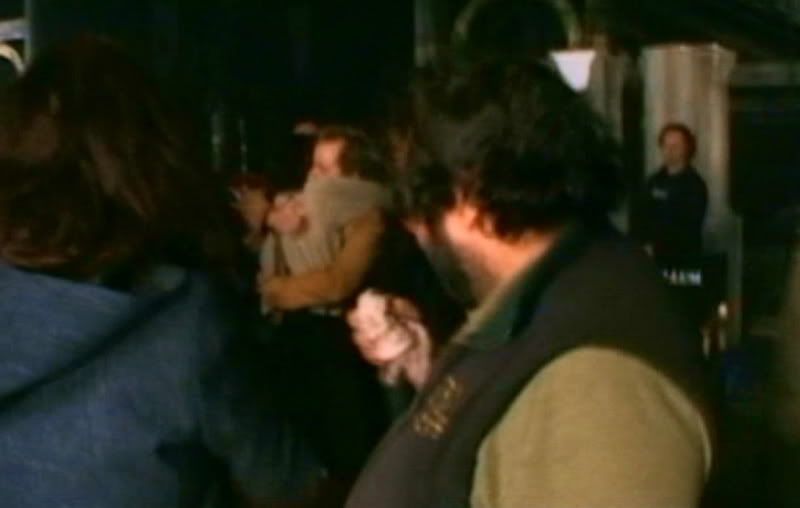 ******
The Grey Havens:
It's easy to assume that 'The Grey Havens' scene was shot at the very end of filming, but this was not the case. Some of it was even shot as early as just before the 1999 Christmas break, and some to co-incide with Ian Holm's relatively short time on the set in March 2000.
"What's the lighting like for the ending when Frodo says goodbye to the other Hobbits and sails away?"

A lot of the wide shots of the Grey Havens are added in digitally. When we filmed all the performance pieces with the cast we lit the entire thing as if it were on the west coast of some country, and the sun is going down over the water, so you get that warm, low raking light cutting across the landscape. That's the look I set up, so Alan Lee and Jeremy Bennett and all the other matte artists are designing the scenic artwork to reflect that. So the whole Grey Havens sequence is bathed in a warm glowing light. It's extremely sad. The first time I saw a rough cut of the sequence, with all the blue-screens and everything still in the shots, it was a staggeringly moving sequence, even though I wasn't looking at the finished images.... Even among the heads of all the departments, I don't think there was a dry eye in the house. It was extremely moving. Generally, you're having the screening to assess certain technical things, and it's hard to make technical assessments when everyone is crying. One can only hope the audience is moved in the same way."
(Andrew Lesnie ~ Starburst)
"I think we were all semi-dreading The Grey Havens ..."
(Dom ~ dvd)
..."but i think it was also difficult because we could imagine ourselves saying goodbye to each other and that was a difficult thing to accept and that made the scene more emotional."
(Elijah ~ dvd)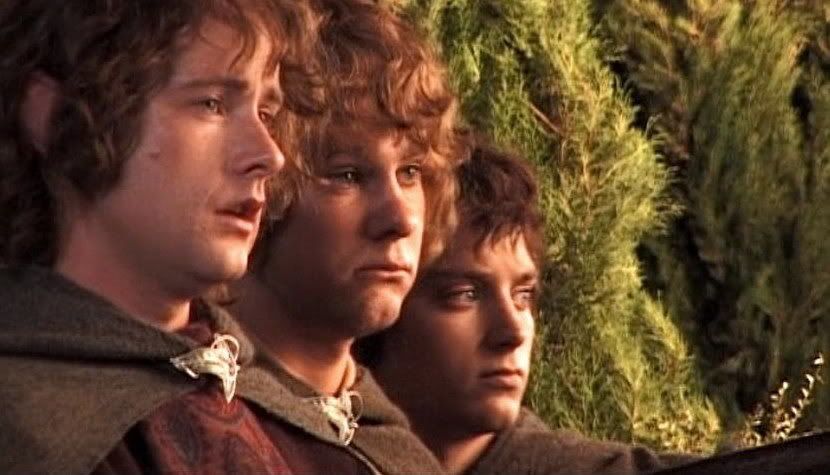 After a long and difficult day's shooting, it was discovered that Sean hadn't put his waistcoat (vest) back on after lunch. They would have to shoot the scene again!
"I remember the three other hobbits looked at me like, 'We will kill you, you jerk!' (Sean ~ dvd)

It was one of those moments when you felt you'd captured magic and you didn't know if you could ever do it again.
(PJ ~ dvd)
And the next day ...
"It was the most dispiriting thing because the majority of it was out of focus. I had the job of going to the hobbits the following morning and saying 'hey, I saw the footage last night, and they were like 'Yeah ... and?' ... they wanted to hear how great it was and I'm saying, 'We're going to have to shoot it again - it's out of focus!!' And I could see this horrible moment on their faces when they thought I was joking - it was one of those situations where I wished I was joking 'cos it was like, 'oh yeah - Peter's trying to pull our leg again!' and it was like, 'Guys, I promise you I am not joking - I'm absolutely serious.'
(PJ ~ dvd)
Some of the out-of-focus shots:
Eonline:
"What's it like to track Sam's personal journey through the film? He begins as a frightened gardener and ends up Mayor of Hobbiton.

Sean: Both Frodo and Sam are compelled to go places emotionally and physically that they both never could have imagined. Their truer selves emerge through that. Frodo is a sacrificial lamb--he sacrifices his part of himself and his innocence to preserve the ideal world of the Shire. By the end of the movie, Sam has a wisdom that only experience can bring, a world-weariness that will inform the rest of his life as the patriarch of Hobbiton.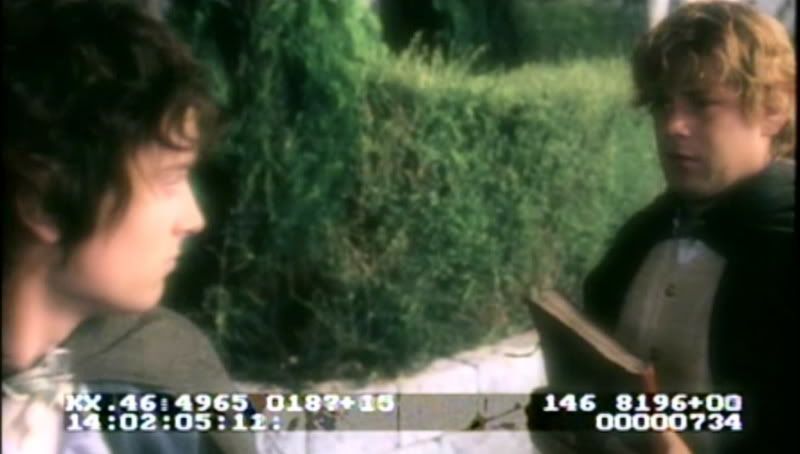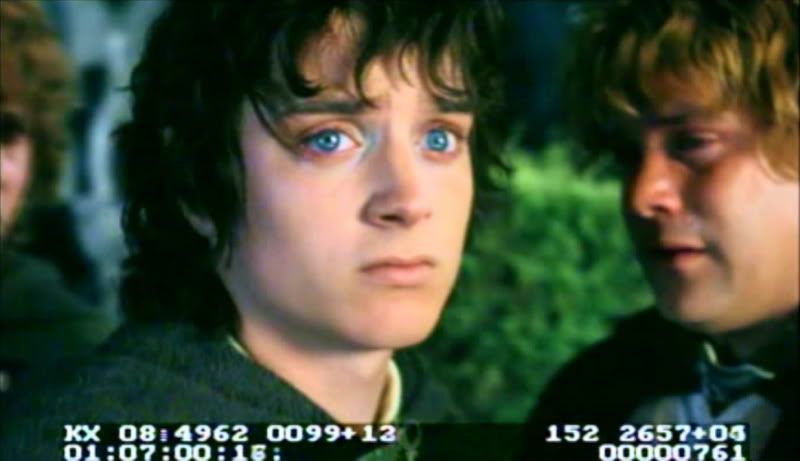 "We got it again - we did manage to get it as good, fortunately - it was just one of those kinda horrible moments."
(PJ ~ dvd)
"And we'd come on set and say, 'Are you sure that's the waistcoat - it's not a brown one? Its not a blue one?"
(Dom ~ dvd)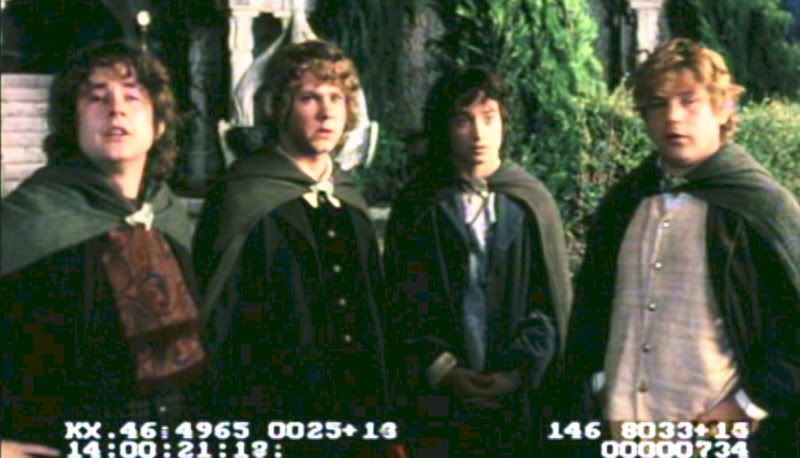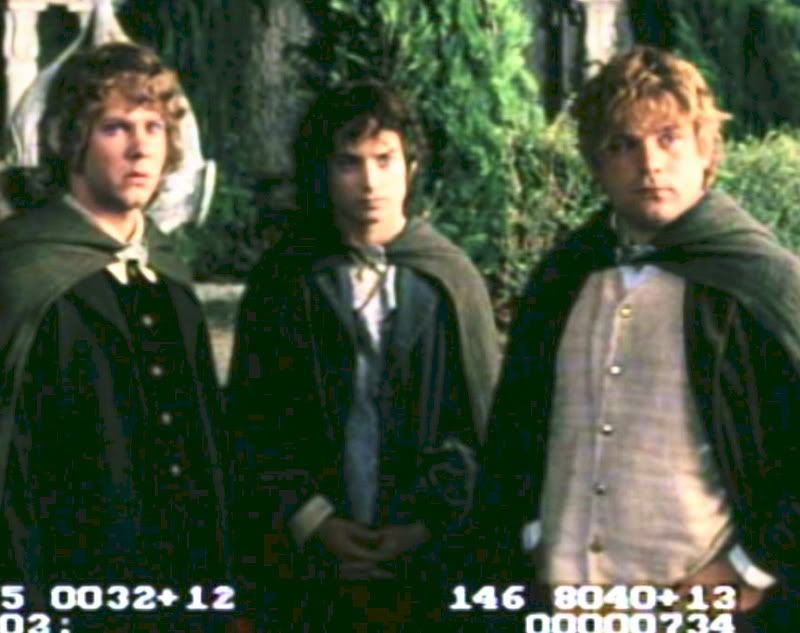 Elijah seems to remain very much in character while shooting this scene: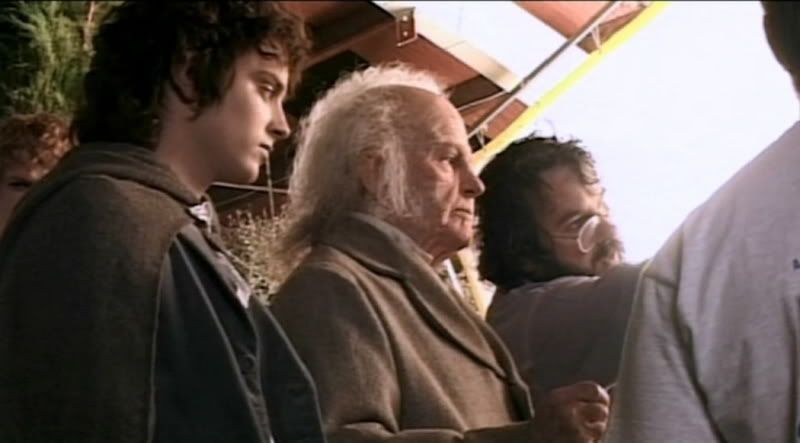 "The quote 'But I have been deeply hurt Sam. I tried to save the Shire, and it has been saved, but not for me. It must often be so, Sam, when things are in danger; someone has to give them up, lose them, so that others may keep them.' is my absolute favorite. It brings tears to my eyes. And it brings back some incredible memories."
(Elijah ~ People.com)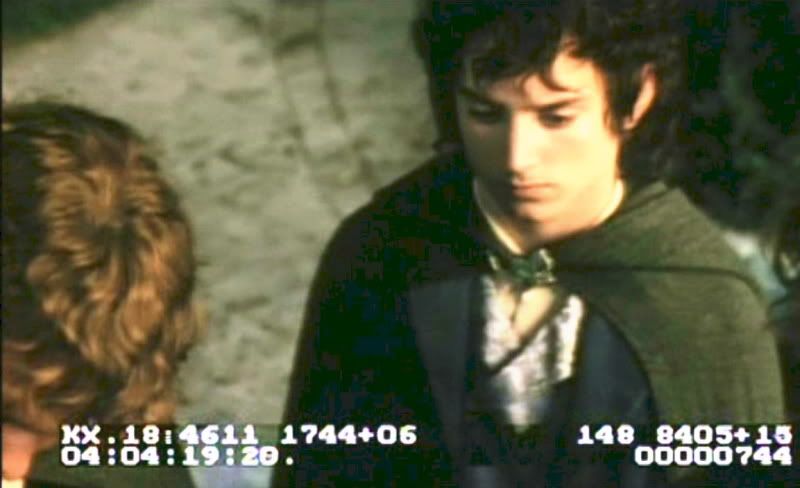 "I think the true climax of the movie is the passing of Frodo from this world; whether you perceive that as a metaphor for death or whatever you want to call it - it was for me ...
(Phillipa Boyens ~ dvd)
******
Now that we are nearing the end of principal photography, I thought I'd finish up this chapter with some shots from various times during filming which I was either unable to place or just got overlooked:
Don't know how I came to miss this one!
Obviously from quite early in FOTR - probably a cut scene: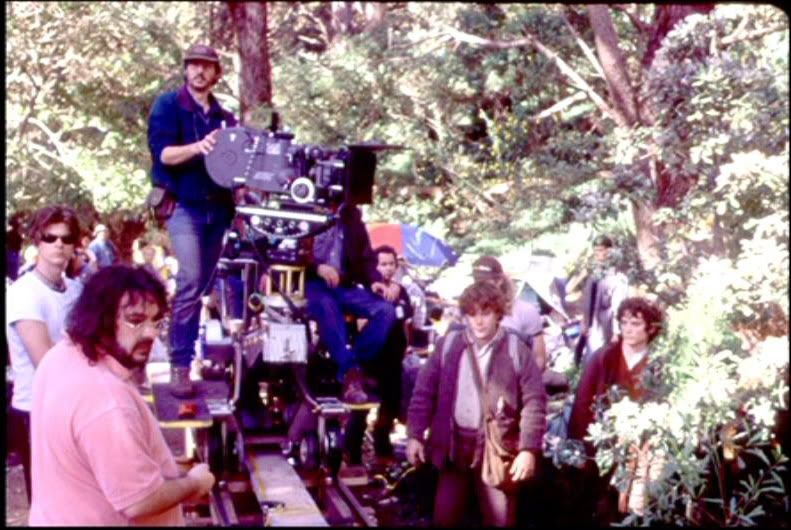 These two have always had me stumped: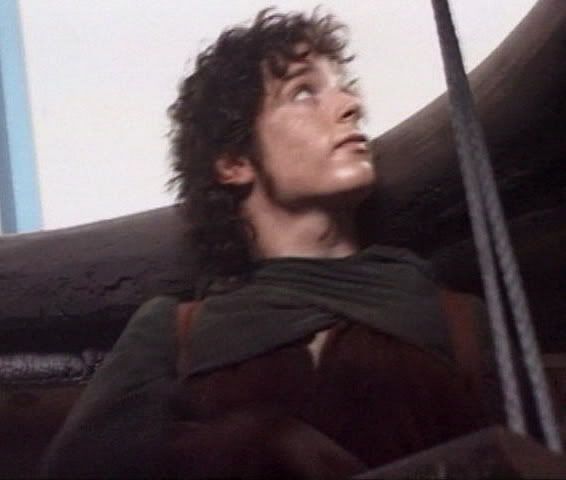 Moria, I believe: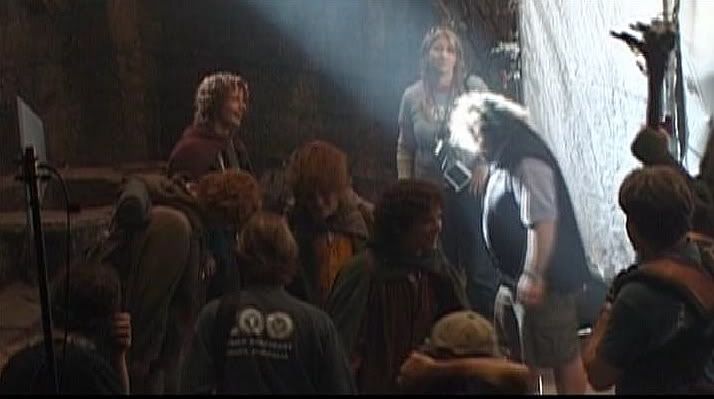 Probably a close-up of the Ring - I thought it might be the shot where the lettering is reflected on Frodo's face but he wasn't wearing his jacket in that:



It takes a large crew to film a little hobbit 2: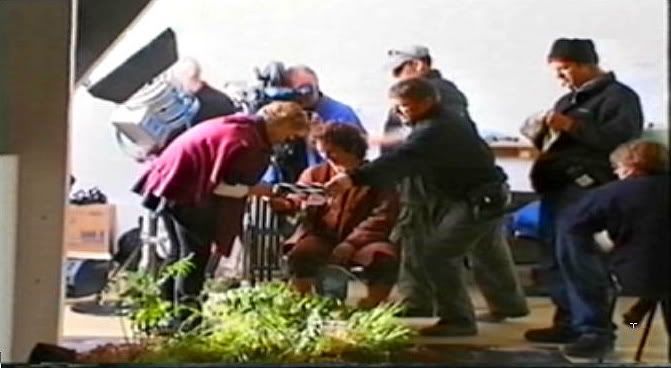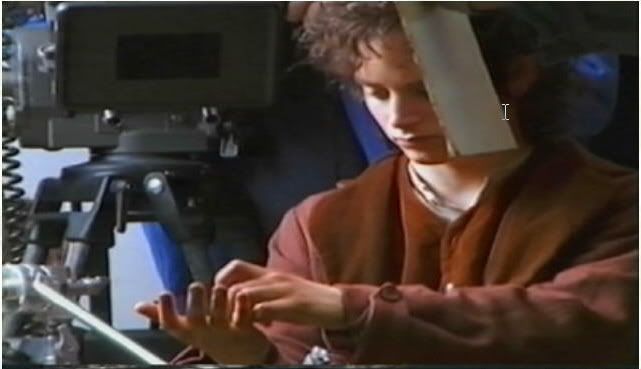 A necessary presence on every location! From Ian M's website: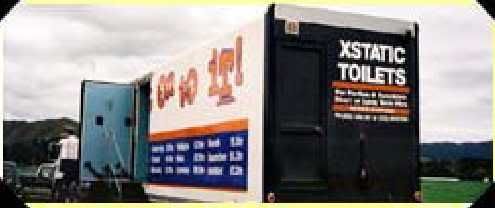 Lothlorien:



A bit of a mystery but I've a feeling it's Moria again: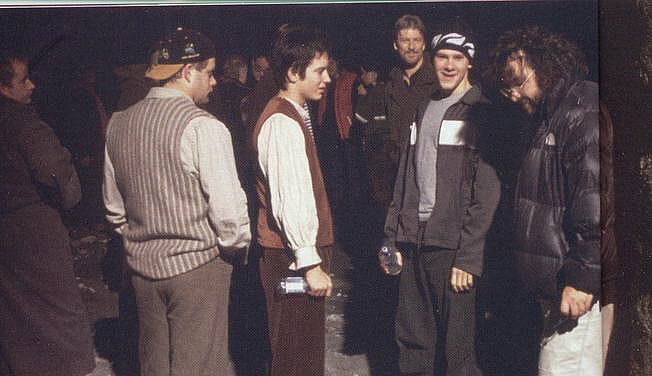 Weathertop:



???



Emyn Muil: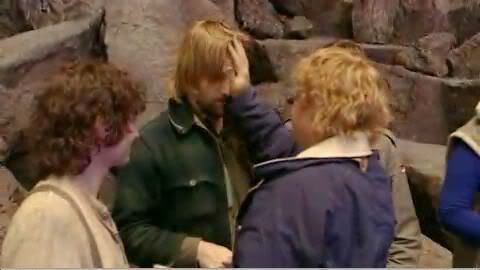 Is Frodo smoking his pipe?



An interesting Osgiliath shot discovered after I'd posted the relevant chapter: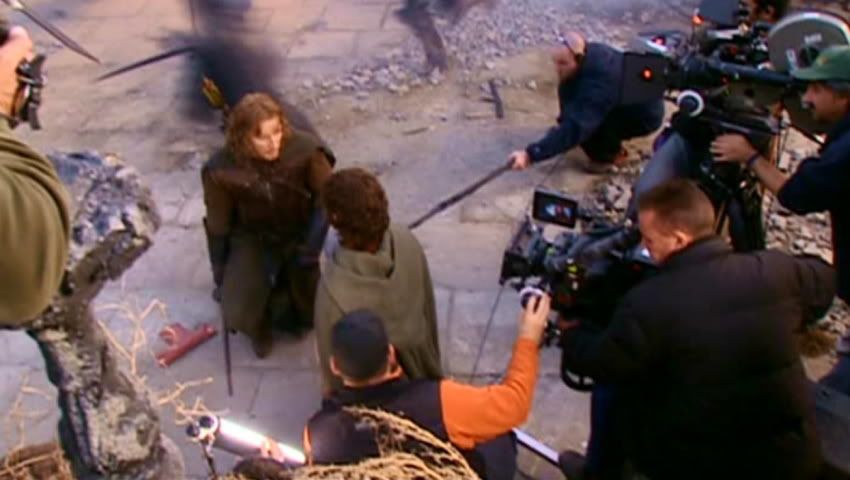 In the culvert - ROTK: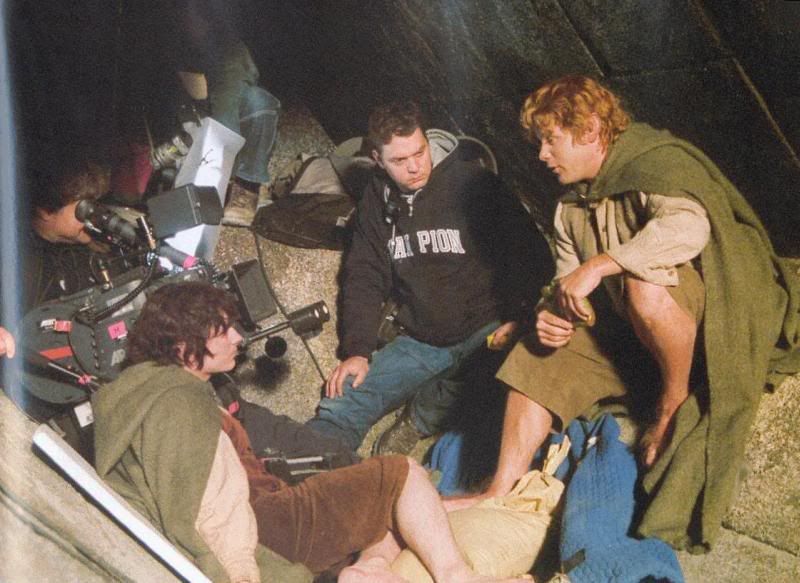 Probably Mt Doom: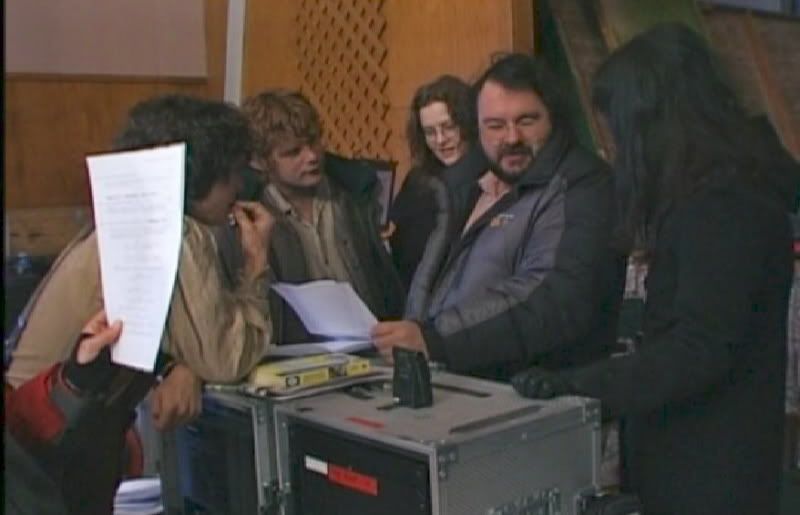 I think this may be after Sean's last scene in principal photography:

******
"Even among the heads of all the departments, I don't think there was a dry eye in the house. It was extremely moving. Generally, you're having the screening to assess certain technical things, and it's hard to make technical assessments when everyone is crying."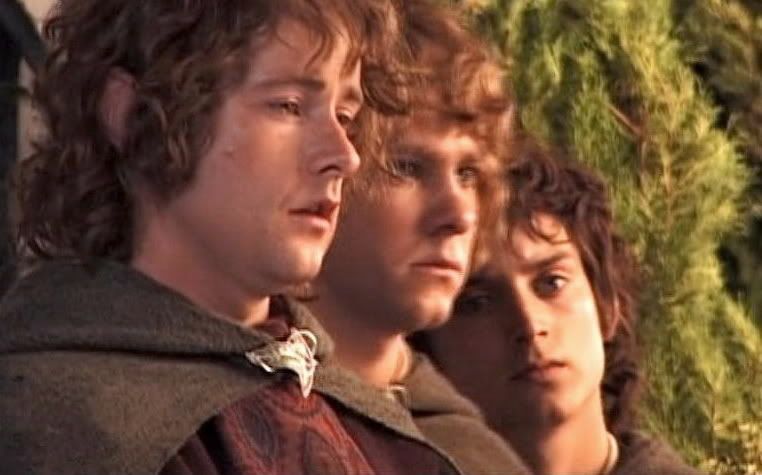 ******
TO BE CONTINUED

LINK TO ALL CHAPTERS: "A JOURNEY WITH FRODO"
comments: Leave a comment