| | |
| --- | --- |
| Tags: | a journey with frodo |
| Current Music: | A Far Green Country ~ Howard Shore |
| Security: | |
| Subject: | A Journey With Frodo : Ch.19 : "It's a Wrap ... or is it?" |
| Time: | 08:52 pm |
| Current Mood: | sore |
I have now finished Chapter 19 of 'Journey' and feel that I have reached a significant stage in Elijah's story - the wrapping of principal filming. This chapter covers the final hectic week of filming, the wrap party and a bit of a look back to what has been covered so far. Hope you enjoy it:)
For anyone unfamiliar with my pet project, 'A Journey With Frodo' (a work in progress) is the story of Elijah Wood's experience in becoming Frodo, from back in 1998 when the LOTR movies were just a whisper up to the triumphant Oscars of Feb 2004. In reliving Elijah's journey, and mine, I am using everything I can lay my hands on - behind-the-scenes material from the various dvd's, magazine articles, books, internet sites, tv coverage, word-of-mouth info, etc. Previous chapters can be found here
"A JOURNEY WITH FRODO"
You'll need to scroll down to find Chapter 1:)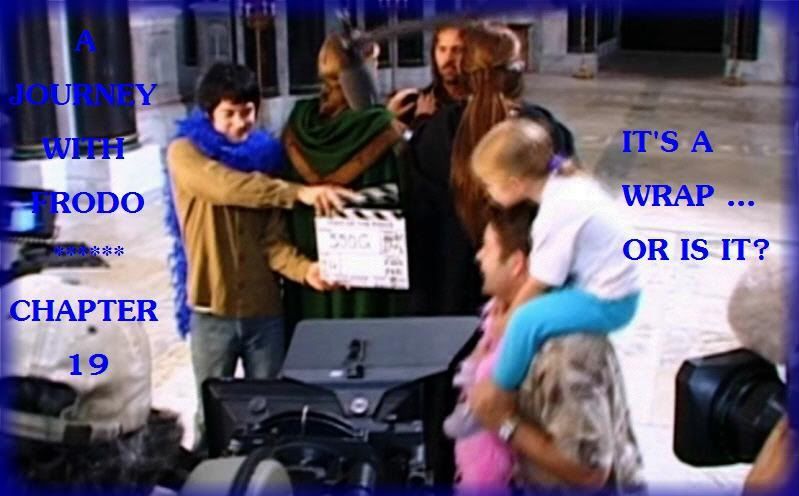 ********
December 2000 - and principal photography on The Lord of the Rings Trilogy was coming to an end. The most amazing sixteen months of Elijah's young life was almost over.
Q:
"Was making The Lord of the Rings a growing-up experience for you?"
Elijah:
"The experience really came at a perfect time in my life. I was 18 when I left for New Zealand and it was really the first time for that length of time that I'd been away from home living on my own. It was kind of accepting my adulthood in the most extreme way that I've ever had to face it before. That was wonderful."
(Interview Magazine)
Sometimes it had been cold ...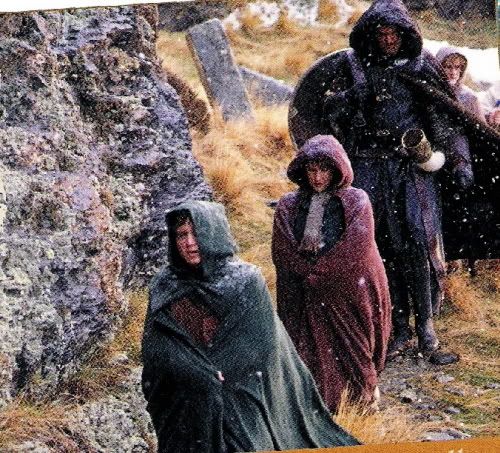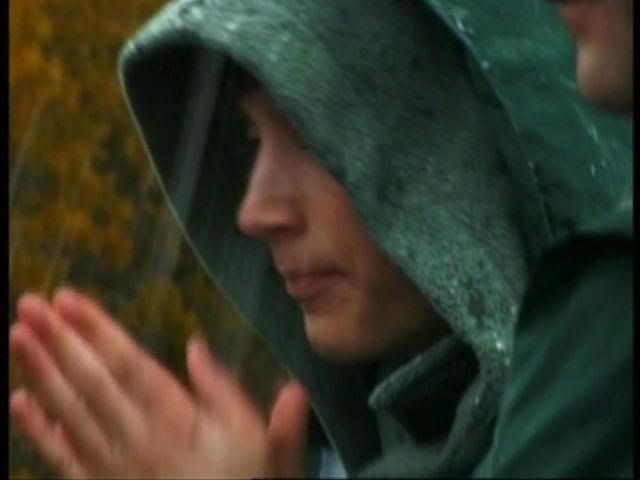 ... and wet!!




It was often exhausting: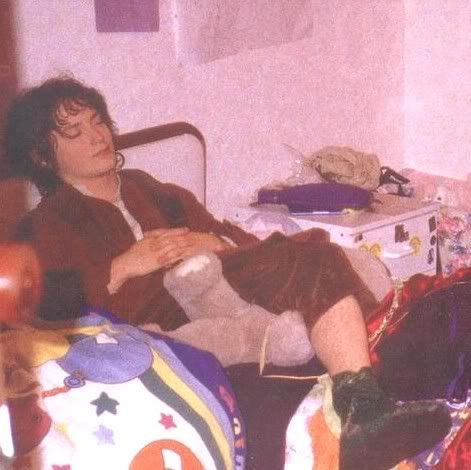 There was a lot of waiting around…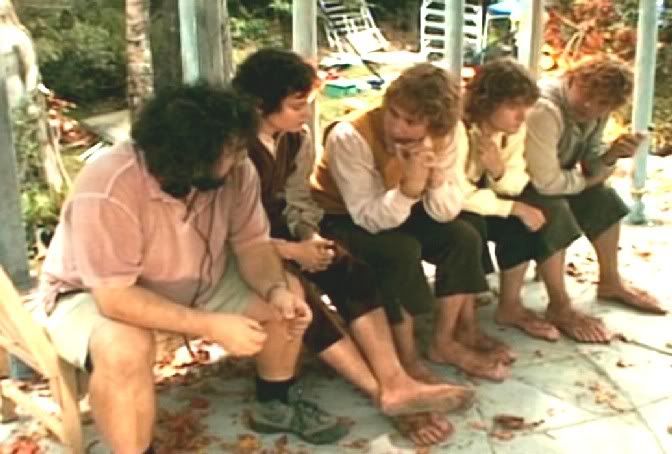 But I'm sure it was times like these when they all got to know each other so well: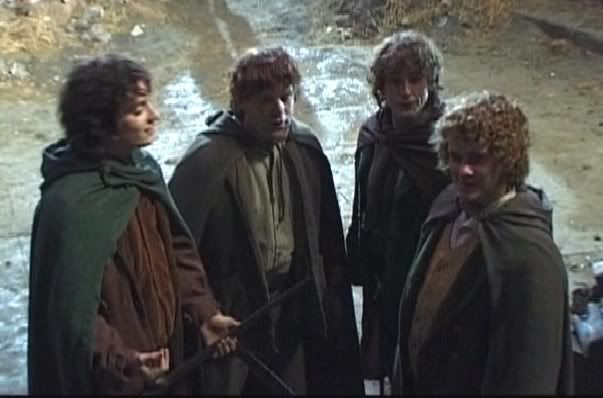 There were happy times ...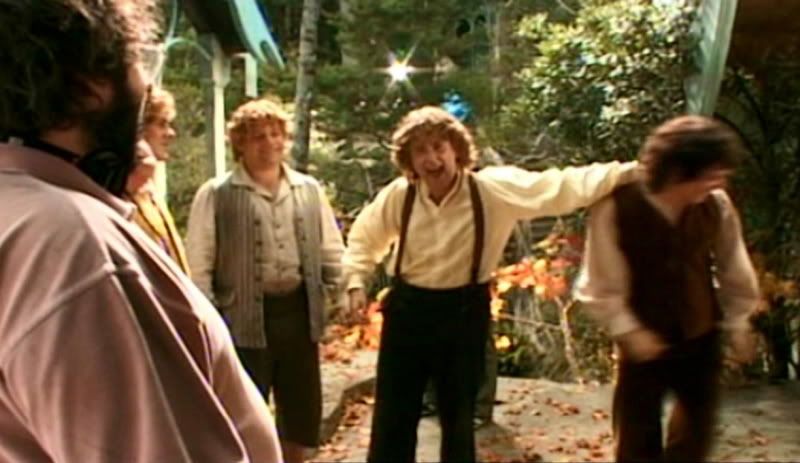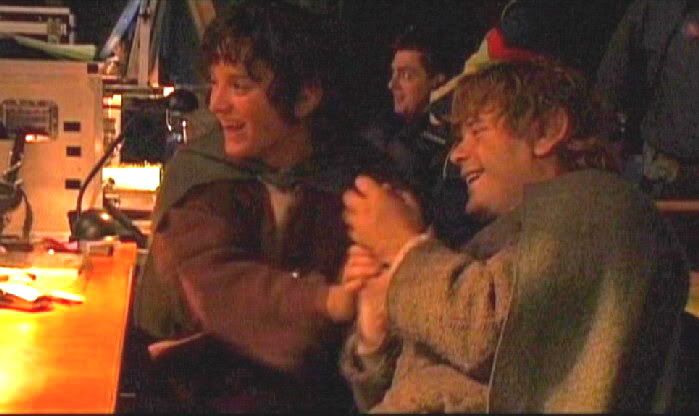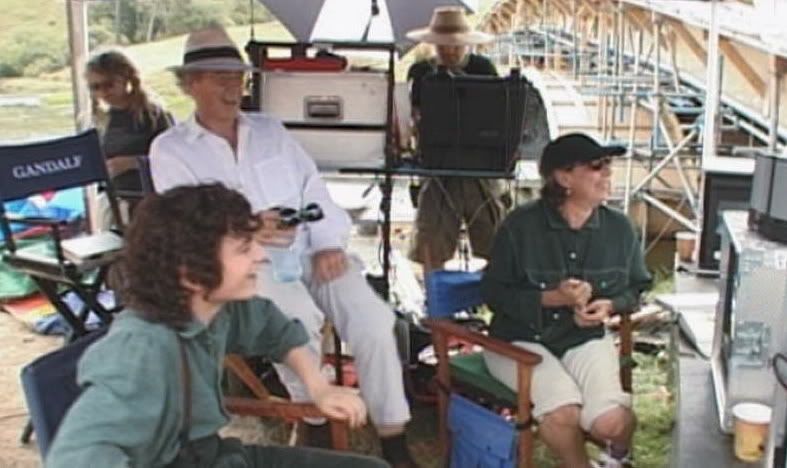 ... fun times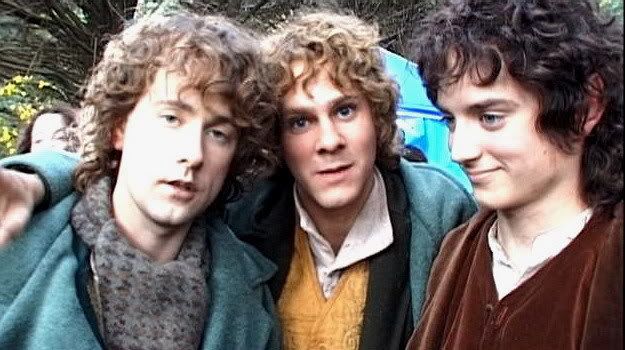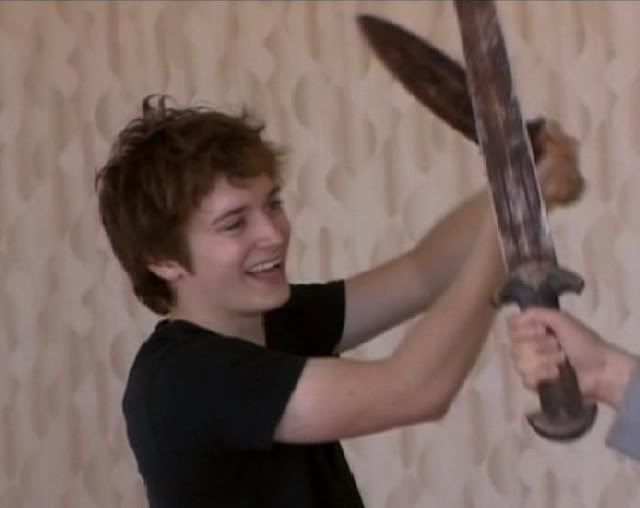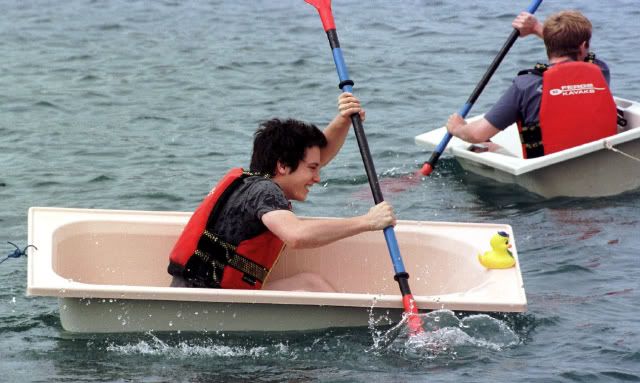 and special moments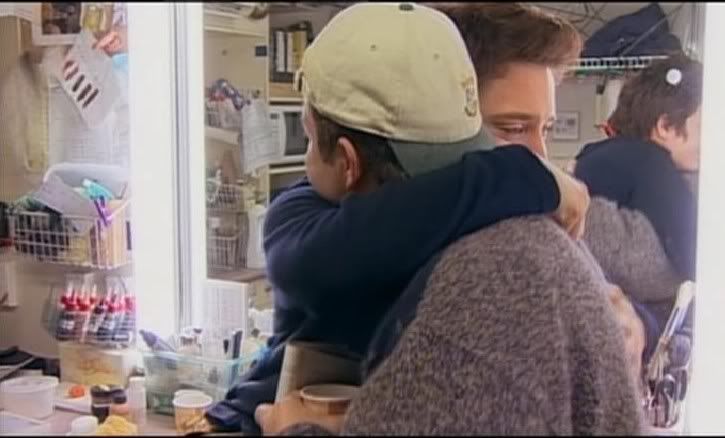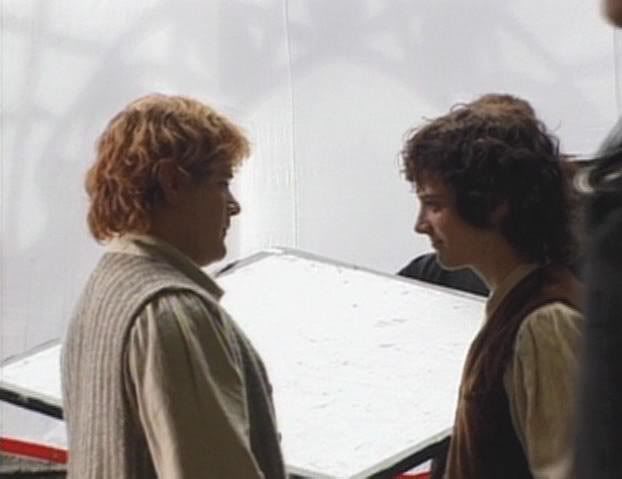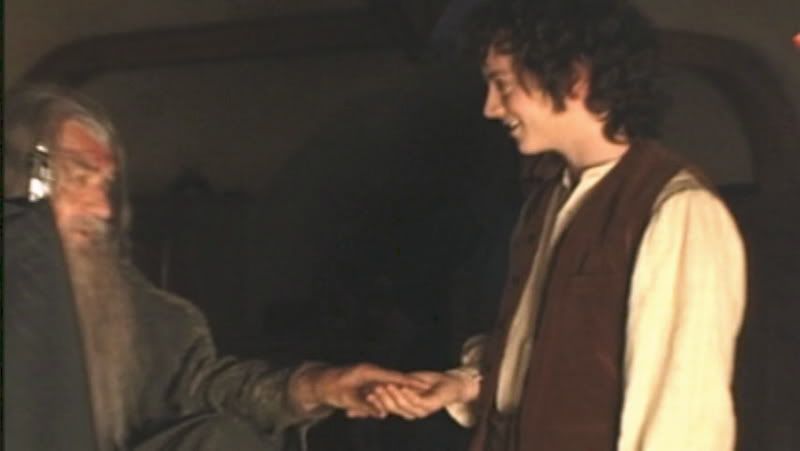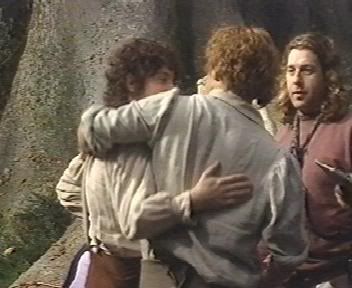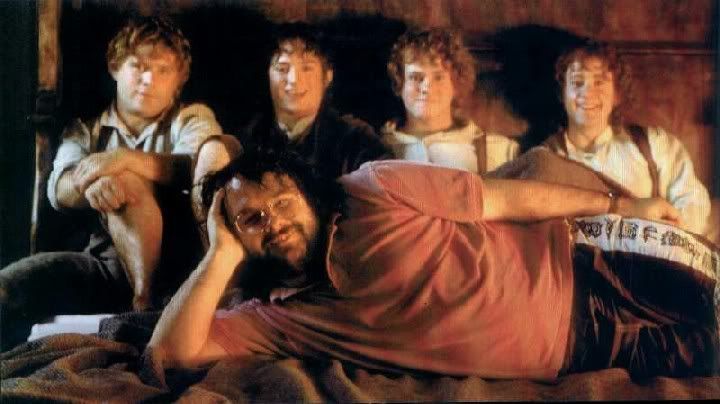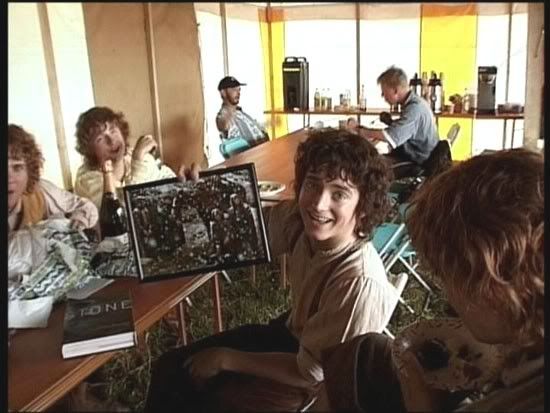 There were also times of danger:



and many new experiences, such as ..

Blue Screen: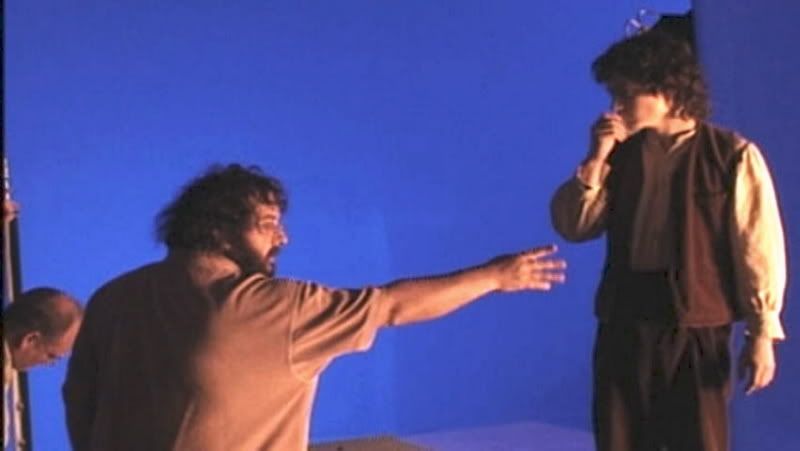 Forced perspective: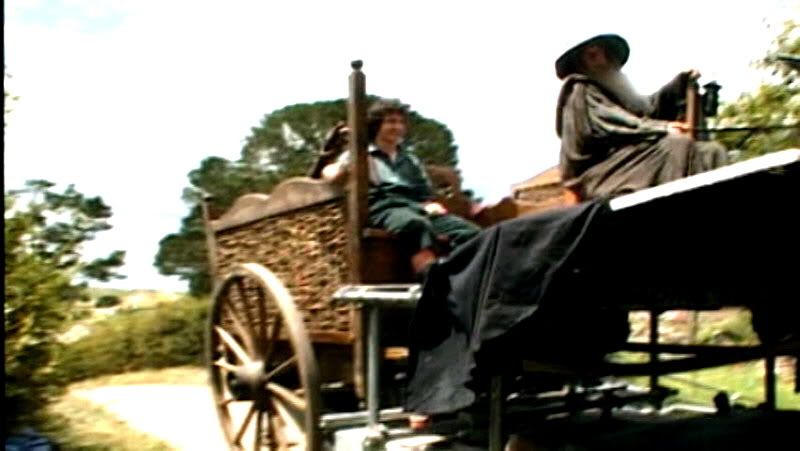 Motion capture: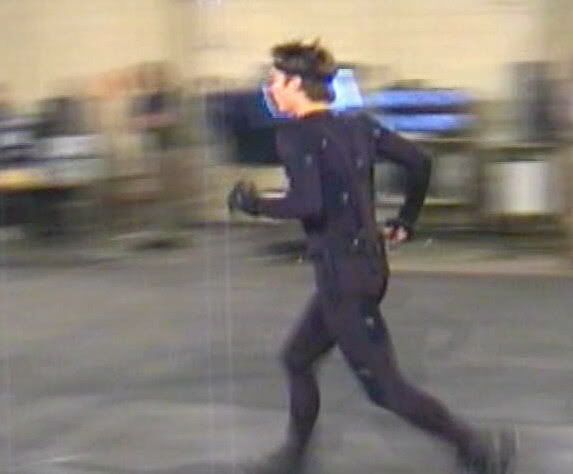 Dialect coaching: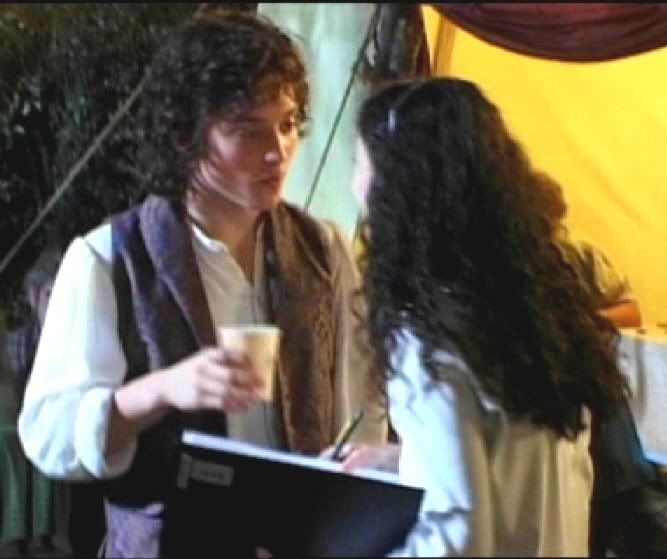 And even some directing!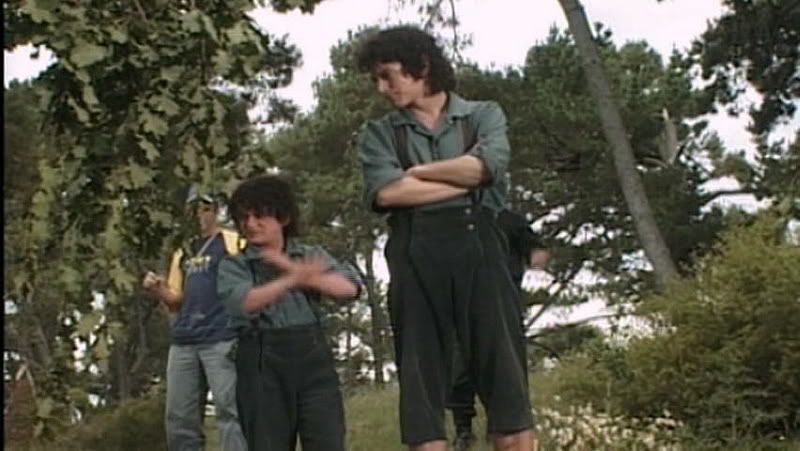 There were many modes of transport: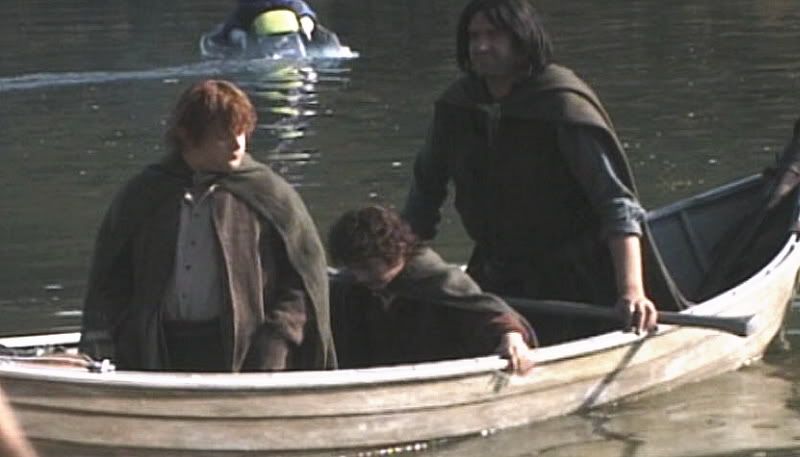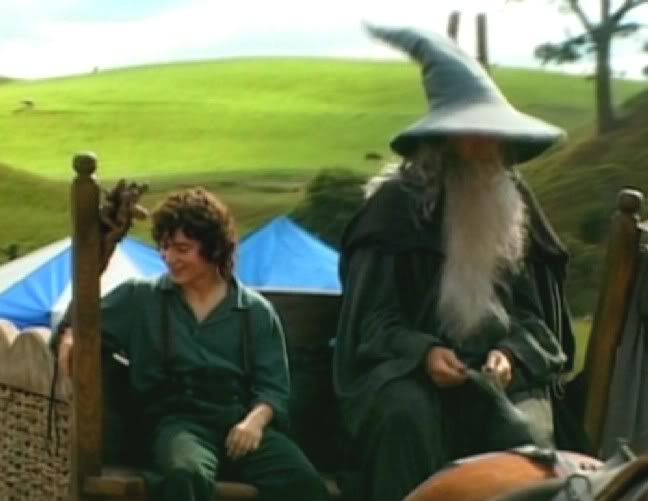 But probably the scariest of all was this flight to Nelson: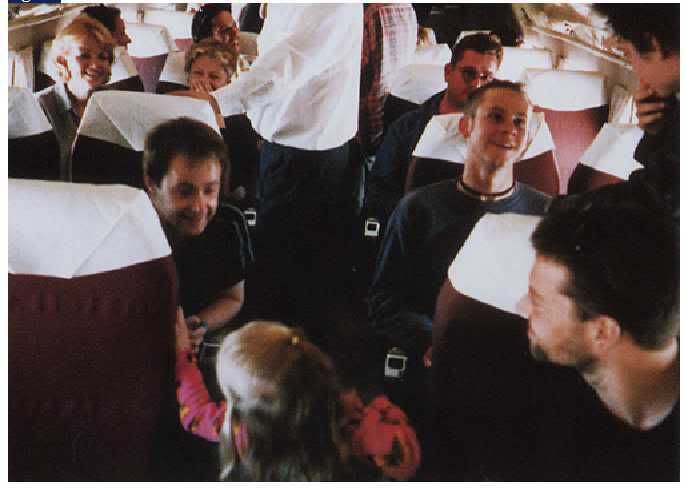 "We looked at what was waiting for us on the tarmac and froze. There was a terrible silence and then Orlando said 'You've got to be f***ing kidding!' Sitting there was an old, Second World War DC-3 Douglas Dakota transport plane - still with its WWII markings! I guess someone must have thought it was cheaper than a regular plane - a piece of madness resulting, no doubt, from what are called 'budgetary considerations'!

We had a mountain of boxes and equipment and there was no one to help us load it, so we formed a human chain and began passing all the stuff on board. Elijah, Orlando - all of us were pitching in to load all the gear.

Being a nervous flyer, I asked a couple of questions and took a look at the logbook, which revealed its first flight had been taking American troops to the Philippines in 1943! By then, it was too late to do anything about it, because we were heading for the runway ...

The plane turns around, the guy throttles the engine and the tail lifts off the ground, the actors are yelling, 'Come on! Come on!, Meanwhile, I'm thinking, 'We're in a life-and-death situation and these guys are treating it like it's a rollercoaster ride!

The plane feels heavy but we begin to get up speed and the pilot pulls back on the stick. Then like something out of an old comedy film, the plane lifts into the air and immediately bounces back down again! By now, I'm a nervous wreck, but Elijah and the others are screaming, 'Yeah'! The pilot has another go and the same thing happens; all I can see is the end of the runway coming up and, beyond that, the waters of Evans Bay with, at that point, absolutely no certainty of our getting airborne.

Somehow the pilot gets up enough speed and we finally lurch up into the air and - with twenty-odd people hooting and cheering - this old, heavily-laden plane swings out over Wellington harbour and lumbers off down towards the South Island with me wondering if we'll ever reach our destination!
(PJ ~ Peter Jackson : A Film-Maker's Journey by Brian Sibley)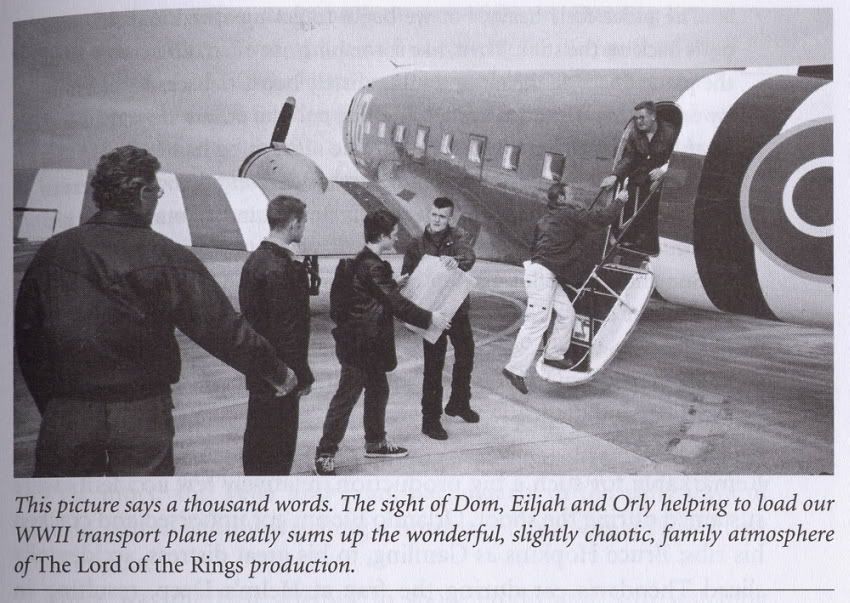 As well as the now-legendary cameraderie of the cast and crew, many other friendships were also formed: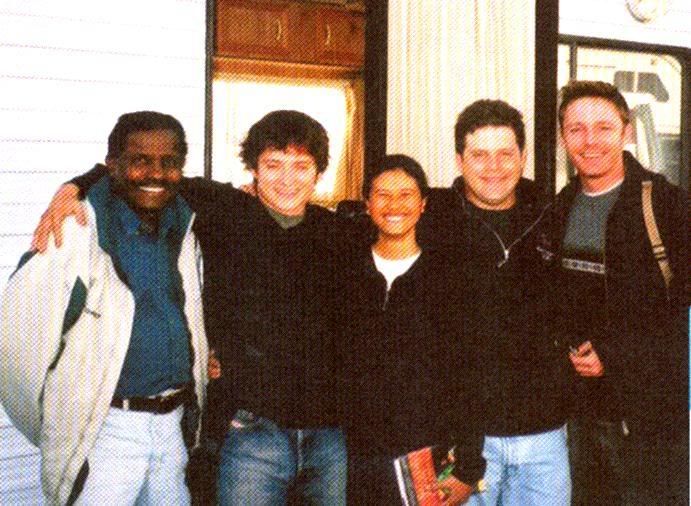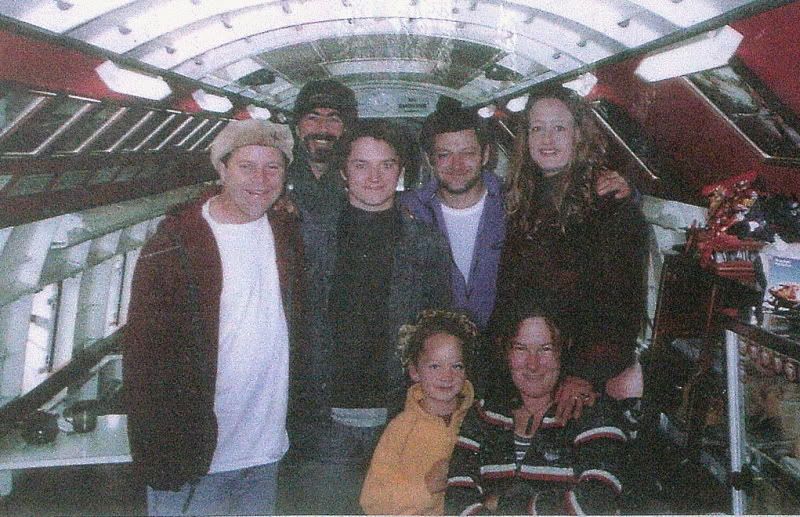 They all fell passionately in love with their host country, New Zealand:

"What does New Zealand have that we don't?"
"There's a real purity in New Zealand that doesn't exist in the States. It's actually not an easy thing to find in our world anymore. It's a unique place because it is so far away from the rest of the world. There is a sense of isolation and also being protected. It's also nuclear free. It's like a sanctuary for nature and for the natural world, so it teaches a lot of lessons. It's a very powerful place to live and spend time because it is so protected and it is so geographically beautiful and pure. And the people are incredibly kind
and sweet as well." (Elijah ~ aboutdotcom)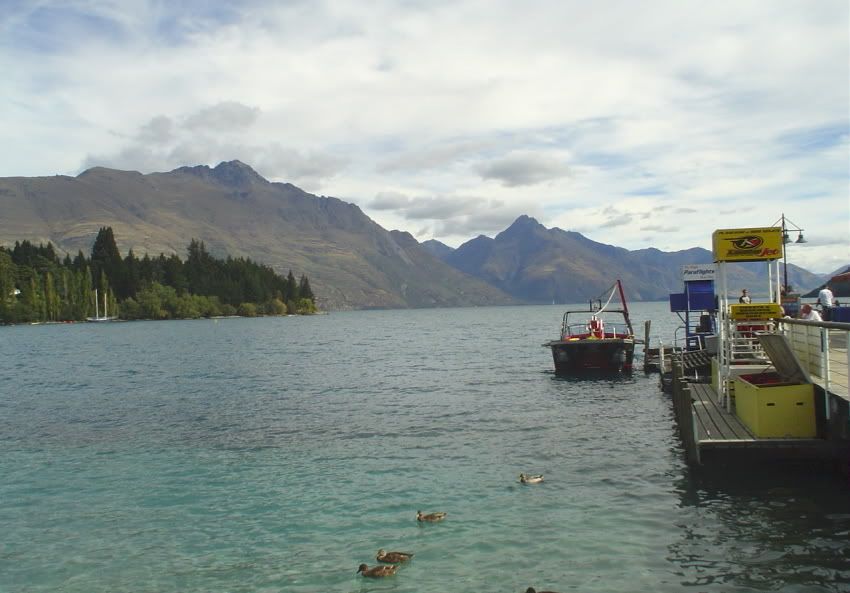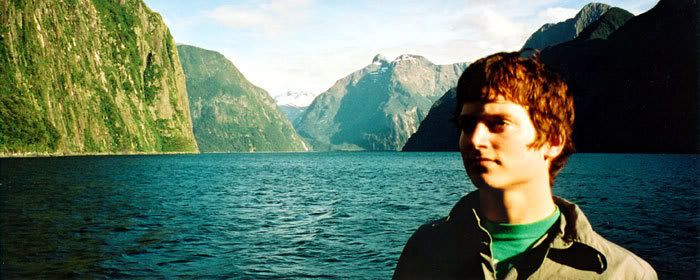 And for Elijah, a dream come true – his own action figure!!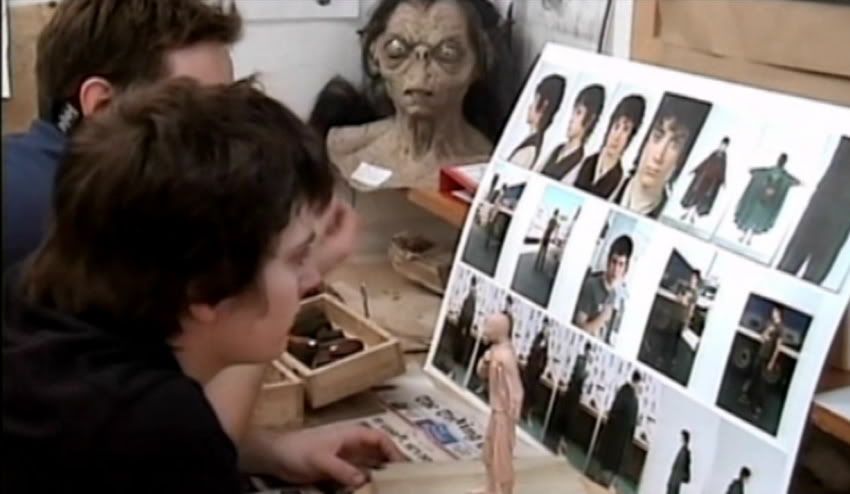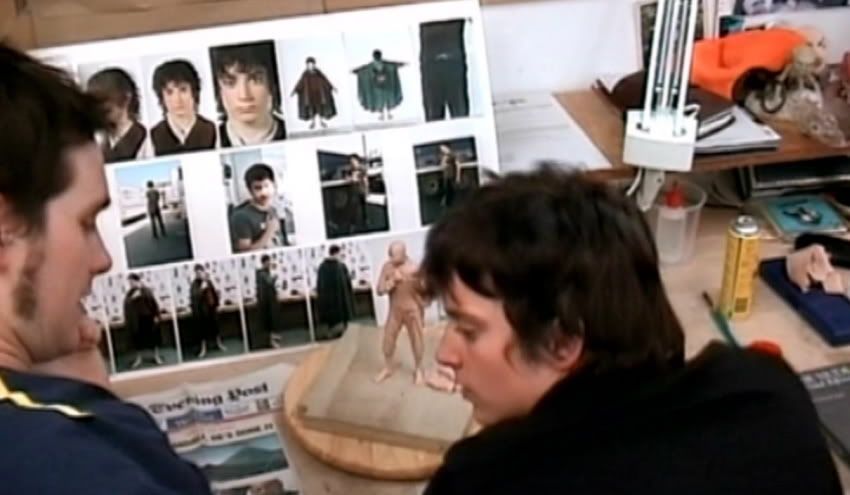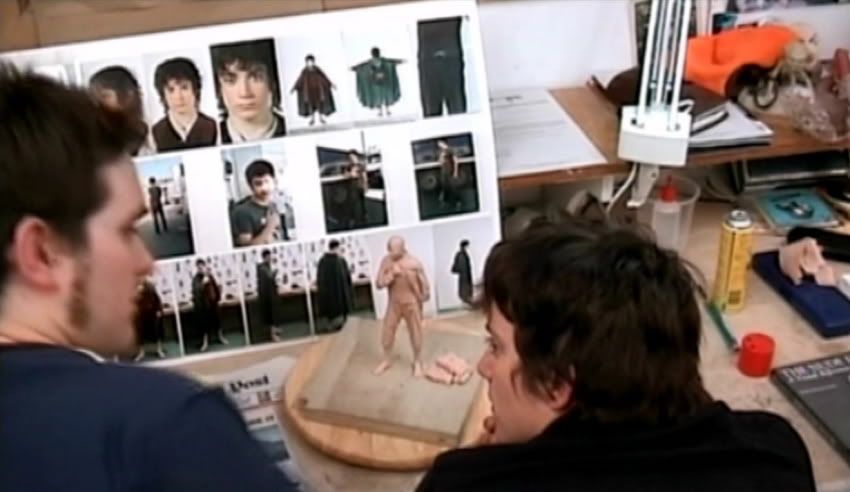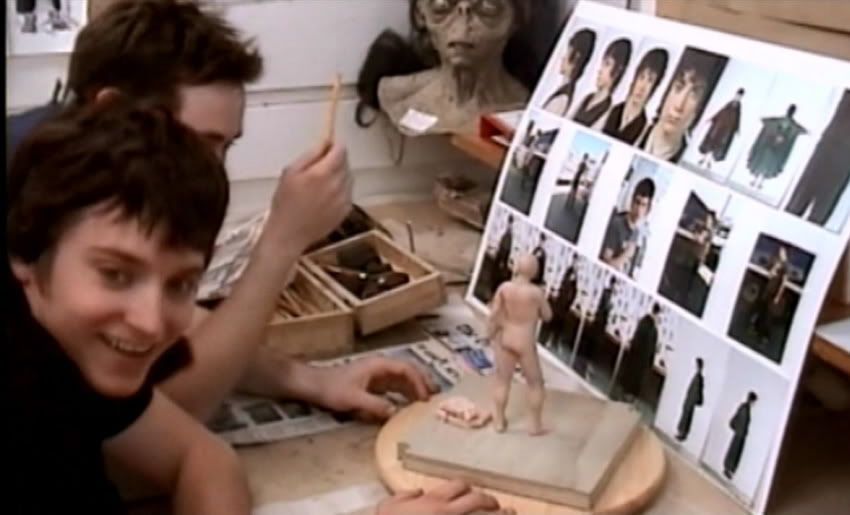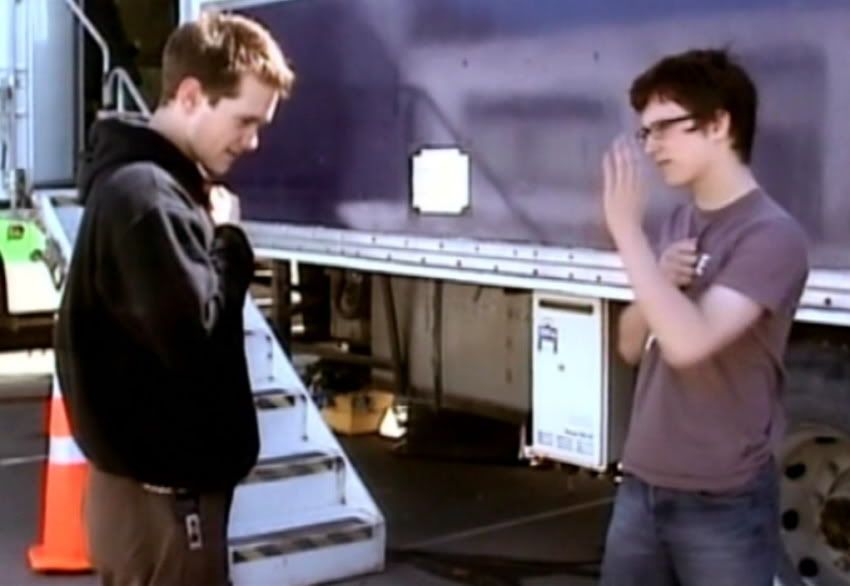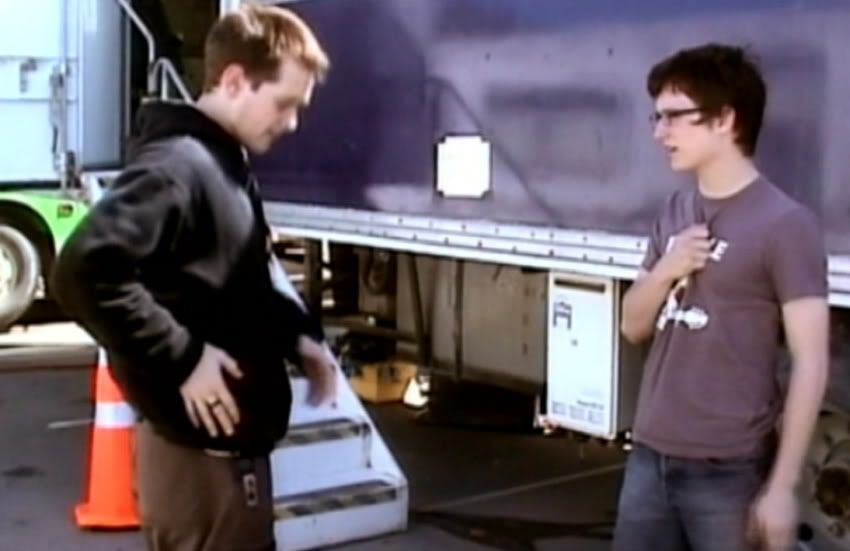 "How is it having an action figure in your likeness?"
It's actually really great. I was very scrutinizing. I had to make sure that it was absolutely perfect, and the feet were way too hairy. It looked like I had a rug on my feet (laughs). I wanted it to be as accurate as possible. I've been a fan of action figures for quite some time. I'm really into that kind of thing, so to have my own is really fun, it's really cool. It's kind of like a geek's dream come true."
(people.com)
********
The final week could be described in one word: manic!! Christmas was looming and they had to be finished by the 22 Dec. But first, Elijah needed to take a trip to the airport to greet an old friend:
"But like I said, I was walking off my airplane… when in the distance I see a hazy image… I had yet to wipe my sleepy filled eyes… I hear my name being enthusiastically screamed out. Gosh this computer bag is heavy… OH… THAT'S… It is.. Elijah!
It seems like an eternity since I last saw Elijah. Over a year and a half… outside of Antone's… the night of the EDTV premiere party. His hair is longish and jet black and he is banked on either side by a pair of lovely ladies. Interesting.

Elijah and I instantly begin catching up… Since last seeing this guy, he's left a Hobbit hole, come in possession of a powerful ring, set off on an adventure through dangers untold… and his FEET! My have they grown!

With me, he asks about my sister and father. I tell him about Rodriguez and SPY KIDS… the Austin Studio that is being built… Soon he's sick… wanting to head back to Austin for some barbarque and movies in my backyard… Me, well I ask question after question about LORD OF THE RINGS…

First off, when asked even the simplest of questions about the film, his entire body posture changes… his eyes widen, and his hands come into play… as if to help paint the grandeur of his experience. He has a bit of that zealot look on his face. Talking with him about the film, I don't learn much else besides his unrelenting enthusiasm. On FACULTY he was excited, but this is something else all together. He's in love with the film, the production and the folks he's met here. For Elijah, this is first film basically completely on his own… Pre-LOTR, his mother and sister were on set with him almost completely. He had a set-teacher to make sure he did his homework… So here, here he can concentrate on the film and enjoying New Zealand. Elijah seems to be the same chap I knew way back when ……"
Yes, Harry Knowles (Ain't It Cool News) - he who claims to have been the first to inform Elijah about the making of LOTR and to urge him to audition for Frodo - had arrived to spend the final week of filming on the set.
A couple of scenes shot during that hectic time:
"It was crunch time. We had to finish. You'd get two or three call sheets a day and have to be on different units."
(Elijah ~ dvd)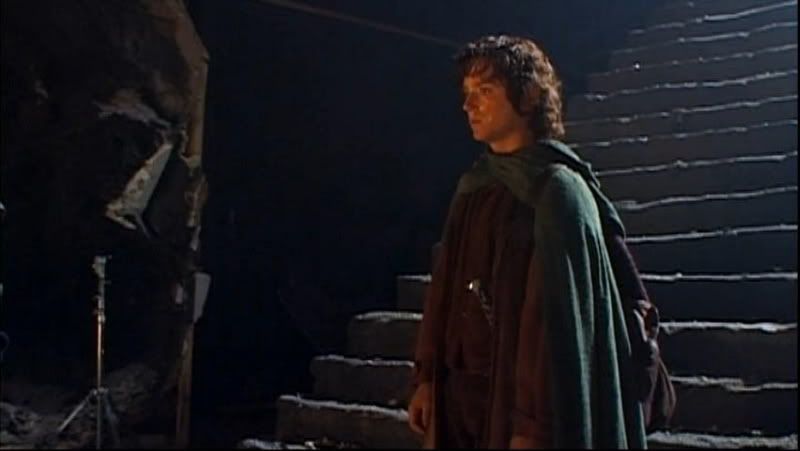 "Fifteen months shooting!" he says. "Part of me probably did go crazy, but it was an incredible experience, a journey for all of us that mirrored the book, a real endurance test."
Midway through the arduous filming in New Zealand's breathtaking mountainscapes, they scaled up to six-day weeks. "None of us have been that tired or fatigued in our lives. But just when you start to forget what you're part of, you think: It's 'Lord of the Rings'!, and it lifts you up again."
(Elijah ~ Time Out)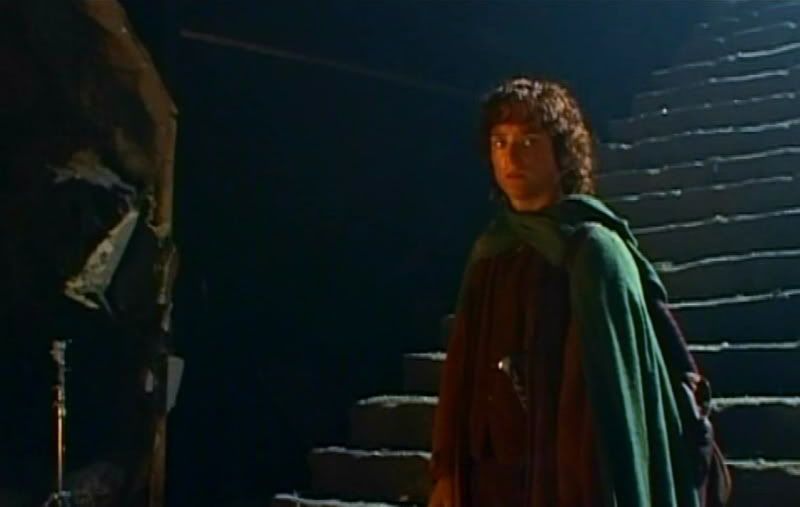 Not very clear but so balletic!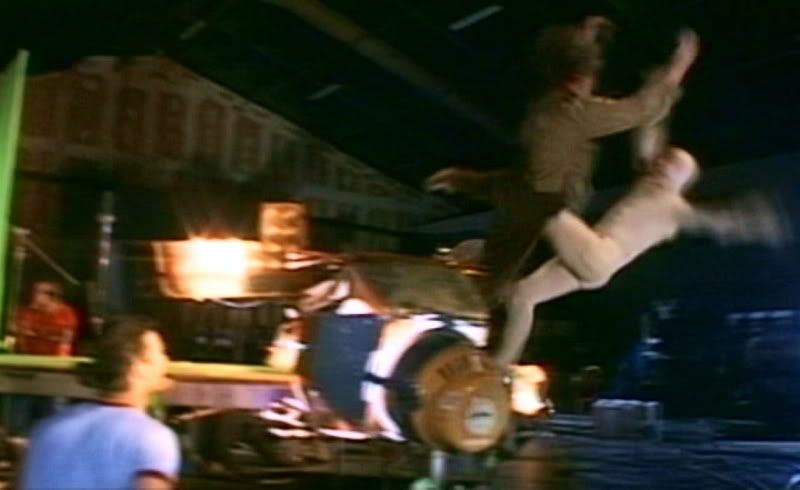 Back in Chapter 14
"Coneys, Oliphaunts & a New Castmate"
I wrote about Harry being present during the scene in the caves with Faramir which was shot during this final week. He also mentioned in his report what happened following the shooting of the scene:
"After they break for lunch I join Sean and Elijah for lunch back at the homebase… a trailer park for characters of Tolkien. It's like an Oklahoma Suburb… upon the sides of the trailers… names like Gollum (Andy Serkis was tying his door open as I passed by), Gandalf, Eowyn, Aragorn, Frodo and Sam and so on.

We enter the trailer of Frodo. Inside Elijah is greeted by his agent, Nicole Jaffe… a heroine of mine. Do you not know the name of Nicole Jaffe? HOW DARE YOU NOT KNOW THAT NAME!!! Nicole Jaffe is just about the coolest person I have ever met in my life… and on top of everything else… I got a kiss! Who is she besides Elijah's agent? Nicole Jaffe is VELMA!!! No, not Velma from MURDER MY SWEET with Dick Powell… I'm talking about THE VELMA… as in the HOLY VELMA! Scooby Doo Velma! I met the real Velma… Sean Astin and I began doing that, worship bit… I mean, Nicole Jaffe's voice is a MAJOR INFLUENCE ON OUR CHILDHOOD! Utter awe!"
Elijah with Nicole at the ROTK premiere in LA - we know her as Nicole David, of course.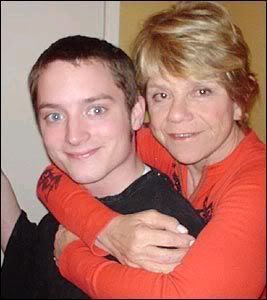 On another occasion Harry would witness a scene that never made it to the final cut, and is a bit of a mystery - I'm really not sure which part of the book this would have been:
"Lights and track were being laid down, and as I was walking past, one of the crew cried out, 'Harry… we're about to begin shooting here with Elijah.'
Sure enough, there was Frodo, ring 'round that neck of his… a greenish cloak and his ever-loving Hobbit feet. They were in the process of putting these contact lenses in for him…. The lenses achieve a strange tired look in his eye and are rather thick and milky…. Elijah says, 'Harry? Is Harry here?'
I respond with an affirmative and he looks straight at me with a confused lost look… 'I can't see you very well.'
"Well, I've lost over a hundred pounds and look great!"
The crew began laughing.
"Must be those 3 hour workout sessions you do!" Oh hell, he's been reading the page. Hehehe…
I feel the cloth of his cloak… a really nice loose weave… very soft… My eyes are drawn to the ring. Perhaps because it is the brightest element… the only shiny thing about Frodo. Maybe it is because my mind knows what the ring is… what it represents… and how with it, I could make off with nearly every prop I wants!
This is a little mini-unit today… Peter wanted to shoot one last scene with Elijah… and this is it. A scene of Frodo… facing some rock and turning to look at us. Hidden in shadow. Kinda creepy. I don't know where this goes… but it is one of those pieces that he may or may not use… It is up to him and John Gilbert and Jamie Selkirk (the editing team, whom's torture is set to begin in earnest!).
Elijah takes off to get some additional work done, and I forget to hand him my book… I almost begin beating myself, when I see Peter headed to the TOWER HALL set."
The only scene we know about where Elijah had to wear contacts was after he was stabbed on Weathertop when the Morgul poison starts to take effect and it certainly doesn't sound like that. As those who have read the books will know, there is a scene during Emyn Muil, when they are descending a cliff, where Frodo is suddenly struck blind. It does sound as though it could have been this but he wouldn't have been wearing his green cloak. But Harry said 'greenish' - oddly my husband often sees grey as green , so perhaps Harry is the same - his description of the material does sound more like the Elven cloak.
Harry was also around for the reunion scene in the House of Healing:
"Soon though, he and Ian are called onto another set in another location… this other set is the House of Healing in Minas Tirith… and in front of the bluescreen is a gigantic friggin bed… I'm talking the sort of bed that I would look thin on. Anyway… ol Elijah is up there on the bed… and Merry and Pippin come running and hopping up on the bed…
Meanwhile on the screen is all of this composited stuff of the room… Gandalf, Legolas, Aragorn, Sam and Gimli… All right there. Wow. This is so freakin surreal. I mean this is like really really close to the end of the end. An image being put together with multiple plates that I won't see finished for years and years. The shot is captured quickly… They have this one down."
And how strange to think that this scene from Moria, or at least part of it, was shot in the final week!!
"As the crew begins moving screens… getting rid of the bed… I begin to see something that is like a defribulator to the heart… THE DOORS TO MORIA. Christ… those are the doors to Moria. That means THE WATCHER OF THE LAKE… that means uber frickin coolness. I ask a fella, "Um, are they shooting the doors today?"
Pray Pray Pray…
"Yes"
Alright! I'm quite excited about this...
Oh Christ. I'm getting really emotional right now… as I type this, Frodo, Sam, Merry and Pippen are shooting their scenes at the door… as Frodo's leg is grabbed by a tentacle or something… from the lake. I'm typing this live as I watch it. Elijah has been rigged to be dragged at a phenomenal rate of speed…. Here we go… rehearsal. Frodo is laying… Pippin, Merry and Sam are behind him… suddenly they have Frodo ripped out of their hands as he is pulled out of shot…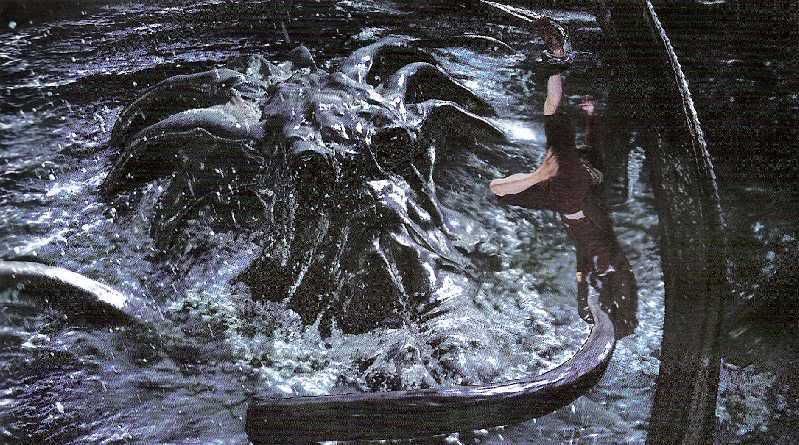 … on one side of me is one of the make-up effects guys, on the other a CGI Weta Digital Effects consultant flagging things that they'll need to do… I hear them discussing the intrinsic quality of the tugging of Frodo… "Needs to pull along more horizontal, before the vertical lift" …and I completely agree. They had one take that was PERFECT. I just saw GANDALF THE GREY walk on set… hehehehehe…




Back to the monitors… Close-up of Frodo on the ground as the sequence begins… Crikey… this is supercool. I really can not express enough how cool it is to be seeing this… Poor Bill the Pony…
Suddenly, Sean Astin is right in front of me… in not quite finished Sam attire. His feet are magnificent! The largest of the 4 pairs of Hobbit feet I've seen thus far. I believe, for the record, that Merry's feet are the longest… but Sam's the widest and most cool. Both Frodo and Pippen have very similar Hobbit feet in size…
It should be noticed that Sam is the only Hobbit carrying supplies… And of the 3 non-Frodo Hobbits… he's the only one that had his sword out trying to hack away at the tentacles which were trying to take ol Frodo to the deepest darkest.
Later on, the three hobbits (Merry Pippin and Sam) have to do their scene without Frodo…

OH HELL, this reminds me… I held the ring the other day! It was chained to Elijah's neck, but the second I saw it, I moved with the speed required to capture my precious…
Now I know the ring holds no power… I know that this ring was made for a movie… BUT DUUUUUUDESSSS!!! The vibe I got off of holding that ring… I seriously did not want to let go. I mean that. Elijah, a fella I consider my friend, had this frightened look on his face… I had it in my clutches… security was beginning to make their move… I COULD TAKE EM! I KNOW IT! The ring is as described simple and perfect. Gold and evil. Watching Elijah tuck the ring beneath his shirt… was soooo cool.
…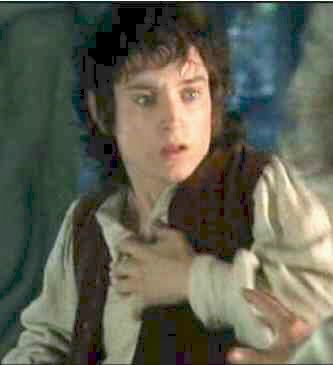 ********
In future years Elijah would always say that the most important thing he gained from this experience was the real life fellowship - the close friendships forged during filming and which would continue. For the rest of their lives Elijah and the other members of the Fellowship will carry a physical reminder of this special bond - the tattoo. On the final Sunday before the end of filming, the Fellowship gathered in Roger's Tattoo Art, with the exception of John Rhys Davies who didn't wish to participate - his scale double, Brett Beatty, went in his place - and Sean Bean who would be captured later!!
"To this day, Elijah insists it was his idea. Given half a chance, though, Orlando will also take credit (or responsibility, or blame). And while Viggo has never sought any recognition for his role in the episode, I'm pretty sure he was a major player. Regardless of it's origin, I do know that the seed was planted shortly after we arrived in New Zealand, and took root in the months that followed. Every so often, someone (usually Elijah) would bring it up, and someone else would second the notion. Then we'd all forget about it. In the final week of principal photography, however, as it finally began to dawn on us that the adventure was really going to come to an end and we'd all be going home, the discussion began anew - this time with an almost religious fervour.
'Let's all get tattoos!'

This was about honouring each other and the work we had done and solidifying, in some way, our commitment to remain friends and brothers for life, so a small tattoo would work best because it could be hidden. To that end, we settled on a tattoo that depicts the Elvish symbol for the number nine - one for each member of the Fellowship. Deepening the impact of the tattoo is the fact that it was based on a drawing created by Alan Lee specifically for the occasion. In other words it's an Alan Lee original, and it was a very nice thing for him to do."
(Sean - from his book)
"They're a wonderful bunch of people" Roger told Sunday News. They got them done here and we're proud of that. But you won't hear anything else about it from us. We respect their privacy.

"Elijah returned to the tattoo parlour on Thursday - but not for a new tattoo", Roger said.
Why get a tattoo? Wouldn't a less painful keepsake do?
We felt so passionate about this movie, the experience of filming it, and about having become friends with each other. We really wanted to remain fellowship members for the rest of our lives, and this was a way to acknowledge all that we'd been through together. We will always have that, and we'll always know what it meant.
(Elijah ~ EW.com Movie News)
"We all got them as a function of our passion for working on this project. It was such a profound life experience we wanted to mark it with an emblem or a symbol. It's a symbol that stands for 9. We were all holding each other's hands, it hurt so much."
(Elijah ~ aol chat)
"I certainly held his hand while he was having his tattoo done," McKellen recalls. "Not that he was not feeling brave, but we were all chums down there."
(Rolling Stone)
"My mom wasn't too happy about it actually", Wood said.

"I told her I was going to do it before I did it and she had some harsh words to say about it, but she couldn't not enjoy it for the fact that it represented such an important part of my life."
(Stuff - NZ paper)
"I don't know how I picked this spot [pulls up his shirt to show the tattoo on his stomach]. It just felt like the right place. All I can tell you is when I was getting it, it hurt like a mother****er!"
(eonline)
"We didn't get tired of each other," Elijah says. "That's a real testament to our relationships."

As are their matching tatoos. The nine actors whose characters made up the Fellowship of the Ring each inked themselves with the symbol for nine in Elvish, one of the movie's fictitious languages. Did it hurt? "Like hell!" he says, wincing. "It's like a hot, searing blade sawing into your skin. I'd do it again, though."
(YM Mag)
"I think we all knew that this experience was something we'd never have again, and we wanted to mark it. No matter where we are in the world, we'll always have that."
(Elijah ~ NY Daily News)
Despite his rather painful experience, it seems Elijah was quite keen to repeat the ordeal - although to date it hasn't happened - as far as we know!:
"Q: You were once quoted as saying that you were considering getting a second tattoo… not the Fellowship tattoo but a simple line …a mark on your shoulder….

Elijah Wood (nodding): The scar from Frodo's wound… yes…

Q: Well...the first tattoo that you all got together was obviously all about bonding with fellow cast members…. but what would be the reasoning behind you getting the second?

Elijah Wood (pausing): Oh…just to have my own…because the Fellowship tattoo was all about the nine of us who had grown so close. The idea behind getting a Frodo-specific tattoo was mainly because this wound that Frodo gets from the Nazgul - from the Morgul blade - would never heal. It never heals. So there was this idea in my mind that this would be interesting… because just as Frodo would have a wound that would never heal, so also this movie - this experience - will be one that will be with me for the rest of my life. And so this [tattoo] would become in the same way symbolic of my own experience."
(Q&A session ... somewhere)
"Sunday afternoon…. The actors that play Gandalf, Gimli, Frodo, Sam, Merry, Pippin, Aragorn and Legolas… set out with an Elvish design created specifically for them by ALAN LEE and had it tattooed on them. There is one stat of this design left. Orlando Bloom has been charged with returning and finding Sean Bean… Boromir… and having him tattooed as well with it. For all time, the Nine actors that played the Nine that set out… They are joined by a tattoo that only they carry.
When I saw the design, I will not break the trust and reveal what it is… but folks… After I saw it, I went to an area and just teared up. That is how much these folks believe in what they have done. When I asked if Sean was going to get his, Viggo and Orlando shared a look… a smile…. And yes.
This year and a half they've spent in these characters… they feel attached for all time now. There is a brotherhood between them… a sense of purpose. Can you imagine? I mean… They care enough to get tattooed forever with a shared marking."
(Harry)
Pics of Elijah and Orli's capture of Sean Bean will appear in a later chapter:D

And of course, as we all now know, the tattoo didn't stay secret for long!!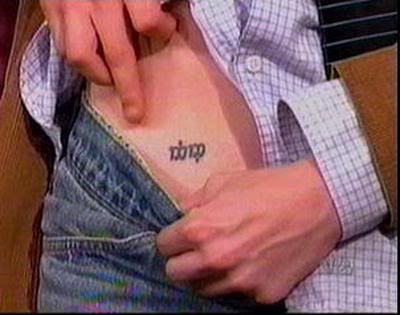 ************
"'Twas the morning of the last day of the shooting of the most ambitious film shoot in all of film history. Three movies, each one larger in scope than the one preceding it. Each story greater in dramatics than the preceding… A story that though fiction has become part of history for those that read it.
This day… Friday the 22nd of December in the Year 2000…
(Harry)
The last scene was shot on the set of Minas Tirith, but it was a scene which never made it to the final cut - Viggo being dressed in armour by two assistant.. Most of the cast and crew had gathered, some people were sporting feather boas, Harry was given the honour of operating the clapper board for one of the takes ...
and then ...
"Just then…as if by fate… Sean Astin and Elijah Wood… Sam and Frodo… arrive and take the honors… Sean has the pink boa and his daughter around his neck…. Elijah joins from the other side… they do the job, and move out of way… and the final shot is taken."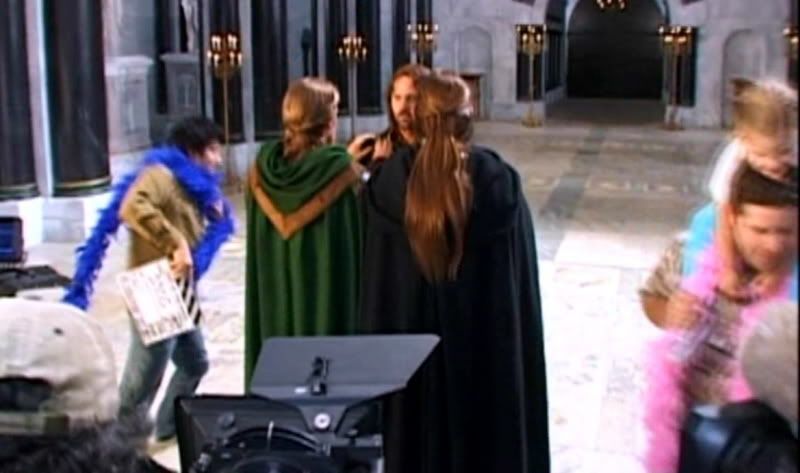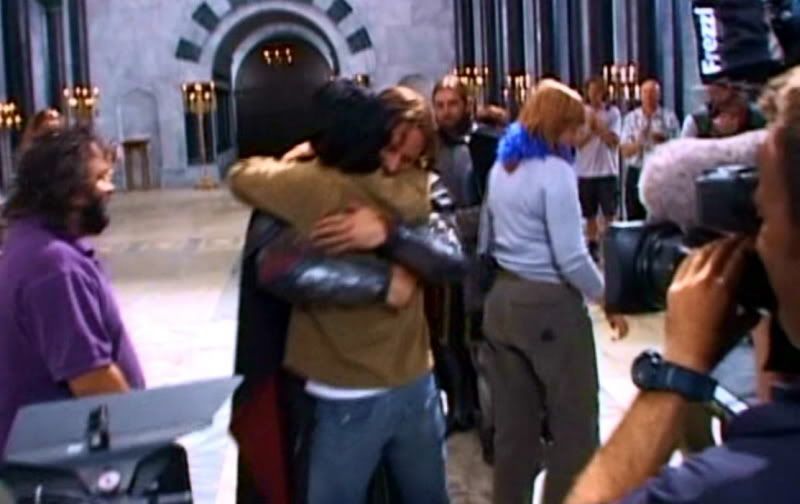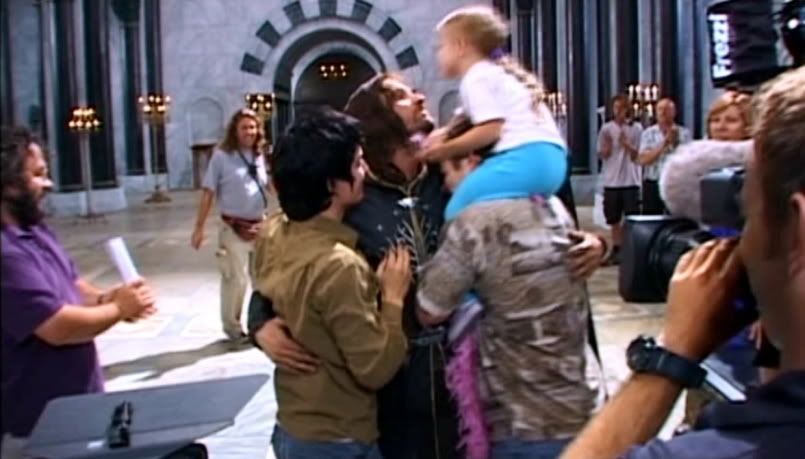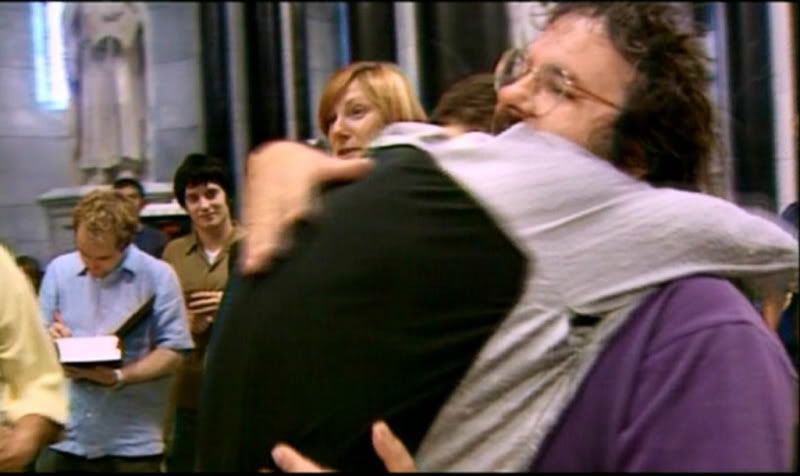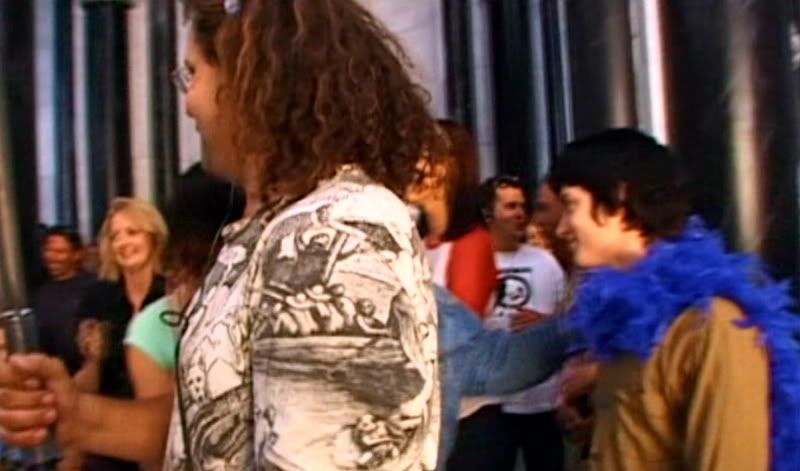 The shooting of principal photography is OVER… and my friends… it has been emotional. Tears flowed… Elijah shook… Orlando smiled... so much tears flowed… and tonight, after 18 months of filming… the party to end all wrap parties will get underway… in about 12 minutes… I've got to go… sorry for the no spell check… no grammar check… I've got to go…
(Harry)
************
THE WRAP PARTY ~ 22 DECEMBER 2000The Venue: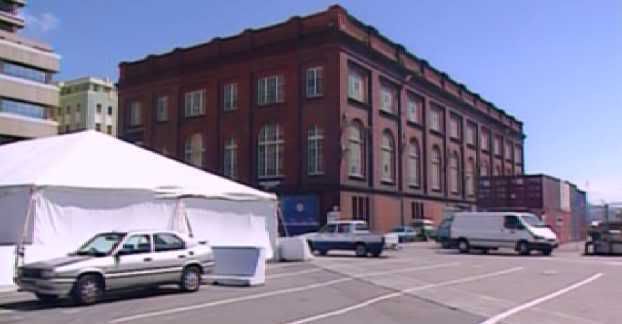 The Invitation:
The Ticket
The Menu:
BBQ Lamb marinated in mustard and rosemary served in a bun with a kiwiana salad
Pacific Style Fish with BBQ banana & noodle salad
Roast Vegetable Pie
Salmon Pie
Kebabs - Various
Vegetable Fritters - Carrot & Cumin - Spinach & Gruyere
The Entertainment:
"Live acts included singer Dave Dobyn and scalped tickets were being sold to fans for more than $1000. But sources say the best live act of the night was director Peter Jackson leading the all-star cast, including Americans Elijah Wood and Sean Astin, in a haka."
(tolkienonline)
Thanks to
morebliss
for the following two pics:
Elijah arrives with mystery lady: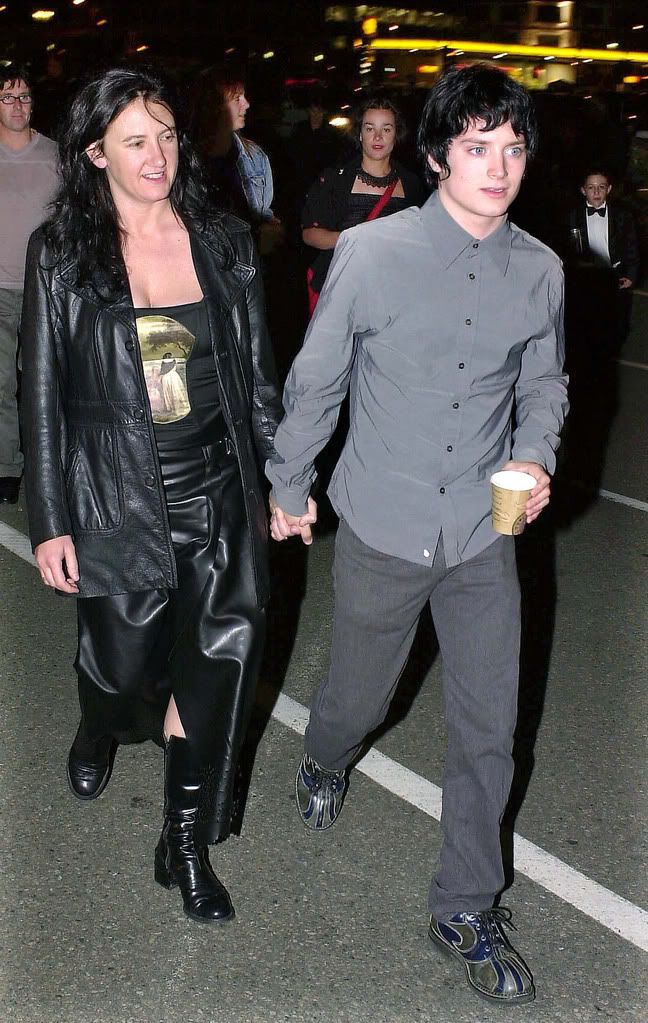 "Cast reaction to the end of shooting was mixed. Elijah Wood described his stint as 'the experience of a lifetime' and looked forward to a life without 4 a.m. wake-up calls and prosthetic Hobbit feet. 'I think we're planning to have them bronzed,' he joked. Wood raved about working with Sean Astin (Sam). 'It's been like gaining a brother. We hoped that our friendship would mirror our characters' closeness in the story, and it did.'
(Eonline)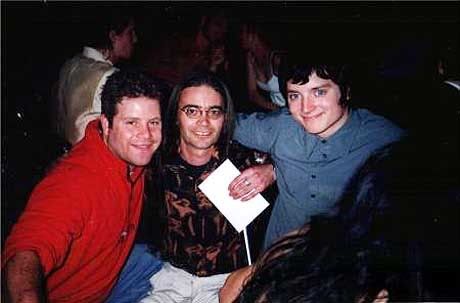 "Astin was a little more shell-shocked. 'I finished filming on Wednesday, and couldn't find any words for the feeling. I just ended up hugging [Elijah] and everybody else I could see!' he says. 'The character is so much a part of me--it's difficult right now thinking about life outside Middle Earth.' But he said he and his family were looking forward to returning to his Los Angeles home 'and hanging out with Elijah. We're like war buddies!'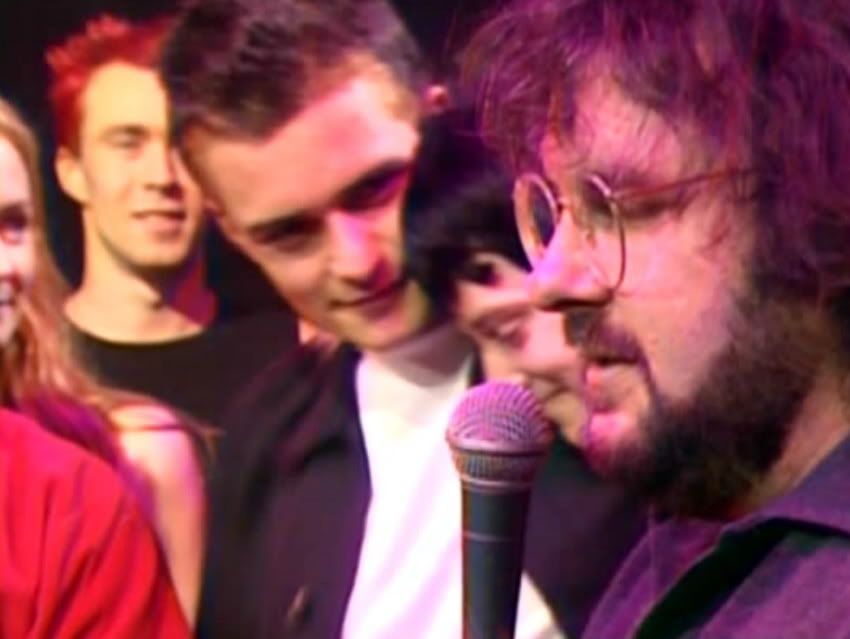 "It was very difficult. You know, we'd been working on the film for so long that in some ways, it seemed like it would never end. It was our life. The idea of it ending was very strange to everyone. And it ended very abruptly. We filmed in a very intense way for, like, a month before we were done, and then, you know, there was the last day of filming. We finished the movie. We had our wrap party that night, and then everyone flew home the next day. So in some ways we didn't have enough time to fully react to the fact that we'd finished. So it was hard. It was really hard. I think that we all, in the back of our minds, knew that we'd be back, that we'd be coming back to New Zealand, and we'd see each other again, but there was this horrible sense that the journey had ended. It actually came at a good time. We finished the movie, we left each other, and we all went home for Christmas. So we kind of went from an intensely difficult, sad situation to the comfort of family and friends during Christmastime, but it was hard. It was very difficult, and kind of a shock to everyone."
(Elijah - Eonline)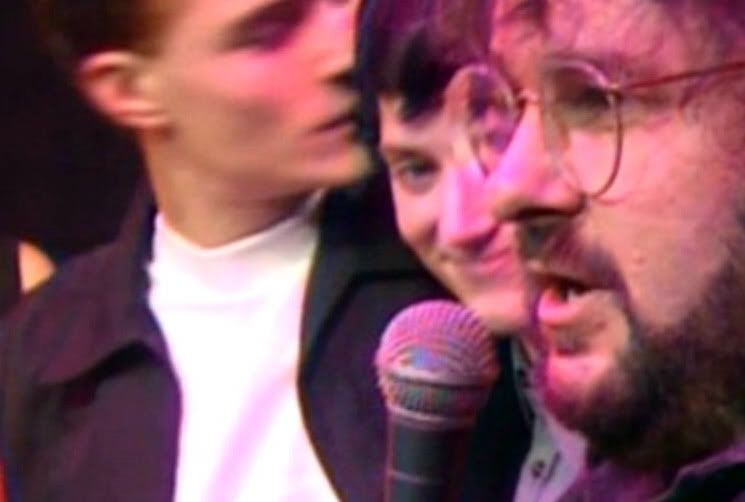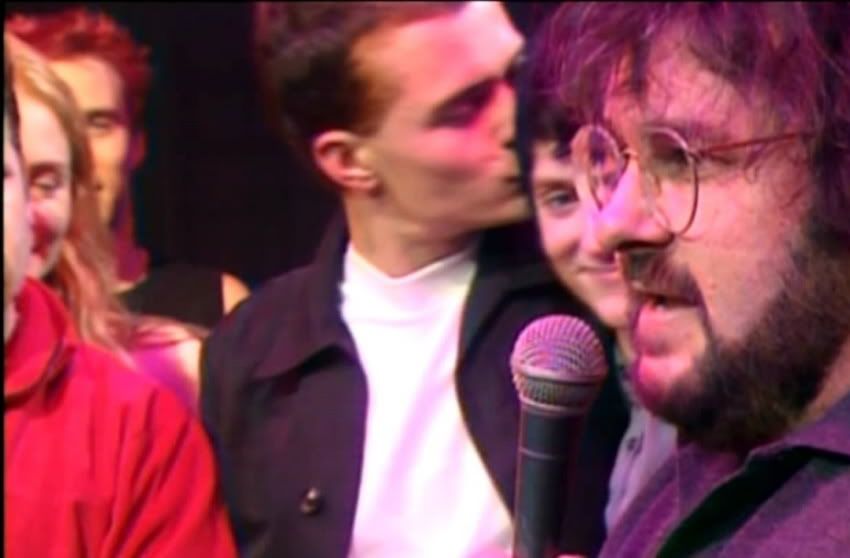 "Then the main event came onto the screens: Lord of the Rings bloopers, linked together with good footage, a lot of it fast-forwarded. It was a half-hour I'll not forget. The 2000-strong cast and crew, watching the screens, roaring tributes, waving salutes as they recognised certain bits. They were watching stuff that will never make the big screen, that will only be available on bootlegged videotape. These were real bloopers, with real f-word swearing and child-like ad libbing by some of the world's biggest movie stars. It was a treat. It ended to the music of Clarence Frogman Henry's "I Don't Know Why I Love You But I Do," a tribute from the producers to the multitude."
(Someone who got a ticket - theonering.net)
Harry's account of the wrap party:
Peter arrives and Elijah and Sean and the rest of the cast present to Peter on behalf of the cast and crew of LORD OF THE RINGS… a glorious garage kit created by a wonderful artist at Weta Workshop, who I saw working on this just the other day! It is of Peter, shrunken to Hobbit size… with over sized ears and oversized feet… standing before a gigantic director's chair. Peter being the collecting nut that he is… IS OVERJOYED at the gift. This is the sort of thing that all of us geeks want… yourself as that which you dream to be. In this case, Peter is a Hobbit!

The next thing we see is the beginning of the LORD OF THE RINGS blooper reel!
Christ, I wish you folks could have seen this… while there were many moments of hilarity… including Ian kissing Shadowfax, as this legendary stud sports a three foot horse cock! Or Merry and Pippin with a blowup doll…. Or Arwen's amazing ability to fire an arrow… hehehe… Or Merry seeming to give Frodo a blow job while he is in the bed at the House of Healing and is being hugged by Pippin on the otherside (this was footage looped back and forth… and I was on set when I saw it!) Gandalf in his first costume fitting, walking seductively from the trailer… parting his robes and showing us his gorgeous long legs and briefs covered ample groin!

Moments of flyovers in the high New Zealand mountains of the Fellowship marching ever forward on their trek. Various line flubs… Gandalf and an umbrella… Frodo and a coke…

After about 5 hours of the party, I finally found a seat… Elijah saw me and decided to also try and hide with me… as did Philippa Boyens. We had… maybe 10 minutes. The party was great… just on such a huge scale though….
************
Alan Lee is a gracious man who was always generous with his talent. He had created the drawing for the tattoo and, before we left, Elijah and I asked another favour from him. We wanted to present something to the crew,, so we asked Alan to sketch an image of Frodo and Sam turning and waving gooodbye. He kindly agreed, of course, and even added Gollum - peering out between our legs. We transferred the image to a card and made hundreds of copies that we signed and distributed as parting gifts.
(Sean - from his book)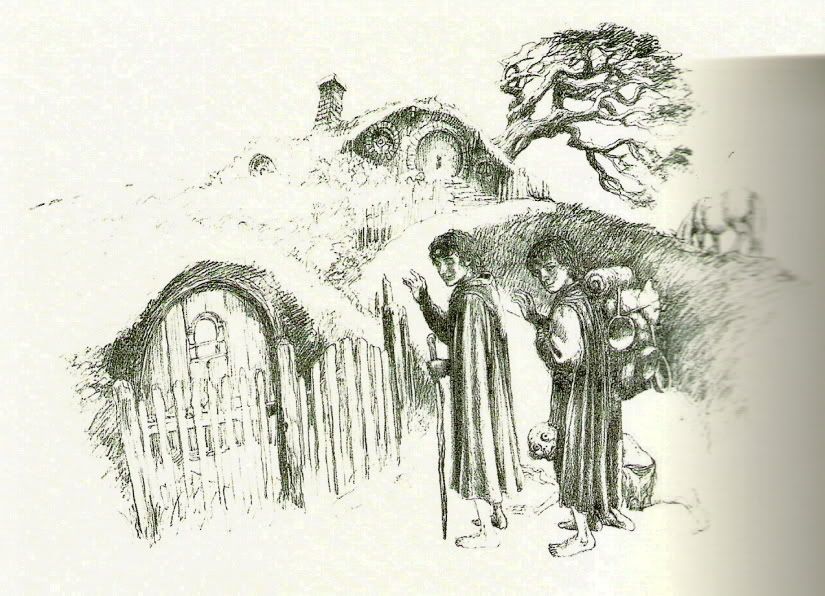 "It was very difficult. You know, we'd been working on the film for so long that in some ways, it seemed like it would never end. It was our life. The idea of it ending was very strange to everyone."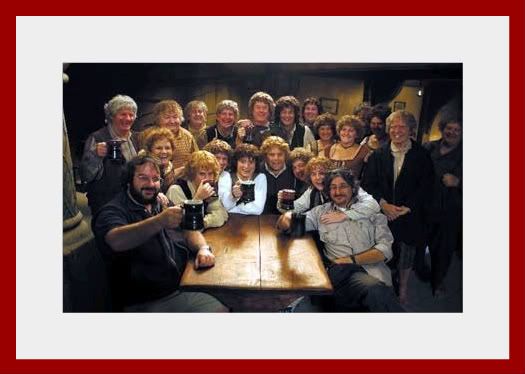 ************
TO BE CONTINUED

LINK TO ALL CHAPTERS: "A JOURNEY WITH FRODO"
comments: Leave a comment