| | |
| --- | --- |
| Tags: | a journey with frodo |
| Security: | |
| Subject: | A Journey With Frodo~Ch.21~'Reunion in Cannes' |
| Time: | 08:38 pm |
| Current Mood: | relieved |
I promised some people that I'd post the latest chapter of 'Journey' before Christmas - I knew that if I didn't finish it today it would mean I would have to go back on my word but I've just made it by the skin of my teeth! It probably needs some editing as in the end it was done in a bit of a rush but I can see to that after Christmas. This chapter focuses solely on the Cannes Film Festival in May 2001. It is quite a short chapter compared to most of the others but I felt it warranted a chapter to itself! This event must have been such a magical time for Elijah, reunited with his co-stars in that beautiful place – the world's press gathered and hanging on their every word – and none of the films yet released, it all still lay before them. I love to watch videos from this time - I see Elijah sitting with his fellow hobbits on that sunny day, just twenty years old, and wonder if he realised he was on the brink of something massive.
For anyone unfamiliar with my pet project, 'A Journey With Frodo' (a work in progress) is the story of Elijah Wood's experience in becoming Frodo, from back in 1998 when the LOTR movies were just a whisper up to the triumphant Oscars of Feb 2004. In reliving Elijah's journey, and mine, I am using everything I can lay my hands on - behind-the-scenes material from the various dvd's, magazine articles, books, internet sites, tv coverage, word-of-mouth info, etc. Previous chapters can be found here
"A JOURNEY WITH FRODO"
You'll need to scroll down to find Chapter 1:)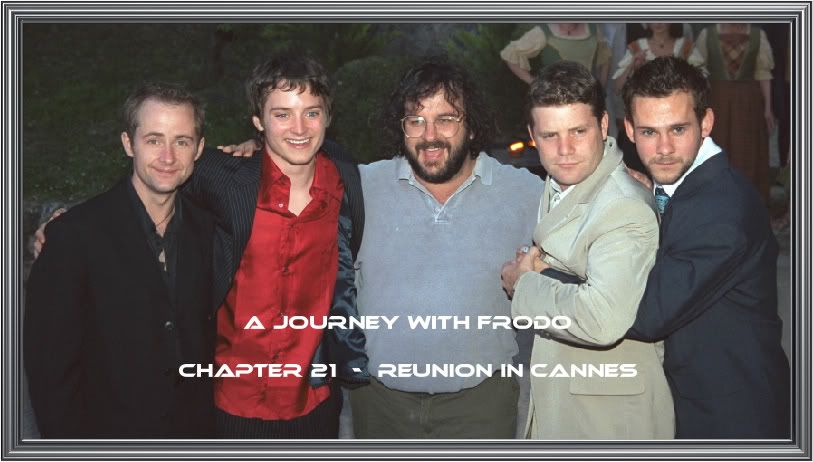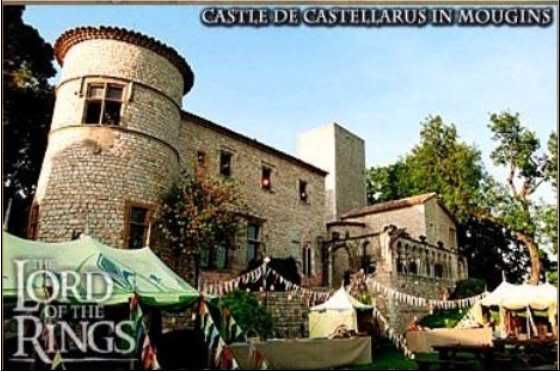 The Screening
: Director Peter Jackson unveiled a 25-minute clip of the trilogy that introduced key characters--including Bilbo, Galdalf, Frodo and Aragorn--and featured a montage from the second and third installments. But the event's centerpiece was a visually astounding 14-minute sequence set in the Mines of Moria that showcased Jackson's commanding grasp of Tolkien lore and special-effects technology. Jackson said he wrestled with the decision over which footage to include, but ultimately chose to put the emphasis on action in order to satisfy New Line's international distribution partners.Both aficionados and neophytes were captivated, with some attendees calling it the most compelling thing they'd seen since the original Star Wars, which as Tolkien fans know, borrowed many of its precepts from his work. (Eonline)
At the airport
Posing with a fan at the hotel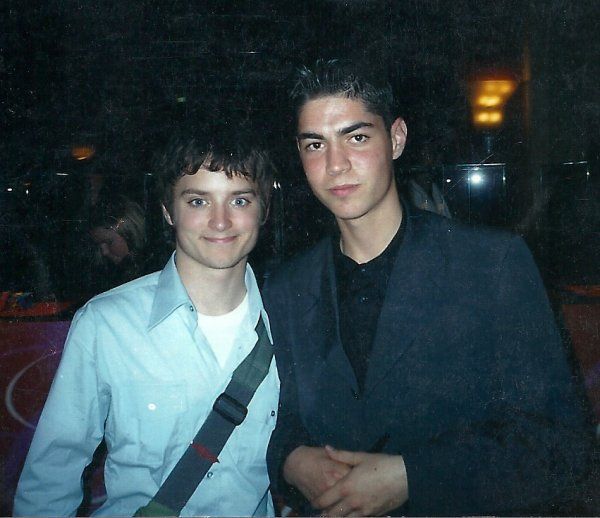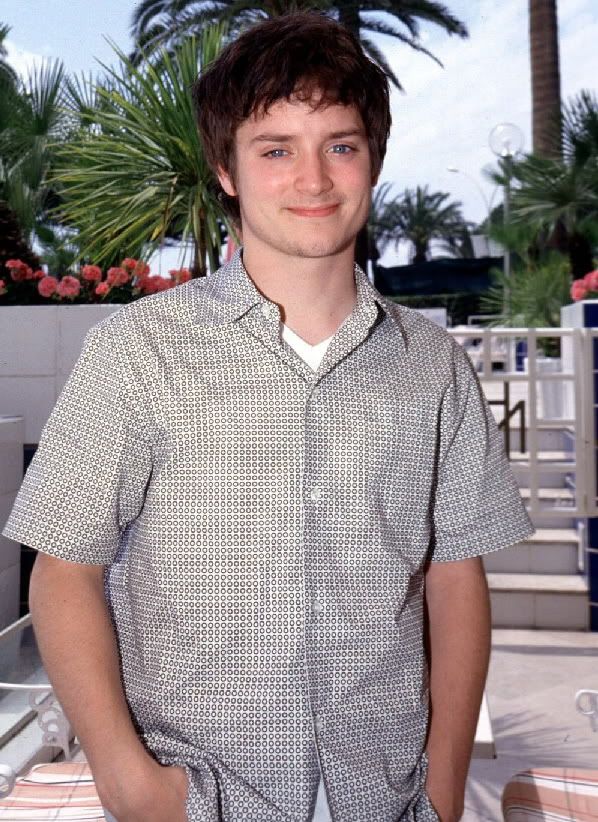 "We met up first at the downtown cinema where we were to be shown, ahead of the distributors and selected media, the first completed footage from the trilogy. Extra sound equipment was installed to ensure the full Dolby onslaught. I sat near the back, next to Saruman and Mrs Lee, with Frodo in front of me. Peter Jackson and Bob Shaye, New Line's supremo, welcomed us and warned us that not everything we would see was entirely finished. They could have fooled me….

…With relief and some excitement I can report that Peter Jackson's images not only look convincing they look stunning -- like an Alan Lee picture book come to life. That goes for all the actors' performances and the non-actors too, now I've seen the cave troll and Balrog deep in the Moria mines. The Moria extract ended with Gandalf's "You shall not pass!" followed by some tempting bits from the second and third films. We shamelessly applauded ourselves. The Hobbit actors whooped. And Elijah asked to see it all over again."
(Ian McKellan, The Grey Book)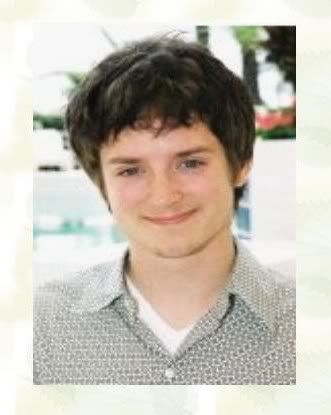 BOXOFFICE:
"And what are your impressions?"
WOOD:
"Speechless. We all sat in Cannes and witnessed the screening of the 25-minute cut, and we were absolutely blown away. We literally couldn't articulate what we felt about it after it stopped. We just asked them to play it again, because we were so dumbfounded. It was incredible. One of the cool things about being a part of this movie was that while we were making the film, though we were most of the time dealing with realistic imagery that we could actually interact with, i.e., big sets or people in costume, there are a lot of times where we had to work against a blue screen, or there were CG characters that weren't actually there to interact with us, or the wider shots we did and the landscapes [were] doctored later with added stuff in the background. So seeing the film in its completed form -- there's so much there that's new to all of us. So, when we actually finally see the films, we'll share that state of shock, because it will be so very different from what [we did] on the day, or what we had imagined."
"A stirringly heroic Sir Ian McKellen was part of the biggest splash at this year's quiet Cannes Film Festival, as Lord of the Rings--the 25 minutes of it screened by New Line Cinema--was the hottest ticket in town. (The openly gay knight was featured in a tense action scene as Gandalf, while Elijah Wood's Frodo looked delectable.)" (The Advocate)
"There is a section where Sam is hovering over an exhausted and beaten Frodo in Mordor. Their faces are chapped and burned. This is the contrast I was talking about before. In Hobbiton they look so young and healthy. In Mordor they are hideously challenged and decrepit. Sam had some very painful looking sores on his mouth and face ...
We have a lot of clips of battles and landscapes. It truly is amazing looking at the New Zealand landscape as Middle-earth. I guarantee we are all going to want to go there next year, if we don't already want to! Go NZ Tourism Board! Heh…
The last clip shows Frodo at the cracks of doom. It's that critical point where Frodo chooses not to destroy the ring. Elijah Wood plays the part perfectly as the power of the ring overcomes him and he puts it on.
"I will not destroy it! The Ring is mine!"
(torn)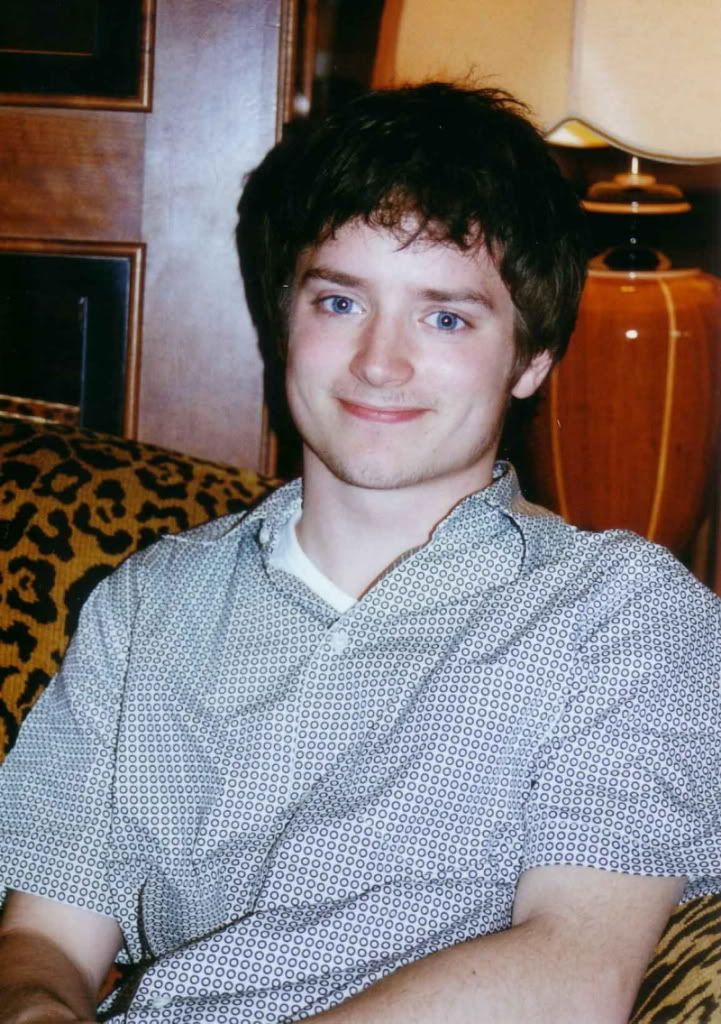 ******
The Interviews:
At a press conference on Friday, Jackson addressed the international media, along with producer Barrie Osborne, effects co-ordinator Richard Taylor, writer Phillippa Boyens and executive producer Mark Ordesky. The team addressed topics including the need to remain faithful to the spirit of the books, their communal passion for the material, budget concerns and the long struggle to get LOTR made.
Cast members were equally passionate about the project - especially the men. All members of "the fellowship" acquired matching souvenir tattoos, which they showed to the press on Friday.Asked for a translation of the tattooed Middle Earth symbols, Ian McKellen, relishing the air of mystery, would only say, "This means you're in the fellowship."
The impressive cast seats - I'm not sure if they actually sat in them for the press con.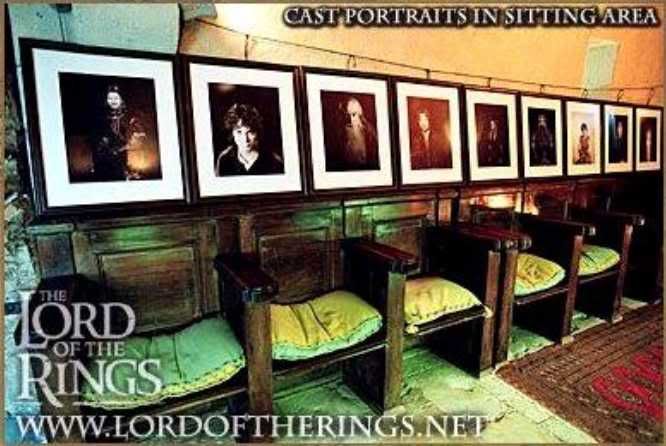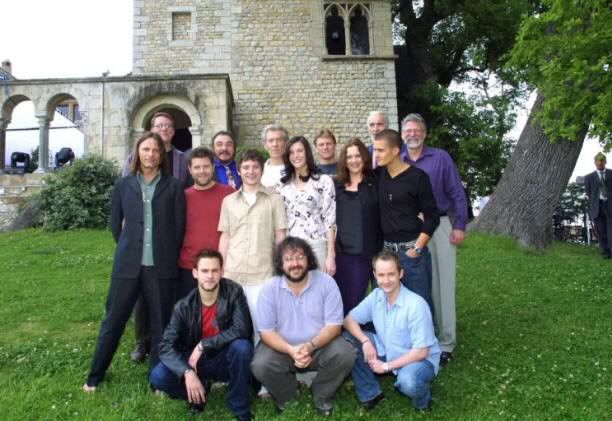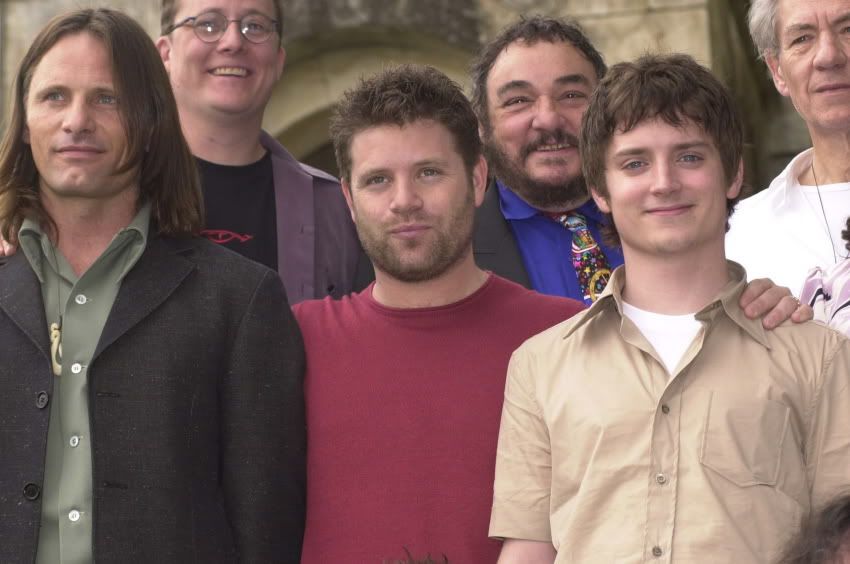 Wood called the film "an experience of great magnitude and profundity. It's impossible not to get swamped into this world when you're working as long and as hard as we did."(Eonline)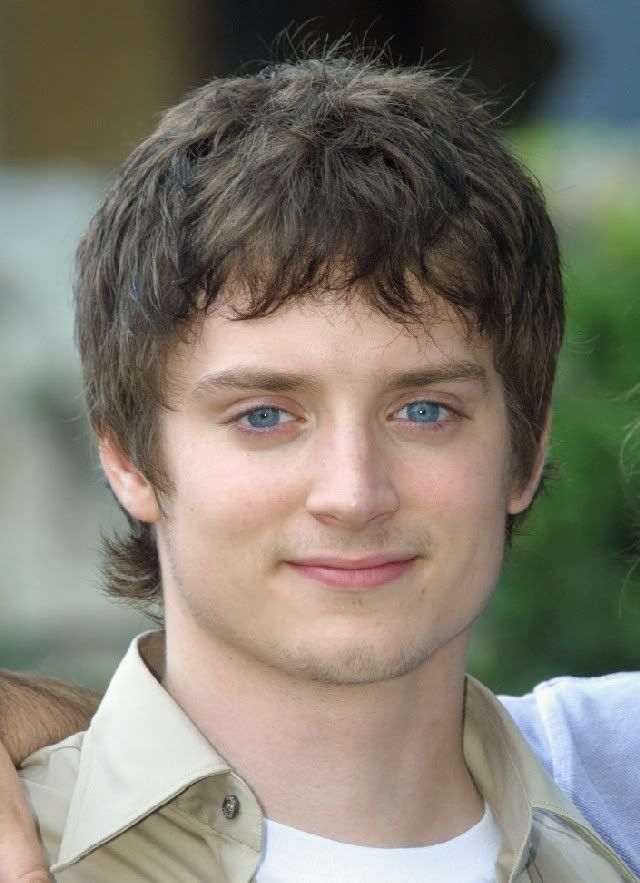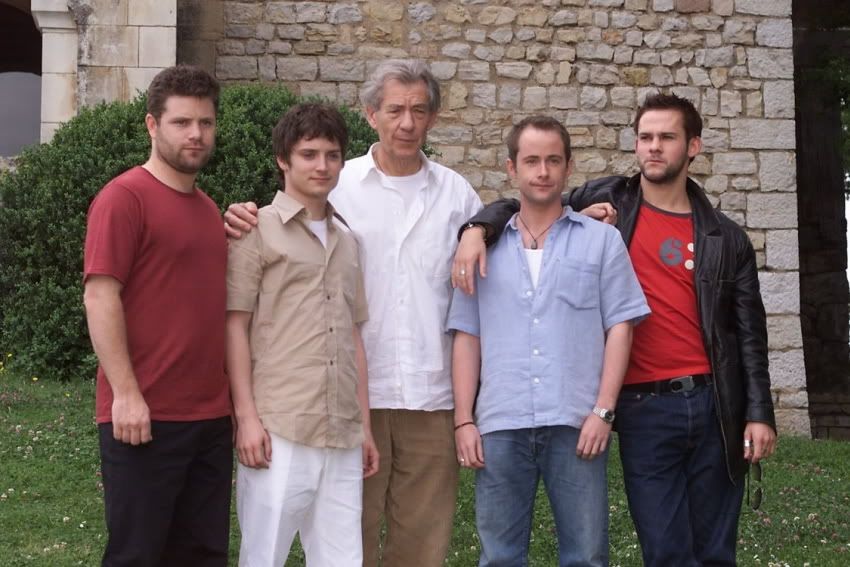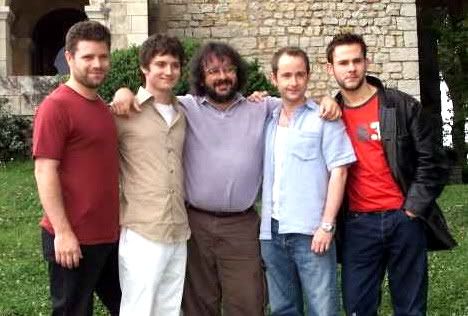 Nineteen-year-old[20] Elijah Wood, who plays Frodo, spent a full year [16 months] in New Zealand on the project, losing touch with his L.A. actor friends in the process, but learning how to surf and scuba dive in exchange: "It's hard to pack, knowing you're going to go away for a year," he said. "So I packed everything I owned."

Wood was not in consideration for the role initially -- Jackson and his casting agents were searching in England for the right actor. But Wood loved the book, and got a friend to videotape him reading a section from it for his audition.

"We'd seen about two-hundred Frodos and we were beginning to despair. Then this package arrived, we put it on and said, 'Of course,' " Jackson says ...

But everyone agrees one human star who will emerge is Wood, with his fine features and big solemn eyes, that make him look like Winona Ryder's little brother. As Lee says: "He looks like an elf. I know he's a hobbit here, but he has a very Elvish face, and it's instantly recognizable. I told him, after December he won't be able to walk down the street."

"I'm very glad I'm in disguise," says Sir Ian McKellen. "If anyone asks, I'll say, 'I'm sorry, but Gandalf was actually played by John Hurt.' " Wood looks uncomfortable when Lee's comment is mentioned, but he shrugs: "Yeah, I guess things are going to be different. I don't know what it's going to be like, though this film can potentially have a pretty big impact. There's a certain amount of surreality, if that's a word, to what we do. . . but I'll just take it day by day and try to go on my merry way, whatever happens."

Spoken like a true Frodo, before he is swept away by a publicist to join a truckload of his fellow hobbits to drive back to the city. As we walk down the cobbled lane, the cast, in small gray vans, races by us, waving. Inevitably someone calls out: "Elvish has left the building." (Globe & Mail)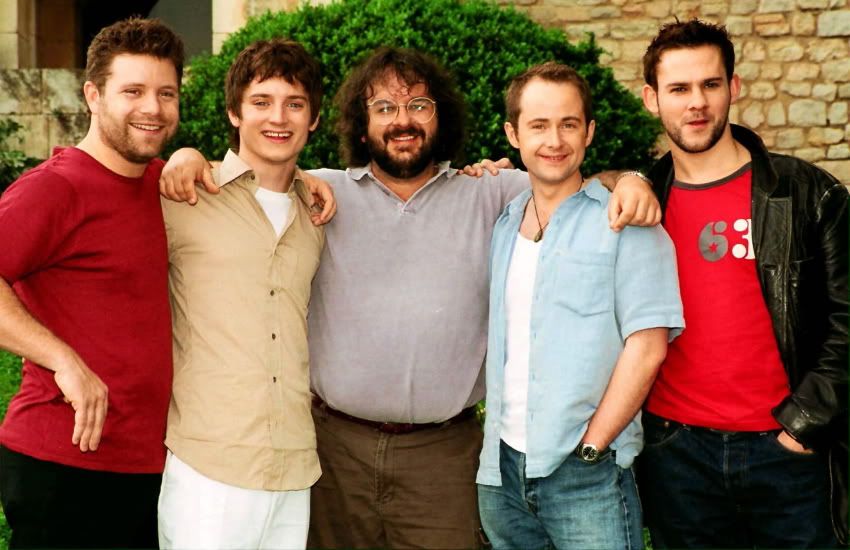 Appropriately, the hobbits are interviewed next to a model of Bag End: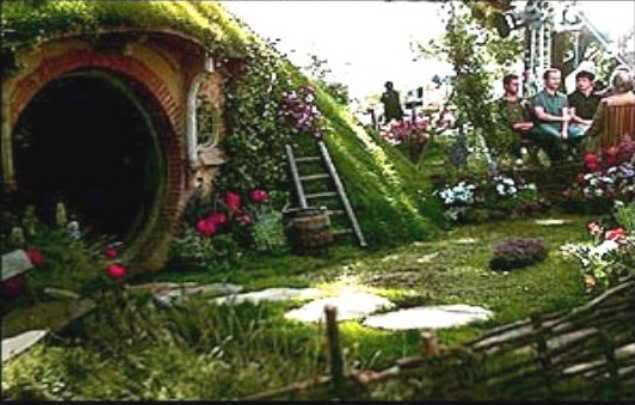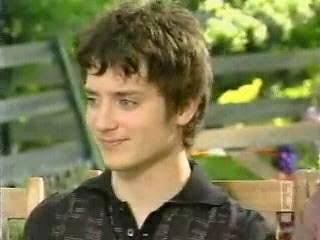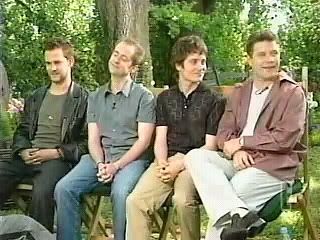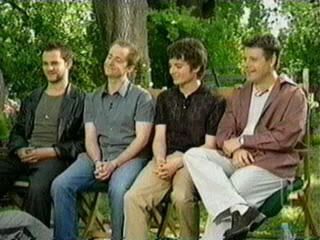 ******
The Party:
At Sunday's exclusive celebration, the 19th-century Chateau de Castellaras was elaborately decorated to resemble Middle Earth, with set pieces flown in from New Zealand and meticulously reconstructed.
Bilbo's home was there for guests to crouch in, and objects displayed in the castle included Gandalf's staff, Galadriel's vial and various swords.
The bar was at least seven feet high, leaving guests to feel like actual Hobbits as they reached up for glasses of ale. On the grounds of the castle, an enormous cave troll was erected from polystyrene. Costumed players, some replete with elf ears, served food and drink. And hundreds of partygoers danced into the night. (Eonline)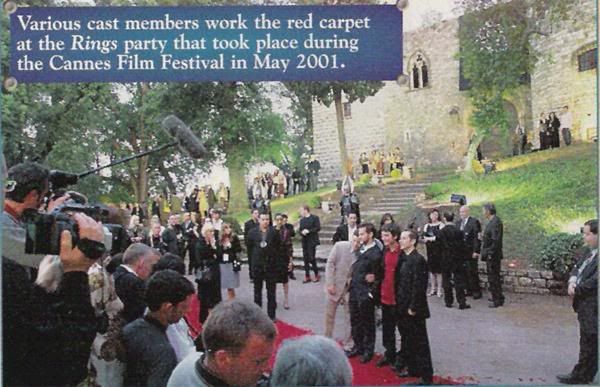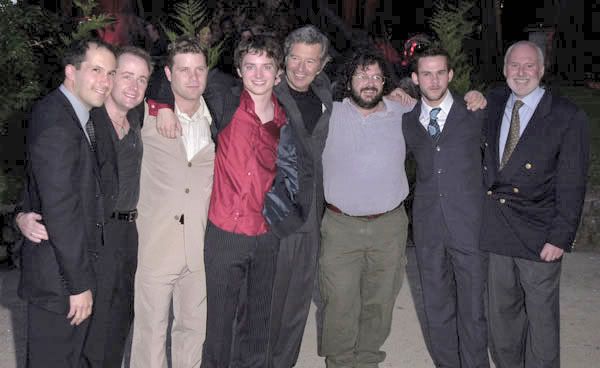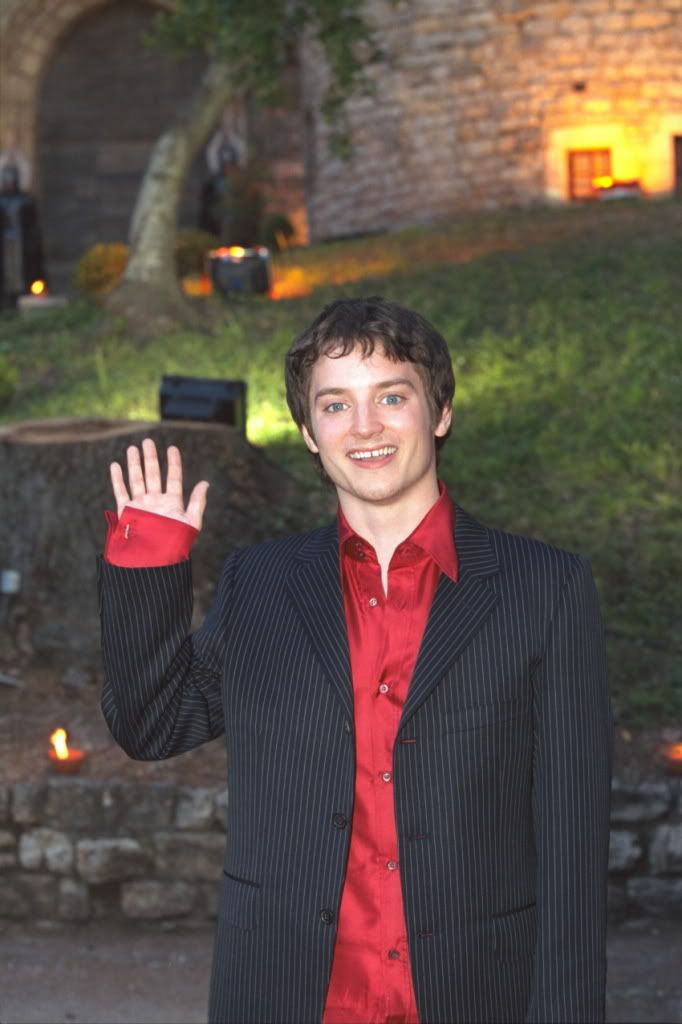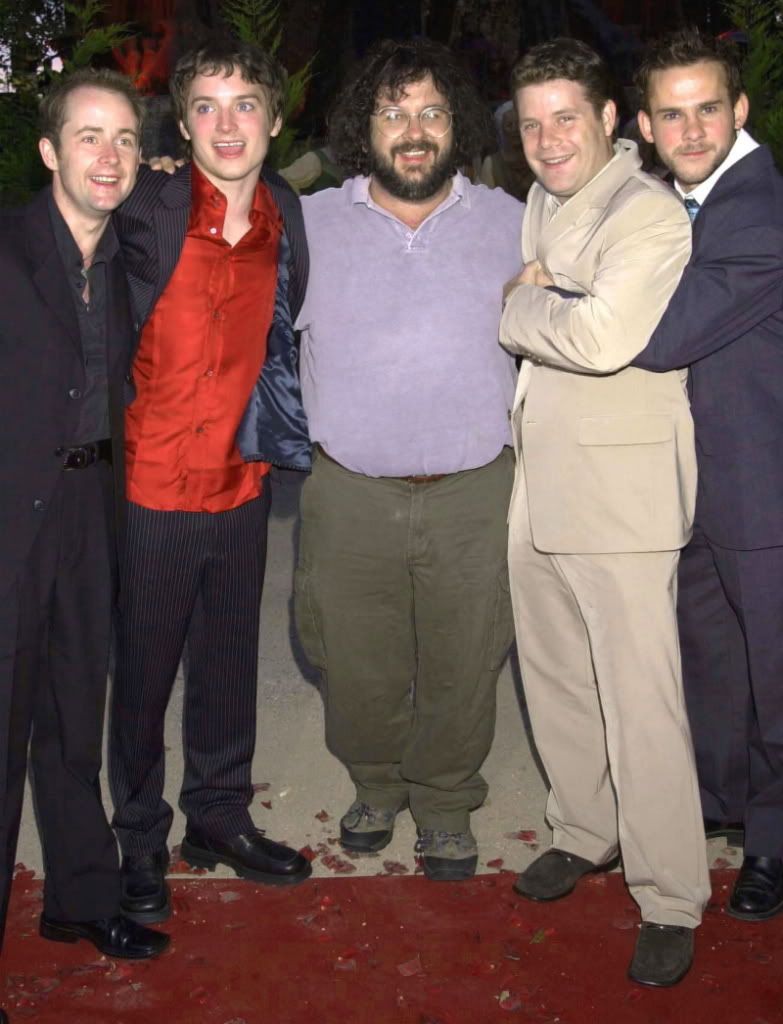 "The cast were there in force and demonstrating for the first of many times what an indefatigable team of advocates they were for the film and its director. John Rhys-Davies told the world that LOTR was going to be bigger than Star Wars, Ian McKellan and Christopher Lee traded wizard-lore and the four Hobbit actors ran around like kids let out to play.
"It was a reunion" says Elijah Wood. 'For us, it was like the LOTR vacation! It was quite bizarre to have invaded France like we did , with our set pieces and memorabilia, but it was an incredible experience for everyone involved with the film because the reception from those who'd seen the footage was so exciting. It felt like the party was our own celebration of how far we'd come and what we'd accomplished.' (Peter Jackson:A Film-Maker's Journey~Brian Sibley)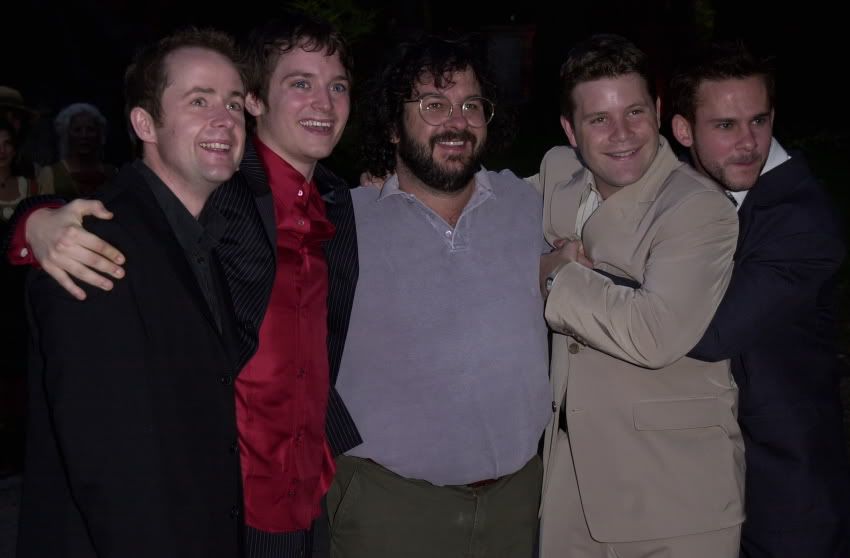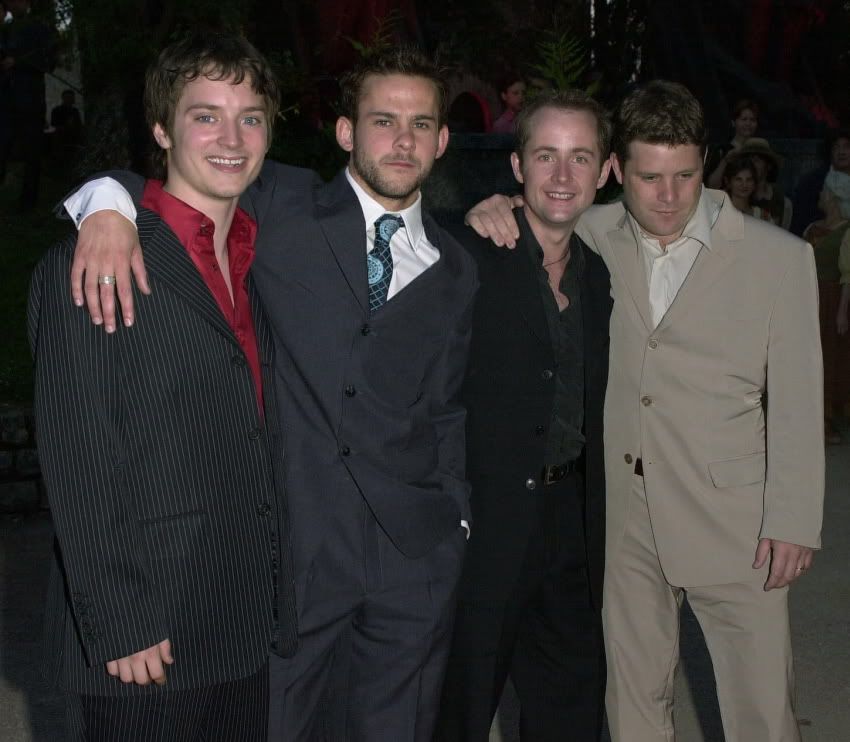 "I've gained a brother in Elijah Wood. I've been such a profoundly great admirer of his work. He is only 20 years old – he was 18 when I met him – but even then I had known of his work for 8-10 years. I'd seen him in 'Avalon', I'd seen him in 'The Good Son', in 'Forever Young', in 'North' – I am an Elijah Wood fanatic!! I think his work as a young performer has been so focussed and so powerful, and the idea that I was going to commune with him, and get to learn from him, even though he is 10 years my junior, I knew was going to be an extraordinary opportunity." (Sean Astin - Red Carpet interview, Cannes Party)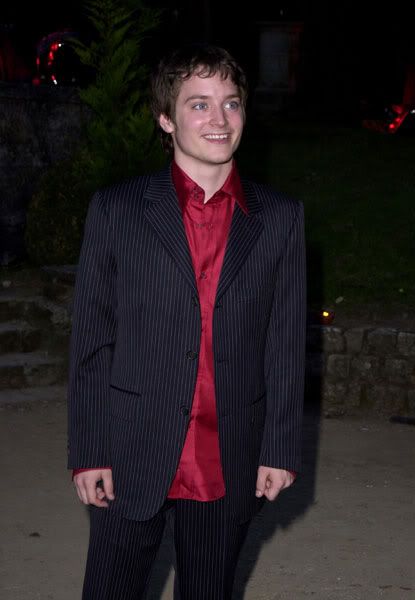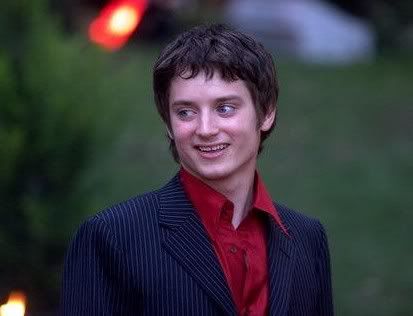 The contents of the goodie bag given to the guests:
(pics from torn)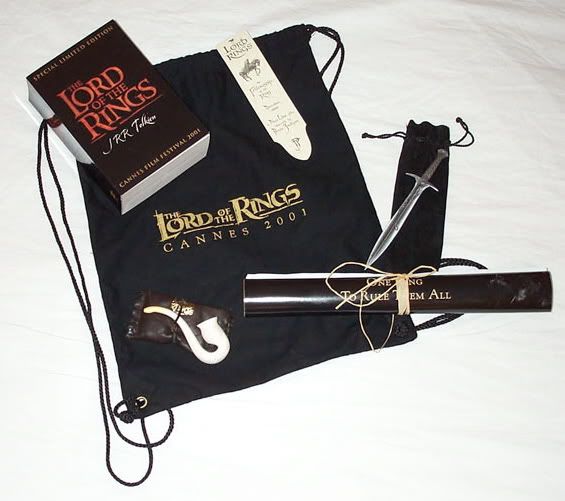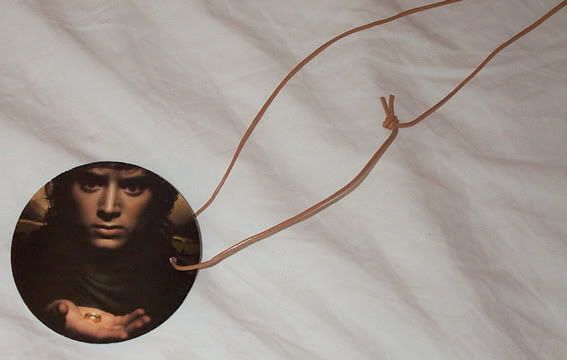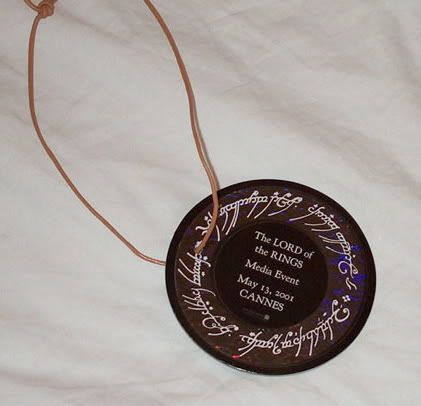 A funny little story from 'Heat' concerning one of the items in the goodie bag: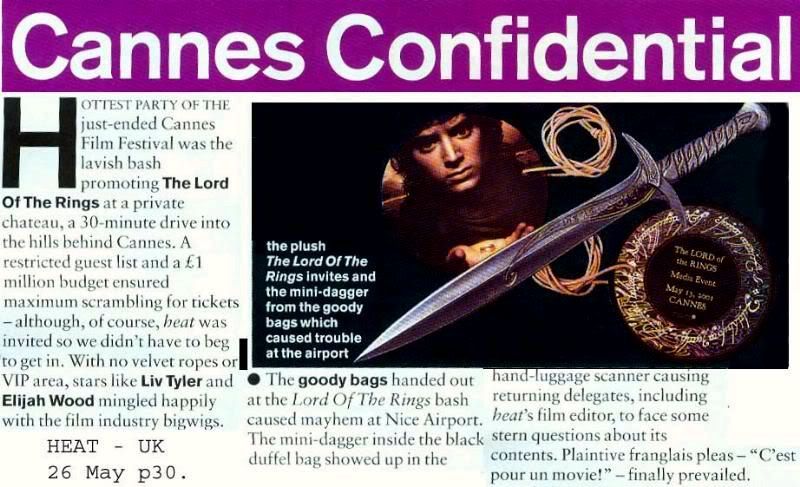 The guests were also given a booklet:
(pics from torn)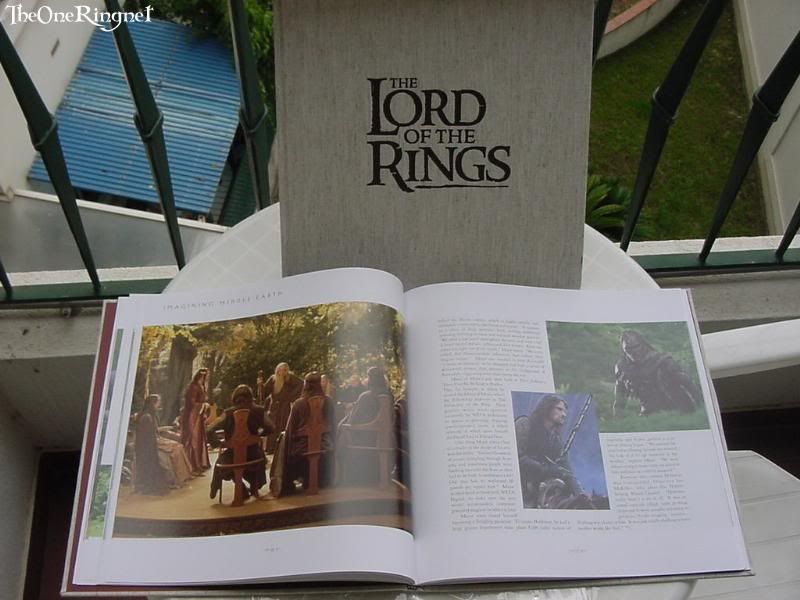 Inside page of booklet signed by some cast members: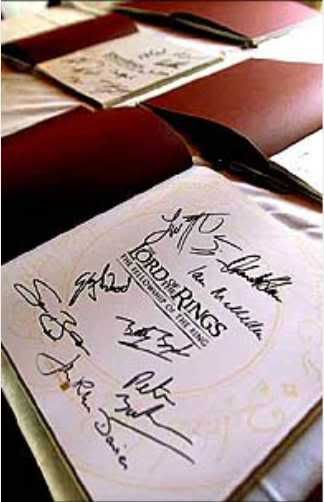 To download this booklet from the official LOTR site, click on the link below:
http://www.lordoftherings.net/legend/lands/cannes/la_cannes_booklet.html
At the bottom of the page, under the sword where it says "click here to view the official lotr Cannes booklet", right click/save target. It's a pdf file so you'll need to have or download Adobe Reader.
"Hey-ho to the bottle I go!"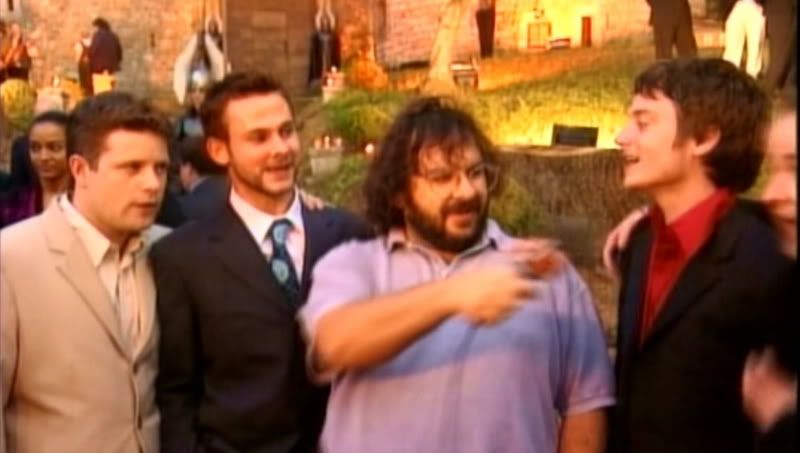 Elijah is amused when one of the photographers calls him 'Nigel'!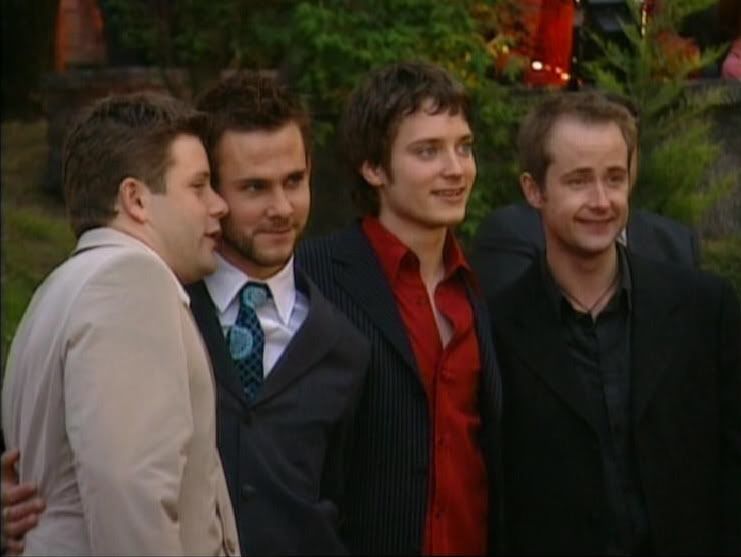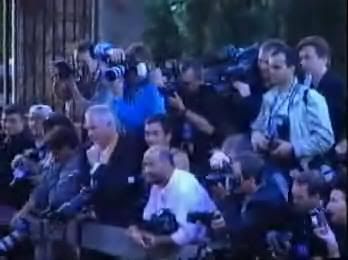 "We're inviting people from the outside world into our world tonight!"

"I think we've worked painstakingly hard to capture the essence and hopefully we have done that."
"There were quite a few famous faces hanging around these infamous landmarks from The Hobbit. We spotted Arwen talking casually with a group of important people from Middle-earth's entertainment business. Like a streak of light, we caught a quick glimpse of Frodo as he bolted by to meet up with Samwise." (torn)
"Asked what would Frodo say if he were to witness the festive spectacle, Wood said, "Frodo would just raise his glass." And he did."
(Eonline)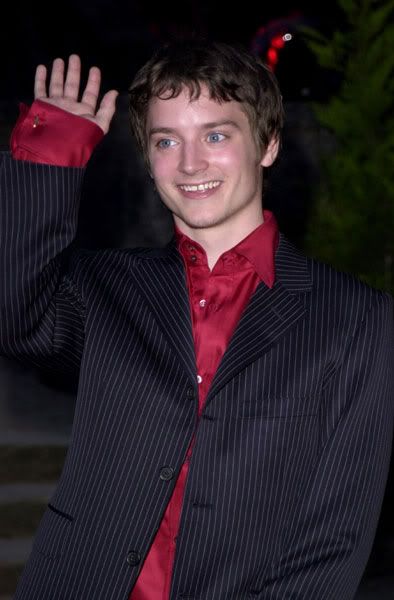 ******
But everyone agrees one human star who will emerge is Wood, with his fine features and big solemn eyes, that make him look like Winona Ryder's little brother. As Lee says: "He looks like an elf. I know he's a hobbit here, but he has a very Elvish face, and it's instantly recognizable. I told him, after December he won't be able to walk down the street."
******
TO BE CONTINUED

Link to all chapters: "A JOURNEY WITH FRODO"
comments: Leave a comment