| | |
| --- | --- |
| Tags: | a journey with frodo |
| Current Music: | pokarekare ana - Hayley Westenra |
| Security: | |
| Subject: | A Journey With Frodo - Ch.22 ~ "IT IS COMING!" |
| Time: | 08:30 pm |
| Current Mood: | nostalgic |
Tomorrow it will be exactly 7 years since I saw FOTR for the very first time. It was also the day I discovered Elijah Wood! At the end of this latest chapter of A Journey With Frodo there is a quote from someone who, after seeing some footage from the film, knew that he would want to see Elijah through this story. By the time the film ended that night seven years ago, I knew I'd want to see him through the story and way, way beyond:)
For anyone unfamiliar with my pet project, 'A Journey With Frodo' (a work in progress) is the story of Elijah Wood's experience in becoming Frodo, from back in 1998 when the LOTR movies were just a whisper up to the triumphant Oscars of Feb 2004. In reliving Elijah's journey, and mine, I am using everything I can lay my hands on - behind-the-scenes material from the various dvd's, magazine articles, books, internet sites, tv coverage, word-of-mouth info, etc. Previous chapters can be found here
"A JOURNEY WITH FRODO"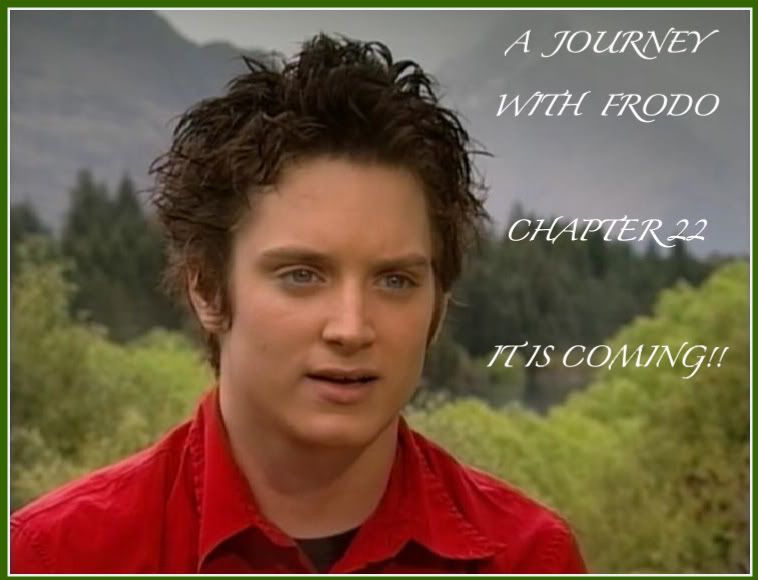 ---
"Fans hungering for more LOTR publicity will have to wait a while. After the media blitz in Cannes, Ordesky said they will not do any press for many months. In fact, there will likely be a blackout of sorts. With six months until the release date, the New Line team, wary of overpromotion, is content to let the buzz build on its own. As Ordesky put it, they don't want to 'do a Godzilla'. Look for the campaign to resume --gradually--in the fall. (Eonline)

A media blackout maybe - but there were always fans who were only too happy to report on hobbit sightings!!

Shortly after his return from Cannes, these two fans were lucky enough to bump into Elijah at the E3 games event in California: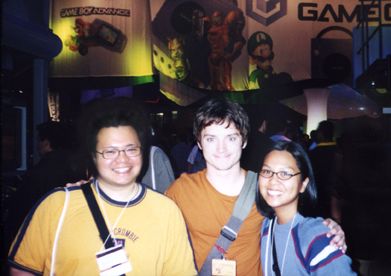 During May and June of 2001, Elijah returned twice to New Zealand for pick-up filming, along with other cast members - a couple of sightings from that time as reported by theonering.net:

"Elijah Wood and Liv Tyler were recently spotted having lunch in a trendy Wellington café. Official word is they're back for dialogue rerecording, but inside sources say they've been recalled for some reshoots. Also rumored to be in town are Sean Astin, assorted Hobbits and Viggo Mortensen."

By the end of June they had all returned home:

"After a pick-up filming involving several of the film trilogy's stars, including Liv Tyler, Viggo Mortensen, Elijah Wood and Sir Ian McKellen, film spokeswoman Claire Raskind yesterday confirmed that all had now left the country."

As Elijah was saying goodbye to PJ and Fran before leaving for the airport, following the last pick-ups, they presented him with a very special gift:.

"I opened this beautiful wooden sculpted box and there was the Ring", he whispers with endearing reverence. "We used a few in filming, but to me, this was the One Ring. Of course I can't wear it - I might become invisible! - but I'll treasure it forever as an heirloom. Amazing". ( Interview by Jo Wiltshire, Mail on Sunday)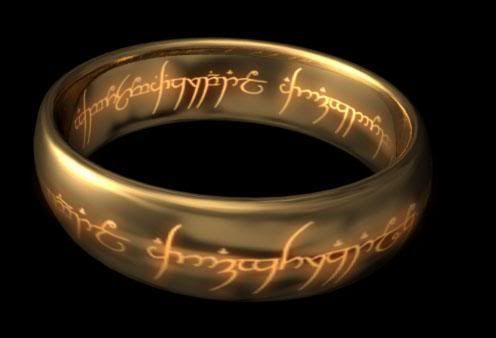 Also in June, theonering posted the following report:

"Wood, Mortensen and Hill: Three Amigos

Ringer Spy Ryan sends along word of his encounter with some LOTR Cast members!

My girlfriend is working on a movie that Bernard Hill (Theoden) is currently in, and he told her that he was bringing "some hobbits" to the set last night. So she had me come up to visit on the off chance that I could get an autograph or two. Sure enough, I was lucky enough to meet Bernard, Elijah Wood (Frodo) and Viggo Mortensen (Aragorn)!
Now, much has been said about how nice Elijah Wood is, but I've got to tell you that he is probably the nicest, coolest person I've ever met, especially considering the whirlwind that is already starting to spiral around him. He was particularly impressed with my 1973 Ballantine FOTR paperback, which was cool. All three of them were gracious enough to sign my book. (I was thinking about scanning the page for you to post, but I decided against it out of respect for the three of them.) I really liked what Elijah wrote: "Enjoy the journey." Elijah still has a definite accent from the role. I mentioned it to him and he was shocked, but my girlfriend and I both thought it was pretty obvious.
They were also more than happy to show off their tattoos, which were beautiful (Elijah!! Send me a pic of that tatoo!! -Xo). Bernard also has a tattoo, of Theoden's stamp, which is a lovely, intricate square. Unfortunately, I was too excited to make any sort of decent conversation, so I really don't have anything newsworthy to report, just that all three of them were incredibly nice and positively enamored with the project."


---


San Diego ComiCon - July 2001:

Elijah attends ComiCon - not as a participant but as a spectator:

"I actually went to a comic convention earlier this year, and I thought I could just go - naively, I thought, I'll just go and see some friends, some people from WETA digital and WETA effects were there. So I went and visited them and you know, it wasn't easy. In fact every time I stopped I got surrounded by a group of 'Lord of the Rings' fans." (Big Schmooze tv interview)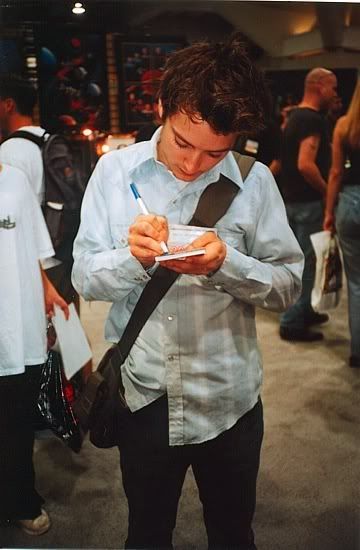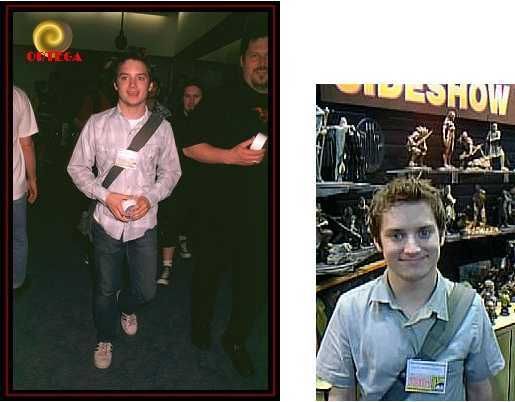 Extracts from 'New Line Footage at ComiCon' by Tookish, theonering.net:
"A packed house of what must have been more that 2,000 people were treated to a wonderful glimpse into Peter Jackson's Fellowship of the Ring on Saturday, July 21st. Fans waited for over two hours to not just get good seats, but get seats period, and I'm estimating at least another 1,000 people wanted to get in ...

"Finally the familiar tones of the second theater teaser oozed from the speakers, and even though I've watched it dozens of times, goose bumps stood right up on my arms as Gandalf demanded, "Is it secret!? Is it SAFE!!?? The sound was amazing and it was a treat to see the teaser on those huge screens. After this was a transitional graphic or two (which popped up a few times) featuring New Line's wonderfully crafted LOTR logo and then suddenly we were in Cannes!

It looked like the wizards and hobbits put aside some time in France to set up what we saw this weekend. Ian Holm, Ian McKellen, and Christopher Lee each in turn gave a hullo to the Comic-Con audience and LOTR fans. It was a treat to see them together out of costume and Ian Holm kicked off the piece. I don't remember who was next, but the Voice of Saruman just about pinned me to my chair. Ian McKellen spoke right to the heart of the fans, saying that Peter Jackson and each one of them had made this film for US. He said that it was the fans that made the production possible and without them the project would never have come to pass.

After these three heavyweights came the four hobbits! They look great together, natural and comfortable. Elijah Wood, Sean Astin, Billy Boyd, and Dominic Monaghan each spoke in turn. They also said hullos to the fans at Comic-Con, shared their enthusiasm for the films, and introduced the next segment.

Next came two separate pieces that looked like they could have been part of a 'making of' documentary, additional material for dvd releases, promotional footage to use for specialized television segments, or something of that nature (PURELY my personal speculation folks). The first focused on creating and filming Hobbiton, and the second was all about Nazgul."

Comic-Con Day Three:

"Did I say things couldn't get better? Nothing can compare to some of yesterday's events, but this day was AMAZING.
Day Three began with the New Line Lord of the Rings movie preview. All that great footage was immediately followed by Quickbeam and me running into Elijah Wood! The pictures you see on the site are from that encounter. He took photos with us, and also signed both of our books. Elijah was swamped with fans and he gladly posed for pictures, shook hands, and chatted for a few minutes. Then he headed off to one of the presentations along with his friends. It was neat meeting Elijah like that! He said he was having a great time at the convention, and as you have heard from other fans, he was spotted all over. Elijah was very nice and now that I am starting to relate his voice to that of Frodo Baggins, it was a special treat."
Elijah with Tookish: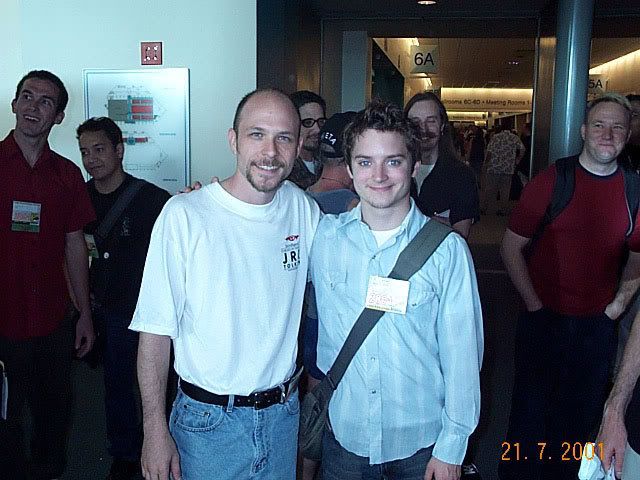 "We jumped into a couple cabs and before I knew what happened I found myself hanging out with Elijah! We were alone together for about fifteen minutes and talked about LOTR and every day things too. TORN fans will be excited to know that he is a site visitor, and his mom is a site regular (Hullo Elijah's Mom!).

Eventually the group was ready and we six walked to dinner, where our party's numbers grew substantially. This dinner was the high point of my trip. I sat in between two gentlemen from WETA and across the table from Elijah! It was an amazing two hours and it felt like hanging out with old friends."
And from Quickbeam ...
"Mr. Elijah Wood proved to be excellent and beyond patient. After the LOTR footage there were swarms of fans who piled up on him with flash bulbs, video cams, and pleas of, 'Could you sign this for me?' I happened to be one of the culprits, so I must deeply apologize to Elijah for instigating the crowd. I just couldn't help it. How often does one get the chance to meet the Ringbearer himself!? Later in the evening the whole dining company was in good spirits, as Tookish has already related. Elijah's timing is quick and so are his wits; as the evening wore on he showed his gregarious side even in the late hours. No doubt it was great fun working with him in New Zealand for 18 months!"
Elijah with Quickbeam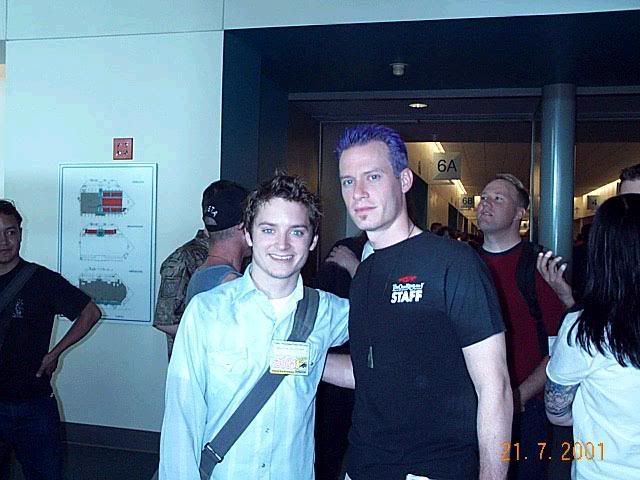 Kevin Reitzel - Dean Irwin - Elijah Wood - Monica Jones - Kyle Heuer - Sean Smallman - Lisa Brinn
"Elijah Wood (Frodo Baggins) takes time out for a snapshot with the Decipher crew in our booth at the San Diego ComicCon"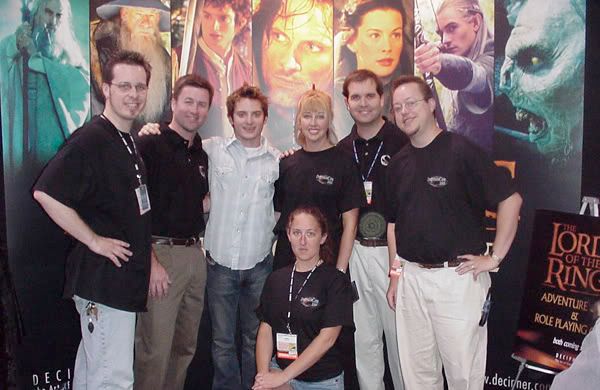 From a lucky fan ...
"Jeffrey sat down on the floor and I crouched beside him. I looked up for a moment and did a double take as Elijah Wood, Frodo himself, walked by us. Quickly I told Jeffrey (who thought I was joking at first), grabbed his hand, and we pursued the hobbit. He stopped to look at a booth when I slipped next to him and uttered a very shy "Mr. Wood?" He turned around and I gushed some sort of babble about how much Jeff and I were excited over the film, how we thought he was a wonderful choice for Frodo, etc. etc. and Jeffrey told him how he had been a fan of his since 'Radio Flyer.' Elijah was very polite and kind, as well as softspoken with his 'thank you's' and whatnot. We ended by shaking hands and thanking him for his time." (The Biting Faery, torn)

Posing with fans - a small taste of what life would be like after the release of FOTR: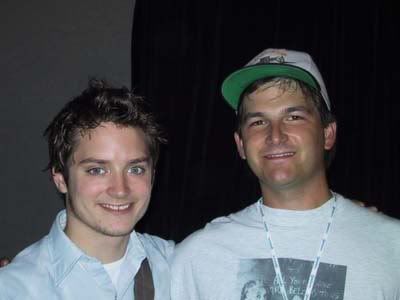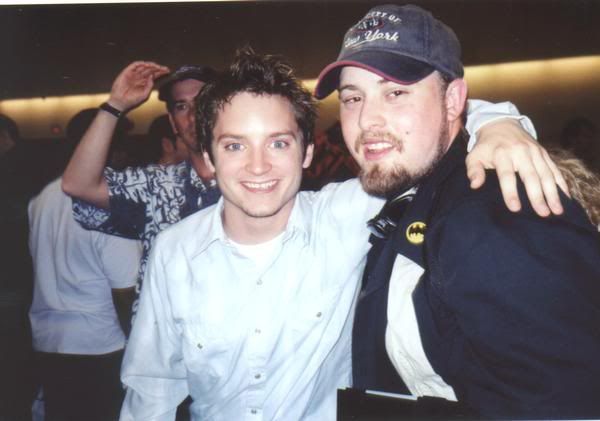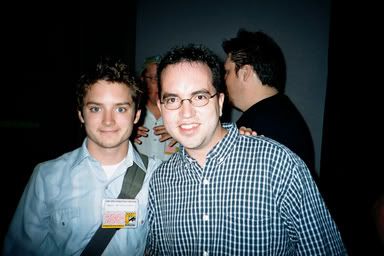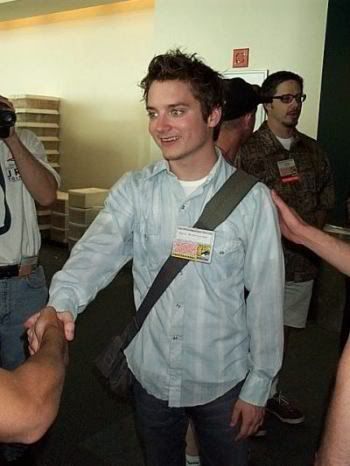 ---


"Cover Boy: Hobbit star Elijah Wood made the cover of August's Premiere. "It's something you can't prepare for," says 20-year-old Wood of the impending media frenzy over Film One, "but as it approaches, it gets scarier." (Eonline)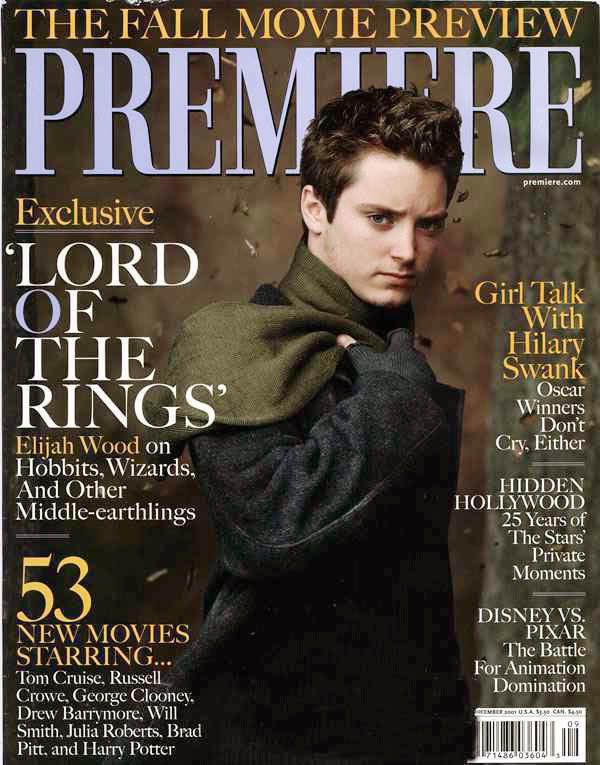 Preparing for a photoshoot - soon Elijah's pic would be popping up everywhere!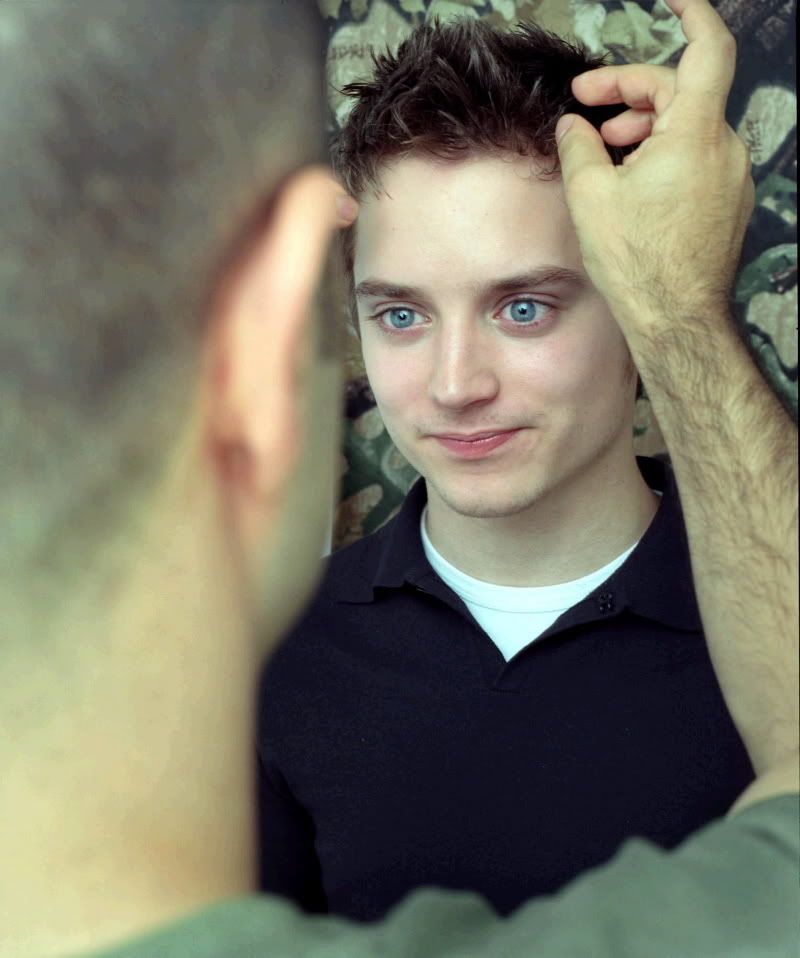 ---


Sunday 9th September, 2001:

Elijah, Orlando and Sean Bean attend an event at the Lincoln Center Walter Reade Theatre. Barry Osborne and Christian Rivers give a talk about the making of LOTR, followed by some footage from FOTR. Some fan reports posted on Torn:

"An event of grand proportions, Middle Earth in the public eye for a small fee of $9. This was quite a show, upon waiting to enter the theatre my wife and I spot Elijah Wood entering the theatre, a shy fellow, all smiles and laughs as fans ask for his autograph on many types of LOTR related material, I have him sign a flyer from Heren Istarion, chat for a few and then to my surprise who walks but Sean Bean, who I expected to be taller than he is, but nonetheless he is has a very commanding presence about him, quiet, reserved but friendly, he signs my flyer as well." ….
SO my friends this event brought happiness to my heart for the treatment that all involved with these films have given to Tolkien's work, each and every person knows the 'magic' of Tolkien's world, the essence and beauty of it, for on the screen it is all apparent, the care and work that went into bringing to life our beloved Middle Earth.(Anthony)

"As the presentation ended and we all drifted back to reality I was thinking how cool it would be to meet the three actors who were there. Unfortunatly we didn't see them as we were heading out of the theater. My wife and friends and I hung out outside for a bit to see if they were coming out but they didn't show. So I decided to poke my head back into the theater and saw a small group of about a dozen people incluing Barrie, Christian, Elijah, Orlando, and Sean! So we rushed back in and waited until a good moment to introduce ourselves. All three were really personable and friendly, though Sean, the oldest of the three, was more quiet and reserved. Each seemed happy to shake my hand and give me an autograph, and I even chatted with Elijah for a few moments thanking him for his involvement with web sites like Ain't-It-Cool and TheOneRing.Net.

I still can't believe I got to see actual footage AND meet the actors who brought to life Boromir, Legolas, and FRODO! What a fantastic, magical, mind blowing evening it was!!" (GB)

"No sooner had the place been seated when suddenly applause broke out behind us. I looked around behind us not sure whom the clapping was for, when I suddenly saw Elijah Wood, Orlando Bloom, and Sean Bean, part of a larger group, sitting in the roped-off section, just a few feet behind us! They seemed very happy to be there and Elijah Wood seemed very shy and normal. There was a LOT of laughing going on among them as they remembered stories with each other and confirmed details of others with the fellows on stage." …

"Afterwards, I was standing in line for the Men's Room when I heard a burst of laughter and then Elijah Wood and Sean Bean came out. I debated the coolness of asking them for autographs, decided the hell with it, and got autographs from both of them. They were both very friendly, but Elijah seemed like such a regular guy and so casual that I forgot that I was looking at Frodo Baggins and Boromir for Chrissakes! I even got to shake their hands" (RP)


---


Two days later came the earth-shattering events of 9/11; my blood still runs cold when I remember how close Elijah came to becoming one of the poor victims of that atrocity:

"On September 11th, once I'd called my immediate family, I wanted to find out what had happened with him, and it turned out he was on a plane that had left just before the hi-jacked four planes. It was an American Airlines flight from Newark to LA and his plane got diverted to Tennessee, or something like that. So I talked with him for a long time from the hotel he was in." (Sean, Xpose mag)

Elijah is interviewed by Steve Zahn for Interview Magazine. Steve and Elijah had worked together on 'Chain of Fools' - the last film Elijah made before starting on LOTR:

"SZ: Did you go downtown and have a look at Ground Zero?

EW: I did. It definitely puts things into perspective. The mood in New York is incredible--the unity of the people, it's astounding.

SZ: It's so true.

EW: think it's the most important thing to come out of what's happened. You know, it's crazy: I actually flew out of New York that same Tuesday morning. My plane took off at about 8:45, which was pretty much the time everything happened. Someone on board said they actually saw smoke coming out of one of the buildings.


---


17 October 2001 - The LOTR Fan Club is launched and the first member - a certain Mr Elijah Wood, is signed up:

"Actor Elijah Wood, who portrays Frodo Baggins, the legendary Ring-bearer, in the films, was so enthusiastic about the idea of a fan club that he signed up as the first member of the club. Since I started working on these films, I've been amazed by how many people have been impacted by this story and how much they care about it at a deep, emotional level, says Wood. The fan club creates one big, worldwide society of Lord of the Rings fans and I aim to be part of that. Besides, I want to be sure Peter puts my name in the credits of the DVD Wood quipped!" (lotr.net)

"Hobbit Boys Join Fan-Club!
AFTER AN ARDUOUS JOURNEY TO MOUNT DOOM, HOBBITS REUNITE THROUGH THE LORD OF THE RINGS FAN CLUB!
The Fellowship of the Ring actors Sean Astin, Dominic Monaghan, and Billy Boyd have joined fellow cast member Elijah Wood in The Lord of the Rings Fan Club.
Frodo did it. Merry did it. And Sam did it. How can I not join them. We Hobbits stick together! remarked Boyd.
The Lord of the Rings Fan Club launched on October 17, 2001, with an unprecedented charter membership program on LOTRfanclub.com.
- only charter members will have the honor of seeing their names in the credits of the movie DVD." (torn)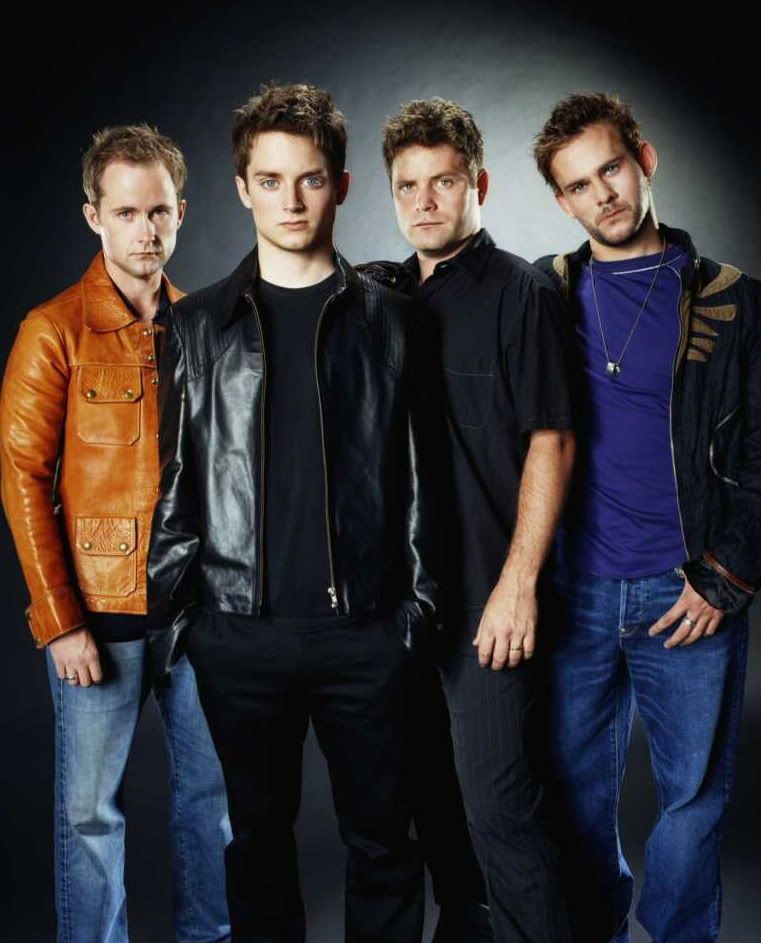 ---


Harry of Ain't It Cool News shares this conversation with Lord of the Rings co-screenwriter Phillipa Boyens at the Austin Film Festival,(in October) where she gave her impressions of how cast members have grown into their roles:

"I recently had the pleasure to spend some time with LORD OF THE RINGS co-screenwriter Phillipa Boyens, while she attended the AUSTIN FILM FESTIVAL... and she did a very good job of staying quiet about the current division of the films, any plot twists or how they've adapted certain sequences. She wouldn't describe the Balrog, wouldn't tell me if it had wings or not... BUT... She did comment on the actors and actresses in the film... and she is absolutely convinced that Orlando Bloom is going to be quite something by the time this series is over. She said that his work as Legolas is simply supreme. Apparently Viggo Mortensen has completely become Aragorn/Strider... that now when she is writing or researching she sees only his image in her mind. Apparently Elijah is going to be breaking our hearts with his transformation over the course of this film. That he's been nailing his dark, under the influence of the ring scenes to a T... his frail and fragile nature under the ring's weight... That you can see from beginning to end a transformation in his eyes... at least as she's seen thus far. One of the most surprising performances for her has been Liv Tyler as she apparently has a very easy natural seeming delivery of Elvish that is just beautiful to listen to... Phillipa then began speaking in Elvish... albeit in a Kiwi accent... and I just wanted to melt. Too Cool. Christmas 2001 is too far from now."

And in November, Harry reports that someone has actually seen the whole film !. Some extracts from his report:

"I'd seen the film in theaters over 50 times. Star Wars is what made me fall in love with film. I love it warts and all. FELLOWSHIP OF THE RINGS avoids every mistake that STAR WARS made. The acting, the story-telling, at every turn the film is simply, effortlessly perfect."……

"The party scene for Bilbo's birthday plays very fast, but it is during this sequence that you really notice how much you like Elijah Wood. It was strange, it was kind of painful watching him here because he's just so innocent. Those eyes of his, so happy and filled with the simple joys of Hobbit life. I know where this is going so I just empathize with him very profoundly."… …

"And Elijah Wood, I don't think he has a clue how big and popular he's going to be out of this. He's the heart of this film."(Joseph Young)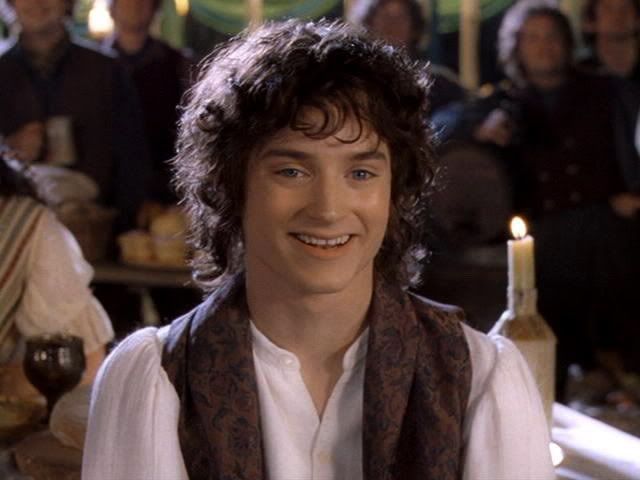 Also from aicn, widemouthfrog has seen 20 mins at a special screening in Australia. Here's what he said about Elijah:

First note: the Hobbit getup on Wood looks superb. The big feet and ears don't look fake, and the movement is completely natural.
... within seconds I felt that the casting of this kid was very smart. He has a very compelling mix of intelligence and wide-eyed wonder... Clearly he will be carrying the films, and he's GREAT! ...
The real thing that stood out for me was how well Elijah Wood seemed to TAKE the screen so confidently. He didn't seem like a kid. He had a sense of dignity and awe that made me feel like "Yup, I want to see this guy through this story."


---


By November, publicity for FOTR was in full swing, the film tie-in books went on sale: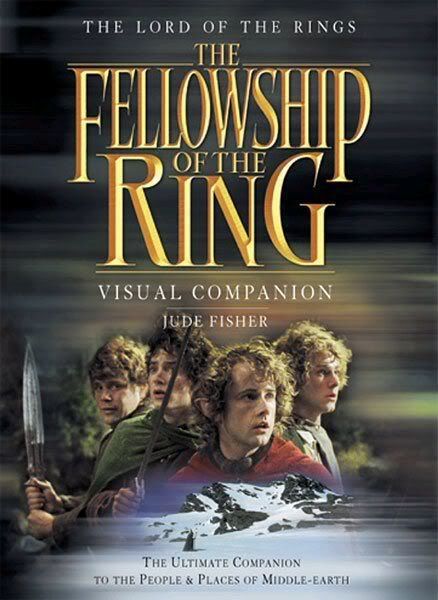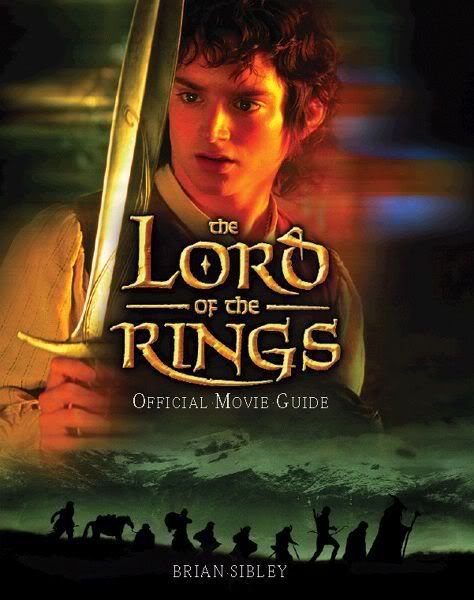 And by the end of the month the first tv documentary is screened:

Quest for the Ring:

"I'm so blessed and lucky to be a part of this project."



During December this was followed by:

TNT Film Stories: The Lord of the Rings


| | |
| --- | --- |
| | "We were all away from home so we tended to rely on each other for company and to get through the experience, so the fellowship we found had become a reality towards the end of this production." |

"I think there was a feeling from everyone that Middle Earth was a reality for us, be it the locations that we were filming at or the incredibly detailed sets that we were filming on – not to mention the various props, the swords with real Elvish written on them so everything did feel like it had a sort of history, that it really was real, nothing was treated as a fantasy at all."

"I just feel really honoured to be a part of it, and aside from that to simply be a part of that experience and to have taken that journey. It's a blessing on my life to have had that experience and to have worked with the people that I worked with and, in doing that, created hopefully something that is very true to the story and true to the books and hopefully the fans will agree."

And ...

A Passage to Middle Earth

Elijah tells us about Hobbits: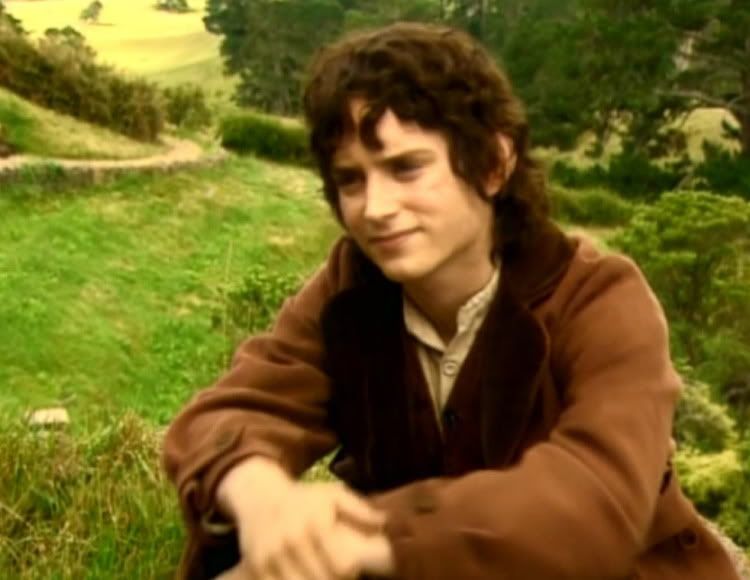 "They're just sort of rural people, there's an innocence about hobbits – they don't know about the evils of the world."

"They love to eat, they love life, they're very passionate people, they tend to want to stay in the Shire, they don't want to leave the Shire, they want to be safe, they want to be where they are comfortable, they don't want to have the idea of any sort of danger, so they maintain an almost childlike innocence."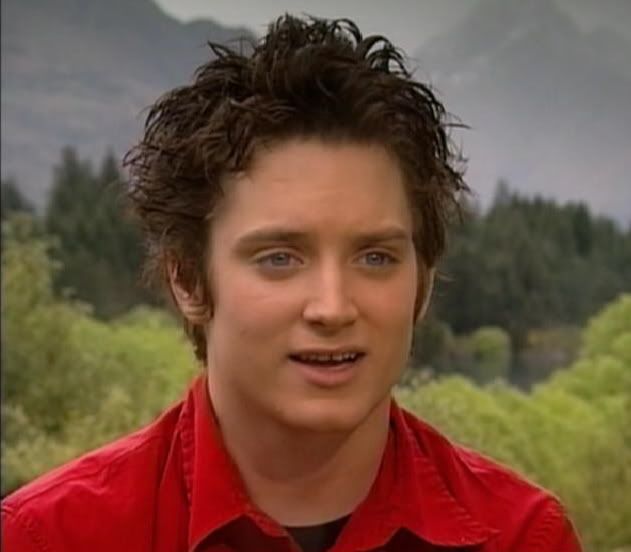 ---


On the 6th December the FOTR press junket was held in New York, described as:
"three hours of nonstop interviews with gangs of journalists assembled on the 34th floor of the Waldorf-Astoria Hotel" by salon.com.

"Bopping into the room - a veteran of many media meetings - Elijah Wood was perfectly comfortable. Or uncomfortable, as the first thing he did was walk across the room and crack the window open, to let in some of the December chill and taxi cab horns from the streets far below. Sporting a brown sweater over a white T-shirt, with tousled light brown hair, Wood was extremely animated as he talked about the movie and the friends he made during the production. Although he wasn't interviewed together with his Hobbit pals, Wood said they are as close as brothers now.
"Last night, all of us, a big group of Hobbits, went to see the Knicks play", Wood said. "We are friends for life. It's interesting because oftentimes you work with someone and you're working so closely that you spend your free time away from that person so you can gain some perspective. But we wanted to spend every one of our waking minutes with each other. It was great. We had such a close relationship, immediately. We truly became brothers in the truest sense of the word. Even now we find ourselves off on little jaunts.. I love them like family." (Press Con Report - LOTR Fan Club Mag)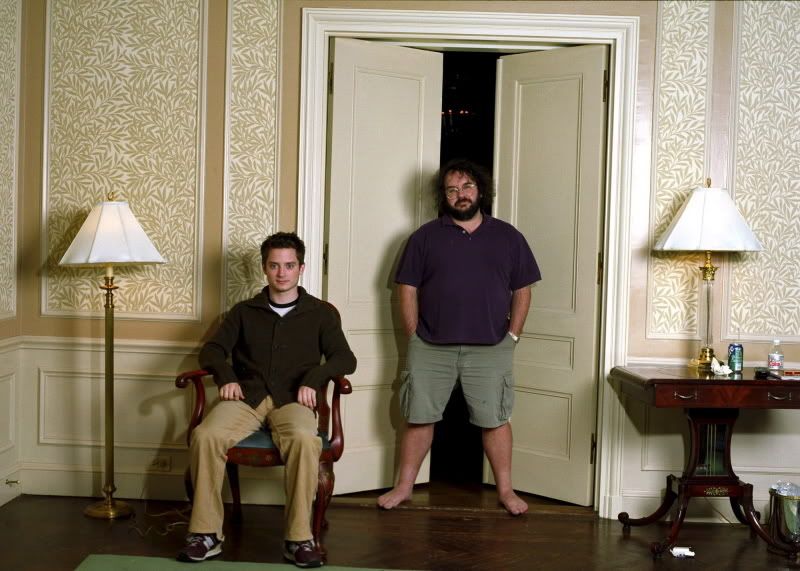 Wood says he appreciated the calmness that Jackson infused into his sets and production."Sometimes he's quite childlike on the set". Wood said. "He's so passionate about what he does, sometimes I'd see him playing out sequences for himself. He was an absolute delight to work with, and he never lost his cool. I was impressed that he was able to maintain his energy throughout the course of this massive journey and get through the most stressful times with that calmness intact. If he'd lost his cool we'd never have gotten through it." (Press Con Report - LOTR Fan Club Mag)


Elijah Wood, the cheerful young man who plays Frodo, would later regale us with a story about Mortensen getting a tooth knocked out in a stunt sword fight.


"Someone asks Wood, the former teen star of "The Ice Storm" and "The Faculty," whose rosy-cheeked innocence begins to age noticeably in his role as Frodo, how he approached playing a character on whom the fate of the world rests. I think the role was my burden, he says. "Just playing Frodo was like my own personal Ring. You know, after all the stress and fatigue, the relationships that we forged became like the reality of the characters in the book. What you see on the screen is real." (press con report -salon.com)

Whilst in New York, there was a very important task which needed to be carried out. Elijah and Orlando had to 'capture' Sean Bean and escort him to a tattoo parlour in order to get him branded with the Fellowship tattoo: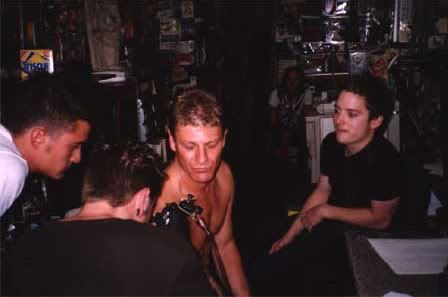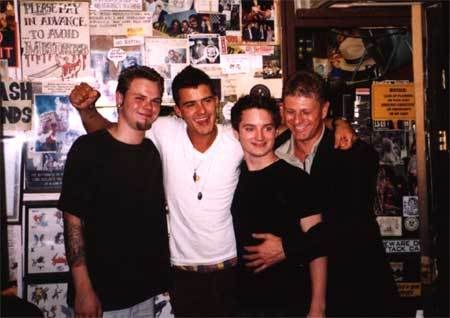 * * * * * *
On 8 Dec, in London for the world premiere on the 10th Dec, the Hobbits appeared on the Saturday morning kids' programme SM:TVLIVE. Sean Bean was also due to appear but was unwell. They take part in a game called 'Eat My Goal':
Elijah and Dom got the ball in the net but sadly Sean and Billy failed to score: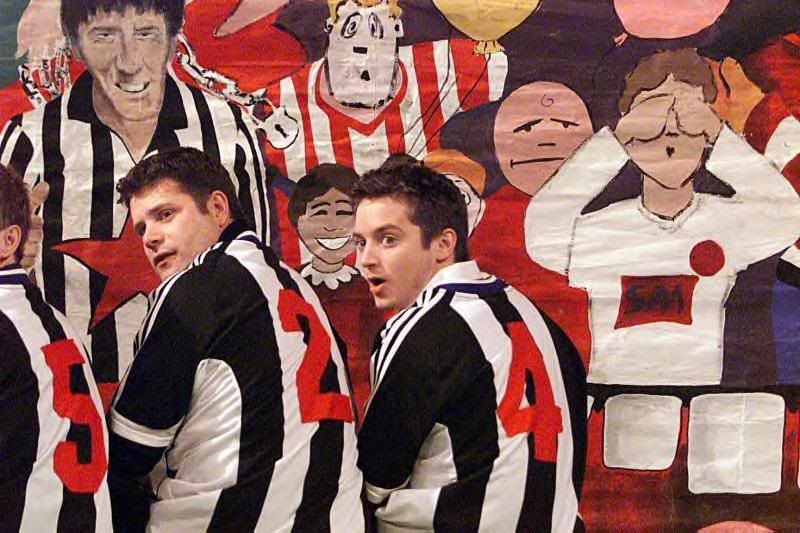 Frodo has just seen a Black Rider!: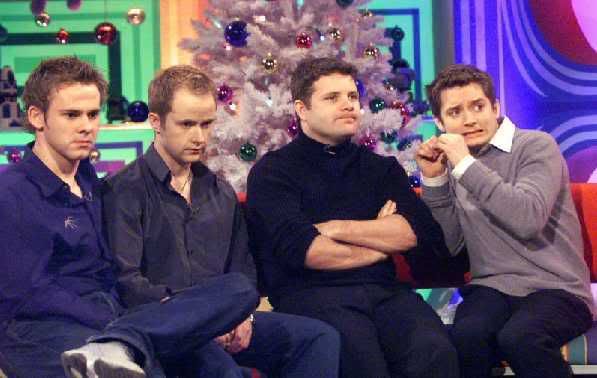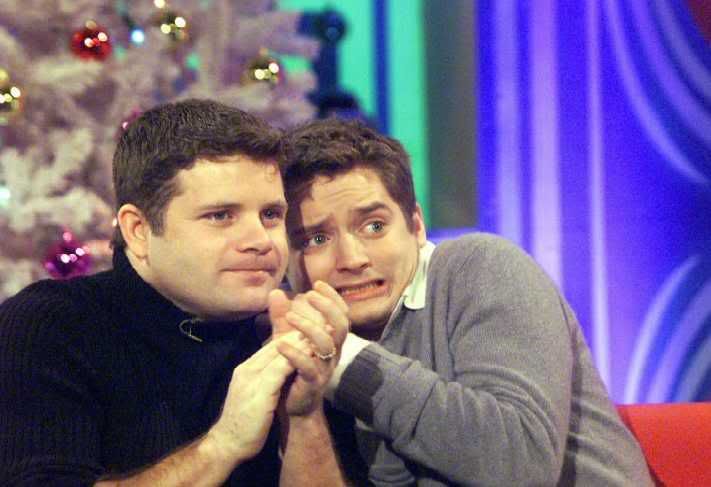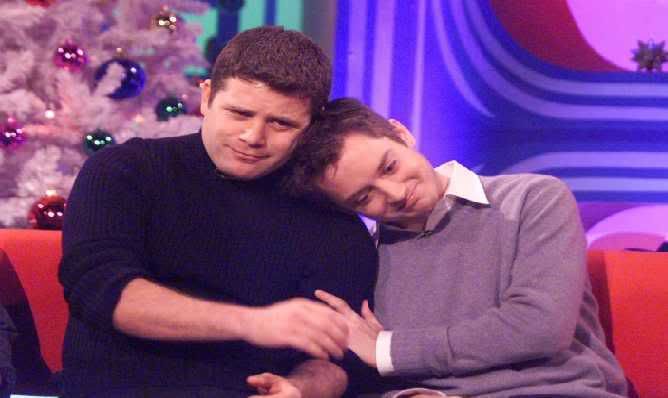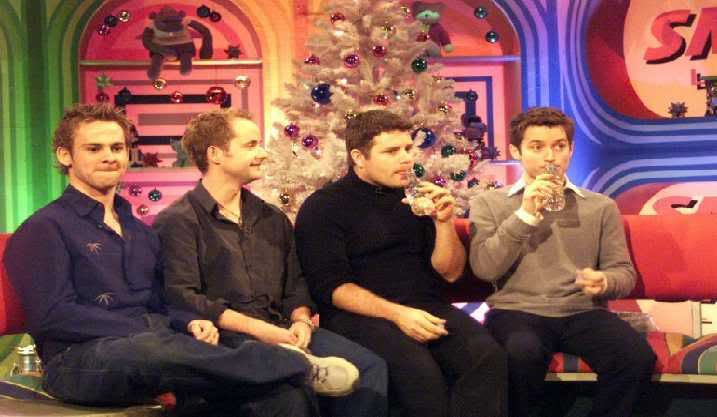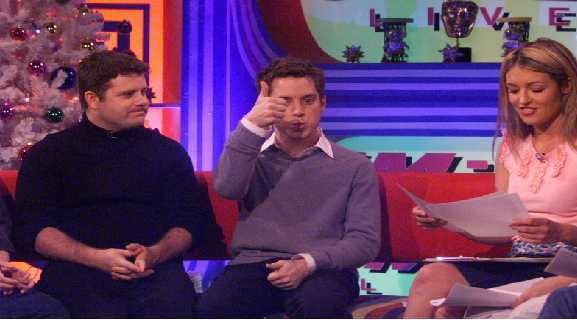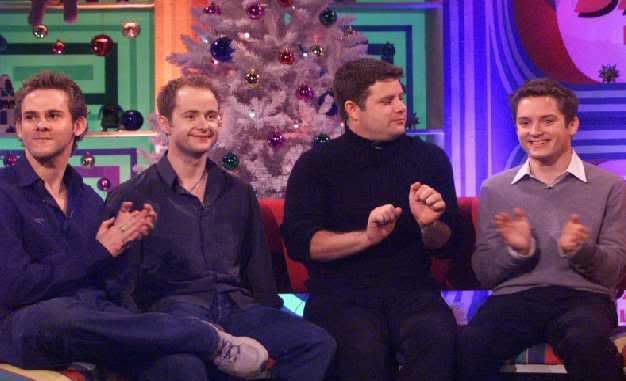 ---
Over at Ain't It Cool News, Moriarty gets even with Harry when he finally gets to view the Cannes footage at a special screening. He is quite excited;) Some extracts:
"And again... I didn't see Elijah Wood in this footage. I've seen Elijah Wood in a number of good films over the years. I'm a huge fan of THE ICE STORM. I've watched Elijah grow up on film, and I've even had lunch with him. The person I saw yesterday was Frodo Baggins. It was obvious when he decides to hide the Ring and never speak of it again. "After all, no one knows it's here... do they, Gandalf?" The way he turns, the way he looks at Gandalf, dawning fear in his eyes... there's something innocent about this poor Hobbit. He has no idea what he's in for, or what is going to be expected of him. "Do they, Gandalf?"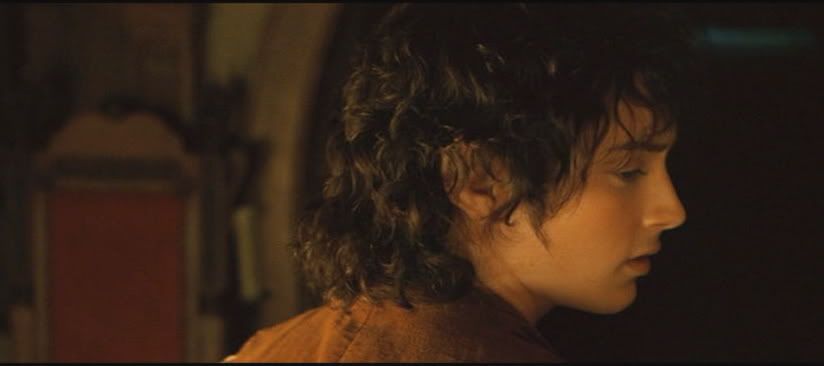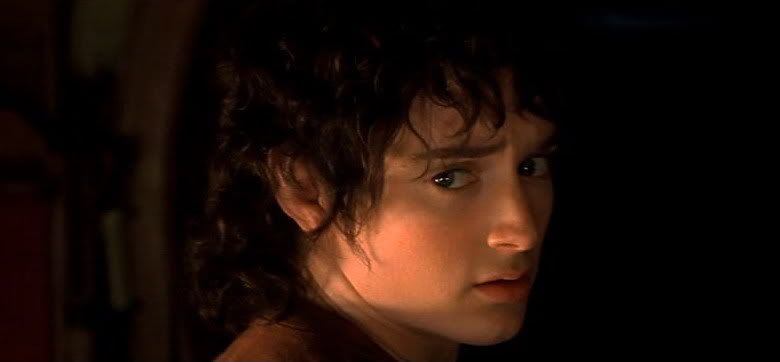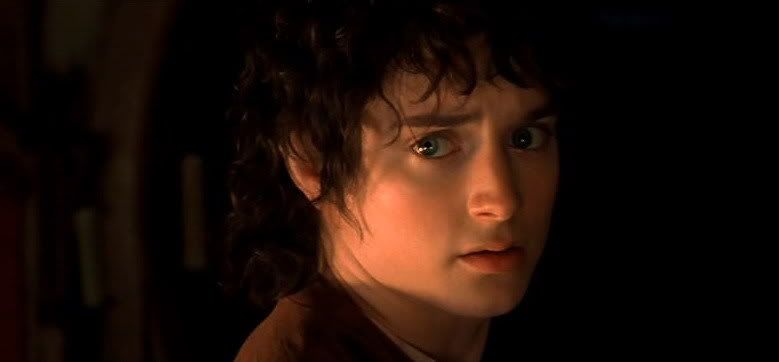 But the thing that got me... the thing that brings tears to my eyes even now, almost two days later... is a series of shots right at the end of what we saw, footage from RETURN OF THE KING. In one shot, Sam is kneeling over Frodo, and they both look scorched, beaten, barely able to draw breath. Sam leans in over Frodo, tears on his face, and says, "It is too heavy, Mister Frodo, and I cannot bear the weight. I cannot carry The Ring." A look crosses his face, something terrifying and determined and undeniable. "But I can carry you!"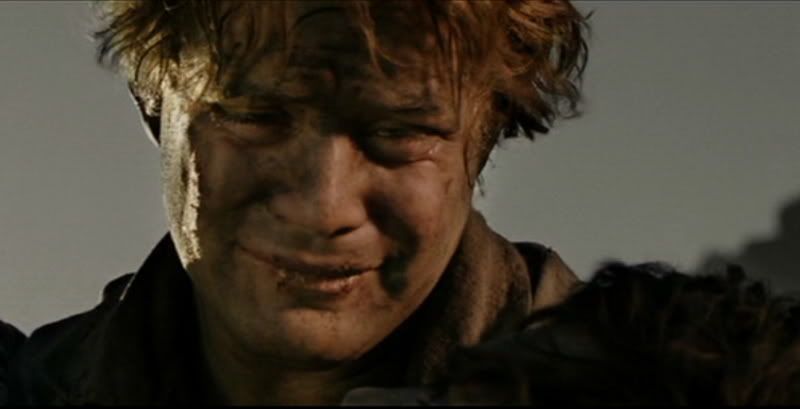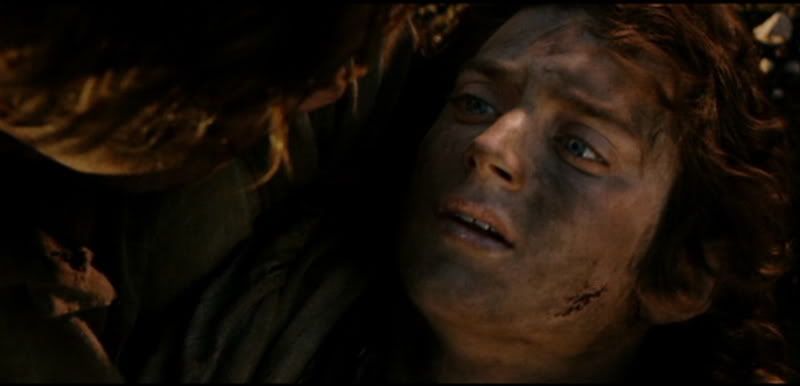 That declaration of love, so powerful in the scripts I read over a year ago, is wrenching on film, and it's only made more powerful by the next image. Frodo stands in the heart of Mount Doom, bathed in its unearthly glow, and turns to face Sam. Something has died in his eyes, replaced by something dark and awful, and he practically screams, "I will NOT destroy it!! The Ring is mine!!"
[Obviously a different take to that shown in the final cut]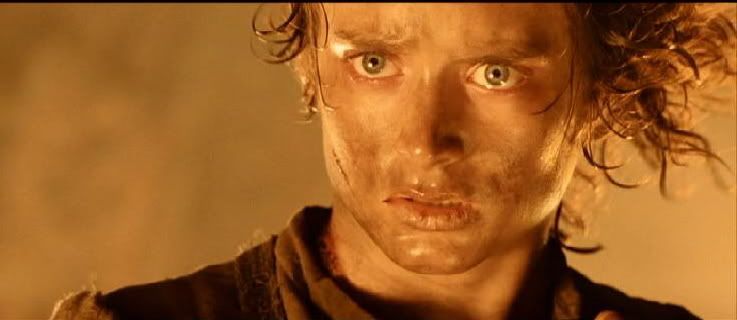 And as he moves to slip it onto his finger...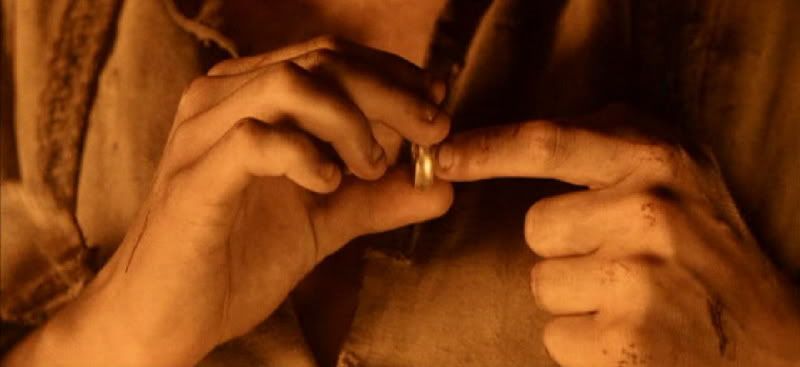 The lights come up.
And I'm sitting in a screening room just off Beverly Blvd. It's a Wednesday morning. Everything's back to normal.
Only it's not. Because I've seen what I've seen now, and there's no turning back. I'm not just eager to see these films at this point. I'm rabid. I'm manic. I've never seen anything like the images I saw yesterday, and neither have you.
You think you're ready. But you're not."
IT IS COMING ...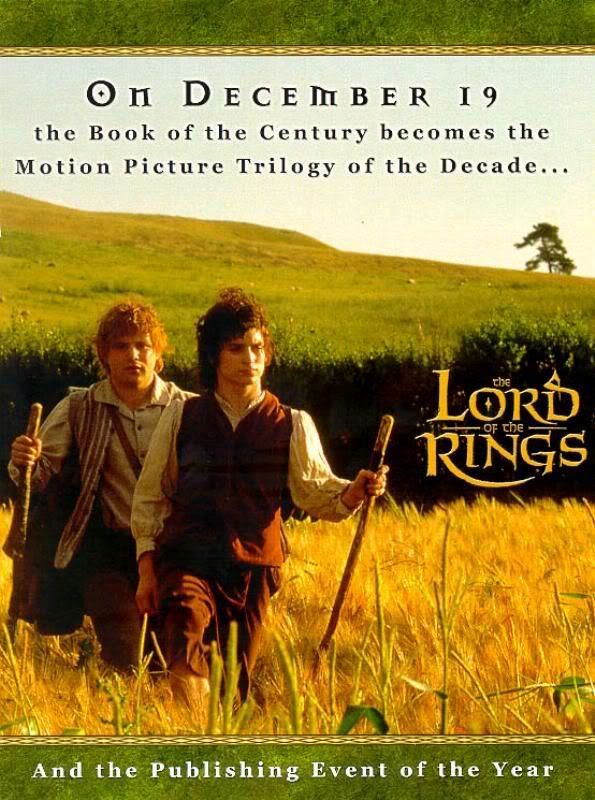 ---
"The real thing that stood out for me was how well Elijah Wood seemed to TAKE the screen so confidently. He didn't seem like a kid. He had a sense of dignity and awe that made me feel like 'Yup, I want to see this guy through this story.'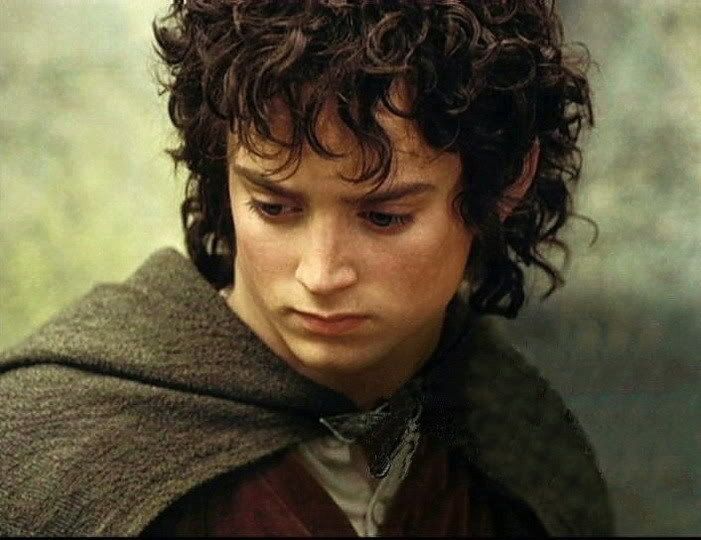 ---
TO BE CONTINUED

LINK TO ALL CHAPTERS:

"A JOURNEY WITH FRODO"
comments: Leave a comment