| | |
| --- | --- |
| Tags: | a journey with frodo |
| Current Music: | i can see clearly now~johnny nash |
| Security: | |
| Subject: | A Journey With Frodo~Ch23~World Premiere |
| Time: | 11:09 pm |
| Current Mood: | accomplished |
With Chapter 23 of 'A Journey With Frodo' I have reached a real milestone - the world premiere of FOTR in London - and I must say that Brian Sibley's article from 'The Making of the Movie Trilogy' has been invaluable in setting the scene with his vivid descriptions.
To finish up a chapter I always like to pick out a quote to accompany the final pic and with this chapter I was really spoilt for choice - there were so many accolades for Elijah's portrayal of Frodo!
For anyone unfamiliar with my pet project, 'A Journey With Frodo' (a work in progress) is the story of Elijah Wood's experience in becoming Frodo, from back in 1998 when the LOTR movies were just a whisper up to the triumphant Oscars of Feb 2004. In reliving Elijah's journey, and mine, I am using everything I can lay my hands on - behind-the-scenes material from the various dvd's, magazine articles, books, internet sites, tv coverage, word-of-mouth info, etc. Previous chapters can be found here
"A JOURNEY WITH FRODO"
And
CHAPTER 23 - WORLD PREMIERE
is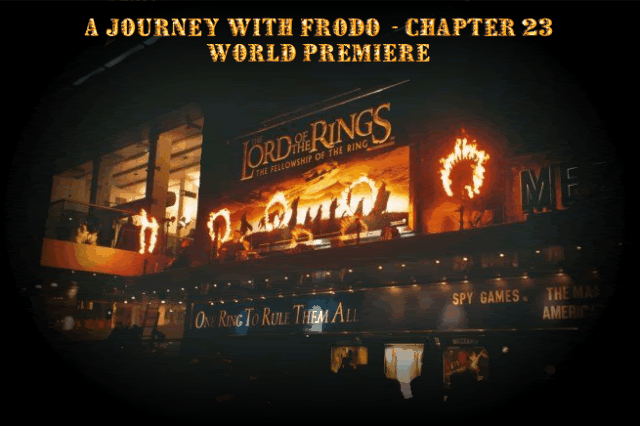 December 2001 - and a massive milestone is reached in this tale as the first film in the LOTR trilogy, The Fellowship of the Ring, is revealed at the world premiere - which is aptly held in London, UK.
9th December 2001 - The Briefing:

From 'The Making of the Movie Trilogy' by Brian Sibley
(All text in brown is from this same article)
"It is like a scene out of a movie. To be specific, it's like a scene from one of those Battle of Britain films of the 1950s in which the intrepid young airmen are being given a last, stiff-upper lip, briefing prior to scrambling to their planes ...

True, the setting and characters are rather different - we are in a sumptuous suite at the Dorchester Hotel in London and those being briefed are stars - but the mood is spot on.

It is lunchtime on Sunday, December 9th 2001 and New Line Cinema's Tracy Lorie is taking the cast of The Fellowship of The Ring through the schedule for the next day's world premiere at the Odeon, Leicester Square.
Around the table sit Christopher Lee, Ian Holm, Orlando Bloom and Weta Workshop's Richard Taylor and Tania Rodger. Everyone is more or less exhausted from two days of non-stop media interviews - as many as fifty a day - and far too tired to do more than pick at the generous spread of fruit, cheese and pastries. At the other end of the room, Elijah Wood and family are lounging on sofas and armchairs along with Dominic Monaghan and Billy Boyd.
The rest of the cast - Liv Tyler, John Rhys-Davies, Viggo Mortensen and the two Seans (Astin and Bean) - are still at it in other suites up and down the corridor: attempting to answer the same questions over and over as if they've never heard them before; trying to think in those much-desired sound-bites; remembering to smile. Ian McKellan is somewhere above the Atlantic on Concorde, en route from New York; and, as of now, no-one is sure whether Cate Blanchett - who gave birth to her son, Dashiell, only three days ago - will be attending the premiere or not.
For those who have made it to the briefing, there is much to take in: the times of departure by car from the Dorchester and arrival in Leicester Square; arrangements for partners, relatives and guests; and the procedure to be followed once at the Odeon Theatre: 'You'll make your way along the red carpet, past the press corps in the pen to your right but, please, do not stop -'
With a perfectly straight face, Elijah asks if it is permitted to wave? 'By all means acknowledge them', he is told, 'but please don't stop and don't go across to the public barriers on the other side -'

'Oh, I was just going to ignore them!' jokes Elijah: a jest that is rewarded with a headmasterly frown from Christopher Lee: 'It's actually very important that we don't stop to chat or sign things, or we'll be there, literally, all night!'

'After all', continues Tracy, making sure that the point has gone home, 'the film is three hours long so must start no later than 7.45.' More instructions follow: once inside the cinema, everyone is to make their way upstairs for a round of television interviews: 'The cameras will be arranged in a large semi-circle and you will be divided into two groups: one moving left to right, the other, right to left...'

Ian Holm sits saying nothing with his hands together, the finger-tips pressed thoughtfully to his lips.

'After the interviews' , Tracy goes on, 'everyone will go back down onto the staircase for a cast photograph before being escorted to the front of the stalls so that Peter can bring you on stage and introduce you to the audience.' Richard Taylor grins at me across the room with the obvious relief of someone feeling glad not to be a star! 'And, when that's over, you will be conducted to your seats and the film will begin. Afterwards -'

'The Party!' someone interjects. But the infinitely patient Tracy has one or two further instructions: about the order and timing of cars from the cinema to the reception at Tobacco Dock in London's East End.

Here there's another interruption, as Orlando Bloom raises a question about how he is going to meet up with his mates who are coming as guests.

Once that has been settled: 'And so we come to what happens when you arrive at the party - ' At which point Elijah remarks hopefully: 'Well, it's just a party, isn't it? Not quite, it seems! There is to be another press line-up and more interviews. Altogether, it sounds as if it is going to be a long, tiring and, possibly, stressful evening.

A quiet finally descends on the room. And it is only then that Ian Holm looks up and says, in a soft voice that drops like a stone into the well of silence: 'Hmmm ... and the rehearsal is - when?'"
10th December 2001 - The Red Carpet:
As it turns out, the event - even without a rehearsal - goes like clockwork. It is a bitterly cold December evening, but the crowds have turned out in force, shunning the blaring music, garish lights and dizzying rides of Leicester Square's Christmas Fair in order to applaud the stars as they make their way along the red carpet to the theatre.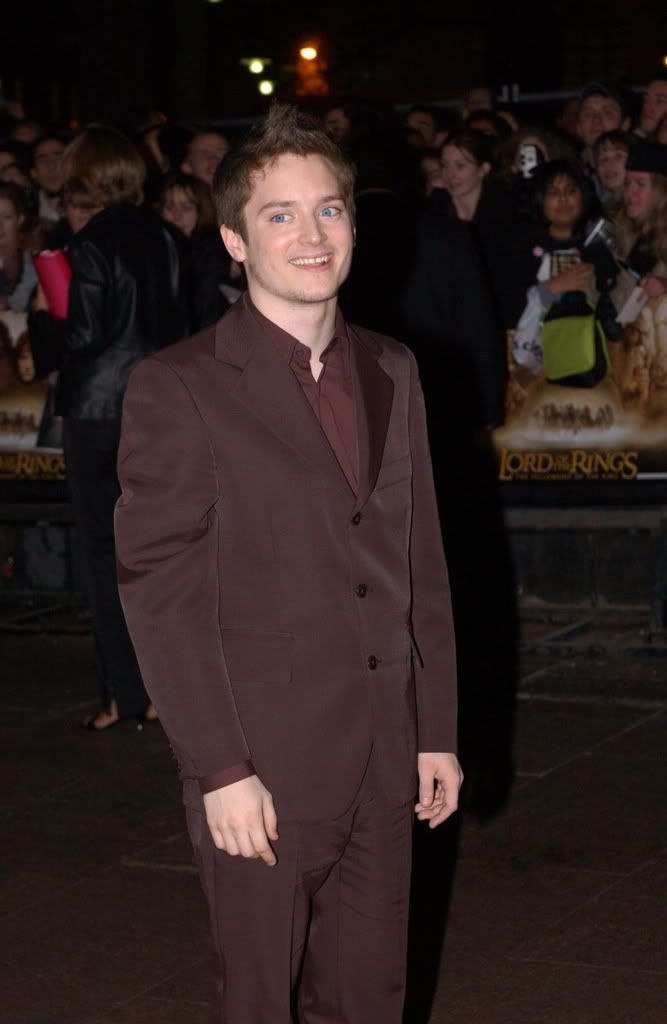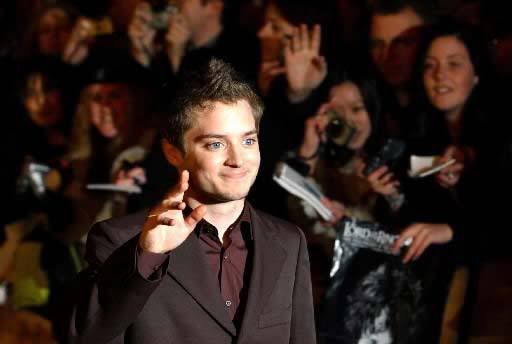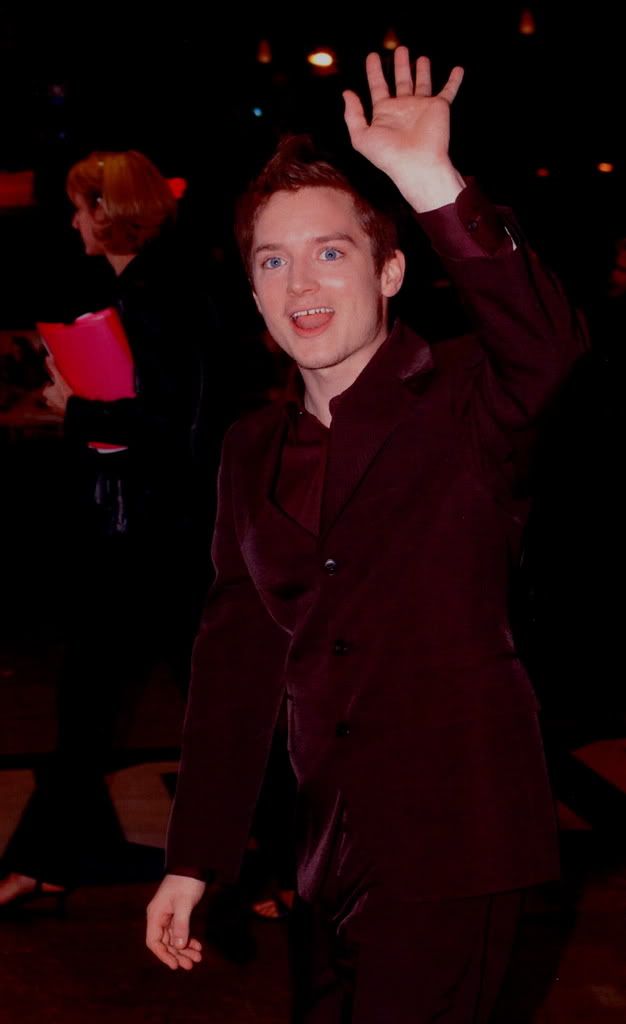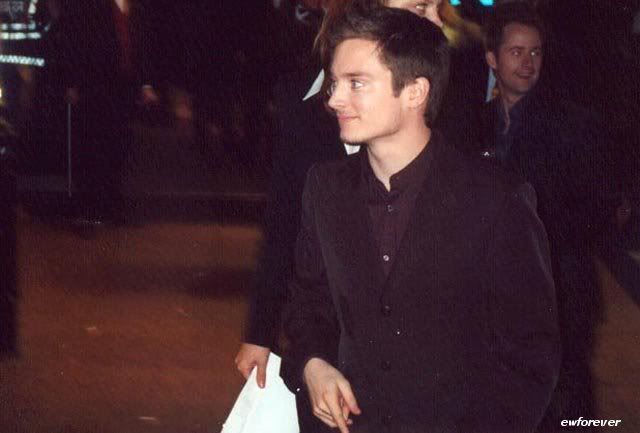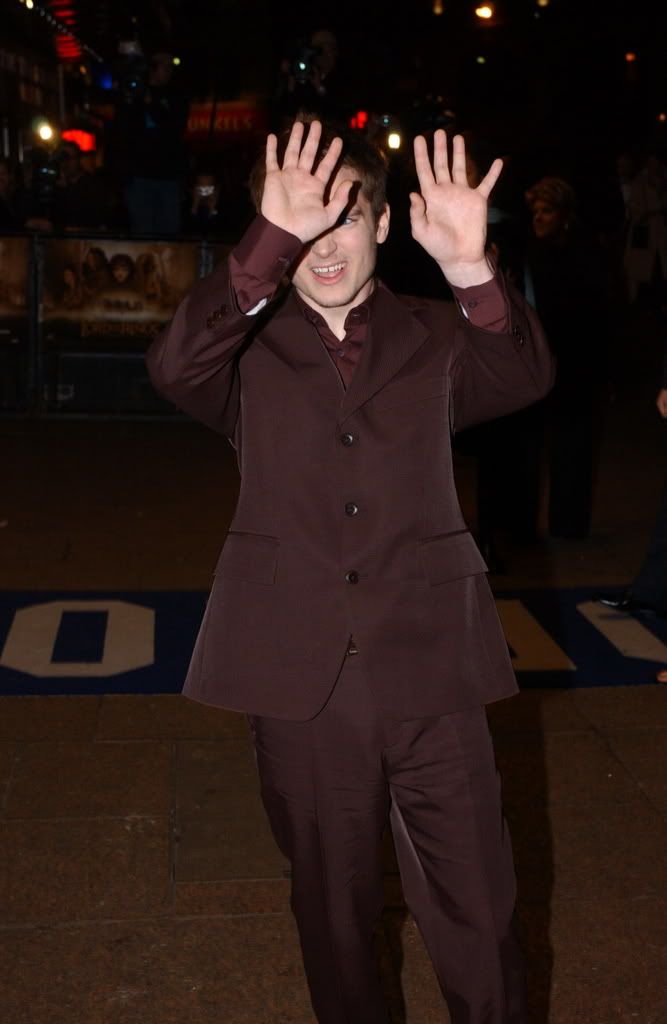 "The hobbits are in snappy suits and stylish open-neck shirts (smart-casual with the accent on smart), the wizards as befitting their status, have opted for a more conservative look with collars and ties..."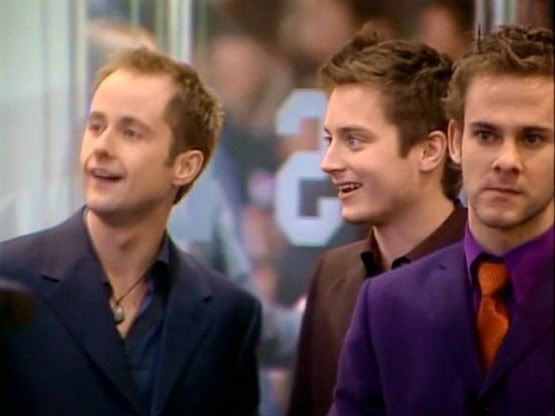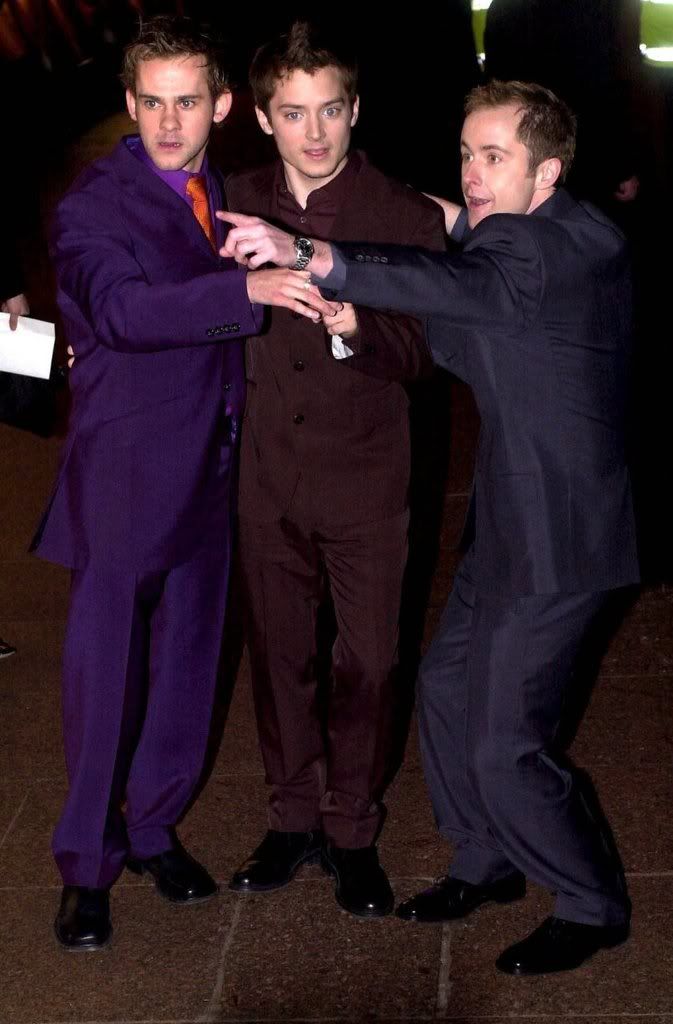 Dominic Monaghan and Billy Boyd spent a lot of time signing further up the line (good for them) but as they neared us Elijah Wood arrived and everything dissolved into a lot of group hugs. The PR wranglers sorted them out and led Elijah to the press bank beside us for photos. Our section was doing the best to get him to sign, but he said that he couldn't. The American beside me had an old, well thumbed, copy of the Fellowship and begged, and pleaded, refusing to give up and, eventually, Elijah took the book and pen to sign the front cover!! Kudos!! The PR wranglers took over again and Frodo was spirited away.
(From fan report, theonering.net)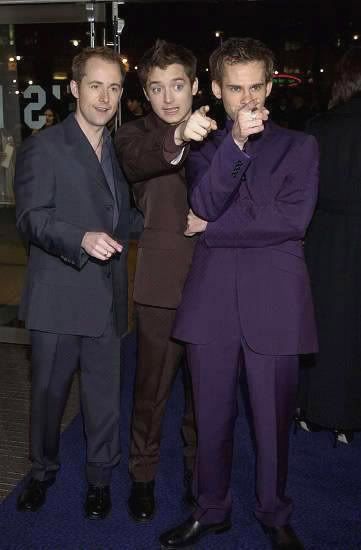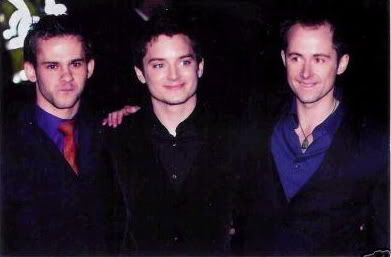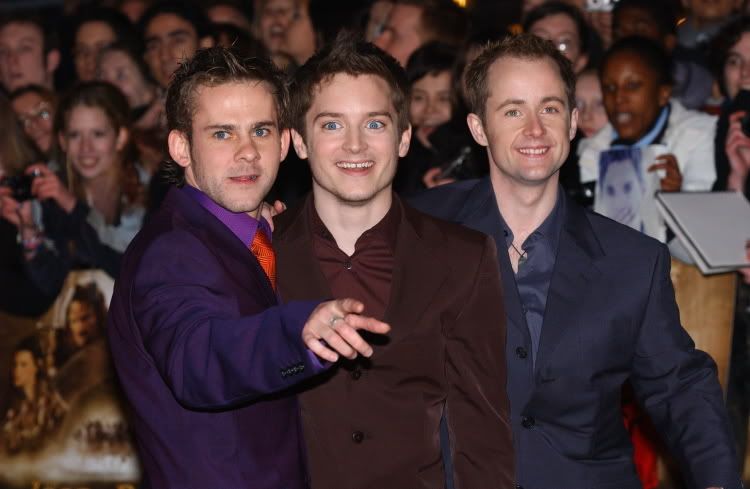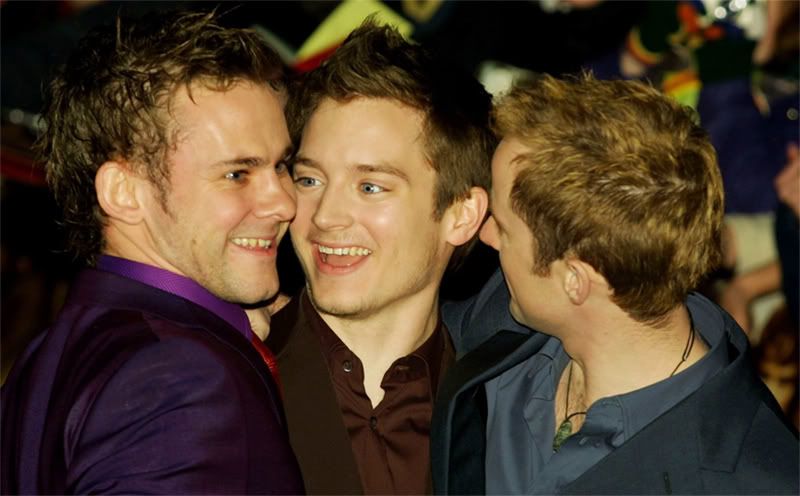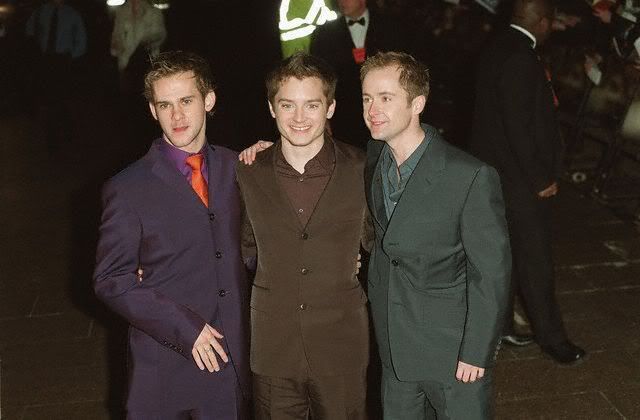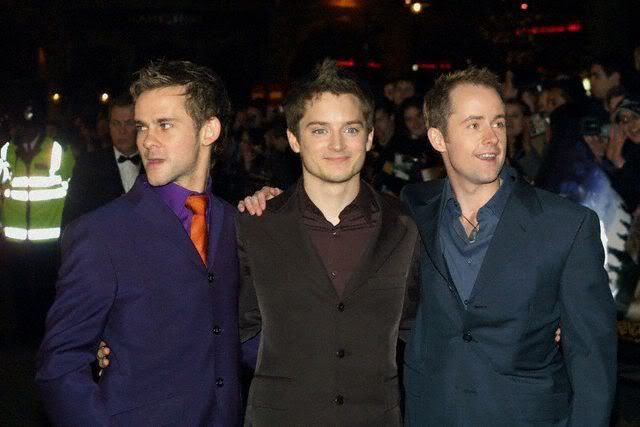 "The fans, many of whom have been loyally waiting for hours, seem oblivious to the icy winds whipping across the square and whistling round the statue of Shakespeare. They are too busy identifying who's who )'That's Viggo! He's Aragorn'), feverishly snapping photos, cheering and screaming: 'We love you, Elijah!"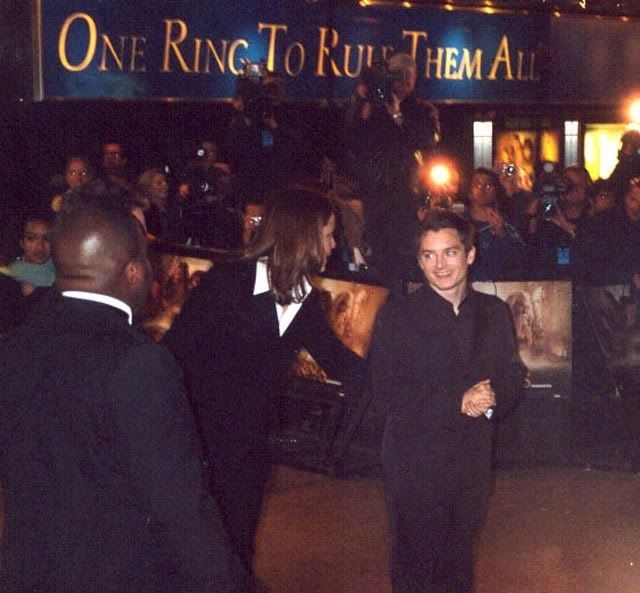 So much for not stopping to sign anything!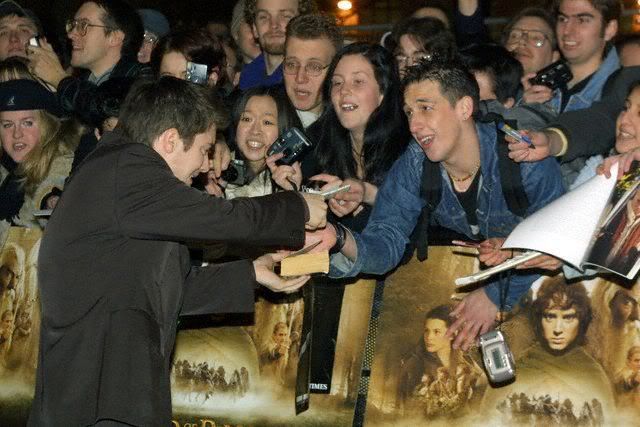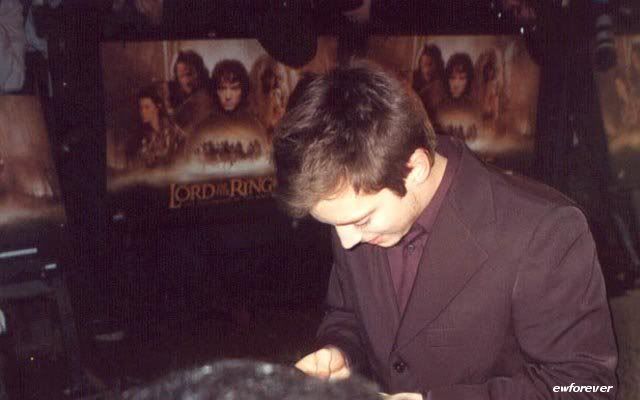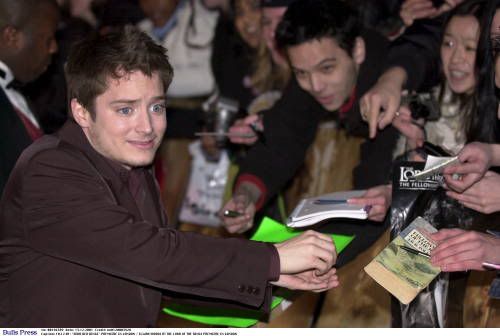 One fan is asked by an interviewer, "Who do you want to see?"
Fan: "Elijah Wood"
Interviewer: "Why?"
Fan: "Because he's gorgeous!" :D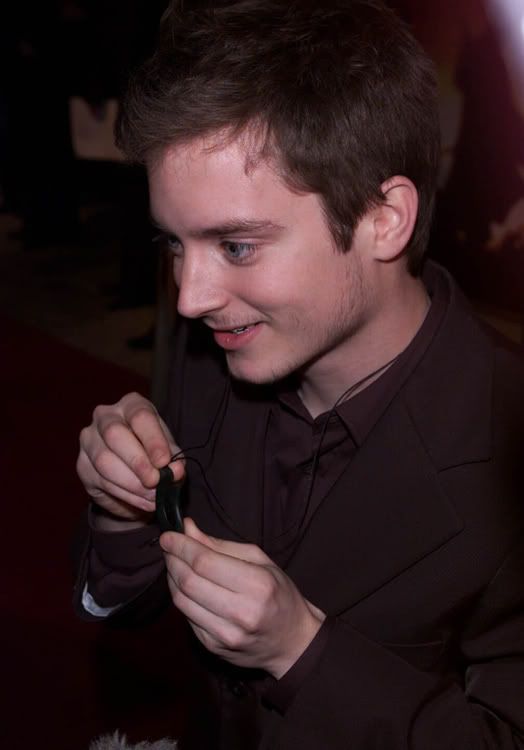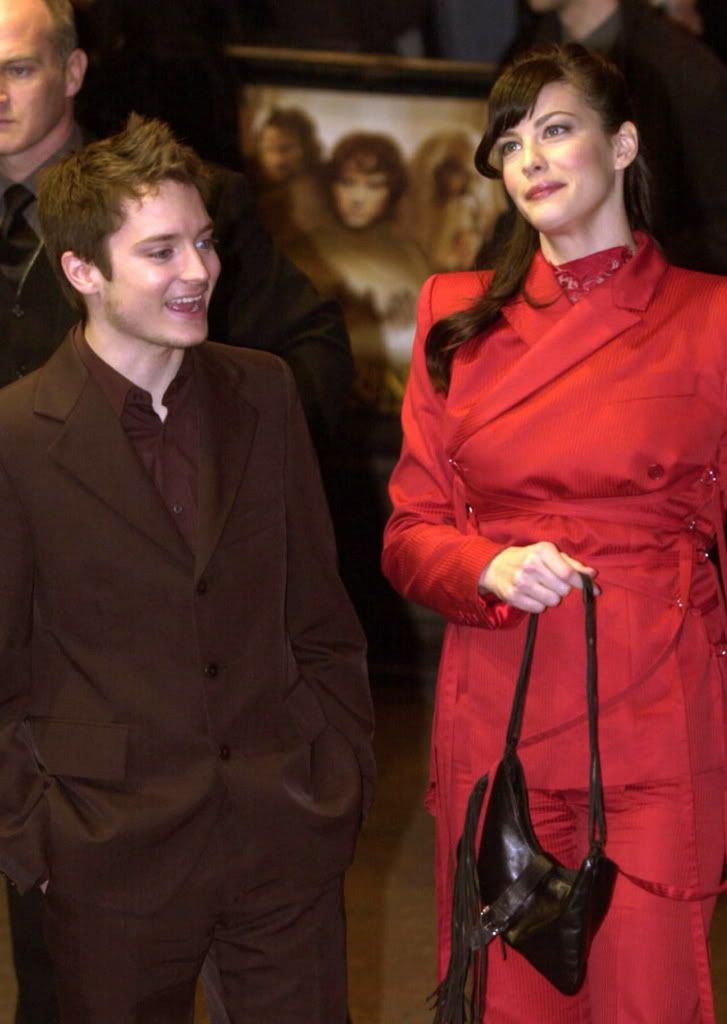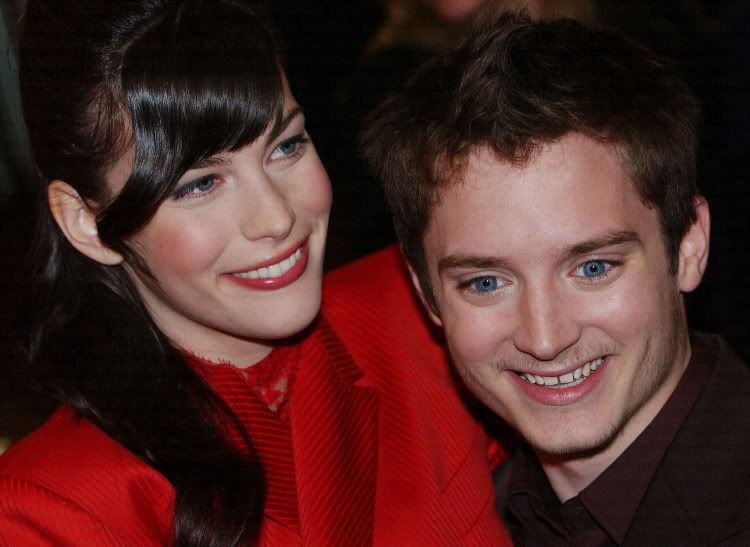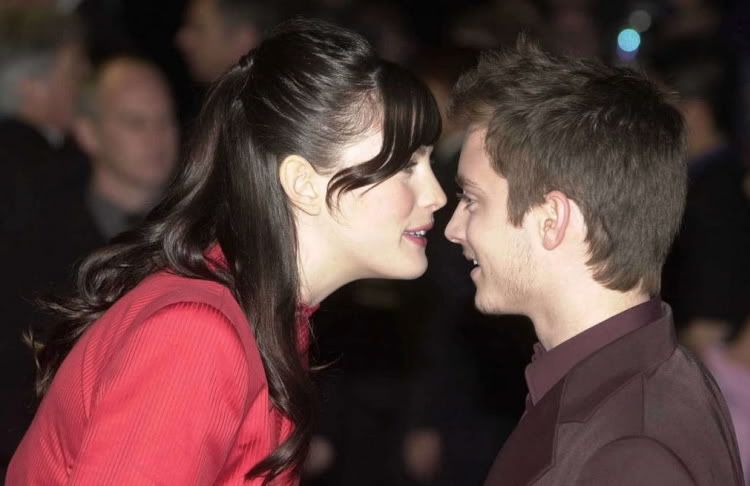 The famous Lij/Orli reunion!!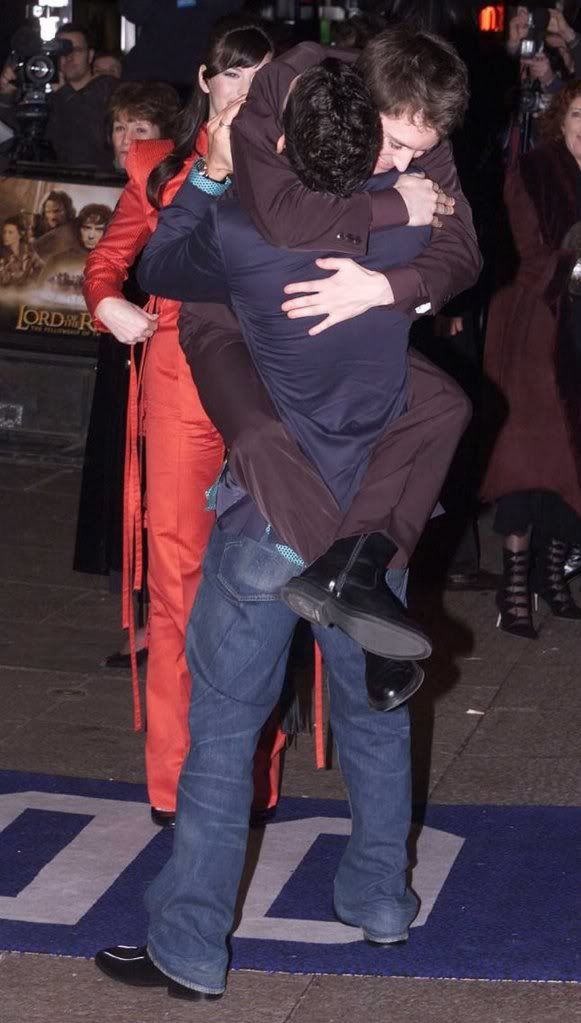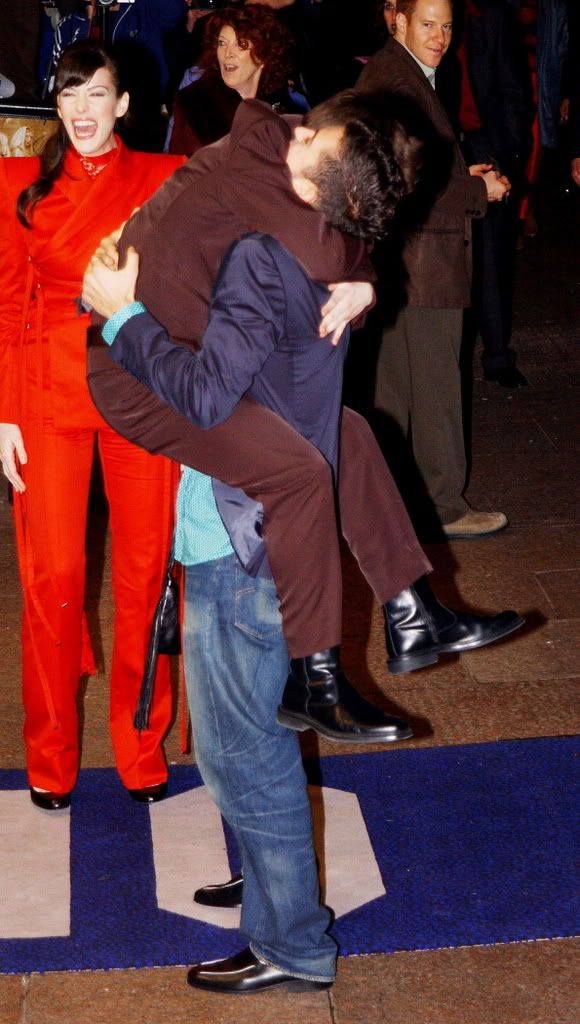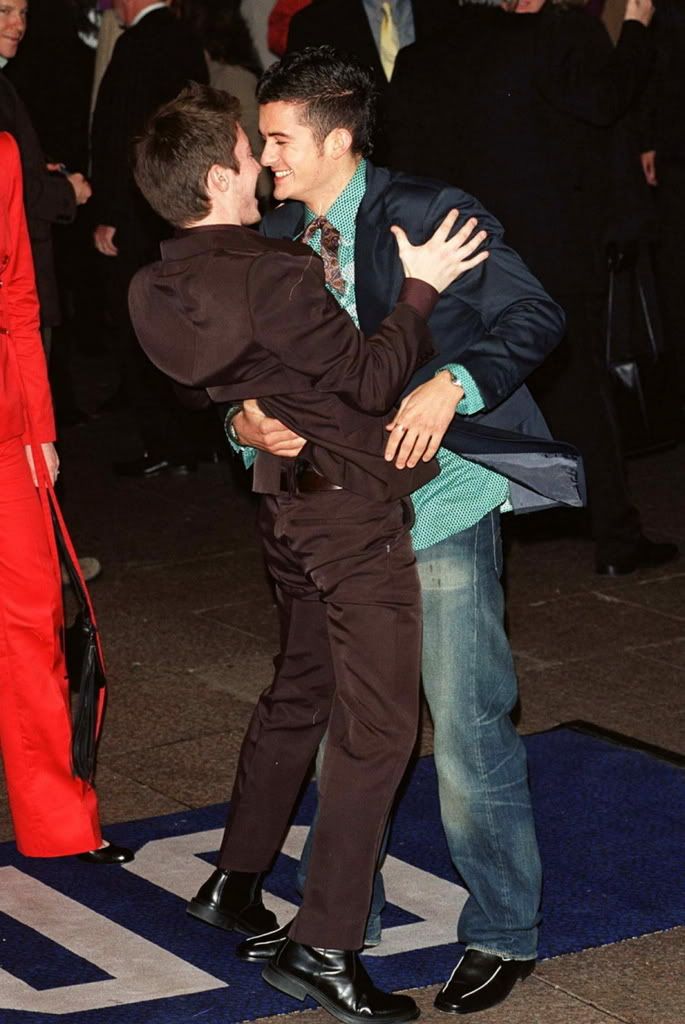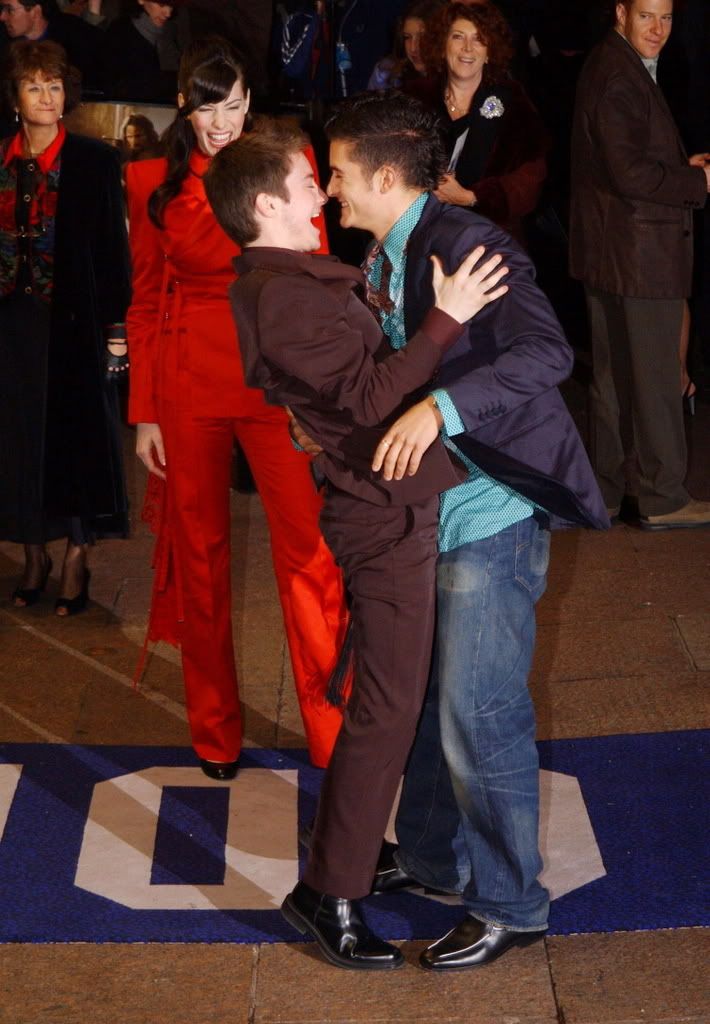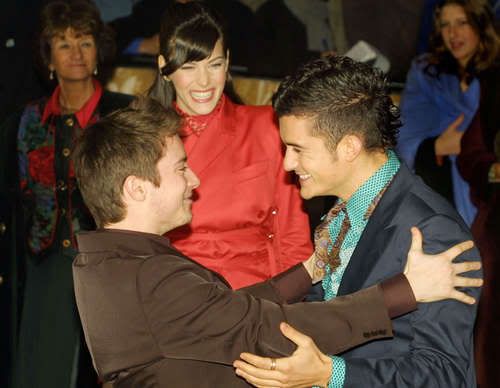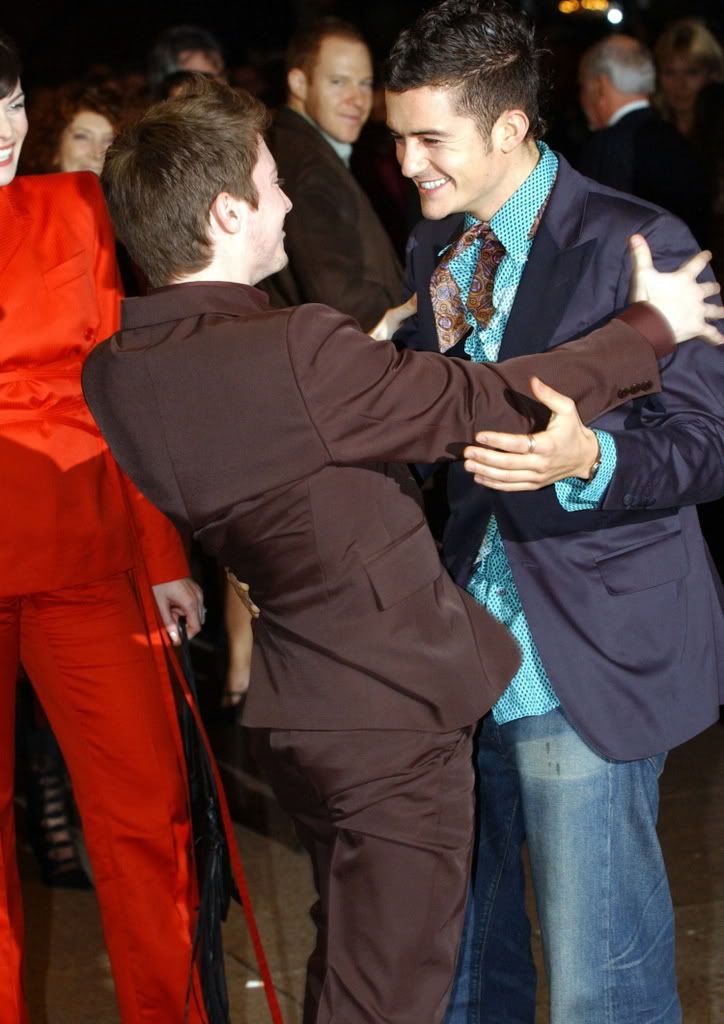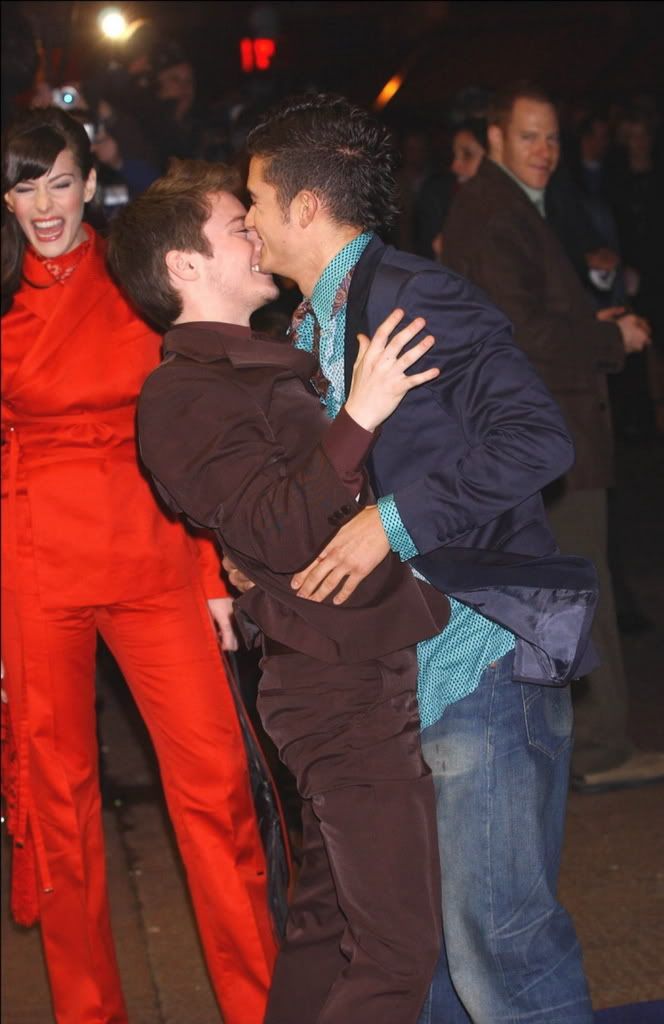 Inside the cinema:
"Inside, the cast carry out their duties to perfection and, eventually, the waiting audience (already well steeped in popcorn) give them a rapturous welcome on stage along with Executive Producers Bob Shaye, Michael Lynne and Mark Ordesky, Producer Barrie Osborne and the man whose night this truly is, Peter Jackson."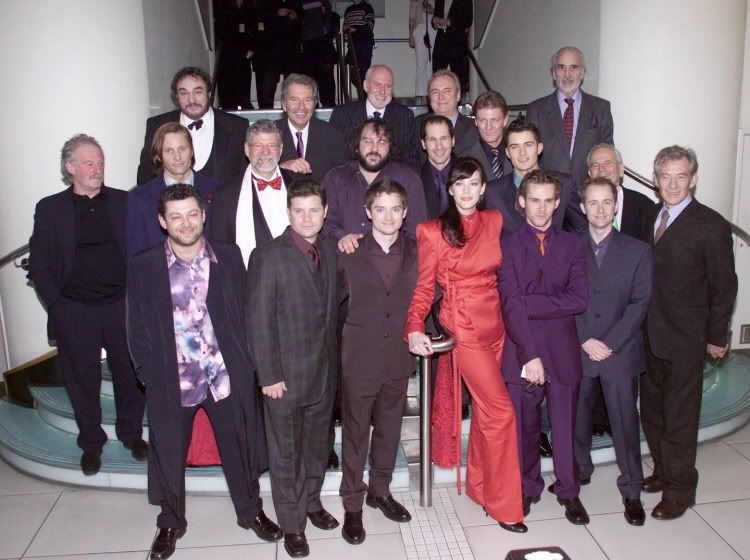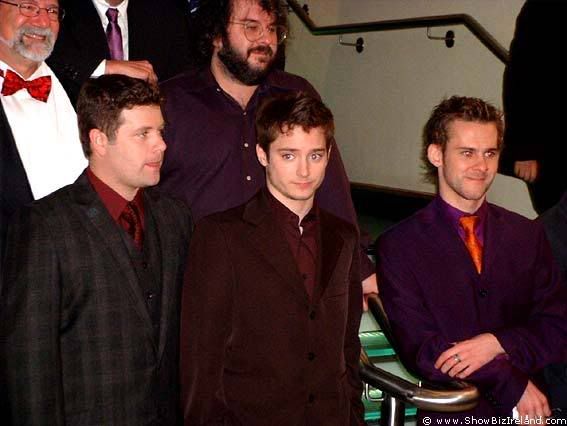 "Oh my God - my palms are sweating!!", Elijah tells Kristen Malia of ENews!

Kristen: "Are you nervous?"
Elijah: "A little bit, yeah. I mean, the thing is right, we spent 16 months in New Zealand working on this and it felt like a very personal, intimate experience - and it was - and to now have this massive kind of shindig - it's all a bit frightening."
Elijah interrupts one of Sean's interviews with an impromptu kiss!!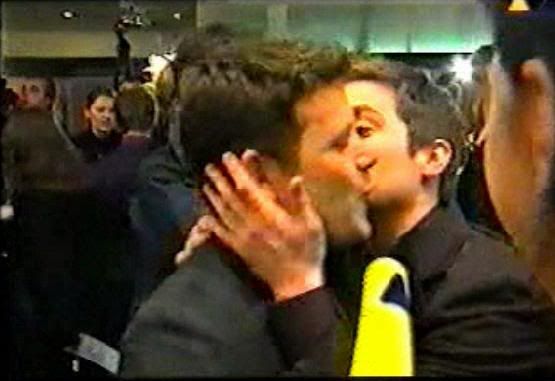 Elijah tells another interviewer, "This is a real celebratory time for all of us - I think we have been waiting for this for a long time - to be able to show people our movie - it's something we're very proud of so it's very exciting."
"For those who might have wondered, Peter explains the choice of London as the venue for the world premiere. A classic of modern English Literature - the book of the twentieth century, according to some - the epic was the work of a British writer who had talked of creating a new mythology for his homeland. 'The Lord of the Rings', says Peter, 'was written here and it is right that the movie which we based on that book should be shown here first.'
There is more applause, the lights go down, the curtains open and the film begins ...
Nearly three hours later, the film reaches its almost downbeat conclusion, with Frodo and Sam making their way down the stony slopes towards the shadow-filled realm of Mordor: 'Sam, I'm glad you're with me...'There is a moment's silence and the cinema becomes a maelstrom of delighted whoops, yells and roars that almost drowns Enya's closing rendition of 'May It Be' and repeatedly punctuates the fifteen minutes of closing credits...
"It felt like a lifetime and was a culmination of a lot of love and passion shared between us as individuals which was truly beautiful and also directed towards that of the actual product, the story. So taking all that into account to then see it finally after all that time, and waiting a year. My God, there aren't any words to describe what's going on emotionally when you see that. And also to see the end credits freaked me out. The movie blew me away and then the end credits last for 15 minutes. I literally watched my life flash before my eyes. My heart was breaking, it was incredible." (Elijah, Ultimate DVD)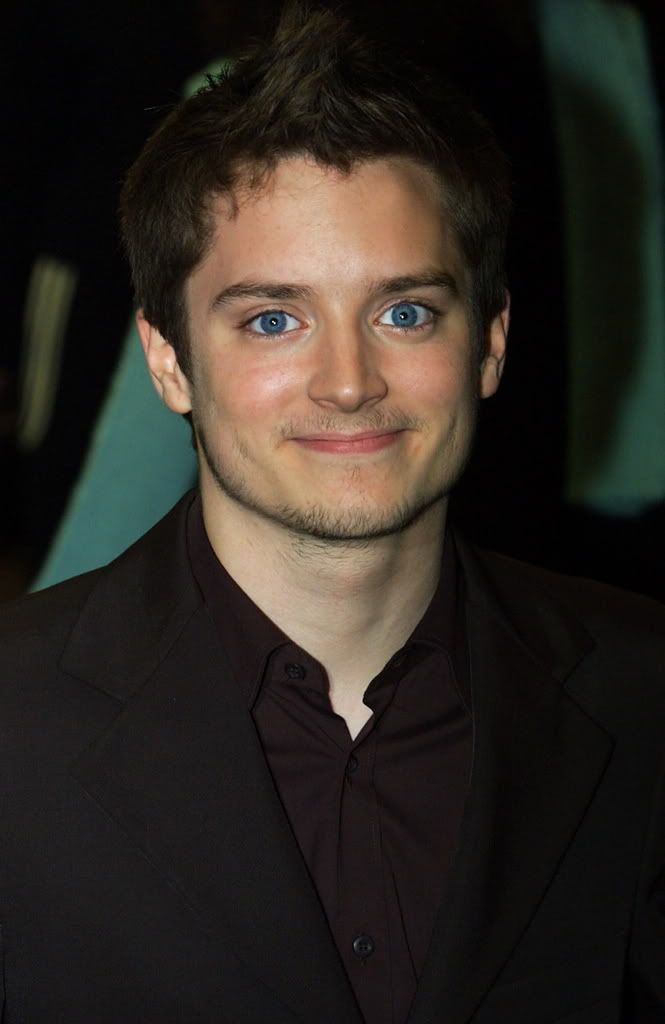 The Party: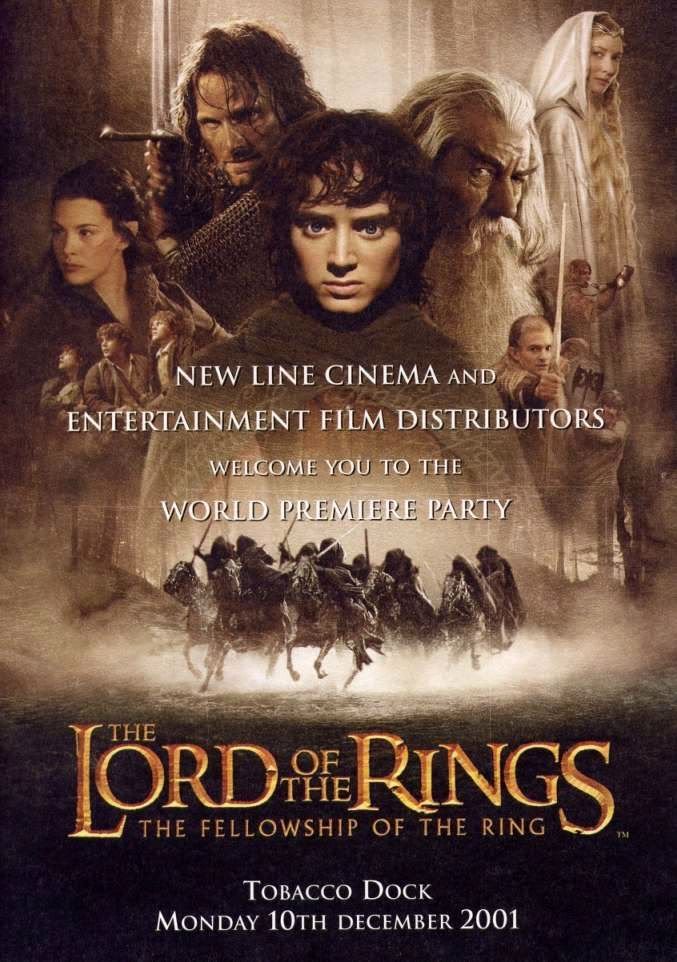 "By midnight we have been shuttled across town to Tobacco Dock, to be greeted with glasses of mulled cider & orange and bags of hot chestnuts as well as the spectacle of rustically-attired chefs roasting a pig on a spit, and the prospect of a never-to-be-forgotten party. But for the stars there is another walk along another acre of red carpeting, through another lightning-storm of flash bulbs … It's back to work for Peter Jackson and the cast: giving interviews, mixing-and-mingling, somehow managing to find new quotes for the press …"
A hobbit's work is never done – Elijah is interviewed at the party by Jonathan Ross
for 'Film 2001':
JR : "Please don't take this the wrong way, but there is something of the hobbit about you even without the makeup."
E : "Well, you know, you spend all that time playing a hobbit, I think it rubs off a bit."
JR : "But there are worse things to be."
E : "Exactly!!"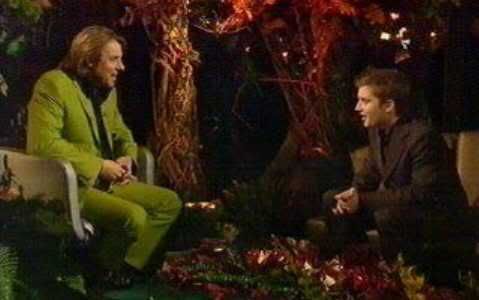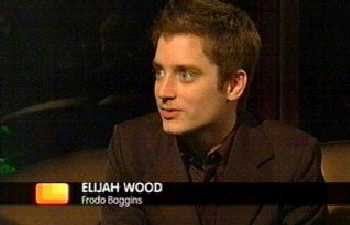 Asked by another tv interviewer how he felt after seeing the film: "It's the third time I've seen the movie and it just gets better every time and to see it with an audience like that was fantastic!"
"The young members of the cast work as hard and tirelessly as anyone and, hours later, Elijah is still moving among guests, chatting away, as if the party were one of Frodo's own gatherings at Bag End and he were the host."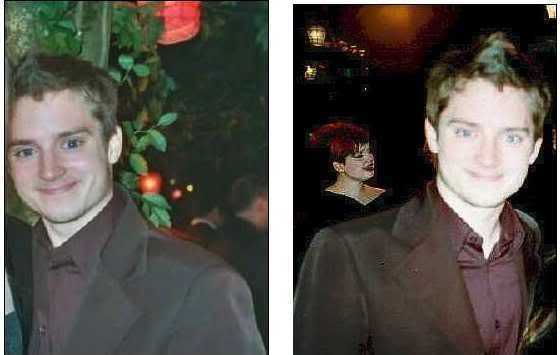 "The former tobacco warehouses – now converted into a vast, retro chic venue – have been magically transformed by Dan and Chris Hennah of the film's art department, into various Tolkienesque locations. We wander through Rivendell and Lothlorien sampling a Middle-earth menu that includes 'Baked River Anduin Salmon', Barliman Butterbur's Famous Sausage & Mash', 'Gandalf's Secret Recipe of Pan-fried Guinea Fowl' and (alarming thought) 'Hot Hobbit Pies'!"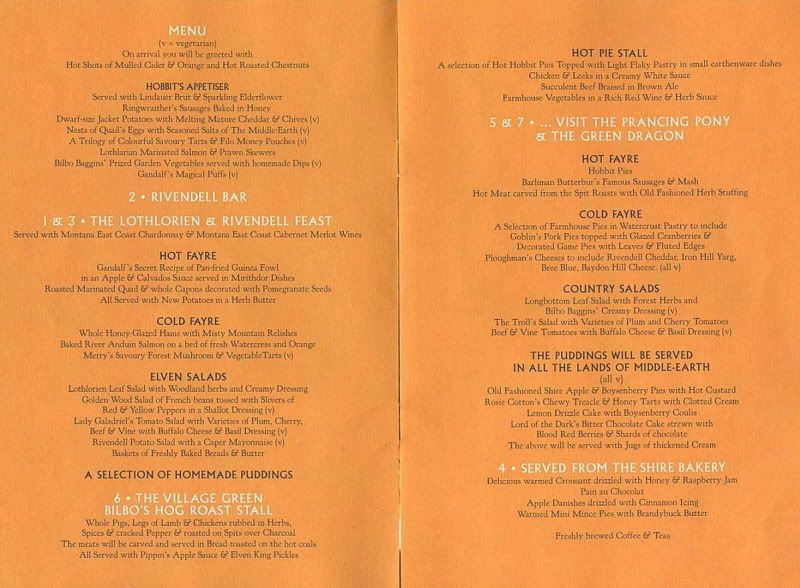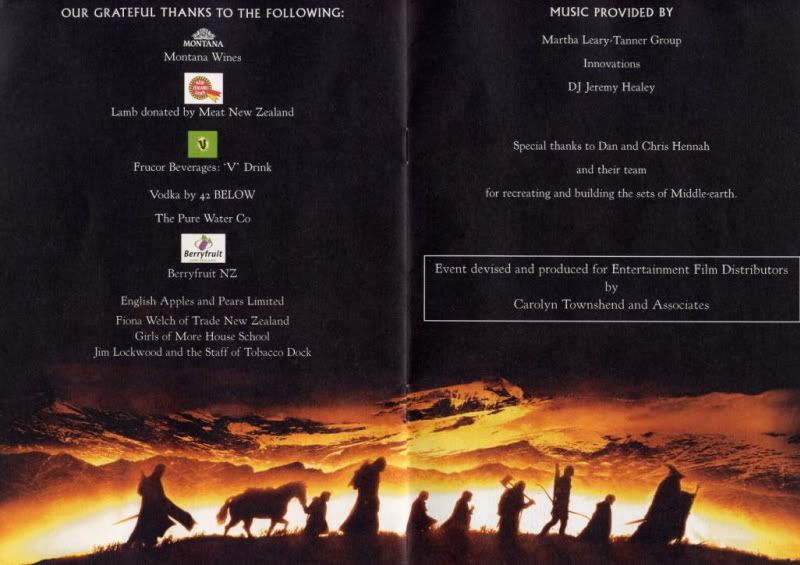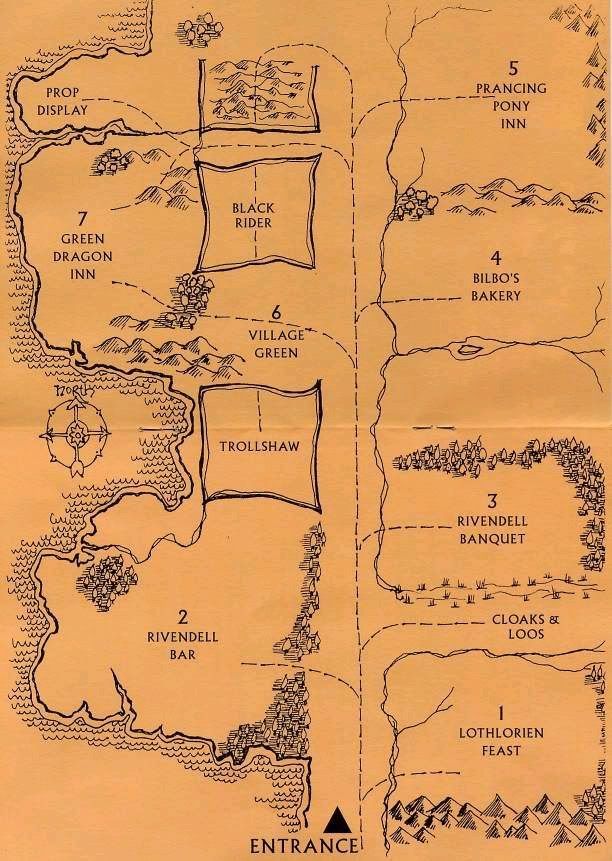 "There is a bar from the hobbit's inn, 'The Green Dragon', constructed to three-foot-six-scale and requiring patrons to stoop in order to reach their beer and another, inspired by 'The Prancing Pony' at Bree, built from a hobbit's perspective, so that even the tallest guests have their noses well below the level of the counter! There are stooks of corn, baskets overflowing with apples, and trees hung with lanterns recalling the homely Shire. But there is also the monstrous trio of grimacing stone trolls beneath which the hobbits camp on their way to Rivendell and, surrounded by billowing smoke and illuminated by multi-coloured lights, the towering figure of a mounted Ringwraith that looms high above the dance floor."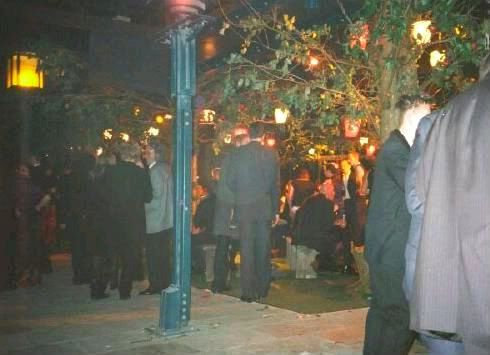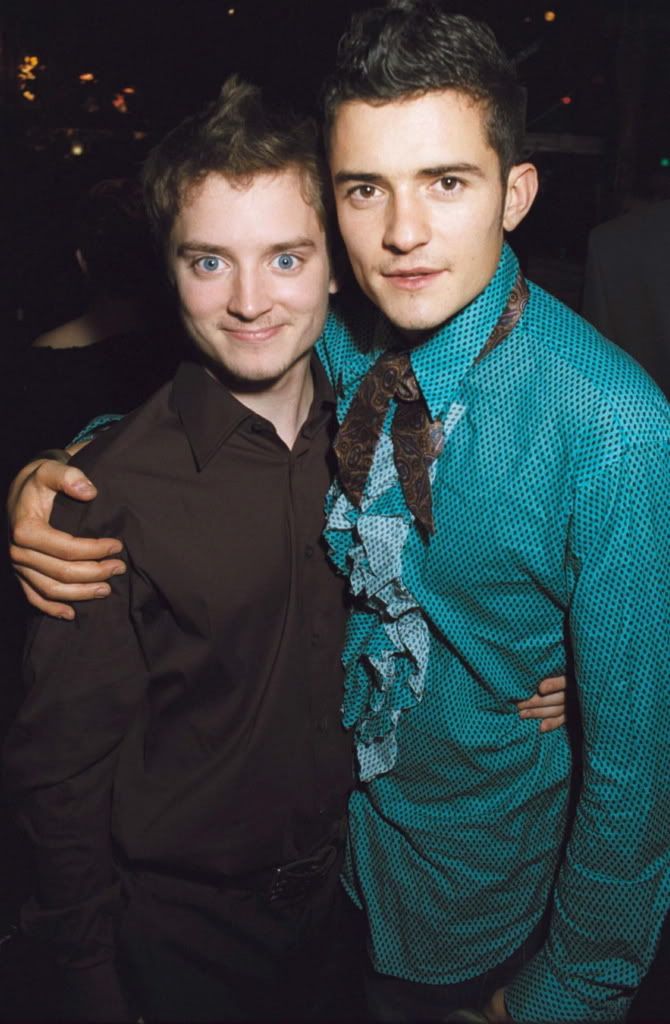 "Elijah Wood was just finishing talking to some folk and was about to leave (he was REALLY tired and done talking for the night) but his assistant was moved and asked if he would speak to my mom and us. He did…..and my mom told him how much his films had meant to her. He was really touched by that and gave her a big hug" (Fan Report from Torn)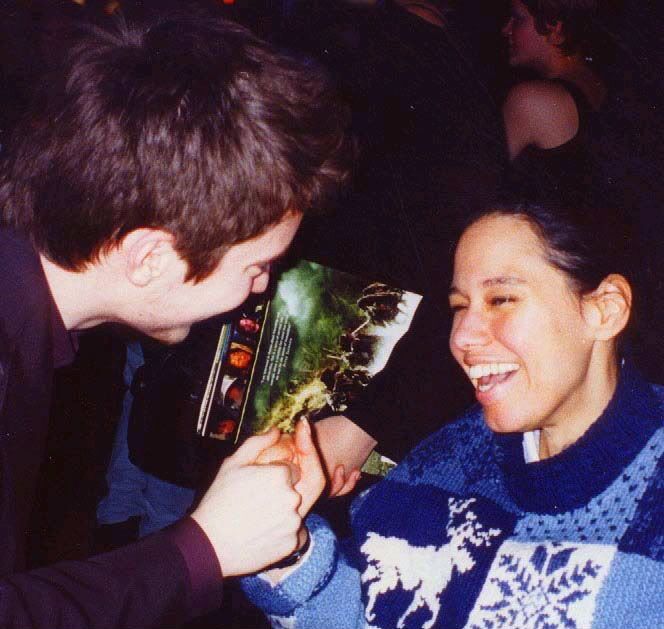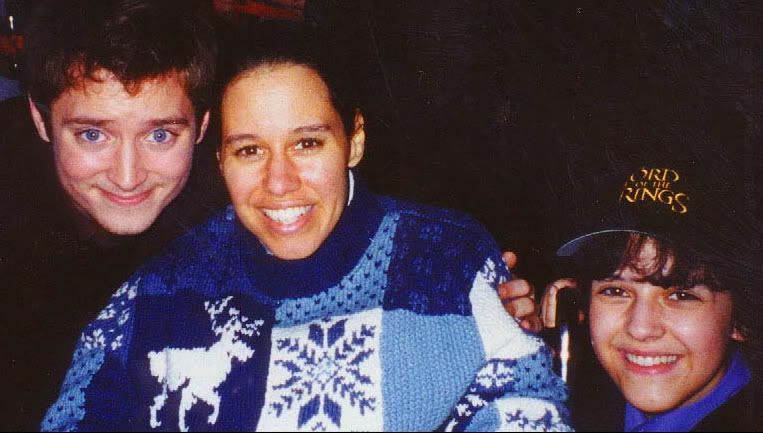 The Reviews
(Or at least a fraction of them)
"In the end, it all comes back to one performance… Frodo. Elijah Wood is the heart and soul of this film. Without his performance, the film just wouldn't have worked. You need to BELIEVE in his innocence, bravery, fear, apprehension, and guilt. You need to understand and empathize with every emotion Frodo has. Somehow, Eijah does it. He makes you care and he makes you understand. That's the mark of a truly great actor. (Kerouac, DVD Dungeon)
The film belongs to Wood, who has proven he can carry a film (even at the tender age of 11...remember *Radio Flyer*?) His Frodo is so wrought with emotion and gets kicked around so much, you feel like joining the Fellowship yourself just to help him out.(Hollywood.com)
"Elijah Wood's Frodo holds the camera captivated in just about every one of his scenes. He shows equal parts boyishness and gravity. His face, all immense eyes, still glows with youthful innocence, but there's also something fearfully mature about it: If you've read the books, you'll see how that look points the way to the darker, more devastating turns this story will take from here." (Stephanie Zacharek, Salon Arts & Entertainment)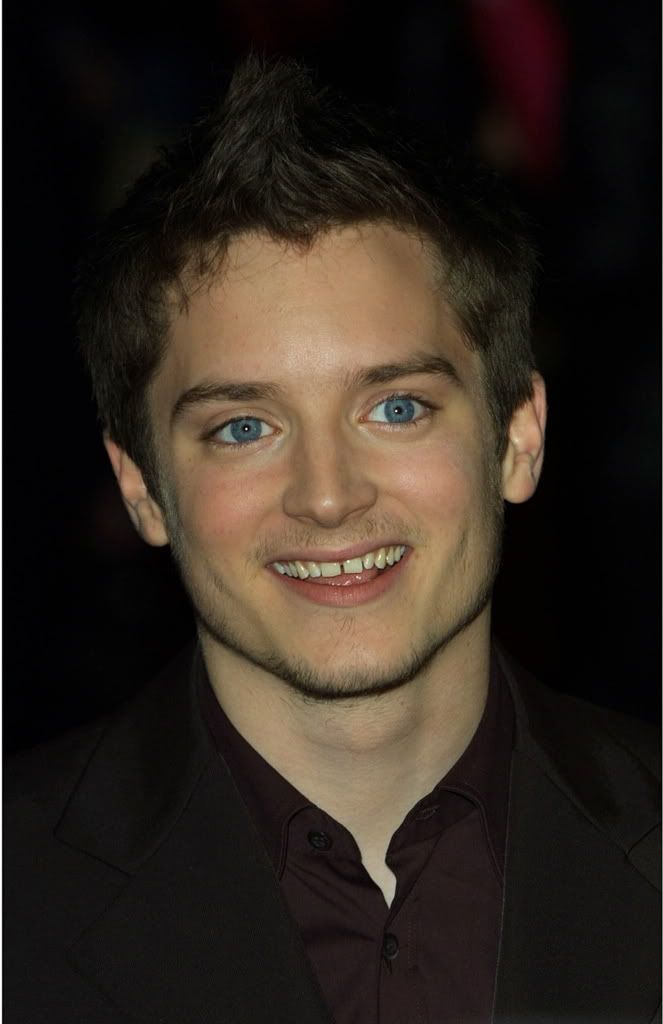 Elijah Wood plays the hobbit hero Frodo with such wholehearted innocence, decency, goodness and charm he makes Jimmy Stewart look like a malevolent orc. Wood is also blessed with the most mesmerising on-screen eyes since Bette Davis. The lashes alone could be contenders for Best Supporting Player." (bbc.co.uk)
"This is certainly one of the best fantasy films ever made and it will probably shoot straight into everyone's list of Top 10 films.
All the cast are uniformly brilliant, but special mention should go to Elijah Wood in a very difficult central role." (Jonathan Ross, The Daily Mirror)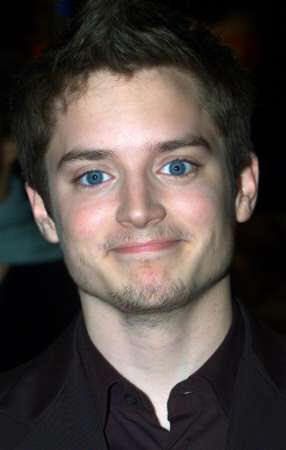 "Above all, Ian Holm and Elijah Wood are excellent as Bilbo and Frodo Baggins. Hairy-footed, dwarfish hobbits they might be, but it is through their innocent, well-meaning eyes that we get the truest glimpse of the ring's evil" (Barbara Ellen, The Times)
"Elijah Wood's Frodo and Ian McKellen's Gandalf are the cornerstones of the grand cast. Wood is a delight as the little guy who can change the course of the future. He gives his hobbit an inner determination yet wears his soul on his face." (Gerry Shamray, Sun Newspapers)
But as too many plopbusters have reminded us, great effects simply aren't enough. So you can thank the gods that Jackson has assembled a strong, spark-striking cast, who do far more than simply stand in front of a blue screen and drone their lines at a spot slightly to the left of a yet-to-be-conjured CG image. Wood, in particular, handles Frodo's descent from happy-go-lucky adventurer to tragedy-courting hero with subtlety and sensitivity." (Total Film)
"The acting, overall, was polished and genuine. Elijah Wood's Frodo appeared vulnerable and frightened, while still displaying inner fortitude. Sir Ian McKellen's Gandalf was indeed majestic. Ian Holm, Christopher Lee, Viggo Mortensen, Sean Bean, and Cate Blanchett also performed well. All the actors appeared committed to their roles and endeavoured to bring out the best in them." (Tolkien Scholar : theonering.net)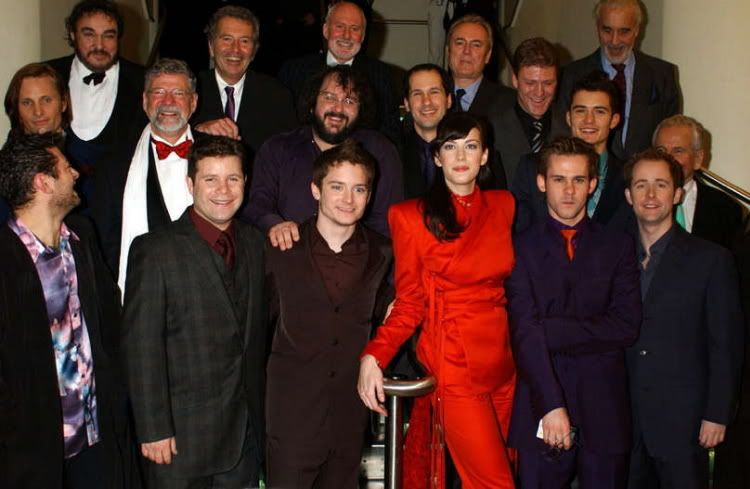 "Elijah Wood finally has the recognition he has long deserved—good reviews and a big hit movie. But then, "Frodo Baggins" is a part he seems to have been born to play. With his almost preternaturally large eyes and androgynous beauty, he has always conveyed a sense of wisdom and experience beyond his years. This was true even in his first screen roles, when he was little more than nine or ten years old. With the distinct exception of Ang Lee's resonant The Ice Storm (1997), young Wood has frequently been better than the pictures he was cast in." (John Teegarden, Audience Magazine)
"Wood is perfect as Frodo, the one being with enough humility not to be seduced by the ring's glamour. The role requires a quality of being as much as acting, and Wood's performance will come as a relief after many nauseating seasons of vile young screen actors embodying vile and narcissistic characters. It's a beautiful thing–an unsnotty, available, affectionate, and utterly open performance." (Mick LaSalle, The San Francisco Chronicle)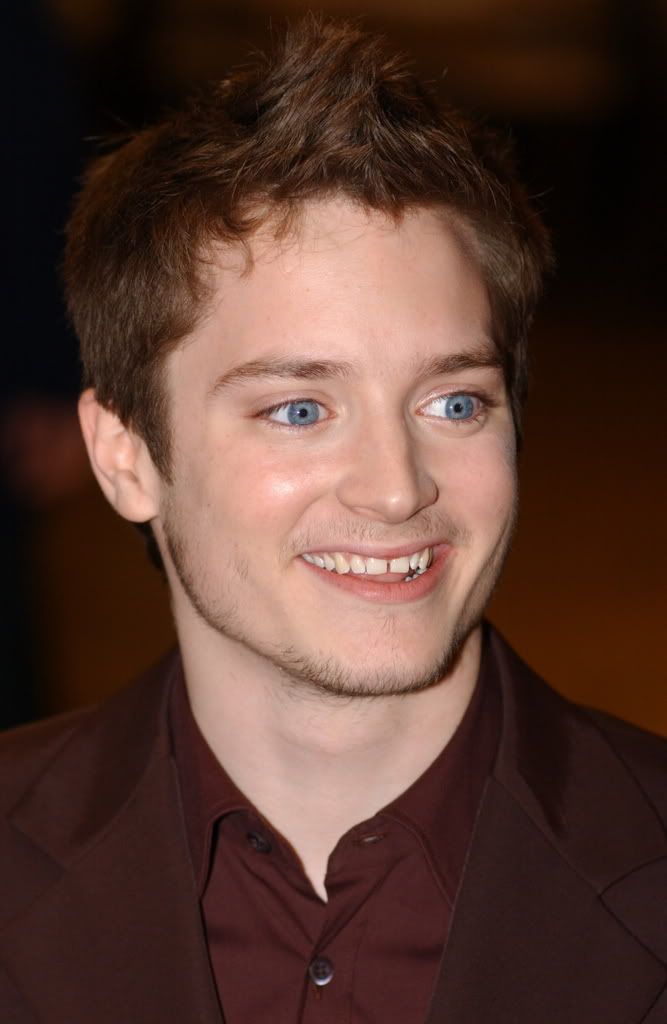 "I was ecstatic when I heard that Elijah Wood signed on to play Frodo. No other actor in his age group could be more believable taking on the weight of Middle-earth, yet still managing to come across as one of the most heroic, yet innocent-looking shlubs the screen has ever seen. The monumental task that Frodo must bear is one that no one–Hobbit, Man, Elf, , or Dwarf–should have to endure. Just one look into Elijah's strikingly blue eyes shows that this is one hero that we, the audience, will be rooting for until the very end.., Without his kind soul and unsurpassed courage, all would be lost." (Joe Hallenbeck, aintitcoolnews)
" Elijah Wood is, simply, beautiful as Frodo Baggins, down to his dirty fingernails (how Jackson made the 5- foot- 7- ish Wood look utterly convincingly 3- foot- hobbitish is beyond my understanding of special effects). Of course, the happy things are here to be tainted by darkness. Wood understands the particular anguish of someone who's known only cheerful, earthy hedonism (easygoing hobbits love the good life) thrust into danger beyond his comprehension, never more so than when he comes under physical attack from forces of evil -- his heartrending screams of genuine terror and pain seem to encompass much more than mere physical injury but also a despair against the psychic affront to his sensibilities. This kind of thing is not supposed to happen to a nice hobbit." (Flick Filosopher)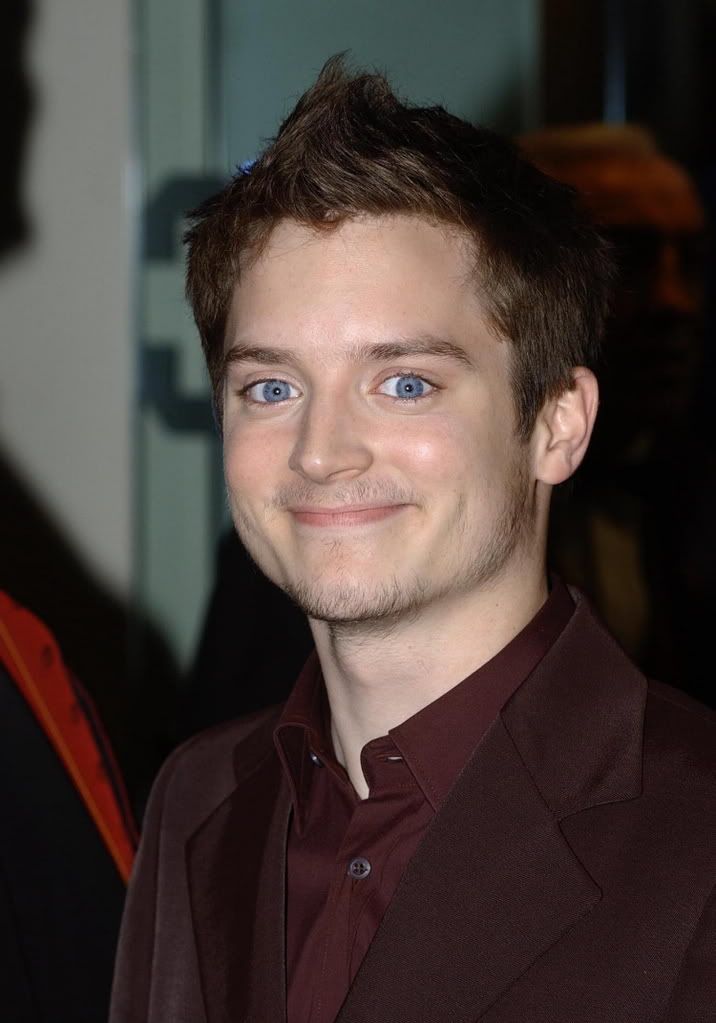 "Frodo is the hero-as-average-fellow in Tolkien's tale, the very opposite of a strapping action figure, to whom will fall the saga's great heroic assignment -- and Wood imbues the role with such a serious, kindly, unmannered goodness that he holds his ground easily even against such attention-getting costars as McKellan & Cate Blanchett" (Lisa Schwarzbaum, Entertainment Weekly)
"The actors seem, not only to play their roles, but they become their characters. Sure their performances are good, but their looks seem to fit their characters, dead on. Casting Elijah Wood (The Faculty, Deep Impact) as the young hobbit, Frodo Baggins, was an inspired move. Wood seems to have good and innocence exuding from him, while his slight build and chewed fingernails drive his character's frailty and smallness home." (source unknown)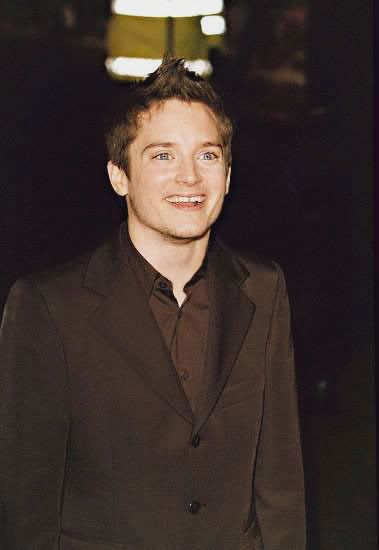 "Wood's perpetually mournful demeanour captures Frodo's sorrow at being torn from home and
hearth to wander a world he had no desire to experience, and his earnest vocal delivery is always appropriate to the occasion." (Andrew Howe, Filmwritten Magazine)
"The talent in this film is near-perfect. Elijah Wood, who was previously little recognized, has secured himself lifelong star status with his excellent portrayal of the harrowed little homebody who is thrust into a nightmarish quest of epic importance. His look of endless horror and sleepless diligence makes him a compelling and empathetic character." (Audrey Rock-Richardson, Tooele)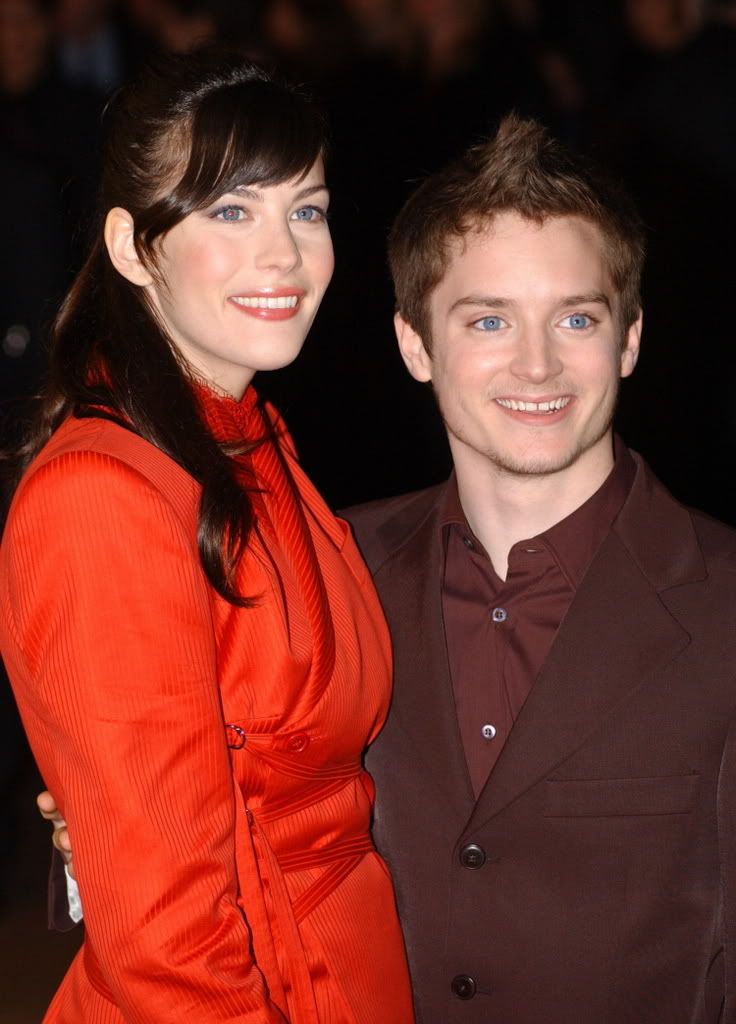 Elijah Wood as Frodo Baggins (your surrogate onscreen) expertly conveys through his massive blue eyes all the wonder and terror he feels on every step of the journey." (The Film Experience)
"The performers are so perfect in their roles that we immediately get a sense of who their character is. From the moment we meet Frodo we know that we're in the company of a wide-eyed innocent. Frodo grows a lot in "Fellowship of the Ring," and Elijah Wood makes the transition believable. His wide range of emotions allow him to navigate the plots many highs and lows." (The Writer's Bloc)
Finally, the various key hobbits - it is Wood as Frodo who outdoes the rest. Wood's face and movements all become so convincing that by the three-hour mark, you truly can forget he is not a three-feet high Hobbit." (Hollywood Stock Brokerage & Exchange)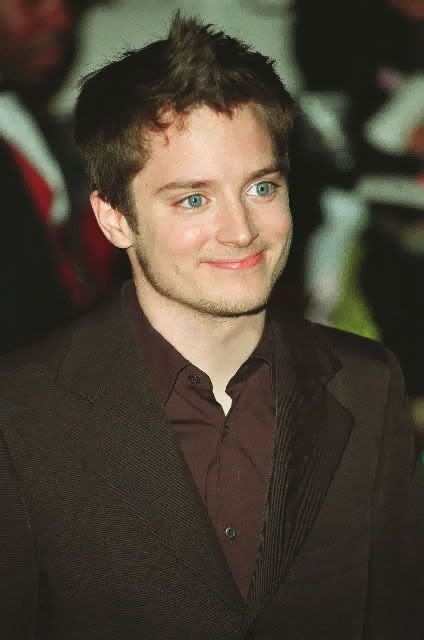 "Elijah Wood is great in the role; you can see all the vulnerability and the fear but also the purity and the courage in the world in those big blue eyes." (Kevin Laforest, Montreal Film Journal)
"Hype isn't so bad, as long as you deliver and The Fellowship of the Rings delivers like FedEx and UPS only dream of… Elijah Wood is exceptional as the doe eyed and uncertain Frodo and he carries the film just fine. There's no trace of a spoiled Hollywood actor here, and his accent further immerses him into the Middle Earth world" (Chud.com)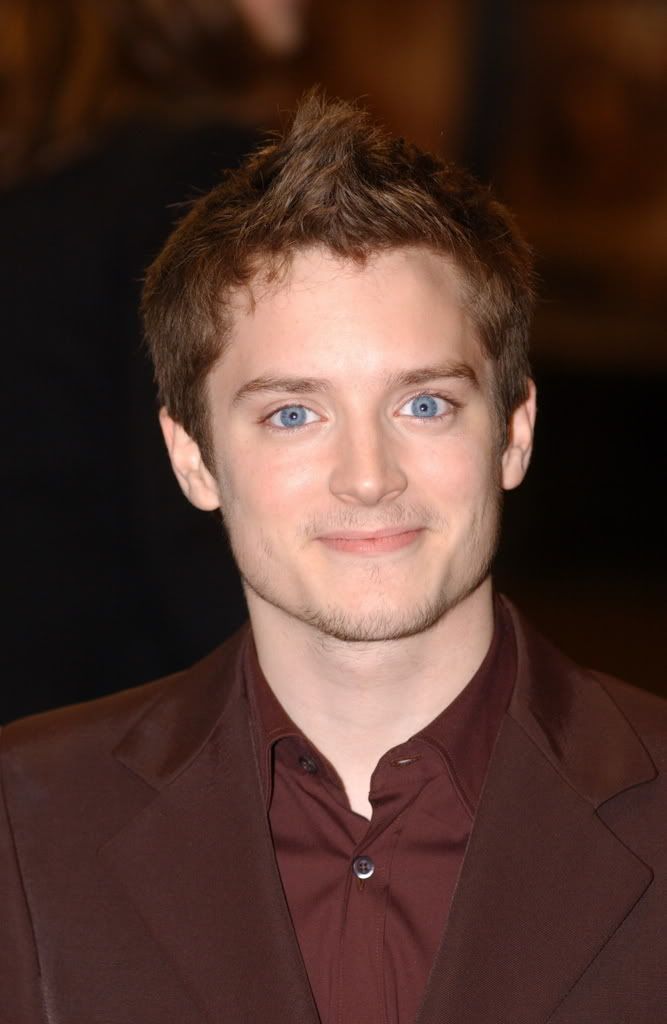 "The first thing you notice is how beautiful the film is. Director Peter Jackson's frequently airborne camera sweeps over panoramas of mountain and forest, and travels in an eyeblink from bucolic hobbit villages to the dark, pounding caverns of Mordor. In this landscape, it would be easy to lose sight of such slight figures as hobbits, but the film's real strength is the care it takes with character.. Elijah Wood's Frodo, with his big wounded eyes and steely resolve is a genuinely affecting hero." (Paul Arendt, Teletext)
"Elijah Wood as Frodo lends fresh luster to the term "beautiful youth." His transparent and expressive Caravaggio face, the visual equivalent of the Vienna Boys Choir, flits like an androgynous angel between human and Hobbit, man and child, male and female." (Marian Kester Coombs, The Washington Times)
"Wood, with his blue cartoon eyes, mop head, and filthy fingernails, is more hobbit than human....It is hard to imagine a better Frodo." (The Times)
And finally, The One Review To Rule Them All!! And who else could it come from but Harry Knowles of 'Ain't It Cool News'! I'm not sure when and where Harry finally got to see the entire film, whether it was in London or elsewhere, but here are some extracts in his own inimitable style:)
"It is everything I ever hoped it would or could be...
I believe I have just had the most perfect film experience in my life. The one that I struggle so hard to have has happened effortlessly.
As the lights went dark in the theater and as my film mate Patch clutched my arm, I realized that I was very much afraid I was going to have a heart attack. My pulse was racing at a humming bird's rate. My breathing was erratic. And my arm was hurting, though that was attributed to Patch squeezing it like an empty beer can.
I've never been so awake, so aware, so excited, so thrilled or so conscious while watching a movie in my life. As the movie played I realized that I knew everyone in this movie. Each of those names, I know the faces to go with them. I know stories about them. I can shut my eyes and see them live.
As we first see Frodo under that tree, pipe in mouth [wrong, but I think we can forgive him in his excitement!] and reading that book, my pulse increased. I wasn't crying… I didn't even feel tears, instead there was a different feeling. A feeling that I don't know if I can wholly describe or not as I have no comparable feeling to join it to...

..."That's when I looked at him and told him he would be perfect to play Frodo.
There he is. He is Frodo Baggins. After all these years, all this time, there is my friend.
The guy I ate bar-b-que and screened 16mm films in the backyard with… And he is Frodo Baggins. Is this pride? Satisfaction? It just felt perfect, as if this was how things were meant to be. How they should be. And you know. That memory is really quite old now. Elijah was literally just a kid then. Now he's Frodo…
I've never ever had complete and total unconditional love and the feeling of brotherhood that I feel for FELLOWSHIP OF THE RING. There is a strange calm and a wonderful warmth that comes with this…
Here. As they battled the Watcher in the Water. As Frodo's leg is snatched, as the various members of the Fellowship begin attacking it trying desperately to save Frodo… I'm right behind the camera. When Peter yelled CUT that day, I was off camera talking with Randall Cook, the effects guy in charge of the animation needed to bring that scene totally to life. I remember watching as the costume people put Sam's backpack with all those pots and pans onto Sean Astin. I remember Orlando Bloom coming over, grabbing me, having the Polaroid person snap an instamatic of him and me, and I remember playing with Gimli's axes, Legolas' bow, Frodo's Sting and Gandalf's staff……
"That's how I feel. I can't believe that's Elijah Wood up there. I can't believe that I'm watching that moment that I watched being filmed that day, and that this immense… awesome… incredible creature is where I was standing. As I'm typing this I have tears dripping over my pushed up cheeks because this is beautiful. The feeling I have of being there… That I'll be able to tell my nephew about. That I can tell people these stories as I get older…
What do I think of the finished product? The film. I'll tell you in 10 years. Because for the moment, I feel like this is the greatest thing I've ever seen. That I could just sit here and watch it play over and over and over again. The feeling in me right now is more vital than any film has ever given me. But was it the film alone?…
The reason I've been running so many reviews. Why I will continue, is I'm fascinated with others' experiences with seeing the movie. My father for example. Today was Dad's second time seeing the film. Upon walking out he proclaimed that all things considered, it was the best feature film he has seen in his 50 years of film going. That shook me. Dad wasn't in New Zealand. In fact I remember him being quite pissed that he wasn't going. Patch, she's barely able to walk. Quint looks like he's a heroin addict. The film was knocking people's teeth out. They are all enthusing about the film.
Me, I've had a very personal reaction. It is the realization of everything that I've said I was hoping this would be. It is an uncompromisingly perfect telling of a fantasy tale aimed directly at the intended audience with 0% pandering, told by a team of artists helmed by a director of singular vision inspired by the God's of old. He wasn't setting out to "SHOW LUCAS HOW TO MAKE A MOVIE!" He set out to make the best movie he could make. To do it right as he saw it. This is a movie that straddles the fence between great popcorn movies and great movies and important movies and cinema. It doesn't waffle back and forth, it is simply all those things at all times.
The screening today was attended by AICN's Austin Spy Branch of Quint, Father Geek, RoboGeek, El Cosmico, Perfect Tommy, Dorothy Parker, Massawyrm, Patch and myself. 9 reviewers to match the 9 of the film. There was not a single negative review in the mix. They are each bringing their own experiences or lacks of experiences to their reviews. They range from being in High School to being College Drop Outs to being Graduates to Intellectuals and so on. Male, Female, Yuppie, Hippie, Student, Loafer, Video Store Clerk, Artist, Screenwriter and a Computer Technician. Some have read the book, some have never touched it. Some have met young Frodo Baggins, most have not.
They all love film……
Me, I ponder how many times I will watch this film in the coming years. I know right now that I love it. That I love it more than I've ever loved a film. I know that I feel protective of it, that I cherish it deep in my heart. I know that I am evangelical about the movie. I know that the movie makes me feel better than 3 hours of prime copulation in a warm waterbed of delight. I know the movie fits me like a fork and a spoon and a knife…
Peter Jackson has made a film that at the very least is for me. I will not presume to tell you that this is your favorite movie, I do not know you, your heart or your loves. I know mine, and I love this film. I hope you do as well. ~ Harry Knowles AICN.
Wow! Harry loves the film almost as much as I do!! :D
***** ***** ***** ***** ***** ***** *****
"Elijah Wood plays the hobbit hero Frodo with such wholehearted innocence, decency, goodness and charm he makes Jimmy Stewart look like a malevolent orc. Wood is also blessed with the most mesmerising on-screen eyes since Bette Davis. The lashes alone could be contenders for Best Supporting Player."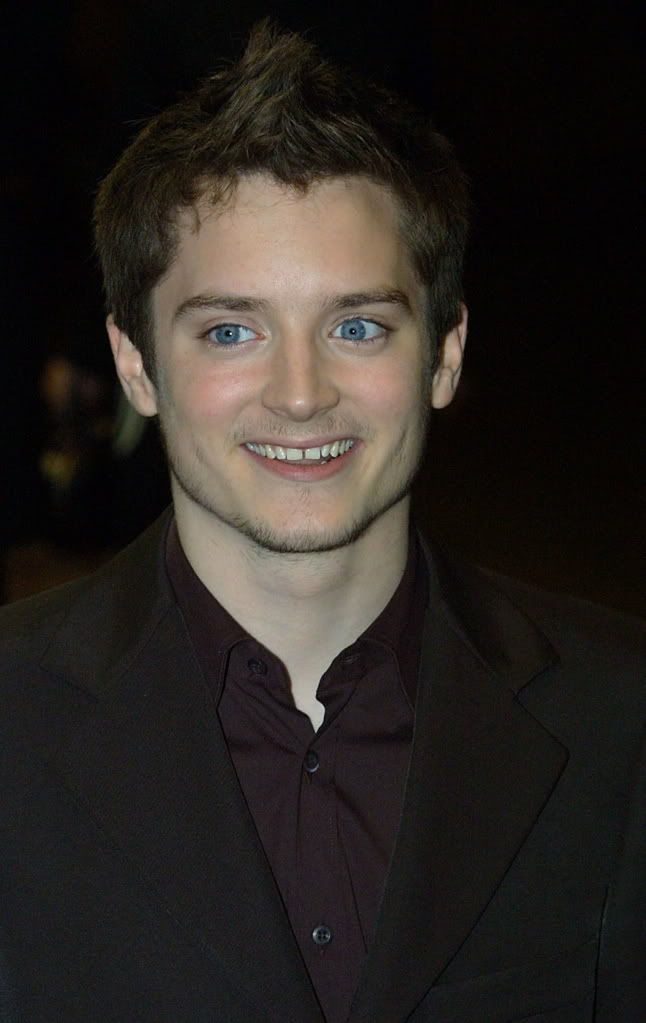 TO BE CONTINUED

LINK TO PREVIOUS CHAPTERS:
"A JOURNEY WITH FRODO"
comments: Leave a comment