| | |
| --- | --- |
| Tags: | a journey with frodo |
| Current Music: | Don't Walk Away-ELO |
| Security: | |
| Subject: | A Journey With Frodo Ch.24 'Whirlwind' |
| Time: | 09:34 pm |
| Current Mood: | accomplished |
This has taken me *so* long - but finally I can post Chapter 24 of 'A Journey With Frodo'! Now that I've reached a stage where the first film had been seen by many and was on the brink of worldwide release, I feel it's the right time to bring in scenes from the film itself which is something I've really looked forward to. I'll also be including quotes from the dvd commentary and, although it doesn't apply to this chapter, passages from the books.
For anyone unfamiliar with my pet project, 'A Journey With Frodo' (a work in progress) is the story of Elijah Wood's experience in becoming Frodo, from back in 1998 when the LOTR movies were just a whisper up to the triumphant Oscars of Feb 2004. In reliving Elijah's journey, (and my own!) I am using everything I can lay my hands on - behind-the-scenes material from the various dvd's, magazine articles, books, internet sites, tv coverage, word-of-mouth info, etc. Previous chapters can be found here
"A JOURNEY WITH FRODO"
Hope you enjoy this latest chapter: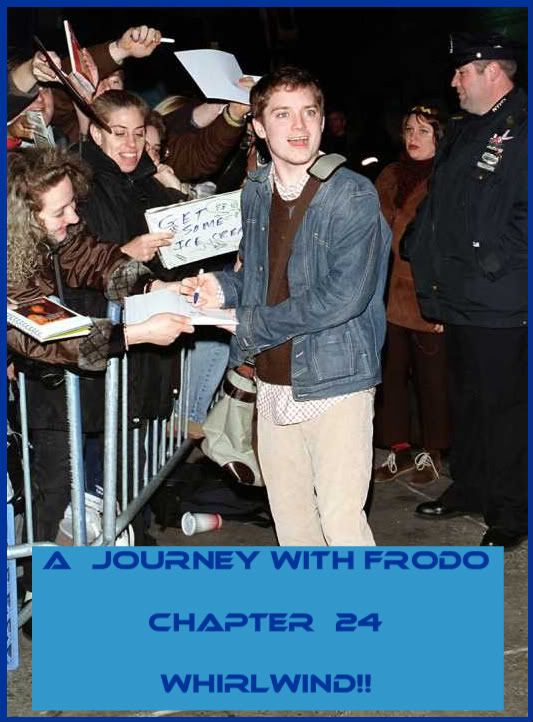 As soon as the world premiere was over, Elijah was whisked back to New York for a whirlwind of publicity including several chat show appearances. The first of these was The David Letterman Show on 11 December 2001:
Elijah arrives for his appearance on 'David Letterman':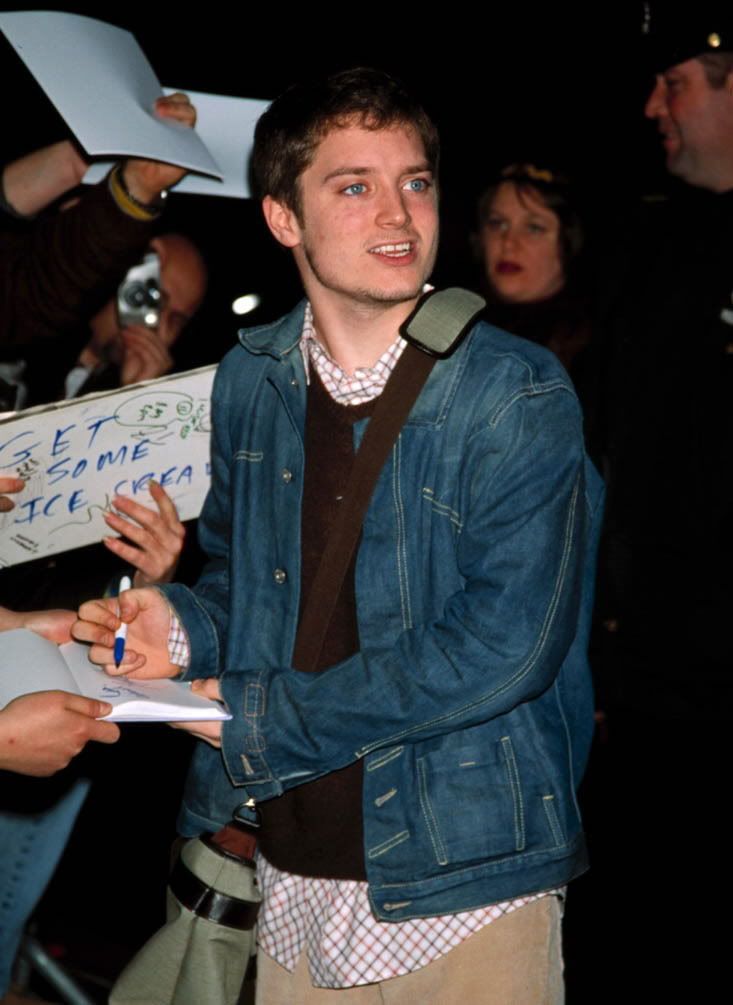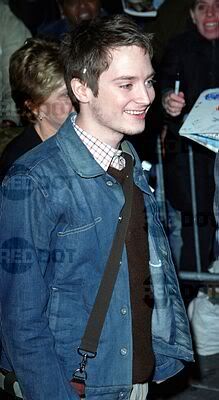 With Nicole: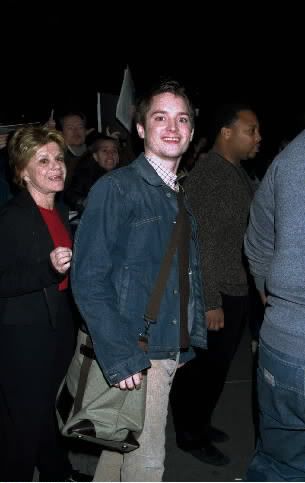 DL asks how Elijah got into acting and mentions his upcoming 21st birthday.
"I always felt older than I was so I feel I'm catching up with myself!

Explaining how filming LOTR was a truly profound experience.
"Had my own house, my own car, my own life!"

Describing paraponting which he tried in NZ:
"You get a parachute, jump off a hill and ride the air!"

"We went surfing, got my own wetsuit, went to lots of bars, the local pubs, as you do!"

"I made some of the best friends of my life making this film.
"

Explaining that because of the location of the tattoo it wouldn't be a good idea to show it!!

And how he was misinformed when he asked friends if it would hurt!
"I've never been in so much pain in my life!"

Laughs about 'looking at it in the shower'. The tattoo, that is:)
"I'm very proud of it - forever a member of The Fellowship"

Explaining how being part of something so massive is 'kind of scary' - and he's already getting called 'Frodo' on the street

DL asks if that's alright with him:
"I'm very familiar with it; I've taken the character on as a piece of me. So that's alright Dave, you can call me Frodo!"

"Is that from Burger King?"
Elijah asks when DL produces a little plastic Frodo figure

E:
"It goes the other way round I think".
D:
"Please Frodo!"
E:
"Alright - just trying to help"
.

"During the commercial break, I got a call from Nick the researcher explaining how to assemble it and once completed, it will light up. I went out on stage to pilfer the item but there was no getting it away from Dave. He was fidgeting with it the whole time."
(Michael Mcantee who worked on the show)
"You alright Dave?"

A clip from the Buckleberry Ferry scene is shown, DL wishes Elijah a happy birthday and the interview is over.

The following day, 12 December - Regis & Kelly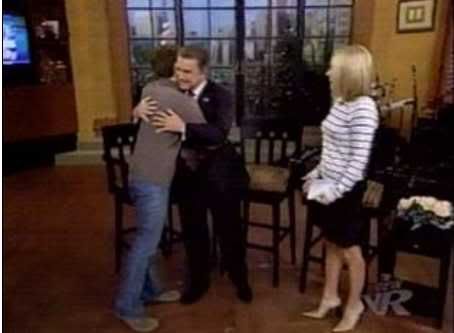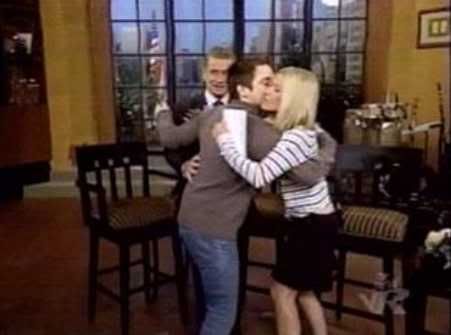 Regis is surprised at how grown-up Elijah is looking since the last time they met: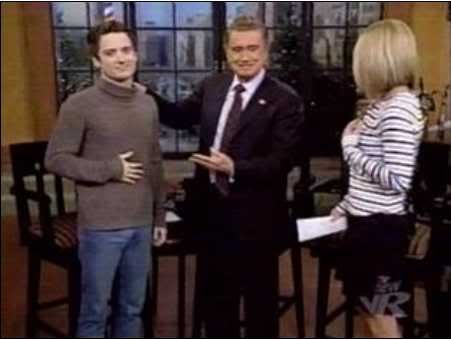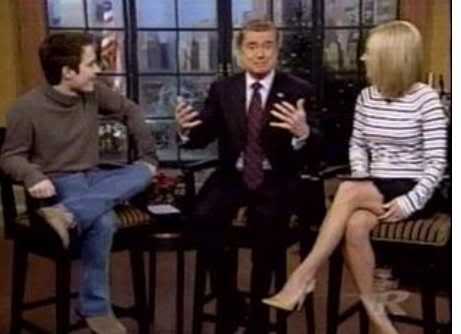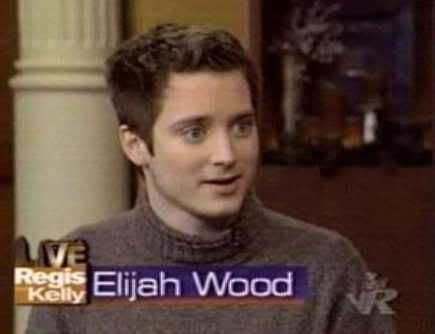 Demonstrating the height of hobbits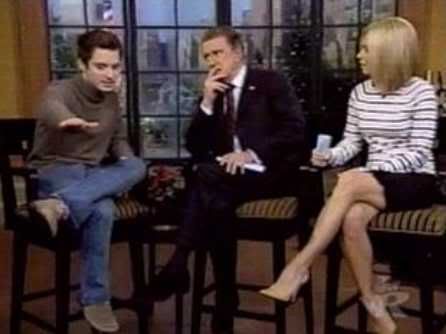 They play a clip from when Elijah was on the show aged 13! And later a clip from the Paula Abdul video - Elijah's first ever job!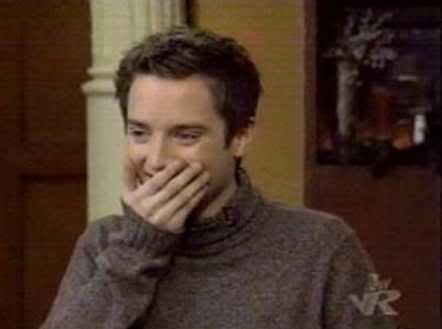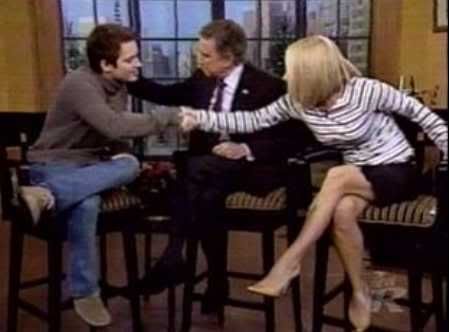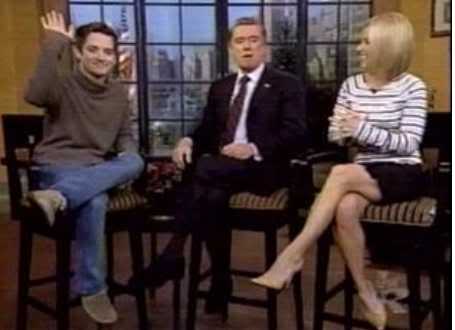 And that night - Conan O'Brien!
Inevitably, much of the same material is covered in every chat show, so these are just a few
extracts:
Asked if he's seen FOTR yet:
"I've seen it three times now - I love it more and more."

Explaining about the feet - a story which he must have had to repeat hundreds of times since then!

"The Hobbits went on vacation together - as you do!"
Conan asks what it was like on the Star Wars set:
"Completely different. 'Cos our world in NZ was kind of rugged and dirty and was this passionate kind of experience. Star Wars were kind of sterile and clean and they were shooting digitally and they had like edititing stuff on the set:

Conan asks about the clip about to be shown:
"I believe this is the moment Frodo first sees the Elvish on The Ring, it's the first time they find out that this actually is The Ring of Power.":

Waving to Brook Shields and Salma Hayek whose phone numbers he has but never calls:

Another Frodo figure is produced - Elijah gets excited!

Elijah wants the Conan action figure! But he's told there's only one so he can't have it! He advises Conan to put it on eBay!

Conan:
"I've never heard people talk about a film like this - it's gonna be great":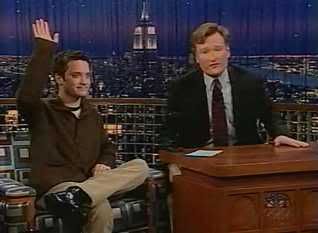 Leaving the studio after 'Conan'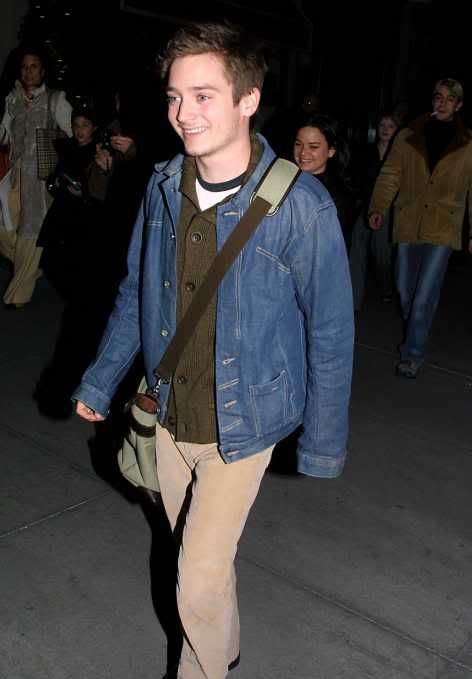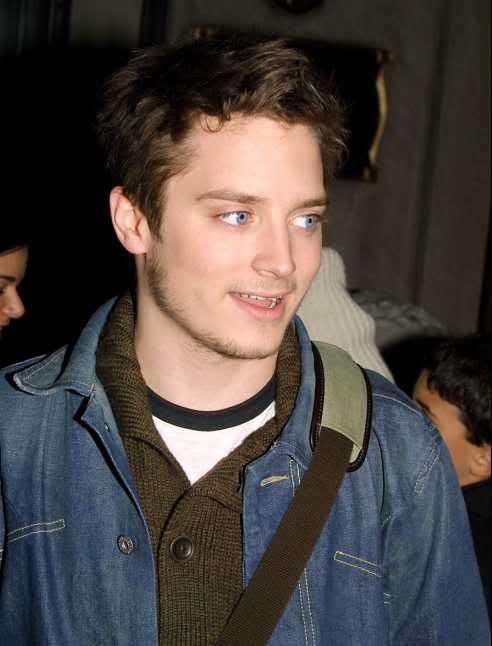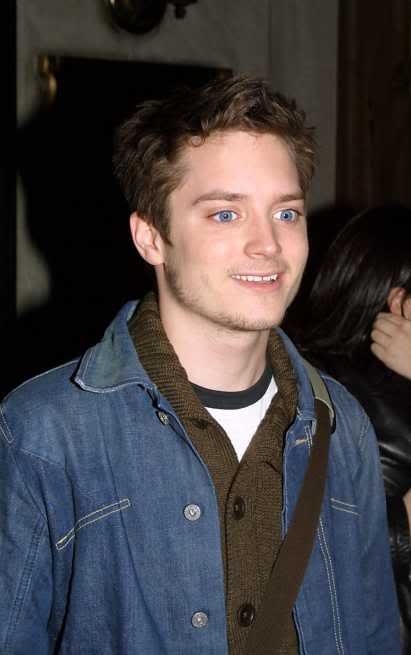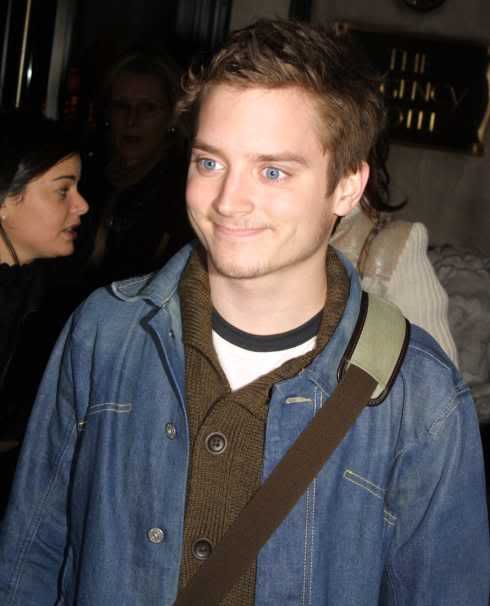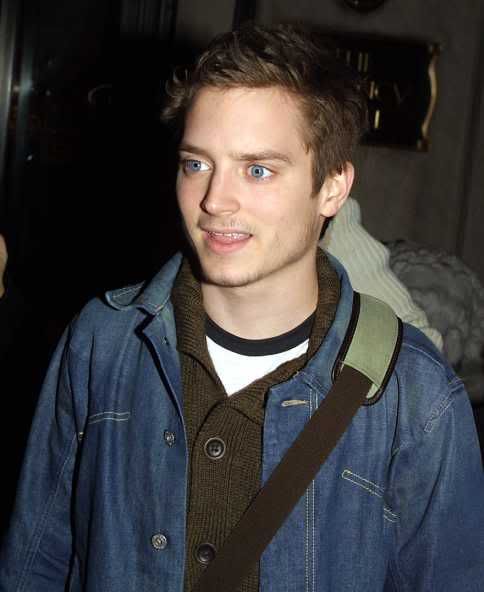 13 Dec 2001 began with an appearance on 'The Today Show' ...
It must have been so distracting to sit opposite a window with loads of people waving at him as he was answering questions: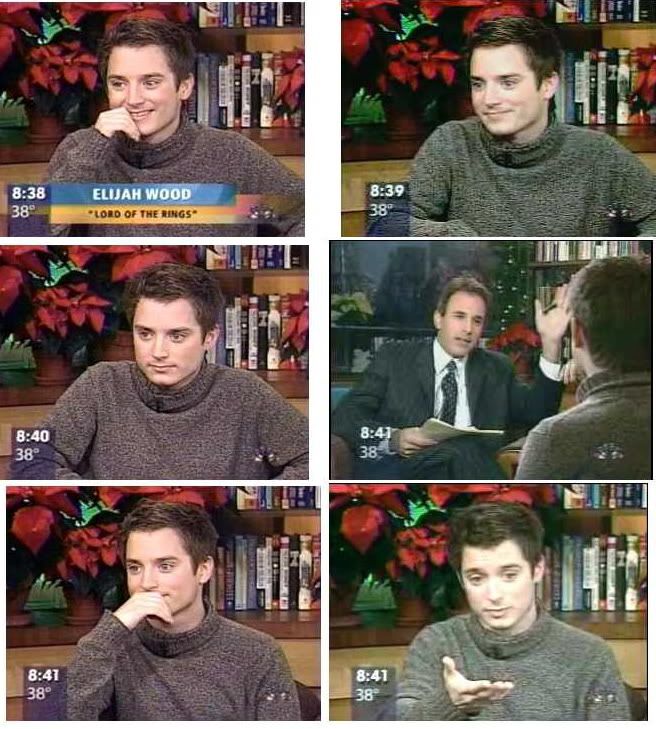 ... and ended with the New York Premiere!!Special Benefit Screening for the World Trade Center Relief Fund:

NYC Premiere Report -- A Fan's Visit
"We arrived about 5:50pm for the Pre-party (in heavy traffic) and walked up the Red Carpet (strange for a Hobbit from the Shire) and went in. The atmosphere was electric as people chattered between glasses of wine and tastes from the floating trays: ( of course, there were mushrooms-yum!) We met Elijah first, who looked amazingly fresh considering all the interviews he had to do this week. He was cordial and composed, ready for another evening of questions, concerns, and a showing of the film in front of the first American public audience. He signed autographs and posed for photos. We discussed a number of things, including the excitement of being a part of this tremendous project, and what he was going to do with The One Ring. He refers to IT as a 'souvenir', and that it was at home in CA. We suggested that maybe it was an archetype of negativity, and had he considered getting rid of it, but he feels it's a token of remembrance of the experience of doing the films. He is also very comfortable with people calling him Elijah and Frodo interchangeably (as he mentioned to David Letterman earlier this week). I wonder if he will feel the same way, in say...March? We'll see..."
(torc)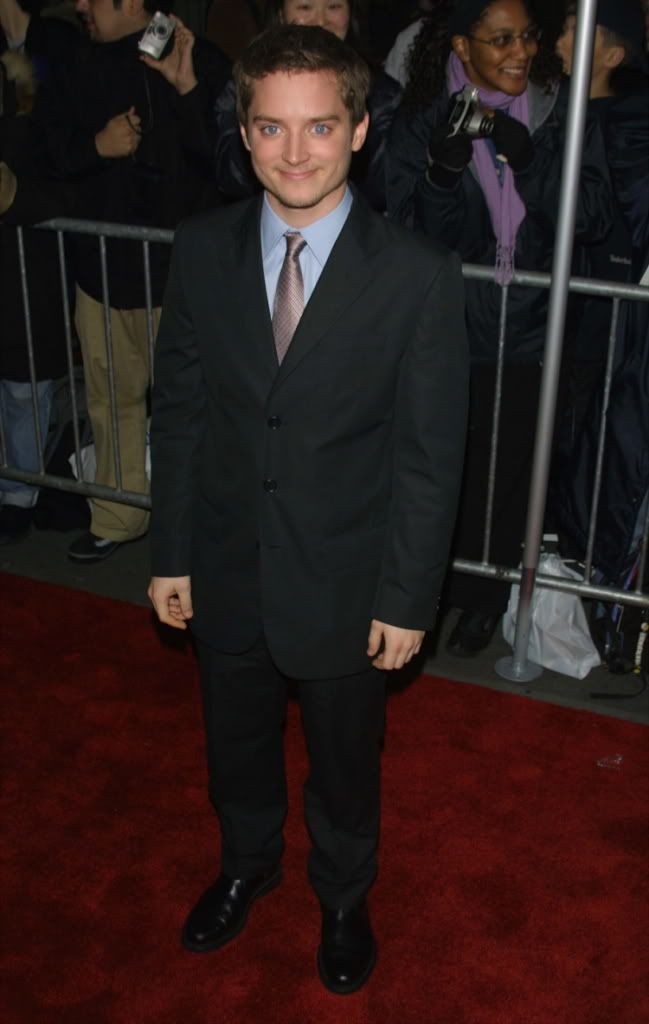 "Once Elijah Wood stepped onto the carpet all the cameras started flashing. This young man is a vibrant bundle of energy. It was amazing to watch him bounce from one reporter and TV crew to another. His smile was wide as he allowed the New Line PR person to drag him from spot to spot along the line. Warm hearted, caring, gentle and very kind, he impressed me. For a young man of some twenty years he acted far wiser then his years.
(fan report - torn)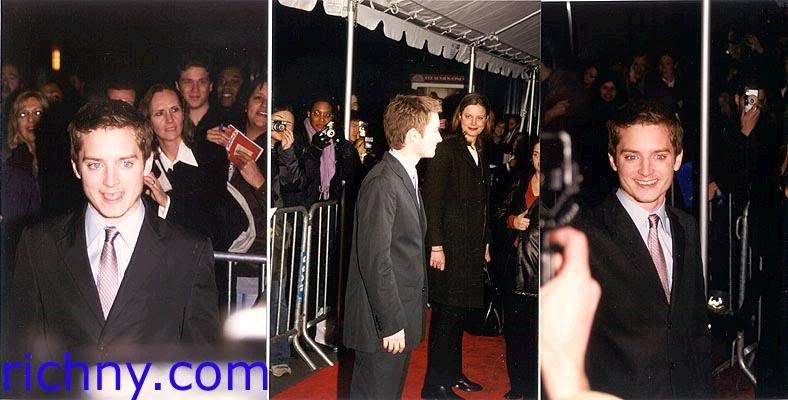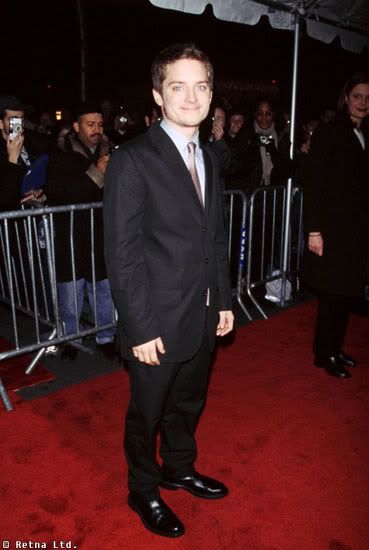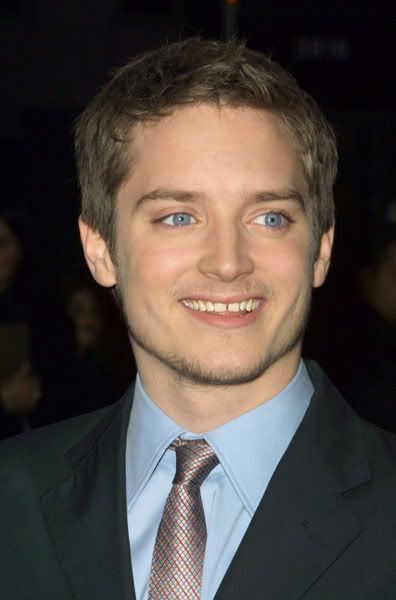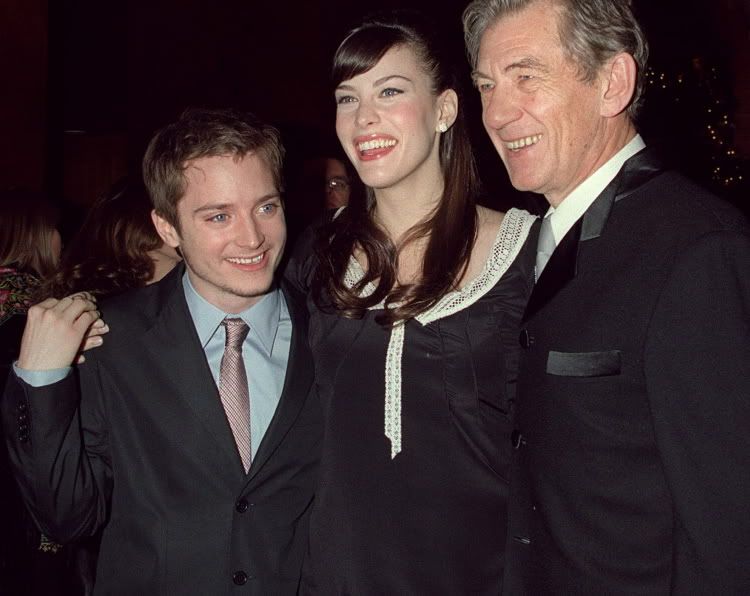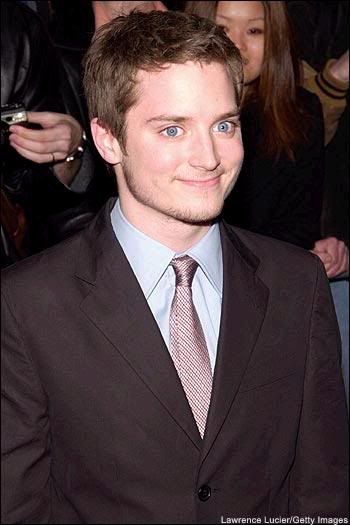 "Mr. Peter Jackson took pride in introducing the cast of his film to the audience and with each introduction a large round of applause was let loose. He mentioned briefly that all those who were involved in the film but couldn't be present were duly noted in the 11 minutes of credits at the end of the film which brought a chuckle. As the lights darkened, the cast spread throughout the theater to find their seats.
The film began and with the introduction of each character on screen, the audience applauded once again, something I never saw happen before. The film is absolutely amazing. I will not post any analysis or spoilers here but let me tell you this is one film you must see and plan on seeing not just once or twice but at least 3 or more times.
As a writer who has done a screenplay or two, when I sit down in a movie theater to watch a film, inevitably I get caught up in spotting errors, or spend the movie immersed in analysis of how the characters are being played, story structure etc. During the viewing of Lord of the Rings; The Fellowship of the Rings something astounding occurred. I forgot work and became entrenched in the world of Peter Jackson. Yes, this hardened cynic stopped to be amazed, dazzled and awed by the tremendous achievement of Mr. Jackson. As a die hard fan and purist at heart, I support this film for its breathtaking achievement. The changes from the book kept in line with the characters nature and do not detract from the story.
When I walked out of the theater I was sad that I would have to wait 5 more days before I would be able to see it again. Run! Don't walk, to your nearest theater and enjoy the show!"
(torn)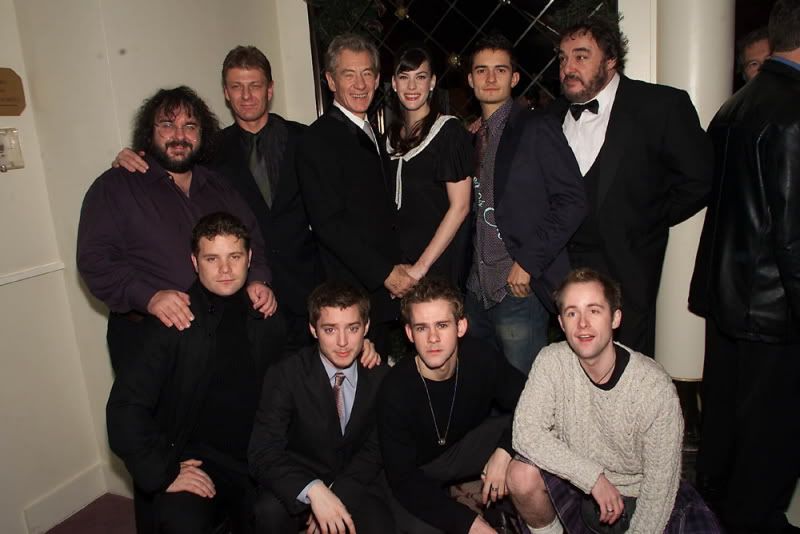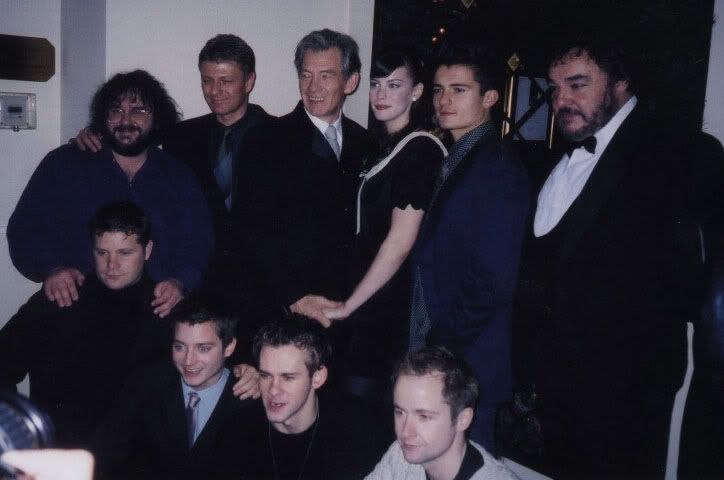 "With 'The Fellowship of the Ring'our world premiere was in London; it was quite reserved and a little quiet even though people enjoyed it. Then we went to New York, and the reception was completely different. It was incredibly loud and appreciative, and as each character made its first appearance in the film – like the first shot of Frodo or Sam or Legolas – they would get a round of applause from the audience! This wasn't a fan screening; this was the American premiere in New York. To tell you the truth, it was that screening that made us think that we would like to do the world premiere of 'The Two Towers' in New York; it was such a fantastic experience. The warmth of the audience and the appreciation they had for the movie was really strong, and we liked that very much."
(Peter Jackson, Fan Club Mag)
I'd love to know what Elijah & Dom are giggling about here!!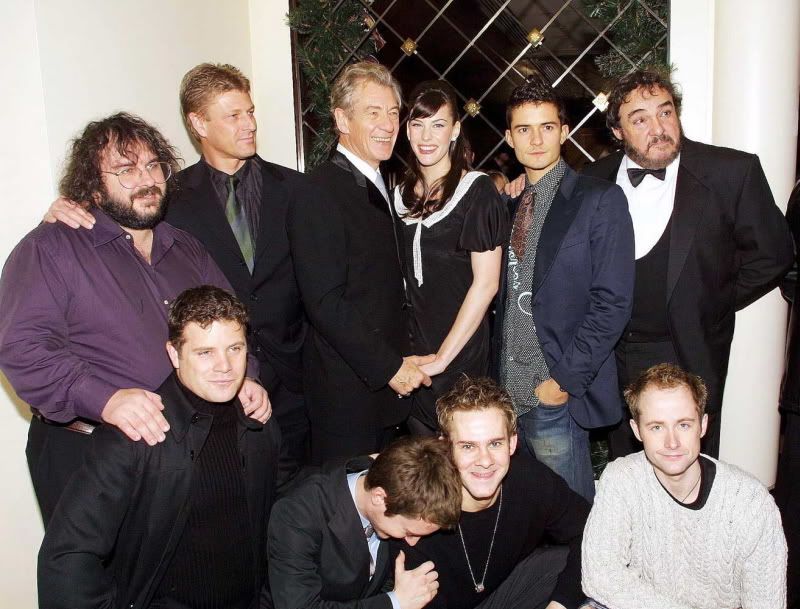 "I saw the movie for a second time just the other night, and it really hit me how it resonates. It's about facing adversity, relying on your friends and facing things with courage and hope. I think of that as a beautiful thing. If people can see this now, and take those things away from it in light of recent events, it's a bonus. I think Tolkien's work has found relevance in other times, too. I mean, in the '60s, the books were really embraced by our culture during the Vietnam war. Hippies and peace advocates were in love with the idea of Hobbit life representing a simpler existence."
(Elijah - Eonline)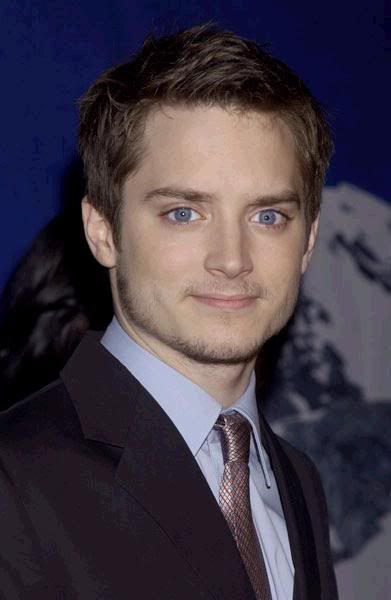 "Young Elijah Wood is perfection as Frodo Baggins, the hairy-footed hobbit who receives an unwanted present at an 111th birthday party for his cousin Bilbo Baggins (the ever-delightful Ian Holm)" (NY Post)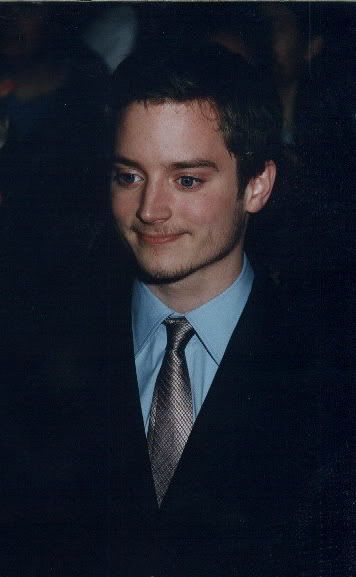 "The casting is superb and the acting energetic, but Tolkien's readers, including this one, are sure to have their quibbles. Who would have dreamed that hobbits look more like four-foot fashion models than pudgy garden gnomes? They do, after all, eat six meals a day and are founding members of the clean-plate club. But Wood, an eloquent actor with deep doe eyes, quickly convinces us that hobbits have always looked just like this.
Putting formula blockbusters to shame, Fellowship is impeccably cast and constructed with both care and passion: this is a labour of love that never feels laboured. Emotional range and character depth ultimately take us beyond genre limitations, and it deserves to play as wide as a certain Mr. Potter. (Washington Post)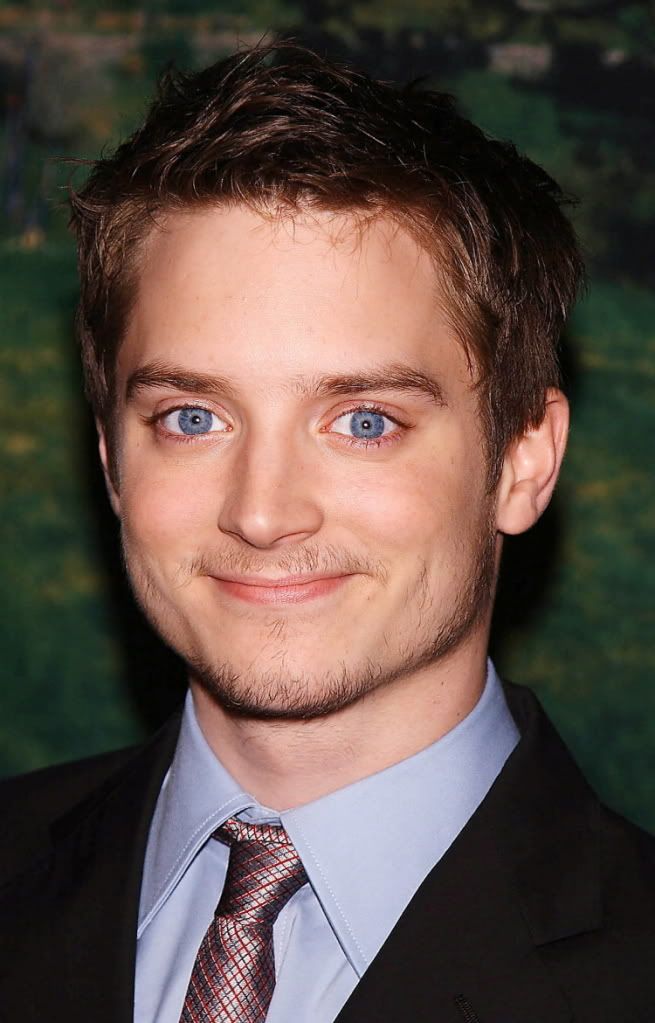 "Elijah Wood is both robust and plangent, pulling off a daunting feat with ease, making the education of a naif as dynamic as it is rending. When Frodo starts to put on the Ring because he fears a looming Ringwraith - an act that attracts the Ringwraith even more - it's a moment of sublime terror. It's also an aesthetic victory for Jackson and his collaborators - and of course for actor Wood, who brings vitality to despair." (Michael Sragow, sunspot.net)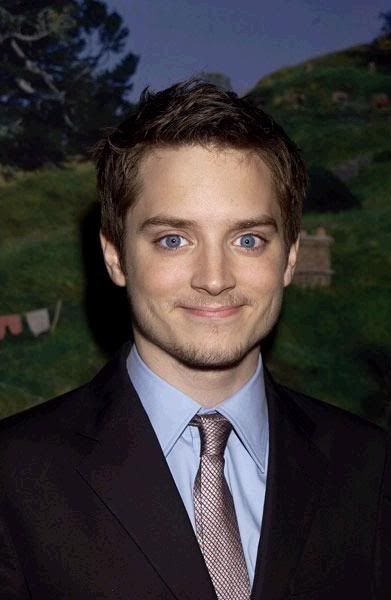 "Elijah Wood is great in the role; you can see all the vulnerability and the fear but also the purity and the courage in the world in those big blue eyes." (Kevin Laforest, Montreal Film Journal)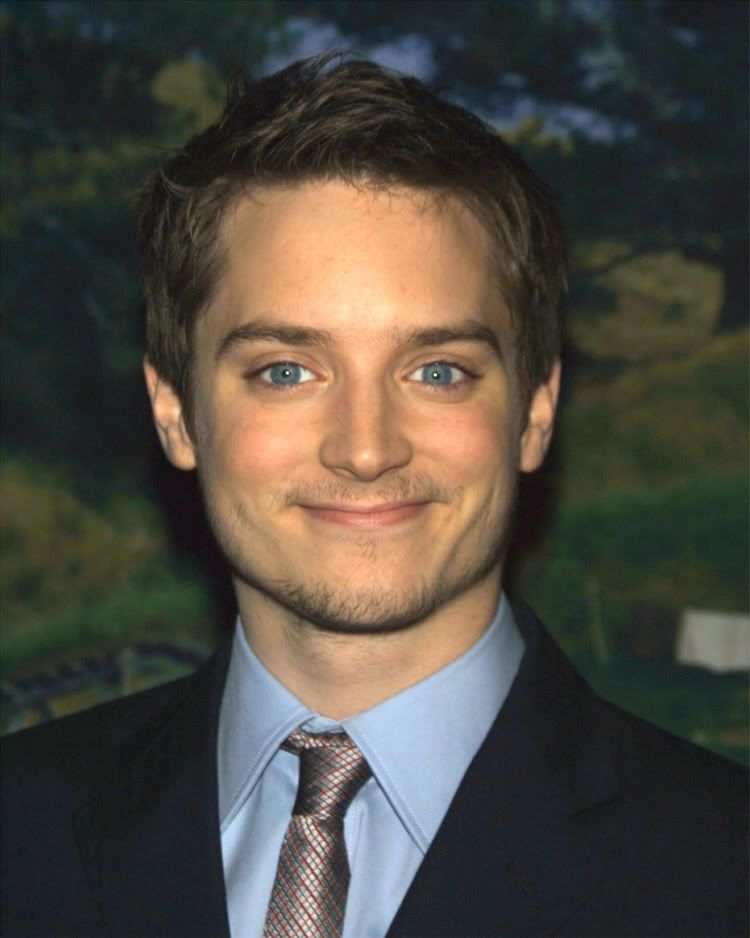 "Jackson's Fellowship is a visual, auditory, intellectual, emotional, and perhaps even spiritual feast. I left the viewing of that film feeling like a hobbit after Bilbo and Frodo's birthday party... but OH SO EAGER for the next meal!" (Tookish, theonering.net.)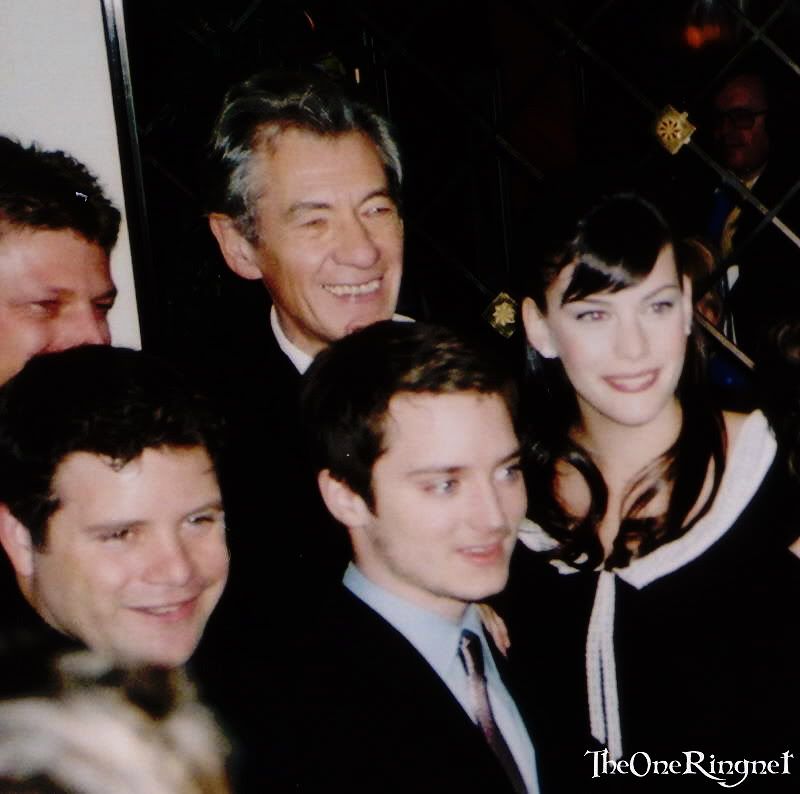 I thought Elijah Wood brought just the right note of reluctant, doomed courage to Frodo, a small, unassuming person who finds himself holding the fate of his world in his trembling hands. (Gorilla Pants.)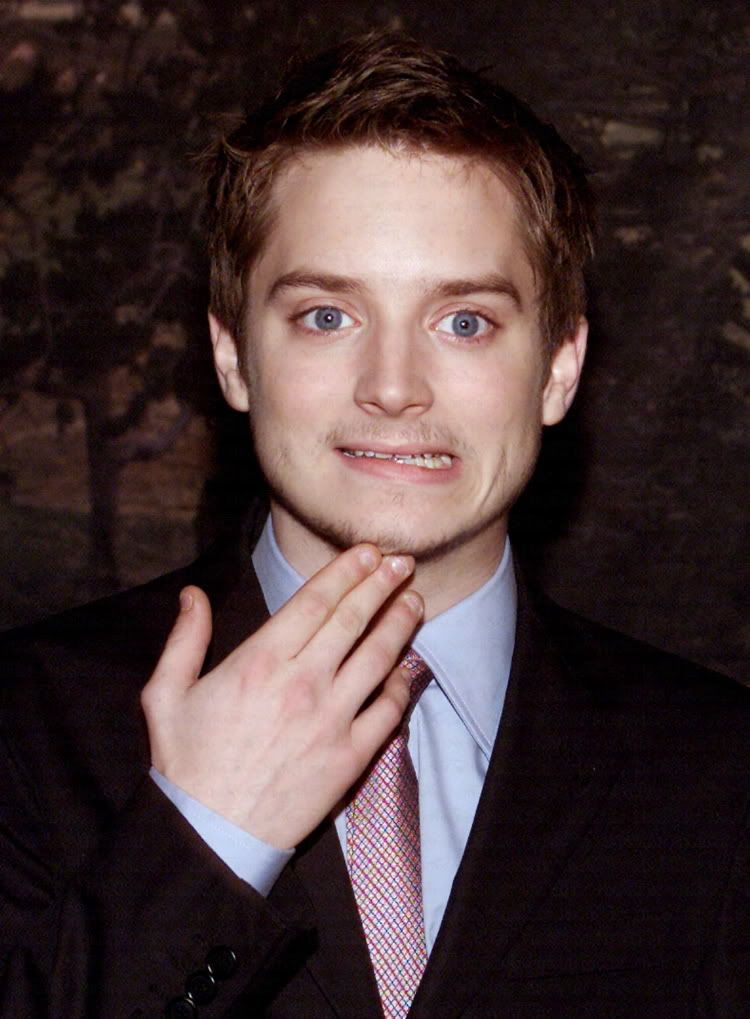 "The Lord of the Rings: The Fellowship of the Ring" is a flawless adaptation of J.R.R. Tolkien's literary masterpiece. Director Peter Jackson and his brilliant ensemble cast have created a spectacular holiday gift for the whole world…… The "Rings" trilogy is also a monument to ensemble acting of the highest order. McKellen is sheer perfection as Gandalf, and Wood is remarkable as Frodo, the heart and soul of the story……. In short, "The Lord of the Rings: The Fellowship of the Ring" is cinematic history. Not since "Gone With The Wind" more than 60 years ago has a movie held up as well to the original book. (CNN)
And on that note, I think the time has come to bring into this story the whole point of Elijah's journey - the film itself: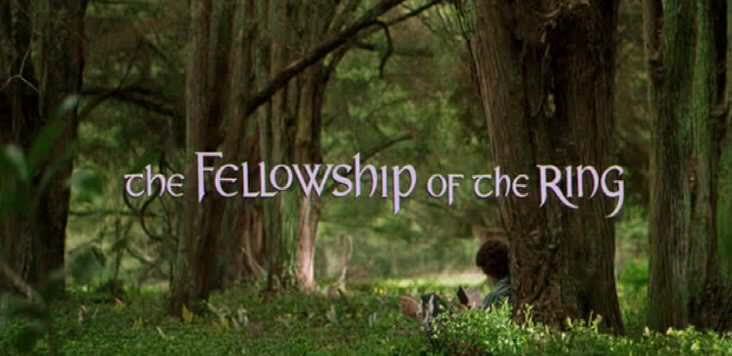 Waiting for Gandalf:
I actually prefer the theatrical version of this scene to the extended edition. Much as I love all the extra detail we get in the longer film, I've always thought this opening following The Prologue is complete perfection - idyllic peace and beauty following the dark drama of the Prologue.
PJ : "This was a shot that we did when we were doing pick-ups. We felt we hadn't really got the ideal introduction for Frodo and we found this really pretty forest about an hours drive from where we were based and we thought that just this moment of Frodo reading a book under the tree would be a really great way to introduce this character": (dvd)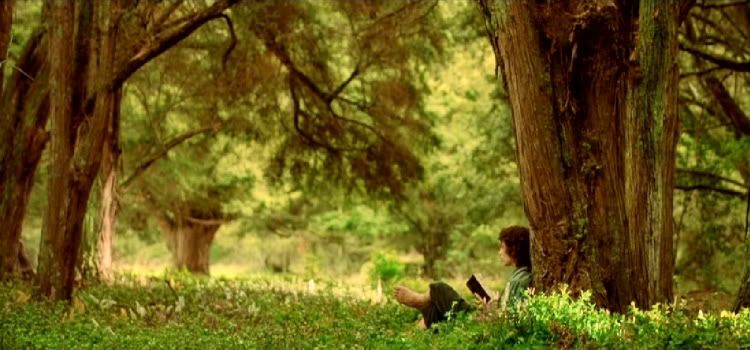 To use Dom Monaghan's words, "the money shot". PJ certainly knew how to immediately endear an audience to Frodo with this wonderful shot – such an amazing face, so fresh and youthful and full of life and just – beautiful. I was surprised to learn later that this was actually a pick-up shot – it's such a great introduction to Frodo.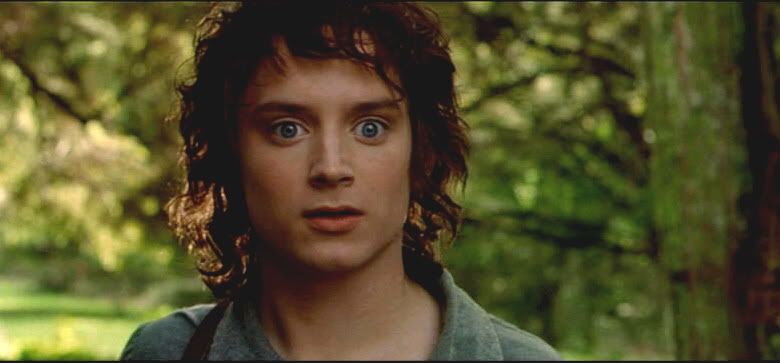 Phillipa Boyens: "It was funny to see him standing there after four months or so, and he was standing there with his feet on, in costume with the hair on, just laughing and laughing that he was back being Frodo again." (dvd)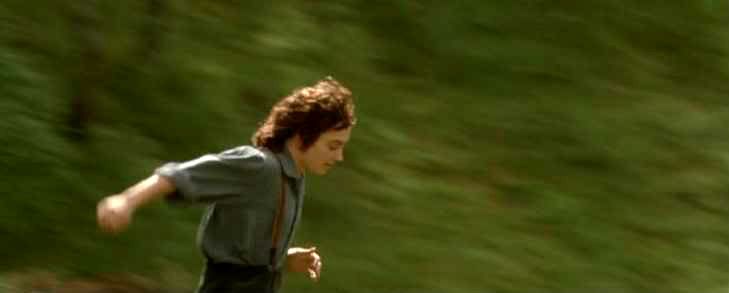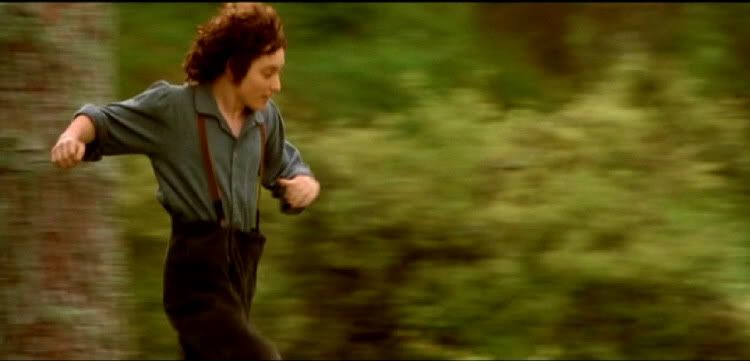 "Your're late!"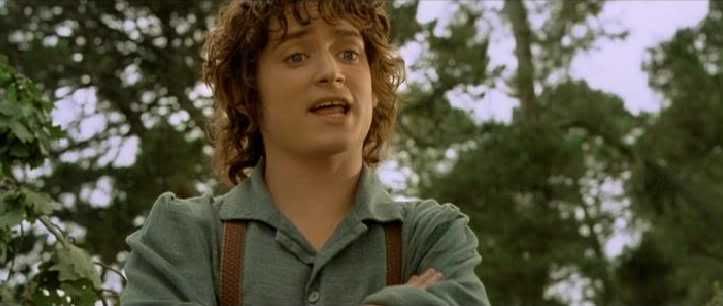 A wizard is never late Frodo Baggins! He arrives precisely when he means to.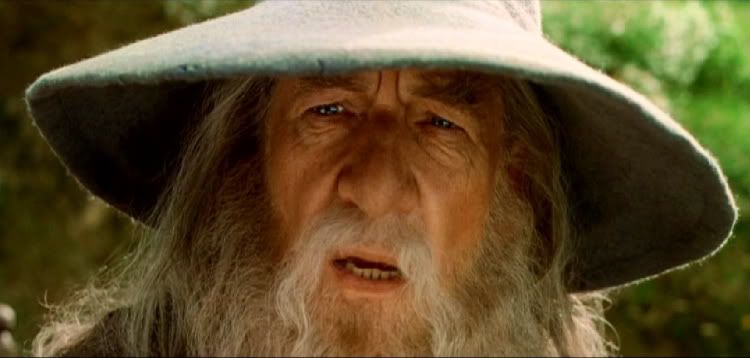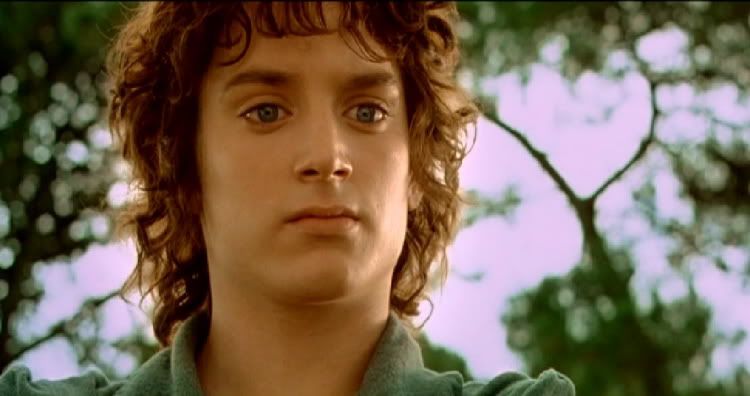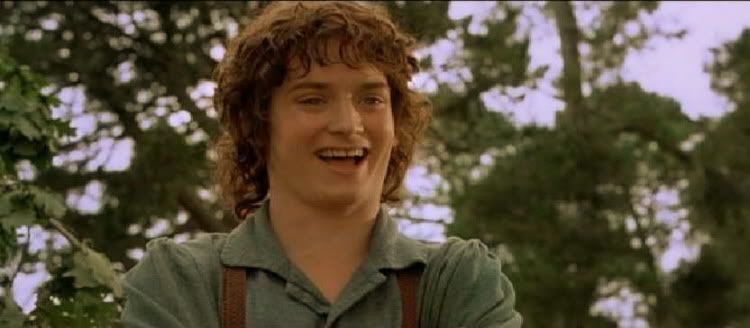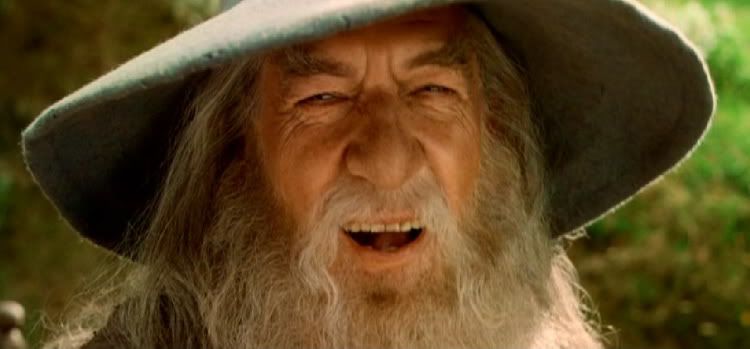 "It's wonderful to see you, Gandalf!"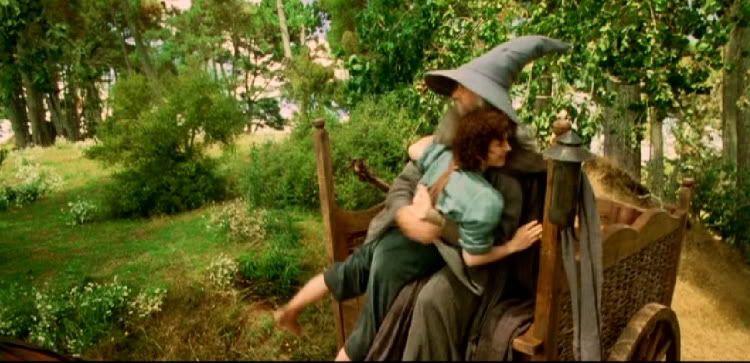 Sir Ian McKellan, who plays the wizard Gandalf, at first believed Wood was too beautiful for the part, saying he thought Frodo represented Everyman and that somebody more ordinary-looking should be playing him. But Jackson points to Wood's "wonderful, expressive eyes" as a reason for casting him. "You can look into Elijah's eyes and you can see right down to his heart."
And that's what is needed fro Frodo whom Wood describes as "an innocent and pure soul, but unlike other Hobbits he has a curiosity of the outside world."
McKellan has since become a "total convert" on Wood's casting saying emphatically that "if you think Elijah's good in this one, wait till you see him by the end of the third one." (LA Daily News)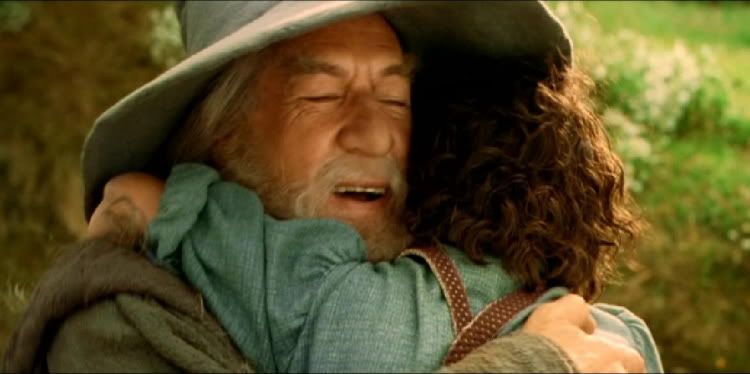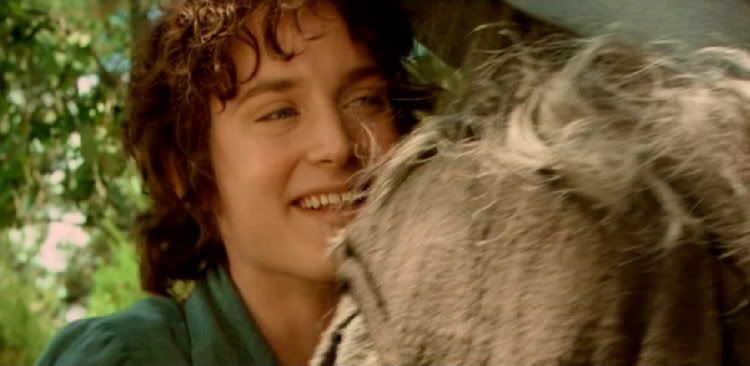 "Frodo is utterly innocent. A Hobbit of the Shire. Carefree, full of life. It's almost painful watching this if you know the book and know what he's about to face." (Reviewer, Ain't It Cool News)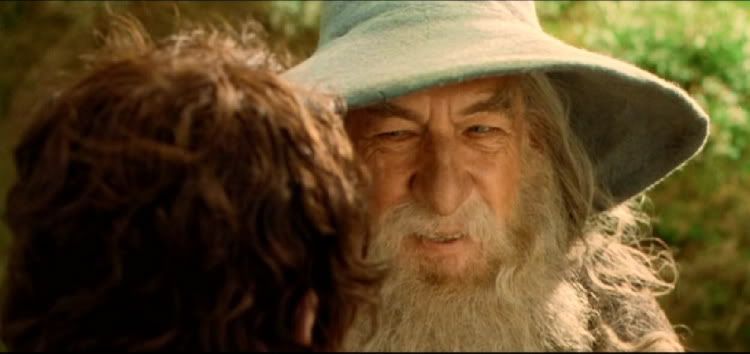 I think it's a shame that the following little scene was dropped from the extended edition - especially with such gorgeous shots of Frodo!!
What news of the outside world? Tell me everything!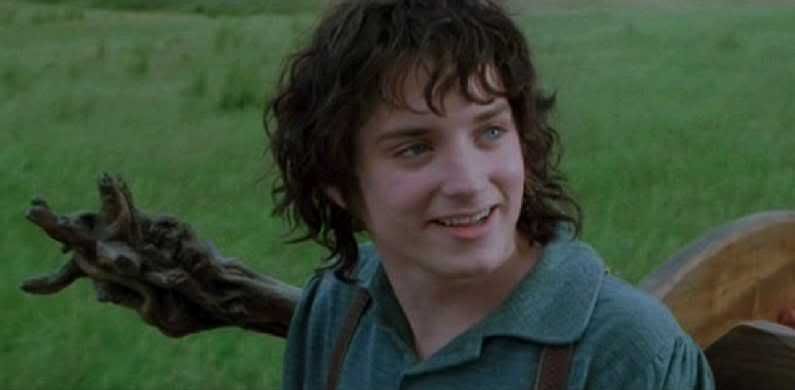 "Everything? Far too curious for a hobbit - most unnatural!"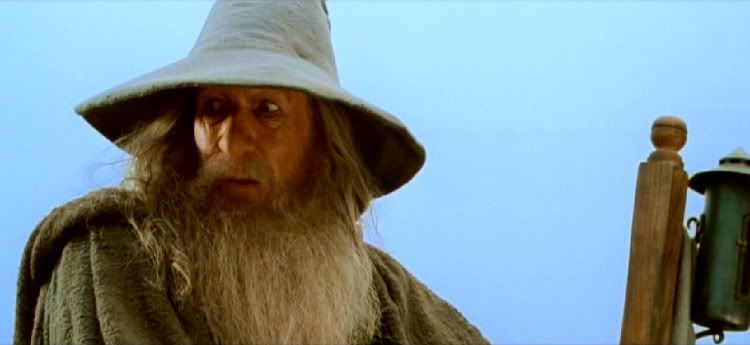 "What can I say about Elijah? Elijah is playing Frodo as if he actually were a hobbit caught in these circumstances and dealing with them in the only way he possibly can - as a hobbit. You feel, seeing the film, that it's not acting or performance, which makes it very real. I can't possibly imagine anybody else in the world who would be better suited for the role of Frodo Baggins." (Peter Jackson-source unknown)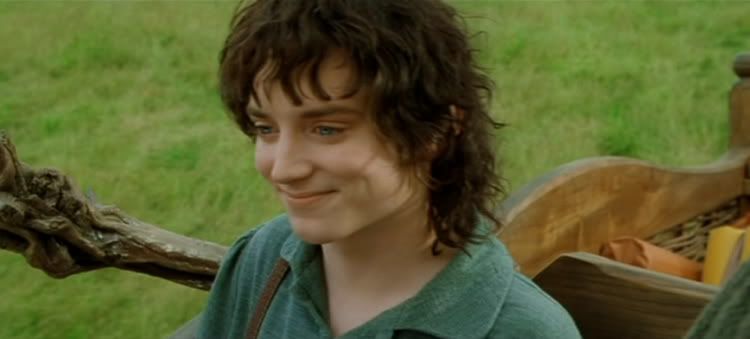 Howard Shore: "I wrote the Shire theme pretty early on, and then related the Shire theme to Frodo. The Shire theme is probably the most innocent theme in the film – I wanted it to have somewhat of a rural feeling but to have enough malleability to be able to create a heroic feeling to it and as Frodo takes the Ring and he's on this journey that this theme would carry with him through the story. At the beginning in the Shire you hear a much more sort of frolicking version of it; as Film One progresses and ends you hear the Shire theme transformed into what I called 'the hymn' which is a version of the Shire theme. It has more of a central core to it and its slower." (dvd)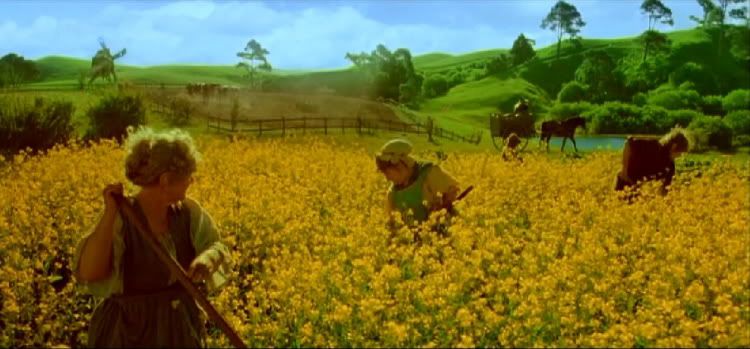 Elijah: "That's a forced perspective shot."
Dom: "How far behind were you?"
Elijah: "I was about two feet behind and the size of the pole on the cart was different for my side than it was for his." (dvd)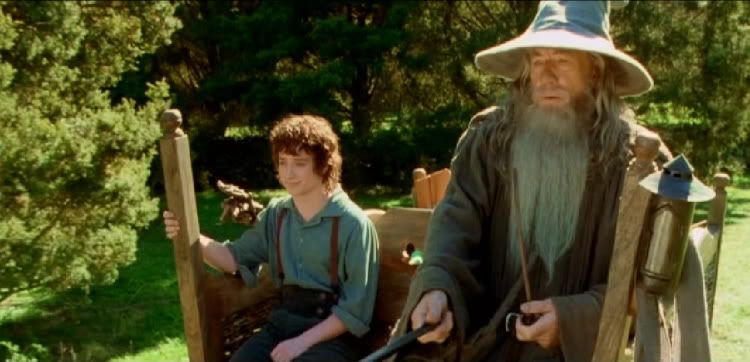 Elijah: "I remember they were doing the digital grading and I walked in and they were still for ages trying to figure out the green – they could not find the right green – it was starting to go brown and they couldn't figure it out." (dvd)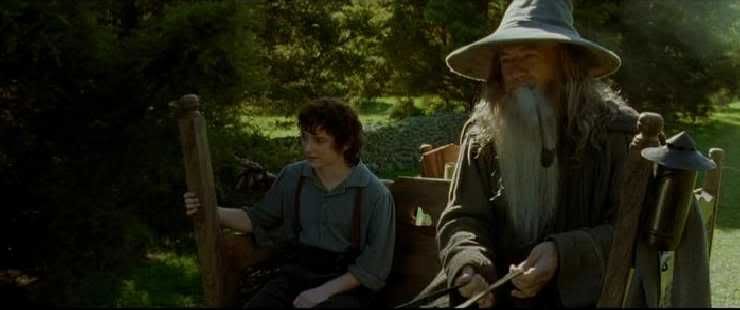 "Whatever you did, you've been labelled a disturber of the peace!"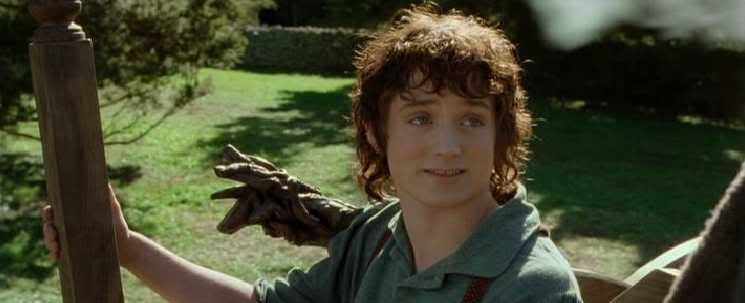 "Bilbo's been a bit odd lately."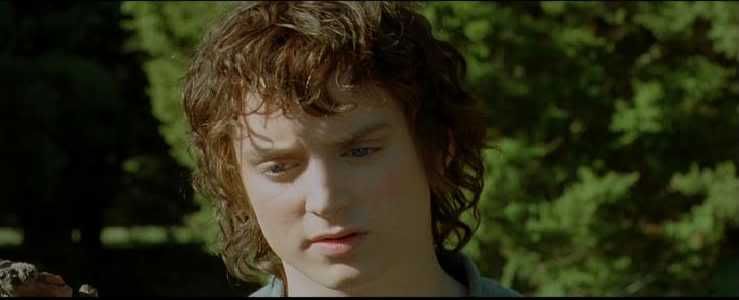 "Alright, keep your secrets, but I know you have something to do with it!"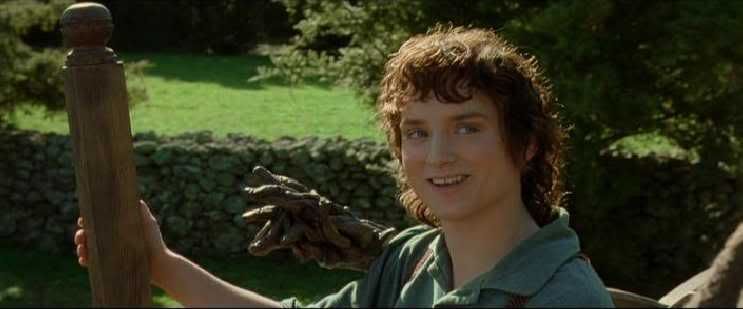 Elijah (of Ian): "Those mouth movements that he has – they're unbelievable!"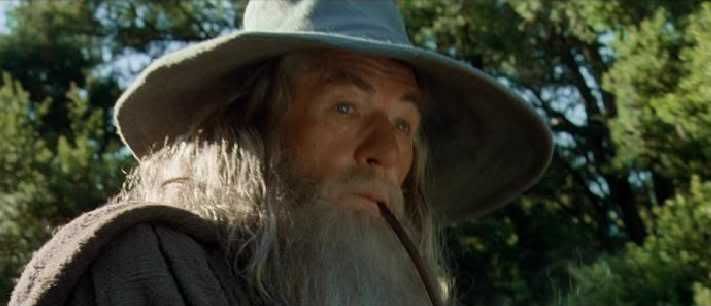 The children want fireworks - and so does Frodo!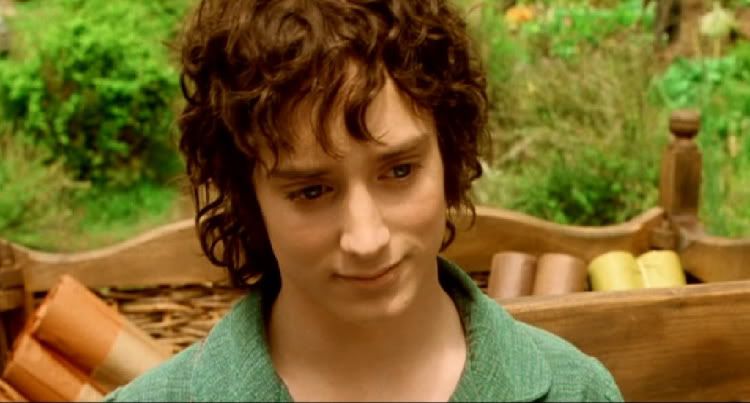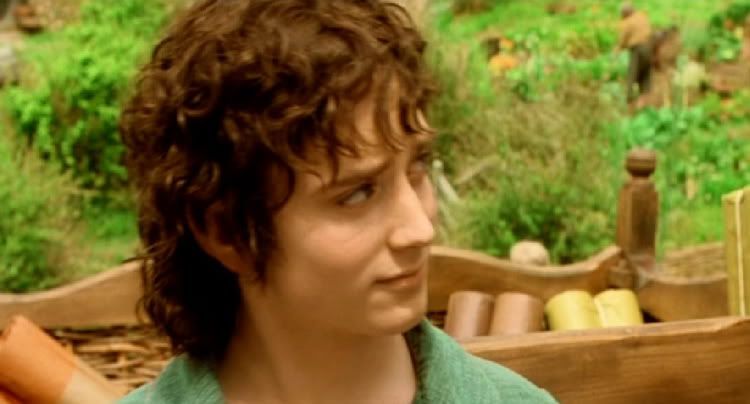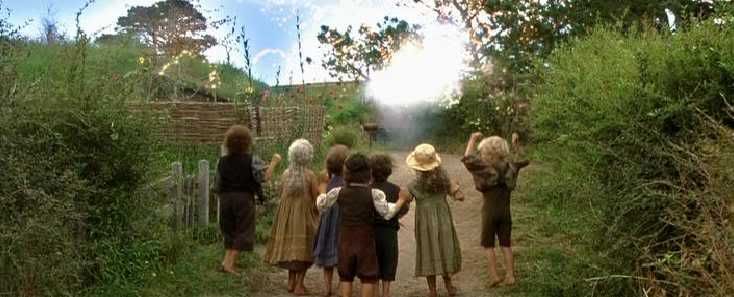 "Gandalf - I'm glad you're back!"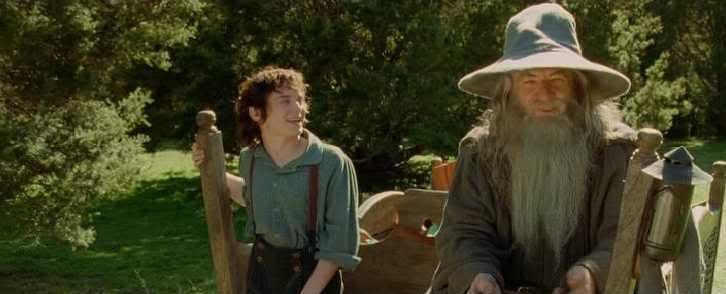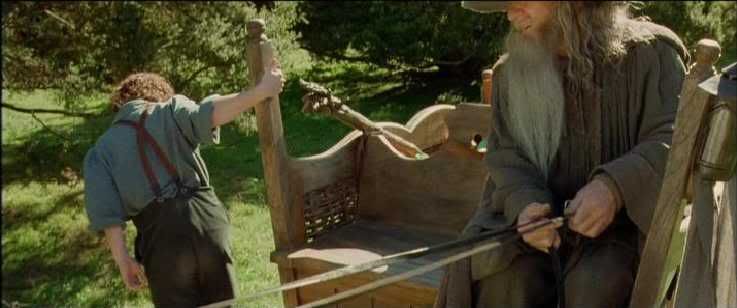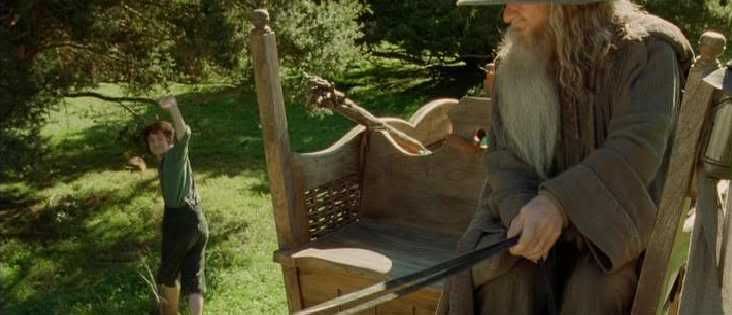 "So am I dear boy - so am I."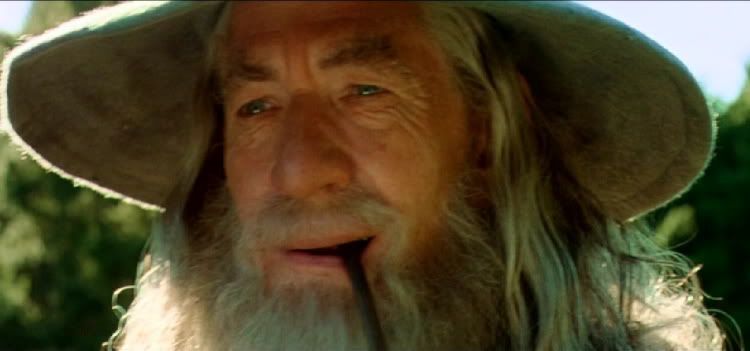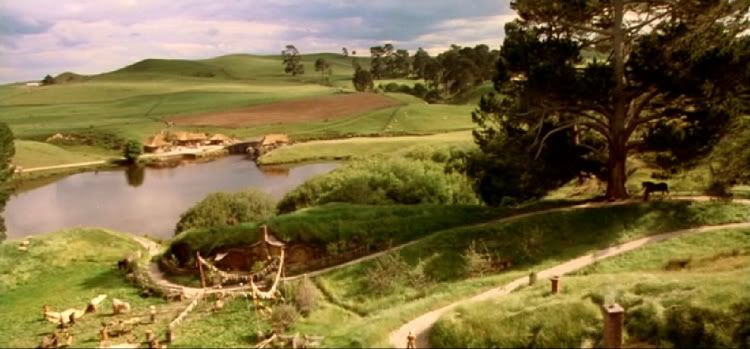 ***** ***** ***** ***** ***** *****
"You can look into Elijah's eyes and you can see right down to his heart."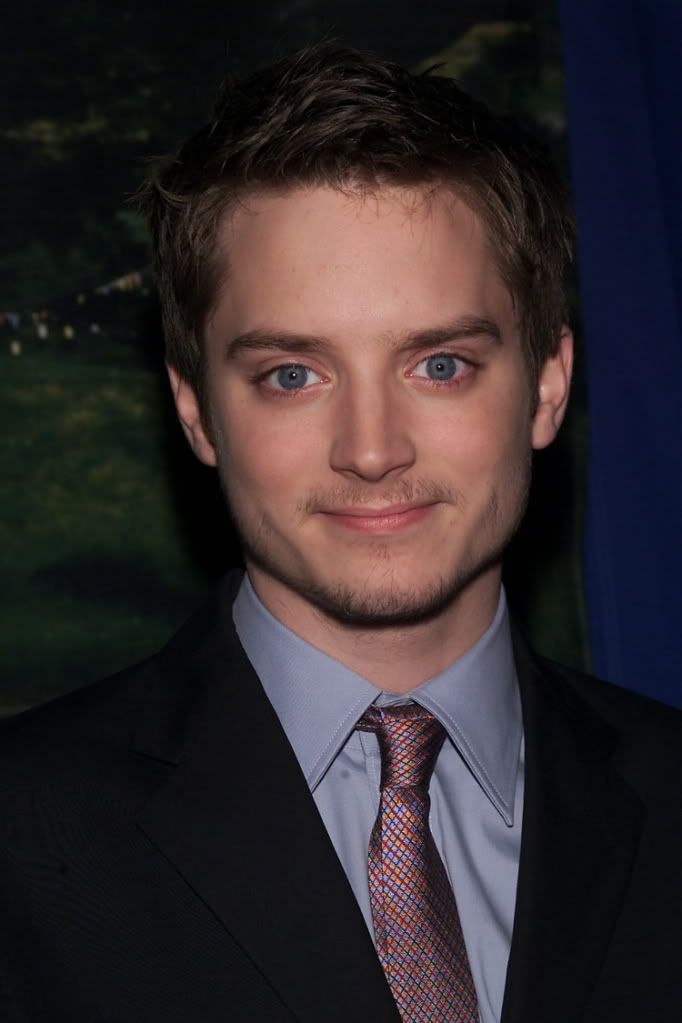 TO BE CONTINUED

Link to all chapters:

"A JOURNEY WITH FRODO"
comments: Leave a comment