| | |
| --- | --- |
| Tags: | a journey with frodo |
| Current Music: | fotr soundtrack |
| Security: | |
| Subject: | A Journey With Frodo Ch.25 'Frodo Goes To Hollywood' |
| Time: | 08:37 pm |
| Current Mood: | disappointed |
Since posting the last chapter of 'Journey', one of my dreams has been shattered. After all the exciting talk of a second 'Hobbit' movie which would bridge the time between 'The Hobbit' and FOTR with the strong possibility of Elijah and many other original cast members being involved, we are now told that it is not going to happen. Instead 'The Hobbit' will be split into two films. I wish they just hadn't said anything rather than raise our hopes likes that. Oh I know plenty of people actually thought it was a bad idea - but I so wanted to see Elijah as Frodo again even if it was only for a small cameo. And it wasn't just that, it was also the thought of him being involved in the surrounding publicity - interviews, chat shows etc. And I feel certain that Elijah and the others will also be very disappointed, and that makes me sad:( Ah well, back to happier times, when FOTR had still not been seen by most of the world and the publicity whirlwind moves to Los Angeles, Elijah's home - but not before some fun was had by all back in NY on the TRL show.
For anyone unfamiliar with my pet project, 'A Journey With Frodo' (a work in progress) is the story of Elijah Wood's experience in becoming Frodo, from back in 1998 when the LOTR movies were just a whisper up to the triumphant Oscars of Feb 2004. In reliving Elijah's journey, (and my own!) I am using everything I can lay my hands on - behind-the-scenes material from the various dvd's, magazine articles, books, internet sites, tv coverage, word-of-mouth info, etc. Previous chapters can be found here
"A JOURNEY WITH FRODO"
Hope you enjoy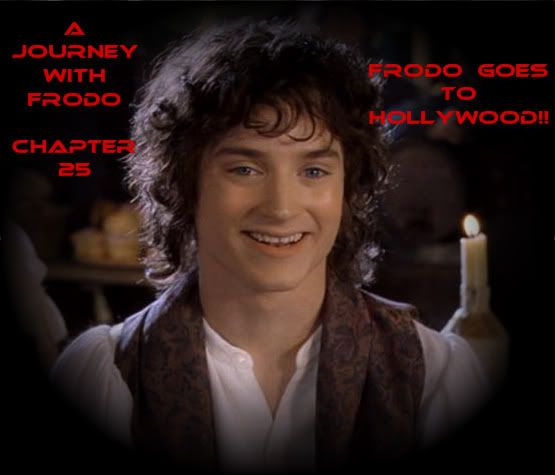 *********
14 DECEMBER 2001 - TRL
After all the recent tv appearances on his lonesome - it must have been really enjoyable for Elijah to appear on TRL with so many of his castmates:
JM: "I saw you earlier on TRL, it looked like you and the rest of the cast were having a blast!"
EW: "It was really good fun! We're all incredible friends so its always a real treat when we can do press things together! We can take over the show and display how well we get along. Lots of crazy Hobbit behaviour!" (AOL Chat with Jessica Mae)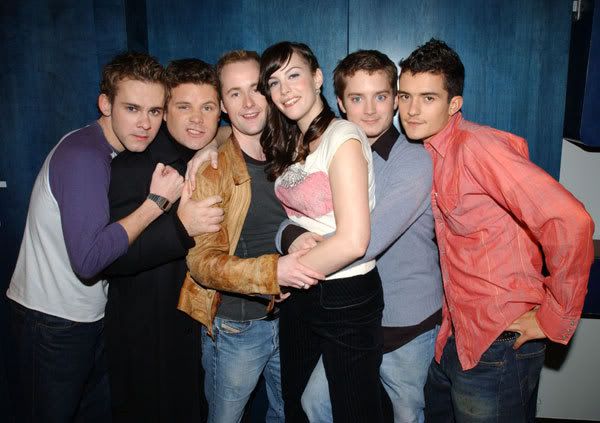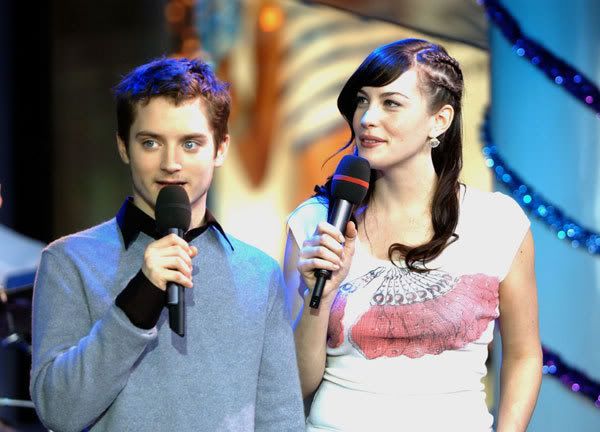 I love these shots of Lij and Liv:)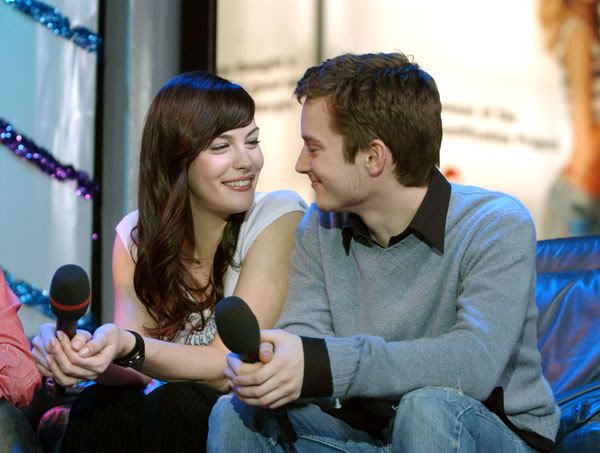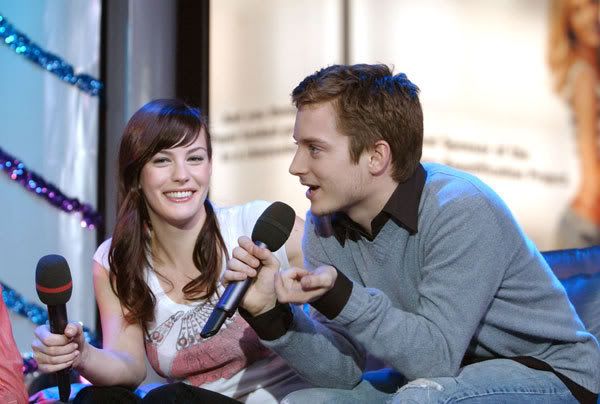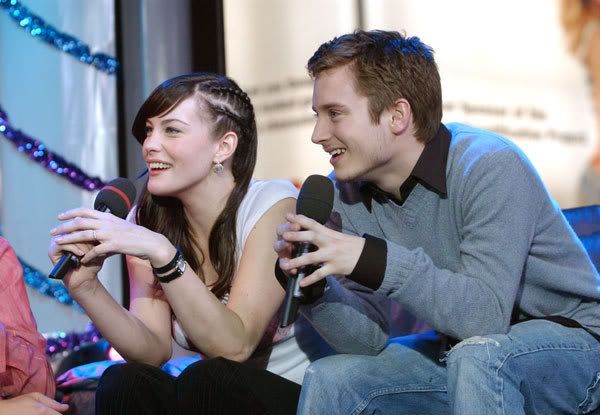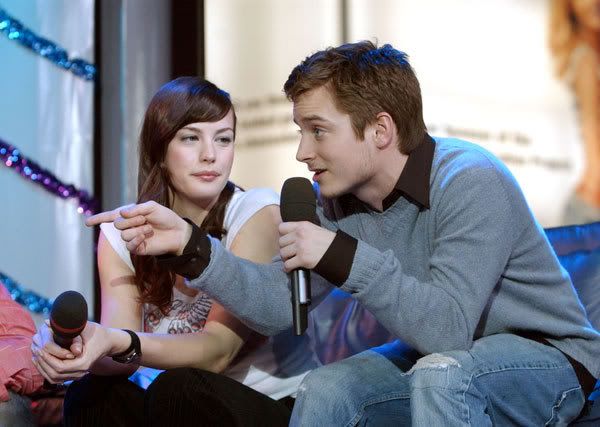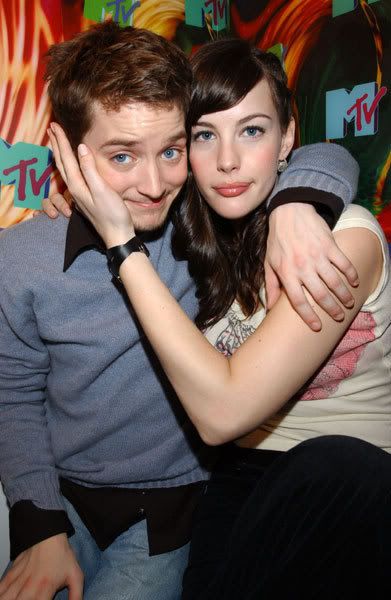 Sean is given 15 seconds to summarise FOTR ...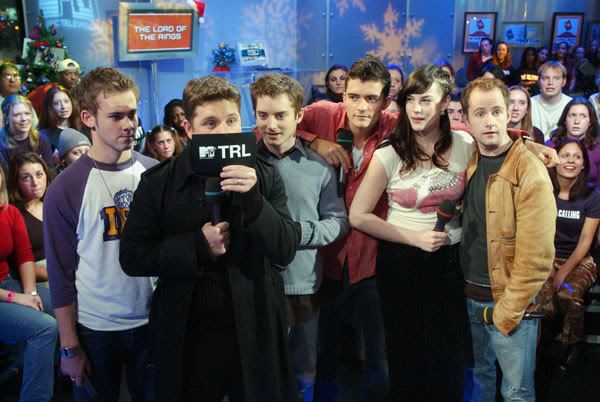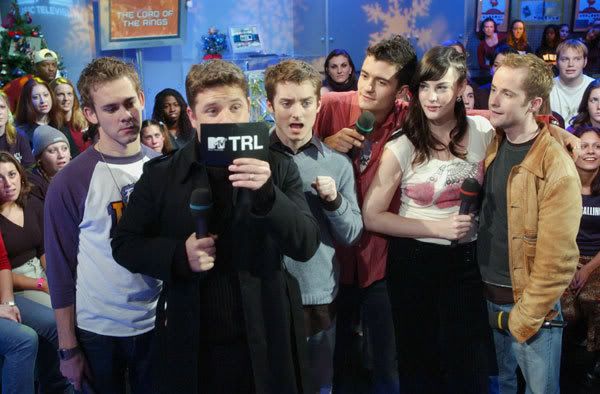 ...but he has certain distractions to contend with!!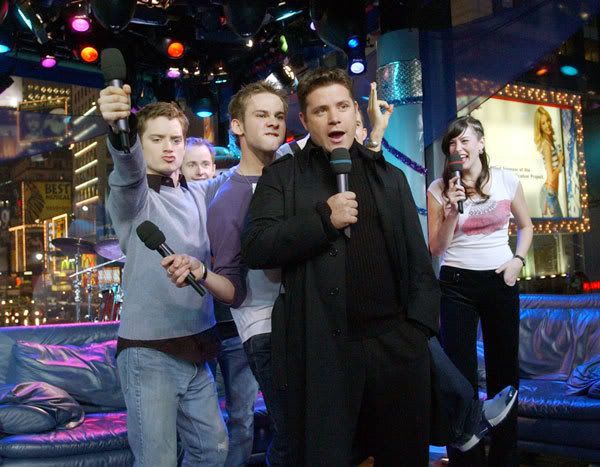 *********
16 December 2001 - LA Premiere:
Press Check-In: 3:30 pm
Arrivals: 4:30 pm
Screening: 6:00 pm
WHERE: Screening: The Egyptian 6712 Hollywood Boulevard Hollywood
TV & PHOTO COVERAGE IS INVITED **Credentials Required**
Elijah tells ENews
"It's nice to come home after all the travelling ..."
"In all honesty, the movie belongs to Wood. His cobalt eyes capture every emotion from his crippling doubt to his excitement at leaving home. His boyish features belie a depth of soul, just like the man-child from the book. He may be playing a hobbit, but he is the most human character to grace the screen this year." (Filmstew.com)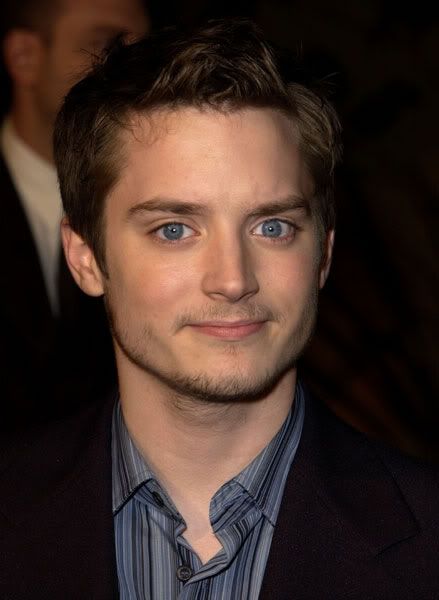 "Fellowship's heroes are as psychologically complex as any of Shakespeare's, and the cast has the talent to give them the required depth. Wood's Frodo is a revelation, his wide eyes acting as windows into an innocent soul battered but unbroken by the evils of the world." ~ Reel.com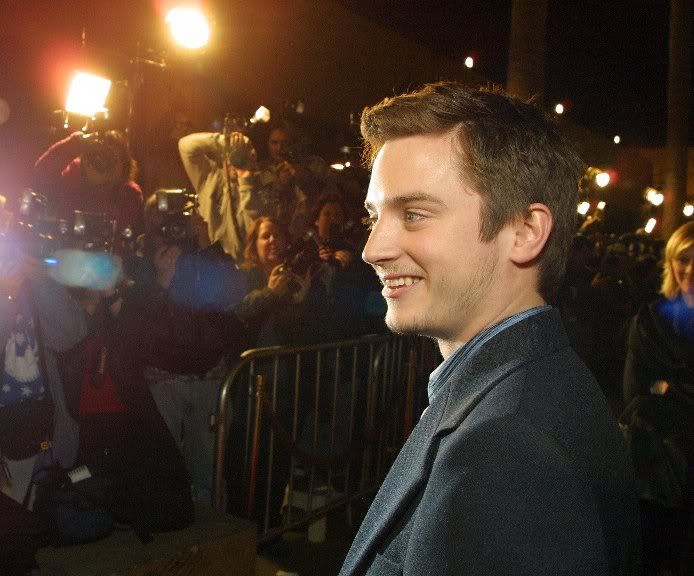 "Wood is an endearing blend of fierce spirit and wide-eyed innocence."
"Jackson masters every nuance of the production, from the wee homes of the hobbit's village, the Shire, to the computer-generated monster wars and the up-close-and-personal moments of his diverse population. The costumes, the energy and the special effects are brilliant, but the bottom line is that this must be respected as an overwhelming achievement. The bar has been raised, and the world of film entertainment will hereinafter be better for it." (Palo Alto)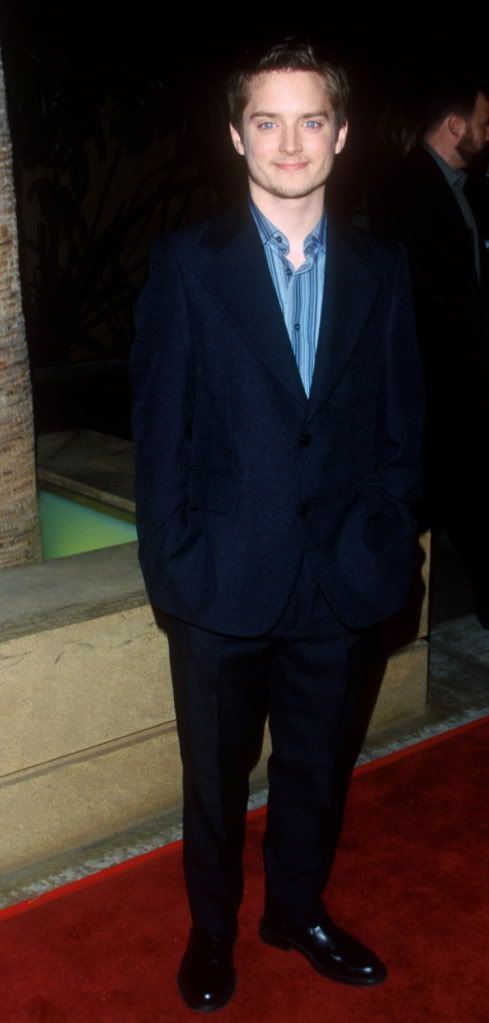 "This isn't a fantasy-world lark; it's an epic struggle between good and evil in which millions of souls hang in the balance. And Jackson treats it with appropriate gravity. Somehow he does this without digressing into pretentiousness. And his cast responds. Three performances dominate "Fellowship." First there's Elijah Wood's Frodo, the hobbit who inherits the Ring and who is charged with its destruction. With his elfin features and huge blue eyes, Wood absolutely looks the part (extremely clever photography that fiddles with perspective reduces the hobbits to half the size of humans). What's unexpected is how well this 20-year-old actor grasps Frodo's fear and resolution. Imagine being told you're on a suicide mission upon which the fate of the world depends; Wood nails that dilemma with a performance tinged with sadness and regret. He's an unlikely hero but all the more impressive for his essential gentleness." [The other two were Ian M. & Ian.H.] (Kansas City Star)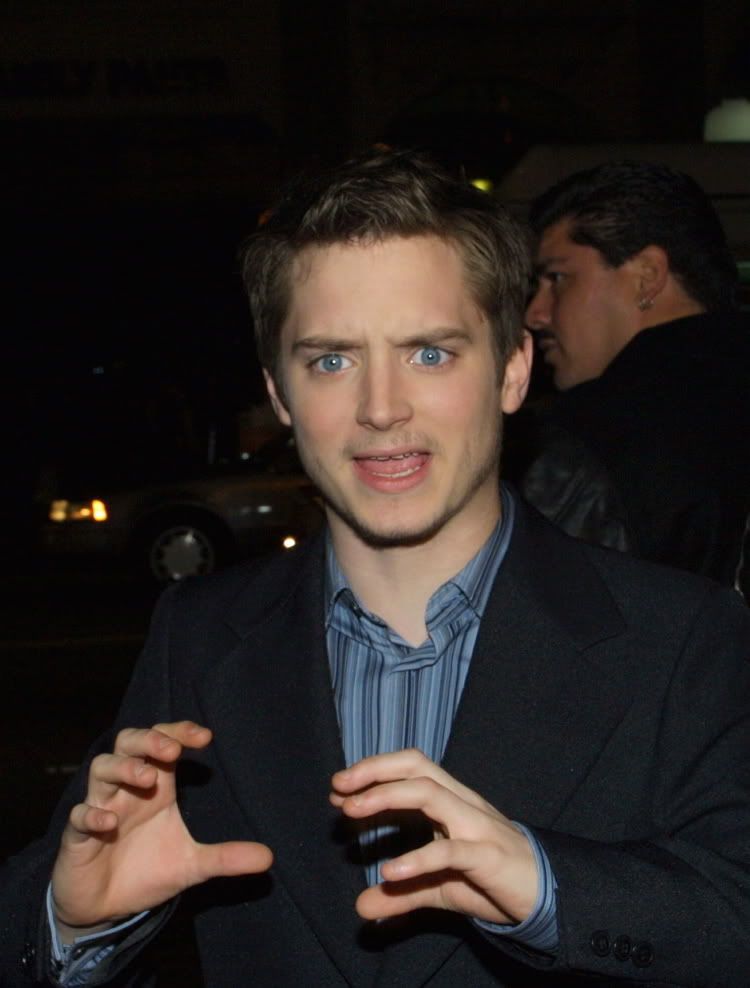 "It is downright frightening, (and I might say, shamanically accurate) the way the Dark World of the Ring is depicted...sight and sounds. Frodo goes into a space most of us would have no desire to enter, much less carry the burden all the way to the place of its forging. The Ring's power of seduction is apparent throughout the film and makes sure that no one will leave the theater taking this trinket lightly. It also adds to the strength of Frodo's character that, through his struggles and his visions, he has the will to remove the Ring under the utmost pressure to NOT do so. He maintains his character in contentious situations: when others are quarreling, he takes his own authority and does what so many are afraid to even think of...he becomes the Ringbearer. His struggles (through plot and personally) are depicted honestly and with great dignity by Elijah Wood. His character must maneuver through a myriad of complex emotions and swings between innocence and possession that would have driven most people crazy. The acting in this film is a collection of some of the best assembled in some time...and they do an incredible job. (Jonathan, tolkienonline)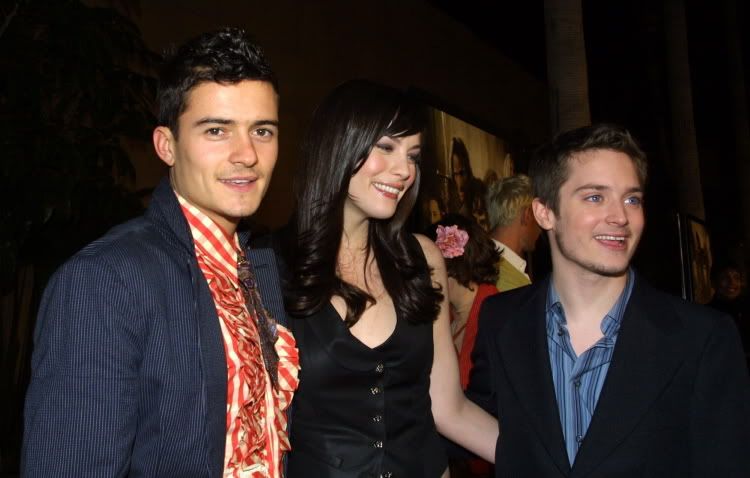 "The actors bring Tolkien's myriad collection of creatures to life with Wood giving Frodo the wondering innocence and forthright resolve I remember from reading the stories" (Reeling Reviews)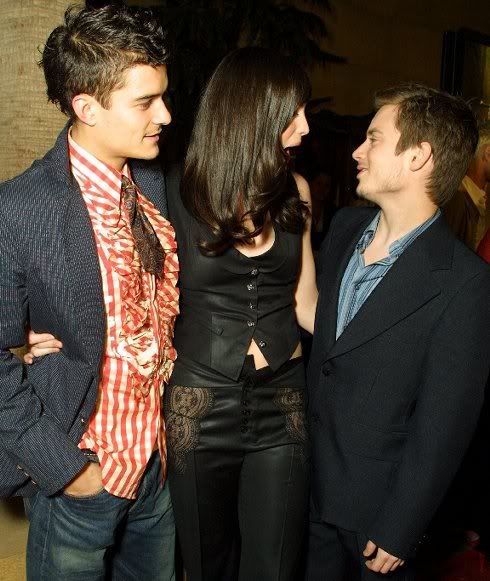 "Wide-eyed Frodo, a teenager in hobbit years, is more than apprehensive about being charged with this crusade, and Wood's performance captures the weight of his character's bewilderment with credible, captivating ingenuousness. But wise, warm, distressed Gandalf insists vehemently, knowing Frodo is the only person with a heart pure enough to bear the ring to its destiny without succumbing to its virulent influence. Elijah Wood is a perfect reluctant hero. The moment he accepts his destiny to lead the Fellowship's quest is one of the film's truly wonderful moments" (Efilmcritic.com)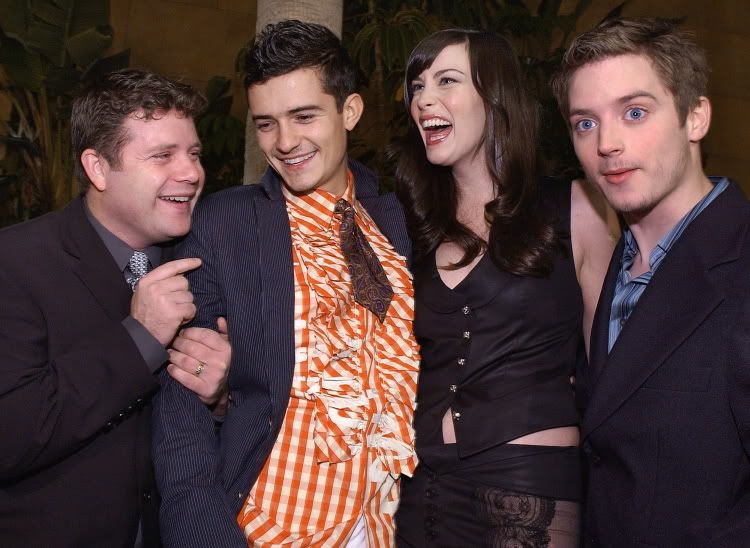 "As for performances, they were all good. Like Harry Potter, this is an extremely well-cast film. However, I will mention three performances that moved me. Ian McKellan, as the wizard Gandalf, is the foundation upon which all the other performances build. He is magnificent, every bit as magical in his performance as his character is in deed. Elijah Wood proves he was the worthy choice for Frodo. He was an instrumental part in all of the most moving scenes, and their emotional effect on me is the best testimony to Wood's efforts. Lastly, Sean Astin was great as Sam Gamgee, the friend each of us needs by our side. At this point, I have no negative criticism to offer. I am speechless. This film is rated PG-13 for epic battle sequences and some scary images. It is not, I assure, suitable for the faint of heart". ( Jim Chastain, Norman Transcript.)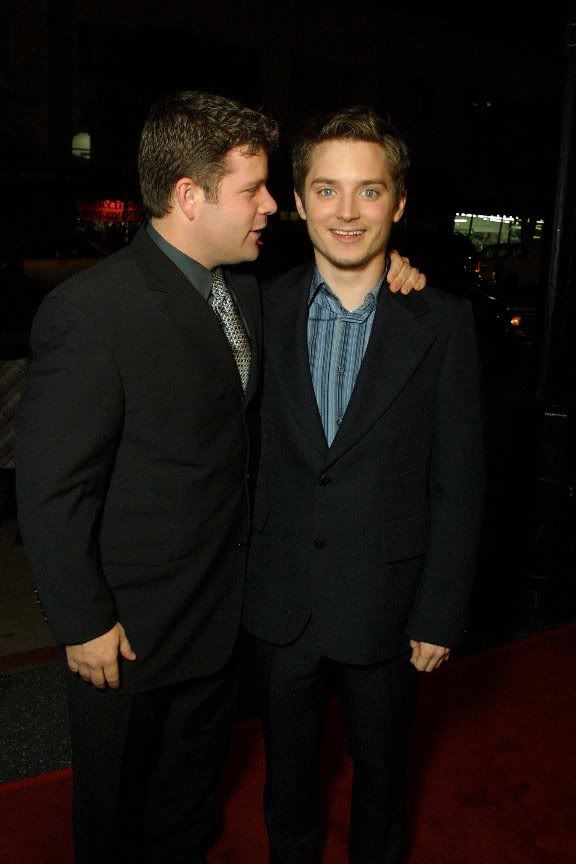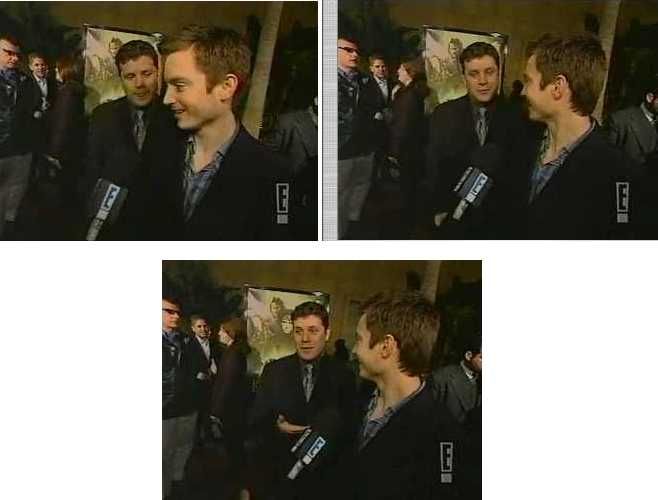 Sam and Frodo are perfectly played by Sean Astin and Elijah Wood. Elijah has the tougher job—Frodo is not merely a cipher, like Harry Potter is. Frodo has to choose to do what he is doing, while Harry Potter just wanders into and out of scenes with wide eyes and a smile. Frodo has to choose, every moment, to go forward, to endure, to carry a burden unimaginable even to great men. Wood gives us convincing, simple-minded conviction... he will go forward against all odds, even if it kills him, because, well, it's the right thing to do. Jackson is right to make central one of Gandalf's charges to Frodo: "All we have to decide is what to do with the time that is given us." Elijah Wood's furrowed brow and careful line delivery convinces me that he is willing to carry this thing to the bitter end. Sean Astin, as Sam, gives us the perfect picture of friendship. He's naïve, but determined to remain loyal and loving. (Jeffrey Overstreet)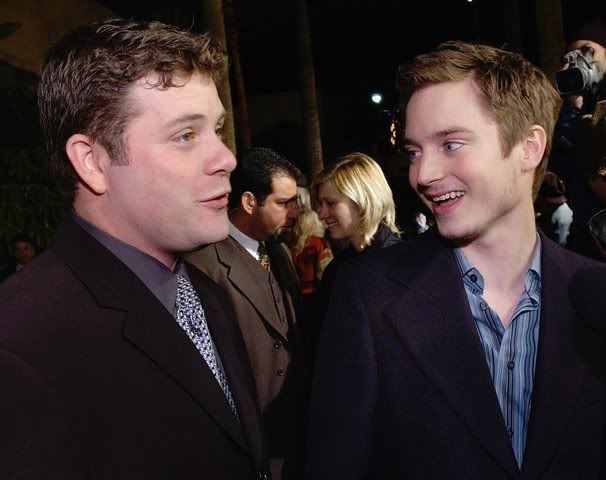 "Almost a year since filming finished, Wood is still overawed by the immensity of the Lord of` the Rings experience. Still amazed that he was chosen to play Frodo, the most sought-after role for any young actor in recent years; still recovering from the long, extremely tough shoot; and now bracing himself for the huge fame bubble that's about to burst around him as the first film in the $270 million trilogy is set for release.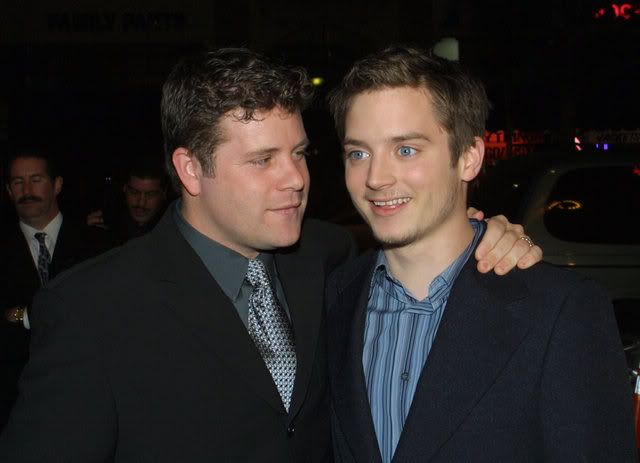 Wood's wide-eyed enthusiasm is even more appealing because, at the age of 20, he is already a veteran of the movie business. His film career began when he was just eight and he has already starred in 26 films. Yet he remains clear-eyed and oddly pure.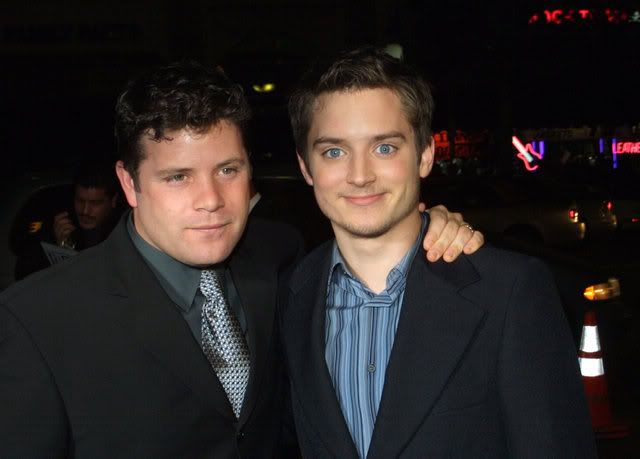 Wood is proud he fought for the part, that it didn't just fall into his lap. Yet as I look over at this eager, intense young man, precariously perched on the edge of a big couch in a hotel lobby, it seems inconceivable that anyone else could have been considered.
Of course, Wood's size helps: he's barely 167cm (5ft 6in) and is delicately framed which lends him a hobbity kind of demeanour. He doesn't have the over-pumped arms and upper body of most young Hollywood actors. His teeth have not been homogenised by a Beverly Hills orthodontist: they are a little crooked, a bit jagged, there's that appealingly boyish gap at the front. And he's a fidgety kind of chap, buzzing with pent-up energy. He smokes, he bites his nails and he chews gum non-stop. But there's something more than that. Wood has this eerily pale, translucent skin out of which shine eyes so intensely blue that the effect is startling.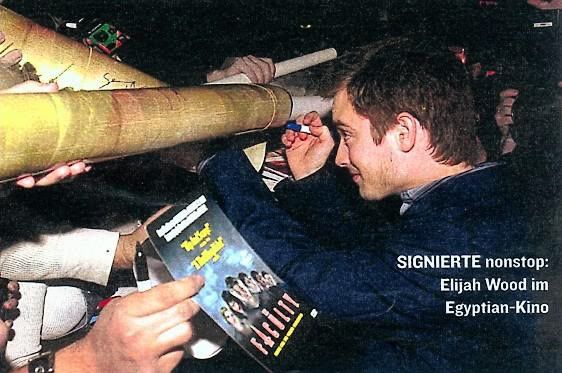 From the very outset, Wood who was 18 when filming of The Lord of the Rings began, felt that in taking on the role of Frodo Baggins, he was being charged with a responsibility as awesome, in many ways, as Frodo's. He keenly felt the responsibility, to the director, to the books, to the millions of Tolkien fans who adored them, but above all to himself, to show that this trust had not been misplaced.
It was an incredible effort of endurance. 'Towards the middle of filming, there would be weeks when you'd literally lose yourself in it. It's so easy to lose perspective when you get up at five in the morning every day and get home at seven in the evening, go to sleep, then do it all over again the next day, and the day after that, six days a week,' he says. 'But as a result, I've made some of the best friends I've ever had and garnered some of the most amazing life experiences.'
Although Wood insists that The Lord of'the Rings has not changed him, it has certainly changed his life and he never wants to forget it. Suddenly he stands up, yanks up his T-shirt and pulls down the waistband of his jeans. There, right over his appendix, is a tattoo, some two inches wide.
'It means nine in Elvish," he says. "It stands for the nine members of the fellowship. A week before the film was finished we decided to go to a tattoo parlour and set the experience permanently on our skin. All the members got this tattoo, including lan McKellen. It's a profound experience that needs to be marked.'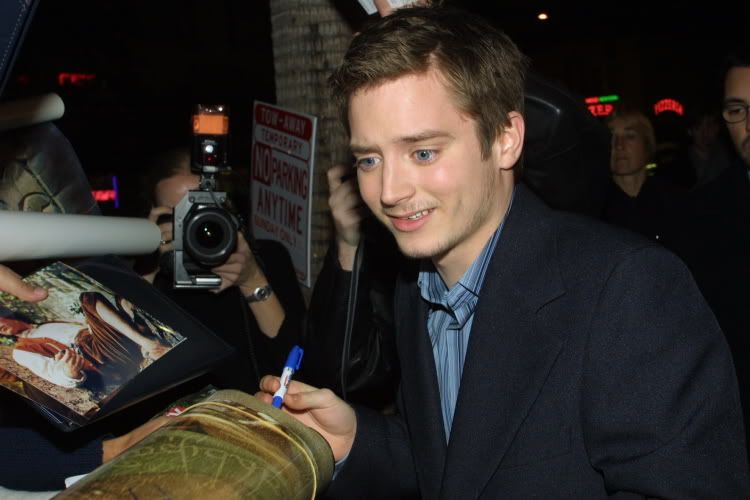 I love the expression on this fan's face - just says it all really!!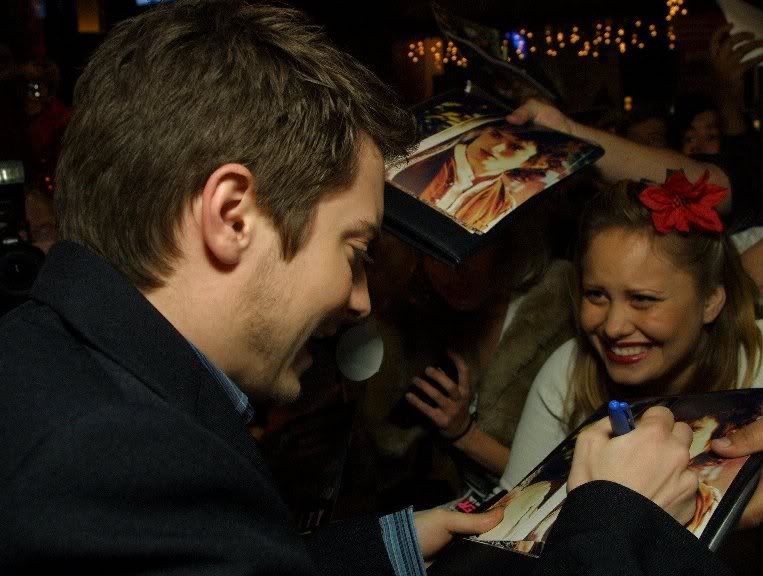 But The Lord of the Rings is most important to Wood because he feels he really became his own person during the 15 months it took to make it. He had never been away from home for so long and he had never spent so long away from his mother, who was always with him on location. 'It was an interesting transition for her to make, kind of difficult, because she had literally travelled with me and supported me all the time,' he says.
'But there comes a point where the water starts to shift and you're looking for your independence. It was another reason I decided to do the movie. It was me on my own for pretty much the first time in my life, and it was the perfect time for that to happen for me.'
Now, with the release of the film, Wood faces his most profound challenge: stardom. But he insists he's not about to be overwhelmed by it all. 'I have a theory," he says. 'The people who go outside their house with the fear that they can't lead a normal life or who try to hide themselves away, or are afraid of what might happen to them, I think they ask for it by behaving that way. The more carefree and relaxed you are about your life, that will kill a lot of negative attention.
The other thing I know is, if this movie does become really huge, I won't change and my perspective won't change. I want to continue living my life the way I live it, and I'm not going to let anything stop me from doing that. I value being able to go where I want and do what I want. Because, you know, it ain't all about acting. There's a lot more to life than Hollywood." (From interview posted by torn - original source unknown)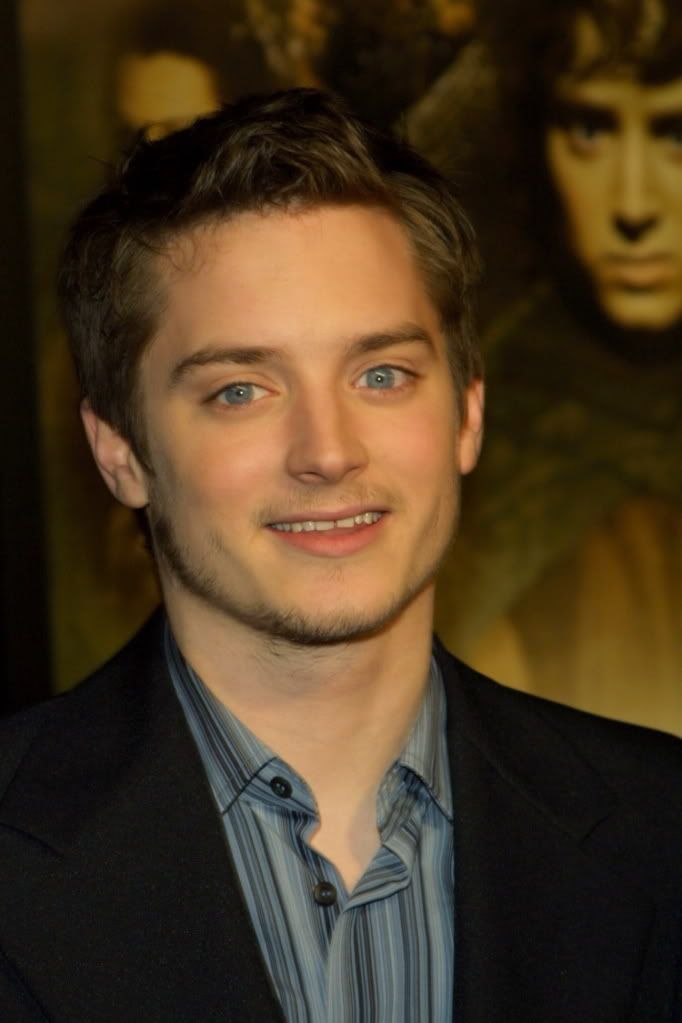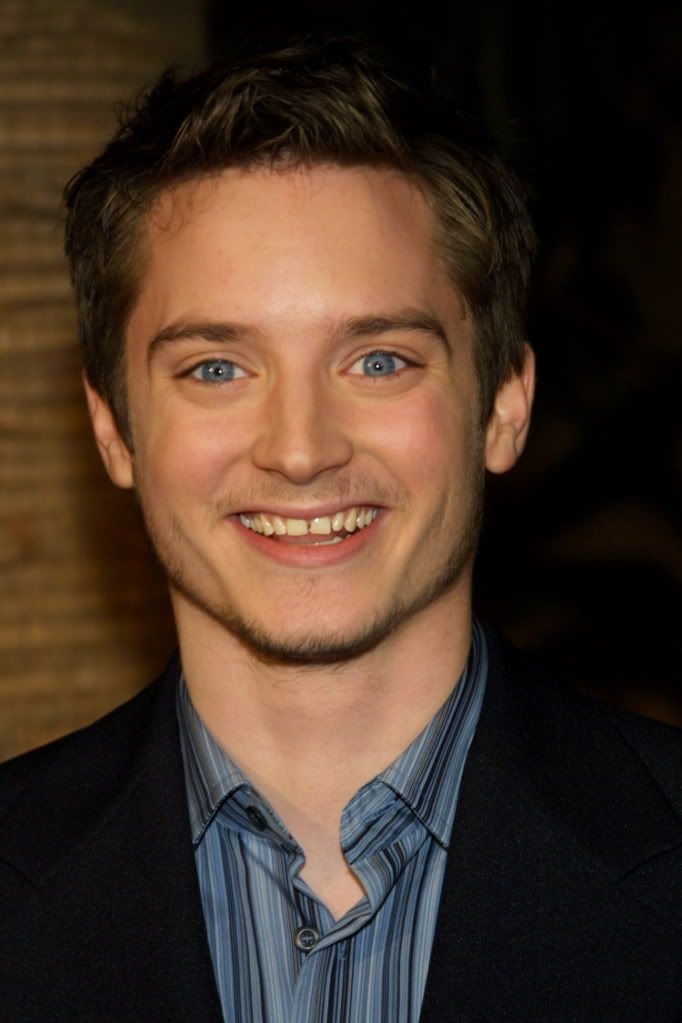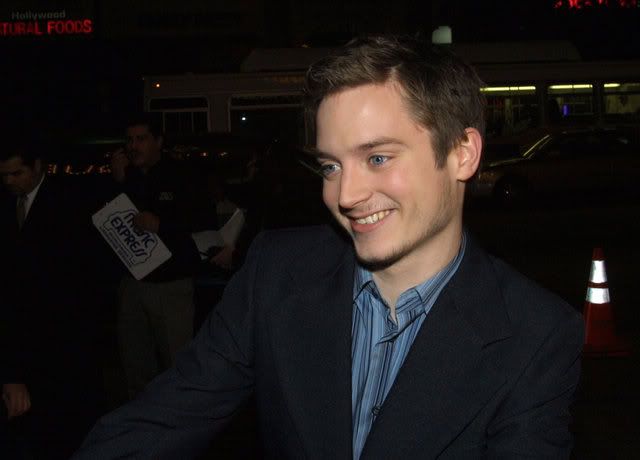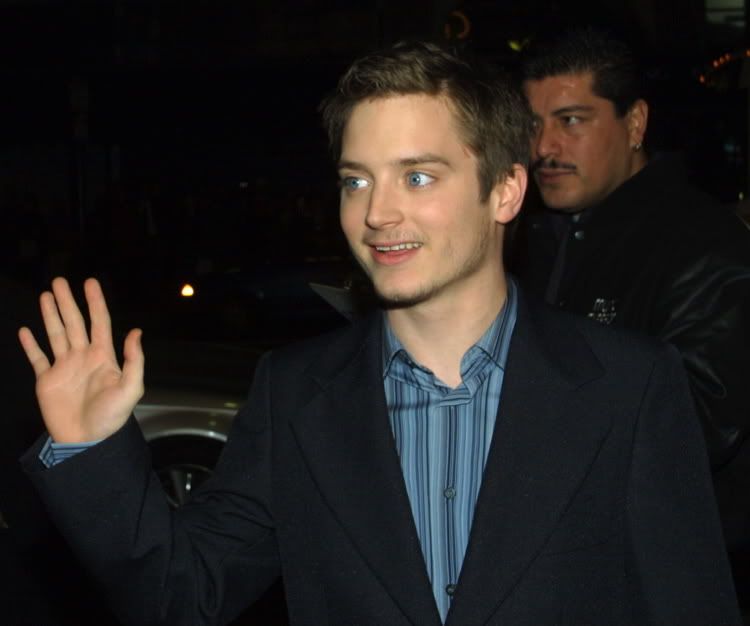 "Okay, I'm shamelessly partial here. I'm known among my friends for having a rough time evaluating entertainment objectively when my hormones wake up, but in that respect I am no more biased than the legions of male reviewers who praise women to the skies whose sole qualifications for a given role are non-biodegradable. Wood clearly is not in that crowd, as he was able to hold his (very young) own on a thirty-foot screen against such luminaries as Cate Blanchett and Ian McKellen...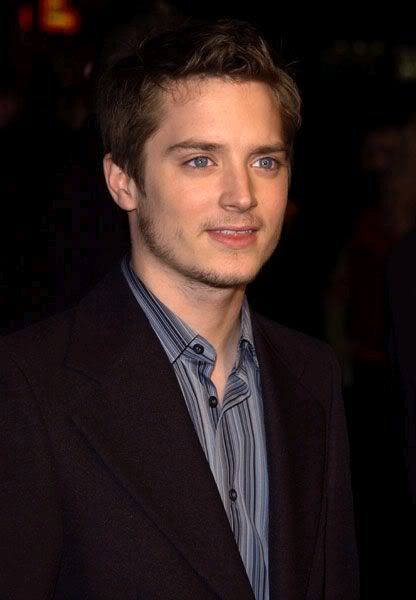 He was eloquent, is the only way to put it. He radiated such goodness and honesty that you knew that there must not be another person in all of Middle Earth who is capable of carrying that Ring without being seduced by it so far. Even when he was being compelled to put it on, you got the feeling that the compulsion was of a different flavor than the self-motivated lust of the other members of the Fellowship (or Galadriel). They were compelled to take the Ring by their own weaknesses, but in his case, the Ring was compelled to put itself on him so that it could be found by the wraiths. Overall, you just know that Frodo ain't got a nasty bone in his body, and Wood carried it off while still remaining thoughtful and vulnerable instead of a flat goodie-goodie cypher.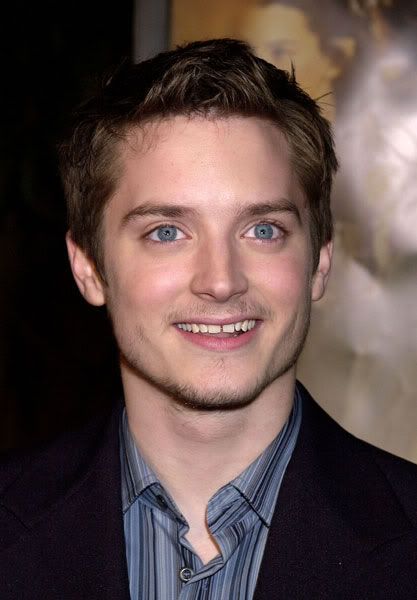 Frodo has definitely found himself in over his head, but he's neither entirely capsized by it nor rising to the occasion like a cardboard hero. Throughout the movie, he manages to get across both the innate indomitability of the hobbits and the fact that all of the dripping, stinky nastiness he's going through just offends his hobbity sense of decency. There are many layers to his journey, and Wood seems to be capable of communicating them all. And yes. He's so beautiful that it almost breaks your heart. Who would have thought that Hobbits were turned out by the Meissen factory? (Janis Cortese)
*********
And to return to Frodo's journey ...
The Long Expected Party
"When every guest had been welcomed and was finally inside the gate, there were songs, dances, music, games and, of course, food and drink. There were three official meals: lunch, tea and dinner (or supper). But lunch and tea were marked chiefly by the fact that at those times all the guests were sitting down and eating together. At other times there were merely lots of people eating and drinking – continuously from elevenses until six-thirty, when the fireworks started." (Fellowship of the Ring ~ A Long Expected Party)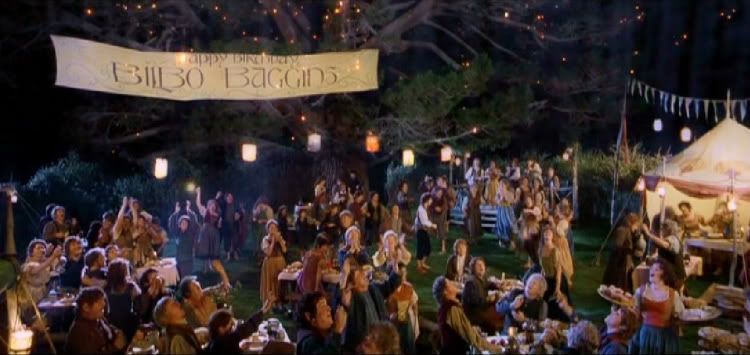 Fondly referred to as 'The Chicken Dance' by Frodo fans …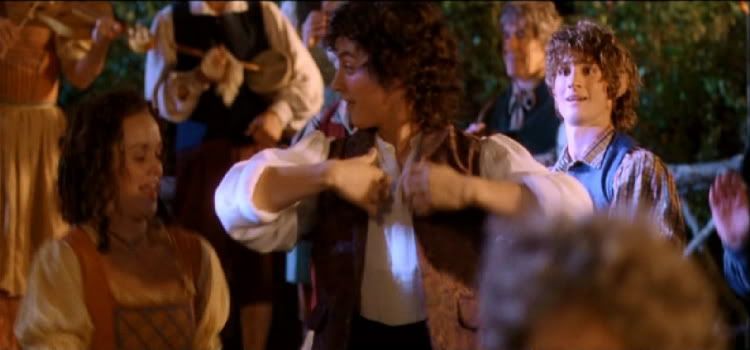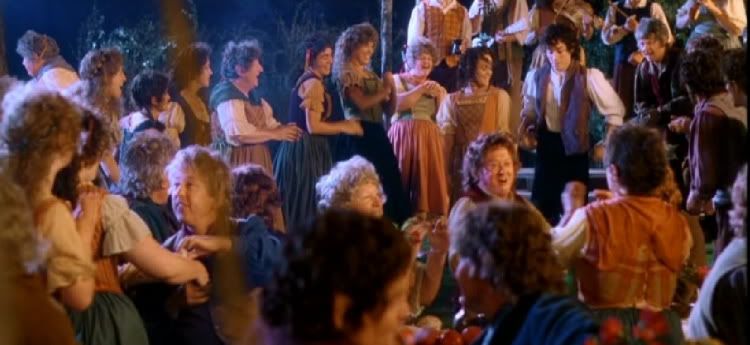 Elijah: There's a few notes about this scene by the way, for anyone …
Sean: Yeah, like they did a week of dance rehearsal and they didn't put it in the movie!
E: Yeah, and Billy and Dom changed spots throughout the scene at various times ... and there's a shot of you carrying the cake Dom – when you were on stage just before! (DVD commentary)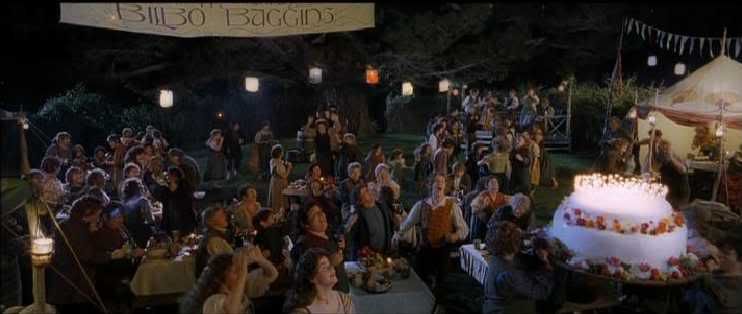 Come on Sam – ask Rosie for a dance!"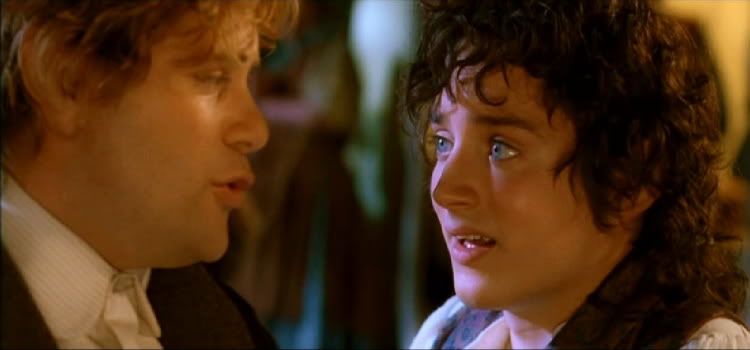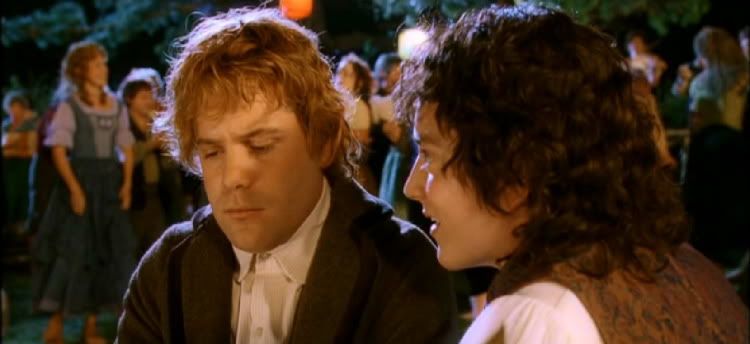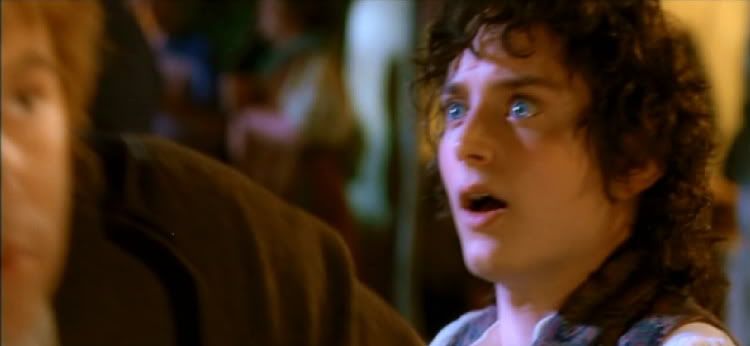 TORN: For the first film you do not have very much screen time, how long were you on the set filming?
Sarah McLeoud (Rosie): For the party scene I had a whole week of rehearsals with Elijah Wood and Sean Astin, but my scenes were just one day filming. They did a whole lot for the party scene, but they only had me for the one-day.
TORN: Did you work with Sean Astin specifically, or did you two just meet on the set the first day of filming.
SM: No, I actually had plenty of rehearsal time with Sean Astin, Elijah Wood, Dom Monaghan and Billy Boyd. Our caravans were very close together and I saw alot of them whenever I was on the set. Yes we rehearsed all the scenes together and we hung out alot. We definitely had alot of time to hang out with the others, all the big actors, to be with them and get to know them. Every single day on the set was absolutely amazing, such a friendly feeling on the set."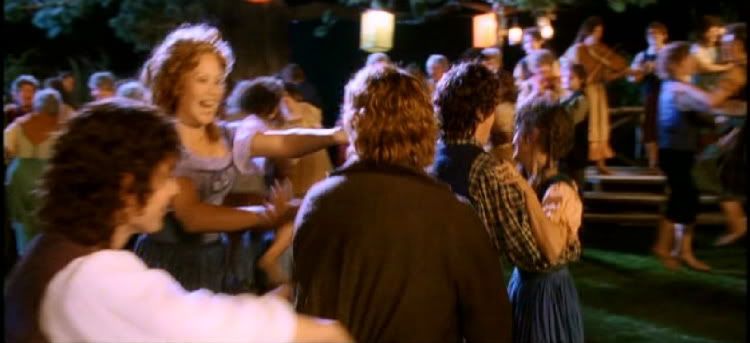 Sackville-Bagginses!!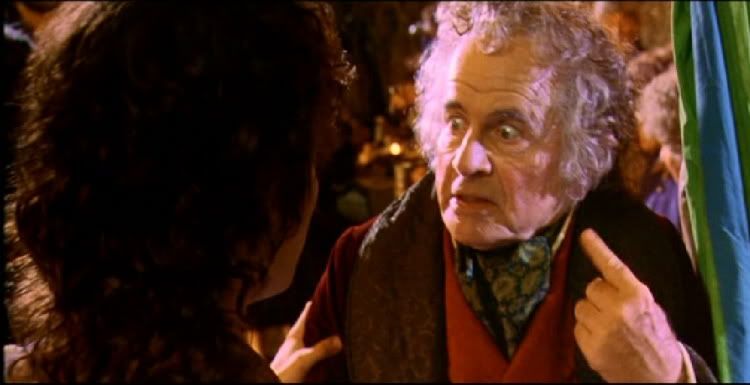 John Gilbert: "This scene here between Bilbo and Frodo was much more difficult to lose. Mainly for time – we thought 'how much do you need to know about Bilbo trying to tell Frodo about what he's going to do? How much does Frodo know anyway? So we decided just to wait until Bilbo disappers to have that little moment there. Its essentially the same moment as when Bilbo says goodbye to him. This was a tough scene to pull out of the theatrical version because it is the only scene with Bilbo and Frodo together apart from Rivendell which is much, much later." [Except for the firework dragon scene!!] (DVD commentary)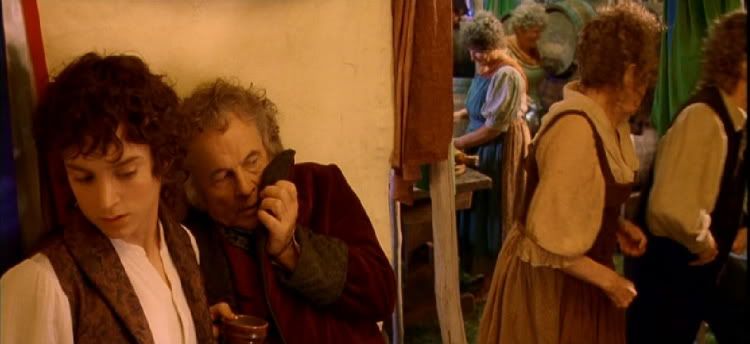 "Anyway, there was this Mr. Frodo left an orphan and stranded, as you might say, among those queer Bucklanders, being brought up anyhow in Brandy Hall. A regular warren by all accounts. Old Master Gorbadoc never had fewer than a couple of hundred relations in the place. Mr Bilbo never did a kinder deed than when he brought the lad back to live among decent folk."
~ (The Fellowship of the Ring ~ A Long-Expected Party)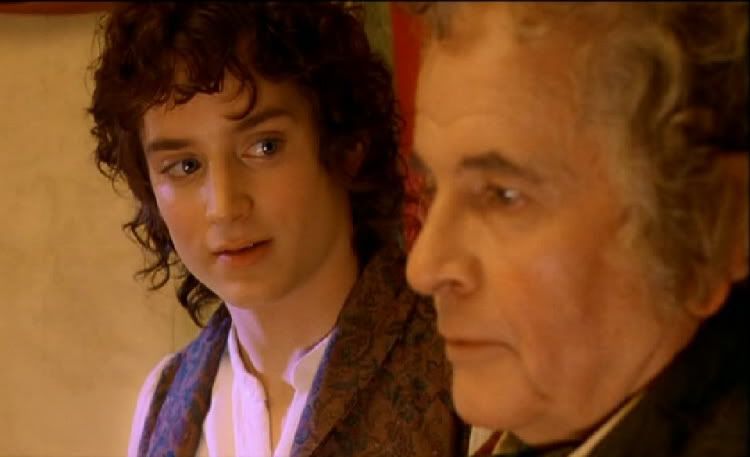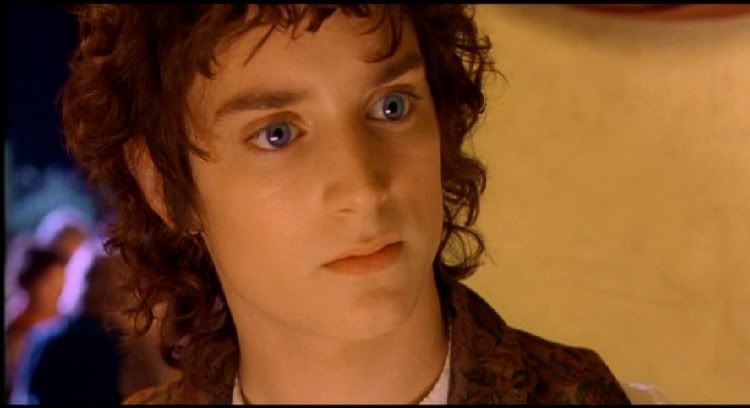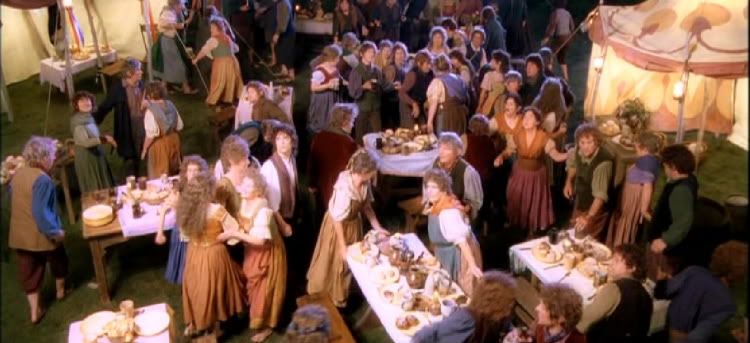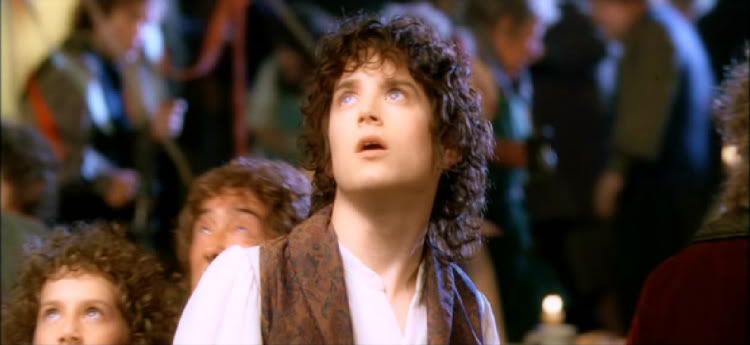 Watch out for the dragon, Bilbo!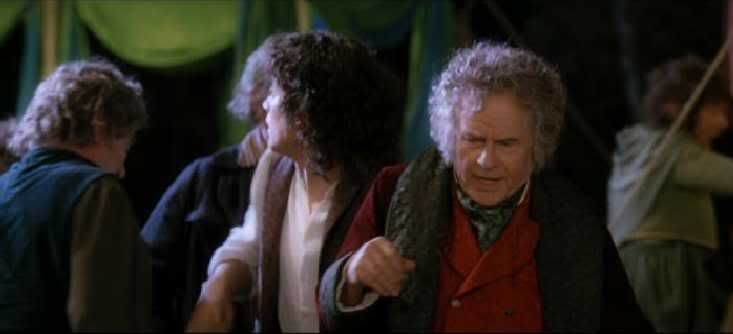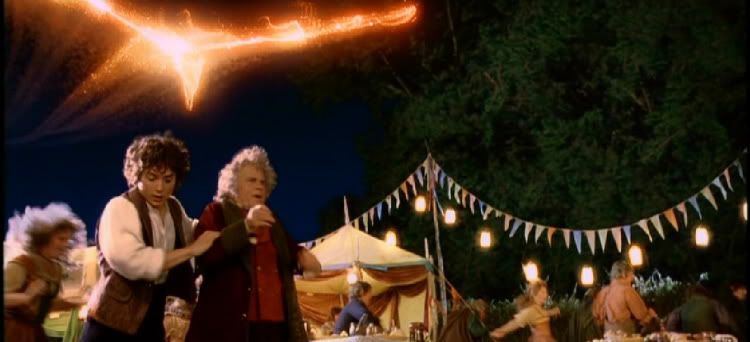 Speech!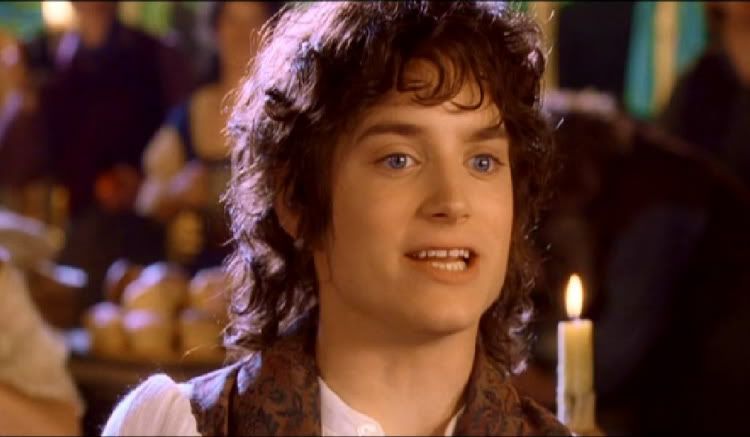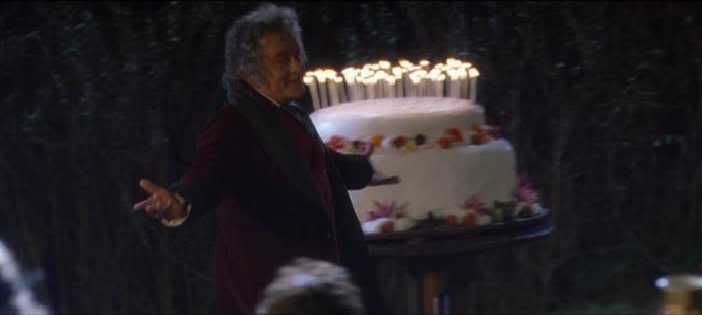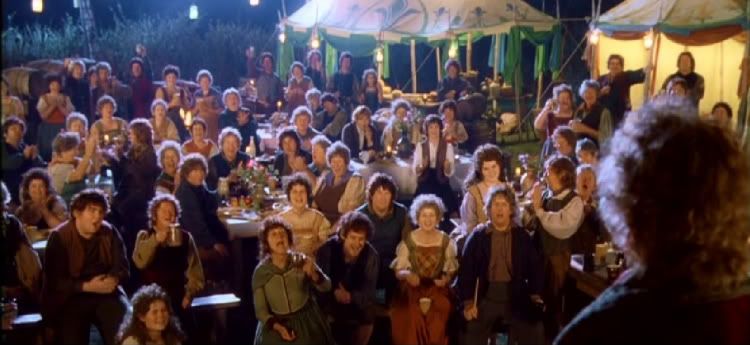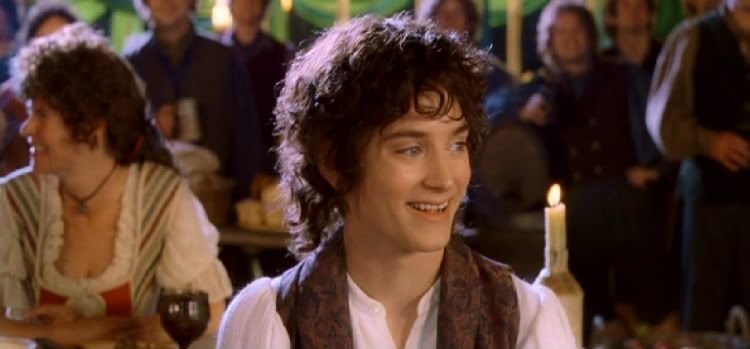 Oh I know ... this shot is not actually in the film - but it ought to be!!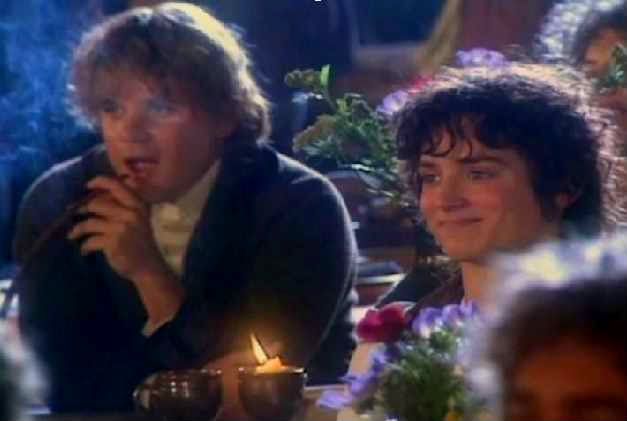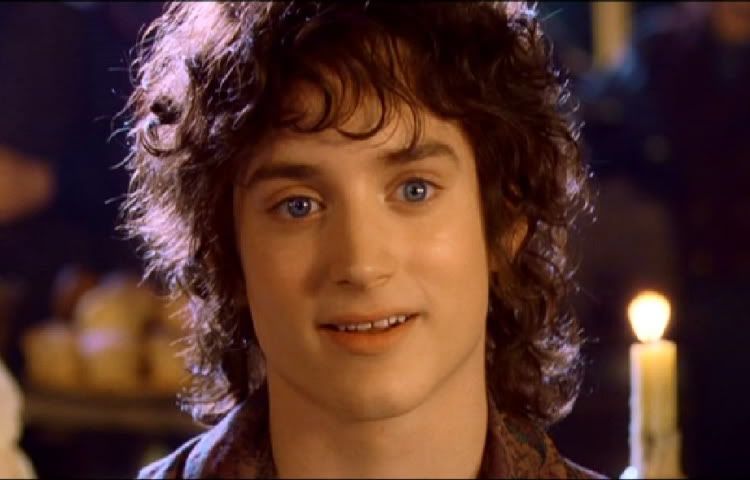 I've put this off for far too long.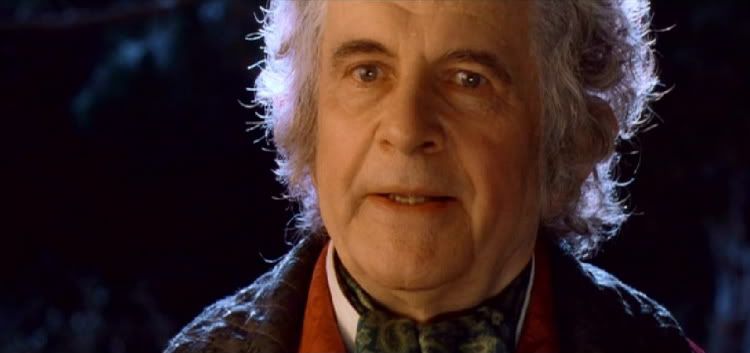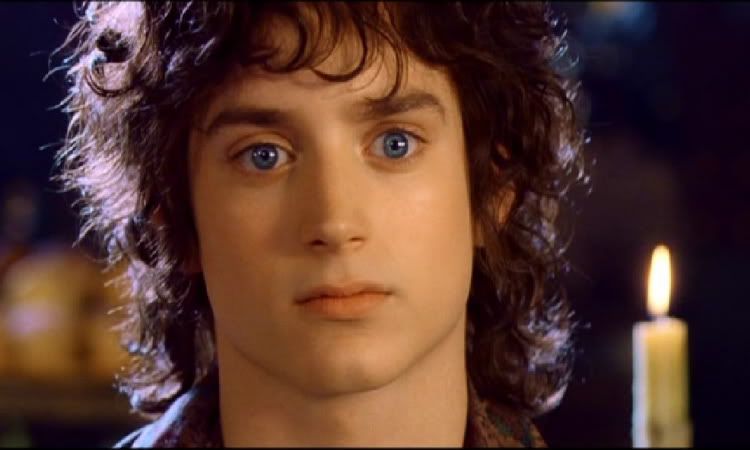 Goodbye!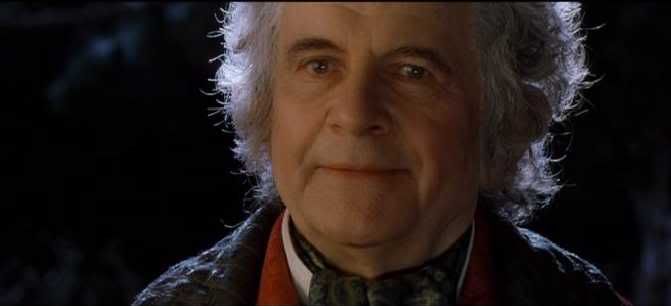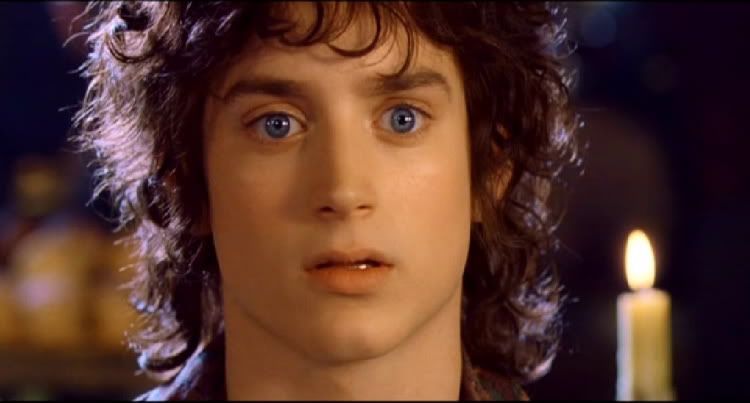 *********
"Wood's Frodo is a revelation, his wide eyes acting as windows into an innocent soul battered but unbroken by the evils of the world."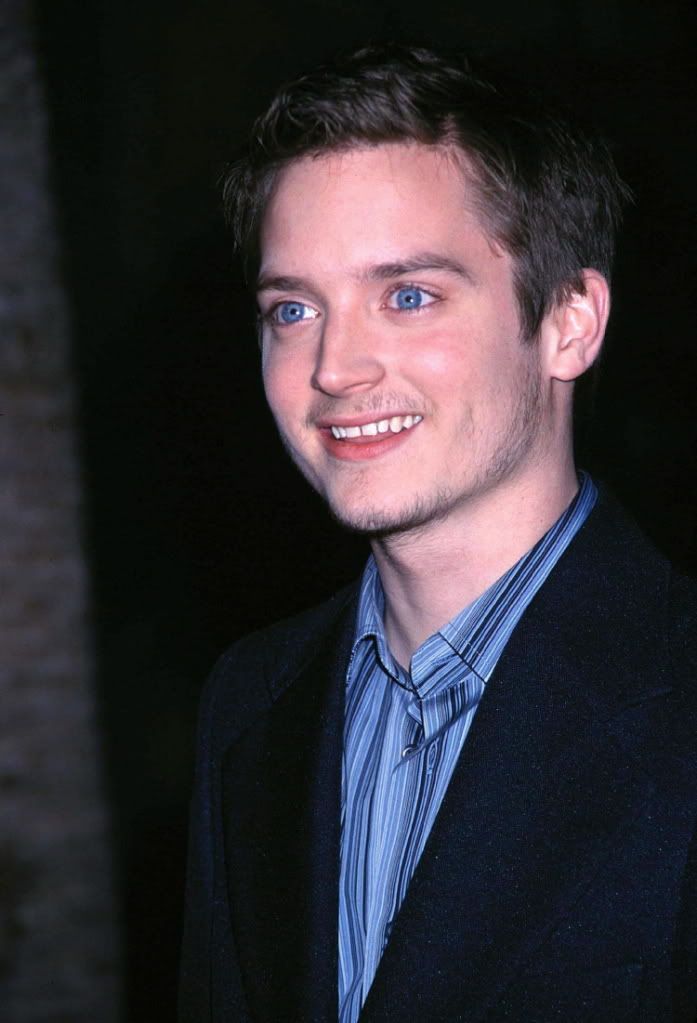 TO BE CONTINUED

LINK TO ALL CHAPTERS:
"A JOURNEY WITH FRODO"
comments: Leave a comment