| | |
| --- | --- |
| Tags: | a journey with frodo |
| Security: | |
| Subject: | A Journey With Frodo : Ch:26 'The Homecoming' |
| Time: | 09:10 pm |
I can now post Chapter 26 of 'A Journey With Frodo' - 'The Homecoming'. 'Home' is, of course, New Zealand; I love the obvious pride and excitement the cast & crew felt at the NZ premiere in Wellington, described by Elijah as "an incredibly warm homecoming" in his message left on Billy's website. I can just picture the three of them excitedly tapping away at their computers during the little free time they had. Such happy days ...
For anyone unfamiliar with my pet project, 'A Journey With Frodo' (a work in progress) is the story of Elijah Wood's experience in becoming Frodo, from back in 1998 when the LOTR movies were just a whisper up to the triumphant Oscars of Feb 2004. In reliving Elijah's journey, and mine, I am using everything I can lay my hands on - behind-the-scenes material from the various dvd's, magazine articles, books, internet sites, tv coverage, word-of-mouth info, etc. Previous chapters can be found here
"A JOURNEY WITH FRODO"
You'll need to scroll back to get to Chapter 1:)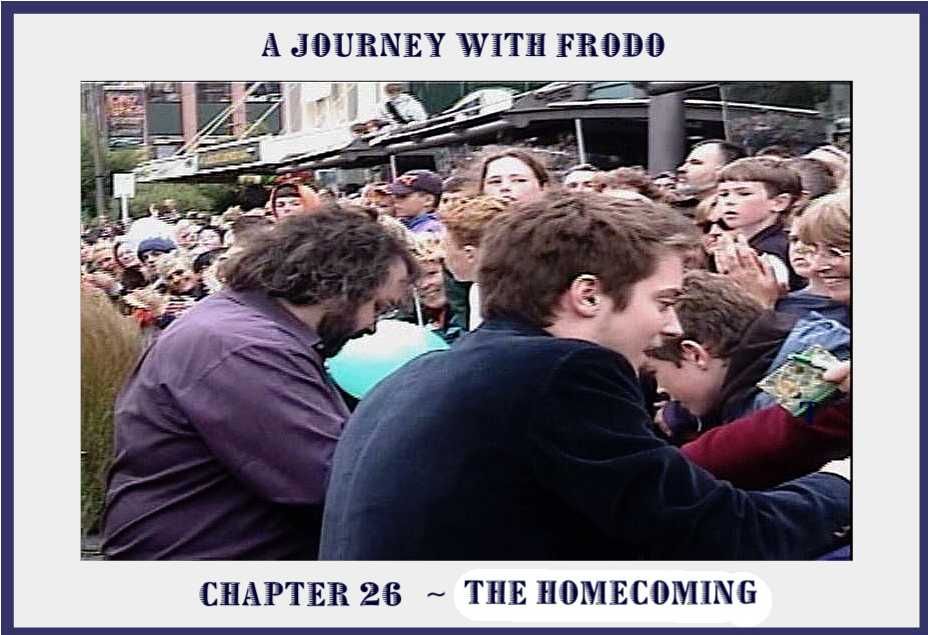 ---
On 17 December 2001 Elijah was a guest on the The Daily Show with Jon Stewart. He described himself as being "ridiculously excited and slightly overwhelmed and nervous" at the looming worldwide release of FOTR.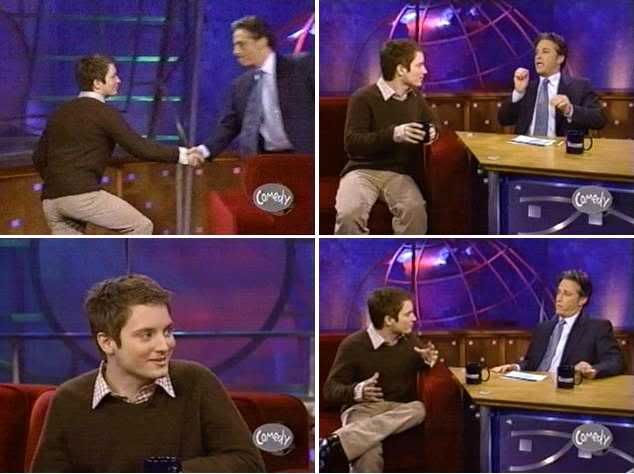 He told Jon that the film was "a work of passion and love with everyone".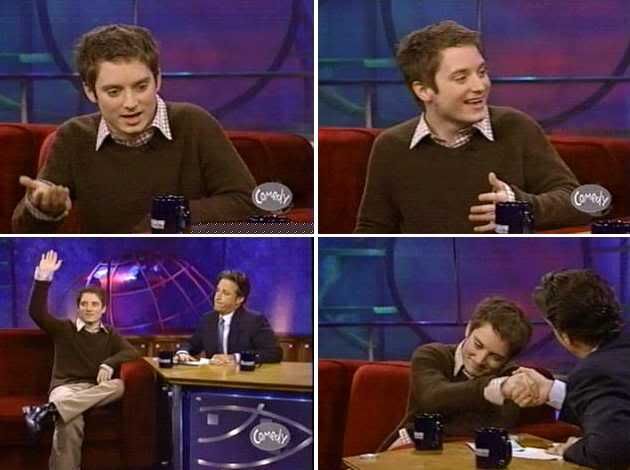 ---
19 December 2001 - the world-wide release of 'The Fellowship of the Ring'!!
That morning Elijah was interviewed on The Early Show - this had been recorded a few days earlier in New York because Elijah was, at that moment in time, actually back in New Zealand.
Elijah tells Laura Hibbert, "It came at a very important time in my life. I was 18, I'd never left home for that length of time by myself so it was really a kind of rite of passage for me and I kind of grew up there. I've always felt like an adult in my head and I think I actually became the adult I thought I was."
---
Wellington, New Zealand Premiere - the movie comes home!!:
"Hello all!! It's been a brilliant time here in
New Zealand, home of us hobbits :) After all of the places
that we've been on our publicity journey, Wellington was the place
that we most looked forward to; and it proved to be an
incredibly warm homecoming with madness in the
streets! Enjoy the film when you see it. Long live the
Hobbits!!!!!!! - elijah"
(Billy, Dom & Elijah all posted messages on Billy's
official website - this was Elijah's - the punctuation is all his!)

"Forget London, New York and Los Angeles: the real premiere of The Lord of the Rings was in Wellington last night'. Despite overcast skies and icy winds, fifteen thousand people lined the streets to the Embassy theatre – which had undergone a multi-million-dollar refurbishment, and was graced by a huge Weta Workshop replica of the Moria cave troll, towering, Kong-like, above the marquee – to greet the stars of the film and their director on the last leg of their premiere tour." (Wellington Evening Post)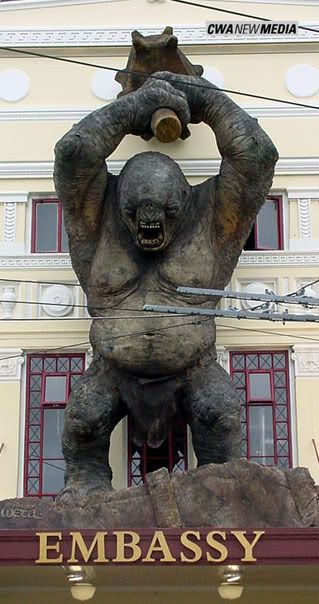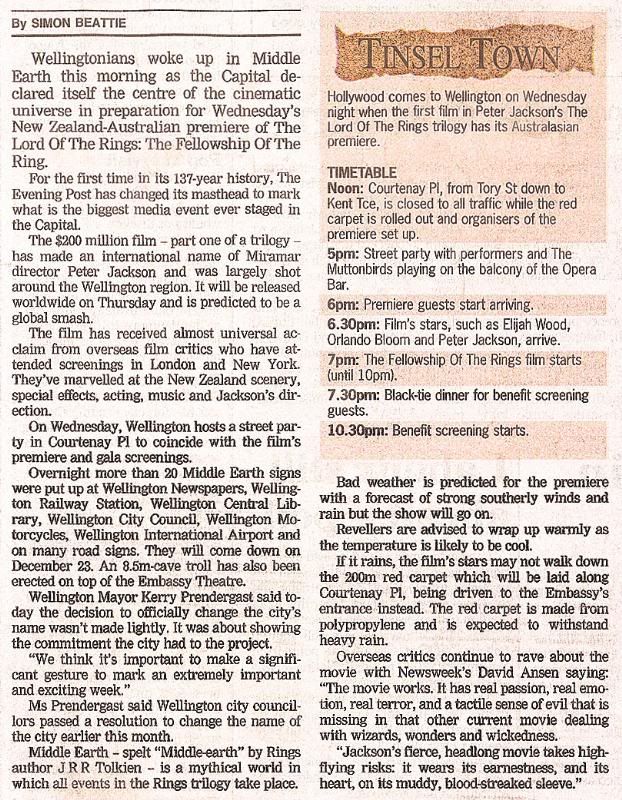 Elijah was keen to get his own video recording of this event - his footage was even credited in the dvd extras!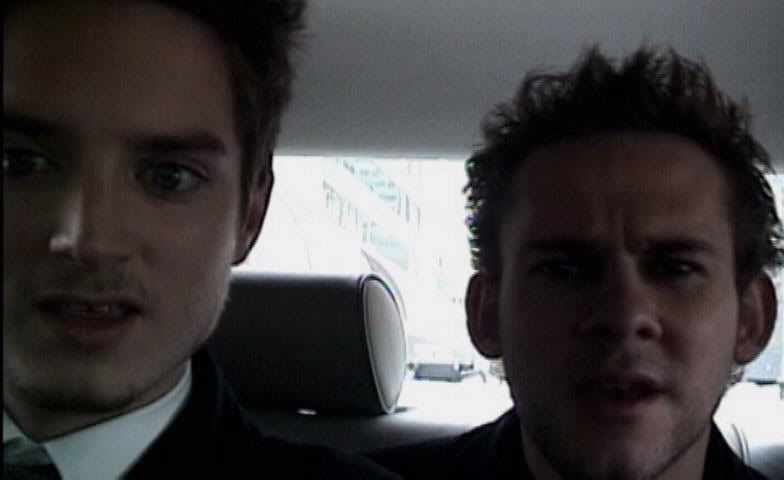 "I think Elijah summed their experience of this premiere up when he said that he just felt stunned and humble at the reception they got and that out of all the premieres that they attended they wanted to come to this one. Now as your typical kiwi who generally doesn't like to brag, it made my heart go really warm." (Soathus, theonering.net)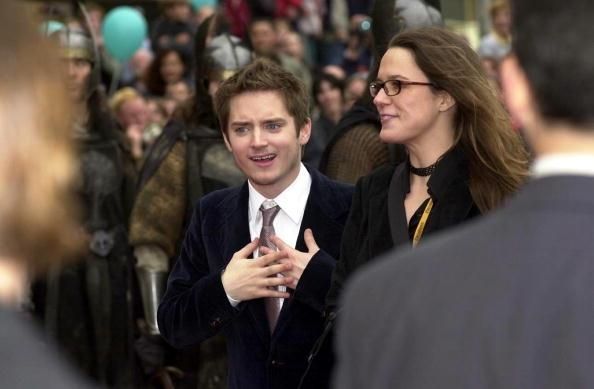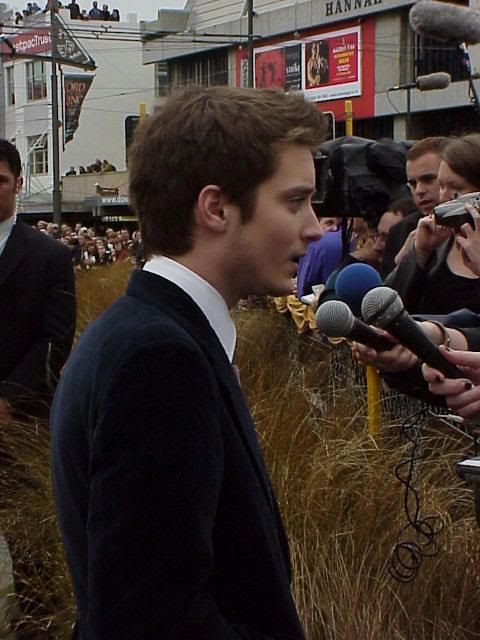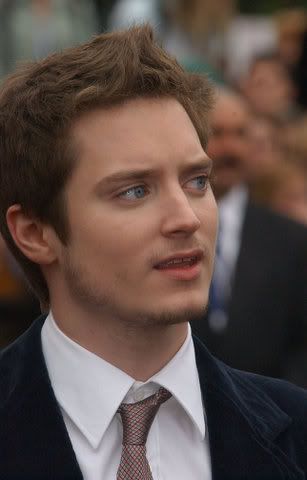 "Elijah stopped immediately in front of me and was handed a mobile phone by one of the girls in the second row back. He spent about 2 minutes talking to the girl's mother before passing the phone back to the thrilled fan. His blue eyes were absolutely stunning (I thought the film makers might have slightly emphasised their blueness in the film but I can vouch for them being completely genuine) and he came across as a very nice guy" (theonering.net)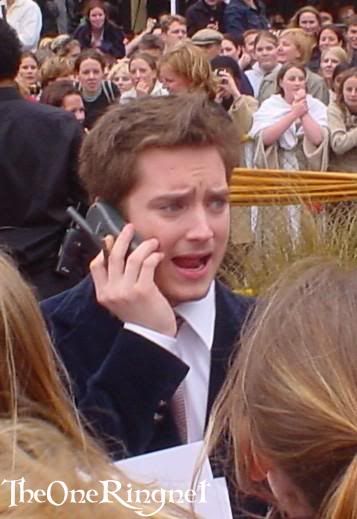 "Helen Clark, the country's Prime Minister, declared in her speech: 'It's amazing what this movie has done for New Zealand. A lot of movies you see, you wouldn't have a clue where they're made…Everyone knows this is made in New Zealand" (Brian Sibley, The Making of the Movie Trilogy)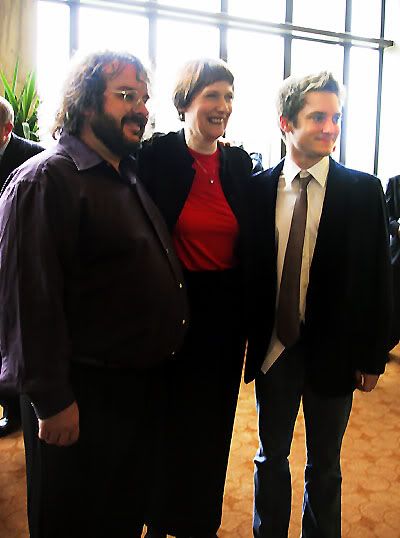 Russell Baillie [NZ Herald] talks to four born-again fans of NZ - and checks out their local knowledge.
"You won't find bigger fans of our place than the four young actors who returned for the NZ premiere of LOTR : FOTR. Ask variations on that tired old question 'So what did you think of NZ?' of American star Elijah Wood and Brit newcomers Dominic Monaghan, Billy Boyd and Orlando Bloom, and they gush like a Whakarewarewa geyser. And despite having spent 15 months shooting the three films back-to-back, they are considering staying even longer. The four have been applying for residency and have talked about buying a house together they can use as a timeshare. 'You guys might be stuck with hobbits. I'm sorry', says Wood. (cont'd ...)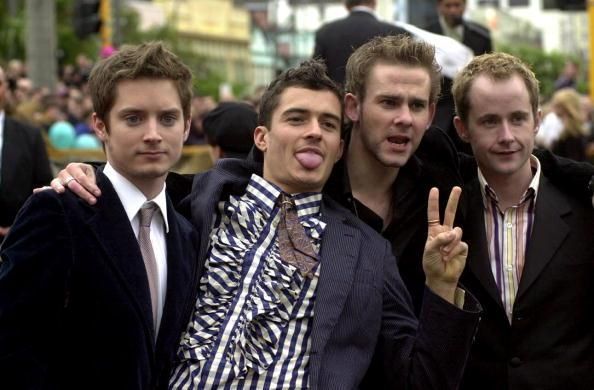 "The day after the premiere we encounter the three hobbits together - the fourth, Sean Astin, couldn't make it. They make a fine triple-act with the various accents - Wood is Californian, Monaghan English and Boyd Scottish - as they talk about encountering everything from Wellington nightlife to dolphins in Lyall Bay and Milford Sound and earthquakes in Te Anau.
Wood, 'I've been in earthquakes. I'm from Los Angeles, it's a shaky place. But that was one of the coolest. It was very groovy.'
Yes, but did they learn anything about this place? We set them a little test just to see if they're qualified to be honorary Kiwis ...
What is paua?
Monaghan: 'Paua is a shell. I'm actually wearing a paua ring. Paua is a shell, in America called abalone and it's a semi-precious kind of shell.'
Wood: 'It's a shellfish as well.' Correct. (cont'd)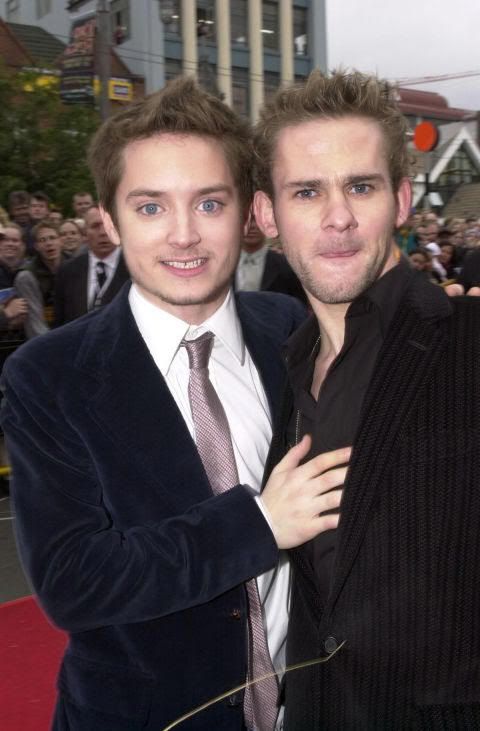 "Name Wellington's Super 12 rugby team and its most famous player?
Wood: 'The All Blacks?'
Monaghan: 'No, the Wellington team.'
Wood: 'Oh, ok, that's not the NZ team.'
Boyd: 'I don't watch rugby.'
Monaghan: 'Are they called The Hurricanes?'
Wood: 'Oh, the Hurricanes.'
Monaghan: 'And John Lomu'.
Wood: 'Oh. Nice.' Correct. (cont'd)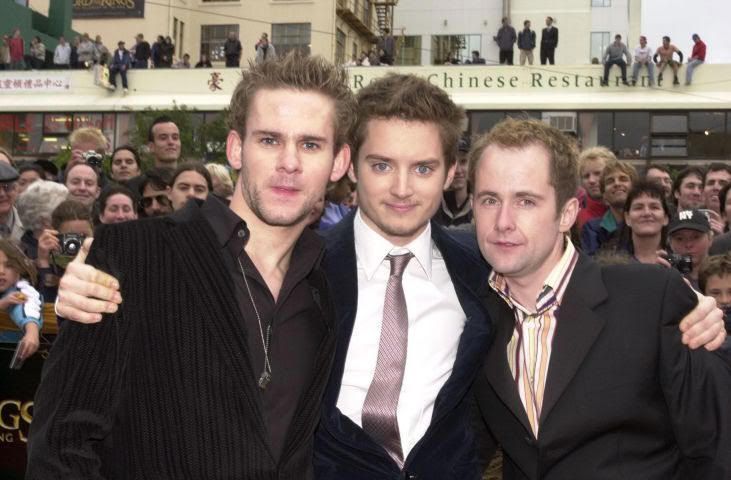 "What is the name of the body of water between the North and South Islands?
Boyd: 'The Cook Strait'.
Correct.
What is Jelly Tip?
All together: 'A Jelly Tip?'
Monaghan: 'Are they ice creams with the things on top?'
Wood: 'Yes!'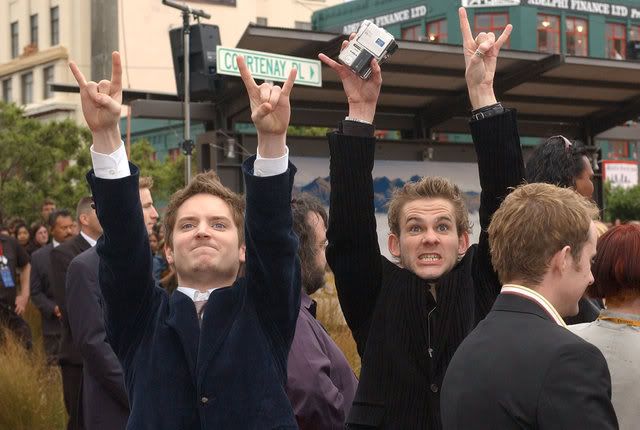 "What is jandal?
Boyd: 'Is it footwear?'
Monaghan: 'Are they the jelly ones?'
Boyd: 'No. Rubber flip-flops?'
Wood: 'Mate! Nice! I never would have known that.' (NZ Herald)
"The young stars, hobbits Elijah Wood (Frodo), Billy Boyd (Pippin), Dominic Monaghan (Merry) and elf Orlando Bloom (Legolas) are manic live wires. What's in the pipeweed boys? Folks walking down a long red carpet has never been so much fun and thanks to the big screen, the thousands in attendance could all share in it. (guy macgibbon - torn)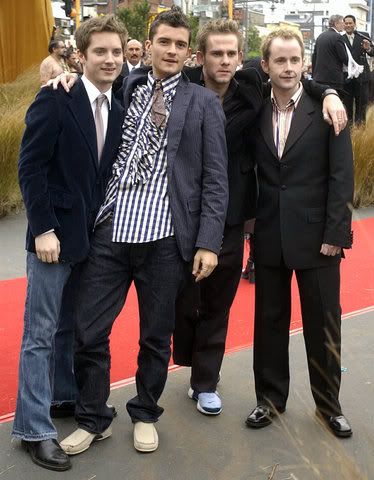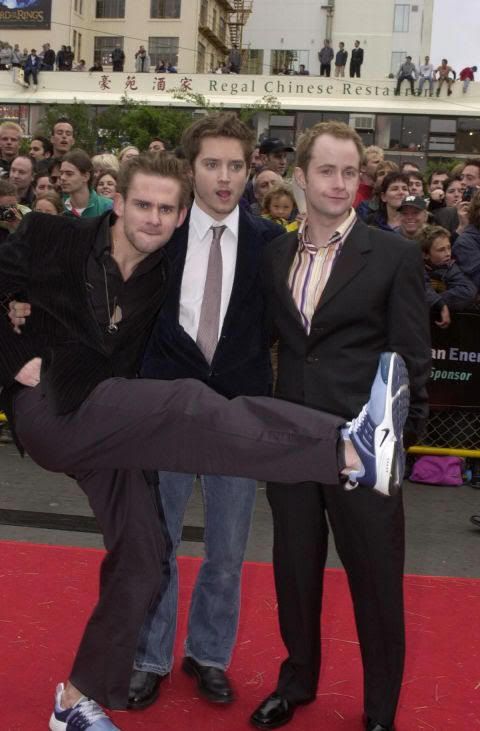 "Female fans scream for unlikely sex symbol Elijah Wood, who is generous with his humour, his hugs and his signature" (guy macgibbon)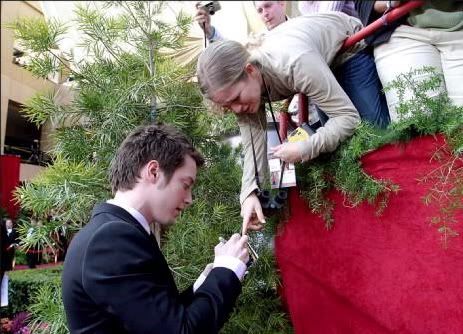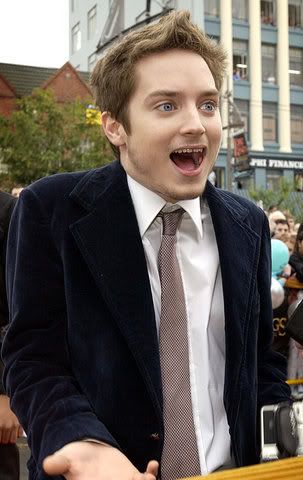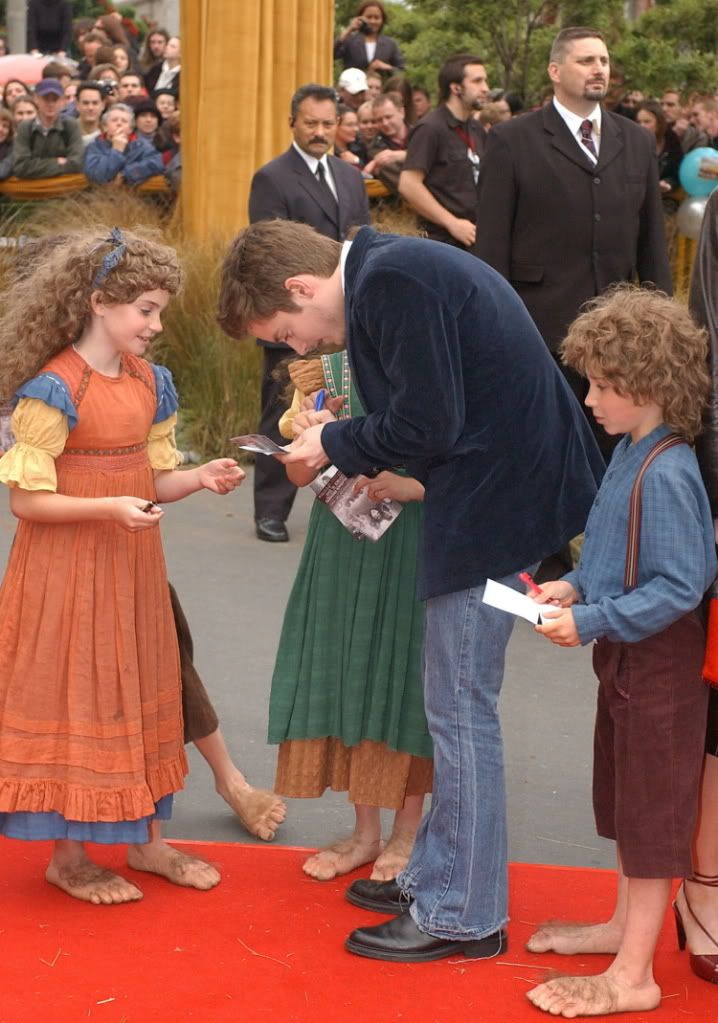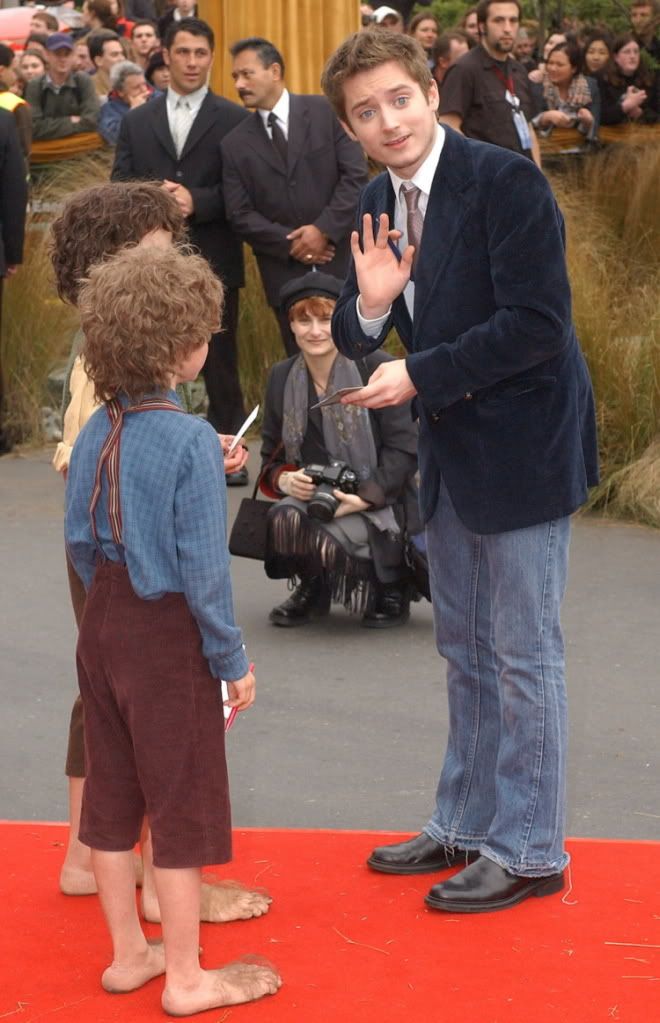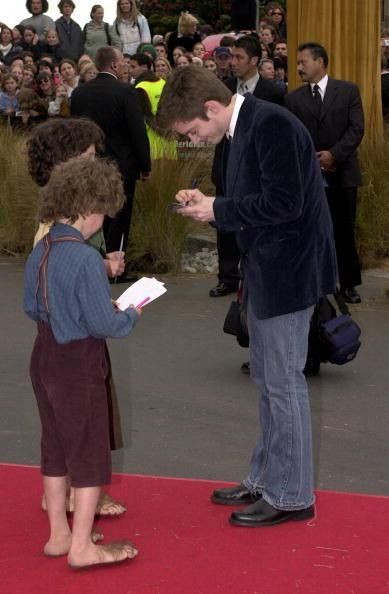 "The hobbits, Elijah, Dominic and Billy, turned up laughing and giggling, and absolutely hammed it up for the cameras and the crowd, they were charm personified." (democritus, torn)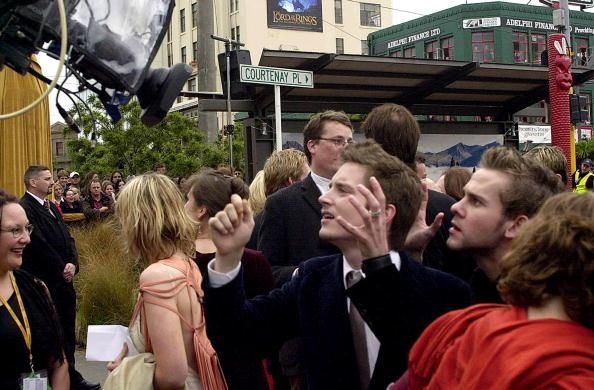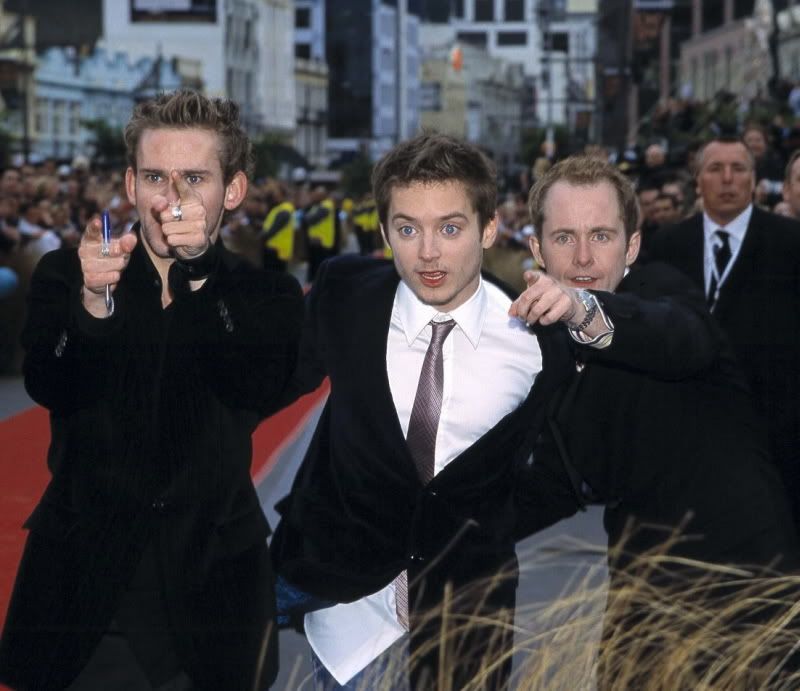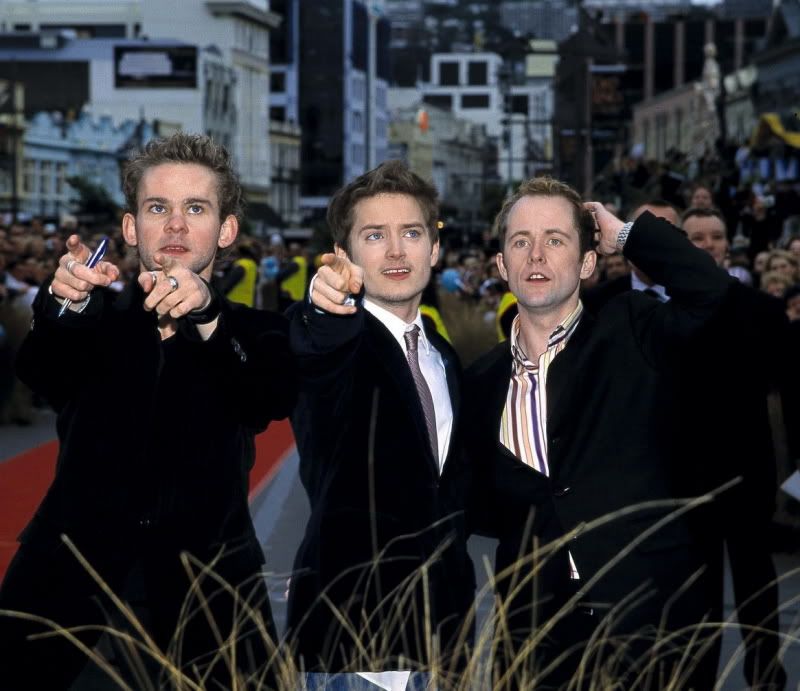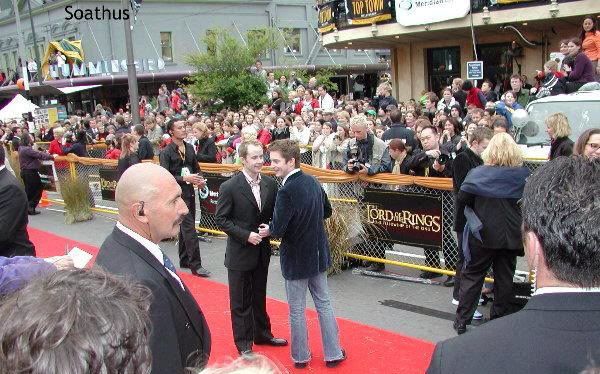 "The actors seemed genuinely taken back by the crowd and the reception, and they all claimed that it was a bigger night than the London Premiere...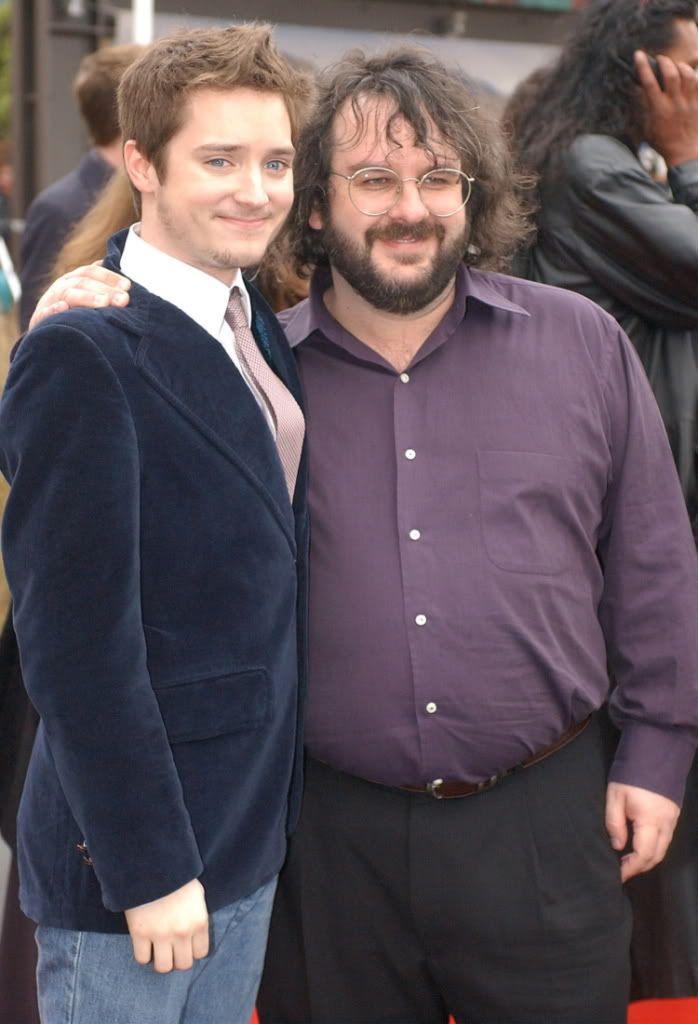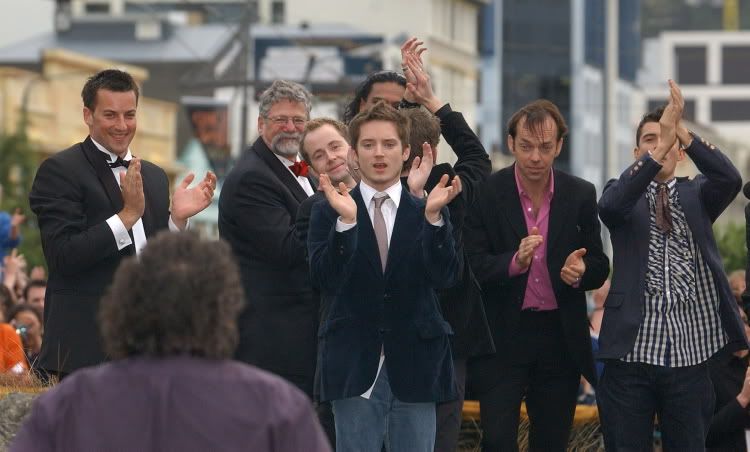 "Another nice touch just before the end was video recordings shown on the big screen of the actors and actresses that couldn't make it tonight including Viggo, Ian and liv. All said lovely things, as did the hobbits before they went in, including Dominic who said that they were all thinking of buying houses in Wellington, and raising children here etc.
The night ended with a surprise burst of streamers from out of every shop roof, and a happy cast and crew (and guests) going into The Embassy." (democritus, torn)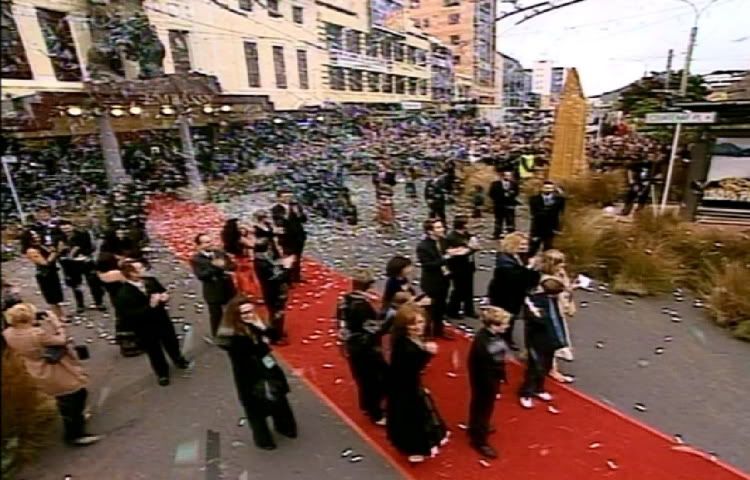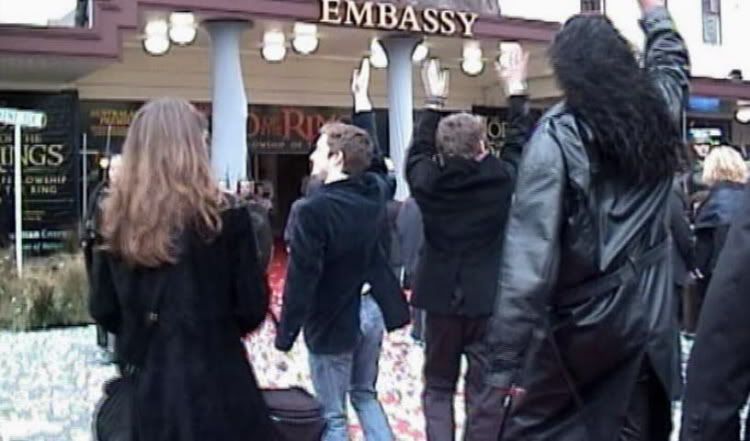 The After-Party:
Hobbits and elves get along so well!!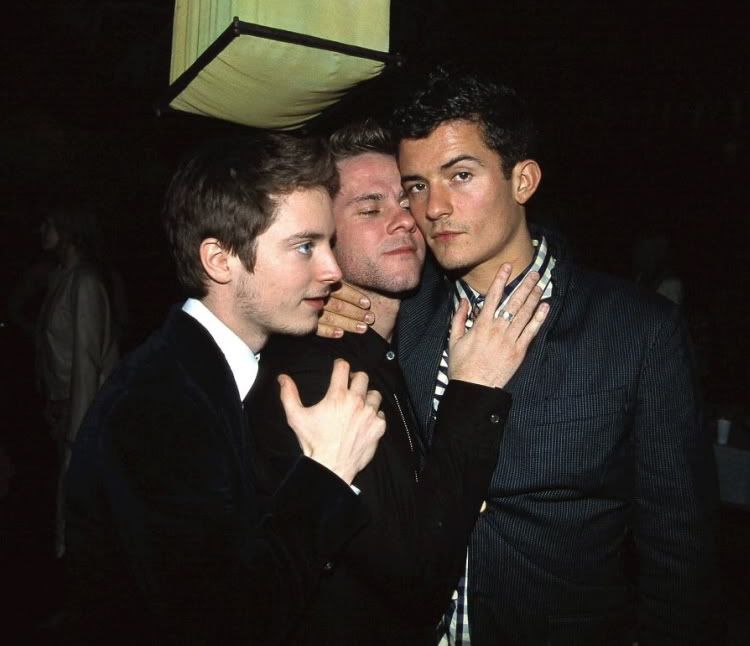 Hmm..I'm not sure who this lady is, but I think she's either slightly tipsy or overcome by the nearness of these gorgeous guys!!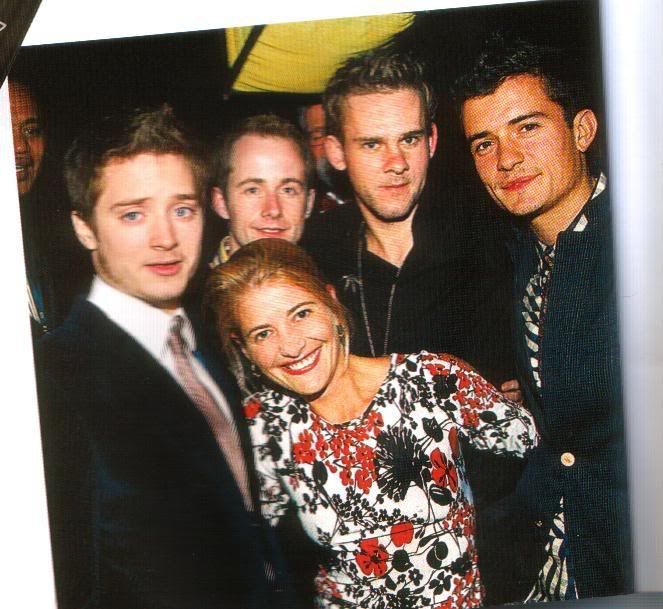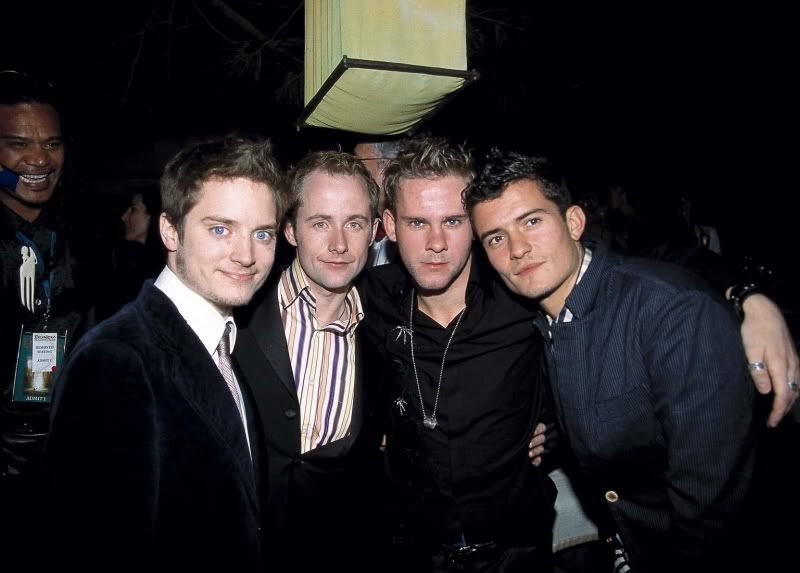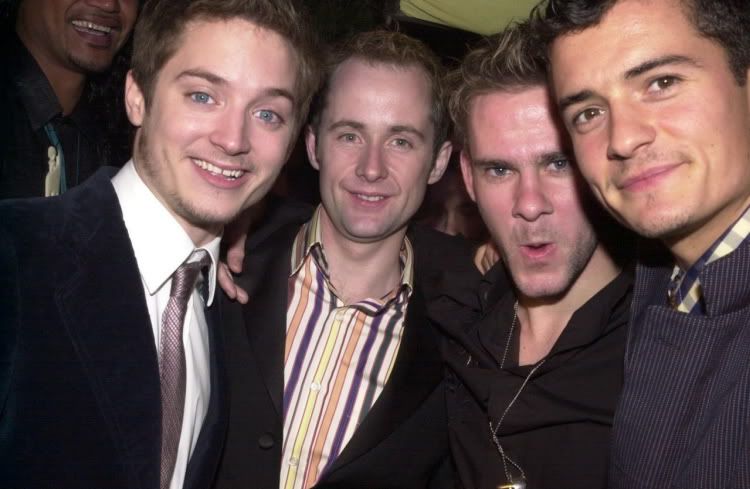 ---
The Australian Premiere, Sydney, 21 December 2001
"The actors who were attending the premiere got held up in traffic and were very late to the premiere. Screening was to commence at 7:30pm but didn't start till 8:00pm. But the wait was worth it." (Scrow, torn.)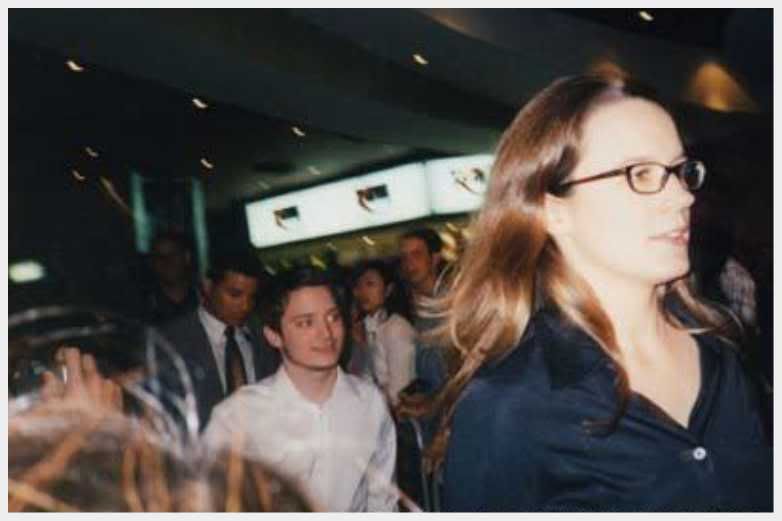 "Then the man of the hour. Everyone there knew who Elijah Wood was. Everyone went nuts.
He was gracious & polite & sweet & funny & excited all at the same time. He signed every autograph & talked to people. I was surprised at how down-to-earth he was. He was genuinely happy to be there & more than willing to keep the fans happy.
There he was in front of me. I told him that I have been waiting for so long to see this movie & he replied, "Well I hope you enjoy it". As he signed my cardboard, & for the third time I asked, "Lij. Can you give me a big smile please?" He said, "Sure," then looked right into my camera & gave me a huge smile. The photo is fantastic. Totally natural yet comical. Fraggle shot we call it here in Australia. I love that one. My thanks to him got me another look & a huge smile from Lij. I said with total affection, "Thankyou Frodo." He seemed to really like that." (Chris, theonering.net.)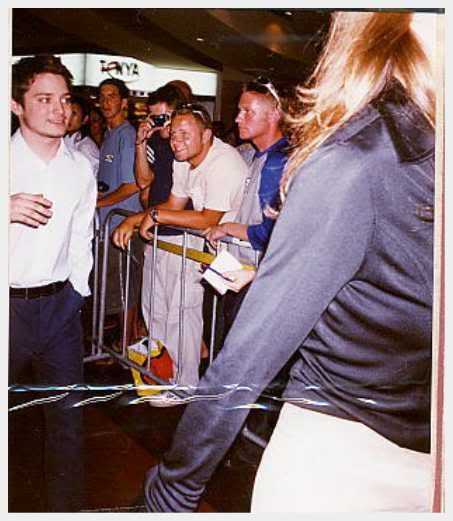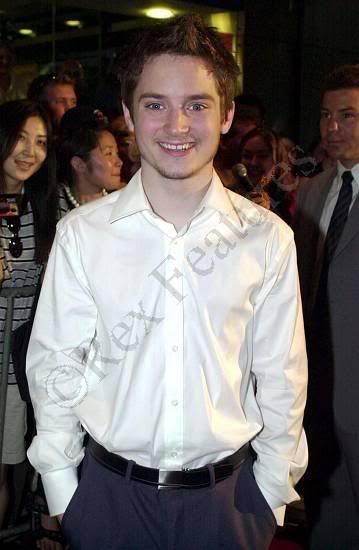 "But I knew that Elijah Wood was coming up next judging by the flashes of lights and screams from fans desperate to see him. And then, there he was, practically running down the red carpet towards us, this little man dressed in a white long sleeved top and tightish brown pants, surrounded my a bunch of tall bodyguards who were dragging him along. The fact that he was surrounded by tall people only exentuated how small he was. He held out his hand as he walked and brushed the hands of his screaming fans. i managed to get one really really quick picture which i hope to God comes out good, b4 he was wisked away. I didn't even have time to process what had just happened. Elijah Wood, the man who i have been obsessing about for ages and ages, had just walked less that ONE metre away from me!! I had just seen him walk past me from 1 metre away, and i can hardly remember anything about it - i think i was numb with excitement. So that was it. All in all, it was a great night, the atmosphere was great, the stars were great, but it would have been nice to see more than a second of them walking past. But still i saw Elijah Wood, the girl who thought she would be stuck behind 10 layers of people, saw Elijah Wood walking less than a metre away from her. You can't complain about that :)" (Fan report - 'Always & Forever')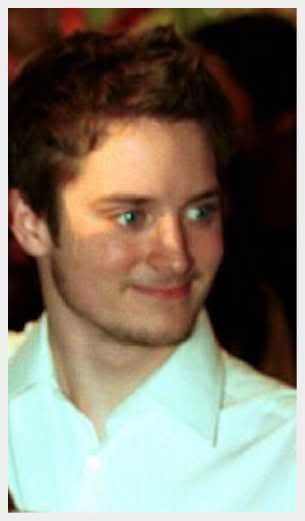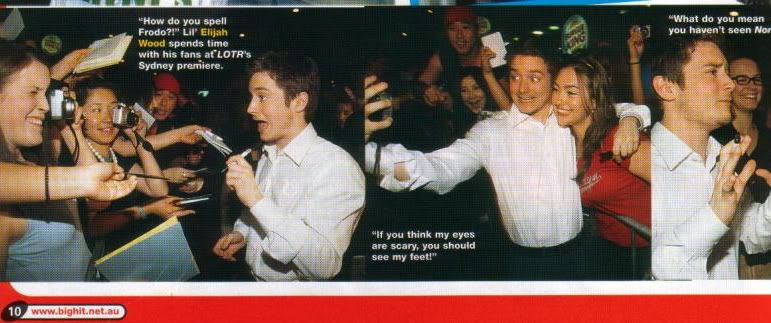 This fan report made me smile, though I can't remember where I found it. Short and to the point:D
"I thought the film was great. All the actors were brilliant. Especially Elijah Wood whom I fancy."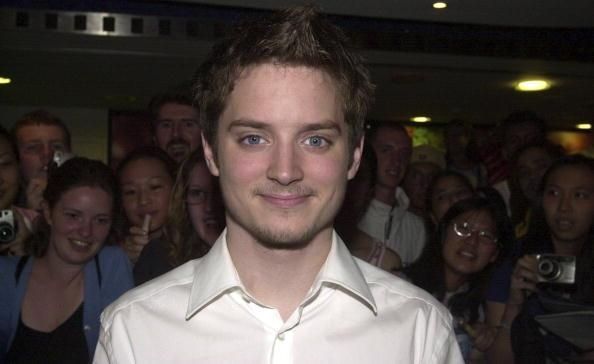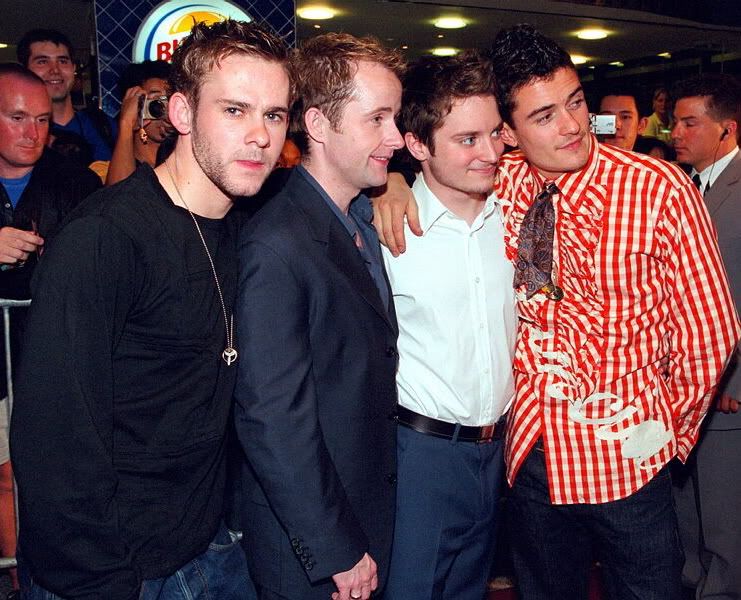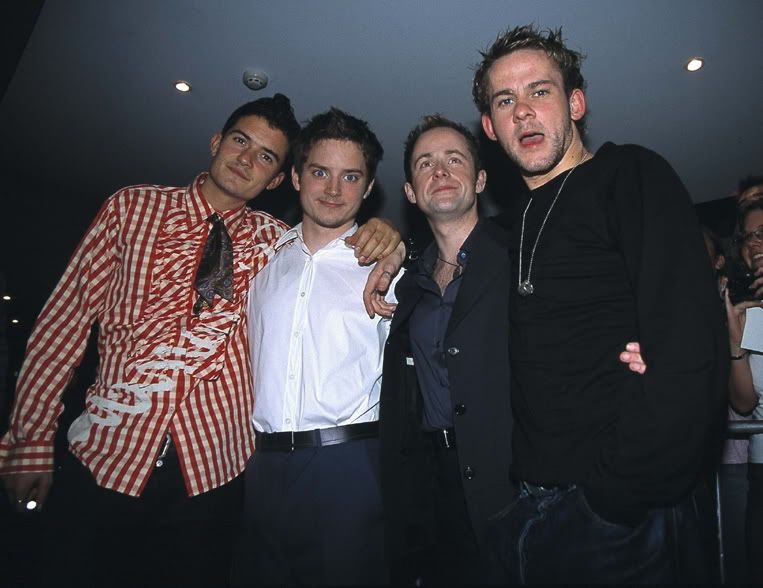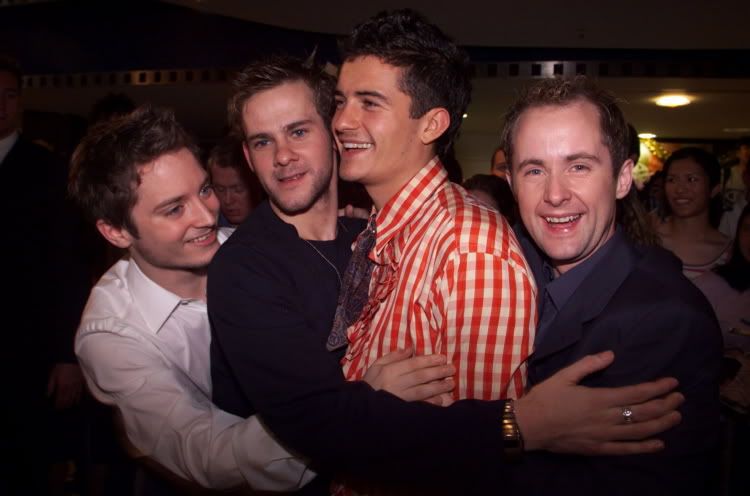 "Before we knew it the actors who were attending the premiere were running down the isle to be introduced as their characters in the movie. Elijah Wood, Billy Boyd, Dominic Monaghan, Orlando Bloom and Hugo Weaving were standing at the front of the theater, at which point I decided this was a perfect photo opportunity." (scrow, torn)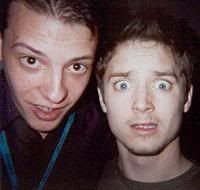 "Next on the agenda was the after party for the premiere, which took place at Sydney Town Hall. For me this was the highlight of the night. The Town Hall was completely packed with people who were eating, drinking, talking or doing it all at once. They were playing music from the FotR soundtrack and had a young woman dancing on the stage, who was dressed similar to how Galadriel looked in the movie. The actors were seated in an area separated by a red rope and security were making sure no one passed over it." (scrow, torn)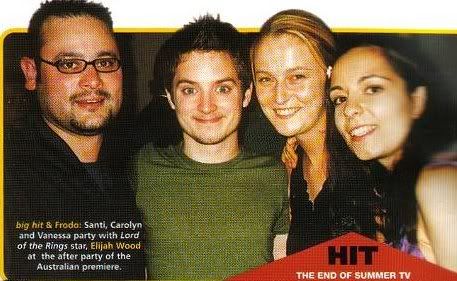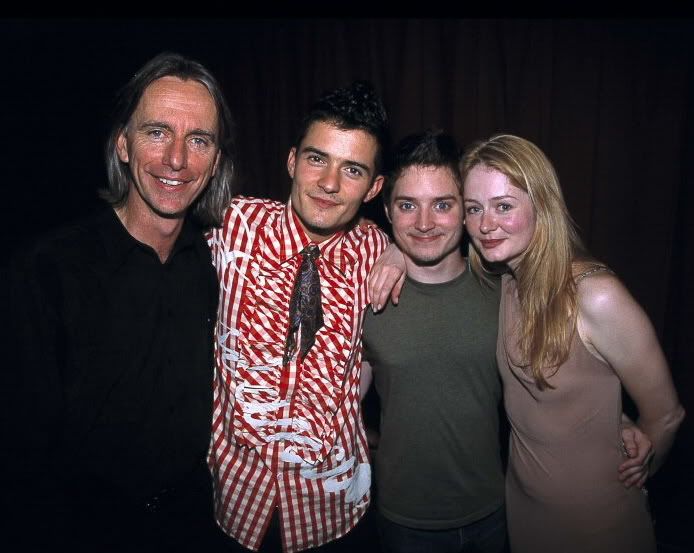 "Elijah has the innocence of a child, the wisdom of a ninety-year old man, and the grace of an angel." (Miranda Otto, The Making of the Movie Trilogy - Brian Sibley)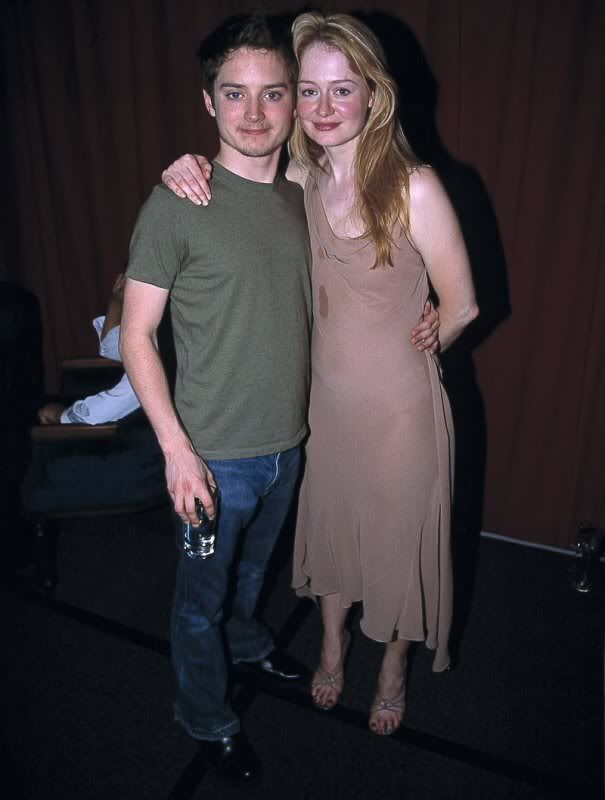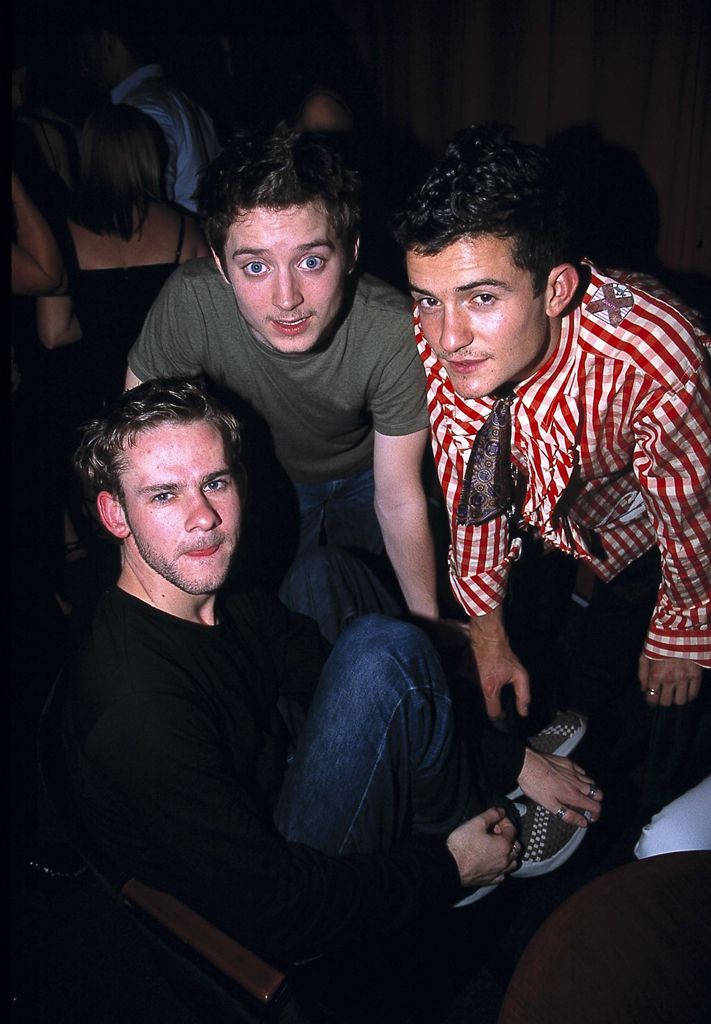 While in Australia, Elijah did an interview for Urban Cinefile which I'm very fond of. I call it the 'Trying to be a Man' interview!! As well as the usual questions, the UC interviewer asked:
"You know, I'd love to see your audition tape. Is it going to be released on the dvd?
E: Oh, I don't know if it'll ever see the light of day. I was initially very opposed to letting it out, it's sort of personal ... I haven't seen it in literally two years - I have no idea what I did now ... I'll have to take a look at it to see if it's appropriate for public viewing!
And this will explain the 'trying to be a man' tag!!:
UC: "We're looking at you and you have a little moustache, a little beard ..."
E. " Pathetic, I know .."
UC: "No, I wasn't going to say that .."
E: "It's alright mate!"
UC: "It's not a hobbity thing ..."
E: "No, well Hobbits can't grow facial hair!"
UC: "So is this a sort of release?"
E. "Shedding the hobbit skin?"
UC: "Yes".
E: " Actually I think it's a really meagre attempt to try to be a man - it's just not working!"
UC: "I think it was somebody's father who said it's not the hairs on your chin that make you a man ..."
E: "This is very true."
UC: "I can't remember the rest of it though ...
e: "That's a good start!!"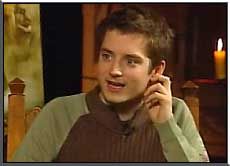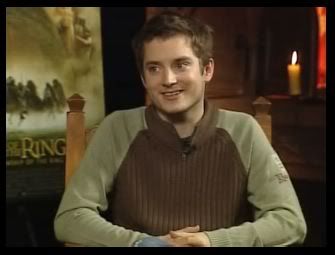 ---
At last, cinema audiences around most of the world are able to join Frodo on his journey:
Keep it Secret, Keep it Safe!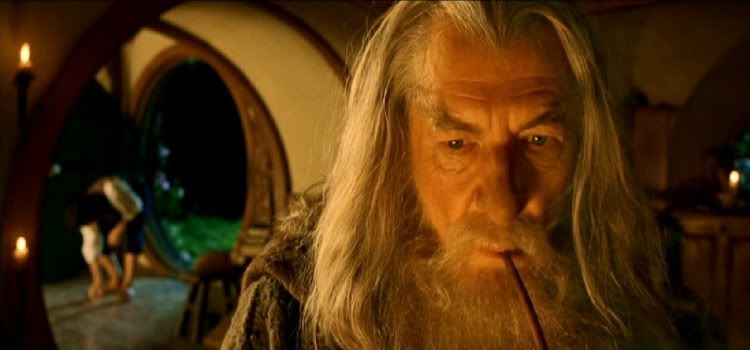 He's gone, hasn't he?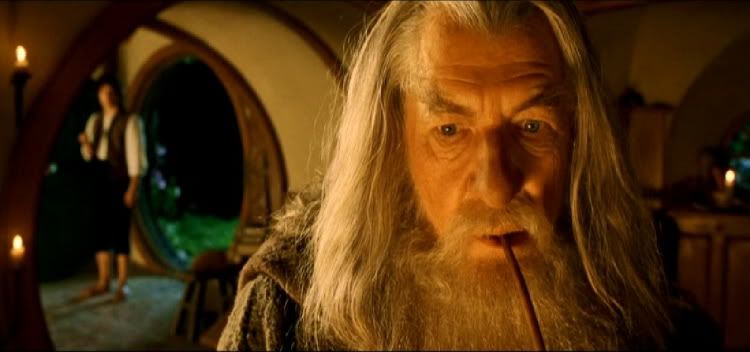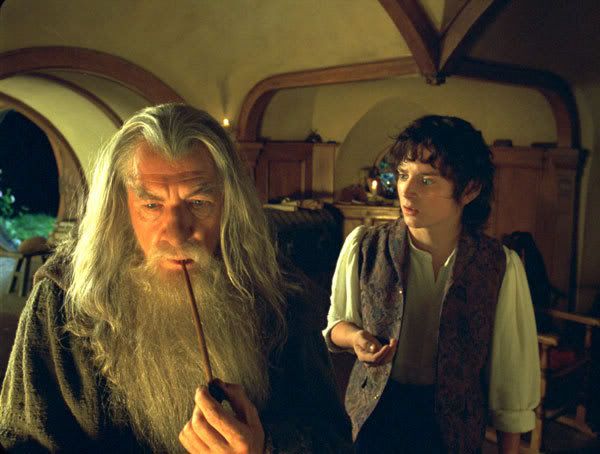 Bilbo's Ring!!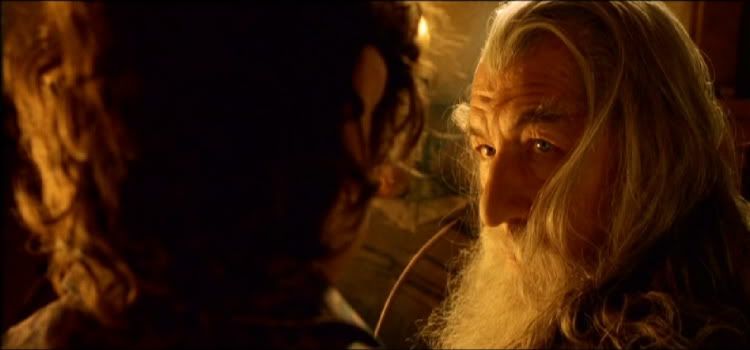 The Ring is yours now.
Put it somewhere out of sight.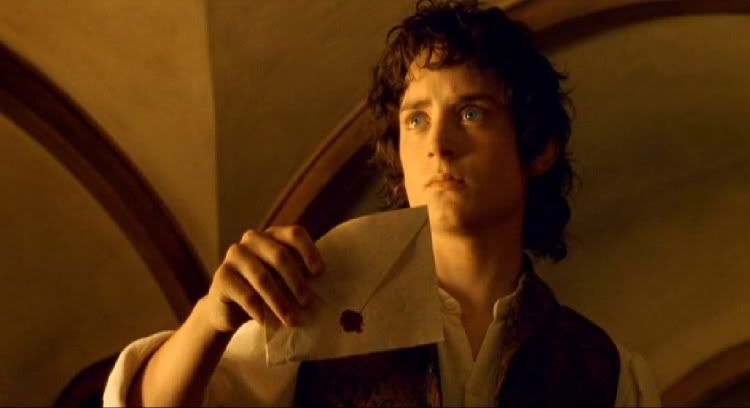 Frodo is handed his fate in an envelope. I love the way the music completely stops at that moment and there is a deathly silence.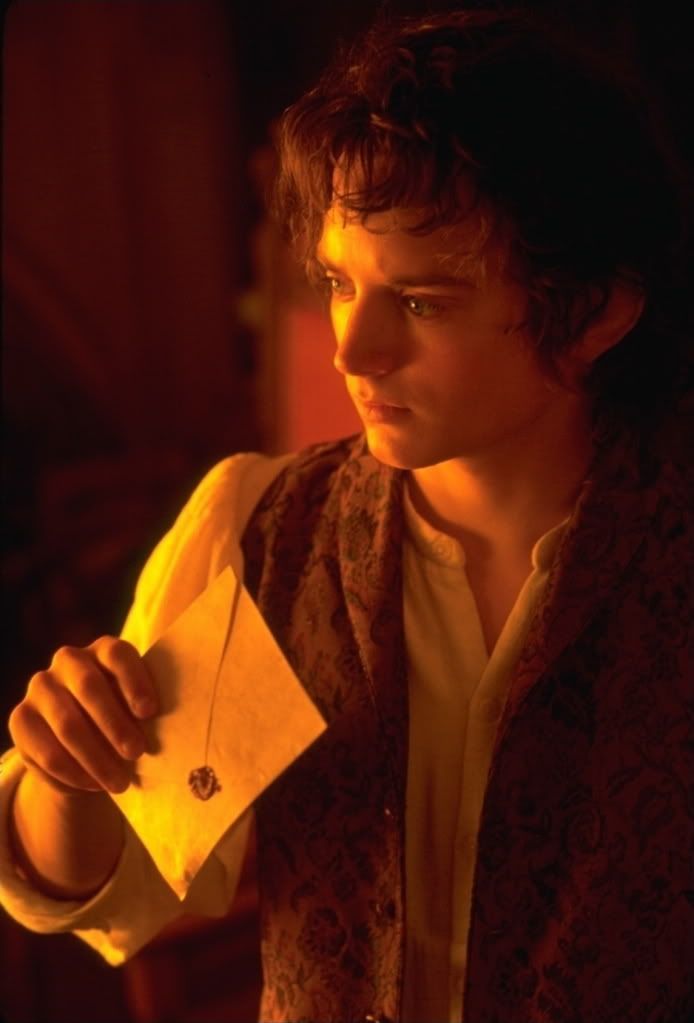 Dom : I have a stamp, I have a wax stamp with D on it!!
Elijah : I've got a wax stamp with the Japanese letters for Frodo.
Dom : That's right – I got mine in Japan too!
Billy : Well, I look forward to you having a correspondence.
Dom : I will never send you a letter.
Billy : Well, thank you very much.
Elijah : I'll send you one Billy.
Billy : Thank you Elijah.
(dvd commentary)
Where are you going?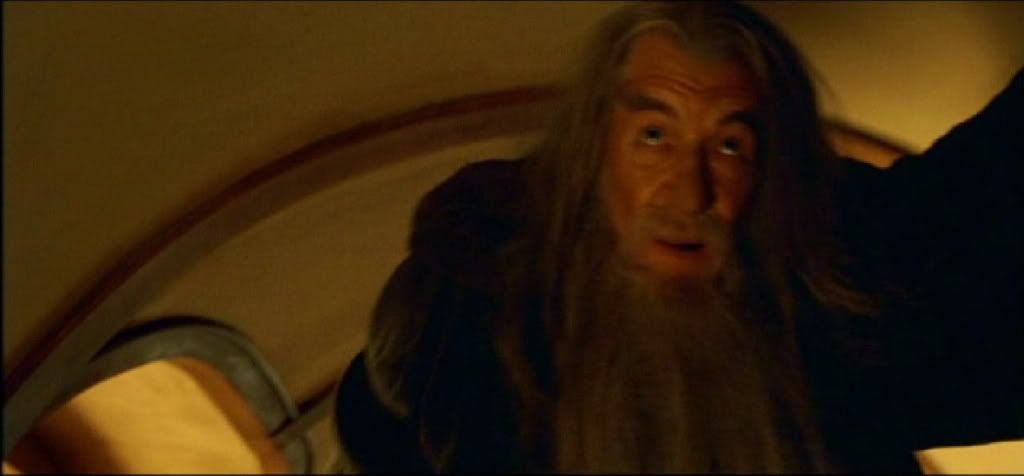 You've only just arrived!
I don't understand!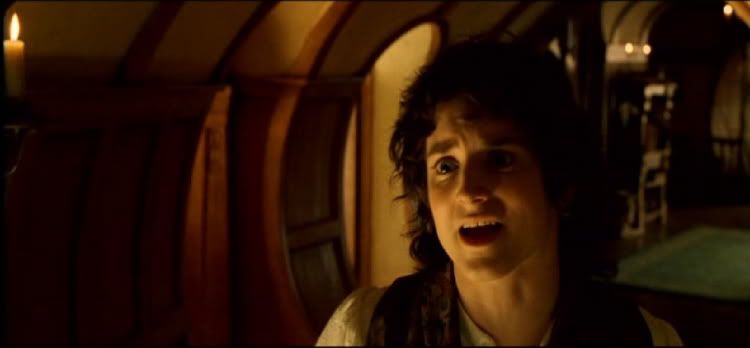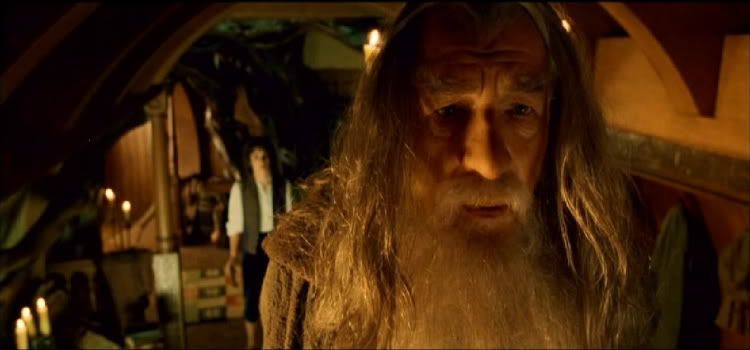 Keep it secret, keep it safe!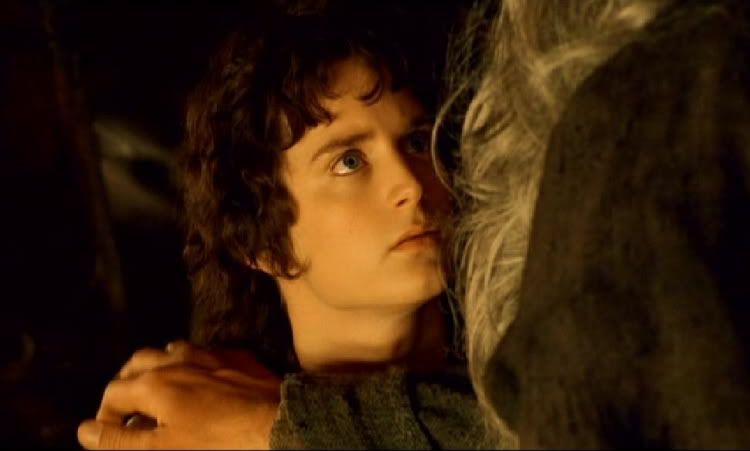 'I don't understand', said Frodo.
'Neither do I', answered the wizard. 'I have merely begun to wonder about the ring, especially since last night. No need to worry. But if you take my advice you will use it very seldom, or not at all. At least I beg you not to use it in any way that will cause talk or rouse suspicion. I say again: keep it safe, and keep it secret!' "
(FOTR: A Long Expected Party)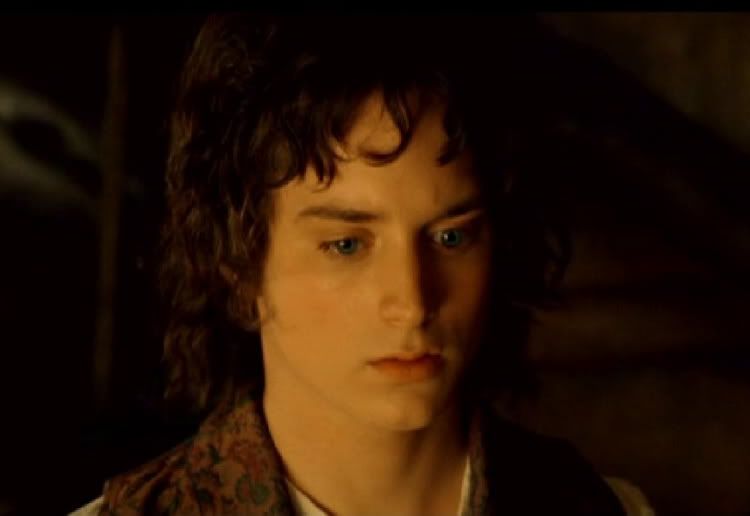 "Elijah Wood had heard about the project from his agent William Morris and knew that Peter & Fran were really casting for British boys - that's what they wanted – the four hobbits to be played by Brits and he knew that if he wanted to be in the running he had to do something dramatic and so he put himself on tape - he auditioned himself reading passages from the book and mailed the tape in to Pete and Fran and as a result of what they saw he immediately came into the running. He was actually the first person cast – the first deal made - Peter and Fran and everyone would look at hundreds of people for roles - at New Line we would only get the finalists and when that tape came in there was no dispute, you didn't even have to look at anyone else, it was so clearly and instantly apparent that Elijah Wood would play that role – there was just no debate." (Mark Ordesky, dvd commentary)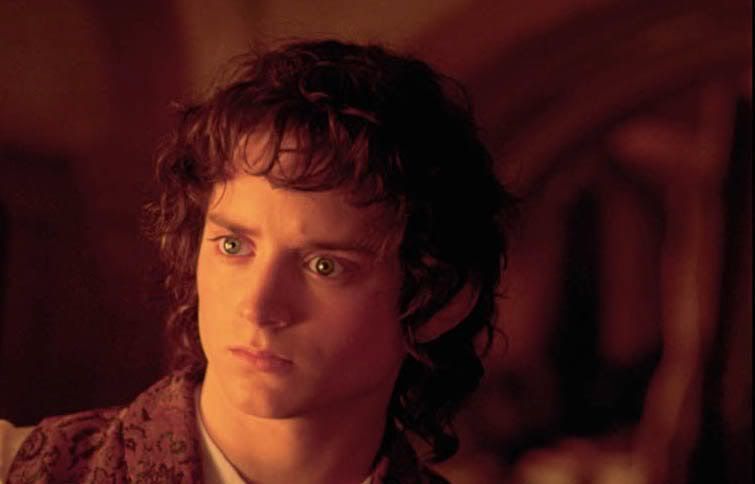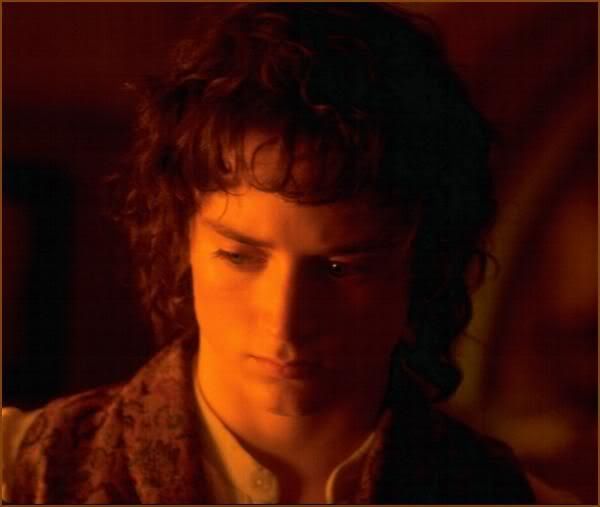 ---
"Elijah has the innocence of a child, the wisdom of a ninety-year old man, and the grace of an angel."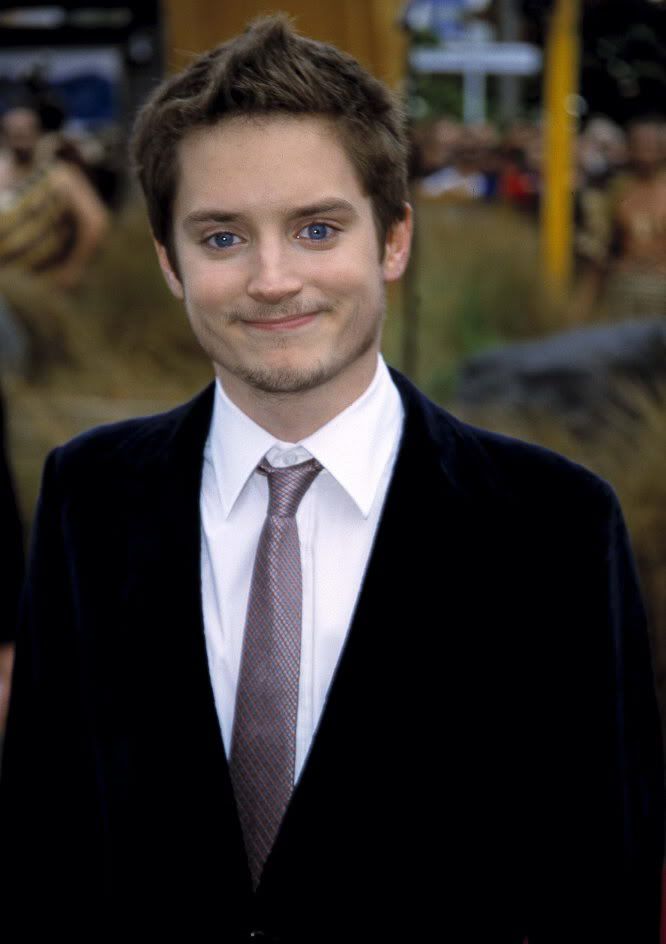 ---
ETA: Many thanks to
karin_woywod who has provided me with many unwatermarked and/or larger & better quality pics to replace those originally posted.TO BE CONTINUED

LINK TO ALL CHAPTERS:

"A JOURNEY WITH FRODO"
comments: Leave a comment