| | |
| --- | --- |
| Tags: | a journey with frodo |
| Security: | |
| Subject: | A Journey With Frodo Ch.27 - 'Out and About' |
| Time: | 10:03 pm |
| Current Mood: | nostalgic |
This chapter of 'Journey' has been almost ready to post for about a week but I've been so engrossed in all the pics, info and vids coming from San Diego ComiCon I just couldn't get round to those last few finishing touches! I know I'm repeating myself, but I was so thrilled to see that happy reunion between Elijah, Dom and PJ. And Elijah said he'd definitely be visiting the set of 'The Hobbit' when they start filming - hope we get some pics from that event! This chapter covers quite a mixed bag of events for Elijah - including a visit to Harvard University! And Frodo spends an evening in 'The Green Dragon':)
For anyone unfamiliar with my pet project, 'A Journey With Frodo' (a work in progress) is the story of Elijah Wood's experience in becoming Frodo, from back in 1998 when the LOTR movies were just a whisper, up to the triumphant Oscars of Feb 2004. In reliving Elijah's journey, (and my own!) I am using everything I can lay my hands on - behind-the-scenes material from the various dvd's, magazine articles, books, internet sites, tv coverage, word-of-mouth info, etc. Previous chapters can be found here
"A JOURNEY WITH FRODO"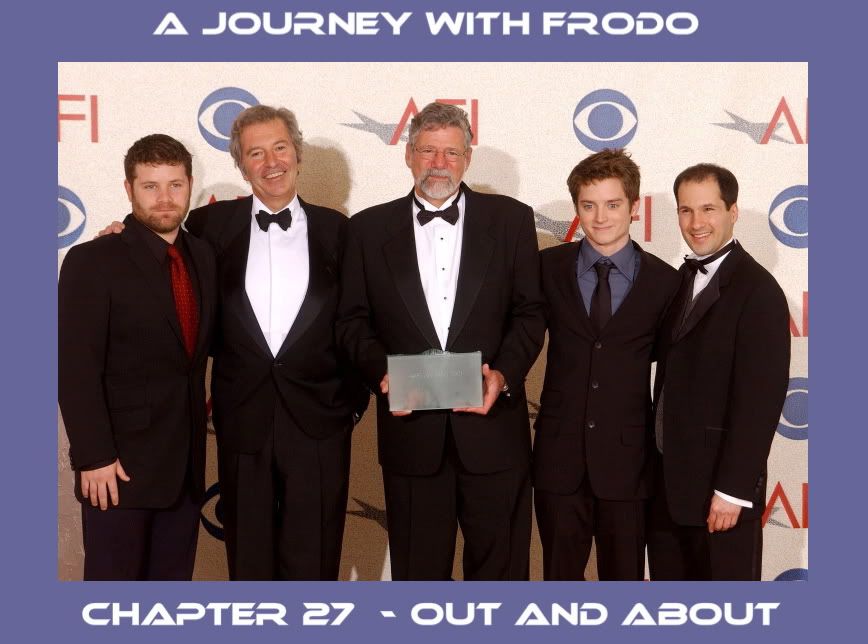 ---
On his return from Australia, Elijah has a short break to enjoy Christmas with his family and then it's yet another chat show!!
JAY LENO ~ 29 DECEMBER 2001

Jay asks if he is excited about the huge success of the film since its release. Elijah explains that he's never even been in a film that reached No. 1 before! Said he's now getting lots of "Hey, Frodo"s out on the street!

Jay asks how this has all changed him - does he now live in a palatial mansion? Elijah says that he is still living in the guest house next to his mom's house and she is still doing his laundry. This provides Jay with plenty of teasing ammunition for future shows!!

Elijah announces that he is a 'foodie' and would love to learn how to cook. He describes a disaster he once had when trying to cook pasta for a girlfriend! He also announces that his 21st birthday is coming up and he's planning to go to Las Vegas with his brother and friends and in preparation his brother had bought him a casino computer game for Christmas. More teasing from Jay!! (Sadly, the LV trip never materialised).

"Ok, we'll take a break - your mom can do some laundry!" says Jay. After the break Elijah describes how the Brits on the LOTR cast taught him lots of British slang (and swearing!). He says "I feel like an English person now". Jay points out that it is actually nine years ago to the very day that Elijah appeared on the show to promote 'Forever Young' and a clip from that show is played.

---
AFI AWARDS ~ 5 JANUARY 2002
FOTR wins Best Picture at the American Film Industry awards!
Arriving at the Awards which were held at the Beverley Hills Hotel: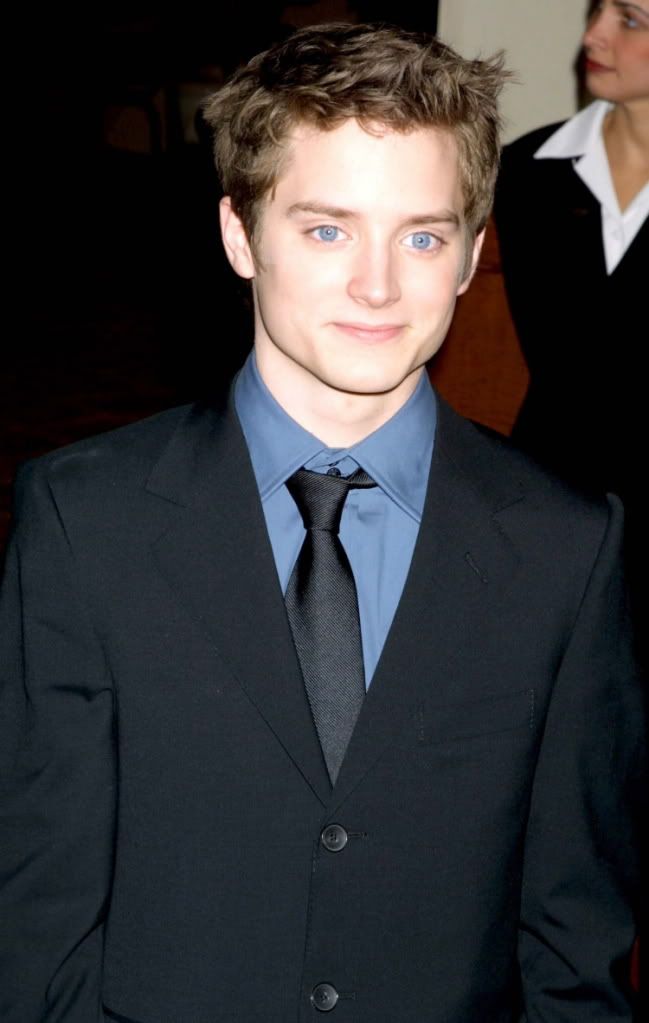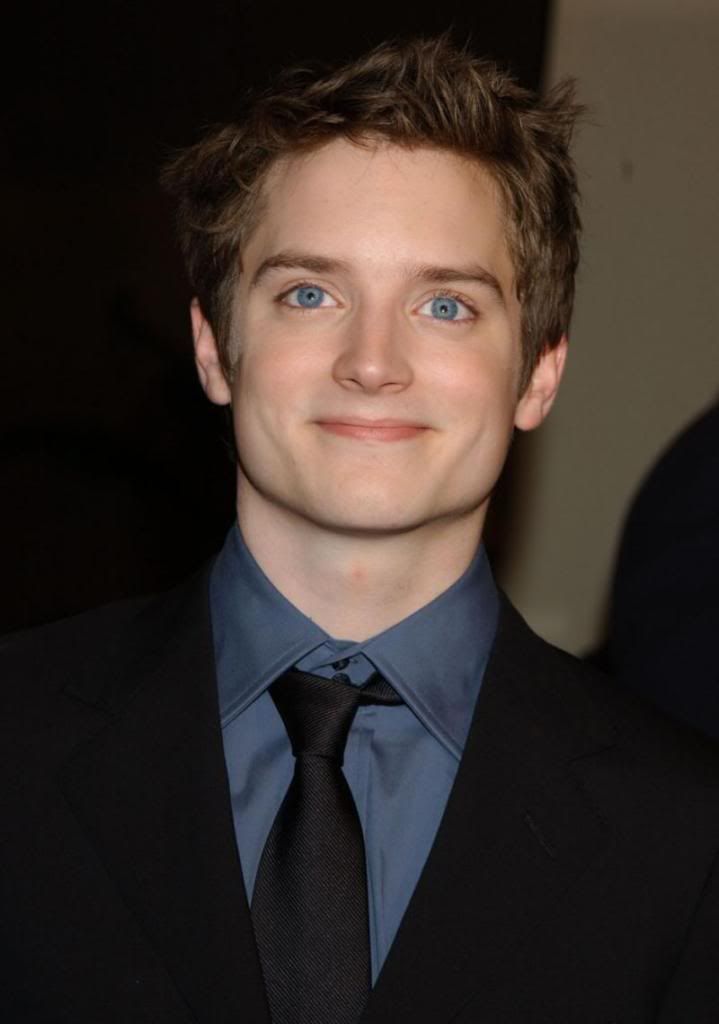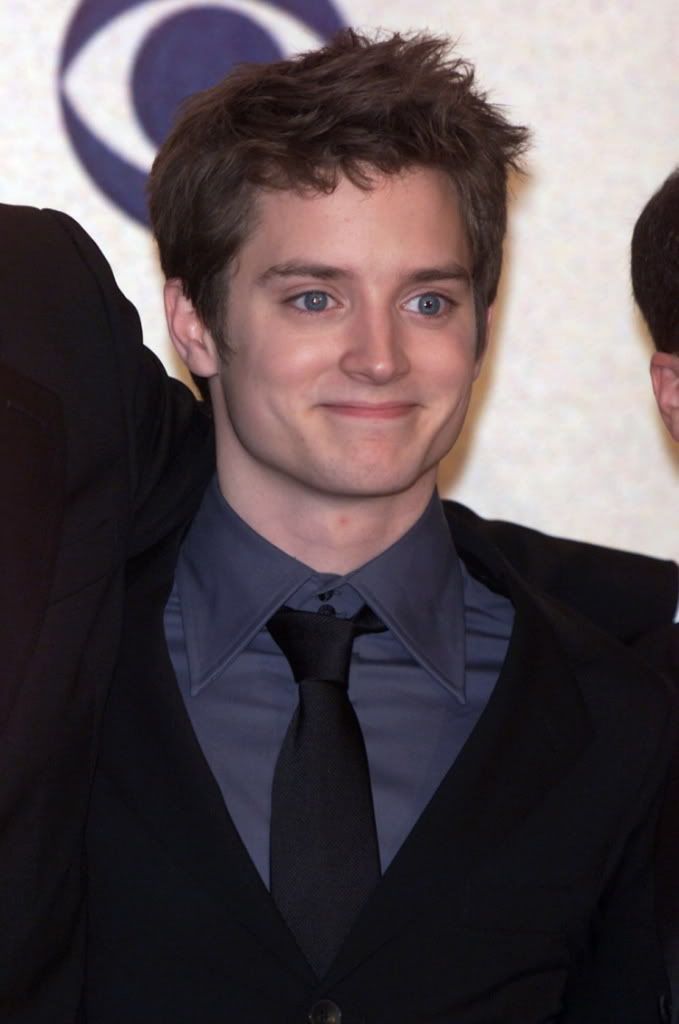 With the wonderful Howard Shore: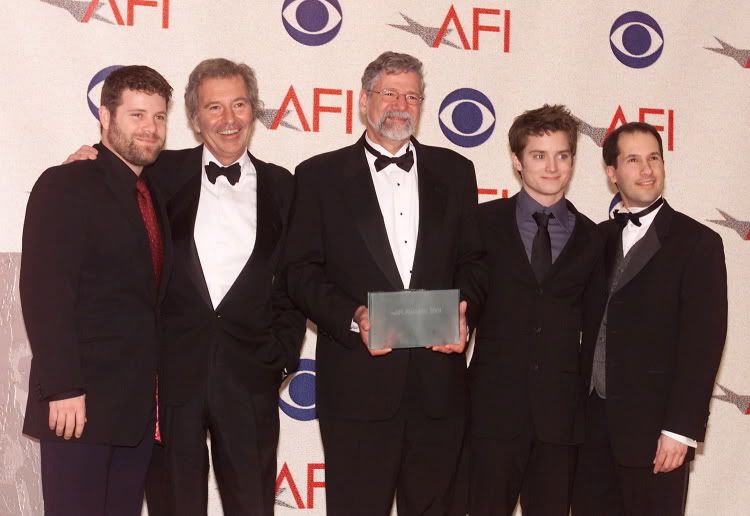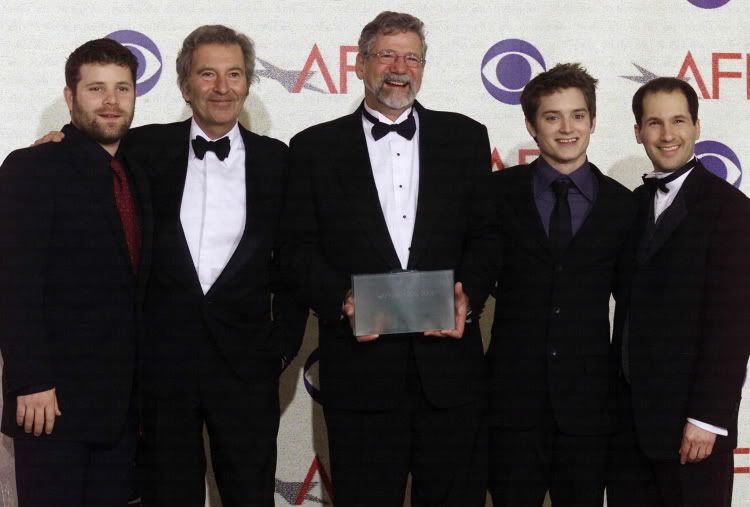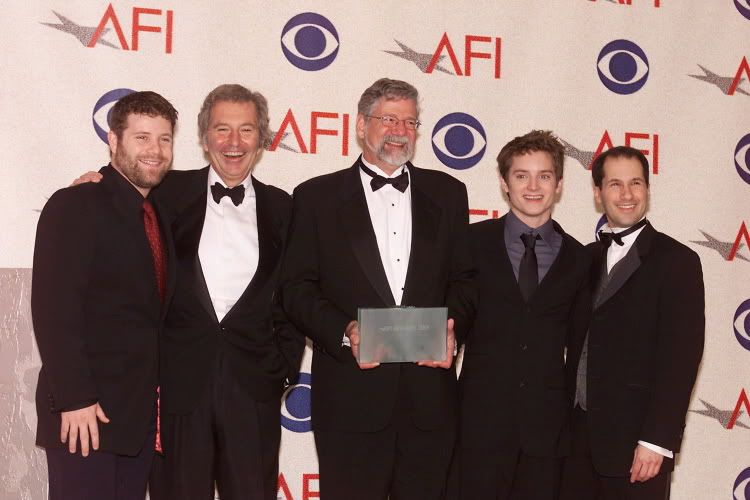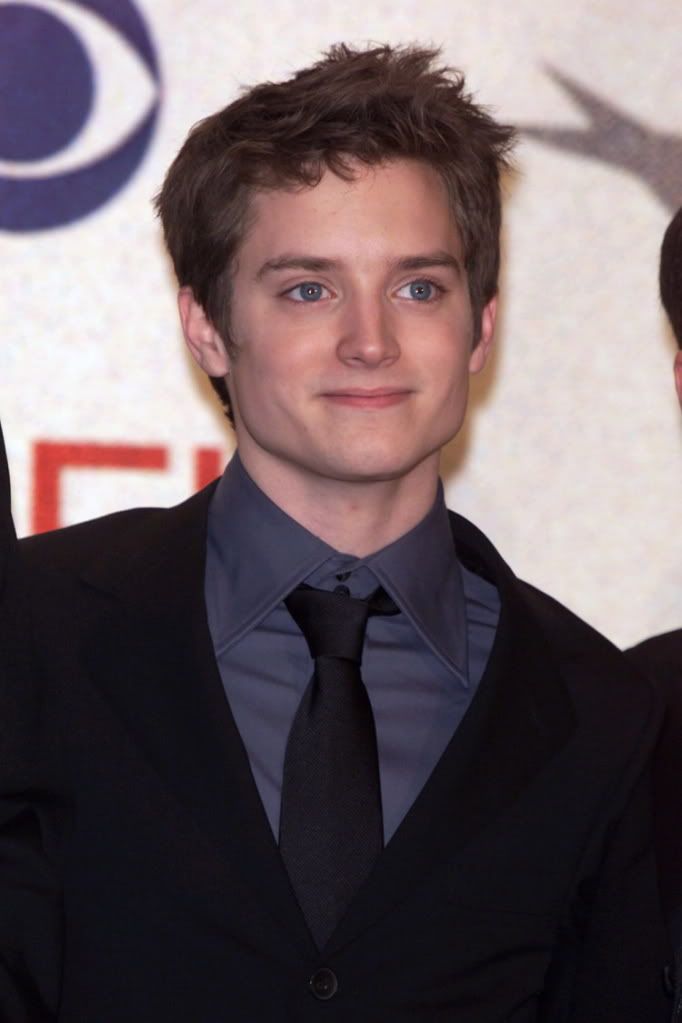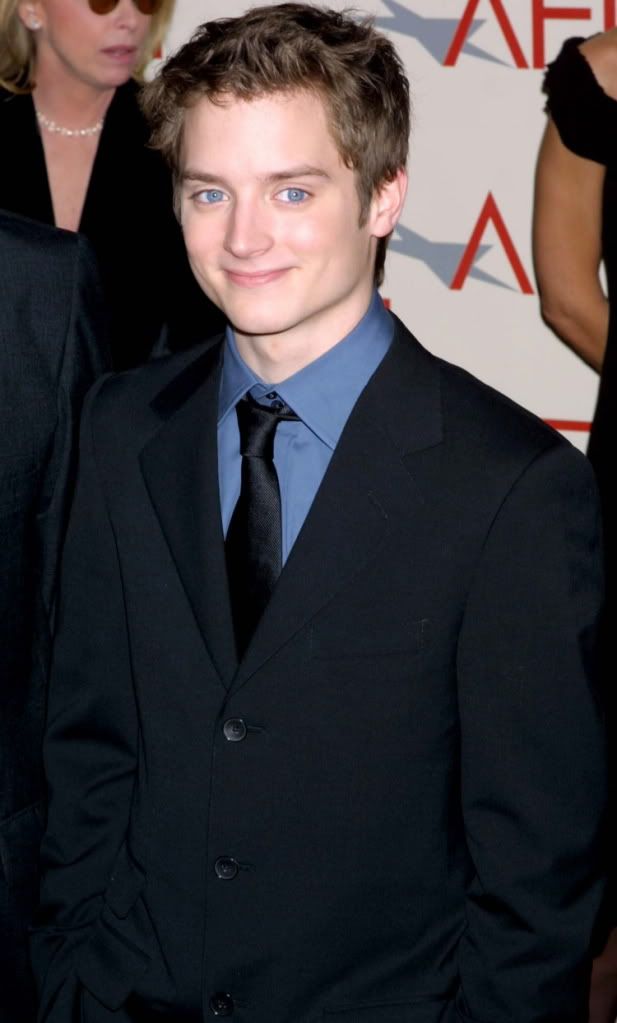 Elijah and Sean introduce the FOTR clip – and Elijah manages to stop Sean from flaunting the tattoo!
Their into went like this:
Haley Joel Osment: Here are two lucky people who got a seat tonight - Elijah Wood and Sean Astin.
Elijah to Sean: How's your seat?
Sean: Good - it's good.
There follows a little discussion between the two of them about the seats!!
Elijah: Hobbits, wizards, humans and dwarves all come together to fight evil.
Sean: Are you talking about 'Moulin Rouge'?
Elijah: No! Lord of the Rings - our film!
Sean: Sorry.
Elijah: Our movie is the first in a trilogy where all the magical forces of film are brought together to bring JRR Tolkien's beloved stories to life. It was, as Haley Joel says, a massive undertaking but we came together as a team and forged our own fellowship if you will.
Sean: It's true, we had an extraordinary time in New Zealand, we were on location for a year and a half and we ... I don't know if anyone knows but New Zealand is the home of the tattoo and it's true that we, the cast, got tattoos on our ...
Elijah: Sean! We're not going to show them now!
Sean: No, I wasn't going to show them ...
Elijah: Enough!
Sean: I was just going to include them in our ...
Elijah: Enough!
Sean: Right.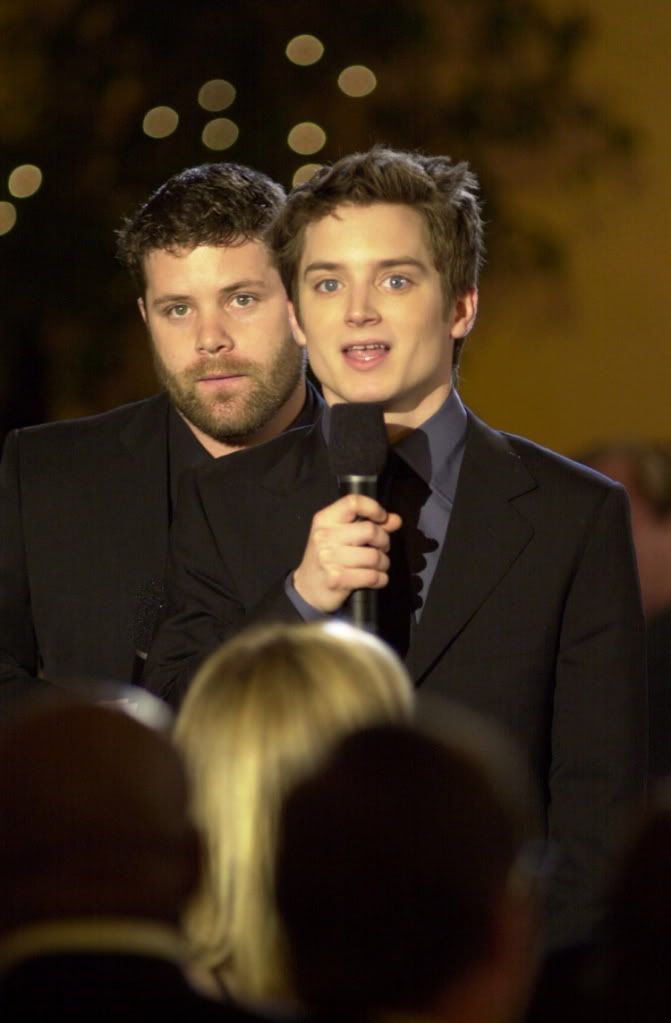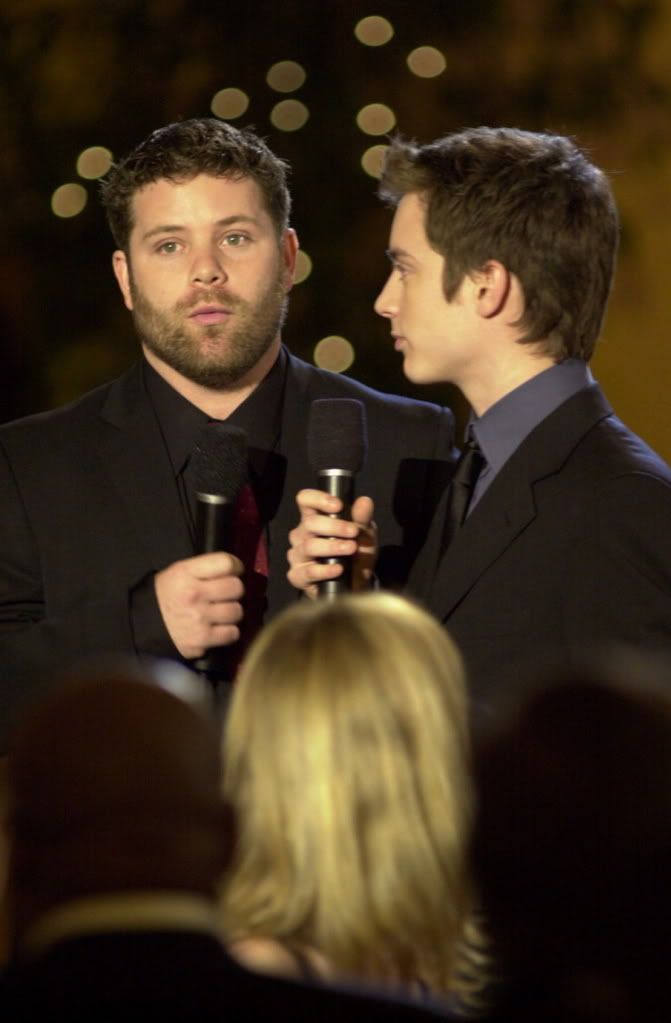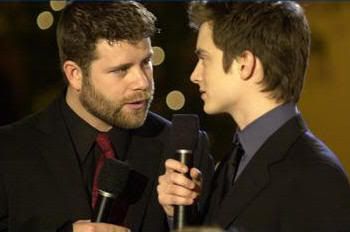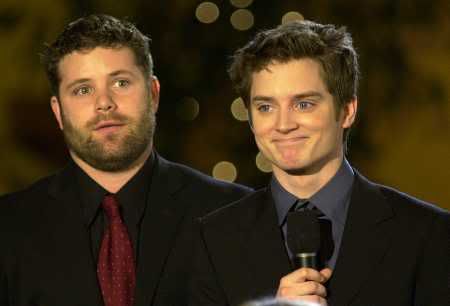 ---
THE PIERRE VINET EXHIBITION 11-19 January 2002:
How I would love to have seen this exhibition:
What: Pierre Vinet: A Lord of the Rings Photographic Journey Featuring still photography by Pierre Vinet from the film, Lord of the Rings.
Where: Track 16 Gallery, Bergamot Station2525 Michigan Avenue, Bldg. C1, Santa Monica
310 364 4678, www.track16.com
When: The exhibition runs from January 11th through January the 19th. There will be no opening reception.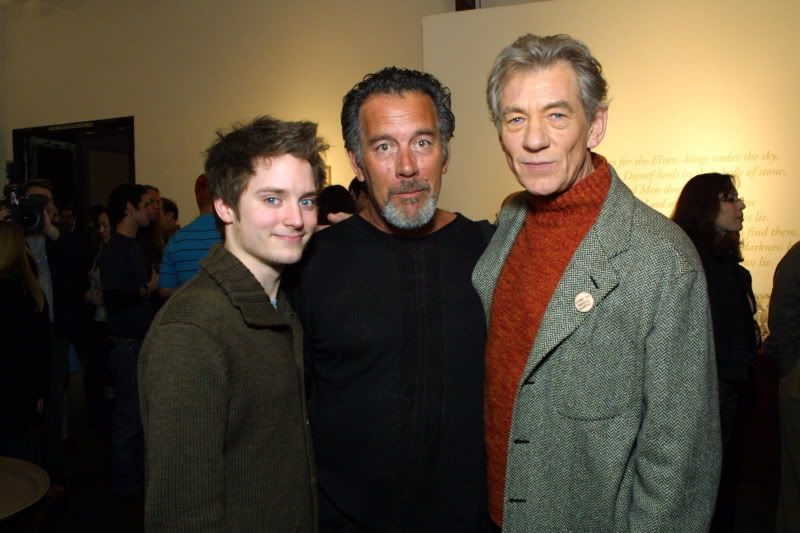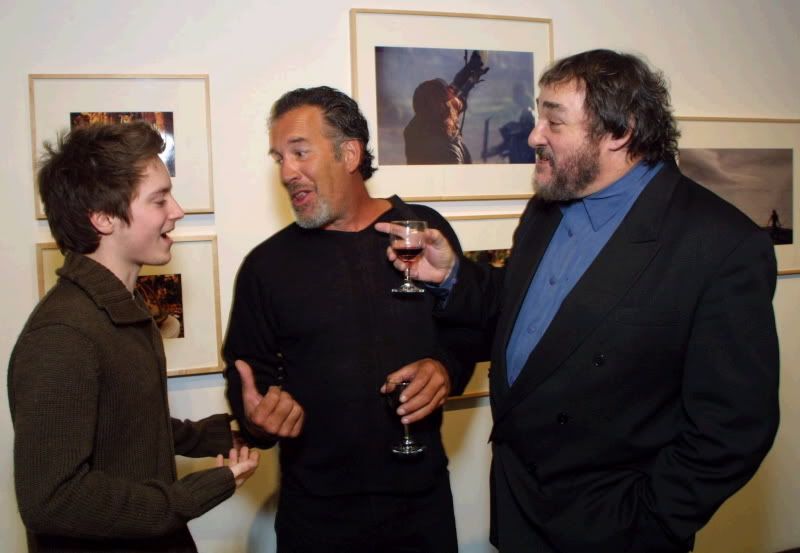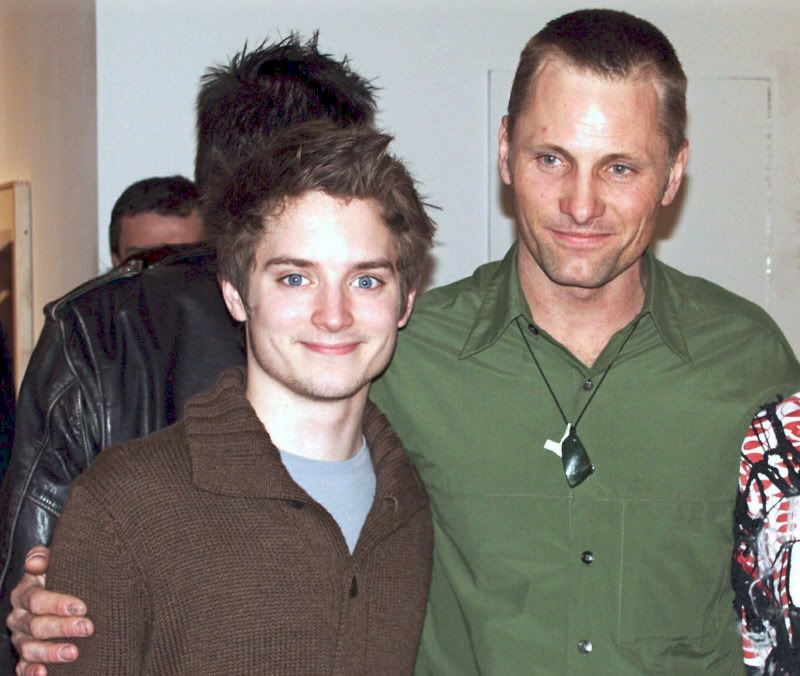 Contemplating a spot of nailbiting, perhaps?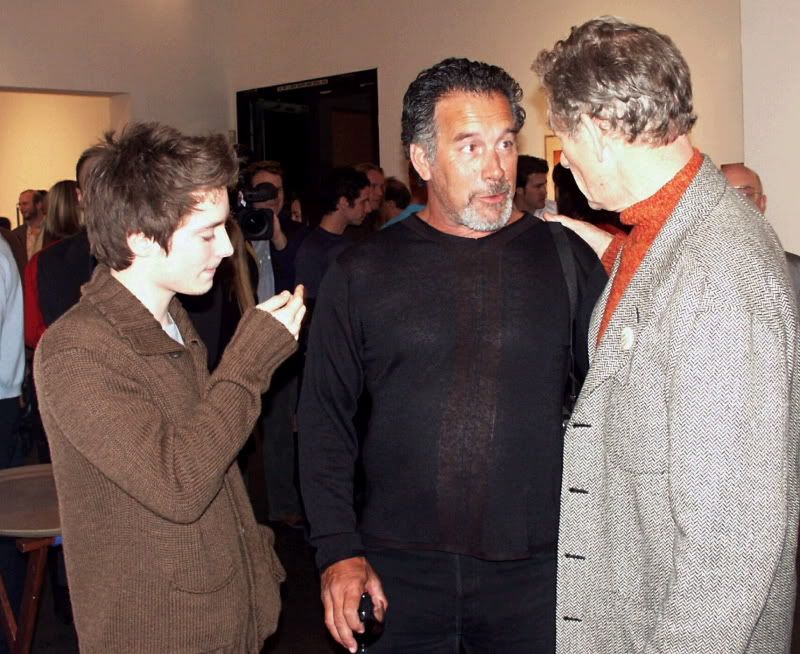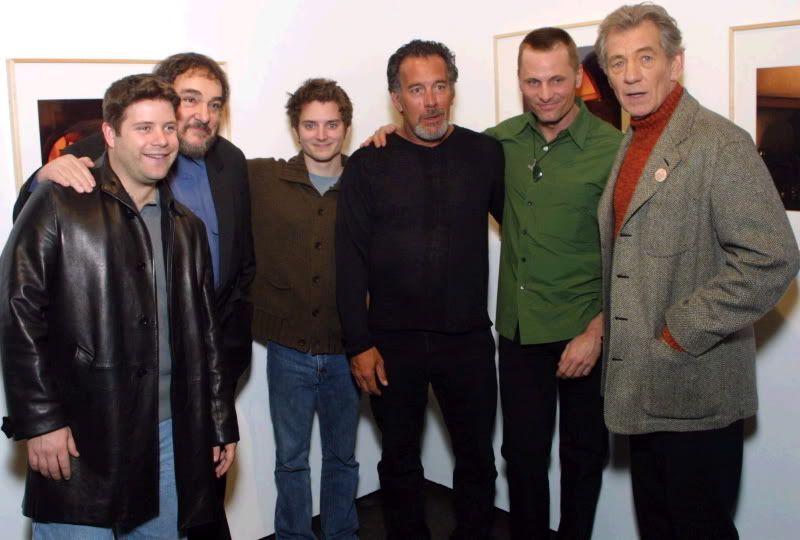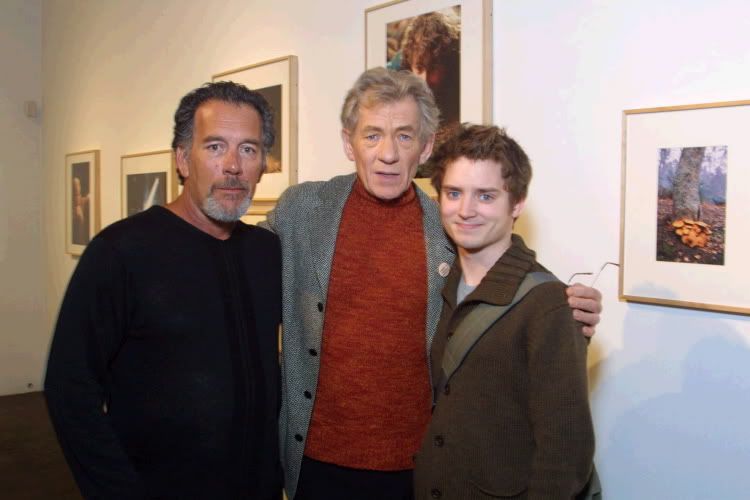 Elijah and Sean share a special moment – this is so adorable!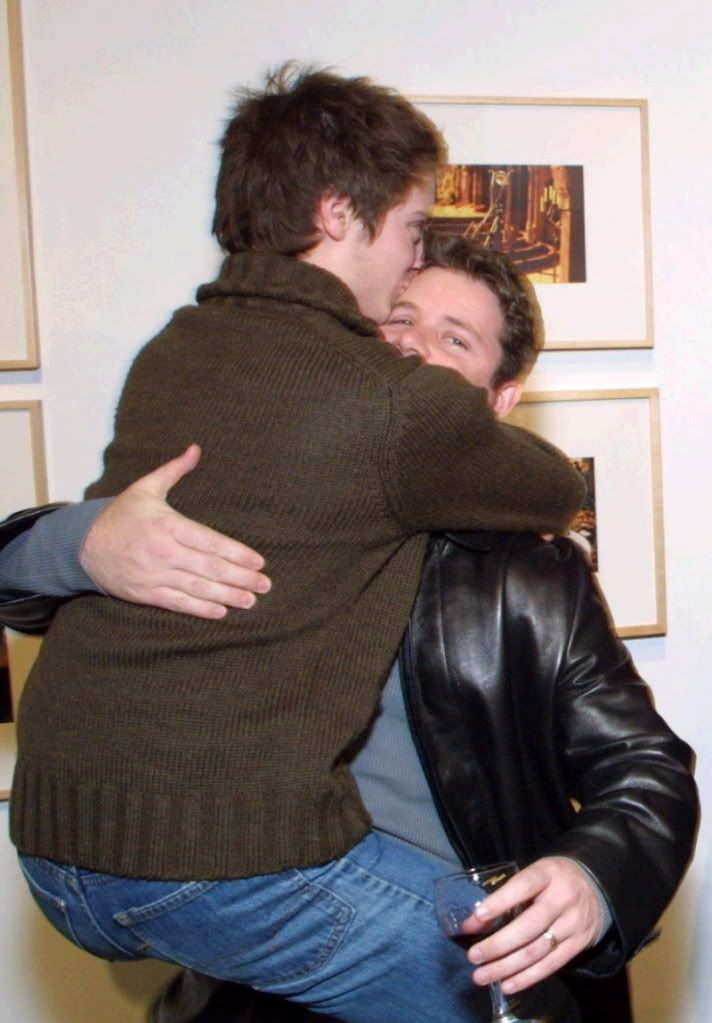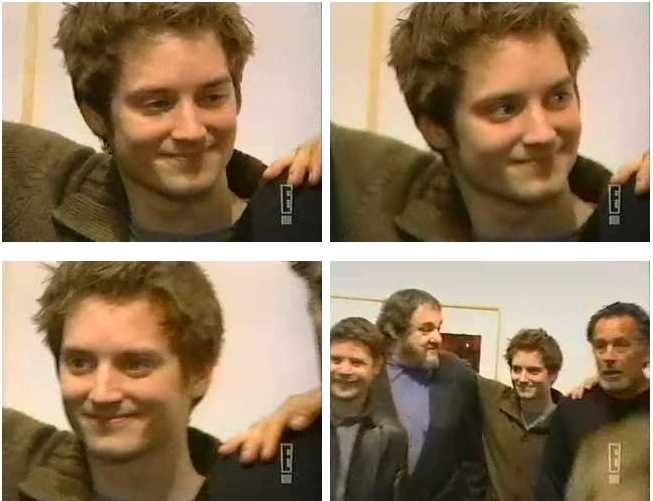 Pierre Vinet is, of course, the person who took this stunning photograph of Frodo: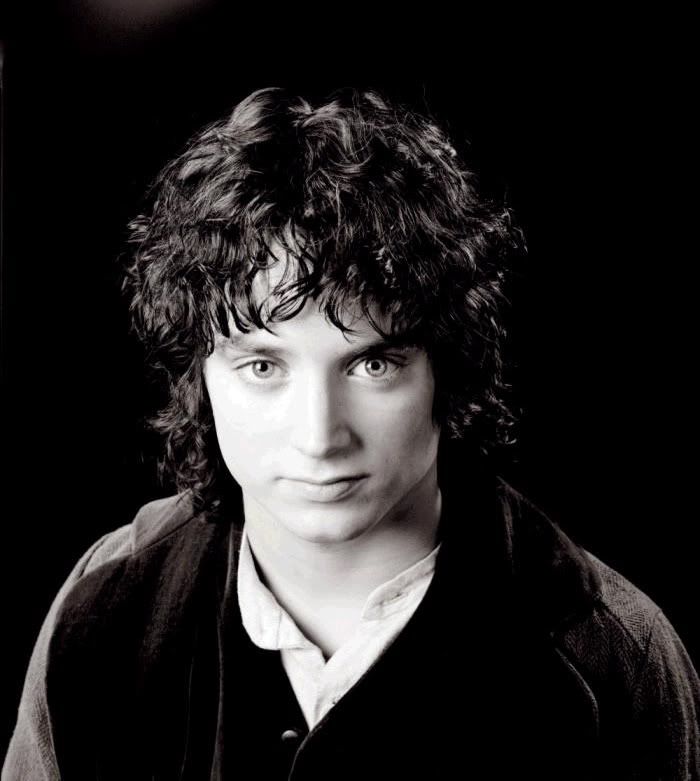 And my own much-loved copy of this pic (a rather wonky scan by me, I'm afraid!!). Elijah signed this for me at the London ComiCon in 2006 and took time to carefully explain to me how, because of the type of board the pic is mounted on, the ink would take a long time to dry so I should be careful:)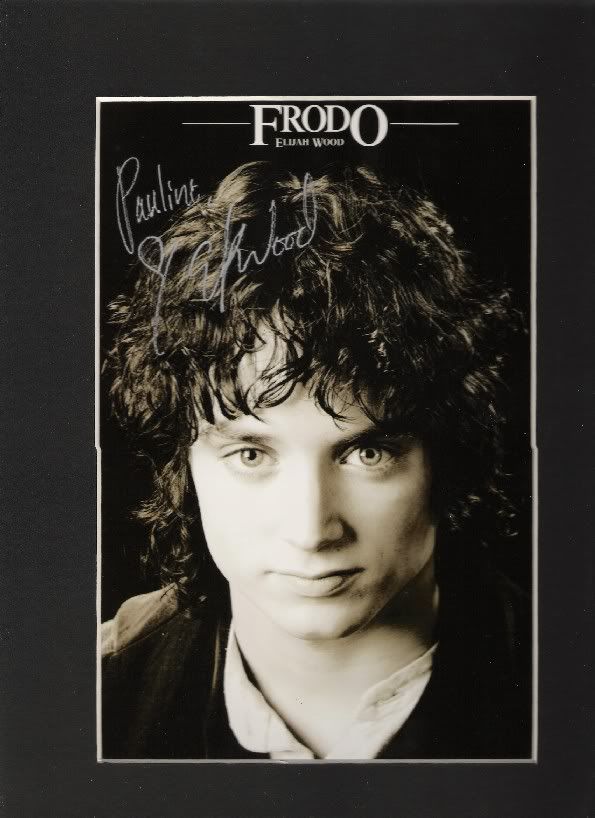 ---
HARVARD UNIVERSITY ~ 13 JANUARY 2002
Elijah is proclaimed the best actor of all time by Harvard University – and quite right too!! He also manages to win a chicken wing-eating competition without eating a single chicken wing!!!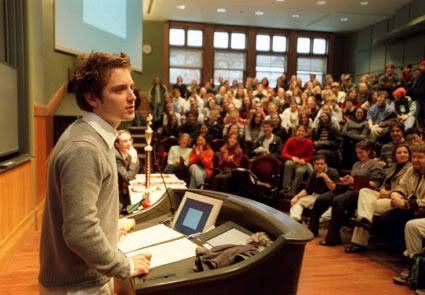 "Thought you might be interested to know that Elijah Wood was at Harvard University today at the invitiation of the Harvard Lampoon! The Lampoon awarded Elijah their "Best Actor of All Time" award. A few of the past recipients of this award have been John Wayne, Robin Williams, Natalie Wood, and Randy "Macho Man" Savage. However, the president of the Lampoon assured the crowd that he was convinced that Elijah was absolutely(!) the best actor of all time. The President made a short speech to introduce Elijah, making a few jokes about some of Elijah's less than famous movies. Elijah was a very good sport and either accepted the ribbing or joined in. He was presented with a Burgur King Light up collectible mug of Arwen and a bowling trophy proclaiming him "The Lord of the Wings" (after a very bad chicken wing sketch). He also helped act out a parody of a scene between Gandalf and Frodo with two action figures. After that Elijah did some question and answer stuff and showed of his tattoo (twice) at the request of the audience. The whole thing lasted about half an hour, and there was very little mingling afterward as he was quickly spirited away to the Lampoon Castle, but the whole thing was really cool!" (theonering.net)
Harvard students get a priveledged tattoo viewing!!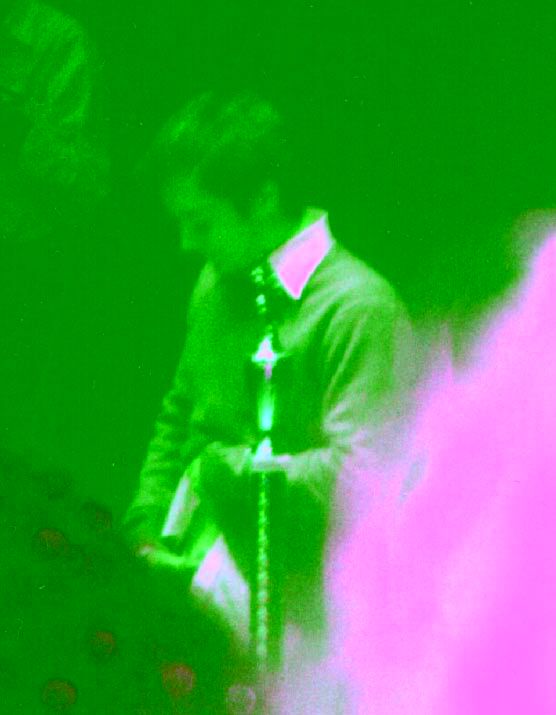 "Lampoon Names Its Lord
Elijah Wood Awarded 'Best Actor of All Time'
By NICHOLAS F. JOSEFOWITZ
Elijah Wood, star of Lord Of The Rings, won a chicken-wing-eating contest and pulled down his trousers twice to show the audience his "secret tattoo" at the Lampoon's "Best Actor of All Time" award ceremony yesterday afternoon. Over 300 people packed into Sever 113 to hear Wood answer questions from the audience and reenact a scene from the film with action figures.
"Elijah told us that he really hates answering questions, so we thought we'd prank him," said
Benjamin F. Dougan, incoming president of the Lampoon, a semi-secret Sorrento Square social
organization which used to occasionally publish a so-called humor magazine. "I was really taken aback," Wood said after being asked about his reaction to the award. "It's not your typical honor."
Most of the questions asked were teasing in nature, and the audience laughed uproariously at many of Wood's responses. When asked by Andrea R. Bomar '05, what he would do if, like in the film, he could turn invisible, Wood replied: "For all the guys here, there are things that I would definitely do."
"But, seriously, I used to think about this and I wanted to go to Disneyland and stay there after the park closes—live there," he said. "But as you grow up, you realize that Disneyland is actually a really shady place. Really [expletive] shady, so maybe I wouldn't."
When asked if he wanted to take part in Primal Scream, Wood said he would like to, but unfortunately he was leaving Sunday afternoon. The audience let out a collective sigh and loud screams of "we can do it early," and "let's do it now" were heard."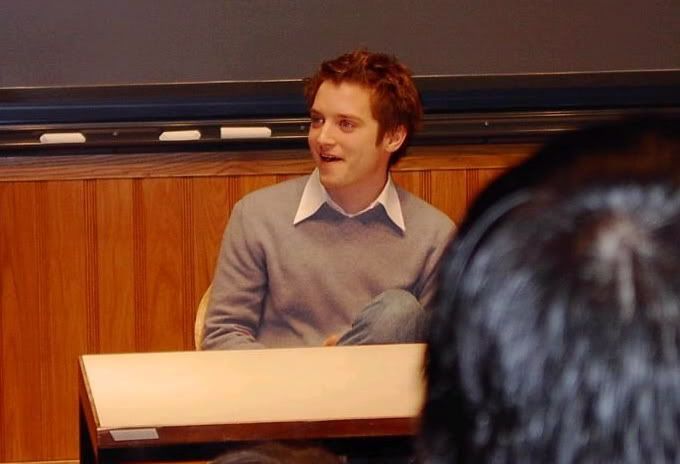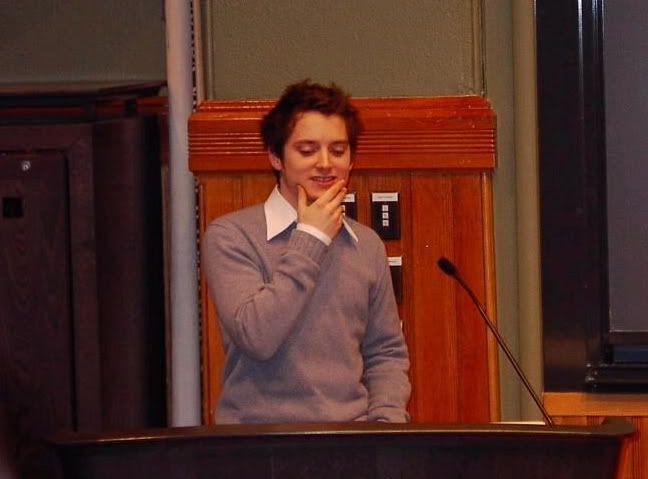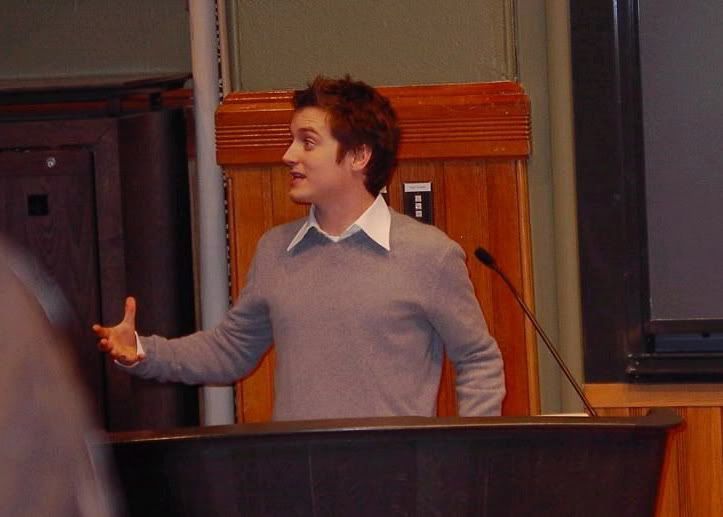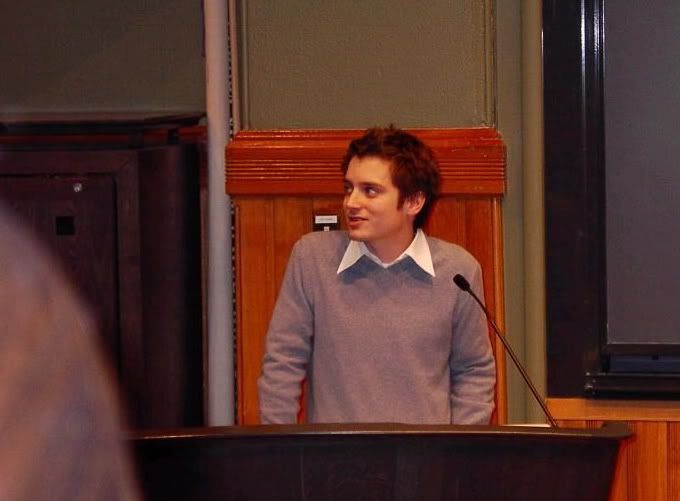 When asked about the hardships of filming Lord of the Rings for sixteen months straight in New Zealand, Wood replied that although "it was tough living away from home and enduring the schedule, it was more a joy than a burden. It was the opportunity of a lifetime."
Wood also added that he had a serious crush on his co-star Cate Blanchett.
"I had to do this one big scene with her, and I was really nervous," he said. "She is so beautiful... but she's married dammit."
After being asked if he preferred the Lord of the Rings books to the films, Wood replied that, even though he thought the film was as good as it could be, he still preferred the books. [Shhhh - yes, we know he hadn't actually finished them, but he had read
parts
of them - and probably the best parts (ie Frodo & Sam)!!]
"There's nothing better than books," he said. "It's always your own journey."
Although he was not presented with an award for being the "Best Actor of All Time," Wood was awarded a "Lord of the Wings" trophy for winning a chicken-wing eating competition which took place before he began speaking. Wood did not eat a single wing, but his opponent, a Lampoon staffer, was disqualified for being a member of a professional wing-eating club. Wood spent the weekend with the Lampoon, attending a dinner on Saturday night in his honor. He was also brought to Annenberg dining hall before the speech Sunday in an attempt to advertise the event to freshmen. "It's been a [expletive] wicked weekend," Wood said in closing. "Thank you so much." Audience reaction was overwhelmingly positive. "I thought he was really cool," said Megan E. Low, '04. "I wasn't sure what to expect, but he was so open and responsive to questions." But Wood did not fulfill everybody's expectations. "I really wished he would have given me a kiss," said Kaija-Leena Romero, '05. "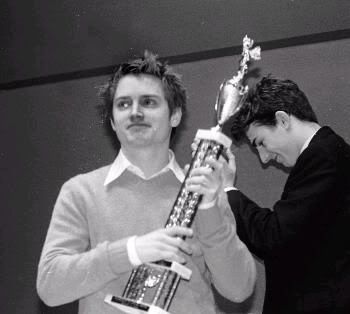 With a Harvard fan
: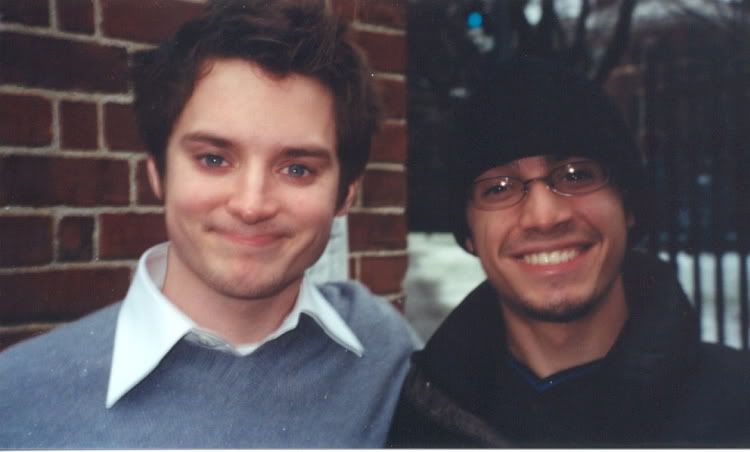 ---
By this time, FOTR had been playing in cinemas for almost a month. Let's join Frodo in some hobbity fun at:
THE GREEN DRAGON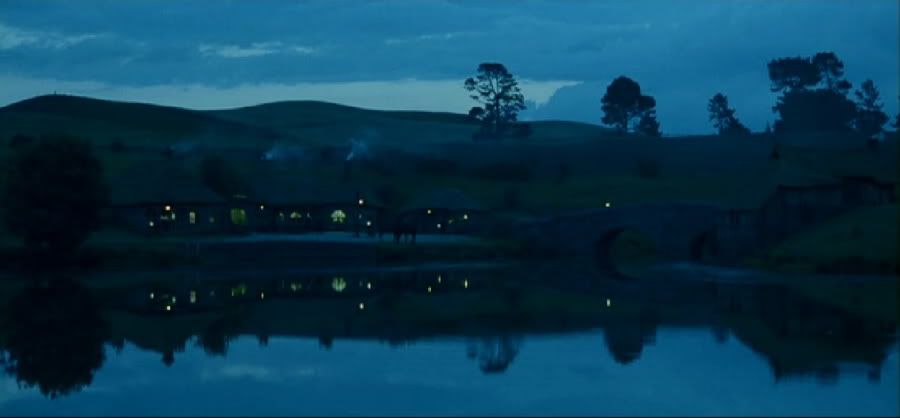 Hey-ho to the bottle I go!!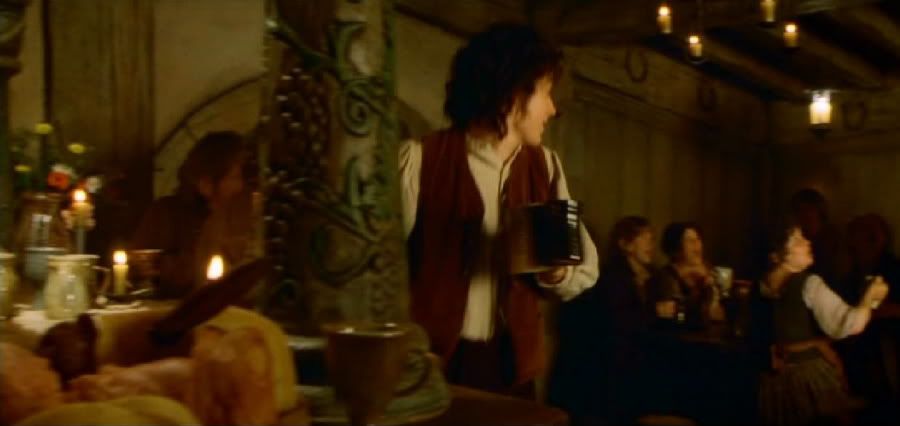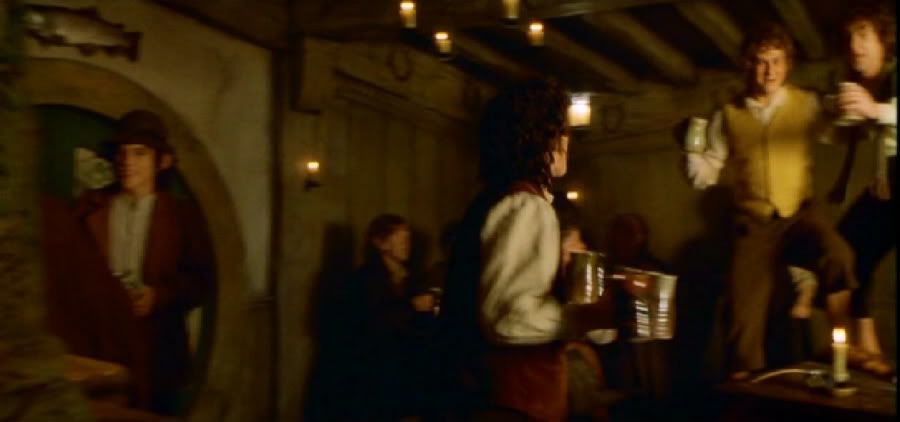 Elijah : "It was such a hobbit moment" … We did fight for that [referring to the fact that the drinking song was excluded from the theatrical version], mainly because it establishes the relationship between us which is awesome. You also get a sense of the sweeter, happier moments before the journey."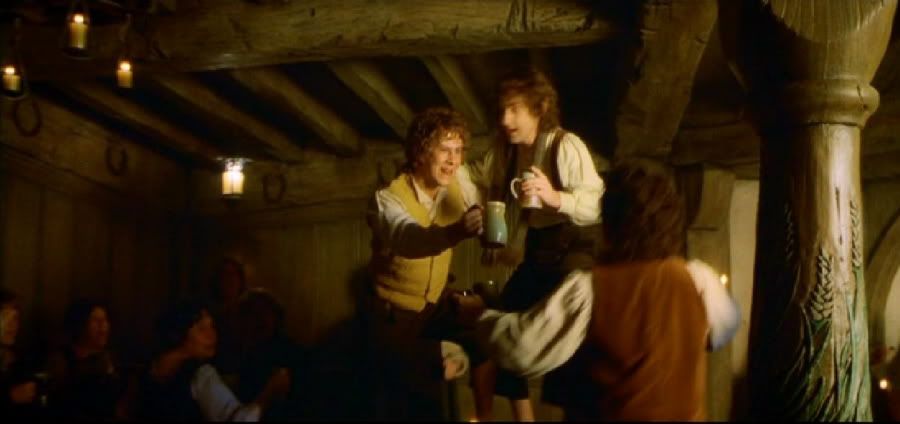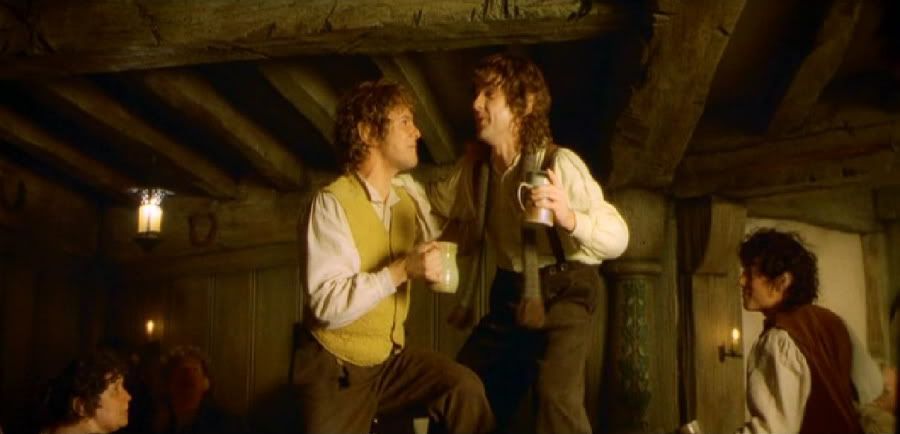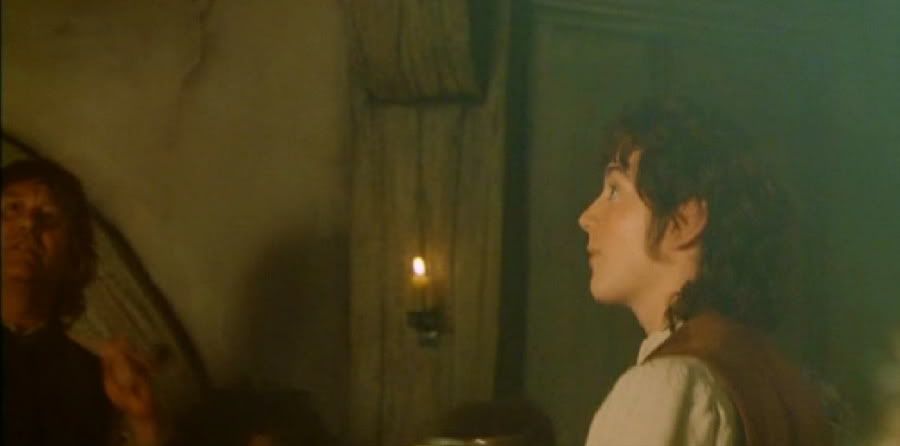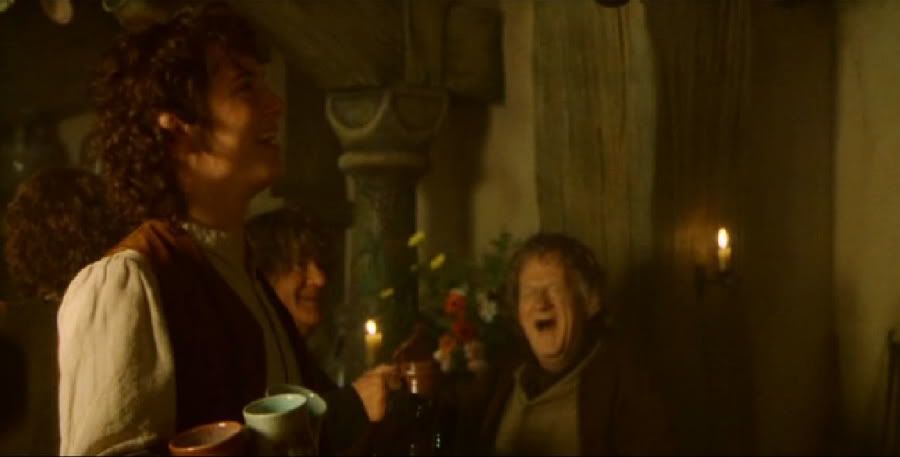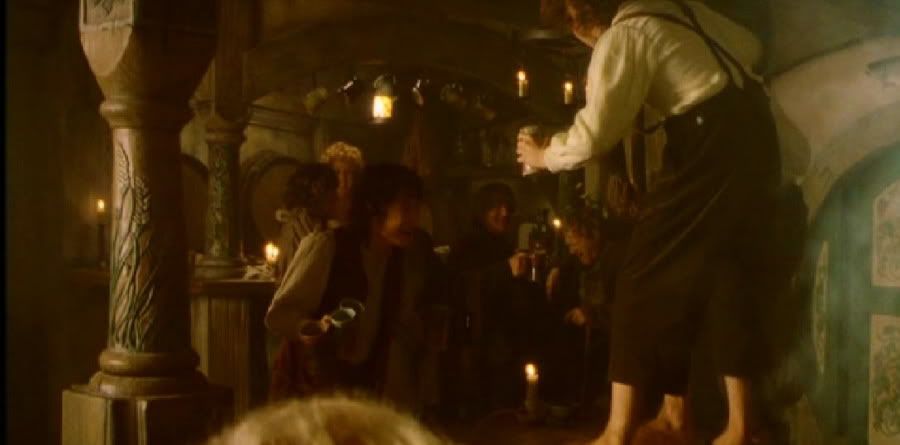 Cracking...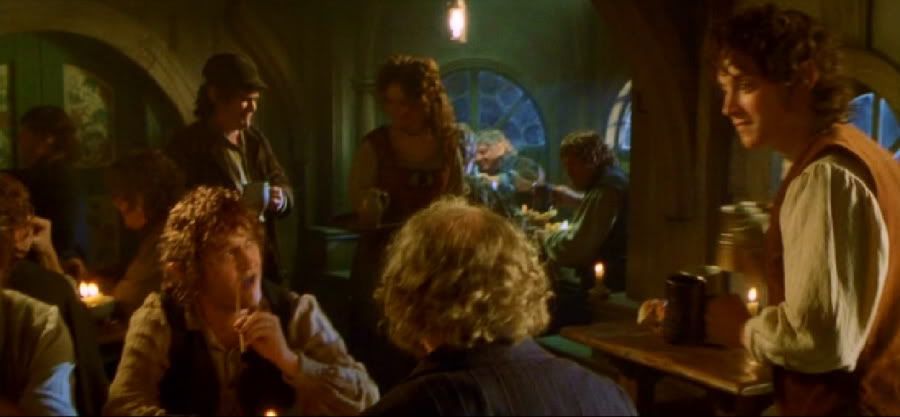 ...and proud of it!!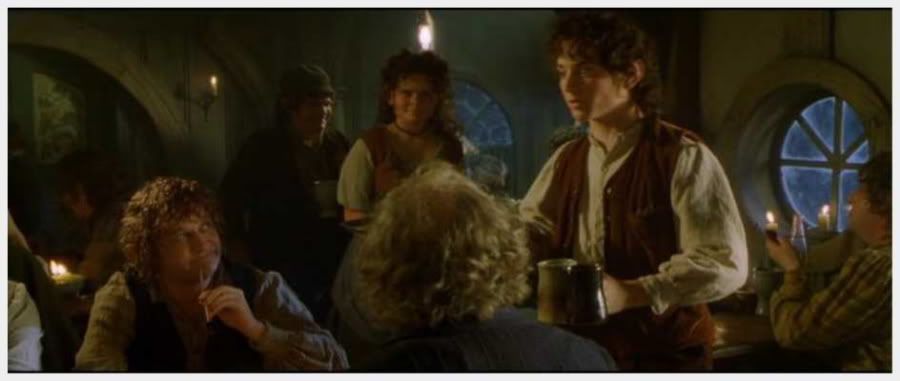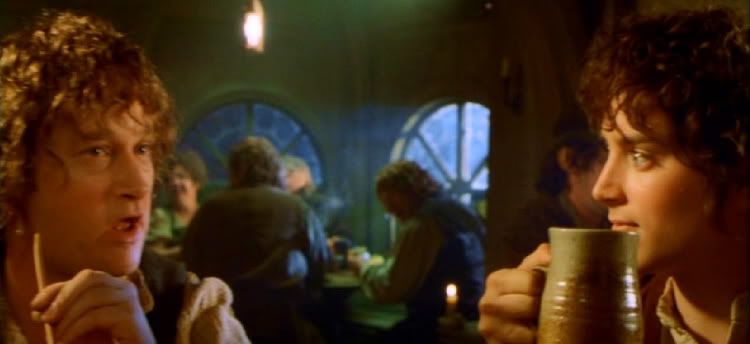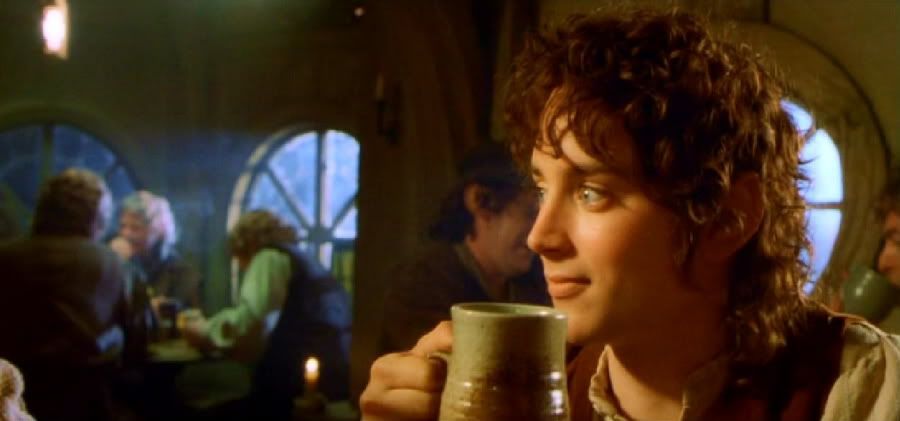 PJ : I love the way that Frodo reacts to the thoughts of adventures there. (dvd)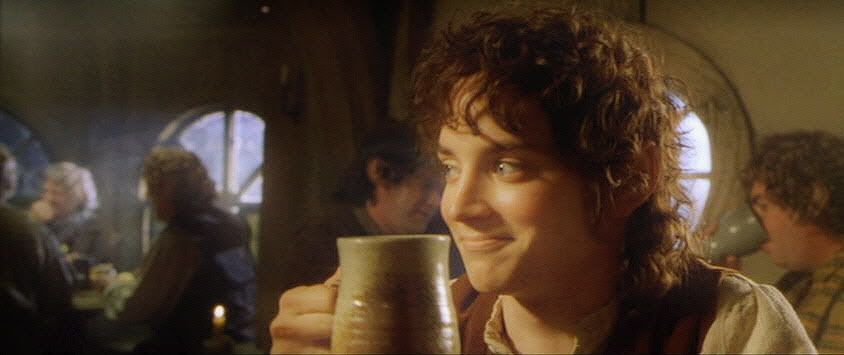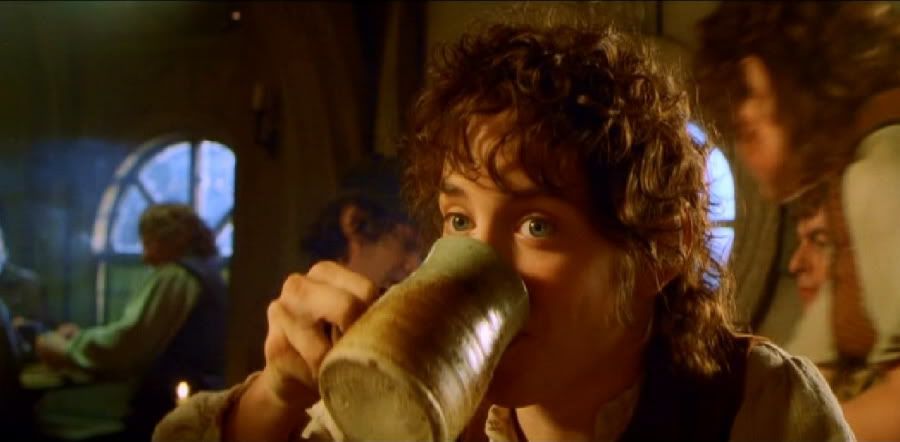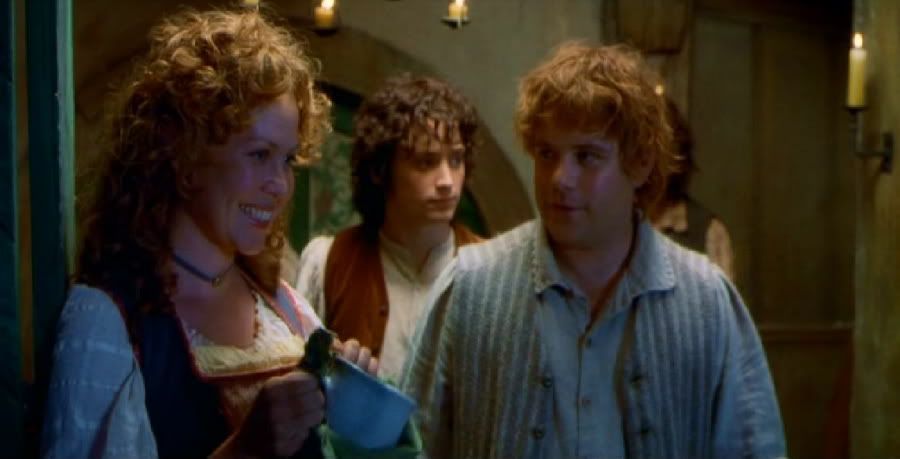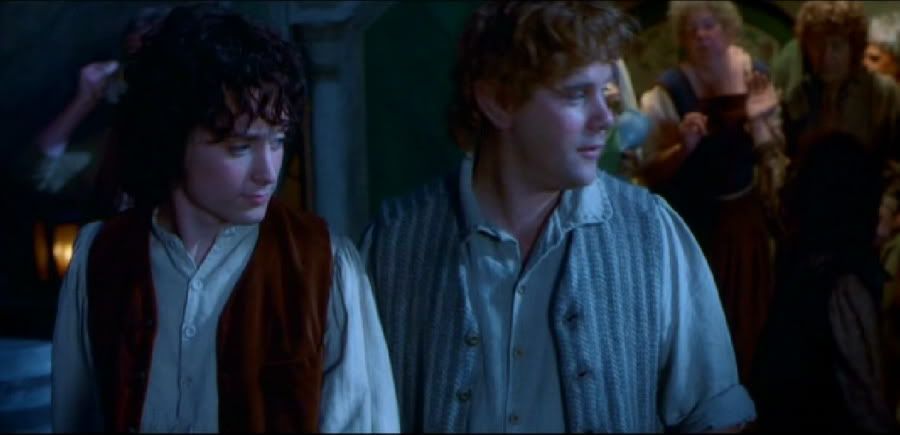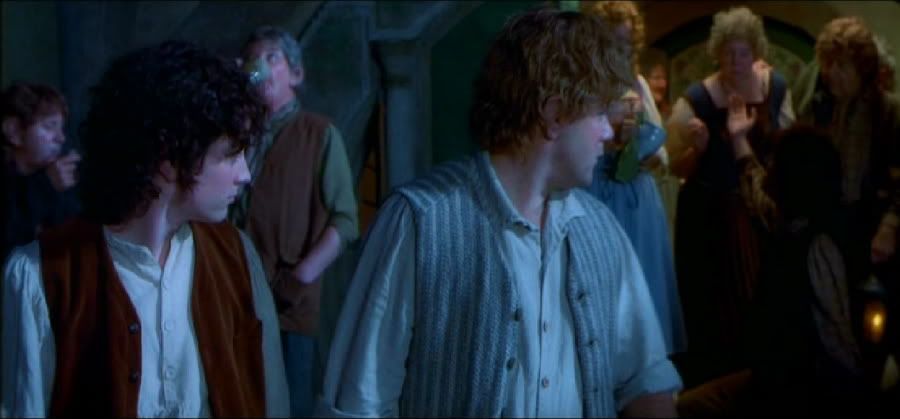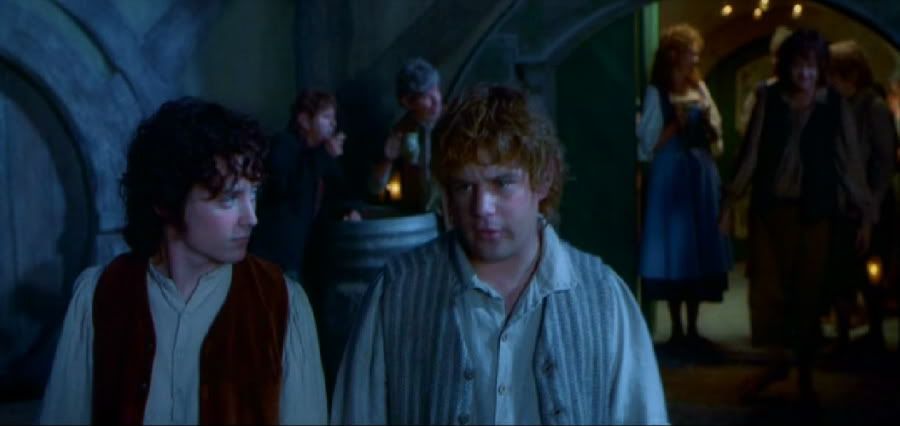 Don't worry Sam ...



Rosie knows an idiot when she sees one!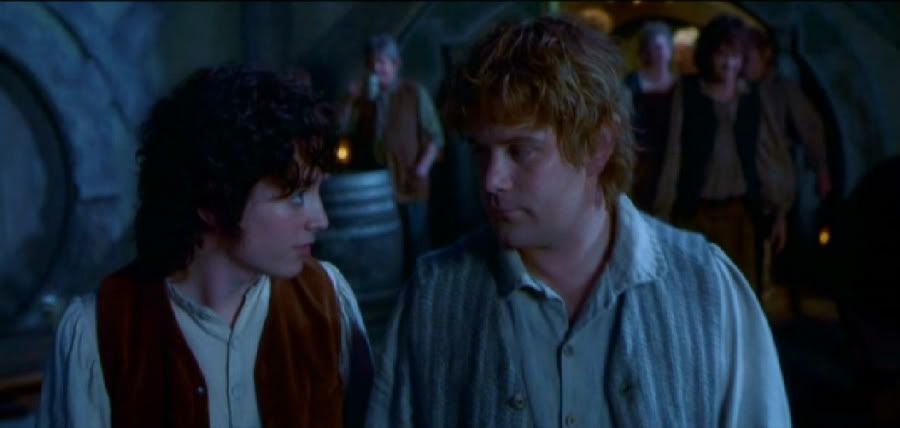 ---
"We did fight for that, mainly because it establishes the relationship between us which is awesome. You also get a sense of the sweeter, happier moments before the journey."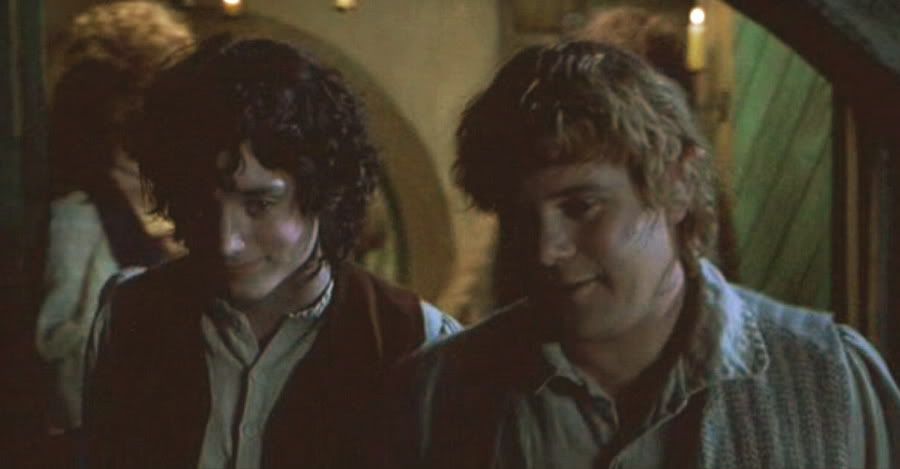 ---
TO BE CONTINUED

Link to all chapters:

"A JOURNEY WITH FRODO"
comments: Leave a comment