| | |
| --- | --- |
| Tags: | a journey with frodo |
| Security: | |
| Subject: | A Journey With Frodo Ch:28 - A Special Birthday & A Special Award |
| Time: | 09:27 pm |
I've been looking forward to reaching this stage of 'Journey' - it's the point from which my own journey with Frodo began. Some readers have understandably assumed I was in this from the very start but that is not so - the only reason I've been able to report on all the happenings as far back as I have is because, as soon as I'd seen FOTR for the first time, I trawled through the archives of all the LOTR & Elijah websites like a thing possessed!! So, in fact, although this is primarily Elijah's story, it is actually the tale of three journies - Elijah's, Frodo's and mine:)
This chapter covers the Golden Globe Awards, Elijah's 21st birthday, the visit to Viggo's art exhibition, the Empire Awards, and the Oscar nominations. Frodo's journey covers 'The Shadow of the Past'.
For anyone unfamiliar with my pet project, 'A Journey With Frodo' (a work in progress) is the story of Elijah Wood's experience in becoming Frodo, from back in 1998 when the LOTR movies were just a whisper up to the triumphant Oscars of Feb 2004. In reliving Elijah's journey, and mine, I am using everything I can lay my hands on - behind-the-scenes material from the various dvd's, magazine articles, books, internet sites, tv coverage, word-of-mouth info, etc. Previous chapters can be found here
"A JOURNEY WITH FRODO"
You'll need to scroll back to get to Chapter 1:)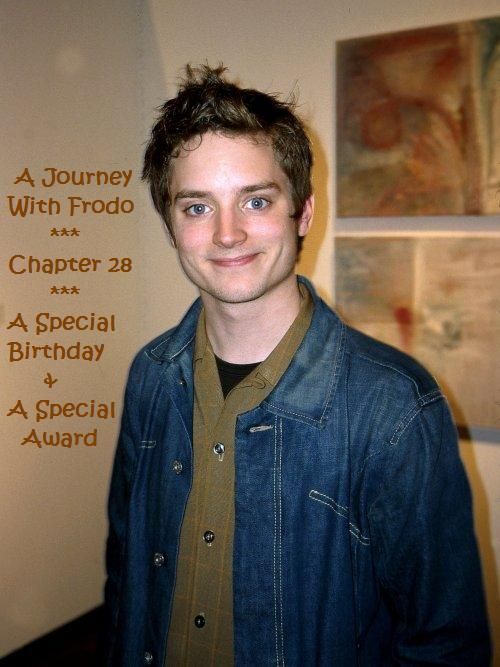 ******
20 January 2002 - The Golden Globes:
FOTR had four nominations but, inexplicably, did not win any of them. (Idiots!)
The awards were held at the Beverley Hilton Hotel.
Elijah arriving: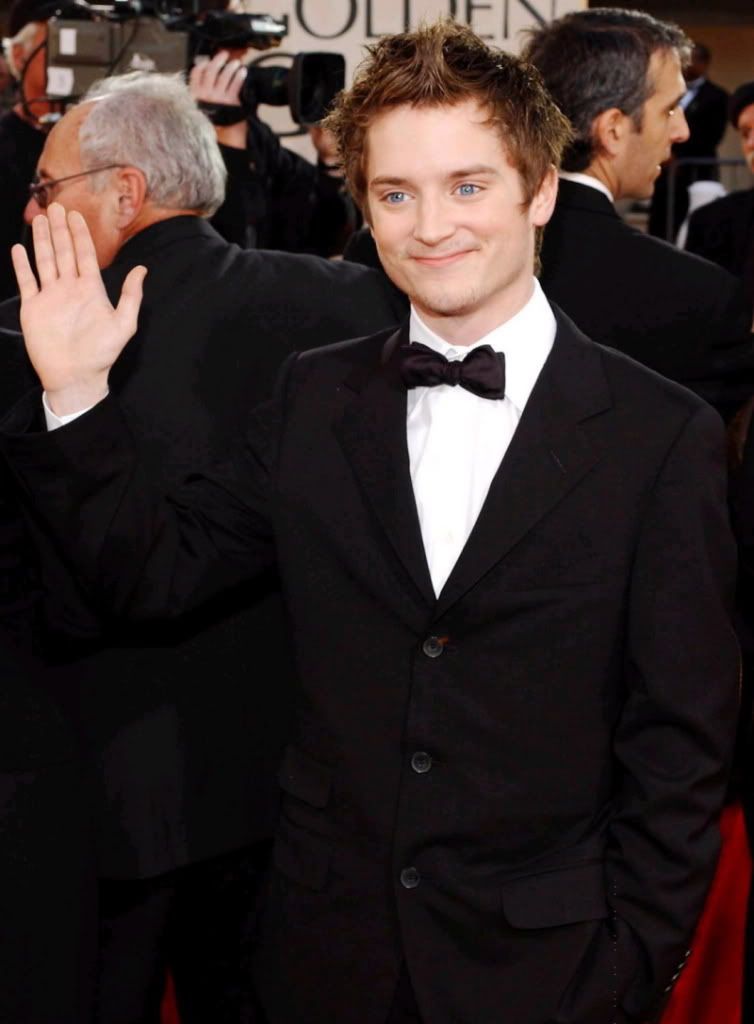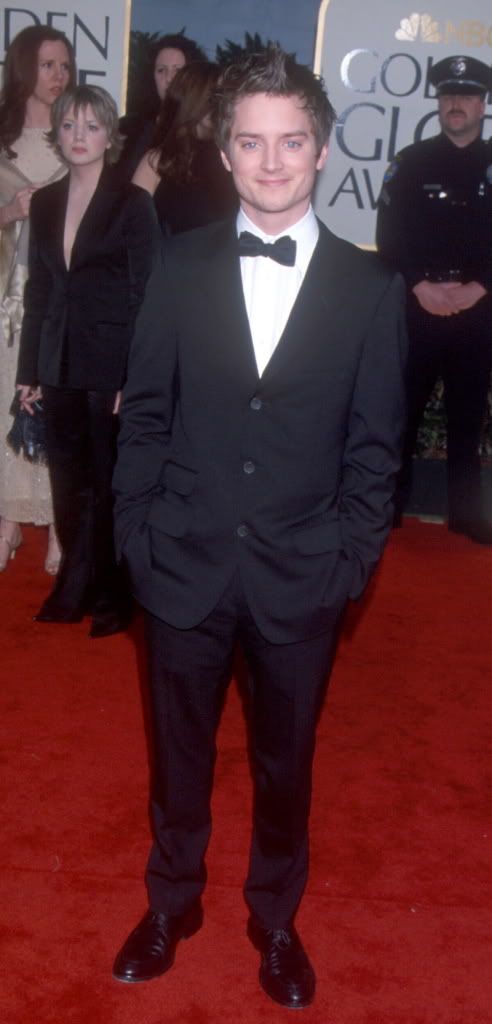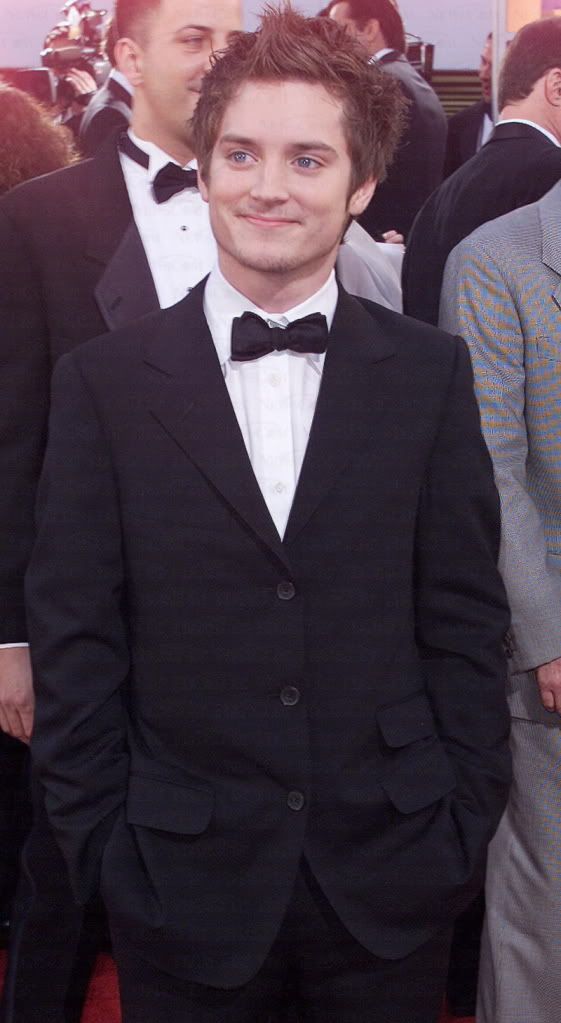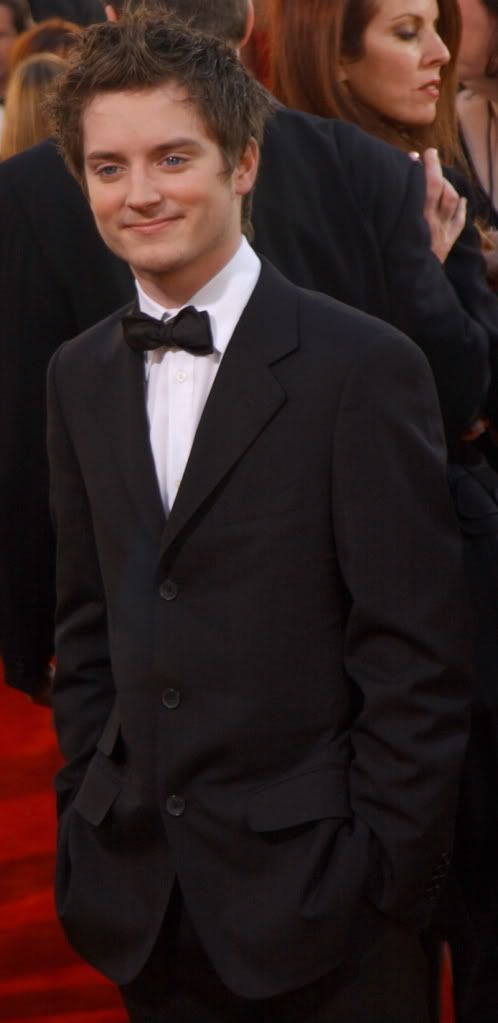 Interviewer (playfully):
These awards suck, don't they? What's the deal?
Elijah (mock disgusted): "They don't suck!! It's fun, so much fun. I've never been to the Golden Globes before so it's wicked."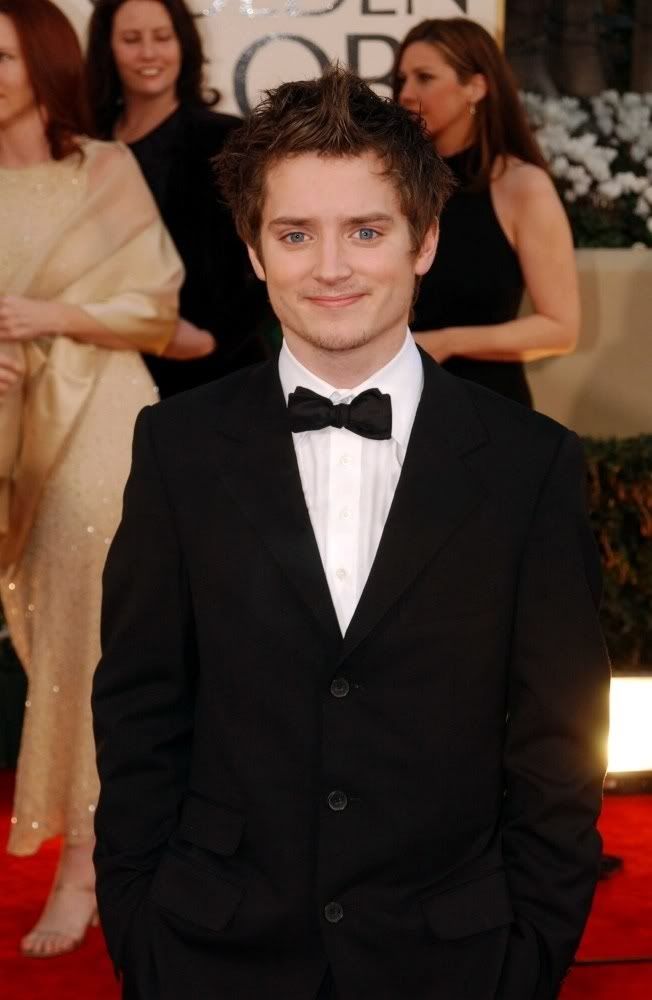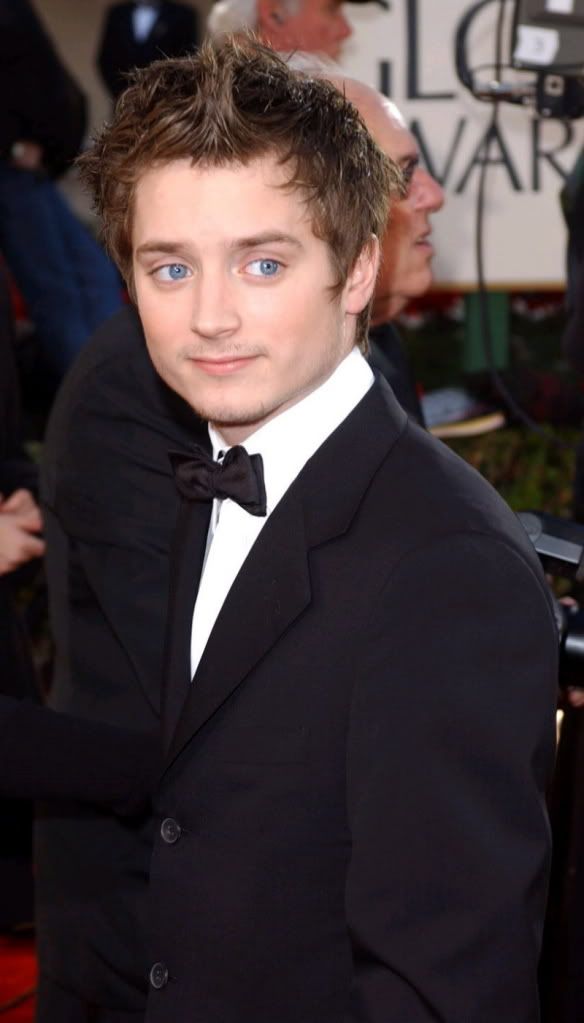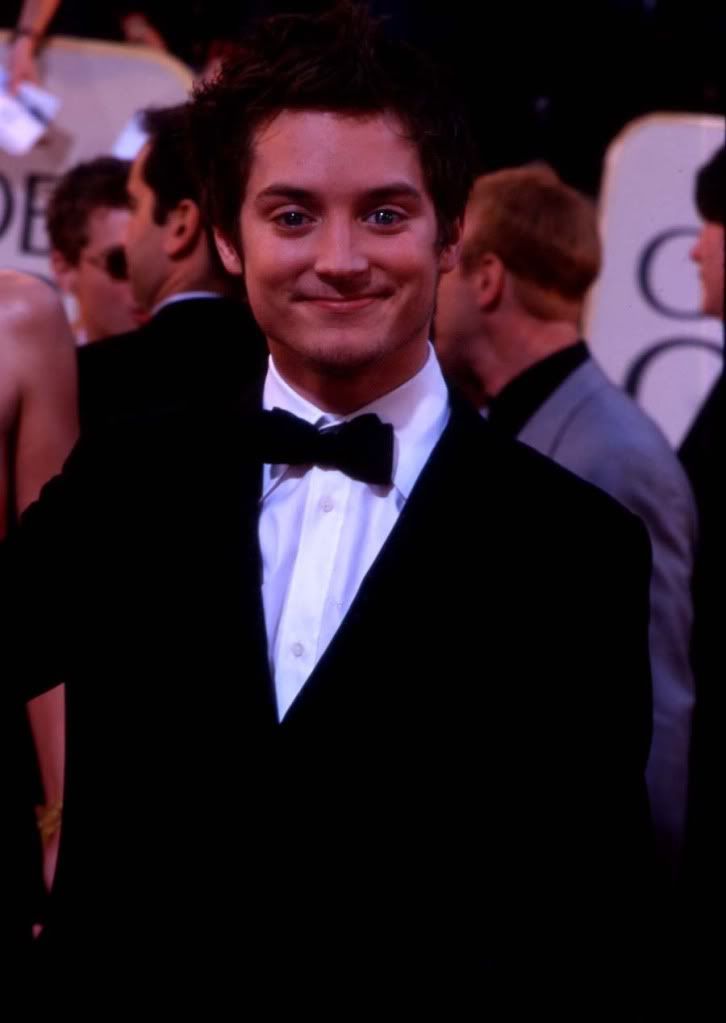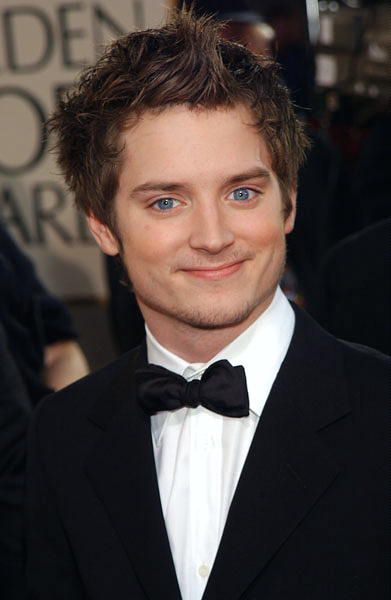 Elijah was sitting next to Sean and his wife Christine during the presentations:

The Afterparty:Elijah is reunited with his screen wife from 'Deep Impact' - Leelee Soblinsky: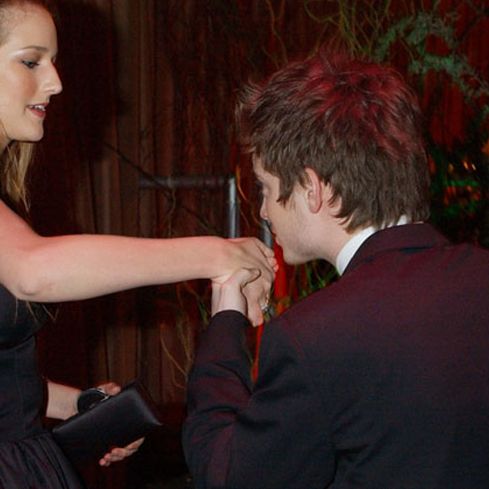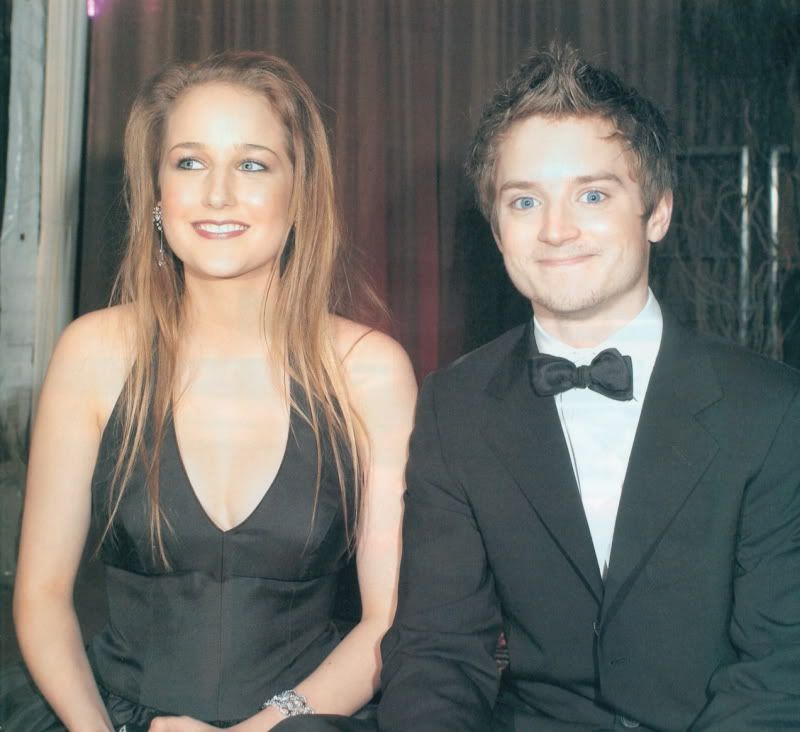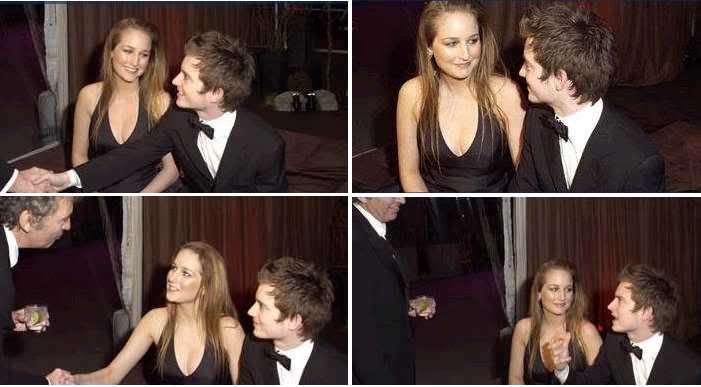 With John Cameron Mitchell: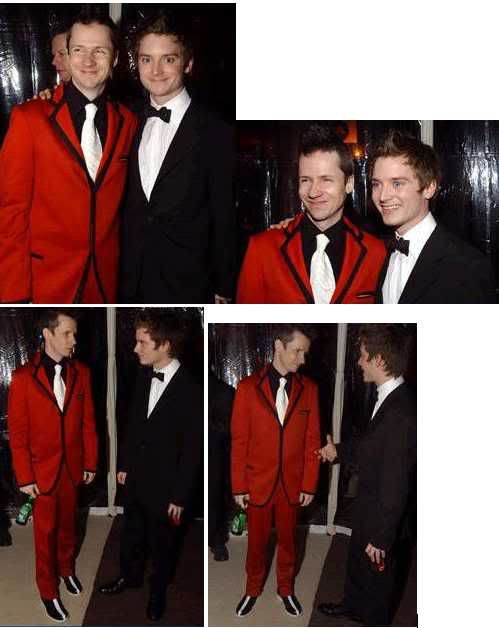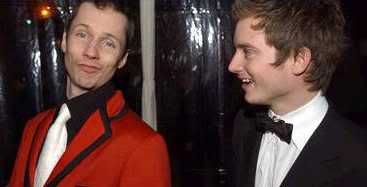 This gentleman needs no introduction of course ...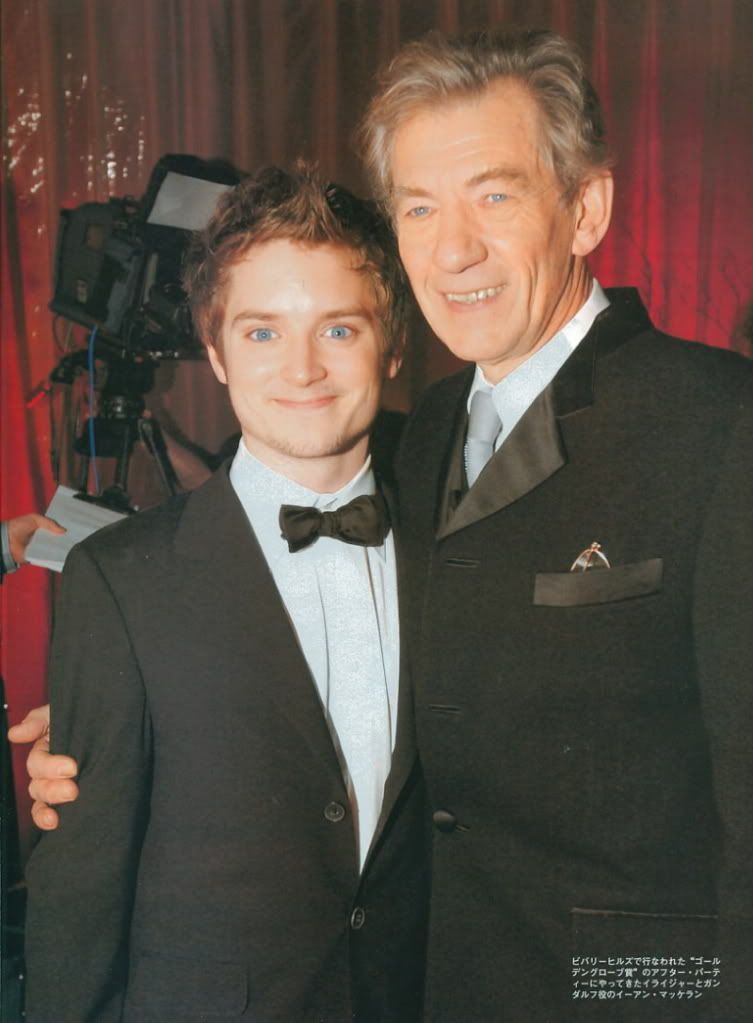 And neither does this one!!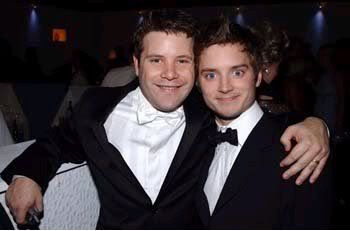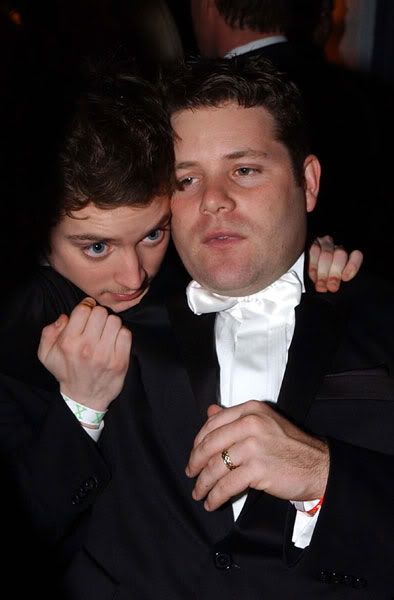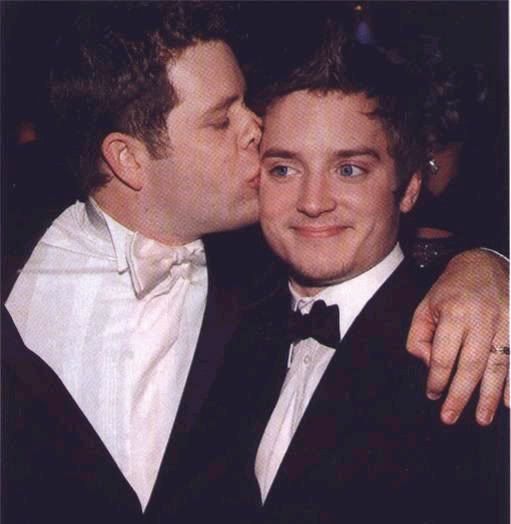 ******
26 January 2002:My own journey begins!
Ä momentous day for me. I saw 'The Fellowship of the Ring' for the very first time. I'd seen a couple of trailers for the film the previous year and informed my husband that I'd definitely want to see that one! Apart from that, I hadn't followed any of the publicity leading up to the release, had never read the books despite actually living in 'Middle Earth' ie Birmingham, UK where Tolkien spent so much of his youth - I'm very familiar with the areas on which he based certain locations in 'The Hobbit' and LOTR, lived very close to them at one time. About a month before the film's release, I picked up a copy of FOTR at our local supermarket - I thought perhaps I should at least have a little idea of what this was all going to be about. I enjoyed the first few chapters but at some point, can't remember exactly where, I began to struggle with it and put it aside 'for later'. But it was so strange - like some kind of premonition, every time I caught sight of that book I had the strongest feeling that I would feel very differently about it once I'd seen the film. At that stage, I had not conjured up a mental picture of Frodo which was very unusual for me - characters' faces usually popped into my head quite quickly. And I had no knowledge of the existence of an actor by the name of Elijah Wood.
We didn't get to see the film as soon as it was released - it seemed that every time we planned to go something would crop up to stop us. But finally the fateful day dawned and I went to see the film with my husband and daughter. Our son declined - said it was not his sort of thing. As I emerged from that cinema, my heart bursting with all kinds of emotions, I knew that I hadn't just seen a film, I'd had a profound experience. I think the fact that I am writing this, all these years later, is evidence enough of the massive effect it has had on my life.
I didn't sleep that night. I couldn't stop thinking about what I'd just seen – my mind swam with stunning images from the film as I tried to recall as much as I could, but over and above everything else, the heart and soul of this epic – there was Frodo. Beautiful, magical Frodo. I was captivated, I was intrigued, I was smitten. Never before had I been so deeply affected by a character in a film. And who was this sweet-faced young man who'd played him? I'd never seen or heard of him before. I knew that the following day would be the first day of a very special quest for me; a quest to find out everything I could about 'The Lord of the Rings', about the making of this magnificent film and most especially to get to know all about the young actor who had held me mesmerised throughtout those three hours. I had a strong feeling he would be a very special person.
******
28 January 2002
Two days later - I discover my first fact about Elijah from our local newspaper - his 21st birthday is announced in a list of celebrity birthdays!!
As usual, theonering.net posted a birthday greeting :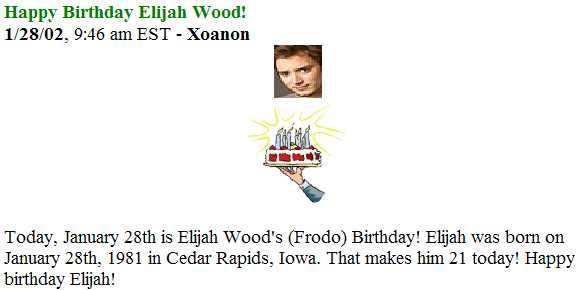 From 'The Face'
"It will make no difference in the UK or anywhere else in the world [referring to the fact that in California drinking alcohol is illegal before the age of 21]. It will just give me more access to things I want to experience. So I am looking forward to it. Not in the sense that I will suddenly be going drinking like crazy. It won't be like there's going to be some sudden change and I hock the Ring to feed my drug habit. It's because I can finally be free.
'As for the Hollywood bad boy that I have secretly inside me somewhere...'
He stretches out, enjoying his funny cigarette and the misty ocean air.
'It just doesn't exist. Not right now anyway'."
From interview with Jodie Ross, E News:
JR: What did you do to celebrate?
E: Laughs
JR: Would you rather not say?
E: No, no - it's good. I went out to dinner, had a really good steak dinner with some friends. And then I went with some of my older friends to a bar and they proceeded to get me horribly drunk - as good friends should!
JR: That's what you're supposed to do on your 21st birthday!
E: That's right - apparently I did quite well!
******
2 February 2002 : 'Sign Language':
Elijah, Dom & Sean visited Viggo's art exhibition in Santa Monica.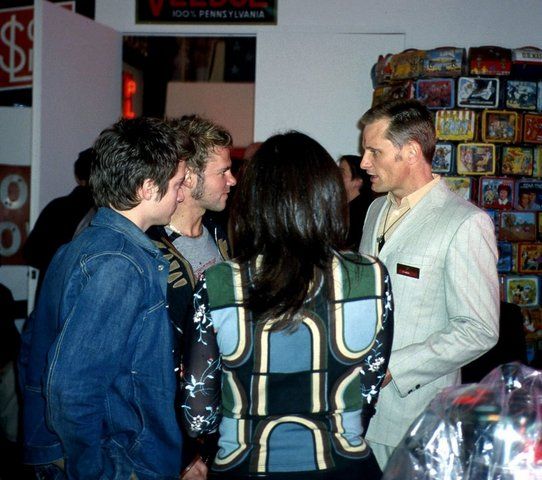 Someone who goes by the name of 'Moochsqueak' was there and this was the lovely pic she purchased, taken on that snowy day in New Zealand back in November 1999: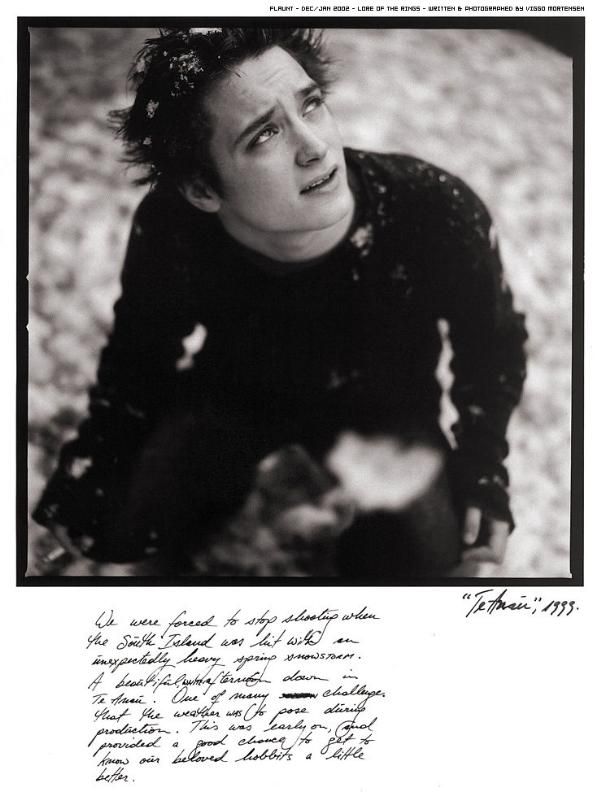 I have actually included this pic before in 'Journey' - in the chapter which covered the events of the day it was taken - during a snowball fight!!
CHAPTER 5-PROBLEMS
Elijah's memories of that day:
This is a translation from an interview in a French magazine:
"Allocine : If you had to keep one memorie of your work with Viggo on the shooting of LOTR, what would it be ?
Elijah : I remember precisely one day, during the shooting. We were both in a little village on the South-Island of New Zealand, we were shooting a scene from The Fellowship of the Ring. It was now seven years ago. Sudenly it started to snow and we had to leave the location, or we would have been completely stuck in there. Viggo always had a little camera with him, he kept taking pictures all the time of many different things to get the life of the shooting. On that day he took a picture of me stuck in the snow, where I looked kind of ridiculous, and he gave it to me as a present. It really moved me, it means a lot of things to me… It's simple, it's just a picture but I remember very precisely this moment. I really admired his pictures,lots of them were of the actors of LOTR sitting in the snow, laughing. Those pictures really show the magic of this shooting, and they are very dear to me, they show that this shooting was a very beautiful and nice adventure. Those moments, and Viggo's presents, I will remember them all my life."
Another pic taken by Viggo, though I don't know if this was in the exhibition and I doubt it was the one given to Elijah - he certainly doesn't look 'kind of ridiculous'!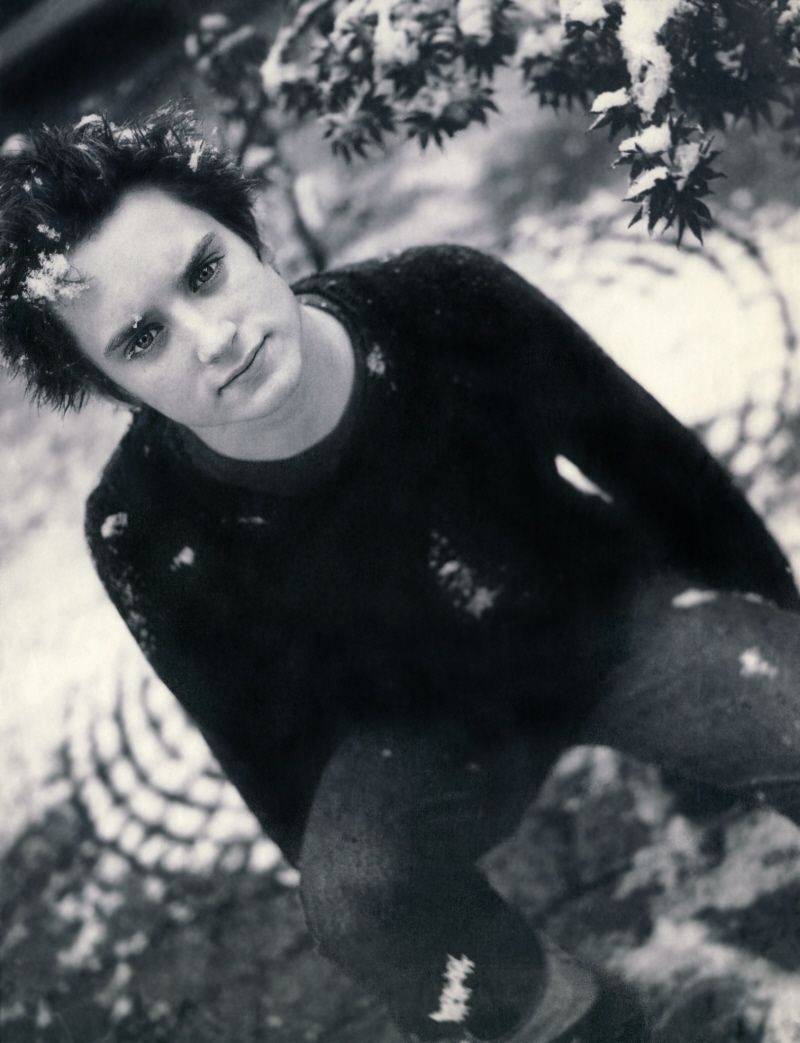 And these are some extracts from Moochsqueak's fascinating report of that visit as posted on theonering.net:
"Saturday night at Track 16 Gallery, in Santa Monica, CA , Viggo's painting and photographic show entitled "Sign Language" opened to an expectedly huge crowd.
I had the privilege to attend this, my second show at Track 16, (I had seen Pierre Vinet's beautiful LOTR photo journey there in January) and I am very pleased to report Viggos works are wonderful, and well worth the trip. One of the pieces struck my spouse and I so much we purchased it. Temporary insanity aside, we also had the incredibly good fortune to run into quite a few of the cast members, take photos and chat a bit. The following is my probably much too detailed experience; now is your chance to hit the "back" button.
I first met Sean Astin, (Sam Gamgee of course) his lovely wife Christine, and most importantly the beautiful Miss Alexandra Astin, who will be featured ,in a very long time, as Elanor Gamgee ……
A very short time after that in walked Elijah Wood, whose "are those for real?" blue eyes and light complexion stood out in the sea of "in LA I wear black" mob. Next to him was Dominic Monaghan, with a large twinkle in his eye, and an energy that was very hard for him to contain and stay earthbound. They both seemed very thrilled to be there. These young men are still very much elated to be associated with LOTR projects and it's really wonderful and refreshing to see. As Bilbo once said, "He's still in Love with the Shire", I think these lads are still in Love with their movie. No one here would begrudge them that, of course. Cheers to both boys for coming, as Elijah later said that Sean had called him on his cell from the gallery, told him what a nut house the place was, and that he (Sean) was heading home, yet Elijah and Dom still showed up. How wonderful is that?
I first introduced myself to Dominic and asked him if he had seen his picture yet (it's featured in the shot with Elijah and Dominic in front of the wall).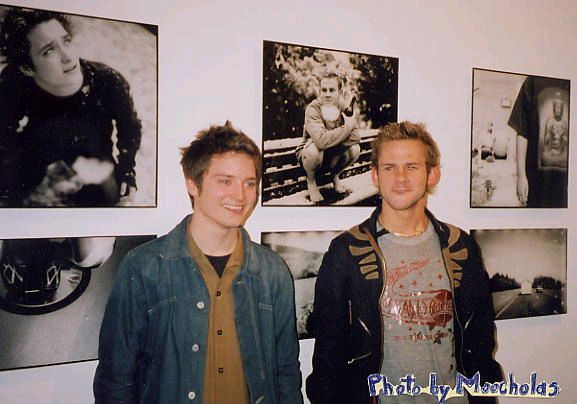 He hadn't , but wanted to know if it was the one with him holding the wine bottle. It was, and after short deliberation he confirmed that it was red, not white wine, but, unfortunately the vintage was not good enough to recall the vineyard name or year. Many lovely young ladies recognized him and praised his work and were richly rewarded with hugs, endless smiles and thank- you's .
He added Hollywood was responding well to him and he was getting sent many scripts, though wading thru the, ahem, less desirable, (not quite his words) scripts was on-going. He would like to play something completely different in future, (he said with that twinkle again) a serial killer would be great. I mentioned this serial killer idea to Elijah later as well, but he didn't think that was quite where he was heading for. Lastly, I asked him if he read the boards and sites on the internet, and very matter of factly he chirpped up "Oh yeah, we all do." Any specific? I asked and he answered, the LOTR.net website and One ring.net ,among about four, (he dashed them off so quickly I didn't catch them all). So be careful what you say....
Unbelievable to those inside the gallery, it was steadily getting even more crowded. Think: leaving a major sporting event and you have the up close, and personal feel of the place. Thank heaven it wasn't summer.
Elijah was surrounded next to us and for a very steady time after, graciously signing magazines, books, pictures and posing for pictures. Of course I asked him if he would sign my poster. He always had plenty to say to his fans, looked incredibly comfortable, though always surprised when people praised him and ever thankful. Even without his "Frodo" wig and ears he was completely recognizable. Many have mentioned his beautiful features, and both he and Dominic are handsome men, however Sir Ian's quote about Elijah of "He has skin of liquid marble and an other world look about him" is true. His face is very striking to see in person, and LOTR is probably the first film I have seen him in that really brings those features to life. And his eyes ARE that blue, (apologies to Elijah if this is too embarrassing) Dominic's sparkling eyes are blue, as are Viggo's.
One of the photos featured in this article is Elijah playing with a baby girl a couple had there, her face is a match in skin to Elijah's and she even had his eyes, and the two of them just ate each other up. She was just a bit timid at first but Elijah stuck his face right in with hers and she was delighted with her new found" toy". I couldn't resist snapping some pictures: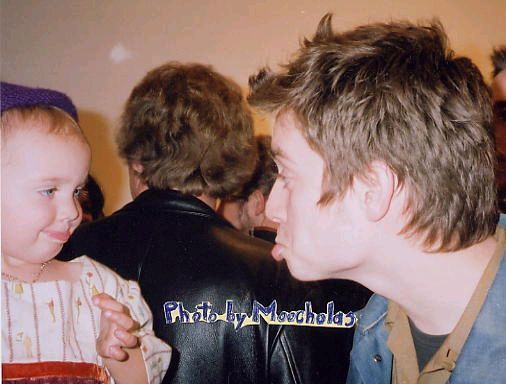 Some of my conversation with Elijah: No, he did not go Veags for his birthday, not yet anyway. I had recently seen his film "Black and White" and asked him about it. He gave an undeniably negative reponse to the film and his performance in it. I found his honesty very refreshing, nice to see someone who can view his own work with an open mind. I had read an interview of his where he said he was drawn to this work because of the improvisation the actors had to do (there was no script) and he confirmed, yes that was what interested him, he just wasn't happy with the results. As a side note I did not get to tell him I thought it was very brave experience to go after, no matter what the result, and would guess that something must have been learned from it, even if it were to avoid improv in the future (that's a joke).
I asked him what kind of work he was being offered, if he was moving into more grown up roles, (especially not teenagers). And he replied that yes, the roles were a bit older, just a bit. The photo we purchased that night was the black and white of Elijah at Te Anau, South Island, New Zealand in an unexpected snow storm that shut down the filming, and giving the actors a chance to play. I told him we had bought it, he was very happy and thanked us. Incidently, it is THE photo at the gallery, so as the new owner, I'd appreciate it if you go to see it, to make sure no one is sticking their fingers on it, much obliged. At one point the evenings funniest line was uttered when a man approached us as we were talking to Elijah and whispered "Is that the artist?" Especially wicked when you look over the man's shoulder at the Viggo photo entitled "Self Portrait".
Later when the crowd thinned out Elijah and Dominic got a better chance to look around and the two of them came to their portraits. Dominic was clowning around and put his nose to the wall and wouldn't turn round for the photographers starting to line up and click for the obvious opportunity. Finally he turned and then they posed. Then they started a mock argument nose to nose, trying very hard not to laugh. At this point I would like to say that having met three of the Hobbits, in the same night, how obvious the chemistry that flowed between all them was, despite having met Sean separately. They were all so well suited to each other, you could never doubt the fellowship they have continually professed, had really happened. If Peter Jackson took into account the personalities, as well as the acting abilities, of whom he cast, then the man must be a genius. Apologies, am I drooling?
Lastly, the man of the hour, probably hoping everyone had gone, made his appearance. Yes, despite reports to the contrary, Viggo Mortensen did attend his own opening. He had a very nice light green suit on with the whimsical addition of a "Burger King" name tag with "Viggo" on it (check the photo) Darn, forgot to ask him if it was real. He was a very, very soft spoken man, and graciously signed peoples articles, shyly smiling. I asked him if he would sign my poster, but feeling suddenly guilty, assured him that we had bought his signed book, and that we had bought a piece from the show that night as well. He looked up and wanted to know which one. Then he very sincerely thanked me. I told him we would have to wait till April and the end of the show before taking it home but it was well worth the wait. I also got a rare laugh out of him when I told him about the man asking us if Elijah was the artist. He didn't stay long, and as I spoke later to a friend of his who said how he wasn't comfortable. As we went for a last admiring of our new picture, we were standing in front of it, talking, when a women came up and asked if we were Elijah's parents. Ouch, beautiful though the young man is, I'm younger than Viggo thank you very much. I'm guessing it was my blue eyes." (Moochsqueak - theonering.net)
From 'Impact':
"Less harassed and seeming much more enthused were Viggo's 'fellow' actors, Hobbits Dominic Monaghan, Sean Astin and Elijah Wood there to support their friend. Dominic and Elijah even posed quite willingly in front of exhibit photographs of themselves and offered a few words.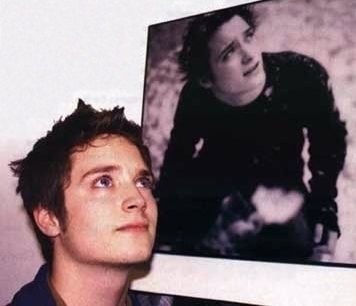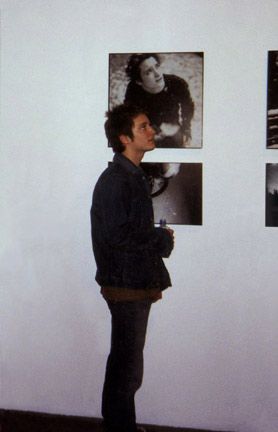 "Looking around the room, Elijah exclaimed 'Viggo is amazing – talented and amazing – a real Renaissance man. He can do everything! Obviously pictures are one person's perspective. They tend to be almost a visualisation of that person's eyes and what they see. [Viggo's] A very interesting guy and I think you get to see what he sees – to a certain degree – in his photos. I hope that's not being too wanky, but I mean he's just got a wonderful vision and he sees things in a beautiful way. I don't think you can describe it. It's not a perspective that you've seen. It's not like a perfect framing. Everything is slightly off. He allows things to be natural and blurred and I like that. I like that quality." (Impact)
With his 'All I Want' co-star Mandy Moore: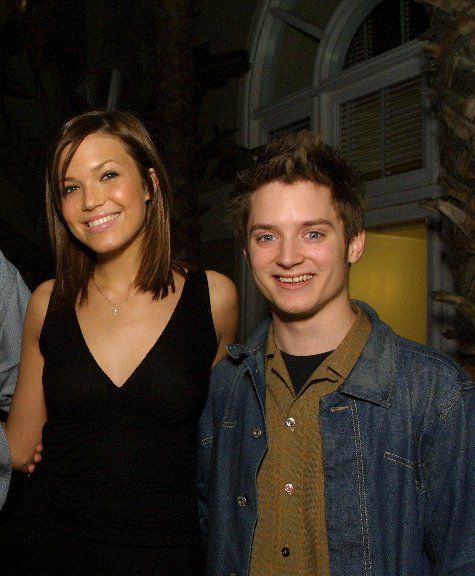 Some lucky fans ...
"Later we saw Elijah and Dominic. We went up to them and asked if we could have an autograph and a picture, and let me tell you, they were so nice and friendly! Other people asked also and they were just as nice with everyone. Living in Las Vegas I've met a lot of celebrities, some bigger, some smaller, but let me tell you none of them as friendly and courteous as Viggo, Elijah and Dom."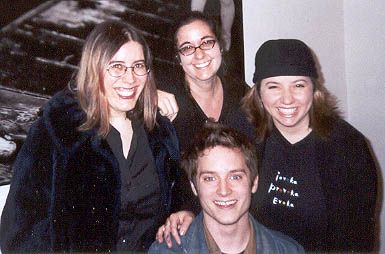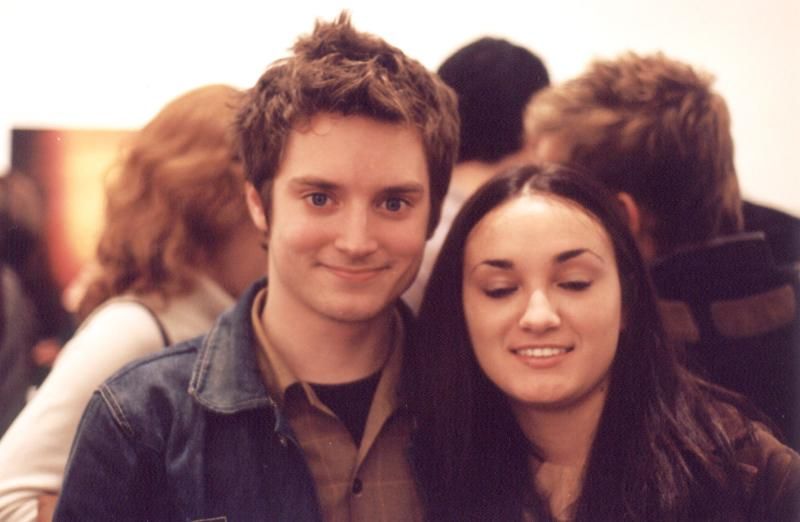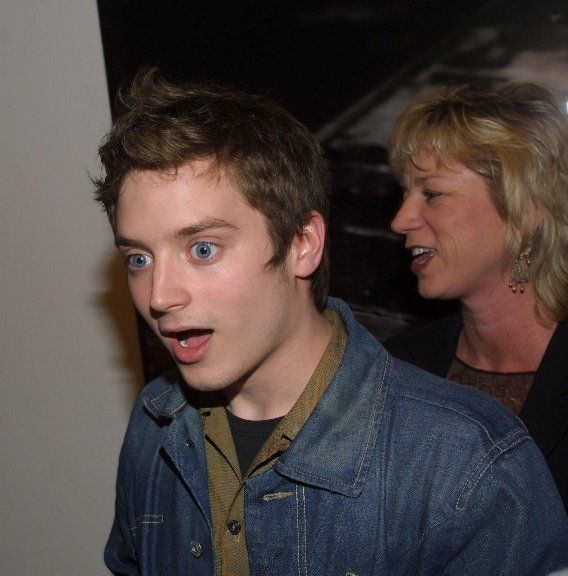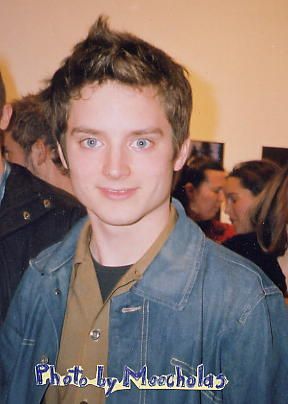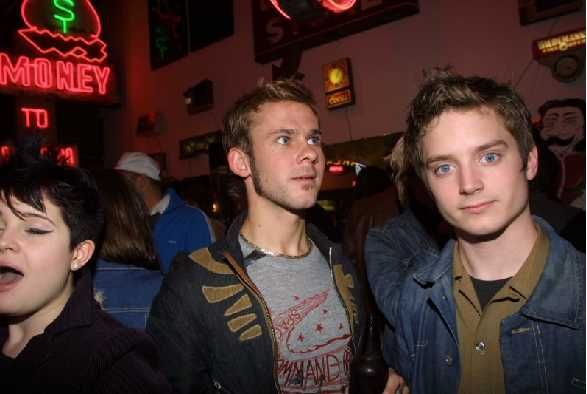 ******
4 February 2002 - Empire Awards:
Elijah is voted best actor for his performance in FOTR by the readers of Empire Magazine. The fans have spoken: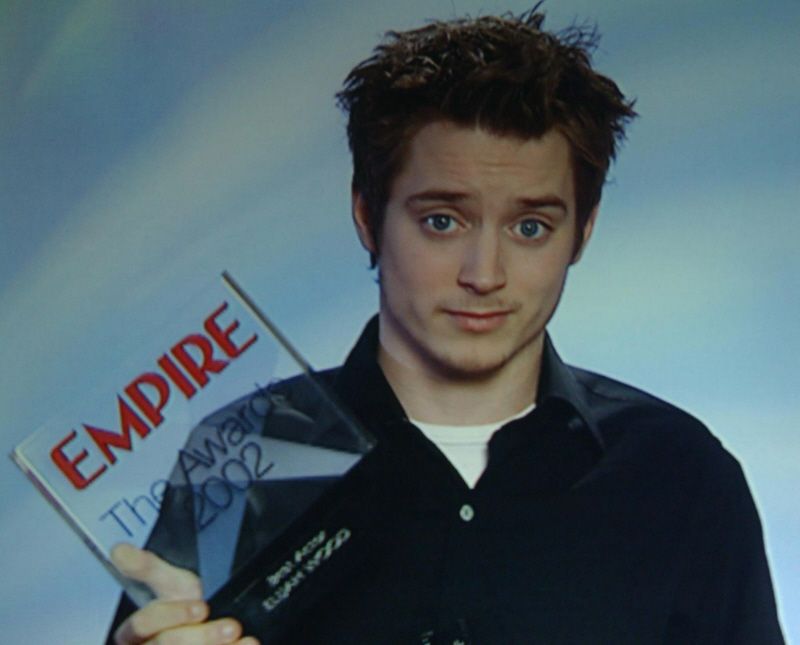 Elijah's videotaped speech from LA:
"Thank you so much for this: Thank you to the readers of Empire for voting for me – it's truly an honour. The first people I need to thank, though, are the Fellowship, because they really made Frodo who he was. I wouldn't have been able to get through that journey in New Zealand without them, so to Sean Bean, Viggo Mortensen, Ian McKellan, Dom Monaghan, Billy Boyd, Sean Astin and John Rhys-Davies, you made Frodo complete!" [Oops! Isn't there an elf missing there?!]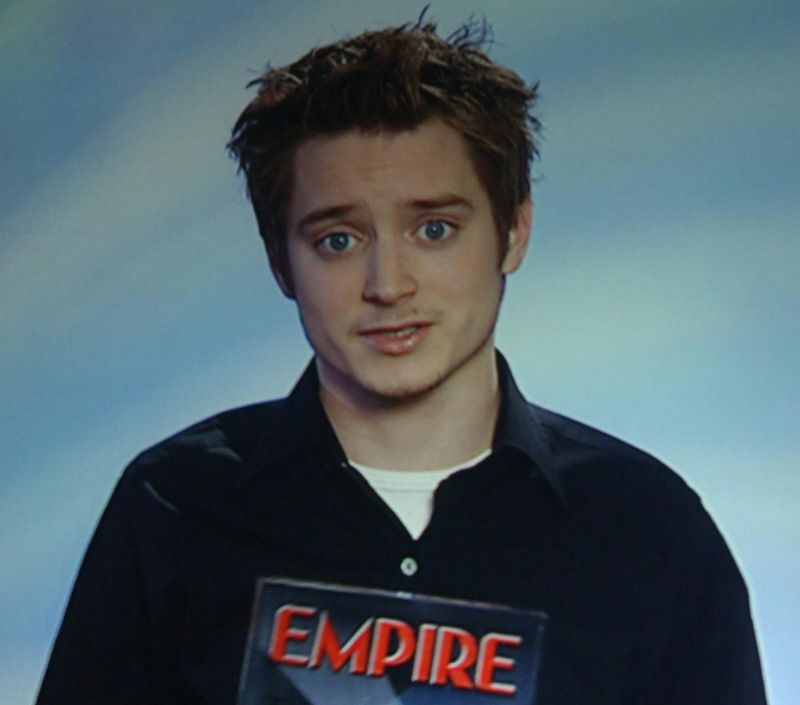 ******
12 February 2002 - Oscar Nominations:
FOTR had 13 nominations.
From Brazilian Radio Interview:
"I actually forgot that the Oscar nominations were being announced on the day that they were. Here in Los Angeles, they're announced at about five-thirty or six in the morning and I'd completely forgotten, and I was sleeping, and I got all these phone calls. I kept hearing the phone ring, and I thought 'Now who is calling me at this hour?' And I woke up and checked my messages, and I found out over the messages about the nominations. And, you know, I was excited. It's weird. It's very surreal to be nominated for all these awards, and I kind of lived through the initial experience of having the film being released and having it being received so well. So in some ways it was a surprise, and it was wonderful, but in other ways it wasn't. I kind of expected it to be acknowledged, because it had already been acknowledged so much. But it was no less enjoyable, certainly."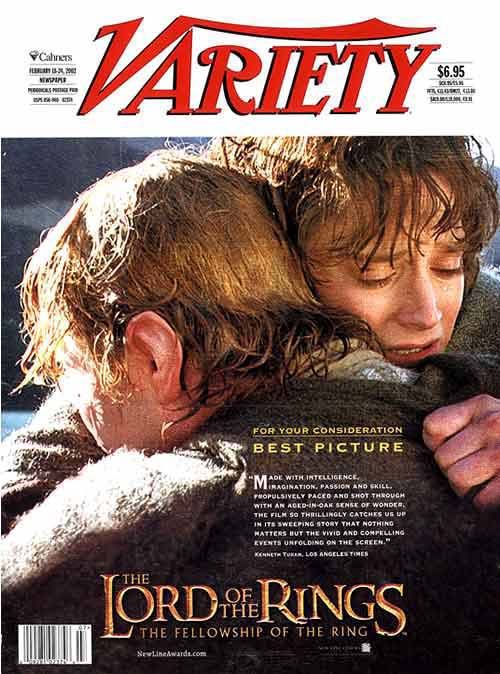 ******
Frodo's story continues:Shadow of the Past: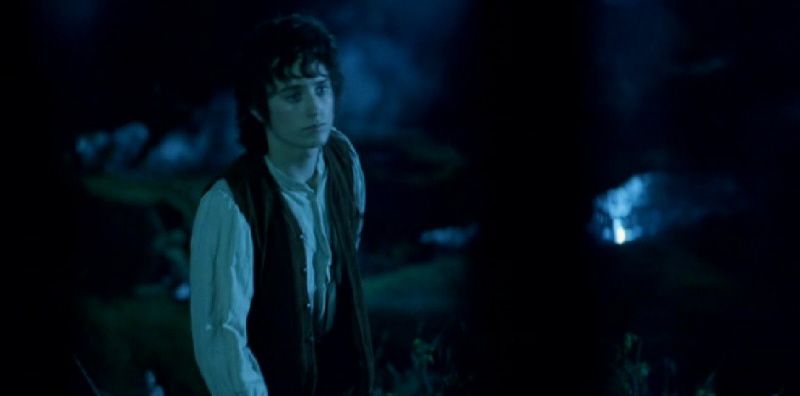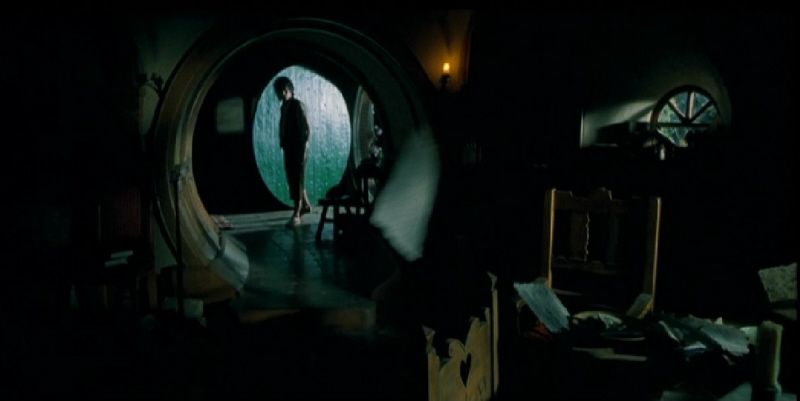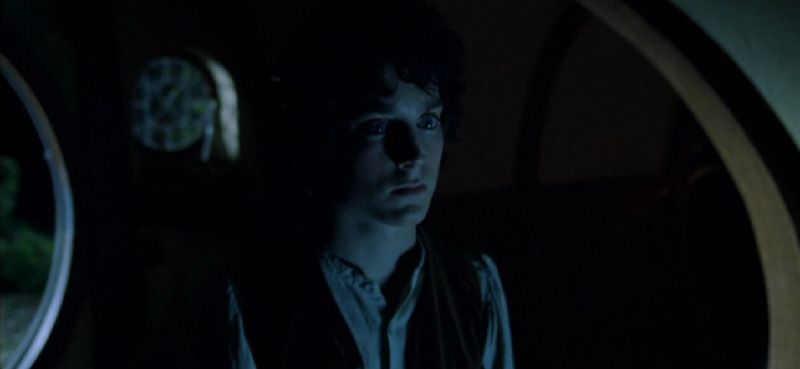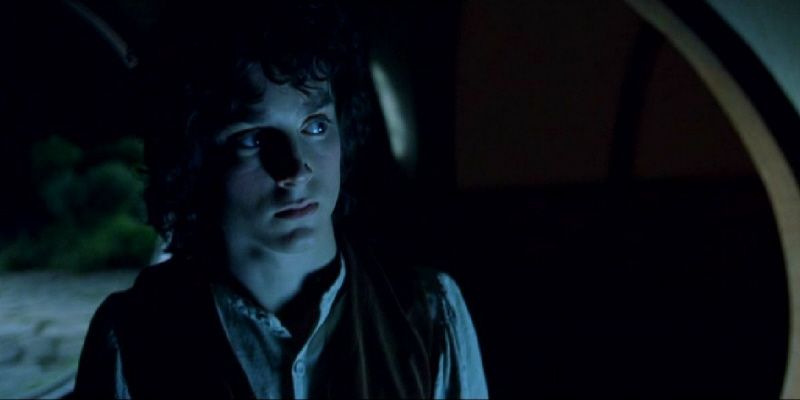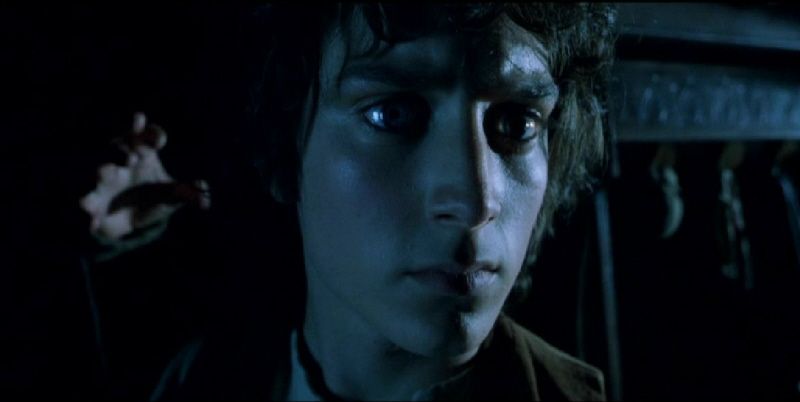 Is it secret? Is it safe?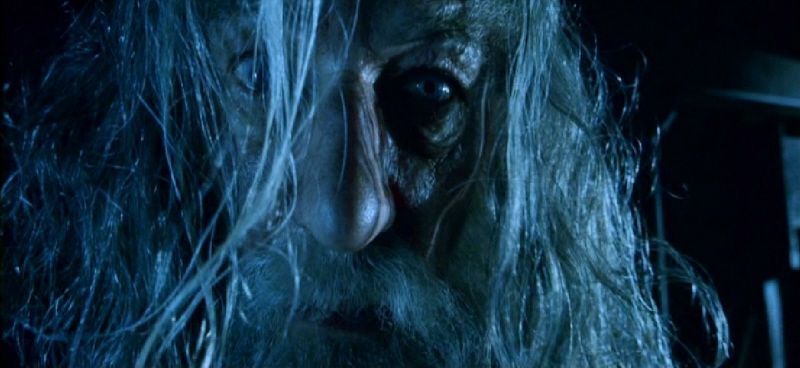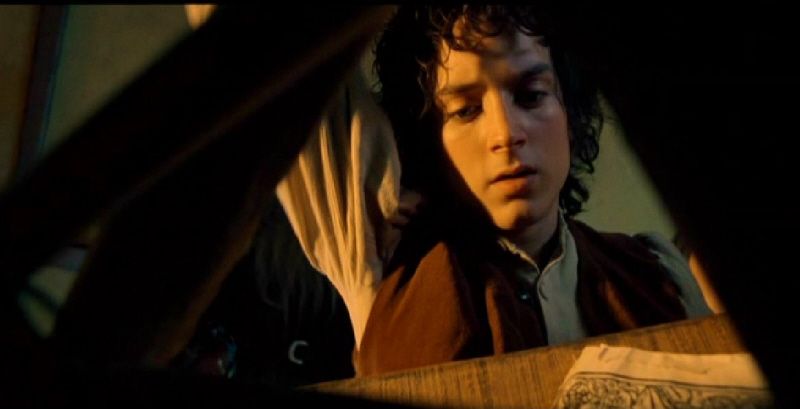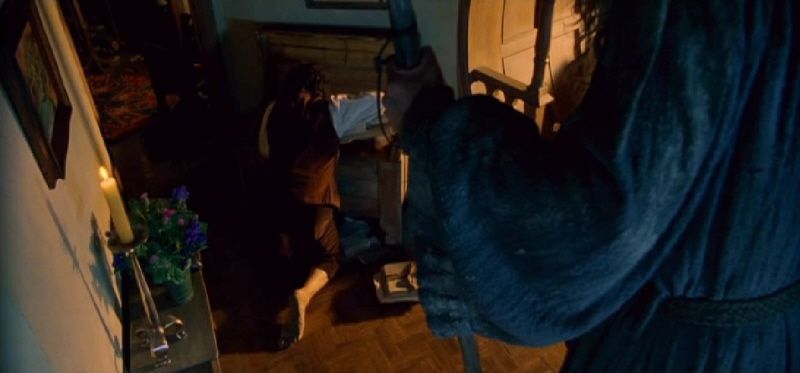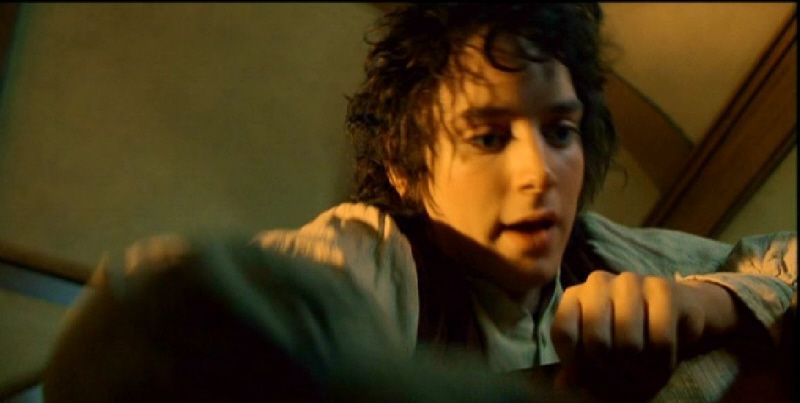 Orlando Bloom - from DVD commentary:
"I can't believe Elijah was 18 when he started filming this. I cannot believe the guy was 18 and he assumed the responsibility of pretty much leading this band of merry … this Fellowship of merry races and individuals. He is such a courageous young man, at that age, you know, I mean he's sort of worldy wise anyway, he's sort of in that wisdom of somebody who's been well brought-up and also experienced life on many different levels, through work as well I would imagine, but he did an incredible job. I'm thinking now of something that will be seen in the third movie, right at the end, and I remember seeing a shot in the fire of Mount Doom. I remember seeing some rushes from that and I just thought 'my God', the guy – he just transformed, you know, he went on this journey as a hobbit, as a young hobbit leaving the Shire and becoming this kind of warrior hobbit and human – as a hobbit and a human Elijah grew immensely over this whole production and I'm constantly amazed at his sensitivity and his look and his sort of handle on the character and the dialogue – I know as an actor to try and do an accent is not easy, it's just not an easy thing to do, it can really block you and yet he just embraced it and went with it – a very talented young guy".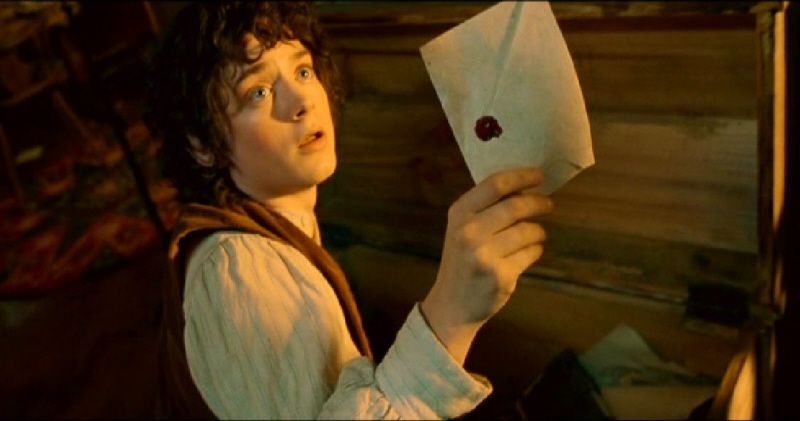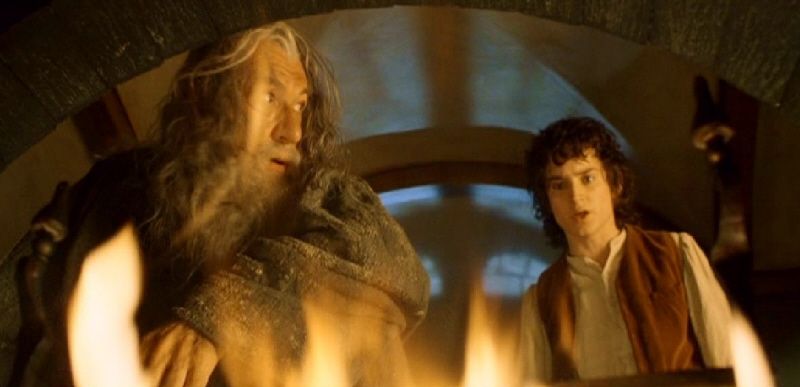 Hold out your hand Frodo ...
It's quite cool ...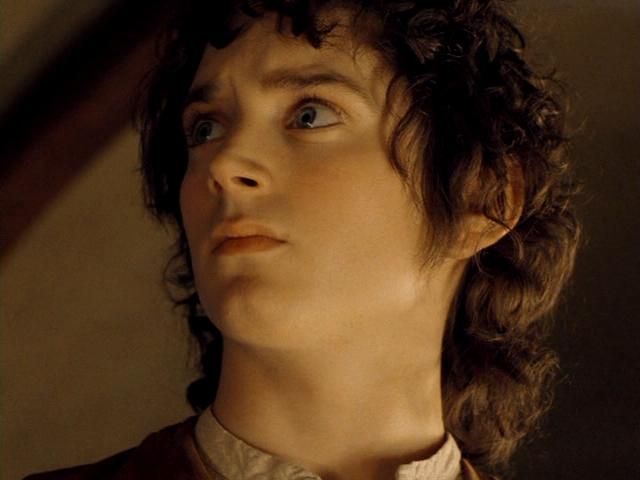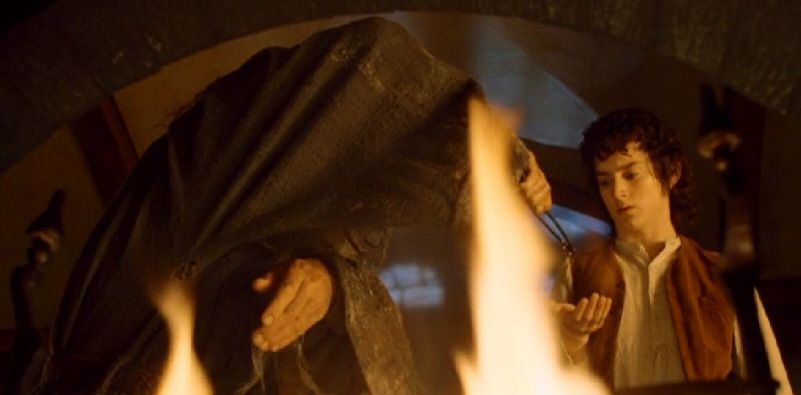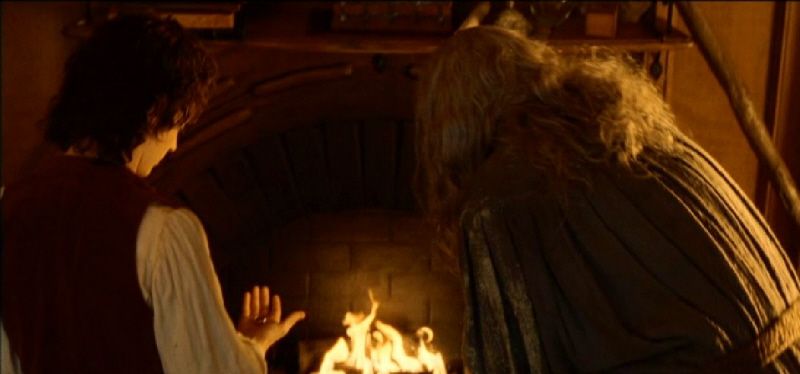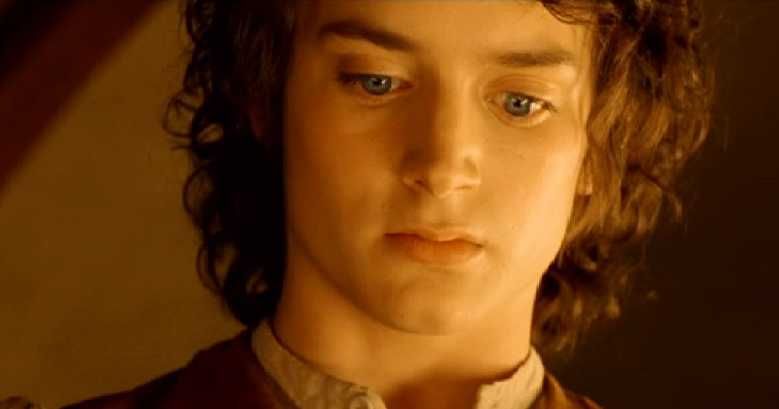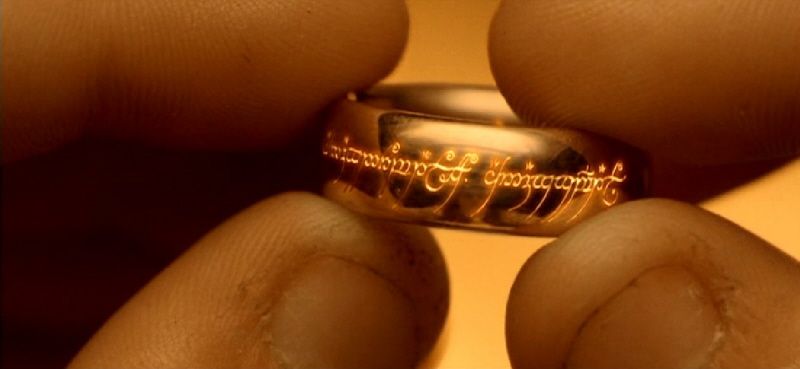 One of the first pics that Elijah signed for me. What a brilliant idea it was to have the writing on the Ring reflected on Frodo's face.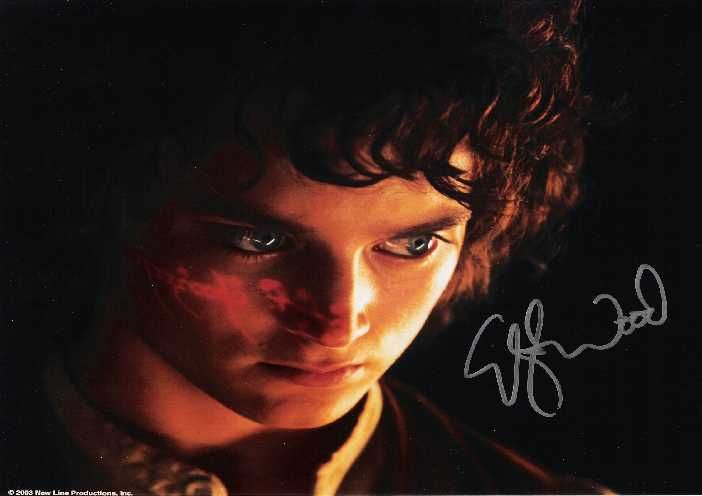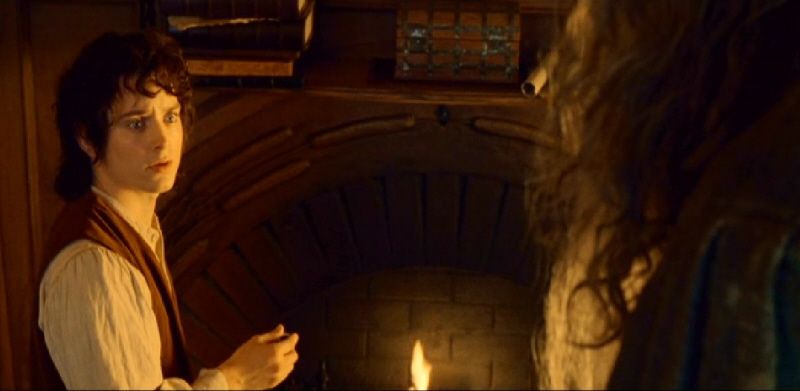 Three Rings for the Elven-kings under the sky,
Seven for the Dwarf- lords in their halls of stone,
Nine for Mortal Men doomed to die,
One for the Dark Lord on his dark throne
In the Land of Mordor where the Shadows lie.
One Ring to rule them all, One Ring to find them,
One Ring to bring them all and in the darkness bind them
In the Land of Mordor where the Shadows lie.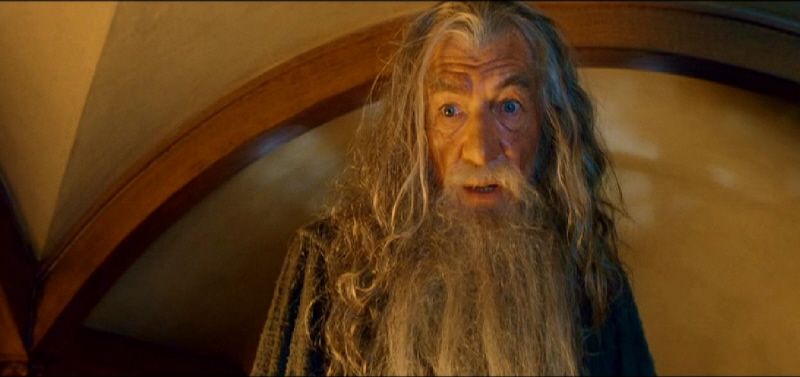 This is The One Ring!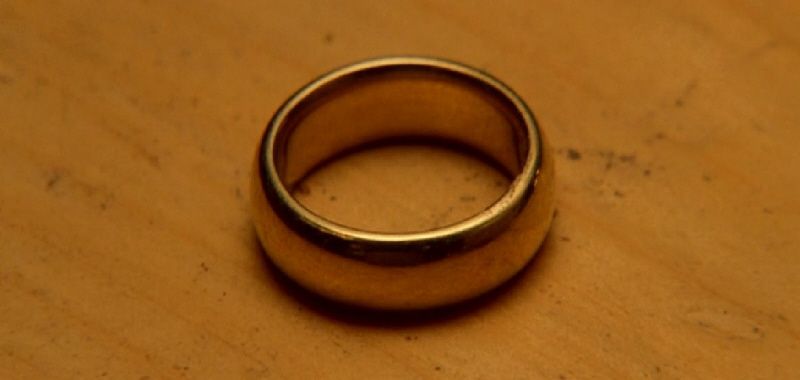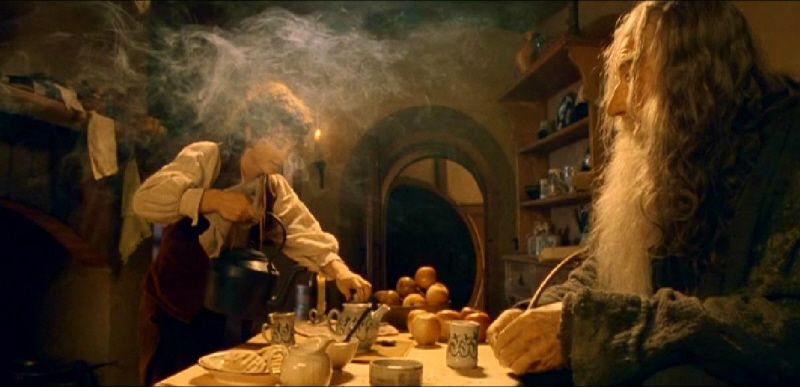 Bilbo found it - in Gollum's cave!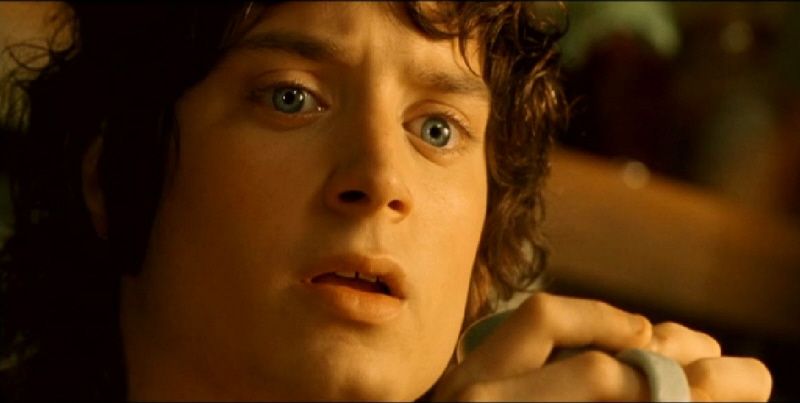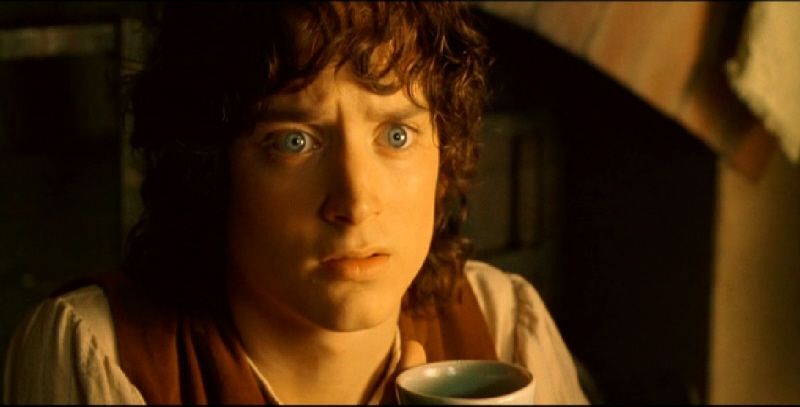 "A mortal, Frodo, who keeps one of the Great Rings, does not die, but he does not grow or obtain more life, he merely continues, until at last every minute is a weariness. And if he often uses the Ring to make himself invisible, he fades: he becomes in the end invisible permanently, and walks in the twilight under the eye of the dark power that rules the Rings. Yes, sooner or later – later, if he is strong or well-meaning to begin with, but neither strength nor good purpose will last – sooner or later the dark power will devour him." (The Fellowship of the Ring ~ The Shadow of the Past.)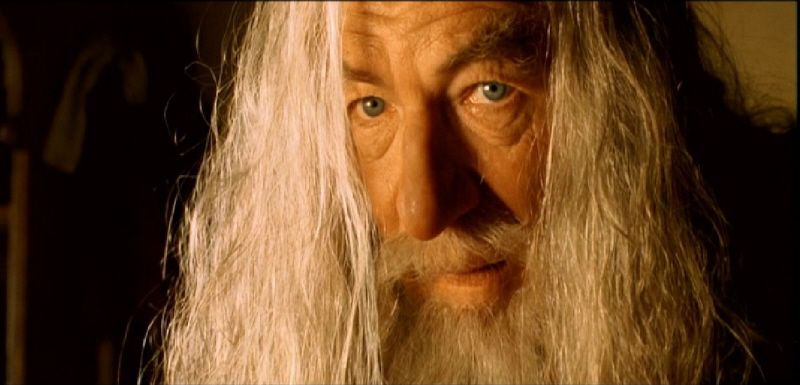 Sean : I have had several people ask me, in all sincerity, if your eyes were digitally enhanced and I keep saying 'no, no' …
Elijah : Well the thing that always gets me is they're like "Do you wear contact lenses – I say yes I do" – Ha! Ha! – No, clear contacts, I have bad vision.
S : Not just for the colour, people want to know if your eyes were made bigger for the screen.
Dom: They did have to mess around with your eyes a little bit though 'cos you are quite cross-eyed in real life, aren't you? That's not very movie star Elijah, you need to look straight you know.
E : I know – I've got my own digital enhancer that travels with me everywhere I go.
S : The first day my daughter met you …
E : I fell in love!!
S : She fell in love – she looked at your eyes and it was like you two mind-melded – it was amazing!! (DVD)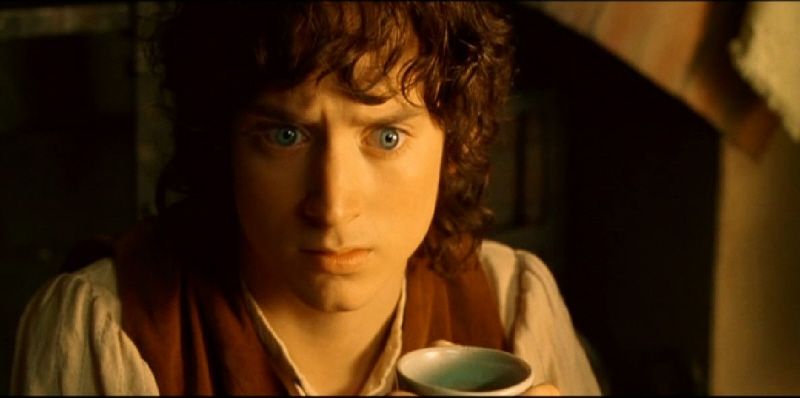 Elijah : That was my first blue screen shot! Walking on a blue board. (DVD)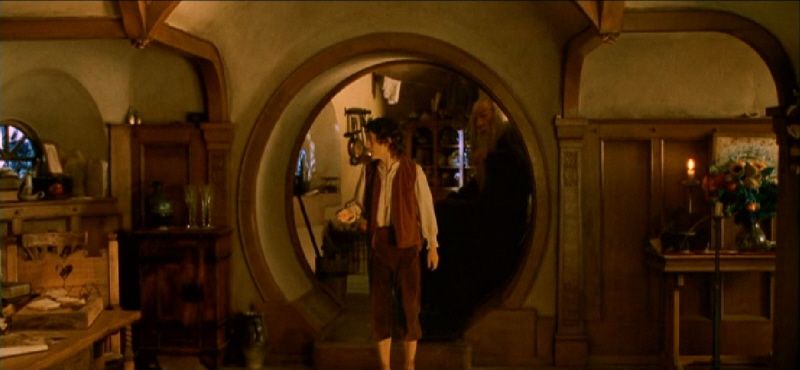 We'll put it away, we'll keep it hidden, we'll never speak of it again!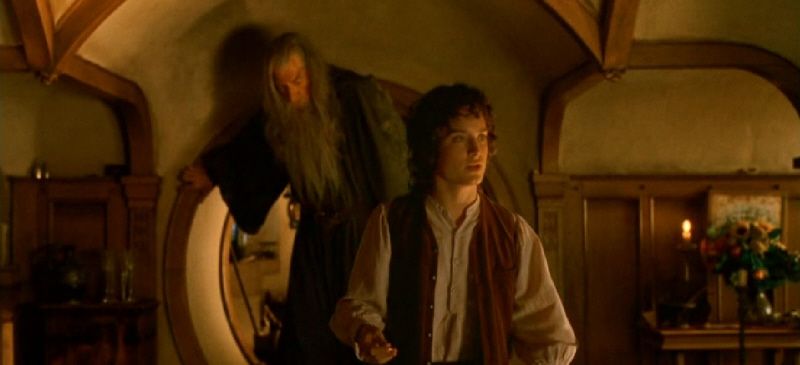 No-one knows it's here, do they?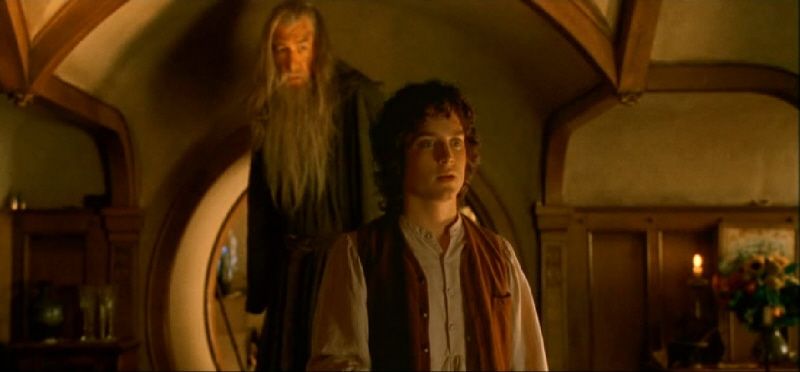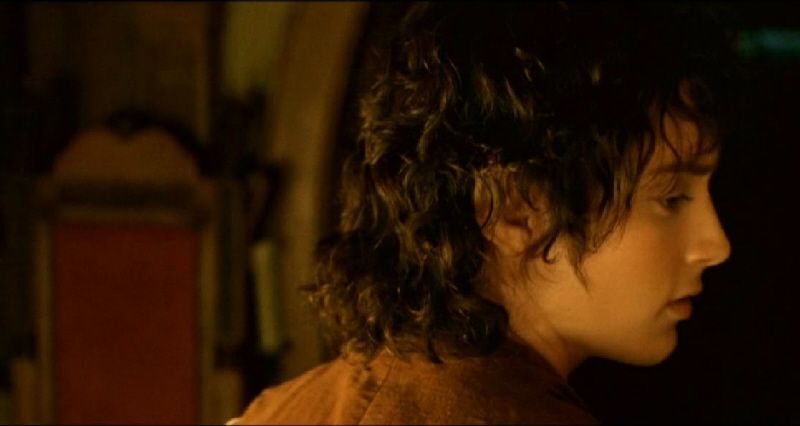 Do they, Gandalf?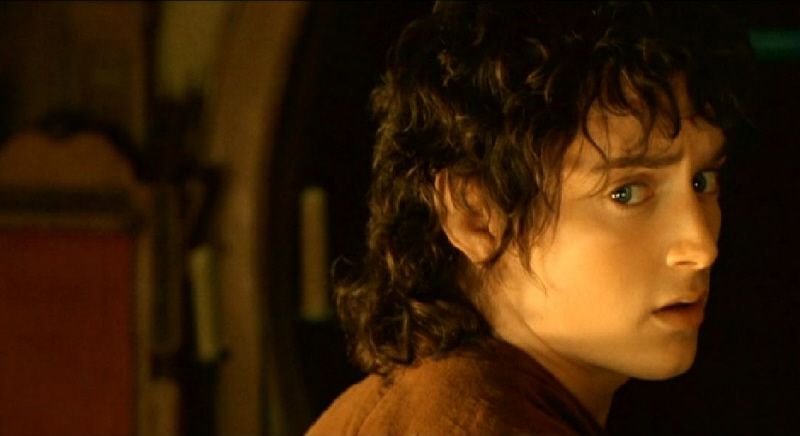 Sean : Remember when they used this shot in every trailer?
Elijah : Yes – I got quite sick of it myself!!
S : I was in a movie theatre and it was later, in the sort of half life of that trailer, and everybody was saying the line along with you out loud!!
E : Nooo!!
S : Yeah – it was awesome. (DVD)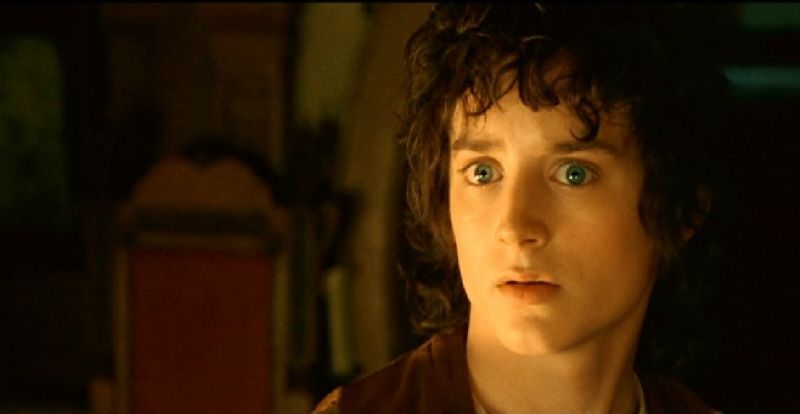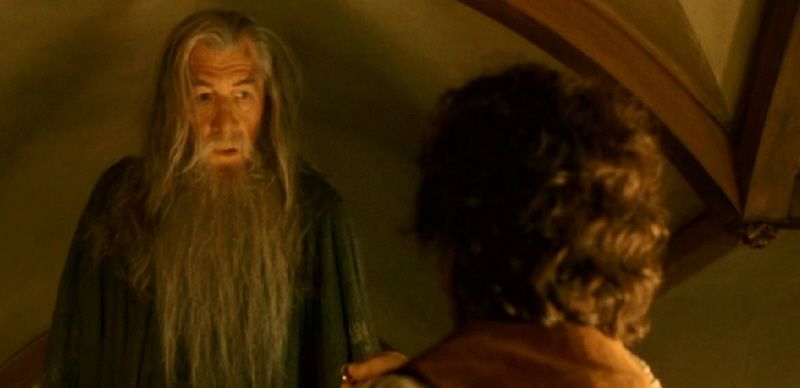 Take it Gandalf!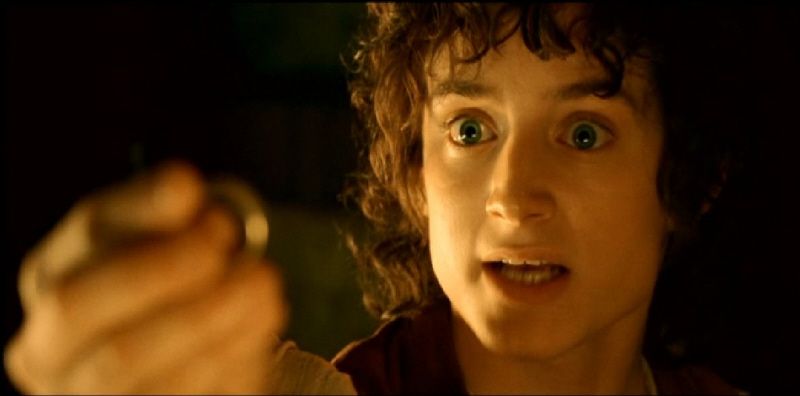 "I was lucky to be basically using my own voice and own accent. You forget, don't you, that Elijah Wood is not – he's always speaking with a foreign accent effortlessly." (Ian, DVD)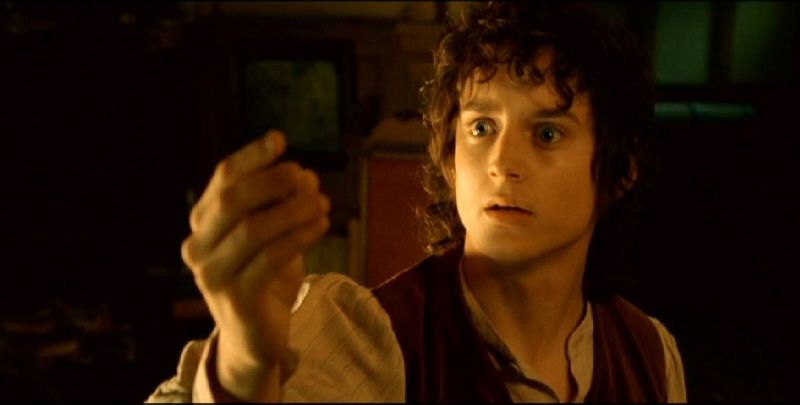 What must I do?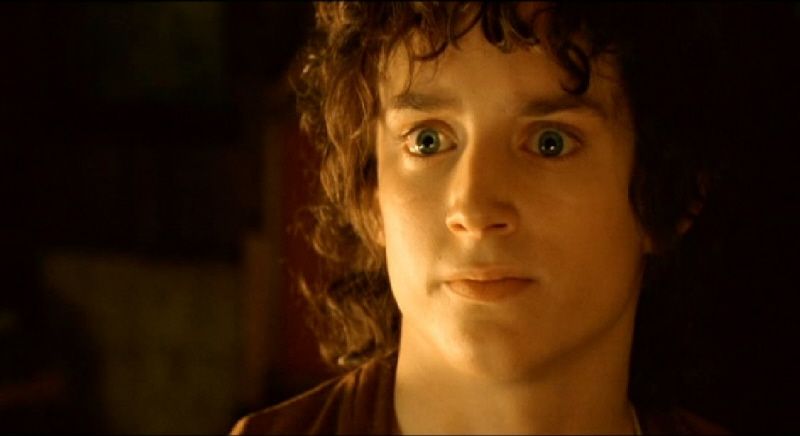 "And that's one of the moments when Gandalf realises that despite his age, despite his experience, despite his knowledge, he doesn't have the same resource for success in this venture as that little angelic-looking hobbit." (Ian, DVD)You must leave - and leave quickly!!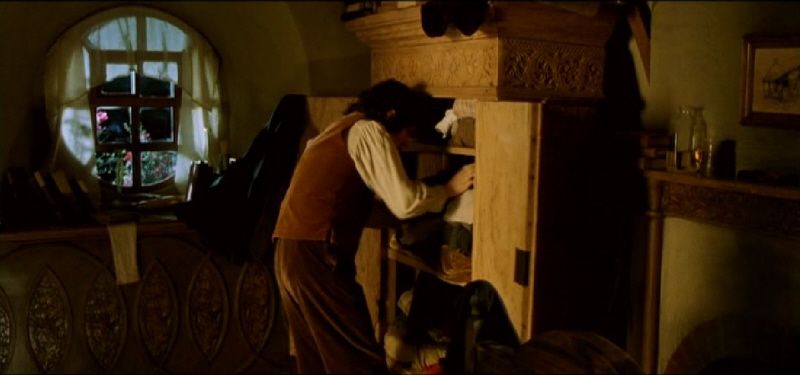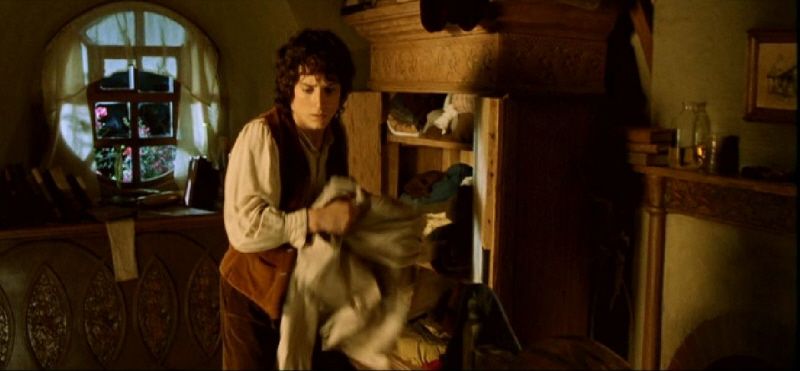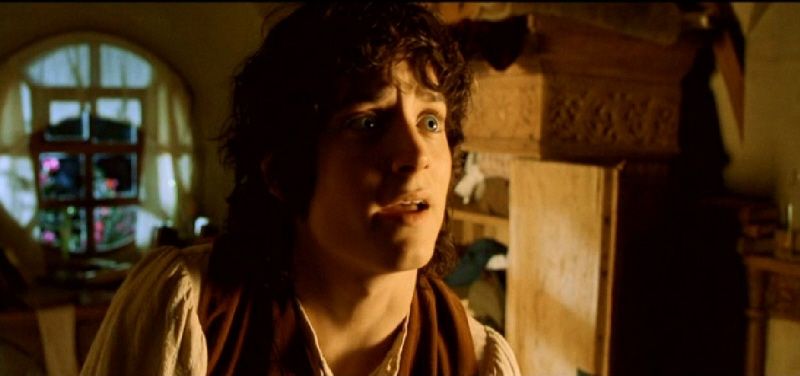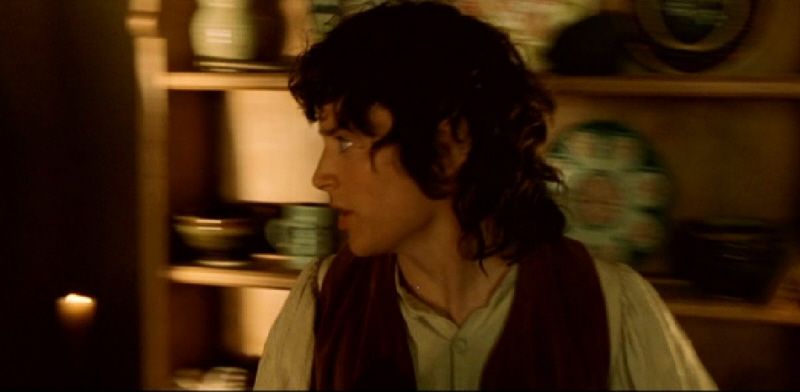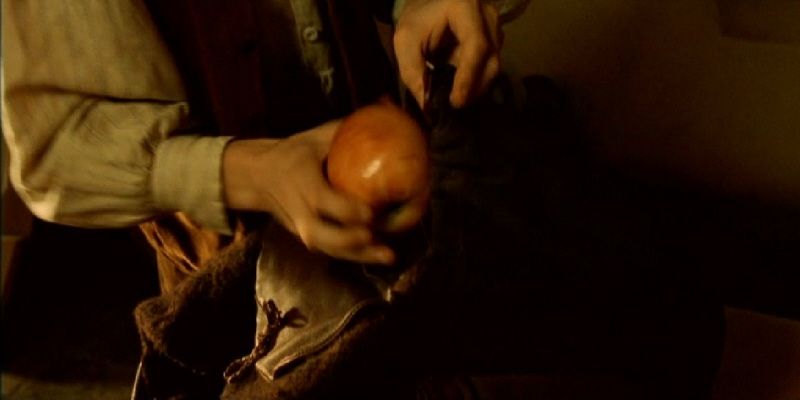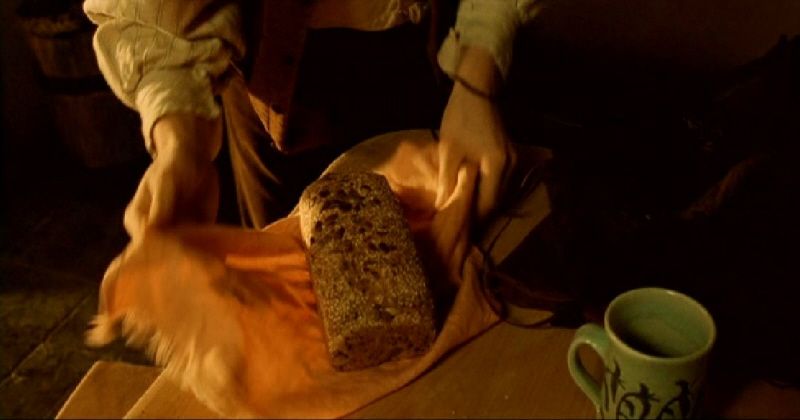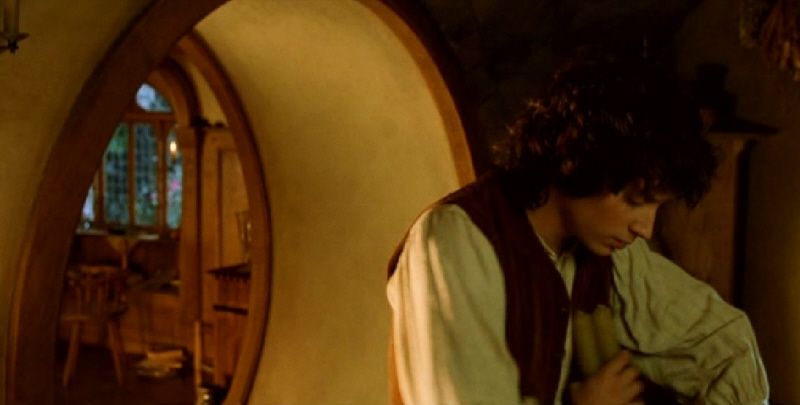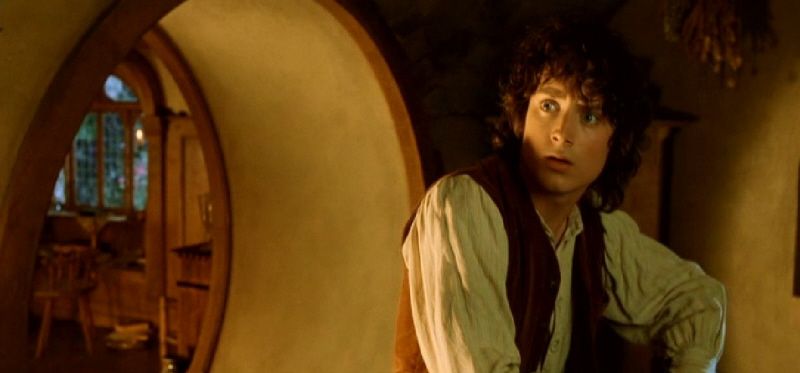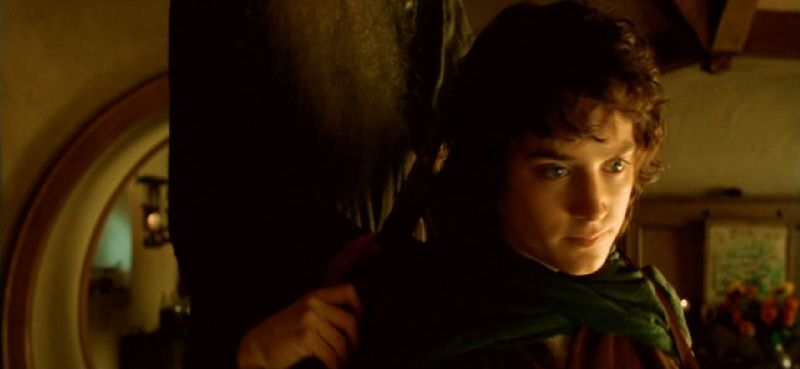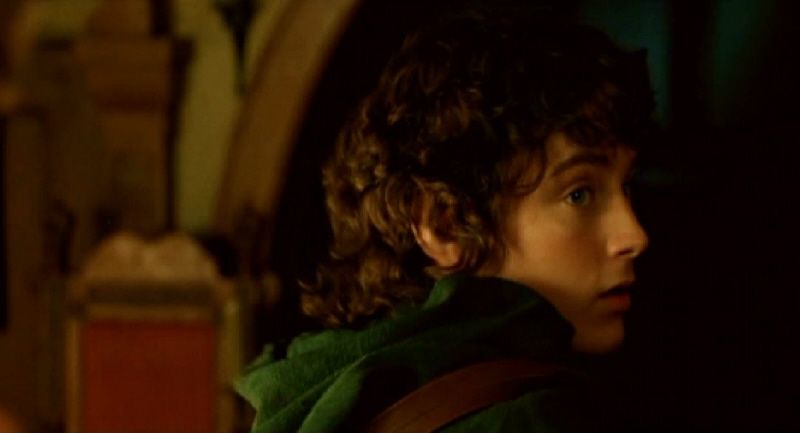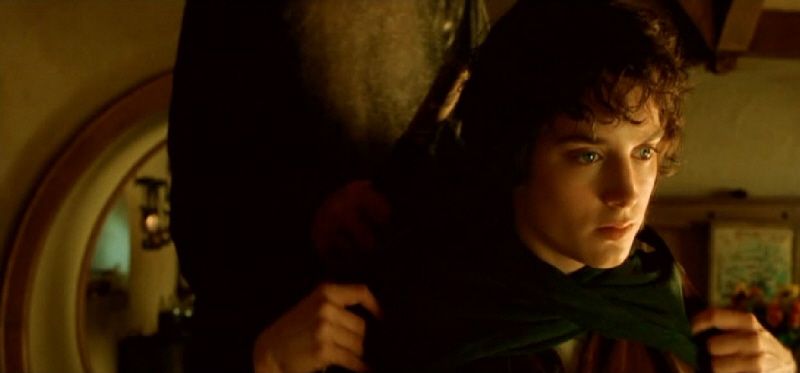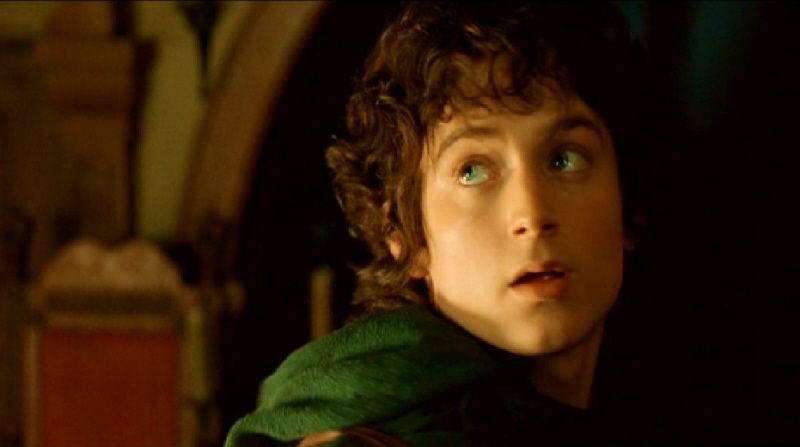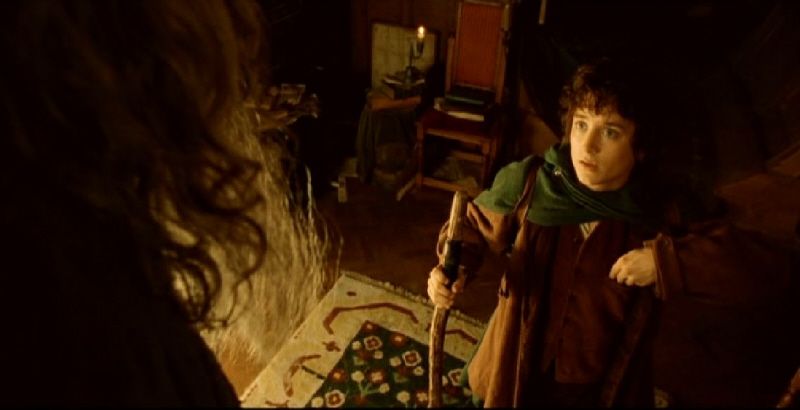 My dear Frodo, Hobbits really are amazing creatures!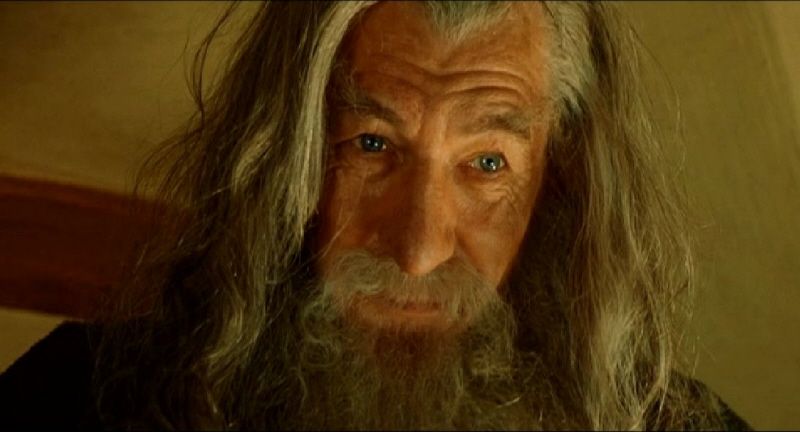 You can learn all there is to know about their ways in a month ….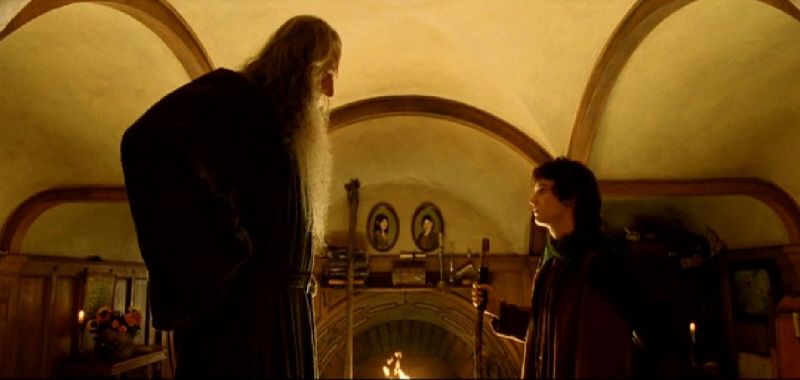 … and yet after a hundred years they can still surprise you!



Get down!!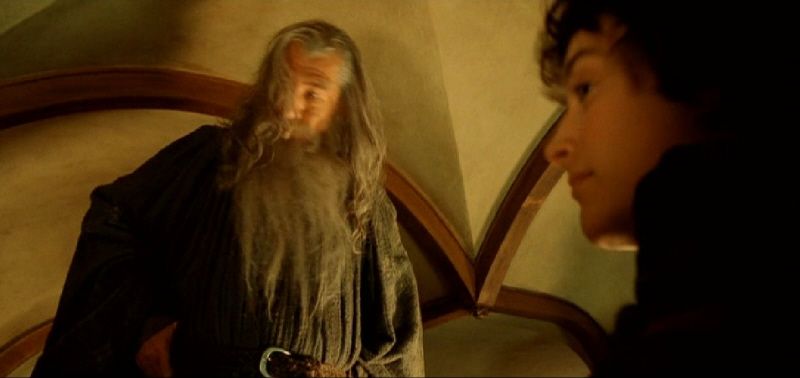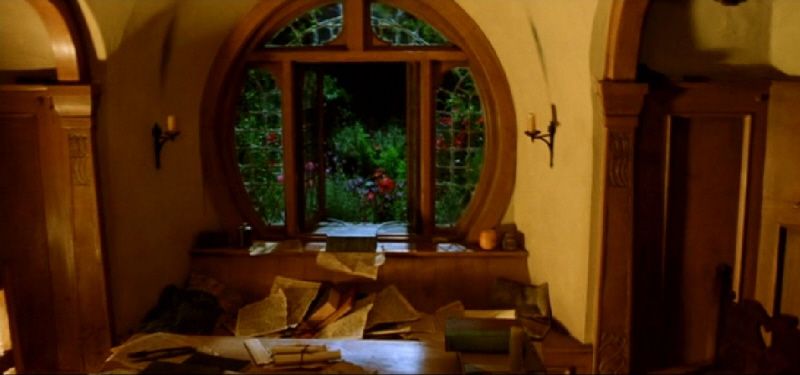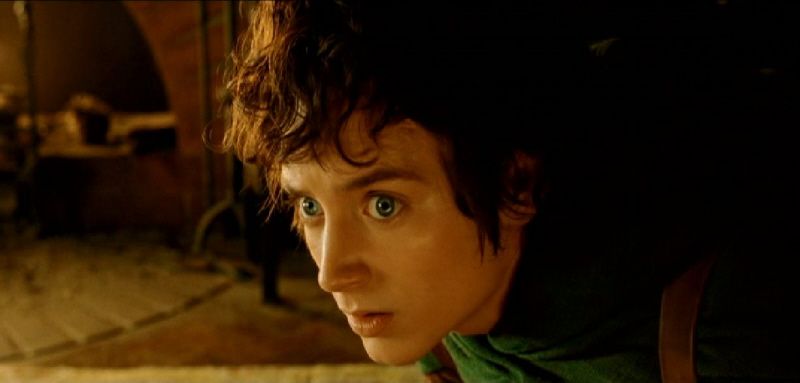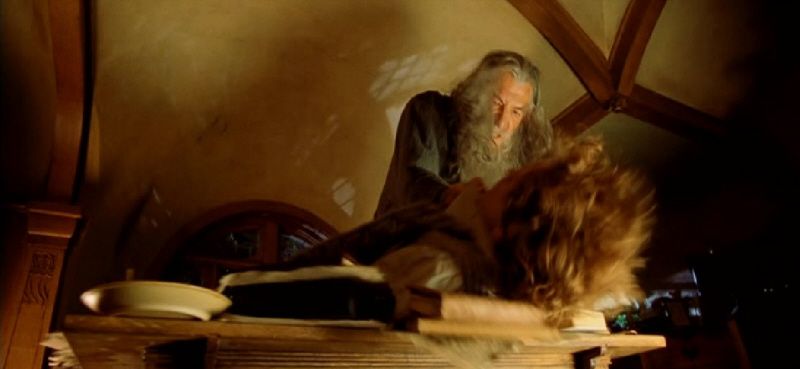 Please Mr. Gandalf sir, don't turn me into anything … unnatural.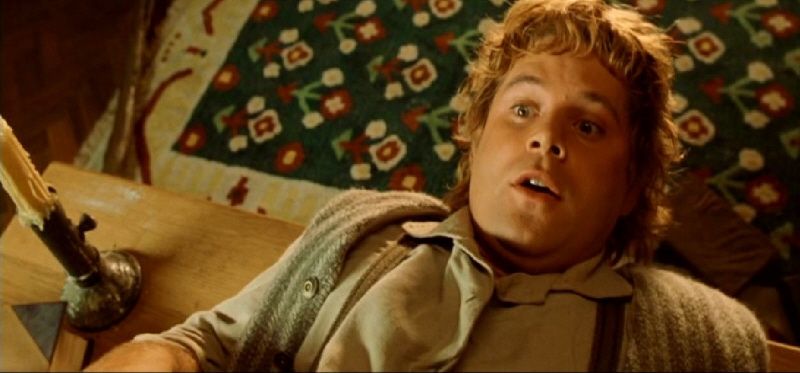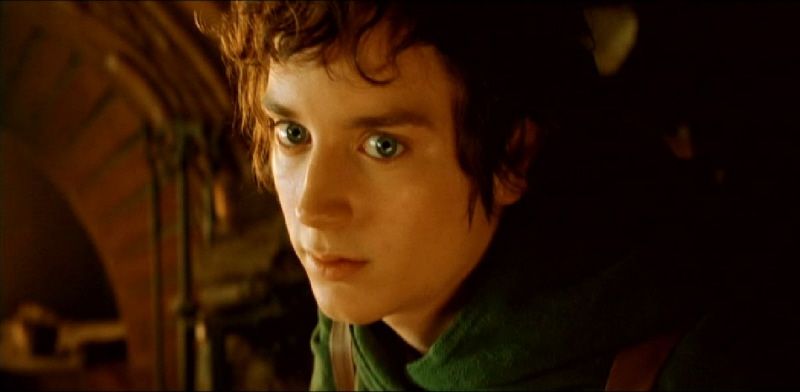 Nooo? Perhaps not ... I've thought of a better use for you...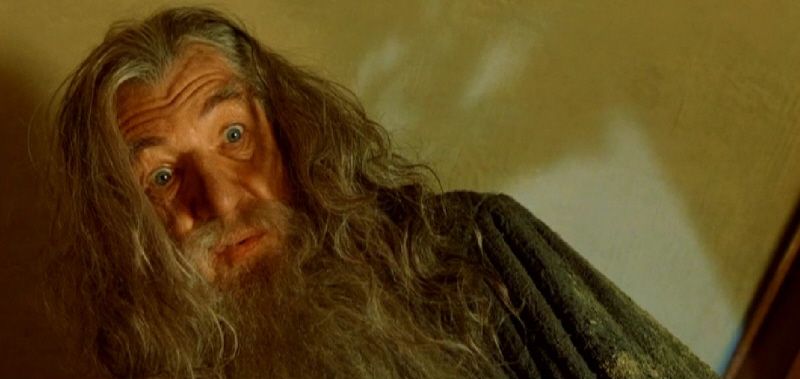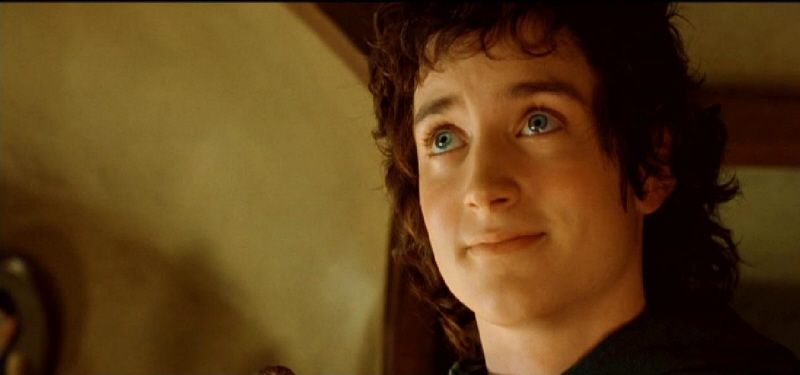 ******
"as a hobbit and a human Elijah grew immensely over this whole production and I'm constantly amazed at his sensitivity and his look and his sort of handle on the character and the dialogue – I know as an actor to try and do an accent is not easy, it's just not an easy thing to do, it can really block you and yet he just embraced it and went with it – a very talented young guy".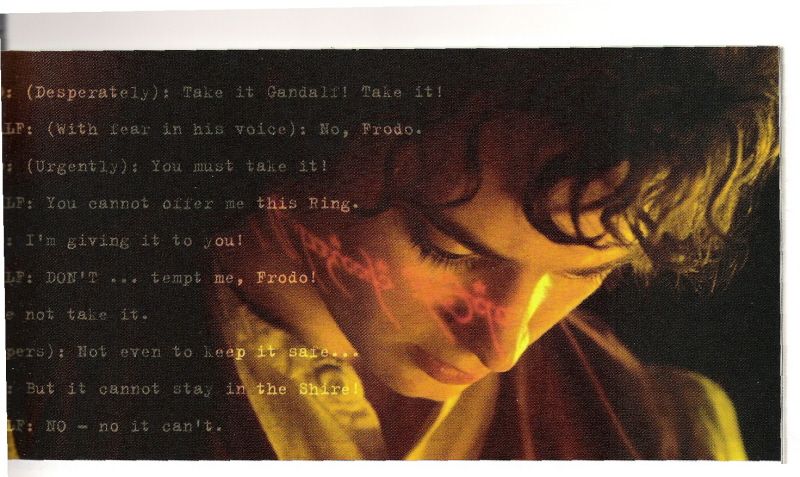 ******
TO BE CONTINUED

"A JOURNEY WITH FRODO"
comments: Leave a comment